Adventurous Kate contains affiliate links. If you make a purchase through these links, I will earn a commission at no extra cost to you. Thanks!
May 2015 is going down in history as one of the funnest months of my life. I've had a lot of good months in my life — March and April of this year are certainly up there — but May was OUTSTANDING.
The month started out with the end of my second tour, followed by a trip to Semuc Champey with half our tour members, then my friend Erisa and I traveled to northeastern Guatemala, then all over Belize, then to just a hint of Quintana Roo in Mexico. I then flew home to Massachusetts.
This month was the closest I've ever been to living the life I fantasized about at a younger age. I traveled to tropical beaches with awesome friends. I had some on-the-road romance that still makes my knees weak and my heart race just thinking about it.
I played hard, doing physical adventures by day and drinking coconut rum by night. I barely worked, earning a 100% passive income this month (!!) and doing whatever I wanted on the blog without worrying about pleasing anyone but myself and you, my dear readers.
You may have noticed that I didn't write much this month — honestly, part of that was how consistently poor the internet was; the other was that I was having such a good time.
Considering that at this time last year I was at the darkest point of my life, I feel incredibly blessed to be healthy, happy, and in such a good place today.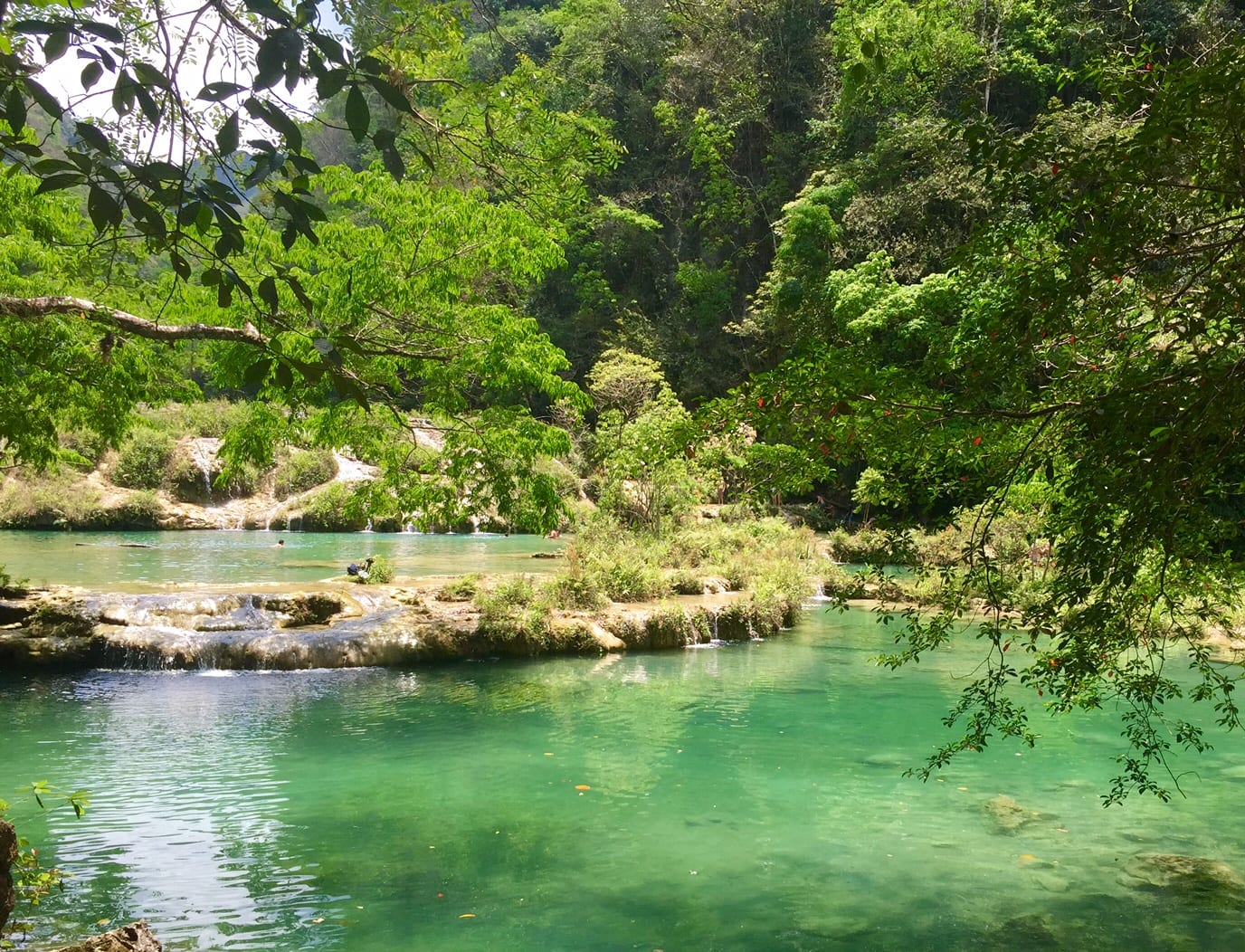 Destinations Visited
San Pedro, Lanquín, Semuc Champey, Flores, and Tikal, Guatemala
San Ignacio, Caye Caulker, Rendezvous Caye, Tobacco Caye, and Placencia, Belize
Tulum, Akumal, Chichen Itza, and Valladolid, Mexico
Reading and Andover, Massachusetts, USA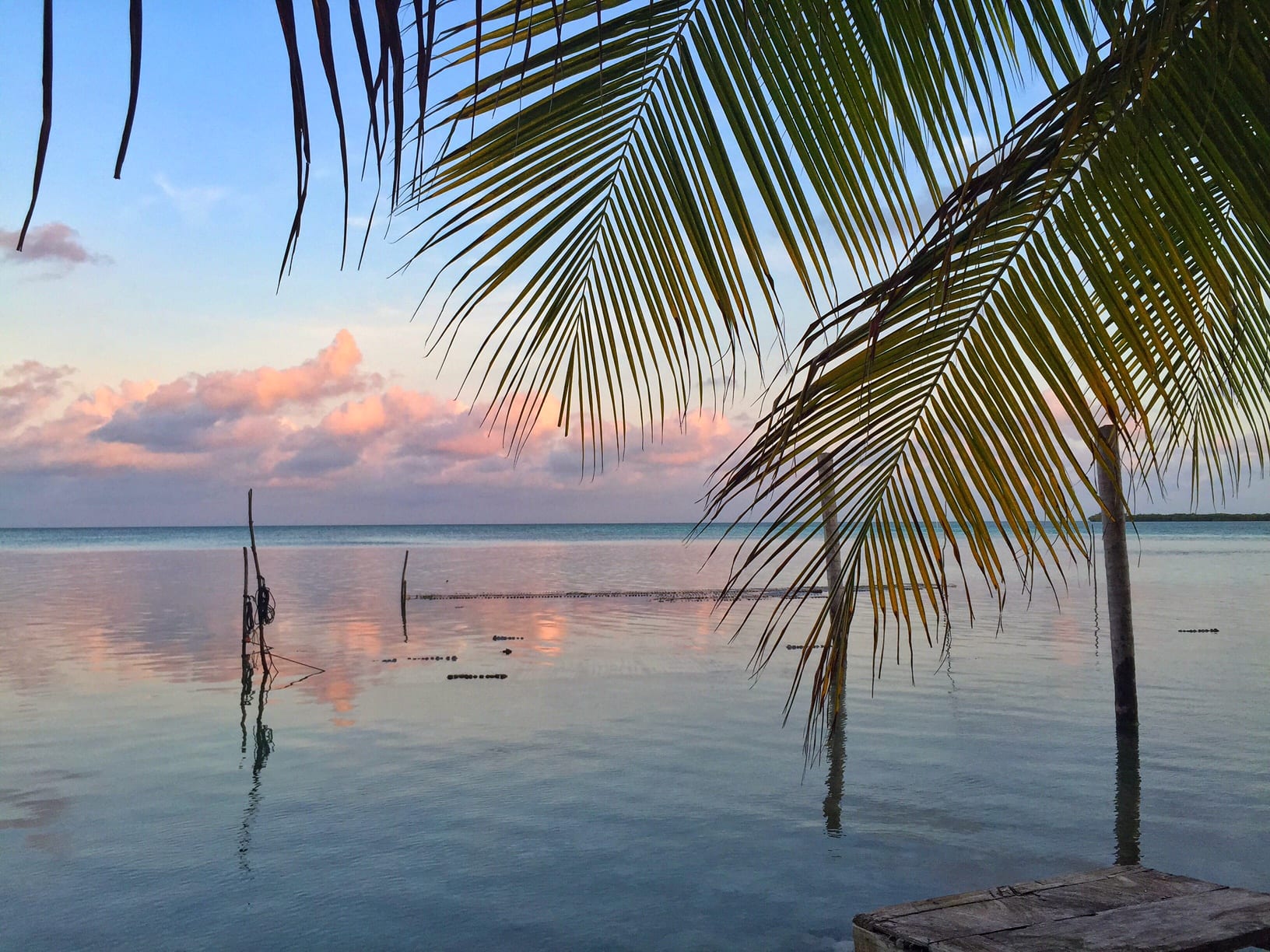 Favorite Places
Caye Caulker. I loved this tiny, laid-back island where you get to know everyone so well.
Semuc Champey. These pools and waterfalls became my favorite natural wonder in Central America.
Sailing just off the coast of Belize. The brightest turquoise waters. The incredible reef. The gorgeous islands. I loved all of it!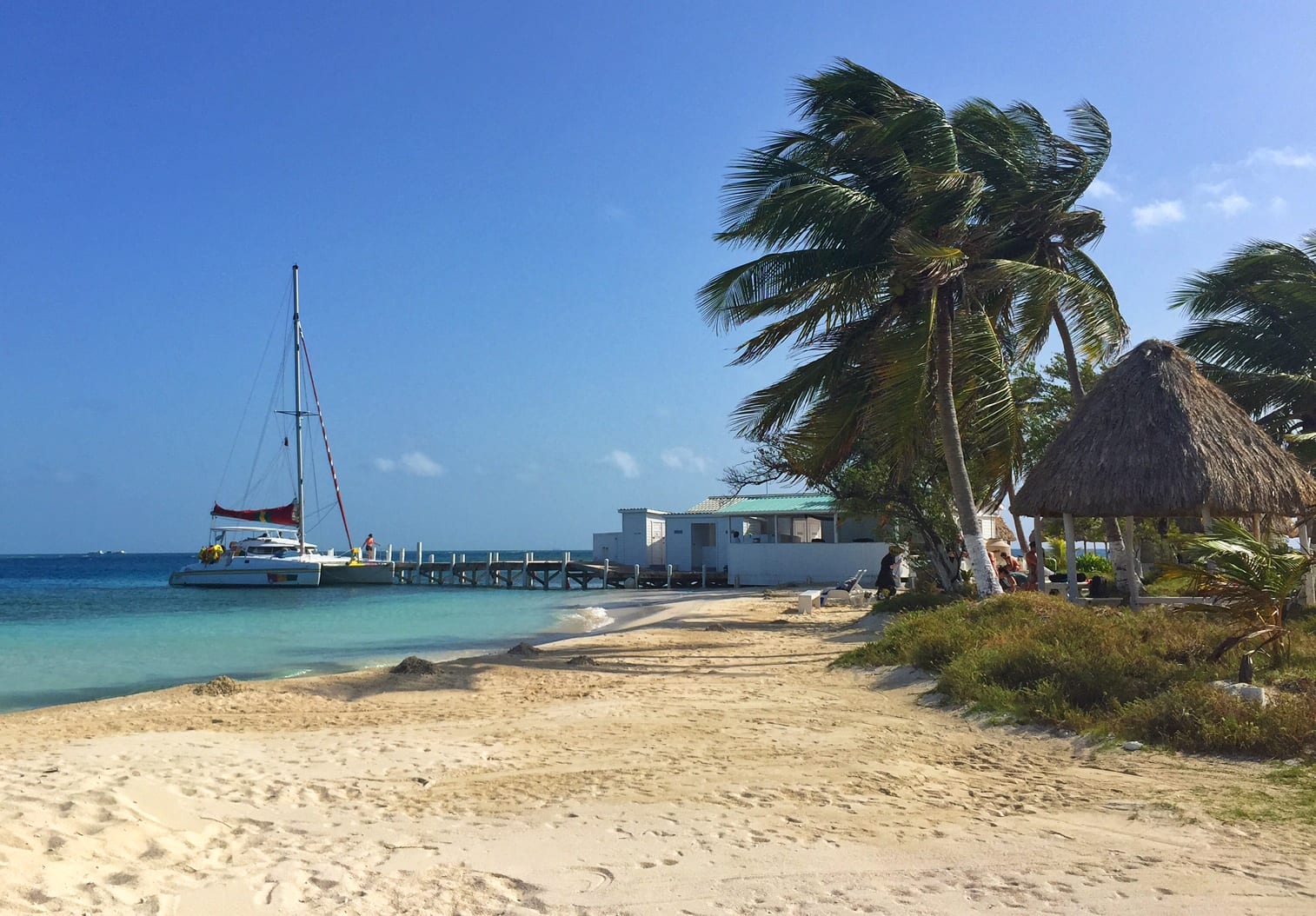 Highlights
SAILING BELIZE. The best thing I did this month! I spent three days sailing with Raggamuffin Tours, who hosted me as their guest, and it was incredibly, absurdly good fun! We sailed on a catamaran, we ate really good food, we snorkeled twice a day at a World Heritage-listed reef, we camped on tiny islands, and we laughed and drank rum punch and got to know the crew really well. I'll be writing much more about this cruise in depth.
Probably my single favorite day of travel in Central America was the day we spent in Semuc Champey. We did the full-day tour that involved hiking to the viewpoint, lounging in the perfect green pools and waterfalls, swimming through a cave one-handedly while holding a candle in the other hand for light (AMAZING), and tubing down a river while little kids threw beers at us.
Belize shocked me — it's never been one of the places I dreamed about, but I loved everything about it! The people were so friendly and full of joy, there was excellent travel infrastructure, and that water is the brightest turquoise shade I've ever seen. The ATM caves, where you can hike to actual human sacrifice remains (!!), is one of the most unusual activities I've done on the road.
Mexico was a brief yet joyful coda to my months in Central America. Tulum made a good base, though the beaches were muddy and full of seaweed (apparently it's a problem this year) and not nearly as nice as what I had seen in photos. But Akumal had gorgeous beaches and swimming with turtles!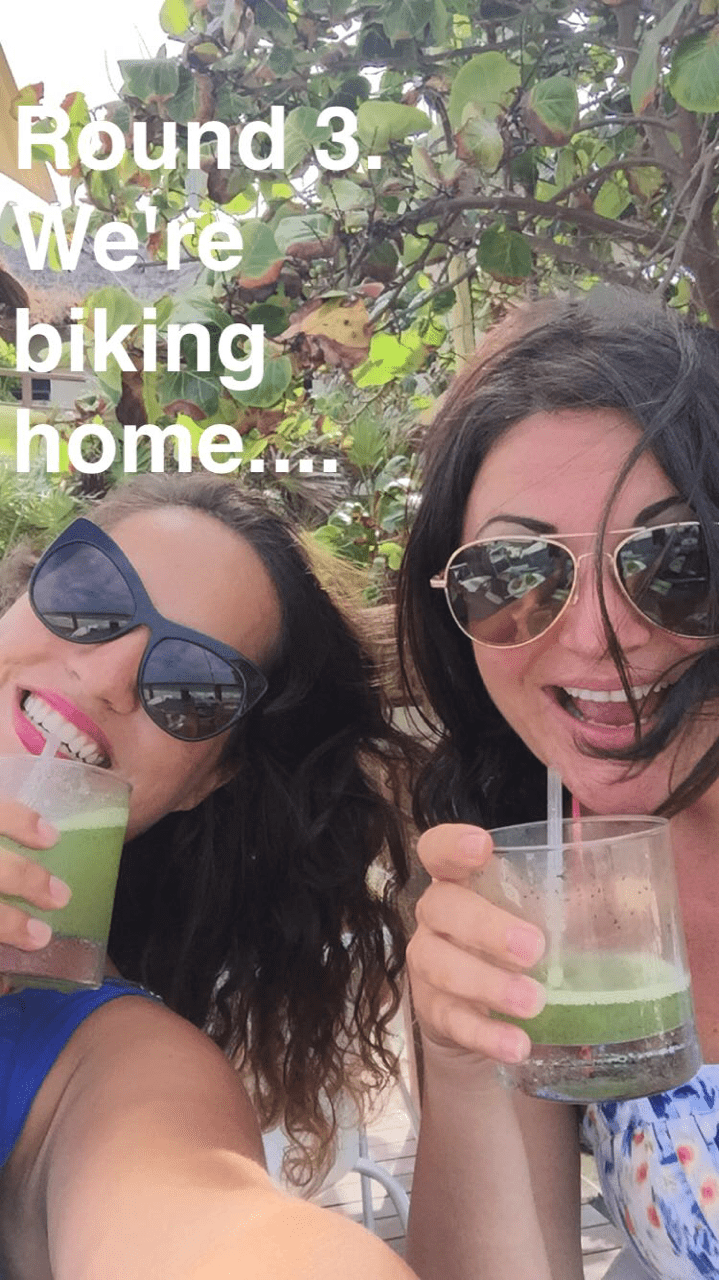 I went to Semuc Champey with four people from our latest tour (Erisa, Shaun, Candice, and Wren), and then Erisa and I traveled together for the next three weeks. We had so much fun together and she is probably the best travel companion I've ever had!
We lucked out — we were on the same page about everything from finances to adventures to people to blocking out time to do our makeup (we're both makeup fiends). We did tons of crazy activities, but I think my favorite parts were the nights we spent sitting on our porch, gabbing and laughing our heads off while blasting the highly inappropriate Caribbean music we discovered in Belize, putting our phones in an empty water pitcher to make the music louder…
Plus, as a human in general, Erisa kicks ass. This definitely won't be the last time we travel together!
At the end of the month, my dear friend Lisa, who has been one of my closest friends for 20 years, got married to a wonderful guy named Adam. I was honored to be a bridesmaid and to celebrate their wedding alongside several of my close friends and family.
To me, this month was all about the people. I met so many wonderful people and created beautiful memories with friends both old and new.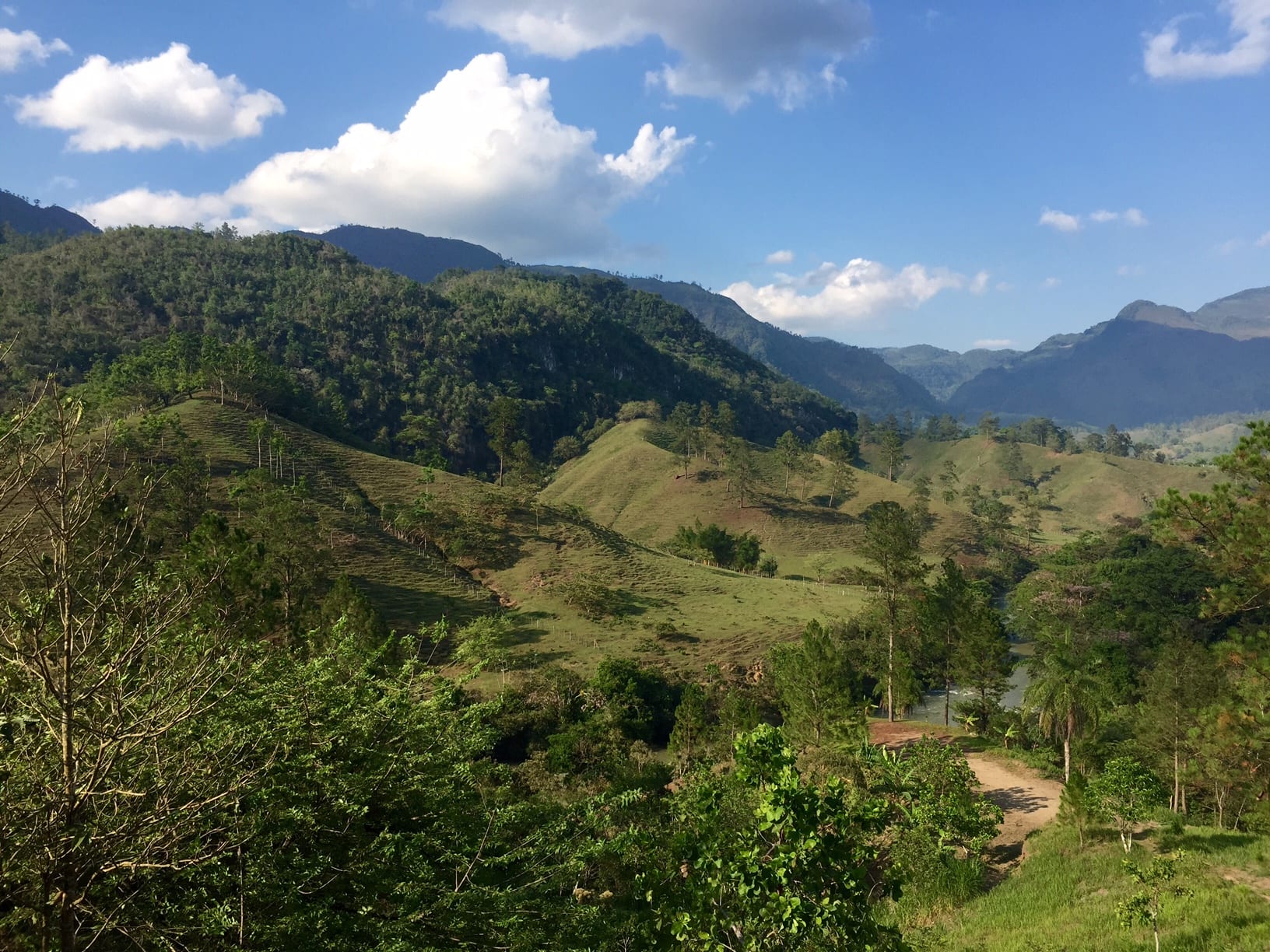 Challenges
I had some trouble at the Guatemala-Belize border. Turns out that when I crossed from El Salvador into Guatemala in April, they only permitted me a 13-day stay. I had no idea why; there is a 13 written on the stamp, but it doesn't say "dias" or anything else obvious. The border agent didn't say a word to me and timing-wise, there is no reason why I should have only been given 13 days.
(FYI, due to the CA-4 agreement, Guatemala, El Salvador, Honduras, and Nicaragua share borders — you can stay in all four countries for up to 90 days and you don't get to re-start when you cross any of those borders. This had nothing to do with that; I was in the region for only 78 days and had a three-week US visit in between.)
So when I stayed 19 days, they wouldn't let me leave without paying a fine. It was only 10 quetzals, or $1.30 USD, per day, which I paid, but I hate that immigration put me in that situation in the first place.
When you go to Guatemala, always check the number they write by hand on the right side of the entry stamp. That's how many days you are permitted. If it's not what you expect, talk to the immigration officer.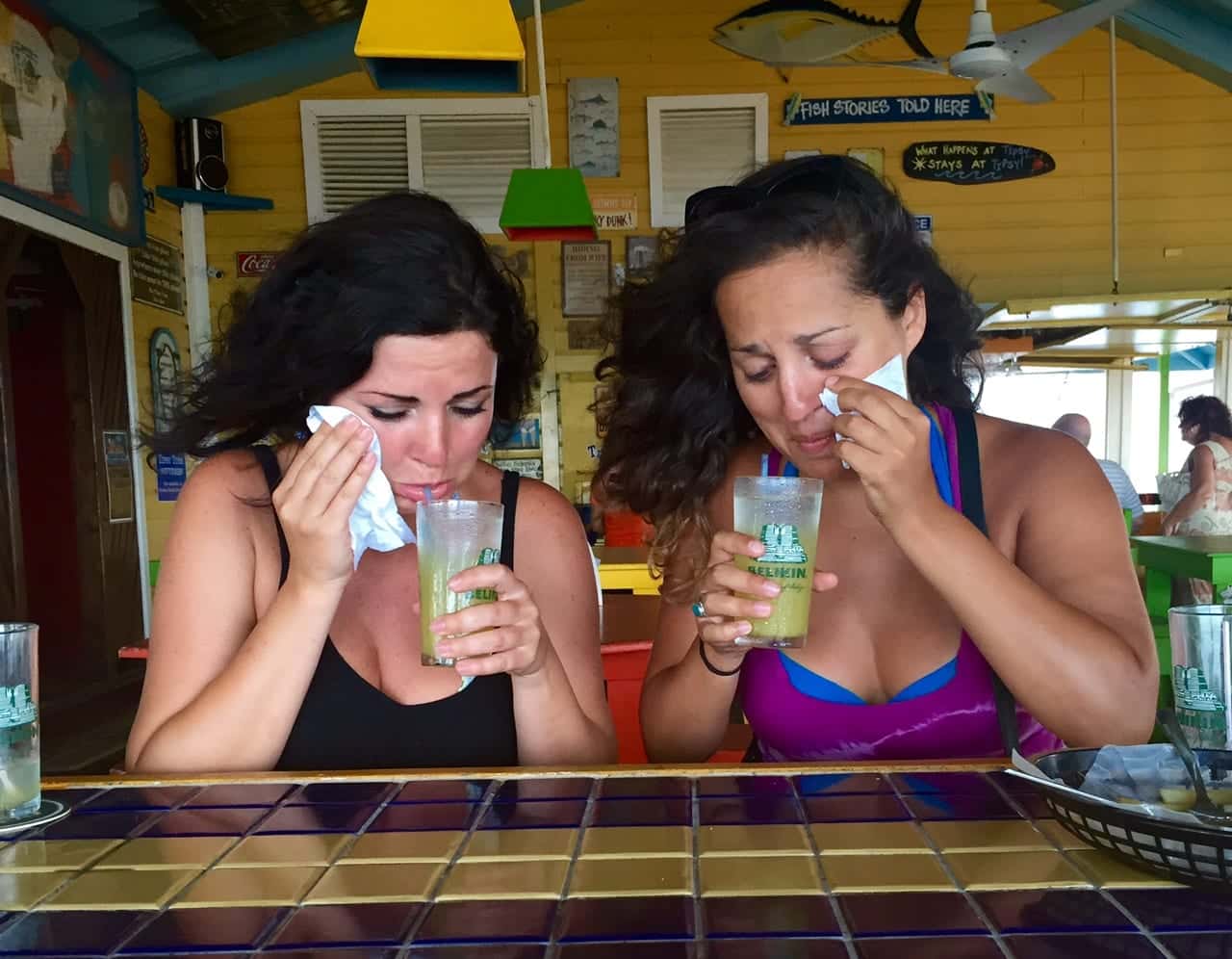 The travel blues hit me and Erisa hard in Placencia. The day after the sailing trip ended, we were miserable, missing our beloved Raggamuffin crew, whom we got to know well. After several weeks of travel where each day seemed even more fun than the last, it felt like we were suddenly dropped off a cliff. The solution? We went back to Caye Caulker to hang out with our buddies!
At another point, we ended up on a crazy 12-hour ride from San Pedro to Lanquín for which we paid for a fast express bus (didn't happen), and a Chilean guy passed out with a beer in his lap and two Australian girls thought he was dead and started taking photos of him. Then the driver decided to power-wash the whole van with our bags on top. And took an hourlong lunch with his family while we were waiting outside in the rain. Great.
Most Popular Post
The Towns of Lake Atitlan, Guatemala — Guidebooks are so wrong about Lake Atitlan — it's not a brief stopover but a place where you should stop and savor each different town!
Other Posts
Viewpoints: Traveling Solo as a Woman of Color with Maya Bhardwaj — I was thrilled with this interview with my friend Maya, talking about what it's like to backpack as an Indian-American.
13 Takeaways from a First-Time Tour Guide — What's it really like to run a tour? I spill the details.
Bachelorettes on the Run in Portland, Maine — Portland is a kickass little city and my friends and I tasted half the city in just 24 hours.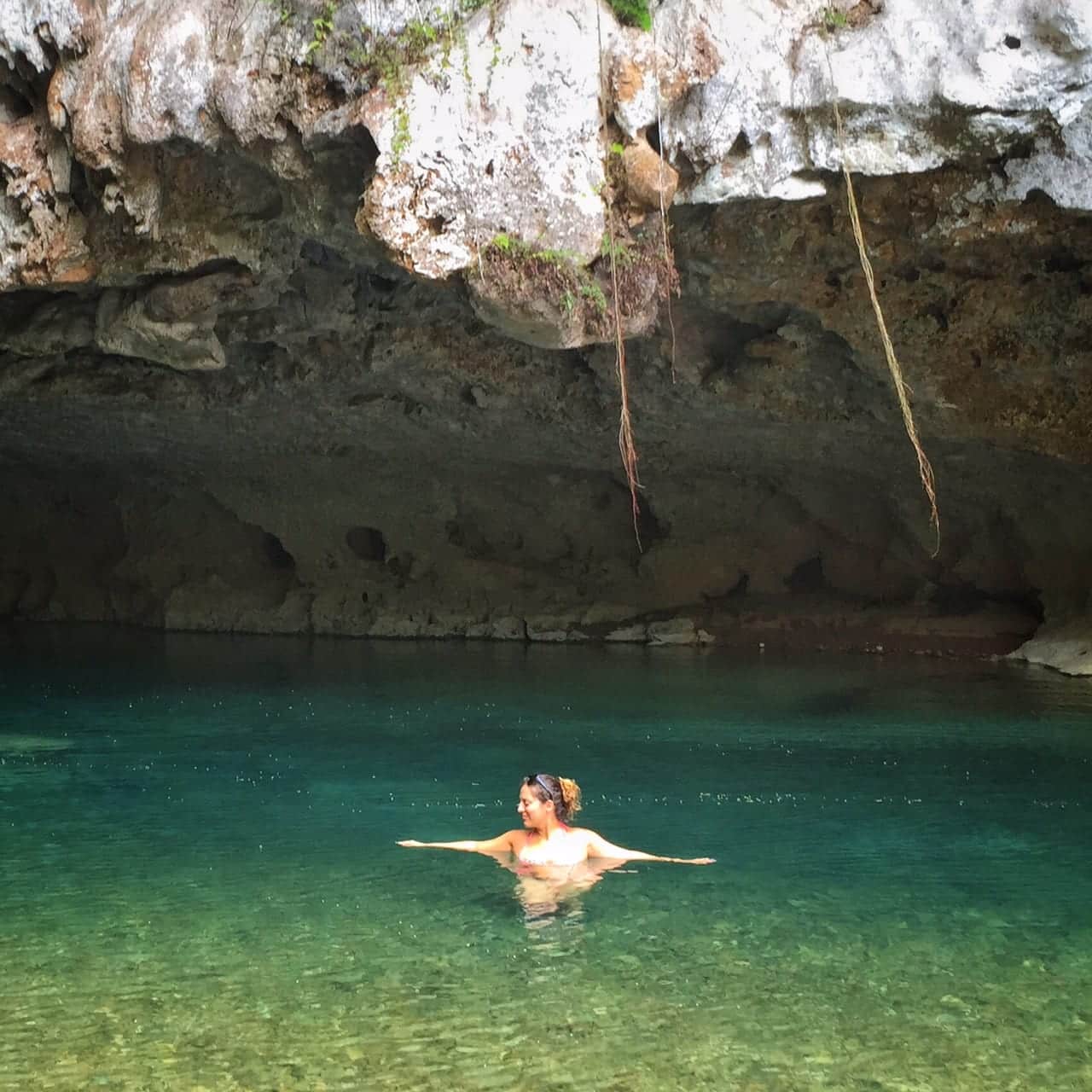 News and Announcements
This month I was featured in 8 Travel Bloggers You Should Follow on Snapchat on Thought Catalog. I'm really trying to create fun content on Snapchat, so I'd love to see you there! My screenname is adventurouskate, as it is just about everywhere.
Most Popular Photo on Instagram
This was the kind of stuff that we saw each day while sailing Belize. No further words necessary.
For live updates from my travels, I'm adventurouskate on Instagram and on Snapchat!
Funniest Photo I've Ever Taken
There is a rope swing not far from Flores, Guatemala, and we decided to take a boat there and spend an afternoon chilling out. When we pulled in, a guy flung himself off the rope swing and I snapped this photo absentmindedly.
"Kate!" Erisa exclaimed. "His bathing suit fell off! Did you get it?"
DID I EVER GET IT.
Erisa and I laughed until our sides ached. Then we showed the guy and his friends one by one, as well as our driver and the guesthouse staff, and each of them laughed until their sides ached.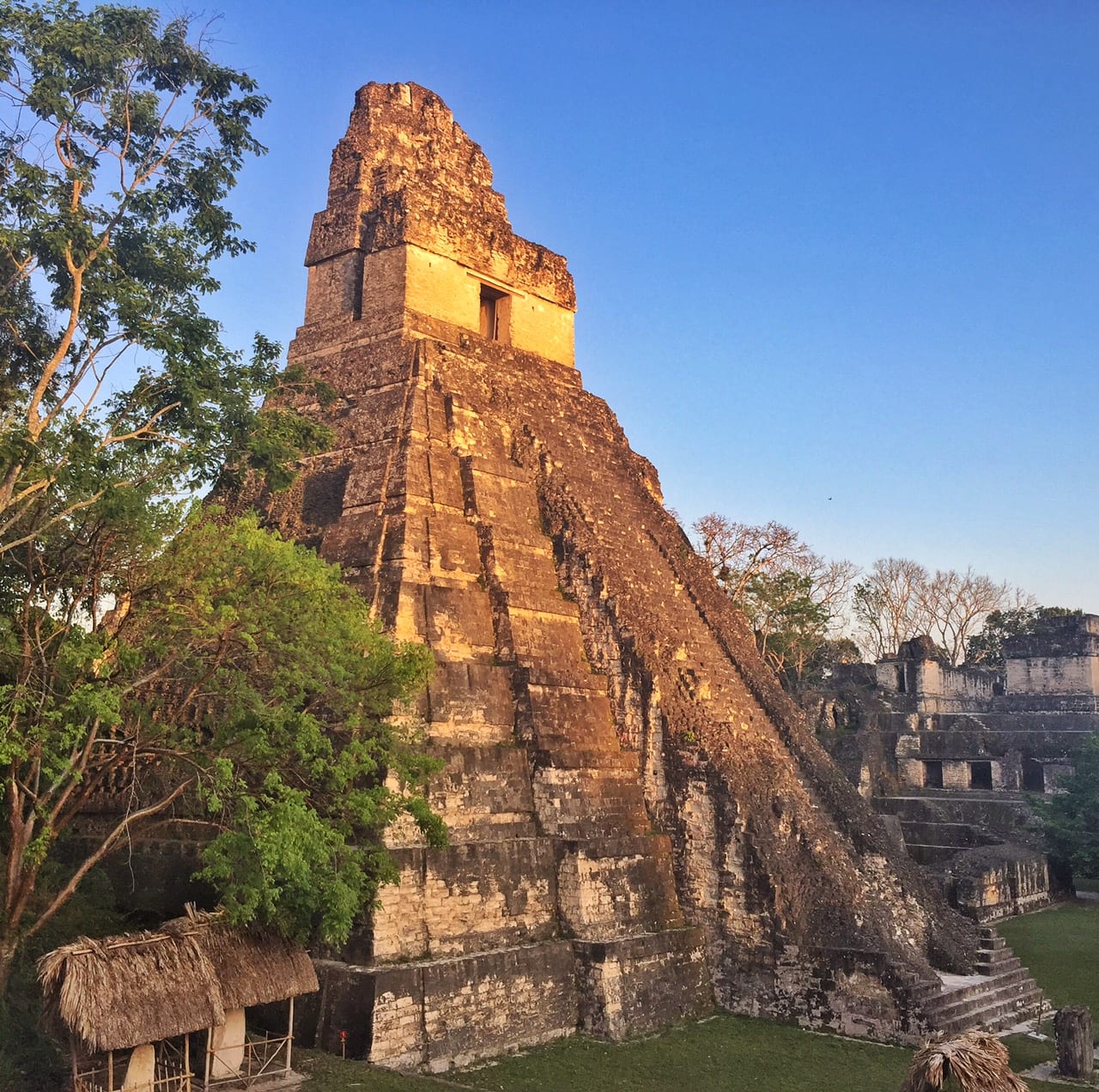 What I Read This Month
I'm still cracking away at the Popsugar 2015 book challenge, where I read 52 books in 50 categories over the course of a year. 22 down, 30 to go!
Missoula: Rape and the Justice System in a College Town by Jon Krakauer. This book is so difficult to read, yet so important. The city of Missoula, home to the University of Montana, has been in the news for many college rape cases; this book profiles several of them. It is horrific how rape victims are treated by both the police and the law — it's a unique crime in that victims are often assumed to be lying about it.
The worst part is that Missoula, despite all the publicity, is actually average in terms of number of rape cases in similarly sized college towns. And that terrifies me. Category: a book that scares you.
God Help the Child by Toni Morrison. I adore Toni Morrison's books — they're a mix of pain, betrayal, and love, with just a hint of fantasy. This is her latest book and her first that takes place in the present day. It tells the story of a woman named Bride, who was born very dark black to two light-skinned black parents, causing her mother to reject her emotionally. She grows up to be a woman both stunning and successful, but her childhood leads to a lot of pain in her life as an adult.
My favorite line: "Sober as priests, creative as devils, they invented sex. So they believed." Category: a book by an author you love that you haven't read yet.
What Janie Found by Caroline B. Cooney. I was stuck on the "a book from your childhood" category, since I only want to read new books in the challenge, but I realized that I had only read three of the five books in The Face on the Milk Carton series, which I started when I was around 10 or so. I love Caroline B. Cooney — I've read more than 10 of her books and even met her when I was 13!
Now reading them as an adult, I'm struck by how the writing is for kids but the subject matter is so mature, which covers what happens when a teenage girl realizes she was kidnapped as a child and has two families desperate to have her to themselves. What Janie Found explores more of these complicated emotions as Janie learns that her father has been sending money to his birth daughter, her kidnapper. Category: a book from your childhood.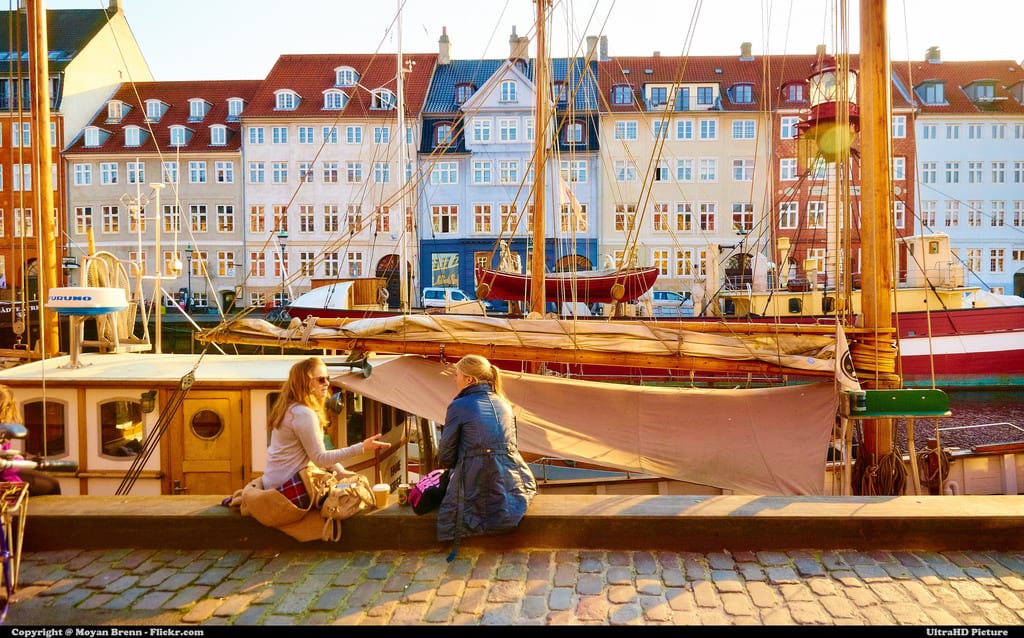 Image: Moyan Brenn
Coming Up in June 2015
Everything! I'm home in Massachusetts for the first ten days, then I head to Milwaukee to mentor at the Bloghouse! Next up is six days in Chicago. Both of these cities are new to me (as is the Midwest as a whole — crazy, right?) and I'm eager to explore them both, especially their culinary legends.
Then on June 19, I fly to Copenhagen, kicking off a summer in Europe. I literally have nothing planned after that, but I think I'll just spend a few days there and see my friend Alex, then head to Athens and see my friend Becki. After that, I'll make my way through Greece to Corfu and then be in Albania by July.
Any suggestions for Milwaukee, Chicago, Copenhagen, or Athens? Let me know!
Get email updates from Kate
Never miss a post. Unsubscribe anytime!