Adventurous Kate contains affiliate links. If you make a purchase through these links, I will earn a commission at no extra cost to you. Thanks!
I remember back in 2011 when my friend Chris and I were on the bus from Luang Prabang back to Vang Vieng in Laos. We had left Vang Vieng earlier than we had wanted in order to stay with our friends; now that everyone was going their separate ways, we could go back and party some more.
WE COULD GO BACK AND PARTY SOME MORE.
And we giggled like maniacs the entire six-hour ride back. We would look at each other and just start cracking up. My god, we even wore our VANG VIENG – IN THE TUBING shirts for the bus ride. Knowing that the party of all parties lay ahead of us.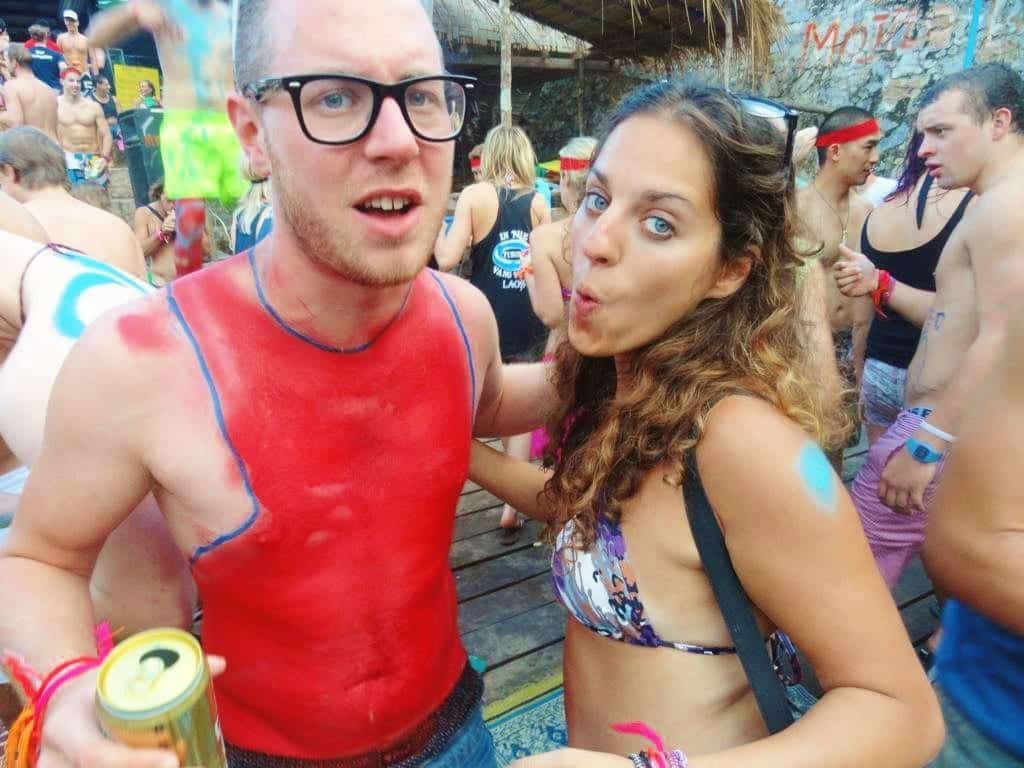 Times change. Vang Vieng is no longer the bacchanal that it once was, and my personal tastes in travel have changed as well.
But there are still destinations that make me giggle.
Vang Vieng made me giggle at 26. Prague made me giggle at 20. Las Vegas made me giggle at 23. San Pedro, Guatemala, made me giggle at 30.
And Key West made me giggle at 32.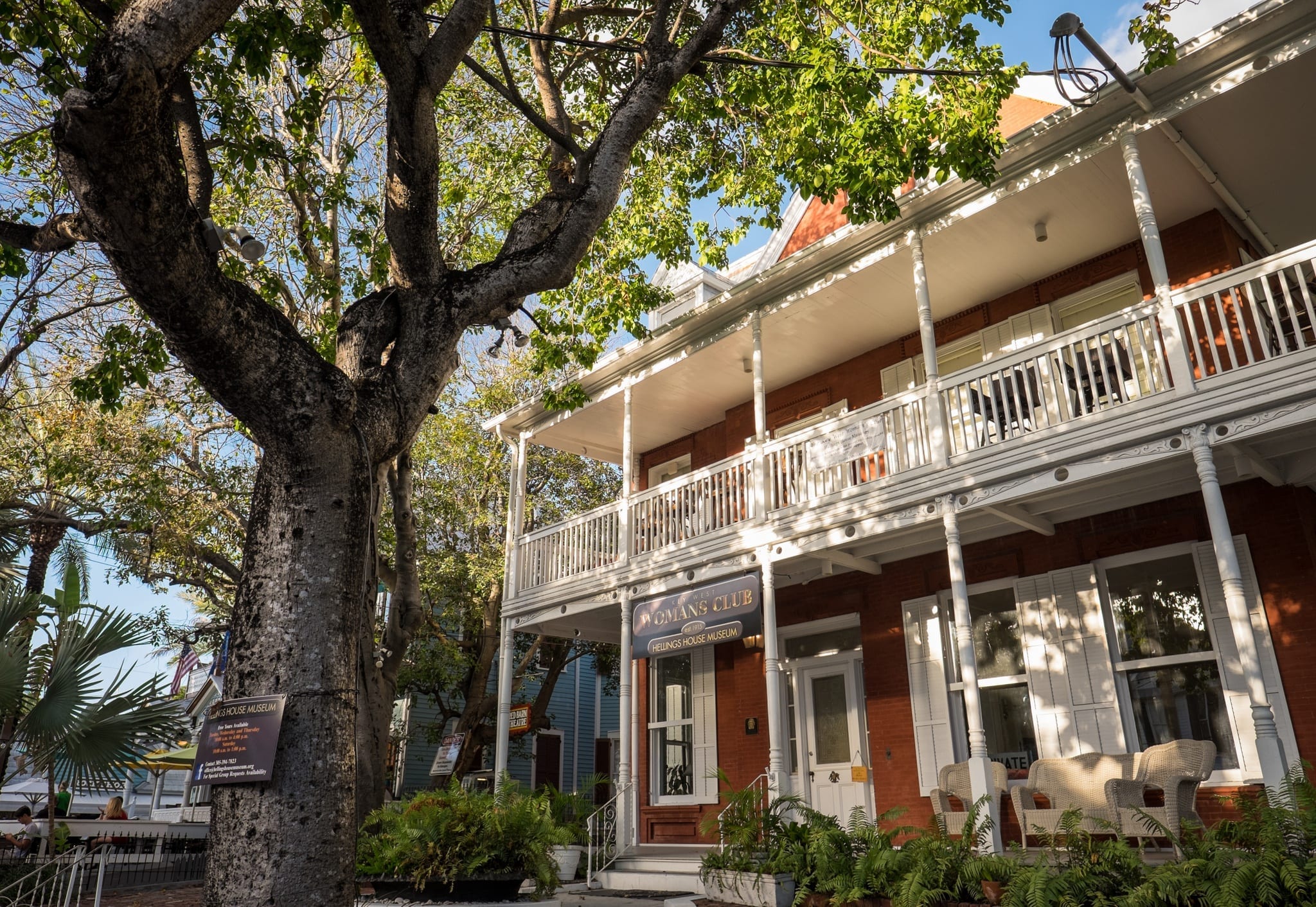 Welcome to Key West
"Everyone here looks like Guy Fieri," I whispered to Cailin. Similar to our earlier stops in the Keys, it seemed like everyone was tanned, bleached, spiky, or all three. But one thing was for sure — people were here for a good time.
Oh yes, Key West is a party place. Mostly for people older than us — while there were a handful of visitors in their twenties and thirties, I found most visitors to be 40+ and especially 50+. And the crowd was very white.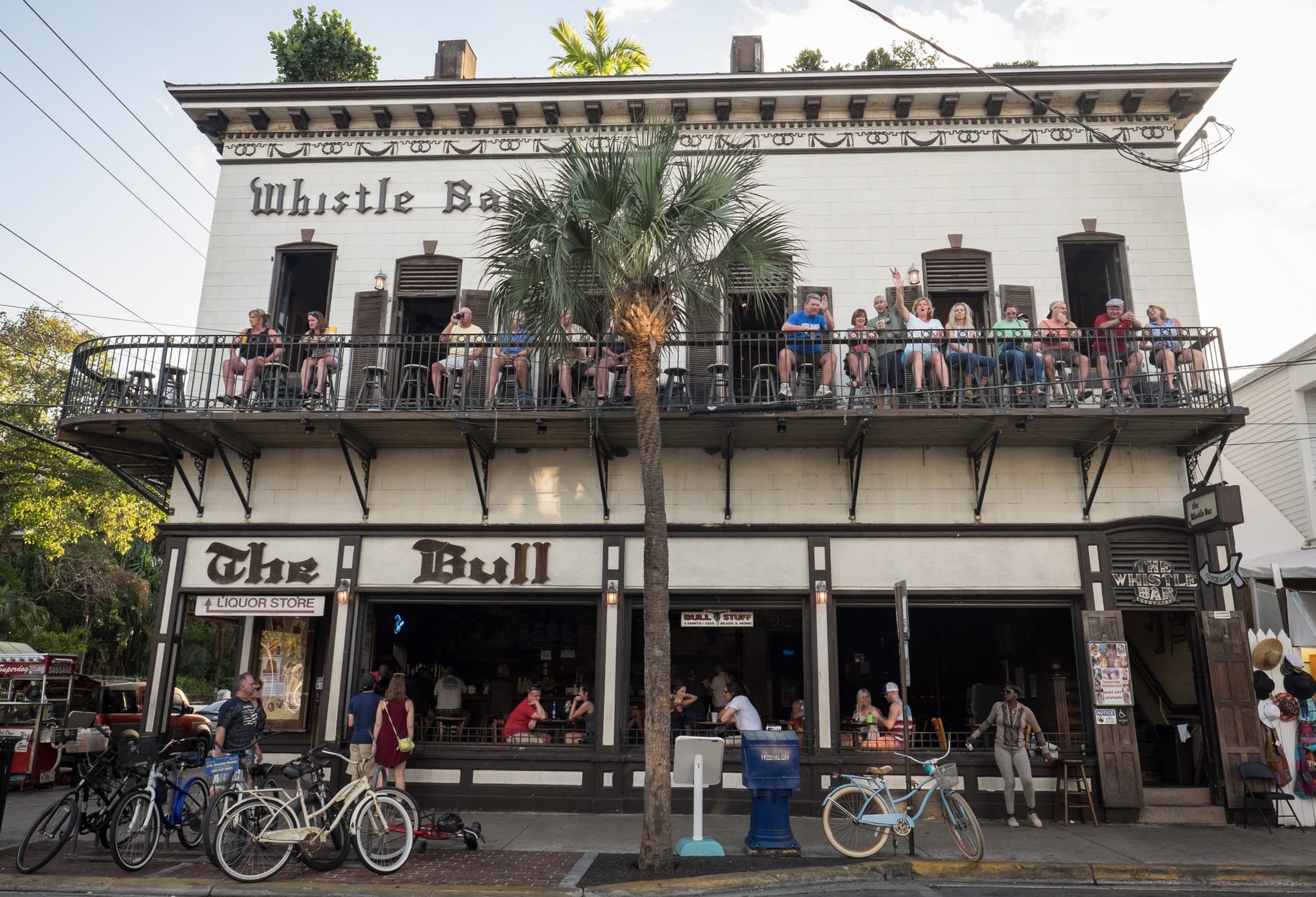 See that waving group on the top right? That's the demographic, right there.
So if you're in your twenties or thirties, don't go expecting to meet lots of people around your age. You might meet some, but I wouldn't plan on it. You'd probably be better off going to Las Vegas or New Orleans for a younger party crowd.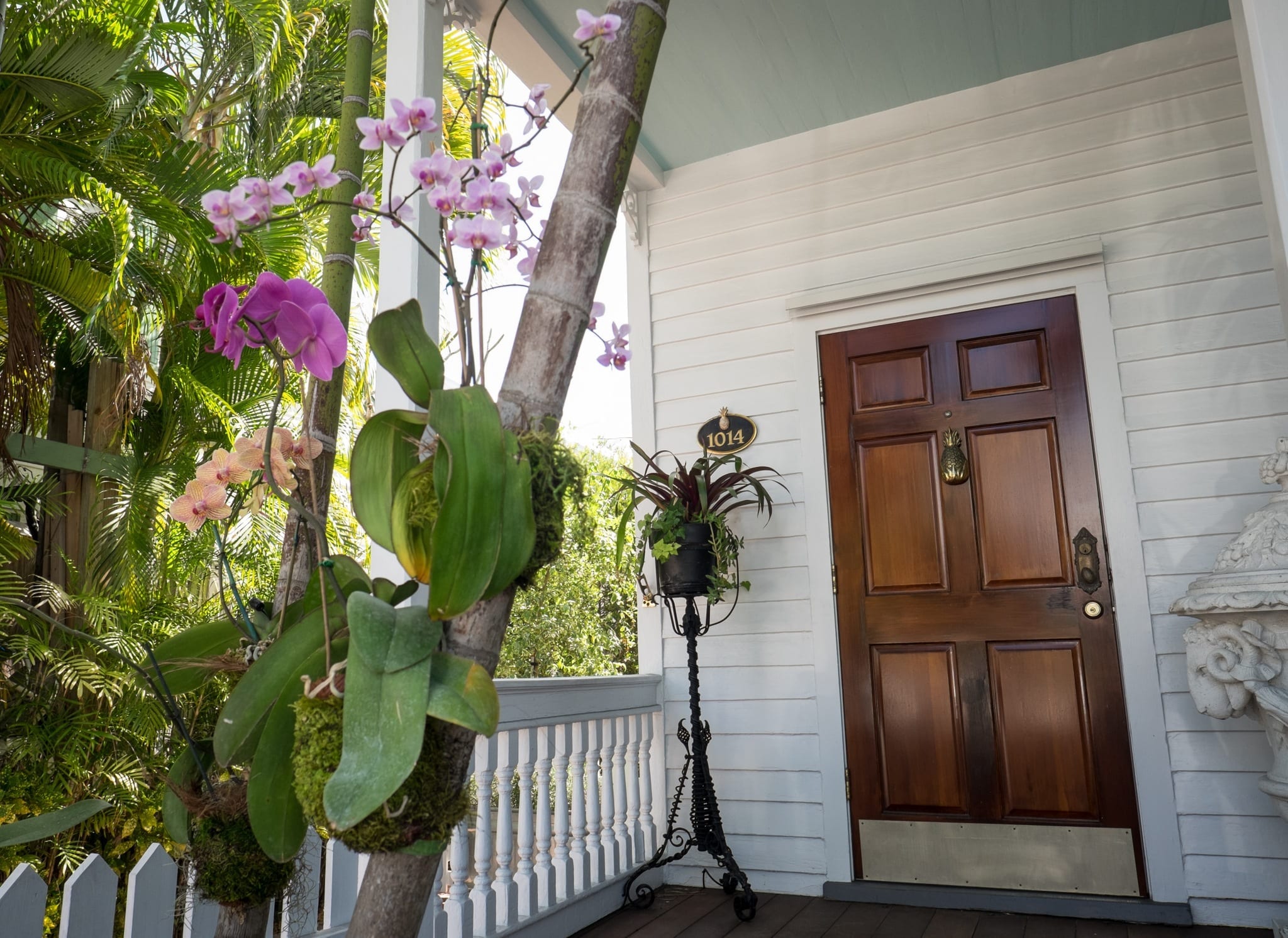 Key West has historically been a very LGBT-friendly destination, but I was surprised at a few things. First of all, while there were plenty of gay travelers and gay couples visiting, I didn't see a single sign of affection or PDA between a same-sex couple. I also didn't see a single gay bar or group of gay travelers, which seemed unusual.
Secondly, there were T-shirts for sale everywhere that read "I'M NOT GAY BUT $20 IS $20." Kind of like the "UP THE BUM NO BABYS" shirts of Kuta, Bali. (There were also a lot of Trump-friendly shirts — "SPEAK ENGLISH OR GET OUT OF MY COUNTRY," etc.) It surprised me that vaguely homophobic apparel would be so widespread in a prominent LGBT travel destination.
Now — take this all with a grain of salt. I'm a straight cis woman; I've never experienced the difficulties LGBT travelers face and I'd never claim to speak for the LGBT community. And perhaps I was obtuse and walked by a ton of gay bars without noticing.
But I will say this: don't expect Key West to be like Fire Island or Provincetown or San Francisco, where tons of gay couples walk around arm-in-arm and nobody bats an eye. It may be different at different times of year. But if you're gay and planning a trip, Florida Keys Tourism has an LGBT travel resource site here.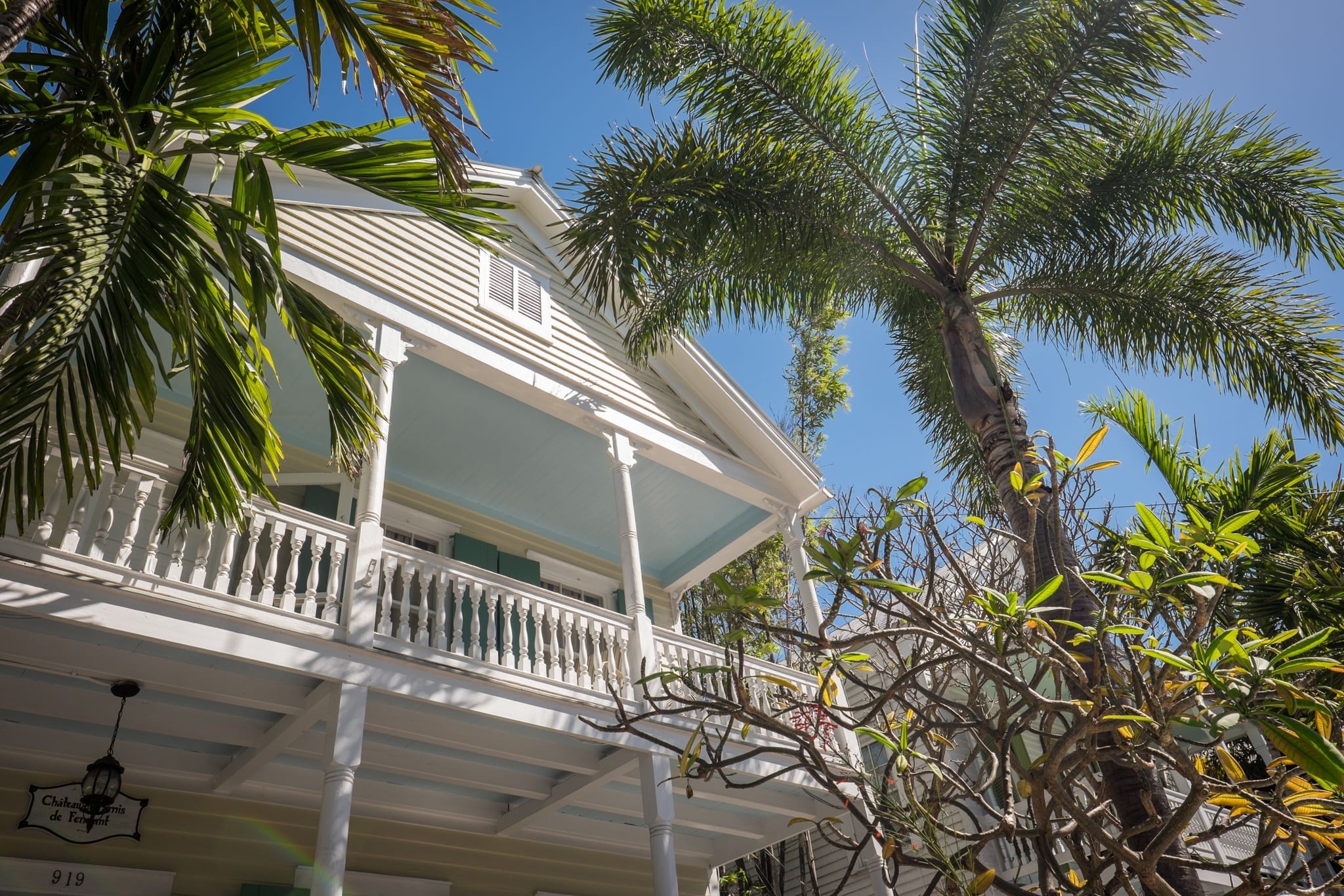 The Beauty of Key West
Key West is such a beautiful city and the buildings blend together beautifully. One of my favorite things to do was just walk around the town and check out the homes.
Here are some of my favorite shots: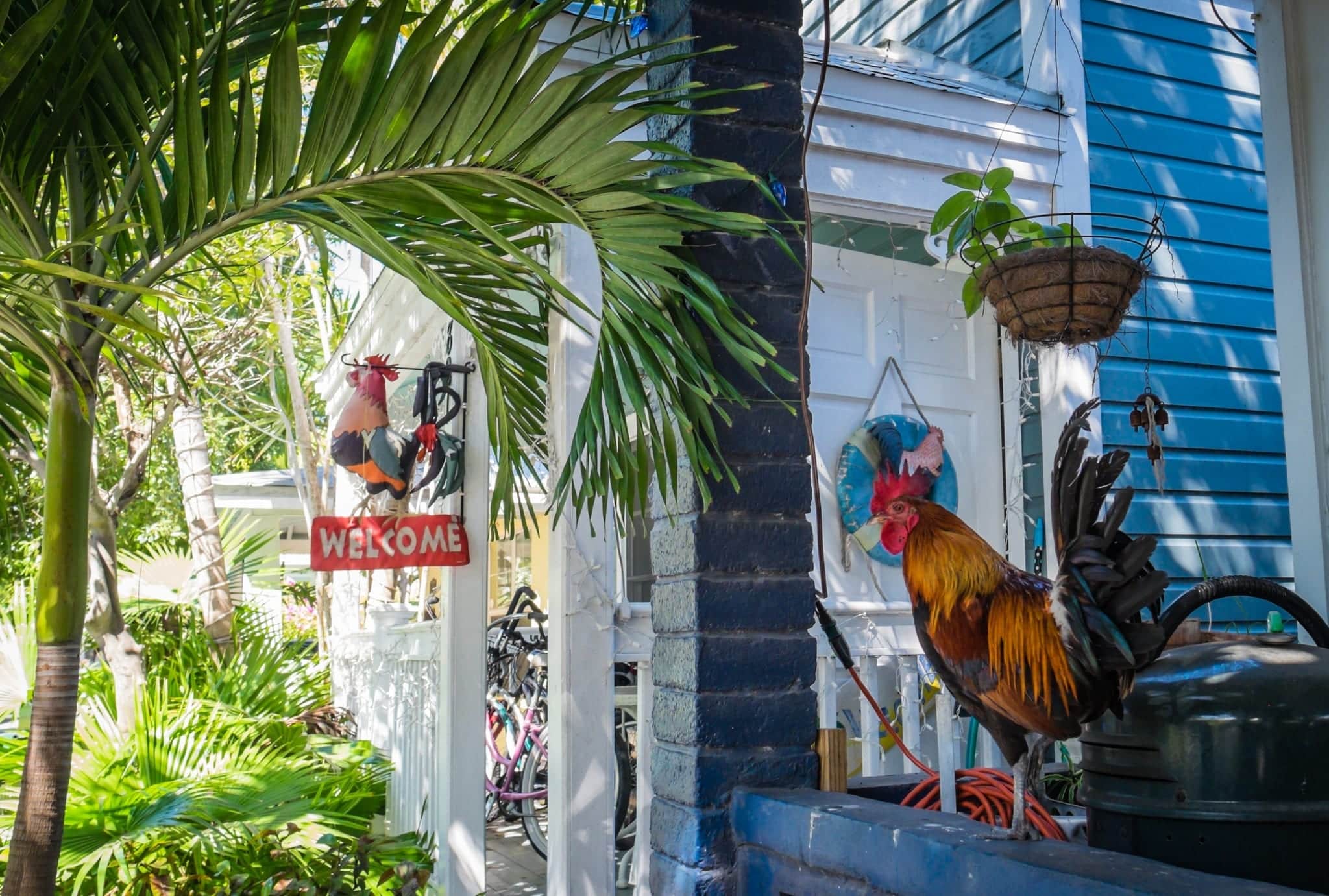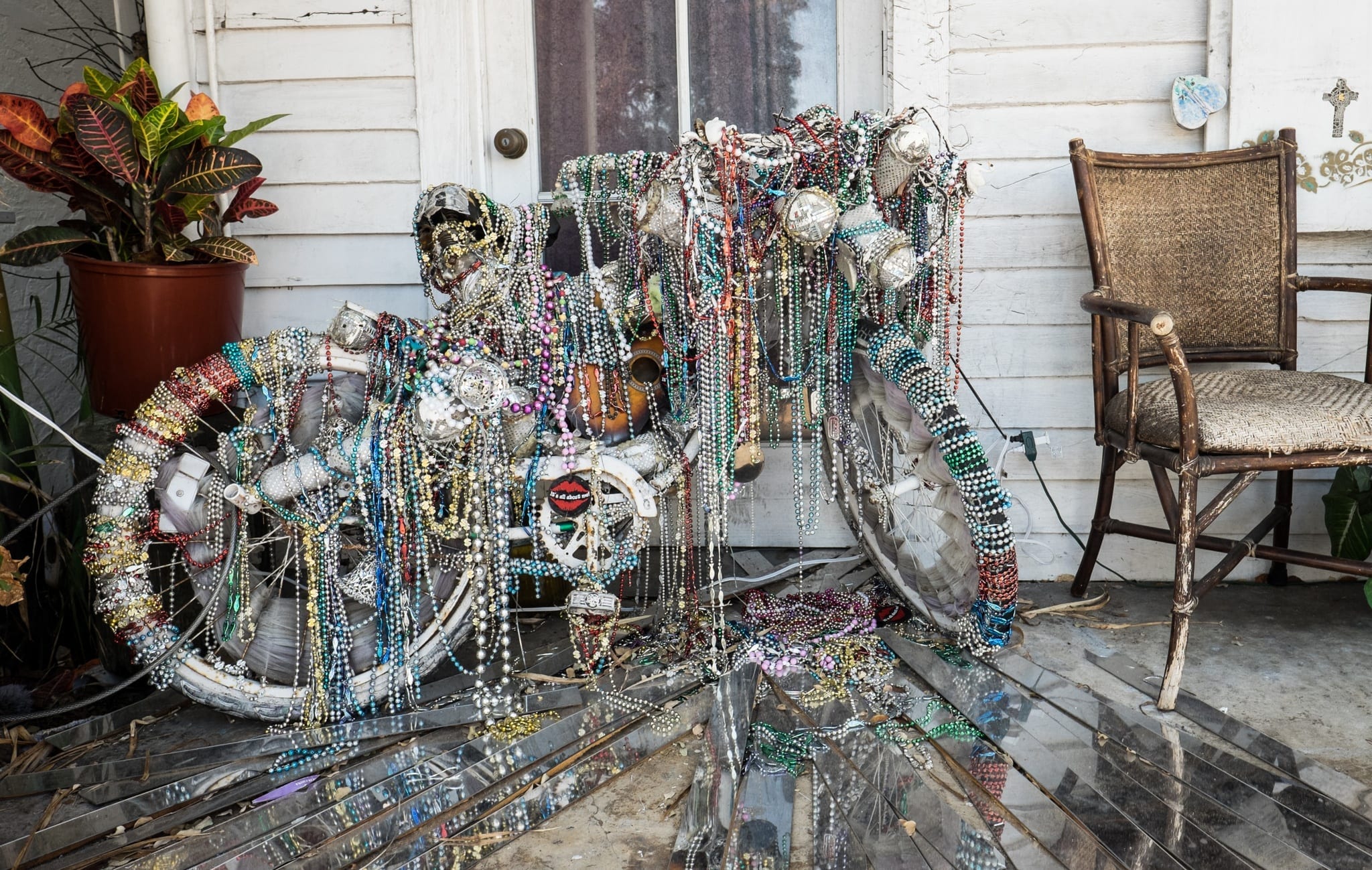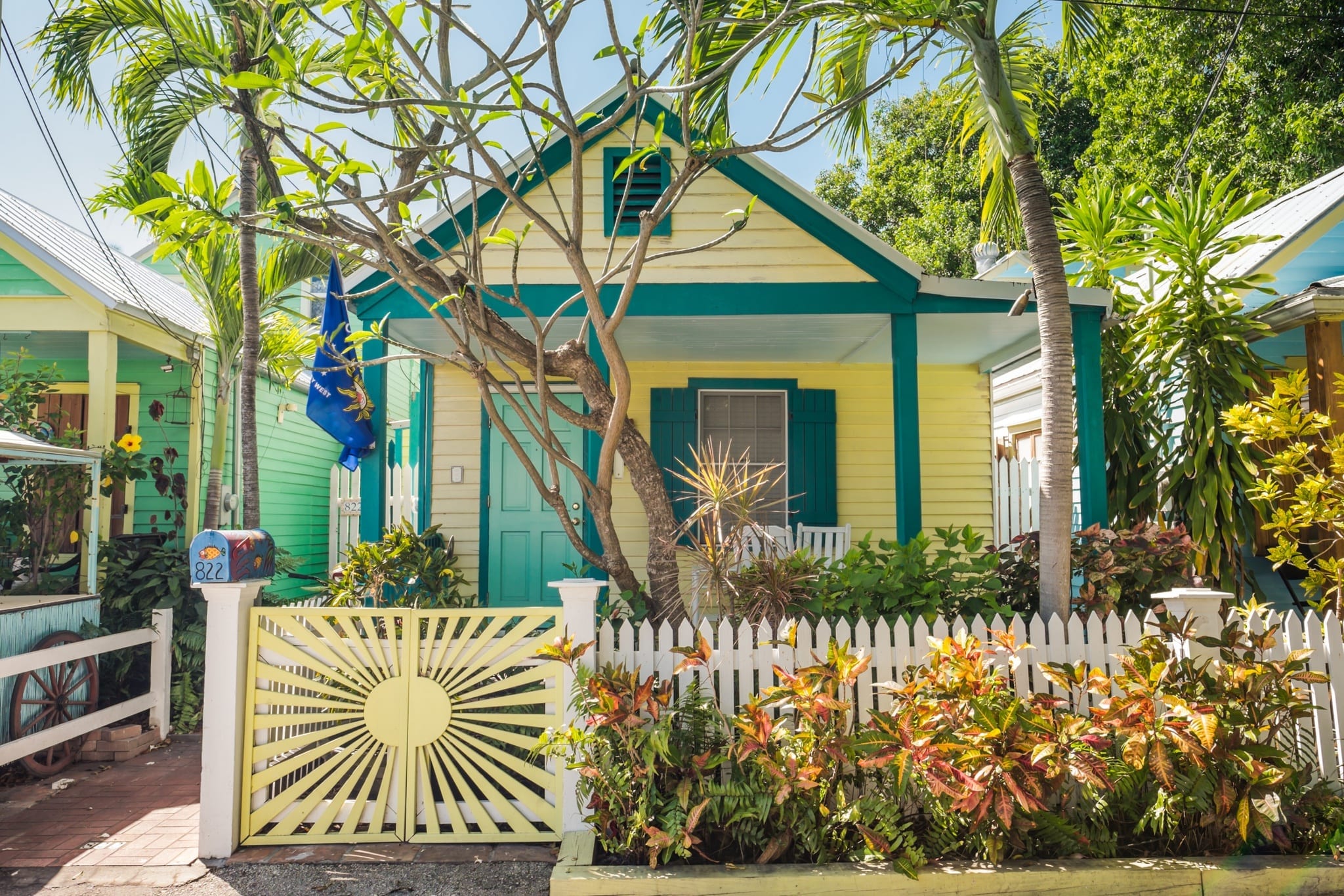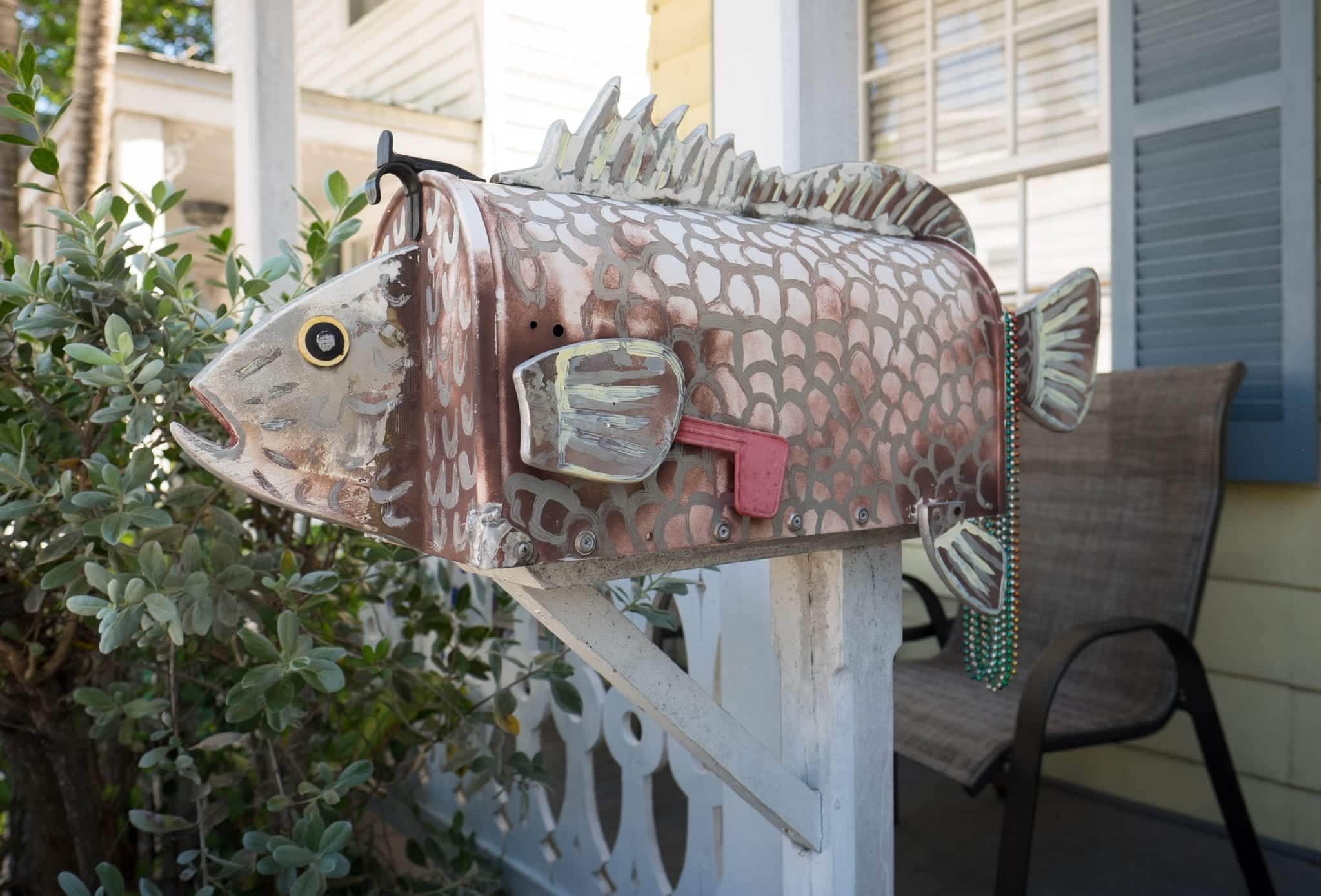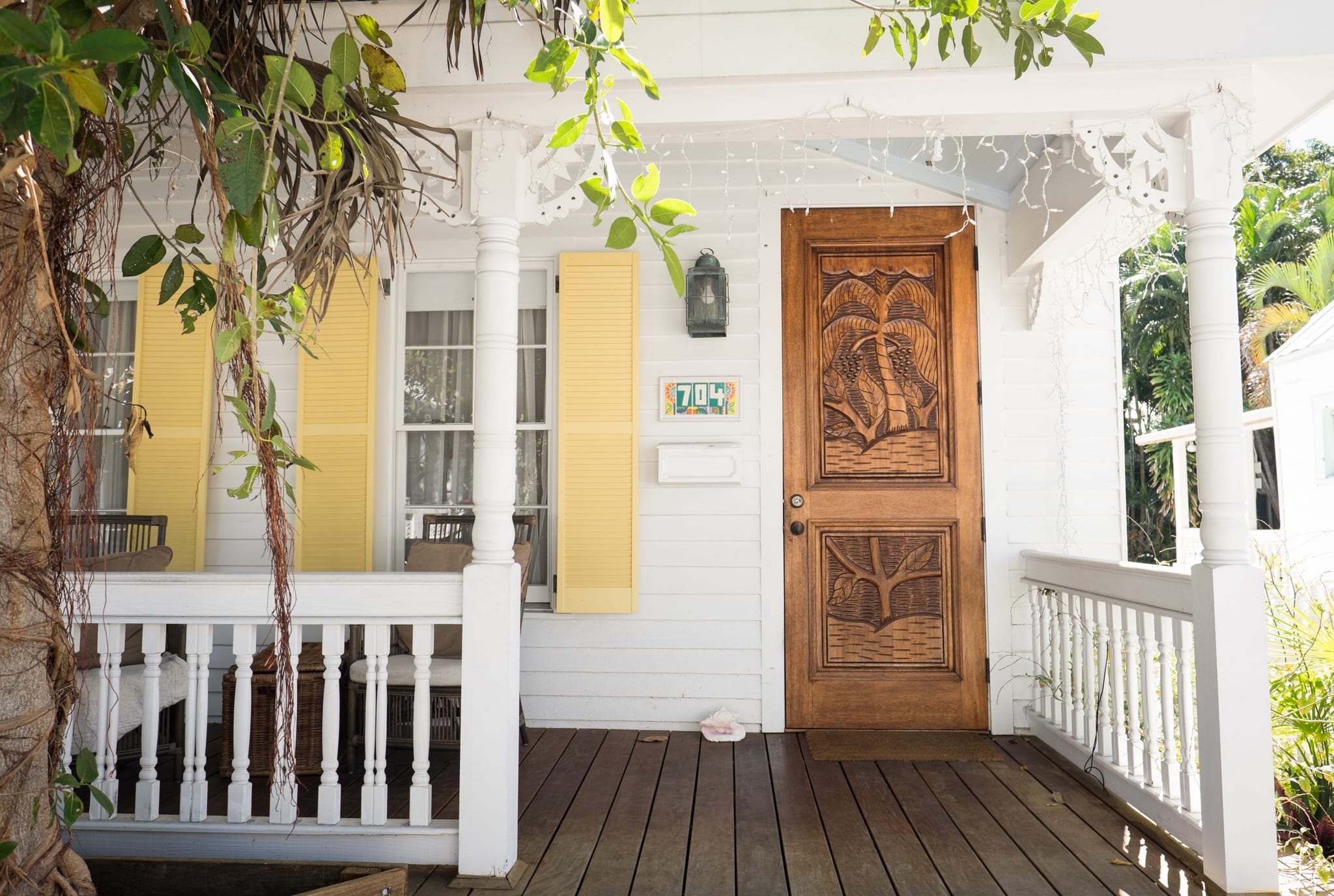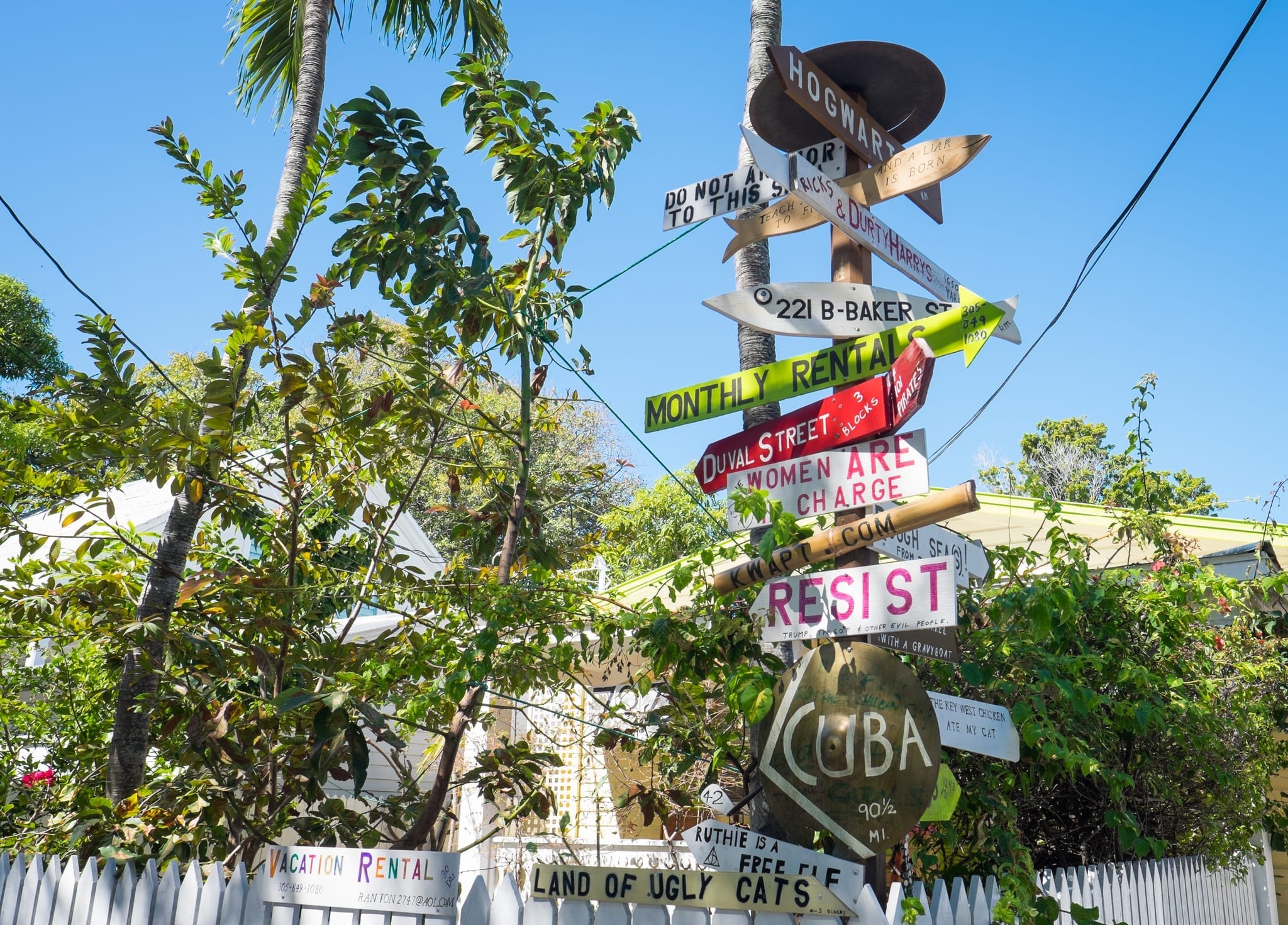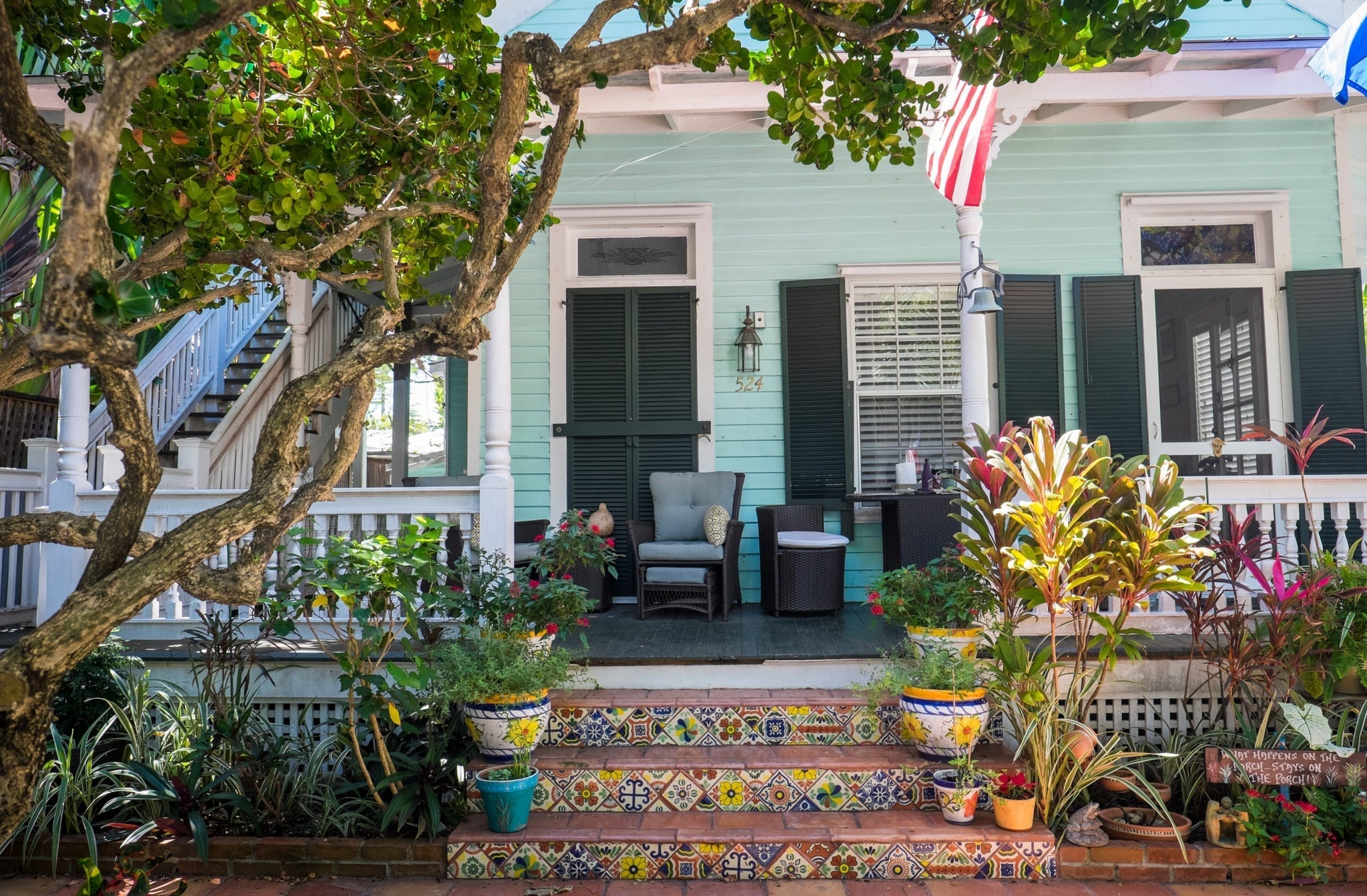 Are you in love with Key West already or what?
Yes, there are some taller buildings, but they tend to be outside the town center. That's why you're best off staying in a small guesthouse in one of these traditional buildings.
Sunsets Are Life
Every night, the waterfront and area around Mallory Square come to life just before sunset. They call it the Sunset Celebration — the streets are live with performers and food and booze vendors as everyone gathers to watch the sun go down.
Cailin and I see bright green slushies from a wagon parked by the water. "What is that?"
"It's The Green Thing!" the bartender announces with pride. "I invented it twenty years ago! Here, I'll pour you a sample." He pours us an extremely generous serving into a spare glass.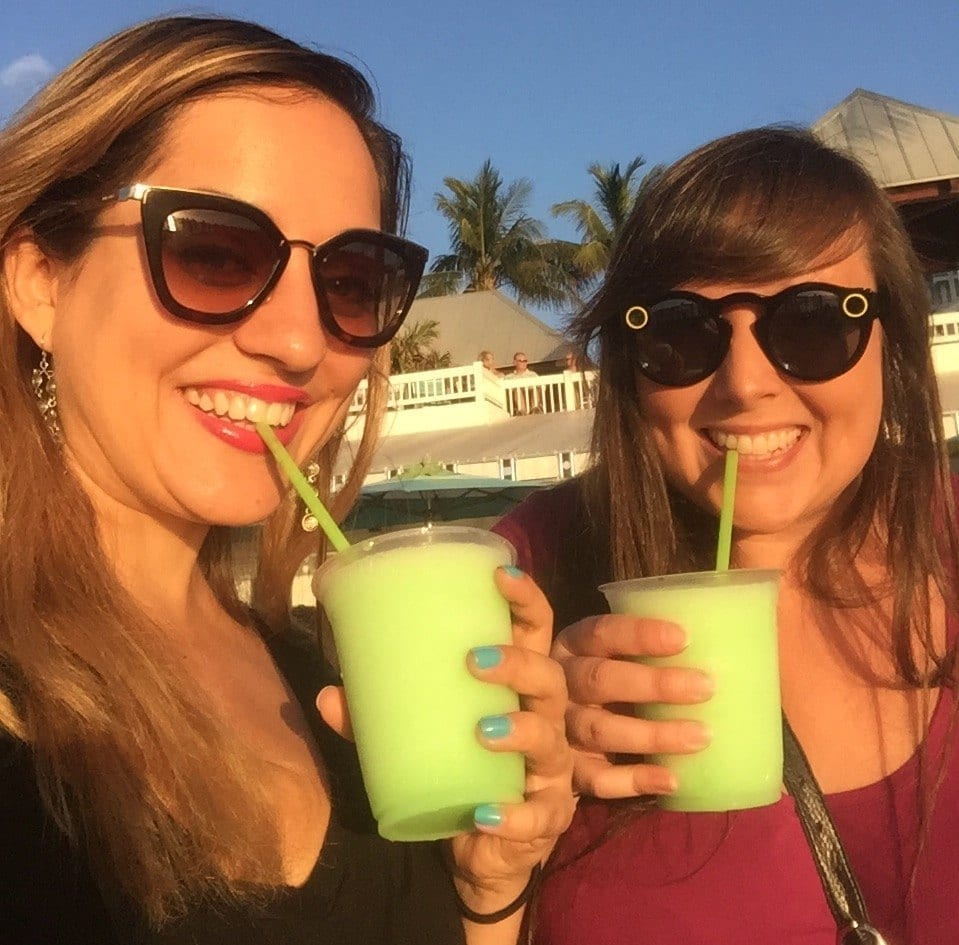 We sip the sample, our lips turning green. It's fabulously strong, tasting of rum and limes. We order two.
"Can I try?" asks a forty-something man behind us.
"Um. Okay," I say, handing him my glass and internally screaming, Why are you giving some stranger your drink, McCulley? You should have ovaried up and told him no!
("Why did you give it to him?" Cailin asks as soon as we're away from him. "I DON'T KNOW!" I exclaim. "It was a sample! What's the etiquette for samples?!")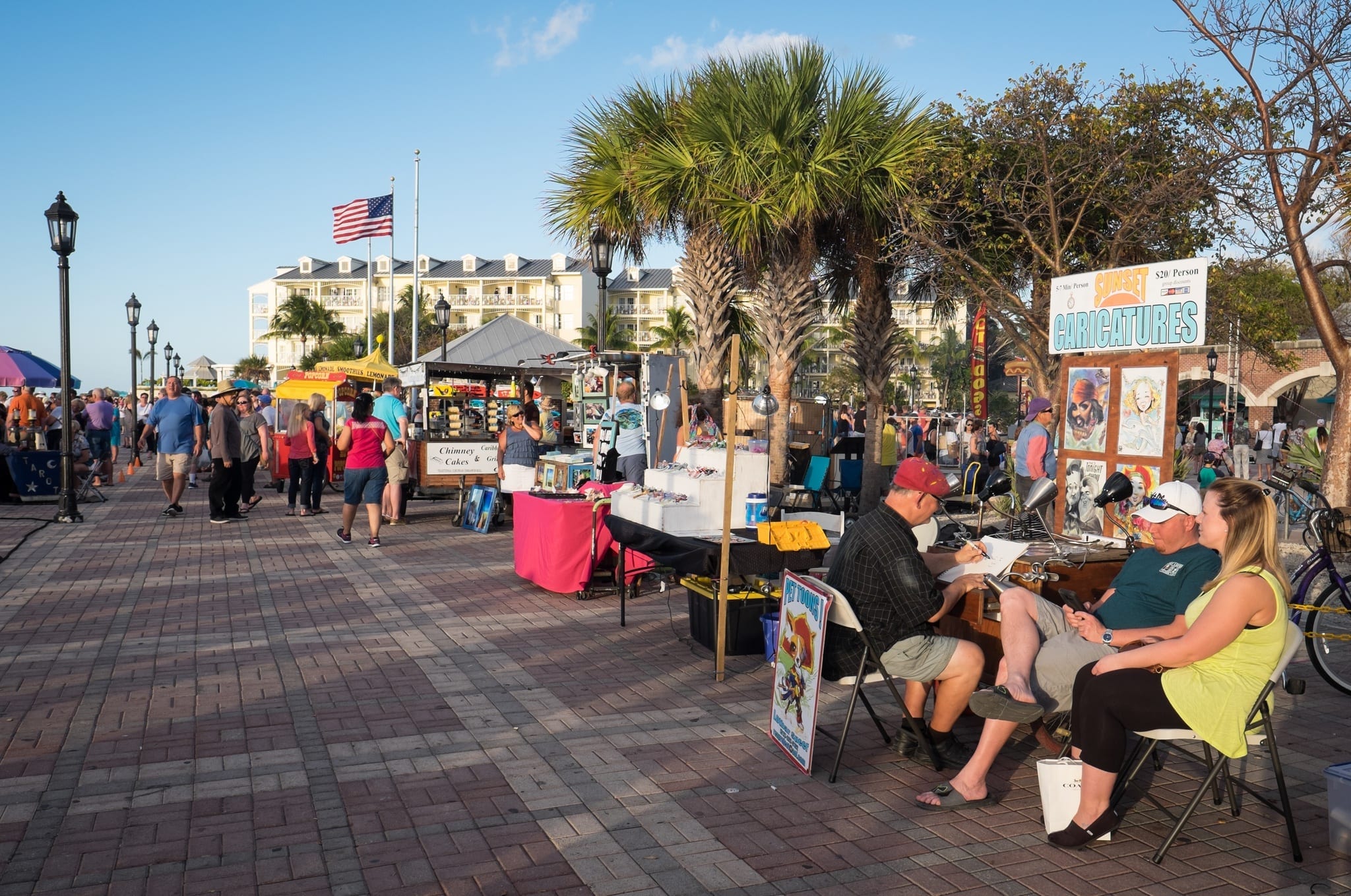 Green drinks in hand, we make our way down to the greatest show of all — THE CAT MAN.
Imagine a French dude with long white hair performing "magic tricks" with a collection of cats and then lifting their tails and screaming into their butts. That's the Cat Man, and his Key West show is famous! Whatever you do, make your way over to see the Cat Man's show.
(No pictures because he doesn't permit them — but you can check out his website here.)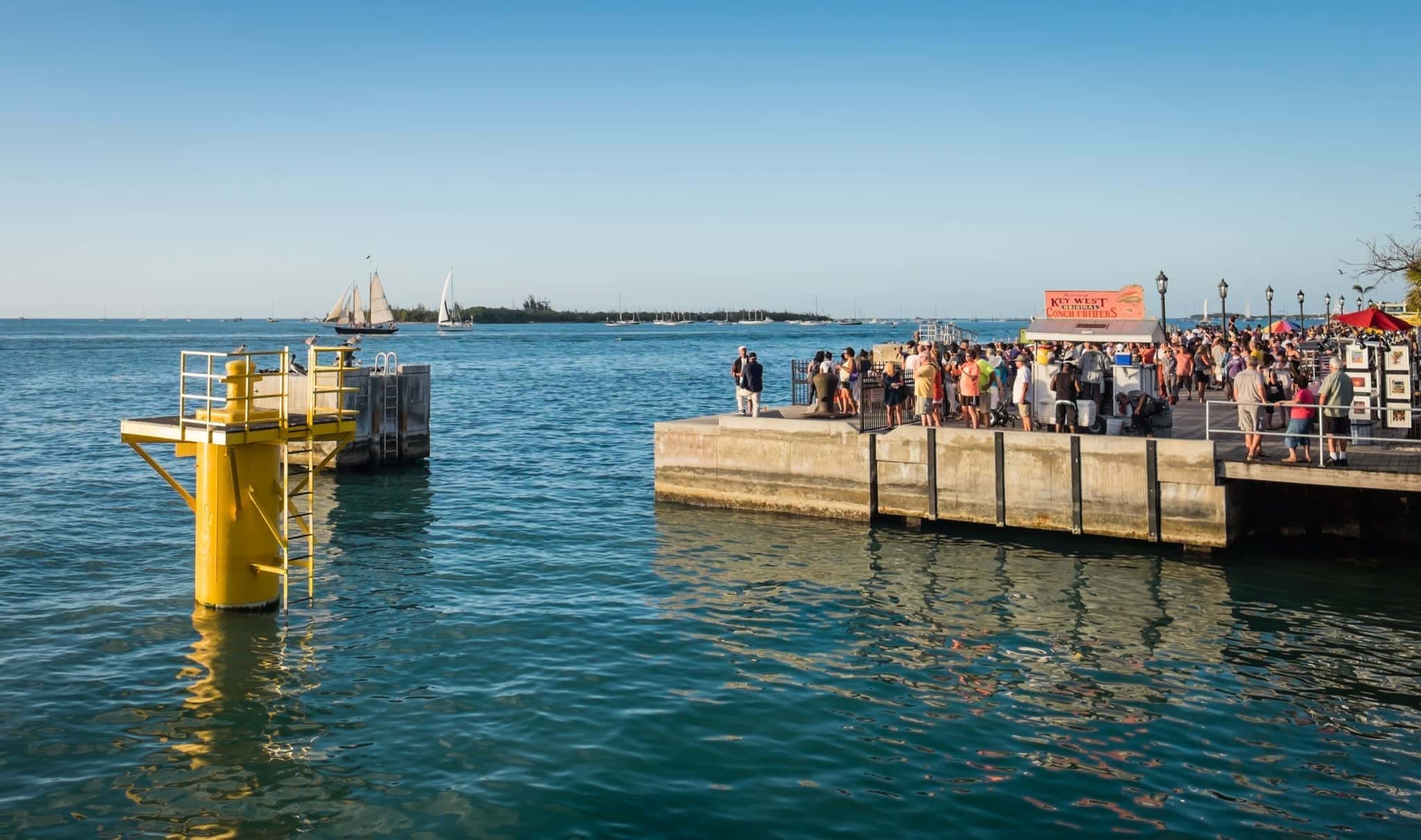 Key West Sightseeing
Key West has plenty of places to explore if you're into sightseeing. We didn't go on a major tourism binge, but we did check out a few of the biggest sites.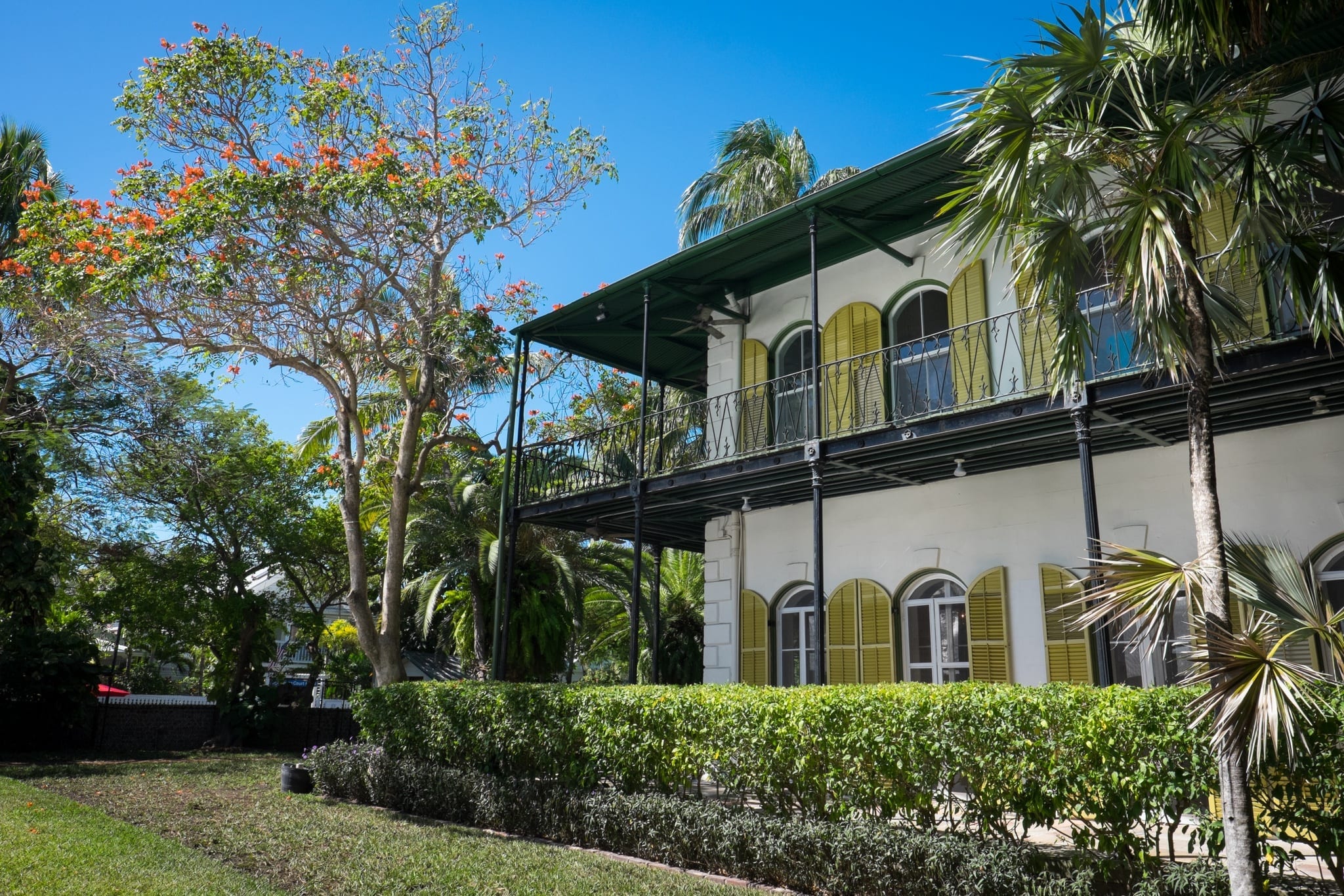 First of all, Ernest Hemingway lived in Key West and you can visit his home. The Sun Also Rises has been my favorite book since I was 17, so visiting his home was a must for me.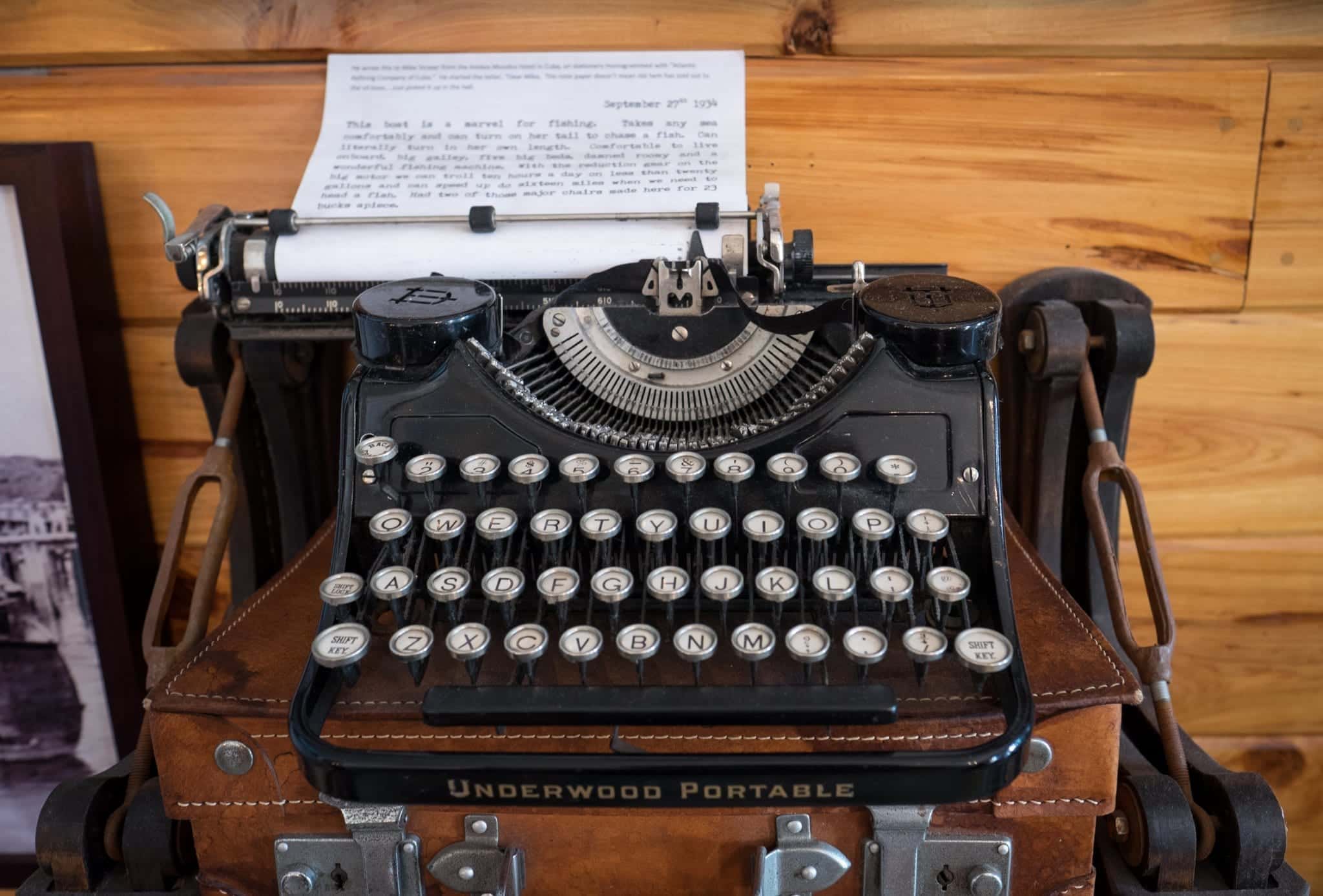 You can see his typewriter. And a portrait of him painted, in Cailin's words, "when he was young and hot."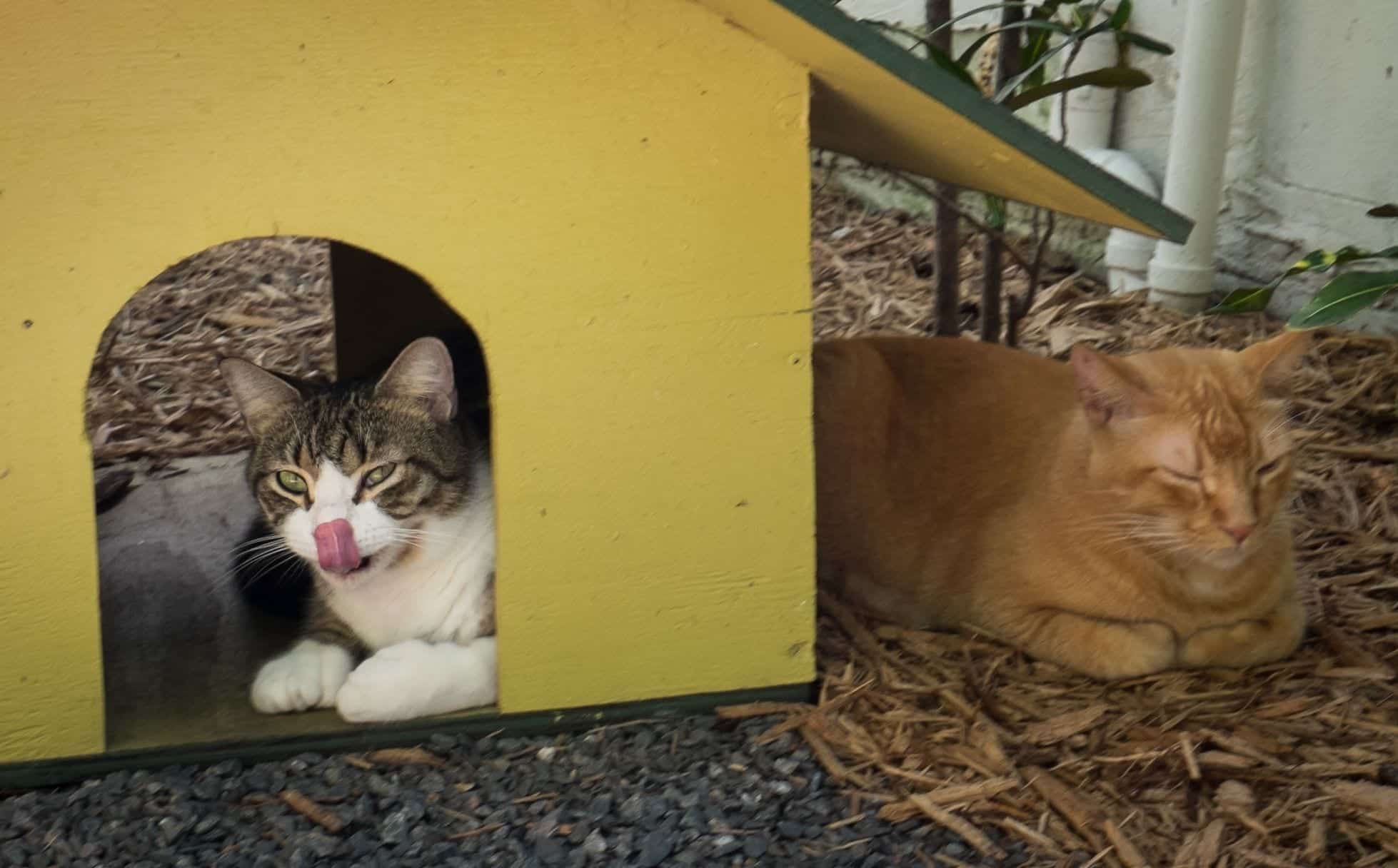 Most famous, however, are the Hemingway cats. The cats are descendants of Snow White, a white kitten given to Hemingway by a ship's captain. The cats are polydactyl, or six-toed, a trait that has lasted down many generations.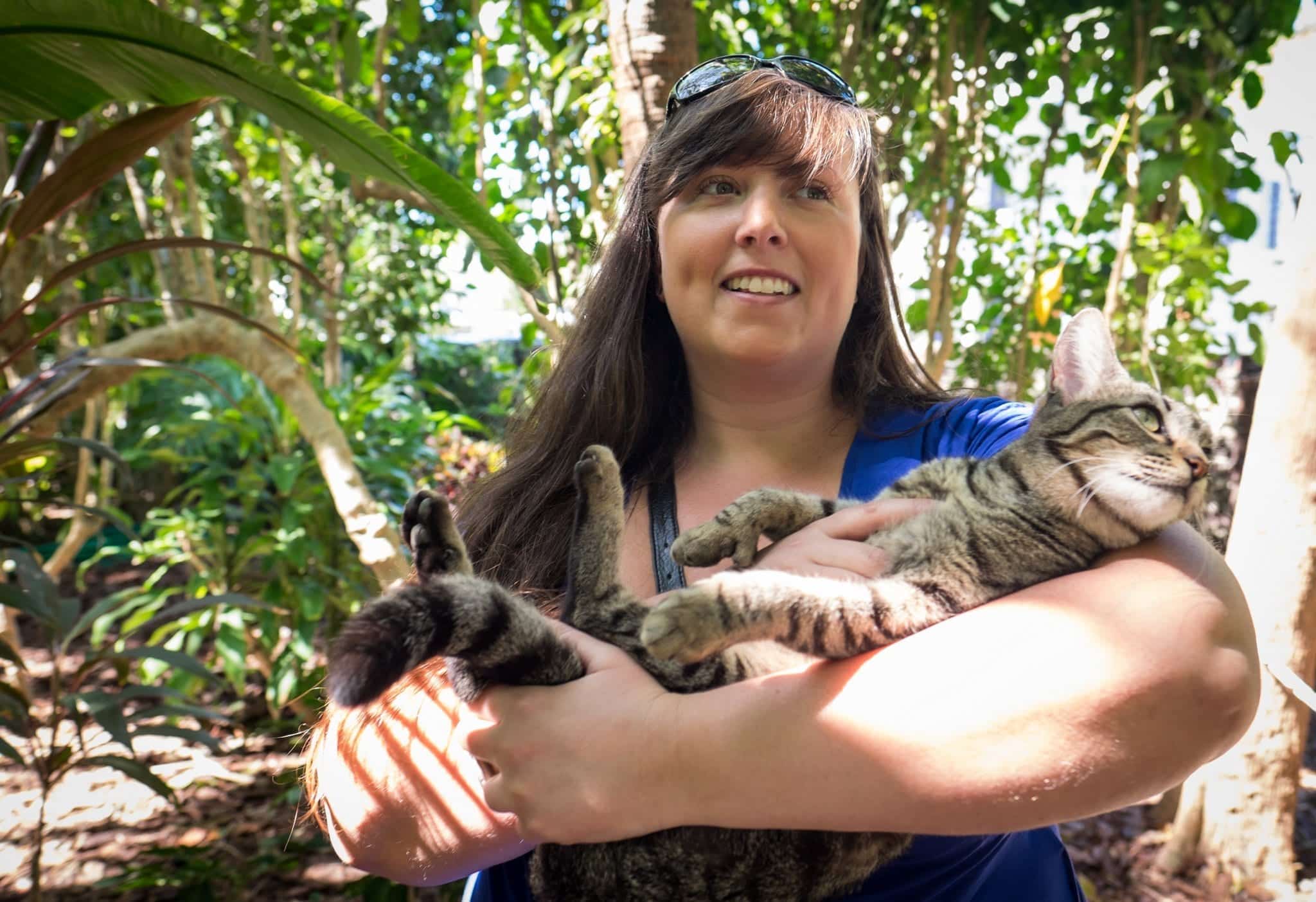 Crazy cat lady Cailin made a new friend.
Across from the Hemingway House is the Key West Lighthouse. It's 88 steps to the top…
…and you get a great view across the island.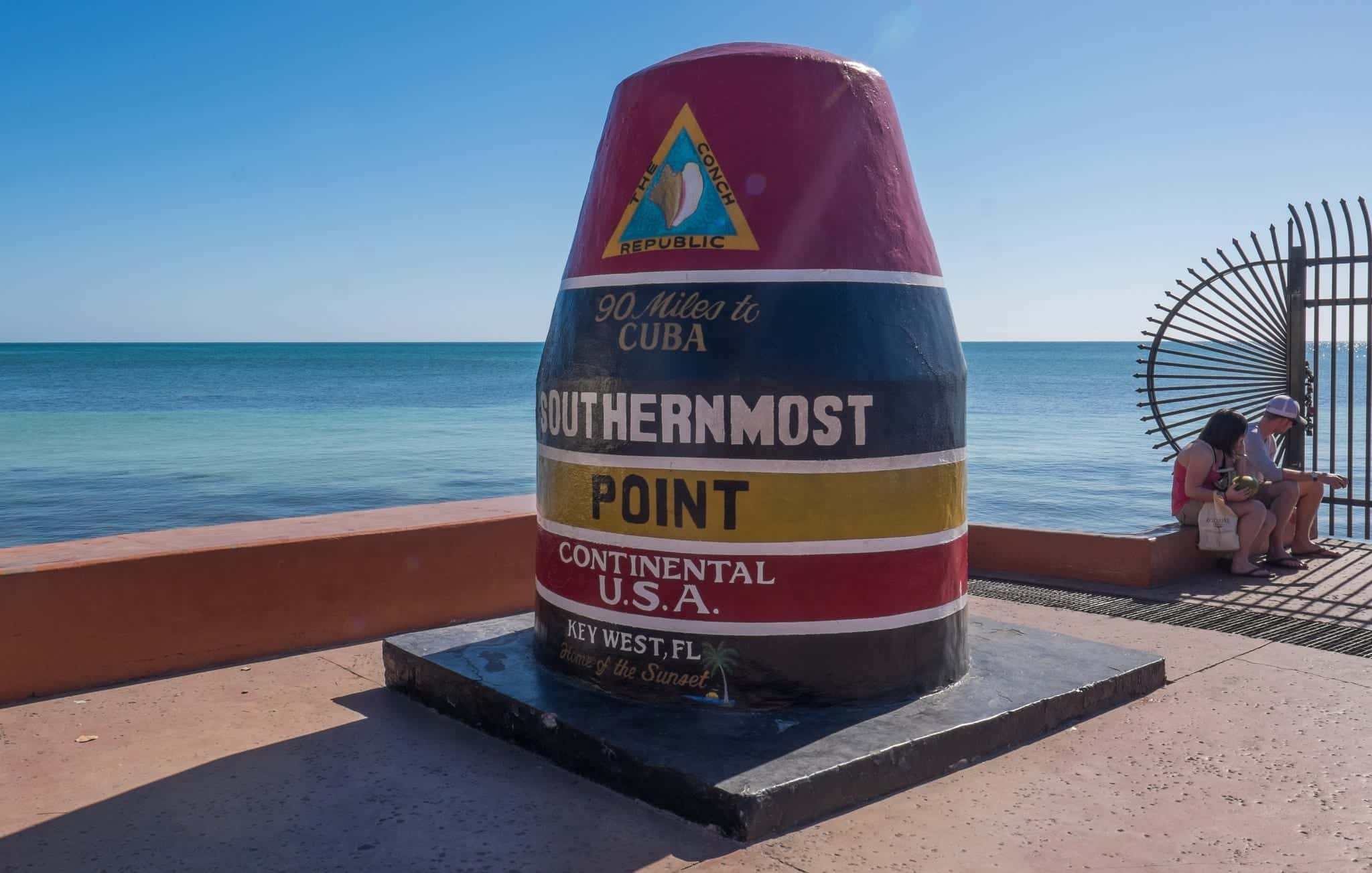 Just down the street from the lighthouse is the Southernmost Point. It's the furthest south point in the continental United States — only 90 miles from Cuba.
It's fun to stand further south than everyone else there and know that you personally are the southernmost human in the continental US!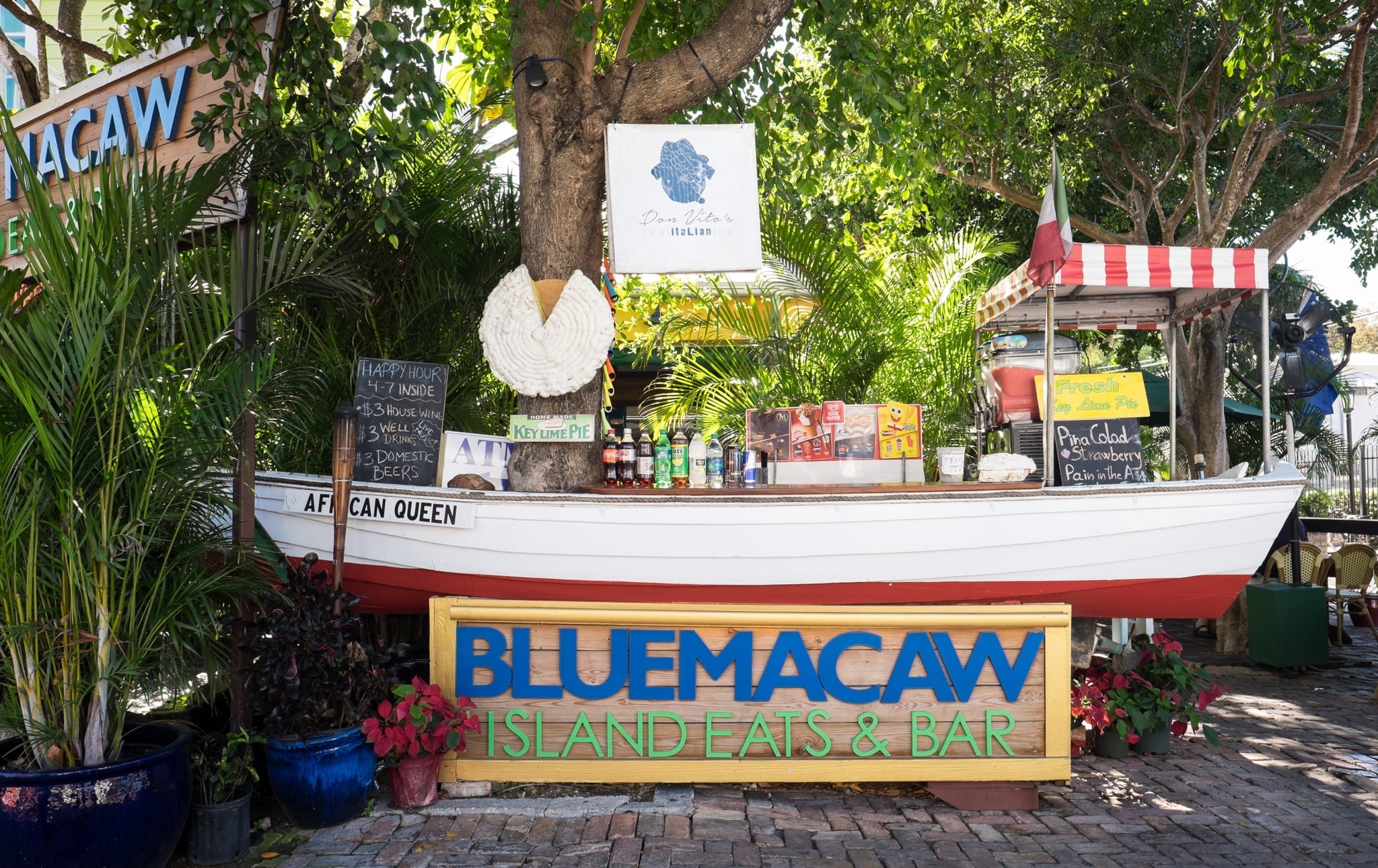 Foodie Fun — And Key Lime Pie
Key West is a casual place, and most of the dining options here are open, welcoming, and unpretentious.
Tons of my friends and readers told me we had to go to Blue Heaven — and wow. I fell in love with it the moment we walked in.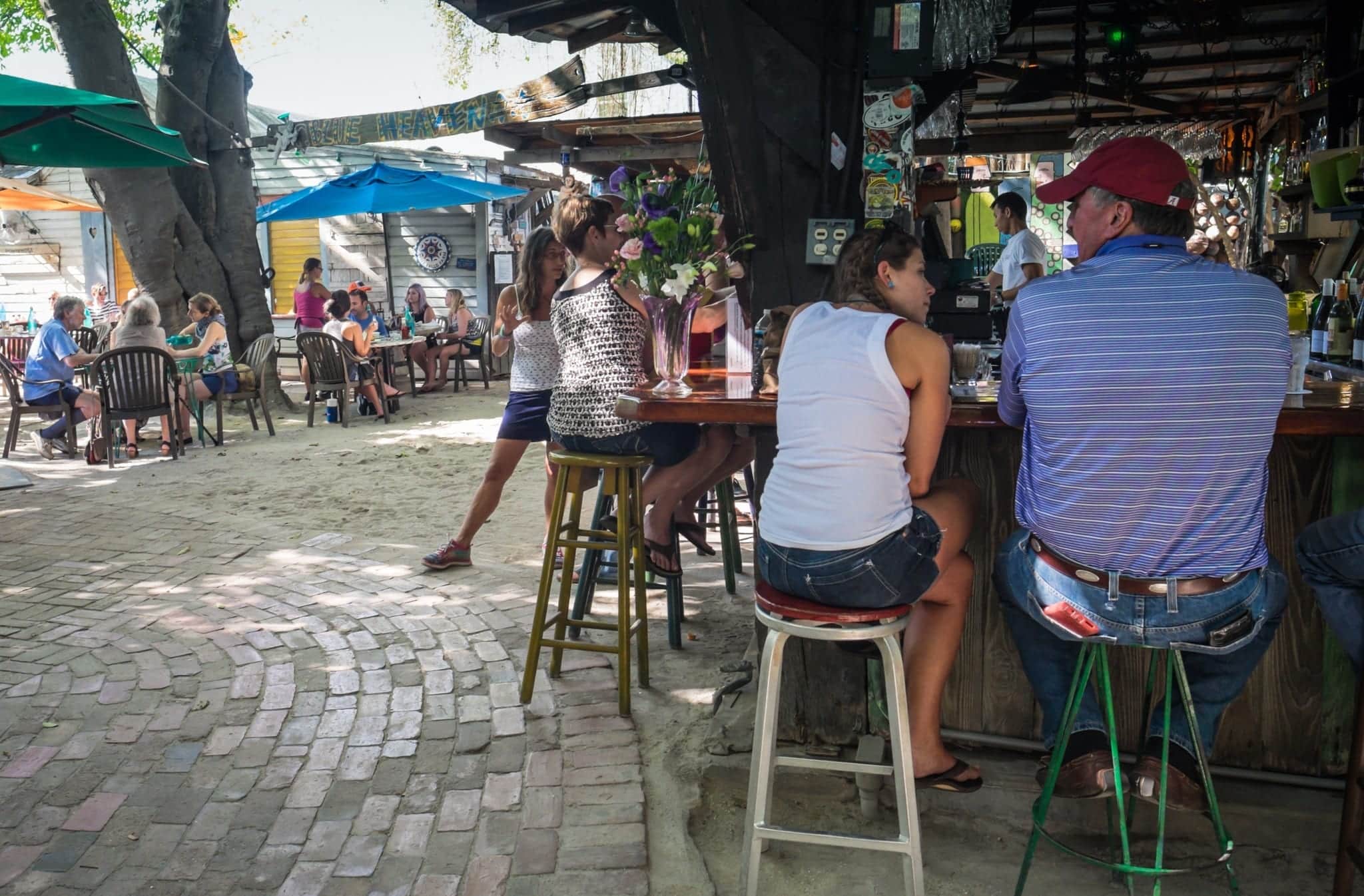 Ramshackle tables were set up outside. Two guys were playing guitars on stage and making jokes throughout.
All the seats were taken, so we headed to the bar for a drink.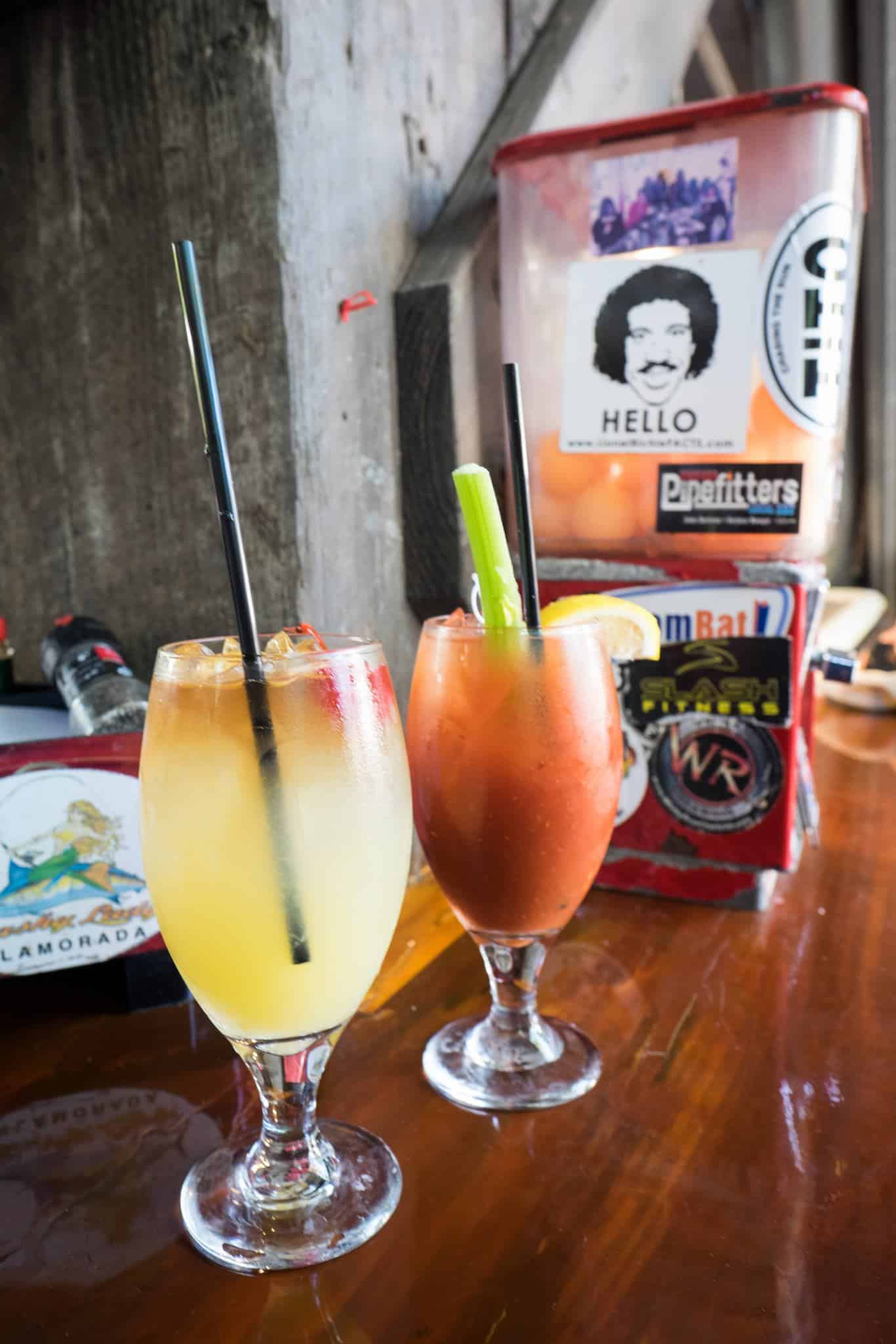 And the bar was hopping, even as early as noon. (This was a pattern I noticed throughout the Keys — you can always find somewhere to drink.) Also, how great is that HELLO sticker in the background?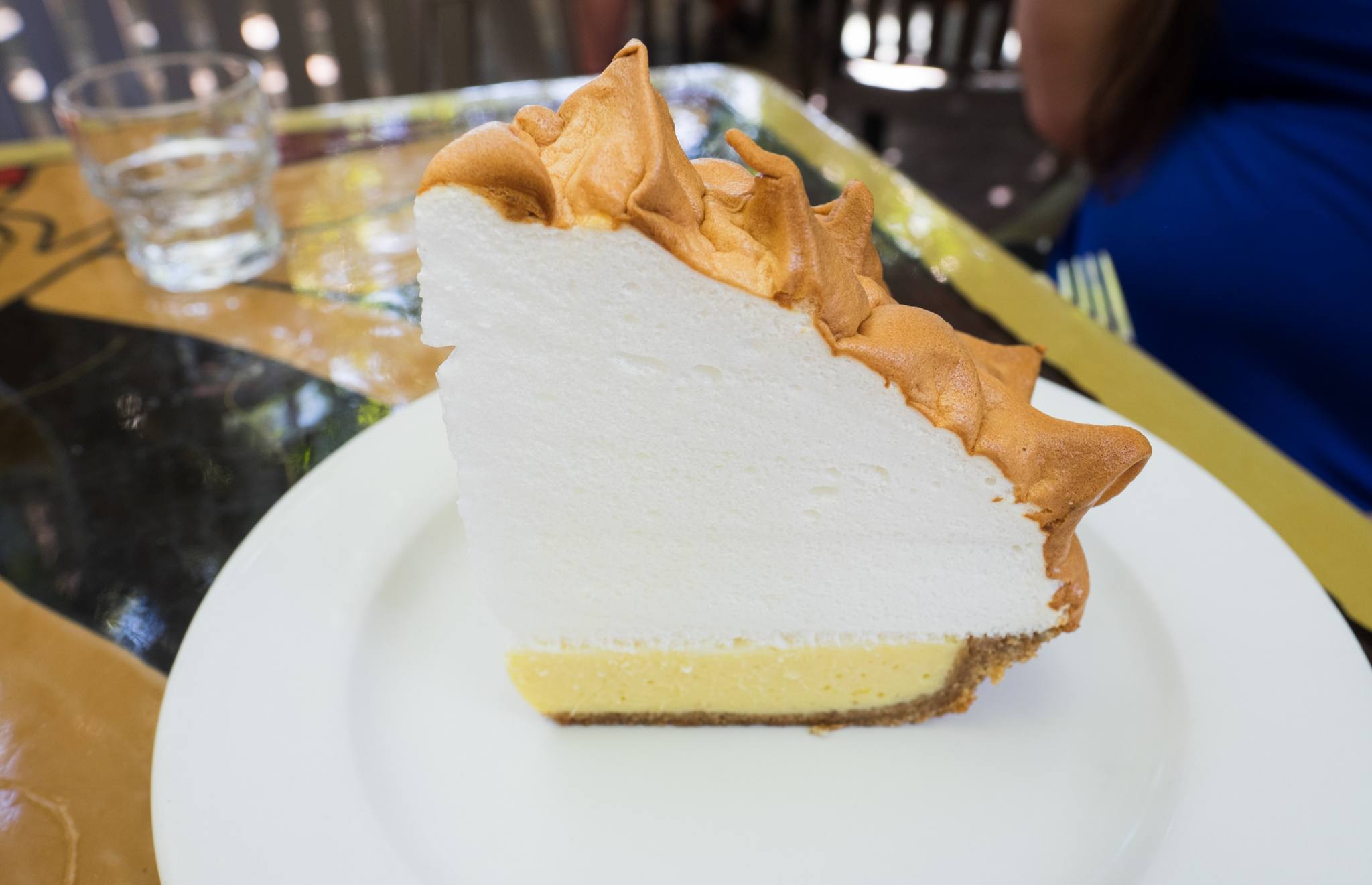 Key lime pie was had, of course. This wasn't one of my favorites, though — the meringue seemed lazy to me. Too overly done. It's supposed to be messier than that.
If you're looking for something more upscale, head to Mangoes for dinner.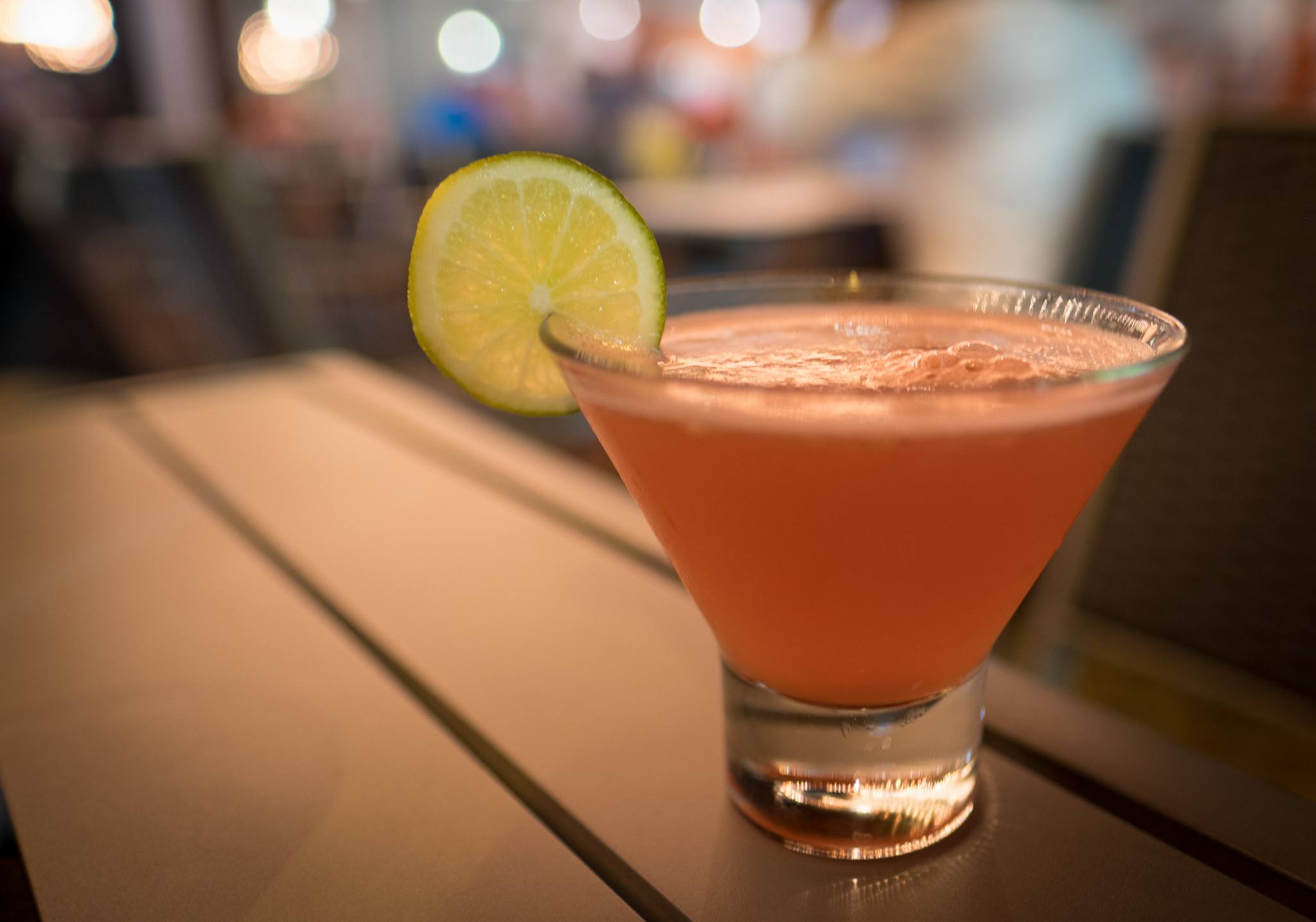 And they had one of my favorite cocktails: the watermelon margarita.
(Fun fact: Cailin is always getting me to say "watermelon margarita" out loud because it's one of the few phrases I always say in a Boston accent. She then asks me what I put my clothes in and I say "drawer" without pronouncing the last two letters and she finds it hilarious.)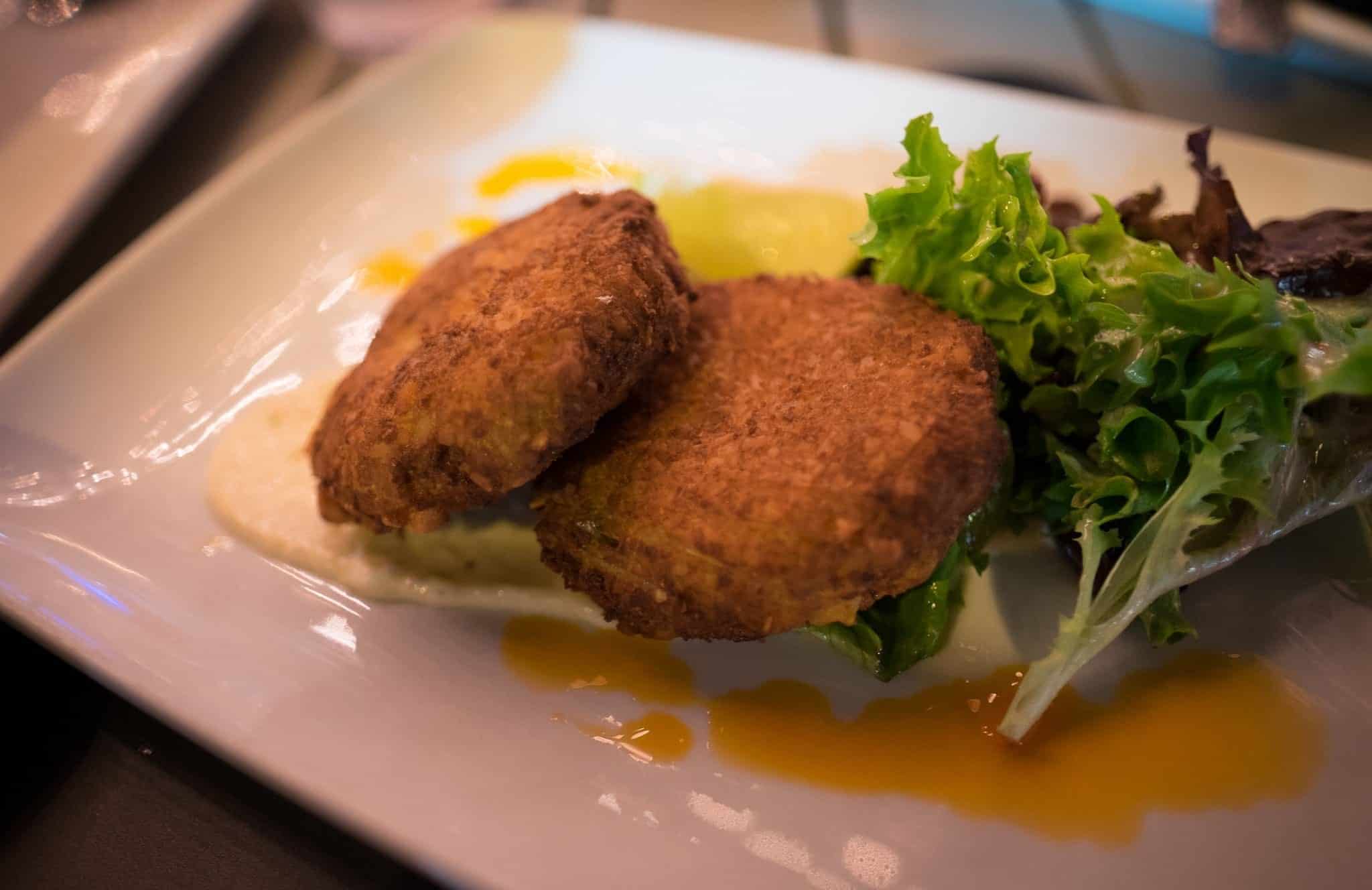 Other standouts: crab cakes made with macadamia nuts; a conch sampler featuring ceviche, chowder, and fritters; and a Caribbean-style steak frites with yucca fries.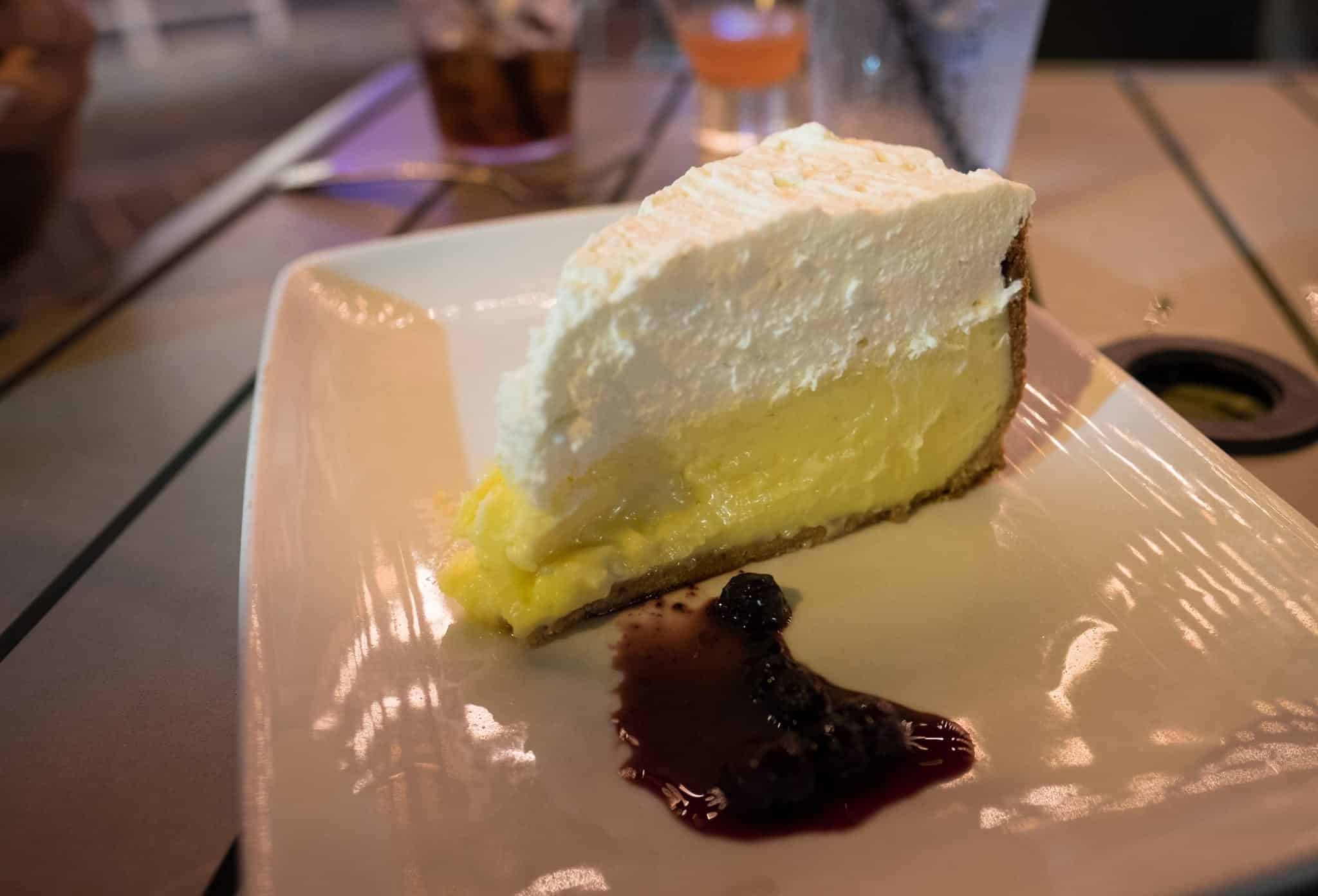 Mangoes has both a traditional key lime pie and unorthodox key lime pie on the menu, so we went for the offbeat choice: made with mascarpone and a ginger-graham cracker crust. After trying several varieties of key lime pie all over the Keys, this was a nice detour.
The gingery crust was fabulous, though I do prefer the tart traditional filling.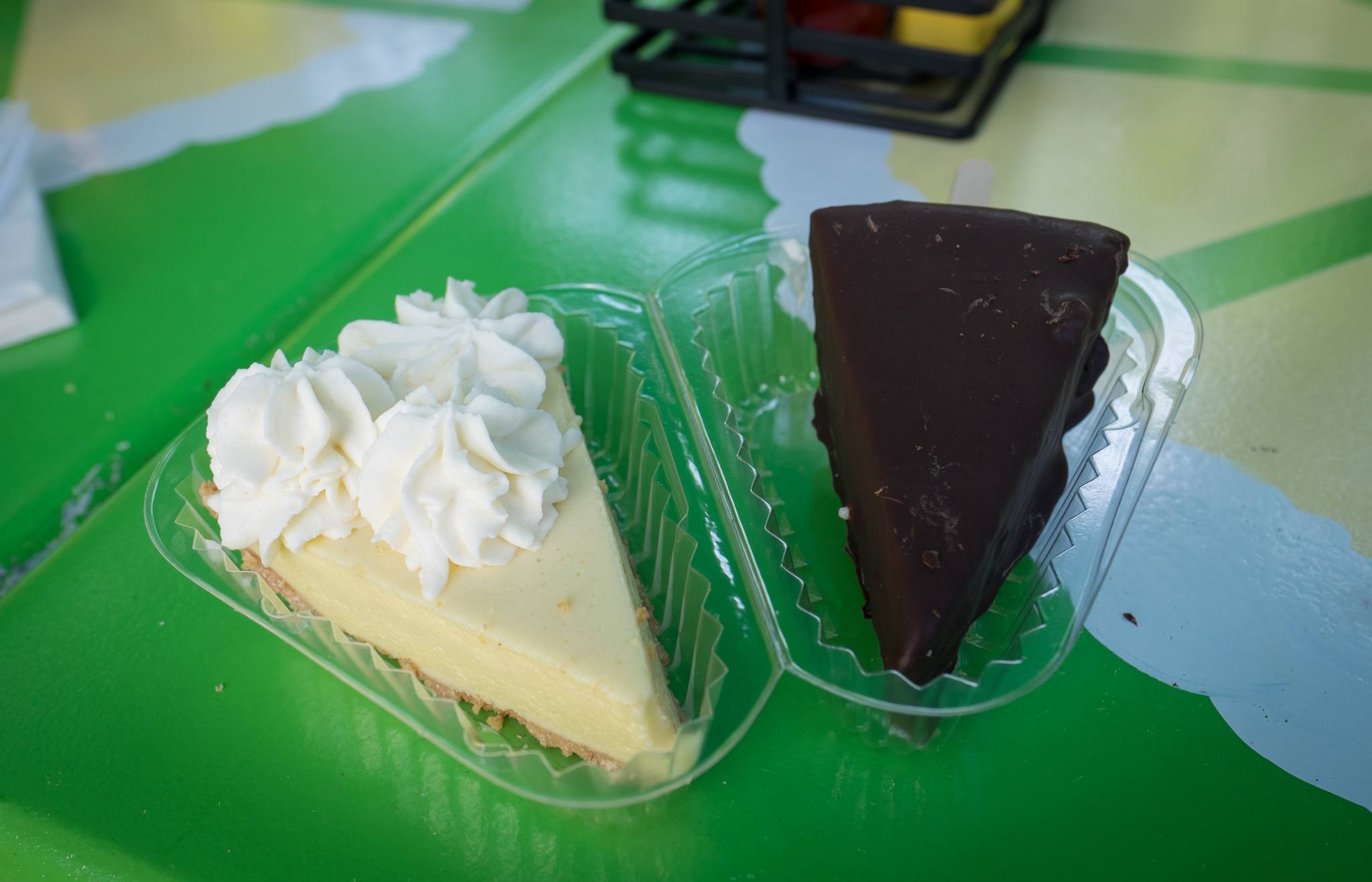 And if you want even more famous key lime pie, head to Kermit's. I found their pie filling to be a bit too on the mousse-y side, rather than gelled, but I really loved their frozen key lime pie on a stick, dipped in chocolate!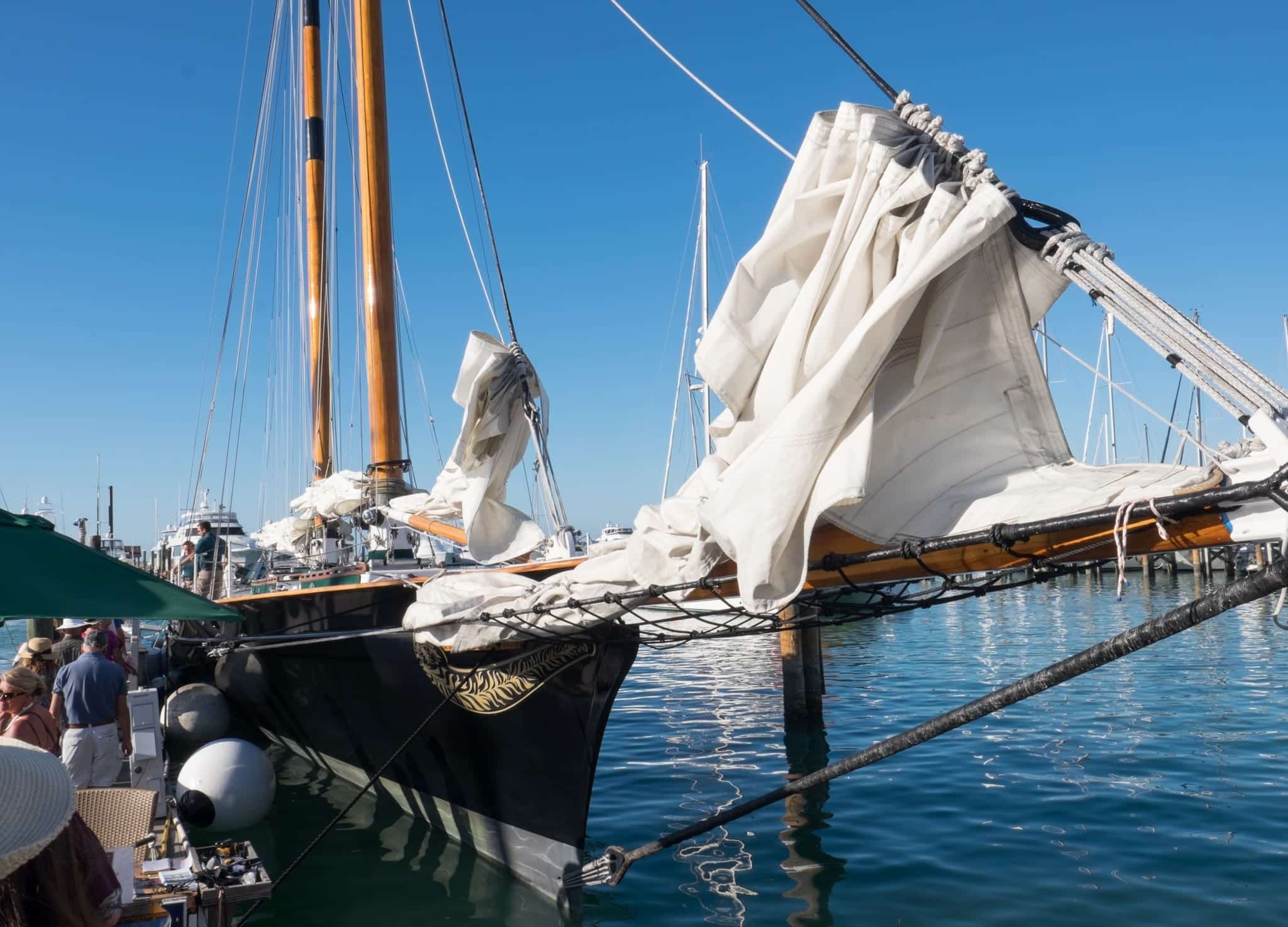 Boston Reunion on a Sunset Cruise
Sunset cruises are one of the most popular activities in Key West. For our second night, Cailin and I decided to join a schooner cruise with America 2.0.
"Everyone here is already loaded," I whispered as we boarded the boat. It was true — we were the only ones under 40 and while we were sober, about 90% of our fellow passengers had clearly already been drinking.
We set off into the late afternoon sunshine, welcomed by our smiling crew. Oh, and they filled our glasses at the earliest moment possible and kept us topped up. For me and Cailin, it was rosé all day.
At this point, I should mention that a large percentage of passengers were decked out in Red Sox and Patriots gear, toasting to Tom Brady and the Super Bowl win the week before.
Yes. We had found the Massholes.
"I'm warning you," I told Cailin. "Between the open bar and the Massholes, I'm going be speaking in the thickest Boston accent ever in about an hour."
And once they found out I was from their home state, too, we became the best of friends.
"TO TOM BRADY!" we cheered, toasting each other. "GREATEST OF ALL TIME!"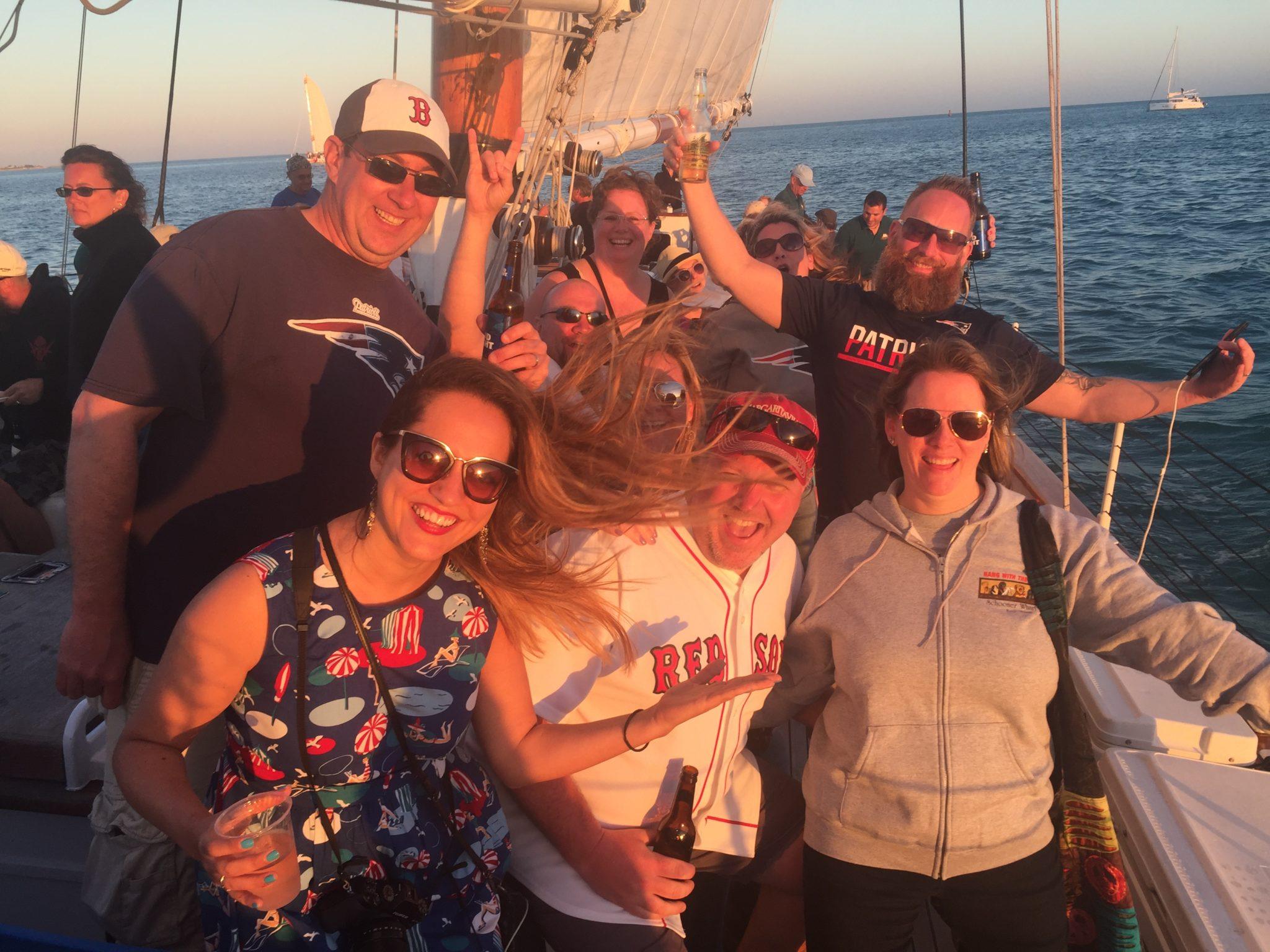 To be honest, Boston's crazy sports culture is a major reason why I left the city in the first place. I got tired of sports dominating every conversation and not being able to talk to a guy in a bar, ever.
That said, now that I no longer live in Massachusetts, I love running into that culture on the road. Go figure.
Also, the Massholes told me that Gronk (the Patriots' Rob Gronkowski) was in Key West at the moment. I had to text my dad: "GRONK IS IN KEY WEST. THIS IS NOT A DRILL!!"
So yes. We drank a lot of wine. We gazed at another beautiful sunset. We got back on shore far more inebriated than when we got on board. Our new best friends took us to an Irish pub (because Boston). And before you know it, guess who jumped on stage for a Guinness-chugging contest?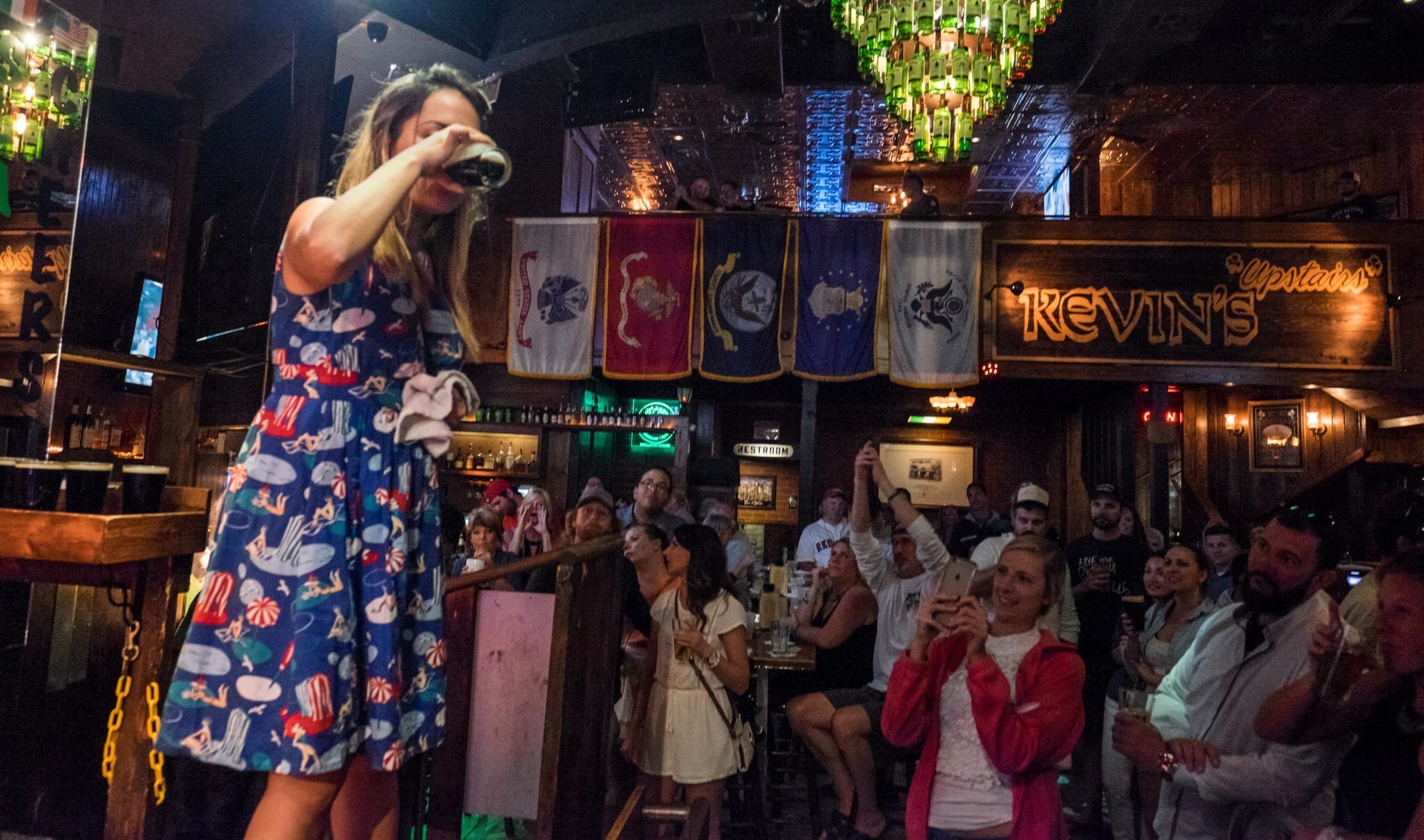 I came in last place. Cailin did much better than me.
That is probably all that should be said about that evening (except later we got hot dogs and in my addled state I was wise enough not to eat the bun, which I'm pretty sure didn't even matter if I was chugging bloody Guinness earlier that evening).
So. If you're looking for a party, Key West is definitely the place. I'm really glad we got to have a party night there!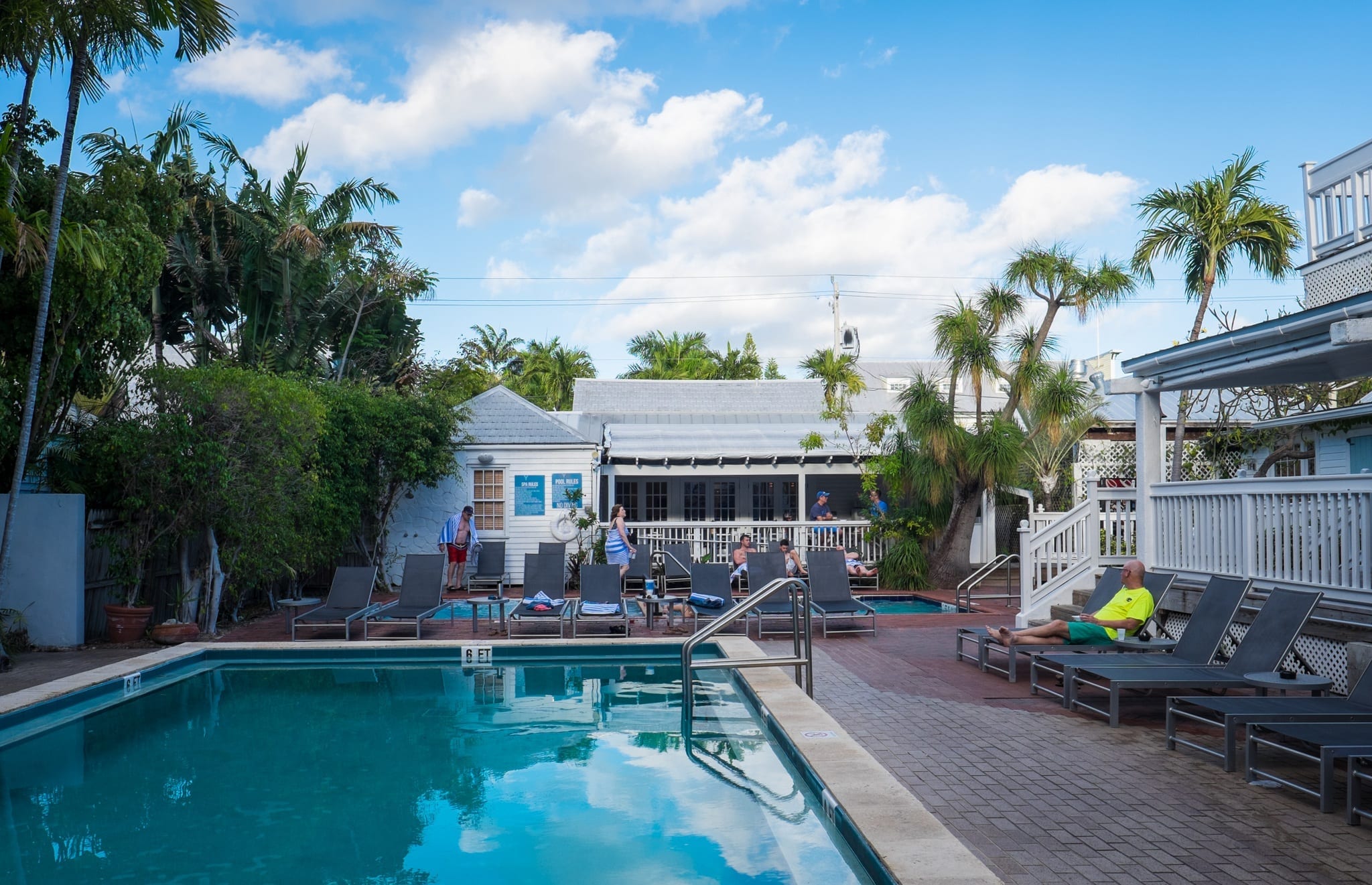 First things first: accommodation in Key West is surprisingly expensive. Prices often exceed what you would pay in New York for a similar property. And because it's a small island, there's a limited amount of inventory (though we did meet some people camping on Stock Island, the next island over).
Even so, you want to be in the center of town in Key West. The town is such a beautiful place and it's so nice to be able to walk home instead of tracking down one of the pink taxis that dot the town (there's no Uber or Lyft).
There is, however, a much more economical option that doesn't sacrifice on style or amenities: the Not Your Average Hotel. Cailin and I were comped two nights here but even if we weren't, this would be one of the best priced options in town.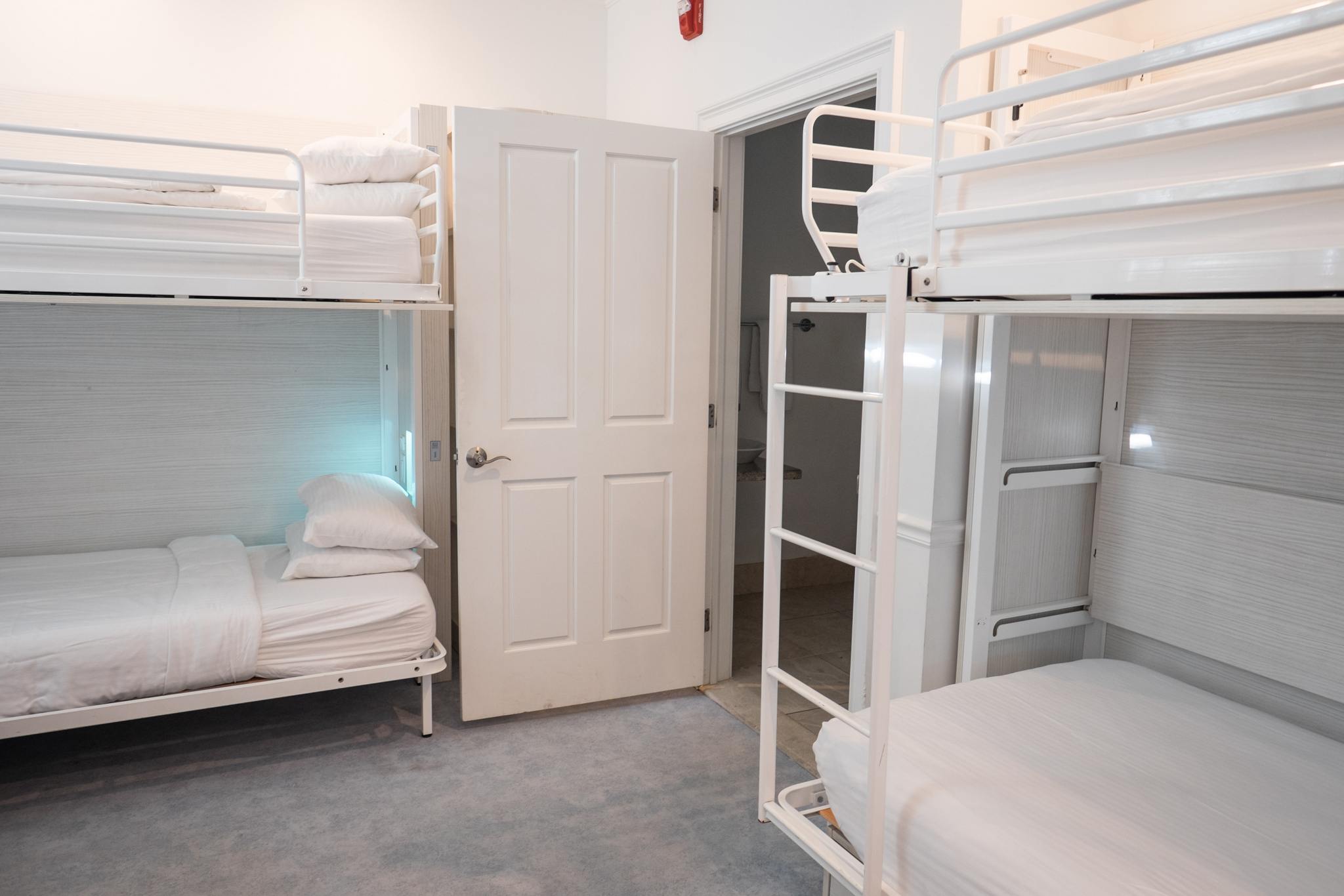 Many of the private rooms are set up dorm-style, with up to three sets of bunk beds and an ensuite bathroom. The rooms are customized and beds can be converted into kings if you'd like. The rooms are relatively simple, but the bunk beds do come with their own cubbies and reading lights, like nicer hostels, as well as lockers.
On the grounds, there are three swimming pools and two jacuzzis. We found the crowd to be a bit younger than most Key West visitors, which was nice. Starbucks coffee is available 24/7 and they have a pretty decent continental breakfast, as well as happy hour specials from the bar.
Best of all, it's in a central location, a short walk from Duval Street, the waterfront, and most area attractions. And there is a wonderful juice bar next door called Date and Thyme (I love that name!). They make a lovely beet juice if you're like me and like to pretend you're drinking blood.
The Not Your Average Hotel was great and I would absolutely stay there again. See Essential Info for pricing information.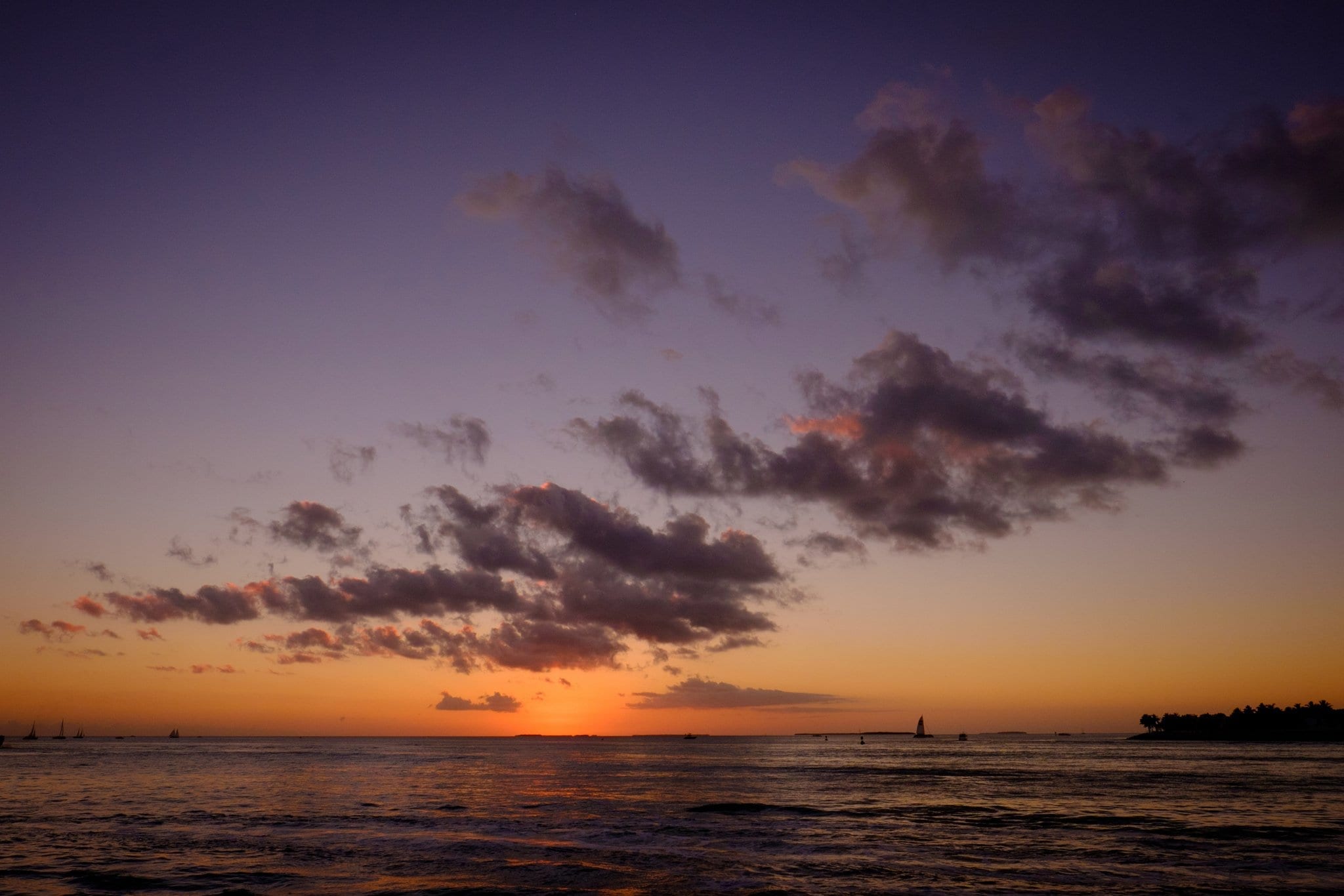 The Takeaway
Would I go back to Key West? HELL YES I WOULD! Just tell me when! I can be at Newark Airport in 30 minutes and they fly direct on United!
Seriously, I would go back to Key West for an escape from the cold northeastern winter. I would love to bring a group of girlfriends, especially for something like a bachelorette party. Cailin and I talked about having another blogger girls' getaway here, like we did in Mallorca in 2015. And I would love to return for Fantasy Fest, Key West's racy Halloween celebration.
I would probably not come back to Key West during one of my sober months.
Because when I think of Key West now, I invariably start to giggle. I know how fun this place can be.
---
More on the Florida Keys:
Solo Female Travel in the Florida Keys
A Sizzling Summer Trip to the Florida Keys
Miami is Nice, So I'll Say It Twice
---
Key West Essential Info
As much as I loved Key West, I found activities and especially accommodation to be very expensive. For that reason, you might want Key West to be a brief component of a longer trip, though I do wish we had stayed for three nights.
Rooms at the Not Your Average Hotel start at $152 for two, $161 for three, $170 for four, $186 for five, and $196 for six in low season. Those rates are generally about 50% more in high season.
Find deals on Key West hotels here and see all Key West Airbnbs here.
Our sunset cruise was with America 2.0 and costs $85. The sailing lasts two hours, offers a variety of passed apps, and is open bar with beer and wine available. The staff keep your glasses filled!
Admission to the Ernest Hemingway House is $14 and includes an optional 30-minute tour. Please be respectful of the cats and don't antagonize them. Admission to the Key West Lighthouse, along with its museum, is $10.
Street parking in Key West is common and you can park in the same spot for up to three days for free. We took this option. There are also parking garages. Neither Uber nor Lyft is available; grab one of the pink taxis instead. Better yet, stay in a central location so you don't need to get a ride.
Don't visit Key West without travel insurance. If you get sick or injured while in Key West, which can happen even if you're careful, travel insurance will protect you and your finances. I use and recommend World Nomads.
Many thanks to Florida Keys Tourism for supporting this part of our trip. We received a press pass and received two nights' comped accommodation at Not Your Average Hotel, a comped meal at Mangoes, a comped America 2.0 booze cruise, and free admission to the Hemingway House and the Lighthouse. Everything else was at our own expense. All opinions, as always, are my own.
Have you been to Key West? Is it your kind of destination? Share away!
Get email updates from Kate
Never miss a post. Unsubscribe anytime!