Adventurous Kate contains affiliate links. If you make a purchase through these links, I will earn a commission at no extra cost to you. Thanks!
Thinking of visiting Prague in winter? Excellent idea! Lots of cities in Europe are more enjoyable to visit in the winter — you get to enjoy lower prices and smaller crowds (as long as you don't visit during Christmas market season, that is).
I've been living in Prague for several years and I'm currently gearing up for my fourth winter here (or fifth if you count my long visit before I moved here). Winter can be a very special time to visit Prague — there's no better season for museum-hopping and classical music performances, hotels slash their rates, and Czech food is made for winter weather!
That said, I'll be honest with you — winter can be a drag here, too. Sometimes it seems like the weather is gray for weeks on end; sometimes the dark days in December and January really dampen your spirit.
I do think, however, that the positives outweigh the negatives in Prague in winter. It's a great place for a winter trip.
Let me show you what it's like — your 100% honest guide to visiting Prague during the winter months! I think you'll have a wonderful time here.
(Planning a trip to Prague? Don't miss my guide to unusual things to do in Prague, my picks for the best Prague restaurants, and of course — what NOT to do in Prague!)
This post was published in November 2023.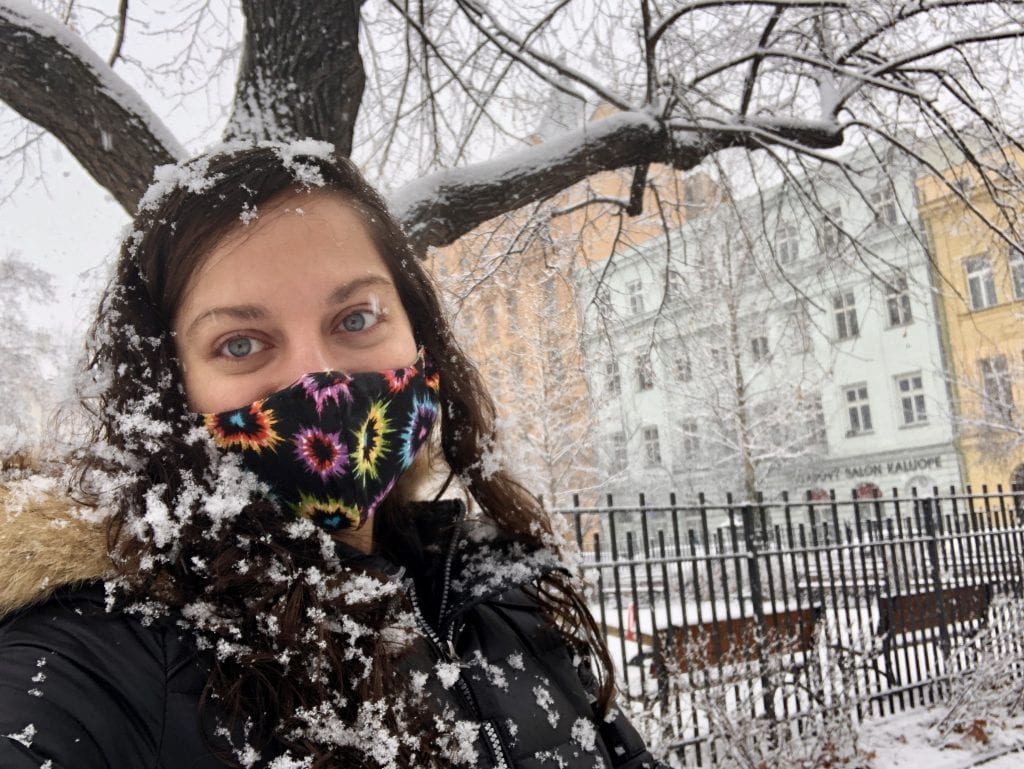 Is Prague in winter worth it?
I absolutely think that visiting Prague in winter is worth it — as long as you're used to winter.
As I often tell people visiting my former homes of New York or Boston in winter, "If you're from Minnesota, you know what you're getting into. If you're from Texas, you're going to have a hard time."
People from warmer climates often struggle with choosing the right winter gear (I give gear recommendations at the end of this post), and even if they do, they often have a tough time being outside in the cold. If you're from a warm environment and you're not used to spending lots of time outside in the winter, you may be more comfortable visiting at a different time of year.
If you're used to winter and know how to thrive in cold weather, you'll do fine here. Prague's old town is a UNESCO World Heritage Site and just walking around and drinking in the city's beauty is a worthy way to enjoy a chilly day in Prague.
And even if you're not the biggest winter fan of all time, the narrow streets have a way of blocking the wind, and you're always a stone's throw away from a cozy pub or cafe.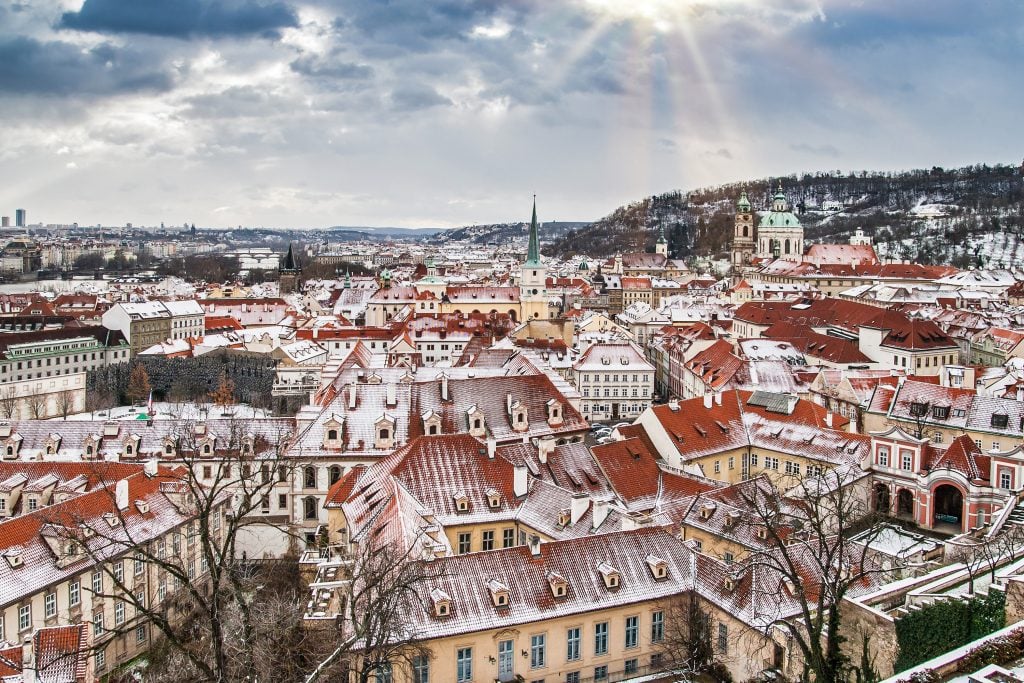 Things to Know About Visiting Prague in Winter
"Christmas in Prague" and "Winter in Prague" are two VERY different things.
When a lot of people talk about visiting Prague in winter, they have one thing in mind: holiday festivities, Christmas markets, and good cheer. While the Christmas season is a very popular time to visit Prague, and for good reason, I want to make sure you know the difference.
Christmas (late November through early January) is a very popular time of year to visit Prague. At this time, you can expect fun Christmas lights, a few Christmas markets, and huge crowds of tourists swarming Old Town Square.
Winter (early January through late March), however, is the least popular time of year to visit Prague. This is when you can find the fewest crowds and the lowest prices — though you will find nothing remotely resembling holiday cheer.
I say this to make sure you know what you're getting into. For a lot of travelers, "winter" is synonymous with "Christmas." That's not the case for most of the winter in Prague. It's still very much worth visiting — it's just different.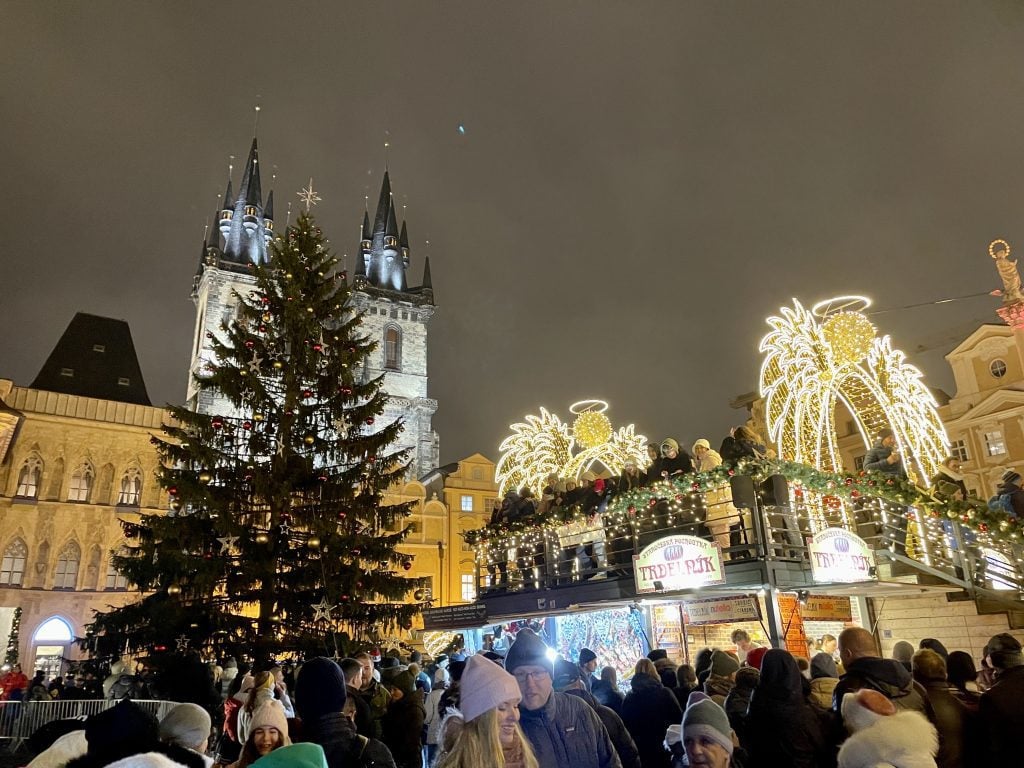 Prague's Christmas markets are wonderful.
Prague's Christmas markets start each year in early December and are finished by January 6. This starts later than the Vienna and Budapest Christmas markets, which make their debut in mid-November, but they go on a bit longer than the German Christmas markets, which typically end on December 23.
There is one main Christmas market on Old Town Square, featuring food stands, hot mulled wine, trdelniky (chimney cakes which are NOT Czech but are everywhere), sausages, and a large Christmas tree. This market gets absolutely mobbed in the evenings, but it's part of the experience!
There are a few other, much smaller markets in the city, like on Náměstí Republiky and Wenceslas Square, and the farmers' markets still active in December have a Christmasy flair to them.
And here's a bit of honesty: if you're not from Europe, you'll LOVE the Prague Christmas markets. If you're from Europe or have traveled to several different Christmas markets, you'll notice that Prague's markets pale in comparison to many other cities. It's fun here, but it's not one of the best Christmas markets in Europe.
That being said, Prague happens to be within a few hours of three of my all-time favorite Christmas market cities: Nuremberg (3:45 by bus), Dresden (2 hours by train), and Vienna (4.5 hours by train). Berlin, Munich, Český Krumlov, and Salzburg are other great cities that can fill out your Christmas market trip in this region (though don't pack too much in!).
Many travelers come to Prague as part of a longer city-hopping tour taking in Christmas markets across Europe. I am a BIG fan of Christmas market-hopping trips (here's information on how to plan one in Germany) and highly recommend doing this yourself.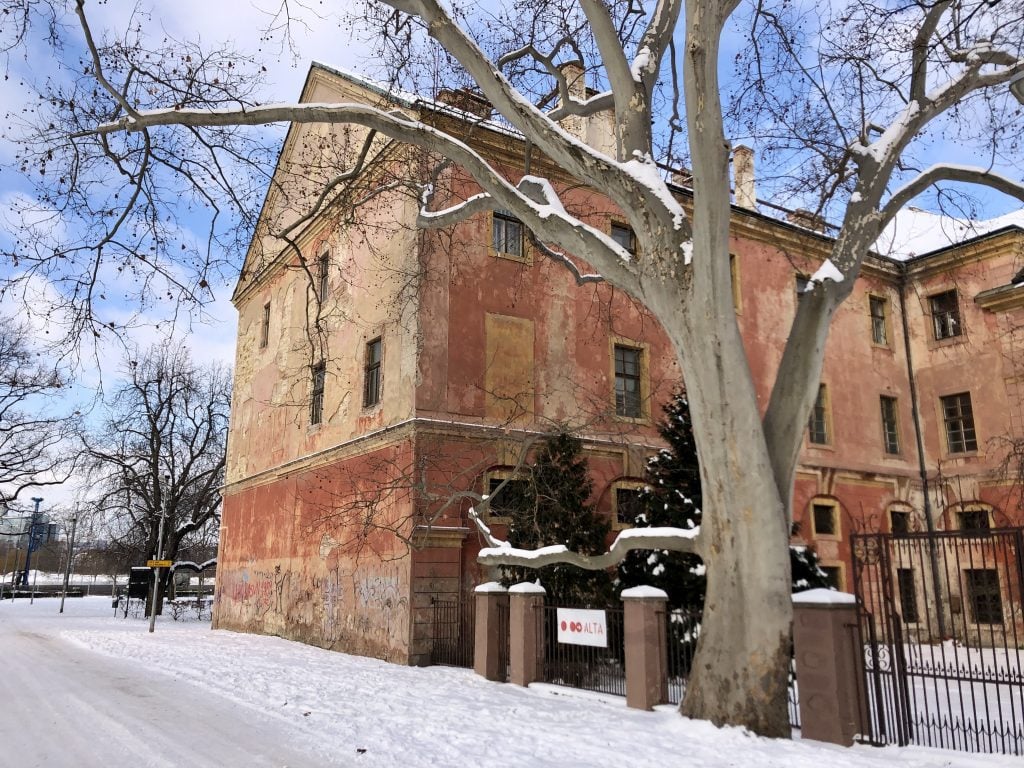 Winter is the least touristy time of year in Prague.
Prague is an incredibly popular city for tourism — for good reason! We are one of the most beautiful cities in the world! And no matter what time of year you go, you'll be sharing the Charles Bridge with hundreds of your fellow travelers.
But if you're looking for a less-touristy experience in Prague, you'll love Prague in winter. The quietest month of the year is January.
If you're looking to experience Prague with the fewest tourists, cheap hotel rates, easy entry to museums, no waits at restaurants, and feeling like more of a local, January through March is the ideal time to visit. Though keep in mind school holidays and Valentine's Day can bring in small bumps of winter tourism in February.
Fancy hotels drop their prices in Prague in winter.
Prague isn't the dirt-cheap getaway that it used to be 20 years ago, but prices here are much lower than you'd expect to pay in Paris, or London, or Vienna. For that reason, a lot of people traveling on multi-city trips choose Prague for their "splurge" hotel.
Well, it just got sweeter — in January and February (especially January), many Prague hotels drop their prices significantly. Sometimes they advertise winter getaways to locals as a staycation option. (And yes, my husband Charlie and I have enjoyed a few staycations at fancy Prague hotels in January!)
So yes — if you've always dreamed of staying somewhere fancy — perhaps the Four Seasons Prague, with a view of Prague Castle? Or at the new-ish, trendy and modern Andaz Prague, a stone's throw from my beloved Kantyna? Or perhaps in the heart of the Old Town at the Josephine? — winter is the time to do it.
Find deals on more Prague hotels here.
Czech food is perfect for winter.
Traditional Czech food is hearty — and a bit heavy. Lots of meat and carbs, washed down with a pilsner. Exactly the kind of food that you want to stick to your ribs in winter.
And as you'd expect, there are some restaurants around the city dishing up fantastic Czech food. I don't eat a ton of Czech food, but I eat it much more often in winter, when it suits the season so well!
Krystal Bistro is my favorite Czech restaurant in Prague, which actually serves Czech food with French techniques for lighter, more elegant dishes. I absolutely love their kuřecí řízek (kur-ZHEH-tsee r'ZHEE-zek, or chicken schnitzel), which is always one of their specials on the board. You can get it with buttery mashed potatoes or with outstanding, mustard- and pickle-filled potato salad.
Kulajda (ku-LIE-da) is another perfect Czech specialty for winter — it's a soup filled with potatoes, dill, sour cream, and a poached egg. The best kulajda in Prague, in my opinion, is at Café Imperial, a grand, elegant restaurant. Don't miss the gold swan faucets in the restrooms.
And Prague locals love their fun pubs that mix socializing, delicious food, and the best beer in the world. Lokal is a popular choice, with a few different locations in Prague; my favorite of all is Kantýna.
But you know what? You don't need to limit yourself to just Czech food. Prague has a FANTASTIC dining scene, with international cuisine, all for much lower prices than you'd get in Western Europe or the US. I put together a list of my favorite restaurants in Prague here.
When you want a break from Czech food, go for Vietnamese food! We have a huge Vietnamese community in the Czech Republic, Vietnamese restaurants are everywhere in Prague, and a nice steaming bowl of pho hits the spot on a chilly day. (My favorite pho in Prague is the roasted beef pho at Ngô Restaurant — it's so rich and deep.)
Read More: Best Prague Restaurants, According to a Local Foodie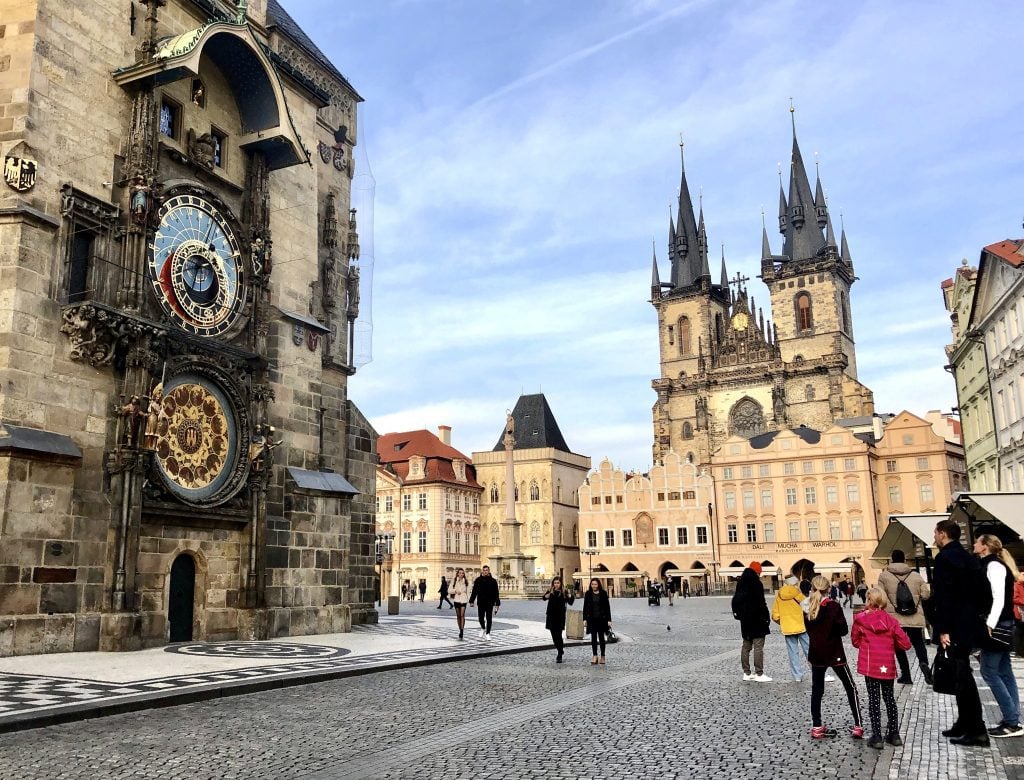 Not all tours run in winter — but plenty still do.
Before you book your winter trip to Prague, you should know that many tour companies take January and February off. Not all of them, but a lot of them. You should find out in advance if the tour you have your heart set on runs during your trip.
That said, plenty of Prague tours run year-round, including on the coldest days of January! Here are a few of my recommendations:
Three-Hour Prague Walking Tour — This tour takes in the best of the Old Town in three hours, from Old Town Square and the Astronomical Clock to the Charles Bridge, across to Malá Strana, up the hill to St. Vitus Cathedral — and also gives you free access to Prague Castle.
Prague Foodie Tour — My favorite thing to do anywhere is to take a food tour — and on this tour, you'll sample so many of the best Czech specialties and visit some cool neighborhoods (including mine, Karlín!).
Letná Bohemian Alternative Bar Tour — Want to experience Prague nightlife, but dread the thought of badly behaving bachelor parties? Leave the old town and head to Letná, one of Prague's coolest neighborhoods, for a truly local night out with some unforgettable bars.
Prague Communism and Nuclear Bunker Tour — Everyone who comes to Prague (Americans especially) wants to know more about the communist era, but people are often afraid to ask. Honestly, take a communism tour instead! You'll learn so much — and when else are you going to visit a nuclear bunker?!
Prague Jewish Heritage Tour — Prague has such a beautiful Jewish history, and this 2.5-hour walking tour tour takes in the historically Jewish neighborhood of Josefov, where you'll visit the synagogues as well as the Old Jewish Cemetery. Even if you have zero Jewish heritage, this is so interesting to learn about.
Prague Micro-Brewery Tour — Prague is all about the Pilsner Urquell — or so you think. There are lots of microbreweries creating really interesting beers, and this tour will introduce you to several of them, with beers and snacks, including unlimited beer tastings at the final stop.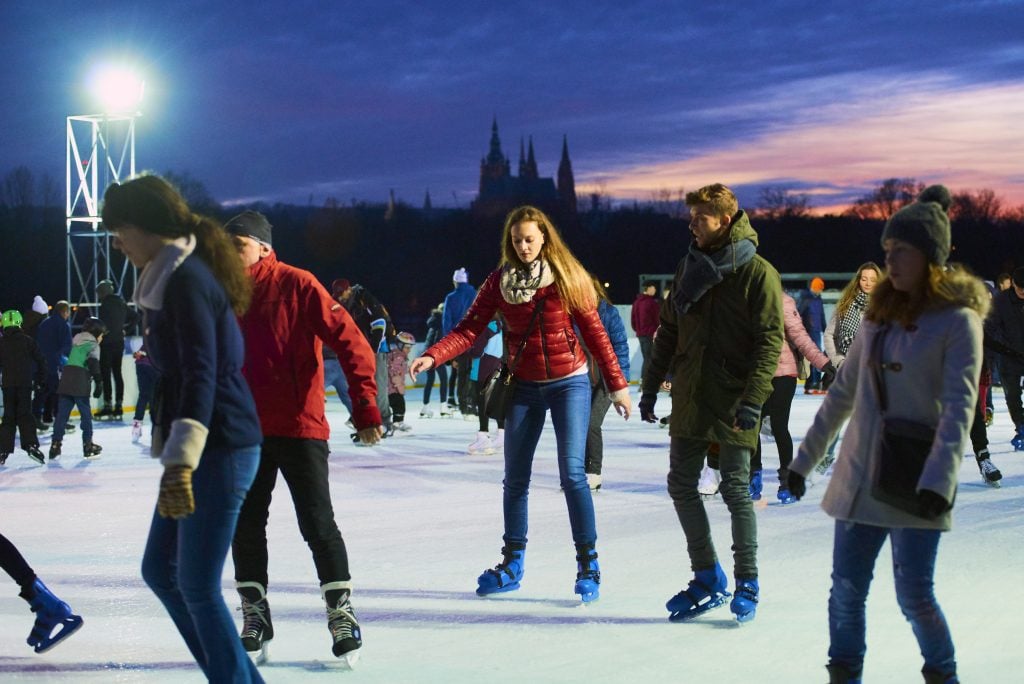 Winter is time for ice skating in Prague!
Ice skating in Prague is one of the nicest things about visiting during the winter season. There are plenty of skating options all over the city! Skating is usually free — you only need to pay for skate rental (which I'm guessing you need, as you're visiting Prague).
And because it's the Czech way, lots of ice rinks serve beer, svařák (mulled wine — more on that in a bit), street food, and often have music playing.
Two of the ice rinks close to the city center are Ovocný Trh Outdoor Rink, which is right by the old town hall and draws a variety of winter revelers; and Na Františku, which is on the edge of the Vltava River from the Jewish Quarter and has a nice, big rink surrounded by beautiful buildings.
If you want a more local experience in Prague, I invite you to River Rink — an ice skating rink in my neighborhood of Karlín, an easy eight-minute tram ride from the Old Town, but a very local place where you rarely see tourists. You'll find plenty of kids and adults here, and an après-skate bar with cocktails.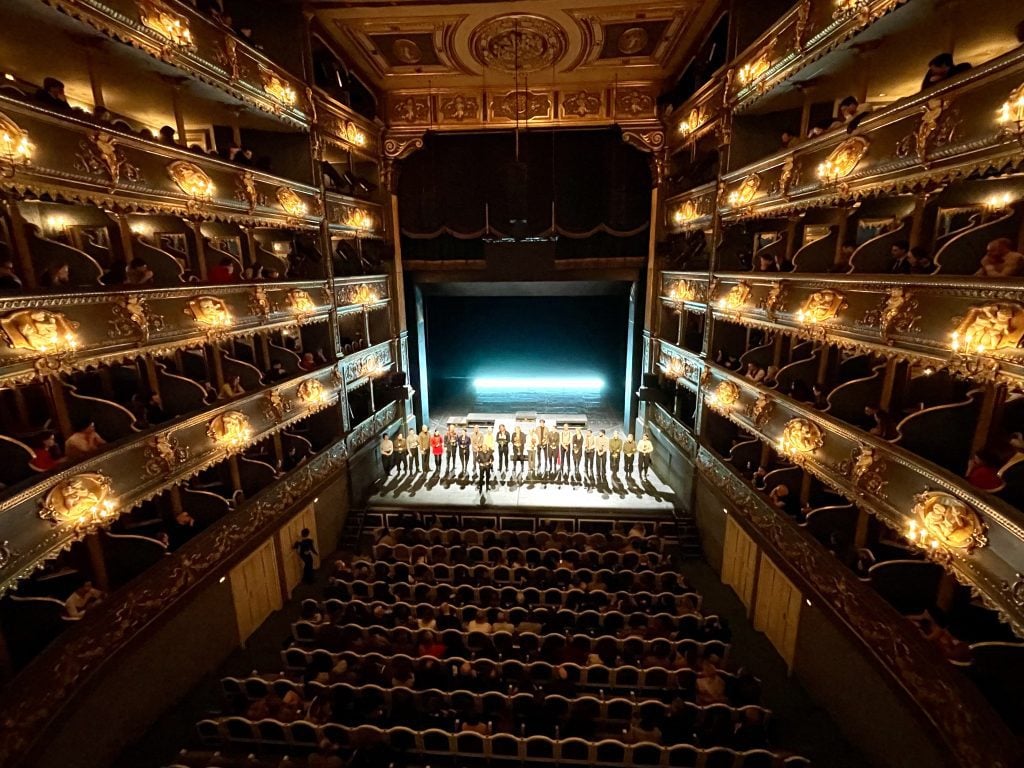 See a classical music performance in Prague.
If you're a fan of classical music, boy are you in for a treat — Prague is one of the best European cities for classical music, from symphony to chamber music to opera. And tickets happen to be very reasonably priced.
Winter is an especially good time for classical music in Prague, as January, February, and March are packed with performances. (Summer is actually one of the worst times to visit because the orchestras are on holiday!)
I'm especially a fan of the Estates Theatre, where every seat above orchestra level is a box seat (though you'll be sharing with others). They put on frequent performances of Don Giovanni — the famed Mozart opera was first performed in Prague!
Not a classical music fan? There are all kinds of theatrical performances as well. I recommend checking out the Prague Shakespeare Company, who perform a mix of Shakespeare and non-Shakespeare. It's always interesting (and they've performed the funniest version of A Midsummer Night's Dream I've ever seen!).
You can find a directory of performances here.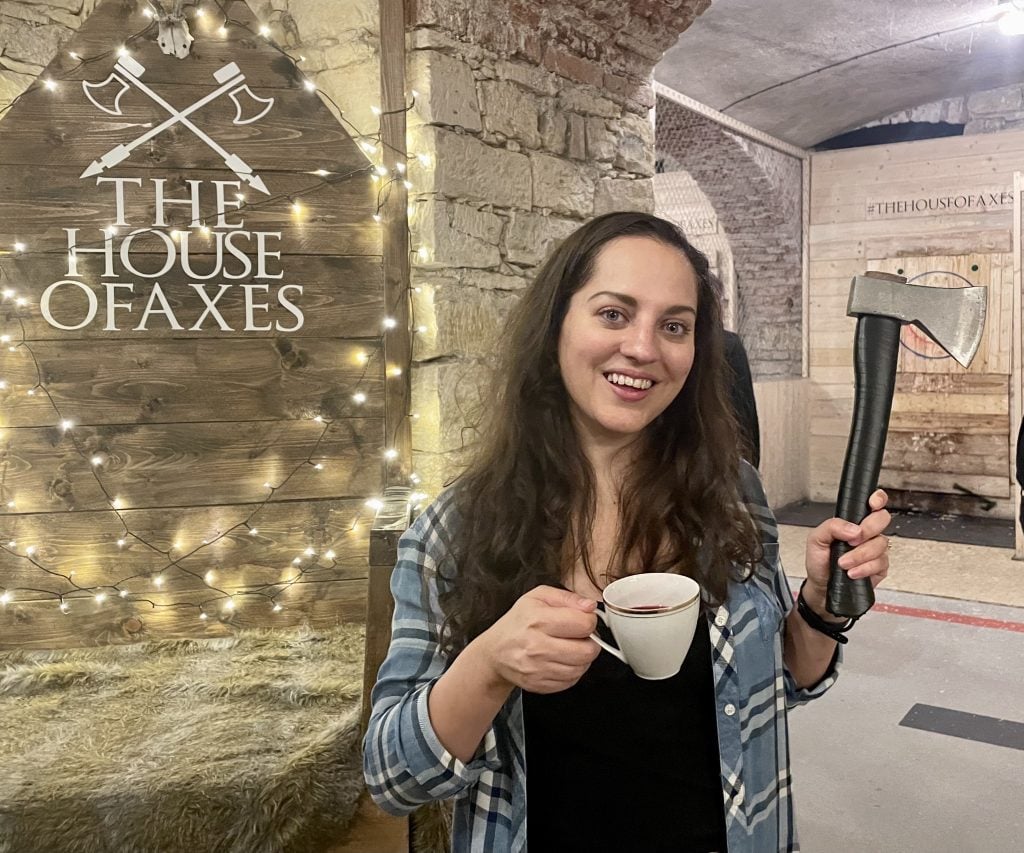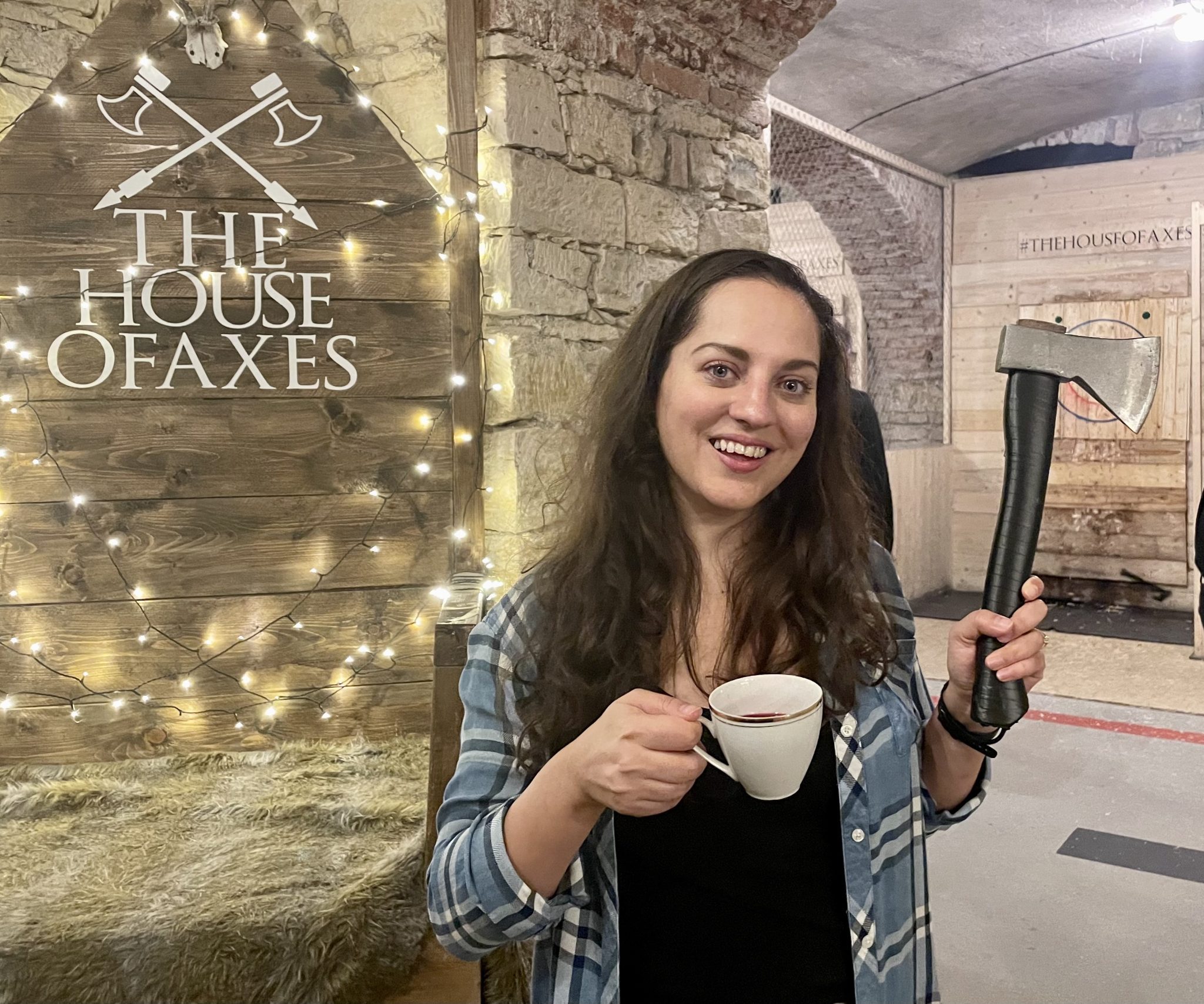 Have yourself some svařák — mulled wine!
Mulled wine is a staple of Christmas markets across Europe — but in the Czech Republic, it's more of an all-winter beverage. Here in Prague, it's called svařák (SVAR-zhak), or sometimes svařené víno, and it's absolutely delicious.
Red wine is mulled with a variety of spices including cinnamon, cloves, allspice, and star anise, then brought to a boil briefly, then brought down to a simmer (we can't be having boozeless wine in this country, you see).
You can find svařák all over Prague in winter, from wine bars to cafes to street stalls. It's the perfect dish for warming your hands on a cold evening in Prague.
But my favorite svařák drinking experience was at The House of Axes, an axe-throwing spot (and one of my favorite unusual things to do in Prague). They serve svařák in dainty little china teacups as you throw axes like Vikings. I love the juxtaposition!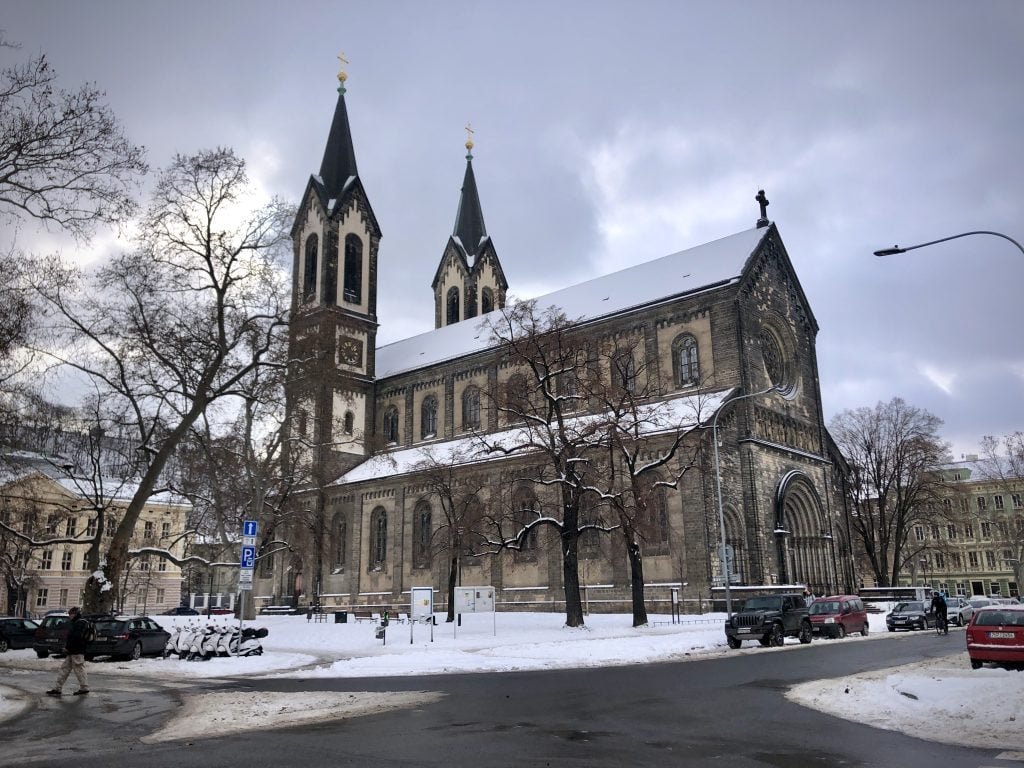 Winter can be GRAY, DARK, and MORE GRAY and MORE DARK.
One of the tougher things about living in Prague, I've found, is that it can feel like it's gray for months over the winter. You might luck out and get a gorgeous snowstorm one day and bright blue skies another — but for most visitors, you can expect solid gray skies for your whole visit.
If you wake up and the sun's out, go out and enjoy it — it very often doesn't last in winter. So many times in Prague I've looked out the window and thought, "Beautiful day — I'll enjoy that on my walk this afternoon!" only for it to go gray within an hour or two.
And then there's the darkness. On December 21, the winter solstice, the sun rises at 7:58 AM and sets at 4:02 PM. On January 21, it's slightly lighter with a sunrise at 7:50 AM and sunset at 4:36 PM — but barely. Lots of Prague locals take vitamin D in the winter to combat this (I actually take it year-round because it can't hurt!).
Keep in mind that gray days are something you can risk year-round in Prague (we get fewer sunny days than in New England, where I grew up) — but if sunshine is a priority, you should time your trip between May and September.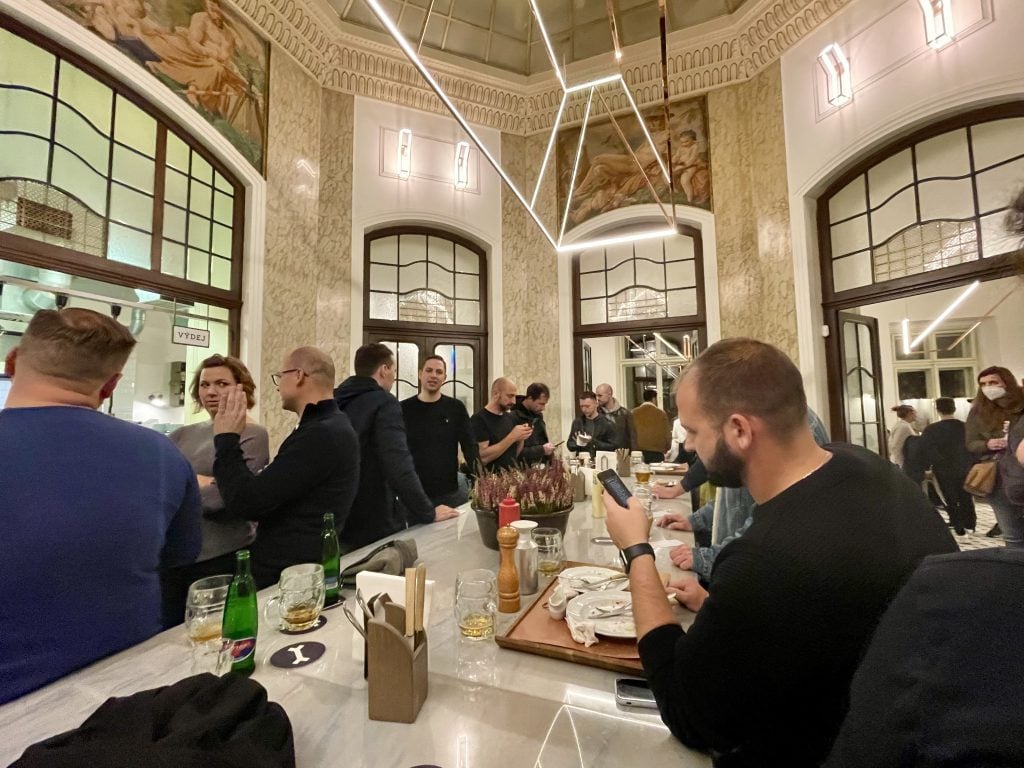 Warm up in a fun pub in Prague.
Here in Prague, we know that Czech beer is the best beer in the world — and it happens to be delightfully cheap. Czechs tend to punctuate life with visits to the pub. Finish a bike ride or a day of skiing? Head to the pub. Looking to celebrate a promotion? Head to the pub. Your friend's back in town after a week away? Head to the pub.
The best local beers in Prague are tank pilsner — this is the good stuff. Pilsner is marked with degrees, which is approximately double the percentage of the beer (i.e. a 12-degree beer is about 6% alcohol). Pilsner Urquell is the go-to brand (and I humbly suggest you avoid Staropramen — see more on my What Not to Do in Prague post); a few fun local breweries are Vinohradska and Únětice, and you can find those beers all over the city.
So where's a good spot? My all-time favorite is Kantýna, which is more of a restaurant, but happens to serve some of the best tank pilsner in the city. You can stand in the middle of the room and enjoy your beers among convivial Czechs.
Another great spot is the aforementioned Lokal, with delicious beer and down-home Czech cuisine that locals love.
If you want the cheapest tank pilsner in the city, head to U Glaubiců in Malá Strana, close to Prague Castle. Here the beer is about 43 Czech koruna (less than $2).
And don't overlook the micro-breweries, either! Czechs are making all kinds of beers these days (and as a Massachusetts native, it warms my heart to drink a New England IPA in the Czech Republic).
Two of my favorites are Dva Kohouti in Karlín and Automat Matuška in Dejvice, the latter of which also serves dynamite barbecue and quirky vegetable dishes.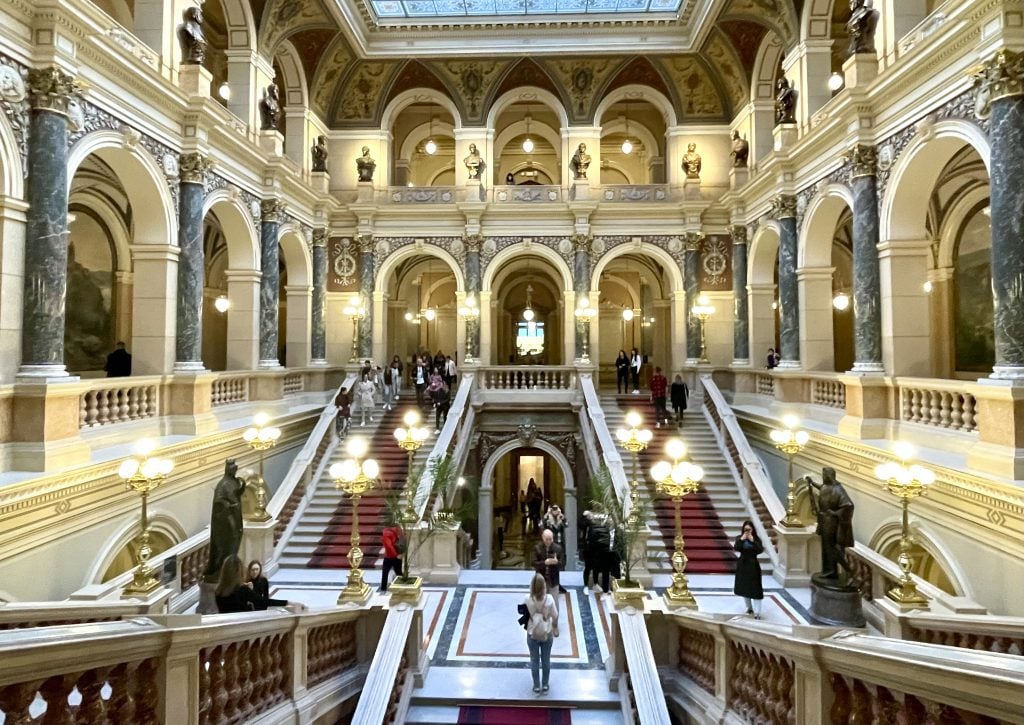 Spend your days museum-hopping in Prague.
On the coldest days of winter — especially when it's raining and sleeting — you'll be glad to head indoors. It's the perfect time to head to a museum.
While Prague isn't a museum powerhouse in the way London, Paris, and Amsterdam are, you can easily fill several days with museum visits alone. Here are some of the spots I recommend:
The National Museum (Narodní Muzeum) sits atop Wenceslas Square and has an eclectic mix of exhibits. My favorite is the Hall of Minerals, with hundreds of rocks and minerals laid out so neatly and colorfully. I recommend visiting the top floor just before sunset for gorgeous views over the city.
The Strahov Library, near Prague Castle, is absolutely stunning — it's straight out of Beauty and the Beast. You should know that you can only poke your head in with a regular ticket. Instead, I strongly recommend shelling out for a private tour, which will let you actually walk through the gorgeous library and take photos. (Also, there's a really good brewery just outside the library!)
The Jewish Museum of Prague is one of the oldest Jewish museums in the world, dating back to 1906 — and as you'd expect, a sobering place to visit. Prague's synagogues, including the massive Klausen Synagogue, Maisal Synagogue, Pinkas Synagogue, and the stunning golden Spanish Synagogue, host a variety of Judaica and artifacts from before the Jewish ghetto was destroyed during World War II.
The Franz Kafka Museum is one of the quirkier museums in Prague, telling the story of the literary legend. Whether you were forced to read The Metamorphosis in school or simply a fan of the "Kafkaesque" episode of Breaking Bad, this museum is an interesting deep dive into one of Prague's favorite sons.
The Sex Machines Museum always gets brought up in Prague — usually with a few eye-rolls — but here you can find every kind of erotic aid you can imagine, some of them dating back more than 500 years! (Keep out of the way of bachelor and bachelorette parties.)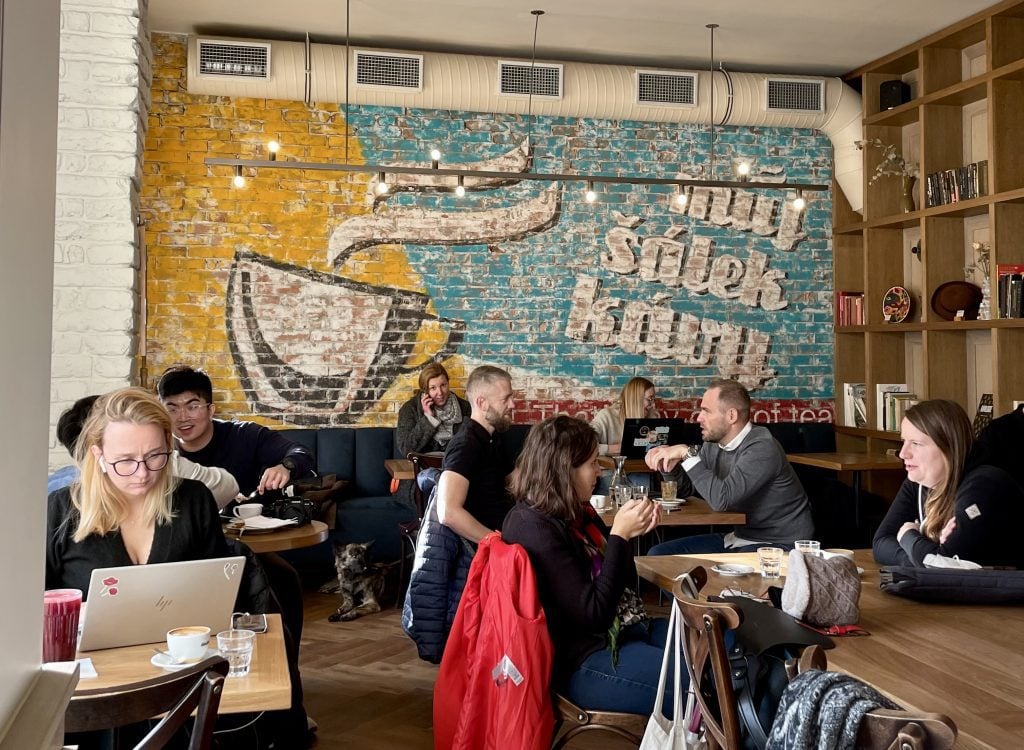 Grab a coffee at a cute cafe in Prague.
I love Prague's cafe scene. Whether you're looking for a traditional grand Bohemian cafe or something more hip and local serving third wave coffee, we've got plenty of options. (And I visit several of them per week!)
Whether you're up for coffee, tea, or hot chocolate, I highly recommend trying my favorite Czech pastry — the větrník (vee-ET-er-NEEK). It's a Czech take on a cream puff, filled with multiple kinds of cream and topped with caramel. You can find větrníky in tons of cafes.
If you're looking for a grand cafe in the traditional Bohemian style, Café Savoy is the place for you. You'll love the interior, all wooden and gold with chandeliers. This is a restaurant serving food, but you can also come for coffee and pastries.
If your interests are more toward the hip local café, a few I recommend are Můj Šalek in Karlín, which has fab coffee and a dynamite větrník; Etapa in Karlín, which has lots of vegan and gluten-free options; and La Bohème in Vinohrady, which has a delightfully decorated interior (especially during Christmas time).
The absolute best coffee in Prague is served at EMA Espresso Bar. The coffee here is consistently outstanding, and just a hair above all the other top places. There are three locations of EMA in Prague. (That said, it's not a cozy place for hanging out — it's more of a come in, have your coffee, and go place.)
And finally — if you want to try a Vietnamese egg coffee (it's basically a sweet, thick, hot drink like coffee mixed with marshmallow fluff!), you can have one at Cà Phê Cổ, a restaurant with a cool interior in the Vinohrady neighborhood.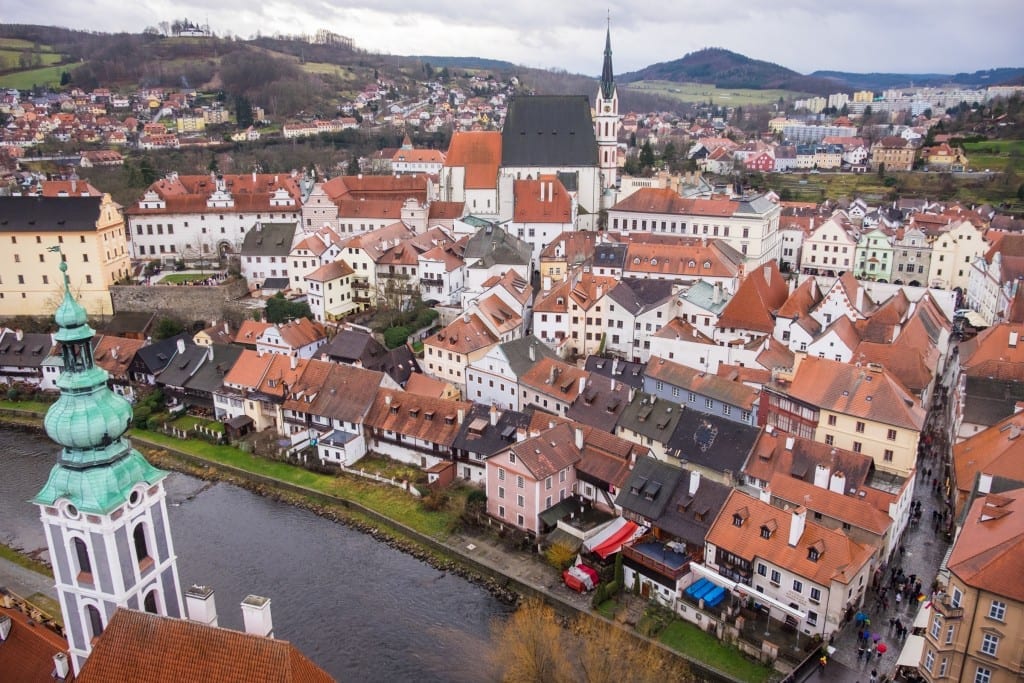 There are so many places in the Czech Republic to explore in winter.
Don't limit yourself to only visiting Prague in the Czech Republic! So many travelers pop into the Czech Republic without going beyond the Prague city limits, and that's a shame.
So what are some bonus destinations worth visiting in winter?
Karlovy Vary would be my top recommendation. This spa town is about two hours from Prague and there's nothing like soaking in hot springs during the chilly winter months. You can also stroll along the river, shop in the boutiques, hike into the surrounding hills, and enjoy some delicious restaurants.
Český Krumlov is another solid choice. This small medieval town, about two hours from Prague, is absolutely stunning, with a castle and pointy church towers and a river curling around the city. And while it's extremely touristy in the summer (as in you'll be fighting your way through tour groups), winter is blessedly quiet. You can see my guide to Český Krumlov here.
Brno is a fun option if you love visiting cities and getting off the beaten path. It's 2.5 hours from Prague. If you like architecture, you will LOVE Villa Tugendaht (book tickets way in advance), the town has lots of historic sites, and there are lots of fabulous cafes, bars, and restaurants.
Each of these can technically be done as a day trip if you're ambitious and start early, but I strongly, strongly recommend staying at least overnight.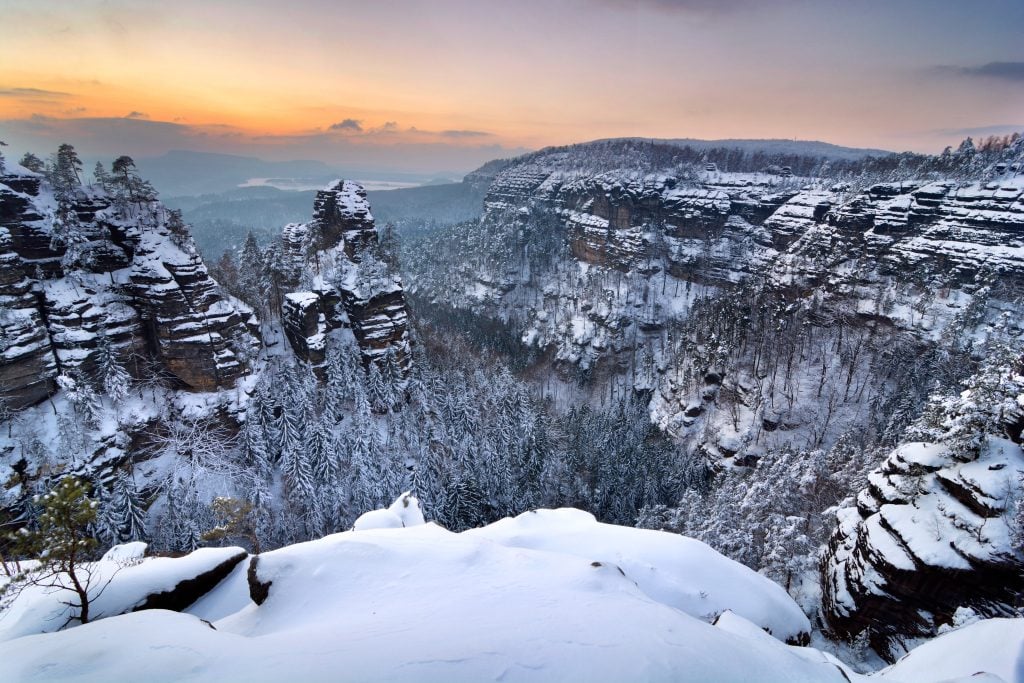 And there are some great winter day trips from Prague!
How about a day trip from the city, then? There are plenty of great day trips worth taking in winter! Here are a few that are worth it during the winter months:
Kutná Hora. I always recommend this as a day trip from Prague, as it's a cool place with an easy, short journey to get there. Kutná Hora is most famous for its ossuary (creepy bone church!), but the town itself is really pretty and worth walking around and exploring.
To get to Kutná Hora, take the train from Prague's Central Station (Hlavní Nádraží), which takes about 50 minutes. If you'd rather go on a guided tour, you can book this one.
Plzeň. The Czech Republic is home to the best beer in the world, and Plzeň is home to the Pilsner Urquell brewery. Pilsner Urquell is the most beloved beer in the country, so if you're a beer fan, touring the brewery is a must! Plzeň also has a nice town square and is worth strolling around.
To get to Plzeň, take the train from Prague's Central Station (Hlavní Nádraží), which takes about 90 minutes.
Bohemian Switzerland and Saxon Switzerland. This region is actually between the Czech Republic and Germany, nowhere near Switzerland. It's a beautiful wooded paradise, home to the largest arch in Europe (Pravcicka Gate) and the beauty of Kamenice Gorge, where you can take a boat ride through the canyon. Come here for hiking! It's the Czech national hobby.
I strongly recommend visiting this region on a guided tour from Prague, as it's a bit hairy to do on your own, especially in winter.
Dresden, Germany. If your winter visit to Prague happens to be between December 1 and 23, I encourage you to visit Dresden's Christmas markets, which I think are among the best in Germany. Definitely prioritize visiting the medieval Christmas market in particular! If it's not in this time frame, though, I'd give it a miss in winter.
To get to Dresden, take the train from Prague's Central Station (Hlavní Nádraží), which takes about 2.5 hours.
Český Krumlov. I URGE you to stay in Český Krumlov overnight because the overnight experience in this magical medieval town is a million times better than visiting by day, especially in winter. I wrote a whole post about it! THAT SAID, I know that a lot of people won't be able to stay overnight. So if that's not an option, yes, you should visit on a day trip.
To get to Český Krumlov, you can either book an organized full-day tour, or take the train from Prague's Central Station (Hlavní Nádraží), which takes about 2.5 hours and most journeys require changing in České Budějovice.
(While Karlstejn Castle is often recommended as a Prague day trip, the castle is closed during most of the winter months.)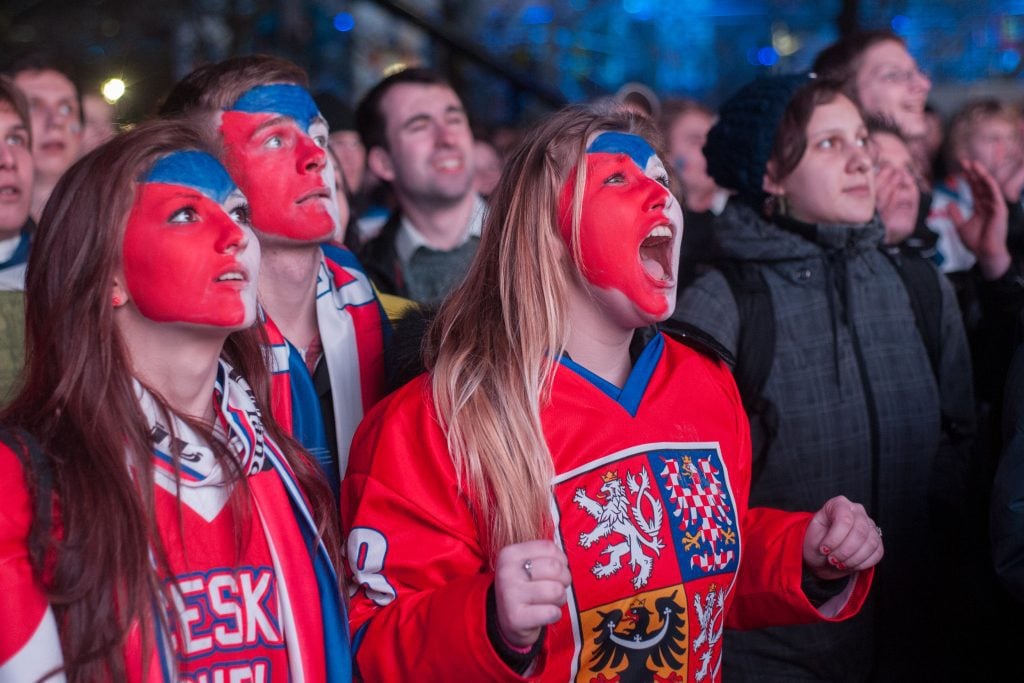 Winter is hockey season in Prague!
Did you know that Czechs are crazy about hockey? Not quite on a Canadian level (hehe), but anyone who's noticed the number of Czechs on NHL teams won't be surprised that hockey is a popular sport here!
Throw on your warm coat, grab a beer from the concession stand, and get ready to cheer on your new favorite international team on the ice!
There are two main teams in Prague: HC Sparta Prague and HC Slavia Prague. You can watch them play at two of the biggest venues in the country — the O2 Arena and Tipsport Arena. The full season runs from mid-September through early March.
You can buy tickets for HC Sparta here and tickets for HC Slavia here (strangely, Slavia doesn't have a site in English though).
Oh, and don't be surprised if a helicopter is just hovering nearby during the game. That's a thing here!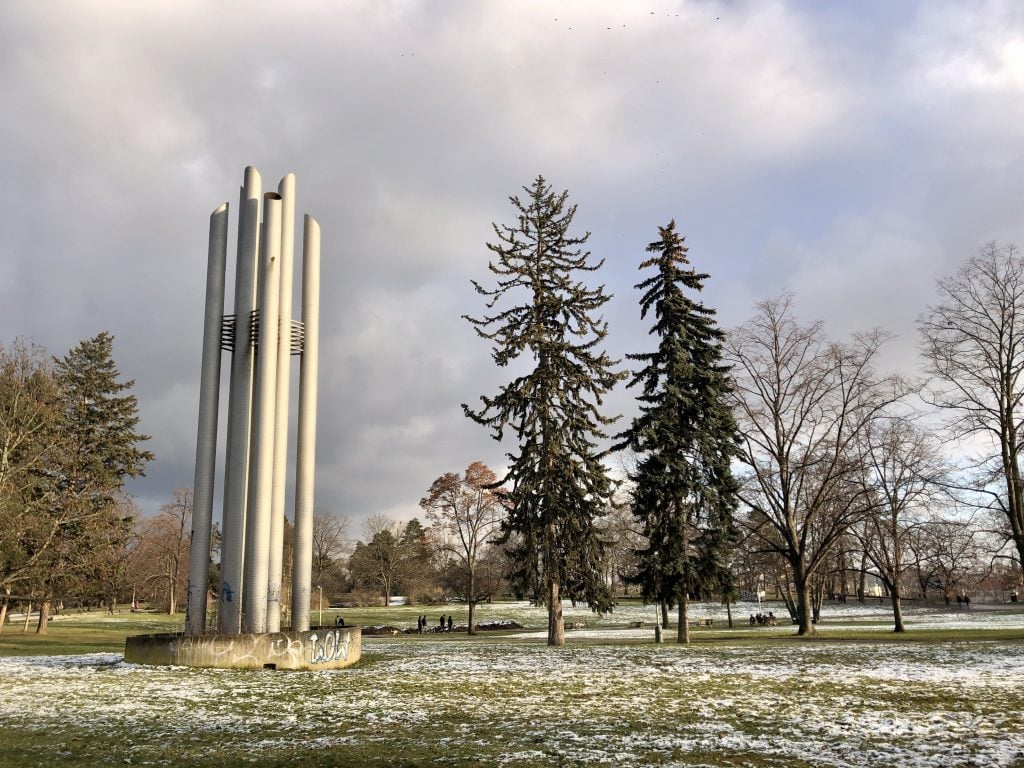 Does it snow in Prague? Yes, but not a ton.
There are many snowy days in Prague during the winter months. I love the days when big, fat snowflakes fall from the sky and everything gets quiet.
That said, the snow rarely sticks around for long in Prague. Most of the time, it's melted within a day or so. In the past winter, we only had one snowstorm where the snow stuck around for a few days (thanks to temperatures below freezing for many of them). That was in December.
So yes — it's a good idea to bring snow-appropriate footwear to Prague in winter (think comfy, waterproof boots with rubber soles). But you also might not need to use them. Either way, it's better to be prepared than not!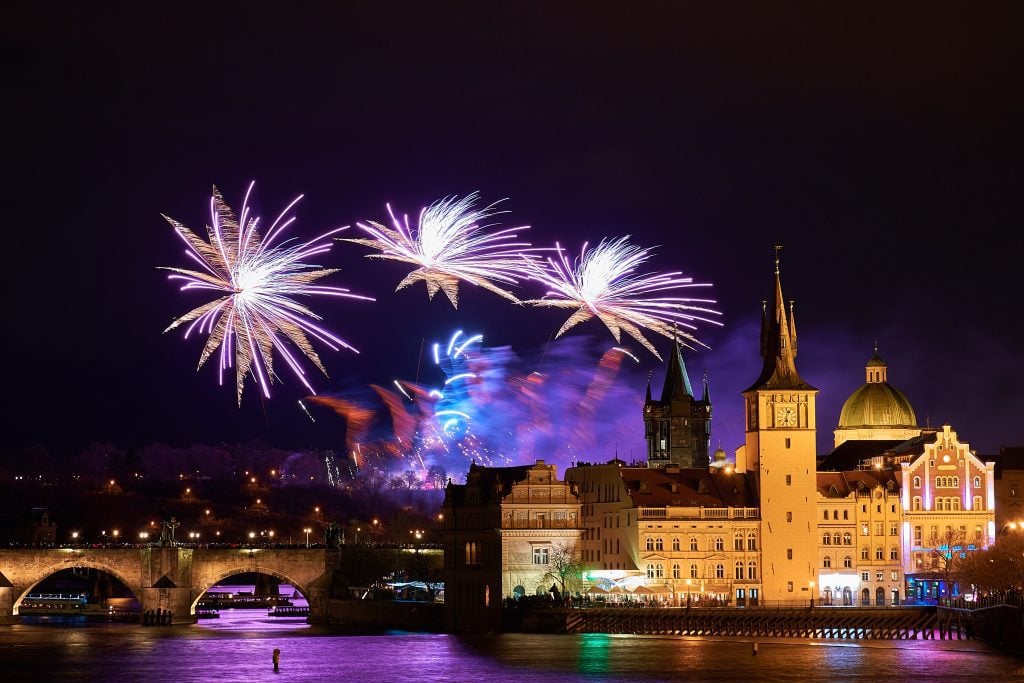 New Year's Eve in Prague is LOUD.
Thinking of coming to Prague for New Year's? If you're looking to celebrate in style, you'll have a great time here. Prague has tons of bars and clubs, many of which sell tickets for special New Year's Eve events (including river cruises), and people gather in Old Town Square to welcome the New Year at midnight.
But you should know that Czechs LOVE to set off fireworks on New Year's Eve. And not just at midnight — they start early in the evening (sometimes even during the day!) and keep it going until dawn.
Personally, I don't go out on New Year's Eve in Prague — I think the holiday in general is the worst night of the year to go out, period! So expensive, crowded, and full of people partying way too hard, no matter where in the world you are. Instead, you'll find me at home with friends, eating good food and drinking good wine, giving my cats lots of love through the scary fireworks.
If you yourself want a fun but not-as-crazy New Year's in Prague, I recommend leaving the old town and getting dinner at a nice restaurant in a neighborhood like Vinohrady, Letná, or Dejvice, followed by a local bar.
Prague Weather in Winter
What kind of weather should you expect in Prague in winter? Here is month to month weather information for Prague from December through March, including average temperatures.
Keep in mind that the weather can vary quite a bit, and climate change has also meant warmer, less snowy winters in the last few years.
Prague in December
In December, Prague tends to be quite chilly, with average high temperatures around 36°F (2°C) and lows dipping to about 28°F (-2°C).
This month often brings a touch of winter wonder, with an average snowfall of approximately 4.3 inches (11 cm). Rainfall is relatively low, with around 0.8 inches (20 mm) of precipitation.
Keep in mind that December is also the darkest month of the year, with the darkest days around the winter solstice.
Prague in January
January is one of the coldest months in Prague, if not THE coldest month in Prague of the year, with average high temperatures around 35°F (2°C) and lows averaging 26°F (-3°C).
It's a snowy month, typically receiving about 5.5 inches (14 cm) of snowfall. Precipitation in the form of rain is minimal, with an average of around 0.6 inches (15 mm).
Prague in February
In February, Prague's weather remains cold, with average high temperatures near 38°F (3°C) and lows around 26°F (-3°C).
Snowfall continues, with an average of approximately 4.7 inches (12 cm). Rainfall is scarce, typically totaling about 0.5 inches (13 mm) on average.
Prague in March
As spring approaches, March sees slightly milder temperatures in Prague, with average high temperatures reaching around 46°F (8°C) and lows around 32°F (0°C).
Snowfall becomes less common in March, averaging around 2.4 inches (6 cm) during the month. Precipitation increases slightly, with an average of about 1 inch (26 mm) of rainfall.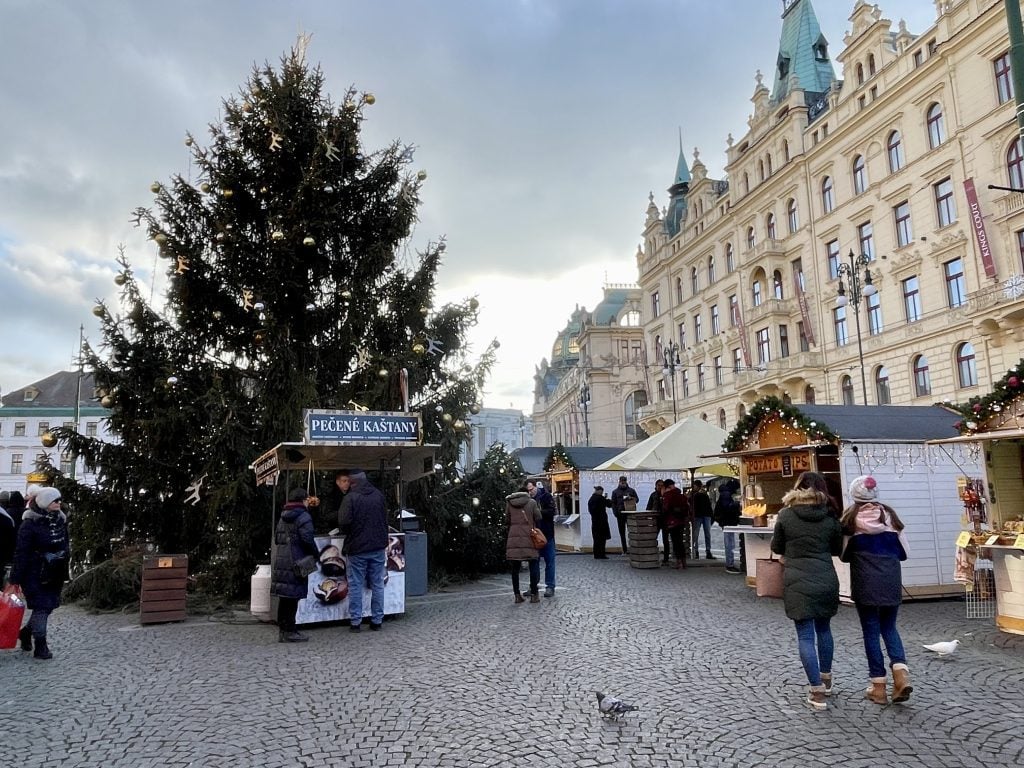 Packing for Prague in Winter
So what do you actually have to pack for a winter visit in Prague? If you're from a cold climate, bring your usual cold weather gear. If you're from a warm climate, here are some items I recommend:
Base layers (thermal underwear). I am a huge fan of the Uniqlo heat-teach scoop-neck top and leggings, which are very warm, affordable, and I wear all the time. Base layers are essential for Christmas market trips in winter because they give you an extra layer of warmth.
Warm sweater. Sweaters (or jumpers, Brits!) make the perfect mid-layer between your base layer and your outerwear. Did you know that Uniqlo makes affordable cashmere sweaters in a ton of colors?
Warm winter coat. If it's not waterproof, that's okay, but make sure to bring an umbrella (and actually bring it out with you).
Boots. Waterproof winter boots are ideal, as anyone who's stepped into a deep slushy puddle can tell you. You might not need them, but they're a good item to have in your wardrobe for winter travel.
Warm socks. I am a big fan of merino wool socks, which I wear during the winter and for hiking year-round.
Hat. I'm not a hat person; nevertheless, I rock a beanie in winter in Prague.
Speakeasy travel supply scarf. I love these scarves, which come in a variety of patterns and materials, and they come with a hidden zip-up pocket that is perfect for your valuables!
More on the Czech Republic:
More on winter in Europe:
Have you been to Prague in winter? Any tips? Share away!