Adventurous Kate contains affiliate links. If you make a purchase through these links, I will earn a commission at no extra cost to you. Thanks!
Phi Phi Island, located off Thailand's Andaman Coast, is most famous for being the setting of the Leonardo DiCaprio movie The Beach. Most people come to Koh Phi Phi the Phi Phi islands expecting one of the best places in Thailand — a pristine island paradise.
Unfortunately, they're often met with a rude awakening upon arrival.
Koh Phi Phi is not the paradise people expect, unfortunately.
Don't get me wrong – the island is beautiful. Exquisitely beautiful. But it's been so overdeveloped and pushed to the brink that it's extremely difficult to enjoy as a destination.
Overtourism has impacted many destinations. Sadly, overdevelopment has ruined the Phi Phi Islands.
But it's not all bad stuff. A lot has happened since I originally wrote this. COVID happened. A major drop in tourism happened. Maya Bay got restored.
Things are better on Koh Phi Phi Island, now. Not ideal — and I'd still rather go to Koh Lanta any day of the week — but it's much better on Koh Phi Phi nowadays.
This post was last updated in January 2023.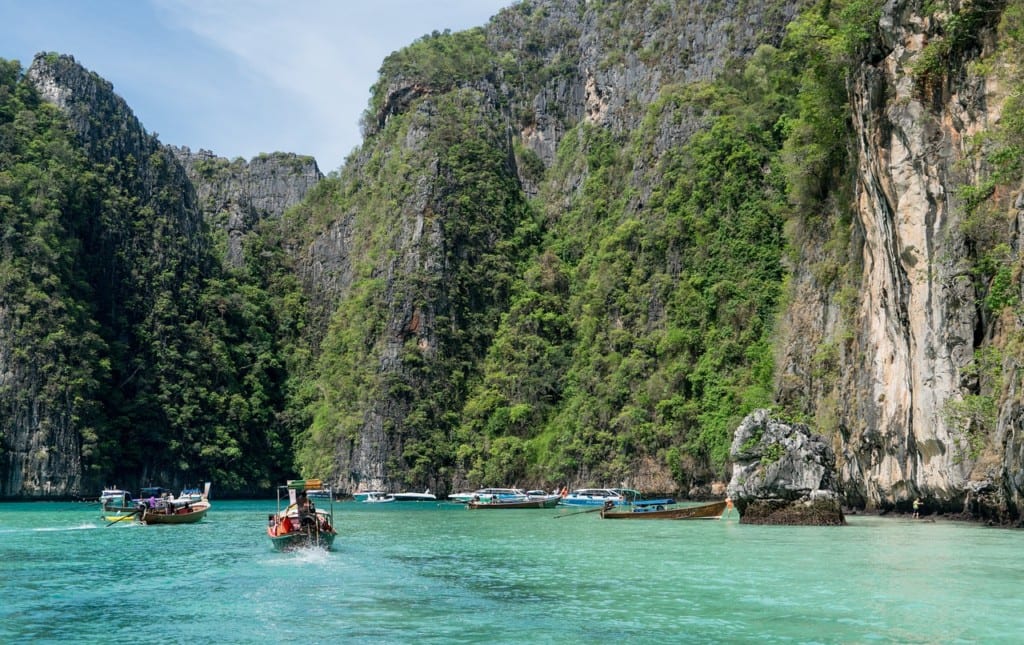 Koh Phi Phi
Koh Phi Phi is one of the most famous islands off the Andaman Coast of Thailand (the west coast). The Phi Phi Islands consist of two islands: Koh Phi Phi Don and Koh Phi Phi Leh.
"Phi Phi" is pronounced "pee pee." (Which is ironic, as the stressed sewage system means the island often smells like Koh Poo Poo.)
Koh Phi Phi Don is the only inhabited island, and it's home to all the accommodation and amenities of the Phi Phi Islands. If you're staying overnight on Koh Phi Phi, you're staying on Koh Phi Phi Don. It's a vehicle-free island and some hotel workers move luggage by dragging carts behind them, yelling, "Beep beep!" as they walk down the street.
Koh Phi Phi Leh is an uninhabited island to the south, home to famed Maya Bay, and it was closed from 2018 until 2022. One part of this closure was replanting the surrounding coral reefs that had been destroyed. More on that below.
Koh Phi Phi was enormously damaged in the 2004 tsunami, where approximately 4,000 people on the island lost their lives. Roughly 70% of the island's infrastructure was destroyed out. Looking at the shape of the island, where most of the development takes place on a narrow isthmus, it's no surprise.
Looking back, this would have been the time to rebuild Koh Phi Phi in a sustainable way.
Sadly, it didn't happen.
Koh Phi Phi was built up even WORSE than before. (And I can understand why — when you've lost everything, including your livelihood and possibly your loved ones, you'll do whatever it takes to survive.)
But then what happened with COVID hit?
COVID shut down tourism to much of Thailand.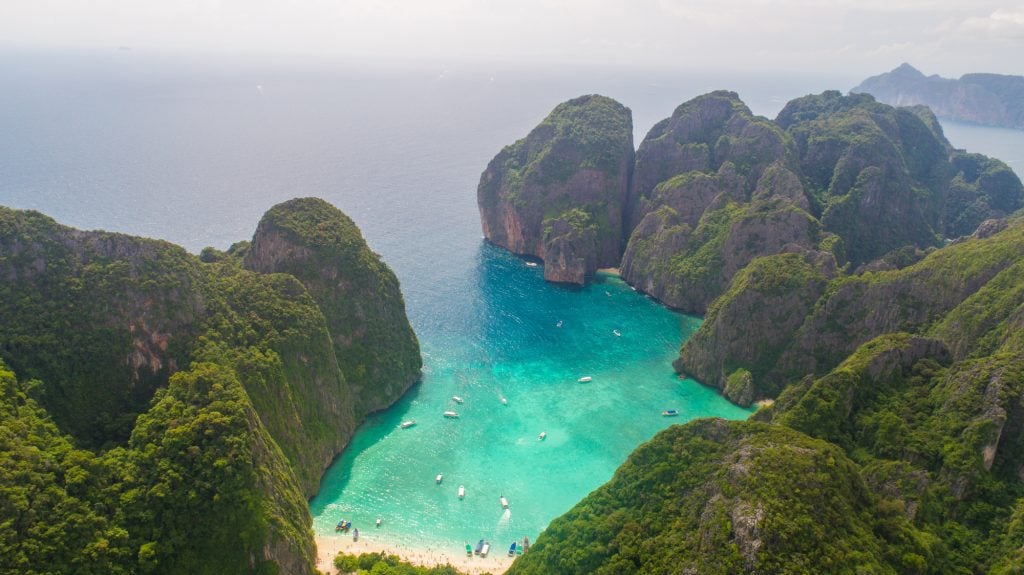 Maya Bay Is Open Again!
Maya Bay on Koh Phi Phi Leh is where The Beach was shot. If you've seen the movie, you know that Maya Bay is almost unspeakably gorgeous.
But that wasn't what Maya Bay looked when I went in the mid-2010s. Maya Bay is dirty and crawling with tourists — up to 5,000 per day (!!).
Not exactly untouched. And much of the surrounding coral reefs were destroyed as a result.
Thankfully, the Thai government stepped in and shut down the island in 2018. It was originally intended to last until late 2018, but this time was extended until 2022.
This closure was a fantastic thing to do! The Thai government has planted 10,000 coral plants in the surrounding area. While climate change remains a threat to the coral's survival, this is a step in the right direction.
Maya Bay reopened in 2022 to great fanfare, and today it is SO, SO, SO much better than it used to be.
How do you see Maya Bay? Book a tour! This top-rated tour takes you to the best islands and beaches in Koh Phi Phi, including sunset at Maya Bay. You'll have the best time.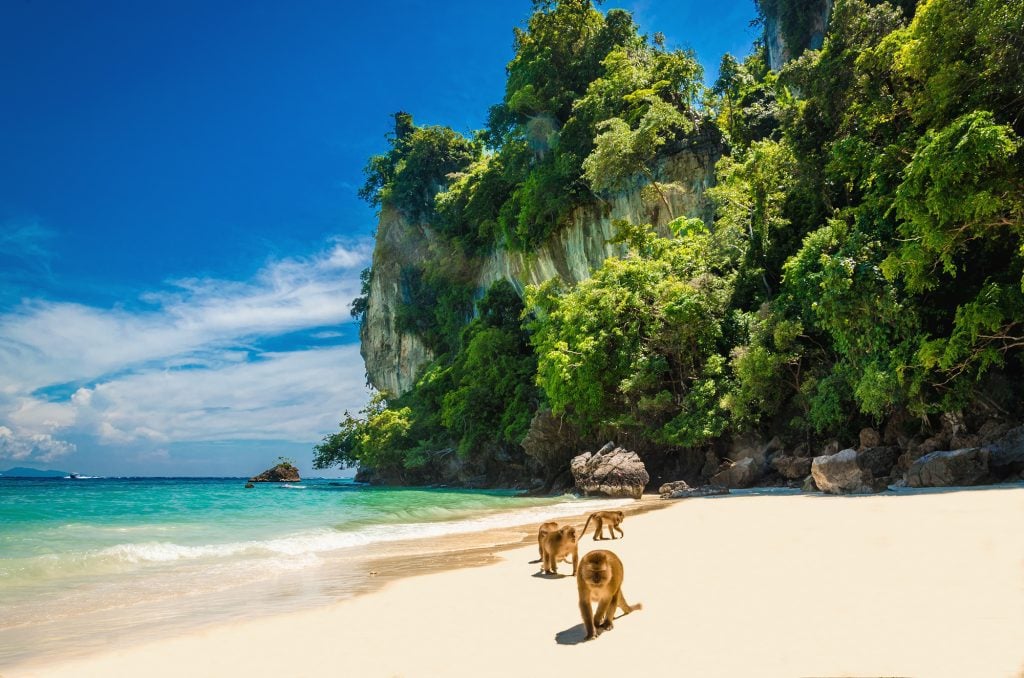 Things to Do in Koh Phi Phi
As one of the most gorgeous island in Thailand, there are many things to do in Koh Phi Phi. A great many of them involve going on boat trips to the gorgeous coves and white sand beaches on Phi Phi's smaller islands.
If you want to see all of the most beautiful parts of Koh Phi Phi in a single day, I recommend this top-rated Phi Phi boat tour.
On this tour you'll begin your day visiting Shark Point, home to black-tipped sharks and a popular (and safe!) snorkeling spot in the Andaman Sea. After that, you'll cruise to Bamboo Island, home to a lovely stretch of sand and plentiful marine life for excellent snorkeling.
Up next is Mosquito Island, or Koh Yung. Don't worry about bitey insects — they only come out after dark! Here you can view some of the most stunning rock formations in the Phi Phi Islands.
You'll have more stops. The gorgeous alcove of Nui Bay. Monkey Beach, the beach crawling with friendly monkeys (they're usually fine, but keep your distance if you're nervous). The Viking Cave, ships painted on it. Pileh Lagoon, with rich green waters.
And the finale? You'll visit Maya Bay, now restored and back to being one of the most beautiful places in the world. And you'll get to enjoy a perfect sunset. That's quite a lot you get in a single day trip.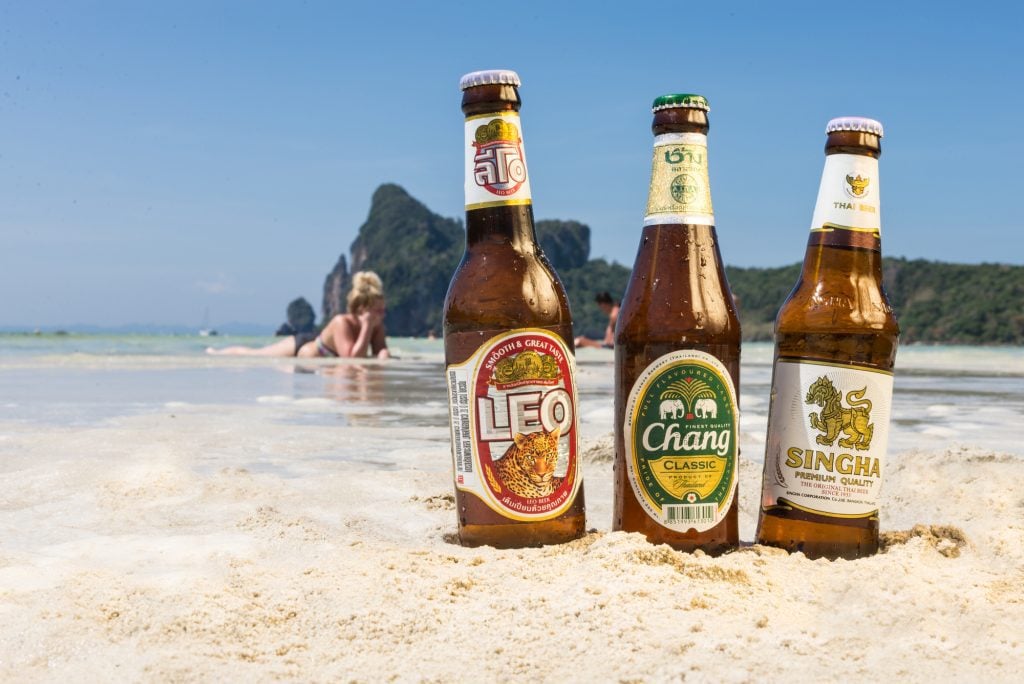 Is Koh Phi Phi Safe?
Phi Phi Island is as safe as Thailand can be, which is generally extremely safe, as long as you don't drink too much and keep an eye on your belongings.
Beyond that, though, I joke that Koh Phi Phi can be quite a dangerous place:
Dangerous for your wallet. Of all the places I visited in Thailand, Phi Phi was the most expensive by far. The cheapest lodging is about 1000 baht ($33) for an 18-bed dorm. And I had to pay 10 baht to use a SQUAT TOILET. (THEY SHOULD HAVE PAID ME!)
Dangerous for your feet. While visiting Maya Bay on Koh Phi Phi Leh, where The Beach was filmed, we climbed on some rocks – and my shoeless friends nearly killed their feet on their needle-like surfaces. What shocked me was that there were tours leading tourists, many of them older and ill-prepared, across these slippery, sharp rocks while holding onto ropes for support.
Dangerous for your nose. The sewage treatment isn't the greatest, due in part to the overwhelming volume of visitors. Expect quite a few odd smells.
Dangerous for your liver. The party scene here is insane and it seems like everywhere offers 2-for-1 buckets. I thought I partied hard in Ao Nang – Ao Nang has NOTHING on Phi Phi. I'll leave it at that. Dangerous.
Dangerous for your body. If you don't burn yourself while hopping a flaming jump rope at the fire shows, like a friend of mine did, you'll get punched in the face until you bleed from the eyeball in an amateur Muay Thai fight. I did that, and it was one of the biggest mistakes of my life.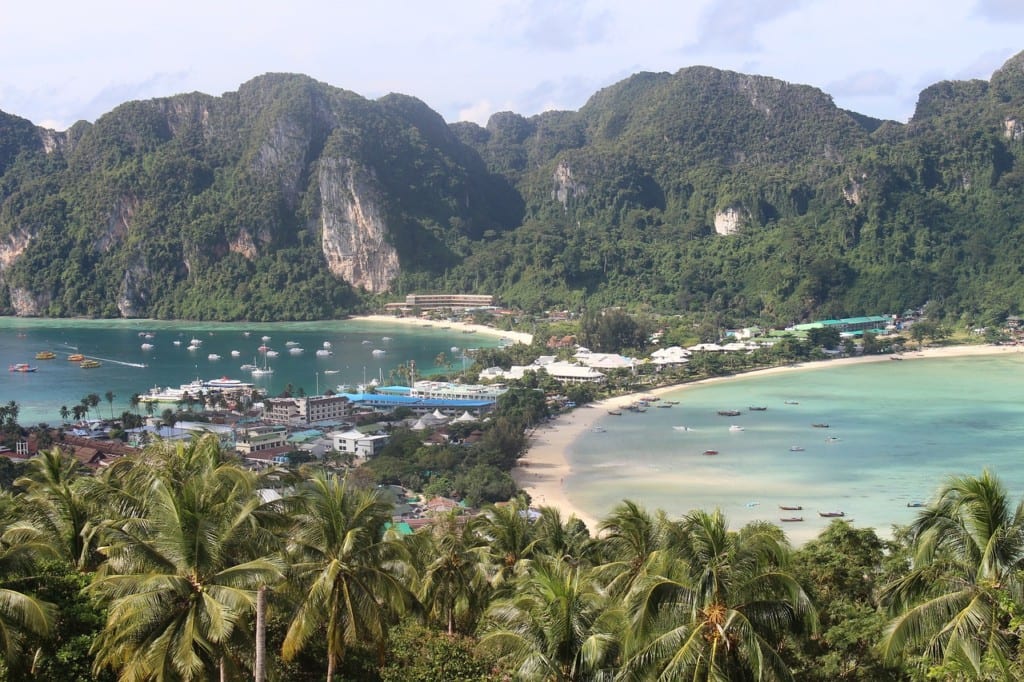 Is Koh Phi Phi Worth It?
Should you visit Phi Phi? If you still want to go after reading this, know that you've had a good look at both the good and the bad of this island.
I'm glad I got a chance to experience Koh Phi Phi, even though I would ultimately rather go to nearby islands like Koh Lanta instead.
Speaking of Koh Lanta…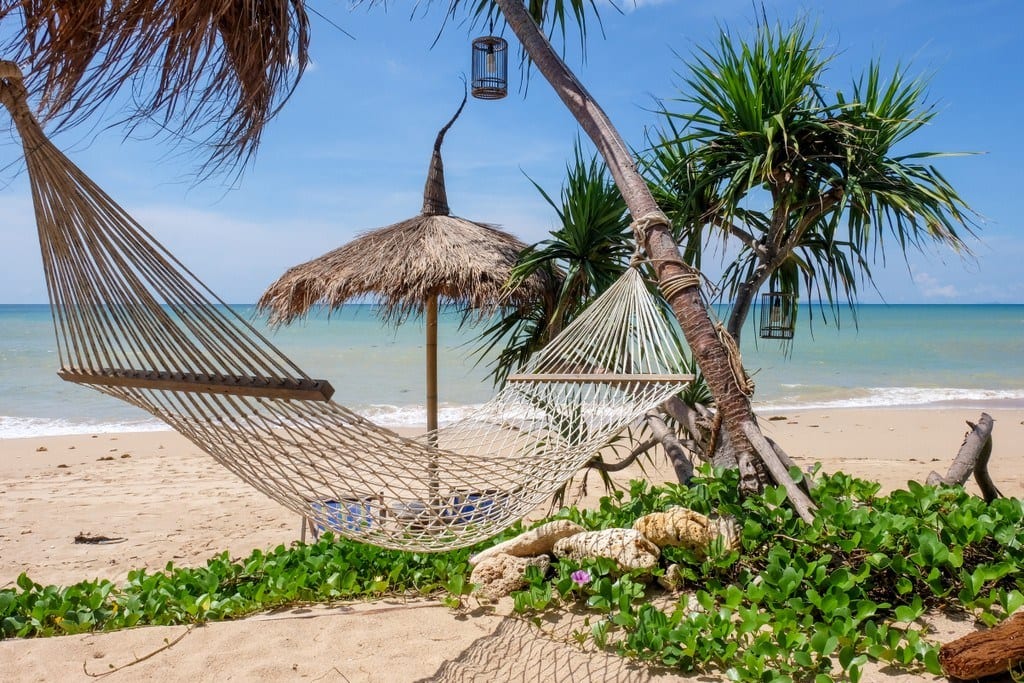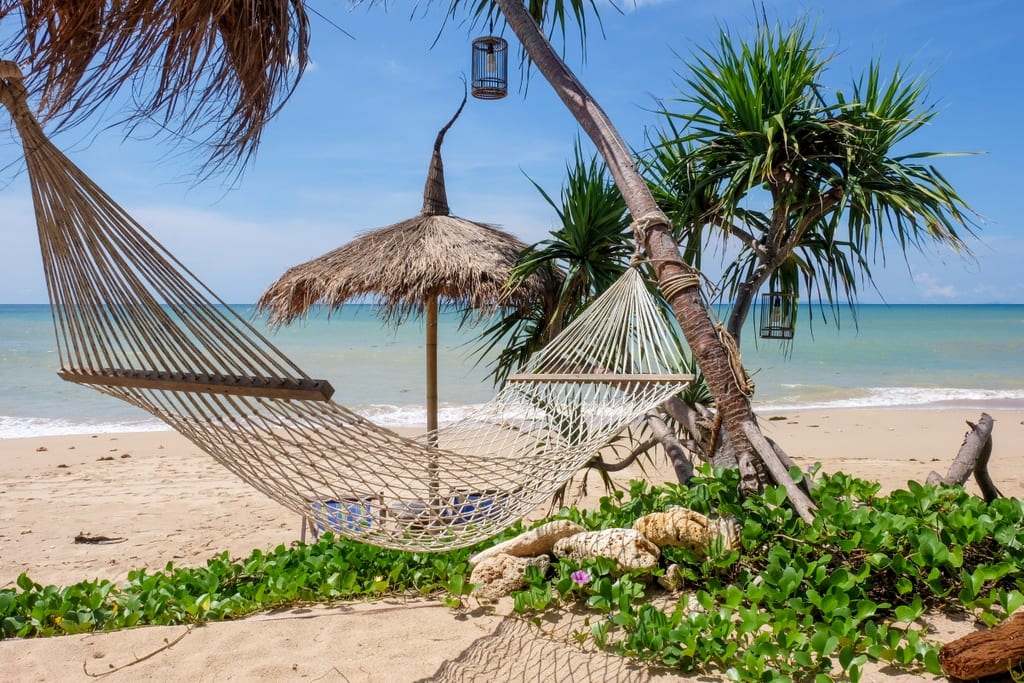 Koh Lanta is Better Than Koh Phi Phi
Koh Lanta is one of my favorite places in the world, and it's a million times better than Koh Phi Phi. I first arrived in Koh Lanta from Koh Phi Phi and I was struck by how much better of a time I had.
Koh Lanta is a long, skinny island with beaches along the west coast, giving you prime viewing to some of the best sunsets I've ever seen. It's home to several beaches, each with their own personality. It's a great place to rent a motorbike and explore the island. It's home to some excellent restaurants including one of my favorite restaurants in the world, Red Snapper.
And the people of Koh Lanta are some of the friendliest, most welcoming Thais I've met on my travels.
Most impressively, Koh Lanta has not fallen to the same fate as Koh Phi Phi. I've continued to visit the island and I'm impressed that it hasn't fallen victim to overtourism. One reason is that Koh Lanta has ample land for development, but the other is that the locals guard it closely. It's wonderful that it's stayed this way and I hope it continues.
Koh Lanta doesn't have the insane cliffs and views of the Phi Phi islands, nor those of Railay or other spots in Krabi. But you know what? That's okay. Koh Lanta is still more beautiful than the vast majority of islands in the world!
READ MORE: My Guide to Koh Lanta, Thailand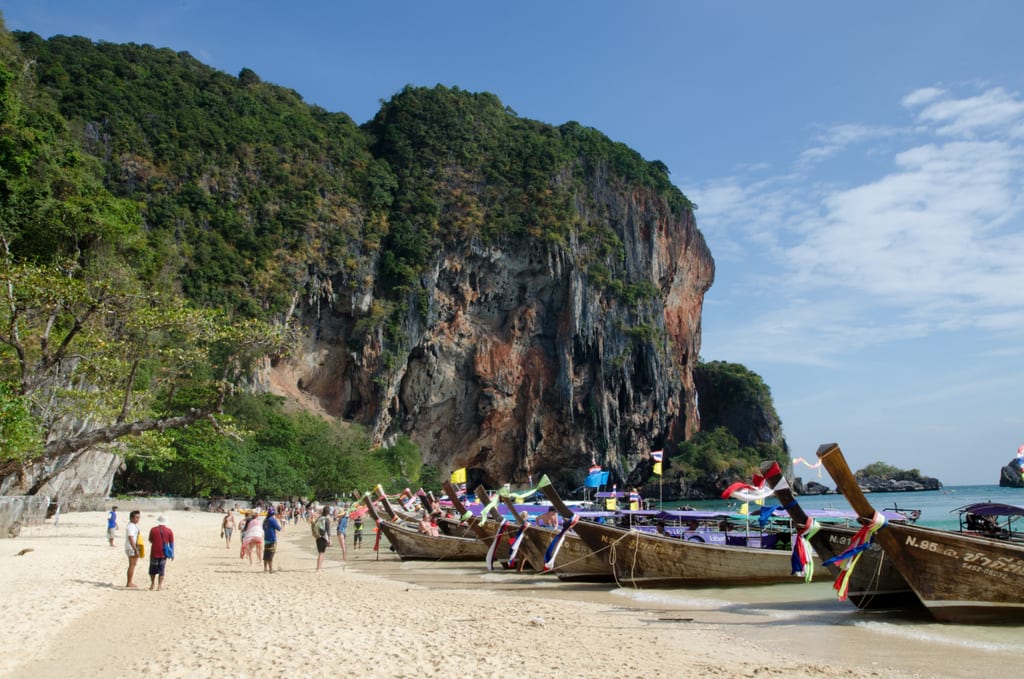 Other Alternatives to Koh Phi Phi
If you'd like to go elsewhere on Thailand's Andaman Coast, consider Railay Beach on the mainland, a popular destination just off of Krabi. Railay is facing overdevelopment concerns, but it isn't as severe as Koh Phi Phi and I still recommend visiting. The limestone cliffs at Railay are unreal.
You might actually prefer Ton Sai Beach, next door to Railay. It's even less developed, in part because it's a bit tougher to get to. You need to jump out into the crystal clear waters from your long-tail boat and walk to shore!
If you're willing to head to the Gulf coast (Thailand's east coast), consider Koh Phangan, home to the world's most famous full moon party, or Koh Tao, a small but lovely island with epic scuba diving and tons of dive schools. Koh Samui is much more developed with lots of resorts.
And if you don't mind a trip to the northern edge of the Gulf coast, head to Koh Chang, which you can still enjoy on the cheap.
But if you're willing to go to another country — go to Boracay in the Philippines! I found Boracay to be very similar in ethos to Koh Phi Phi but larger and much more peaceful (particularly around Station Three and further south).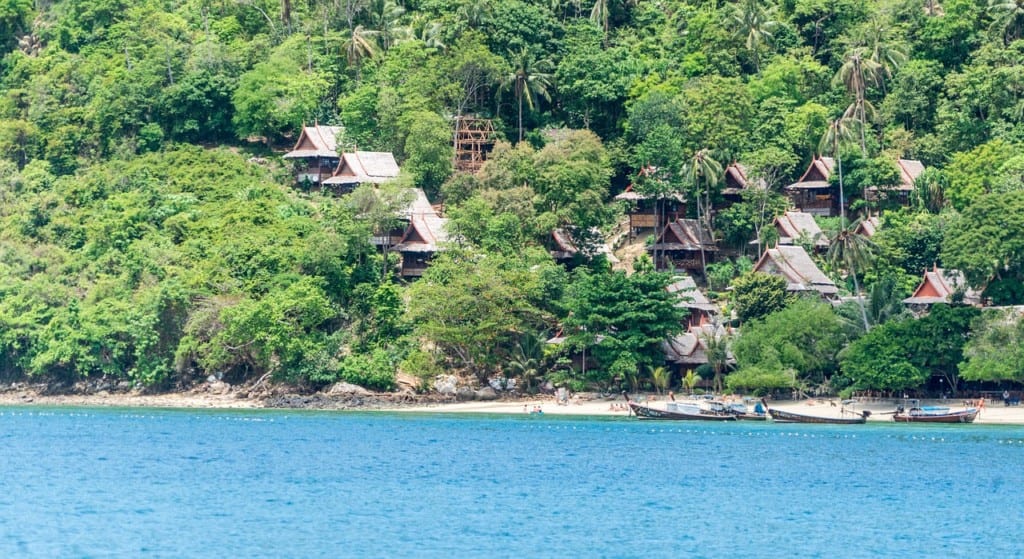 Where to Stay in Koh Phi Phi
Koh Phi Phi is one of the most expensive islands in Thailand, especially for budget accommodation. Dorm beds in decent hostels start at around $18 per night in high season. (You might find some poorly rated hostels for cheaper, and rainy season rates can be lower too.)
On an island as small as Koh Phi Phi Don, choosing the wrong accommodation can leave you in trouble. Here are the best hotels Koh Phi Phi has to offer:
Best Luxury Hotel Koh Phi Phi: Zeavola Resort
If you're looking for Koh Phi Phi's best luxury resort, stay at Zeavola Resort. This incredible five-star hotel is hidden in the jungle with a private beach, infinity pool among the trees, and the most gorgeous wooden bungalows outfitted with traditional Thai decor. This is definitely the most romantic place to stay in Koh Phi Phi.
I stayed at the PP Princess Resort in Koh Phi Phi and this infinity pool alone makes it spectacular! It feels like a splurge but you can get it for a much lower price than the luxury properties on the island. It's conveniently located right on the beach in the heart of the island, and you have easy access to everything.
Best Budget Hotel Koh Phi Phi: Panmanee Hotel
Panmanee Hotel is where to stay in Koh Phi Phi on a budget, and you get a lot of value for money at this simple guesthouse. It's located in the heart of the island, close to the beach; it's close to all the amenities on Koh Phi Phi itself; the rooms are a bit cheesy, but they're clean and well-sized.
A lot of hostels in Koh Phi Phi are designed for partying. My recommendation? You can party anywhere on the island — so come back to something nicer. Dee Dee Sea Front Hostel has a superb location, right on the beach. Dorm rooms have a max of four people. It's clean, quiet, and consistently rated the best hostel in Koh Phi Phi.
Find deals on hotels in Phi Phi Island here.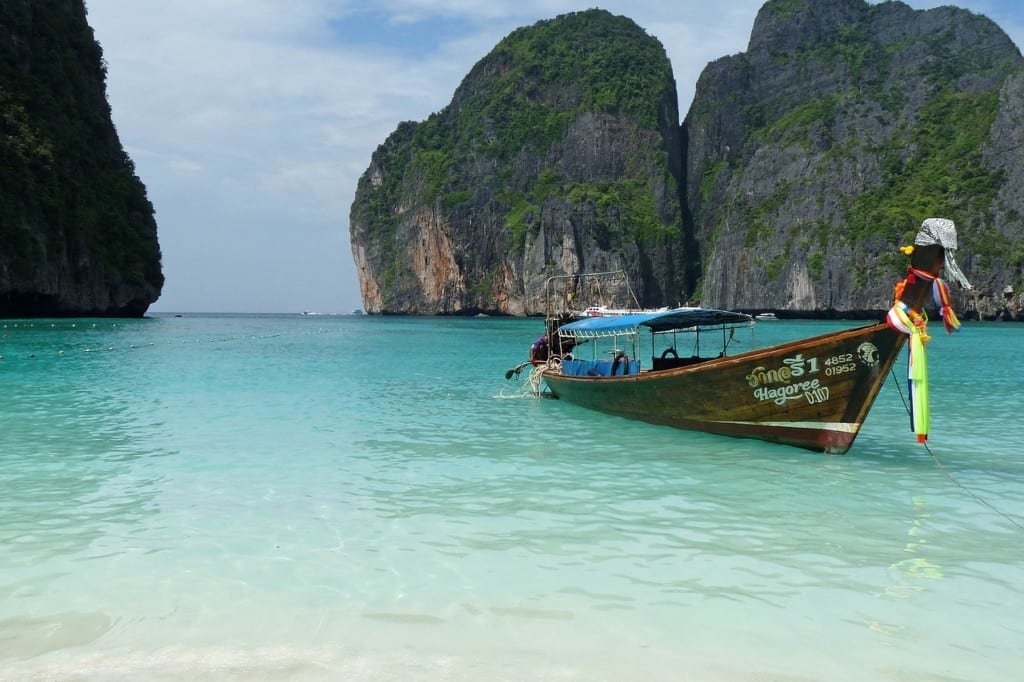 How to Get to Koh Phi Phi
Koh Phi Phi does not have an airport — you must arrive by sea.
Getting to Koh Phi Phi by Boat
You can reach Koh Phi Phi by boat from several departure points:
Krabi (along with Ao Nang and Railay): 1:45-2 hour journey
Phuket: 1:30-2 hour journey
Koh Lanta: 1-hour journey
These are real ferries with enough room for your luggage — no longtail boats necessary (unless you depart from Railay, where everyone arrives and departs by longtail boat).
Getting to Koh Phi Phi by Air
If you want to fly to Koh Phi Phi, I recommend flying into either Krabi or Phuket. Each is an international airport, and there are frequent flights to both from Bangkok or Chiang Mai.
If you're coming from outside Southeast Asia, there are tons of cheap connecting flights from Bangkok. It may save you a lot of money to book this leg of the flight separately on its own.
I recommend using Skyscanner to find the best rates to Krabi or Phuket.
Krabi airport is on the mainland, and it's a bit closer. From the airport you can get a shuttle to the pier in Krabi town and take the boat from there.
Phuket is a much larger island north of Koh Phi Phi. Phuket is a bit more of a connected airport than Krabi with more international direct flights. Again, you can take a shuttle to the pier and take the boat direct.
Getting to Koh Phi Phi by Bus or Train
If you're traveling overland from elsewhere in Thailand, I recommend getting a bus to Krabi and taking the ferry from there.
There are trains in Thailand but they only go as far south as Suratthani on the Gulf coast, and you'll have to get an additional bus from there.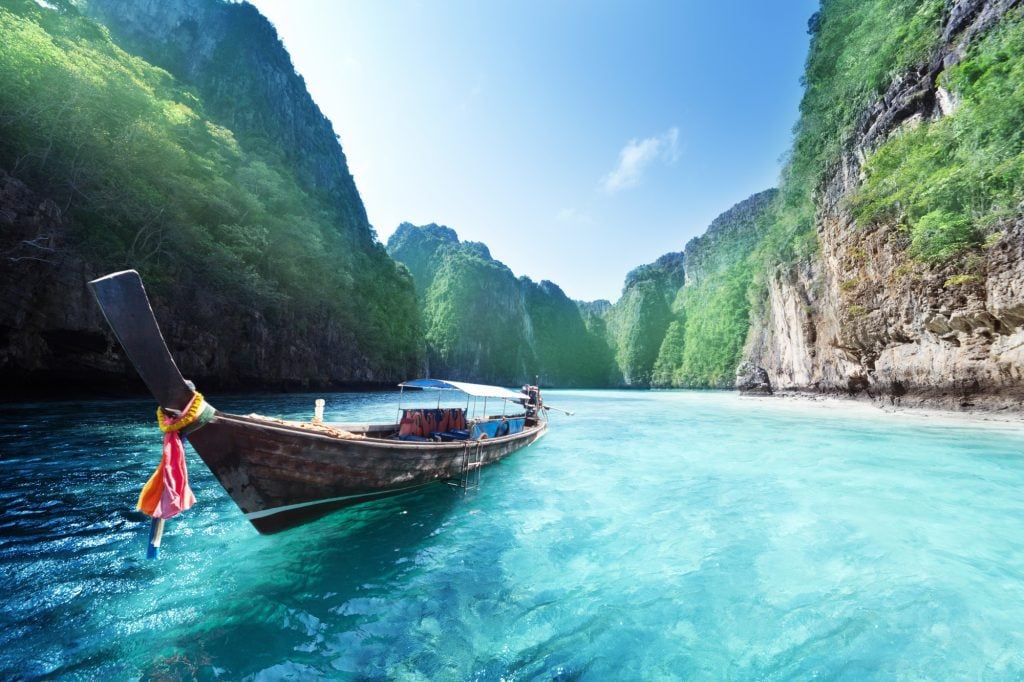 Should You Go to Koh Phi Phi?
Koh Phi Phi can be a lot of fun, but it's not the greatest island by far. There are so many better islands in Thailand and if your time is limited, I urge you to concentrate your island time somewhere else (go to Koh Lanta!).
But if you choose to travel to the Phi Phi Islands, I urge you to keep your expectations in check. This is not going to be the paradise you've dreamed of.
More on Thailand:
Have you been to Koh Phi Phi? What did you think?