Adventurous Kate contains affiliate links. If you make a purchase through these links, I will earn a commission at no extra cost to you. Thanks!
Looking for one of the most beautiful towns on the Adriatic Sea? Welcome to Perast Montenegro. This small town on the Bay of Kotor is one of the best places to visit in this mountainous nation.
Most people who visit Montenegro base themselves in more popular Kotor, the town 20 minutes away that draws the lion's share of Montenegrin tourism. In fact, it was Kotor that made me first fall in love with Montenegro 11 years ago.
But for my latest visit to Montenegro, I wanted something different — I decided to base in Perast, with a population of 300 residents. My husband and I spent four nights here, celebrated my 39th birthday, and I discovered that four days in a very small town isn't overkill. Not when it's as beautiful as this.
Let me show you what makes Perast an idyllic place to visit.
(Planning a trip to Montenegro? Be sure to check out my Montenegro Travel Guide and list of the 30 Best Things to Do in Montenegro!)
This post was published in September 2023.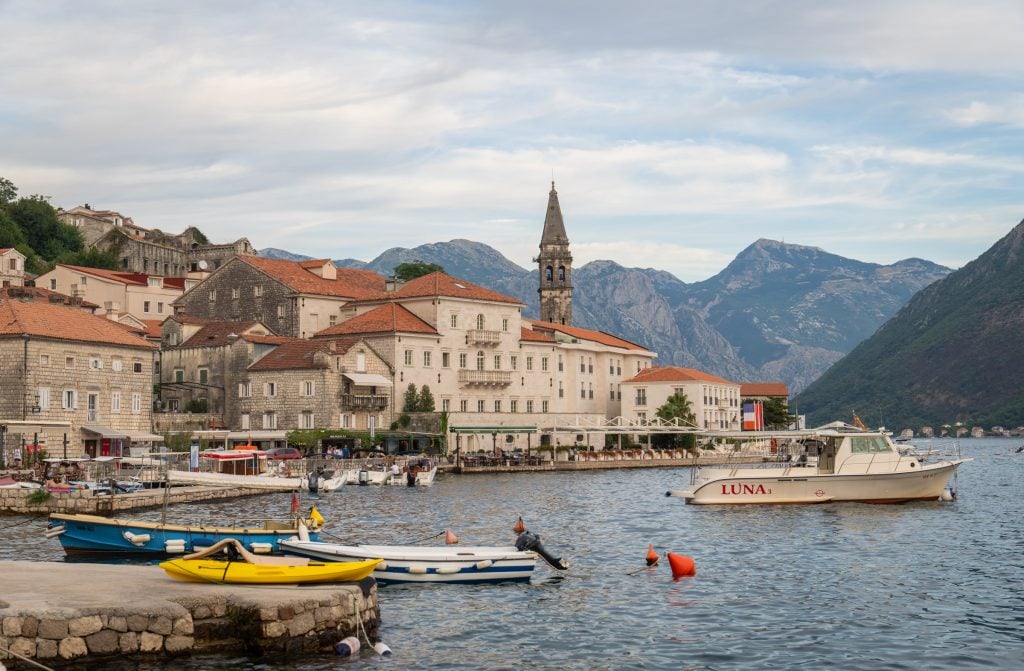 Things to Do in Perast Montenegro
First off — will you be staying overnight in Perast, or visiting Perast from another town like Kotor? If you're staying in Perast, you have a lot of time to explore the place.
But if you're visiting from another town, I encourage you to visit independently and spend more than the typical one to two hours in Perast. There are so many cool things to do in Perast, and it would be a waste to come all the way here just to leave an hour later.
See below for information on how to get to Perast. Whatever you decide, give yourself at least half a day to enjoy this place.
Here are some of the best things to do in Perast Montenegro: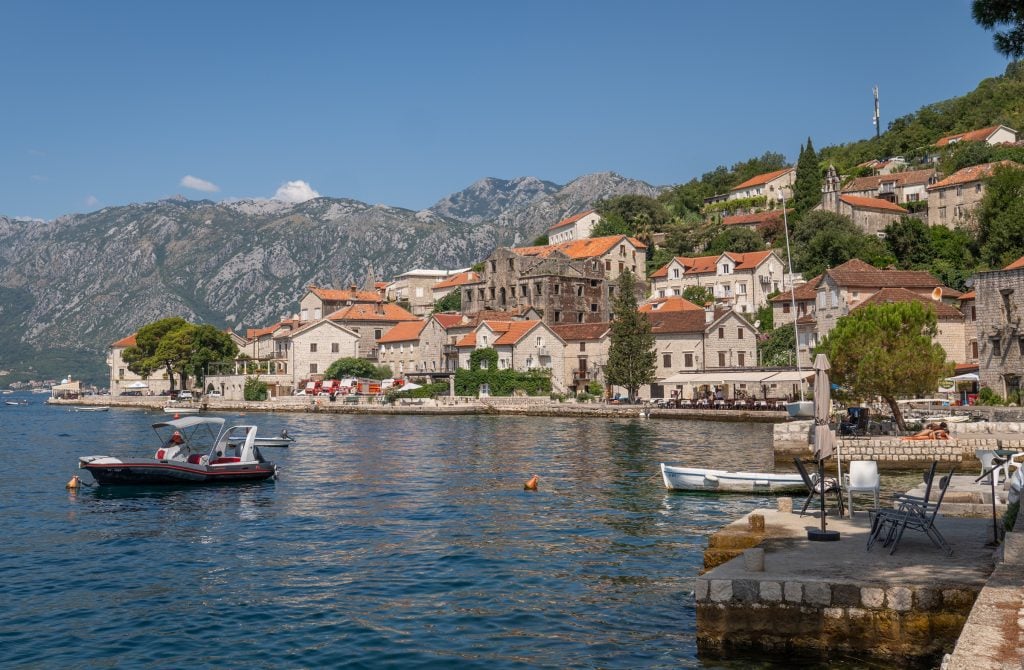 Stroll Perast's waterfront from end to end
Perast Montenegro is a tiny town wedged in between the main road and the Bay of Kotor. The entire town is about a 1.5 km walk from end to end and should take you around 20 minutes if you have a decent pace and don't stop — which means it could take you an hour or longer if you stop for a drink, for an ice cream, for a photo shoot.
Along the way you'll pass palaces, churches, tiny shops and guest houses, and one more luxurious hotel that has taken over the plaza in town.
Some palaces of note include Smekja Palace, which was home to the famous seafaring Smekja family and still bears its coat of arms on the edifice; and Bujović Palace, which is home to the Museum of Perast (more on that below).
As far as churches go, don't miss the Church of St. Nicholas (St. Nikola Church), a Catholic church home to the famous bell tower of Perast. You can explore the small chapel downstairs and climb to the top of the tower for 1 EUR ($1 USD) — there's a beautiful view from up there.
Another church worth photographing (but not going inside) is the Church of St. John the Baptist, which is closed to visitors but is a pretty little building, sandwiched between two taller ones.
Perast is one of the most photogenic small towns I've ever visited — so keep turning around every few minutes to make sure you don't miss a beautiful angle you didn't know existed. And don't think it's just pretty on a sunny day! Some of my favorite Perast photos in this post were the day we had a morning thunderstorm.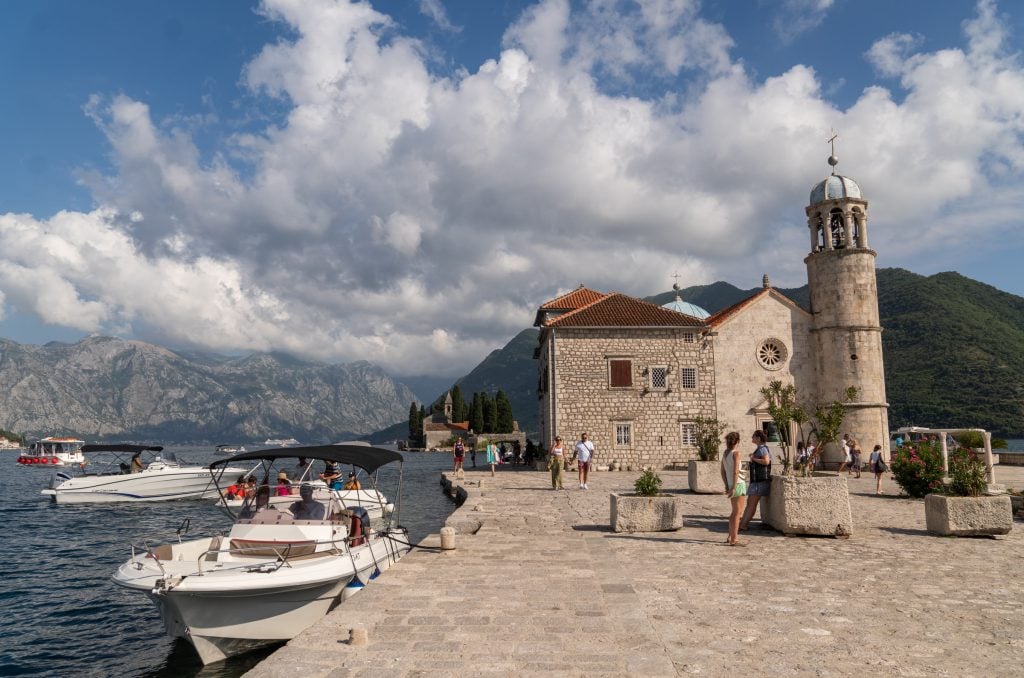 Visit Our Lady of the Rocks
There are two tiny islands in the Bay of Kotor, each topped with a chapel, just off the shore from Perast. One is called Gospa od Škrpjela (Our Lady of the Rocks); the other is Sveti Đorđe (St. George). While St. George is off-limits to visitors, boats from Perast visit Our Lady of the Rocks all day.
Our Lady of the Rocks is the only artificial island in the Adriatic Sea, and legend has it that local fishermen found an image of the Madonna and child here, and decided to keep returning to drop rocks until the island was created.
Today, visitors sail out to the island to visit the chapel. The chapel is covered with 68 paintings and frescoes by Perast artist Tripo Kolkoja.
To get to Our Lady of the Rocks, simply head down to the waterfront and take one of the excursions, which cost about 5 EUR ($5 USD) return. If you're driving to Perast, several of the parking lots give you free parking if you buy one of the tours; you can find out details from their parking attendants. (You can also book a private water taxi for about 10 EUR, or $11 USD.)
From Perast, you have the choice of just visiting Our Lady of the Rocks, or going on a longer boat tour that includes the Blue Cave (including swimming!) and a visit to the submarine tunnel.
If visiting from Kotor, this boat tour includes a short trip to Perast, Our Lady of the Rocks, the Blue Cave, and the submarine tunnel.
If you happen to be in Perast on July 22, Favižana is a holiday when locals throw rocks into the sea at sunset, just like the fishermen of legend.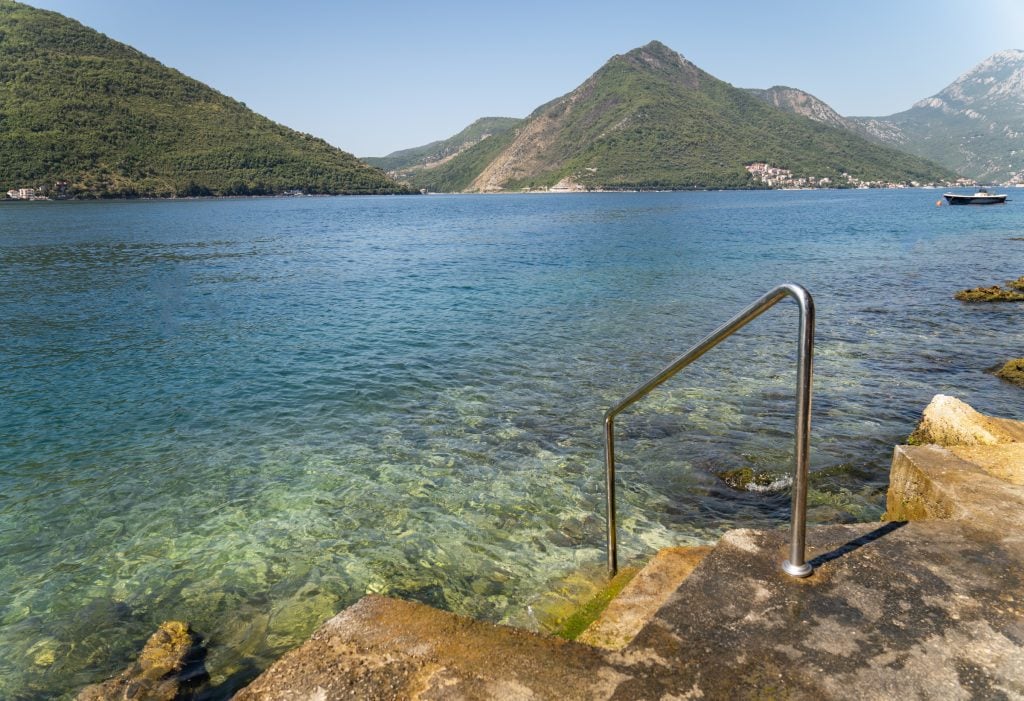 Swim at Perast Beach
One of my favorite things to do in Perast was wake up and head straight to the beach for a swim in the clear teal water. With the mountains of the Bay of Kotor rising up around me, this might have been the most beautiful place I had EVER gone for a swim.
Keep in mind that the word "beach" is a bit of a misnomer here. In Perast, as in most of the Bay of Kotor, beaches are cement blocks perched on the edge of the water. There are no "real" sandy beaches in Perast.
(I saw a lot of sources online claim there was one tiny "beach" in Perast, but I kept walking the town from end to end and couldn't find anything other than a small pile of stones on the eastern edge of town. That might be Plaža Velemira kraj Perasta; honestly, the rocks were too large to sit on comfortably, and it was barely big enough for two people.)
But there's nothing wrong with enjoying what you have! Head to "Perast Beach" (marked on Google Maps) near the eastern edge of town, grab a spot underneath some shady pine trees, and climb the steps into the water. You'll love it.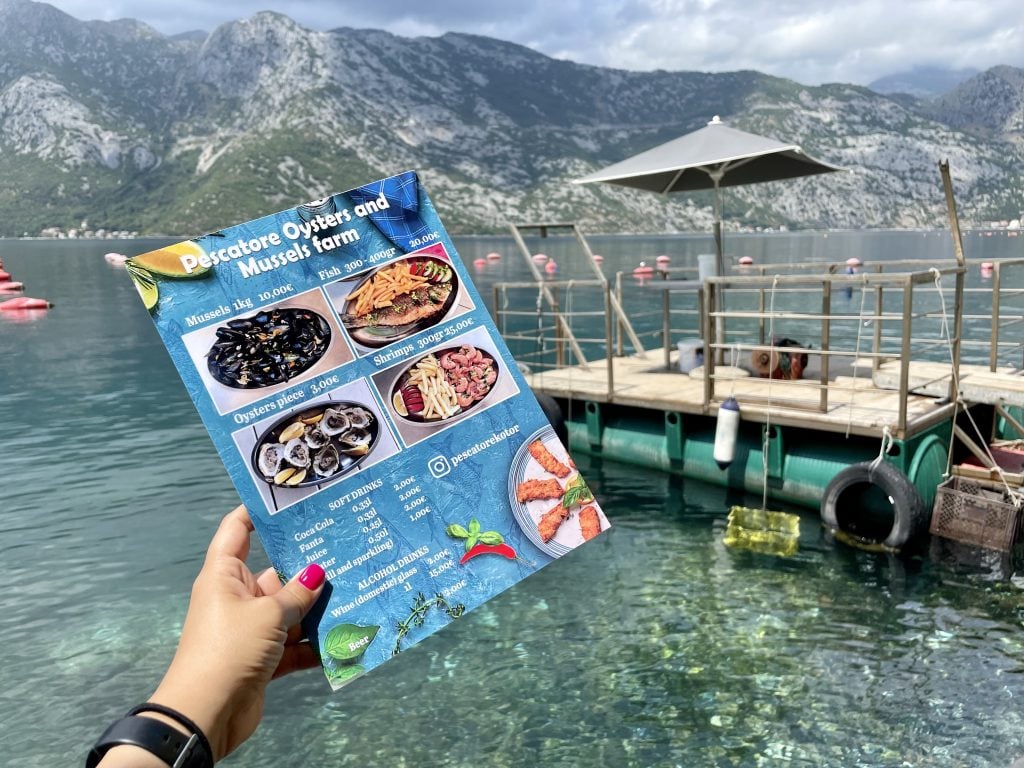 Have Oysters and Mussels on Boka Bay
As you drive around the Bay of Kotor, you'll see lots of seafood farms, some with little orange and white markers set out in neat rows on the bright turquoise water. Many of these farms have little restaurants attached
I spent my birthday lunch in Perast at Pescatore Oysters and Mussels Farm, which is about a 10-minute walk past the western edge of Perast and is marked as "oysters mussels farm" on Google Maps. It's a ramshackle little building perched right on the edge of the bay.
It's a simple restaurant, with only a few food and beverage choices — but you can't beat this level of freshness! There's nothing like seeing your lunch be pulled from the sea.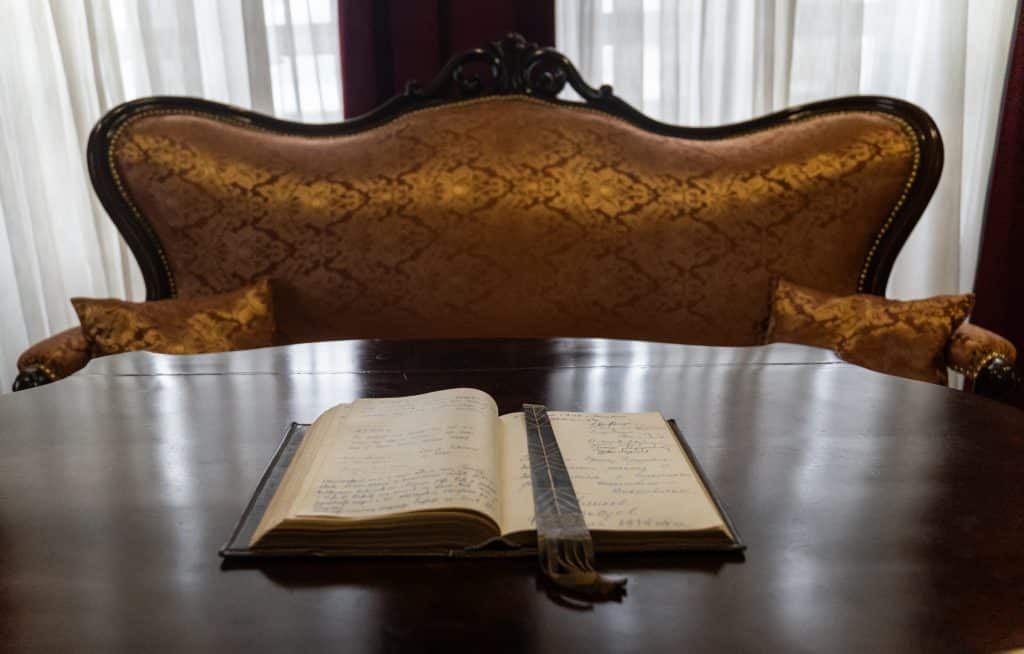 Visit the Perast Museum
The Perast Museum (Muzej Grada Perasta) is an ideal choice for a rainy day in Perast — or when the sun is getting to be a bit much. This museum is located in what was once Bujović Palace, on the western side of Perast, right on the Strada.
There is a small and quirky collection here, featuring local paintings, model ships, antique maps, and documents related to Perast's maritime history.
It's worth stepping out on the balcony to get a beautiful view of Perast, complete with the bell tower, the palaces, and the surrounding mountains.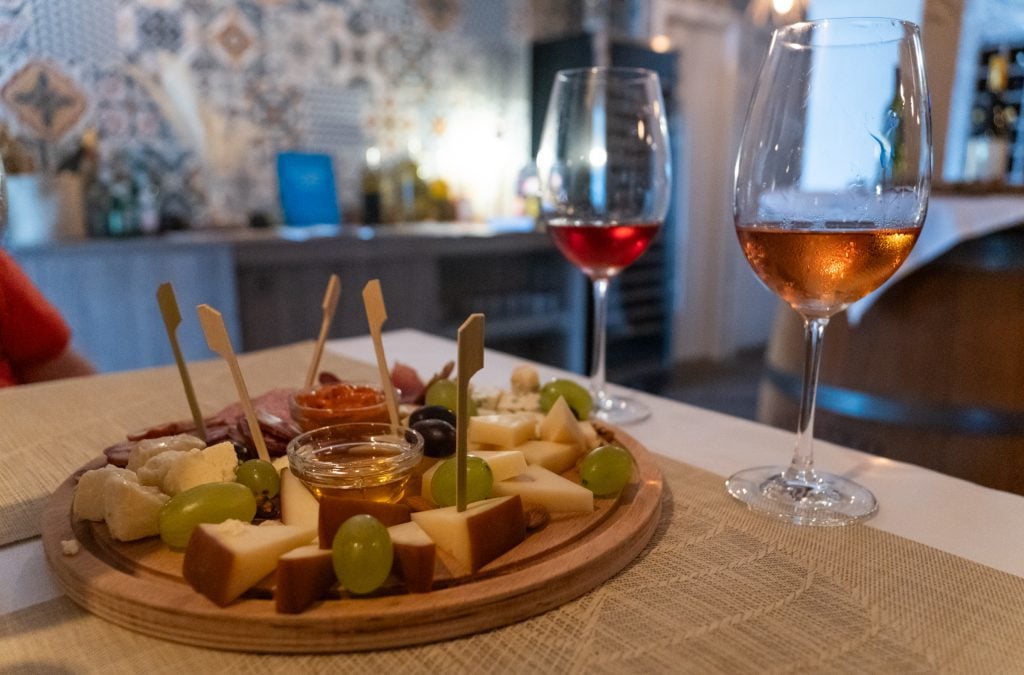 Try Montenegrin Wine and Food at Red & White Wine Bar
On the western edge of Perast, close to the Pirate Bar, you'll find a little place called Red & White Wine Bar. It doesn't look that fancy on the outside — but inside you'll be having one of the best culinary experiences in Perast!
Montenegro has the perfect environment for wines — Mediterranean climate, lots of mountains, decent sunshine — but producers here are so small that they can't realistically export much. There's no better place to sample the goods than right here in Montenegro.
Red & White Wine Bar offers lots of different wines by the glass — Montenegrin, Balkan, and from locations beyond. Additionally, they have a deli and can put together a nice Montenegrin charcuterie platter customized to your liking.
There is a smoked cheese I had here that I'm still trying to get out of my head. I wish we had gone three times!
Spend an afternoon at Pirate Bar
By now, you're thinking that Perast looks like a quiet, low-key place. That may be true — but on the western edge of the town, the party rocks all day. Welcome to Pirate Bar, matey!
This beach bar (again, here a "beach" means wooden or concrete blocks set on the water) features music, cocktails, and swimming in Boka Bay. It's the perfect place to kick back for the day, and it's open from 8:00 AM until 9:00 PM (though I don't know anyone who has made it through a 13-hour stint there!).
You can drop into the bar, or reserve a table or day bed with an umbrella. To reserve one, call the bar or go see them in person. Be sure to specify what you want — not all tables have shade.
I highly recommend reserving a table or day bed as far from the bar stage as possible. One day there was a band performing and they were SO LOUD, Charlie's iPhone kept warning him of audio danger and we kept swimming far away to have some peace! (But for what it's worth, there was only a live band one day out of four.)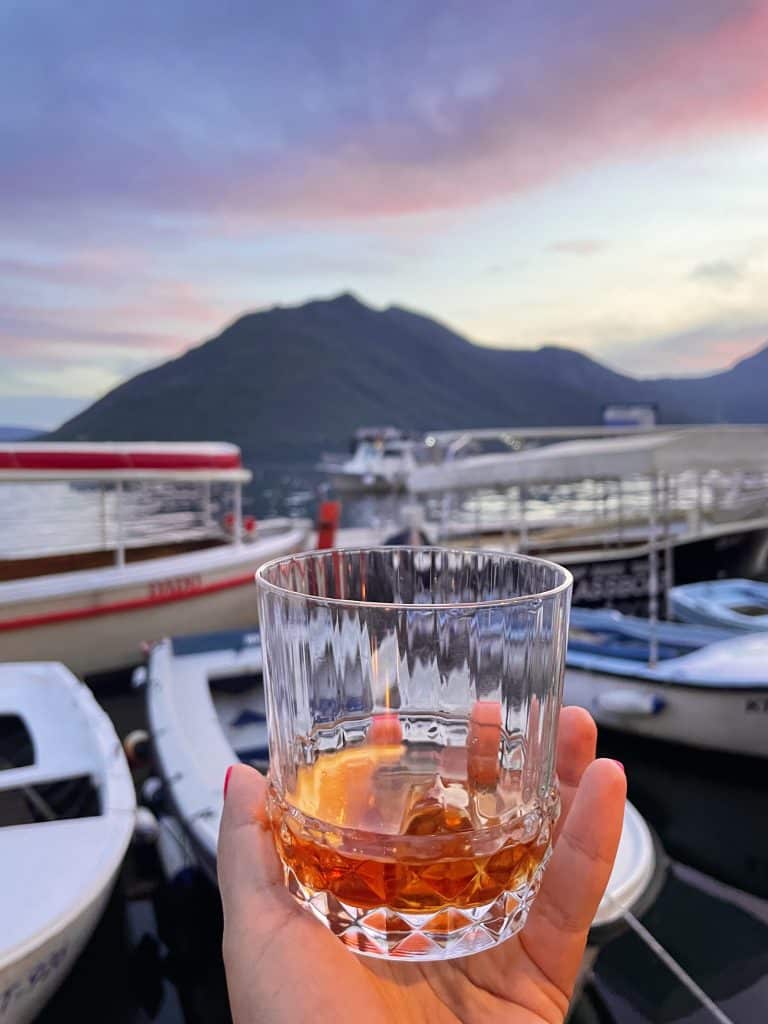 Dine on the waterfront at sunset
Most of Perast's restaurants are situated right on the water, or on the strada facing the water, for fantastic views at sunset. I recommend making reservations in advance if visiting during July or August.
Here are a few great restaurants in Perast, Montenegro:
Konoba Skolji — This was my favorite restaurant in Perast. They make wonderful seafood pastas and risottos.
Palace Jelena — This hotel features a restaurant with a good breakfast, as well as some hard-to-find international choices.
Bocalibre — If you're in a pizza mood, this place dishes up better pizza than you usually get in the Balkans. It's not QUITE Neapolitan-style, but it's close.
Restaurant Armonia — We enjoyed some tasty fried calamari here, overlooking the sea.
And if you're up for something sweet, Moritz has some unusual ice cream flavors, including lemon charcoal. (For something a bit more lowbrow, we found Mars Bar ice creams in a few of the small grocery shops!)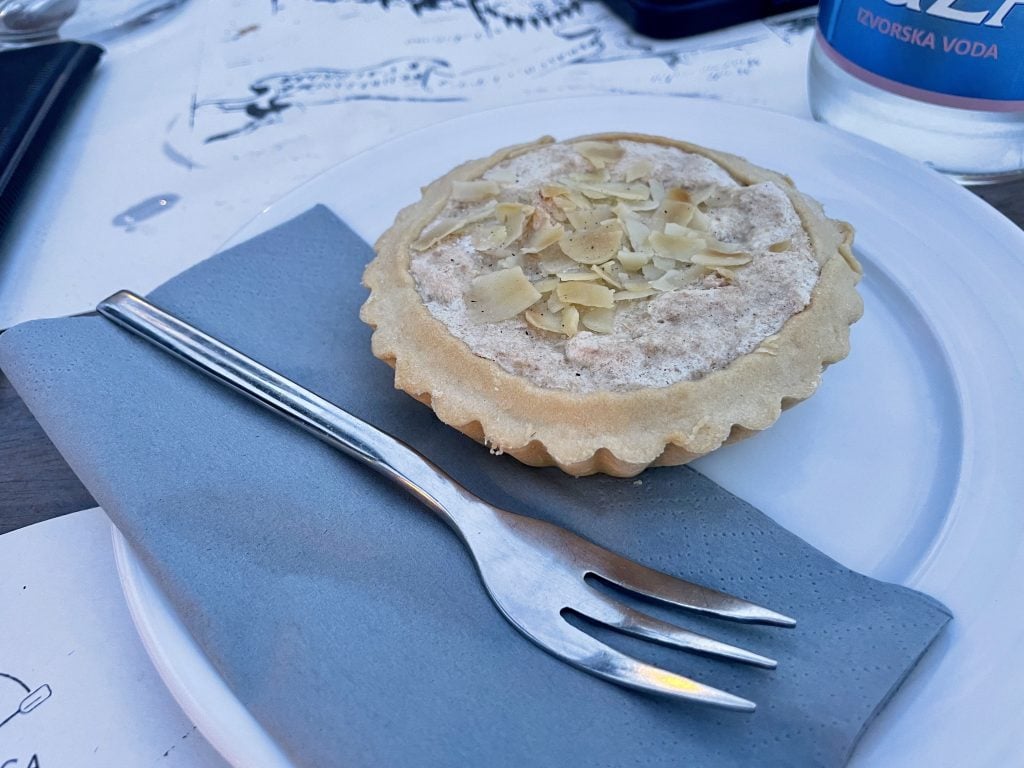 Try a Peraška Torta
If there's any one food you should try in Perast, it's the Peraška Torta — the traditional Perast cake. This cake is special to the Boka Bay region, and it dates back to the 17th century.
The cake consists of a traditional shell filled with almonds, butter, eggs, sugar, lemon juice, and liquor (sometimes rum or cherry liqueur).
The perfect ending to a meal in front of the sunset! I had mine at Palace Jelena.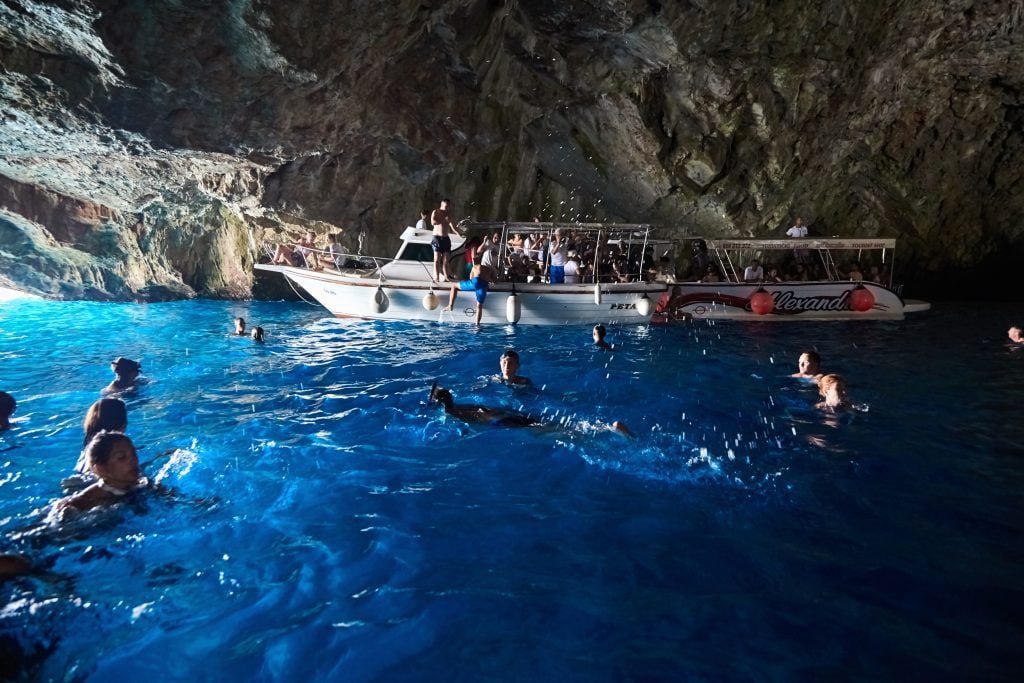 Visit the Blue Cave
The Blue Cave is a natural wonder located not too far from Perast. At certain times of day, this cave lights up with brilliantly blue light and makes for great photos.
Boat tours to the Blue Cave are a popular activity in the Bay of Kotor, and they usually include a swim stop, a visit to a nearby submarine tunnel, and Our Lady of the Rocks.
Keep in mind that you might not be able to go into the Blue Cave if it's too windy. Unfortunately, it was too windy on the day of my trip; alas, I'll save it for another time.
If you want to join a boat trip to the Blue Cave from Perast, simply go down to the waterfront; there are plenty of tour boats looking for passengers. If you're looking to do that trip from Kotor, you can book it here.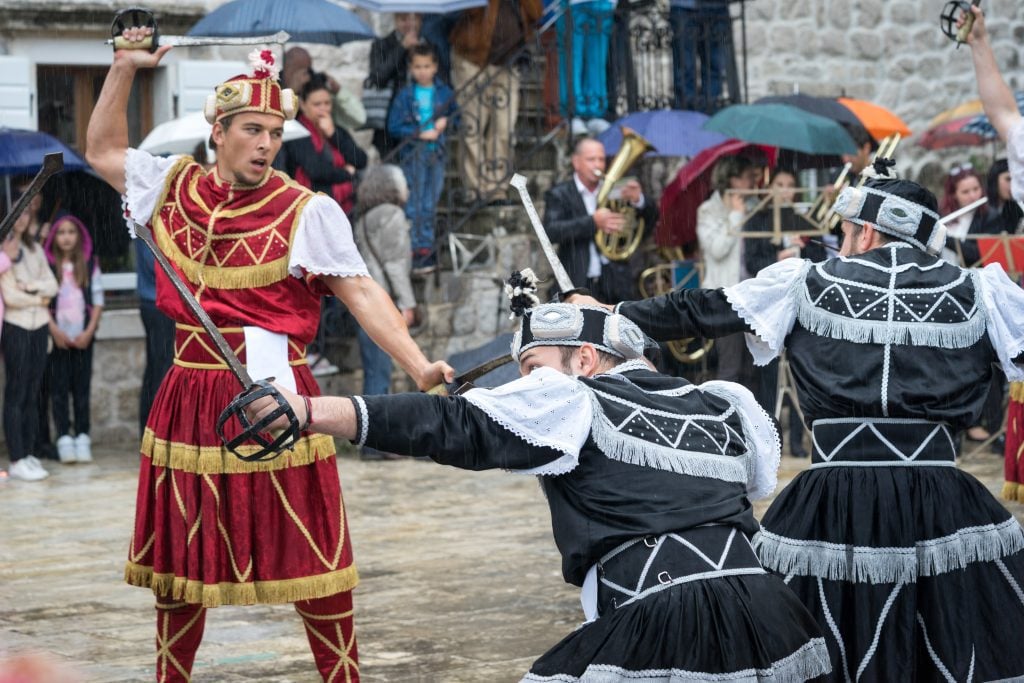 Attend a Perast Festival
If you manage to time your trip to Perast during one of the town's annual festivals, you're in for a lot of fun! Here are some festivals to keep in mind when planning your trip:
May 1: Adornment of Mage. In this festival welcoming the summer season, Perast locals set up a tree on the main square at 7:00 AM and adorn it with bottles of wine and Comorans bread before marching together down the street.
May 15: Shooting the Kokot (rooster). This festival celebrates victory over the Turks by placing a rooster on a piece of wood 300 meters from shore; men compete to shoot it. This is, understandably, a controversial event and there's a movement by animal rights activists to ban it in the future.
Last week of June: Perast Music Festival. This event features three nights of traditional folk singing performances. Music groups from all over the Balkans attend.
July 22: Fašinada. Perast locals fill their small wooden boats with stones and set off to Our Lady of the Rocks. After circling the island, they throw their stones into the water, just as fishermen did centuries ago.
Last week of July: Forteca International Film Festival. This festival features free screenings of films on St. Nikola Square. I was here for the tail end of this festival in 2023, though I didn't watch any of the screenings, and it was pleasant and low-key.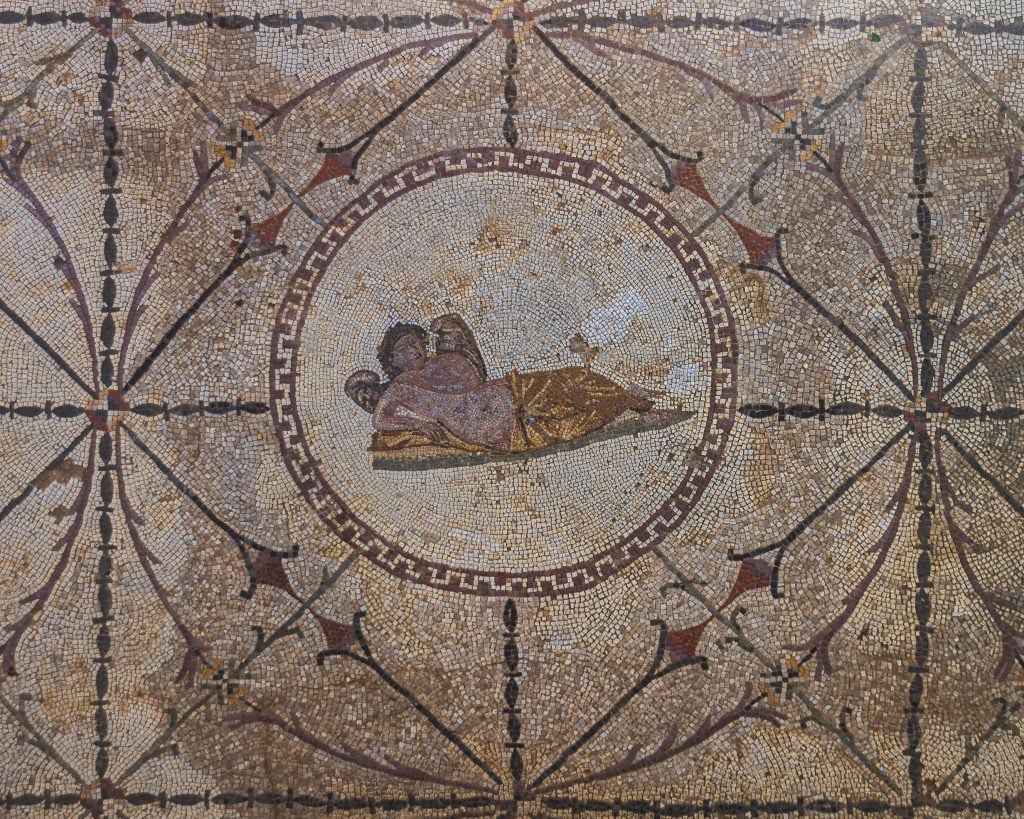 Visit Risan's Mosaics
The town of Risan is just down the street from Perast. It isn't as pretty and polished as Perast, nor as busy as Kotor, but Risan has something special: ancient mosaics that have been beautifully preserved to this day.
The town of Risan was once home to a villa urbana, a type of urban villa that was common during the Roman Empire. It was built in the second century, when Risan was a town called Rhisinium and was part of the Roman province Illyricum. The villa fell into ruin, but was "rediscovered" in 1930 and has been a tourist attraction in Montenegro since.
There are so many different kinds of mosaics in Risan, most of them patterned in geometric formations. There's also a fun, colorful mosaic of Hypnos, the god of sleep.
To get to Risan, you can take the Blue Line Bus, or take the hop-on-hop-off bus that circles between Kotor, Perast, and Risan. Taxis are another option, and if you'd rather get there on your own two feet, it's a 50-minute walk from the western edge of town.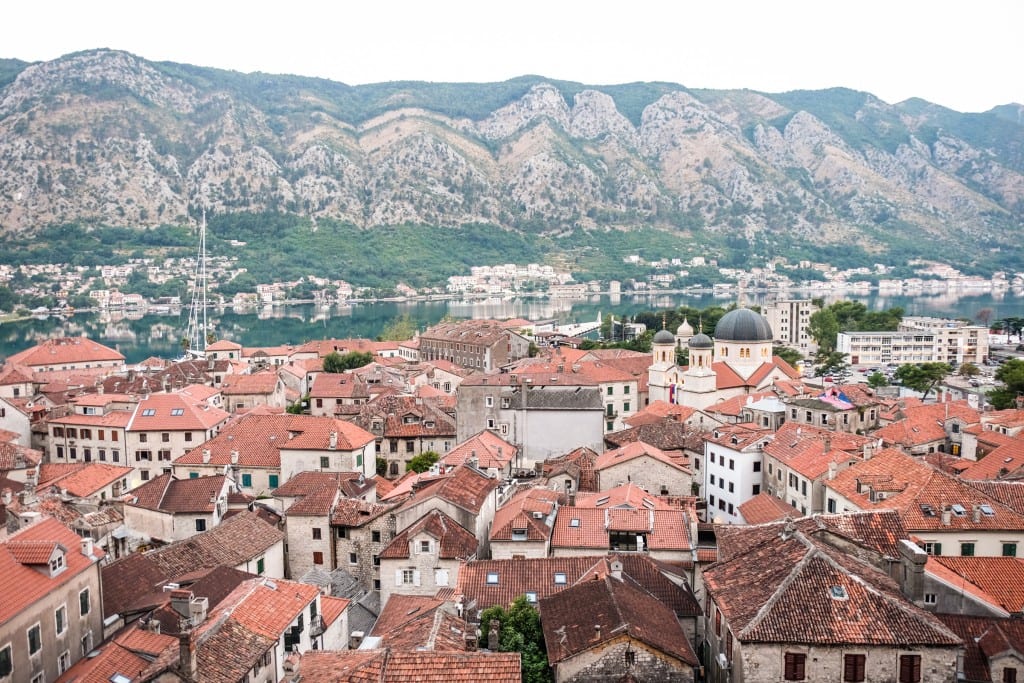 Visit Kotor
And finally, if you're basing in Perast for your time on the Bay of Kotor, you absolutely must go to the town of Kotor as well. Kotor is the place that made me fall in love with Montenegro — it's an impeccable walled city, a UNESCO World Heritage Site two times over, and the gateway to lots of fun activities in Montenegro.
My absolute favorite activity in Kotor is hiking to St. John's Fortress, high above the city, where you will have spectacular views. I recommend going as early as possible in the morning for the best experience (not crowded, not too hot, better light for fjord photography, gorgeous colors).
You can also wander through the old city, visit the Kotor Cats Museum, shop for souvenirs, or just sit in an outdoor cafe and enjoy the environment.
To get to Kotor, you can take the Blue Line Bus, or take the hop-on-hop-off bus that circles between Kotor, Perast, and Risan. Taxis are another option.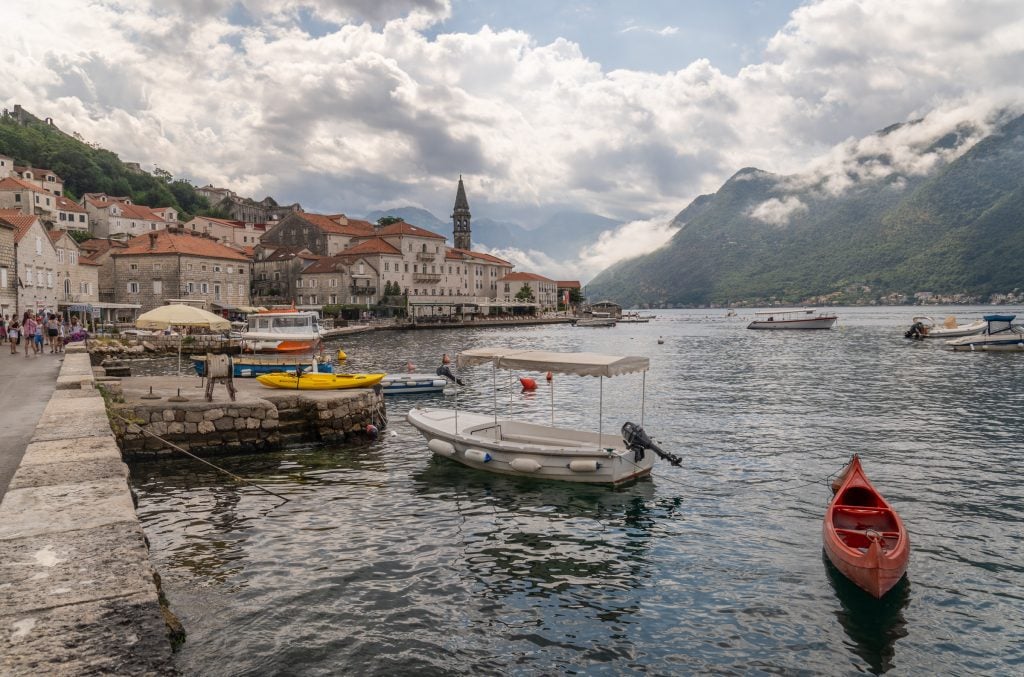 How much time to spend in Perast Montenegro
How much time do you actually need in Perast? Most people only come to Perast briefly, visiting from Kotor to take the boat ride to Our Lady of the Rocks. If you book a boat trip from Kotor to Perast, it will only give you scant time to see the town.
If you only have time for a day trip to Perast, give yourself a nice, juicy afternoon, or perhaps even stay until evening. Take the time to do most of the things on this list.
On my most recent trip to Montenegro, I stayed in Perast for four nights. And it was absolutely wonderful, and I didn't get bored. That said, I had already explored Kotor extensively on past trips and didn't feel the need to return this time.
Overall, I think spending at least one night in Perast would be a lovely way to spend your time in Montenegro.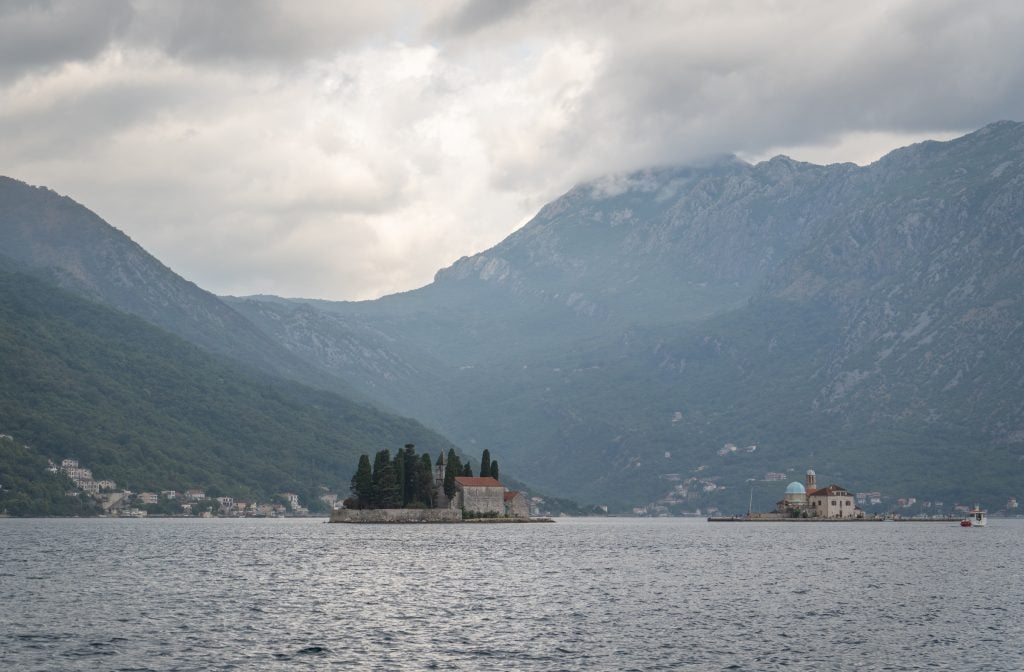 How to get to Perast Montenegro
How do you get to Perast? First off, it depends whether or not you have a car. If you have a car, you can simply drive to the town. There are parking lots on either side of town, and they will often give you free parking if you buy a ticket to visit Our Lady of the Rocks.
If not, there is free street parking further down the street. Keep in mind that July and August are very busy times in Perast and you might have to wait a bit to get a parking spot.
If you're coming by public transportation, take the Blue Line bus, which runs from Kotor to Herceg Novi. It's about a 30-minute ride from Kotor, runs hourly (and every two hours on Sunday), and costs 1.50 EUR ($2 USD). Blue Line buses have bus stops on either side of Perast next to the main road, and westbound (away from Kotor) buses also stop right in the heart of Perast. Keep in mind that the bus is often late and can be crowded.
There is also the hop-on-hop-off bus in Montenegro, which runs from Kotor to Risan via Perast. It costs 25 EUR ($27) for 24 hours, which I think is a bit excessive, but might be worth it if you want to avoid both taxis and buses.
Speaking of taxis, you can get them on the edge of town in Perast. In August 2023, I was quoted 30 EUR ($32 USD) for a 20-minute ride between Kotor and Perast, though the rate should usually be closer to 10-20 EUR ($11-22 USD). It's about a 20-minute drive.
Unfortunately, there are no ride-hailing or ride-sharing apps in Montenegro. I sincerely hope this changes soon.
As for flying in: the nearest airport is in Tivat, Montenegro. Alternatively, you can fly into Podgorica, Montenegro, or Dubrovnik, Croatia, but flying into Tivat is the easiest way to get to the Bay of Kotor.
As for how to get around Perast itself: The town of Perast is small and about 1.5 kilometers from end to end (around a 20-minute walk). But there are free golf carts that will take you anywhere within Perast! They're especially good when carrying your luggage to the edge of the parking lot.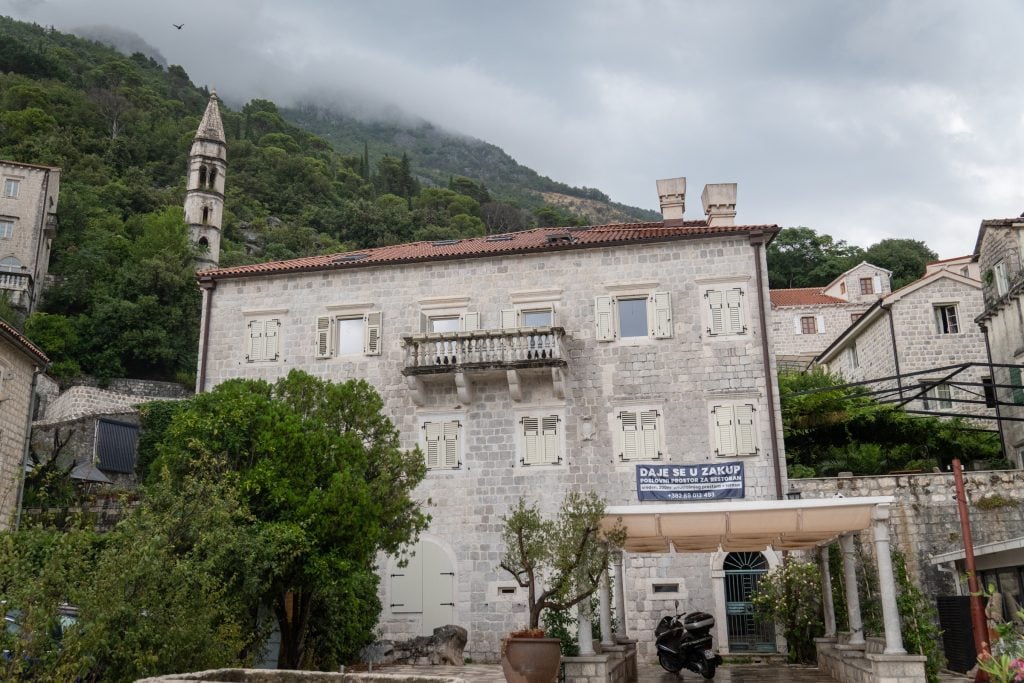 Where to Stay in Perast Montenegro
Perast, like other Balkan towns, tends to be more about apartments and guest houses than hotels. That's just part of the culture here in the Balkans; local families have been renting out rooms and apartments since long before Airbnb existed.
On top of that, you should know that Perast is one of the most expensive places to stay in Montenegro, along with Kotor. But unlike Kotor, which has a bit of sprawl, Perast is limited by geography. While there are cheaper towns along the Bay of Kotor, I still think staying in Perast is worth the extra cost.
I stayed at Palace Tina, a guesthouse that was simple but nice with a nice terrace. It's a 50-step climb from the waterfront.
Here are the top-rated places to stay in town: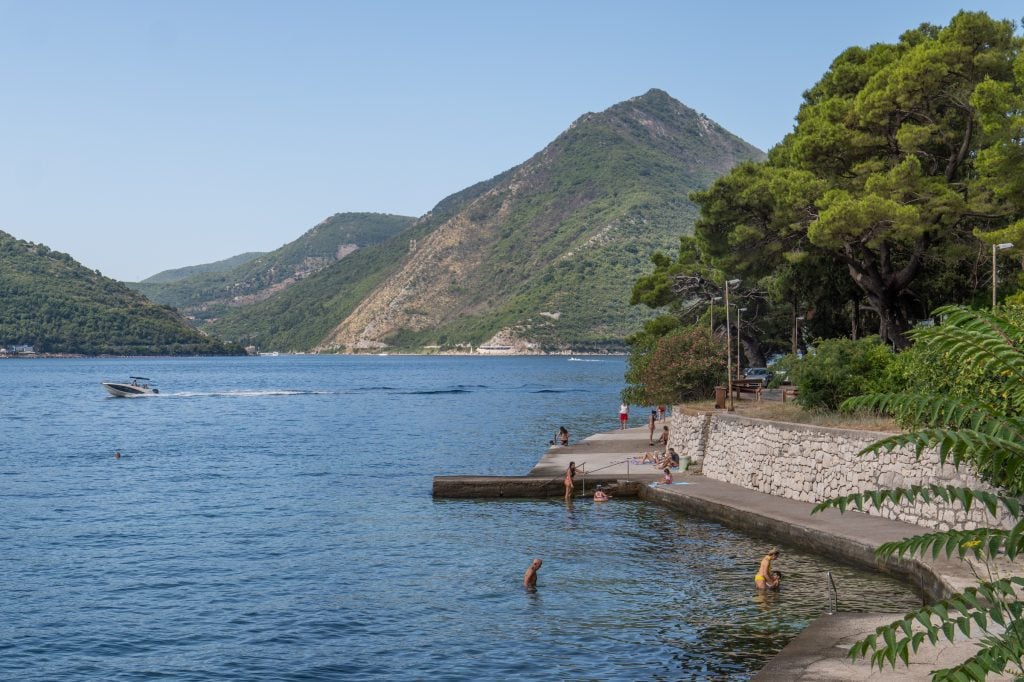 Best Time to Visit Perast Montenegro
The best time to visit Perast may not be what you think. While Montenegro in general and the Bay of Kotor specifically are quintessential summertime destinations, July and August are peak season and very, very busy. Especially when it comes to crowds (the thickest), prices (the highest), and parking (the most difficult).
If you're looking to visit Montenegro during the summer months, I recommend timing your trip for early-to-mid-June or mid-September to early October. This is still high season, but not as busy as July or August. If you want to swim, keep in mind the water will be warmer in early fall than late spring.
But if you don't necessarily have to be swimming or sunbathing, I highly recommend a shoulder season trip to Perast. Think early April through late May, or from mid-October though late November. The weather will be cooler but not freezing, prices will be lower, and sightseeing will be just as pleasant.
The winter season is very quiet in Perast and much of the town will be shut down.
If you're interested in visiting during a festival, see the dates for the Perast Festivals I listed above.
Perast is waiting for you!
I had such a great time in Perast, and I'm so glad that I decided to stay here for four days. This town is definitely going to be on the list of my new favorite destinations of the year.
I hope that you enjoy Perast, too — and if you were on the fence about where to stay in Montenegro, I hope you consider Perast a possibility. Because there's a lot more to Montenegro than just Kotor!
More on Montenegro:
More Pretty Towns on the Adriatic Coast:
More on the Balkans:
Have you been to Perast Montenegro? Share away!