Adventurous Kate contains affiliate links. If you make a purchase through these links, I will earn a commission at no extra cost to you. Thanks!
Montenegro is a country that I love deeply. There are so many cool things to do in Montenegro, yet most travelers only take a quick trip to the Bay of Kotor before leaving the country again.
But if you choose to stay in Montenegro for longer, I promise you that you'll be amazed. This country is knock-you-over gorgeous, with craggy gray-green mountains covering the landscape all the way to the coast's stunning beaches. If you like bright teal lakes, scintillating peaks, and stunning fjords, Montenegro is for you.
And that's why I keep coming back. I've visited Montenegro three times, I've traversed the entire Montenegrin coast between the Albanian and Croatian borders, and I've experienced the inland wonders as well as the famed coastline. This country has so much to offer!
Please don't just go to Kotor for the day from Croatia. Stay for longer. Take a look at these 30 best things to do in Montenegro — because I think you're going to love it here.
(Planning a trip to Montenegro? Be sure to check out my ultimate guide to Montenegro travel!)
This post was published in September 2023.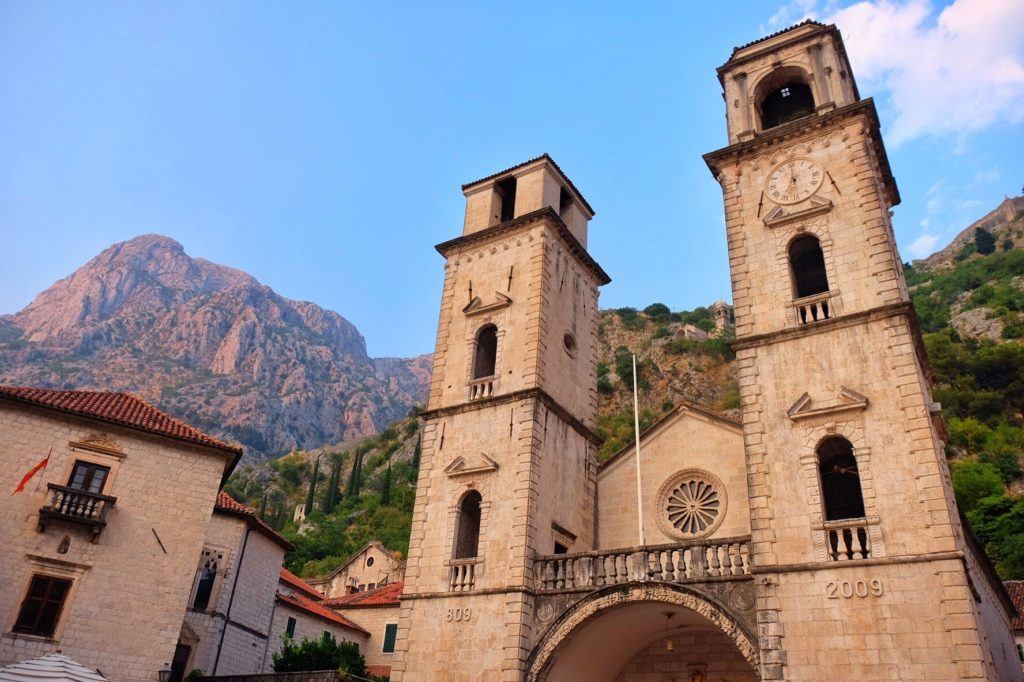 Get Lost in the Walls of Old Town Kotor
If there's any destination that brings travelers to Montenegro, it's Kotor. This town on the Bay of Kotor has dotted thousands of postcards, but it's more than just a pretty place. The Natural and Culturo-Historical Region of Kotor is a UNESCO World Heritage Site — one of only two in Montenegro.
One of the best things to do in Kotor is simply wander around — walk the city walls, stroll into the many churches, get lost in the twisted alleyways. You can visit the Kotor Cats Museum if you'd like, or take a quick swim from Kotor's beach (more of a cement platform, as is common in Kotor Bay).
The best time of day to explore Kotor's old town by far is first thing in the morning. This is when you'll get to experience the city free of crowds, and see places opening up for the day. Be the first person to get breakfast at a cafe on the square, and be sure to take all the photos you can. At this time of day, Kotor is magical.
Also, did you know that I was haunted by a ghost for three days in Kotor? True story.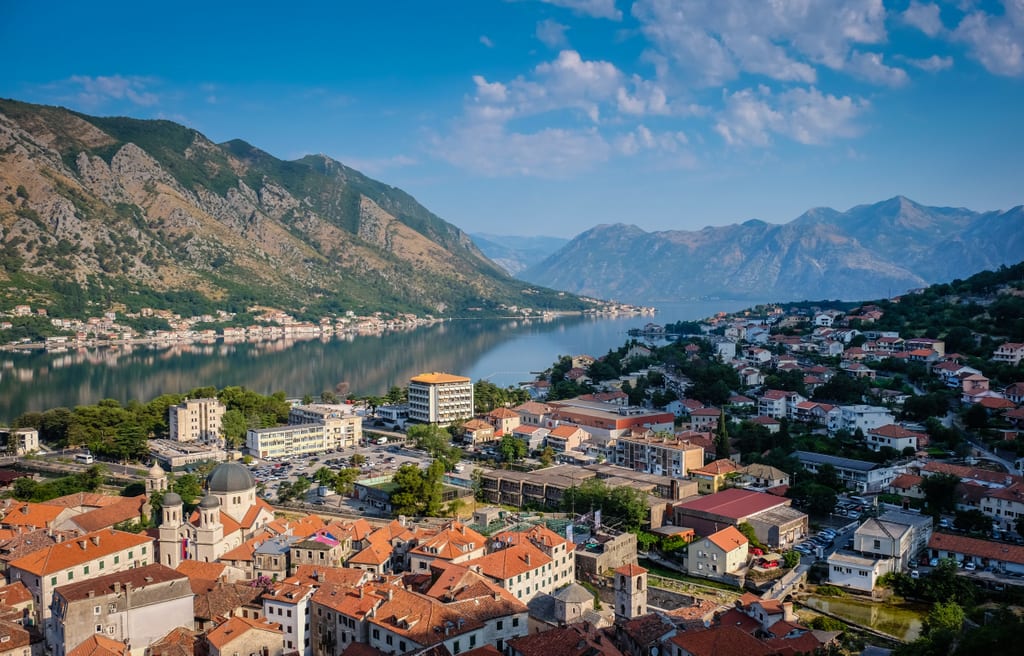 Hike to St. John's Fortress for the View of a Lifetime
My absolute favorite thing to do in Montenegro is to take in the view of the Bay of Kotor from St. John's Fortress, first thing in the morning. Hiking to St. John's Fortress is an absolute must for anyone staying in Kotor, and you'll probably get your favorite photos of your trip here.
The hike begins at Kotor's city walls and continues upwards. You should allow about 90 minutes to two hours for this hike, not including the time you spend at the top. While it's a fairly easy hike, it's mostly stairs.
But what an incredible reward you get at the top, watching the sunrise turn everything from gray to gold. From here, you'll be certain that Montenegro is the most beautiful country in the world.
I strongly recommend doing this early in the morning, especially if you visit in the summer months, as it will be much cooler and you'll get to see golden light slowly spill into the gorgeous bay. (Added bonus — go early enough and you can just walk in. Nobody will be there to take your money.)
Can you do the hike at other times of day? Of course. Just know that hiking midday will be torturously hot mid-summer and by late afternoon, the bay is full of shadows, making it a less than ideal view from this angle.
Admission for the hike to the Fortress is 8 EUR ($8.50 USD) and the entrance is by North Gate — look for the signs. There is an alternate route called the Ladder of Kotor that is available in the off-season and has free entry.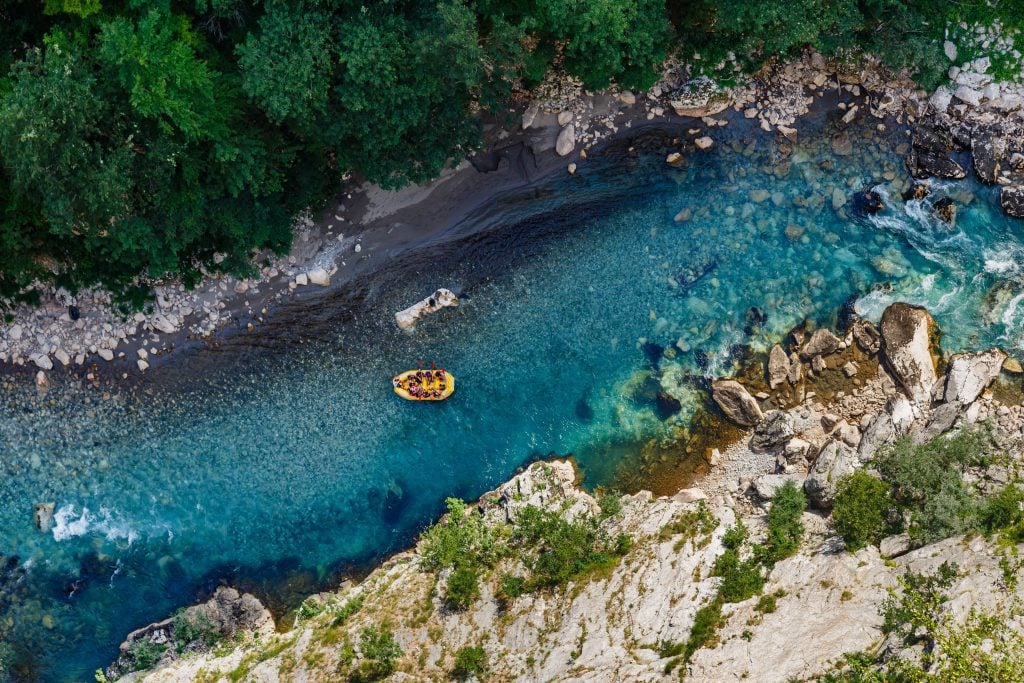 Go rafting in Tara Canyon
I'm convinced that Tara Canyon is one of the most spectacular places in the world to raft. Located in Durmitor National Park in the northwest of the country, the beauty of this canyon — the deepest canyon in Europe, and second deepest canyon in the world after the Grand Canyon — is almost otherworldly. The canyon is rocky and gray, green tufts of trees spouting up throughout. The river floats along in clear, jewel-toned teal.
Join a group, get suited up and helmeted, and you're ready for an epic river run!
Know that if you're looking for whitewater conditions on the River Tara, aiming for late spring or early summer is your best bet. I went in early June and there was a lot of fun whitewater action. Later in the year, it's more of a fun and energetic float, but it's no less stunning.
You can book a Tara Canyon day trip from Kotor here. If you're already in Durmitor and want a more intense trip, you can book this 5-6 hour rafting trip from Žabljak.
And if that's not enough adventure for you, how about some zip-lining? Plenty of companies offer zip-lining across Tara Canyon, making it yet another way to enjoy the beauty of the canyon. (If you can manage to keep your eyes open, that is!)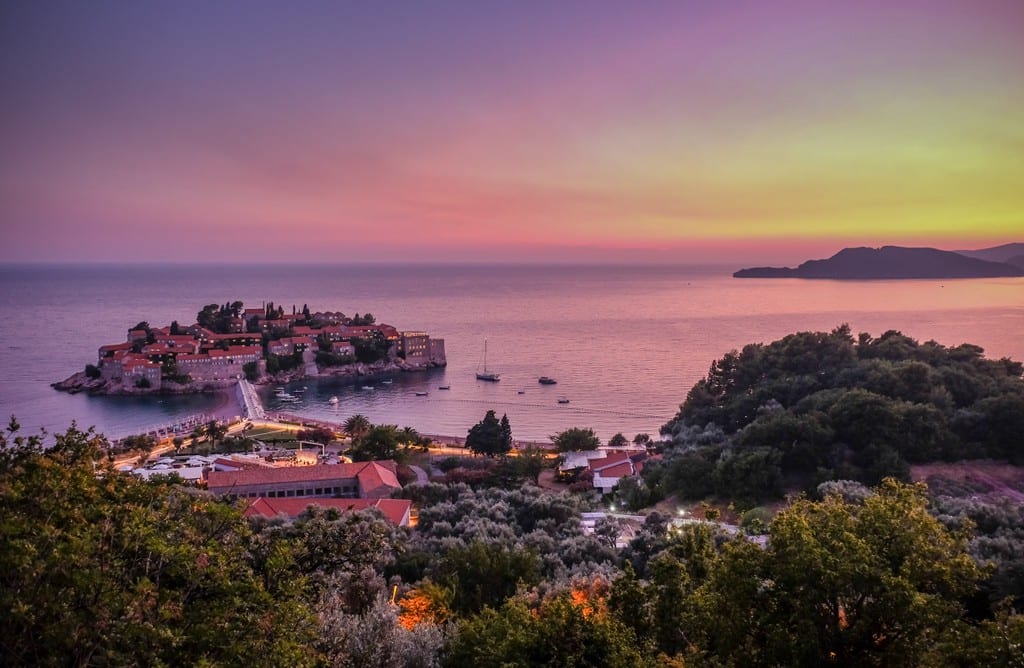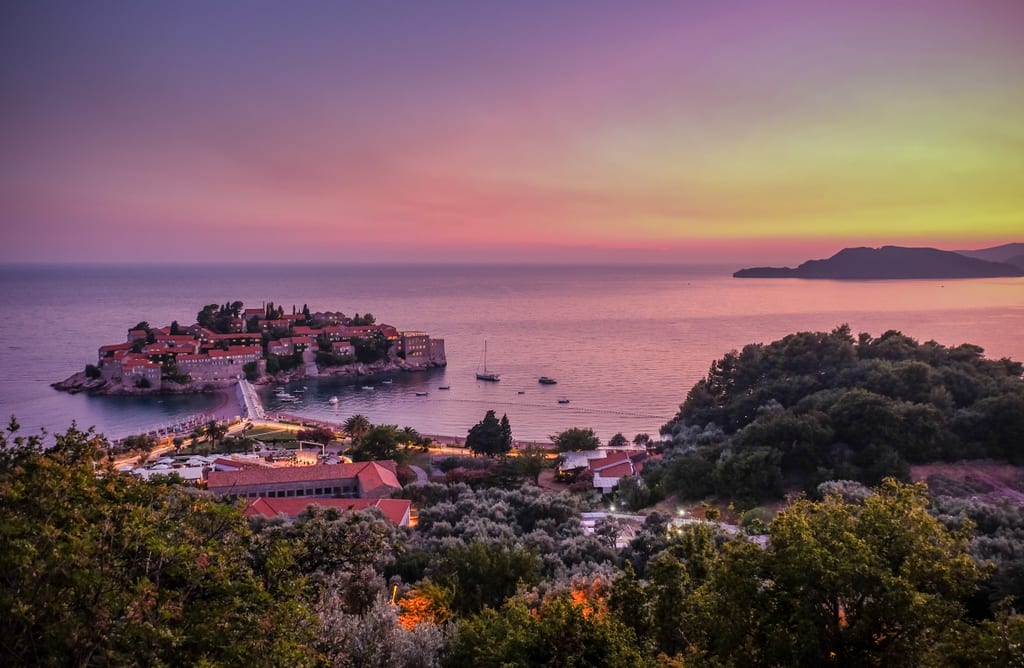 Marvel at Sveti Stefan
Sveti Stefan is the island that dots a thousand Pinterest boards — a tiny islet of densely packed stone homes topped with orange roofs, connected to the beach-lined mainland by causeway. What even happens there?
During the Golden Age of Hollywood, stars flocked to this resort in Yugoslavia. Elizabeth Taylor, Sophia Loren, and Marilyn Monroe were among the tiny island's visitors. Post-Yugoslavia, the resort fell into disrepair until it was revived once again.
Today this island is home to the Aman Sveti Stefan resort, which is currently under remodeling. You can't visit the island unless you're a hotel guest. (Believe me, I tried to talk my way in in 2012. It didn't work.)
Sveti Stefan is actually the name of the town, not just the island. And its a nice little place with a gorgeous stretch of golden sand (just ignore the expensive beaches right by the island). There's not a ton to do here, but you can relax on the beach with a view of the island, have lunch overlooking the island, or take photos of the island at multiple angles.
I was lucky enough to be at Sveti Stefan for sunset once. Some of my favorite Montenegro photos EVER were taken that night.
If you'd rather visit Sveti Stefan on a day tour, this tour from Kotor or Budva includes Sveti Stefan, Petrovac, Stari Bar, and Old Town Budva.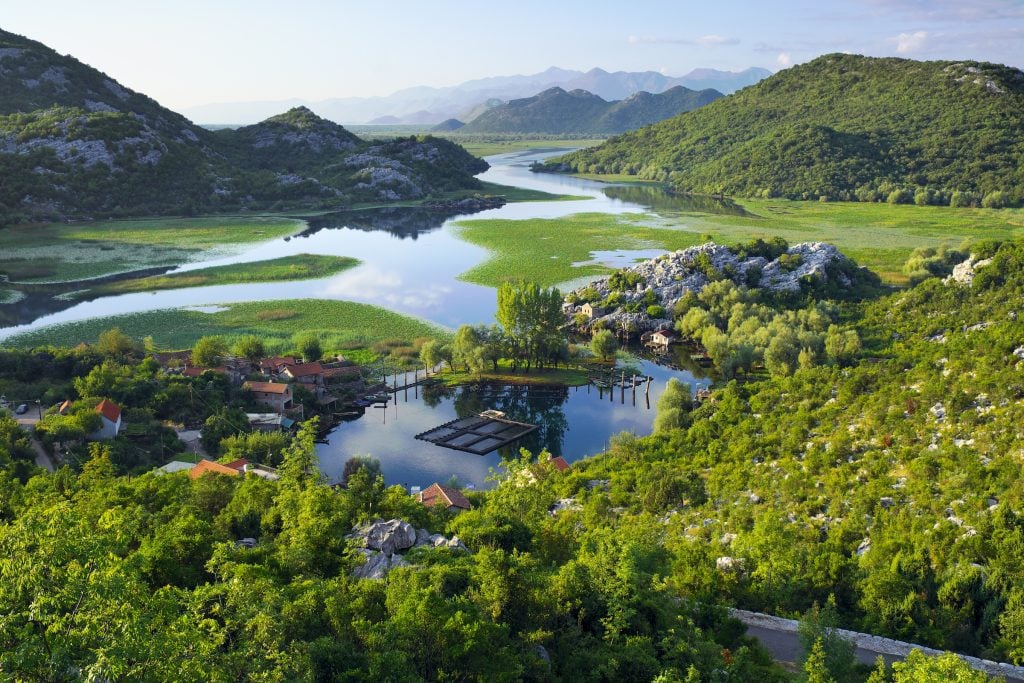 Take out a Boat on Lake Skadar
Head south to Lake Skadar, one of Montenegro's natural gems. This immense lake — the largest lake in the Balkans, in fact — is divided between Montenegro and Albania. The lake is gorgeous to look at, surrounded by karst mountains and edged with wetlands.
Taking a boat out here is one of the best ways to experience the lake. If you're driving to Lake Skadar yourself, stop in the main town of Virpazar and book a boat tour. From here you'll have an up close and personal look at what makes this lake an important habitat in the Balkans.
Skadar Lake National Park is especially known for its wildlife. It's a haven for birders, with more than 260 species of bird life here, including the endangered Dalmatian pelican. There are also tortoises, snakes, a variety of aquatic animals, and even wolves in winter!
Lake Skadar is a popular day trip throughout Montenegro and is most easily accessible from Podgorica, though you can also find day trips from Kotor and other popular destinations. A lot of these tours will include a stop at a local winery for wine, rakija, goat cheese, pršut (prosciutto), and whatever fantastic Montenegrin fruits are in season!
You can book a two-hour boat trip on Lake Skadar here, or join The Great Montenegro tour from Kotor, which has a stop in Skadar.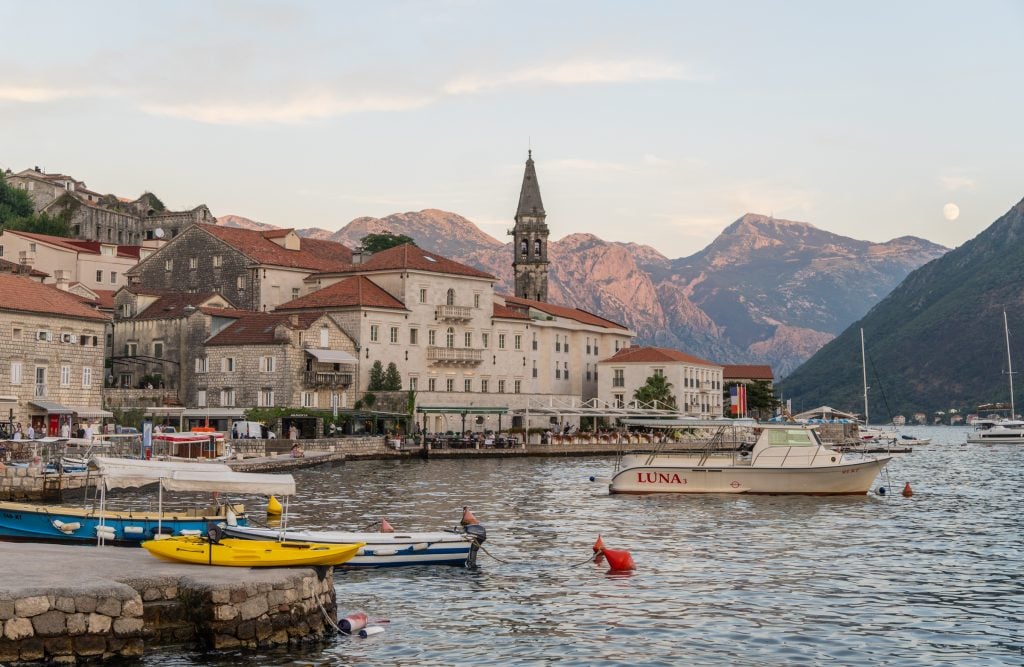 Enjoy quiet tranquility in Perast
Kotor might get all the attention for being a stunning walled city on the Bay of Kotor — but the tiny city of Perast (population: 300) might be even better. In fact, I consider it one of the most stunning towns on the Adriatic Sea, yet without the crowds that swamp so many of the others.
Most travelers come to Perast to visit Our Lady of the Rocks, a church on a tiny island close to the town. Despite this major attraction, most Perast travelers tend to get in and out without lingering for long, and by evening, it's wonderfully quiet.
Here in Perast you can visit a small local history museum, swim in the Bay of Kotor on concrete Perast "beaches," sample local Montenegrin wines and produce, and dine with an unforgettable view on the waterfront.
I used to always stay in Kotor, but on my most recent trip, I stayed in Perast instead. Four nights here wasn't too long at all — it made a fantastic base for exploring the bay, and made a wonderfully tranquil place to come back to each day.
And if it starts to feel a little too quiet for you in Perast, there's a beachfront bar called PIRATES that parties all day long!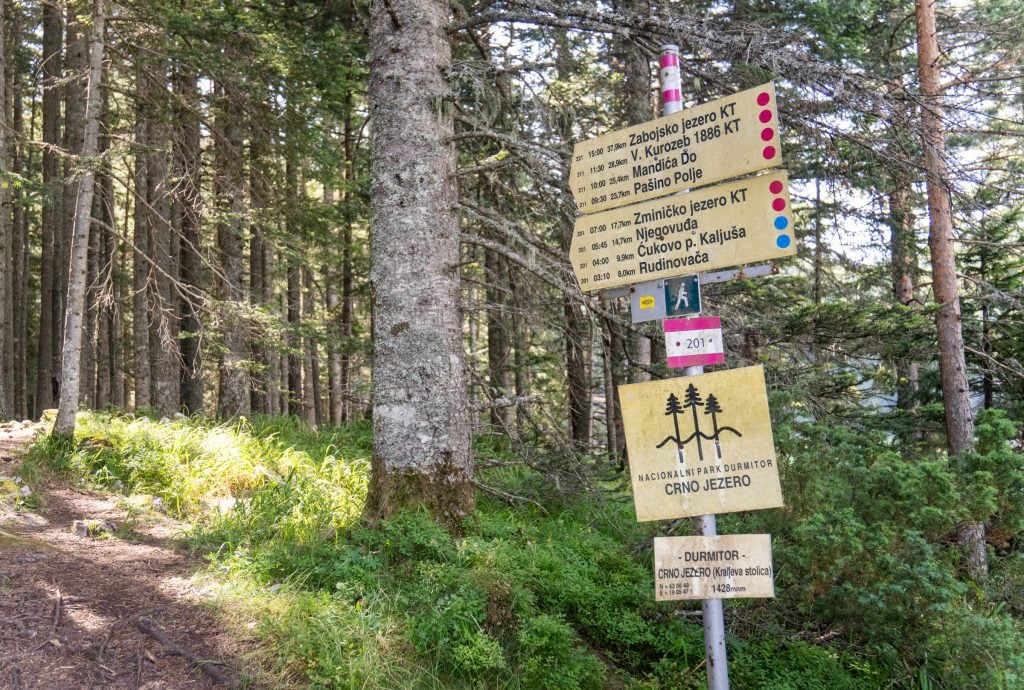 Hike the Trails of Durmitor National Park
Durmitor National Park is one of Montenegro's UNESCO World Heritage Sites, and as soon as you see its incredible mountains and glacial lakes, you'll understand why. This part of the north of Montenegro is lauded for its biodiversity, and it manages to stay at pleasant temperatures even when it's roasting on the coast.
While most Durmitor hikers stick to the hourlong hike around Black Lake, there's a lot of opportunity for more intense hiking. The park has more than 200 kilometers of hiking trails, with options for novices to advanced hikers.
If you really want to conquer Montenegro, consider hiking Bobotov Kuk, the highest peak in the northern part of the country at 2,523 meters. This 11.4-km hike takes six to seven hours and finishes with views of Montenegro and beyond, all the way to the sea.
For something less intense but still a robust challenge, consider hiking Mount Prutaš. This mountain is a 4-5 hour, 9 km hike, and has fabulous views throughout, including Bobotov Kuk and the Skrka Lakes. Not bad at all for a day hike!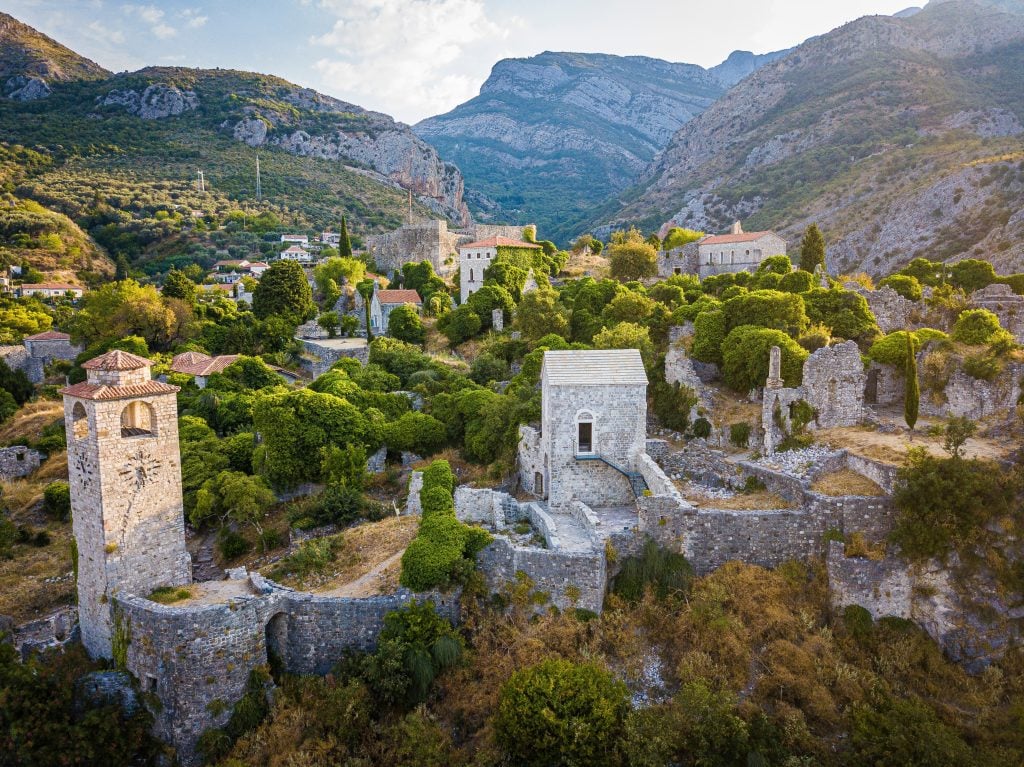 Explore Stari Bar
You may have heard of Bar, the popular beach town in southern Montenegro — but what about Stari Bar, or Old Bar? This was the original settlement, three kilometers from where Bar is located today.
Stari Bar was originally a Roman settlement, and was fought over bitterly for centuries. Once conquered by the Venetians, then the Serbians, Hungarians, and the Ottoman Empire, the town was destroyed in the Montenegrin-Ottoman war in 1877. In 1979, an earthquake shattered the aqueduct, leading to the construction of the new Bar town on the coast.
All that being said — no, Stari Bar is not a ghost town! Montenegrins have moved back to the surroundings in recent years, in newly constructed buildings. But the fun here is walking around the ancient ruins and seeing this town as it used to be.
You can visit the remains of the aqueduct, a fortress, several churches, and even a Turkish bath (thanks to the years of Ottoman rule). It's a remarkable place to visit, tucked into the mountains.
Stari Bar is about an hourlong uphill walk from Bar. Too hot for that? You can grab a taxi for around 5 EUR ($5 USD).
If you'd rather visit Stari Bar on a day tour, this tour from Kotor or Budva includes Sveti Stefan, Petrovac, Stari Bar, and Old Town Budva.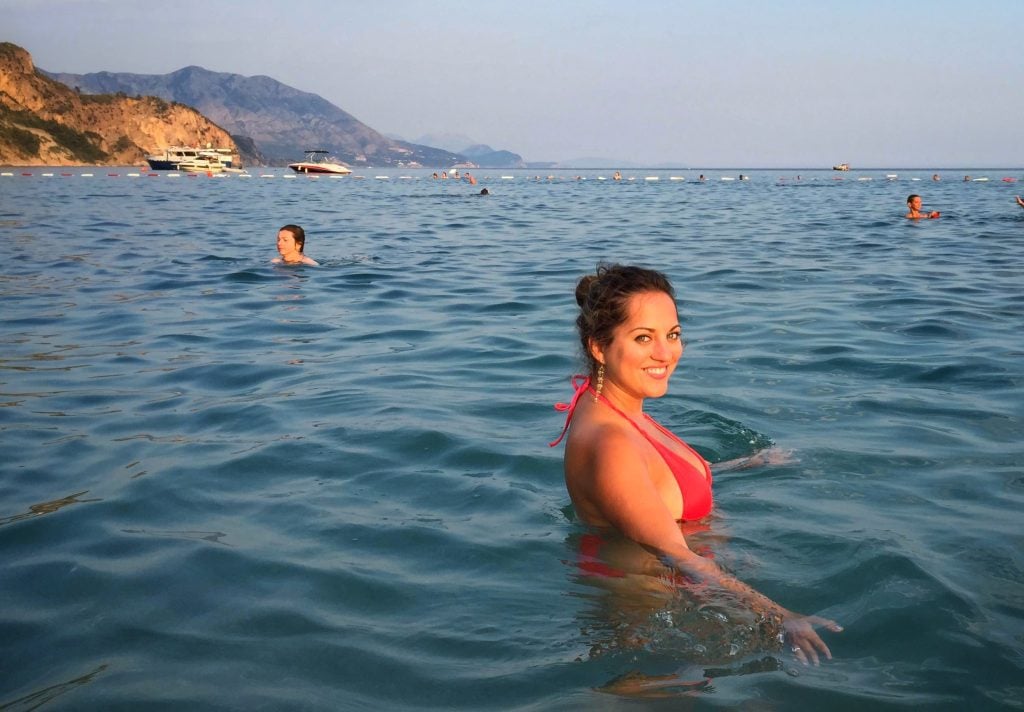 Find Your Perfect Beach in Budva
If you're looking for a beach town with something for everyone, head to Budva. This resort town has long been a tourism mainstay in Montenegro, especially for Russians. For good and bad, Budva has it all — a cute little old town, tons of high-rise buildings (by Montenegrin standards, at least), pulsating nightlife, and plenty of soft sand and beach activities.
If you like your Montenegro beach with a lot of amenities, head to Greco Beach, right in central Budva, or Bečići Beach, further south in Zavala. These beaches have your chairs, your restaurants, and your high-rise hotels close by.
Personally, I'm a fan of Jaz Beach, which is a bit more removed from the madness of central Budva, but still with enough restaurants, bars, and accommodation options. It's surrounded by gorgeous cliffs and feels more isolated.
And if you like your beach with a view of a perfect little Adriatic old town, head to Mogren Beach, which has a nice view of the Budva Old Town (often called a "baby Dubrovnik" thanks to its orange roofs, beachside location, and small size).
Want more beach options? The Budva Riviera stretches southward and gets a bit more affordable the further you go.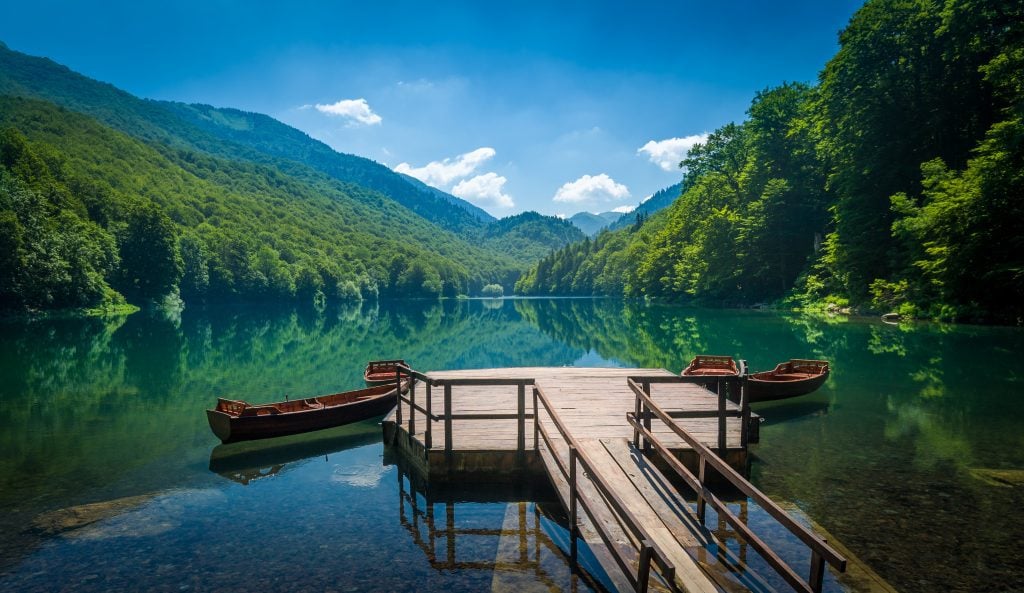 Breathe in the Air at Biogradska Gora National Park
Biogradska Gora National Park is pretty off the beaten path as far as things to do in Montenegro go — the smallest of Montenegro's national parks, it's located near Kolašin in Eastern Montenegro. And it happens to be one of the last remaining virgin rainforests in all of Europe.
Here you can visit Biograd Lake, a glacial lake casting perfect reflections of the surrounding forest, and hike the peaks of Zekova and Crna Glava. A shorter, 3.5-kilometer hike around the lake is a good option for people who don't want to commit to a whole mountain!
But for a real adventure, consider staying in a katun — a traditional Montenegrin shepherd's hut — for the night. There are lots of them in Biogradska Gora, and today they serve as lodging for camping hikers.
You can get tickets to Biogradska Gora here, or join a tour that includes both Biogradska Gorda and Lake Skadar in a single day.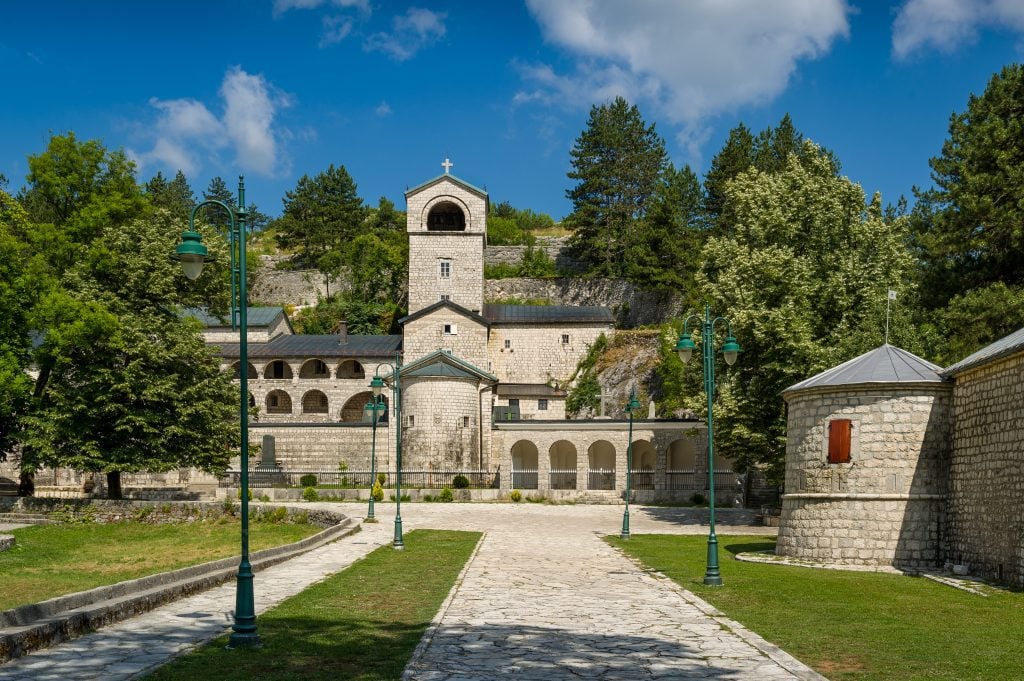 Visit the Old Royal Capital of Cetinje
Podgorica may be the capital of Montenegro these days, but the pretty capital of Montenegrin yesteryear is worth a visit. And a much nicer place, to be honest. And more photogenic. With more things to do.
Cetinje was founded in the 15th century and became the capital of Montenegro in 1878, until it was moved to Podgorica (then called Titograd) in 1946. But to this day, it's full of beautiful architecture built in its heyday.
If there's any one place you should visit in Cetinje, it's Cetinje Monastery. Built to honor St. Peter of Cetinje, it's one of the most important monuments in the country. The church is dedicated to the Blessed Virgin, and it even holds the right hand of St. John the Baptist (except the last two fingers, which are purportedly in different churches around the world).
The National Museum of Montenegro is also located here. It's a complex of five attractions altogether, and one ticket gives you admission to all: the Historic Museum of Montenegro, Ethnographic Museum of Montenegro (especially good for traditional Montenegrin dress!), Artistic Museum of Montenegro, King Nikola's Palace, and Biljarda, Museum of Petar II Petrović Njegoš.
Cetinje's main drag has lots of cute cafes — a nice spot to relax and fuel up for your next stop.
Cetinje is easily accessible from Podgorica and Bar — or you can join the Great Montenegro Tour from Kotor, a popular day tour that includes a stop in Cetinje.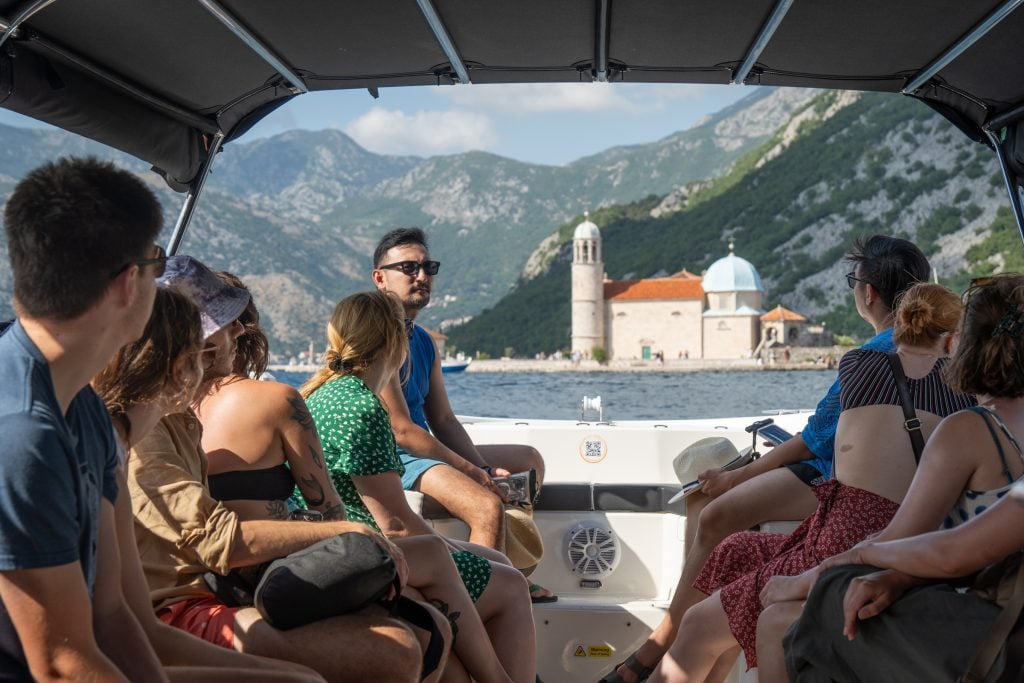 Visit Our Lady of the Rocks
As you drive around the Bay of Kotor, two little islands will appear in the corner of your eye. These islands are tiny, set in the still teal bay — yet each is just large enough to hold a chapel.
These manmade islands are Gospa od Škrpjela (Our Lady of the Rocks) and Sveti Đorđe (St. George), and both are part of the town of Perast. Legend has it that centuries ago, local fishermen found an image of Madonna and Child here and thus built these islands, one stone at a time. Every July 22 at sunset, Perast locals throw stones into the sea, an event called fašinada.
While Sveti Đorđe isn't open to the public, Our Lady of the Rocks welcomes visitors. The church contains 68 paintings by local Perast artist Tripo Kokolja, and you get incredible views of Perast and the other island.
Boats depart continuously from the Perast waterfront to Our Lady of the Rocks; most tours are around 5 EUR ($5.50 USD) and include free parking. If coming from Kotor, you can combine your visit with a trip to the Blue Cave and the submarine tunnel on this boat tour.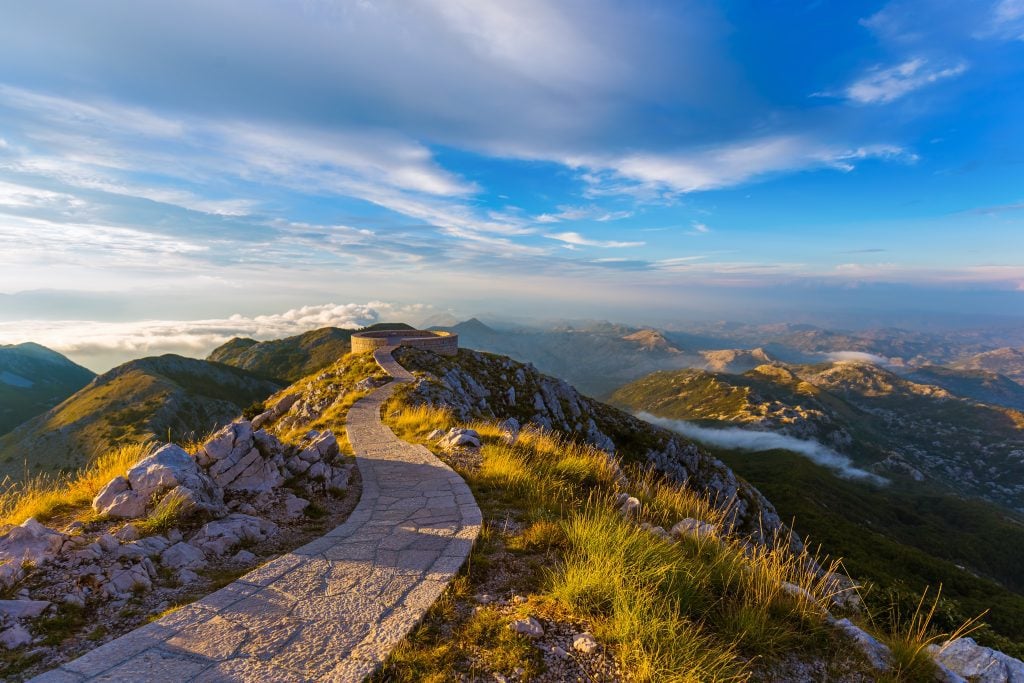 Stand Tall at Lovćen National Park
If you're looking for beautiful views, nature, history, and a respite from the heat all in a single day, take a look at Lovćen National Park! This natural wonderland in the Dinaric Alps is a marvelous escape a stone's throw from the coastal resorts.
Mount Lovćen actually gave Montenegro its name (Crna Gora, or Black Mountain) — this mountain appeared in the mist, darkened by dense evergreen forests.
At the summit you can enjoy one of the best views of the country, overlooking the Bay of Kotor from high above. There are plenty of hiking trails to enjoy, as well as cycling trails, quad-bike trips, zip-lining, and you can even ski here in the winter.
Also at the summit is Njegoš Mausoleum: the tomb of Petar II Petrović-Njegoš, Prince-Bishop of Montenegro who ruled the country from 1830-1851, until his death at age 37. Njegoš was a poet and philosopher who led the country with bravery, fought the Turks, and brought Montenegro into the modern age.
Njegoš's home village, now called Njeguši, is on the edge of the park and is worth a visit for its njeguški pršut — smoky prosciutto dried and hung to age from ceilings. It's worth a stop on the way back!
You can visit Lovćen National Park on your own, or book a tour. The Great Montenegro Day Tour from Kotor includes a stop in Lovćen.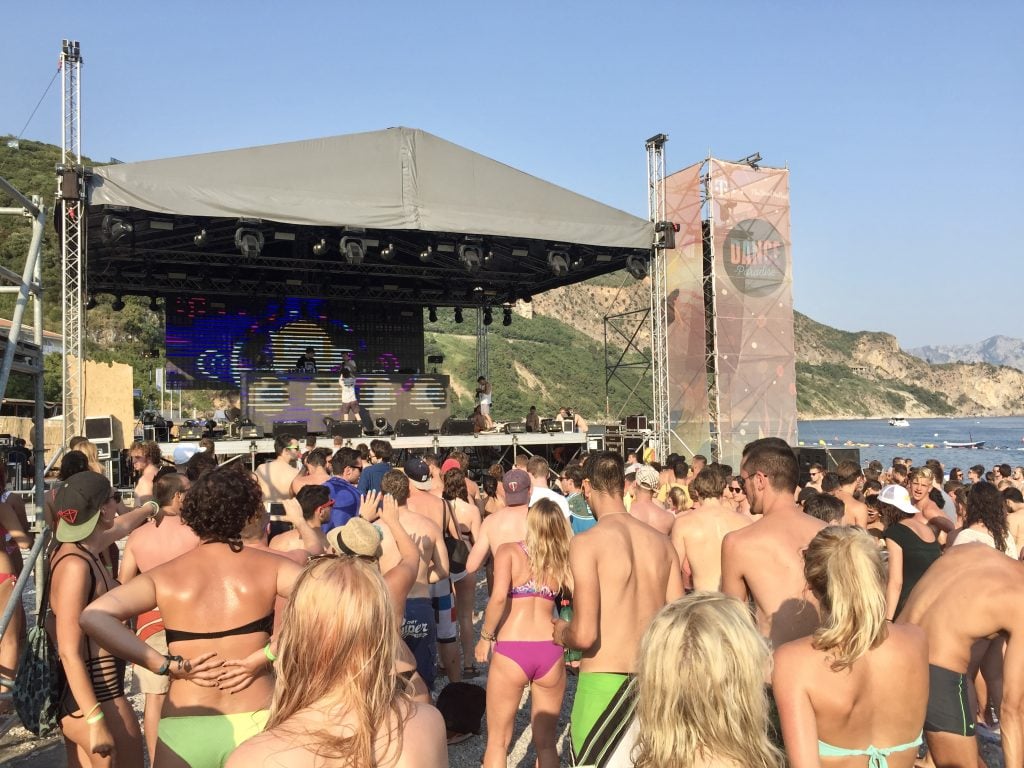 Dance all night at Sea Dance Festival
EXIT Festival is one of the best-known music festivals in Europe, rocking Belgrade until dawn each summer. But you know what EXIT also puts on? Sea Dance, a multi-day music festival on the beach in Budva, Montenegro!
Sea Dance features a fun and interesting mix of acts, both huge international stars and lots of niche artists, all at different stages on Jaz Beach in Budva.
I attended Sea Dance in 2015 and it was one of the best parties I've ever been to! There's nothing like dancing to incredible music beside the Adriatic Sea, free to jump in and take a dip whenever you want.
The 2023 Sea Dance festival took place in Krk, Croatia, but it should be returning to Budva in 2024.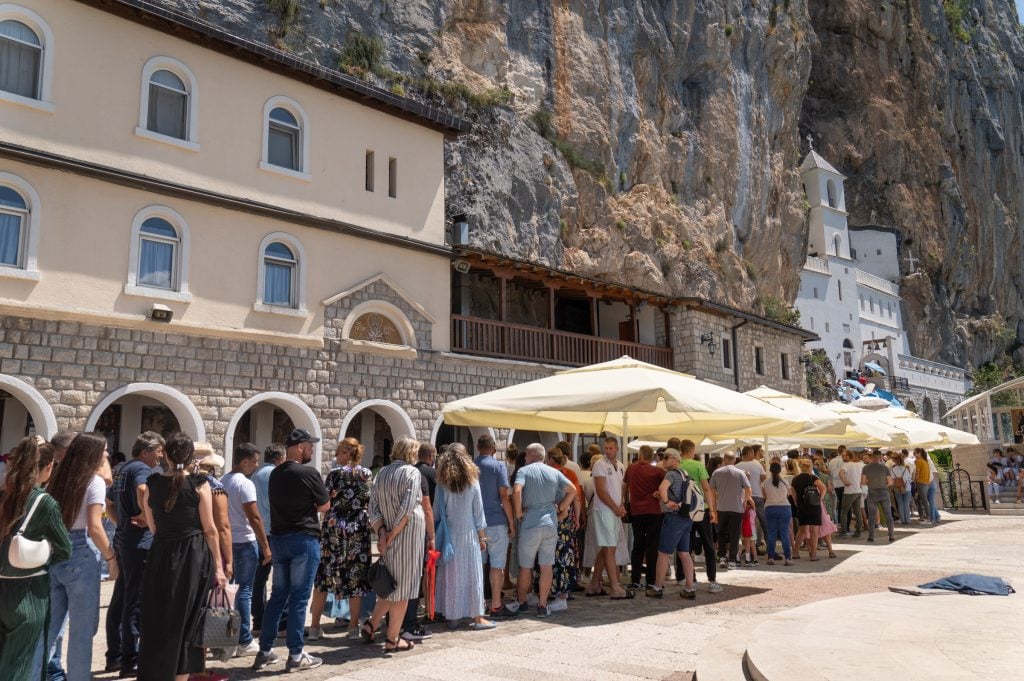 Check Out Ostrog Monastery
If you're making the long drive between the Montenegrin coast and Durmitor National Park, Ostrog Monastery is a stop well worth making. This 17th century Serbian Orthodox monastery is built into the surrounding cliffs and makes for fantastic photos.
This monastery consists of two different buildings: the Upper Monastery and the Lower Monastery. The Upper Monastery is home to beautiful frescoes, the remains of St. Basil of Ostrog and a vine that miraculously grows from rock; the Lower Monastery mostly serves as lodging for monks.
I recommend avoiding Ostrog Monastery on summer weekends if possible. My husband and I happened to be there on an August Sunday and it was full of locals making a pilgrimage. It was incredibly crowded and lines were long. I'd aim for a weekday if you're visiting in the summer.
Know that the road here has a LOT of switchbacks, and there may be standstill traffic closer to the top. Modest dress is required, so grab your large scarf and cover from your shoulders to your knees. Women are encouraged to cover their heads, but this is not required.
You can do an Ostrog Monastery tour, or do a Durmitor National Park and Ostrog Monastery combination our from Kotor.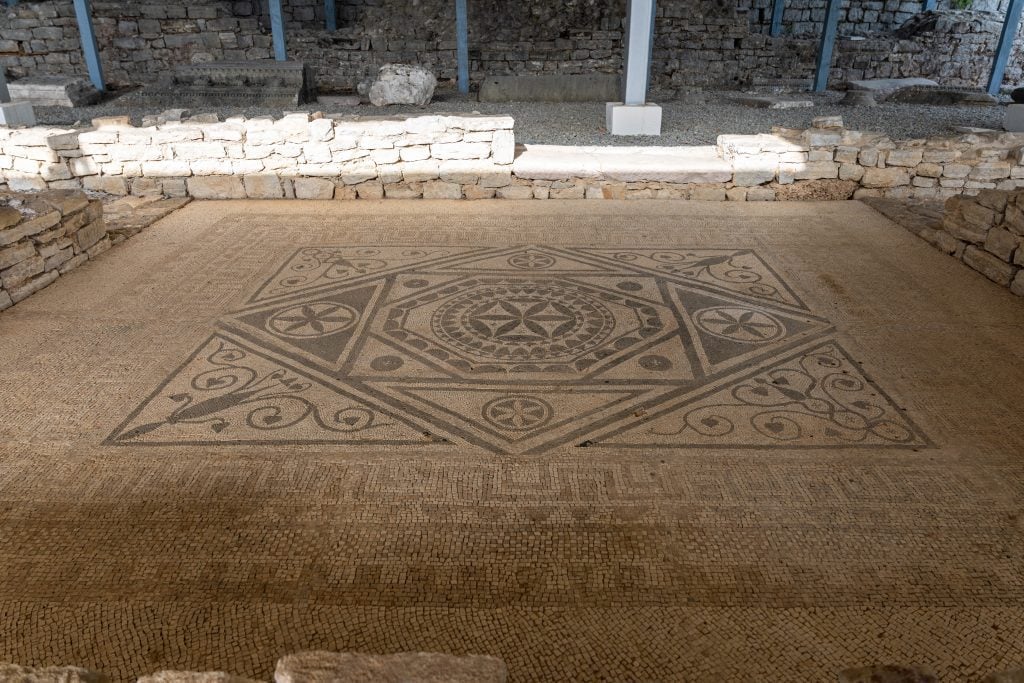 See the Mosaics of Risan
The town of Risan, just north of Perast, is one of the underdogs of the Bay of Kotor. It doesn't get nearly the attention of Kotor or its neighbors. That said, Risan has something special to offer — the remnants of ancient Roman villas, where the original mosaics remain today.
In Risan there was a villa urbana, a type of Roman villa that was in the middle of the city, dating back to the second century. Risan was then called Rhisinium and was part of Illyricum in the Roman Empire. The villa was discovered in Risan in 1930, when Cetinje Museum director Dusan Vuksan came across the remains.
As you walk through the villa, you can visit seven rooms that still contain immaculately preserved mosaics. The mosaics here are mostly black, white, and gray in geometric formations, though there are also some more colorful displays, including a vibrant mosaic of Hypnos, the Roman god of sleep.
These mosaics alone are a good reason to stop in Risan — which has potential to become an even bigger travel destination in the future. As for now, it's a stop on the hop-on-hop-off bus in Montenegro, and I'll be watching what happens here over the next few years.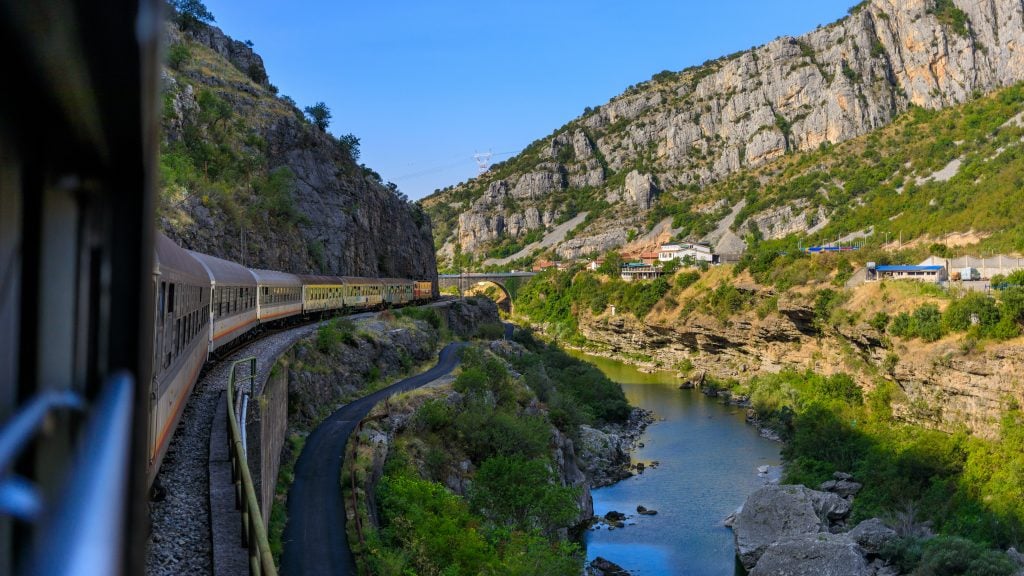 Take the Overnight Train from Bar to Belgrade
The Balkans are not known for their epic train rides — in this part of Europe, trains tend to be inefficient, if they exist at all. But one special train ride takes in the stunning corners of Montenegro, from the coast all the way up to Serbia.
By now you've heard me extolling the beauty of Montenegro nearly nonstop, and you experience it here as well. The Montenegrin portion of the journey between Bar and Bijelo Polje is breathtaking. This is the kind of train ride where you lean out the window with your camera the whole time (hold on tight!).
You can take the train from Bar to Belgrade or vice versa, and each direction has both a morning departure and an evening departure. But the best scenery by far is in Montenegro.
The journey between Bar and Belgrade costs around 24 EUR ($26 USD) one-way. On top of that, you pay 3 EUR for a daytime seat, 6 EUR ($6.50 USD) for a night couchette, 15 EUR ($16 USD) for a bed in a three-bed sleeper, and 20 EUR ($21) for a bed in a two-bed sleeper.
This train also stops in the Montenegrin capital of Podgorica en route. If you're not up for the full overnight journey, why not enjoy the hourlong trip between Bar and Podgorica?
Note that tickets for this train must be booked in person at the train station — you can't book online.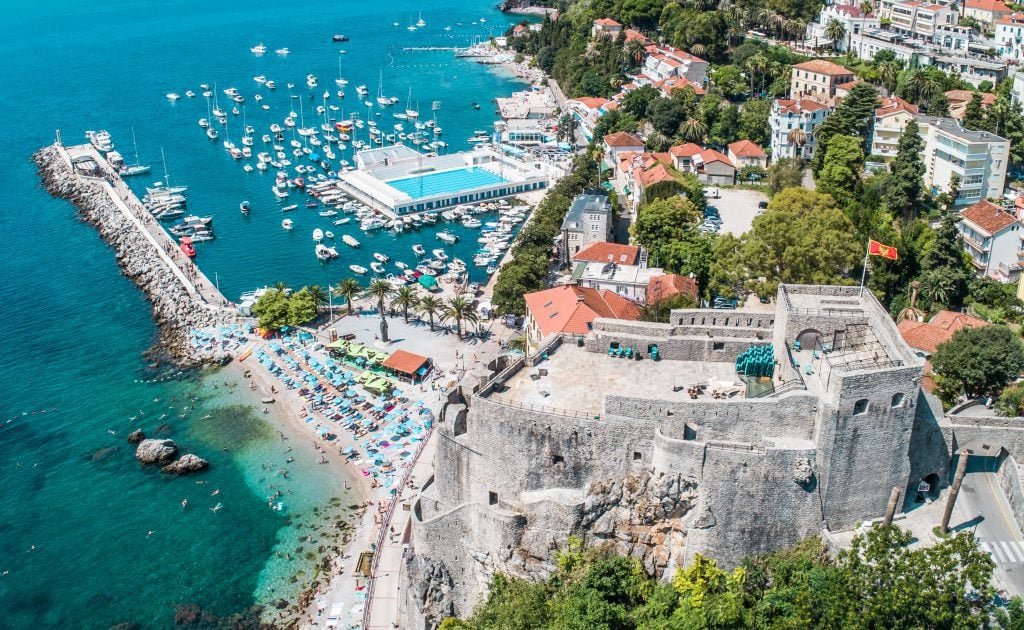 Explore the Old Town of Herceg Novi
When you drive into Montenegro from Croatia, Herceg Novi is the first major town you see — a golden horn of beach surrounded by apartment buildings hosting guests from abroad. But in addition to its status as a modern beach hub, Herceg Novi also has a lovely old town worth exploring.
Herceg Novi, whose old city dates back to 1382, has a multicultural history, having been conquered by the Venetians, the Spaniards, the French, the Ottoman Empire, the Russian Empire, and more.
Don't miss the clock tower on Nikola Dzhurkovic Square. In Ottoman times, this clock showed the Muslim call to prayer. Herceg Stefan Vukic Square is a beautiful part of the old town with lots of cafes, perfect for grabbing your mid-afternoon caffeine fix. And there are plenty of narrow streets filled with stone houses, decorated with green shutters.
Whatever you do, wear good walking shoes. Herceg Novi is sometimes called the "city of a thousand steps," and super-tall staircases decorate the old town.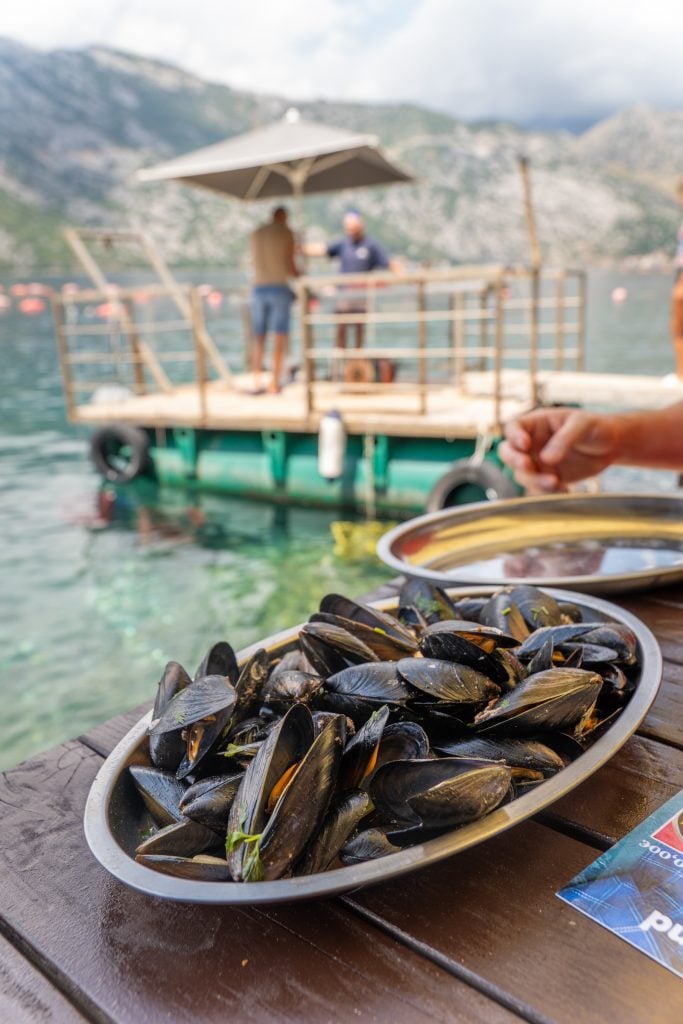 Eat Oysters and Mussels Pulled from the Sea
As you drive along the Bay of Kotor, you'll see lots of mussel and oyster farms, their nets in the water. And guess what? A lot of these seafood farms have tiny restaurants where they dish up freshly prepared dishes that were swimming when you arrived.
Don't expect a fancy menu at these places — it will be basic. Oysters and mussels. Bread. Maybe fried fish or French fries. Water, wine, and beer. But the freshness of the seafood, combined with the idyllic setting on the bay, is what makes this memorable.
You'll find these farms located all over the Bay of Kotor — if they have a restaurant, they will have a sign. One that I enjoyed recently was about a 10-minute walk north of the town of Perast, simply called "Oysters mussels farm" on Google Maps.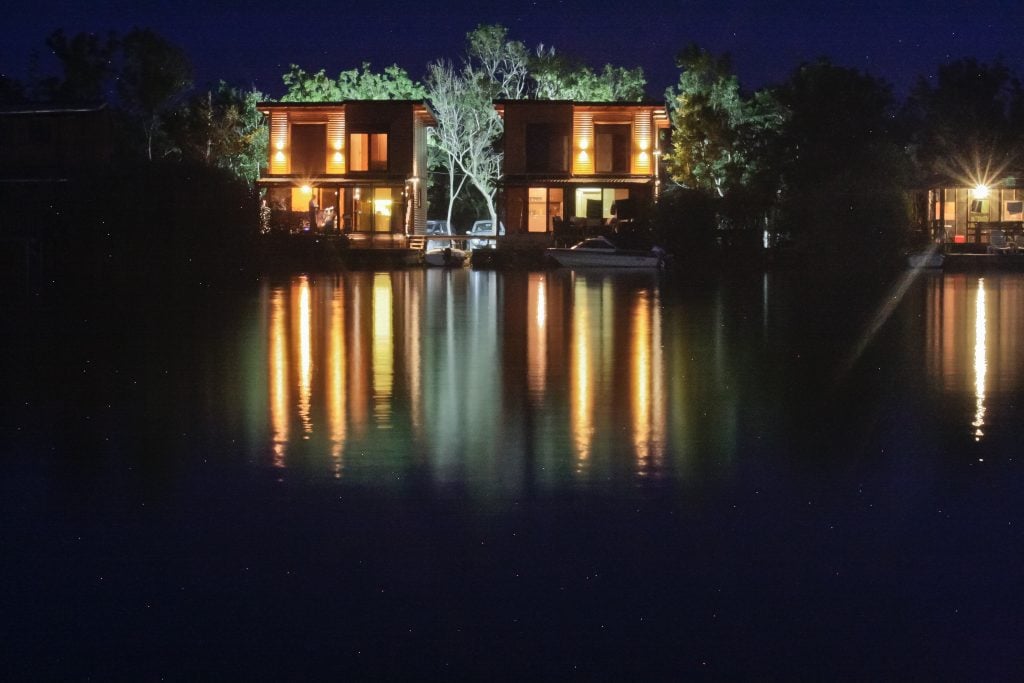 Stay in a River House in Ulcinj
The beach town of Ulcinj is about as south as you can go in Montenegro. As a result, Ulcinj has a different flavor than most of Montenegro — you'll find mosques among the churches and the Albanian language on signs.
Ulcinj is a popular beach getaway for both Albanians and Montenegrins — a bit scruffier and much cheaper than the Budva Riviera, yet still lots of fun.
But Ulcinj also has the Buna River in addition to the Adriatic Sea — and this river is lined with spectacular modern homes that you can rent for a fraction of the price you'd pay on the Bay of Kotor.
Check out Sunset 1&2 Bojana, Hakuna Matata Apartments, and Kucica Na Adi Bojani just to see what Ulcinj has on offer.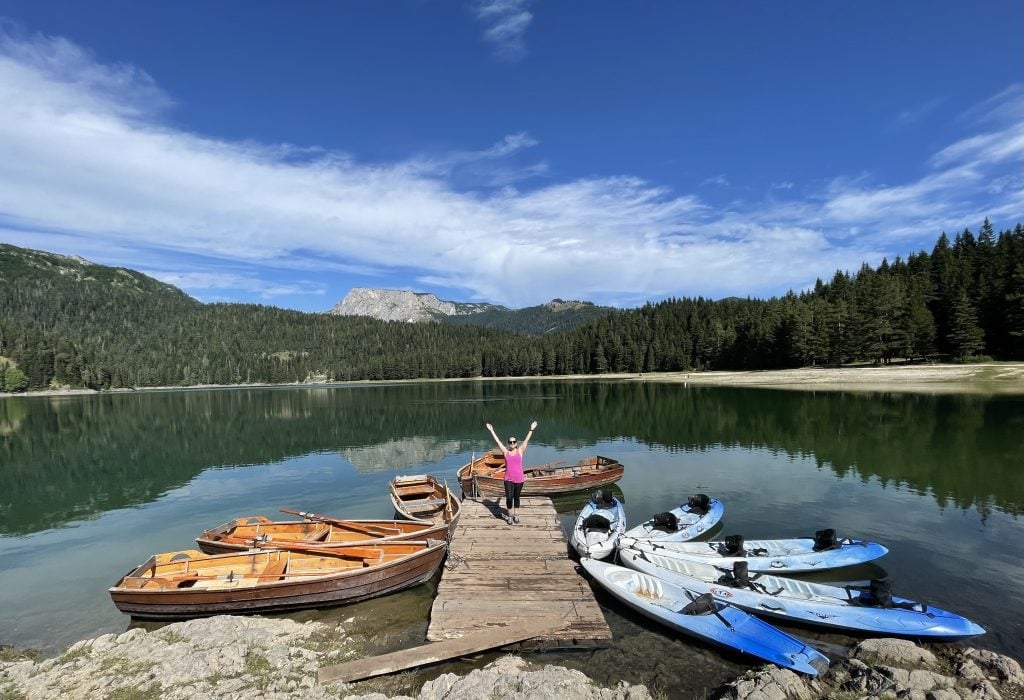 Explore Black Lake
Black Lake (Crno Jezero) is home to one of the most famous spots in Durmitor National Park — a smooth lake surrounded by forest, tall mountains overhead. Located a short distance from the town of Žabljak, this is a nice spot to spend a few hours.
I recommend heading to Black Lake first thing in the morning — the light will be perfect for photography, and it will be quiet and still. That, and you'll have a much better chance of getting a boat rental.
Hiking around the lake is a must. The hike is about 3.5 kilometers and goes around both of the lakes that make up black lake: Veliko Jezero (Big Lake) and Malo Jezero (Small Lake). I'd classify the hike as moderate for the most part, but there are a few spots that require a bit of scrambling! Altogether it should take 60-90 minutes.
If you're up for more of a hike, several longer hikes connect to Black Lake.
Besides the hiking, Black Lake is a pleasant place to spend the day. There's a restaurant on site, and there are kayaks and rowboats are available for rent. You can even walk here if you'd like — it's just three kilometers from Žabljak.
If you'd rather see Black Lake on a day trip from Kotor or Budva, you can book this Durmitor day trip here.
Have a Relaxing Day in Petrovac
If any destination in Montenegro is going to become more famous over the next few years, I predict it's Petrovac. This beach town is east of Sveti Stefan — technically part of the Budva Riviera, but so far from Budva's music-blasting clubs that it feels worlds away.
Petrovac's beach is small but nice, hemmed in by lush forest on each side. While most people come here for beach time, the old town has some nice sights, including churches and pretty stone buildings. Don't miss the sunset from Kastio Castle.
If you're looking to explore nature, there is a nice hike from Petrovac to the nearby town of Reževići. The trail begins behind the Danica Hotel and ends on a quiet beach.
And if you're up for a spa day, Annina Wellness at the Hotel Ami Budva Petrovac is a wonderfully luxe spot, offering massages and body treatments, plus access to a sauna and both indoor and outdoor pools.
If you'd rather visit Petrovac on a day tour, this tour from Kotor or Budva includes Sveti Stefan, Petrovac, Stari Bar, and Old Town Budva.

Spend a Day at Sveti Nikola
Montenegro doesn't have a lot of islands — that's quite different from its northern neighbor, Croatia — but one island that refuses to be ignored is Sveti Nikola. Part of the Budva Riviera, Sveti Nikola is the largest island in Montenegro and a popular day trip from nearby Budva.
The island is just two kilometers long, but it's got a surprising amount to explore. Beaches dominate the northwest corner of the island, while wild deer and other animals populate the interior. There are hiking trails, and the southern edge of the island is a popular spot for sunset.
You can hire a day bed for the day, or hit up one of the few cafes on the island for some eats. Private boat drivers can take you to quieter beaches along the island's southern coast.
Most people visit Sveti Nikola (also known as Školj, or St. Nicholas's Island) for the day from Budva, taking a taxi boat there and back. Return tickets cost 5 EUR ($5 USD).
Explore Podgorica
I'll be honest: Montenegro's capital, Podgorica, won't be on the list of best European capitals anytime soon. It won't even be on the list of best Balkan capitals anytime soon. (I've got a lot of love for Ljubljana, Zagreb, and Tirana in particular.)
But if you've got some time to spend in the capital of Montenegro, there are places to see! The Millennium Bridge is a feat of engineering that makes for good photos. The Cathedral of the Resurrection of Jesus Christ is a Serbian Orthodox Church with beautiful mosaics on the inside. Check out the Old Bridge on the Ribnica River, and there are plenty of cafes, in true Balkan style.
Otherwise, Podgorica makes a good base for visiting Lake Skadar and Cetinje, if you don't feel like staying in the city. Altogether, you have my blessing to skip Podgorica if you're not really feeling it.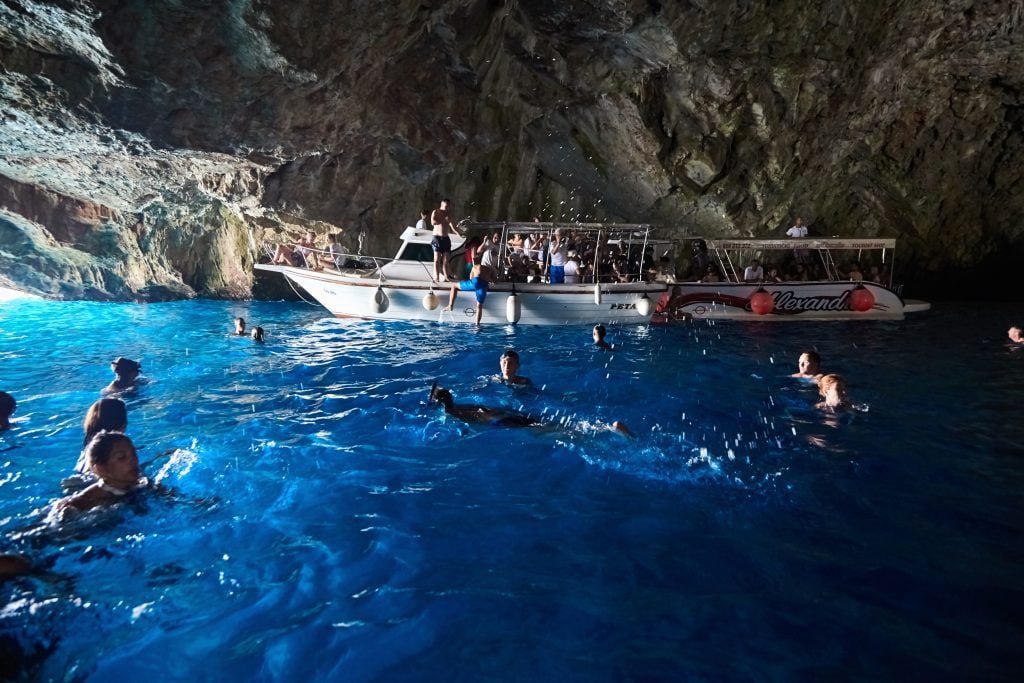 Visit the Blue Cave
Italy has its Blue Grotto on Capri; Croatia has its Blue Cave on the island of Vis — isn't there something for Montenegro? Well, you're in luck! The Blue Cave of Montenegro is located on the Luštica Peninsula on the Bay of Kotor.
The Blue Cave (Plava Splija) is filled with reflective blue light at certain times of day when the sun shines in at the right angle. Keep in mind that the Blue Cave cannot be visited if it's too windy; sadly, I missed out on missing the Blue Cave due to weather.
This boat tour from Kotor includes a visit to the Blue Cave with time to swim and snorkel, as well as a submarine tunnel, and a stop on the island of Our Lady of the Rocks before returning home.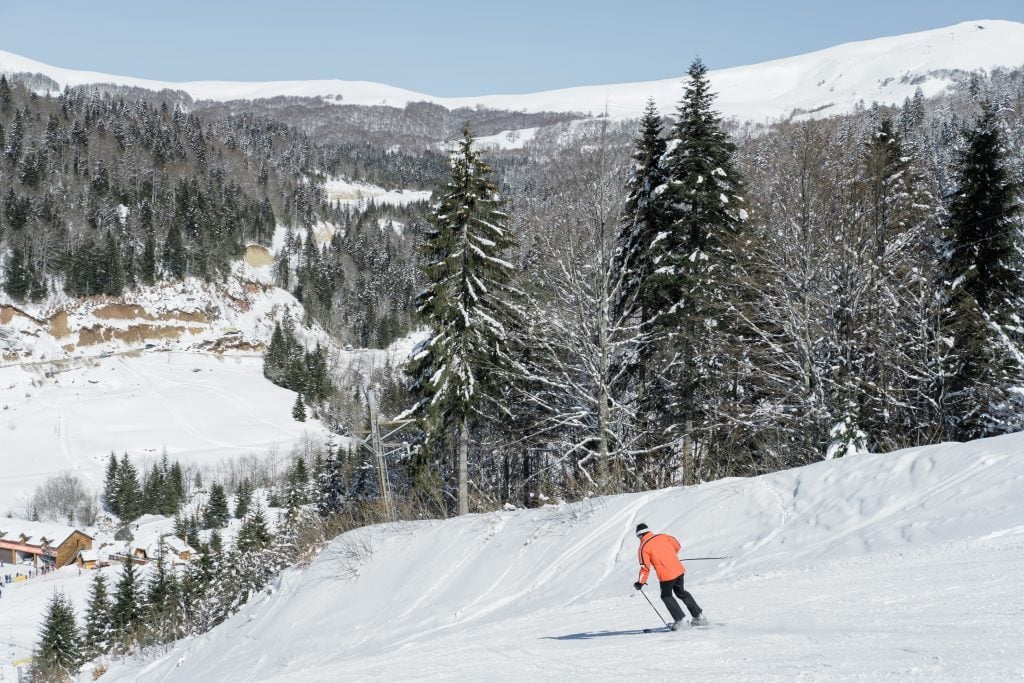 Go Skiing in the Winter
Yes, you can go skiing in Montenegro! It's easily one of the best things to do in Montenegro in the winter!
The most popular ski resort in Montenegro is Kolasin 1450, located near Kolasin and Biogradska Gora National Park in northeast Montenegro. Here the slopes are gentle enough for beginners, with some wilder options for more experienced skiers. Another nearby resort is Kolasin 1600.
Durmitor National Park is also popular for skiing. Savin Kuk is a resort near the national park, and the town of Žabljak makes a cozy place to stay with lots of dining options. Another nearby resort is Javorovača.
And skiing in Montenegro can be a bargain. Here it will cost you a fraction of what you'd pay for a similar experience in, say, Austria or Italy.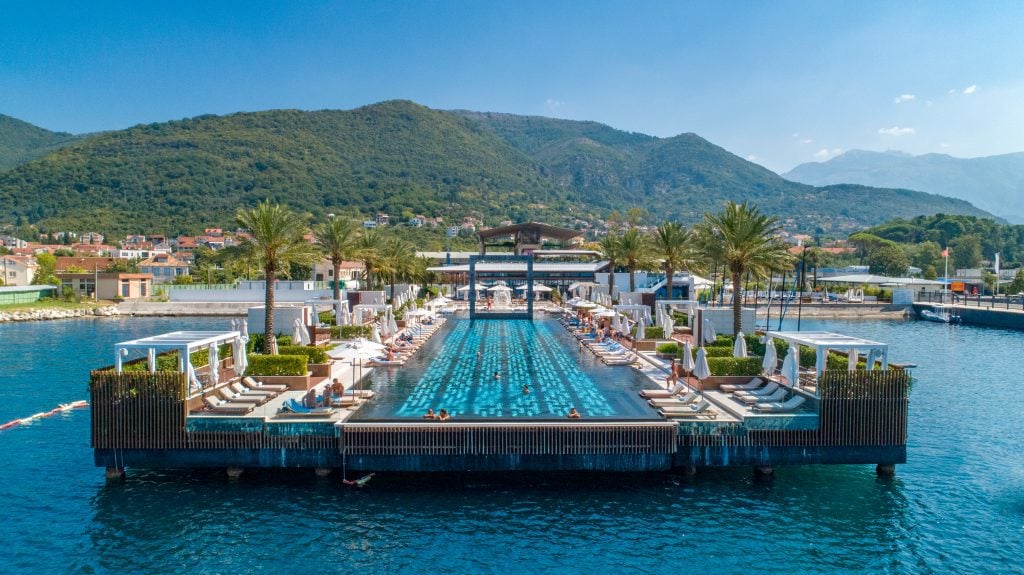 Schmooze with Yachties at Porto Montenegro
If you're looking for the luxurious side of Montenegro travel, head to Porto Montenegro in Tivat. This waterfront area is where the biggest yachts dock during the summer months, and you'll find plenty of restaurants and nightlife spots catering to these moneyed visitors.
Hit up the restaurants for some Mexican or Chinese food (hard to find in Montenegro!), window-shop at Dior or Bulgari, or head to the gym for Zumba or yoga classes. You never know — you could find yourself in savasana next to one of the Real Housewives.
And for the ultimate Instagram photos, head to Buddha-Bar Beach. Lounge by their fancy palm tree-lined pool by day, leading straight up to Kotor Bay, or party all night as the DJs and performers arrive.
Oh, and for all my fellow Below Deck fans — they've never filmed a Med or Sailing season in Montenegro. But isn't it time they did?!
Drive or Bike the Kotor Serpentine
Just outside Kotor on the way up Lovćen Mountain, you'll find what I refer to as a "squiggly" — a super-curvy road. This steep, curvy road climbs the mountain for 8.3 kilometers, and has 16 switchback turns.
If you've ever driven down Lombard Street in San Francisco, and wish it were on an actual mountain, this is the place for you! Plenty of people make the drive up the serpentine, and you feel so accomplished once you get to the top and take your photos.
But for even more of an adrenaline rush, you can bike the Kotor Serpentine. This cycling tour includes a stint on the serpentine — thankfully only downhill! — and also includes time to do a zipline if you're up for it.
Despite looking intimidating, the cycling journey is a lot smoother than it looks (though it's best for experienced cyclists).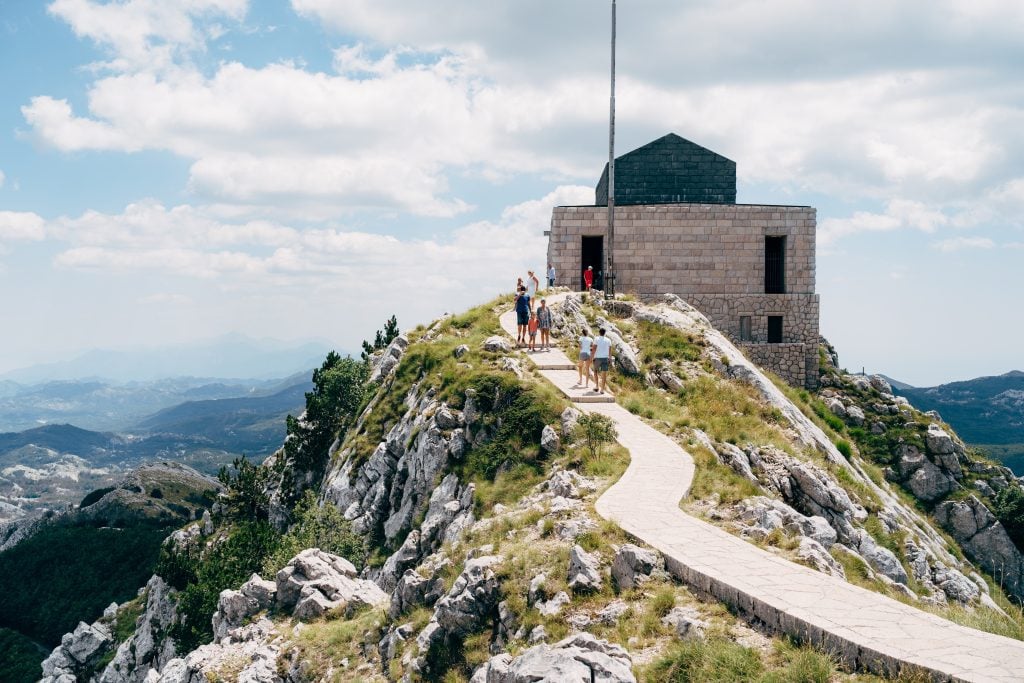 See it all in a day on the Great Montenegro Tour
Short on time? That's okay. Not everyone has the time to do a long Montenegro road trip. But what if you could knock several of these things off the list at once?
In this popular day tour from Kotor, you can cover several of the best things to do in Montenegro in a single day. Drive the Kotor Serpentine up to Lovćen National Park, Njegusi village and Njegoš Mausoleum. Stop by the monuments of Cetinje and head to Lake Skadar for a boat trip through the water lilies. Finish with a photo stop at Sveti Stefan.
If you're the kind of traveler who enjoys having a whistle-stop tour of places (perhaps so you can go back and explore your favorite places in more depth?), this is a great way to take in some places in Montenegro that you wouldn't visit otherwise.
More on Montenegro:
More on the Balkans:
Have you been to Montenegro? What are your tips? Share away!