Adventurous Kate contains affiliate links. If you make a purchase through these links, I will earn a commission at no extra cost to you. Thanks!
Are you looking to visit Korčula Croatia — the most fabulous island of Dalmatia? Well, you've come to the right place — this Korčula travel guide is designed to give you all the information you need to plan the trip of a lifetime.
I've explored Croatia extensively over the past decade, and I think Korčula (pronounced KOR-chu-la) is one of the best places in the country.
Like most of Croatia, Korčula is brimming with natural beauty. But Korčula is also home to a spectacular wine culture, a stunning old city, a collection of hidden beaches, endless olive groves, and some unique dining specialties. Korčula is well known, but it's not as busy or overcrowded as other Croatian islands.
Most travelers come to Korčula for only a few days — or worse, just a day trip from Dubrovnik. But there are so many interesting things to do in Korčula that you'd be better off staying several days, or even a full week! I stayed six days on my most recent visit, and I could have stayed for longer.
It's easy to fall in love with Korčula, Croatia, and my goal is to help YOU fall in love with Korčula as well. Sit back, grab a beverage, and get ready to dive into this incredible island in the Adriatic Sea.
This post was most recently updated in January 2023.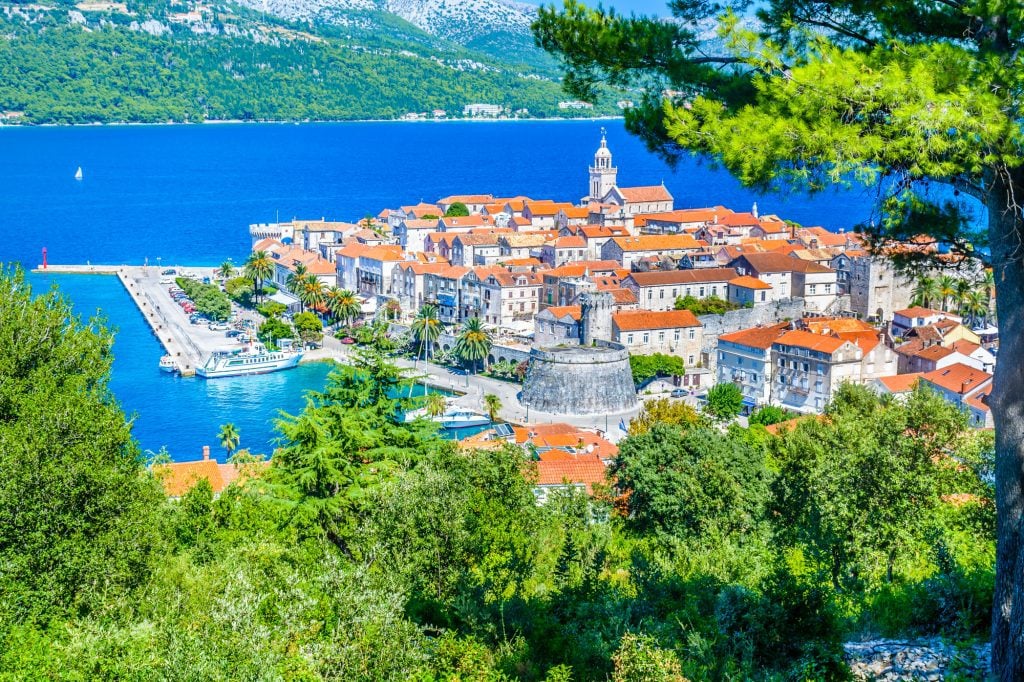 Why travel to Korčula Croatia?
There are so many beautiful islands to visit in Croatia. Why should you choose Korčula over the others?
Most locals have an easy answer for that: WINE. Korčula has a reputation for being the wine island, and it's home to some varietals you can't find anywhere else, like Grk and Pošip. While you can find local wine on every Croatian island, Korčula's wines are head and shoulders above the rest.
I've spent a lot of time researching the five major islands between Split and Dubrovnik — Brač, Hvar, Vis, Korčula, and Mljet — and my two favorite islands are Korčula and Vis.
While Vis has the best vibe for chilling out, and I think it's best suited for people who have been to Croatia before, Korčula is best for first-time visitors to Croatia or people who want to do lots of interesting things. Korčula has the best things to do, the best cultural background, and the best food and wine experiences of all the Croatian islands.
Whether you want to go bike riding through vineyards that edge along the sea or take in a fearsome Moreška dance performance, whether you want to go wine tasting up and down the island or discover hidden beaches, whether you want to have a Michelin-starred meal or country food in a traditional konoba, Korčula has something for you!
Korčula, to me, feels like a very adult-oriented island. That's not to say it's not family-friendly — EVERYWHERE in Croatia is family-friendly — but Korčula's best treasures are very much for grown-ups.
Stay out late at a tapas bar. Have cocktails in the tower of a medieval city wall. Drive down a spine-tinglingly steep road to a clear, perfect beach. This is YOUR island.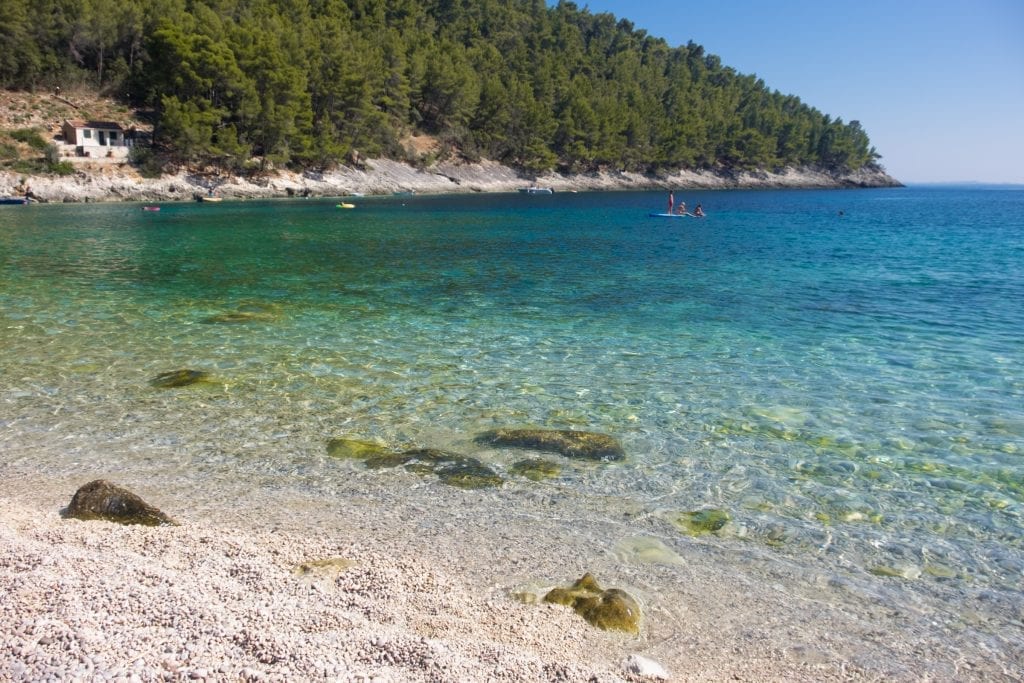 Korčula Island FAQ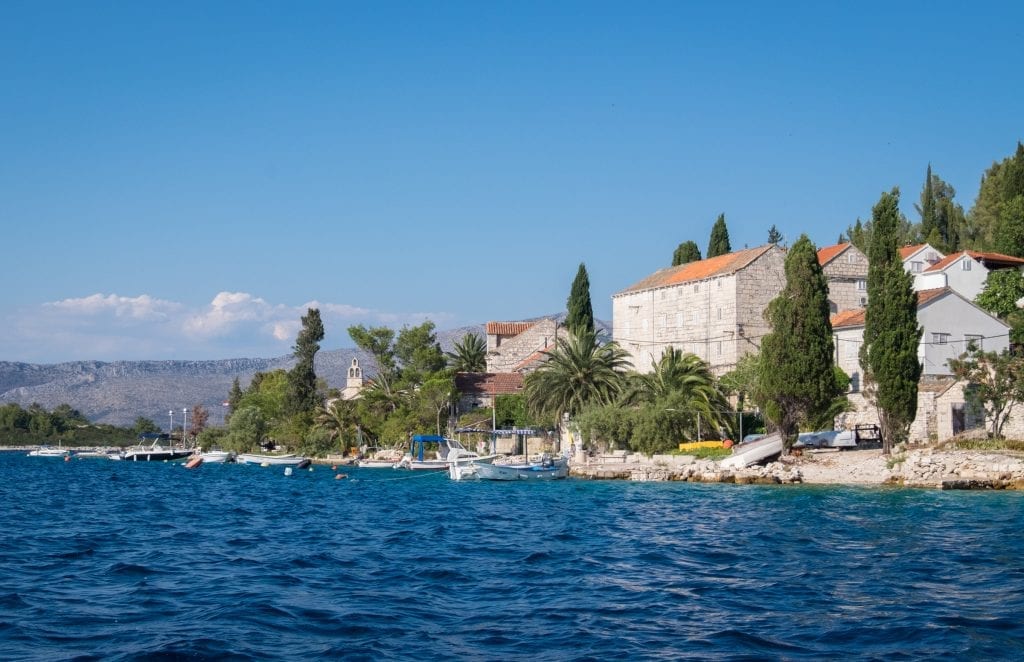 Best Things to Do in Korčula Croatia
So what are the best things to do in Korčula island? You could spend your days being lazy, sitting on beaches and trying the special wines. You could be more active, biking around the towns and learning to windsurf.
I recommend doing some wine-oriented and history-oriented activities in Korčula, as well as taking in a few gorgeous beaches.
Here are my picks for the best things to do in Korčula.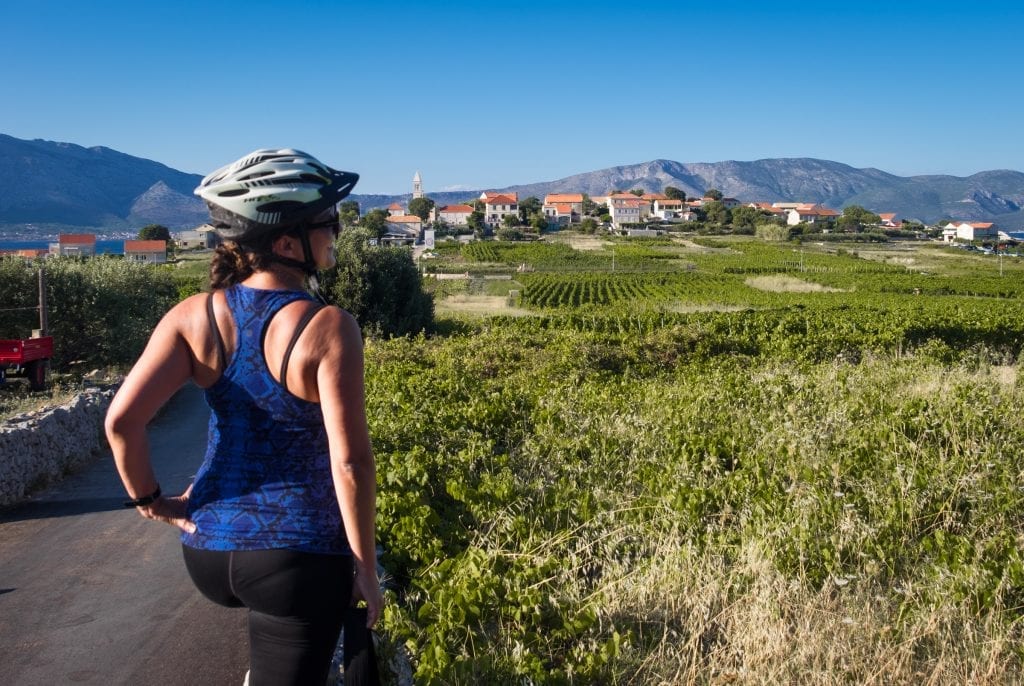 Go on a Biking and Wine Tour
My absolute favorite thing to do in Korčula was taking a bike and wine tour down to Lumbarda! This is a tour organized by the Korčula Tourism Office offering the best of both worlds — physical activity, stunning scenery, and deliciousness. Our guide Lea met us at our hotel with perfectly sized e-bikes and led us on a tour out of Korčula Town down to the village of Lumbarda.
Wine regions are always beautiful — but Lumbarda is on another level. You may have biked through gorgeous vineyards in Tuscany or Sonoma, but have you ever biked through vineyards as bright turquoise ocean waves crash nearby? It was heart-wrenchingly beautiful. I don't even have the most beautiful shots because I was biking the whole time!
We stopped at Bire Winery and were introduced to Grk wine (pronounced gurk) — a fascinating wine varietal that only grows in Lumbarda. Grk has a long and storied history, dating back to the 5th century AD, when the Ancient Greeks colonized the Adriatic. The word Grk means either Greek or bitter in Croatian. And it only has female flowers — it must be cross-pollinated with male flowers, usually Plavac Mali.
Grk is a full-bodied white wine — the kind that stands strong on its own, announcing its presence. We enjoyed tasting several of Bire's wines and trying some Dalmatian meats, cheeses, and fish dishes perfectly tailored to the wines.
After that, it was back on the wines, back exploring Lumbarda, stopping at scenic and interesting points all the way back to Korčula Town. I couldn't get enough of it!
You can book a wine and biking tour through Korčula Explorer. Say hi to Lea for me!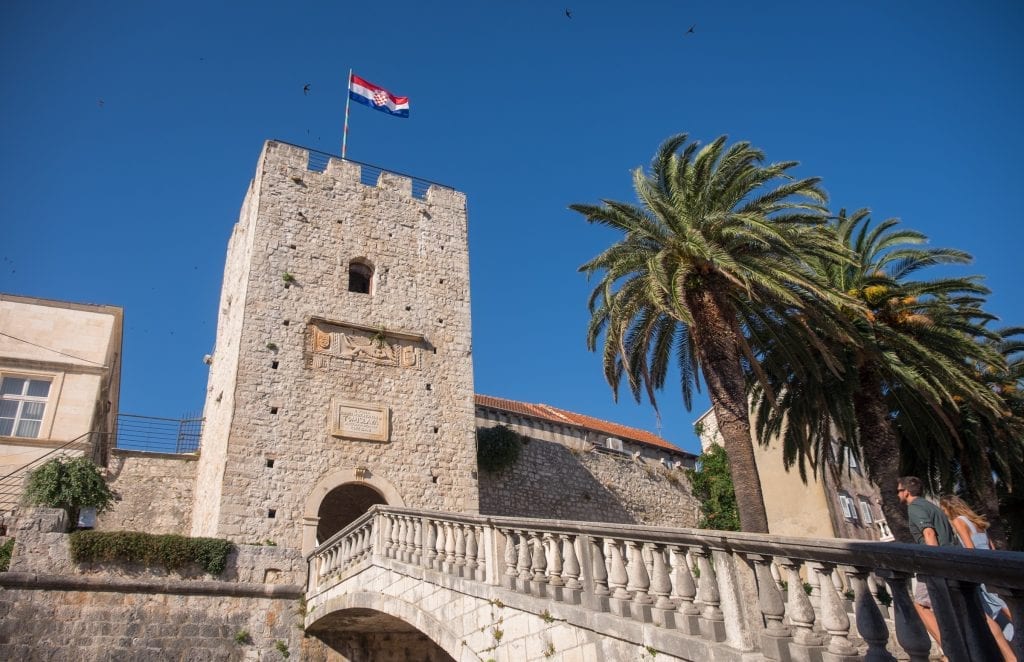 Explore Korčula Old Town
Korčula has a small but mighty old town, a little Dubrovnik, stacked up in layers like a wedding cake. It's small and easy to cover on foot (albeit filled with tons of stairs), and it's edged with a beautiful pathway along the water, lined with nice restaurants and cafes.
This might be heresy, but I think I like Korčula's old town more than Dubrovnik's.
Korčula is the rumored birthplace of Marco Polo — and the people of Korčula lean into this legend, while noting that technically there are no historic records, so we don't even know if he came from Korčula, Venice, or somewhere else entirely.
While touring the town, be sure to check out the bell tower — the highest point in the old town — visit St. Mark's Cathedral, and get lost in the narrow streets.
You can book a 90-minute historic walking tour here.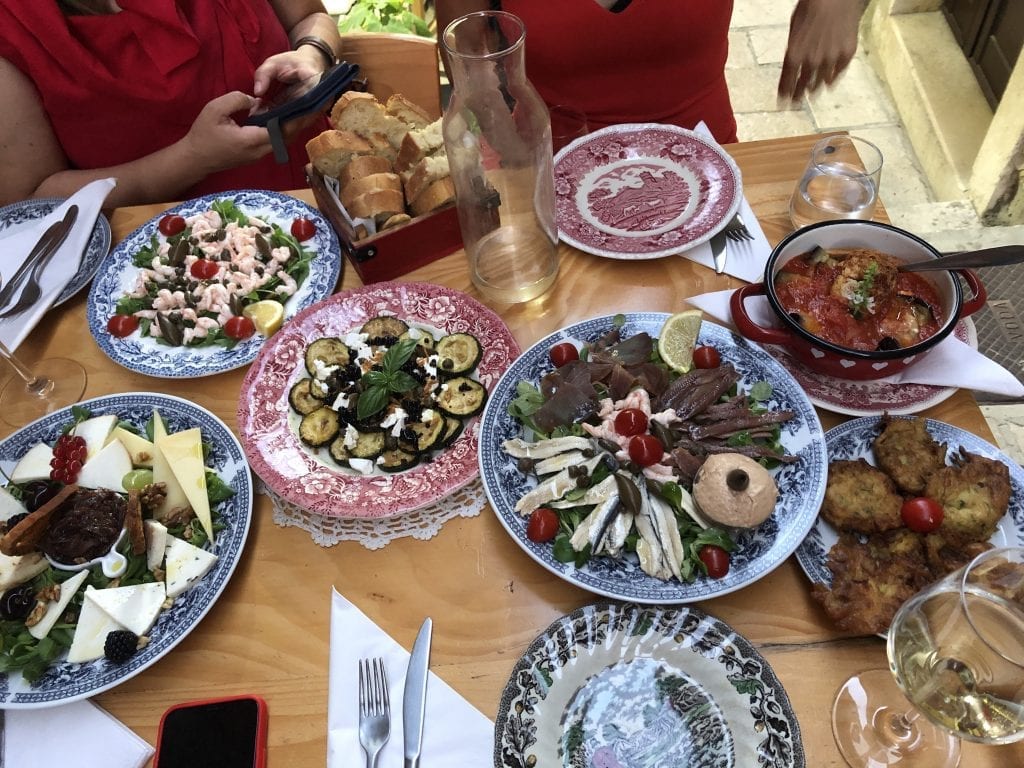 Have Unique Tapas at Lole Wine Bar
If you've spent any amount of time along Croatia's Dalmatian coast, you know that menus tend to offer the same appetizers over and over: marinated anchovies, octopus salad, pršut, cheese, marinated shrimp. (As I write this, I've been on the Dalmatian Coast for more than a month. I can recite that menu by heart.)
However, Lole Wine Bar turns Croatian appetizers on their head, serving them in new and rearranged ways, always rotating, and served alongside an interesting selection of local wines. This is where you'll get some of the most creative cuisine in the Dalmatian islands.
My suggestion? Come here for a NIGHT. Start with the lighter wines and work your way down! End with the nespole (medlar) liqueur, tasting like marzipan.
Lole gets busy at night, and I highly recommend making a reservation for one night of your stay in Korčula.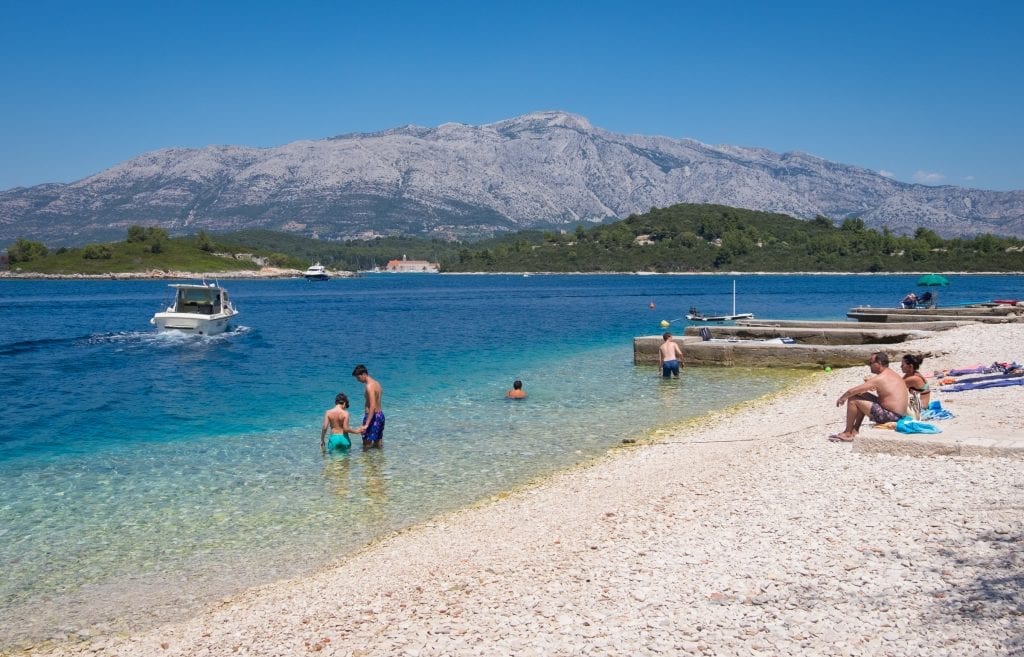 Explore the Islands by Water Taxi
While Korčula itself is an island, there are a few tiny islands off the coast to visit: most notably, Badija and Vrnik. While there are tours to the islands, it's cheaper and more flexible to buy a hop-on hop-off water taxi ticket and spend the day exploring at your own pace.
First up is Badija, an uninhabited island home to a monastery. You can visit the monastery and walk the path around the island; it takes about an hour and 45 minutes. If you want to swim, there are some nice hidden beaches on the northern side of the island and some more public ones on the eastern side. There is a snack bar here but it's otherwise uninhabited.
Next up is Vrnik, significantly smaller than Badija and only inhabited by a few long-term residents. Vrnik feels like an isolated village among the more developed parts of Korčula. If you're up for a swim, there's a nice beach right by where the ferry drops you off.
Vrnik Arts Club, a B&B and restaurant, is a cool place to stop for lunch — though a bit pricey. It's the kind of place where you ask for a menu and the waiter says, "Well, we've got some nice octopus today. How about we make that into a nice salad for you, with some arugula and capers, and bring you some bread — how about that?"
I agreed. It was lovely.
Finally, the boat takes you to Lumbarda on the mainland — a great place to go swimming, drink wine, or just relax and enjoy the small town atmosphere. Lumbarda is one of the most beautiful parts of Korčula and I recommend taking a few photos at the very least. They even have one of Croatia's rare sandy beaches!
You can buy a hop-on hop-off water taxi ticket here, or wait and buy one in person at Korčula Town's water taxi station, right at the base of the Old Town. I recommend buying ahead of time if you're visiting in the summer months.
Sometimes the water taxis don't show up exactly on time — I recommend getting there to wait five to ten minutes early, just in case.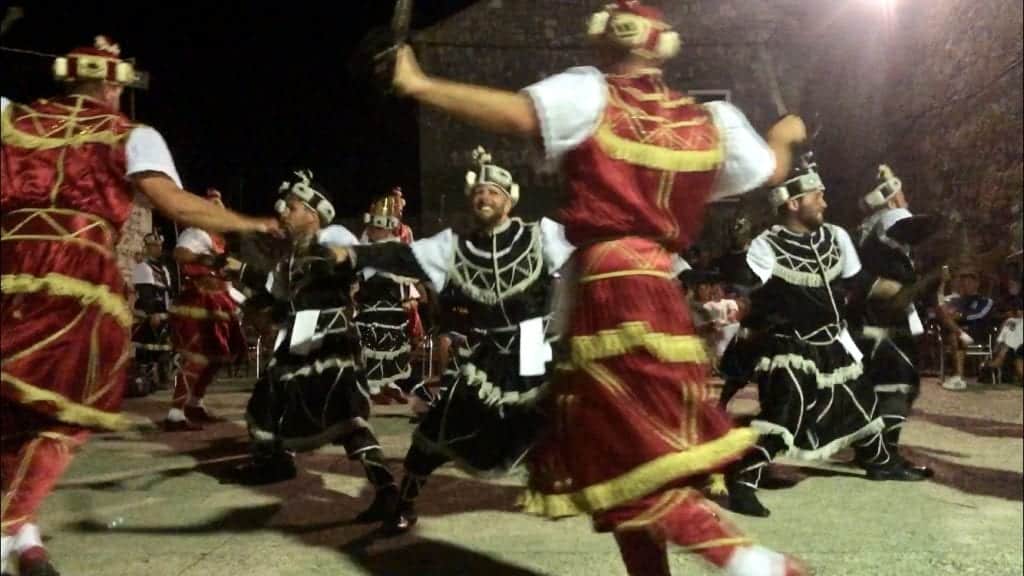 See a Moreška Sword Dance
If you've heard that Croatia has unique sword dances, THE place to see them is Korčula! This sword dance is called a Moreška and it tells the story of two kings fighting it out with their armies for the love of a kidnapped princess. The show is in Croatian but there are English translations available.
This is a fun and interesting show, so I recommend timing your visit to Korčula so you can get to see it. (I also recommend sitting NOT QUITE in the front row as there are a lot of flying swords!)
Moreška shows take place on Mondays and Thursdays at 9:00 PM in July and August, and on Thursdays at 9:00 PM in June and September. Performances are held in the open-air Ljetno Kino, right in the old town. You can buy tickets here in advance or in person at the theater.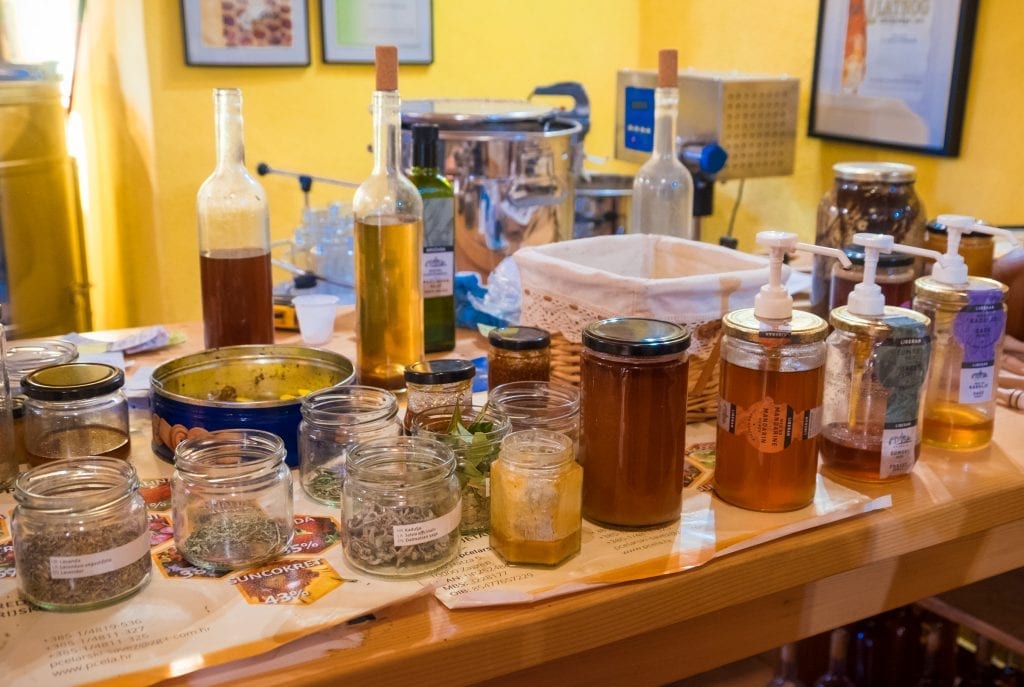 Try Traditional Honey at OPG Komparak
One of the stops on our bike tour was at OPG Komparak, a shop serving local honeys, olive oils, and other specialties like jams and preserves. This is a great shop and a nice place to stop to try some unique flavors, including sage, mandarin, and forest honey.
They offer tastings for 5 EUR ($5 USD).
Amusingly, we saw our beekeeper dance in the Moreška show a few hours after meeting him! You'll soon learn that Korčula is essentially a small town, everyone knows everyone, and everyone has multiple side hustles in tourism.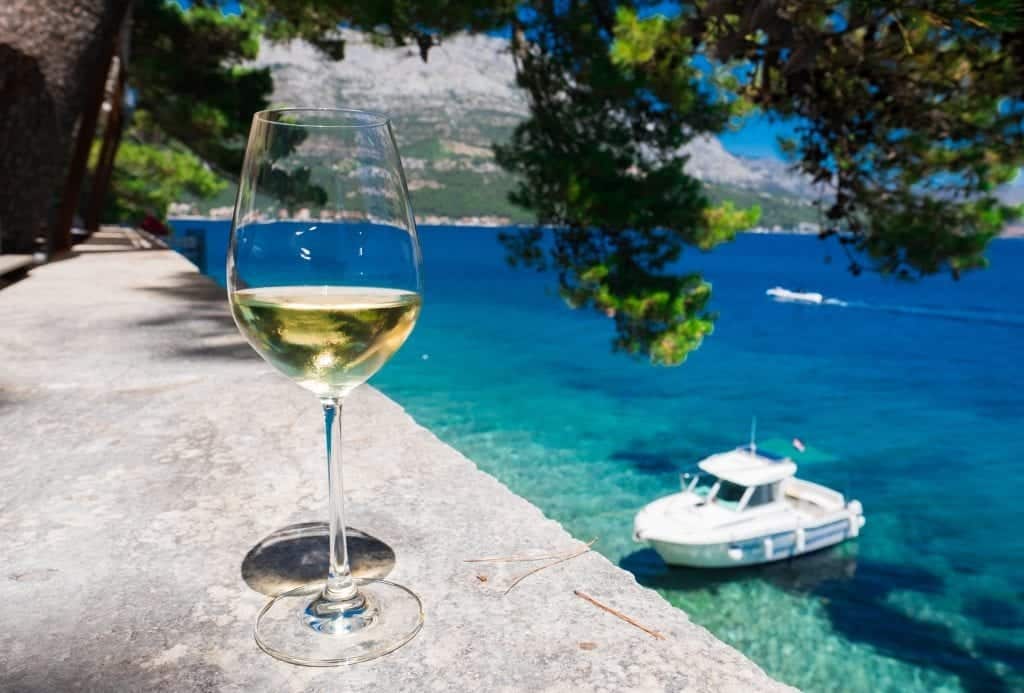 Enjoy all the Grk wine
Seriously, you should try as much Grk as you can while in Korčula. Sure, because it's a unique and delicious wine and only grows in Lumbarda, an emblem of Korčula island itself.
But also because as soon as you leave Korčula, Grk is hard to find — and when restaurants do have it, it's often the most expensive Croatian wine on the menu. Eek!
Enjoy the Grk for cheap while you can! And if you're a huge fan, pick up a bottle or two (a case, maybe?) to take home.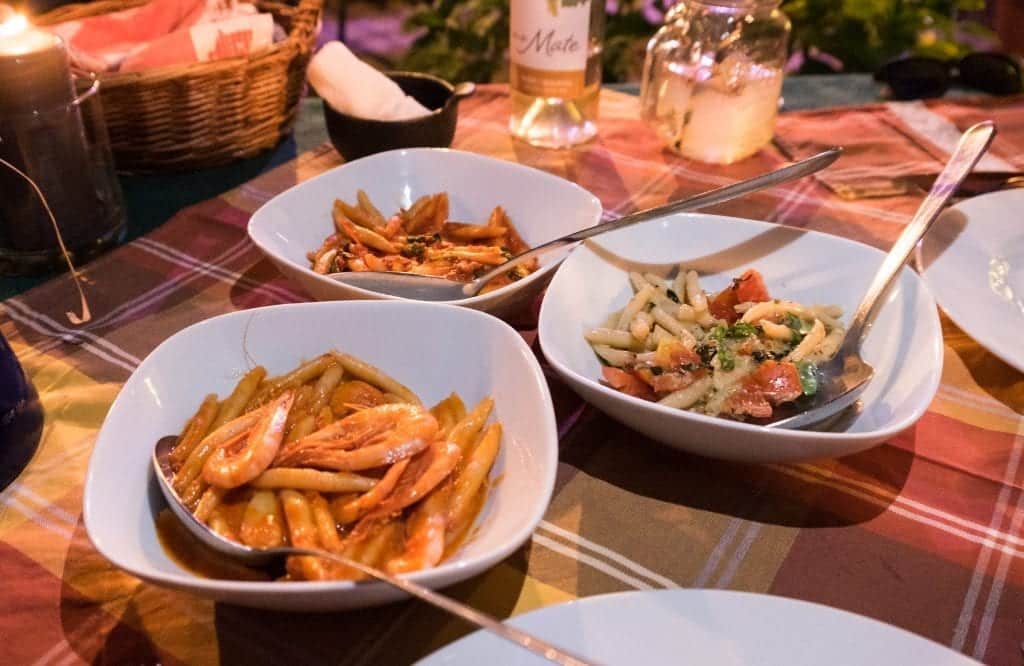 Visit Konoba Mate for a Traditional Meal
Korčula has a lot of culinary traditions, and one of the best ways to experience that is to visit a traditional konoba, a simple tavern-like restaurant. I enjoyed visiting Konoba Mate in the village of Pupnat, which is known for incorporating Korčula's delicious plants and produce into different country-style dishes.
This is a great place to try traditional hand-rolled pasta. We loved it so much we tried three kinds!
Some of the standout dishes were the handmade pasta with almond pesto and cherry tomatoes, the braised veal cheeks with roasted garlic, and the laurel leaf mouse for dessert. I hadn't even heard of laurel leaf before eating here!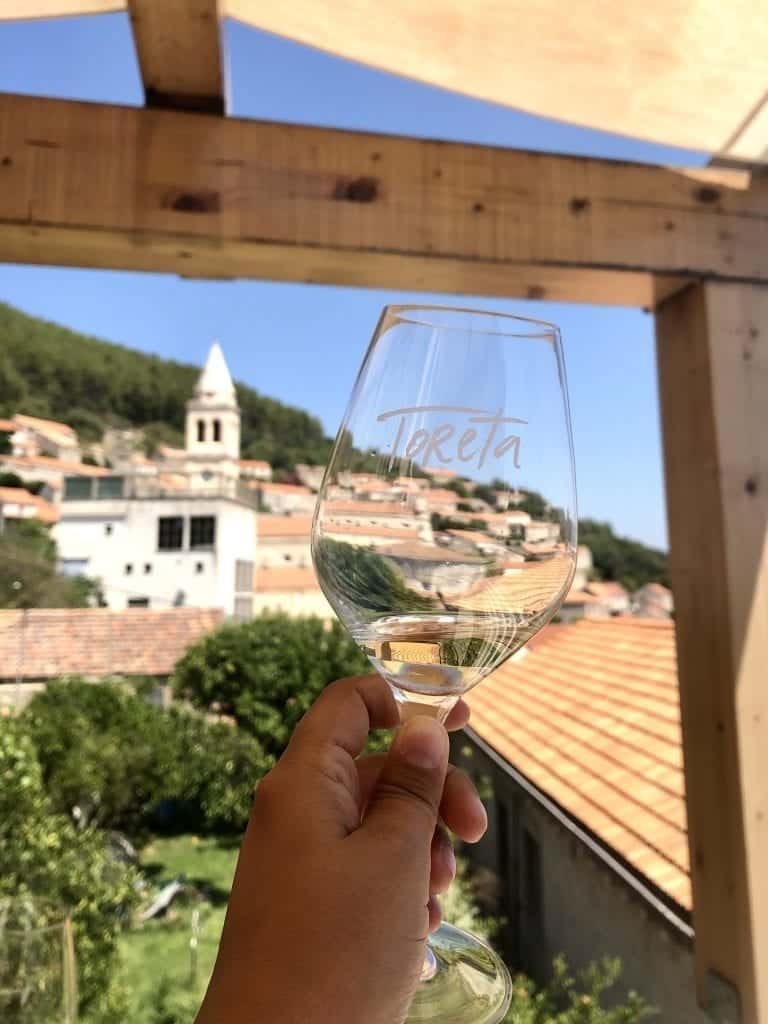 Explore Small Town Wineries
If you limit yourself to Lumbarda's (admittedly superb) wineries, you'll be missing out on a lot of great wineries in Korčula! Head inland for more.
Pošip tends to be the star varietal of the inland wineries, though they make a variety of whites, reds, roses, and even sweet wines.
I particularly recommend the town of Smokvica, home to Toreta Winery and Merga Victa Winery, both of which I enjoyed, as well as Winery Milina, Grošić Winery, and Didovinka Winery.
Most of the time you can taste for free.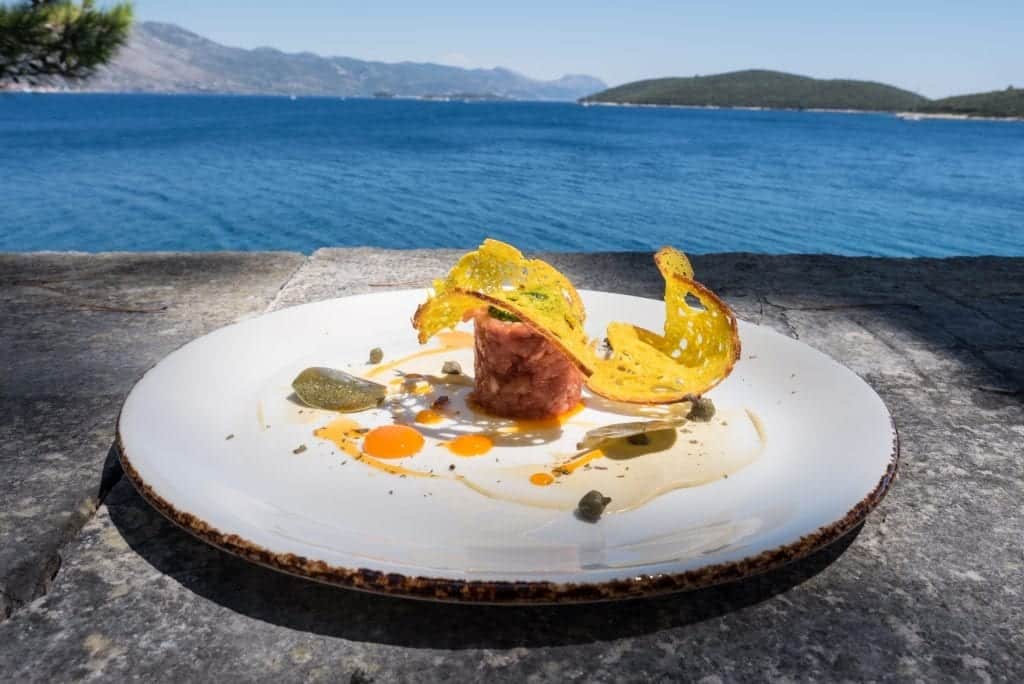 Have a Michelin-Starred Meal at LD Restaurant
If you're looking for high-end, cutting-edge cuisine, served right in the Old Town with beautiful views over the Adriatic, LD Restaurant is worth your time. LD has a Michelin star — the only one on Korčula — and this is one of the best restaurants on the island.
LD focuses on local, seasonal Dalmatian ingredients interpreted in new ways — and plated BEAUTIFULLY. That above dish is a repurposed vitello tonnato (a veal and tuna dish from Piemonte, Italy), with egg yolk and chimichurri.
Another standout was sea bass in yellow curry with cauliflower and quinoa, and we loved ending with an affogato (espresso with vanilla ice cream — this one with almond and lemon zest) for dessert.
The food, the location — swoon-worthy. Pair your food with some Grk, of course.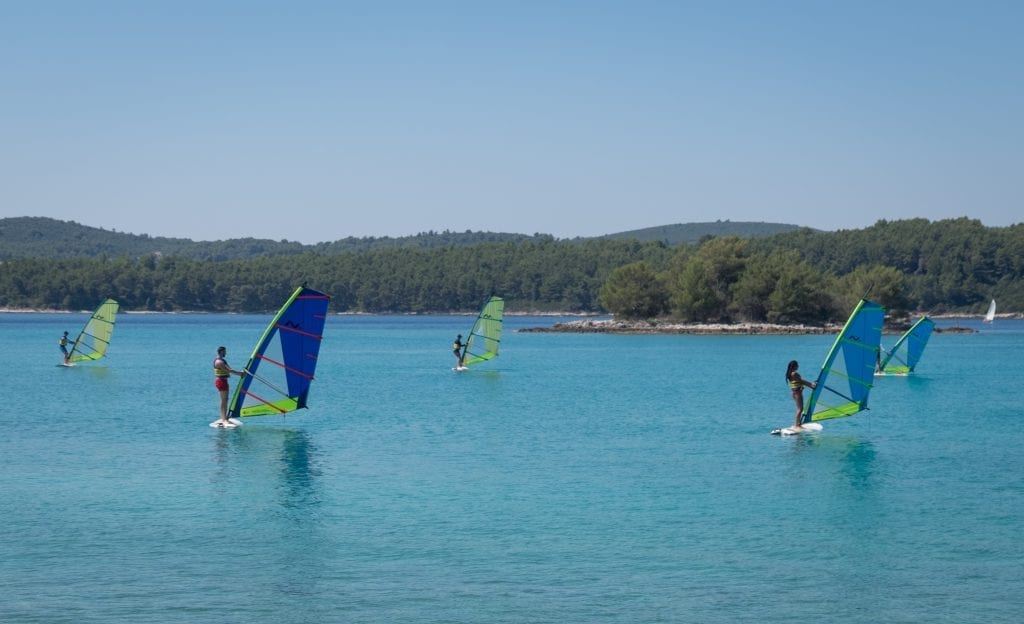 Learn to Windsurf — or Go Kayaking
Korčula is famously windy — especially its eastern end. These are perfect conditions for learning to windsurf! You can find courses in Korčula Town as well as Badija Island. Schools like Oreb Sailing and Korčula Sailing Extreme offer windsurfing lessons as well as sailing, kayaking, and SUP excursions.
(If you get bitten by the windsurfing bug, I recommend checking the town of Viganj, just across the water from Korčula on the Pelješac mainland. There is a huge windsurfing community there!)
Would you rather go for a kayak? You can take sunset kayak tours in Lumbarda.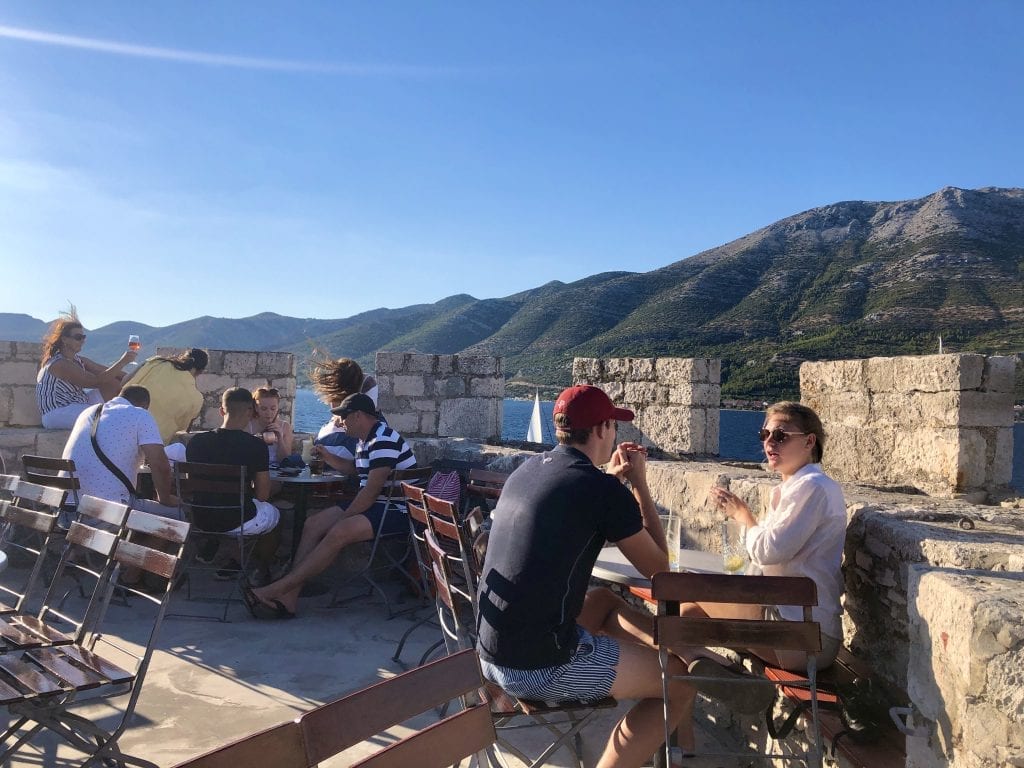 Have Cocktails in a Tower at Massimo Cocktail Bar
Visiting Massimo Cocktail Bar was one of the highlights of my first trip to Korčula in 2012, and I knew I had to go back. This cocktail bar is in an insane location — on top of a tower in the city walls! The views over Pelješac are sensational, and it's one of the most unique bar settings I've visited.
A few important things to know: you must climb a somewhat scary ladder to get to the top. You probably want to avoid wearing a skirt.
Also, while it's a cocktail bar, don't expect craft cocktails. You're best off sticking to the basics. And it's a wind tunnel up there. (See the girls' hair in the photo above?)
Overall, I think Massimo is a great place for one or two drinks and some selfies; I don't think you'd want to spend a whole evening up there.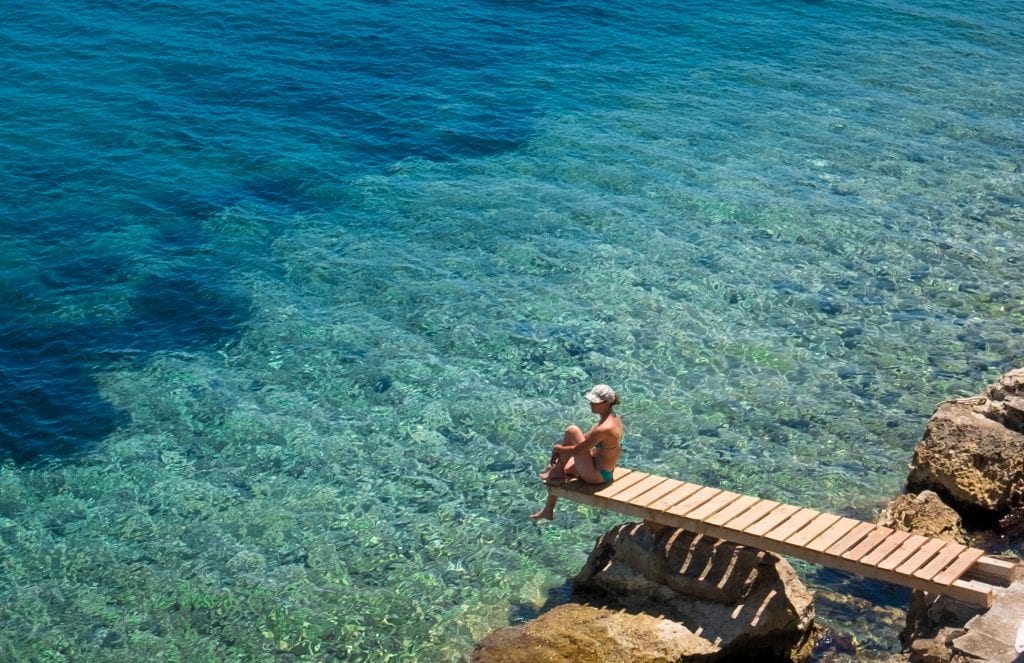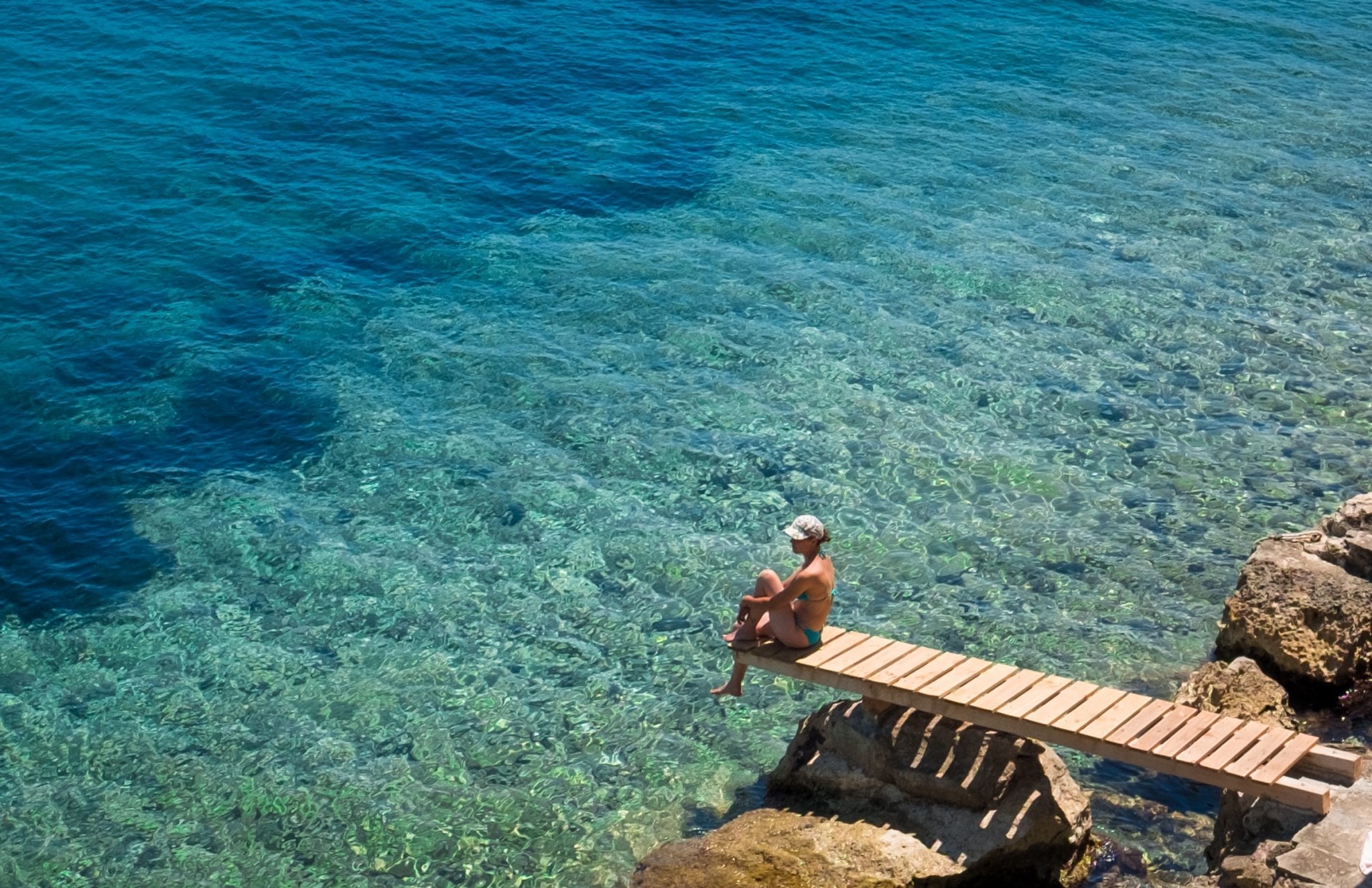 Korčula Beaches
A quick tip: while there are lots of small beaches around Korčula Town and Lumbarda, the best Korčula beaches are in the bays in the south of the island. This is something that Korčula locals told me over and over.
These beaches require a bit of a trek by car, and sometimes it's a bit of a hairy journey down steep, narrow and/or unpaved roads.
Are roads like that not your thing? That's fine! Enjoy one of the easier-to-get-to beaches close to where you are. You can even go swimming right off the Old Town of Korčula, pictured above.
Here are two of my favorite Korčula beaches: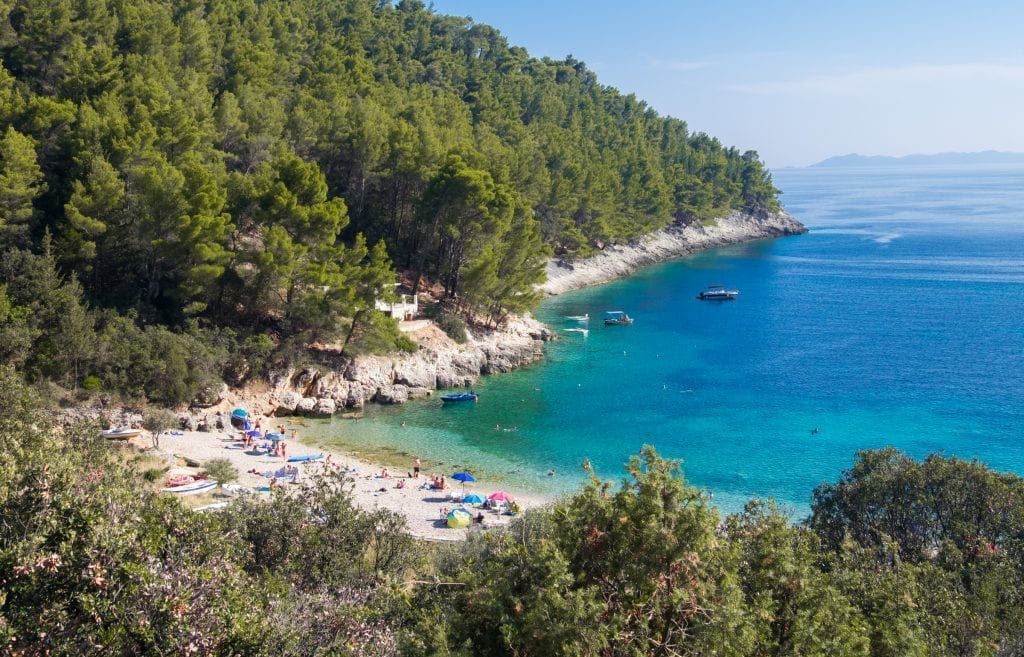 Pupnatska Luka Beach
Pupnatska Luka is one of the bay beaches on the southern coast, south of the town of Pupnat. This is one of the most lauded beaches in Korčula and once you get here, you'll find chairs and umbrellas for rent and a few beach bars. There's even a bar outpost of Konoba Mate!
I enjoyed the vibe of this beach — probably my favorite beach in Korčula. The beach is decently wide and you'll probably have an easy time finding a spot. The crystal clear waters are perfect for swimming.
IMPORTANT NOTE: Google Maps sent us here a very scary way, down a rocky unpaved road that felt like it was going to tear up the bottom of the car! But you can avoid this!
Take a look at Pupnatska Luka on Google Maps and zoom in. You'll see one road leading out to the left (west) and one road leading out to the right (east). The road on the right, the eastern road, is the one you want. It's paved and fine (though quite narrow at some stretches!).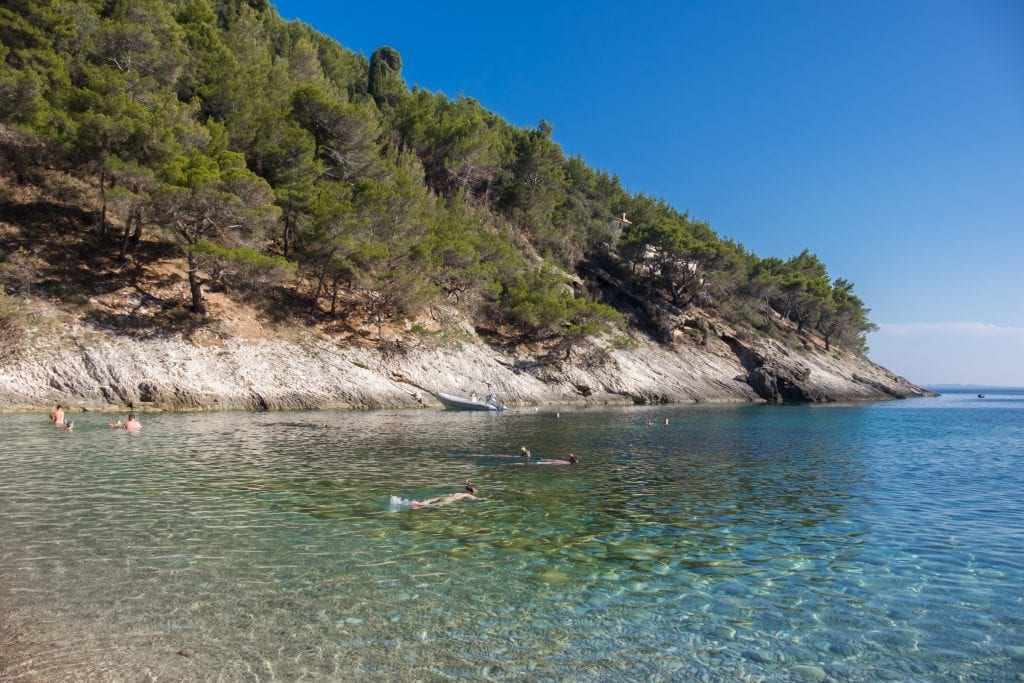 Bačva Beach
Bačva Beach requires a similar journey to Pupnatska Luka's — a curvy, switchbacky, zig-zaggy paved road leading down to the coast. But this one is smaller, more peaceful, and dare I say even more special than its neighbor.
You'll park at a steep angle in the makeshift parking lot down by the beach, then walk down a long path through pine forest. You know you're in the right place when you see a small restaurant and a small, narrow beach with calm, clear water.
Lots of families choose Bačva because the water is nice and calm. It's more beautiful, but it being smaller means that there isn't as much space to spread out.
Still, a wonderful beach on Korčula!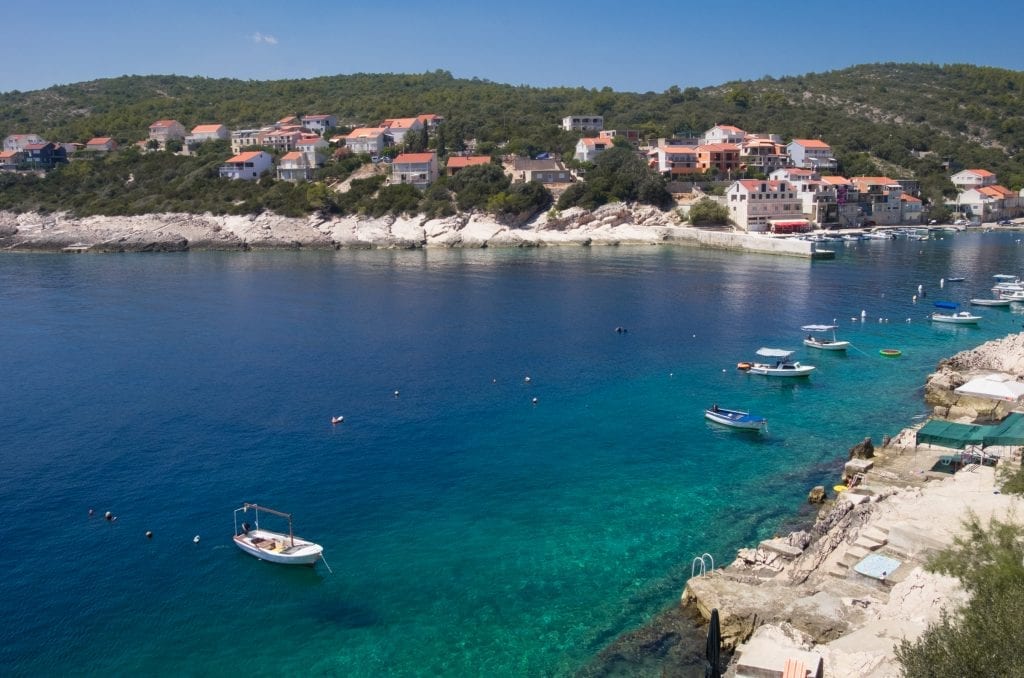 Take in the View in Zavalatica
We ended up in the town of Zavalatica on a whim while exploring the island — but it turned into my favorite view of the trip! Zavalatica is a town on the southern coast of Korcula. As we drove in, we were struck speechless by this view.
Want to enjoy a bite with this view? We had lunch at Konoba Albert and enjoyed some nice fried calamari while taking in the blue-green ocean.
As you can see below, there are ladders leading into the sea from the rocky beaches. Nice spot for a swim!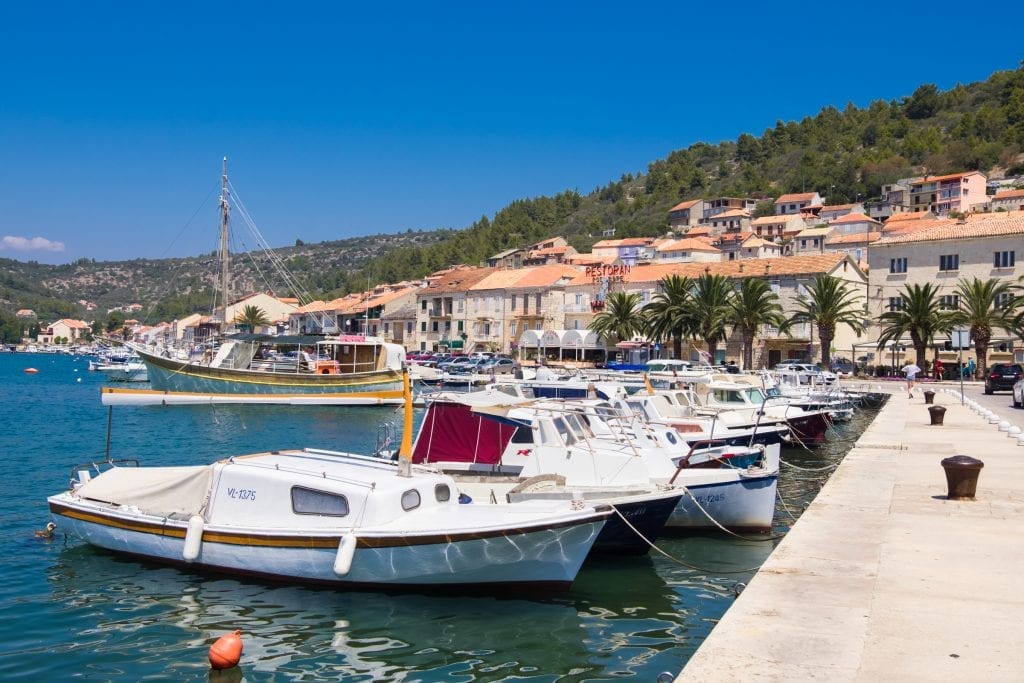 Have a Coffee in Vela Luka
Vela Luka is Korčula's largest city, and this is where the larger car ferries from Split dock in Korčula. It's located on the west coast of the island, about a 40-minute drive from Korčula Town.
Vela Luka isn't the most exciting place on the island, but I thought it was worth getting a coffee and taking a stroll around the harbor before moving on.
Have limited time in Korčula? You can skip this without regret.
Try Croatian Craft Beer at Pinjac Pub
Tired of all the Korčula wine? NEVER! Well, if you'd rather have some beer, there is a lovely brewery and pub in the town of Žrnovo called Pinjac.
They brew two beers and serve a variety of local cuisine, served in a beautiful indoor-meets-outdoor atmosphere. We enjoyed the tuna steak here.
Croatia is not nearly as beer-oriented as other Central European countries — but since I took this trip, Croatia went from fewer than 20 breweries in 2020 to more than 70 breweries in 2023! I guess Pinjac did help start Korčula's beer revolution!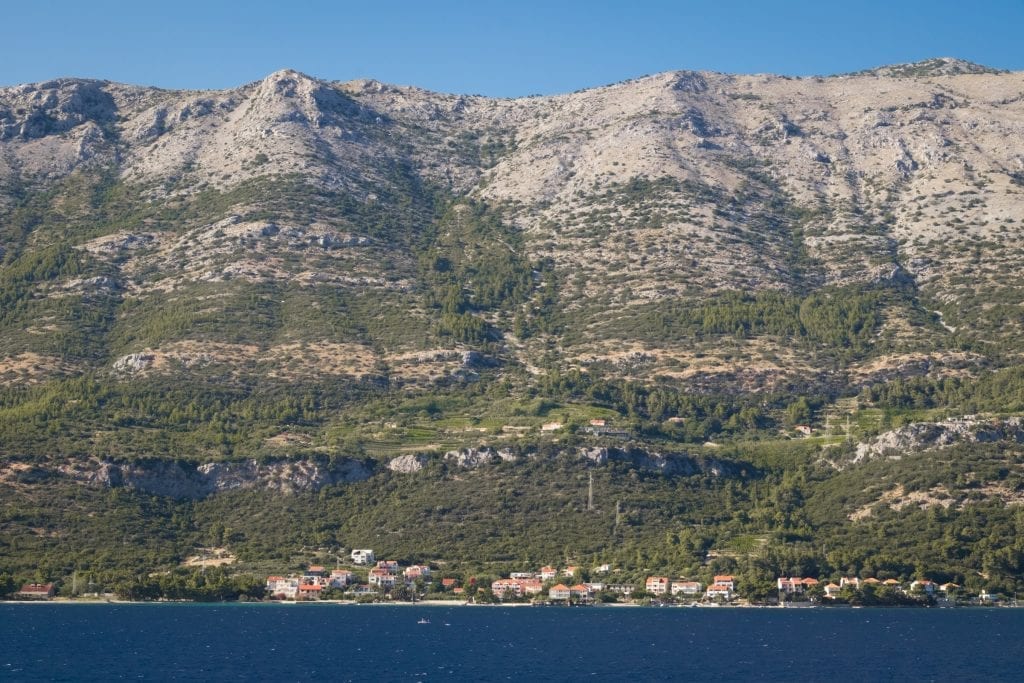 Day Trips from Korčula
Is there any reason to leave Korčula while you're there? Not really. There is enough on Korčula to keep you entertained for quite some time.
But if you're spending a week or so based in Korčula, and it's the only island getaway during your time in Croatia, you may want to see a bit more of the surrounding area.
There are two places I recommend visiting as a day trip from Korčula: Mljet and Pelješac.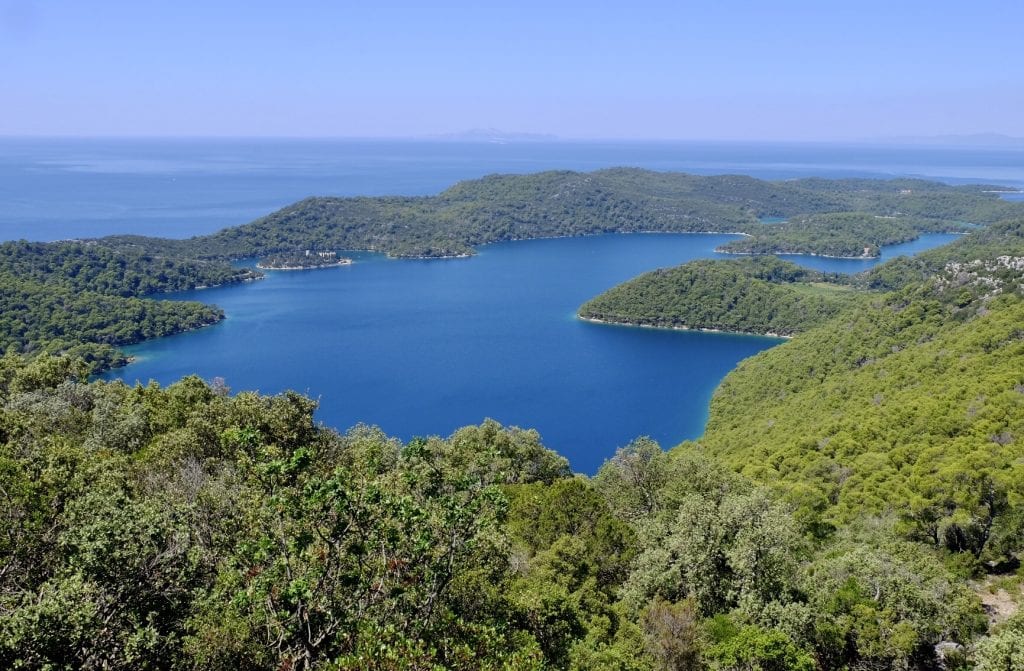 Mljet
Mljet is a gorgeous nature island and one of my favorite spots in Croatia. The western side of the island is home to Mljet National Park, filled with saltwater lakes and lush forests.
And because Mljet lies just east of Korčula, and the national park is on the western side of Mljet, it's quicker and easier to do as a day trip from Korčula than a day trip from Dubrovnik.
On Mljet I recommend swimming in the saltwater lakes, visiting St. Mary's Island in the lake, and exploring the small villages in the park.
If you have the stamina to hike on a hot day, I recommend climbing to Montokuc, one of the highest points on the island with spectacular views (including the photo above). It's about a 45-minute hike from the main parking lot in the national park.
You can do this as an independent day trip by taking the ferry from Korčula town in the morning to the town of Pomena, which is right on the edge of the national park. It's a 30-minute journey. The ferry returns in the afternoon.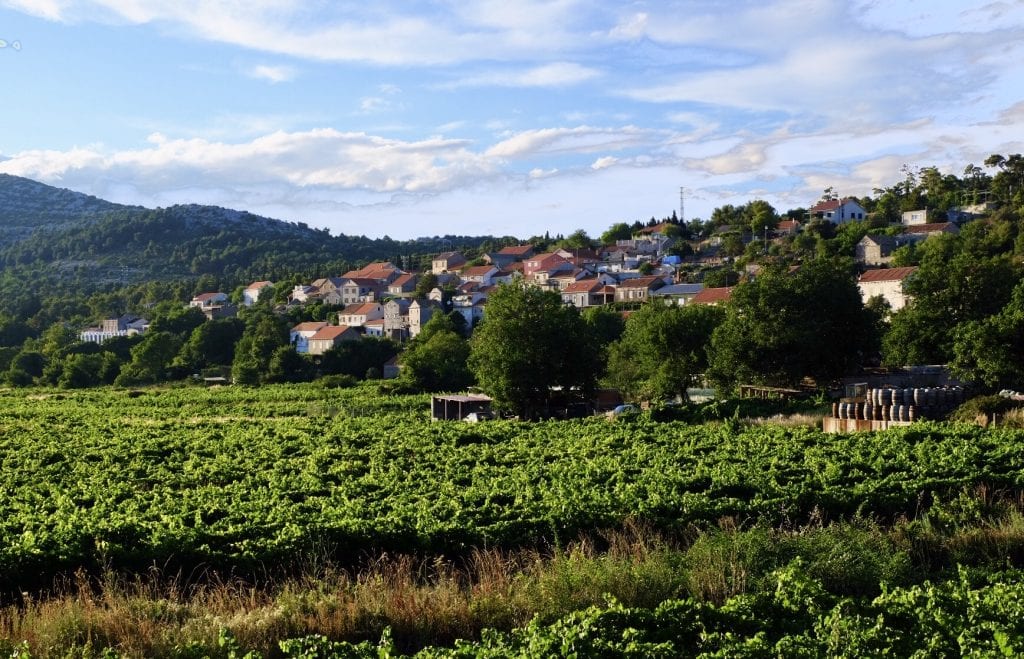 Pelješac
Pelješac (PELL-ee-yeh-shatz, or said quicker, simply PELL-eh-shatz), is the peninsula on the mainland just across from Korčula town. I spent a week in Pelješac and really enjoyed it — it's a casual and unpretentious part of Dalmatia that not a lot of Americans visit, but Europeans know and love.
If you're a wine fan in the least — and especially a red wine fan — you MUST visit Pelješac. They are home to the renowned Plavac Mali varietal of red wine, which also makes Postup and Dingač.
Dingač is a truly special deep red wine. If you like Zinfandel or Primitivo, you will LOVE Dingač. My favorite Dingač is from Bartulović Winery, a small family-run winery in the tiny town of Prizdrina.
Beyond wine, Pelješac is home to the town of Ston, home to world-famous oysters and the longest stone wall in Europe (!), Viganj, a chilled out windsurfing town; and Divna Beach near Trpanj, quite possibly the most beautiful beach in Croatia. The dramatic roads lead you to stunning views in every direction.
Alternatively, if you're driving from Korčula to Dubrovnik, I recommend leaving early and spending the day exploring Pelješac before driving to Dubrovnik. That is a GREAT way to spent a driving day!
You can independently visit Pelješac from Korčula. The ferry from Korčula Town to Orebić takes just 20 minutes. I recommend having a car to explore the peninsula and wineries (though of course, driving limits your ability to drink).
If you want to visit Pelješac independently from Korčula but don't want to drive, I recommend taking the ferry to Orebić, then walking to Korta Katarina winery, about a 25-minute walk from the ferry port. They do a wonderful gourmet tasting and the setting is gorgeous.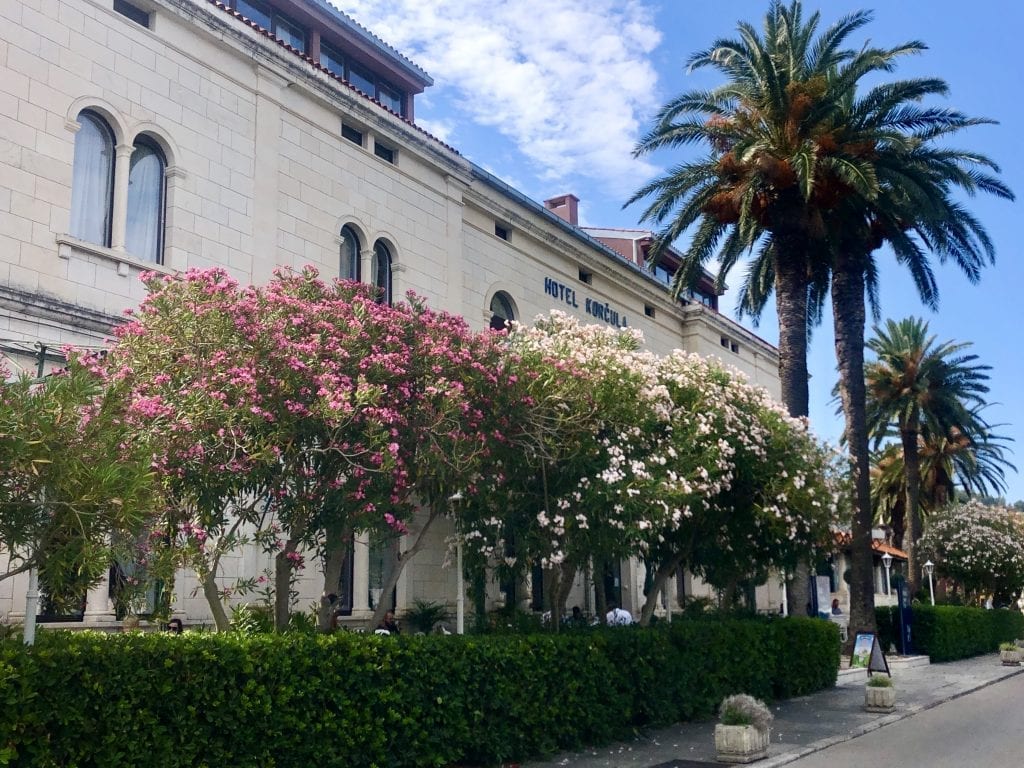 Where to Stay in Korčula
Korčula Town
Where's the best place to stay in Korčula? Most travelers stay in Korčula Town, which is where you'll find most of the activities on the island — but it's not your only option.
If you're only visiting Korčula for a few days, I recommend basing in Korčula Town, or possibly Lumbarda if you want a more relaxed experience. If you've got more time than that, consider spending a few nights elsewhere on the island to have a more well-rounded island escape.
Lumbarda and the rural countryside are solid options in addition to Korčula Town. I would skip Vela Luka; while it's Korčula's largest city, it's not nearly as charming as other spots around the island.
Top-Rated Hotels in Korčula Town:
Find deals on hotels and apartments in Korčula Town here.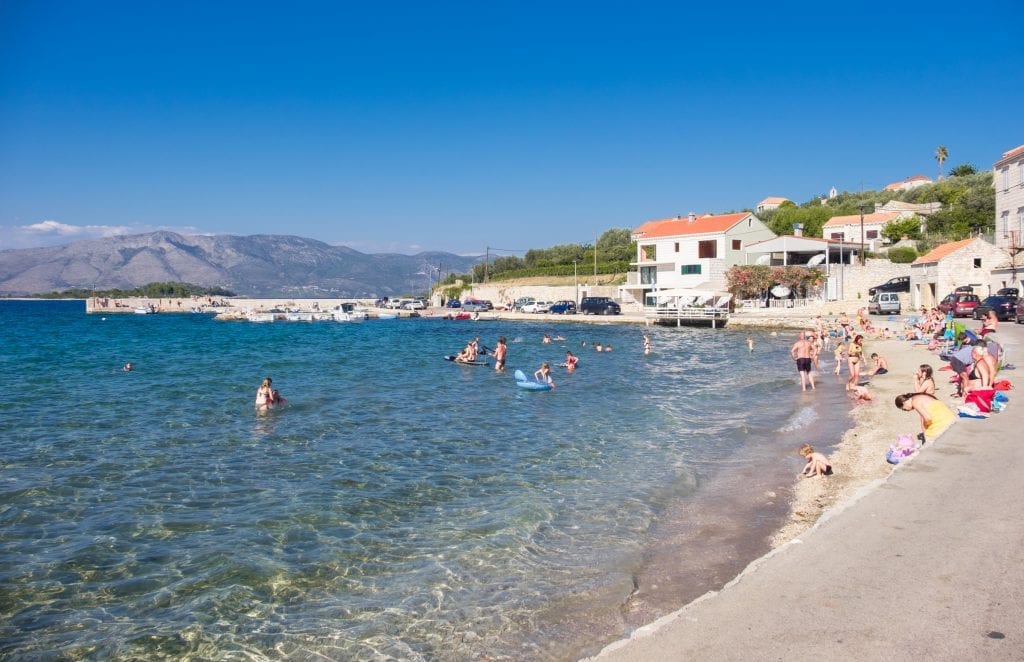 Lumbarda
An alternative to staying in Korčula Town is Lumbarda — a small town surrounded by the sea on three sides, filled with criss-crossing vineyards. Lumbarda is a short distance from Korčula Town — a 10-minute drive or short water taxi.
Lumbarda is where locals go when they want to get away. It's home to beautiful beaches, excellent restaurants (that are cheaper than the ones in Korčula's old town), and several top-notch wineries. It's not completely unknown, but it doesn't get nearly as many tourist crowds as Korčula Town.
If you'd like to spend time in a quieter, more relaxing town and have lots of beach time, Lumbarda is a great choice.
Top-Rated Hotels in Lumbarda:
Find deals on hotels and apartments in Lumbarda here.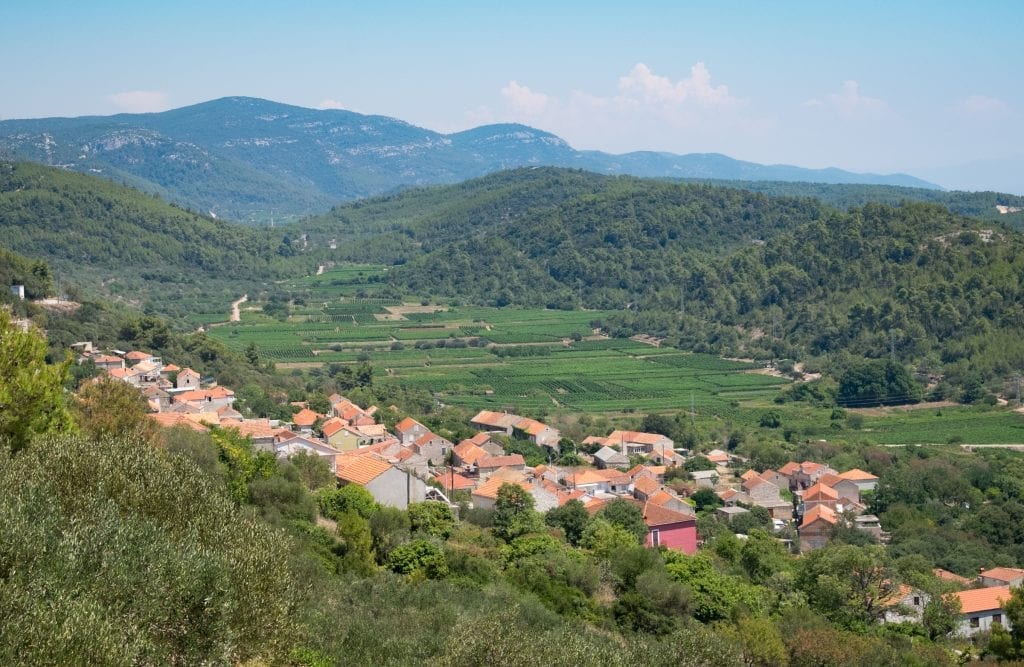 Countryside
Another option is to stay somewhere in the countryside, which can show you the other side of island life (not to mention save money). We stayed in the town of Žrnovo, which is only five minutes outside Korčula Town, but felt a world away. We chose Žrnovo because it's home to the Pinjac Brewery and we wanted to enjoy the beers without worrying about driving.
We stayed two nights at Apartment Manna, a comfortable, modern one-bedroom in Žrnovo, and highly recommend it. Warning: if you leave the door open, Bobby the ginger cat will come in and make himself at home!
Two other nice countryside towns I'd recommend staying in are Smokvica and Pupnat.
Top-Rated Hotels in the Korčula Countryside:
How to Get to Korčula Croatia
Korčula is an island without an airport, so the best way to get here is by ferry. But not all ferries go to Korčula Town, and not all ferries take cars. You can see the full list of ferry times and schedules here.
You'll want to fly into Split or Dubrovnik. Split tends to have more flight options. Check flights on Skyscanner to find the lowest prices.
How to Get to Korčula from Split
From Split, you can take the car ferry to Vela Luka on the western end of Korčula (3.5 hours).
From Vela Luka, you can drive to Korčula Town (40 minutes). There are also buses that can take you to Korčula town.
Keep in mind that at Split's ferry port, this boat will be labeled "Vela Luka" and not "Korčula."
You can check the ferry schedule here.
How to Get to Korčula from Dubrovnik
There is a passenger-only catamaran that goes from Dubrovnik to Korčula Town (two hours).
If you want to have your car, there's a better way: drive from Dubrovnik to Orebić on the Peljesač peninsula (two hours, and what a gorgeous drive!) and take the car ferry from there (20 minutes).
You can check the ferry schedule here.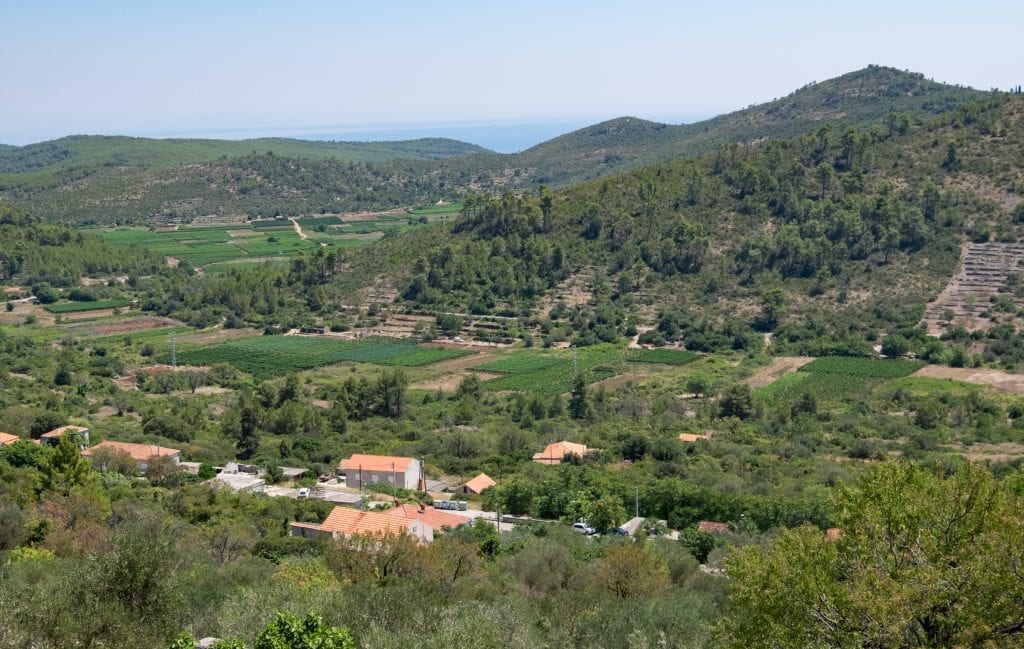 How to Get Around Korčula
If you plan to stick to Korčula Town, Lumbarda, and the immediate vicinity, you don't need a car. But if you plan on exploring the island in depth, visiting one of the small cove beaches, or getting into the countryside, I highly recommend renting a car.
If you're planning to explore beyond Korčula Town and Lumbarda, having a set of wheels is essential. If you arrive without a car, you can rent one — or, alternatively, rent a scooter.
There is limited public transportation system with buses that circle the island. See schedules on the Arriva website.
Finally, there's the hop-on-hop-off water taxi, which goes from Korčula Town to Badija to Vrnik to Lumbarda and back in reverse, which is a scenic way of getting to Lumbarda.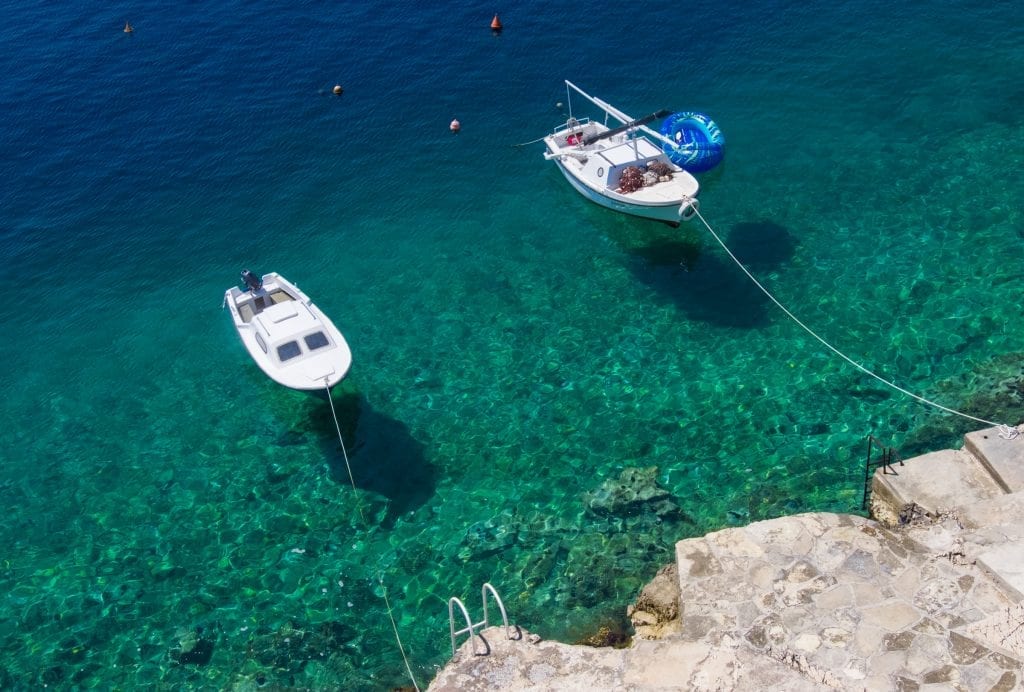 Best Time to Visit Korčula
The best time to visit Korčula is September — plain and simple. That is what I recommend for the best time to visit Croatia as well.
September is the sweet spot — you get summer weather, but the crowds have died down and the kids are back in school. Plus, the water is SO warm in September — you definitely don't get that same effect in May! You could even try early October for similar results.
Korčula's peak season is during the summer months, with peak crowds and prices in July and August. Many activities in Korčula are only running during the summer months, so if you're looking to enjoy the activities I wrote about in this post, June through September is your best bet.
Korcula has several food, wine, and music festivals that take place during the summer months.
Shoulder season, from April to May and from October to November, is an option for pleasant weather and smaller crowds, but know that some places will be closed and ferries won't run as often.
Croatia's Holy Week celebrations involve stunning processions — this can be a nice time to visit Korčula.
Much of Korčula shuts down in the winter months. I wouldn't recommend visiting at this time unless you were coming to do nothing, like if you wanted a quiet place to write a book for a month or so.
Read More: Best Time to Visit Croatia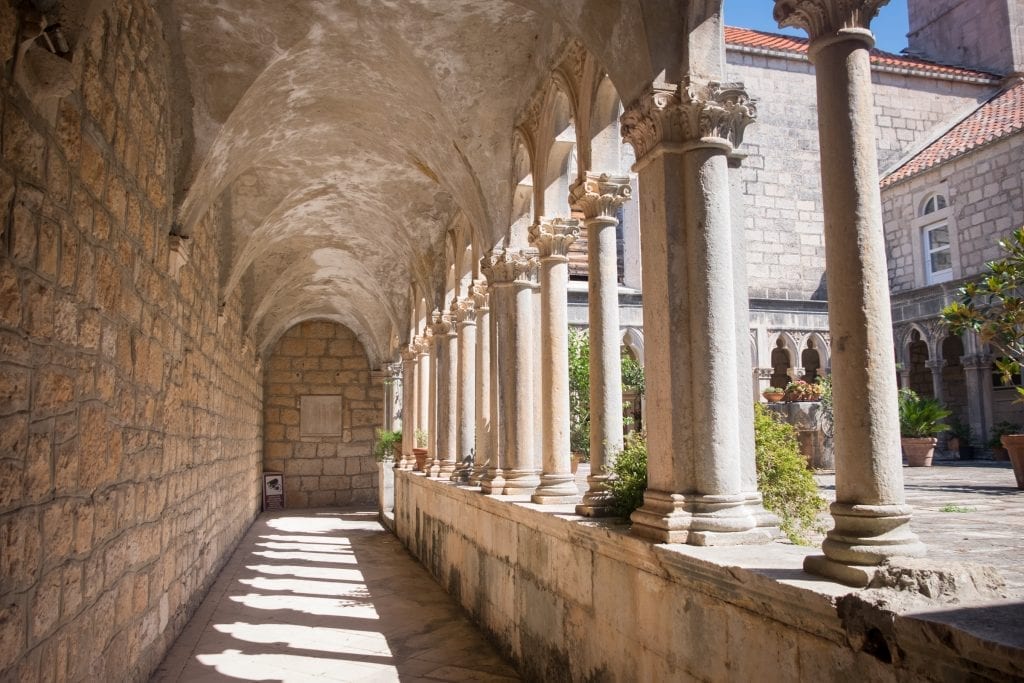 Travel Insurance for Croatia
A lot of people don't think it's necessary to get travel insurance for Croatia — after all, it's a safe country with decent healthcare. But you need it. If you get sick or injured on your trip, if you get robbed, or even if you have to be flown home, travel insurance will protect you from financial ruin. I've used World Nomads for trips to Croatia.
I have thankfully never needed to call my travel insurance for help while in Croatia — but I do have a friend who had to visit the hospital after being stung by a wasp in Split, one who sprained her ankle after falling down the steps in Dubrovnik, and one who got her wallet stolen and needed to go to the police station.
While Croatia's hospital prices aren't anywhere near what the US would charge you, you could end up paying a lot of money for a serious medical issue. But travel insurance protects you and refunds you for your costs. It's the kind of thing you don't know you need until you need it. See if World Nomads is right for you here.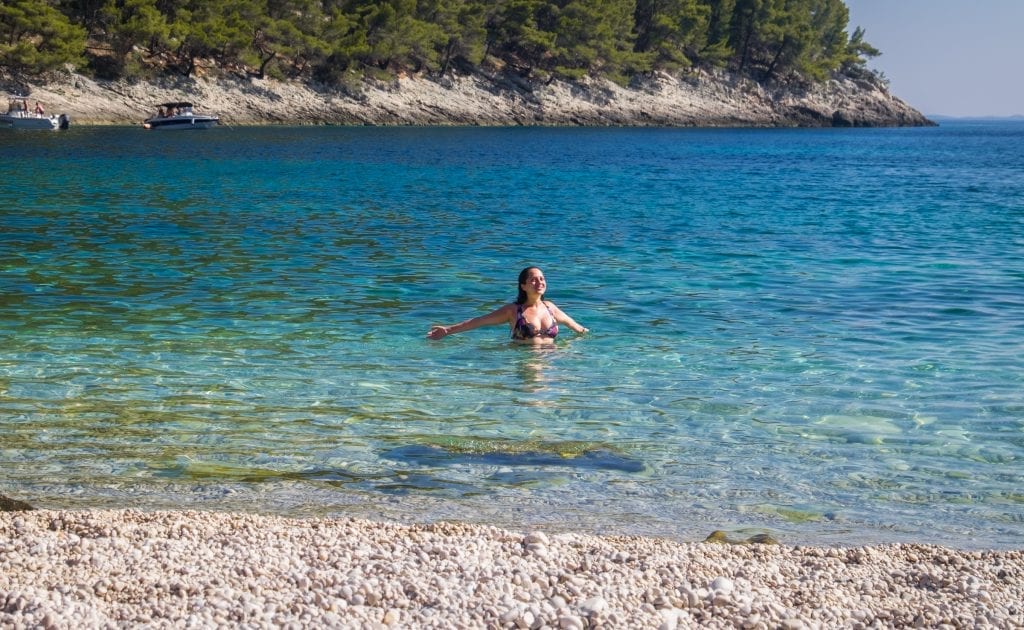 Korčula is waiting for you!
Korčula is a fantastic island — and it makes me so happy. I had a great time on my first visit to Korčula in 2012, but I had the BEST time when I came back years later and stayed a week.
I'm proud to call Korčula one of my favorite islands in the world. I can only hope that you enjoy it as much as I did.
Go to Korčula island, have a wonderful trip — then come back and tell me all about it!
Planning a Trip to Croatia:
Croatian Islands and the Dalmatian Coast:
Istria and the North: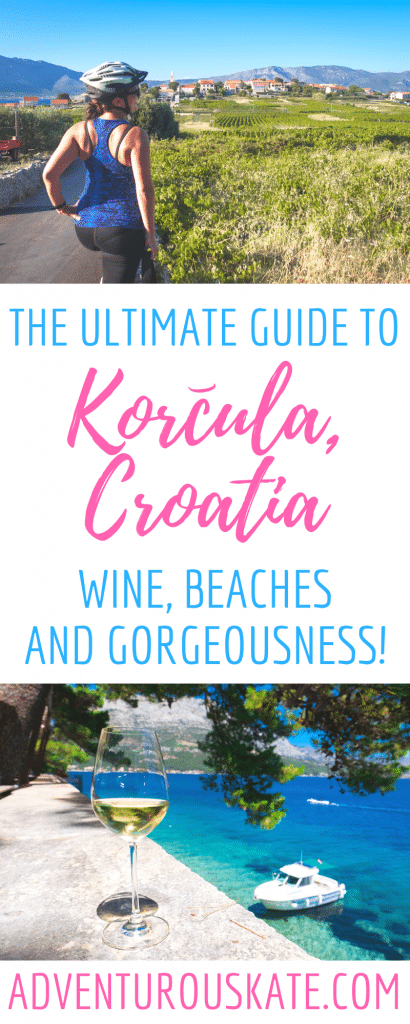 Many thanks to Korčula Tourism for supporting this trip in part. All opinions, as always, are my own.
Have you been to Korčula? Have any tips? Share away!