Adventurous Kate contains affiliate links. If you make a purchase through these links, I will earn a commission at no extra cost to you. Thanks!
If you want to see one of the most beautiful cities on the Adriatic Sea, you should travel to Rovinj, Croatia. Rovinj (pronounced ro-VEEN) is a surprise to most people who visit it.
Sure, this is technically Croatia — but Rovinj looks like it could be in Italy! Almost like an extension of Venice! And while Dubrovnik gets all the glory, I think that Rovinj is even more beautiful.
Rovinj is located in Croatia's Istria region, a heart-shaped peninsula that looks and feels a lot like Italy, its legacy as part of the Venetian empire until the 18th century. It's not just the olive trees, pasta dishes and pastel buildings — even the places have Italian names. (Rovinj's Italian name is Rovigno.)
READ MORE: Make sure you save my full Istria guide here for later!
Rovinj is a magical city — but like everywhere else in Croatia, you'll have a better time if you plan your trip carefully in advance. That's the point of this Rovinj travel guide: to show you how to plan a trip to Rovinj so you can relax and focus on being enchanted upon arrival.
This post was last updated in December 2022.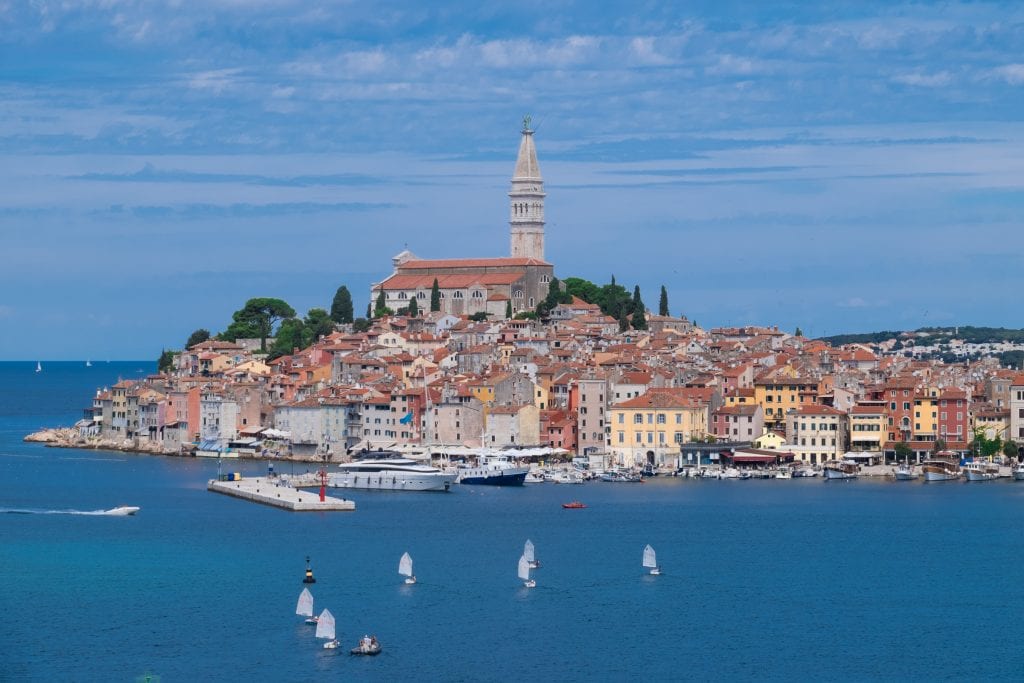 Why Travel to Rovinj, Croatia?
Why travel to Rovinj when you can go anywhere else in Croatia — or in Europe? I've traveled extensively in Croatia, including two full months of Croatian travel in summer 2020, and Rovinj is one of my favorite destinations in the country. Some of its qualities set it apart.
Rovinj is one of the best places in Croatia for photography. Just look at that image above! It's straight out of a fairy tale! The colors are earthy and vibrant, and there are lots of interesting details to shoot in the Rovinj old town.
Rovinj is an excellent base for road trips. The Istrian peninsula is small enough that you can go virtually anywhere in Istria within 90 minutes, making it possible to see cool places and not change hotels each day.
Rovinj is one of the better culinary destinations in Croatia. While most of the Dalmatian Coast tends to serve the same menu over and over, in Rovinj you have access to superb truffles, olive oil and wine, and inventive restaurants like Cap Aureo.
If you're a sunset junkie, Rovinj is a fantastic destination. The shape and curve of the city on the west coast means that you can get excellent sunset photos from lots of different angles.
What are some good things to do in Rovinj?
Some of the best things to do in Rovinj are exploring the old town, taking a day trip to Motovun, enjoying cocktails on the waterfront at sunset, and renting a bike to explore the nearby parks.
What's the best place to stay in Rovinj?
If you're looking for a truly special place to stay in Rovinj, you will love the Grand Park Hotel. The view from the rooftop pool is UNREAL!
How do you pronounce Rovinj?
Rovinj is pronounced ro-VEEN.
What's the best time to visit Rovinj?
My favorite times to visit Rovinj are September and June. If you're okay with warm but not lie-on-the-beach weather, May and October are very nice times to visit Rovinj. July and August are extremely hot and crowded. Overall, the best months to visit Rovinj are May, June, September, and October.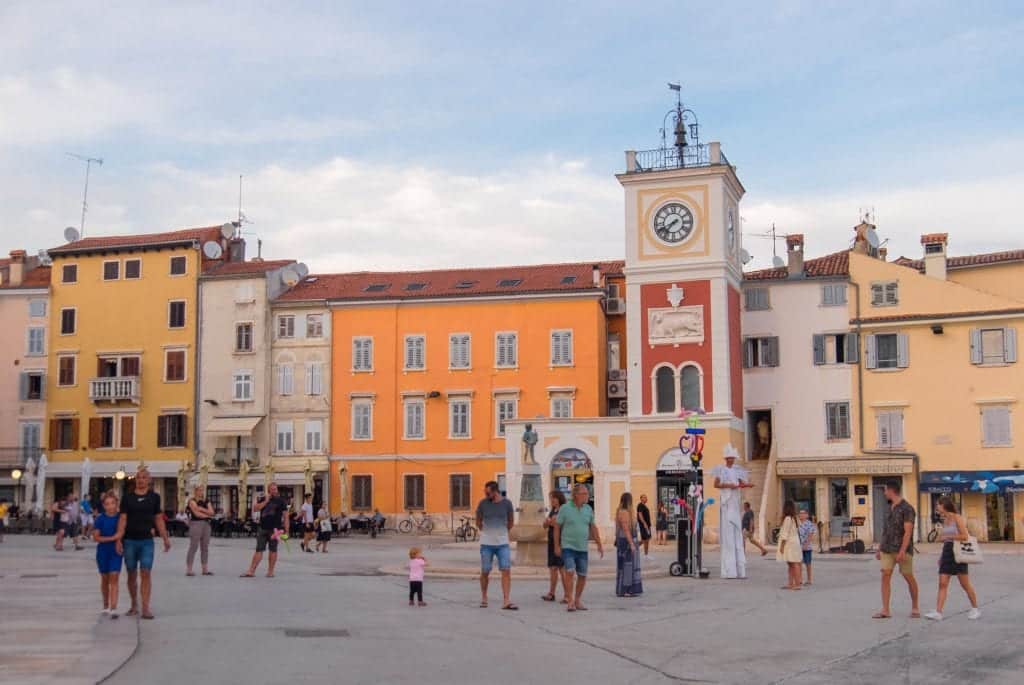 Best Things to Do in Rovinj
Rovinj is a small city, and so many of its pleasures come from aimlessly walking through its narrow streets. A lot of people are happy to simply relax in Rovinj, but if you're looking for more activities, there are a lot of great things to do.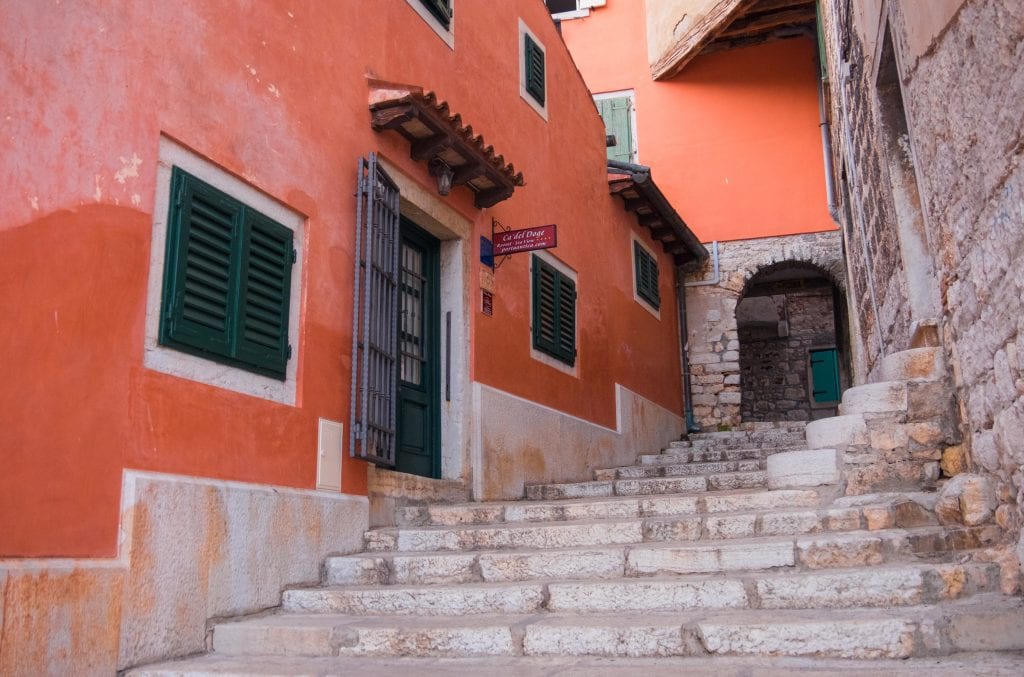 Explore the Old Town of Rovinj
The first thing you have to do is get out and explore the old town! This car-free old town is a great place in which to get lost. On the main streets you'll find lots of small shops selling local art and products like olive oil and truffles. There are so many hidden nooks and crannies to photograph.
Don't miss Grisia Street, the artists' street filled with interesting shops and art galleries.
You'll want to wear decent shoes, as you'll be walking up very steep hills, climbing lots of stairs, and many of the cobblestones are smooth to the point of being slippery. This is not the place for stilettos! If you've got the right footwear and stamina, it's a great way to spend a morning.
Note that Rovinj's old town is challenging for people with mobility difficulties due to the steep hills, super-smooth stones, and stairs. The edges of the old town and edges along the waterfront are accessible by wheelchair.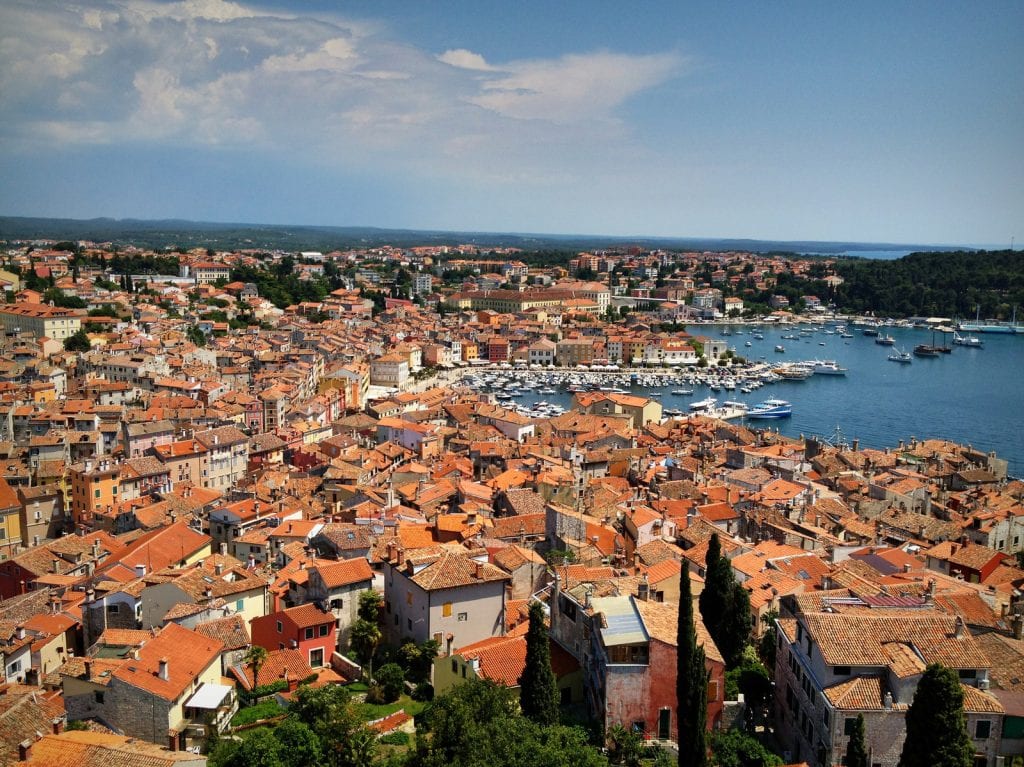 Climb to the Top of the Church of St. Euphemia
The bell tower of St. Euphemia Church is that steeple you see sticking out over the top of Rovinj. Can you climb to the top of the bell tower? You absolutely can!
Ordinarily, I'm a bit divided over seeing the view from the tallest place in town — it means that your photos are missing its most obvious landmark. (Classic example: photos from the top of the Eiffel Tower don't contain the Eiffel Tower!)
But that's not the case here. The view from the top of St. Euphemia Church is outstanding, taking in the harbor, islands, and 360-degree views of the landscape.
The spectacular views from the top are well worth the climb.
Explore Zlatni Rat Park and St. Katarina Island
One of the best ways to enjoy the outdoors in Rovinj Croatia is to explore the parks in the surrounding area.
Zlatni Rat — yes, Golden Horn, the same name as that famous beach on Brač island — is a park just south of the city and the oldest protected site in Istria. It's also known as Golden Cape Natural Park. Here you can enjoy walking and biking trails along with pebbly beaches.
A nice way to get to Zlati Rat is on a bike. You can rent bikes for adults and kids at Song Bike Rentals in the heart of Rovinj. If you're more ambitious, you can explore a lot of the surrounding region by bike!
Another option is to visit St. Katarina Island. Boats make the five-minute journey from Rovinj's old town every hour. The eastern side of the island is home to pebble beaches with a spectacular view of the city; the western side is home to some tall cliffs (and daredevils who love to jump off them!).
Rovinj Beaches
Is Rovinj a beach destination? Honestly, I wouldn't call it a beach destination. The city beaches aren't nearly as good as Dubrovnik's; you need to get away from the city to find the nicest beaches.
But you will find some nice slabs of rocks on the edge of the old city. If you don't mind hanging out on a hard strip of rock, they make a stunning place to sun yourself for a few hours. Otherwise, they're nice for a quick dip.
There are better beaches at Zlatni Rat Park, on St. Katarina Island, and further up and down the coast. My favorite slab beaches are in Kamenjak, at the bottom of the Istrian peninsula.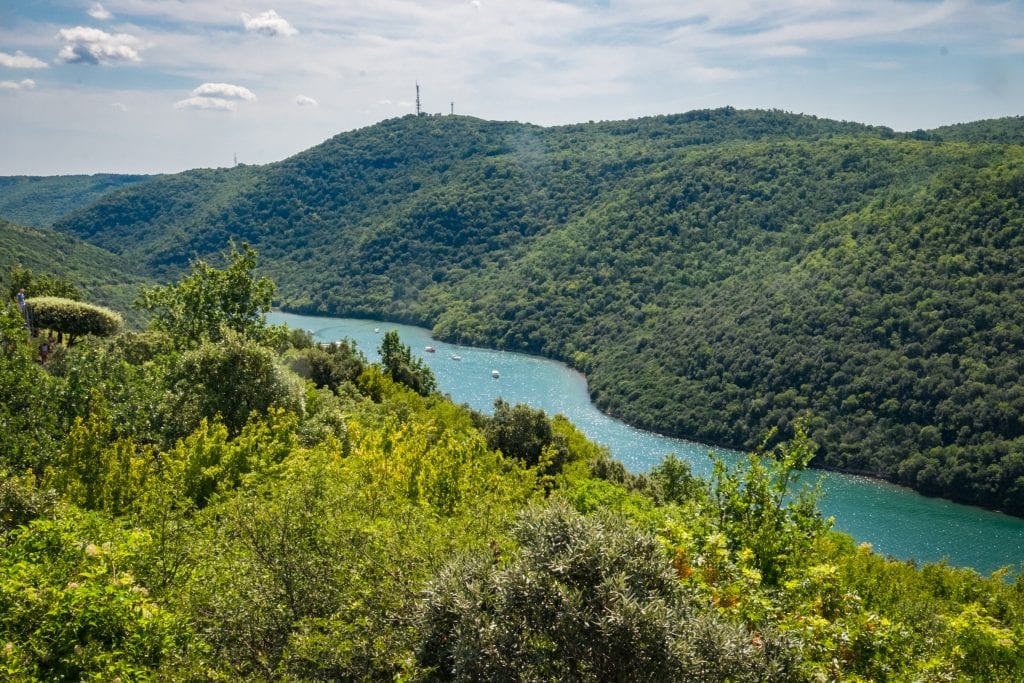 Explore the Lim Fjord
Lim Fjord, or Channel, is one of the popular day trips by boat from Rovinj. This natural channel, a sunken canyon, once served as a divider between the regions of Dalmatia and Italia in Roman times. The channel is filled with hot springs and attracts a diverse array of wildlife, including lots of delicious fish and shellfish.
There are lots of boat tours direct from Rovinj. Most tours take you directly into the channel, showing you the nature and serving a seafood meal. You can book direct from tons of companies within Rovinj.
If you're driving to Poreč or other points north, there are lots of free viewing platforms to photograph the Lim Fjord, like this one. (You'll notice that the light isn't great in this photo. It was taken around noon. You'll have better light in the late afternoon.)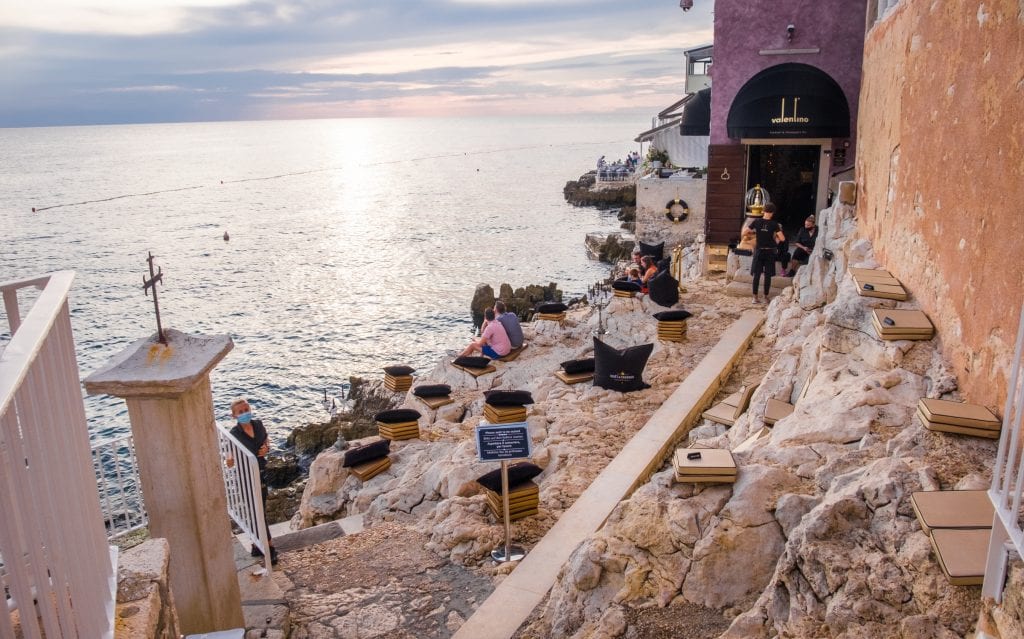 Sip sunset cocktails at Valentino
Along the waterfront in Rovinj, there are countless bars and restaurants where you can drop in for a drink and a view of the sunset. Most of them are pretty standard places to get a gin and tonic — or a glass of Malvasia, an Istrian white wine.
But if you want something more special, go to Valentino. This sophisticated beach bar is on the edge of the sea and carved into the natural rocks. With a view facing westward, you have a perfect view of the sunset!
The cocktails definitely aren't cheap (they were around 100 kuna, or $15 — essentially, New York City cocktail prices). But it's nice to go somewhere where you can feel pampered, and you can't beat the setting!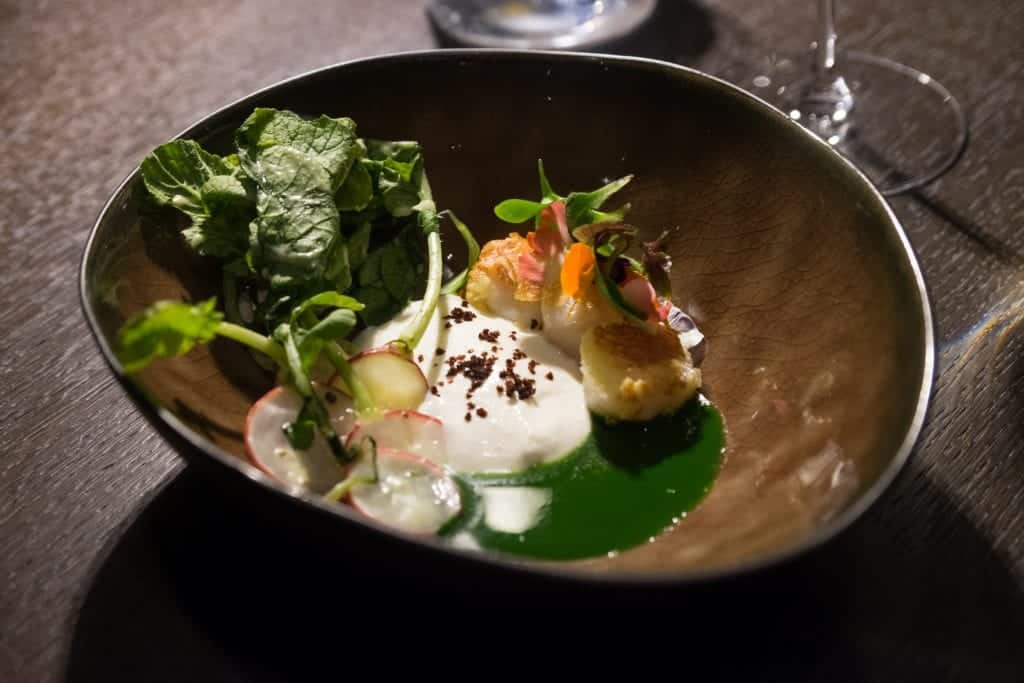 Have a wildly inventive meal at Cap Aureo
I had one of the most creative meals of my life at Cap Aureo at the Grand Park Hotel, who hosted me for dinner. Cap Aureo serves a menu entirely of small plates, each of which serves as a building block in a story, and the servers can guide you through choosing an appropriate collection of plates.
These are some of the most inventive dishes I've ever seen! A Leek Wellington — just like a Beef Wellington, but putting the humble vegetable center stage. Scallops with horseradish (pictured above) were outstanding; plums with cinnamon and pepper made a tasty dessert. And I adored a high-end spin on an Istrian childhood favorite: fried dough with kajmak (a creamy cheese) and truffle.
The most inventive dish? Squid cacio e pepe. As in the squid was the pasta! Rings of squid were sliced into pasta-like thickness and served in the cheese with pieces of plump pink shrimp. What a crazy idea.
If you're looking to splurge on exactly one meal on the Istrian coast, cash in all your chips at Cap Aureo. This is the best restaurant for a meal you'll be talking about for weeks.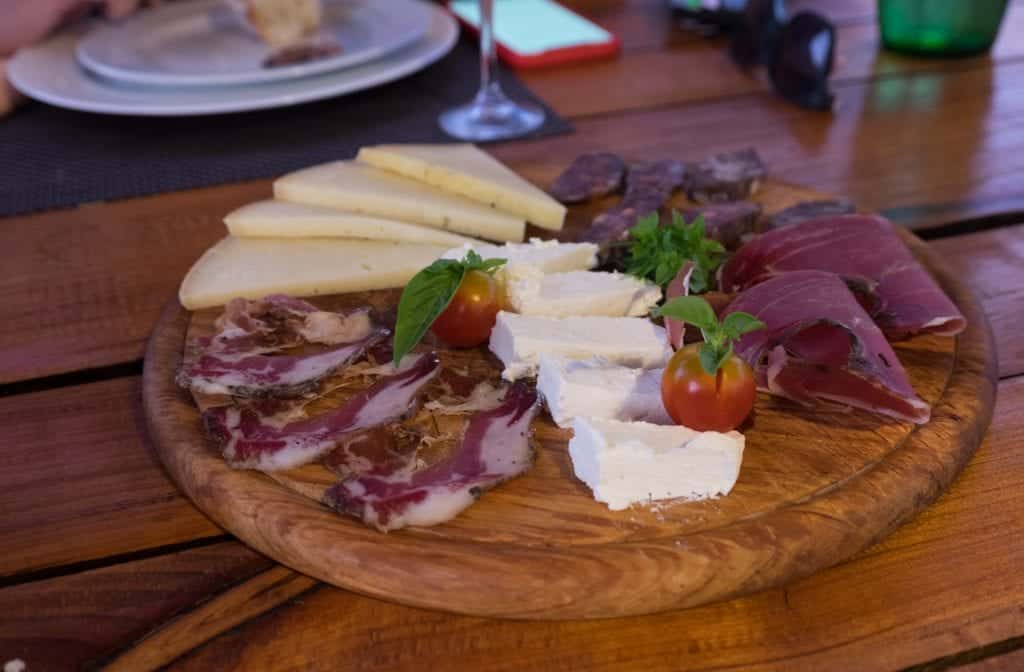 Enjoy a meal in the countryside at Agroturizam Valrosa
My boyfriend Charlie got his hair cut in Rovinj and asked his barber for a dining recommendation. He enthusiastically recommended Agroturizam Valrosa, a farm just outside the city. Far from the crowds of the waterfront, this farm was a rustic, welcoming experience.
The farm is run by a father and son, Sandro and Viktor. Viktor quit his job as the Food and Beverage Director of a five-star hotel to start the Agroturizam with his dad! He's loving the simpler, less stressful lifestyle and getting to spend more time with his family while showcasing the best of Istria to visitors.
We were treated like royalty here! There is no fixed menu, but they kept making suggestions and bringing us way more than we asked for. Everyone kept coming over to suggest more food and make sure we were having a good time!
Best of all, there were lots of kittens running around the farm, most of whom kept their distance from us. "If you can catch one, you can take it with you," Viktor told us. WHAT. We literally had to talk each other out of taking a kitten with us!
I recommend taking a taxi to Agroturizam Valrosa so you don't have to keep turning down all the homemade wines and liqueurs they keep bringing you. If you're not drinking, feel free to drive yourself.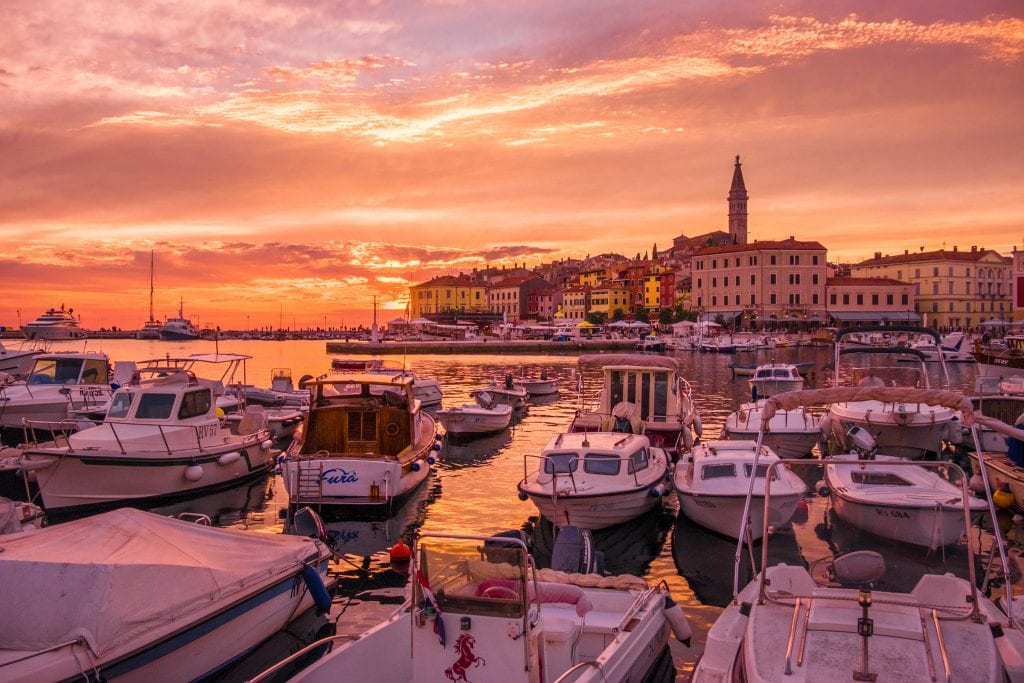 Catch the sunset from every angle.
Rovinj is brilliantly situated for sunsets, thanks to its curvy waterfront. You can get different colors from different angles.
If you're spending several days in this charming town, try to catch the sunset at several different spots. Oh, I miss Rovinj's sunsets so much!
Best Day Trips from Rovinj
The good news is that virtually everywhere in Istria is within a 90-minute drive from Rovinj. You can go anywhere in Istria — inland hill towns, coastal cities, protected nature areas — as a day trip. On this list I'm not going to give you a list of 60 options, but instead single out my personal favorites.
Here is a list of my recommended day trips from Rovinj: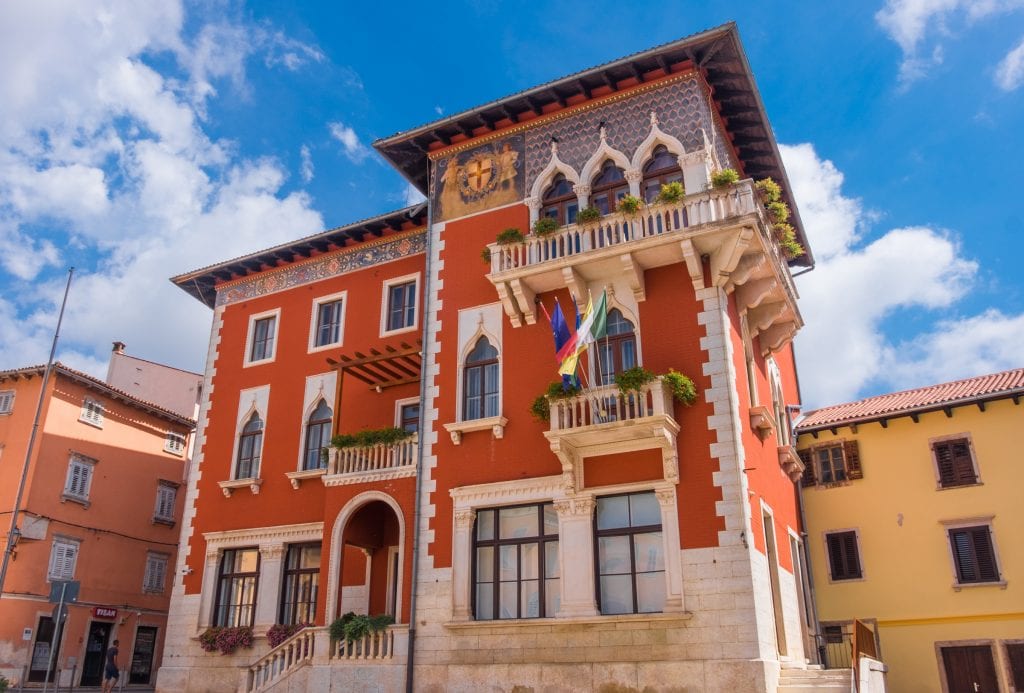 Vodnjan and Bale
If you're staying in a seaside town in Istria, it's good to visit some inland towns as well to get to know the diversity of the region. Vodnjan and Bale are two inland towns located just outside Rovinj and it makes a lot of sense to pair them together.
Bale is a pretty little town that is nice to walk around for a bit. When I first visited Istria in 2012, I was a huge fan of Kamene Price, a combination cafe, guesthouse, and jazz bar — and I was delighted to see it going strong in 2020! Even better? This quirky cafe is filled with art, features musical performances, and it's for adults only (very rare in the extremely family-friendly country of Croatia).
Vodnjan is one of the more unique small towns in Istria. That blood-red building in the photo above is one of the most photographed buildings in Istria. The town is full of interesting murals and street art — very uncommon in Istria.
But most memorable are the mummies. Vodnjan's Church of St. Blaze is home to more than 300 Christian relics — and the mummified bodies of six saints. They're hidden in the back of the church, and no, they may not be photographed. It's a spooky experience you won't forget anytime soon. Visiting the church itself is free; seeing the mummies costs 50 kuna ($8).
How much time do you need in Vodnjan and Bale? You don't need a ton of time. Half a day could be sufficient for visiting both towns.
How far are they from Rovinj? Bale is an 18-minute drive from Rovinj; Vodnjan is a 30-minute drive from Rovinj.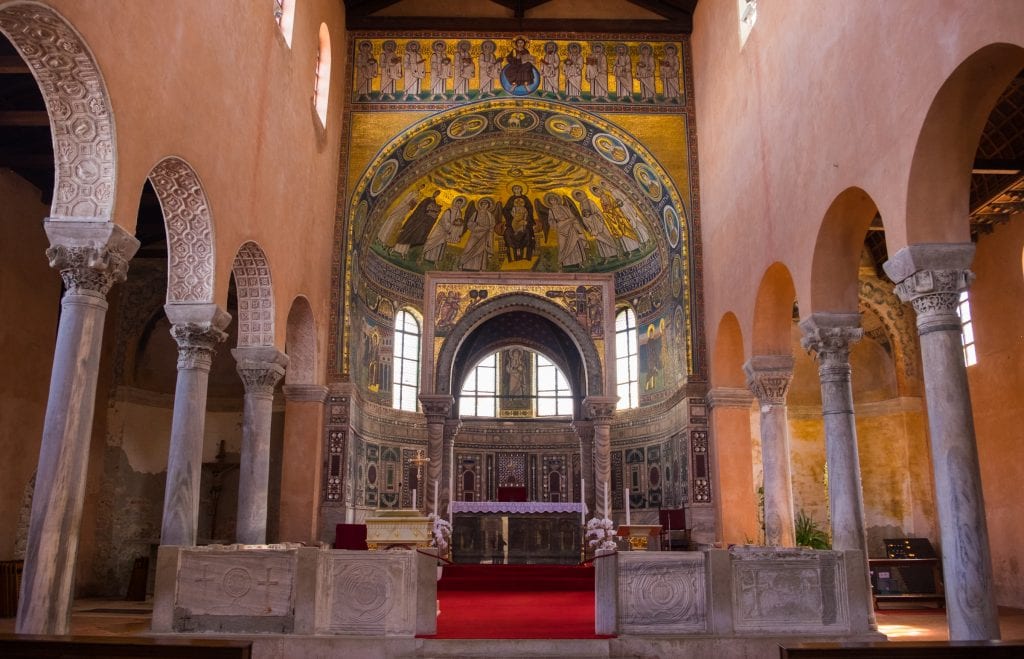 Poreč
In many ways, Poreč seems like a "baby Rovinj" — just up the coast (thought you need to drive all the way around the Lim Fjord to get there), a similar coastal look, and not as stunning, though a perfectly pleasant place to visit.
But there is one special thing that should draw you to Poreč — the Episcopal Complex of the Euphrasian Basilica. This is the one and only UNESCO World Heritage Site in all of Istria, and it dates back to the 4th Century. The complex is located right in the heart of old town Poreč, with several different rooms and sections, many of them with interesting architecture.
It culminates in the Basilica itself, with classical Roman columns and Byzantine mosaics. Entry is 50 kuna ($8).
Beyond that, Poreč has a lovely and colorful old town to explore, similar to Rovinj's — but much flatter!
How much time do you need in Poreč? Honestly, I got in and out of Poreč in 90 minutes, spending most of my time on the Basilica, though I didn't take much time to explore the town. I don't think you need more than a half day. If you want a more robust day trip from Rovinj, you could add visits to the nearby coastal towns of Vrsar and/or Novigrad.
How far is Poreč from Rovinj? Poreč is a 40-minute drive from Rovinj.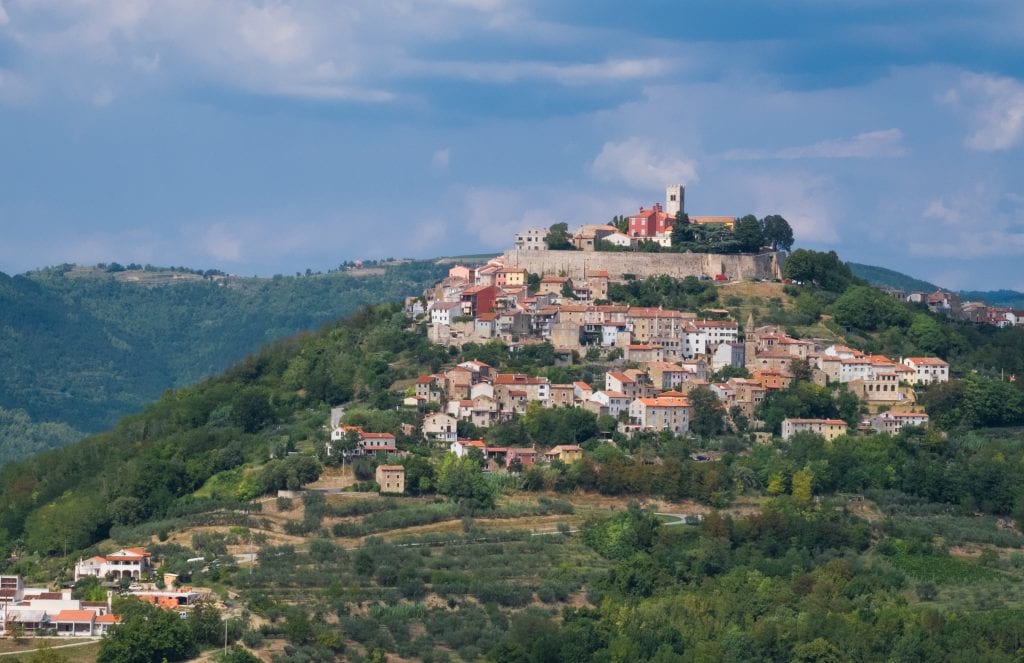 Motovun and Grožnjan
Motovun is the most famous hill towns in Istria, and you'll know it when you see it! You're driving along flat road, and all of a sudden a giant hill appears, a town improbably built on top of it. Just driving up to Motovun is an adventure.
Motovun is a lovely place to wander (but do note that the city center is car-free, requiring a steep walk up cobblestones and back again, making it tough for people with mobility challenges). There are several restaurants overlooking the view. I recommend getting fuže pasta with truffles and a glass of white Malvasia wine! Also, don't miss walking the city walls. If you're lucky, you might see some paragliders soaring through the air!
Once you leave the city, here's a special tip: the best view of Motovun is from a restaurant south of the city called Fast Food Vidik. That's where the photo above was taken.
And if you're into wine, definitely plan a stop at Roxanich, a family-owned boutique wine hotel at the base of the town. Roxanich hosted me for three nights, and it's a superb place to stay if you're exploring inland Istria. They do really unusual things with Croatian wines that you can't find anywhere else.
Just 20 minutes from Motovun is Grožnjan, one of my favorite small towns on the planet. Grožnjan is a tiny, impossible pretty little town, home to artists and musicians. You will love dipping in and out of the galleries, and in the summer months, it's home to a classical music school — so you hear musicians practicing from every corner of the town! It's magical.
How much time do you need in Motovun and Grožnjan? Plan on a full day, starting in Motovun and staying there for lunch. Save Grožnjan for the afternoon. If you have time to spare, you can add on a visit to the town of Buje, a 10-minute drive from Grožnjan.
How far are Motovun and Grožnjan from Rovinj? Motovun and Grožnjan are each a one-hour drive from Rovinj.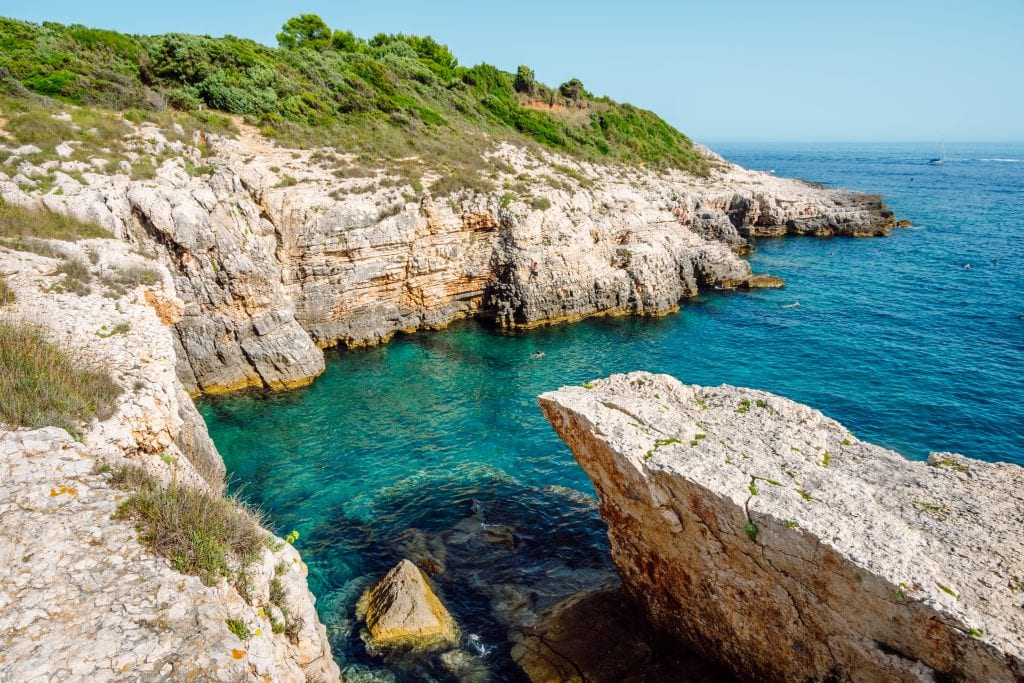 Kamenjak
Are you looking to explore the outdoors of Istria? I highly recommend Kamenjak, the cape at the southern tip of the Istrian peninsula, just south of the town of Premantura. Kamenjak is a protected area home to stunning rock slab beaches and clear teal water.
Some of the beaches in Kamenjak are low-key and more for families; others are tailored for daredevils with their high cliffs. It's the kind of destination to explore randomly and find your perfect place, maybe stopping to rent a paddleboard or kayak. Definitely don't miss the Safari Bar, a jungle-like attraction right near the cliffs.
A one-day entrance pass to Kamenjak via car costs 80 kuna ($13).
How much time do you need in Kamenjak? You know yourself best when it comes to beach time — either an afternoon or a full-day. Be sure to stop for an ice cream in Premantura on your way back.
How far is Kamenjak from Rovinj? Kamenjak is a one-hour drive from Rovinj.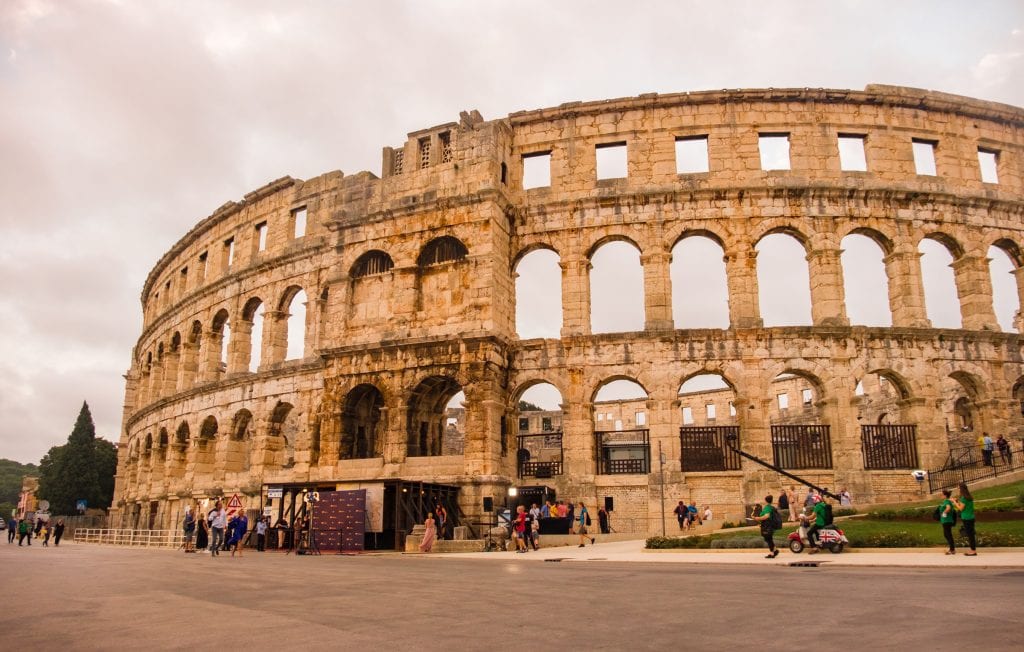 Pula
Pula is the largest city in Istria, and it's famous for its Roman amphitheater (also known as the Arena). A lot of people prioritize Pula on their Istria itineraries, and some even choose to stay here.
But if you're staying in Rovinj, Pula isn't going to impress you. It's larger, rough around the edges, and not nearly as pretty; with the exception of the Arena, Rovinj has everything that Pula has. For that reason, I think it's worth a short visit, especially if you're into Roman ruins, but not worth devoting a full day here.
Pula is also home to a restaurant I always visit whenever I'm in the area: Jupiter Pizzeria. That black truffle pizza is sensational!
How much time do you need in Pula? I think most people would be happy with just half a day. Here's a tip: if you're going to Kamenjak, hit up Pula on the way back to Rovinj to check out the amphitheater, stroll the old town, and get pizza at Jupiter Pizzeria.
How far is Pula from Rovinj? Pula is a 45-minute drive from Rovinj.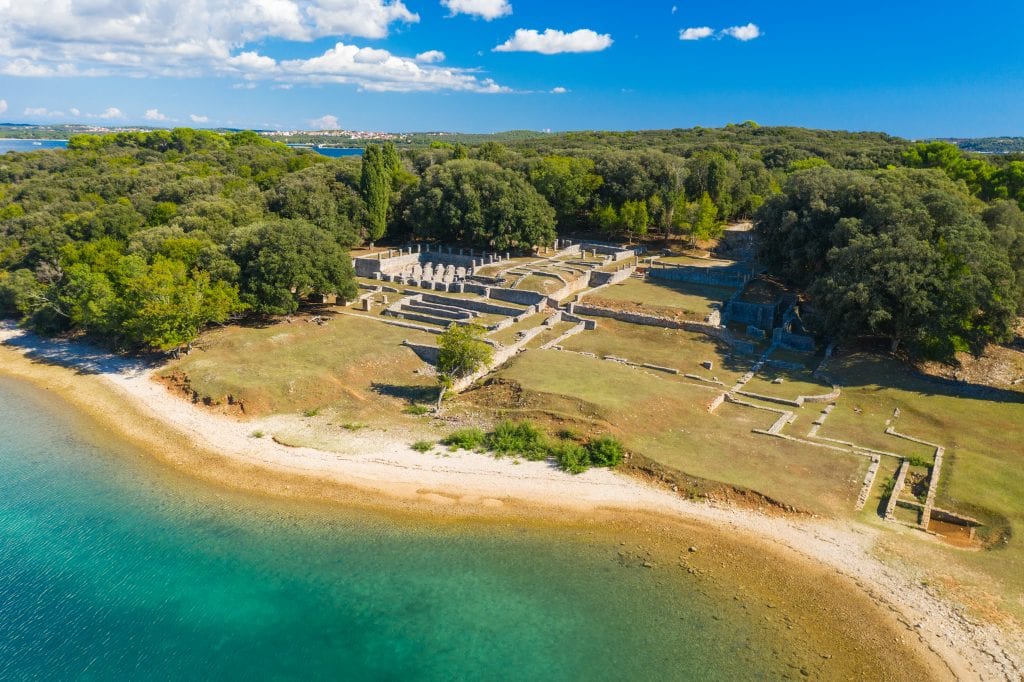 Brijuni
The Brijuni Islands are an archipelago of 14 islands off the coast of southwest Istria. Their claim to fame? Yugoslav president Tito had his summer residence here. Today, it's a wonderful getaway from the mainland.
Ferries take you from the town of Fažana on the mainland to Veliki Brijun, the largest of the islands. From here you can take a train tour around the island, see Tito's animals (including a 60-year-old talking parrot named Koki) at the safari park, visit a 1600-year-old olive tree and Mediterranean Garden, take in a theater performance at the Ulysses theater, and more.
A ticket to Brijuni includes round-trip ferry tickets from Fažana as well as the train tour, safari park admission, Mediterranean Garden and Old Olive Tree admission, and a visit to the permanent exhibit displays. High season tickets cost 230 kuna ($36).
How much time do you need in Brijuni? You should plan for a full day in Brijuni, considering the ferry schedule and all there is to do. There are several restaurants for lunch.
How far is Brijuni from Rovinj? Fažana is a 35-minute drive from Rovinj; Veliki Brijun is a 15-minute ferry ride from Fažana.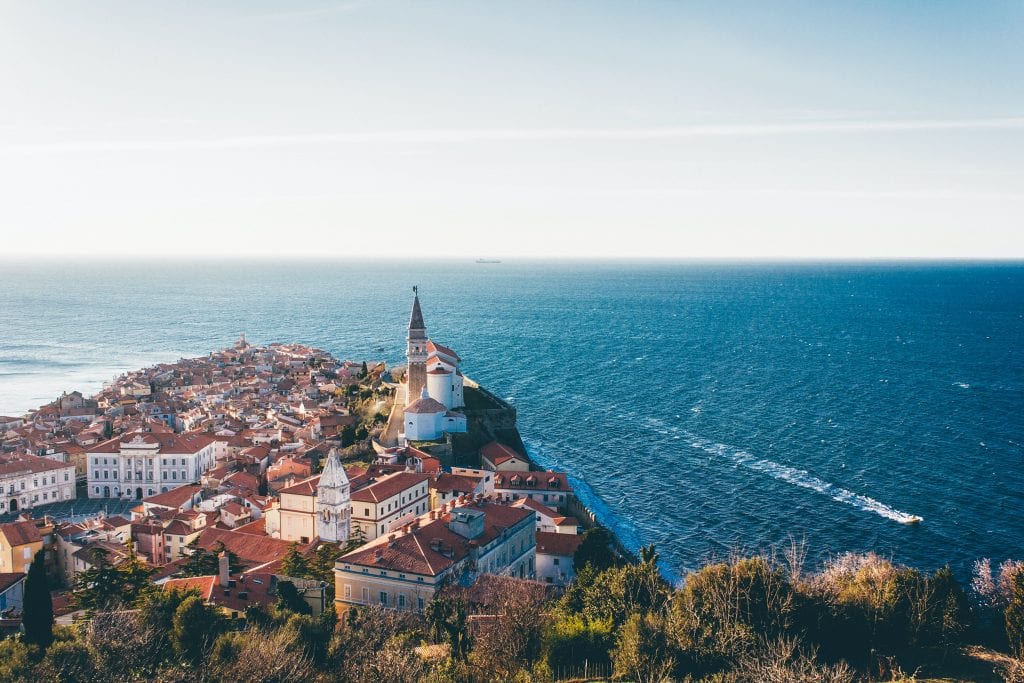 Piran, Slovenia
Visit another country for the day? Why not?! Rovinj is very close to the Slovenian border and just past the border is the lovely city of Piran, the loveliest gem on Slovenia's whisper of a coastline.
Piran is a beautiful town, but frankly, it's not that different from Rovinj. It has a very similar look and culture. I understand the urge to check off a brand new country on your list, but if you're going to do Slovenia, take three or four days and DO SLOVENIA. Ljubljana, Bled, Bohinj, Idrija, the Skocjan Caves…it's a gorgeous country and very compact, making it easy to see more in a short period of time.
How much time do you need in Piran? A full day will give you the amount of time you need.
How far is Piran from Rovinj? Piran is a 90-minute drive from Rovinj. Keep in mind that there may be a long wait at the border.
READ MORE: The Ultimate Slovenia Road Trip Itinerary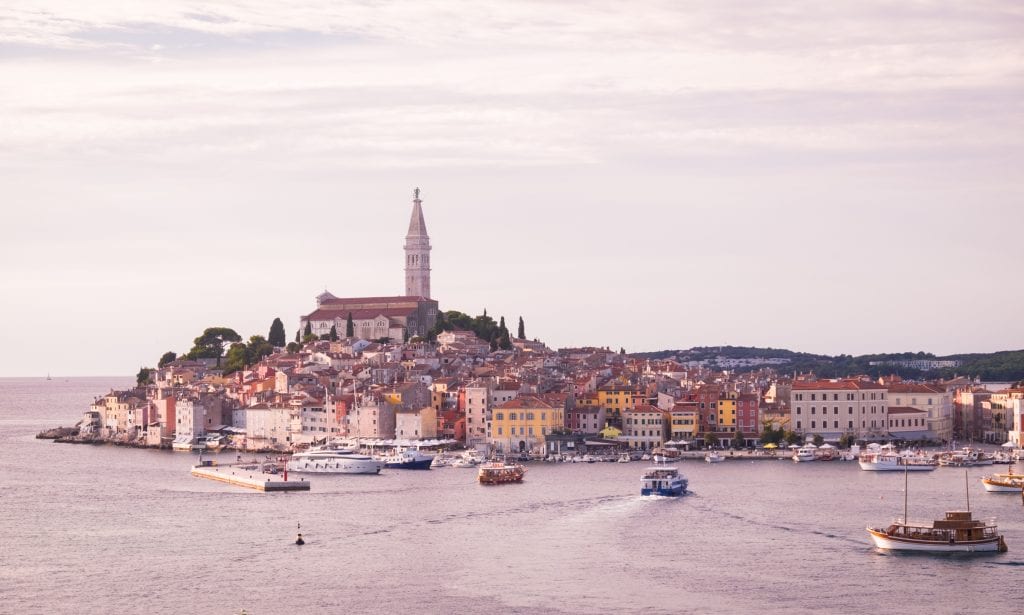 Where to Stay in Rovinj
Rovinj is a small city, and as long as you're within a short walk of the old town, you'll be in good shape. (Keep in mind that many properties that claim to be in Rovinj are often far away; double-check the walking distance on Google Maps.)
Cars are not allowed in the old town of Rovinj. If you have a car with you, you're going to have to either find accommodation that provides parking or use one of the parking lots on the edge of the city.
Grand Park Hotel
On this trip I stayed at the Grand Park Hotel, who hosted me for three nights. This is one of the best five-star properties in Rovinj, and it has the best view in town. We arrived after a long drive from Split, just as the warm colors of twilight were beginning to hit Rovinj, and I immediately ran to the bar to photograph it!
This is a beautiful hotel with a new, modern design. Each of the rooms are built on terraces covered with plants, looking out upon the city of Rovinj. Everything feels intentional and specific here, and that adds to the experience. Everything is a delight to look at.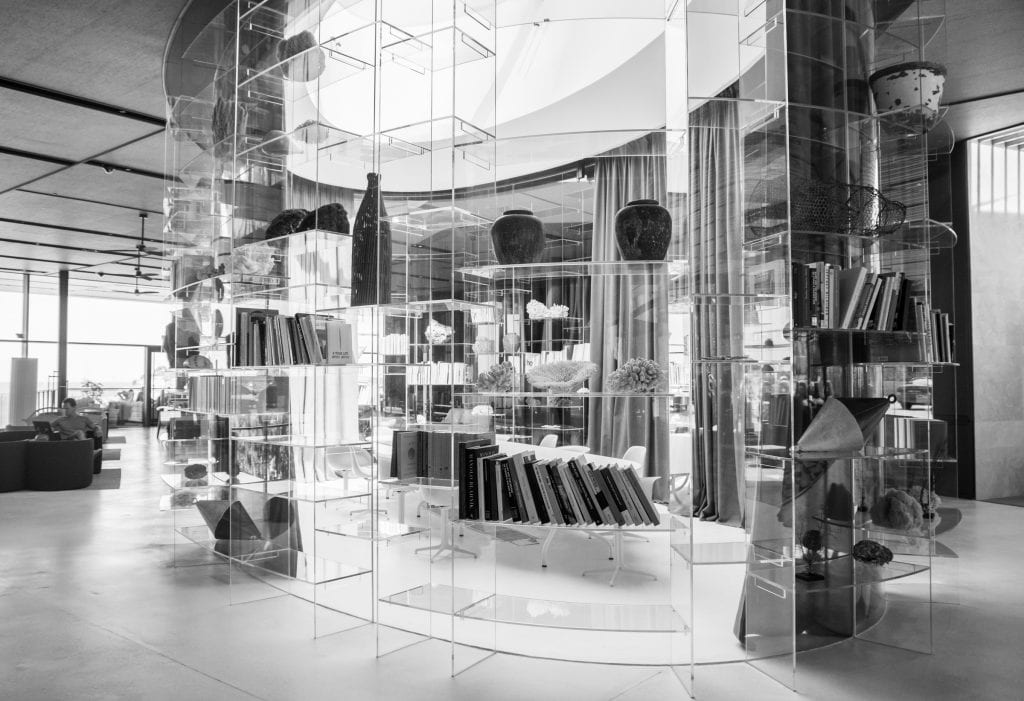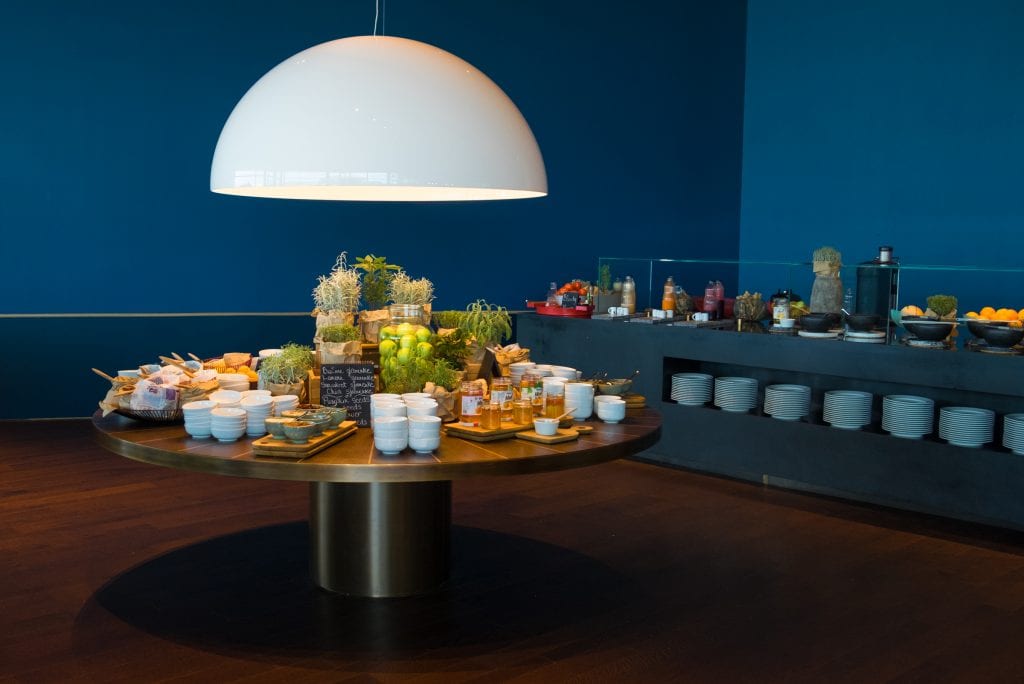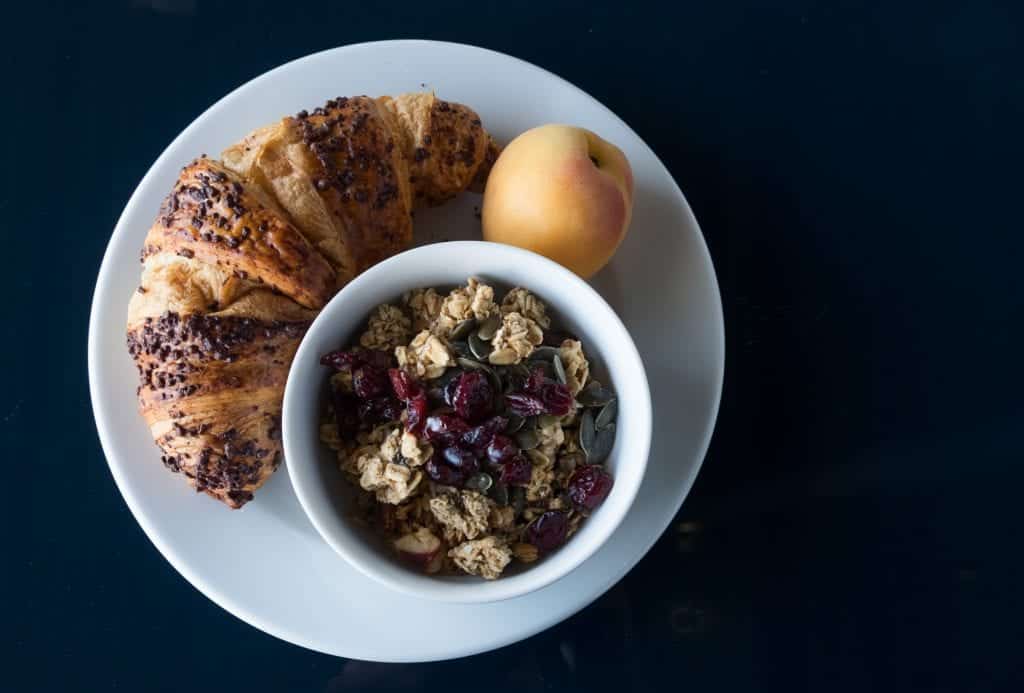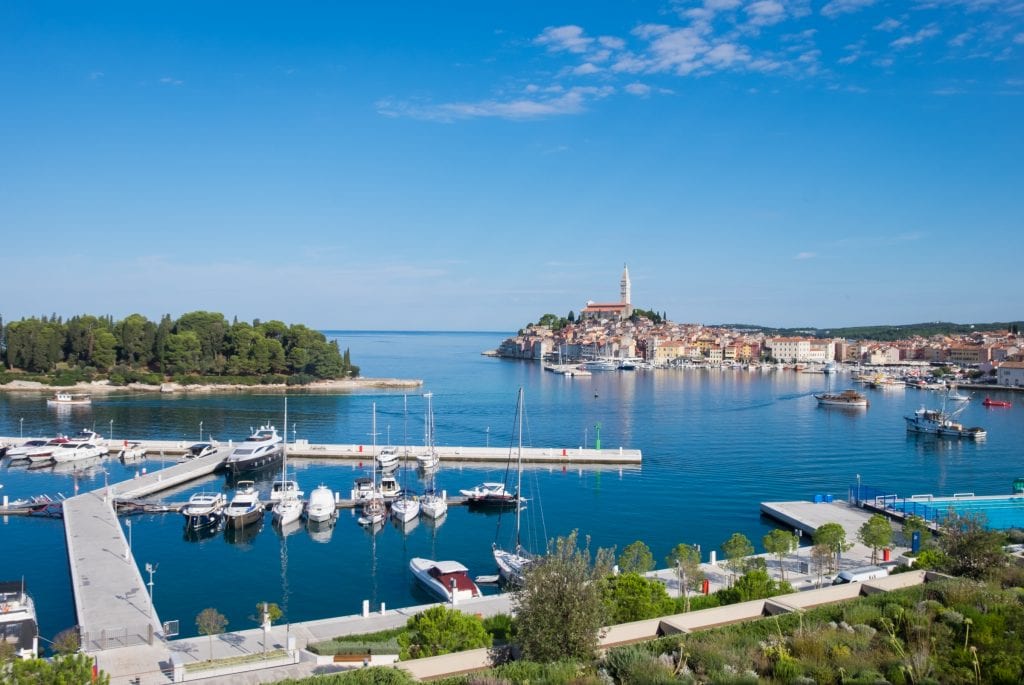 Our room was large and sumptuous, with the best balcony perk you can imagine.
Here's a look at our room: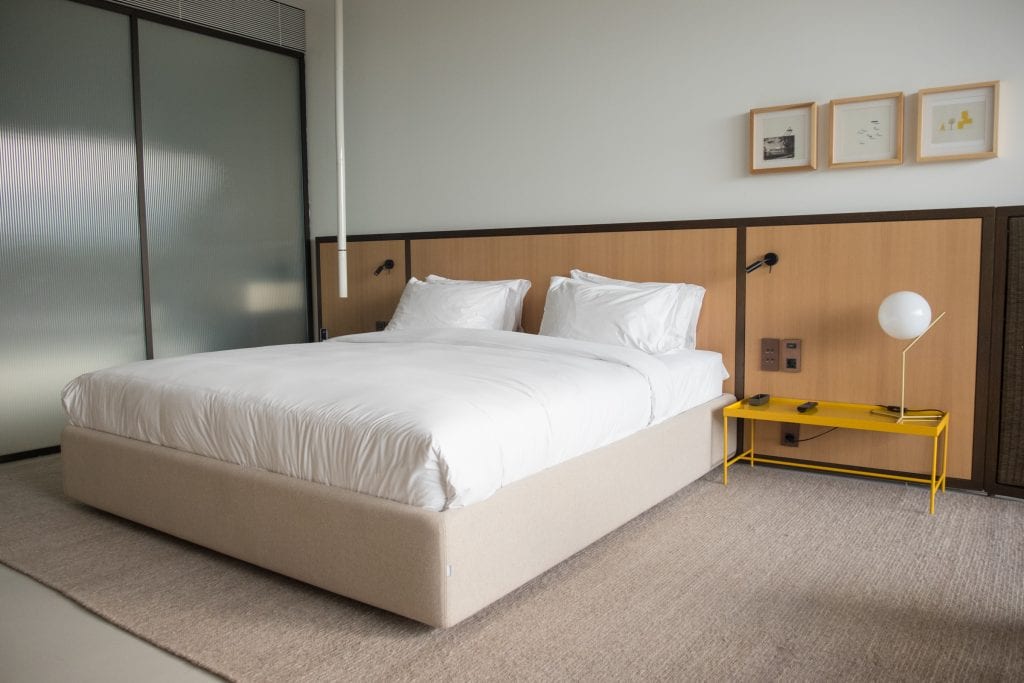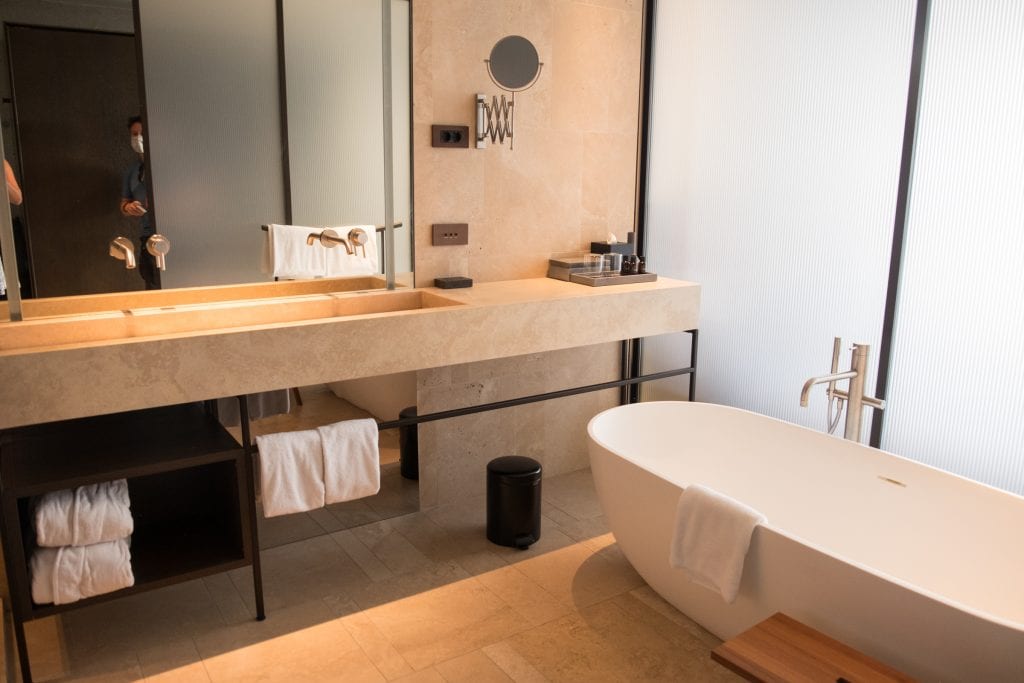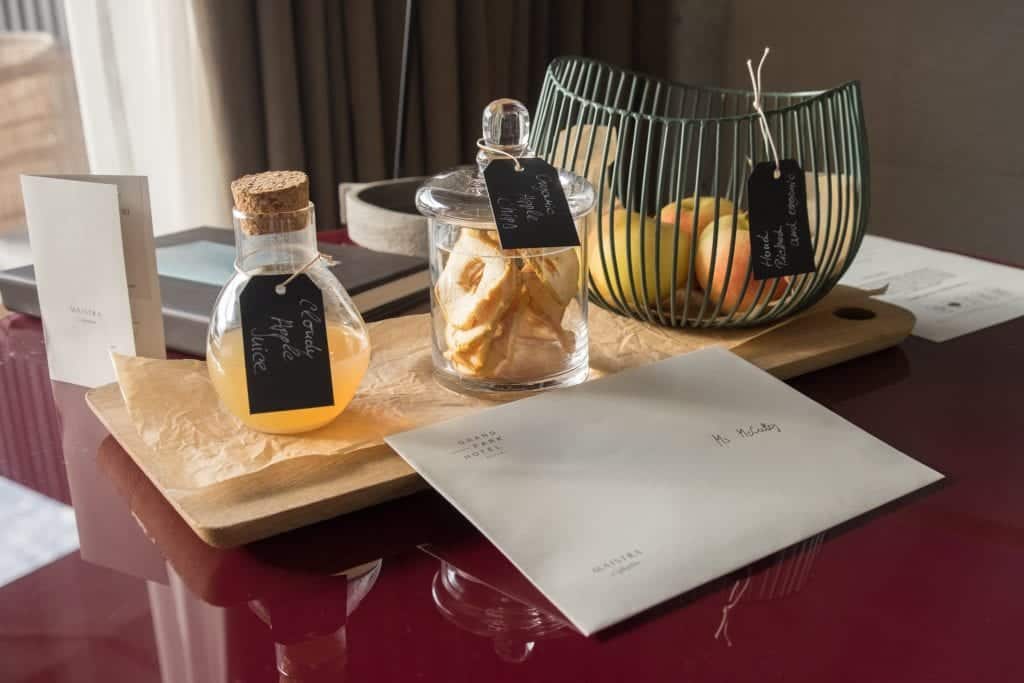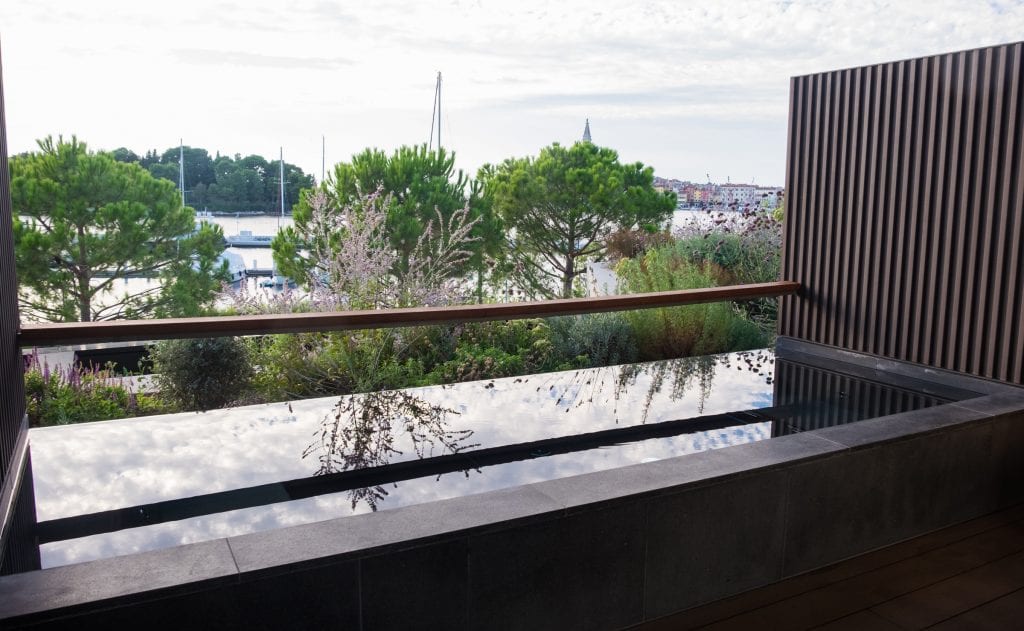 The sea views from the rooms are wonderful, but get better the further up your room is. Our room even had a private plunge pool! It wasn't heated (which was fine in summer!) and there was a button to turn on the jets.
The room is a great place for lounging — but the best perk of the hotel by far is the outdoor pool. Specifically, the rooftop infinity pool.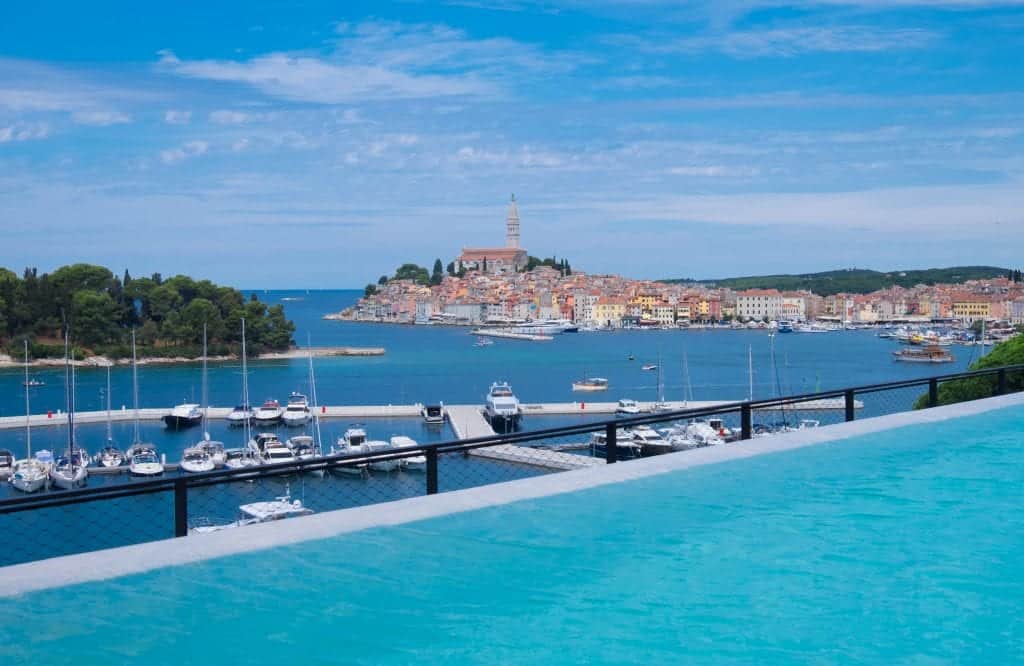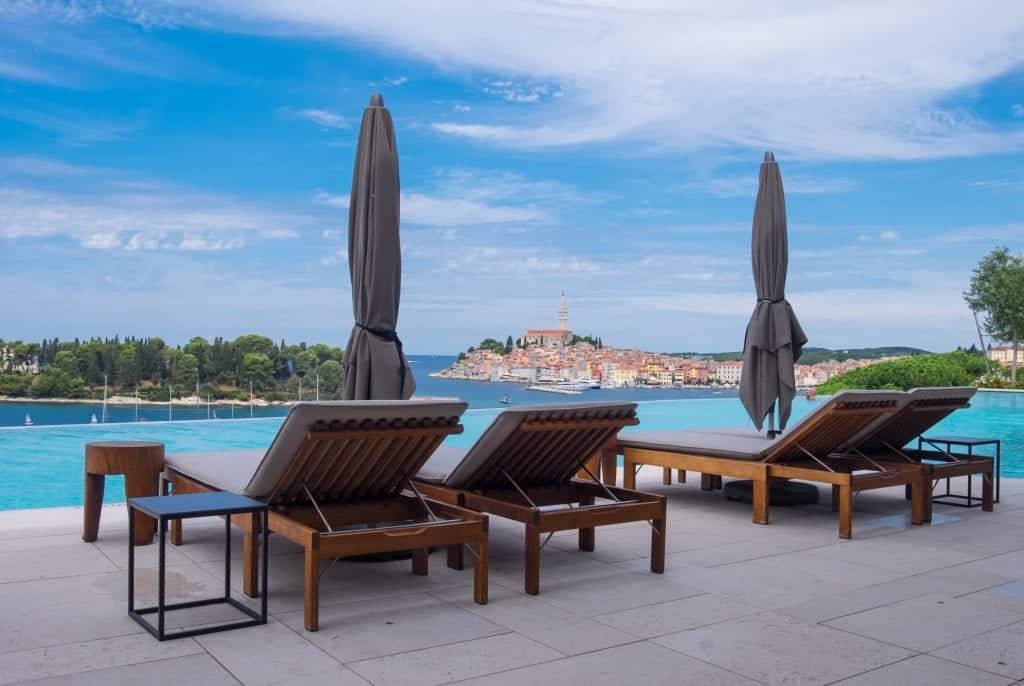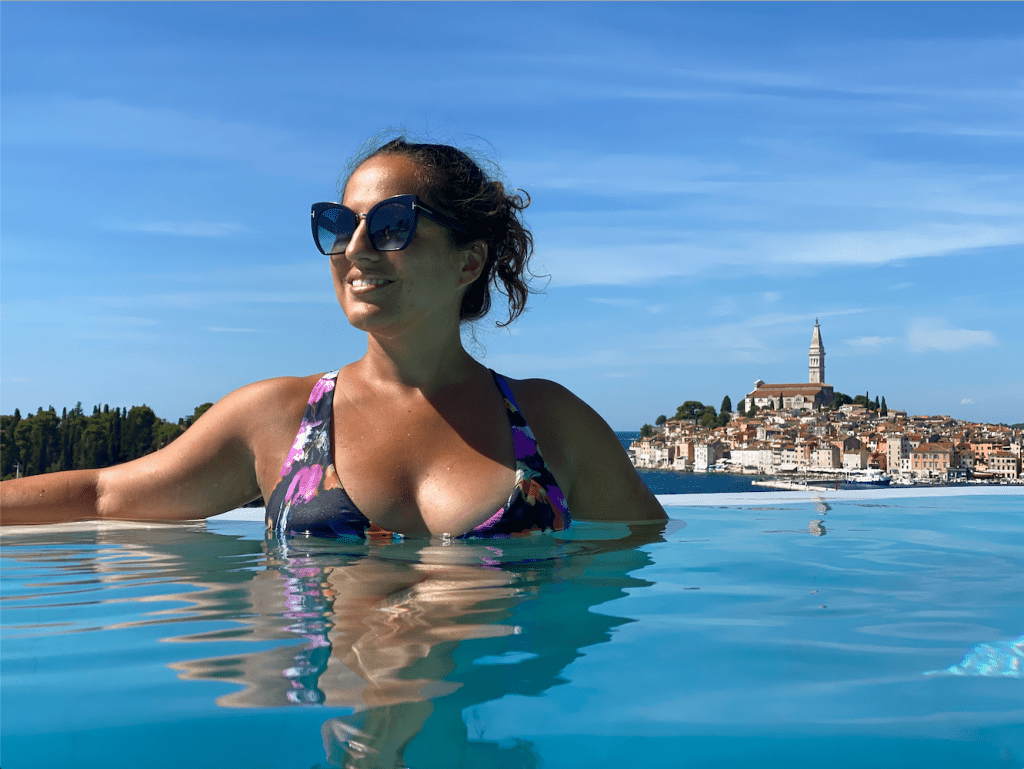 If you stay at the Grand Park Hotel, you absolutely MUST block out extensive time for the pool. At least an afternoon. I absolutely adored reading my Kindle on the edge of the pool while overlooking the best view in Rovinj!
The Grand Park Hotel is definitely a special occasion kind of hotel. If you're looking to mark a milestone birthday or anniversary in Rovinj, this hotel is the best way to make your celebration feel special.
Low-season rates at the Grand Park Hotel start at 275 EUR ($326) per night; high-season rates start at 375 EUR ($445) per night. Valet parking is included.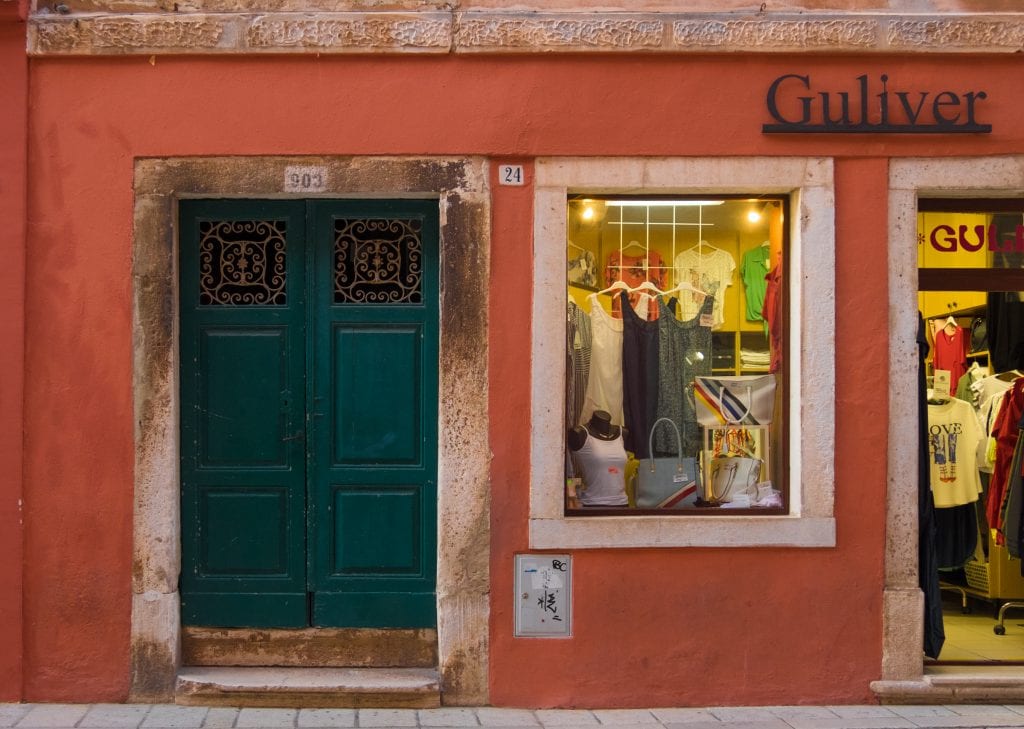 How to Get to Rovinj
If you're flying to Rovinj, the nearest airport is in Pula, about a 45-minute drive away. Pula's airport primarily serves budget airlines in Europe, making it a popular choice for European travelers. I happened to fly in on a budget airline's inaugural flight from Manchester to Pula in 2012!
A taxi from Pula Airport to Rovinj will cost about 450 kuna, or $70. You can also take a shuttle bus from Pula Airport to Pula's bus station for 30 kuna ($5) and then get the bus to Rovinj, which costs around 37 kuna ($6).
If you're traveling to Rovinj from outside of Europe, your best choice may be to fly into Zagreb or Venice. Both airports are about a three-hour drive from Rovinj.
I find that Skyscanner tends to have the lowest fares: check out Skyscanner's fares here.
You can also take a ferry from Venice to Rovinj on Venezia Lines; the journey takes three hours and 45 minutes. There are currently daily sailings. You can check the ferry schedule here.
How to Get Around Rovinj
Rovinj is easily traversed on foot, though there are also a few boats that can take you from place to place!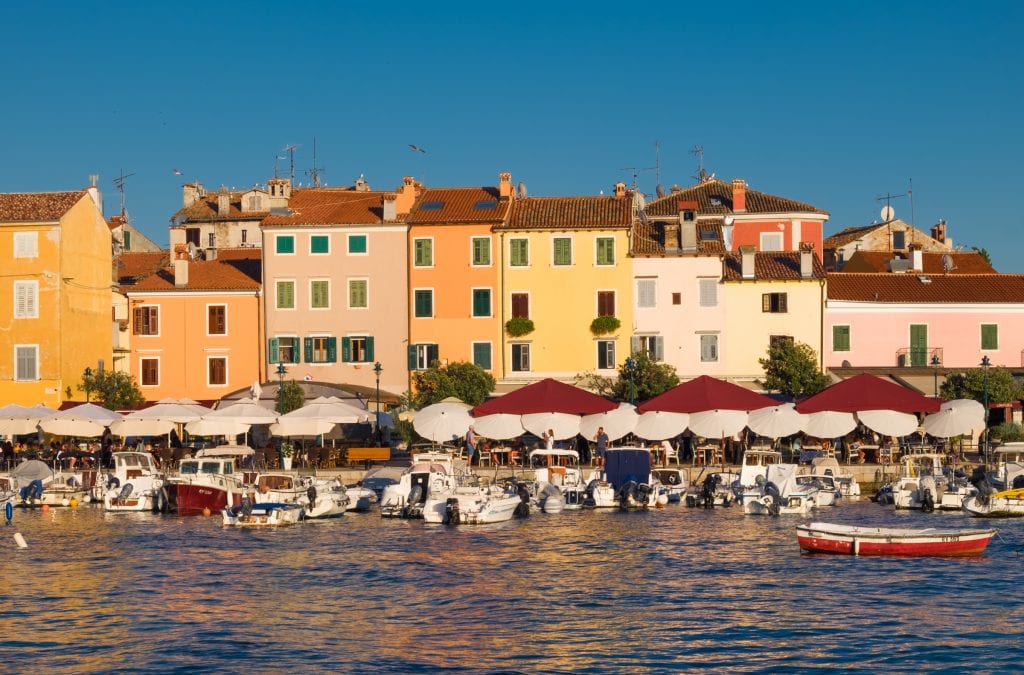 Best Time to Visit Rovinj
Rovinj's high season is during the summer months. While this is a beautiful time to visit Croatia, it's also very hot and crowded, and prices will be at their peak. I understand that many people are only able to travel during the summer, and that's fine! Just expect the crowds and higher prices.
Rovinj Summer Festival takes place from mid-July through late August and features musical performances all over the city.
That being said, Rovinj and the Istria region doesn't have the nearly-perfect weather of Dubrovnik and the Dalmatian Coast, nor does it have quite as long a summer.
If you're looking for summer weather, I recommend visiting Rovinj in early-to-mid-June or mid-to-late September. If you're okay with pleasant warm temperatures, May and October are lovely times to visit.
And while Rovinj is still an active city, much of the tourist-oriented businesses shut down in the winter. I don't recommend visiting Rovinj in the winter months.
Read more: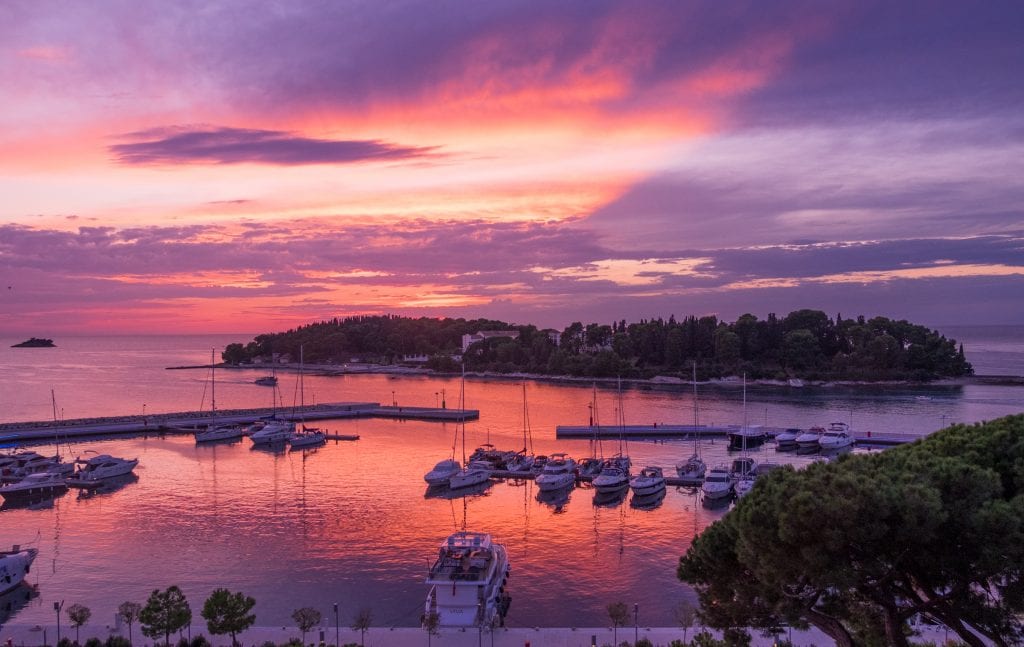 Travel Insurance for Croatia
A lot of people don't think it's necessary to get travel insurance for Croatia — after all, it's a safe country with decent healthcare. But you need it. If you get sick or injured on your trip, if you get robbed, or even if you have to be flown home, travel insurance will protect you from financial ruin. I use and recommend World Nomads for trips to Croatia.
I have thankfully never needed to call my travel insurance for help while in Croatia — but I have had several friends who had to use theirs. One who had to visit the hospital after being stung by a wasp in Split, one who sprained her ankle after falling down the steps in Dubrovnik, and one who got her wallet stolen and needed to go to the police station.
While Croatia's hospital prices aren't anywhere near what the US would charge you, you could end up paying a lot of money for a serious medical issue. But travel insurance protects you and refunds you for your costs. It's the kind of thing you don't know you need until you need it. See if World Nomads is right for you here.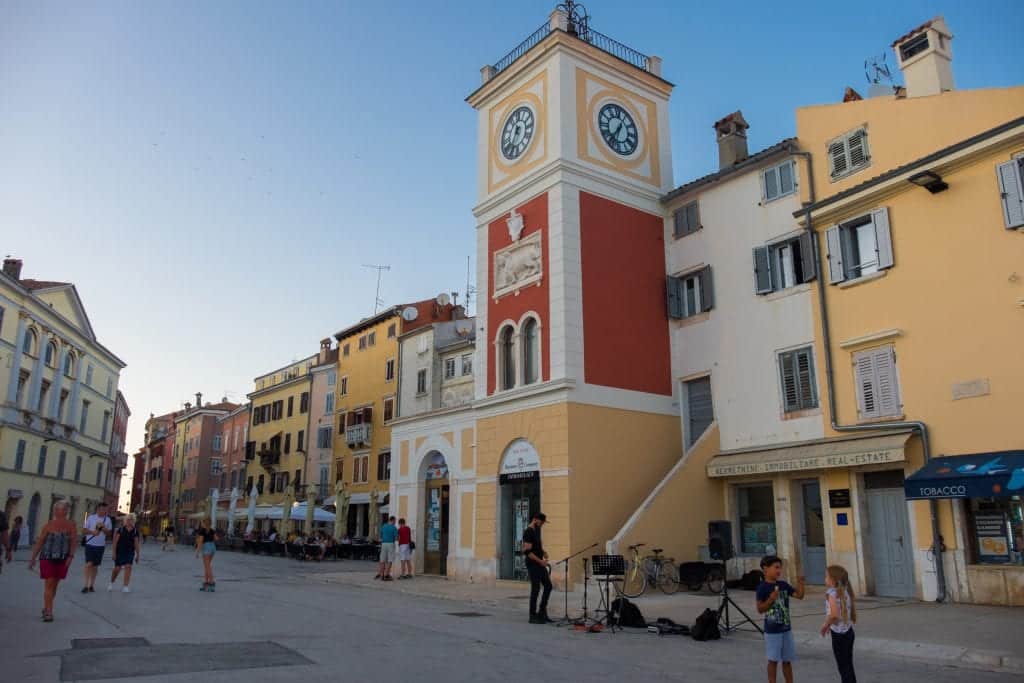 Rovinj is waiting for you!
Rovinj is the kind of destination that invites you back again and again.
I hope you get to enjoy Rovinj as much as I did. Go enjoy your trip — then come back and tell me all about it!
Planning a Trip to Croatia:
Croatian Islands and the Dalmatian Coast:
Istria and the North:
---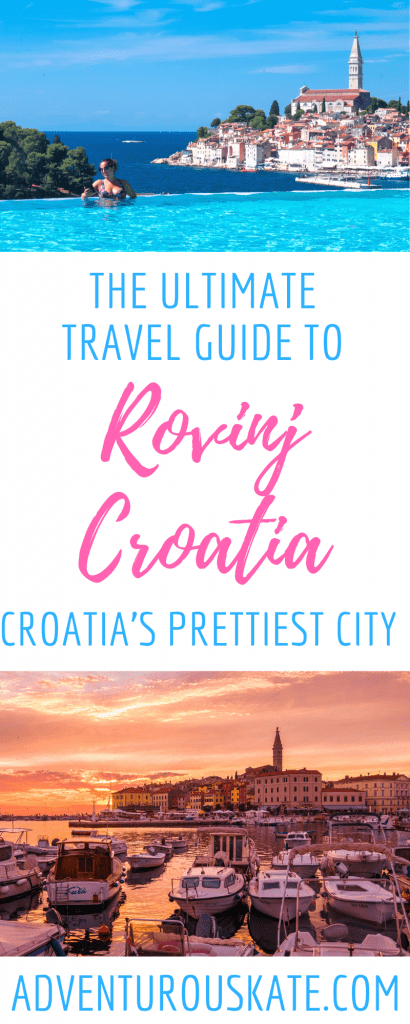 Many thanks to the Grand Park Hotel for hosting me for three nights and providing the full tasting menu experience at Cap Aureo and to the Croatia Tourism Board for facilitating our introduction and support throughout summer 2020. All opinions, as always, are my own.