Adventurous Kate contains affiliate links. If you make a purchase through these links, I will earn a commission at no extra cost to you. Thanks!
Looking to travel solo in Portland, Oregon? This guide is for you — and I'll start with an anecdote from my life here.
Standing in line for coffee one morning, I noticed the straitlaced gentleman ahead of me was not a regular. When he approached the barista to place his order, I heard him say, "Forgive me, but I'm from out of town. What's with all of the tattoos?"
Without a beat, the well-tattooed barista smiled warmly and said, "This is Portland. There's no judgment here." And proceeded to tell him the story behind his bodily adornments as he prepared his coffee.
From the very first day I landed in her hipster-friendly arms, I noticed the unique creative energy of the people here. With its reputation for outdoor recreation, cultural activities, and welcoming residents, I fell in love with Portland and knew it would be my home for a long time.
This post was written by Susan Stephens. Read more about her at the end of the post.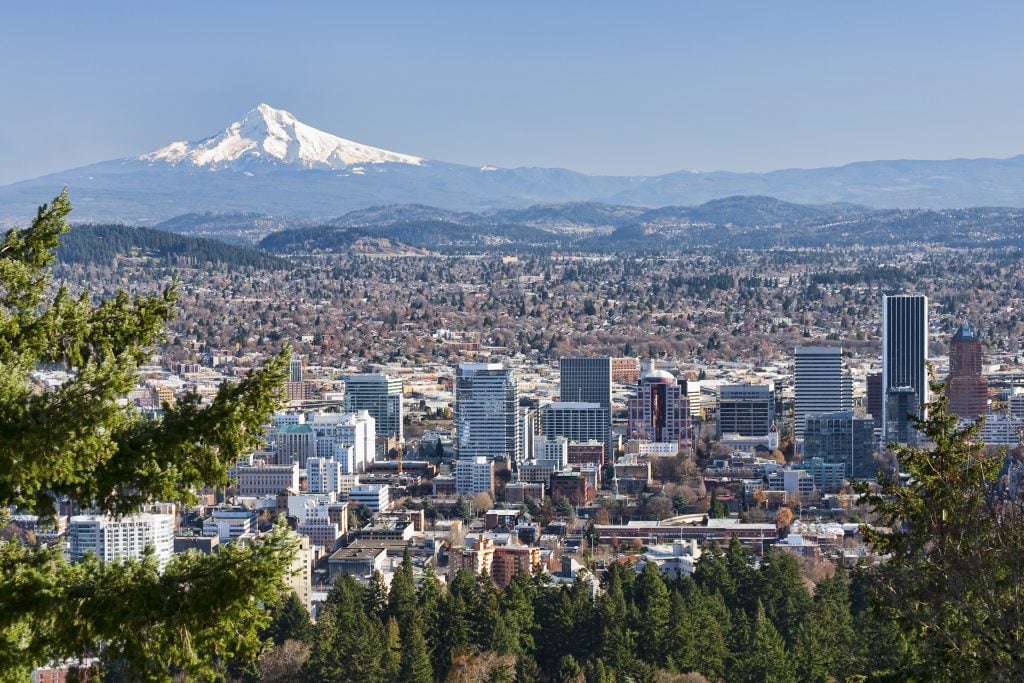 Why Travel Solo To Portland?
Portland has been my home for over twenty years. During that time, I've seen it grow from the southern shadow of Seattle to a major tourist destination. The Rose City is a living, breathing entity, alive with green spaces and communities full of creative people.
Portland's motto is "Keep Portland Weird" and it tends to live up to that moniker (in a good way!) with its huge artistic community and ever-evolving music scene.
For those who are familiar with the show Portlandia, I can tell you that in this instance, art really does imitate life! Portland is a lot like how the show portrays it. You may very well run into a Fred Armisen lookalike at a restaurant waxing philosophical about the well-being of the organically-grown chicken who made the ultimate sacrifice to grace his plate.
The wonderful thing about Portland is that it's a big city with a small-town feel. This is thanks in large part to its collection of diverse and eclectic neighborhoods – each with its own community. Whether you are an introvert or extrovert, Portland will welcome you into her open arms and bring out your best self.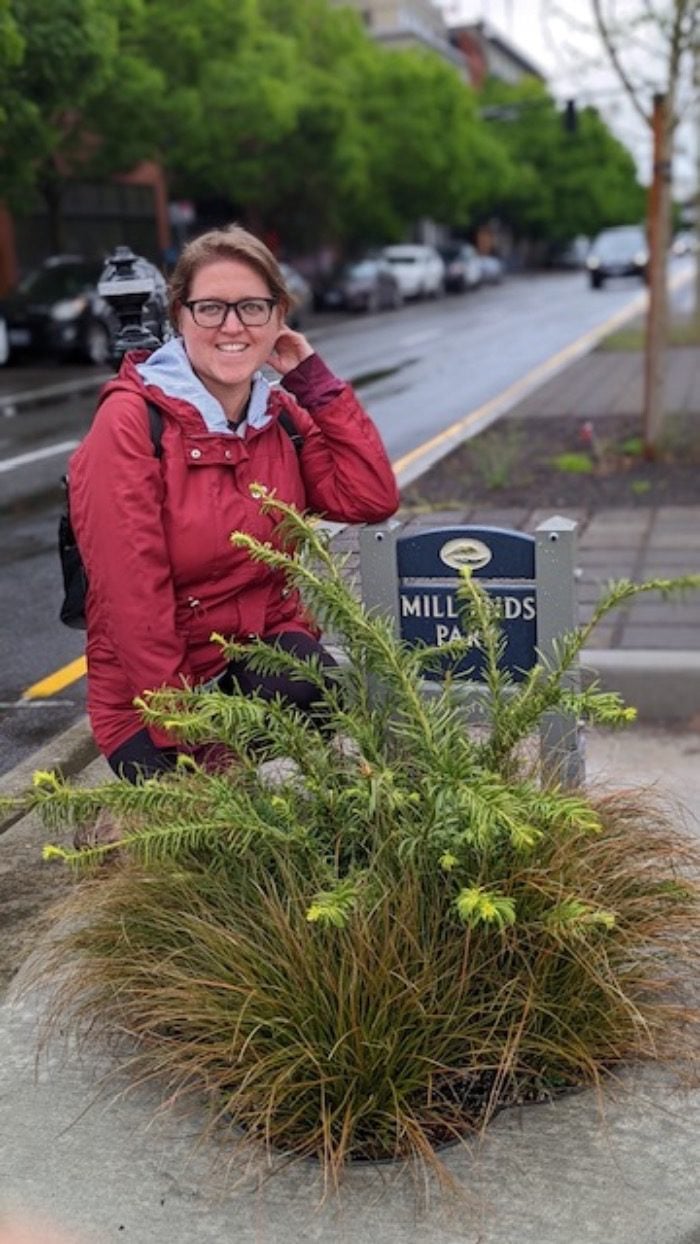 Is Portland Good for First-Time Solo Female Travelers?
Portlanders are a welcoming bunch, and with the ease of getting around and so many solo-centric things to do, Portland is one of the best cities for first-time solo female travelers. You will find that this town is full of progressive, think-outside-of-the-box souls, ready and willing to share their knowledge and experiences with those who are curious.
There is also a large LGBTQ+ community that makes Portland one of the most inclusive cities in the country, if not the world. The same is true for people of color. Portland has a reputation for being a white city, but that's not really true. You'll find many ethnicities here and a big African-American community on the northeast side, with lots of Black-owned businesses concentrated in this part of town.
Portland not only accepts but promotes individualism and it's not unusual to see people young and old going about their business solo. In this city, you have the freedom to "do you!"
Is Portland Good for Experienced Solo Female Travelers?
Absolutely! If you are an experienced female solo traveler, you will feel very much at home in Portland. With all of the distinct neighborhoods you'll find within the city limits, there are so many fabulous nooks and crannies to get you off the beaten path. Thanks to Portland's quirky, vibrant, and off-beat energy, there's always something new to discover.
For example, the Pearl District is ground central for art galleries, high-rise apartment buildings, and a trendy vibe. You will always see new artists showing their work and creative pop-up endeavors everywhere. During a rainy afternoon, I love visiting the art galleries to see what's new. More about this eclectic neighborhood later in this article!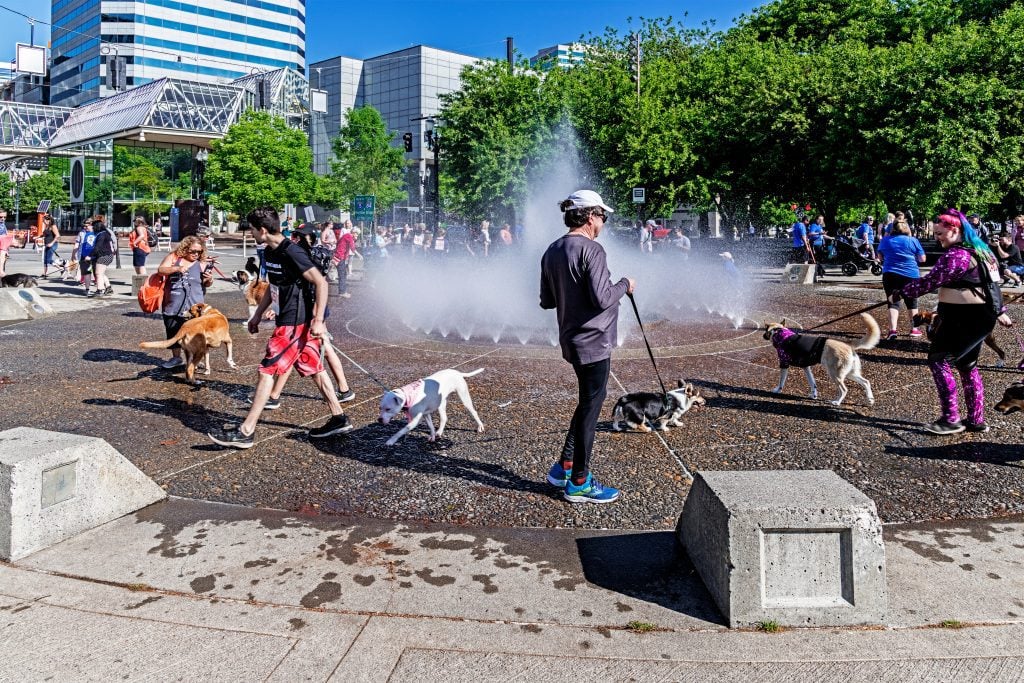 Is Portland Safe?
Portland is by-and-large a safe city to visit. As a long-time Portland resident, I have never felt unsafe, even walking alone in the downtown area after hours. That said, you should always be aware of your surroundings and walk away from situations that make you feel uncomfortable — like anywhere else in the world.
You may have noticed that Portland was in the news quite a lot during the summer of 2020. With COVID just starting to take hold and the murder of George Floyd leading to nation-wide protests, the spotlight was continuously on the protests in Portland.
That said, the protests took place mainly in the downtown area, and despite some reports, the police helped restore things to normalcy as peacefully as possible. This will not affect your travels to Portland today, and if a protest takes place, it's always easy to avoid (again, like anywhere else in the world).
There is also a homelessness issue in downtown Portland, just as there is in any large metropolitan area. For people who don't live in a city with a large unhoused population, it can be jarring to witness at first, and tough to see so many people in pain.
While this is a major issue — and it's a shame how poorly the U.S. cares for its most vulnerable people — this is not a danger to you. Homeless folks in Portland mostly keep to themselves and are trying to get through the day.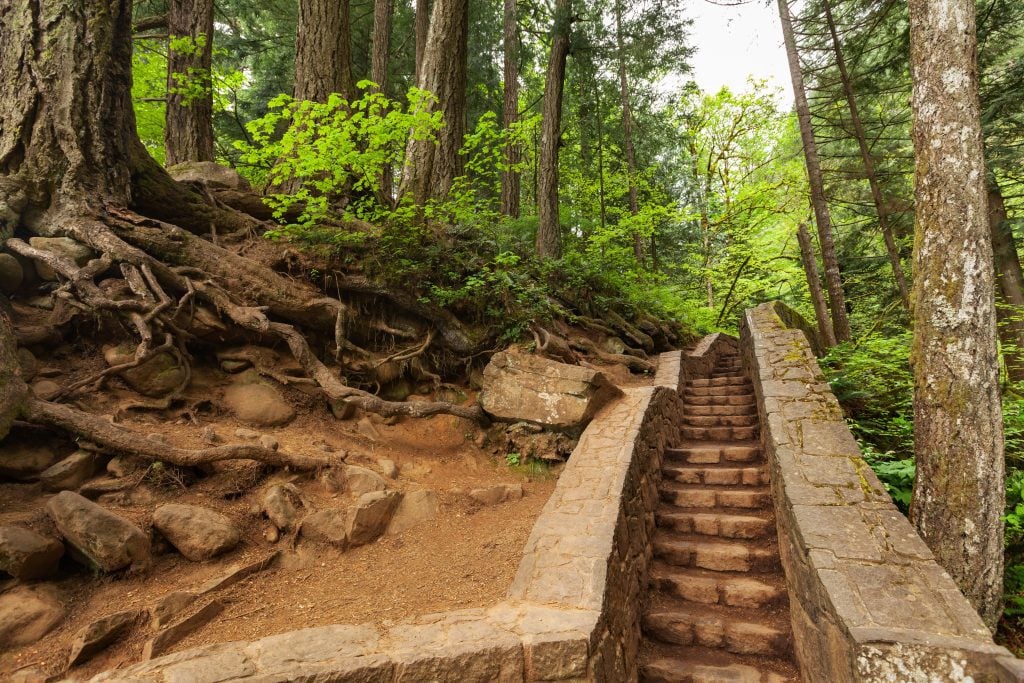 Things to Do in Portland While Solo
Go on an urban hike
With so many parks and green spaces, there are lots of places to choose from. Take a walk or bike ride on the Eastside esplanade along the Willamette River, which runs north-south through the middle of Portland. The 3-mile loop takes you across two of Portland's iconic bridges to the picturesque Tom McCall Waterfront Park.
If a stunning riverwalk featuring Portland's downtown skyline does not appeal to you, go to Forest Park. It's one of the largest urban parks in the U.S. Hike to the Witches Castle – it's presumably haunted! Forest Park has 80 miles of trails to choose from and is safe for solo hikers.
Cathedral Park in St. Johns
One of the many urban parks and located under the iconic St. Johns Bridge in "NoPo" (north Portland), the gothic spires make it the most beautiful bridge in Portland. It's a great place to hang out and people watch. Catch some free live music during the summer months.
Pittock Mansion
Not only is Pittock Mansion a historical attraction, but it offers the best view of downtown Portland from its magnificent hilltop location. Once occupied by Portland's newspaper mogul, Henry Pittock, the mansion offers tours, a small museum, and a gift shop.
NW 23rd Ave
Also known as Knob Hill, this is by far my favorite neighborhood to visit. Encompassing both Northwest 23rd and Norwest 21st avenues north of downtown, here you'll find a smorgasbord of fun, eclectic shops, and culinary choices to suit any palette.
Urban Outfitters is great for apparel and gift shopping, while The Fireside is a cozy gastropub, serving amazing cocktails, wine, and fresh Northwest-style American fare with an upscale twist.
Pearl District
Calling all art lovers and wine aficionados! This is THE neighborhood to hit up most of the art galleries and trendy eateries.
First Thursdays in the Pearl is a district-wide art and live music event that occurs on the first Thursday of each month, with many of the streets closed off to vehicles.
Alberta Arts District
A large artistic community thrives in this neighborhood and you'll see evidence of it by all of the street art murals peppered along NE Alberta St.
It has become somewhat gentrified in recent years, but with that comes a great variety of shops, restaurants, and bars that make for a very "Portland" afternoon.
McMenamins Hotels and Pubs
The McMenamins Brothers have created a fantastic regional chain of hotels, music venues, and pubs located throughout western Oregon and Washington. Each property features whimsical artwork throughout and all of the hotels were converted from old abandoned buildings. Plan on staying at least a night or two in one of their Portland area hotels, such as the Crystal Hotel or Kennedy School Hotel.
The Sellwood neighborhood
Remember that small-town neighborhood vibe I was talking about? You'll get that here. There are lots of local family-owned shops, restaurants, coffee, and tea houses to explore.
Sellwood is also antique central for Portland, so if you love antique shopping, Sellwood has the largest concentration in the city, located along SE Milwaukie Avenue. For a diner-style breakfast that will last you way past lunchtime, head to Fat Albert's Breakfast Café.
North Mississippi Ave
Similar to Nob Hill and NW 23rd Ave., this street is jam-packed with unique shops, intimate bars, and locally-owned restaurants. One of my favorite places to catch some live music is Mississippi Studios. More on that later!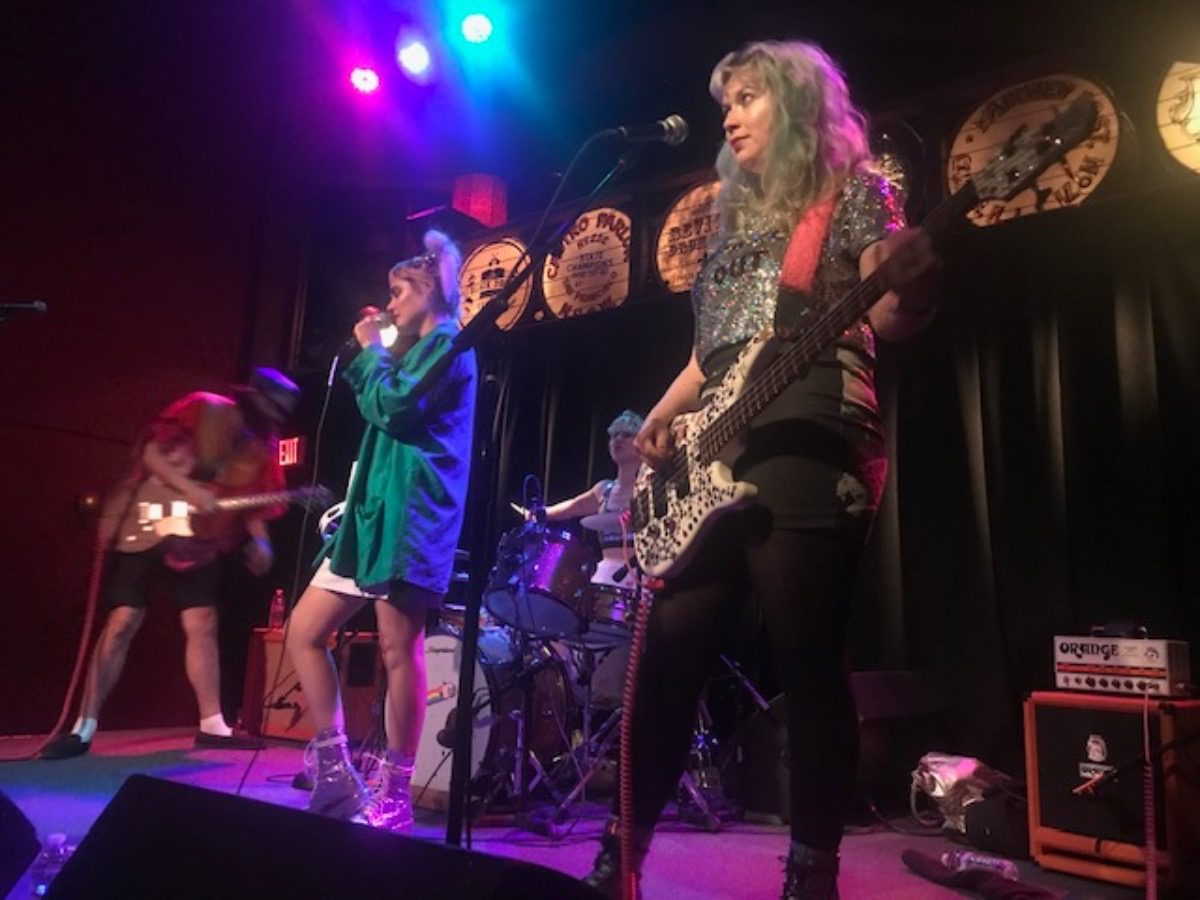 Best Things to Do in Portland for Solo Travelers
Mill's End Park
Mill's End Park is the smallest park in the world. The Guinness Book of Records even says so! Volunteers will decorate the one lone bush or tree in the park for holidays, especially Christmas.
Shopping
Shop the second-hand stores on Hawthorne Blvd such as Red Light Clothing Exchange. This funky space is a second-hand clothing mecca, with a huge variety of men's and women's duds in all sizes. I rarely walk out of there empty-handed.
Tender Loving Empire is my local favorite for apparel and gifts that doubles as a record label! They have several stores throughout town and a small outlet at the Portland Airport on Concourses D and E.
Lan Su Chinese Garden and Teahouse
If you want a peaceful and serene spot to relax, in this Chinese garden you will surely find your Zen moment. It's an authentic Ming Dynasty-style garden built by Suzhou artisans.
Powells Bookstore
Powells Bookstore is the largest independent bookstore in the world. I mean…it's huge. With three floors of books taking up one full city block of space, you could get lost in this place and easily spend an entire afternoon here.
They even provide maps and a rare book section! Go here, even if just to browse. It's a Portland institution. You'll find smaller Powell's branches throughout the city.
Mt. Tabor Park
Just down the road from Hawthorne Blvd. is Mt. Tabor Park. Set on a dormant volcano, it's a great place to take a heart-pumping uphill hike where you are rewarded with a killer view of downtown Portland to the west.
Catch a Show
Catch a show at Mississippi Studios and Crystal Ballroom; both are intimate music venues hosting both local and international acts on any given night. Mississippi Studios has a full bar serving burgers and sandwiches right next door.
Kennedy School Hotel
If you can, spend a night or two at the Kennedy School Hotel. This is (yep, you guessed it) a historic converted schoolhouse that is a destination unto itself. You'll find several restaurants and pubs, a movie theatre, and a soaking pool on site.
I usually make a beeline to the hotel's soaking pool. If you are not a guest of the hotel, for a mere 8 USD you can have a relaxing hot soak in their private outdoor courtyard. Reservations are recommended.
Portland State University Farmers' Market
If you love farmers' markets, Portland State Unversity Farmers' Market is a must-visit. Not only do they have dozens of vendors offering up fresh produce, locally made honey, bread, jams, and flowers, but you'll find made-to-order food and beverage vendors. As Portland's flagship farmers' market since 1992, during the spring and summer months they also have chef demonstrations and live music.
Portland Street Art
One of the great things about Portland is the street art! As you meander around town, you cannot help but run into several fantastic murals and sculptures. Portland even has its own 'Banksy' who is known as Klutch and you'll see his work throughout town.
There are hundreds of murals all over town. Here is a website that will show you a map of all of the current street art; many of them are done by artists who are commissioned by the city.
Go on a kayak tour
Exploring the Columbia or Willamette Rivers on a kayak is one of my favorite activities and a great way to see the Portland area from the water.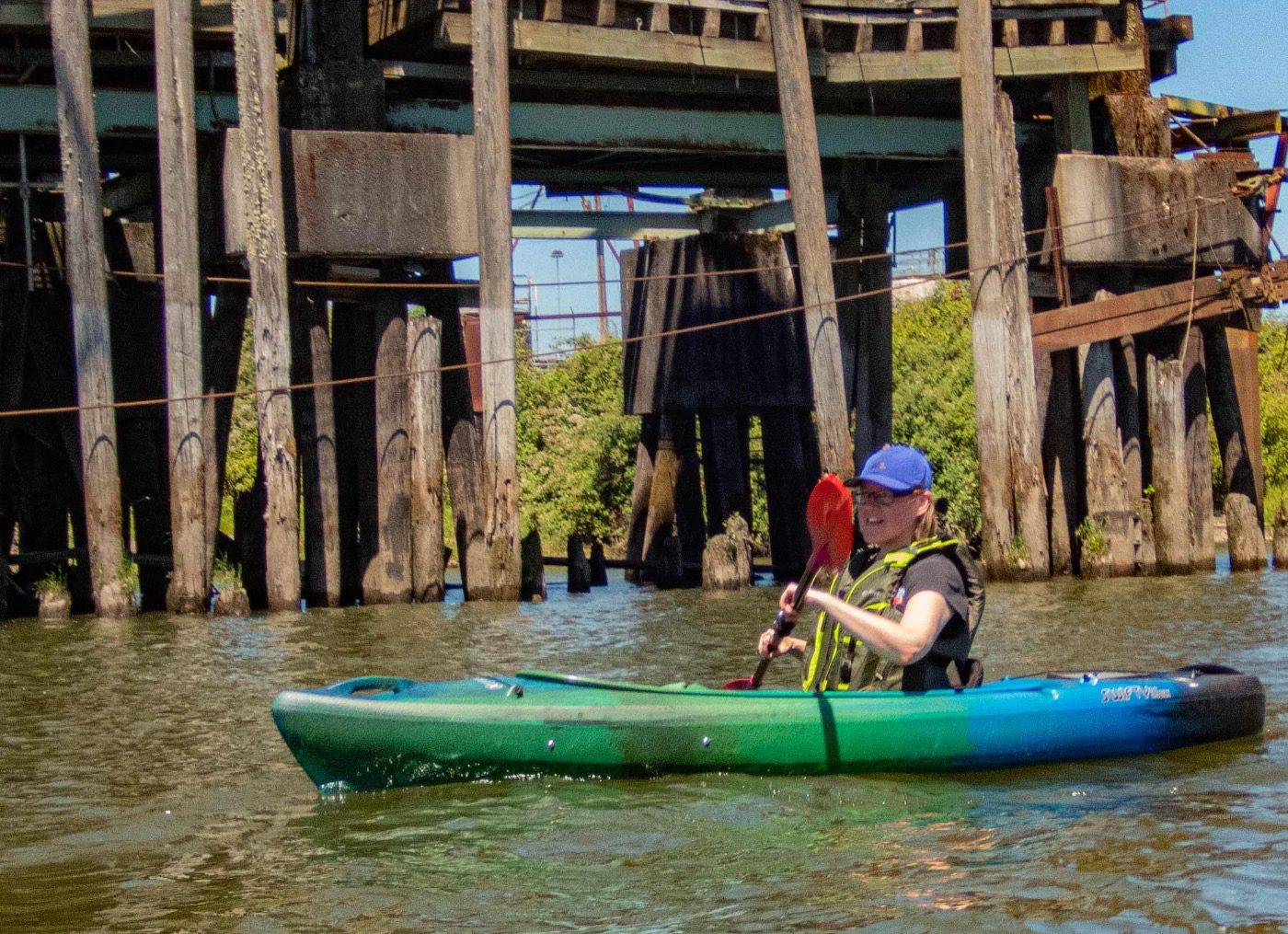 Best Time to Travel to Portland
The best time to visit Portland is late spring through early summer. As you may have heard, Portland gets its share of grey skies and rainy weather, and summer doesn't usually come into full view until July. But that's when the crowds (and the prices) tend to rise, so coming a bit earlier in the year is always a good thing.
Portland loves its festivals and street fairs. During the summer months, there is always something going on. Here is a great resource to keep tabs on the street fairs.
Naked Bike Ride. Post-COVID, this most famous of Portland events is back on! Typically held in July, this clothing-optional group bike ride does not advertise its bike route until the last minute, but usually follows some route in the close-in downtown area.
Some notable festivals that take place in Portland are the Waterfront Blues Festival, Portland Rose Festival, and Craft Beer Festival, to name but a very few! More festivals can be found here throughout the year.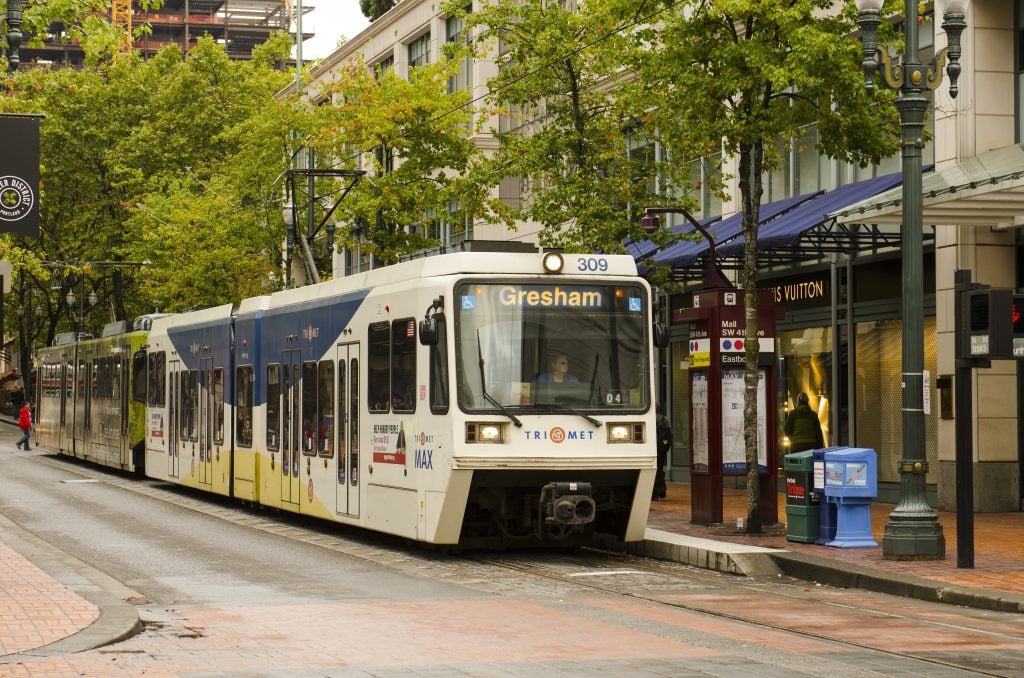 How to Get Around Portland Solo
The public transportation system in Portland is among the best you'll find in any city. Buses, trams, and light rail are abundant and are run by TriMet. Download the TriMet app to easily get you where you want to go, and where you can find the best route to get from A to B.
You can even purchase and show your fare right from the app or using the Hop Fastpass.
You can also explore Portland by bike. Scattered throughout Portland you'll see bright orange banks of parked bikes. Funded by Nike (their worldwide headquarters is in the Portland suburb of Beaverton) this is the perfect way to easily rent a bike using the Biketown app and explore the city on two wheels. Portland is a very bike-friendly town and you'll find bike lanes on most of the main thoroughfares and many side streets.
If you do rent a car, know that in the more densely populated areas, you DO NOT pump your own gas. Don't even try – it's against the law. Just drive up to a gas station, wait in your car, and a nice gas station attendant will pump your gas for you. Pretty awesome, right?
In rural areas, however, you are able to pump your own gas. If you're not sure, just ask!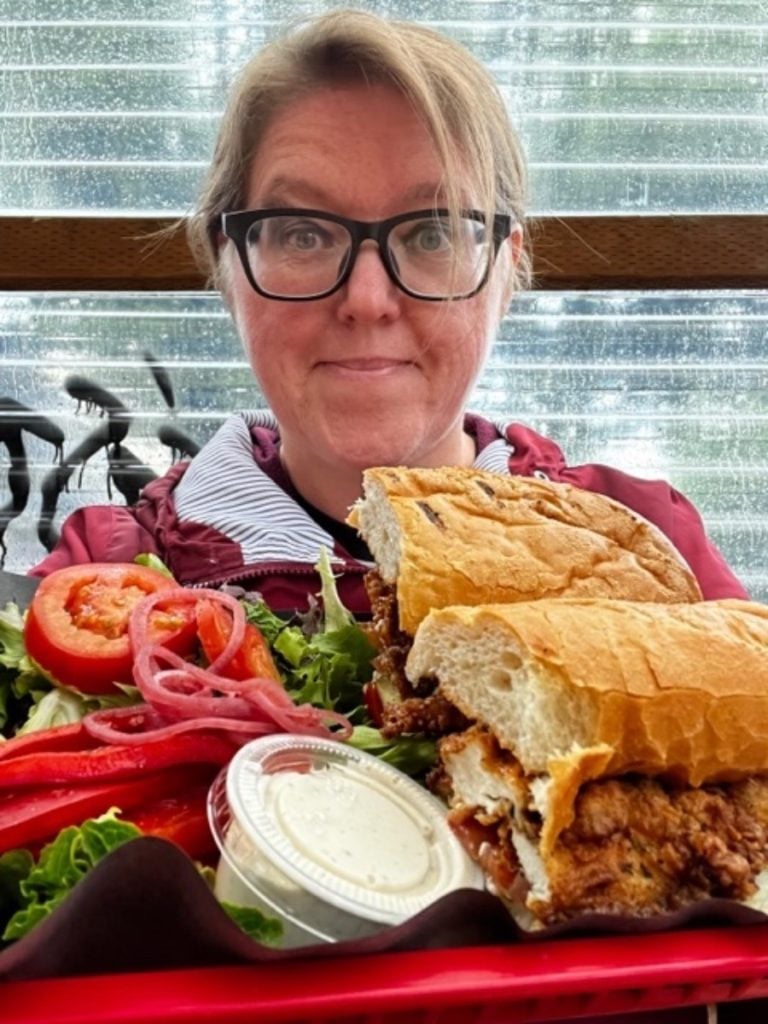 Eating Alone in Portland
Portland is such an individualistic city that it is quite commonplace to see people eating alone in a restaurant, café, or bar. Some of the best spots for a fabulous solo meal are:
Fire on the Mountain. A great place to hang out solo with your laptop while enjoying the best chicken wings ever. Choose from a variety of unique and house-made sauces ranging from mild to super-spicy. They also have burgers, sandwiches, and a great craft beer selection.
Portland Food Carts – a destination unto themselves! This town has more food carts per capita than just about anywhere and it would take many months to explore them all. You'll find fast, inexpensive food from every culinary corner of the world, and some are run by trained chefs!
They are called food carts and not food trucks because they are largely stationary and are gathered in "pods" scattered all around Portland. The food cart pods I recommend are Cartlandia and Prost Marketplace. Other food cart options are listed here. 
With a name that I always found intriguing, Lardo has some great upscale pub-style food featuring handcrafted burgers and sandwiches in a relaxing, dare I say, trendy atmosphere. With healthy portions, try as I might, I could not finish my Pork Meatball Banh Mi so I saved the other half for later, and it was just as delicious cold!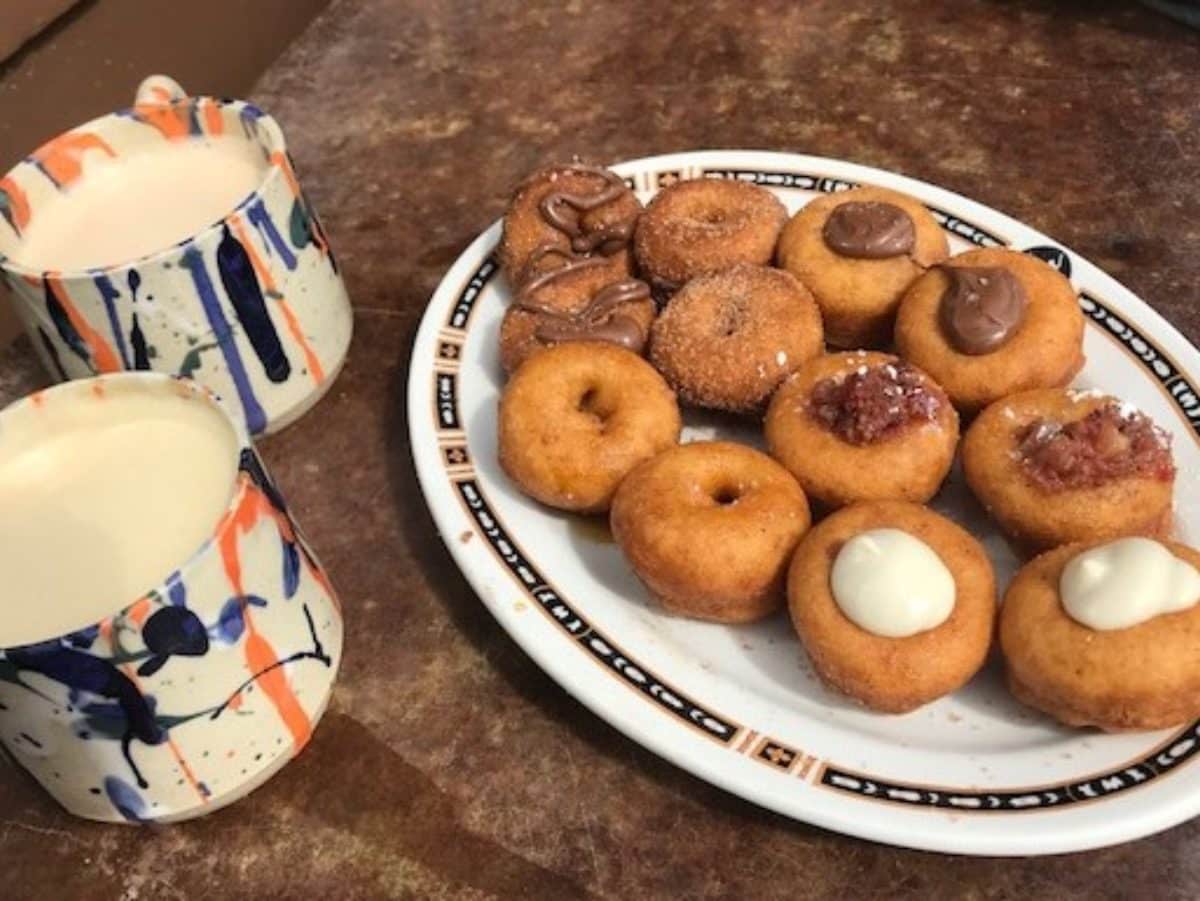 Portland doughnuts are the best. First, I would like to steer you away from VooDoo Doughnut. You'll see this world-famous donut shop in all of the other blogs about Portland. Don't get me wrong, it's a fantastic place, but get off the beaten path and go to Pip's Donuts. They serve tiny, bite-sized doughnuts in amazingly unique flavors, with delicious chai.
Portland is where beer and coffee rule, so if you like either/or, you have a dizzying array of options. I like to satiate my caffeine craving at Bison Coffee House. It is one of dozens of locally-owned coffee shops, and this one has a wonderful Native American history to it.
If you're into craft beer, head to Deschutes Brewery and Public House. I love their laid-back atmosphere and upscale pub food. But really, you can't go wrong with any local brewery in town and Portland is a world leader in beer-making. They also offer tours of their brewery.
If you like sports (or even if you don't!) head to the new Sports Bra Bar. This one is getting a lot of press because it's the first women-owned-and-operated bar that celebrates women in sports. They have a fantastic food and cocktail menu, along with wine and beer.
For some of the best New Orleans'-style soul food in town, try out Miss Delta on Mississippi Avenue. They have fantastic gumbo, po' boys, bowls, and more, with the finest craft beer to wash it all down.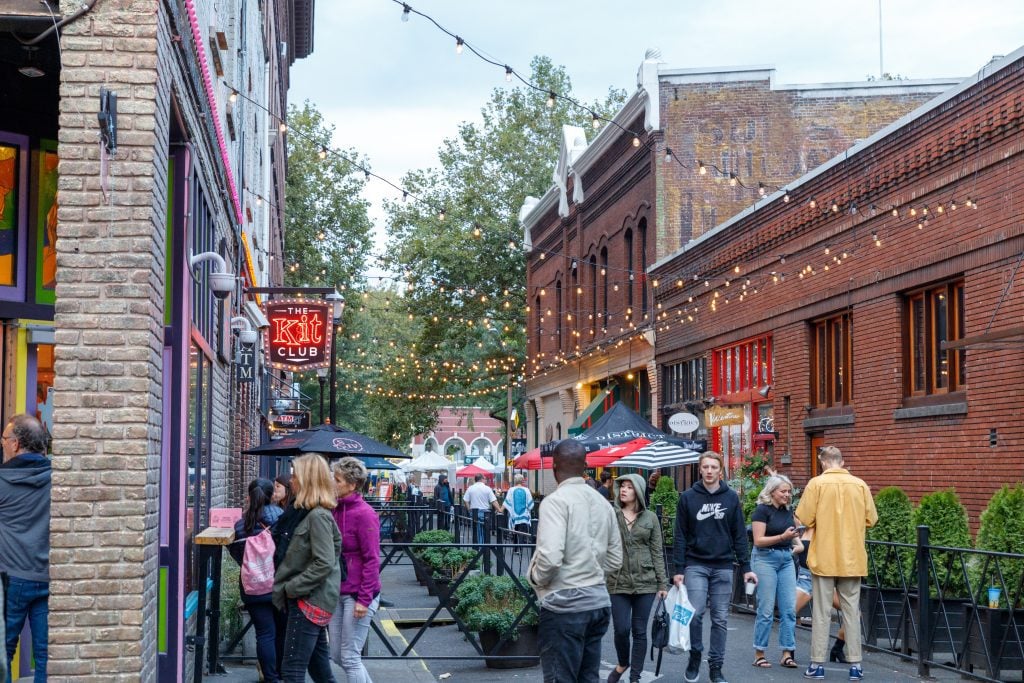 How to Meet People in Portland
Join a meetup on Meetup.com. Whether you're into travel, running, movies, board games, or just want to meet a group of nice people, there's a Meetup for that. Meetup.com is a great resource with lots of different Portland-area groups with all sorts of interests.
Join a tour or activity. Joining something like a Portland food tour is a fun way to meet fellow travelers (and often locals) while getting to know the neighborhoods better!
Join the local hiking group. The Portland Hiking Meetup Group is a good one for exploring nature and meeting new friends.
Put out feelers on social media. Often a friend of yours will have a cousin or friend living in San Francisco who will offer to meet you for coffee, just so you know someone. Take advantage of this if you can.
Tinder. If you're looking to date or hook up, have fun!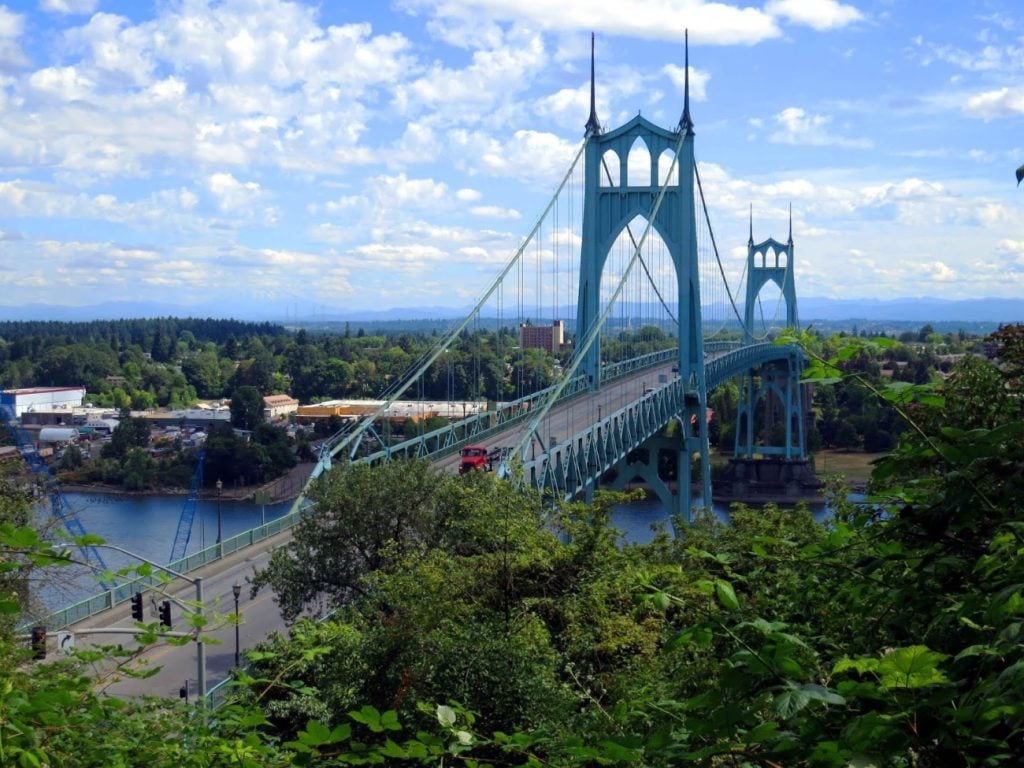 Portland Travel and Safety Tips
Portland's airport has consistently been rated as one of the best in the world. Not only for its comfort and pleasing aesthetic (they recently opened a new concourse that's very nice) but for the variety of direct flights throughout the world.
You really don't need a car to get around the city. It is very commonplace for people to travel alone using public transportation, even at night, so if you want to catch a live show after dark, it's no problem. Just use common sense and always be aware of your surroundings.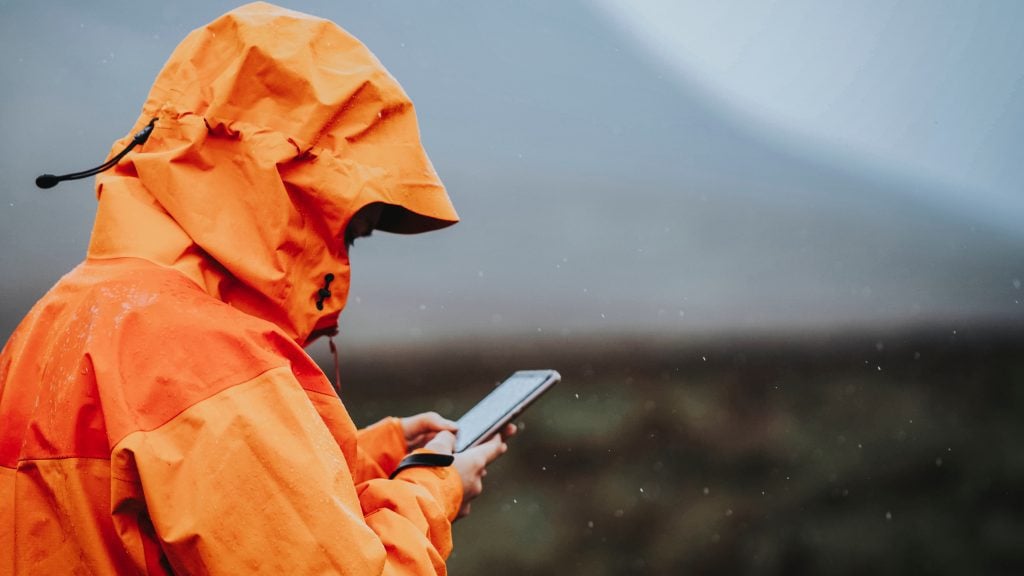 What to Pack for Portland
Even though it rains quite a bit here, Portlanders will proudly tell you they never use an umbrella. We're too busy holding coffee cups and dog leashes!
A good raincoat with a hood will do. Be sure to bring one, even during the summer months, as you never know when Portland will get a downpour. (Of course, if you don't want to invest in a brand new coat, especially if it's for a short trip, it's fine to bring an umbrella with you.)
A good pair of broken-in hiking shoes or boots is essential, as you'll be doing a lot of walking.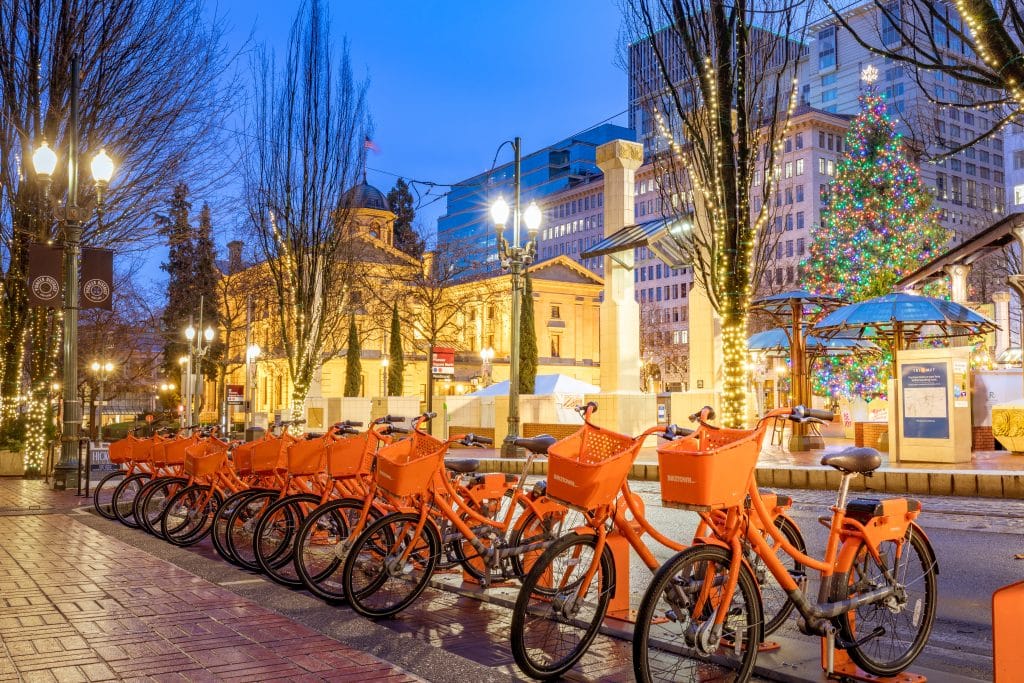 Travel Insurance for Portland
Even if you're visiting Portland from within the United States, it's smart to get travel insurance. You might not be able to find a healthcare provider on your plan here, and travel insurance will often cover you anywhere that is 100+ miles away.
If you get sick or injured on your trip, if you get robbed, or even if you have to be evacuated, travel insurance will protect you from financial ruin. Check out World Nomads travel insurance for trips to Portland and see if they're right for you.
Travel insurance is the kind of thing that seems like a waste until the moment you need it desperately. Don't underestimate its importance — be sure to protect yourself.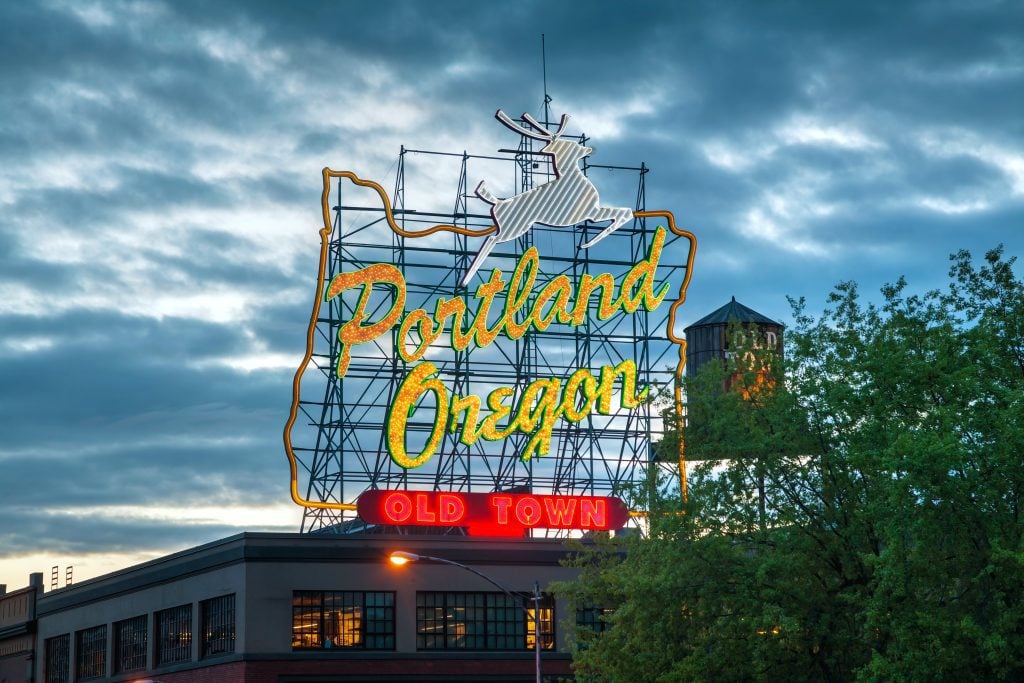 Portland is waiting for you!
I have spent many a day exploring Portland solo and I'm always finding something fun and new to do. There is a freedom here I have not experienced in any other city.
The best way to experience Portland is to take your time and savor her slowly – have some attractions and activities planned, but also leave plenty of free time. You never know when serendipity will happen and you'll find something amazing you could never have planned for.
This happened to me when I missed my chance to see a concert as the show was already sold out. As I was wandering around the Mississippi Ave area, I happened upon a tiny, out-of-the-way bar and walked inside.
After ordering a cocktail and taking a seat, I learned that one of my favorite local bands was playing later that evening. Since I came early enough, I was able to watch them for free before they started charging at the door and it turned out to be a perfect solo evening. Like I said…serendipity!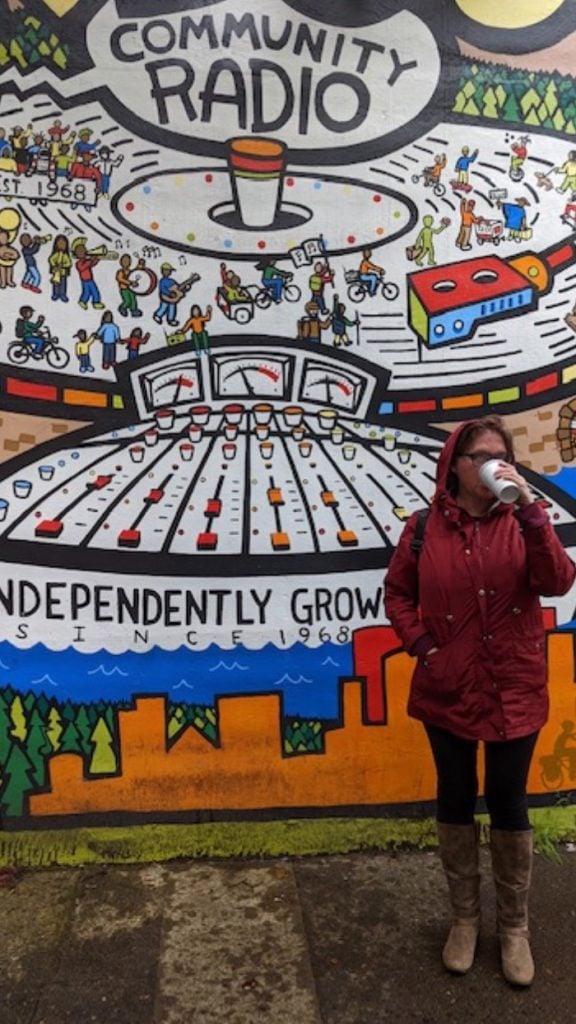 About the Author
Susan Stephens is a scientist-turned-travel-writer and has lived in Portland, Oregon for 25 years. Originally from the Midwest, she began her career as a travel agent, then quickly moved on to trying her hand as a merchandising manager, then a biochemist. It was then she discovered she would never truly be happy unless she was traveling, so she went back to her first love and became a solo traveler and blogger.
Her travel blog, Explorer Sue, is dedicated to helping people discover the beauty of the Pacific Northwest. When she's not writing about amazing places to visit in Oregon and Washington State, she is an avid solo traveller and hiker. She is passionate about encouraging any female to break out of their comfort zone and discover the absolute joy of solo travel.
More Solo Female Travel Guides
See our complete guide to solo female travel here. Also be sure to check out our destination guides:
Solo Female Travel in the US:
Solo Female Travel in Europe:
Solo Female Travel in Latin America:
Solo Female Travel Around the World:
Have you been to Portland? What are your favorite tips? Share away!