Adventurous Kate contains affiliate links. If you make a purchase through these links, I will earn a commission at no extra cost to you. Thanks!
Of all the best countries for a woman to travel solo, Croatia is one of my absolute favorites. After traveling to more than 80 countries, Croatia is forever in my list of top five favorites, often battling for the #1 slot with Italy.
I love traveling in Croatia. It's one of the world's most beautiful countries, it's filled with so many interesting places to explore, the food and wine are excellent, and it's one of my favorite places for photography.
But many women feel like Croatia is a "harder" destination, best reserved for a later trip. Why? Well, the local language is incomprehensible. It's more "exotic" than most traditional Mediterranean destinations. It's Eastern Europe (though really, don't say that, it's Central Europe). There were bombs falling on Dubrovnik as recently as the 90s. Don't those qualities make Croatia a tough destination? Wouldn't it be easier to travel solo in Spain, perhaps, or Greece?
Not at all. In fact, I'd argue that Croatia is a much easier destination to travel than Spain or Greece, and arguably easier than most of the countries in Europe.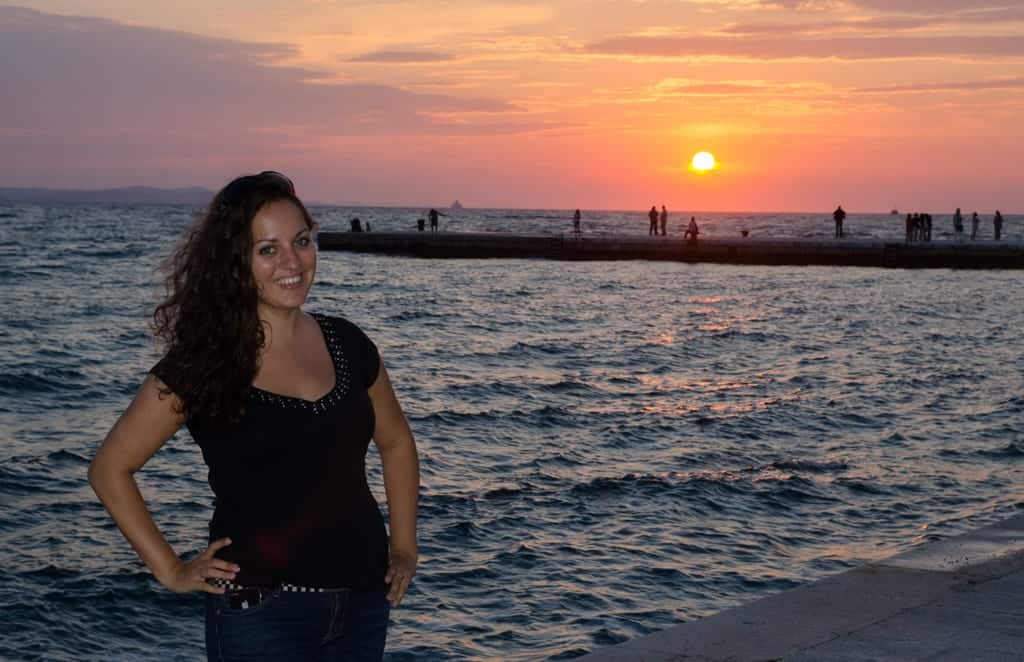 Why Travel Solo to Croatia?
Solo travel in Croatia lets you go at your own pace. Spend an entire afternoon in the Museum of Broken Relationships if you want. Breeze through Dubrovnik in half a day if you want. Eat the black truffle pizza at Jupiter Pizzeria in Pula there nights in a row if you want. This is your trip and when you travel solo, you can do whatever you want.
Croatia is a very easy country to travel. English is widely spoken, there is very good travel infrastructure, and you'll find hotels, restaurants, and tours for every price range. The roads are easy to drive, there is public transportation everywhere, and you'll find plenty of information online, too.
Croatia is filled with so much beauty. The natural beauty, from the mountains and waterfalls to the cliffs of the coast, has inspired artists for centuries. But there's so much beauty built by humans, too, from the old towns of Rovinj and Dubrovnik to the sprawling cathedrals and hill towns that seem perched far above the planet.
In most places in Croatia, you get excellent value for money, which is especially important when you're paying for everything on your own. While historically Croatia has been an affordable alternative to places like Italy and France, prices are steadily creeping up, especially in Dubrovnik, Rovinj, and other popular resort destinations. You'll get the most value in small beach or inland towns, which will be cheaper than small beach or inland towns in much of Western Europe.
Croatia is the kind of destination that will make your friends jealous. You are going to get the most killer Instagram photos of all time.
Is Croatia Good for First-Time Solo Female Travelers?
Yes, Croatia is a great choice for first-time solo female travelers. Usually, I recommend that first-time solo travelers do their first trip in a place where English is the local language, but Croatia works just as well because everyone speaks it! (Unlike France or Spain, Croatians realize that the average foreign tourist will not speak Croatian and adjust accordingly.)
You will find occasional people who don't speak English — taxi drivers, bus station employees, shop owners — but 95% of the time it's easy to get your point across. If you stick to the tourist trail, you be able to get along just fine.
Croatia also has very good travel infrastructure. There are hotels at a variety of price levels all over the country. There are bus and ferry connections all over the place (the train is limited in Croatia but good for a few routes). If you choose to drive, the roads are in excellent condition. There are restaurants and tours all over Croatia that cater to tourists from a variety of countries.
Taking a group tour can be a great way to get to know Croatia. I recommend taking group tours by land, and I recommend small ship cruises, like sailing cruises or small ocean cruises.
I do not recommend taking a large ship cruise in Croatia. These are major contributors to overtourism, they're terrible for the environment, and they ensure that you will only visit destinations when they are at their most packed.
Large ship cruises in the Adriatic tend to visit small ports that are not built for thousands of tourists at once, like Venice and Kotor. If you're set on cruising, consider a small ship or sailing trip instead.
G Adventures offers more than a dozen tours to Croatia. I have traveled with G before and recommend them, as they employ local guides, focus on sustainability, and keep their tour sizes small. Here are some of their Croatia tours: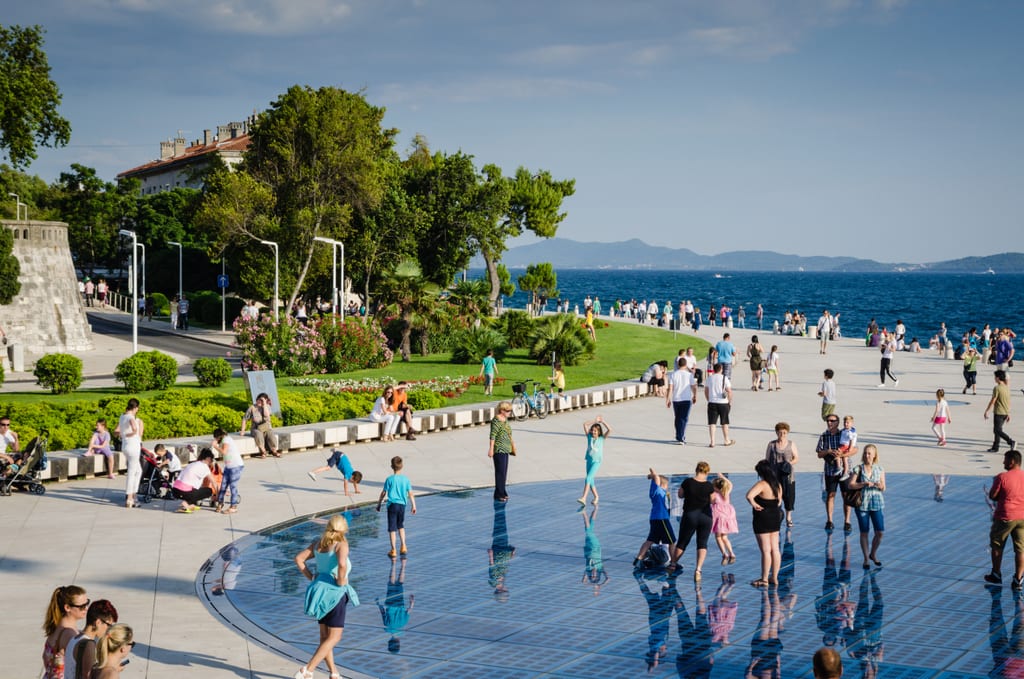 Is Croatia Good for Experienced Solo Female Travelers?
Absolutely, Croatia is wonderful for more experienced solo travelers! Croatia is just as interesting and beautiful even if you've traveled extensively. Even after all my years of traveling the world solo, Croatia remains one of my favorites.
There is one caveat — you will probably hate being in the thick of tourist crowds, and the crowds are their worst at Dubrovnik during the day in high season. It's one of the most touristy places on the planet. But that's just one place and keep reading this post for how to avoid the worst of the crowds.
If you're an experienced solo traveler, you may enjoy getting off the beaten path more than others. You might prefer beaches and islands that draw a more Balkan crowd, like Pag or Makarska. I would definitely recommend renting a car. And if you want to get really off the beaten path, head to Slavonia, the northeast region of Croatia that gets a tiny fraction of tourists compared to the rest of the country!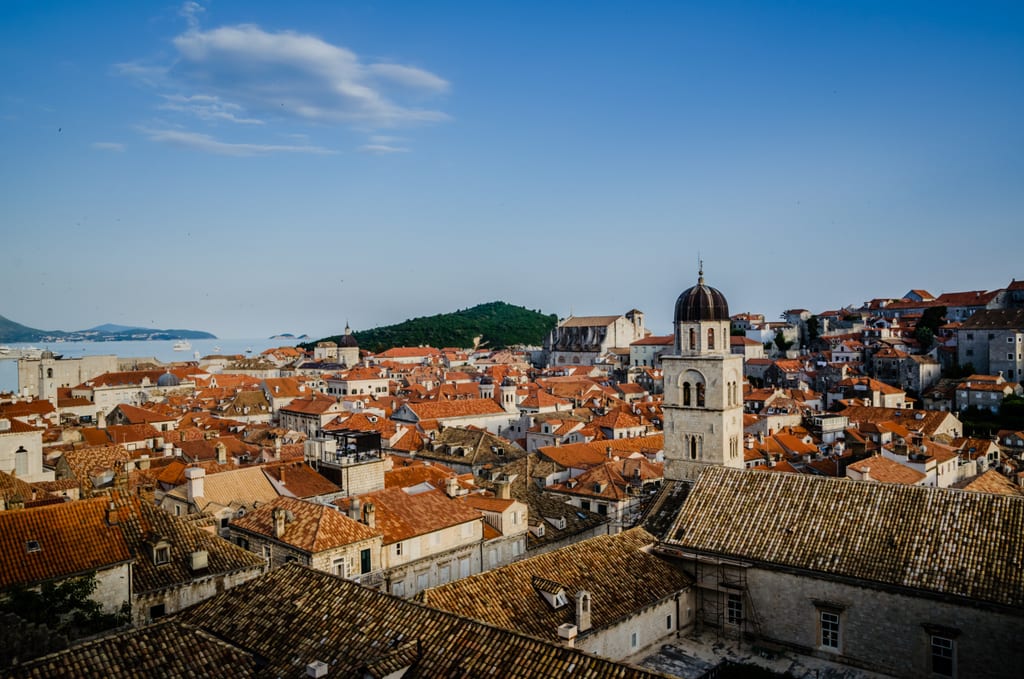 Where to Go in Croatia
There are so many different options! Most travelers will start their trips in one of the four major air hubs: Dubrovnik, Split, Pula, or Zagreb. From there you can explore in different directions.
Dubrovnik is the most visited place in Croatia, and for good reason. It's a stunning city along the ocean with an old town so beautiful and perfect that it was the setting for King's Landing on Game of Thrones. With its popularity comes the tourist crowds, but Dubrovnik is best in the late afternoon and evening.
Zagreb is a cute and underrated capital city. It has a beautiful old town, lots of interesting restaurants, and a cafe scene that rivals the rest of the Balkans. If you're visiting during December, Zagreb is known for its Christmas markets.
Split is another popular city to visit. Much of the pretty old town is the remains of Diocletian's Palace, giving you a chance to say you've slept in a UNESCO World Heritage Site! Split is a major transportation hub but busy and beachless — it's better for a daylong visit than a longer stay.
Zadar is my personal favorite place in Croatia. I adore this small city! It's low-key, covered in pastels, not very touristy, and home to Roman ruins and two quirky attractions: the Sea Organ and Sun Salutation. Hitchcock once said it was home to the best sunset in the world; see if you agree!
---
READ MORE:
---
The Plitvice Lakes and Krka National Park are home to the most beautiful natural scenery in Croatia. The Plitvice Lakes are filled with waterfalls in every direction and have a well-earned UNESCO World Heritage designation. Krka National Park actually lets you swim in their lakes and has fewer but larger waterfalls.
Rovinj is another of my favorite places. This pastel-perfect town on the western coast of Istria looks like part of Italy (in fact, it was once part of Venice). The old town is filled with swirling streets that build to a hill. Come here to sip a coffee while bathed in sunshine.
The Istria region is a unique Italian-flavored part of Croatia. This heart-shaped peninsula is home to hill towns, wineries, and olive groves. Some people refer to Istria as "Italy on a budget" — and you can't argue with $10 truffle pasta dishes. A great place to explore by car.
Croatia's islands are justifiably popular places. Each island has its own personality and character, and here are some of the more popular islands:
Slavonia is Croatia way off the beaten path. This northeast section of Croatia, south of Hungary, is culturally different from the rest of the country. You'll find wildlife and vegetation in Kopacki Rit, Europe's largest wetland area, and you'll see very few tourists.
This is just a taste of Croatia — there are plenty more destinations. I loved the low-key city of Šibenik, and loved listening to the musicians in Groznjan, and hung out on the beach in Makarska, and even dropped by Hum, "the smallest town in the world." Go find your special place.
Read More: 2 Week Croatia Itinerary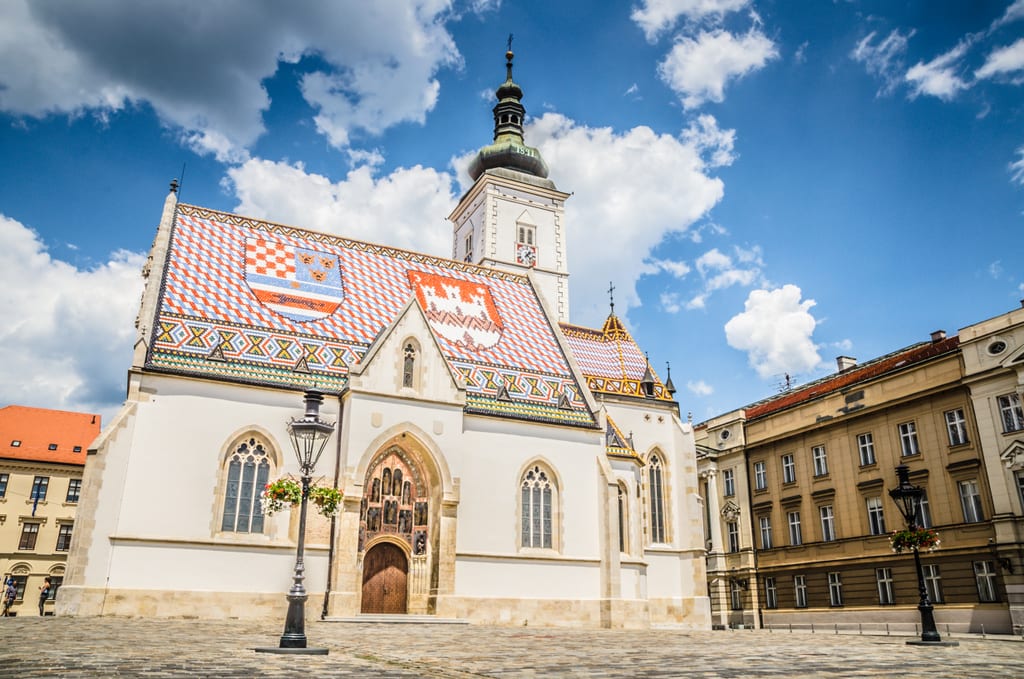 Is Croatia Safe?
Croatia is a very safe country — no less safe than your hometown or the vast majority of Europe. The major things you need to be cautious about are petty theft and pickpocketing, especially in tourist-filled areas like the city centers of Split and Dubrovnik.
For many people, Croatia will evoke images of turmoil as Yugoslavia dissolved, or of bombs falling on Dubrovnik in the early 1990s. Those days were terrible for Croatians — but they've been over for a LONG time.
I find that 90s conflicts cast a long shadow, particularly to people from the United States. If you mention that you're traveling to South Africa, or Cambodia, or Kosovo, Americans will often ask if you'll be dealing with the fallout from the end of Apartheid, or Pol Pot's regime, or ethnic cleansing by the Serbs. Those conflicts are so far in the past, yet they stay on people's mind. Croatia often evokes the same reaction. But travel to Croatia today and you would have no idea anything ever happened in the first place.
Today, most of staying safe in Croatia is down to common sense. Keep your valuables on you while in transit. Lock up your valuables in your accommodation. Be cautious of your drinking. Don't trust people too quickly. Give your itinerary to someone at home and check in with them.
---
READ MORE:
Top 10 Travel Safety Tips for Women
---
Travel and Safety Tips for Croatia
Time your visit to Croatia carefully. High season along the coast is from June through the end of August, and this is when prices are at their highest and the places are most crowded — however, for many people, this is the only time they have free to travel.
If you're able to, I recommend traveling to Croatia in late September or even early October. The weather in September is wonderful and the water is at its warmest, but the kids are back in school and it's significantly less crowded. June is a solid choice, too, especially early June.
May and October are good shoulder seasons — the weather will not be super hot, but it will be warm, especially the further south you go. July and August are peak season and I recommend avoiding Croatia's coast then if you can.
Some travelers like to visit in the off-season, especially Zagreb for its famous Christmas markets in December, but keep in mind that much of the coast will be closed for the season then.
Croatia can be tough to fly to from the US. Your best option is to connect via elsewhere in Europe, like the UK, Germany, or France. Use Skyscanner to find the cheapest options.
If you're having trouble finding a logical route, consider pricing out a return flight to a hub like London, Amsterdam, or Frankfurt, then finding separate return flights to and from Croatia. Keep in mind that you'll need to pick up your luggage when you arrive and check in again, so give yourself a good layover in both directions.
Many flight routes to Croatia only operate during the summer. Particularly flights to Dubrovnik, Split, Zadar, and Pula. Keep this in mind when planning your trip.
Croatia is part of the EU, but not part of the Schengen Area. If you're starting to run out of time in the Schengen Area (they permit you 90 days within six months) Croatia is a great place to spend time. There are no open borders between Croatia and any other country, including the little bit of Bosnia that bisects the coast.
Consider getting a SIM card in Croatia. Having the internet on your phone is great for finding your way around and hailing Ubers when you need them. Getting a local SIM card is usually much cheaper than putting your home phone on an international plan. T-Hrvatski Telekom is one phone company with good packages for travelers in Croatia.
Dive into Croatian cuisine. Keep in mind that much of Croatian cuisine is regional and you can't find everything in every part of the country. Some of my favorites: Pag cheese from the island of Pag, which is the perfect starter to any meal; all the cheap truffle dishes in Istria; and kremšnita, or cream cake, in the Zagreb area. The seafood on the coast is plentiful and glorious. And if you're a picky eater, don't worry — you can find pizza everywhere.
Know that most of Croatia's beaches are rocky, not sandy. This doesn't make them any less beautiful, but it does make them less comfortable. Most beaches in Croatia have options for renting chairs. Most Croatian beaches are pebbly; some, like in Rt. Kamenjak in Istria, are more like giant slabs of rock. One of the most famous sandy beaches is Zlatni Rat, or Golden Horn, on the island of Brač.
Stay out of the Old City of Dubrovnik during the day. Why? Because it gets incredibly crowded, everyone else will be there, especially if there are a few cruise ships in town at once. You can follow the cruise ship schedule here. My advice is to spend the day on the beach, or kayaking, or exploring outside of town, then go into the Old City right before sunset and into the night.
Use Split to break up your trip. While Split is a major flight hub, I don't recommend spending your whole trip there. It's a nice old city but there is no beach and it's very touristy, particularly with young tourists looking to get drunk for cheap. Instead, I recommend using Split as a stopover point. The first time I went to Split, I dropped off the car I had rented from Pula, spent a night there, and hopped on a boat to explore the islands.
You can day trip to Montenegro or Bosnia, but the immigration lines are LONG during high season. If you're visiting during the summer, I recommend visiting Kotor in Montenegro or Mostar in Bosnia as part of a multi-day getaway, or you'll spend too much of a single day waiting in line at immigration.
It's okay to sunbathe topless in Croatia. This isn't a taboo like in other countries. Croatia also has a number of nude beaches if you're interested in trying that out.
Dress to blend in with Croatian women. In Croatia as well as Europe as a whole, women rarely wear shorts or athletic sneakers. Instead of shorts, they tend to wear skirts, dresses, or pants. Women tend to dress neatly and be well put-together. In the summertime, it helps to pack light fabrics that don't wrinkle easily.
It's polite to cover up (shoulders to knees) if you're visiting a church. Only wear swimwear at the beach. Clothing rules are relaxed in and around beach areas.
For shoes for Croatia, The Walking Company is my go-to for comfortable shoes that are cute. I strongly recommend black ABEO flats, which have fantastic arch support. I own and love these tasteful, comfortable black sandals. If you want to wear sneakers, go for something more fashionable than athletic. I own these white sneakers from Cole Haan and they are perfect for Croatia.
Consider bringing a Speakeasy Travel Supply scarf. These beautiful scarves have a hidden passport pocket in them, which is great for when you're on public transit (or traveling to Montenegro or Bosnia for the day). I love these scarves (I even designed my own!) and they are so good at keeping your valuables hidden. They're also extremely chic and they come in different fabrics for all kinds of climates.
Pickpocketing in Croatia doesn't happen as often as it does in Paris or Barcelona. Keep an eye on your belongings at all times and especially be cautious on public transportation and in the city centers of Dubrovnik and Split.
If you carry a purse, hold it close to you. I recommend a crossbody purse, made out of a tough material like leather or fake leather, that zips shut. I recommend many purses in this post. Never let it hang behind you — always keep it in a place where you can see it, and keep your hand on it if you're in a crowd.
If you carry a wallet without a purse, don't keep it in your back pocket. This is obvious to thieves and they will grab it and run.If you use a small backpack, lock it. I use a Pacsafe backpack where you can lock the compartments shut.
Keep your valuables locked up in your accommodation and only take with you what you need that day. I do this with my Pacsafe Travelsafe and I consider it the most important thing I pack. Keep an extra debit card and at least $100 or 100 euros hidden in obscure parts of your luggage.
Get an extra debit card. You should have two debit cards to two different bank accounts. If you only have one, I recommend you get a debit card from Transferwise. Keep a few hundred dollars in your account, hide the card deep in your luggage, and use it if your primary debit card is stolen.
Never leave your bags anywhere unattended. Even if you're used to asking someone to watch your things while you use the bathroom in a coffeeshop at home, be cautious about doing that in Croatia. Take your belongings with you. If you're keeping your bag under the table or otherwise out of sight, keep it between your feet or hook the strap around one of the chair legs.
Don't carry tons of cash around with you. You can use credit cards throughout Croatia, and carrying lots of cash leaves you vulnerable to theft. You don't want to be the traveler who loses her wallet and the $500 in it.
Only use ATMs at banks during the day, indoors. Don't use standalone ATMs in convenience stores. Not only do they leave you susceptible to robbery, if your card gets eaten, it's a lot easier to retrieve it from a real bank's ATM.
If someone robs you, GIVE THEM WHAT THEY WANT. Nothing is worth your life.
Be cautious of the heat in Croatia. It's easy to discount just how hot it gets in Croatia, especially if you're feeling cool in the wind on a sailboat. Use sunscreen, hydrate continuously, stay in the shade when you can, and be careful not to drink too much.
It's safe to drink tap water in Croatia. I recommend you bring a reusable bottle and filling up as you go instead of constantly buying plastic bottles.
Bring motion sickness medication. You might need it for the boat rides or for driving through winding roads in the mountains. Be sure to take it before you start feeling super sick, ideally before a boat ride if you get seasick. I recommend meclizine (the generic version of non-drowsy Dramamine).
Be careful about your drinking. Drink less than you ordinarily would at home — two drinks is a good limit. Only take drinks from bartenders, never take a drink from a stranger, and always keep it with you and keep an eye on it. Be especially cautious in tourist-driven party zones like Hvar town.
Spend extra money on staying safe. If it costs you money to take an Uber rather than walk, or to stay in a guesthouse in a nicer neighborhood, do it. The peace of mind is always worth the extra money spent.
Get a digital guidebook and keep it on your phone. Even today, I always keep a guidebook PDF on my phone, saved to the iBooks app — it's great for calculating approximate time of journeys, knowing what days places are closed, and it lists medical centers you should go to in case of emergency. I'm a big fan of Lonely Planet guidebooks — get the digital version of Lonely Planet Croatia.
Most importantly, you have no obligation to be nice to anyone. Women often feel the need to be nice and please people at all costs. You don't have to anywhere — especially so in Croatia. If anyone is making you feel uncomfortable, just leave. Trust me — you won't be the rudest person they meet that day, and this isn't unheard-of behavior in Croatia.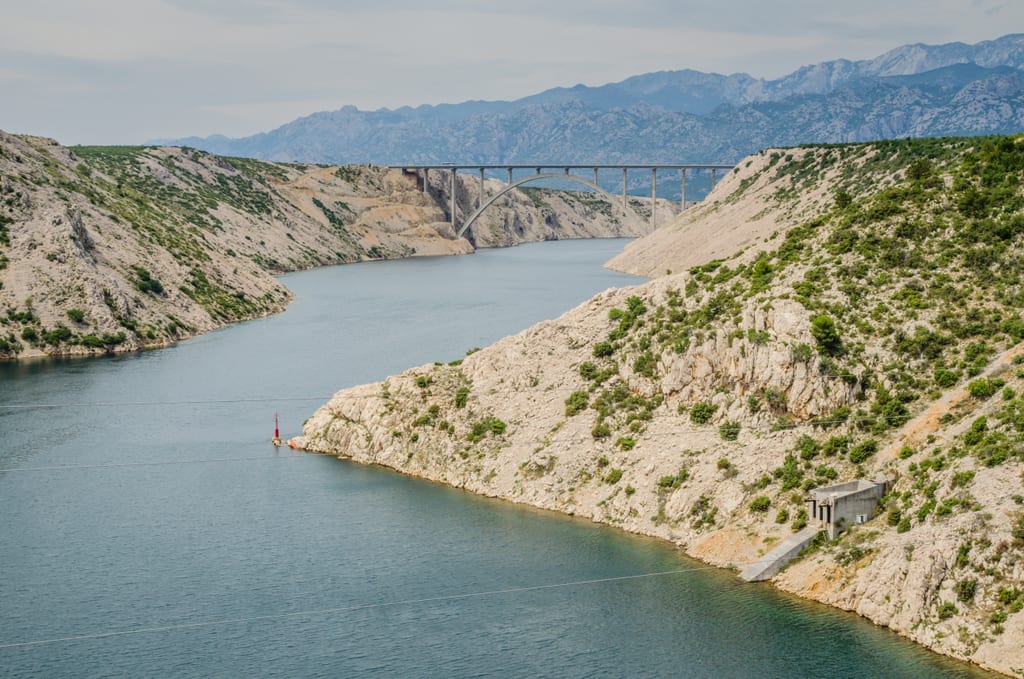 How to Get Around Croatia Solo
My top recommendation for traveling around Croatia is to rent a car. Seriously. Croatia is ideally explored by car — the roads are in excellent condition, the drivers aren't too aggressive, and there are so many places to explore. One of the charms of exploring Croatia is enjoying tiny little villages, and with a car you can visit four or five in a single day.
Be sure to double-check that you're renting a car with an automatic transmission. Automatics are not as common in Croatia as in the United States, and they cost significantly more. If you can drive a stick (and enjoy it), feel free to rent a manual vehicle!
One thing to keep in mind when driving to Dubrovnik is that a tiny bit of the coast, home to the town of Neum, is actually part of Bosnia. You'll need to go through immigration along that highway — there's no way around it. It's brief and you won't need to get out of your car, but you should have your passport ready.
The best ways to travel Croatia by public transportation are by bus and ferry. Buses will take you to the most of the major destinations in the country, and they will usually take you direct. Sometimes they have convenient stops along the route: for example, the bus from Zagreb to Zadar has a stop just along the Plitvice Lakes. Check out bus schedules here.
Ferries are the only way to get to the islands by public transit. You can also take them for a more scenic route along the mainland, but this will be slower and less direct than traveling by bus. Check out the ferry schedules here.
Trains don't go to lots of destinations in Croatia. Most notably, TRAINS DO NOT GO TO DUBROVNIK. At all. While you can find trains along certain journeys — like from Zagreb to Pula or Zagreb to Split — often the buses are faster, easier, and run more often. If I were traveling in Croatia by public transportation, I probably wouldn't take trains at all. Seat61 is a good resource for trains in Croatia.
Uber exists in several Croatian regions, including Zagreb and much of the Croatian coast. This is especially a good option for getting around a city with heavy luggage or getting back late at night.
How to Meet People in Croatia
You can easily meet people in Croatia! Croatians aren't known for being the warmest or friendliest people in Europe, but you will meet lovely people through your stay, either organically or through meet-ups.
Visit Croatia on a group tour. I went on a sailing cruise with Busabout back when I was 27 and it was one of the most fun trips I have ever taken! If you're still at the backpack-and-party stage of life, it's a great way to explore Croatia. These days, you can find sailing cruises with companies like G Adventures.
Join tours and activities. Day tours are a great way to meet new people! Whether you're doing — yelling, "Shame!" on the Game of Thrones tour in Dubrovnik, or enjoying snacks on a food tour in Zagreb, or a catamaran cruise from Split to Brač with unlimited drinks, you'll meet people excited to explore the local region.
Look for Couchsurfing meetup events throughout Croatia. Couchsurfing isn't just for free accommodation — they also put on meetup events where everyone is welcome. Many major cities have weekly meetups, and they always draw a great crowd.
Consider staying at a social hostel. There are tons of great hostels all over Croatia, from Fresh Sheets in the heart of Dubrovnik's Old City to Boutique Forum Hostel in Zadar, which looks more like a hotel. Many of these hostels offer private rooms, if dorms aren't your thing, and quite a few of them offer tours and other activities. If there is a bar in the hostel, it will be a very social place.
Join a meetup on Meetup.com. Whether you're into travel, running, movies, board games, or just want to meet a group of nice people, there's a Meetup for that. Check out what's on offer in Croatia.
Put out feelers on social media. Often a friend of yours will have a cousin or friend living somewhere in Croatia who will offer to meet you for coffee, just so you know someone. Take advantage of this if you can.
Tinder. If you're looking to date or hook up, have fun! If you've always wanted to date a guy or girl with dark hair and intense eyes, this is your chance. You might even find your own Dr. Luka Kovač from ER!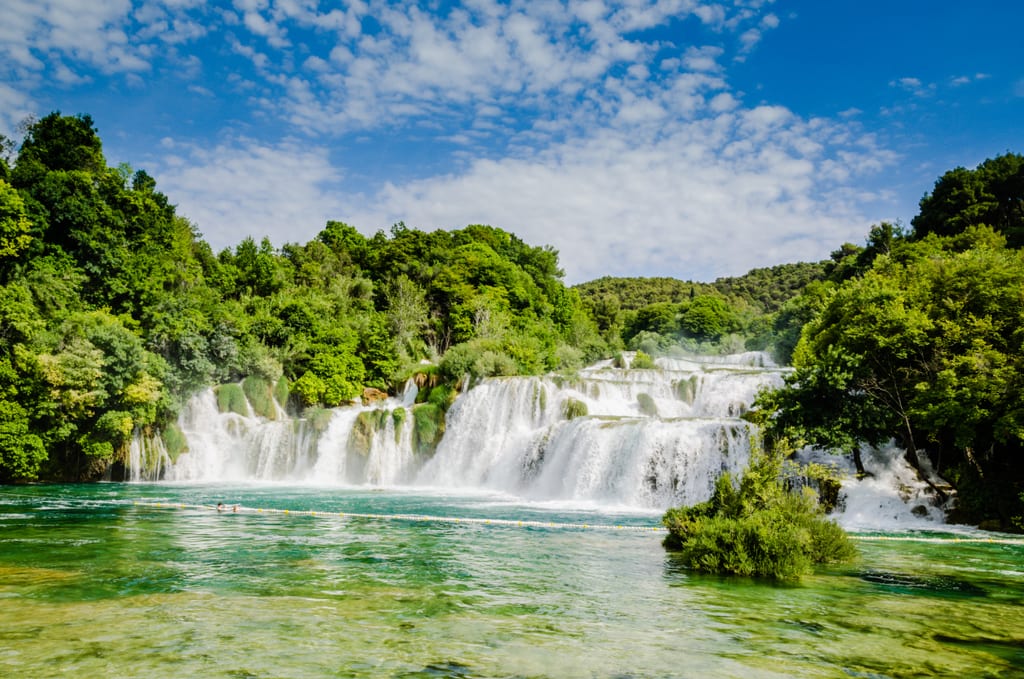 Best Things to Do on a Croatia Solo Trip
Go swimming in the waterfall-fed lake in Krka National Park. The Plitvice Lakes may be more famous — and more waterfall-y — but you can't swim in them. Krka is where you can pose for Instagram shots in front of the waterfall, then take that luscious dip you've been craving. Get a ticket here.
Go wine-tasting. Croatia is home to several wine regions, and you'll find vineyards to explore in Istria, on the Dalmatian coast, and even in the towns surrounding Zagreb. You can do a wine tasting day trip from Dubrovnik or from Zagreb, or head to D'Vino Wine Bar in Dubrovnik to taste a selection without leaving town.
Listen to the Sea Organ in Zadar. Zadar has two unique attractions in the city center: the Sea Organ and Sun Salutation. The Sea Organ is a natural organ that plays soothing music generated by the ocean waves; the Sun Salutation lights up the waterfront with a solar-powered disc of bright lights at night. These are two of the things that make Zadar so special to me.
See the sights from Game of Thrones. Dubrovnik is where many scenes from King's Landing were filmed, and you can learn all about them on a Game of Thrones tour! The best part is when the guide holds up screen shots from the show and you can see exactly where they filmed. If you're lucky, your guide might even have been an extra.
Feast on the black truffle pizza at Jupiter Pizzeria in Pula. I am a girl who knows her pizza and the black truffle pizza at Jupiter Pizzeria is one of my favorite pizzas on the planet. Make sure they use tomato sauce; though it lists the sauce on the menu, sometimes they have brought it to me without sauce.
Swim in the bright teal lakes of Mljet. Mljet is an island not far from Dubrovnik. It's home to a national park with the brightest, most intense neon saltwater lakes. Swimming in these lakes is a far cry from swimming in the Adriatic — you'll marvel at the silkiness and warmth of these waters. It's even better when you do a day trip to Mljet from Dubrovnik by catamaran.
Visit the Museum of Broken Relationships in Zagreb. This is one of my favorite museums in the world. It began as a little collection of artifacts from people's past relationships, complete with stories about them — and now the museum has traveling exhibits are all over the world, from New York to Tbilisi. Come here to laugh, marvel, and be deeply moved by these stories about love.
Party in Hvar. Beyoncé and Jay-Z go to Hvar. Ellen and Portia go to Hvar. And Hvar has some of the biggest beach clubs in all of Croatia! If you're up for the crazy party-all-night experience, head to one of the clubs on off-shore islands; you can also have a fun party night at the bars in Hvar Town.
Chill out on Vis. Vis is the best island to visit if you've been to Croatia before — it's so REFINED! So ELEGANT! So EXCLUSIVE!
Go on a sailboat — somewhere, somehow. Whether or not you choose to spend a week sailing down the coast or just do a day trip to a pretty island, there is nothing like watching the gray-green Croatian coast go by as the wind flies through your hair.
Drive around Istria and explore cute little towns. Istria is so different from the rest of Croatia — it feels more like Italy. Enjoy it by renting a car and spending several days exploring the villages. Motovun is a city perched precariously on a hill; Groznjan is filled with student musicians during the summer; Labin is a rainbow of colors; Bale has cool cafes.
---
READ MORE:
Exploring Rovinj, the Prettiest City in Croatia
---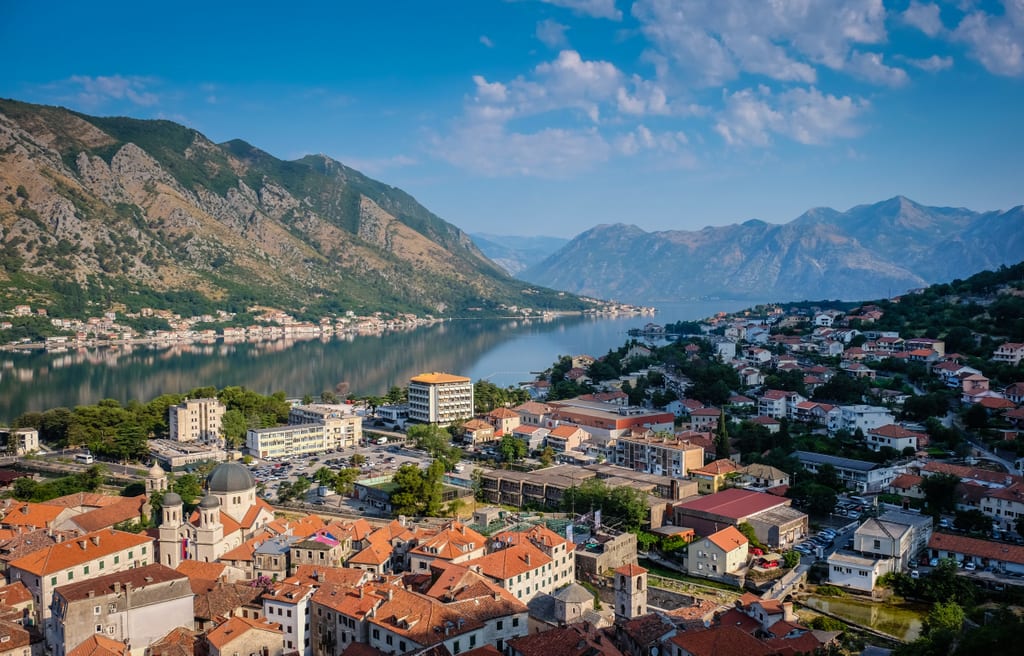 Where to Travel After Croatia
Another advantage of Croatia is that it's surrounded by several other fantastic countries. If you want to add on one or more countries to your Croatia trip, you absolutely can. Here's where you should go next:
Montenegro. Montenegro is a fantastic place to travel — in fact, I consider it the most beautiful country in Europe. And it's perfectly situated right next door to Dubrovnik and the Dalmatian coast.
Many people day trip from Dubrovnik to Kotor, but I recommend you spend a few days based in Montenegro instead.
Montenegro is an incredible country, and you'll be able to explore Durmitor National Park, going whitewater rafting, or even hitting up the Sea Dance festival in Budva if you're visiting in July. I make no secret of how much I love Montenegro and it would far and away be my top choice for adding onto a Croatia trip.
Bosnia. Like Kotor, many people do a day trip to Mostar, Bosnia, to see the bridge and enjoy its beauty and history. If you have the time, head to Bosnia for several days and add in Sarajevo and a trip to Kravice Falls as well. Bosnia is a very underrated destination with incredible nature and so much history and culture.
Slovenia. Zagreb is a 2.5-hour train or bus ride from Ljubljana, Slovenia's capital. You could day trip there if you really want to, but Slovenia is very different from the rest of the Balkans and deserves more than just a day. It looks and feels like Austria with alpine villages and window boxes filled with geraniums.
Enjoy the cafe scene in Ljubljana, one of my favorite capitals in Europe, or explore the bright blue lakes of Bled and Bohinj, or go underground in the Skocjan Caves. Here's my Slovenia road trip itinerary.
Italy. If you're traveling in the Istria region, Italy is a quick overland hop away; if you're further south, there are ferries you could take across the Adriatic: to Bari in Puglia, Ancona in Le Marche, Cesenatico in Romagna, or Venice in the Veneto.
I adore Italy and have traveled to most of its regions — there is SO much to explore. If you're traveling to Italy, check out my solo female travel guide to Italy here.
Albania, Serbia, Kosovo, and Macedonia. The other countries of the Western Balkans are fascinating and some of my favorite places to visit, especially Macedonia and Albania. They're beautiful but rough around the edges, and while they're cheaper than Croatia, they have poorer infrastructure.
If you're a more experienced traveler and up for a bit of a challenge, they are awesome places to visit.
---
READ MORE:
What's it like to travel in Albania?
Kosovo: A Warm Welcome to a Newborn Country
Magnificent Macedonia Will Surprise You
---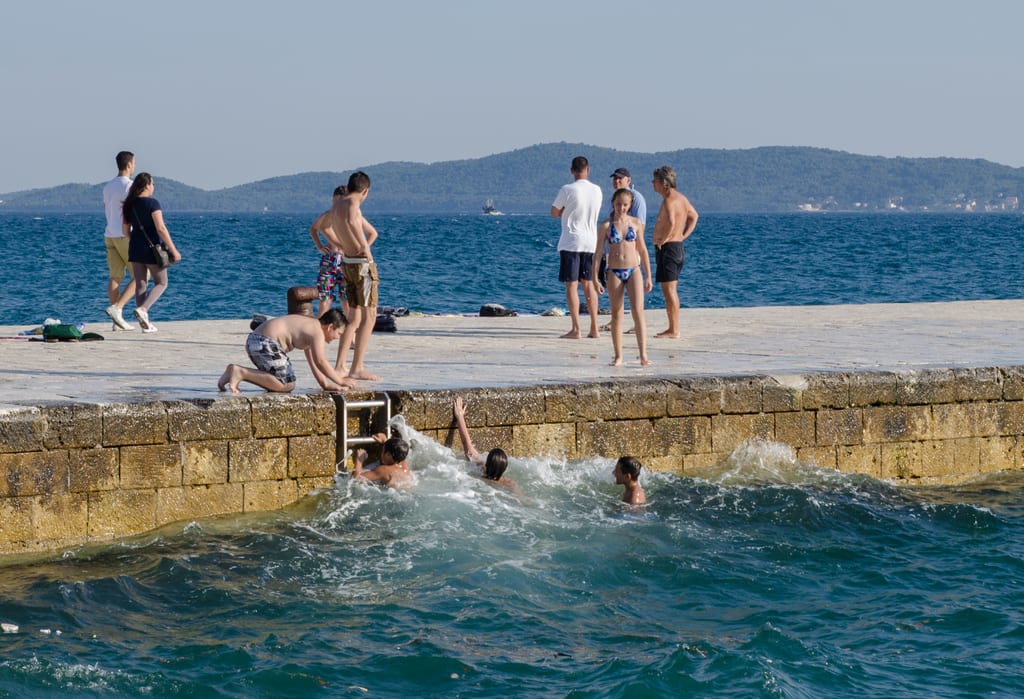 Travel Insurance for Croatia
A lot of people don't think it's necessary to get travel insurance for Croatia — after all, it's a safe country with decent healthcare. But you need it. If you get sick or injured on your trip, if you get robbed, or even if you have to be flown home, travel insurance will protect you from financial ruin. I use and recommend World Nomads for trips to Croatia.
I have thankfully never needed to call my travel insurance for help while in Croatia — but I do have a friend who had to visit the hospital after being stung by a wasp in Split, one who sprained her ankle after falling down the steps in Dubrovnik, and one who got her wallet stolen and needed to go to the police station.
While Croatia's hospital prices aren't anywhere near what the US would charge you, you could end up paying a lot of money for a serious medical issue. But travel insurance protects you and refunds you for your costs. It's the kind of thing you don't know you need until you need it.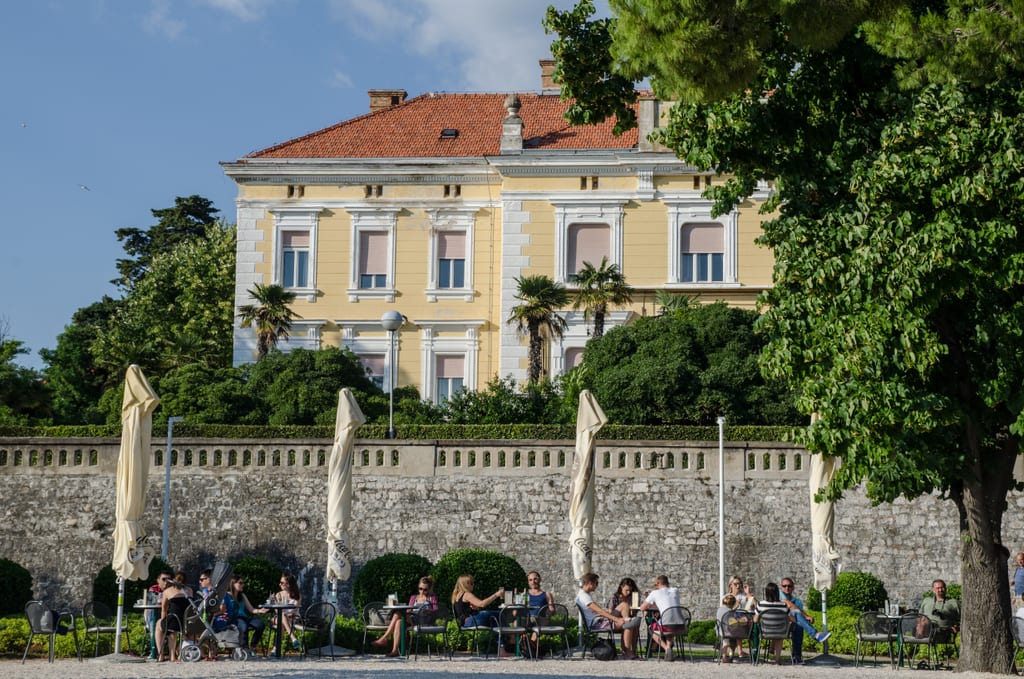 My #1 Travel Tip for Croatia
Learn how to avoid the worst of the tourist crowds. There are parts of Croatia that are extremely overcrowded and parts of Croatia that are blissfully free of tourists. You'll be much happier if you avoid the busy parts of major cities when they're at their most packed. Here are four ways to do that:
1. Don't take a large ship cruise in Croatia. I can't say this often enough. Large cruise ships are one of the major causes of overtourism in Europe, particularly the Mediterranean. Many of the ports of the Adriatic are just too small to handle thousands of tourists pouring in at once, and you'll only experience the destinations when they're at their most packed and sweaty.
If you're set on exploring Croatia by cruise (meaning that you only want to unpack once), consider doing a small ship or sailing cruise instead. You'll be able to visit more offbeat destinations, you can stay in destinations like Dubrovnik overnight, and there's nothing like the feeling of being on a small boat in the Adriatic.
2. Mix popular destinations with lesser-known destinations. If you're in Zadar, check out Paklenica National Park; if you're in Zagreb, check out Plešivica; if you're in Split, check out Šibenik. If you're visiting islands for some beach time, consider booking accommodation away from the city center.
3. Consider visiting in the shoulder season. September is my top recommendation for when to visit Croatia, and much of Europe — the weather is summery, the water is at its warmest, the kids are back in school, and most tourists have gone home. June is great and late May and early October are warm in the south and a bit cooler up north. Avoid July and August if you can — it's crazy.
4. Stay out of Dubrovnik during cruise ship hours. Luckily, there is plenty of stuff to do! Go kayaking around Lokrum Island, take a cable car up the hill, do a day trip to Mljet island. As soon as the sun starts to set, that's when the big ships are leaving and it's time to head back to town.
---
READ MORE:
---
Croatia is waiting for you!
Croatia has SO much to offer for solo female travelers. Whether you're looking to cruise down the islands, drive from village to village, or gawk at the waterfalls, Croatia has something for every kind of traveler. But more than that, it's a safe country and a smart destination even for women who have never traveled alone before.
Start planning your trip to Croatia and get ready to have the time of your life! Then come back and tell me all about it.
Planning a Trip to Croatia:
Croatian Islands and the Dalmatian Coast:
Istria and the North:
---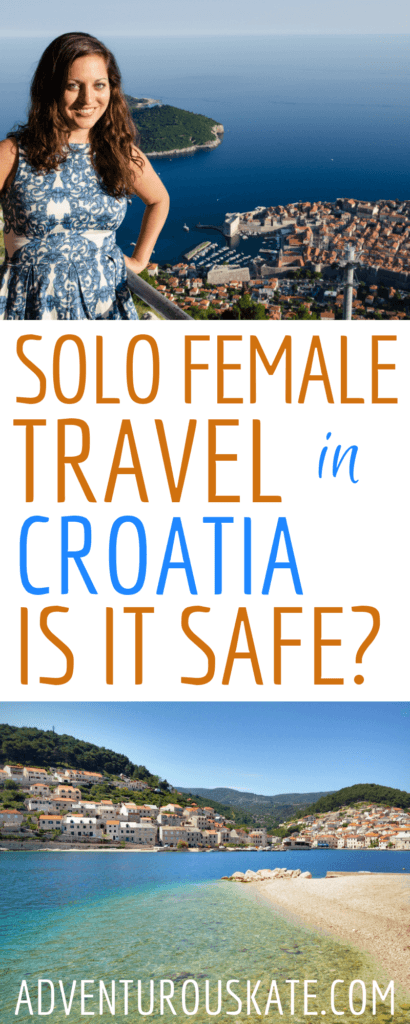 Have you traveled solo in Croatia? Share your tips!