Adventurous Kate contains affiliate links. If you make a purchase through these links, I will earn a commission at no extra cost to you. Thanks!
Nicaragua, I have fallen madly in love with you! Before I came to Central America, I knew I was looking forward to Nicaragua the most, so I made sure to allot myself a good amount of time (four weeks). That was a smart decision. I could easily stay here another month or longer — there is so much to do!
What do I love about this country? The natural beauty. The volcanoes. The beaches. The kind people. The super cheap prices. And the feeling that it's on the verge of being something huge.
Honestly, I'm going to be heartbroken to leave Nicaragua today, but it's time to move on to El Salvador and a very exciting March.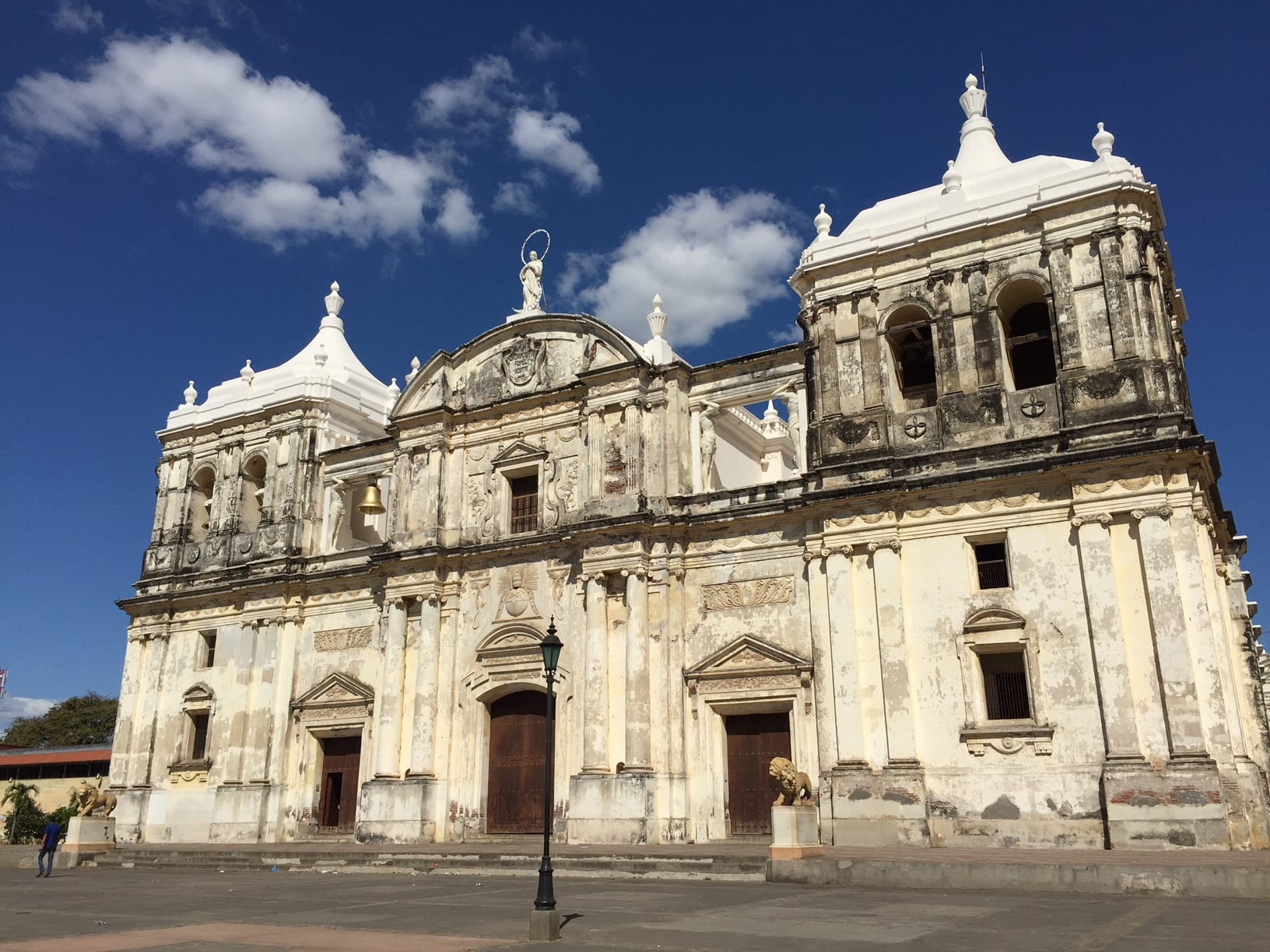 Destinations Visited
Sámara, Costa Rica
San Juan del Sur, Ometepe, Granada, Laguna de Apoyo, Little Corn Island, Big Corn Island, León, and Las Peñitas, Nicaragua
Favorite Destinations
Little Corn Island. A perfect little Caribbean island with gorgeous beaches and a cadre of interesting island people.
San Juan del Sur. I rediscovered my party girl self and loved all the colors and the activities.
Ometepe. Volcano island is rough, stark, and has a special kind of devastating beauty. A unique place I'm glad I didn't skip.
Highlights
I definitely didn't expect to have the best Valentine's Day of my life this month! I spent it with new friends, Sky and Graceann, and we went to Laguna de Apoyo for the day, a short ride from Granada. The laguna is gorgeous and we spent a wonderful day swimming in its wild waves and sunning ourselves on the docks.
Working long hours in a solitary profession, getting to hang out with my colleagues is crucial to my sanity. I got to spend time with two good blogger friends this month: Alex in San Juan del Sur, whom I hadn't met in real life until then, and Rob, with whom I've now hung out on three continents, on the Corn Islands.
In Little Corn I stayed at Yemaya Island Hideaway, with whom I've worked before and who invited me for a complimentary stay, and the resort is fantastic — you'll hear more about it soon. I'm still dreaming of waking up in that cushy bed, swimming in the neon Caribbean Sea, then having their Energizer smoothie with bananas, mint, and pistachios…
And Ometepe is one of my new favorite sunset spots in the world, along with Koh Lanta and Boracay. A major show every night with a perfect view from the dock of Hacienda Merida, on the west side of the island.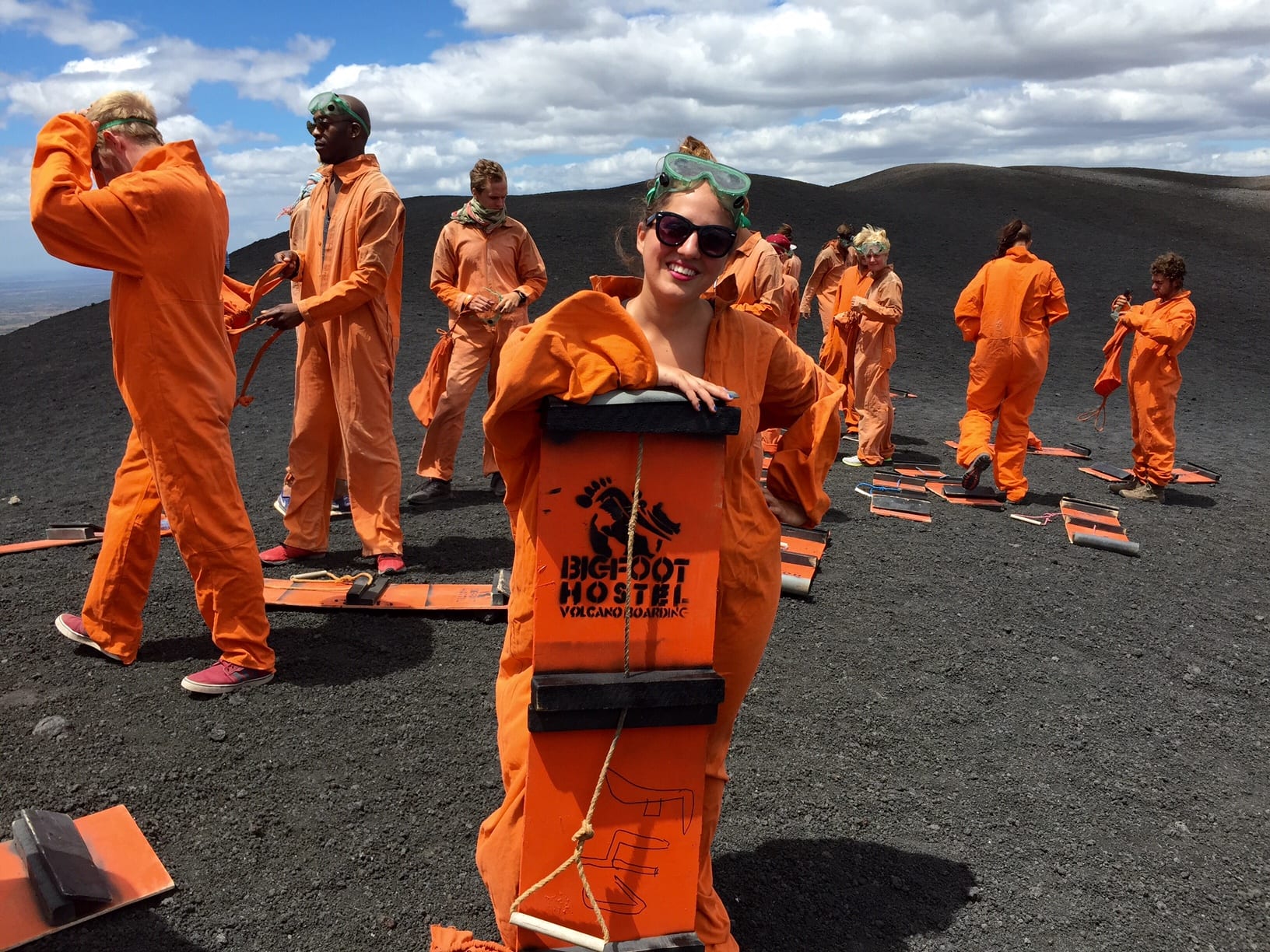 Challenges
I had three major challenges this month.
The worst one by far was the ferry ride from Ometepe back to San Jorge. Since my shipwreck, I get very nervous on boats, especially when the sailing is rough, especially especially when it's an old boat looking like it's about to fall apart. On the way to Ometepe, I got the big boat (the car ferry), which was fine; on the way back, I got the little boat.
The little boat was very similar to my Indonesian boat that wrecked: wooden, old, the same size and shape. And it was a very windy day with rough waves. The boat kept swaying violently; creaks and groans filled the air; water poured into the boat and was scooped out; I gripped the seat in front of me and cried the whole time. It lasted a little over an hour.
The lesson? Take the big ferry only. The big and little boats alternate each hour. If the little boat is next when you arrive at the dock, wait for the big one. Trust me, it's so worth it. You don't want a ride like that.
How bad was it? I took a video near the end of it!
Second worst: volcano boarding was a bust. I had been looking forward to volcano boarding in León for years; unfortunately, I was given a defective board that didn't even slide. I had to stop halfway down and kick the board down the volcano because it didn't work. I'm really disappointed, but at least I got some good photos from the top.
I went with Bigfoot Hostel and regretted my choice (though they did refund me in the end); if I were to do it again, I'd go with the smaller Quetzal Trekkers, a company that gives its profits back to the local community, and I would make sure beforehand that I got a working board.
Third worst: the border crossing from Costa Rica to Nicaragua. It was a mess. You had to go through about eight different steps and checkpoints, it was hot and spread out, there were no clear directions, nobody had any idea where they were going, and one of the lines took over an hour. I get that it's a necessity; I just never want to do it again.
San Juan del Sur is close to the Costa Rica border, so you might think it's better to fly to Liberia, take a two-hour bus, cross the border and take a thirty-minute taxi, but longtime expats told me that it's SO much better to fly into Managua, do a quick and straightforward immigration process, and get a bus from there.
Most Popular Post
How to Travel Solo to a Party Destination — Wow, you guys really loved this one! Nobody ever talks about how to join a bar full of strangers, so I was happy to share the best ways to party when you don't know anyone.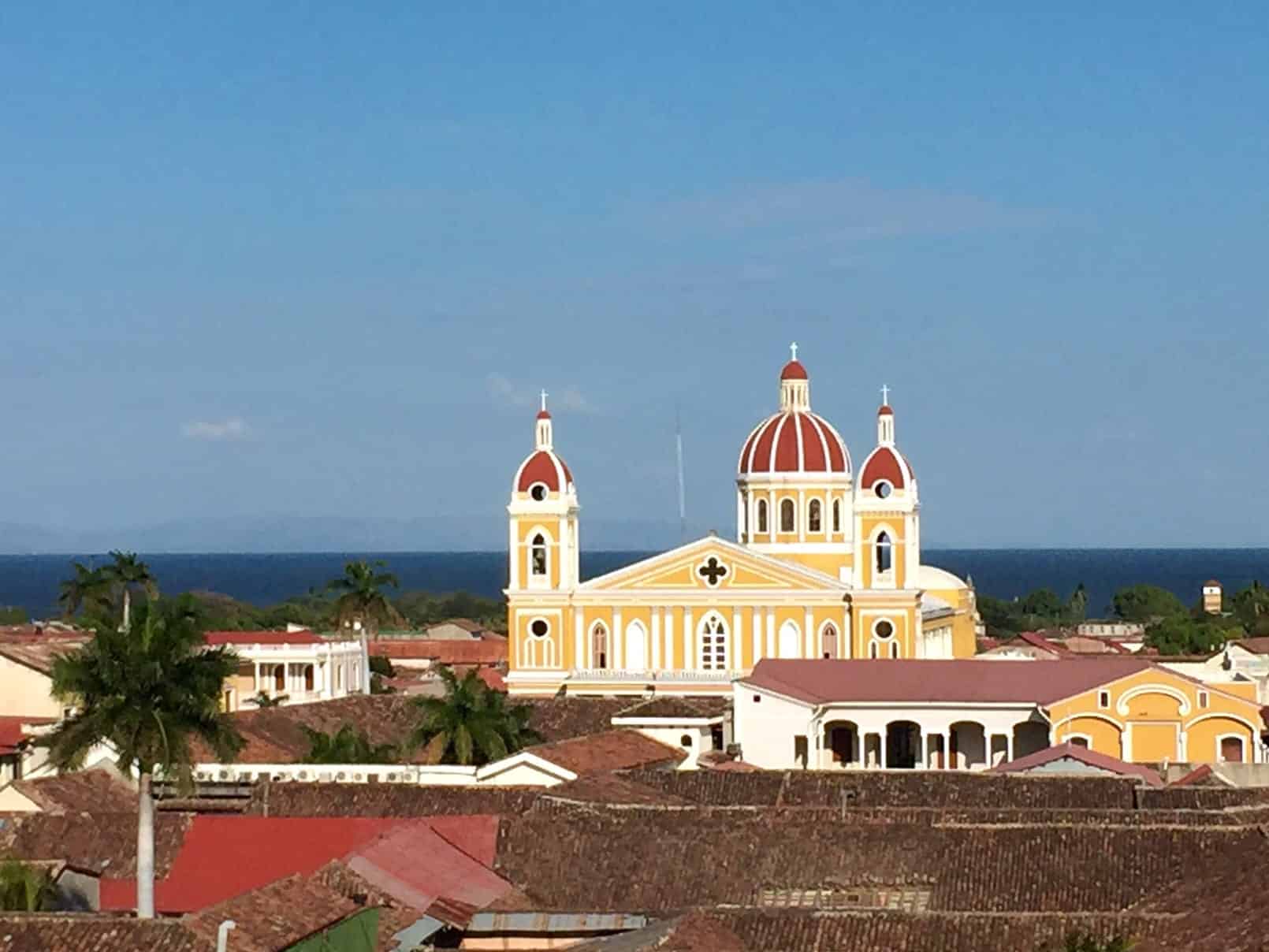 Other Posts
The Best Things to Do in San Juan del Sur, Nicaragua — You can party, you can hike to Jesus — what's not to love?
The Most Colorful City of San Juan del Sur, Nicaragua — One of the most colorful places I've ever visited.
In Search of Perfect Beach Towns: Sámara, Costa Rica — My favorite place in Costa Rica is this lovely low-key beach town.
The Most Important Item I Pack: Pacsafe Travelsafe — This is why I've never had anything stolen from my room while traveling.
Into the Cloud Forest of Monteverde — Monteverde is the stuff of Costa Rican dreams: cloud forests and zip lining!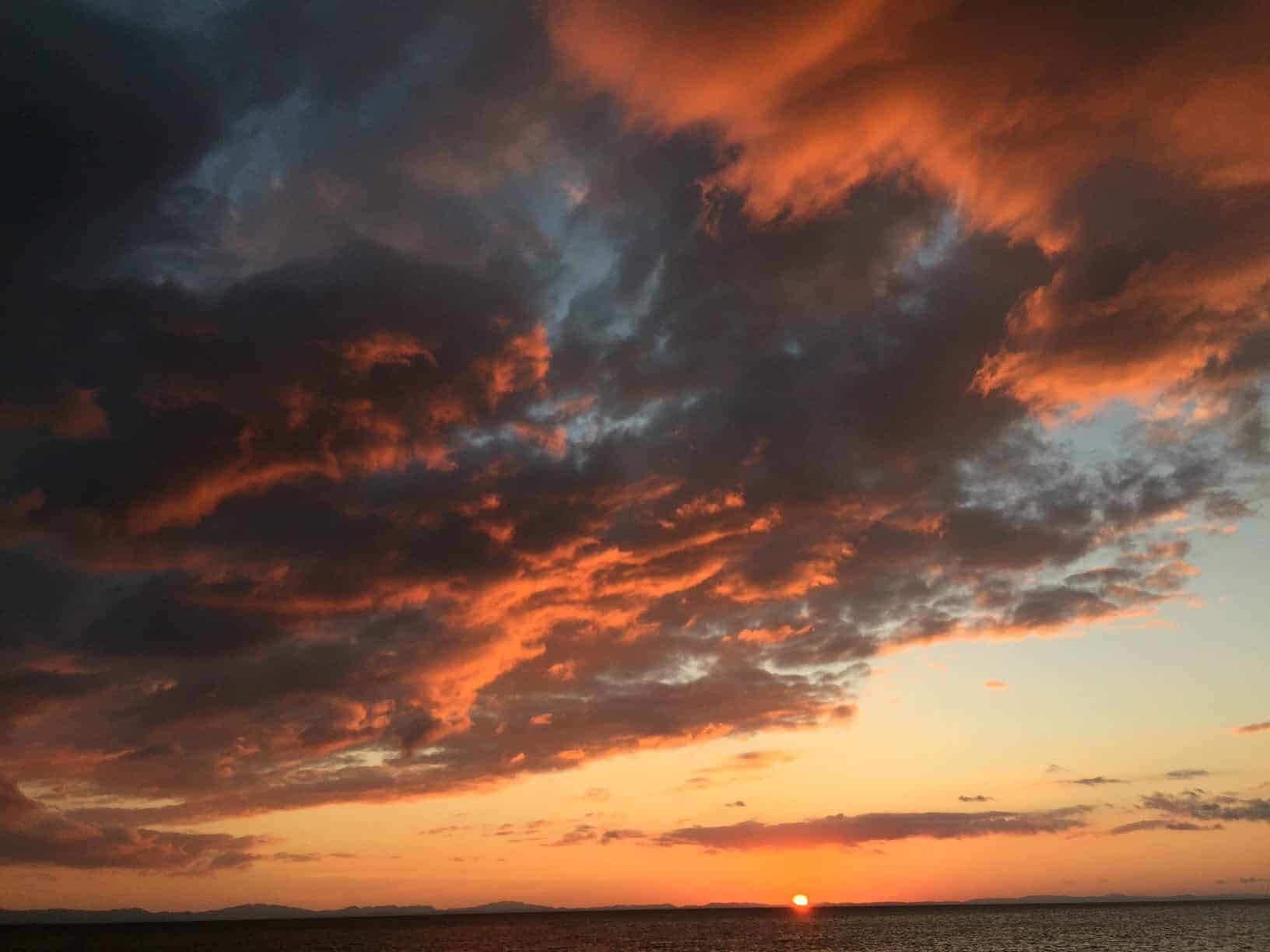 News and Announcements
We still have spots on our April 16 tour to El Salvador and Guatemala! It's going to be a fantastic time (and a sunny escape after this awful winter). Interested? We'd love to have you!
Also, the Women in Travel Summit is happening this month in Boston, March 27-29! Hope to see you there. I'm working on my keynote now and it's like nothing I've seen at any conference, ever.
Most Popular Photo on Instagram
It's an old photo but a popular one — a shot of St. Paul street in Valletta, Malta. It's now my most popular Instagram photo ever — who would have thought?
I'm now mixing old and real-time travel photos on my Instagram. You can follow me at @adventurouskate.
What I Read This Month
As I mentioned last month, I'm doing the PopSugar 2015 Book Challenge, which covers books in 50 categories to be read over the course of a year. I am loving this challenge and I'm reading voraciously because of it! Two months in, I've read 12 books (the challenge technically covers 52 because one category is a trilogy).
This was probably the most feminist month of reading I've ever had.
The Neapolitan Novels: My Brilliant Friend, The Story of a New Name, and Those Who Leave and Those Who Stay, by Elena Ferrante. THESE BOOKS. I cannot remember the last time I felt emotionally involved yet incredibly impressed by books as much as these. Elena Ferrante is a sensation in Italy — it's actually a pen name and she hasn't revealed her identity to anyone. Some people think she's secretly a man, but trust me, no man could write these books. You'll see what I mean.
These books are a fictional examination of a complicated female friendship over the course of decades, taking place in Naples starting in the 1950s. What a wild place Naples was back then! Violence was the answer to everything. Elena Ferrante writes about female friendship in a staggering way and I haven't cared about characters this much since Lionel Shriver's The Post-Birthday World.
This series affected me deeply and I cannot recommend it enough. Start with My Brilliant Friend; it's only $2.99 on the Kindle! Also, the fourth book is coming out in English in November. Category: a trilogy.
Lean In: Women, Work, and the Will to Lead by Sheryl Sandberg. I bought this book as research for my WITS keynote about gender inequality in the travel blogging industry and it was perfect — it highlighted dozens of studies examining the disadvantages, both overt and subtle, that women face in business. This is a fantastic read for all women who work, even for entrepreneurs. Category: a book you can finish in one day.
Yes Please by Amy Poehler. I love the comedy girl memoirs (Tina Fey's Bossypants, Mindy Kaling's Is Everyone Hanging Out Without Me?, Rachel Dratch's Girl Walks Into a Bar), but I related to Amy's so much more than the others — it felt like she was in my head. Part of it might be that we grew up two towns away from each other. My favorite chapters talked about balancing a crazy creative piecemeal career and aging with grace. Oh, and all the sex and drugs parts. I kept wanting to read this book for months but didn't prioritize it. I'm glad I finally did. Category: a book at the bottom of your to-read list.
French Women Don't Get Fat by Mireille Guiliano. I know it sounds like a gimmick, but this is a fantastic book about developing a healthy relationship with real food. I've been on a health kick lately and the biggest challenge has been undoing the bad food habits I've developed from being on the road constantly — this is giving me a solid framework. Category: a book by a female author.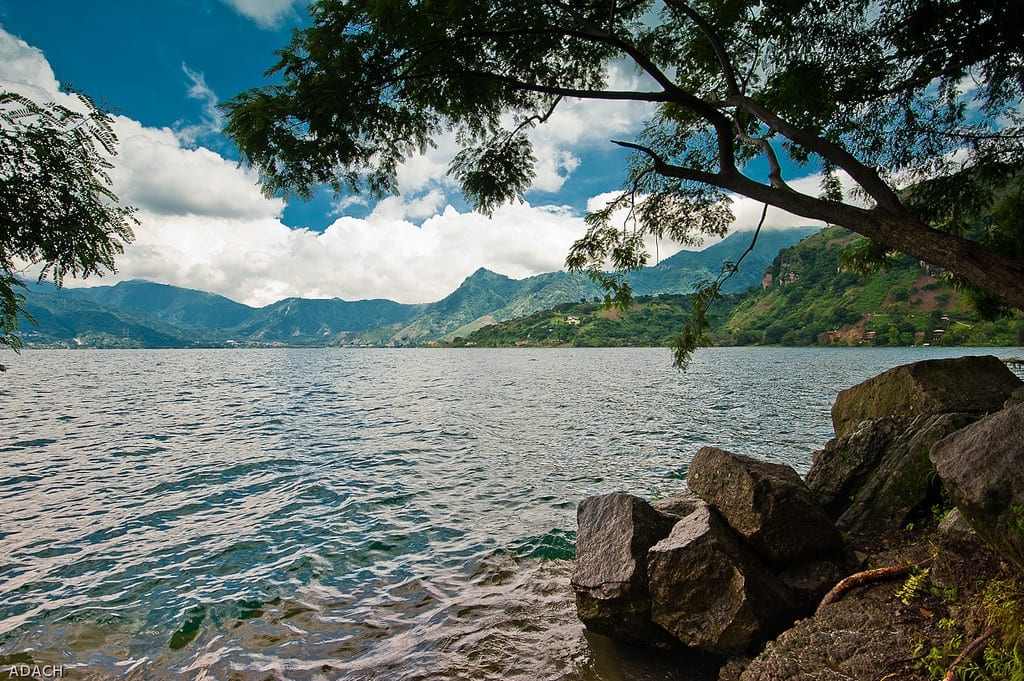 Image: Christopher William Adach
Coming Up in March 2015
It's finally time for my first tour! Leif and I have a sold-out tour of twelve people that we are taking to El Tunco, El Salvador; Antigua, Panajachel, Jaibalito, and San Pedro, Guatemala, with plenty of day trips to interesting destinations along the way. There will be surfing, paragliding, market-hopping, salsa dancing, delicious food and some of the most beautiful sunsets in the world!
After the tour, I'm spending a few more days on Lake Atitlan, then heading home to Boston and the Women in Travel Summit at the end of the month.
Any suggestions for Guatemala? Let me know!
Get email updates from Kate
Never miss a post. Unsubscribe anytime!