Adventurous Kate contains affiliate links. If you make a purchase through these links, I will earn a commission at no extra cost to you. Thanks!
What do you get when you combine the beauty of the southern Maine coast with the irresistible draw of small-town America? You get the wonderful town of York!
With an area of only 55 square miles, York is a beautiful town located in the southernmost part of the state. It is known for its stunning beaches, historic landmarks, and classic New England atmosphere. York is a popular tourist destination for people from all over the world, especially families, and soon you'll see why!
I'm from Massachusetts and I've been visiting York since I was a kid, always getting hypnotized by the taffy machines at the Goldenrod. But York's not the kind of place you grow out of — every time my friends and I do a day trip up to Maine, we always have to eat at the Maine Diner in Wells and stop in York on the way back!
York has a relaxed and welcoming vibe, especially compared to other nearby towns. One of the things that gives York its unique flavor is its unlikely position, as if the city had to be placed with the most spectacular views possible. Snuggled up into the Atlantic Ocean ocean, you can enjoy miles of sandy beaches and breathtaking ocean views.
The town is also close to several other popular coastal destinations, including Ogunquit, Wells, Kittery, and Portsmouth.
York is home to several locally-owned shops and cafes, and boasts a vibrant arts scene. The town also hosts several festivals and events throughout the year, like York Harvestfest.
And of course, you can't forget about the food! York is home to some of the best fine dining seafood restaurants in Maine, and you'll find everything from lobster rolls to fresh oysters.
Let me show you what makes York special.
This post, published in November 2023, was co-written by Adventurous Kate and Susan Stephens.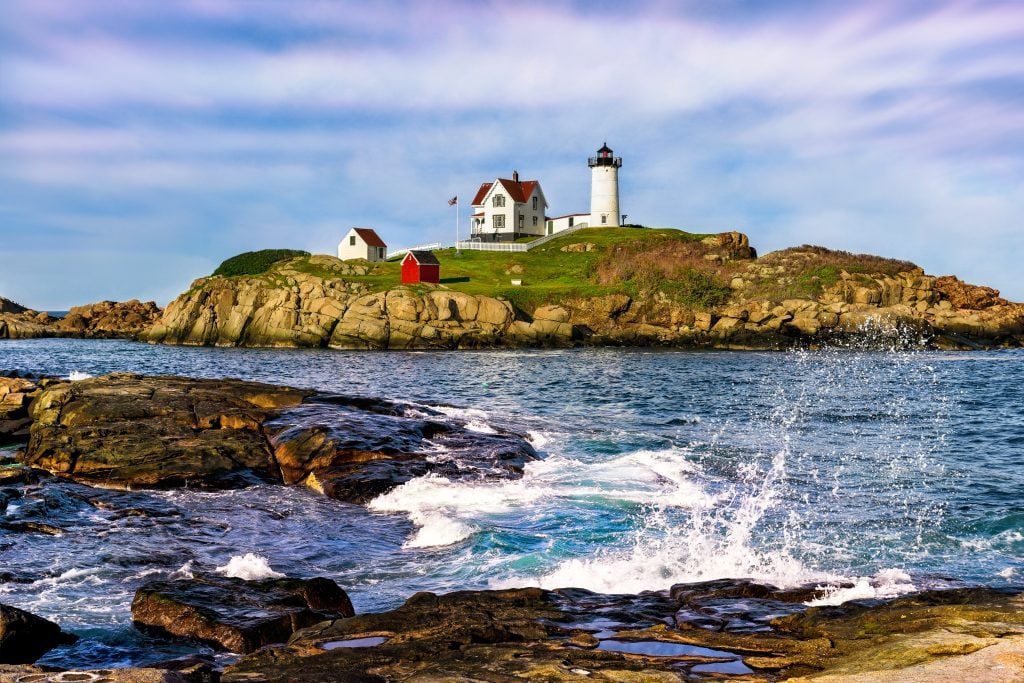 Best Things to do in York Maine
Nubble Lighthouse
Nubble Lighthouse is one of the best lighthouses in Maine — and one of my personal favorites. The lighthouse resides on a small island, or "nubble," just off-shore, and is one of the most iconic landmarks in Maine. This picturesque beacon has been guiding ships safely into the harbor since 1879. Its red-roofed Victorian-style lightkeeper's house is straight out of a romance novel!
With great views from Sohier Park in York, the lighthouse offers breathtaking views of the Atlantic Ocean and the rugged coastline. While the island is not open to the public, the Nubble Light Gift Shop is open from May through late October as weather permits.
Come during sunset and you'll be sharing the view with lots of photographers! In fact, weddings at Sohier Park are popular thanks to the amazing backdrop of the lighthouse.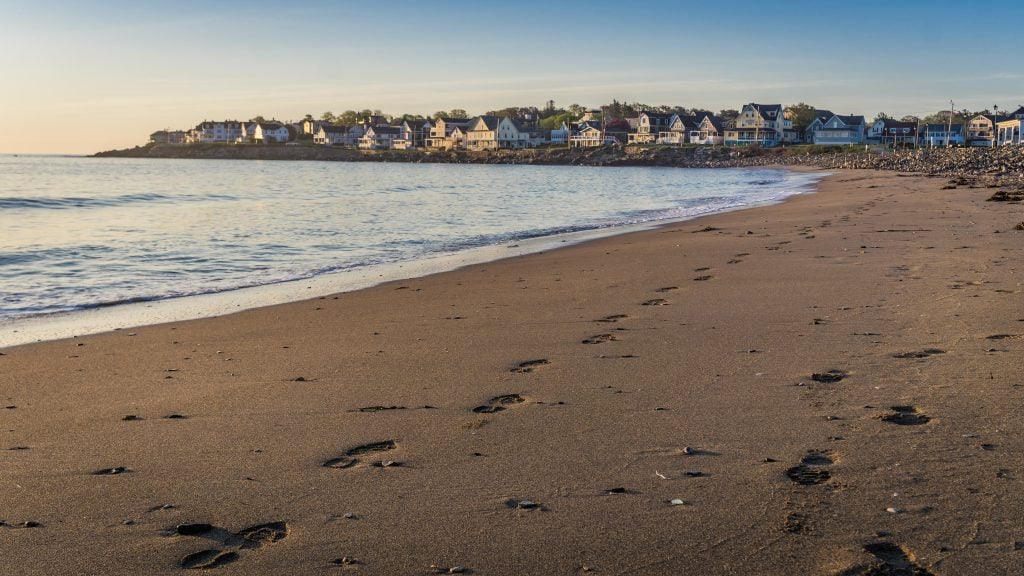 Relax on the Beaches
York has some of the most beautiful beaches in the state. With several miles of coastline to enjoy, you'll find plenty of space to spread out, sunbathe, swim, or enjoy water activities.
York Harbor Beach is known for its stunning views, clear water, and soft sand. Popular with locals, this beach offers amenities including restrooms, showers, and a playground.
Here you can also go fishing, kayaking, and paddleboarding. Lifeguards are on duty seasonally, and parking is available along Route 1A.
Long Sands Beach is a gorgeous, mile-long stretch of beach situated between York Harbor and York Beach. Here you can swim, sunbathe, and even surf!
The beach is well-maintained, and there are lifeguards on duty during the summer months. Public restrooms are available, and metered parking can be found along Long Beach Avenue.
The popular Short Sands Beach is just north of Long Sands in Ellis Park, and true to its name, the beach is only a quarter of a mile long.
The beach is well-maintained with restrooms, seasonal lifeguards, and a nice promenade with benches that run along the beach. A sandy playground, basketball courts, and a gazebo make this beach extra special. Parking is available for $2 per hour, payable at kiosks.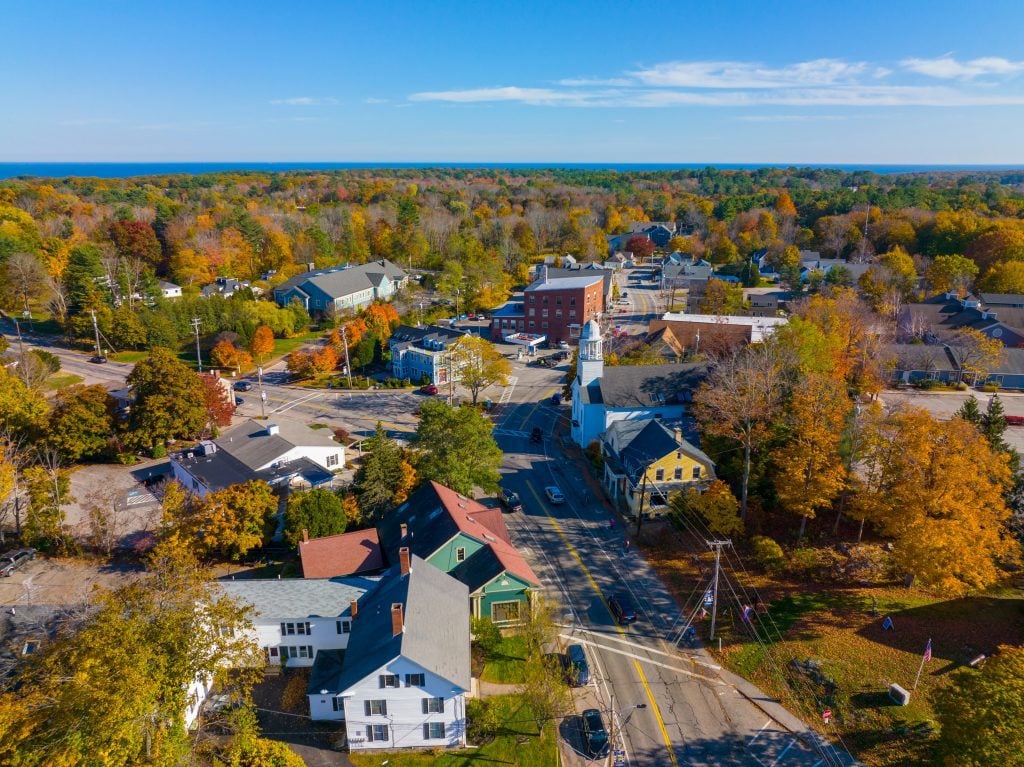 The Old York Historical Society
This is the perfect place to learn about the history of the southern coast of Maine — it was one of the earliest English settlements in the United States, after all! Visitors will discover what life was like three centuries ago with a collection of over 100,000 artifacts, including furniture, clothing, tools, and more.
Step back in time and explore this living history museum that includes buildings like the Emerson-Wilcox House, a garrison house built in 1690, and the York Corner Schoolhouse, dating back to 1745. The Old York Goal, also located on the property, is an impressive red barn that once served as a prison for more than 150 years.
Visitors can choose from several guided walking tours. General admission to the museum is $10 for adults and free for children under 18. The guided walking tours are an additional $10 for adults and $5 for children.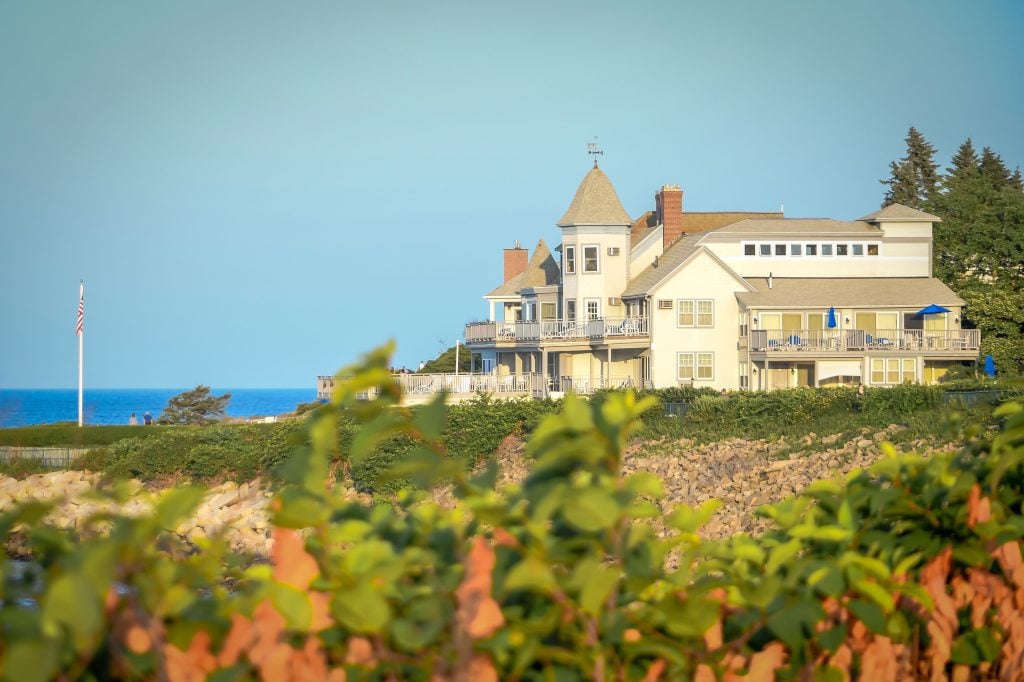 York Beach Cliff Walk
The York Cliff Beach Walk is a gorgeous one-mile, out-and-back scenic walk that winds along the edge of the cliffs overlooking the Atlantic Ocean. Listen to the crash of the surf while you pass lovely coastal homes, local birds soaring — this is what people picture when they think about visiting Maine!
The walk starts at Hartley Mason Park and ends at a pebbly beach, where you turn around to go back. The trail is paved, but the cement has seen better days, with alternating sections of dirt path. You'll see several benches along the way where you can rest and take in the scenery. And the sunsets here are fantastic.
The trail is rated easy to moderate, and there are a few stone steps and uneven surfaces to navigate. Metered parking is available on York Street, starting at the park and down to Norwood Farms Road.
The Goldenrod
Located in the heart of Short Sands Beach and open seasonally, this wonderful candy store is known for its saltwater taffy. The Goldenrod has been in business since 1896 and still uses the original taffy recipes. And as a kid, this was my favorite part of visiting York.
If you'd like, you can take a self-guided tour of the art of taffy-pulling, but many people simply gather around the large windows outside and view the age-old process of making taffy Goldenrod Kisses! This is also a great spot for ice cream (not like you need to be talked into that!).
This is a must-visit for anyone visiting York Beach with a sweet tooth! And to make the deal even sweeter, they have a full-service restaurant offering breakfast, lunch, and dinner.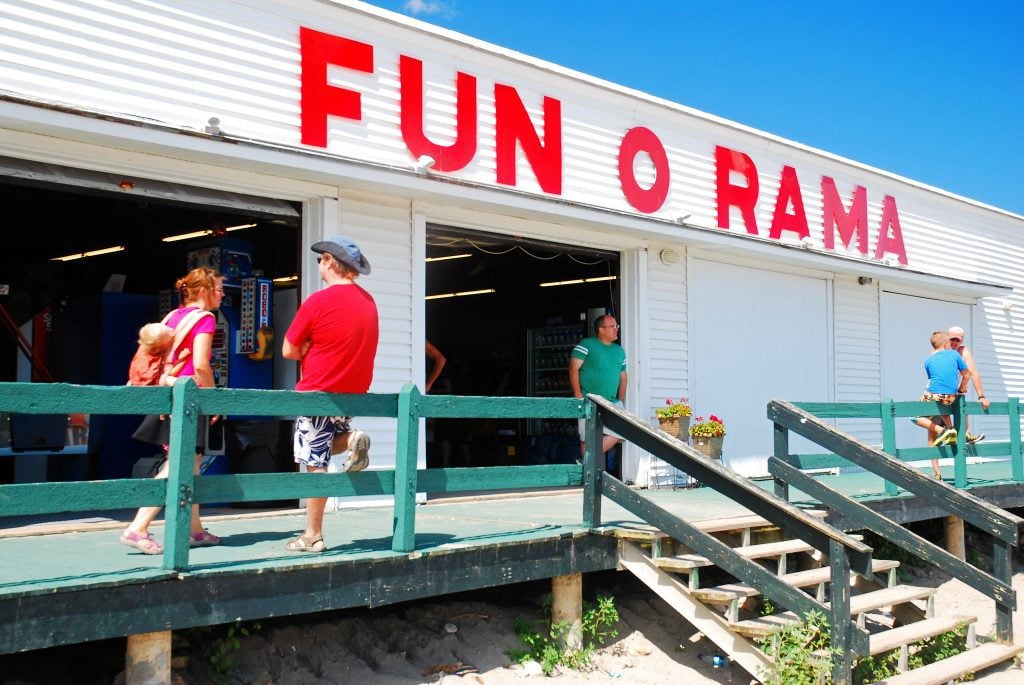 Fun-O-Rama
In some ways I feel like Maine is a state where time stands still a little bit. Fun-O-Rama is a nostalgic arcade that could easily fit into the York of the 90s or earlier. Not that surprising, as it's been in business for more than 50 years.
You'll find classic games like Pac-Man and Skee-Ball, as well as newer games like Dance Dance Revolution. They also do a variety of redemption games, where players can win tickets that can be redeemed for prizes. Perfect opportunity to walk around with a giant penguin on your arm!
If it's a rainy day in York, Fun-O-Rama is a great place to spend your time. With around 250 games and rides to choose from, you can easily spend hours here!
Wiggly Bridge Distillery
The Wiggly Bridge Distillery is a family-owned, small-batch distillery that produces award-winning spirits, featuring gin, vodka, and whiskey. The distillery is located in a historic building that was once a gristmill. It is named after the nearby Wiggly Bridge, which is the smallest suspension bridge in the world.
The father-and-son team decided they wanted to bring their passion for excellent booze to the people of Maine. They even hand-built the copper pot stills!
The distillery offers tours and tastings, and you can also purchase their products on-site. Tastings start at $30 per person and tours start at $50 per person. They even have cocktail-making classes on some days!
Explore the Hartley Mason Reserve
This gem of a seaside park offers hiking trails, birdwatching, and fishing. The reserve is home to a variety of wildlife, including deer, turkeys, and foxes. There are several hiking trails in the reserve, ranging from easy to moderate.
The trails wind through the woods and offer wonderful views of the York River with benches sprinkled throughout to pause and soak it in. With such a pleasant backdrop, weddings are held here frequently in the warmer months.
Metered parking is available along Route 1A and York Street.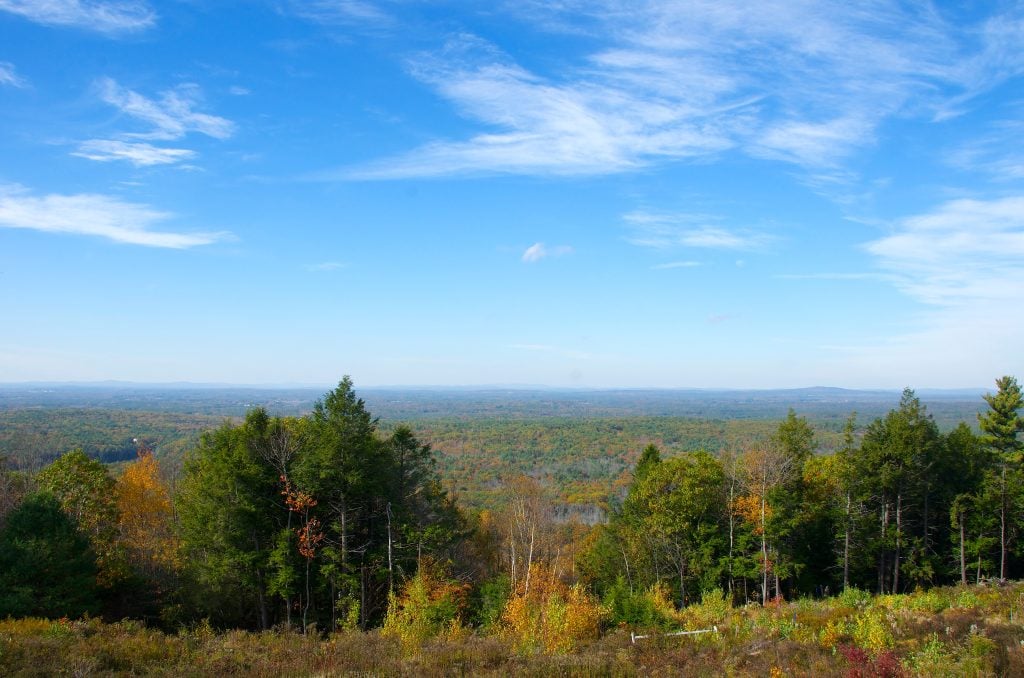 Hike Mount Agamenticus
Mount Agamenticus is a 692-foot mountain located just outside of York. The mountain offers several hiking trails and the summit provides panoramic views of the surrounding area. On a clear day, you can see the Atlantic Ocean, the Isles of Shoals, and even the White Mountains of New Hampshire!
The hike to the summit is moderate and takes about two hours round-trip. The trail is well-marked and easy to follow. If you don't want to hike to the summit, there are several trails to choose from, ranging from easy to difficult, so hikers of all levels can enjoy the mountain.
The best time of year to hike Mount Agamenticus is in the fall when the leaves are changing color and the air is crisp. However, the mountain is open year-round and is a great place to explore in any season. Make sure you bring proper hiking shoes.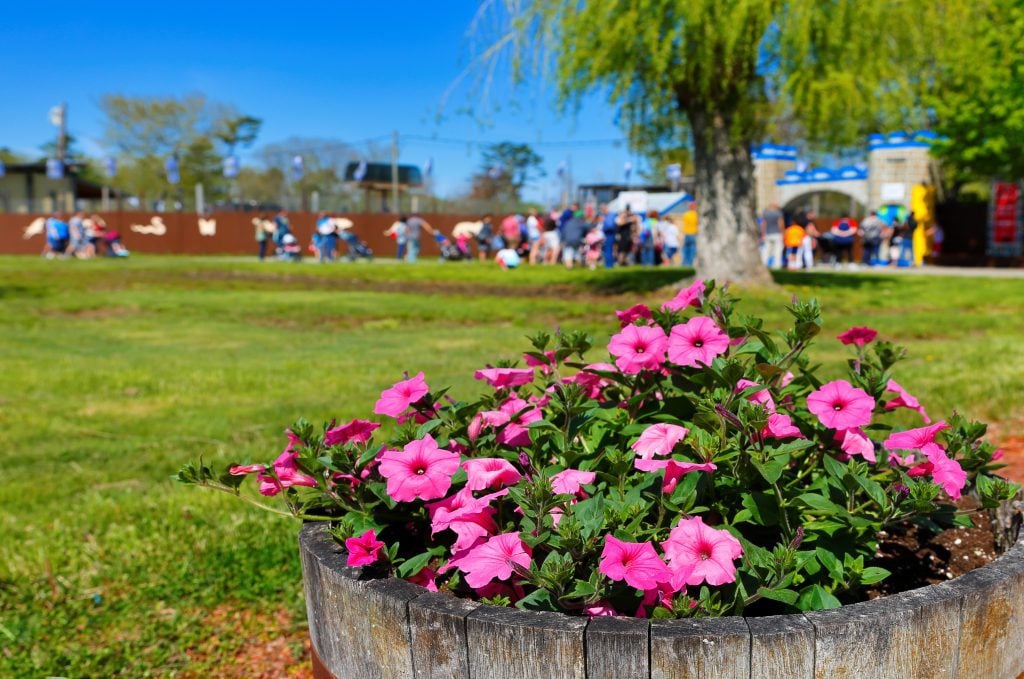 Visit the Wild Kingdom Zoo and Amusement Park
Located near Short Sands Beach, the Wild Kingdom Zoo and Amusement Park is the place to visit for a fun-filled day. The zoo has a wide variety of animals, including lions, tigers, monkeys, and so much more. The amusement park has rides for all ages, including a roller coaster, bumper cars, and a carousel, just to name a few.
Other attractions at the Wild Kingdom Zoo and Amusement Park include a butterfly kingdom, mini-golf, and a midway. This is great for young families as there's something to entertain everyone.
The Wild Kingdom Zoo and Amusement Park is open seasonally from May through September. Admission is $17.25 for adults, $11 for children ages 3-10, and $1 for children under 3.
Go Golfing
York, Maine, is home to three main golf courses, all meticulously maintained. Whether you're a seasoned golfer or just starting out, you're sure to find a course to suit your skill level in the York area.
The York Golf and Tennis Club, which is a private 18-hole course, features challenging terrain and beautiful ocean views. It has a rich history and is one of the oldest courses in Maine, making it a popular choice for golfers of all skill levels. A pro shop is on site.
The Ledges Golf Club, a public course, features a challenging 18-hole layout that winds through a stunning landscape. This is a popular choice for golfers who enjoy a more relaxed, natural setting.
Cape Neddick Country Club is a semi-private 18-hole course north of town, where golfers can enjoy a challenging round just minutes from York's beaches. A pro shop is on site, as well as a pub and grill.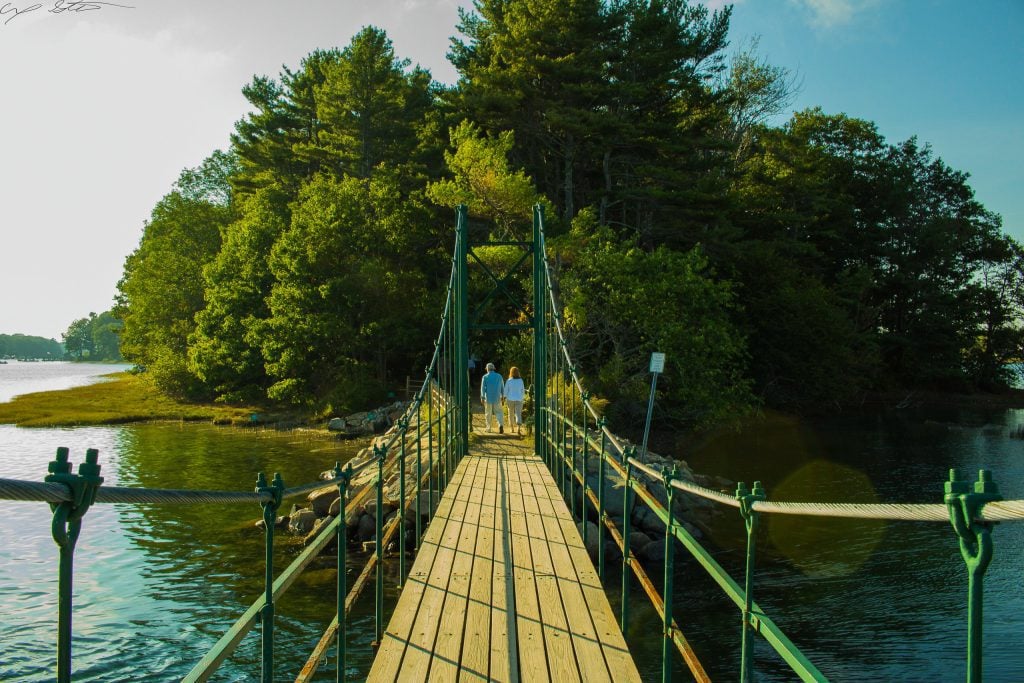 Walk Across the Wiggly Bridge
Wiggly Bridge is a historic suspension bridge near the mouth of the York River, and is the smallest suspension bridge in the world! At only 75 feet long and four feet wide, it sways back and forth as you walk across it. Built in the 1930s, it stretches across a tidal flow that intersects at Barrells Millpond and the York River.
You'll see the tell-tale green steel structures that mark either side of the bridge as you approach from State Route 103.
Wiggly Bridge is a popular tourist attraction and is a great place to take a photo. The bridge may shimmy and shake as you walk across it, but fear not! It's well-maintained and safe to cross. It's also the beginning of a nice hike through Steedman Woods, taking hikers past scenic water views.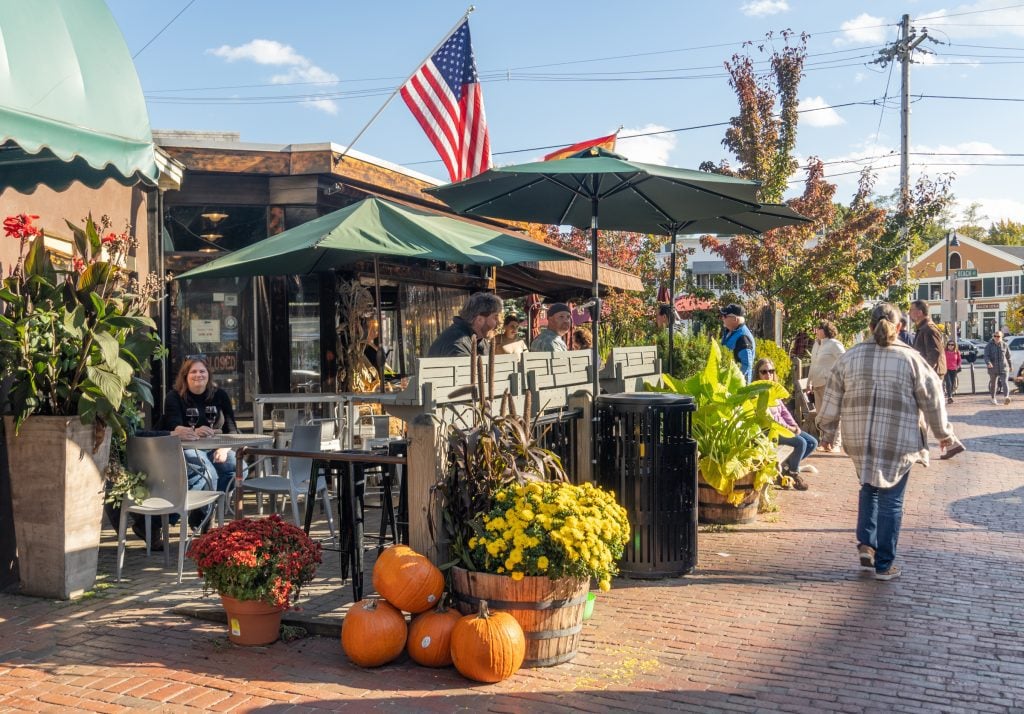 Visit Ogunquit
Just a few minutes north of York is Ogunquit. One of the best things to do here is to walk the Marginal Way. This scenic walking trail winds along the rocky coastline, offering stunning views of the Atlantic Ocean. This is where you can best take in the sights and sounds of the sea, and if it's your lucky day, you might spot a whale or two!
Another popular attraction is the Ogunquit Playhouse. This historic theater has been presenting Broadway musicals and other live performances for over 80 years. This is where you'll want to be to catch a show and enjoy a night out on the town. Singing show tunes after at the Front Porch bar is a must!
If you're looking for something a little more low-key, you can take a stroll through the town's downtown area. Here, you'll find a variety of independent shops, restaurants, and galleries. You can also find some great ice cream shops and cafes here.
Read More: 17 Fun Things to Do in Ogunquit, Maine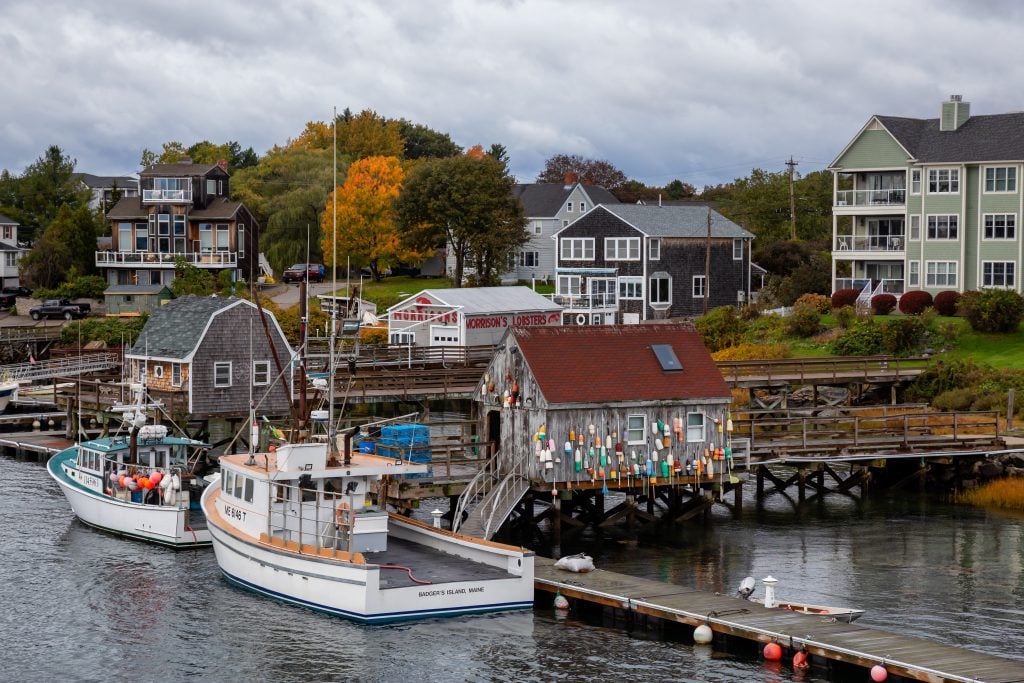 Visit Kittery
Venturing south of York, Kittery is a delightful coastal town with a rich history and a vibrant present. It is the perfect destination for a day trip, with enough attractions for a fun afternoon.
History buffs will enjoy visiting the Kittery Historical and Navel Museum, and the Fort McClary State Historic Site. Art lovers will appreciate galleries such as Just Us Chickens, or catching a performance at the Dance Hall. And beer lovers will delight in the town's craft breweries such as Tributary Brewing and Woodland Farms.
Kittery is also home to a number of unique shops and boutiques — with plenty of deals to be had at the Kittery Outlets. You can find everything from handmade jewelry to vintage clothing to home décor. And if you're looking for a souvenir to take home, you'll find plenty of options in Kittery.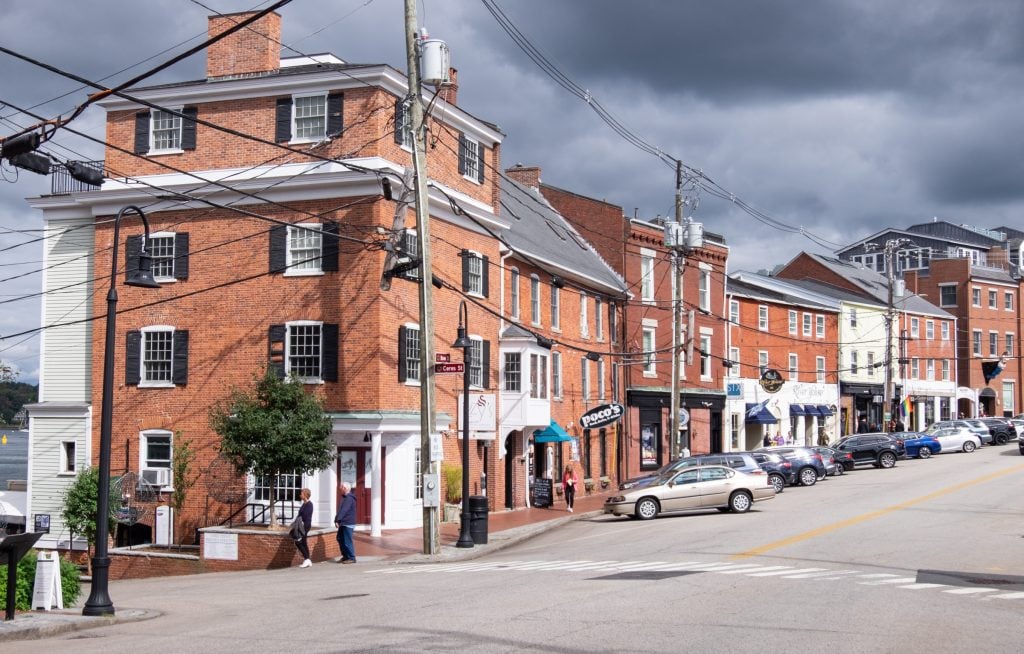 Visit Portsmouth, New Hampshire
Portsmouth, New Hampshire is an inviting coastal town located just a short drive south from York, Maine. With its rich history, vibrant culture, and beautiful scenery, Portsmouth offers a perfect day trip destination for visitors to York. In fact, it is just over the bridge from Kittery!
This town is home to a number of historic sites, including the Strawbery Banke Museum, a living history museum that tells the story of the town's early settlers. Other historic sites include the John Paul Jones House, where the famous Revolutionary War naval hero once lived, and the Portsmouth Naval Shipyard, which has been in operation since 1800.
Portsmouth is known for its vibrant arts scene. The town is home to a number of galleries, theaters, and music venues. During the summer, the Prescott Park Arts Festival is not to be missed. Some of the more popular restaurants in Portsmouth include The Oar House, which serves fresh seafood with a view of the river, and the Portsmouth Brewery, which offers a variety of craft beers and pub fare.
Read More: 27 Fun Things to Do in Portsmouth, NH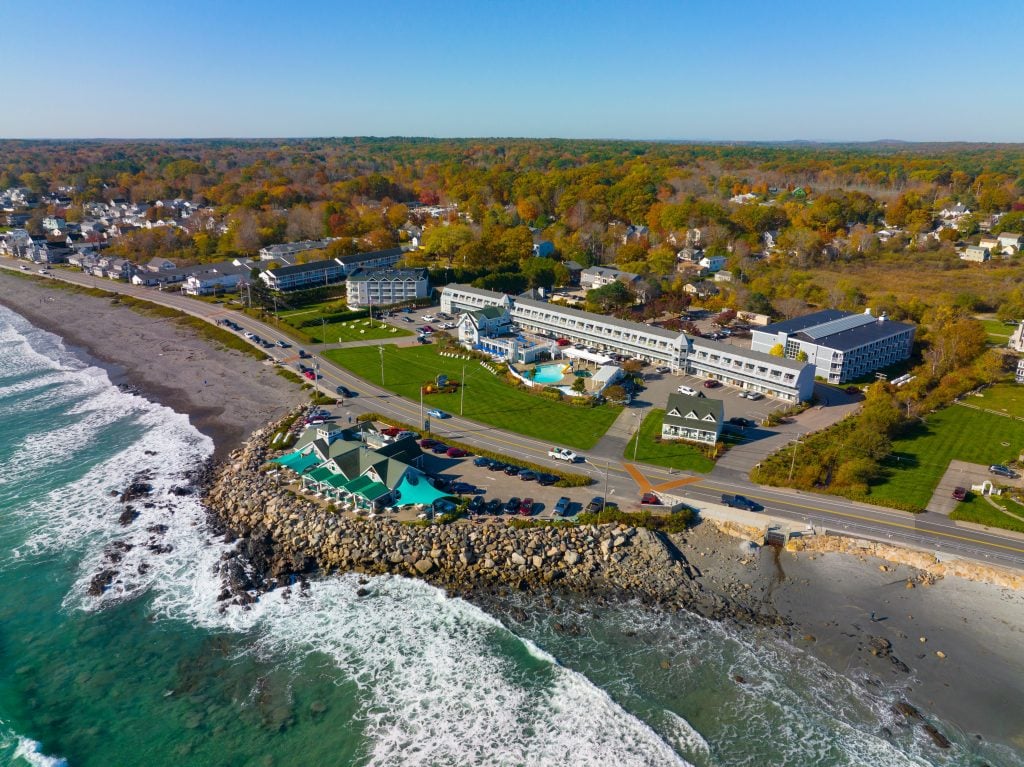 Where to Stay in York Maine
York is a pretty small town. If you're looking for premium accommodation, some of the best properties are by the beach of your choice. And if you're on a budget, you'll find a few value properties close to the highway.
Luxury: The ViewPoint Hotel is an exceptional property located on a hill overlooking York Harbor, offering stunning views of the Atlantic Ocean. Exuding classic New England charm, the hotel has a casual and relaxed ambiance; perfect for those who want to enjoy the beauty of the Maine coast. And perhaps best of all, they have a grass roof!
Midrange: Escape the ordinary and stay at the Stage Neck Inn! Open year-round, this oceanfront boutique resort hotel offers 58 deluxe and luxury guest rooms, each designed to provide you with the utmost comfort during your stay. Guests enjoy a kaleidoscope of amenities such as casual oceanfront dining, a must-see bar, fitness room, indoor and outdoor pools, seasonal clay tennis courts, turn-down, and room service.
Midrange: Inn on the Blues is a really nice boutique inn. Just steps from Short Sands Beach, the shops, and Wild Kingdom, choose from one of their studio suites or the cottage. Each features refrigerators and microwave, and a coffee/tea maker. Take in view from the terrace, and enjoy a meal at the restaurant, offering comfort food and live music.
Budget: The Best Western York Inn is arguably the best choice for a budget option. The inn has a traditional feel, and it is a lovely place to stay for those who don't mind staying a bit out of town. The inn has a variety of amenities, including a heated indoor pool, a fitness center, and a complimentary breakfast.
Find more places to stay in York here.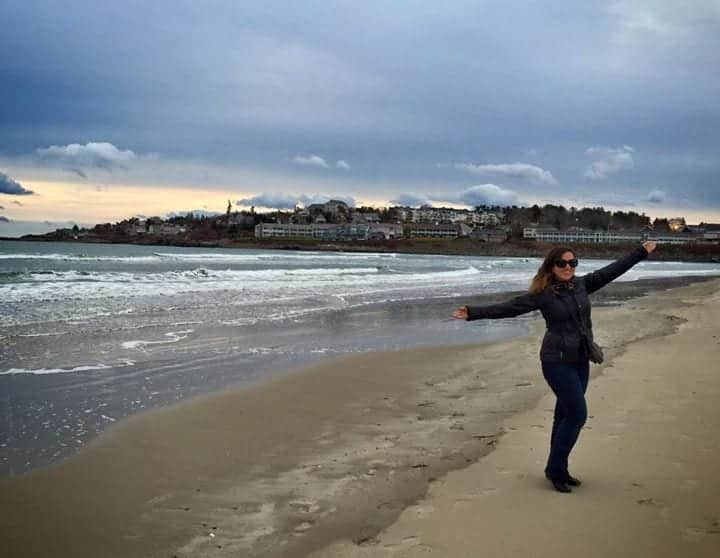 When is the best time to visit York Maine?
The best time to visit York is during the summer months, from mid-June to early September. The weather is warm and sunny, making it perfect for outdoor activities. This is also the peak tourist season, so expect crowds and higher prices, and many of the attractions are only open during summer.
If you're looking for a more peaceful and relaxed experience, consider visiting York in the shoulder season, such as spring or fall. Fall is a better weather for clear, pleasant weather, though foliage season can be very busy along the Maine coast (peaking in early- to mid-October).
York is quiet in winter, and you will likely be the only person on the beach (as I was in the photo above!). Not a lot of places will be open, so it's a good place to visit if you want peace and quiet (and are okay with self-catering).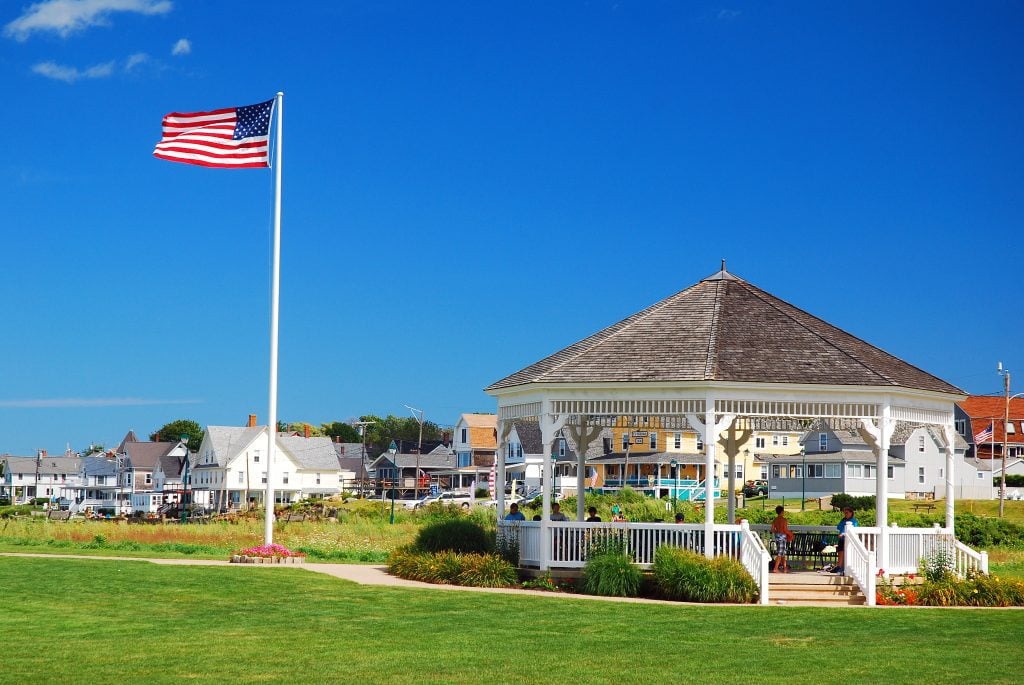 How to Get to York Maine
To get to York, you should have a car, as the public transportation here more or less doesn't exist. The closest airport is Portland International Jetport (PWM) which is less than an hour's drive from York. The next closest airport is Boston Logan International which is about 90 minutes away.
If coming by train, Amtrak's nearest stops are in Dover, NH, and Wells, Maine on the Downeastern line from Boston to Portland. Unfortunately, there is no direct bus service to York. Portsmouth, NH is the closest bus hub.
Keep in mind that parking can be a bit of a pain here in high season. It's worth asking your accommodation about parking. Just because a hotel offers free parking on their website doesn't mean that they have enough parking for every guest.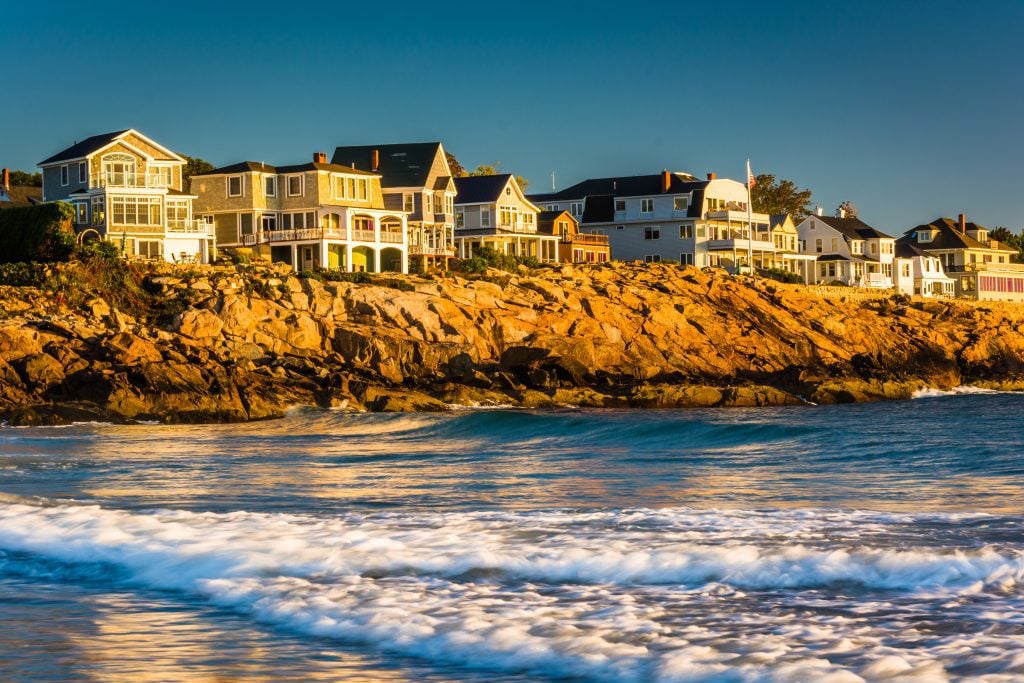 How Long to Spend in York Maine
I think a day or two is sufficient in York. This allows time to visit the town's main attractions, such as Long Sands Beach, Short Sands Beach, the Nubble Lighthouse, and the York Village Historic District.
However, if you're looking for a more in-depth experience up and down the southern coast of Maine, York makes a wonderful base. It's pretty easy to get in and out as you please.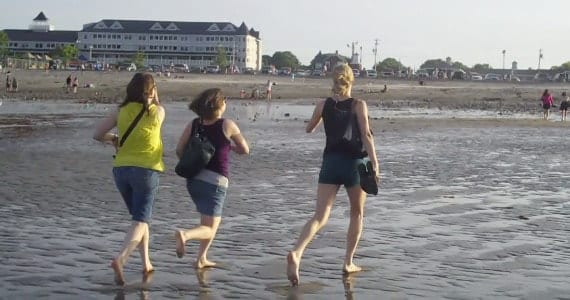 Is York Maine Worth it?
Yes, York is definitely worth it! It's one of the nicest towns along the southern coast of Maine, and the kind of place that makes you nostalgic for a quieter pace of life.
Go enjoy your time in this wonderful part of New England. I hope you enjoy it as much as I do.
More on Maine:
More on Coastal New England:
Have you been to York Maine? Any tips? Share away!