Adventurous Kate contains affiliate links. If you make a purchase through these links, I will earn a commission at no extra cost to you. Thanks!
If you're looking for a beach vacation you'll never forget, the towns of Cape Cod, Massachusetts, are some of the most perfect coastal villages you'll find in the United States. And Cape regulars know this. Once you've visited, this place tends to call you back over and over.
But which Cape Cod towns are good places to say? That's the hard part, because it's different for every traveler!
First off, the Cape is much bigger than most people think. It takes 90 minutes to drive along Massachusetts's hook, from Falmouth to Provincetown — and that's before you factor in summer traffic.
For this reason, most travelers tend to stick to their section of the Cape, taking an occasional day trip if they want to visit somewhere further afield, so it's all the more important to find a town you vibe with.
Let's take a look at the map to get your bearings: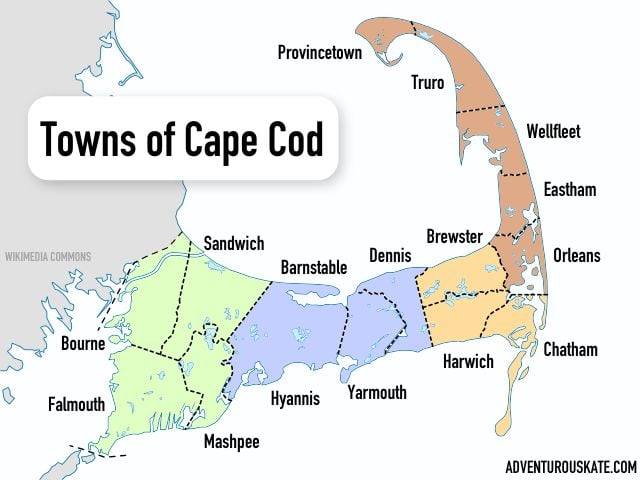 The area closest to the mainland is the Upper Cape (Bourne, Sandwich, Falmouth, Mashpee) followed by the Mid-Cape (Hyannis, Barnstable, Yarmouth, Dennis), the Lower Cape (Brewster, Harwich, Chatham) and the Outer Cape (Orleans, Eastham, Wellfleet, Truro, Provincetown).
But beyond the geography, the Cape is a diverse place. You've got busy towns, quiet towns, beach towns, and sometimes two very different towns are next door to each other. The Cape's most rollicking party city, Provincetown, is next to one of the quietest towns, Truro.
Start by asking yourself, "What kind of trip do I want to have?" Do you want your Cape Cod trip to be quiet and full of solitude? Do you want a big beach and lots of activities for your kids? Do you get antsy after an hour at the beach and want lots of interesting things to do? Are good restaurants and nightlife a priority for you?
And then take a look at the section that sounds like a good fit.
I've divided the list of Cape Cod towns into four sections:
Fun Cape Cod Towns with Lots to Do (Chatham, Provincetown, Hyannis, Chatham)
Charming, Pretty Cape Cod Towns (Sandwich, Wellfleet, Brewster, Harwich, Yarmouth, Barnstable)
Cape Cod Towns that are All About the Beach (Dennis, Mashpee, Bourne)
Quiet Cape Cod Towns for Getting Away From It All (Truro, Eastham, Orleans)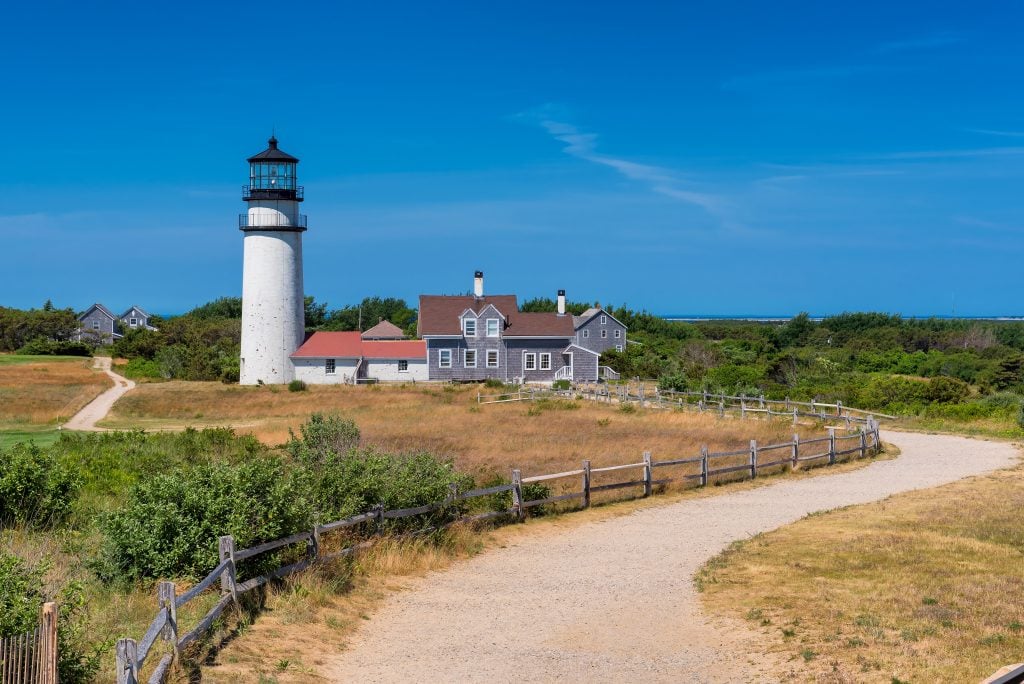 Best Towns in Cape Cod FAQ
Every town on Cape Cod has a different personality, and it's important to find out which one is best for you. Let's take a look at the best towns of Cape Cod!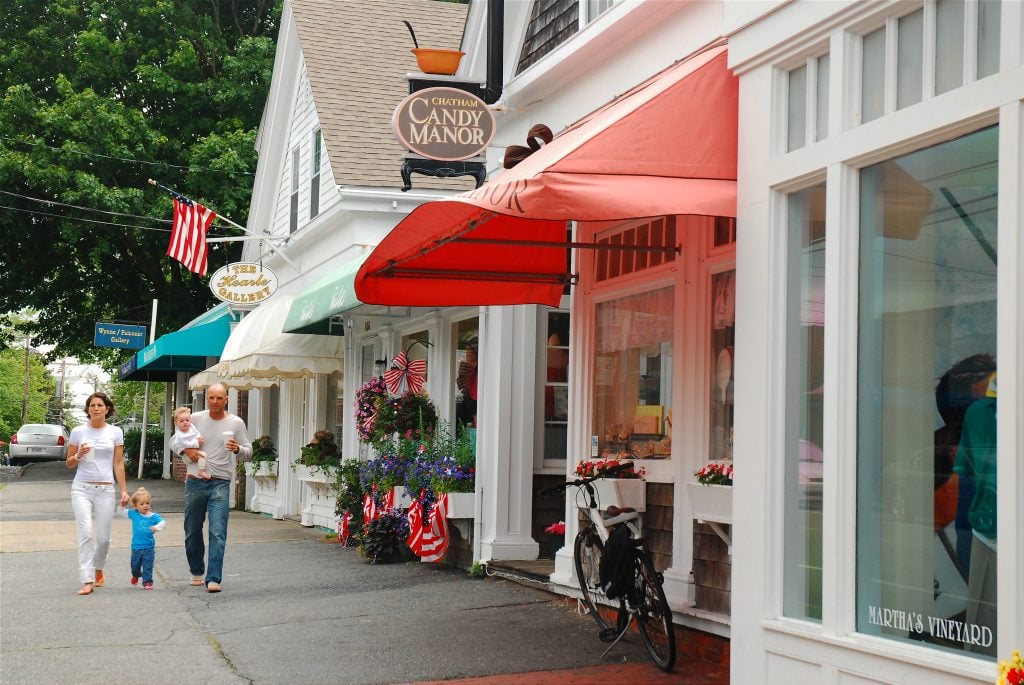 Fun Cape Cod Towns with Lots to Do
I singled out these towns because they have lots of activities, dining options, shopping, and nightlife. If those are priorities for your trip — or if you have limited access to a car and want walkability — any of these four towns of Cape Cod would make a great choice for you.
Chatham
Chatham is quintessential Cape Cod, and if you have only a short amount of time to explore the Cape, you won't regret spending your time here. Founded more than 300 years ago, this pretty seaside town brimming with history is upscale charm at its best!
Located on the southeast elbow of the Lower Cape, you'll get glorious water views of both Nantucket Sound and the Atlantic Ocean. As one of the best and most central Cape Cod towns, Chatham could make a great home base for exploring the entire outer Cape, as there are several great hotels and resorts in this area.
Biking is a fantastic activity and a great way to see Chatham. Leisurely ride the Old Colony Rail Trail, or pedal down the Scenic Bike Route to Oyster Pond Beach. Seal spotting is another favorite pastime at Chatham Pier. When the fisherman return with their daily catch, it's fun to watch the seals beg for their lunch!
Chatham Lighthouse is an iconic fixture along the water's edge and is open to the public every Wednesday afternoon in July and August, and on select days throughout the year. In a town that is by no means inexpensive, their free tours are great for kids and adults alike.
Because of its location, Chatham has many beaches to choose from, but for a calmer beach, the southern shore is where to go.
Main Street Chatham is a destination unto itself. You don't need a car in this town; simply spend the day walking around to explore the shops, restaurants, and parks. By walking Chatham's loop you can also explore Lighthouse Beach and Atwood House Museum, ending up at Oyster Pond.
Where to Stay in Chatham: The Captain's House Inn is a great upscale choice with fireplaces and elegant beds. See more places to stay in Chatham here.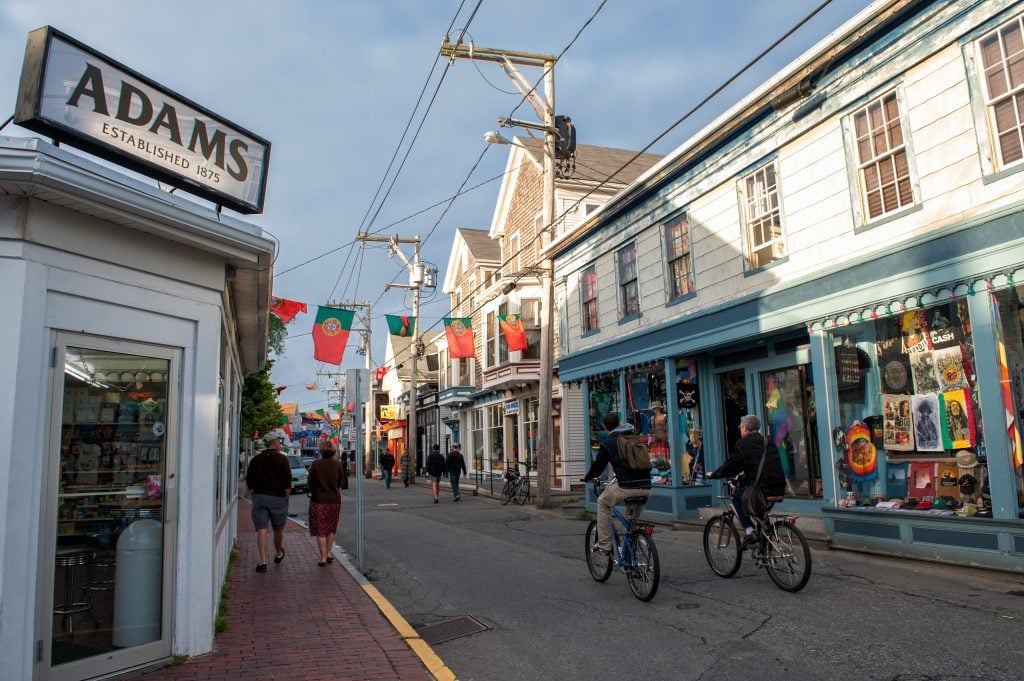 Provincetown
Provincetown is arguably one of the best towns in Cape Cod, located in the far northeastern part of the Cape. With its diverse population, vibrant LBGTQ+ scene, and an endless array of things to do for all ages, it's no wonder P-town gets so much love.
If whale watching is on your must-do list, you "must-come" to Provincetown. The official whale-watching season begins April 1st and generally runs through October. Going on a Dolphin Fleet whale watch is a tradition for many. You'll get the opportunity to see fins, humpbacks, and seals, with stunning views of Lands' End as a backdrop.
Commercial Street is in many ways the breathing heart and soul of Provincetown. It's three miles long, so you may want to pace yourself. Start in the east end, which is home to the Provincetown Museum of Art, with a series of art galleries following close behind.
It just gets better from there as you head west, with tons of shops, restaurants, and sweet treats along the way. Be sure to try the Portuguese dishes that fill the local restaurants. Even better, you can leave your car behind, as Commercial Street is by and large a pedestrian street. After dark, this area comes alive with live music and an active bar scene.
The wharf is always abuzz with activity with ferries to Boston and fishing charters; it's the best place for sunset cruises. As you wander the wharf, browse outdoor shops for unique gifts, with vendors selling their locally-made arts and crafts.
With 45 miles of beaches in P-town, Racepoint is one of Cape Cod's best beaches. Managed by the National Park Service (NPS), the beach does not sit directly on the Atlantic Ocean so doesn't experience the full force of the ocean waves. Herring Cove Beach, one of the larger beaches in the area, is great for catching that killer sunset.
Where to Stay in Provincetown: If you want to be close to the action, you'll love Pilgrim House, modern, cozy, and central. See more places to stay in Provincetown here.
Read More: 22 Fabulous Things to Do in Provincetown, MA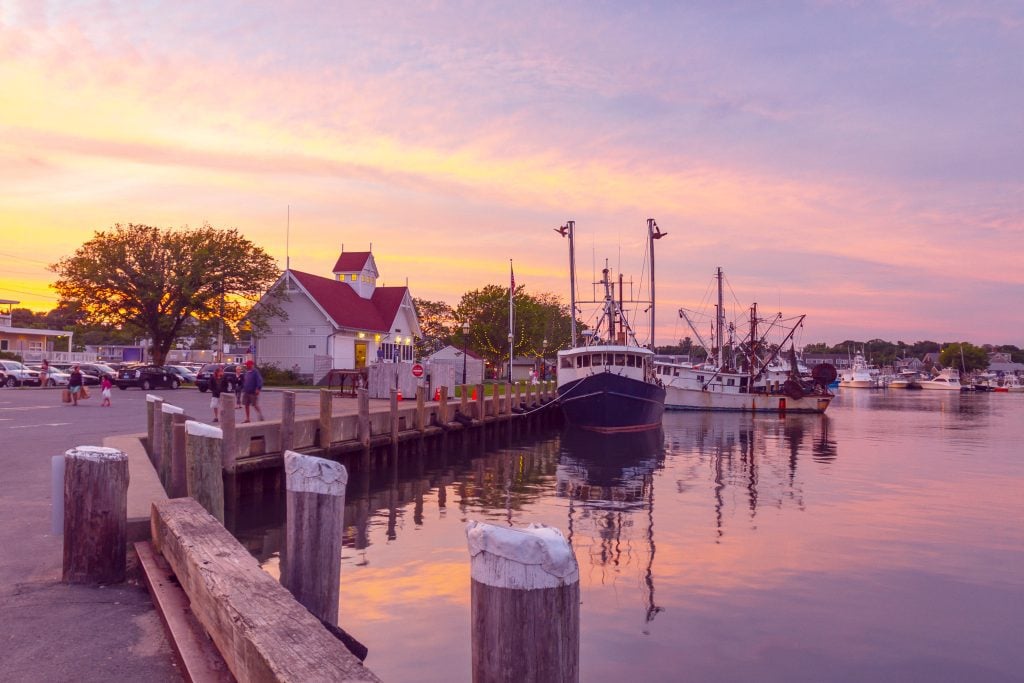 Hyannis
Hyannis is located in the mid-Cape near Lewis Bay along the southern side. While Hyannis is technically a village in the town of Barnstable, I'm including it on the list because it feels like a standalone city. It is the Cape's transportation hub with a tiny airport, along with a bus, train, and ferry terminal. If you want to take a day trip to Nantucket, it's easy to do from Hyannis – just hop on the ferry. You can view the ferry schedule here.
In Hyannis, you'll find a hospital, clinics, shopping malls, several hotel chains, amazing restaurants, and boutique shops galore. Main Street is brimming with restaurants overlooking the Harbor. During the summer months this section of town comes alive with music, farmers' markets, street performers, seasonal festivals, and more.
If you like Mexican food, Añejo Mexico Bistro is a must-stop, with outdoor seating underneath a gorgeous gigantic tree.
One of the major draws of Hyannis is its beaches! Be sure to check out Kalmus Beach with its wide stretches of sand dunes and calm waters, perfect for small kids to splash around in. You'll also find lots of windsurfers and kite flying enthusiasts here, thanks to the prevailing breezes.
Veterans Beach is one of the prettier beaches in Hyannis with a small park, shade-filled trees, and lush lawn areas. It is also filled with seashells, so bring your sand buckets and go shell hunting! Lifeguards, restrooms with showers, and a snack bar make this a fantastic beach all around.
Hyannis gives many nods to the Kennedy family and Veterans Beach has a JFK monument, along with a Korean War monument. In fact, Hyannis has lots of Kennedy-related attractions, including the John F. Kennedy Hyannis Museum where you can learn all about his life in Hyannisport. The Cape Cod Maritime Museum is also here.
Where to Stay in Hyannis: The SeaCoast Inn is a great mid-range option, close to both the town and the beach. See more places to stay in Hyannis here.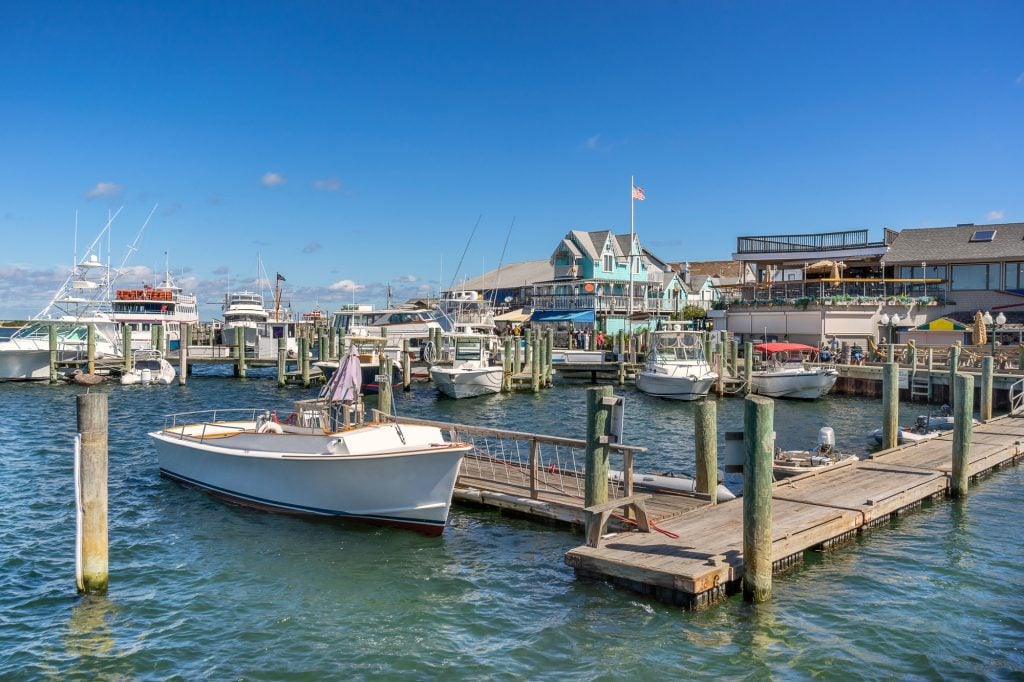 Falmouth
Located along Route 28 on the corner of Cape Cod's southwestern shores, the town of Falmouth has eight villages, all with their own unique character. It's got a very walkable Main Street, and for those who would prefer to visit in the off-season, a great variety of shops, restaurants, and accommodation stay open year-round.
If you're visiting Martha's Vineyard, Woods Hole in Falmouth is your jumping-off point, as the ferry to the island is here. (If you want to visit Martha's Vineyard, check the ferry schedule here.)
A popular spot is the historic Falmouth Village with its shops, museums, and great restaurants that will keep you busy all day. Relax from exploring with a leisurely lunch, then have an evening cocktail at a trendy pub or bistro.
The best way to explore the natural beauty of Falmouth is on two wheels! Along the Shining Sea Bikeway, ride along the 10.7-mile paved path that traverses four of the villages, from North Falmouth to Woods Hole. You'll pass by salt marshes, farms, and cranberry bogs with plenty of spots to take a break and have a picnic lunch.
Be sure to visit the Woods Hole Oceanographic Institution (WHOI), then catch seal-feeding time at the nation's oldest aquarium. With several beaches to choose from, Silver Beach has spectacular sunsets, while Chapoquoit Beach is quieter and more secluded.
The Nobska Point Lighthouse is here, too, and has stood overlooking Vineyard Sound for more than 100 years. Here you can take a tour, talk with volunteer lighthouse keepers about its colorful history, and snap some photos.
Where to Stay in Falmouth: There's a fantastic glamping option at Autocamp Cape Cod, where you can stay in an Airstream trailer or other kinds of Instagrammable digs! See more places to stay in Falmouth here.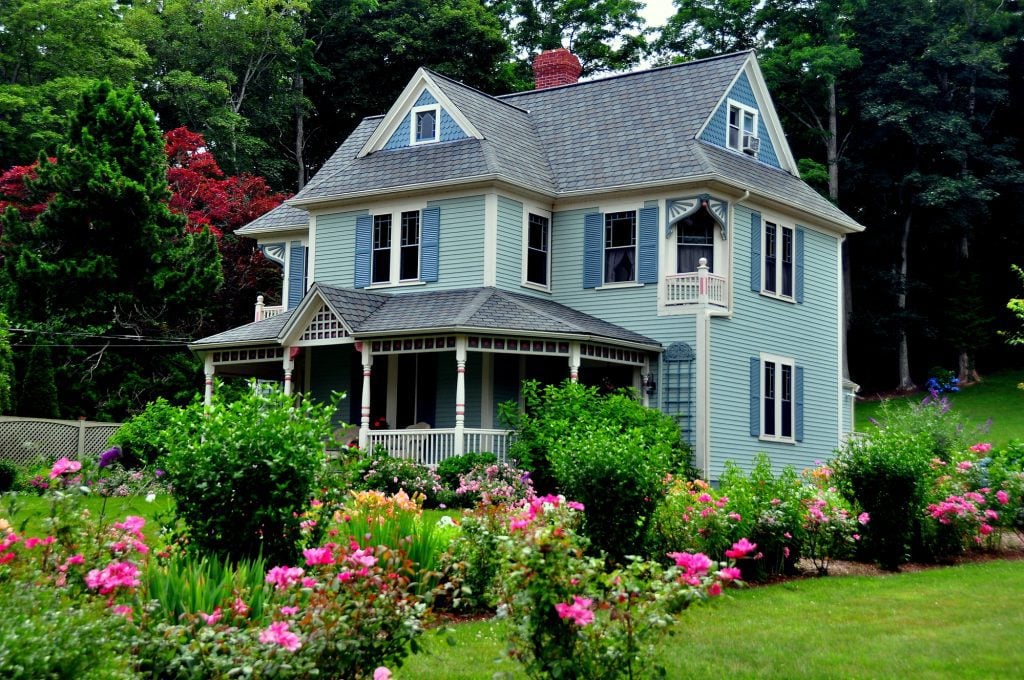 Charming Small Towns in Cape Cod
Are you coming to the Cape to enjoy picture-perfect cottages, hydrangea gardens, tiny ice cream shops and delightful museums? Take a look at these charming small towns. Any of these makes an especially good option if you're coming from outside New England and excited to experience this region culturally for the first time.
Sandwich
Along Old Kings Highway, otherwise known as Route 6A on the northern shoreline of the Cape west of Barnstable is Sandwich. It'd be tough to beat the charm of this village, where you'll see nary a lick of commercialism. Here small B&B's replace sterile chain hotels, exuberating authentic Cape Code quaintness.
In fact, Sandwich is the Cape's oldest town, so you can be sure it's brimming with history. Stately Victorian homes have been lovingly preserved through the centuries. The town lies on the eastern part of the Cape Cod Canal along Cape Cod Bay and is an easy drive from Boston.
While the village is tiny, there is much to do. Lose yourself in an afternoon visiting Heritage Museum & Gardens. A collection of three different museums, it has over 100 acres of beautiful gardens, a treetop adventure park, and an indoor carousel for the kids.
The Sandwich Glass Museum houses exquisite glassware and showcases Sandwich's illustrious place in history as a leader in the world's glass production. Yes, you can even watch a glass blowing demonstration.
The Boardwalk in Sandwich is a fine ending to the day or first thing in the morning as the sun rises over the Cape. Here you can get a good taste of Cape Cod Bay as you cross marshlands with abundant wildlife, ending with a large expanse of beach. For even more nature, the Shawne-Crowell State Forest boasts more than 15 miles of hiking and horseback riding trails.
Where to Stay in Sandwich: The Dan'l Webster Inn and Spa is as elegant and beautiful as the town itself and definitely where to stay for a special getaway. See more places to stay in Sandwich here.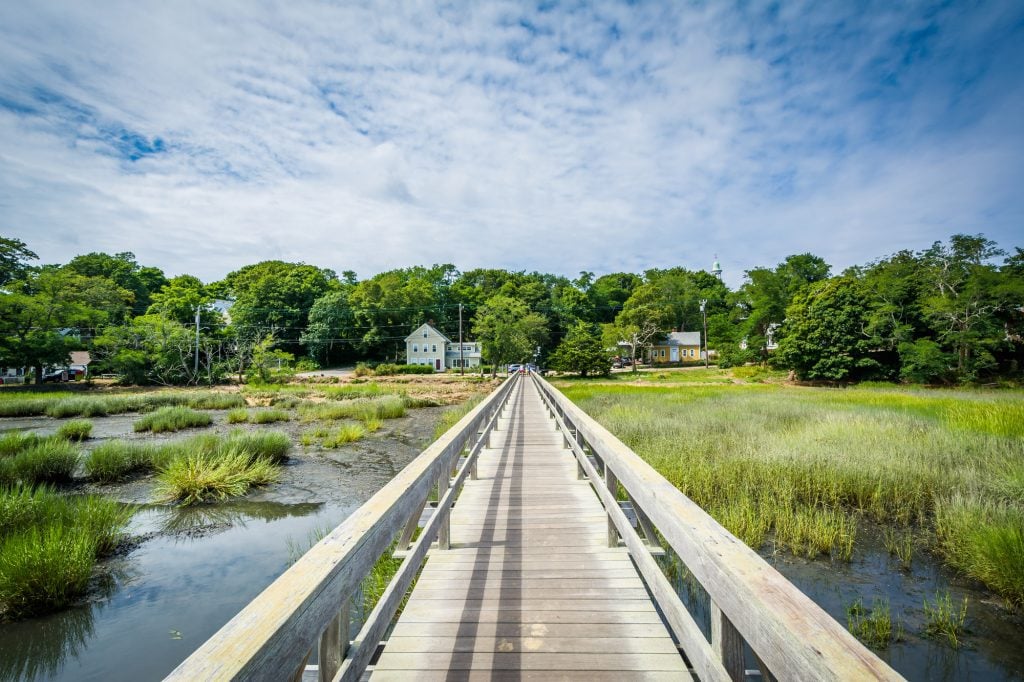 Wellfleet
Driving up the eastern arm of the Outer Cape, nature lovers will appreciate the ambiance of Wellfleet, a true gem along the New England coastline. Here, bike paths and country roads end with inviting kettle ponds and dramatic beach scenery. Here, finding solitude is easy.
Large cliffs dominate the beaches here along the Atlantic and the waters are surprisingly calm. The sunsets are spectacular and whale sightings are not rare. Marconi Beach is booming, while Whitecrest Beach offers a quieter respite.
For those who love shopping, dining, and gallery-hopping, Wellfleet is your town. Just remember to head to the harbor for one of the best places for just-caught seafood in the area. Oysters, anyone?
A haven for artists, foodies, and nature lovers alike, things here run at a slower pace, and it is somewhat remote. Walk around most any part of town and you'll likely hear bells ringing at odd hours of the day. That's because the Town Clock, situated above the First Congregational Church, is the only one in the world that still chimes on "ship's time."
Here at the Outer Cape, the Beachcomber is THE spot for a great meal, a cocktail, and a night of entertainment, with a killer view to match. Not up for nightlife? How about an old-fashioned drive-in movie theater? One of the few left in the U.S., the Wellfleet Drive-In is nostalgia at its very best, showing first-run double features on a 100-foot screen.
If you were wondering where the nature comes in, the Wellfleet Bay Wildlife Sanctuary is it. Over 900 acres feature nature trails where you can spot rare birds and other wildlife. Sea excursions are offered throughout the season.
Where to Stay in Wellfleet: Check out the Even'tide Resort Motel & Cottages, where you have comfy well-decorated rooms and the property has an indoor pool for rainy days. See more places to stay in Wellfleet here.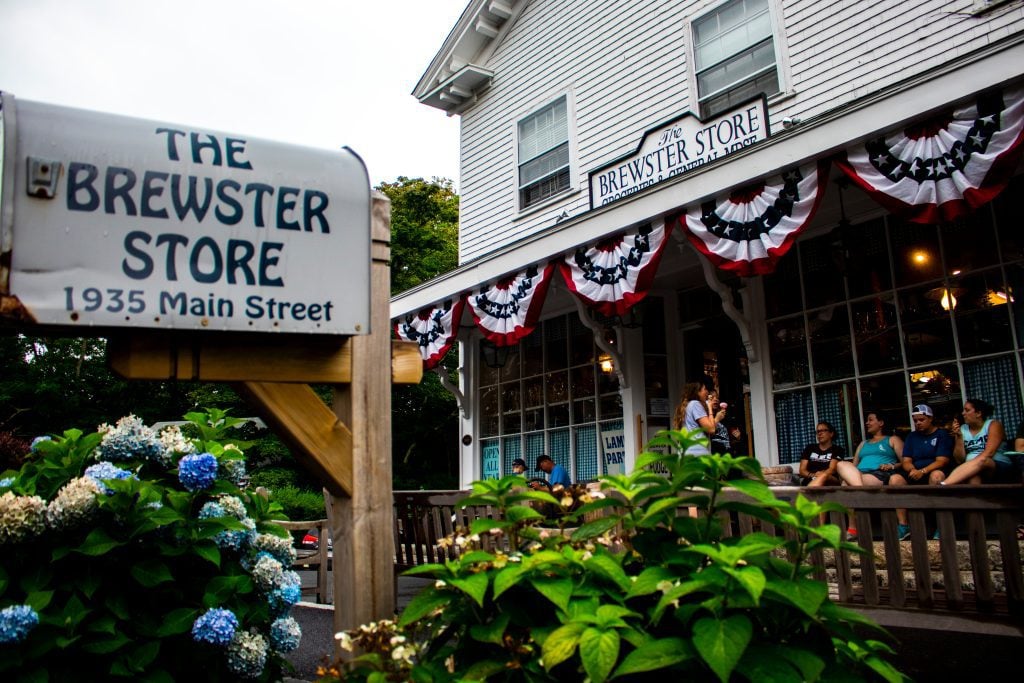 Brewster
Another great town with that old Cape Cod ambiance, Brewster lies along Old King's Highway 6A near the "crook of the elbow" of the Lower Cape. Bordering the saltwater coastline of Cape Cod Bay, it is also known as "Sea Captains Town." You'll find shaded country lanes, pretty residential neighborhoods, and quiet beaches. Think historic charm with a modern flair.
This may be a quiet town, but that's not for a lack of things to do! Active people will enjoy biking, golf, mini-golf, fishing, tennis, horseback riding, kayaking, and shellfishing. Those with more subdued desires will find historical sites, live theater, museums, antique shopping, galleries, and the Brewster Store, probably the best general store you'll ever find yourself in.
The Cape Cod Museum of Natural History is a big draw, with lots of hands-on exhibits celebrating nature. Whether or not you have kids, the "Mudflat Mania" seaside exploration program is not to be missed.
Nickerson State Park is a gorgeous spectacle of 2,000 acres full of woodlands, kettle ponds, hiking and biking trails, serene camping spots — all along the water. Shoppers will enjoy Main Street with its bookstore, antique shop, and HandCraft House. The Lemon Tree Village Shops have galleries and artisan goods.
Brewster also has some of the most highly rated B&Bs on the Cape, making for a very romantic home base to explore the entire area. But whether you're with a friend or on your own, be sure to grab a bike and explore the 25-mile Cape Cod Rail Trail, which runs through Brewster and several other towns.
Where to Stay in Brewster: One of the best properties in town is the Old Manse Inn, a truly elegant bed and breakfast where they spoil you wonderfully. See more places to stay in Brewster here.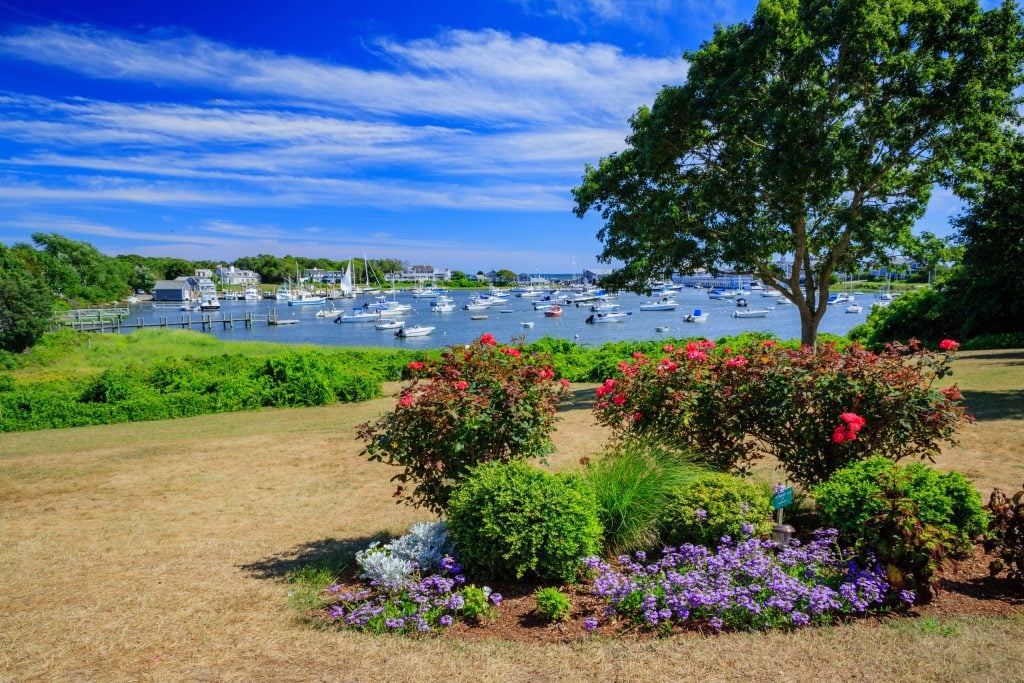 Harwich
Located on the southeastern shoreline of Cape Cod, Harwich is a charming town; upscale yet unpretentious, and made up of seven unique villages. It is also summer festival central here at the Cape. A couple of notables are the Brooks Park Arts & Crafts Festival in August and Cranberry Arts & Music Festival in September.
Here the beaches are divine, such as Red River Beach and Pleasant Road Beach. With three harbors and freshwater ponds, you can bet that boating and freshwater fishing are pretty big here.
With many cranberry bogs, taking a tour is a must! The mighty cranberry has an illustrious history with roots firmly planted right here in Harwich. Truckloads of cranberries are harvested every autumn, and the Cape Farm & Cranberry Company offers guided tours from spring through fall.
June and July is lavender season, and the Cape Cod Lavender Farm is a really nice place to wander the footpaths of a lavender field and browse wonderful lavender-centric products. The Cape Cod Rail Trail also runs through Harwich from Dennis to Wellfleet for some exploration on two wheels.
Wine lovers will be pleased to know that First Crush Winery has tastings to offer or to just hang out in their tasting room and have a full glass (or three). Displays of winemaking tools throughout the decades provide an interesting backdrop to your experience.
Harwich's location means it's also a great home base for day trips to other parts of the Cape. Whatever your accommodation style, there are upscale resorts as well as more down-to-earth cozy B&Bs and vacation rentals.
Where to Stay in Harwich: I love the Winstead Inn, where the rooms are decorated in a modern Victorian style (wallpaper aplenty!), the grounds have beautiful gardens, and there's a free shuttle to the beach. See more places to stay in Harwich here.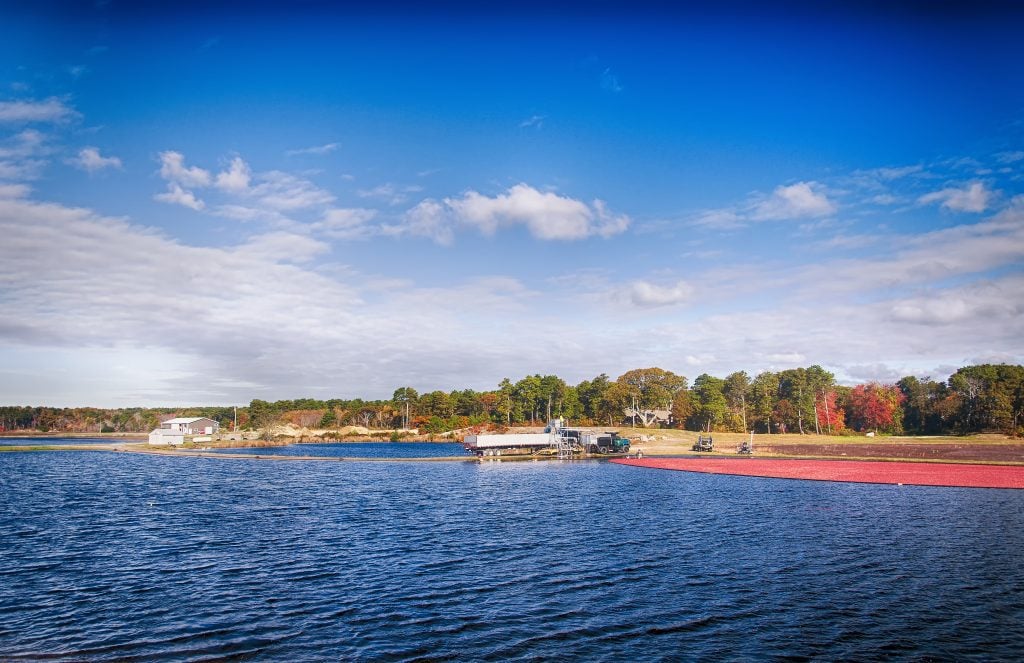 Yarmouth
There are definitely two sides to the central Cape Cod town of Yarmouth — both equally appealing for the Cape Cod vacationer. Along Cape Cod Bay lies the village of Yarmouth Port, with its cute-as-a-button charm and peaceful setting. Go a bit south and things get more active.
Bass Hole Boardwalk is a great place to enjoy a bit of scenic nature as it stretches out over the salt marshes of Cape Cod Bay for an amazing sunset. As you're going down Route 6A through town, turn at Center Street to Gray's Beach and you're there.
Try your hand at crabbing at Crab Creek, known as one of the best spots for blue crabbing on The Cape. Equipment rentals are available nearby so you can catch a bucket full of dinner. At Bass River Kayaks you can rent a paddleboard or kayak if you want to get out on the water on the Bass River.
If you love mini golf, Pirates Cove has a spectacular 18-hole mini course full of fun additions such as waterfalls, a full-size pirate schooner, and more to make it entertaining and challenging. There's also Skull Island Adventure Golf and Sports World, as well as the Whydah Pirate Museum.
Beachgoers should definitely hit up Seagull Beach, Smuggler's Beach, and Gray's Beach. For those already partaking the Cape Cod Rail Trail, it passes right through Yarmouth connecting it to nearby towns.
Where to Stay in Yarmouth: I love the Village Inn in Yarmouth Port, set in an old captain's house with lots of space for enjoying the grounds. See more places to stay in Yarmouth here.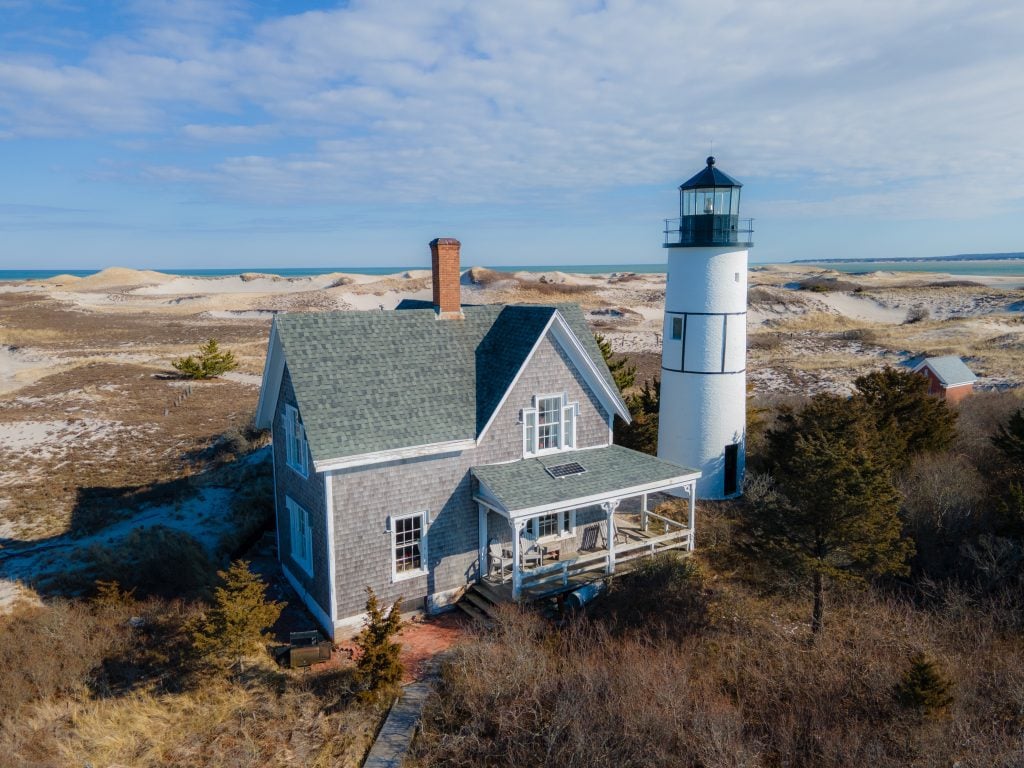 Barnstable
The city of Barnstable is not to be confused with the county of Barnstable, which encompasses the whole of Cape Cod. As the Cape's largest town, Hyannis, West Barnstable, Centerville, Osterville, Cotuit, and Marstons Mills villages are all within its city limits.
Since we've already discussed the awesome things to do in Hyannis, we'll talk about the big draws in the other villages in Barnstable. Most notable is Craigville Beach, its soft white sand and crystal blue waters. Then when you need a sweet treat, head to Four Seas Ice Cream and a visit to 1856 Country Store.
The quiet village of Cotuit is bordered on three sides by water, so it should come as no surprise that kayaking, fishing, and boating are big here. Art enthusiasts may appreciate the Cahoon Museum of American Art. Nearby, the village of Marstons Mills is the only landlocked village in Barnstable. Here you can visit the Cape Cod Airfield.
In Osterville, walk the main part of the village with its great concentration of boutique shops, restaurants, art galleries, and lovely beaches. In West Barnstable, be sure to visit Sandy Neck Beach with its large swath of dunes and wetlands.
In Barnstable Village, just off Main Street, you'll find a beach, a fish market, a restaurant, and most notably the Hyannis Whale Watcher Cruises.
But if you really want to savor one of the many Cape flavors, have a Goat Experience at Triple H Farm. It is the quintessential Cape Cod farm experience, with chickens, and most of all…goats! Guests can feed, milk, brush, and hang out with the goats as your host talks about the farm and daily life here.
You'll stroll under mature cedar, oak, and maple trees, peppered with vibrant rhododendrons and hydrangeas. There is also a demonstration of how goat milk soap is made and you'll get to take a sample home.
Where to Stay in Barnstable: If you want to bring your pet down the Cape, you can't do better than Lion and Lamb, a classic Cape Cod inn that welcomes animals and yet feels like a small luxury hotel. See more places to stay in Barnstable here.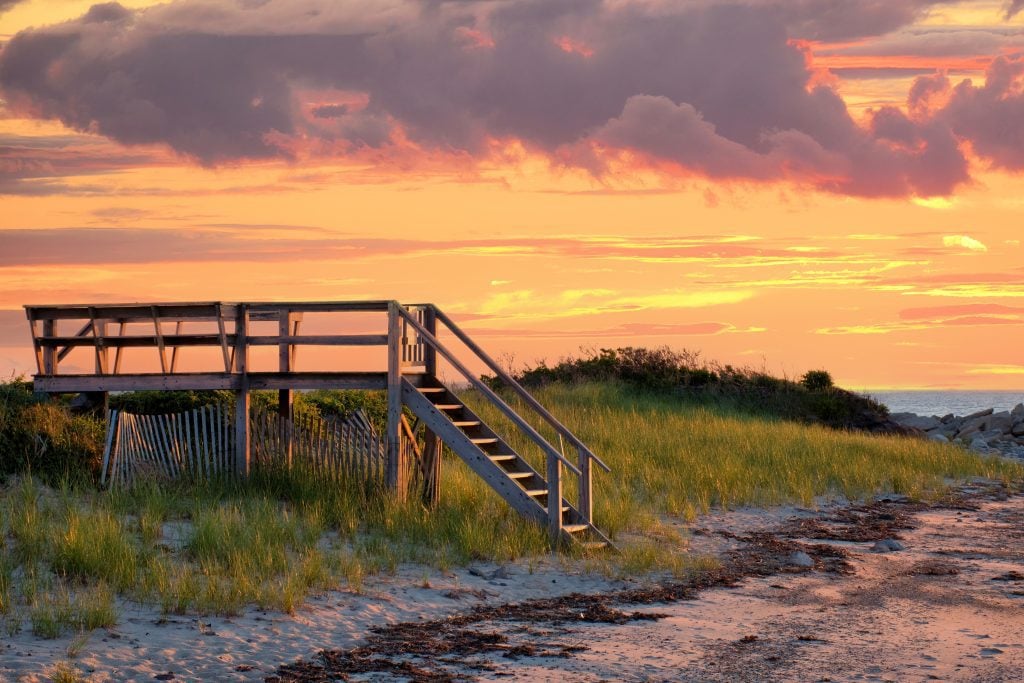 Cape Cod Towns That are All About the Beach
If you're looking to spend your days on the beach, these towns have some of the best beaches on the Cape. Each of these towns is enormously family-friendly, making them a great option if you're visiting Cape Cod with your kids.
Dennis
A quaint town that's full of history, Dennis lies along Old Kings Highway 6A along the Cape's mid-northern shores. The town had the important distinction of being an "All-American Town" a few years back.
Much like Yarmouth, Dennis has two distinct faces – West Dennis and Dennisport feels like a busy resort, while Dennis Village and East Dennis are more relaxed and rural. Both offer fabulous accommodations and a variety of activities.
If beaches are your thing, Dennis is where to go, with shoreline on both Nantucket Sound and Cape Cod Bay. On the Cape Cod Bay side of things, Mayflower Beach offers calm waters and expansive shore, tailor-made for relaxing in the sand all day. Similarly, Corporation Beach has wonderful tidepools and placid waters.
Alternatively, West Dennis Beach lies on Nantucket Sound and is surrounded by several other beaches. With plenty of vacation rentals in this area, West Dennis makes for a great home base for exploring much of the entire Cape.
Get your nostalgia fix and step back in time a few years circa the 1930s and catch a classic cinema show at Cape Cinema. The gorgeous decor of the theater features plush seating and fancy velvet drapes covering the screen until showtime. The Cape Playhouse, where Humphrey Bogart once performed, has been running since 1927.
Great views are to be had at Scargo Tower, the highest point in the Cape. Don't forget your camera! You'll want to capture the 360-degree views.
Where to Stay in Dennis: Sesuit Harbor House in East Dennis is a lovely inn set back from the madness, just a 15-minute walk from the beach. See more places to stay in Dennis here.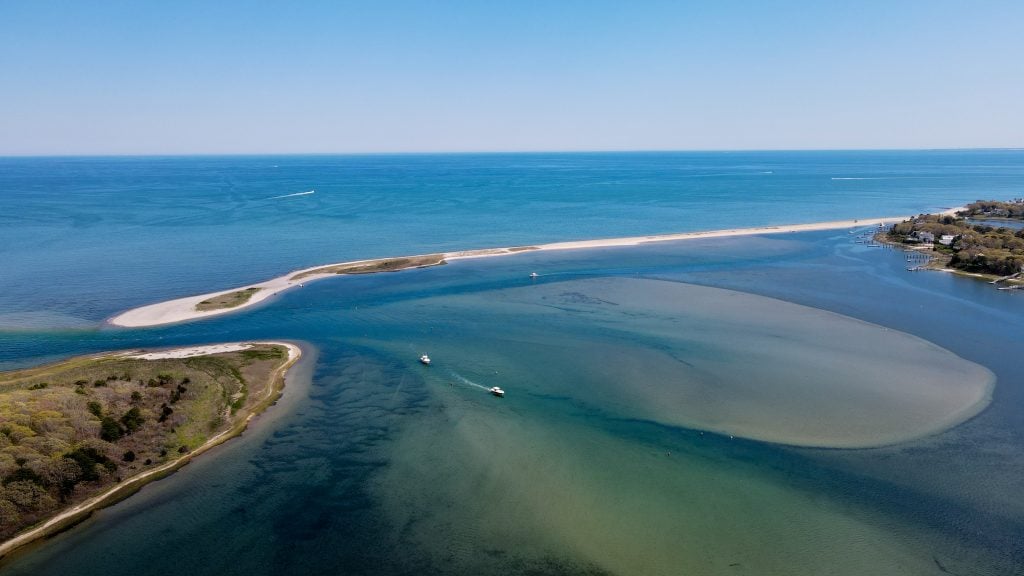 Mashpee
With rich Indigenous heritage, the Upper Cape town of Mashpee is a very different town than when the Wampanoag tribe first inhabited Cape Cod. Fortunately, many Wampanoag folks still live close by Mashpee, which makes the experience of visiting this town all the richer.
Consisting of several villages, Mashpee is a great place to explore for a day. The entire Mashpee Common is a shopping mecca and is easily walkable, where upscale chain stores are met with unique locally-owned boutique shops.
Great restaurants and places to get a sweet treat are just waiting to be sampled. For one of the best lobster rolls on the Cape, head to the Raw Bar at Popponesset. Naukabout Brewery is my pick for grabbing a great craft beer and some epic pub food. Naukabout translates to "doing what you love to do when you're finished doing what you have to do."
Be sure to stop by the Wampanoag Tribal Museum for a taste of what life was like before the English settlers came. This tribe has lived in the Cape for thousands of years, from the Stone Age to the present day, and this museum has been thoughtfully curated with a wonderful range of exhibits.
In Mashpee, many scenic beaches await, some of which are open only to residents. Be sure to check out South Cape Town Beach and the South Cape Beach State Park.
Where to Stay in Mashpee: One nice spot is The Club at Seabury, where they have one- and two-bedroom condos available in a beachfront complex. See more places to stay in Mashpee here.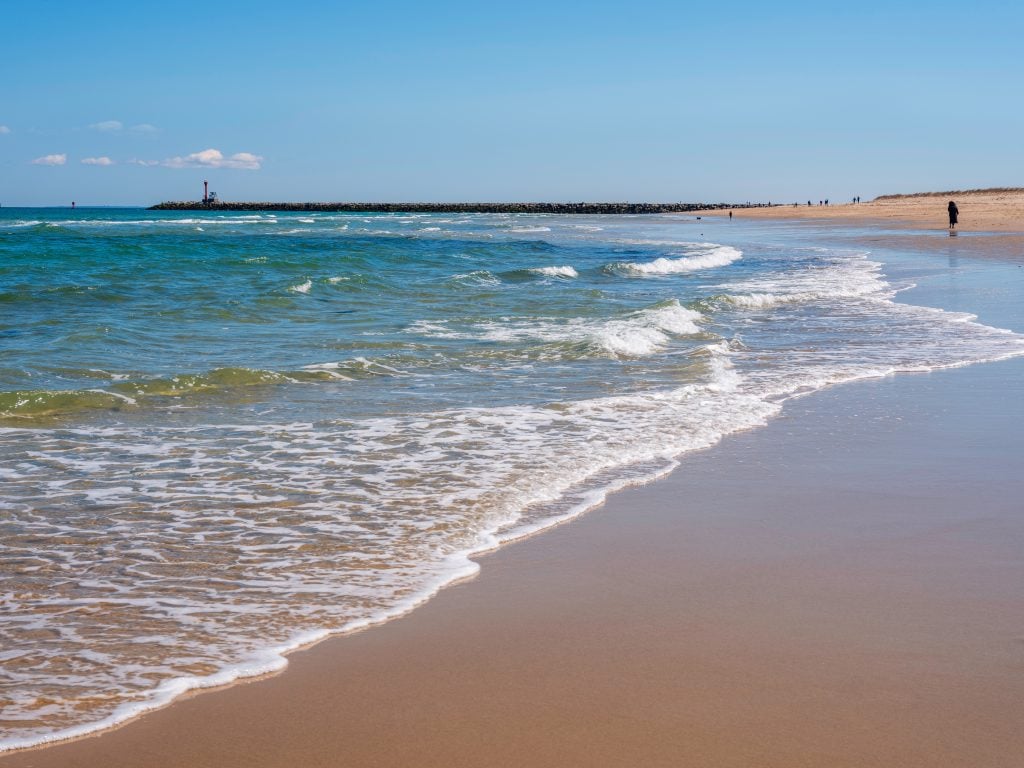 Bourne
Bourne is the first town you'll hit after traveling across the Sagamore Bridge, spanning both sides of the Cape Cod Canal. What's interesting about Bourne is that it has two faces: the northern part is busier and consists of the villages of Bournedale and Buzzards Bay. This area is one of the Cape's best kept secrets as you don't have to deal with the traffic on the bridge.
The southern part is rural and quiet — the perfect place for a calm day trip — and encompasses the villages of Monument Beach, Gray Gables, Pocasset, and Cataumet. Bourne sees shoreline not only along Cape Cod Bay but along the canal which separates the Cape from the mainland. This canal can be thought of as the centerpiece of town and is a hub of activity.
Biking, walking, and in-line skating are popular pastimes at the canal. For an exceptional trail, do not miss the Bourne Sisters Woodland, Red Brook Pond Conservation Area, and Little Bay & Monks Park.
Along this 7-mile stretch, access spots to the water and epic viewing areas can be had, so bring your camera. Along the entire width of the canal spans the Railroad Bridge — the second longest vertical lift bridge in the world!
Be sure to hit the National Marine Life Center, which consists of an education center as well as an animal hospital. And the Aptucxet Trading Post is a fun stop and is the site of the first-known trading spot between the indigenous Wampanoags and newly arrived Dutch settlers back in the 1600s.
Where to Stay in Bourne: It may be a chain hotel, but the Hampton Inn at Cape Cod Canal in Buzzards Bay comes highly recommended by families. See more places to stay in Bourne here.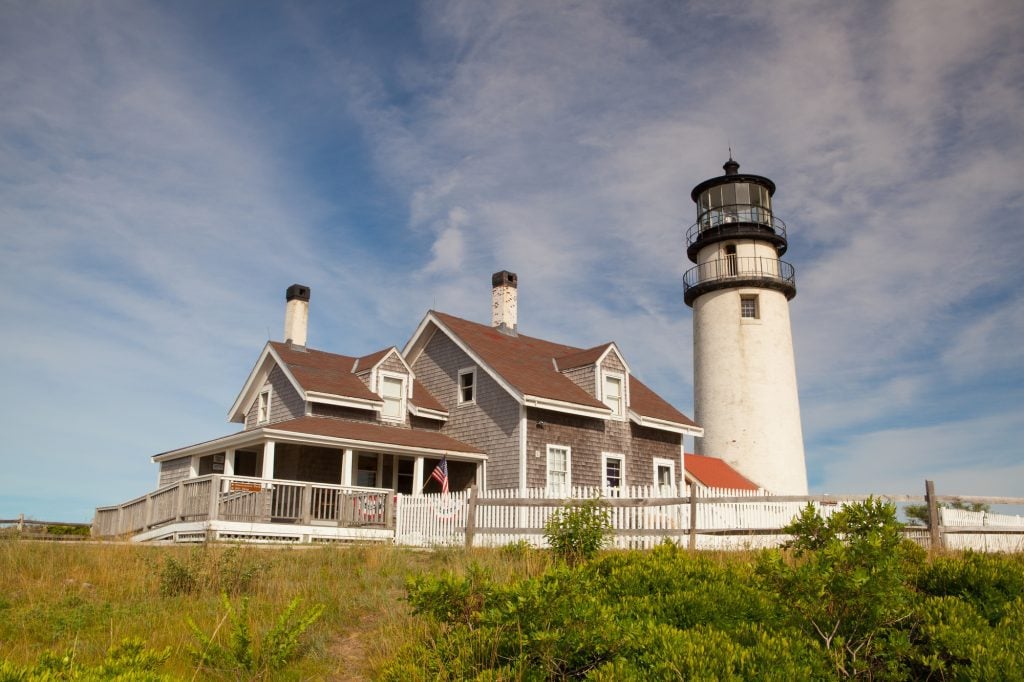 Quiet Cape Cod Towns for Getting Away from It All
Sometimes you just need to get away from it all. Sitting on a chair, reading a book, basking in the quietude and unplugging from your busy life! If that's what you're looking for in a Cape Cod vacation, these are the best towns for you.
Truro
For a quiet respite close to the bustle of Provincetown, head just south to Truro. Nature lovers will swoon over the sand dunes blanketing the coastlines on both the Cape Cod Bay and Atlantic sides. It is an area that is sure to impress with among the most stunning scenery in all of the Cape communities.
Pay a visit to Highland Light, the Cape's oldest and tallest lighthouse (circa 1797), standing 66 feet high. From April through October, visitors can climb this lighthouse to the top for amazing views. Golfers will appreciate the Cape's oldest (and most scenic) golf courses right next door, called Highland Links.
For a bit of historical context, the first English settlers initially came to what is Provincetown today, then moved south to Truro. Consequently, there is a ton of history to be found along both shores and is one of the many features that make this area quintessential Cape Cod.
In fact, over half of Truro's land area is part of the Cape Cod National Seashore, with mile after mile of unspoiled sandy beaches.
Wine lovers will appreciate Truro Vineyards for an afternoon of wine tasting, located just next to the National Seashore. Enjoy wine tasting on their spacious pavilion and take a free guided tour of the vineyard and state-of-the-art barrel room. Learn about the maritime art of grape growing, producing the wine's intense flavors.
The beautiful beaches of Truro offer several slices of salty-air heaven. Sandy paths line the dunes of Ryder and Corn Hill Beach on the bay side, with calm waters and expansive views. On the ocean side, endless miles of natural beaches are protected by the National Seashore. Ballston Beach, Head of the Meadow Beach, and Look Nook Beach are all favorites.
Where to Stay in Truro: One hidden gem is Sandbars Inn in North Truro, with beautiful studios with kitchen facilities and a great location right on the beach. See more places to stay in Truro here.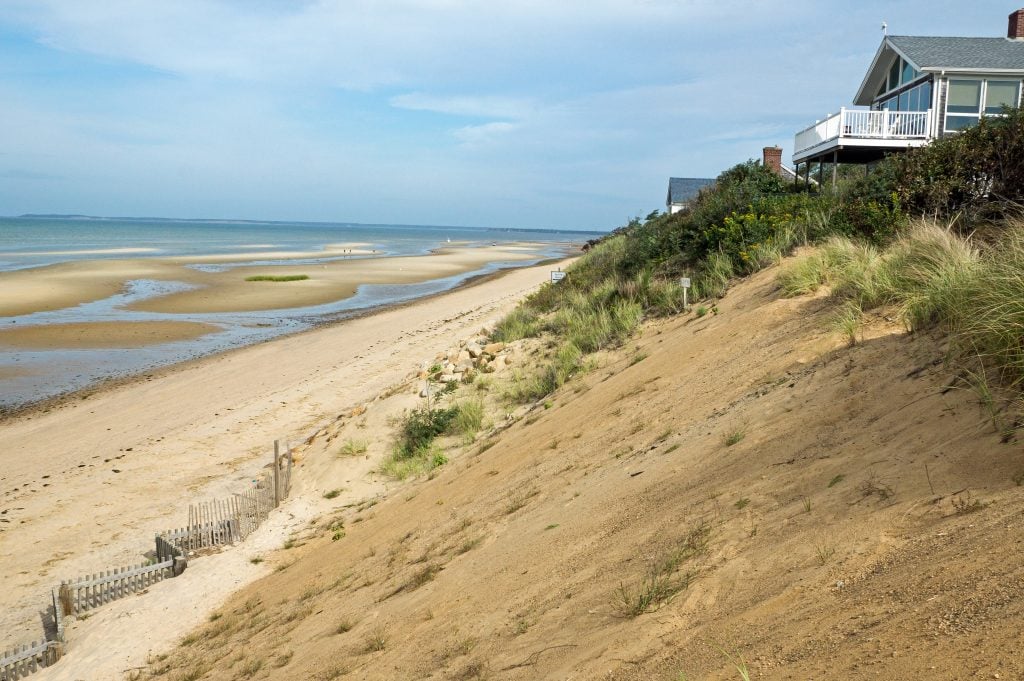 Eastham
If quiet is what you seek, Eastham is the place for you, with gentle waters to boot. Located on Cape Cod's outer arm, here you will find Three Sisters of Nauset Lighthouse, a historic structure just around the corner from Nauset Light. It is also home to one of the last standing windmills on Cape Cod, just off of Route 6.
The historical significance here is great, as it is where the Mayflower Pilgrims first met Native Americans. Eastham has several special nooks and crannies to explore, such as Hemmingway Landing and Fort Hill, with spectacular views.
The Cape Cod Rail Trail runs through Eastham and about one third of the town is part of the Cape Cod National Seashore.
Hit up the Red Barn for great pizza and one of the most affordable mini golf spots on the Cape. Much of Eastham has not changed much at all since the 60s, where many folks will still smile and say hello as you pass them on the street.
A beach town to the core, Eastham has shorelines on both the bay and ocean side. One of the most popular beaches in the U.S. is here, the Atlantic's Coast Guard Beach. First Encounter Beach is another option — a bay side beach that offers a quiet respite from the former, with calm water and expansive views.
Where to Stay in Eastham: Rugosa Guest House is a gem in Eastham, with lovely rooms and a great location convenient for exploring the area. See more places to stay in Eastham here.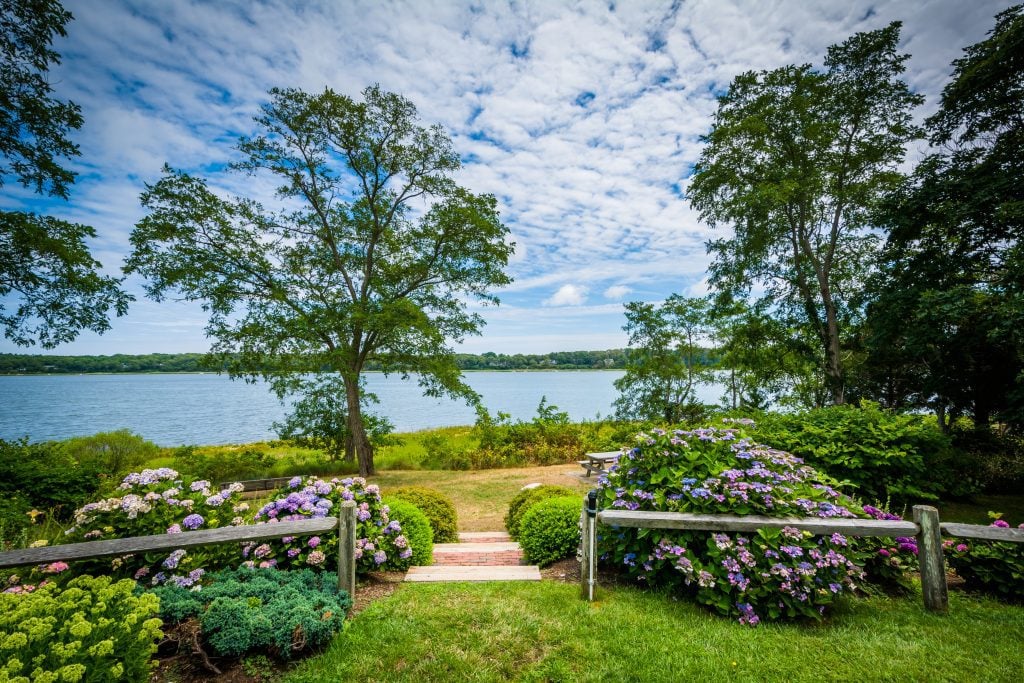 Orleans
Orleans is one of the most beautiful towns of Cape Cod, set in the crook of the arm of Cape Cod. Beach lovers should to head to Orleans' Nauset Beach – consistently recognized as one of the Cape's best. During the summer months, this is the place to escape the bustle of tourists, and the off-season is even more peaceful!
Orleans has a nice mix of friendly, small-town culture and nature activities. Bike trails, beautiful beaches, and parks are balanced nicely with t-shirt shops, ice cream stands, museums, mini golf, and playgrounds for the kids. S
Culture abounds here and Orleans has been designated a Cultural District in the Commonwealth of Massachusetts. Stroll the main street and you'll find a veritable buffet of art galleries such as the Artisan Cottages, Tree's Place, and Addison Art Gallery, to name but a few. The Orleans Historical Society offers exhibits, walking tours, and lectures.
Fishing is a big activity here, and if you fancy a fishing charter, there's plenty of opportunities to wet a line and catch your dinner at Rock Harbor. In fact, both Rock Harbor and Skaket Beach are the perfect spots to catch the sunset.
The food scene is pretty eclectic as well, with funky spots like the Jailhouse Tavern. True to its name, this was the site of a former prison! The Hog Island Beer Co and The Barley Neck are two other joints to check out.
With hundreds of vacation rentals, quite a few B&Bs, inns, hotels, and motels, Orleans makes for a great base for exploring the Cape.
Where to Stay in Orleans: If you want to be walking distance to places to eat, the Cove Motel is well-situated with well-designed rooms. See more places to stay in Orleans here.
More on Cape Cod:
More on Martha's Vineyard:
More on Massachusetts: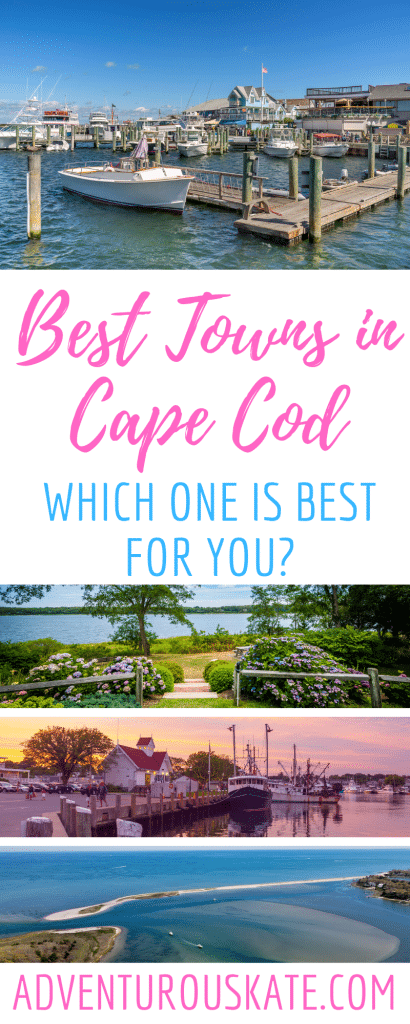 Have you been to Cape Cod? What are your favorite towns? Share away!