Adventurous Kate contains affiliate links. If you make a purchase through these links, I will earn a commission at no extra cost to you. Thanks!
Rockport MA is one of the most beautiful coastal towns in New England. It looks straight out of a painting — the fishing boats and sailboats in the harbor, the wind-battered cottages on shore, the rocky coastline, the church steeples poking between the trees.
There are so many interesting things to do in Rockport MA, and throughout the North Shore (the coastline between Boston and New Hampshire). I grew up in nearby Reading, Massachusetts, and have spent so much of my life exploring the towns up and down the North Shore, from Gloucester to Salem to Newburyport.
Rockport, located on the tip of Cape Ann in Essex County, is the North Shore town where I most often bring out-of-state visitors. Why? It's a photographer's dream. It's small enough to explore on a day trip, but there are tons of things to do. It feels like quintessential small-town New England.
And while popular among locals, the North Shore doesn't get anywhere near the level of tourism of Cape Cod, making it feel special.
Rockport absolutely deserves a visit when you're spending time in Massachusetts. Come take a look at what makes this little town so special.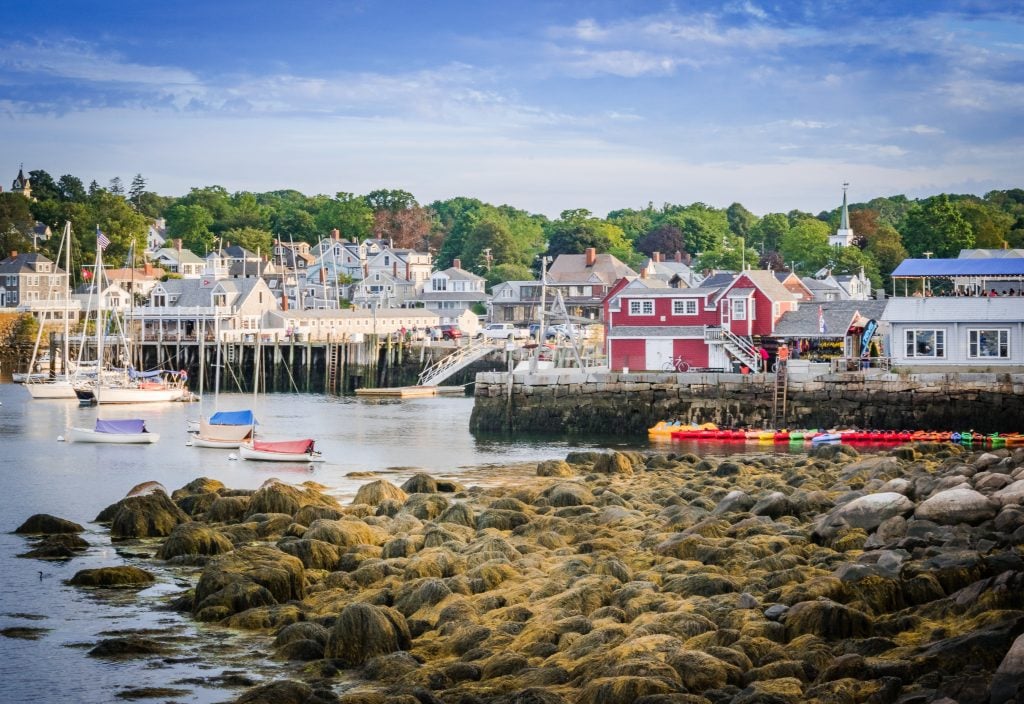 Travel to Rockport MA
While Rockport is the ideal New England coastal town, you've probably already seen it on film — as Alaska! Rockport played the role of a small Alaska village in the 2009 film The Proposal, starring Sandra Bullock, Ryan Reynolds, and Betty White.
I recommend giving it a watch the night before you head to Rockport! It's fun pointing out all the locations, from Motif No. 1 to the Fudgery, and noticing the CGI mountains in the background. (The mansion that served as Ryan Reynolds' family home is in nearby Manchester-by-the-Sea.)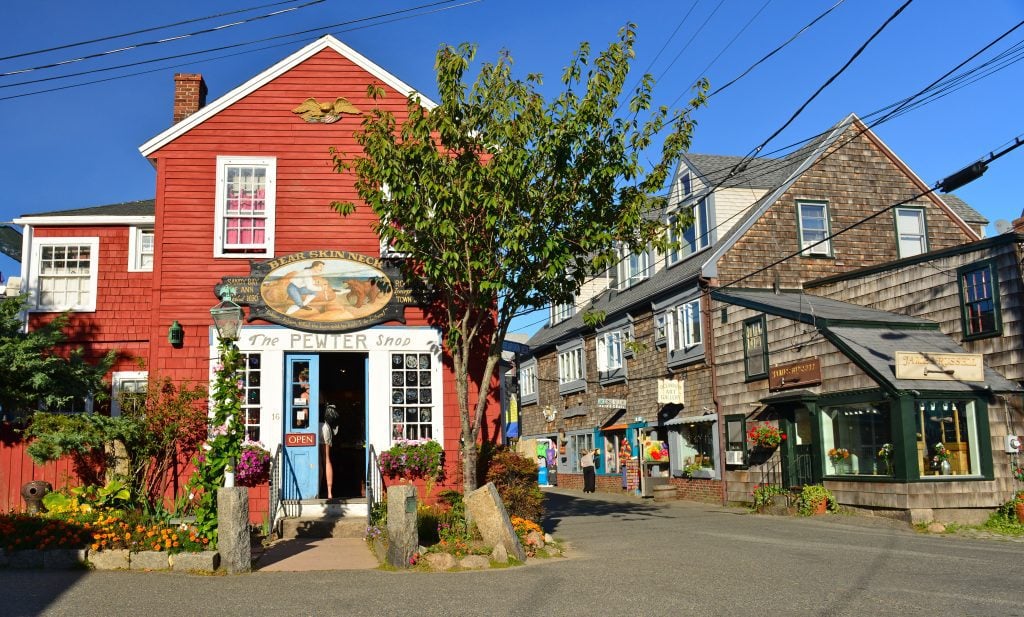 Things To Do in Rockport MA
The best things to do in Rockport MA are delightfully low-key — stroll the shops of Bearskin Neck, enjoy relaxing on the beach, enjoy an ice cream, take a nice walk through Halibut Point. All small town things. But if you're looking for a little bit of adrenaline, consider going sailing, biking, or whale-watching!
Explore Bearskin Neck
Bearskin Neck, a pier just off Main Street covered with shops, galleries, and restaurants is a must-visit in Rockport. The location speaks to the name of the city, Rockport, as it was originally established in the 1600s based on its granite quarries. And fishing, of course. Rocks are EVERYWHERE here, and Bearskin Neck is no exception.
During the War of 1812, Bearskin Neck played a crucial role, serving as a lookout barracks and the site of a critical battle during which the British shot a cannon that is still lodged in the bell tower there today.
Today you can browse candles at the Rockport Candle Company or homemade pottery at Four Winds Pottery, have a fancy meal at My Place by the Sea or a cone from the Ice Cream Store, enjoying the views along the way.
Visiting the peninsula is free of charge, and you can take your time wandering the sites and even get a photograph of Motif No. 1.
Have a Lobster Roll with a View of the Sea
Everyone knows that if you're in coastal New England, you must have a lobster roll. And if you're just visiting, you must have a lobster roll while enjoying a view of the sea. It is truly a classic experience, one of my favorite things to eat, and not one you'll soon forget.
Two great places to visit for your experience are Roy Moore Lobster Company and The Lobster Pool.
Roy Moore is right there in Bearskin Neck, so you can grab a lobster roll and take a short walk on the long beach there, hitting Motif No. 1 and checking out the other sites.
The Lobster Pool is located in Halibut Point State Park, another must-do while in Rockport, MA. You'll enjoy some of the best views of Cape Ann while enjoying one of the best lobster rolls in New England!
Not up for a lobster roll? Chowder is always a great, more affordable alternative. (And don't even ask if it's the white or the red. You're in New England, my friend. Manhattan clam chowder is as much of an abomination as the New York Yankees.)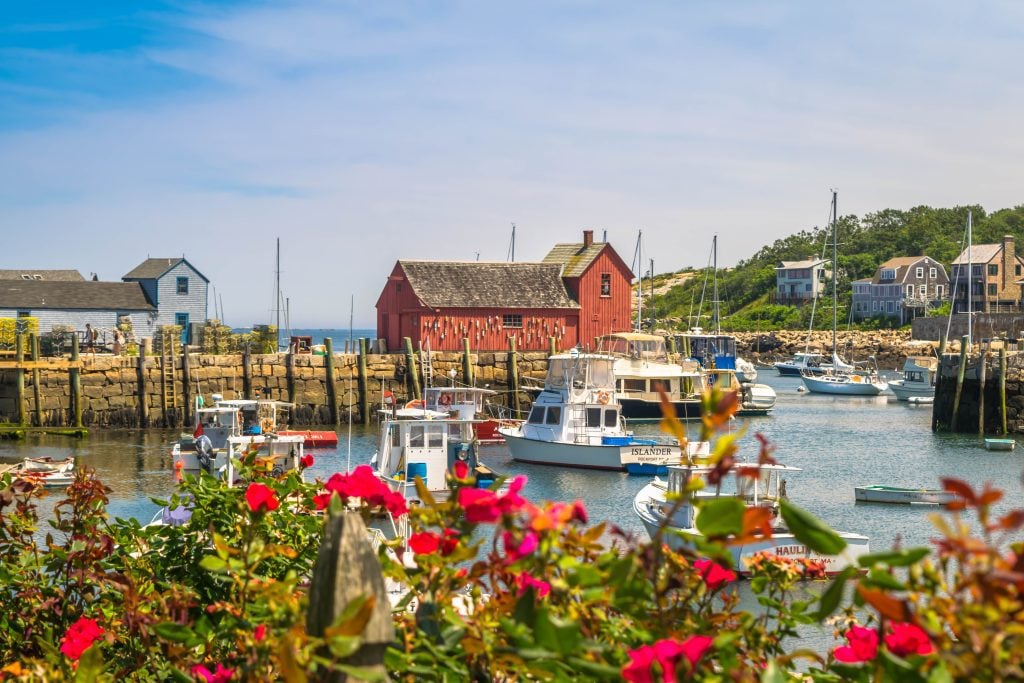 Photograph Motif No. 1
What's Motif No. 1, you ask? Just a fishing shack, some might say. But it's so much more than that. This building, painted bright red, stands at the heart of Bearskin Neck. The original building was actually built in the 1800s to house fishing gear, and that lone red building came to become the symbol of Rockport.
During the Blizzard of '78, the iconic Motif No. 1 was blown into Rockport Harbor. The town built a replica soon after the destruction, and the building has been relocated to participate in parades and stand in different locations as a symbol of strength and resilience.
(Side note: Ask any Bay Stater of a certain age about the Blizzard of '78. They'll have stories to share.)
Visiting this iconic building is free of charge, and of course you can take as many pictures as you like.
Go Whale Watching
If you're visiting Rockport from May to September — and trust me, that's the best time to visit — you can go on a whale watch excursion. Cape Ann is a rare place in New England where you can occasionally see whales from shore.
The ledges and banks of the feeding grounds there serve as an ideal location for the whales, so they literally flock there. You will get to see numerous species of whales on the right day, and locals will be very vocal if today is one of them.
For a whale watching trip on a boat, there are several companies that lead whale watches from Gloucester, including Cape Ann Whale Watch and 7 Seas Whale Watch. This will get you as close as you can get to these majestic animals.
Take a Stroll Through Halibut Point State Park
If you're ready for a bit of nature after exploring Bearskin Neck, head out to Halibut Point State Park. It's a great spot to wander the trail, take in the tide pools, maybe even bring a lobster roll from The Lobster Pool, and have a picnic!
You'll find information about the park's role in World War II and the Cape Ann granite industry, as well as a view of Mount Agamenticus, 40 miles away in Maine. There really is nothing like looking out over this super blue water on a sunny day and seeing the granite ledges spiking up out of the Atlantic Ocean.
Parking for MA residents is $5 and $20 for Non-MA residents. The park has a collection of self-guided hikes with maps.
Visit Art Galleries
While you're in the Bearskin Neck area, you may as well hit up the art galleries. All the galleries in Rockport are located there on Bearskin Neck. It's a great way to spend your morning, with a coffee in hand, strolling in and out of galleries with various art on display.
Start out on Dock Square, at the Square Circle Gallery, then make your way over to the Jettywalk Arts, and end up at John Walker Gallery, stopping along the way in whatever spot calls out to you.
Thanks to the Rockport Art Association, Rockport has come to be well known for its love of the arts, so you must stop by to see what all the fuss is about. You can head over to the beach afterward.
Spend an Afternoon at the Beach
A beautiful sandy beach just up the road from the galleries, you can take a short walk to Front Beach in Sandy Bay. This beach gets quite warm on a summer day, so bring your suit and sunglasses, a towel, and a hat, and plan to splash and explore all afternoon.
My friends with toddlers love bringing their kids to Front Beach, as the water is shallow and calm.
You can also check out Back Beach, also close by, which has made quite a name for itself as one of the best beaches in New England, likely due to its close proximity to many of the inns in this coastal town. It is a special little stretch of soft sand with usually calm water thanks to its cove-like nature. It's the perfect refuge after shopping and enjoying art.
Further south, you have Cape Hedge Beach and Pebble Beach, both of which tend to draw a more local crowd.
The beaches are free to visit, of course, but most have paid parking.
Visit the Rockport Brewing Company
A Rockport staple, the Rockport Brewing Company is family owned and operated, and has been thriving for years in Downtown Rockport. The cofounders are a married couple, Jordana and Ray Pickup, who caught the brewing bug after experimenting at home in their own driveway.
And it has paid off! The couple has built out their vision of serving the community with small-batch, high-quality beer alongside great food. They are also deeply rooted in the community; both are natives of Rockport. They source their ingredients from local farms and house art by local artists.
Some of their flagship beers are the Twin Lights New England Double IPA, the Pescato Italian Pilsner, and the Hatchet New England Session IPA, but they're always introducing new fun beers!
Enjoy Fudge at the Rockport Fudgery
Another local staple is the Rockport Fudgery, one of my favorite spots in town for a sweet treat. They've been whipping fudge by hand in Cape Ann in Rockport since 1987. Probably the coolest thing about this place is that you get to watch them create the kettle-style fudge.
The shop is located right there on Bearskin Neck, and they offer the full range of shapes, sizes, and flavors of fudge. The recipe comes from the original owner, once a science teacher, John Maschal, who dedicated his life to creating the perfect fudge. (And yes, you can see this place in The Proposal.)
And there's far more than just plain chocolate and penuche. Try their pumpkin fudge, maple fudge, chocolate peanut butter fudge, or rocky road fudge! They also serve coffee and have delicious elephant ears.
Rent a Bike and Explore
Do you like to explore places on two wheels? Rockport is a great place to do so. Rent a bike from North Shore Adventures, located in Bearskin Neck, and they'll get you set up with all the gear you'll need for the day.
I'm a person who gets a bit nervous for city driving, but Rockport is so much more relaxing. The roads are often quiet and the scenery is lovely. Know that weekends during summer are the busiest times on the roads here.
The town of Rockport is so small that you will soon go into Gloucester. Feel free to explore onwards, exploring the towns of the North Shore!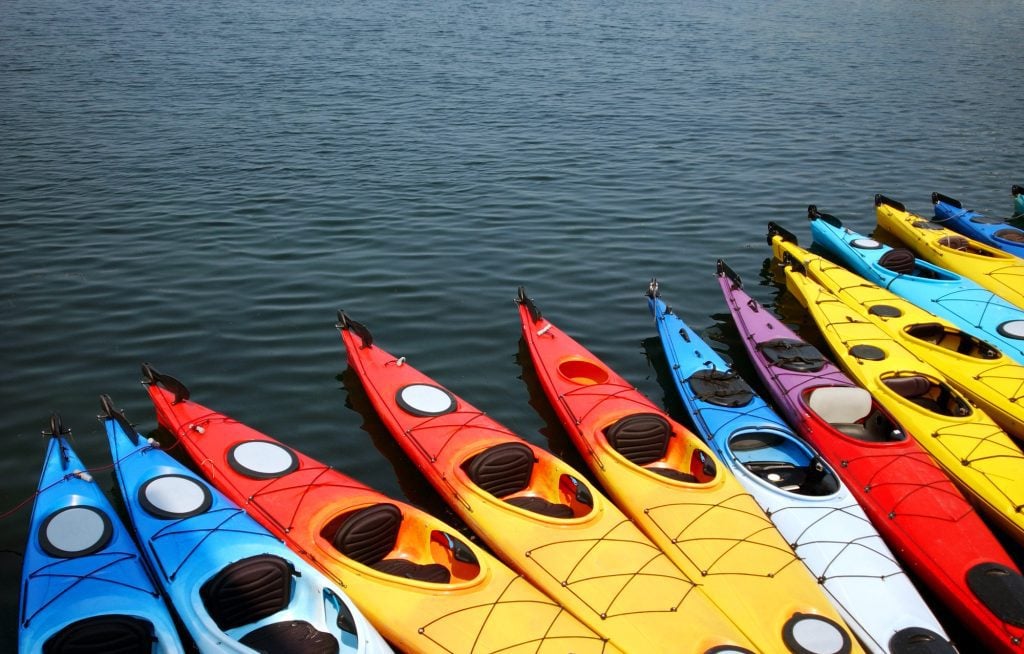 Go Kayaking
But that's not all! North Shore Adventures also rents out kayaks. So this is your place to be if you are an adventure-loving, outdoorsy explorer. You can make reservations ahead of time, and they'll even set you up with a guide, so you're not on your own out there. There are plenty of spots in the area with calm waters that are good for first-timers.
If it's a family trip you're on, they even have shorter boats for kids and longer ones for going cruising. You can take a full tour with their guide ahead of time to get a feel for what you're doing and where you're going. Even if you're an experienced kayaker, it could be fun to have someone show you the area.
Prices vary, so check out their website and reserve your gear.
Go Sailing
But if you want to go really big, go sailing! You'll need to head up the coast to the next town over, Gloucester, to catch a ride with Luciano, who is offering sailing adventures for up to 6 people.
Luciano will take you around the Gloucester harbor and surrounding areas like Rockport in his 36-foot sailing yacht. He provides light, healthy snacks for the trip, as well as water and flavored seltzer. He also provides life vests to his clients aboard.
His clients love him, and his prices for a private group trip start at a very reasonable $450.
Visit Thacher Island
Thacher Island is about a mile offshore of Rockport. The site of historical naval confrontations, which helped secure victory for the colonists during the American Revolution, this tiny island is rich with history and national pride.
You can take the Thacher Island Launch for $35 for adults and $10 for kids, at three different times of day, ($10 for kids), which includes the landing fee. If you arrive independently on your own boat and are not a Rockport resident, you'll have to pay a $5 landing fee.
Enjoy your day wandering the island, including the light station, keeper houses, a whistle house, and many scenic trails. Keep in mind the island shuts down at 5:00 PM.
Explore the Quarries
One of the primary purposes for the founding of Rockport as a city was the extensive quarry system. In the early 1800s, several granite quarries were discovered, and quarrying became a way of life for many to get the in-demand granite that can be used for so many purposes in different industries.
Today, you can take the Rockport Quarries Hike and get a great sense of what the area was like so long ago, including Johnson's Quarry, Carlson Quarry, Flat Ledge Quarry, and the Rockport Granite Bridge.
Plan for half a day to complete all eight miles of this hike, which begins at the Rockport Train Station. Maybe pack a breakfast and plan for a sandwich along the way, as this hike will take you past Bearskin Neck and Motif #1 as well as some great restaurants.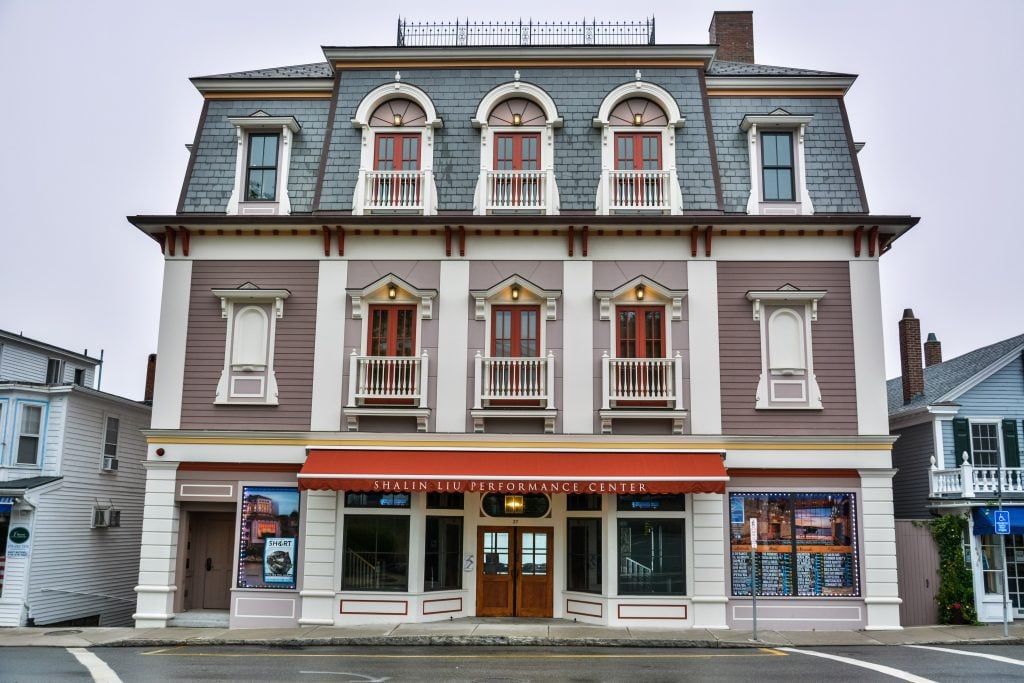 See a Show at the Shalin Liu Performance Center
Another brilliant work of art in Rockport, the Shalin Liu Performance Center is known for its amazing aesthetics and acoustics. It has spectacular views of the bay, perched right on the bluffs, and it has become an important cultural part of the town.
Making its debut in June of 2010, the Center now has a strong reputation for delivering state-of-the-art amenities in a musical setting that honors its Rockport location. This is a must-see while you're in town. Visit for a concert of all types of music ranging from classical to jazz, folk to pop, and even free events for families.
Check out the site here for tickets.
Drive the Essex Coastal Scenic Byway
Sometimes you just want to grab a coffee and take a scenic drive. I love any town or region that offers miles of highway to coast down, windows rolled down, music up, and great views after great views. The Essex Coastal Scenic Byway offers just that.
This coastal byway consists of 90 miles of roadway stretch along the North Shore of Massachusetts, linking 14 towns from Lynn to Salisbury. You'll get a healthy dose of history and preserved architecture here as this region is federally protected, and a non-profit organization works hard to keep the area well maintained and in tribute to its cultural heritage.
You definitely don't need to do the entire drive in a day! It's super long! You could even turn this into a two-day drive if you are starting in Rockport, going north on your first day and south on your second.
Perhaps on my next trip home I'll attempt to do the whole thing in one day. We'll see how it goes!
Attend a Rockport Festival
Rockport is a small artsy town — of course they love their festivals! Check out the calendar of events and plan your trip around something that speaks to you. From Fourth of July celebrations to Christmas festivals, this town brings people together for all occasions.
Some special Rockport festivals include Motif #1 Day in late May, the Cape Ann Artisans Spring Tour in early June and Fall Tour in October, Illuminations Weekend in August, and Harvest Fest in October.
And the Rockport Farmers' Market is every Saturday from 10:00 AM-1:00 PM in the Rockport Music Parking Lot.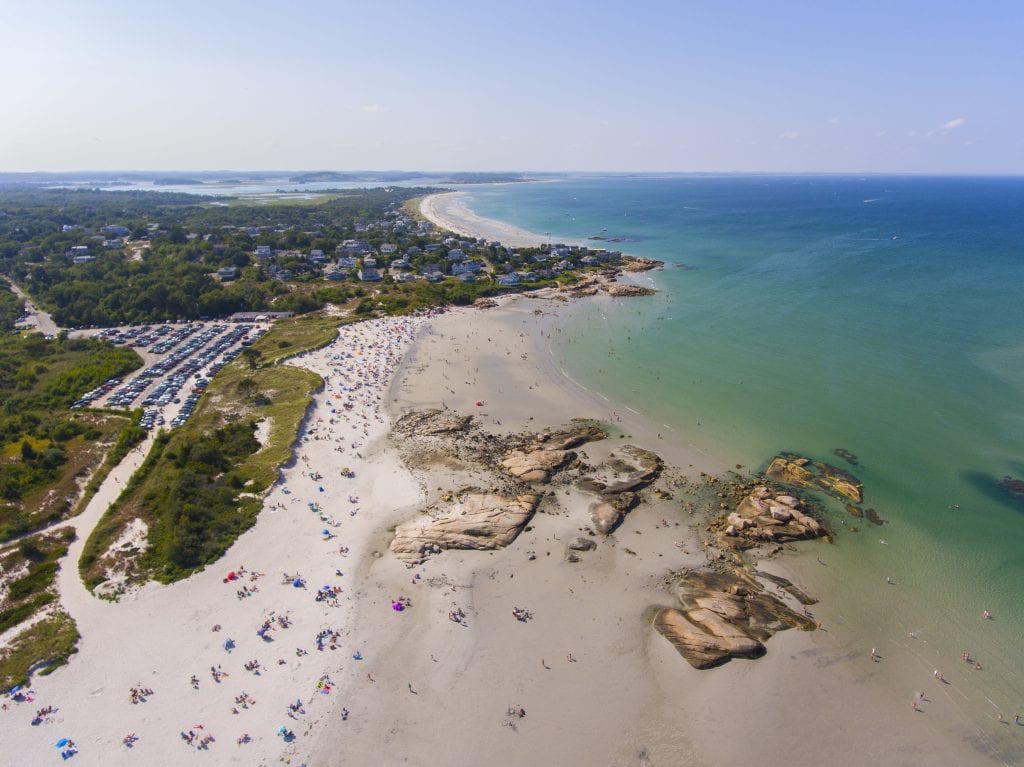 Visit Nearby Towns
And finally, while you're in Rockport, you must check out some of the other great little towns throughout the North Shore. A short drive along the Essex Scenic Byway will bring you to some of these towns, but you could also plan ahead and plot your points of interest.
Manchester-by-the-Sea (yes, another town with a Hollywood connection) offers scenic beaches, a harbor, elegant shops, and sweet little cottages. It is less touristy than others in Cape Ann.
Gloucester is a bigger city, but it has small-town charm. If you're looking for a more metropolitan feel with attractions and accommodations, you can get that in Gloucester, along with great beaches and whale watching.
Essex will take you inland a bit, but it's worth it if you're into antiquing. Essex is known as the antique capital of America, so plan to spend a day hunting for treasure. It's beautiful on the marsh.
And then there's Salem, one of the larger cities in the area, full of historic sites and spooky, haunted places. It's one of the most popular day trips from Boston and there's nowhere better in the world to celebrate Halloween season.
There's so much to do in Rockport proper, of course, but how can you resist wandering a bit afield to see what else the North Shore has to offer?
How Much Time to Spend in Rockport Massachusetts
I think that Rockport works well as a day trip from Boston or elsewhere in the area. One day gives you enough time to explore Bearskin Neck, do a bit of shopping, have a nice lunch, and still visit Halibut Point or go kayaking or kick back on the beach.
You can absolutely spend a few days there, though, if you'd like! If you're staying a few days or longer, I recommend spending a lot of time exploring the North Shore and beyond. (Another great place to visit is Portsmouth, NH.) It's best to have a car to explore this area in depth.
Read More: Best Day Trips from Boston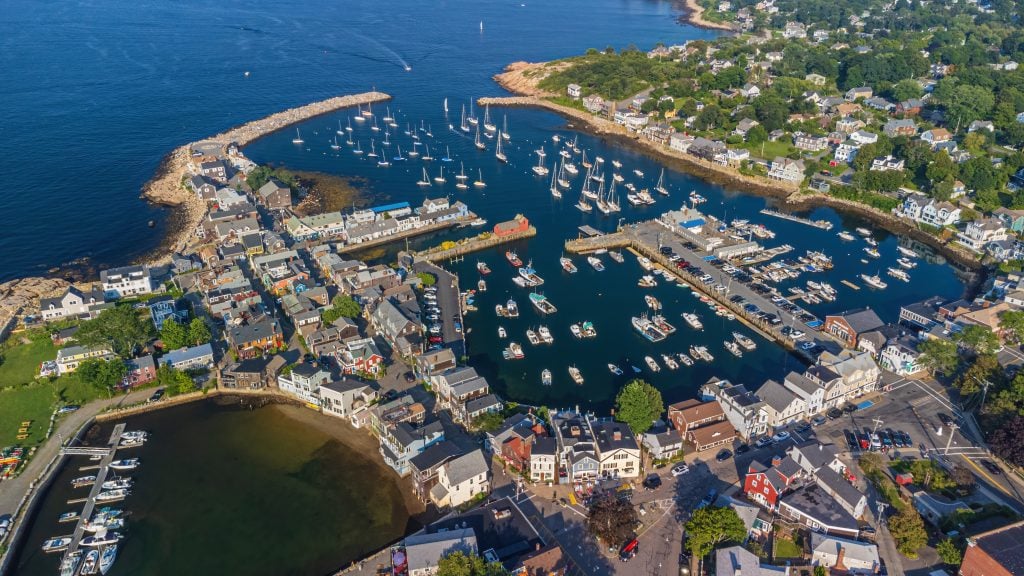 Best Time to Visit Rockport Mass
Rockport is at its busiest during the summer months, when travelers come from all over to enjoy the beaches, ice cream, and lobster rolls. While this is the best time to visit, know that it will be crowded. Accommodation prices will be at their highest and you may have to wait to get into restaurants.
Fall is another beautiful time to visit. We locals tend to head to inland New England to experience fall foliage, which makes this a surprisingly nice time to visit Rockport and other North Shore towns. And there's nothing like visiting on the first warm day of spring, when Massachusetts comes back to life!
Rockport is very quiet during the winter months, and many local businesses close during the low season. If you're coming to Rockport at this time, know that there won't be a ton open. Coastal New England can be a lovely place to visit in the winter if you're looking for peace and quiet.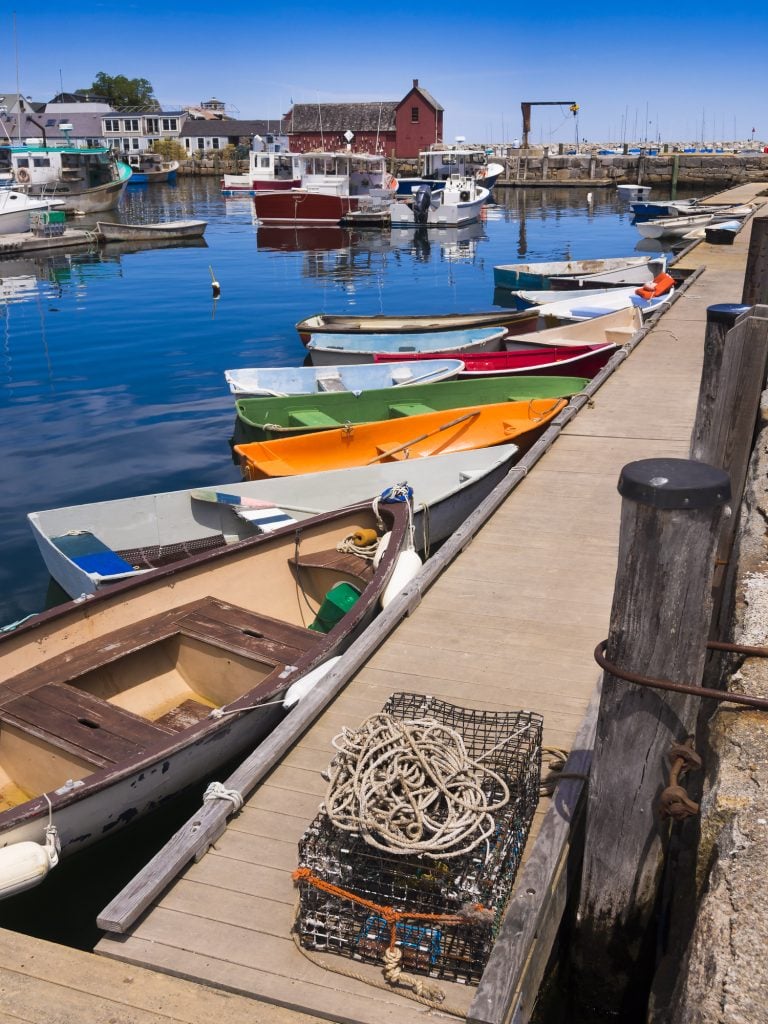 How to Get to Rockport MA
The best way to get around the towns of the North Shore is by driving. You'll have the most flexibility this way, as the public transportation doesn't run as often or as extensively as it should.
If you're coming from Boston, Rockport is a 50-minute drive. Alternatively, you can take the commuter train from North Station to Manchester (50 minutes) and hop on the connecting shuttle to Rockport (28 minutes).
During the summer months you can take the CATA shuttle, which runs every 25 minutes. It will take you to Dock Square in downtown Rockport ($1 for most, $0.50 for seniors, free for kids under 5).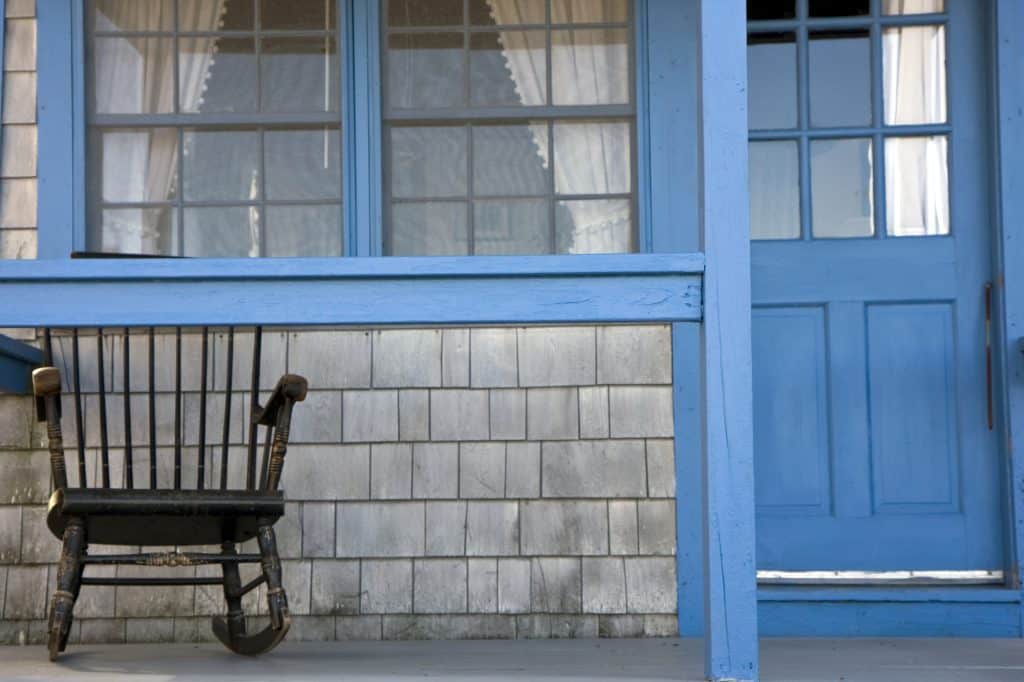 Where to Stay in Rockport, MA
Rockport is home to several excellent small inns. They tend to be on the mid-range to high end, so if you're looking for something more on the budget end, I recommend expanding your search beyond Rockport.
Here are three of our recommended spots to stay in Rockport:
Seafarer Inn — A charming little home by the sea, the Seafarer Inn has a porch to sit on for the views of the bay and a little koi pond to sit around with your morning coffee. Every room has an ocean view, and you can walk from the inn down to the tide pools. A good spot for a romantic getaway.
Sally Webster Inn — A boutique inn just a 7-minute walk down to the sea, the Sally Webster is a bed and breakfast close to the art galleries, shops, and restaurants. The decor is to die for, super quaint, and the service is spectacular. You feel like an honored guest while there.
Rockport Inn and Suites — Then there's the big, grand hotel on five acres of land, situated right on the north shore. It's a short walk to downtown Rockport from the hotel, and you have access to every amenity imaginable, from the giant swimming pool to the fitness room.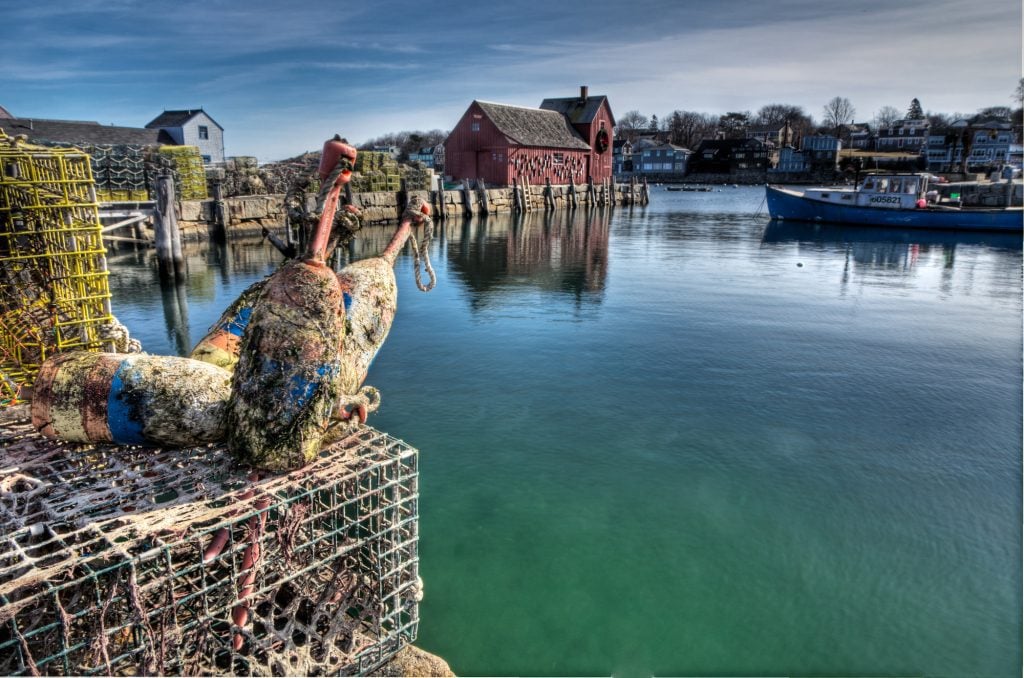 Is Rockport Worth Visiting?
Rockport is so worth visiting! There's a reason why I show it off to so many out-of-towners! It's the kind of place that you visit once and keep returning to each season.
I hope you enjoy your time visiting Rockport and the North Shore. It's truly one of the most special parts of New England.
More on Massachusetts:
Best of Boston: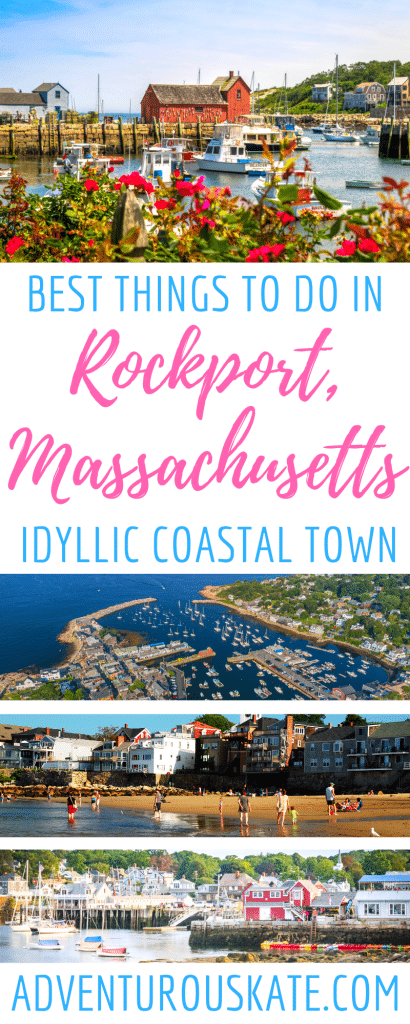 Have you been to Rockport? Any suggestions? Share away!