Adventurous Kate contains affiliate links. If you make a purchase through these links, I will earn a commission at no extra cost to you. Thanks!
The Balkans have always been my favorite place to travel, but until recently, I hadn't done much traveling in Serbia. For years, it was the Balkan country I had explored the least, only spending a few days in Belgrade before flying on to Latvia. You can read about that trip here.
That changed this year. I ended up in Serbia unexpectedly as the first part of my move to Prague, where my UK-born boyfriend has lived for 18 years, and where I was supposed to move in May. We have been banned from each other's countries for months.
While the EU banned US citizens (some countries like Croatia made exceptions), Serbia is not part of the EU. But with rising COVID cases in the US, we thought we wouldn't have this chance for much longer — that if we didn't get me to Serbia now and start the process of getting me into the Czech Republic as a partner of a Czech resident, we might lose our window for months.
We both arrived in Serbia on June 27 and ended up staying for two weeks as we waited for updates from the Czech Republic.
We began in Belgrade and traveled on to Djerdap National Park, the Negotin wine region, Sokobanja, and Novi Sad before riots struck the country and we left for Croatia.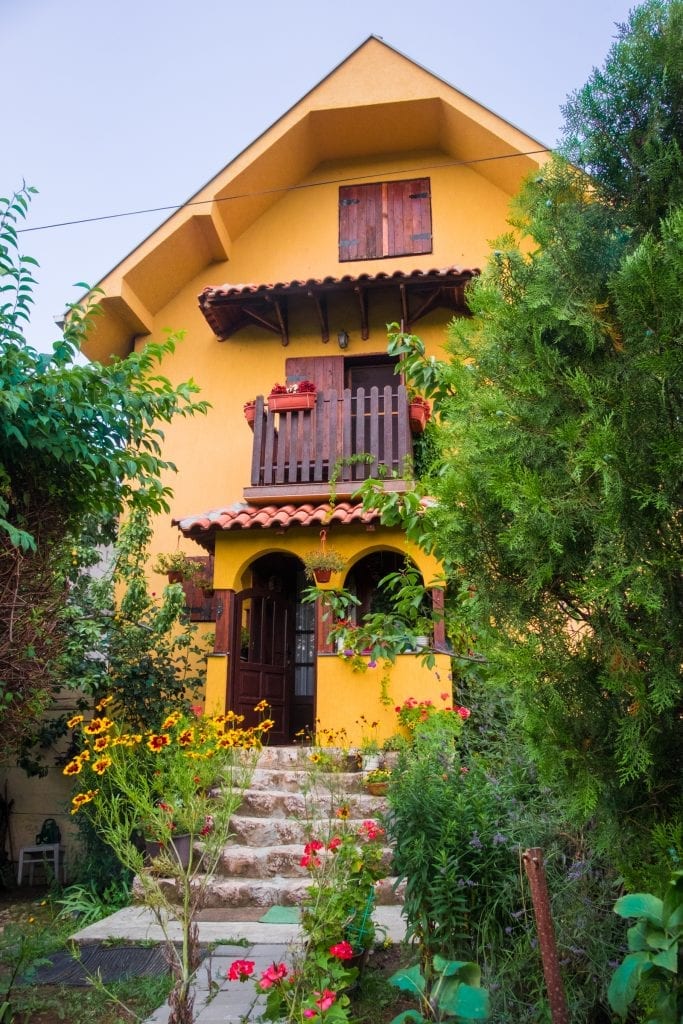 Serbia Travel
Do you have any preconceptions about Serbia? You might not. I find that in the US — specifically, outside Chicago and the midwest, which are rich with Central Europeans — Serbia either has no narrative or has the narrative as "the bad guys." Particularly when it comes to the Balkan conflicts of the last 30 years.
Beyond that, Serbia doesn't have a lot of "must-visit" destinations. You could make the argument that Serbia doesn't have much to offer in comparison to its neighbors — none of the wild coastline, wacky architecture, or blue-green lakes that you come to expect in Croatia, Montenegro, or North Macedonia.
Serbia does has its charms — but they're not obvious. They're not going to knock you over the head and you have to work to find them. Locals who seem standoffish at first but feed you like a long-lost family member. River gorges surrounded by limestone cliffs. Pink and white crenellated buildings in a picture-perfect old town.
This is Serbia.
Traveling in Serbia During Coronavirus
Serbia is not part of the EU, and has had some of Europe's most relaxed entry requirements during the coronavirus pandemic. At the time I arrived (June 27, 2020), Americans were permitted to enter the country with no COVID-19 test nor quarantine necessary. I chose to be tested shortly before my flight to protect my fellow passengers and was found to be negative for COVID-19.
AirSerbia has nonstop flights from New York City to Belgrade, and I took the chance to fly direct with no stopovers. (I took the train from Boston to New York, a remarkably low fare of $39.) Other than nearly having a heart attack in the check-in line when the woman behind me asked, "Oh, you have a US passport? My husband does and they said they wouldn't let him in," and double-checking with the flight agent that yes, I would be let in, it was fine.
The flight was nearly full (ugh) but I did get an empty seat on one side of me and an aisle seat on the other. I ate a big meal before the flight and thus kept my mask on for all nine hours from JFK to Belgrade. The AirSerbia flight attendants were vigilant about making sure everyone stayed masked outside of meal times.
Keep in mind that entry requirements are changing constantly, often day-by-day, especially in Europe. They have probably changed since I published this. Be sure to do your own research.
As for how we behaved on the ground, we took many precautions.
First off, we traveled exclusively by driving in Charlie's car — never public transportation or cabs. We wore masks whenever we were indoors. We ate almost every meal outside, or would cook or take home takeaway meals. We sanitized constantly. We kept our distance from people. Our routine was the same as it was in Mexico City, when the virus began to ramp up — work all day, go out for food and a long walk.
So how are things in Serbia right now?
In Belgrade, most people wore masks in indoor shops, like the grocery store, but outdoors, few did. In the park at sunset, kids would climb all over each other on the playground and nobody was practicing any form of social distancing.
In rural areas like Djerdap National Park and the Negotin wine region, it was as if nobody realized what was happening — almost no Serbians wore masks and people would reach out to shake hands, confused when I would put my hand on my heart, bent forward slightly, and said, "Nice to meet you." (AOC suggested this instead of shaking hands. Trying to make it my thing.)
In Sokobanja, some people wore masks, but bizarrely, about 90% of them didn't wear masks over their noses, making them effectively pointless.
Novi Sad was similar to Belgrade, but overall I think people there tended to wear masks there the most.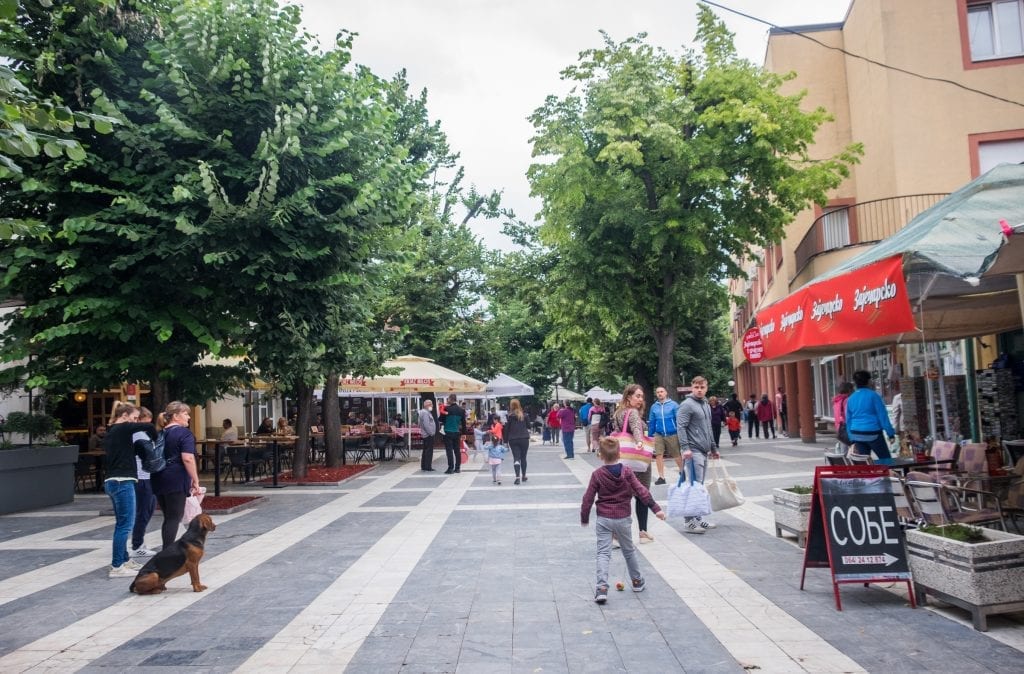 Serbia is a lesser-developed country in Europe.
Since the beginning of time, people have been saying, "Want to spend less money in Europe? Head east." Not that Serbia is Eastern Europe — it's very much Central Europe, the Balkans, the former Yugoslavia.
You do get a lot of value for money in Serbia, especially outside Belgrade — it's one of the cheapest countries in Central Europe. You can get decent private accommodation for under $30 per night, and meals for just a few dollars. But you pay for it in terms of development.
Let me tell you about a place we stayed. It was a little guesthouse on top of a hill with beautiful views of the surrounding landscape. Flowers sprung out from every direction; you can tell it was gardened with love. The food was delicious. And the owners were very pleasant people.
But the road to the guesthouse was unfinished and you had to park a long way away and drag your bags. There was only one outlet in the room, which was used for a lamp, so you could either have light or use no power. There was literally nowhere comfortable to sit on the entire property. I woke up at 6:00 AM because the bathroom smelled so foul.
This tended to be par for the course in much of rural Serbia. Charlie's company, JayWay Travel, works with mid-range to luxury American travelers, and he pointed out that very few hotels in rural Serbia would fit their standards.
Off the beaten path in Serbia is VERY off the beaten path.
Everyone wants to go off the beaten path. But honestly, for most international travelers, Serbia is an off the beaten path choice to begin with. You'll be able to enjoy the benefits of off-the-beaten-path travel — lower prices, fewer tourists — in Serbia's more popular destinations, like Belgrade and Novi Sad.
We went WAY off the beaten path in Serbia — to Eastern Serbia. It didn't quite get to the "Why would you even come here?" levels that I experienced in Albania, but our presence was as perplexing as it was welcomed.
Perhaps this was an effect of COVID, but we only met one non-Serbian traveler: the Swiss boyfriend of a Serbian woman. Aside from that, we were definitely the odd ones out!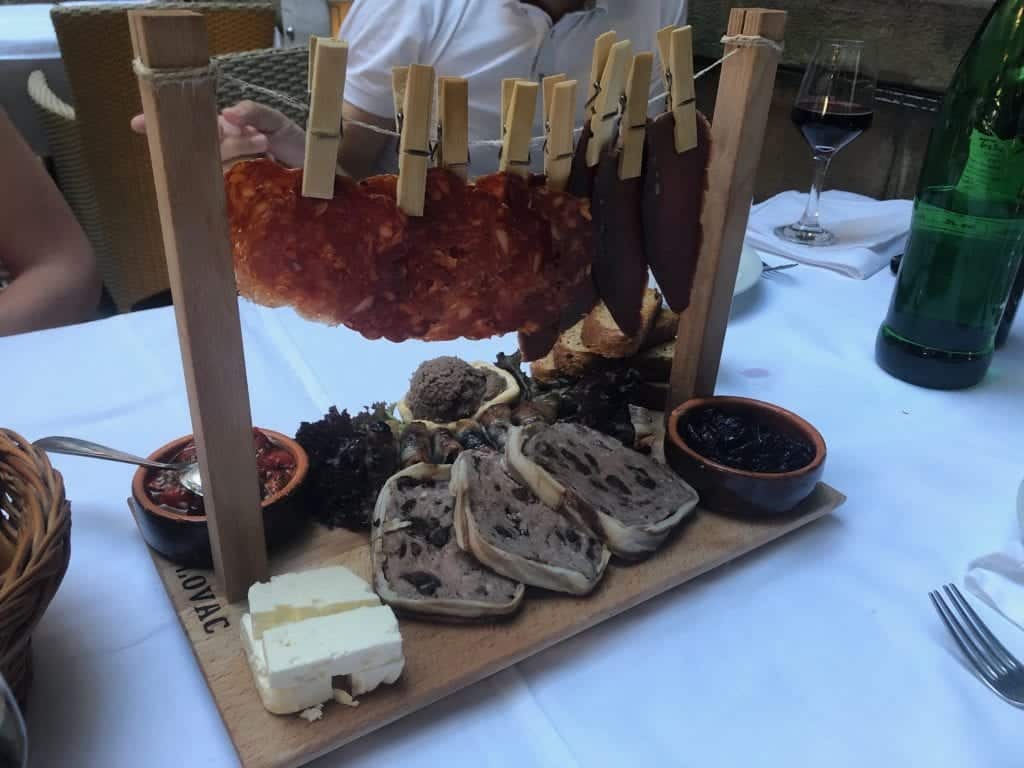 Serbia is all about the meat.
Serbians know their way around a grill! Their cuisine is very meat-heavy, and some of the popular dishes involve meat on the grill. We feasted on pljeksavica, the Serbian style of hamburger, and ćevapi, sausage-like meat links that are great in a sandwich, as well as higher-end meat dishes like grilled venison, duck, pršut (prosciutto) and other cured meats.
Serbians also love their dairy products and produce lots of cheeses, as well as kajmak (a soft creamy cheese-like product good on bread).
I ordered plenty of šopska salads: cucumbers and tomatoes with onions and a huge pile of soft white feta-like cheese on top. Whenever I'm in the Balkans, I eat šopska salads at least once a day! Serbia also does great stuffed peppers, which are often stuffed with kajmak or soft cheeses.
It's good food, but it does get repetitive, and it makes you crave veggies. Luckily in Belgrade and Novi Sad, there are plenty of international restaurants where you can get in some variety.
But once we got into rural areas, we realized that most places had the same menu over and over: ćevapi, pljeksavica, other roasted meats, sometimes fish in riverside areas, (very well seasoned) fries, šopska salad. For days, that was all there was.
At one point I ordered a chicken schnitzel and felt like a vegan by comparison.
If you're a vegetarian or vegan, you'll do fine in Belgrade and Novi Sad. In rural Serbia, vegetarians should get ready to eat a lot of šopska salads. But if you're a vegan in rural Serbia, I genuinely have no idea how you'd survive — just salads and bread. Unlike most countries, Serbia doesn't serve many (or any?) bean-based dishes on rural menus; while there are some Serbian bean dishes, almost all of them involve meat.
I would be very cautious if you were planning a trip to Serbia as a vegetarian or vegan. At the very least, you'd need to plan ahead and bring extra protein.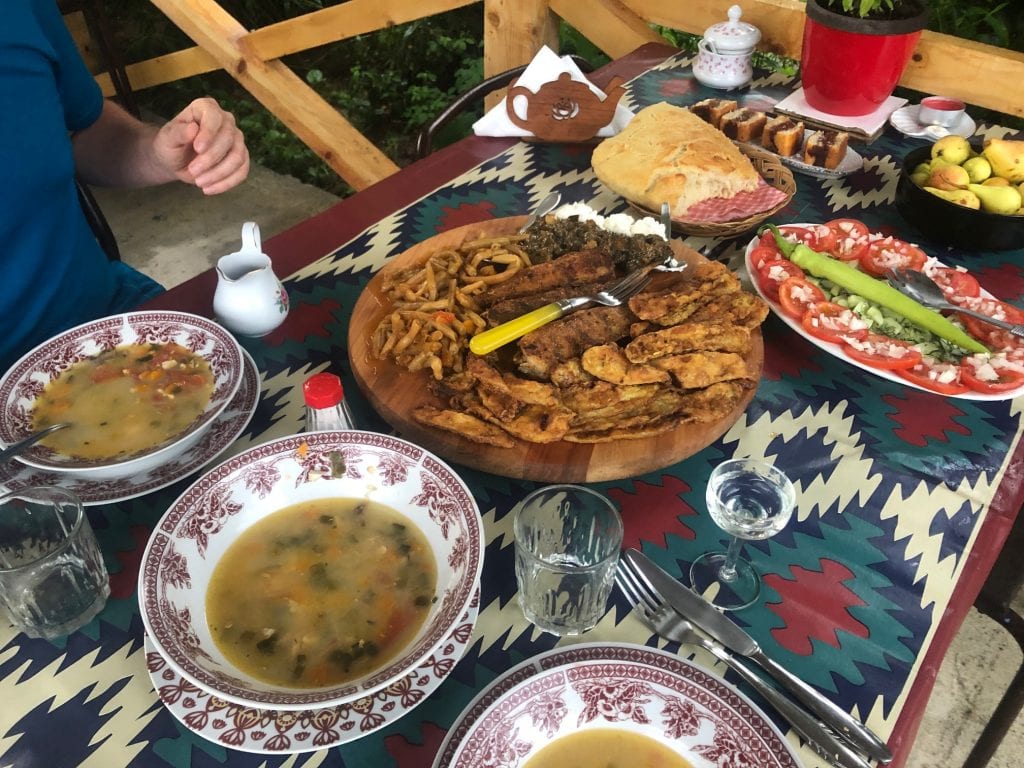 Serbians will feed you SO well at home.
We stayed in a few places that served dinner or breakfast — and my God, we were served truly insane volumes of food. See that photo above? That's for TWO of us! Fish soup, baked fish, fried vegetables, boiled string beans, spinach with kajmak, tomato and cucumber salad, plum-stuffed cake for dessert, even our own freshly baked loaf of bread.
The next morning, we were served giant slabs of fried bread stuffed with cheese, which we topped with homemade plum and apricot jam.
At another place, we grabbed some yogurt and muesli for breakfast and figured that would be enough. Then they brought us out EIGHT giant pieces of cheese-stuffed pastries, each roughly the size of a serving of lasagna.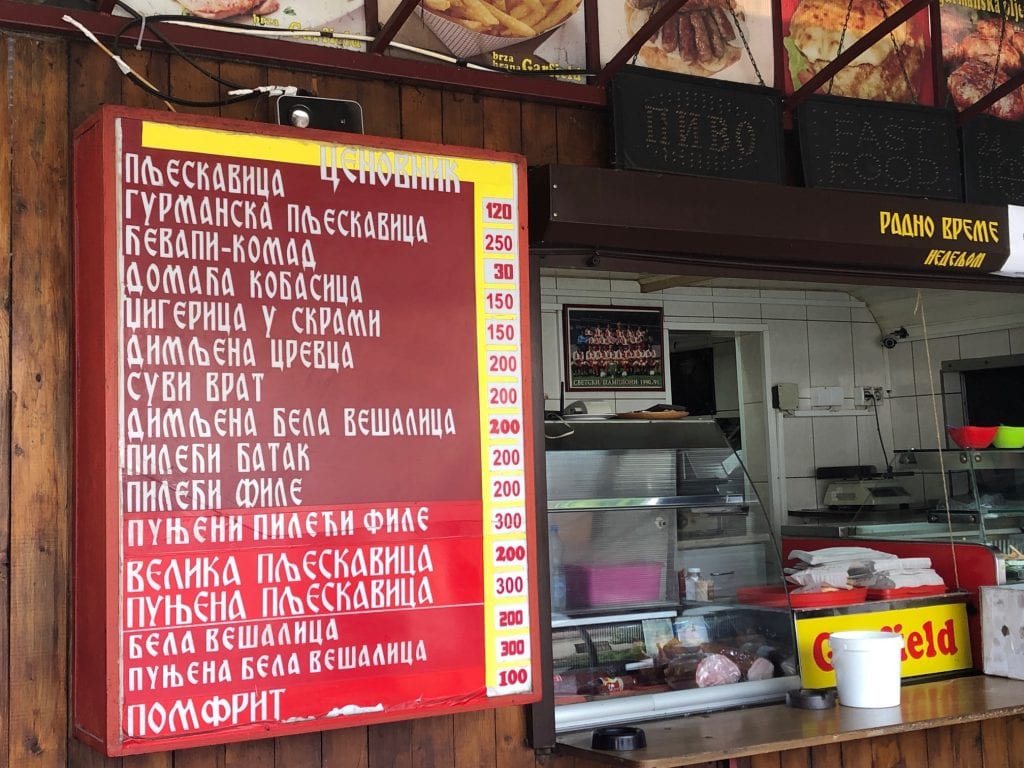 Cyrillic is necessary in Serbia.
On my past trip to Serbia in 2015, I thought that learning Cyrillic was helpful at times but ultimately unnecessary. But on this trip, it was essential.
Serbia uses both the Cyrillic and the Latin alphabets, but Cyrillic is used more often in rural areas. Cyrillic is easy enough to teach yourself, and it will bring you sudden joy when you sound out a word and realize it's something you know.
And you'll need it. When we were looking for a waterfall, the only sign pointing us in the right direction was "водопад".
But the scariest moment was getting onto a highway, picking up our toll ticket, and seeing the highway go off in two directions: one was labeled "Београд" and one labeled "Ниш." Luckily both of us knew enough Cyrillic to know one way was north to Belgrade but the other was south to Niš, and we definitely wanted to go north! I was surprised a newly built toll highway entrance would only have signage in Cyrillic.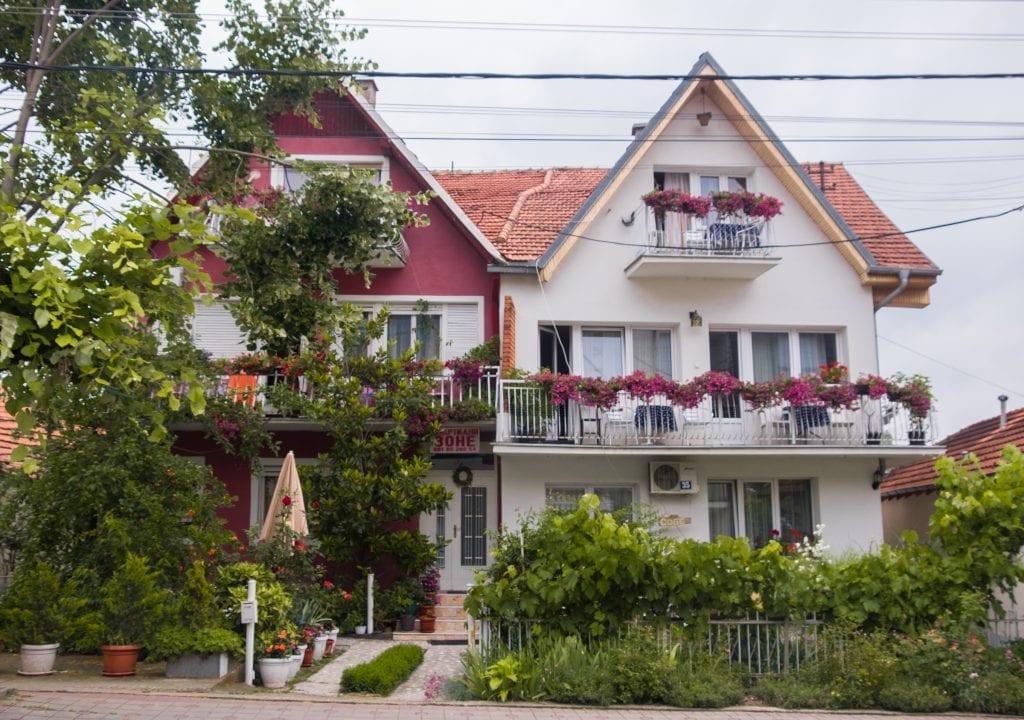 People smoke like chimneys in Serbia.
This is probably my least favorite thing about traveling in the Balkans — the prevalence of smoking. But in Serbia, they bring it to the next level.
It's common for Serbians to smoke through meals, to smoke indoors, and to chain smoke cigarette after cigarette.
When I was in Armenia last year, I remarked how jarring it was to hear the phrase, "Smoking or non-smoking?" when entering a restaurant. I thought we had given up on pretending that smoking and non-smoking sections actually worked. Well, Serbia still does that, too! I walked into a cafe to use a bathroom and saw ashtrays on half the tables and non-smoking signs on the other half. So weird.
I couldn't get used to the smoke and was very glad to leave that behind.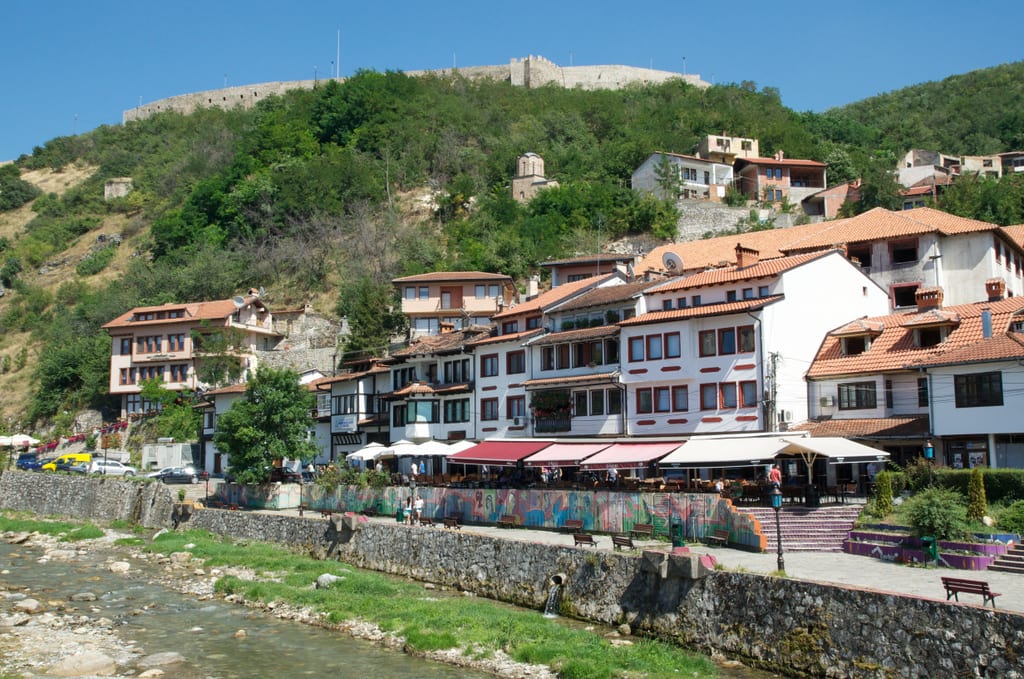 Kosovo is a sensitive subject.
Years ago, I made the mistake of mentioning I was going to Kosovo at a Couchsurfing meetup that included Serbians. It did not go well. Serbians believe that Kosovo is occupied Serbian territory and should not be seen as their own country.
I visited Kosovo in 2013 and received the warmest welcome I've received anywhere in the world — because of my American passport. Prishtina, Kosovo's capital, is famous for its statue of Bill Clinton (right in front of a dress shop called Hillary, which made me burst out laughing).
Just a tip: don't mention Kosovo among Serbians you don't know, just for the sake of decorum. It's a painful subject for many Serbians; not bringing up painful subjects with strangers is basic manners. If you know them better, or they bring it up, you might be able to have an illuminating conversation about Kosovo, but that's not a guarantee.
Finally, be careful of visiting Kosovo on a Serbia trip. If you enter Serbia, enter Kosovo, then leave Kosovo to Albania, Montenegro, or North Macedonia, Serbia will say that you left the country illegally. Instead, go back to Serbia's territory before moving on to a different country.
In short, leave the way you came in. Enter Serbia, leave Serbia for anywhere but Kosovo unless you backtrack. Enter Kosovo, leave Kosovo for anywhere but Serbia unless you backtrack.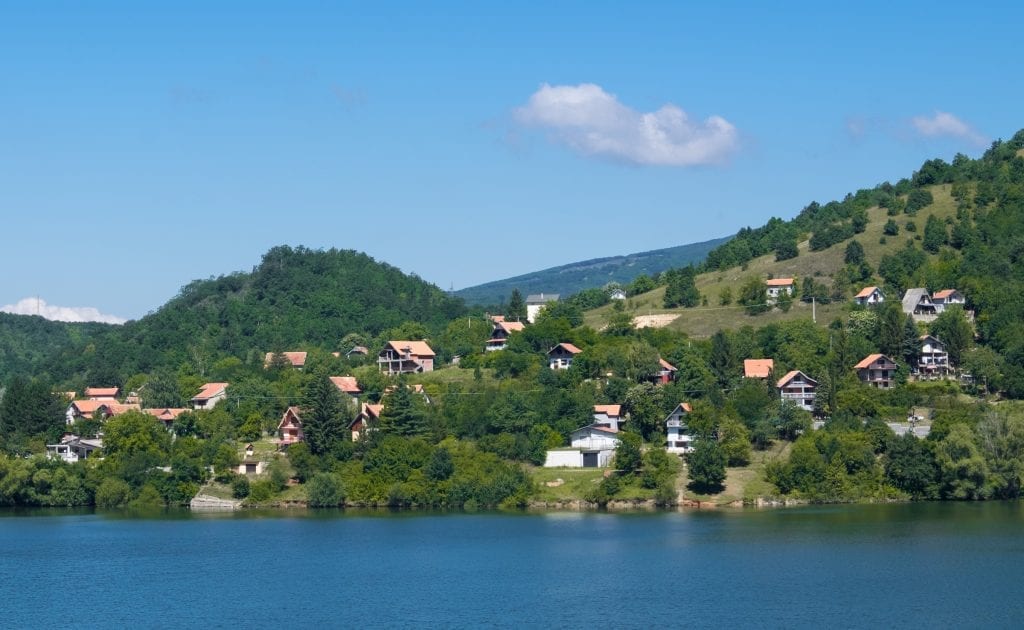 Places to Visit in Serbia
If you're arriving by plane, your trip to Serbia will probably start in Belgrade. Here are some of the places I visited on this trip.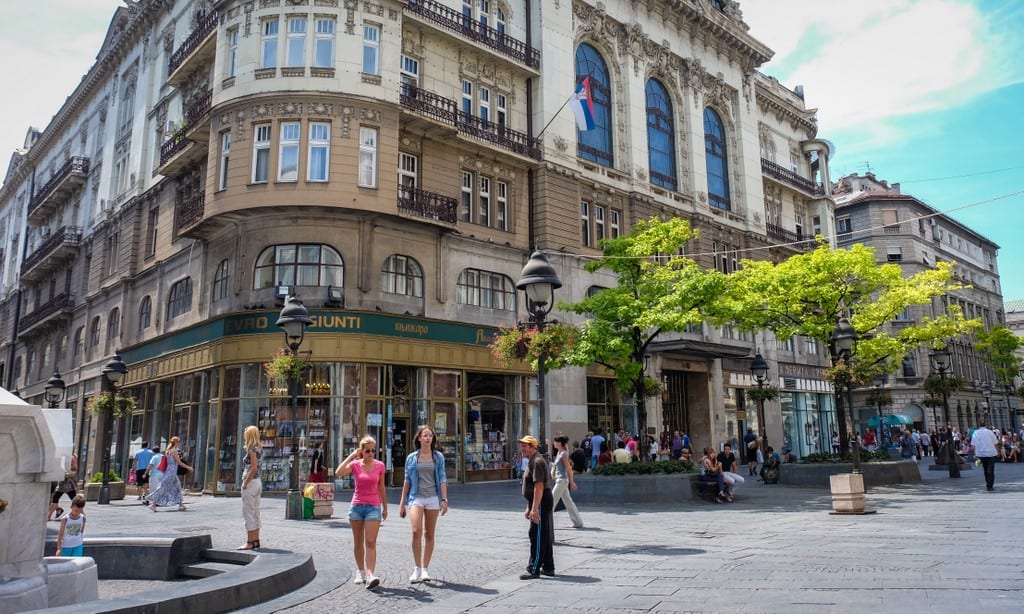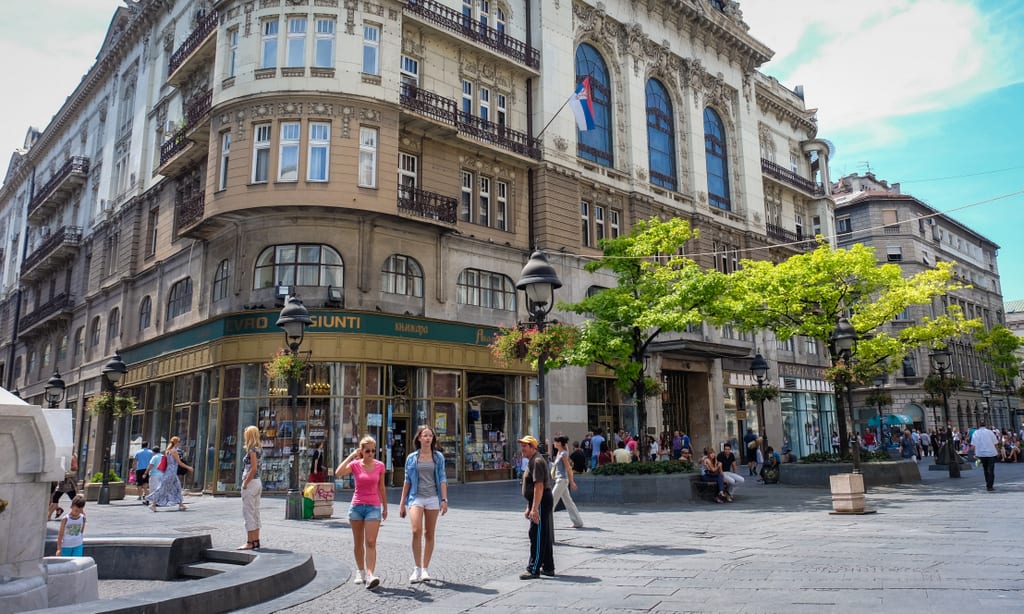 Belgrade is pretty cool.
Belgrade is perhaps most famous for its wild nightlife, complete with river barge clubs. We didn't take part in any of that. But it's a fun city with some nice cafes and restaurants. My favorite things about Belgrade are the excellent coffeeshops (cigarette smoke notwithstanding) and surprisingly, the gelato shops! LUFF and Crna Ovca are two great gelato places.
We stayed in the Vračar neighborhood, which I recommend. It's home to the coolest restaurants and cafes, but away from the big commercial zones. This apartment was great and well-priced.
Serbia's stretch of the Danube is stunning.
After doing a bit of research, I came across photos of Djerdap Gorge in Djerdap National Park, running along the banks of the Danube in Eastern Serbia. It turns out this stretch of the Danube, called the Iron Gates, is often cited as the most beautiful part of an eastern Danube river cruise.
Most fascinating was hearing about the history of this part of the world. During the rule of Ceauşescu, Romanians would try to escape across the Danube to what was then Yugoslavia. Snipers would patrol the area, shooting anyone who would cross. Eventually the Romanians figured out how to use pressurized gas canisters to zip them across the water quickly.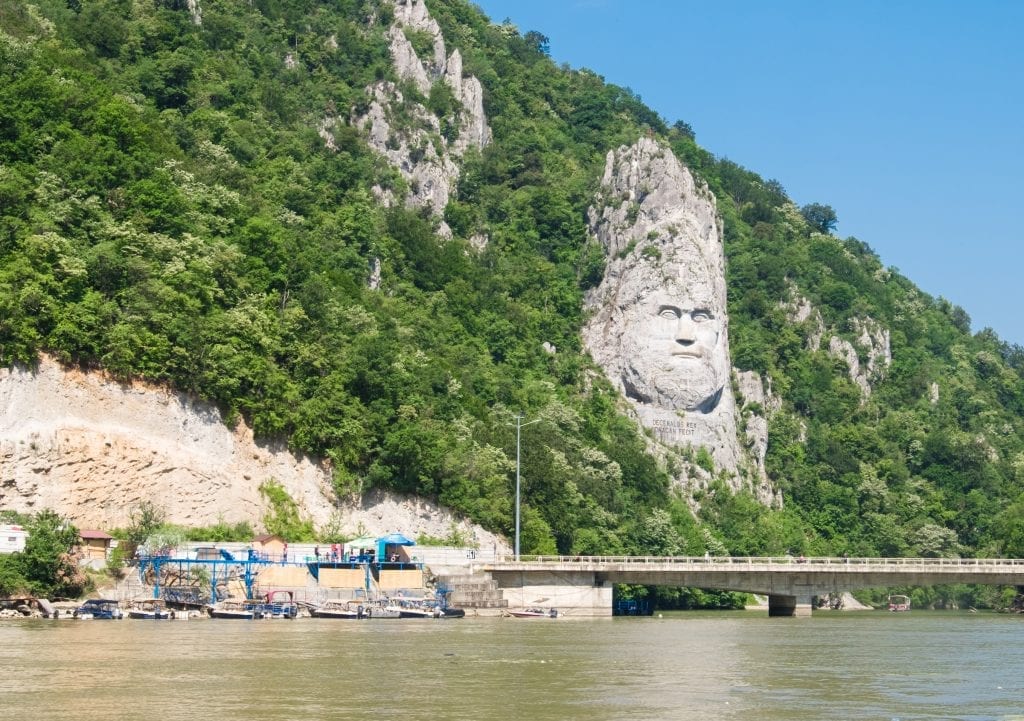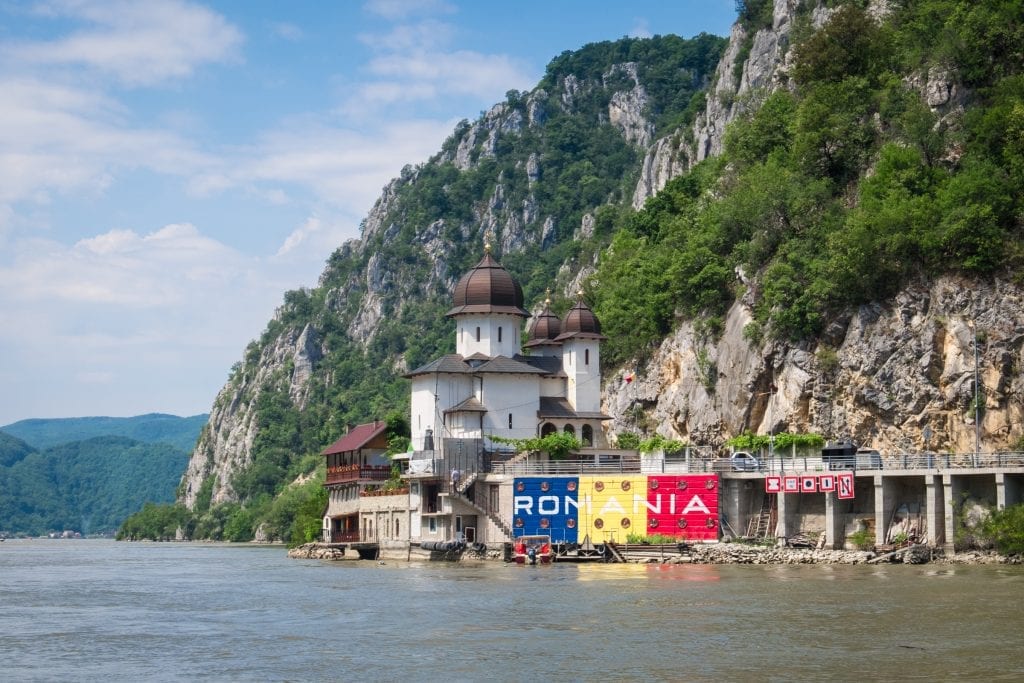 The Danube flows all the way to the Black Sea, and you see long, flat ships delivering cargo (or coming back empty). Russian is the official language of the Danube and all captains traversing the Danube must speak Russian.
Just a few months ago we visited Sumidero Canyon in Chiapas, Mexico, which had a very similar look but much more dramatic and wild.
Djerdap National Park doesn't get a lot of international press, but the Iron Gates alone are worth the trip.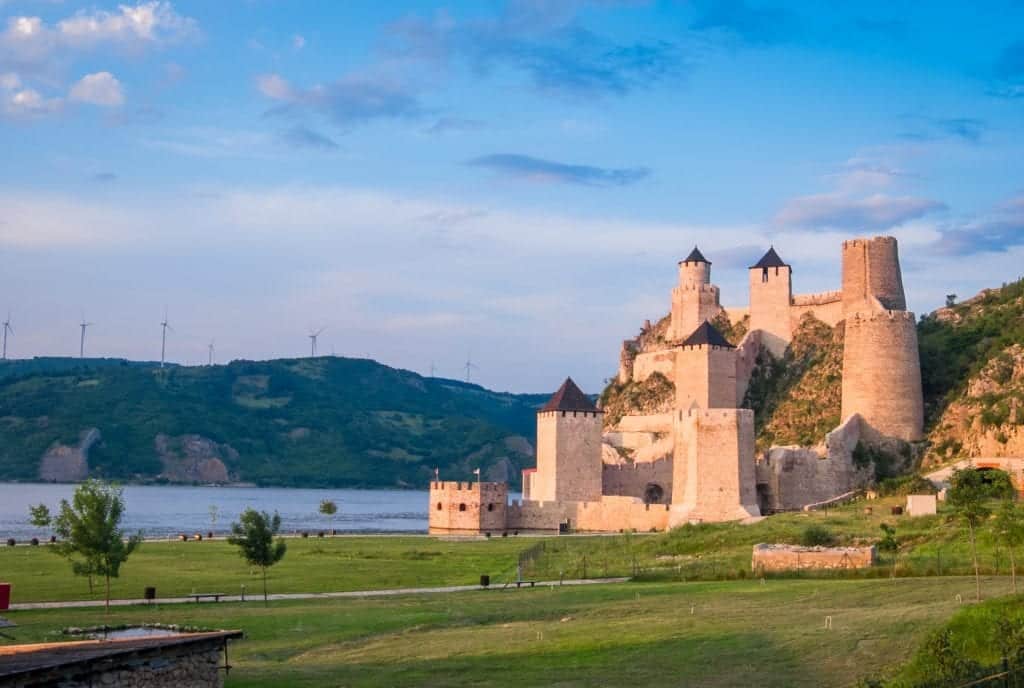 Golubac Fortress is a great place to photograph on the edge of the Danube.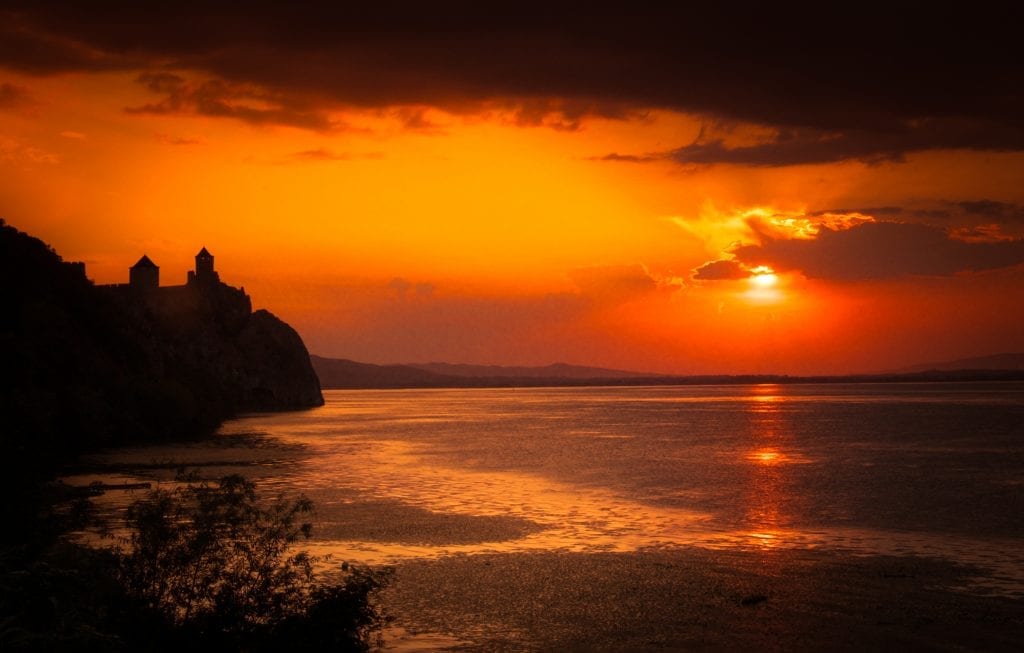 And the sunset views behind the fortress were excellent.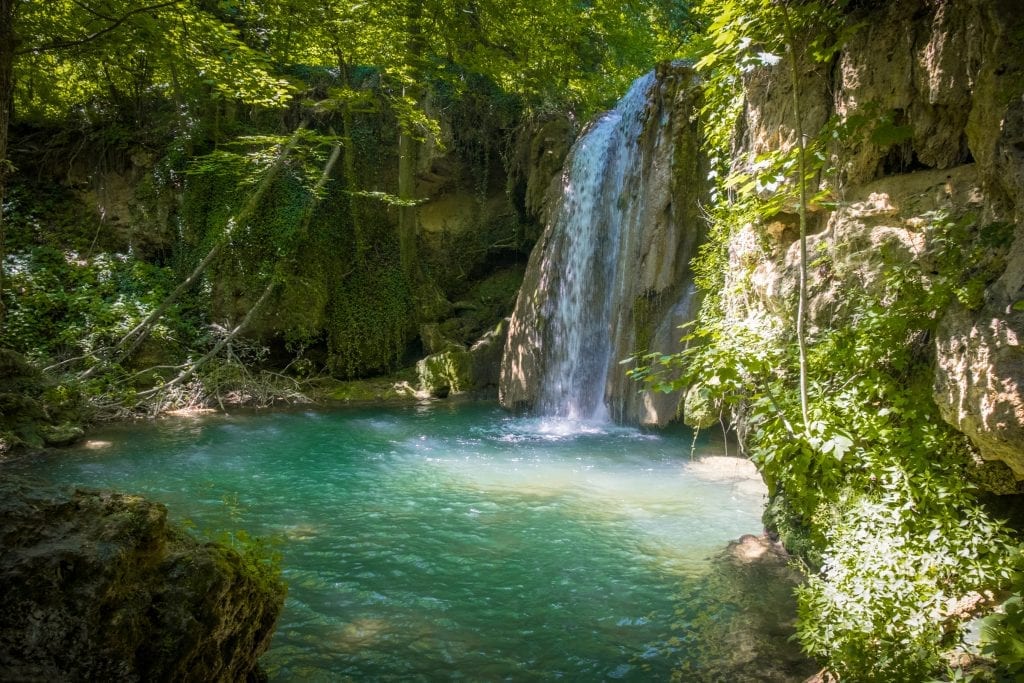 We made the long journey to a Blederije Waterfall, deep in the woods — not quite worth the trip or long walk, but still a bucolic place to visit.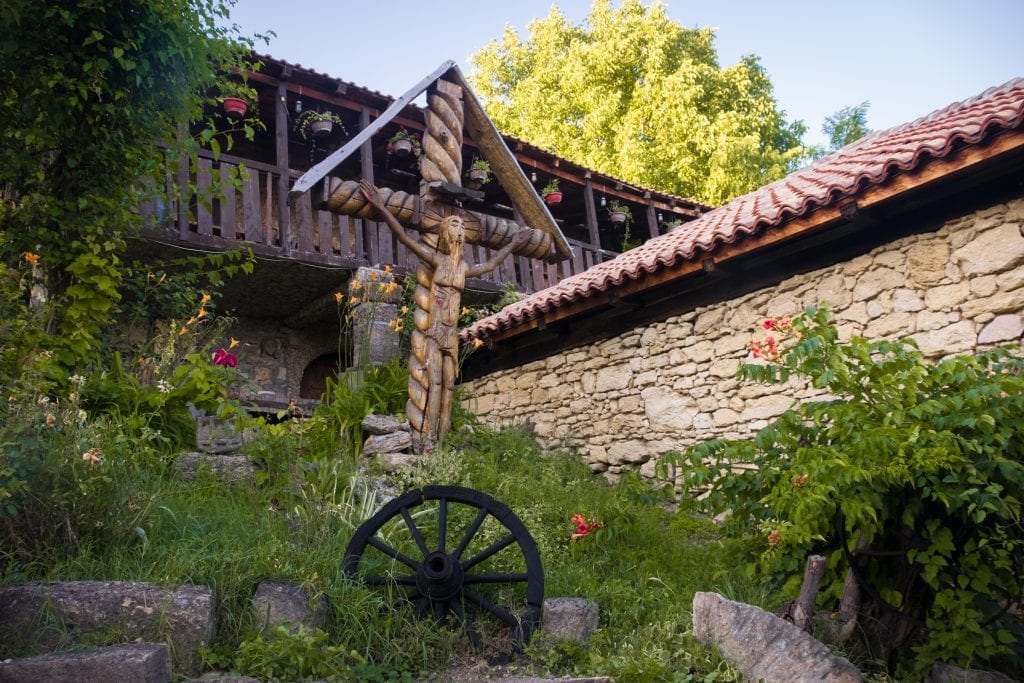 The Negotin Wine Region has a burgeoning industry.
So many countries have wine industries that you don't even know about — but because they're such small producers, you won't see them on American store shelves. (Moldova, you're bleak as hell, but damn you can make a good red wine.)
We heard that the rural eastern part of Serbia was filled with wineries — specifically, the Negotin wine region. As we left Djerdap National Park, the landscape turned agricultural and we drove past tall stalks of corn and endless fields of sunflowers.
We stayed at Dunjin Konak, a country house in the town of Rogljevo, outside Negotin. We had a chance to visit a nearby winery and sample their interesting wines. They served it, in true Serbian style, with a giant plate of cheese and kajmak, more than any two people could eat on their own!
It made a very interesting stay — and it hurt to hear that we had been their first visitors in months.
Oh, and just so you know — rakija, the clear brandy-like drink popular in Serbia, is deadly. Only have a little bit of it, and definitely don't go drink for drink with a Serbian!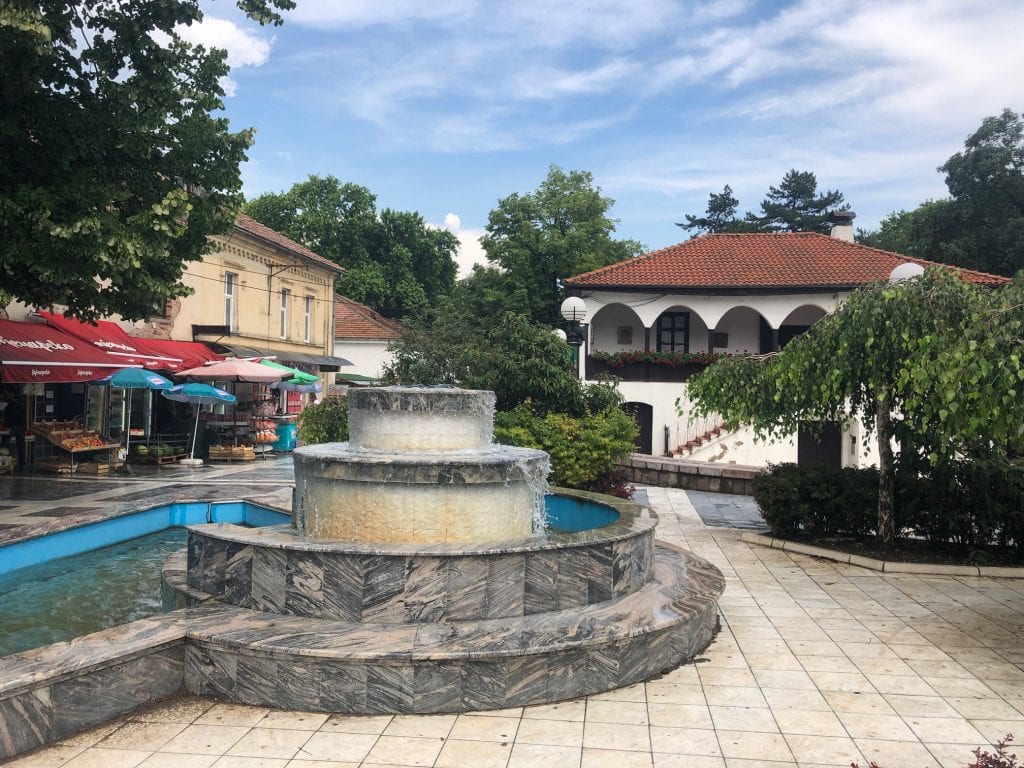 Sokobanja is a quirky little town.
Sokobanja is a Serbian spa town and a popular spot in Serbia for domestic tourism. Interestingly, spa towns are considered family destinations in Serbia! There are also lots of outdoor activities, like hiking and kayaking, and the lakeside homes on the edge of Sokobanja are lovely.
We didn't take part in any spa activities due to current circumstances, but we did enjoy walking through the town. In true Balkan style, there is a pedestrian street lined with cafes that is the place for all-day people-watching.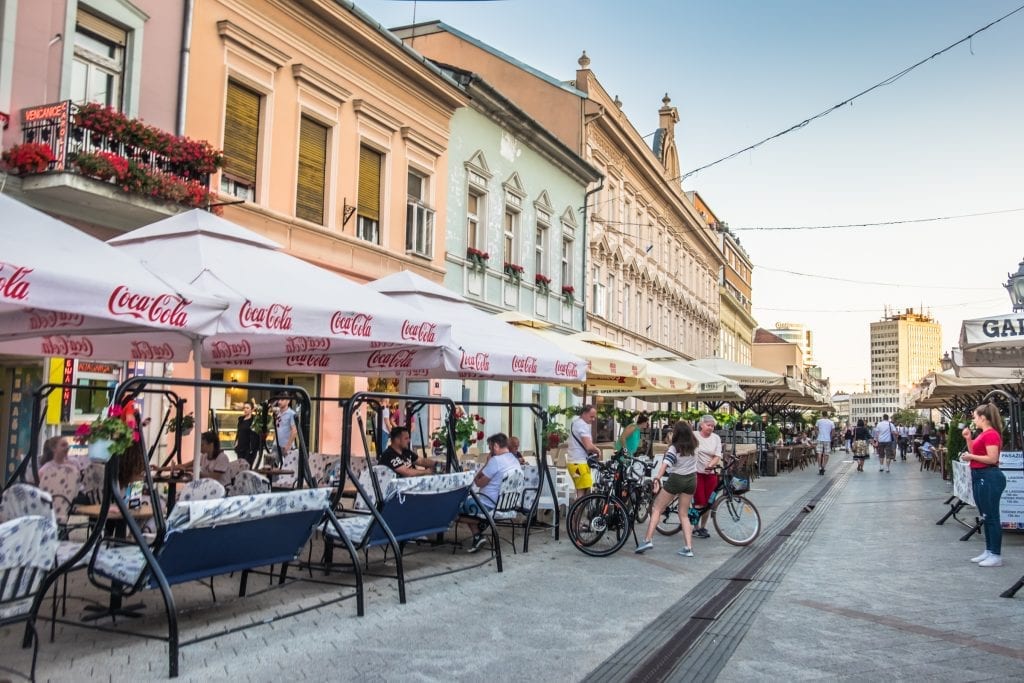 Novi Sad is wonderful.
Novi Sad was my favorite place in Serbia by far. This city, the second-largest in Serbia, was ruled by the Austro-Hungarian Empire and feels much more Western European than Belgrade. The architecture in the old town is beautiful.
But coming to Novi Sad after a week in rural Serbia made it all the sweeter. We immediately went to a sushi restaurant for lunch, then headed to a cafe to work outside while sipping some perfectly made flat whites. After a week of cevapis and bad coffee, it was like heaven.
We stayed in this fantastic apartment. I have no words for how much I ADORED this apartment — and it cost less than $30 per night. Newly renovated, two bedrooms, great kitchen, modern bathroom, skylights, super-comfortable bed and couch, huge TV, an actual desk and a comfortable dining table to work from. Even a 70s-patterned wall that made a great Zoom backdrop! PLEASE STAY THERE IF YOU GO TO NOVI SAD. The owners are lovely people, too.
We were going to stay in Novi Sad for at least a week. I could have happily stayed there for a month, working from our funky apartment, grocery shopping, going out for affordable sushi. Then everything fell apart.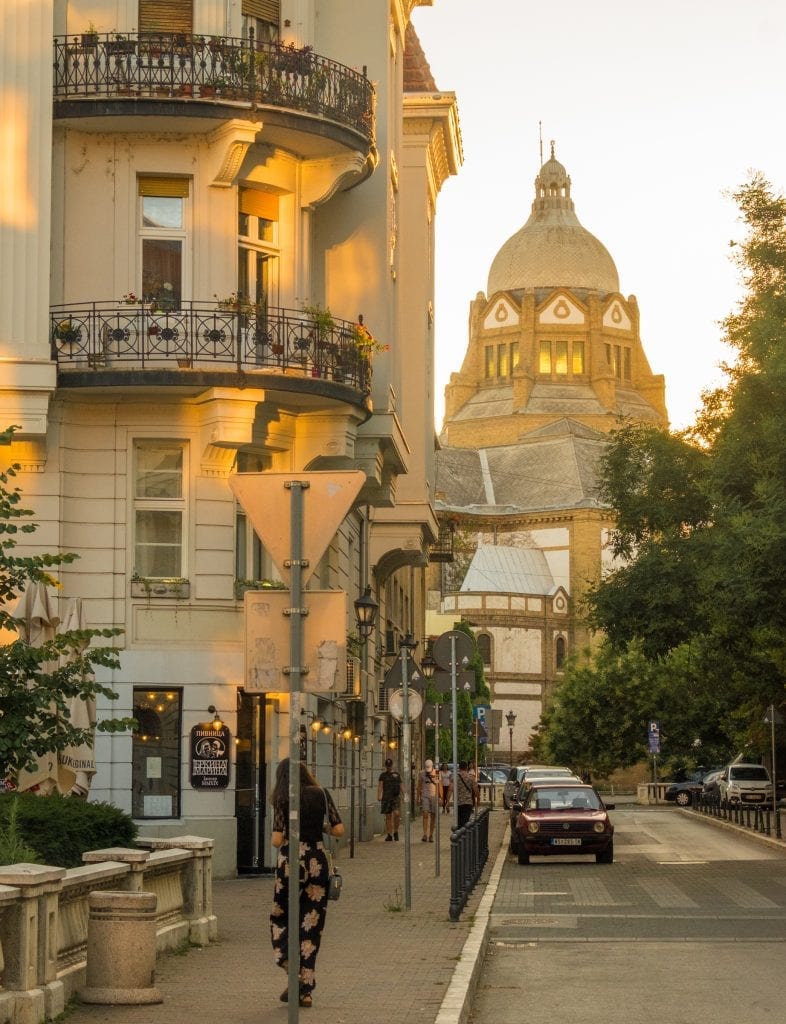 Why We Left Serbia
Our original plan was to head to Serbia and stay there until we had word on when I could return to the Czech Republic. But toward the end of our time there, protests erupted in Belgrade.
Serbians across the political spectrum protested the government. While international media including the New York Times said that this began as the result of a reinstated weekend lockdown, locals told me this was inaccurate — that this was simply the straw that broke the camel's back, the latest example of corruption in an authoritarian regime.
Police responded with violence and attacked the Belgrade protestors with tear gas. The next night, protests spread to other parts of Serbia, including Novi Sad.
I'm not afraid of protests. I've traveled in Bangkok during the protests of 2013 and Greece during its financial crisis in 2015, both of which resulted in constant "ARE YOU OKAY?" messages from home. Most of the time, the American media (particularly cable news) plays up international incidents as much more dangerous than they actually are. Additionally, 98% of the time protests can easily be avoided.
Unfortunately, 2020 is not an ordinary time.
The countries of Europe are constantly changing which countries are on the green, yellow, and red lists, which affects who is allowed to cross borders. Serbia had sharply rising COVID cases and was on thin ice to begin with — adding protests to the mix could cause countries to ban people coming from Serbia and put me at risk of not being allowed to return to the Czech Republic.
Around that time, we also found out that Americans could visit Croatia (to our shock) with a relevant form filled out and proof of paid accommodation. And Charlie's Croatian colleagues sent him a note that the Croatian government was about to reinstate a mandatory quarantine for people coming from Serbia, but would give Croatians a few days to come back before making it official.
It was obvious to us — as much as we loved Novi Sad and that glorious apartment, as cheap as it would be to stay, it was time to leave Serbia. Plus, Croatia is part of the EU, and being in the EU for 14+ days would make it easier for me to get into the Czech Republic.
We crossed the border on July 10. The Serbian immigration officers gave us the most thorough luggage search we've received (on the way out?!) then told us to tell our friends that Serbians are nice people, that they should come to Serbia. The Croatian officer barely glimpsed at our passports, forms, and accommodation documentation and let us in in less than five minutes.
(Just FYI — since then, Croatia is now requiring Americans to quarantine for two weeks or present a negative PCR test taken within the past 48 hours. Again, this is changing constantly.)
Is Serbia worth it?
Yes, of course visiting Serbia is worth it! But it's not worth visiting Serbia right now unless you have an essential reason for travel — in my case, reuniting with my partner and facilitating my move to the Czech Republic.
I do not recommend traveling in Serbia right now due to the difficult situation with coronavirus and rapidly changing border agreements. It's too precarious. And honestly, this is not the time for leisure trips anywhere.
But if you're reading this post when coronavirus is no longer a threat, I do think Serbia is worth it — if you're an experienced traveler who appreciates off-the-beaten-path types of places and is definitely not a vegan.
How I would do Serbia differently next time
If I came back to Serbia, I would definitely plan my time differently.
I would spend a little time in Belgrade but more time in Novi Sad. I'd use Novi Sad as a base to visit Fruška Gora National Park, an easy day trip, and I'd head down to Tara National Park for some of the best scenery in the country. If I had the time, I'd make the journey to Instagram-famous Uvac Canyon, where the teal river curves back and forth through the countryside.
That would be very nice.
---
More on the Balkans:
Solo Female Travel in the Balkans: A Guide
What's it like to travel in Albania?
Magnificent North Macedonia Will Surprise You
The Ultimate Slovenia Road Trip Itinerary
---
Have you been to Serbia? What did you think of it?
Get email updates from Kate
Never miss a post. Unsubscribe anytime!