Adventurous Kate contains affiliate links. If you make a purchase through these links, I will earn a commission at no extra cost to you. Thanks!
Southeast Asia is home to some of the best beaches in the world, and some of the most beautiful beaches I've ever seen.
Unlike my favorite places in Southeast Asia, I'm going to rank this list — I'll list my top three beaches in Southeast Asia, and everything else is an honorable mention.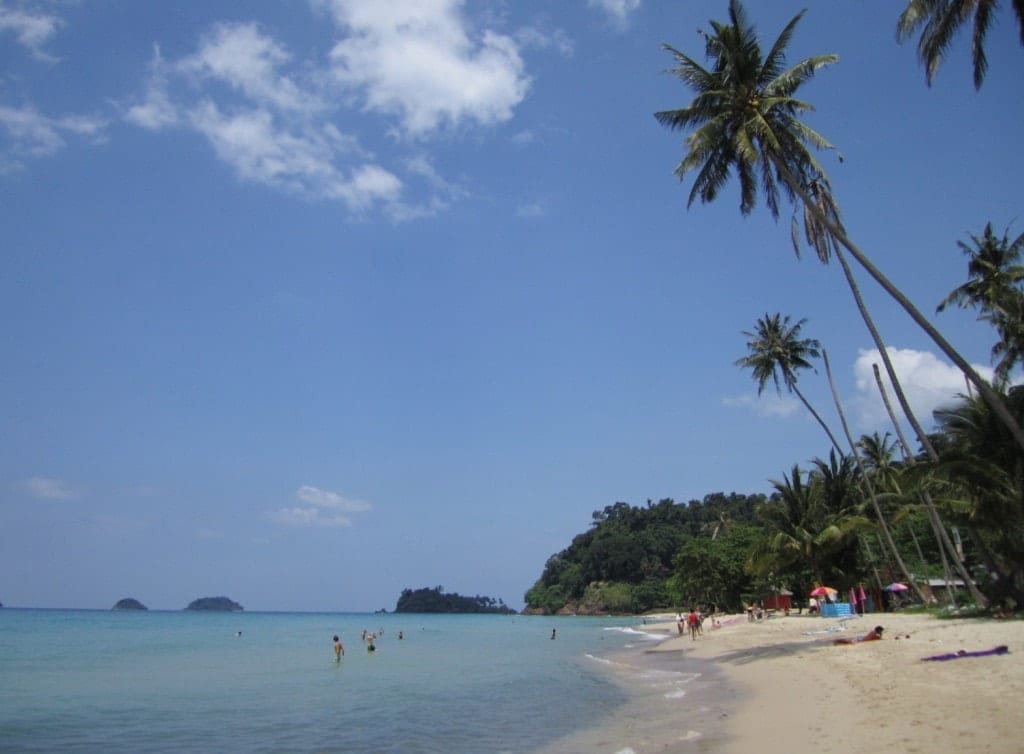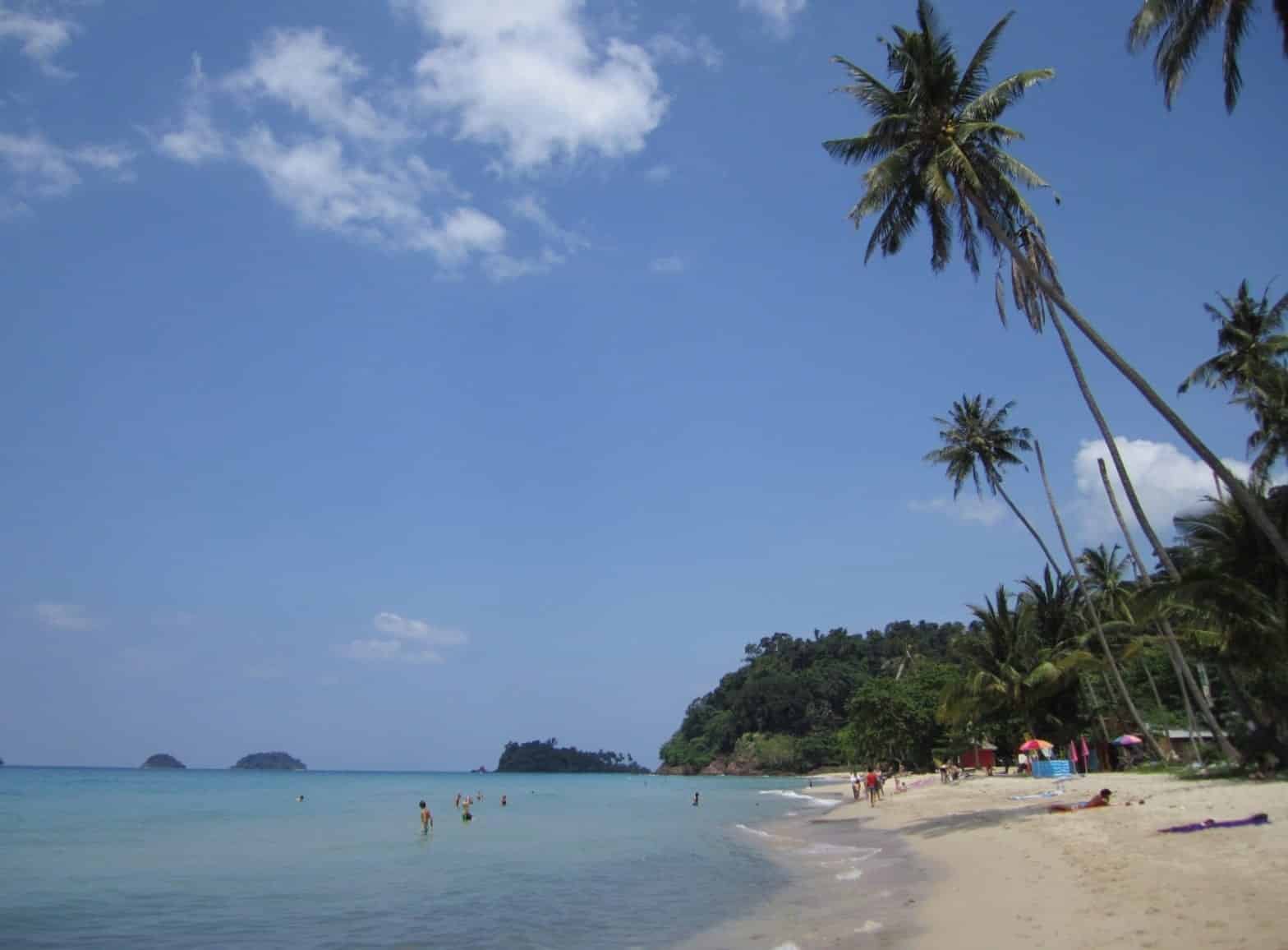 My favorite beach in Southeast Asia: Lonely Beach, Koh Chang, Thailand
This beach is perfect.  Perfect sugar-white sand, perfect turquoise water, perfect giant palm trees.  It's got a few good restaurants, but for the most part, it's still mercifully underdeveloped.  And Lonely Beach is adjacent to a friendly, chill and cheap hippie community!
If ever I decide to practice the art of beach bummery full-time, it will be on Lonely Beach.
Click here to read my posts about Koh Chang.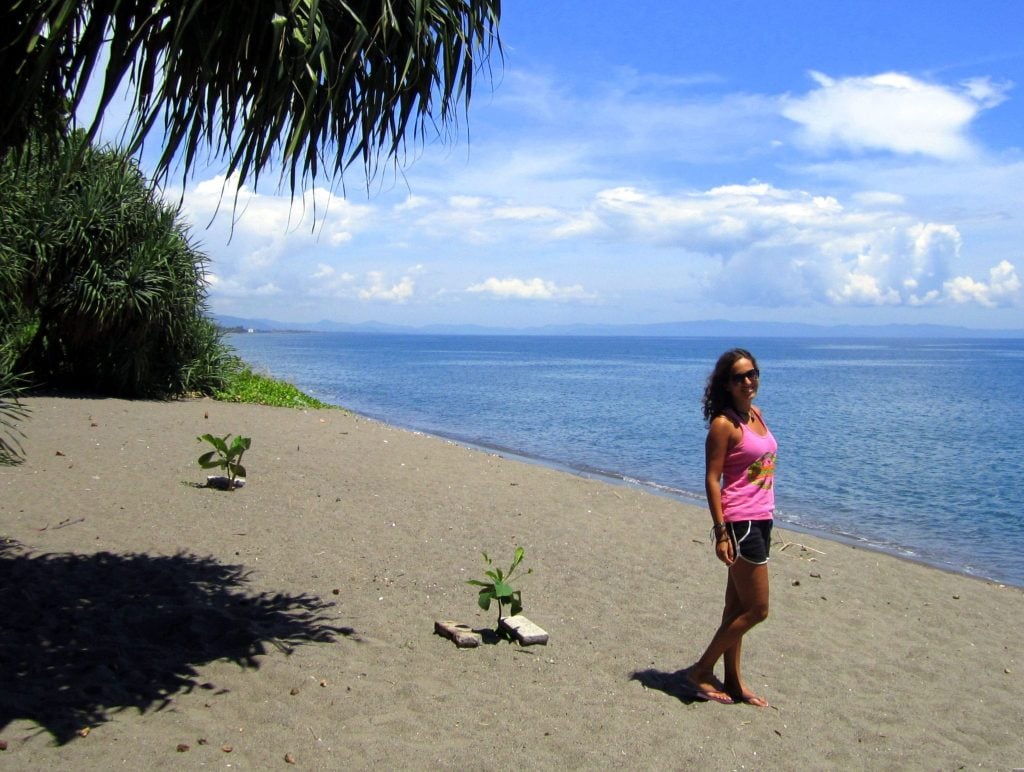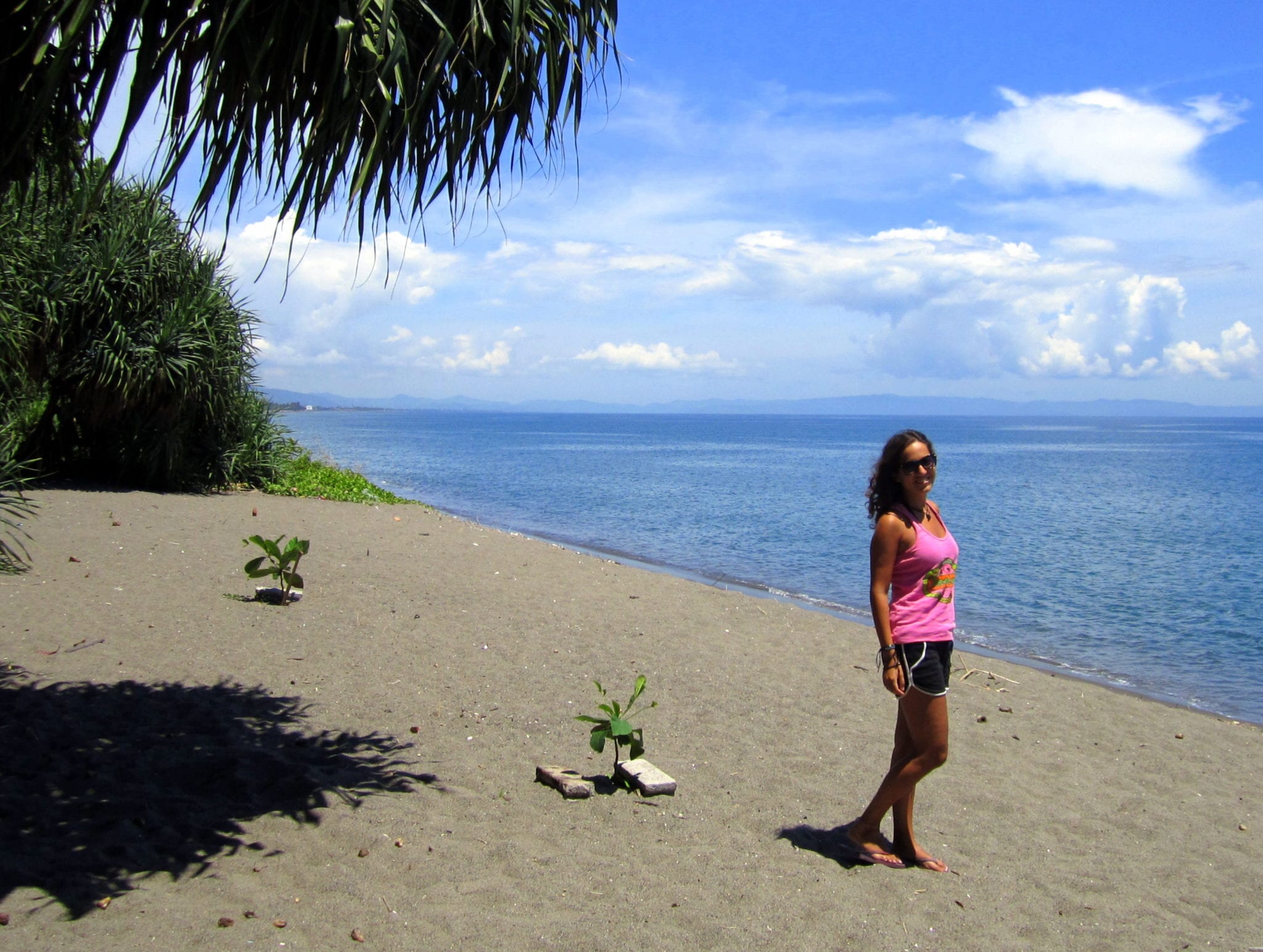 My second favorite beach in Southeast Asia: the beaches south of Sengiggi Beach, Sengiggi, Lombok, Indonesia
Senggigi is home to the bluest sea I've ever seen, and once you head south of the main beaches, it's utterly deserted.  I felt like I had stumbled across a treasure that few people ever got to experience.
I feel like Senggigi will be much more popular a few years from now, so the time to go is now, while the beach is still deserted like this.
Click here to read my posts about Senggigi.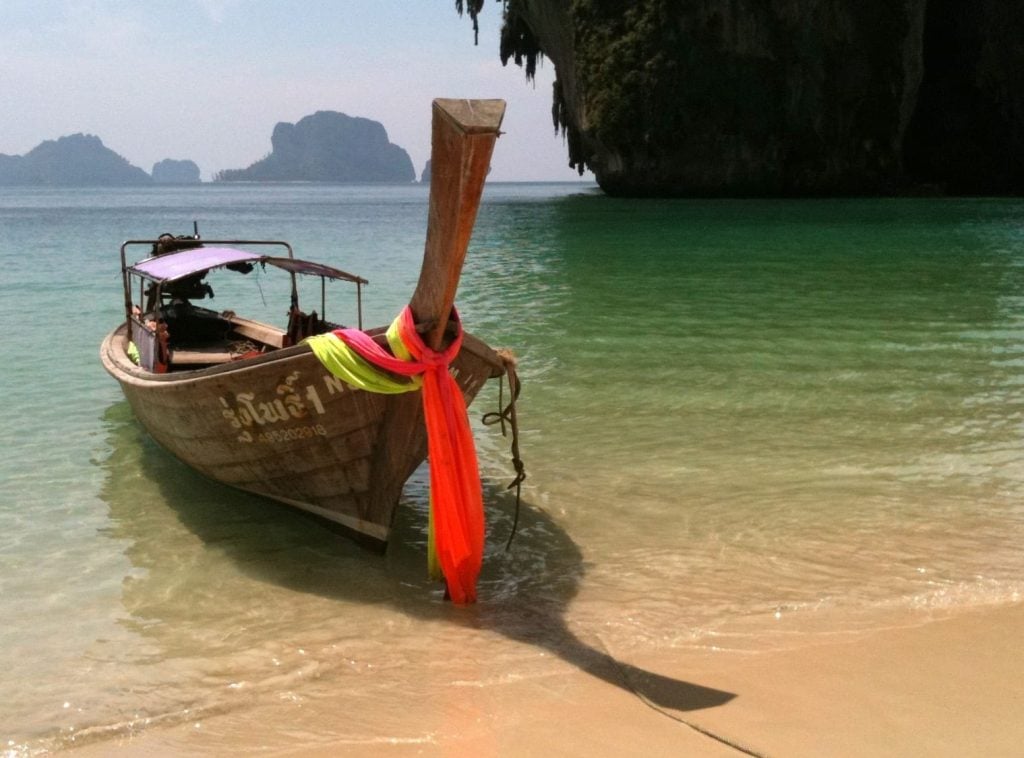 My third favorite beach in Southeast Asia: Pranang Beach, Railay, Thailand
You know all those pictures of Thailand beaches with the longtail boats in the crystal-clear water in front of the limestone cliffs?  Well, 99 times out of 100, they're taken on Pranang Beach in Railay.
No other beach matches Pranang Beach in Railay for sheer dramatic beauty — which makes me fear that a place this beautiful can't survive long-term.  Also, they have a peen cave.
Click here to read my posts about Railay.
The beaches remaining on the list are all great in their own way.  Here are a few of my favorites:
The Coolest Offbeat Beach: Otres Beach, Sihanoukville, Cambodia
It's slightly out of the way and far less commercialized than Serendipity and Occhuteal beaches, yet this is so quintessentially Sihanoukville!  While other beaches have had different heydays in Sihanoukville, Otres has never been a tourist hotspot, which has preserved its beauty.
You'll still get the cheap prices of Sihanoukville, but it's so much more laid-back — like a little-visited island!
Click here to read my posts about Sihanoukville.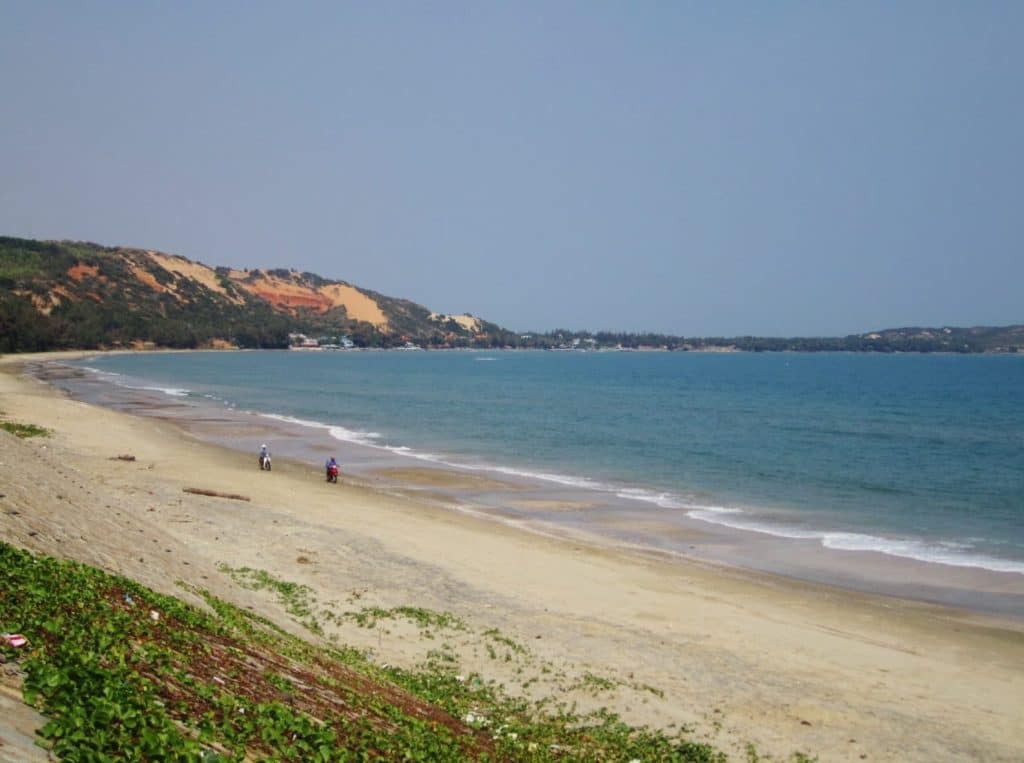 The Beaches Worth A Long Motorbike Ride: the beaches north of Mui Ne, Vietnam
Mui Ne, Vietnam, is an excellent place to rent a motorbike.  From sand dunes to oases to fishing villages to gritty cities, there is so much to see here if you get away from the main town.  And that includes the beaches north of town.
While the main beach in Mui Ne itself isn't that exciting, these isolated beaches are absolutely breathtaking.
Click here to read my posts about Mui Ne.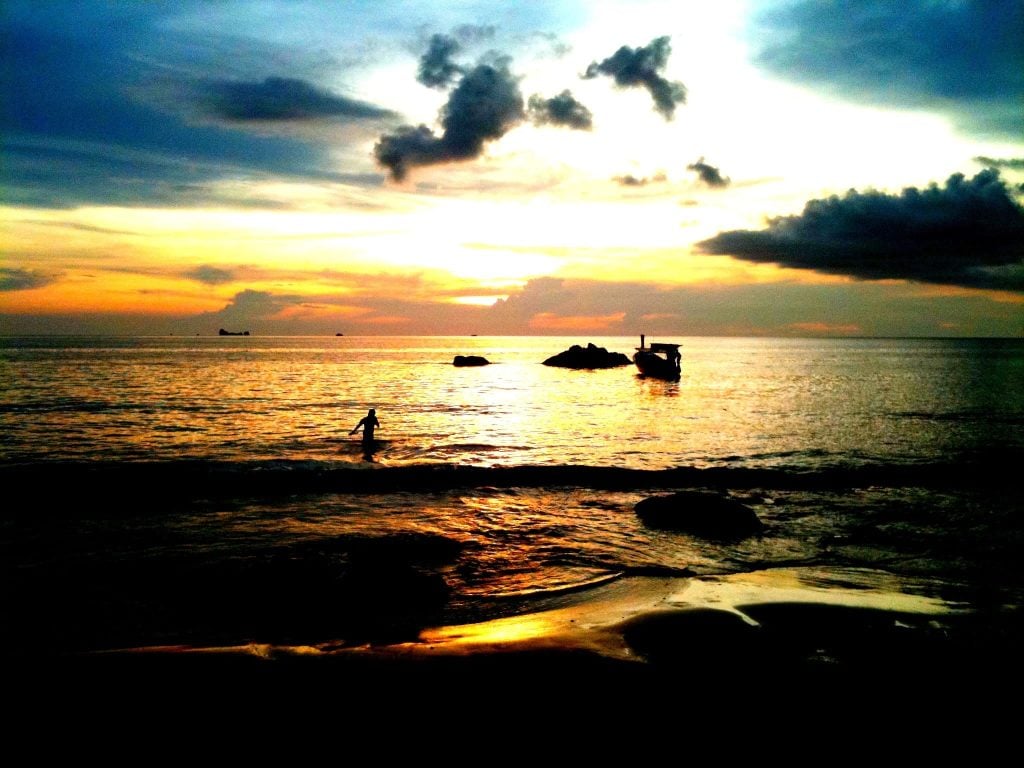 The Best Beach to Watch a Sunset: Klong Nin Beach, Koh Lanta, Thailand
One of the best things about the seemingly flawless island of Koh Lanta is that all the beaches are on the west side of the island — hence, beautiful sunsets every night.
Klong Nin is a lovely patch of wide, soft, nearly-empty beach in the midpoint of the island.  On any evening, you'll find lots of local children playing in the water as the sun sinks into the ocean.
Click here to read my posts about Koh Lanta.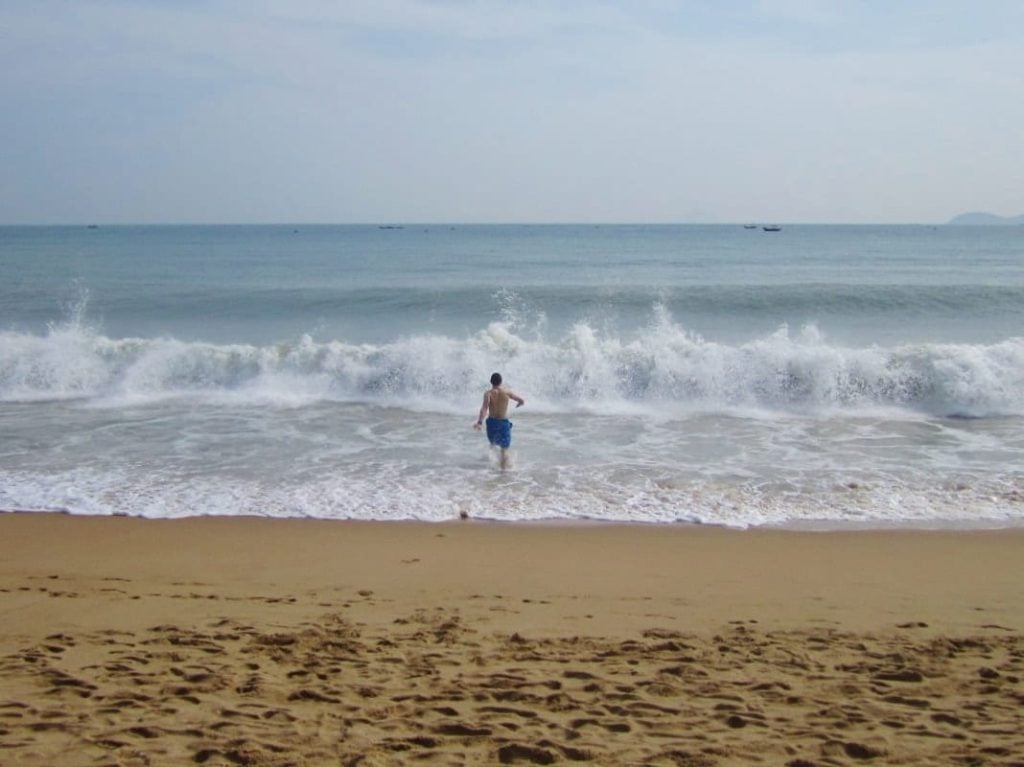 The Beach That Will Knock You Over: Nha Trang Beach, Nha Trang, Vietnam
One reason why you don't see a lot of people swimming in the ocean in Nha Trang?  The waves are HUGE — a good few meters — and break right on shore.
This was my first time dealing with waves like these, and they usually crashed on top of me — knocking me over and making me somersault all over the place, nearly losing my bathing suit on multiple occasions, much to the bemusement of my dear companions.
Click here to read my posts about Nha Trang.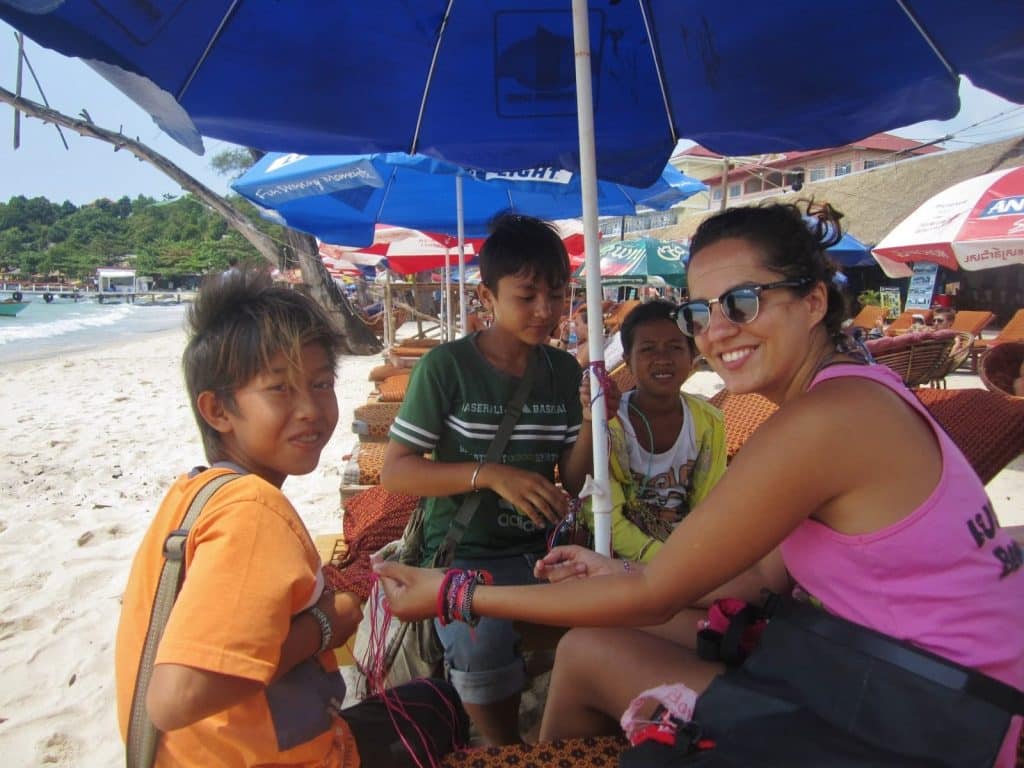 The Best Beach to Live It Up on the Cheap: Serendipity Beach, Sihanoukville, Cambodia
$5 hourlong massages?  $3 pedicures?  $3 beach barbecue dinners?  $1 for 15 squid kebabs?  25 cent beers?  Yes, please!  While you can live on $20 a day in much of Southeast Asia if you live simply, you can do that in Sihanoukville while living like a rock star.  Serendipity Beach is where the action is.
And while you shouldn't buy things from kids on Serendipity Beach, or anywhere (a lesson that I realized far too late), those bracelet-selling kids are sweet, hilarious and endlessly entertaining.
Click here to read my posts about Sihanoukville.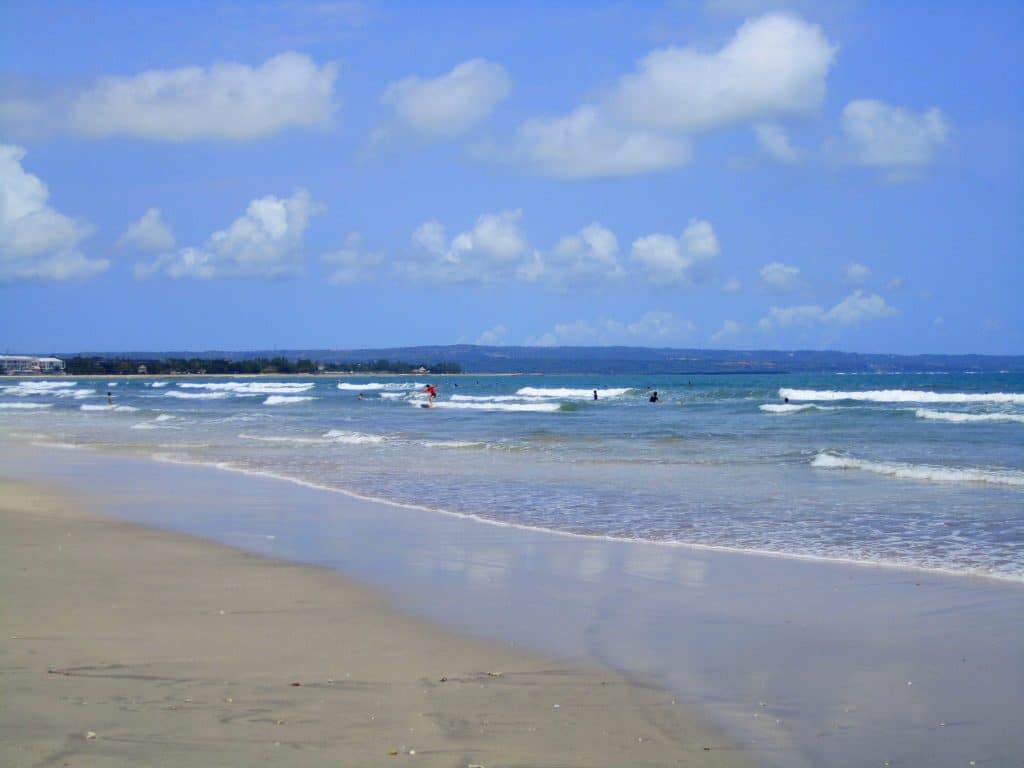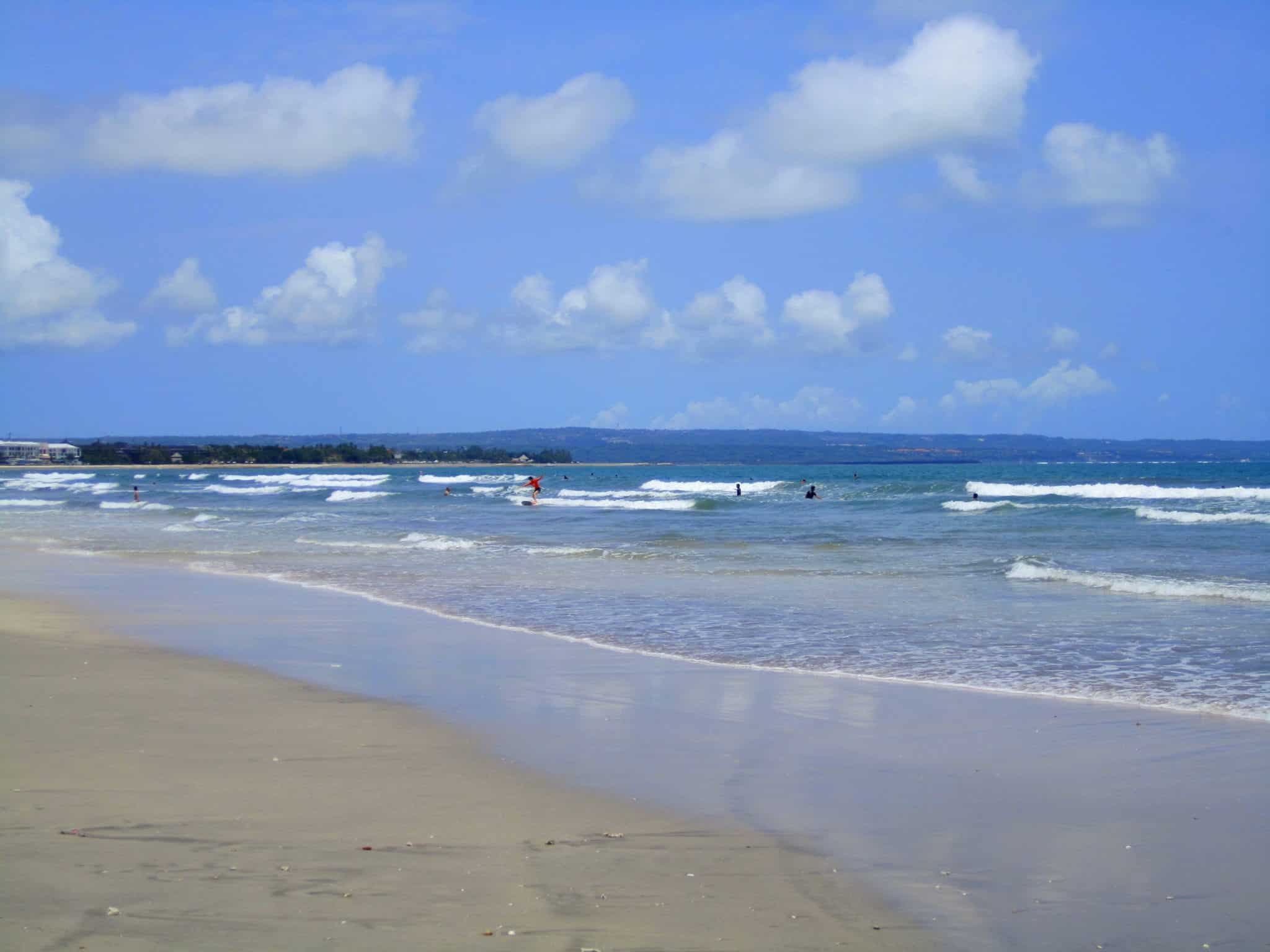 The Best Beach for Surfing: Seminyak Beach, Seminyak, Bali, Indonesia
Whatever you do, make sure you're as far away as possible from trash-strewn Kuta Beach.  But once you get up to Seminyak, you have the same perfect waves for both novice and advanced surfers — and it's so much cleaner!
These are beaches are primarily for surfers, not swimmers.  I took a lesson from the excellent Rip Curl School of Surf on Seminyak Beach, and as I smoothly rode to shore, I couldn't have learned in a better place.
Click here to read my posts about Bali.
On this trip, I regrettably missed Thailand's southern Gulf coast; China Beach, Vietnam; Amed and Lovina, Bali; Kuta Beach, Lombok; and the beaches of Malaysia and the Philippines.  I resolve to visit all of these places and more!
Get email updates from Kate
Never miss a post. Unsubscribe anytime!