Adventurous Kate contains affiliate links. If you make a purchase through these links, I will earn a commission at no extra cost to you. Thanks!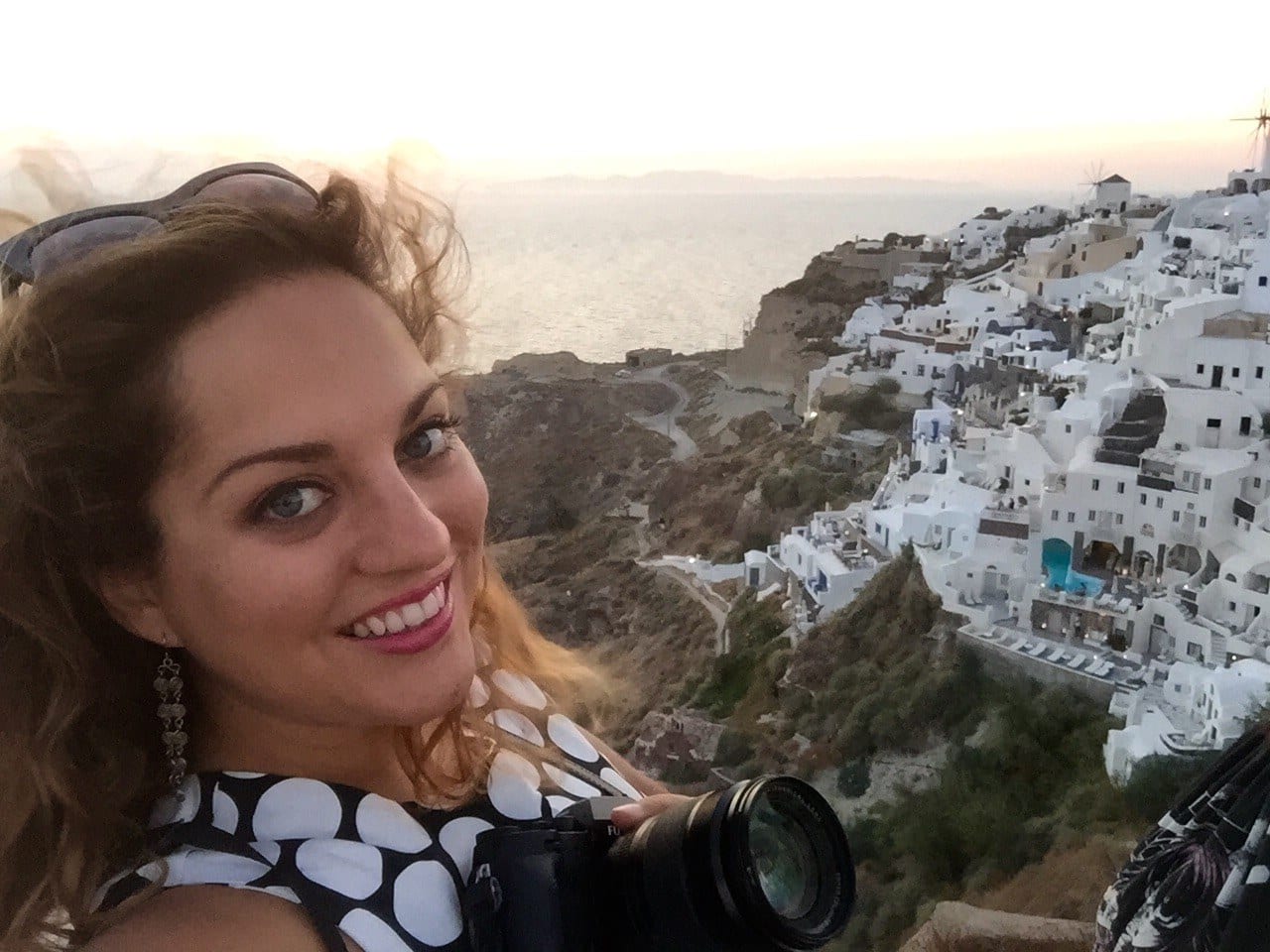 Any destination can be a photographer's paradise if you're creative enough. But some places are massive overachievers! I've visited some countries, cities, and regions where beautiful shots lurk around every corner.
And it's not always the places you think. I don't always have the best luck shooting photos in Italy, for example. And as gorgeous as Savannah is, the shadows from the ubiquitous oak trees make it a challenge to photograph. And I was so upset when my first trip to Old San Juan, Puerto Rico, was a near-disaster due to poor photography conditions.
But when a destination gets it right, I have treasures that will last me a lifetime.
Here are my picks for the 10 most photogenic places I've ever visited. Some of them are obvious, like Paris and New York — but I'm sure at least a few of them will surprise you.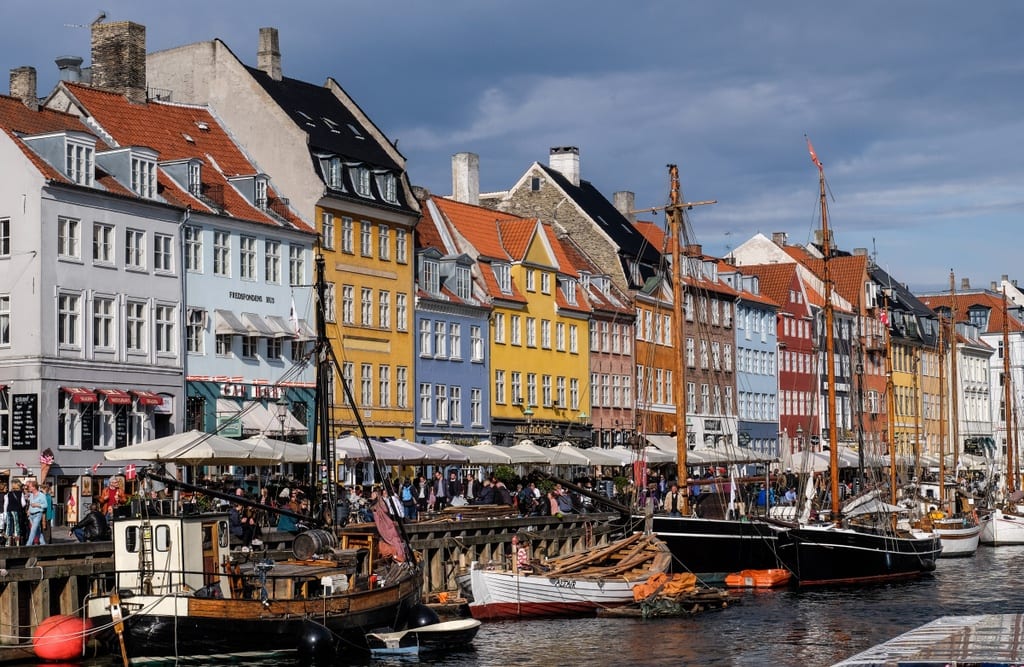 Copenhagen
I couldn't believe how many great photos I got in Copenhagen. I don't say that to brag about my skills; I say that because I was flabbergasted at how every aspect of the city was begging to be photographed. I had to restrain myself from covering my whole apartment in framed Copenhagen photos!
So, what should you look for in Copenhagen? I take a lot of photos of bicycles ordinarily, and Copenhagen is bike-crazy metropolis.
The Nyhavn, the famous ship-filled wharf along a canal, is the most photographed site in the city. I also happened to be there for Sankt Hans, when bonfires are lit in the canal and led to some awesome colors.
The picture with the lines was taken at the Superkilen, which is a great spot for black and white photography. That shot hangs in my black-and-white bathroom today.
Oh, and also get photos of very tall, very attractive people clad in nothing but black and charcoal gray.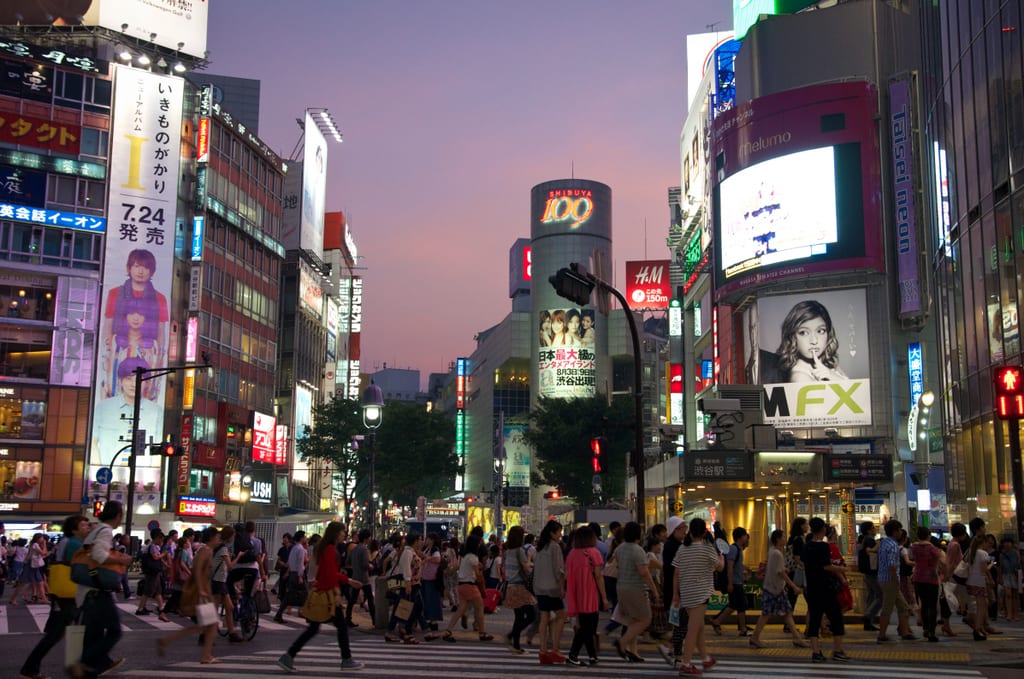 Japan
I'm putting the entire country on this list because literally every part of Japan is a photographer's paradise. Whether you're in cities, more traditional areas, or in the wilderness, you'll get to enjoy some of the world's most beautiful light.
I urge you to see as much of Japan as humanly possible. Some of my favorite places for photography were the Dotonbori neighborhood of Osaka at sunset, Kyoto for the temples and rare geisha-spotting, the tech-crazy Akihabara neighborhood of Tokyo, and of course Shibuya Crossing.
One thing I've always said is that Japan turns you into a stereotypical Japanese tourist — suddenly you want to photograph everything because it's so different! From vending machines to trash cans, everything is worthy of a photo. And Japanese people are lovely and a lot of fun; many of them turn into total hams when they see a tourist with a camera!
Cherry blossom season is, of course, a very popular and photogenic time to visit, but it can be tough timing it right. Personally, I'd love to visit in the fall when the leaves change.
Istanbul
I'll spare you the Istanbul is where East meets West and old meets new drivel (god, I hate that so much) — Istanbul is on my list because nowhere else looks like it. I don't know any other city that looks just as good up close (details in markets! Tulip-shaped tea glasses!) and far away (mosques and minarets dotting the skyline! Colorful seaside buildings!).
There's so much to see in Istanbul, you could be occupied for weeks. I would start by visiting the Grand Bazaar, Spice Market, and every market that crosses your path. Bowls of olives, brightly colored spices, detailed lamps and hand-painted dishes make for amazing photos.
Istanbul has an amazing skyline and there are fabulous views from the Galata Tower. Istanbul also has some cool neighborhoods — I recommend checking out the hip zone of Kadikoy and the colorful Armenian neighborhood of Kumkapi.
One last thing to photograph — cats. Stray cats are all over Istanbul and they're well cared for by the locals. Some of those cats are better-looking than most people!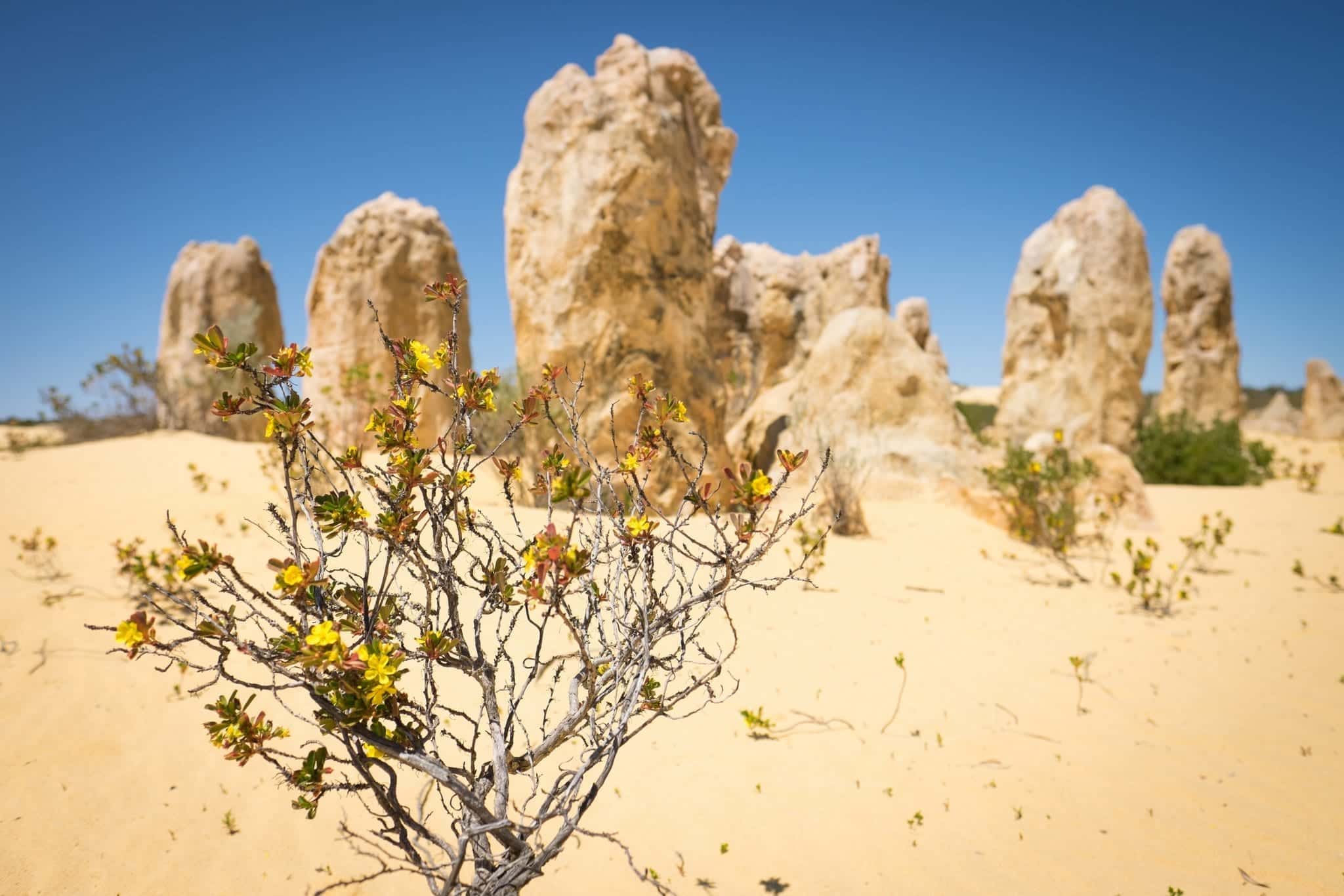 Rural Australia
I've been to Australia twice, visiting four of its states, and while the cities are great, it's the outdoors where Australia truly shines. In no other place in the world have I had as many "I can't believe this place exists" feelings as I did in Australia. Some of the national parks make you feel like you're at the beginning of time, a dinosaur lurking around the corner.
Some of my favorite photography spots are Uluru, Litchfield, and Kakadu National Parks in the Northern Territory and Hutt Lagoon (pink lake!), Shark Bay, the Pinnacles Desert, Rottnest Island, and Karijini National Park in Western Australia. I would love to explore the Kimberley, Queensland and Tasmania.
The challenge in rural Australia is getting around safely. WA in particular is very sparsely populated and there is very little public transit; most people either drive themselves or take an organized tour. Of course, driving leads to its own challenges, particularly when kangaroos like to jump in front of your car at night.
Pack your wide-angle for the landscapes and your zoom for the wildlife. And be prepared to take a million selfies with the quokkas!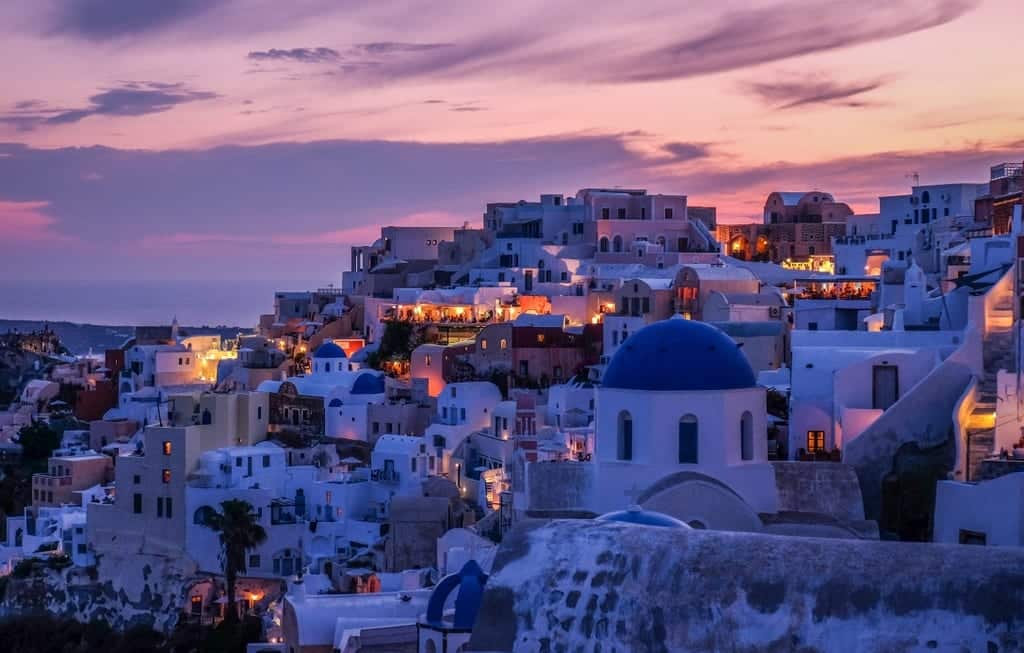 Oia, Santorini
Ah, the island that launched a thousand calendars. Santorini might be a giant cliché at this point, but clichés exist for a reason. And Santorini's crown jewel is Oia, the white village on the northern tip of the island.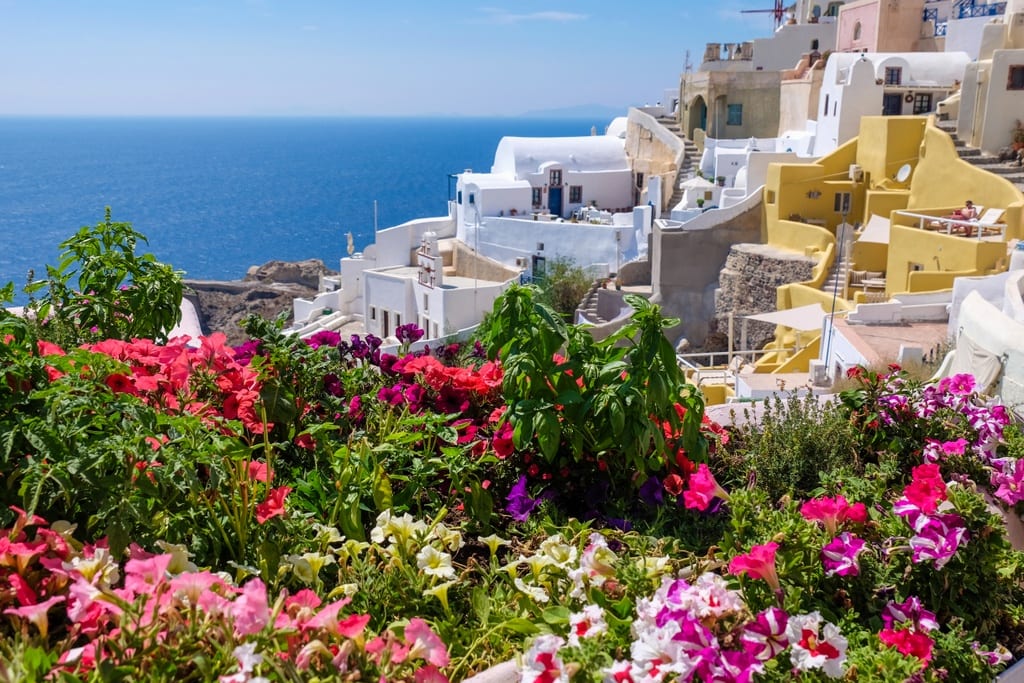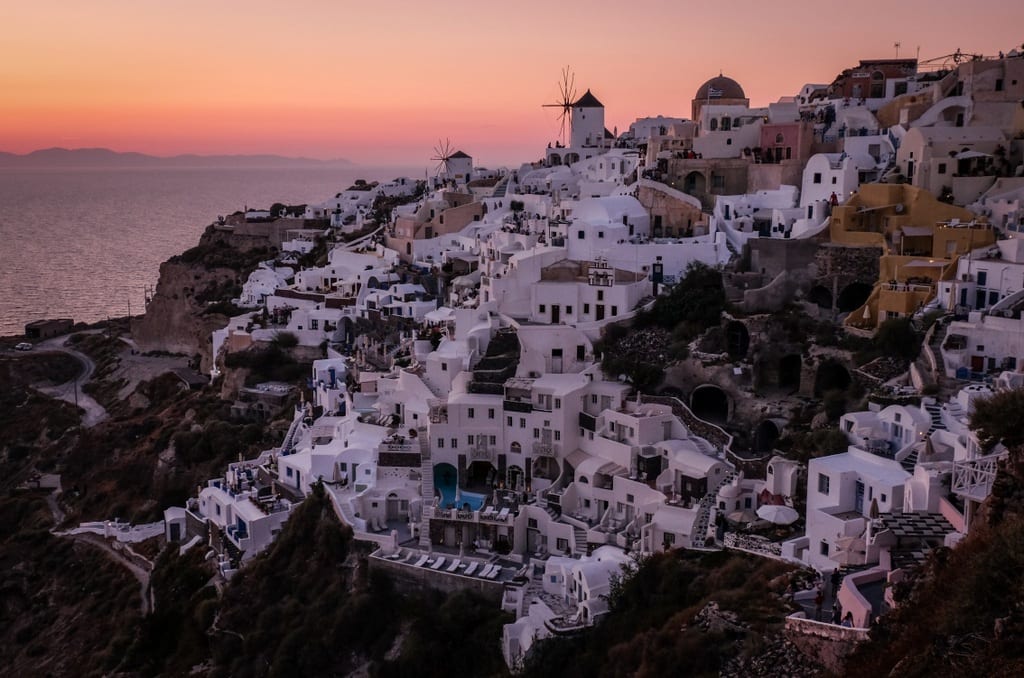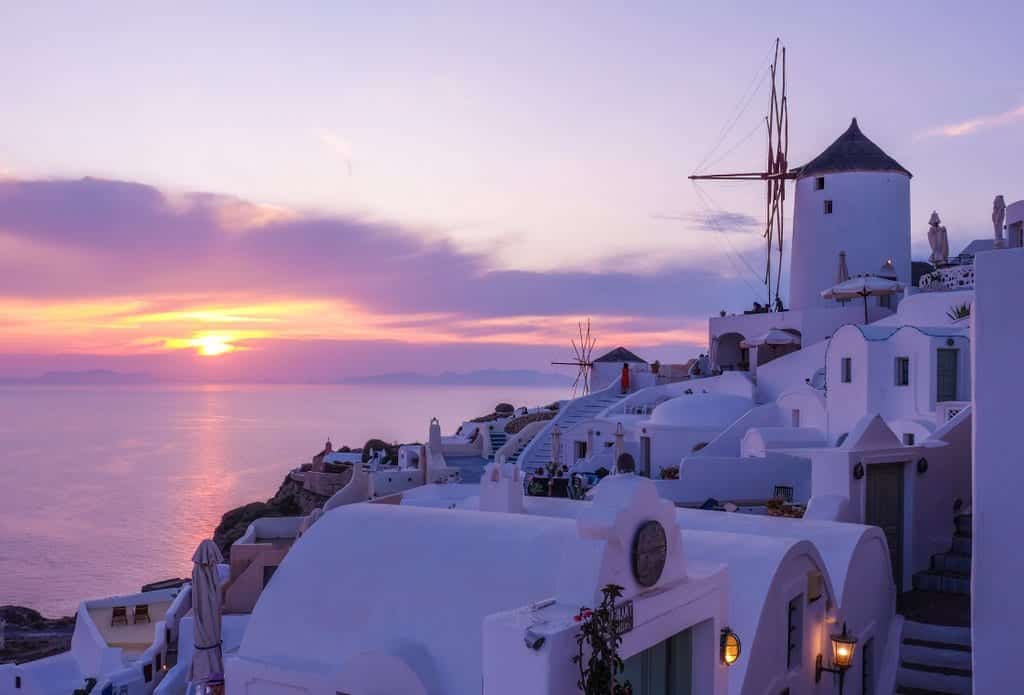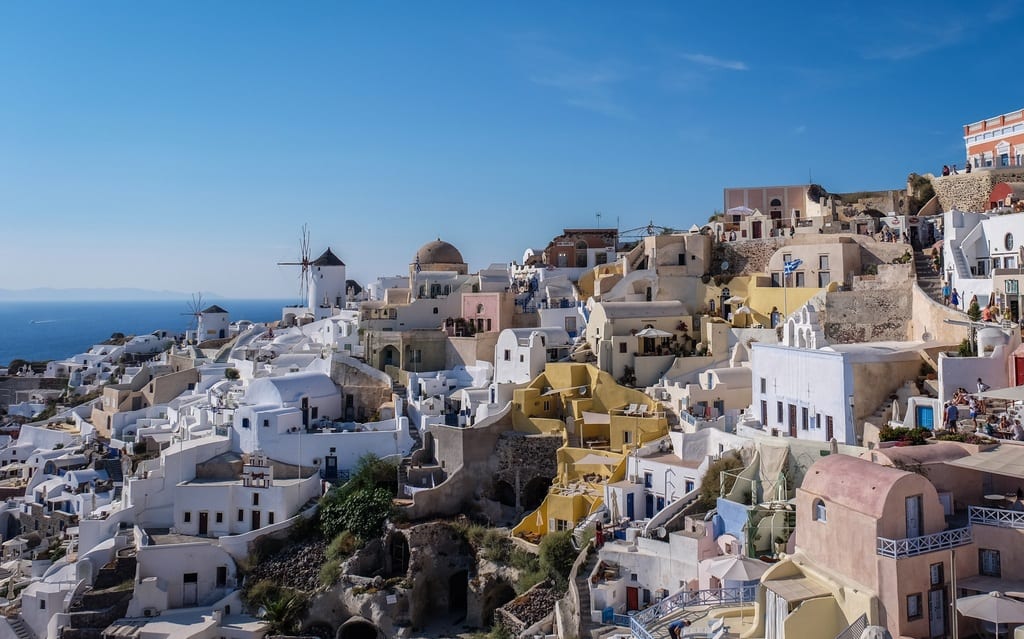 Oia has been photographed a million different ways, so finding your own take on the village can be a challenge. My recommendation? Just make peace with that fact and take whatever kinds of shots make you happy.
If you want to get the key sunset picture, shot from the fort, I recommend heading there an hour or so before sunset. Bring a book to read; you'll be glad you have something to do. And don't leave as soon as the sun dips beneath the surface — stick around for Blue Hour!
Another tip can be photographing the sunset in the opposite direction. It can be surprisingly entertaining to get photos of hundreds of tourists lined up with their cameras.
New York City
It's a city full of icons. How could New York not be on my list? My only crime is that living here, I treat it less like a travel destination and don't have nearly as many photos as I should! (That will hopefully change this flower season. I need photos of New York in bloom!)
So, what should you photograph in New York? Definitely get the icons in: Times Square at night, the Brooklyn Bridge, the Staten Island ferry, Central Park. If you want views from above, head to Top of the Rock or One World Trade Center (the Empire State Building is popular, but isn't the point to have the Empire State Building in the photo?).
But I think the best New York photography comes from neighborhood wandering and seeing what comes your way. Some of my favorite neighborhoods for photography are the West Village, Bushwick, Harlem, SoHo, and the Lower East Side. Spend the bulk of your time here — and don't fall into the trap of spending most of your time in midtown. Midtown is boring.
Season-wise, you can't beat spring when everything is in bloom!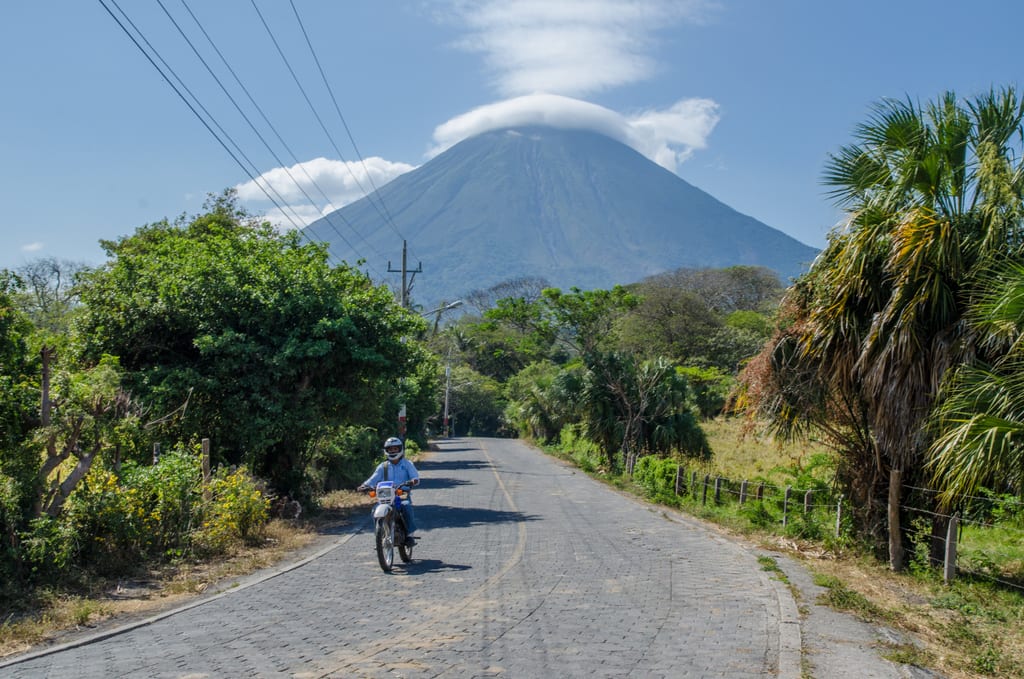 Nicaragua
Of all the countries in Latin America, I feel like Nicaragua was the best for photography. ("Not Mexico?!" yells everyone. Sorry, that's how I feel! Maybe I'll change my mind when I visit Guanajuato and Oaxaca.) Not only was Nicaragua one of the most colorful countries I've visited, it also has the rare combination of extremely photogenic cities and extremely photogenic rural areas.
Nicaragua is a place to focus on details and colors. Think markets, street art, all the fruits you can find. And try to visit at least one volcano; they're all over the country.
I found León to be the richest photography destination in the country, so many colors and markets, plus that incredible white roof on top of the cathedral. And while I didn't have a great volcano boarding experience with Bigfoot Hostel, you can't deny that their orange jumpsuits against the black volcano and blue sky make for some striking shots.
And a little tip: your Instagram followers will love tropical shots of Little Corn Island the most.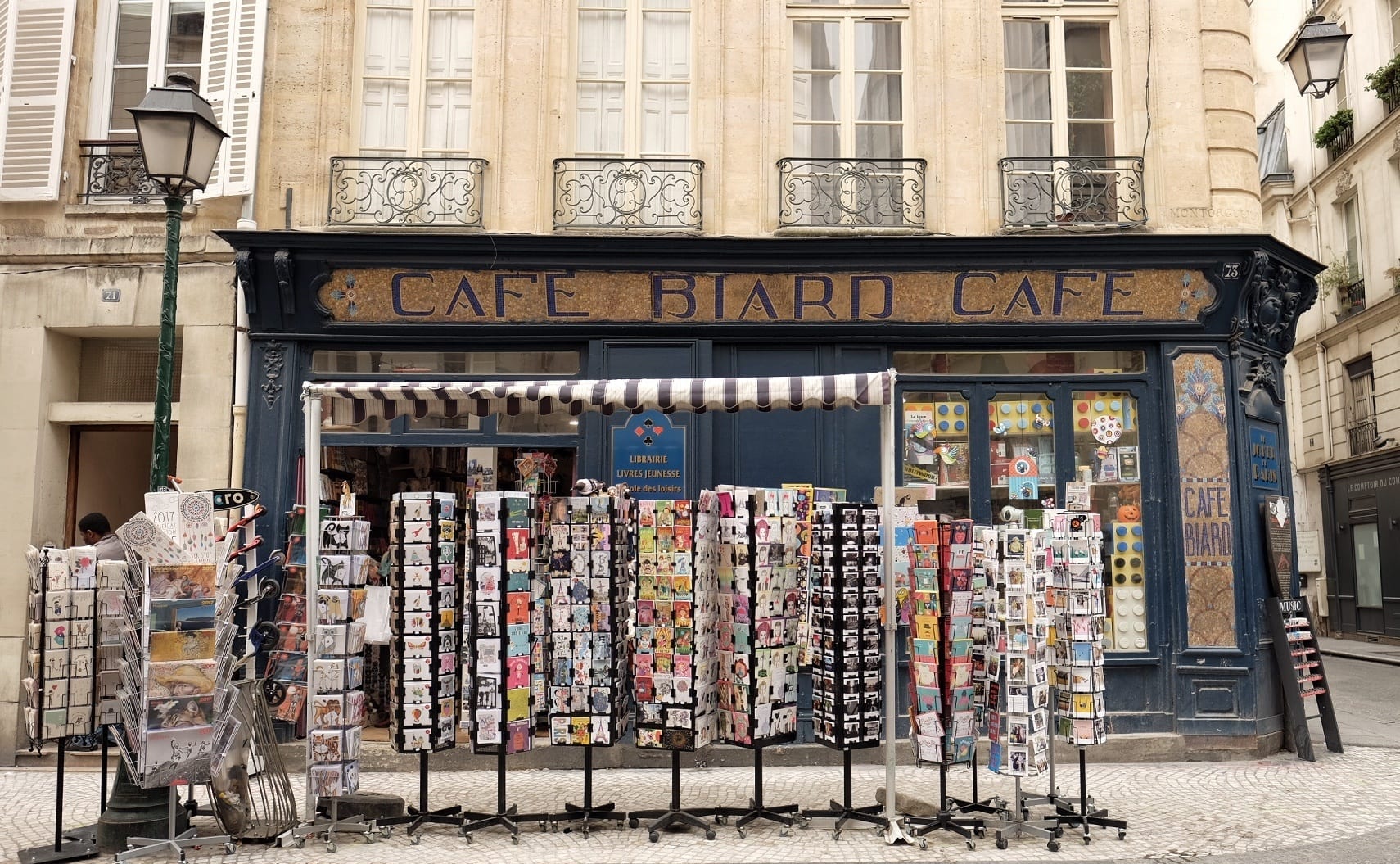 Paris
I don't have to explain why. You already know.
Like New York, I find it best to knock the Paris icons off your list and then dig deep into the neighborhoods. Some of my Paris neighborhoods for photography are Montmartre, St. Germain-des-Pres, and the Marais. My new favorite street in Paris is Rue Montorgueil in the 2nd, which is covered with food shops and cafes so perfect that they look like they're out of a movie.
But if you're looking for the best views of Paris, I recommend the top of the Arc de Triomphe, the towers of Notre Dame (gargoyles!), the Montparnasse Tower (I hate that building so much, so when you're up there you don't see it!), and the top of the Printemps department store.
Do be prepared for less than ideal weather. One thing that doesn't get said often enough is that Paris generally has gray weather with sprinklings of rain, not unlike London. Don't fight it; lean into it and learn to love your gray photos.
Want more? I've got 100 travel tips for Paris.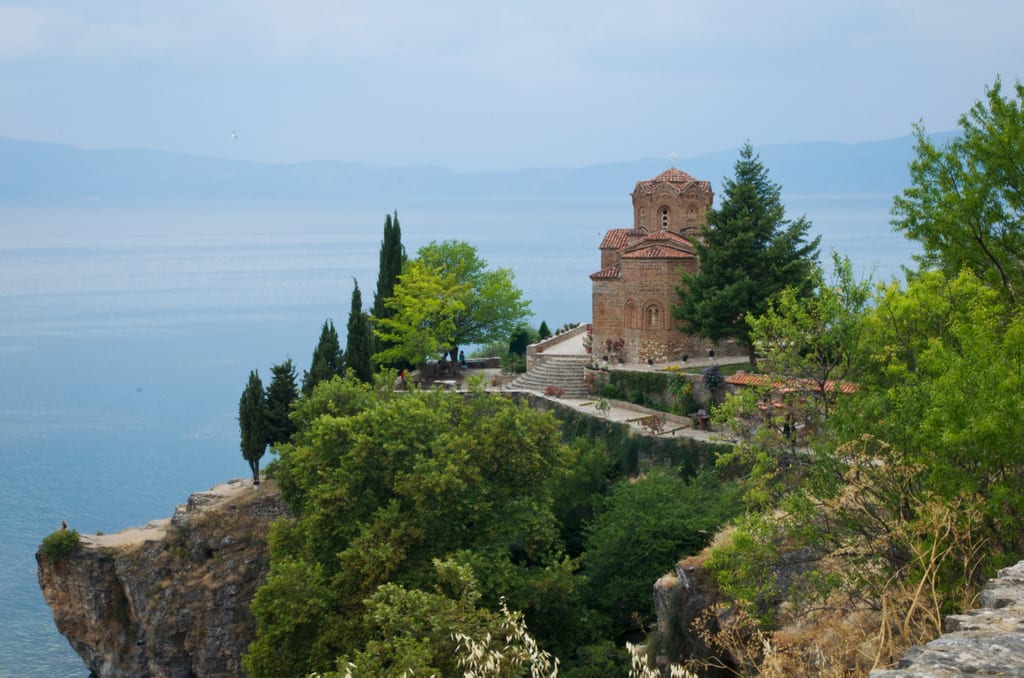 Lake Ohrid, Macedonia
The Balkans are my favorite region in the world to travel, and Macedonia is a particular delight. The first place I visited in the country was Ohrid, the town on the banks of Lake Ohrid (which spans both Macedonia and Albania) and it astounded me with its understated beauty. I've never seen water meld into the sky more cleanly than on Lake Ohrid.
I've only visited the Macedonian side, so I can't speak to Albanian shores, but the town of Ohrid is a great place to base yourself. Everyone gets photos of Sveti Jovan, that famous church overlooking a cliff on top of the lake, and make sure you go inside the churches, too — they're just as interesting as the outside.
One of the best things I did was take a boat trip to Sveti Naum, a few towns away. It's home to pretty shoreline, an abundance of wild peacocks, and young Macedonian men who don't speak a word of English but cut you pieces of watermelon with an enormous knife.
Get photos of the lake from every angle — I especially love shots of swimmers from high above.
Also, Macedonia is one of the cheapest countries in Europe and they make surprisingly good wine. Use those facts to your advantage.
Sri Lanka
Sri Lanka is a feast for the eyes. So many colors, so many interesting landscapes, an interesting blend of cultures, religions, and people. There is quite a lot packed into this small island, and I was deeply enamored with what I saw.
My favorite photography spot in the country was Galle, home to a Dutch colonial settlement, a fort, and clear cerulean waters. Galle also makes a good base for exploring the nearby beaches. Another must-photograph destination is Sigiriya, home to a giant rock in the middle of the countryside.
Two things that you shouldn't miss photographing in Sri Lanka: women in their gorgeous dresses, and the tuk-tuks, which are somehow a million times nicer than the ones you'd see in Southeast Asia. And if you're into mountains or temples, Sri Lanka has both in spades.
While I haven't been to India, lots of my friends have said that Sri Lanka is so much cleaner and calmer than India. There's something to be said for that.
Photography Notes: These days the camera I use is a Fuji X-T1, which has dropped in price now that the Fuji X-T2 has come out. I've tried the X-T2 and love it, but I don't feel a pressing need to upgrade at this time.

I use two lenses: my main walking-around lens is the 18-135mm 3.5-5.6, which is versatile enough for most of the shots I take, and I also have a 16mm 1.4 wide-angle lens, which is FAST and FANTASTIC.

I'm also a big fan of the Pacsafe Camsafe V17 anti-theft bag, which is big enough for all my photography and tech gear yet small enough to put beneath the seat in front of me on a plane.
What are the most photogenic places you've ever visited?
Get email updates from Kate
Never miss a post. Unsubscribe anytime!