Adventurous Kate contains affiliate links. If you make a purchase through these links, I will earn a commission at no extra cost to you. Thanks!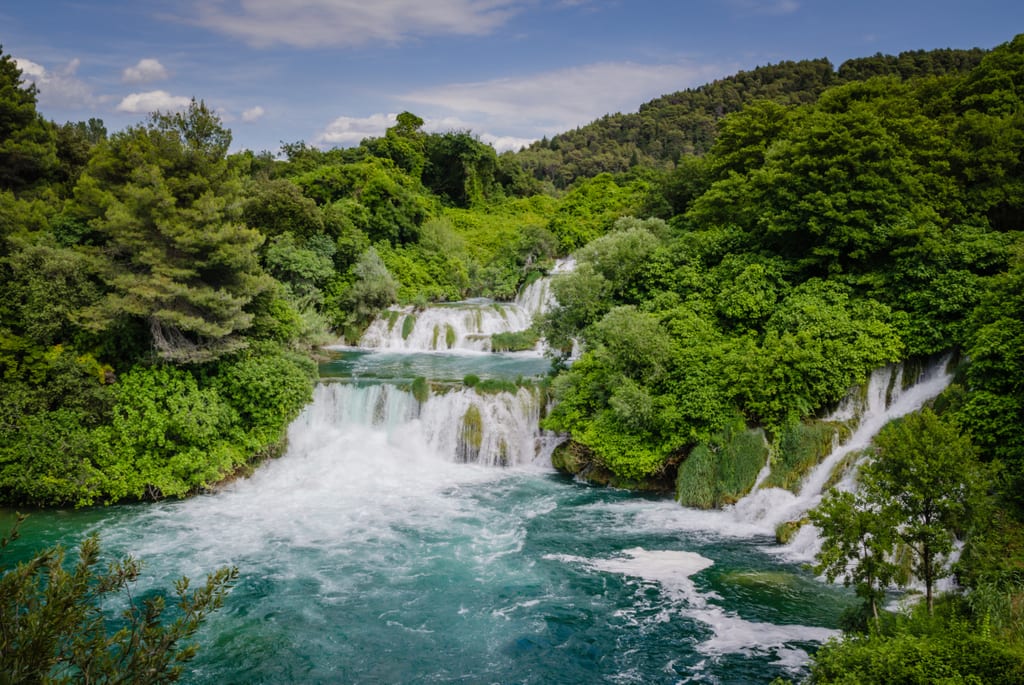 If you love waterfalls, Croatia is a fantastic country to visit. Thanks to a jagged coastline and mountains flush with rivers, waterfalls thrive in this beautiful nation.
Plitvice Lakes National Park in particular is world-famous for its waterfalls (in fact, I wouldn't be surprised if 25% of the waterfall photos on Pinterest were from Plitvice alone!), and it is indisputably one of the top attractions in the country.
But that's not the only option in Croatia — there's also Krka National Park in Dalmatia. And in some cases, it might be even better than Plitvice.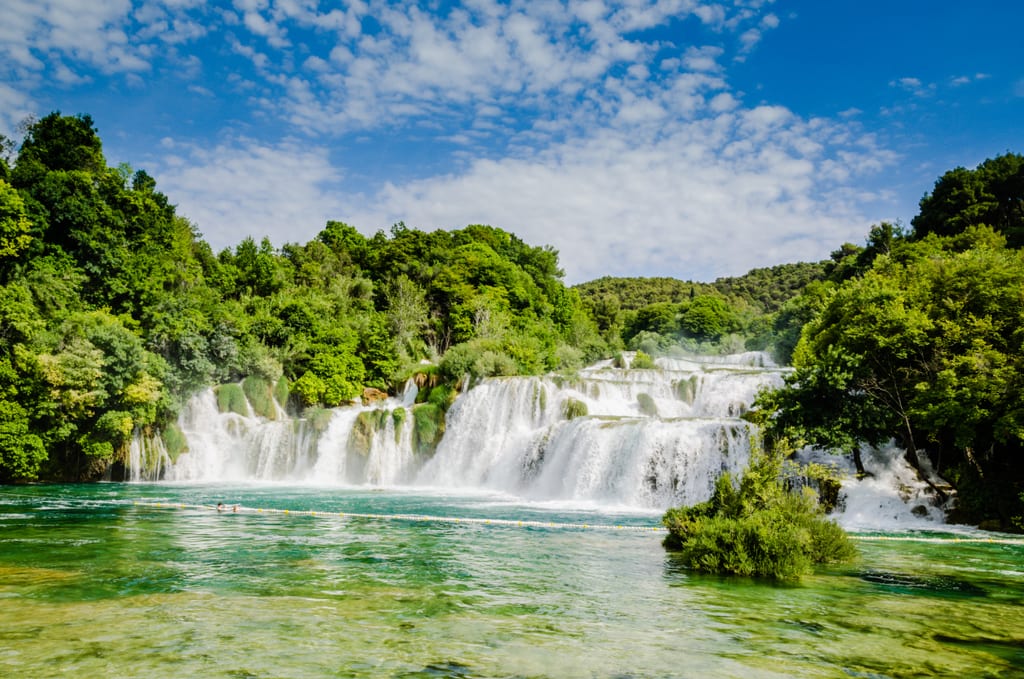 Plitvice vs. Krka
I visited the Plitvice Lakes two years ago (you can read about it here) and Krka a few weeks ago. I do think both national parks are worth visiting if you have the time. But chances are you'll have time for only one, and if that's the case, you should know what you're getting.
Plitvice is an iconic destination within Croatia – there's no doubt about that. This place is magnificent and I think Plitvice's Lower Lakes are home to the most visually spectacular waterfalls in Croatia. This park also has UNESCO World Heritage designation, while Krka does not.
Some of my favorite shots from Plitvice: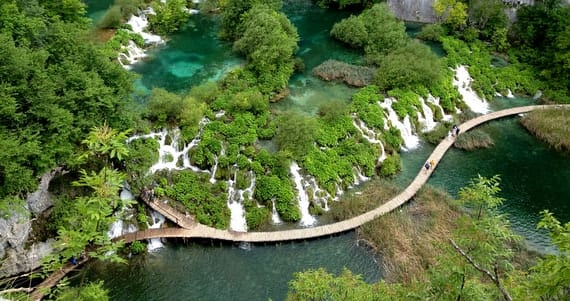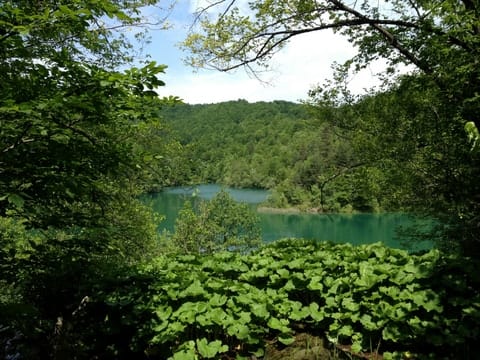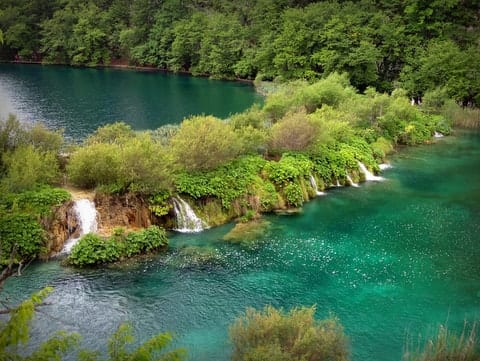 (Do note that comparing the two parks based on these photos is like comparing apples and oranges – my photography is SO much better today than it was two years ago! That and my day at Plitvice was rainy, while Krka was sunny. You can't fairly compare their beauty based on these photos alone.)
That said, I think that Krka has a lot of advantages over Plitivice.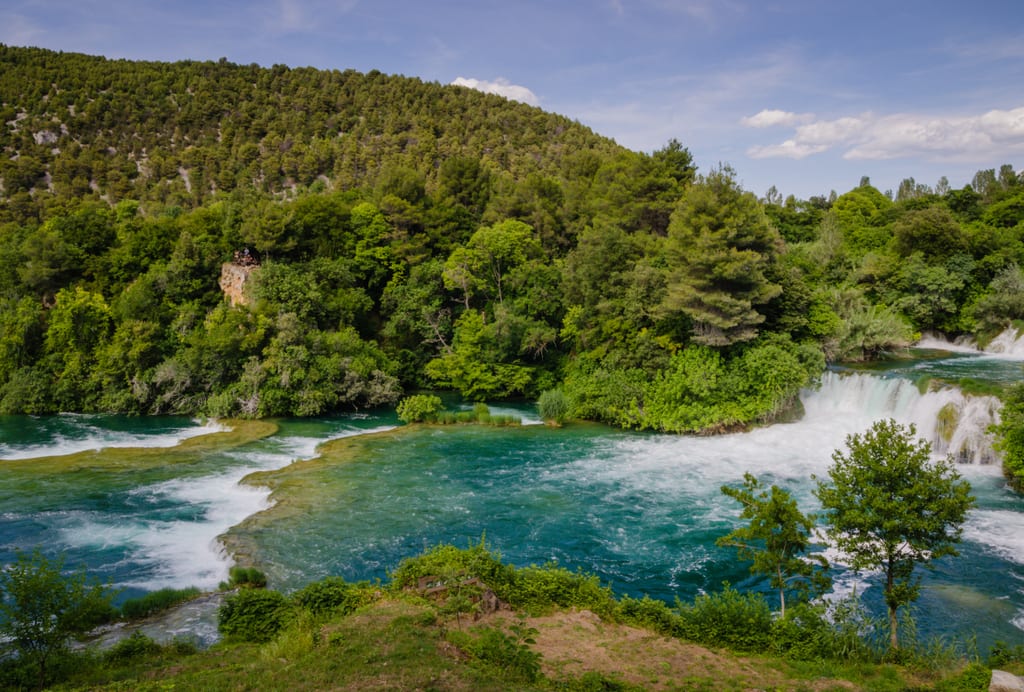 For starters, it's much more relaxed. At Plitvice, it's very crowded (especially at the Lower Lakes), you see lots of large groups being led by guides, and you can feel a lot of pressure to photograph the waterfalls well; at Krka, it's more about having fun and enjoying yourself a place that happens to be stunningly beautiful.
You might have better luck with the weather at Krka, too. There's a range of mountains between the Dalmatian Coast and Plitivice, which plays a big role in how much sun you get. Croatia is a country with two climates — temperate and Mediterranean — and you notice the difference as soon as you cross that mountain range and land in pure sunshine along the coast.
Krka is in the Mediterranean region, while Plitvice is in the temperate region.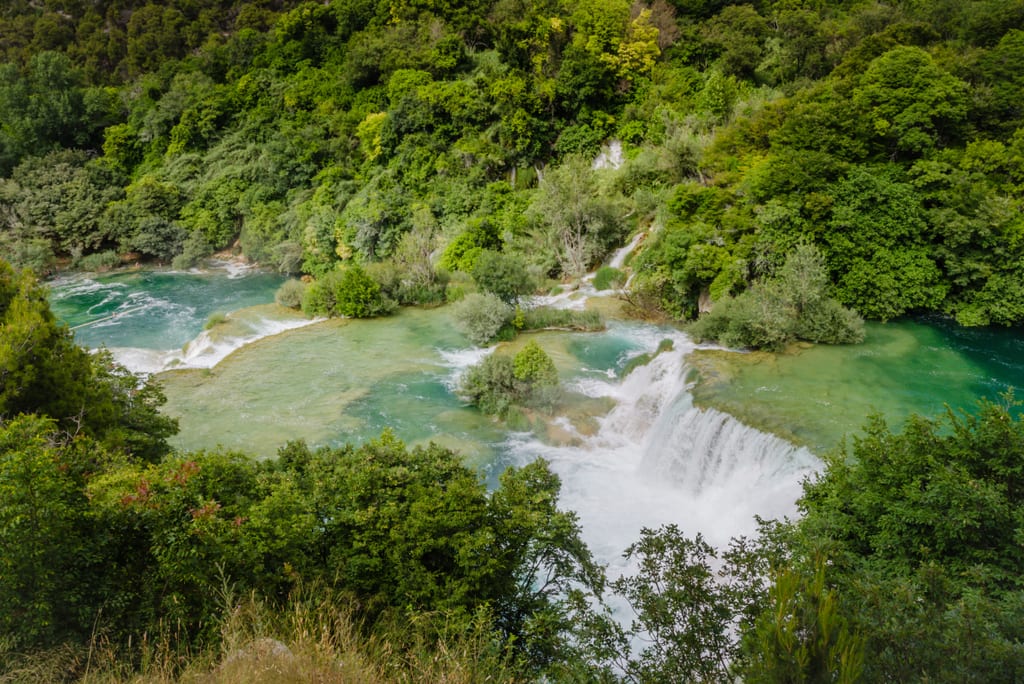 The biggest advantage of Krka? Swimming! You can actually swim in the lakes at Krka, which is strictly forbidden at Plitvice. (Though they do keep you from swimming under the waterfalls themselves.)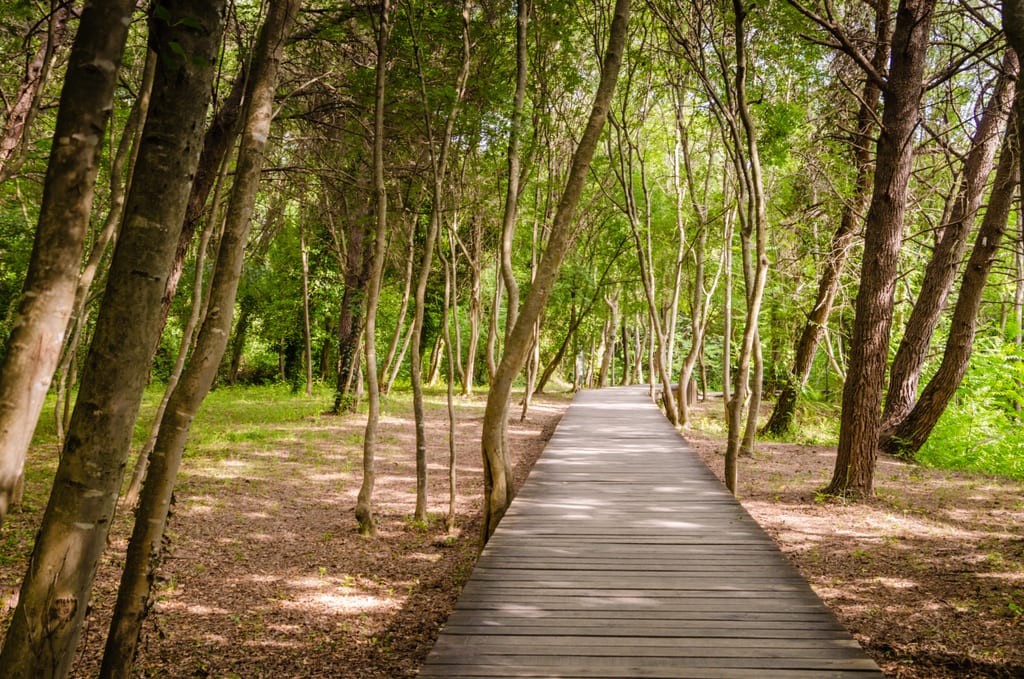 After you've spent time swimming and lying in the sun, take time to explore the trails. I love how you can get photos devoid of other people without having to show up at 6:00 AM. Good luck doing that at Plitvice!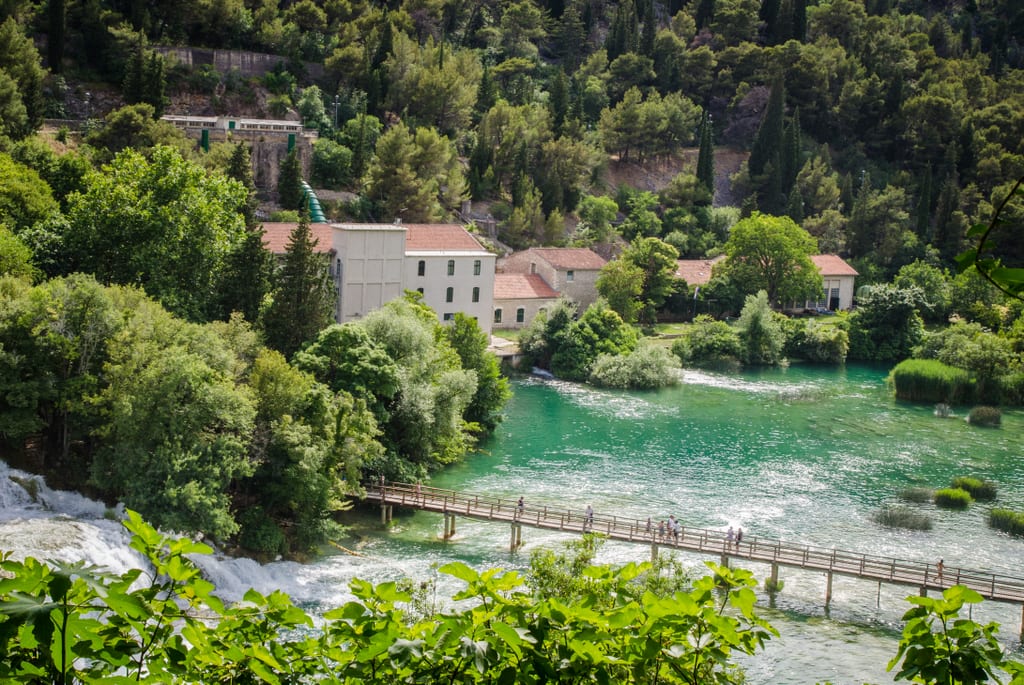 There's a basic trail loop that takes you past the main swimming area and takes about 40 minutes if you walk at a decent pace; longer if you linger. If you've got more time, there are lots of different trails throughout the park.
I remarked in my Plitvice post that you need quality footwear for the slippery, uneven pathways; this happily isn't the case in Krka, as the trails are wider and flatter. You'll be fine in flip-flops.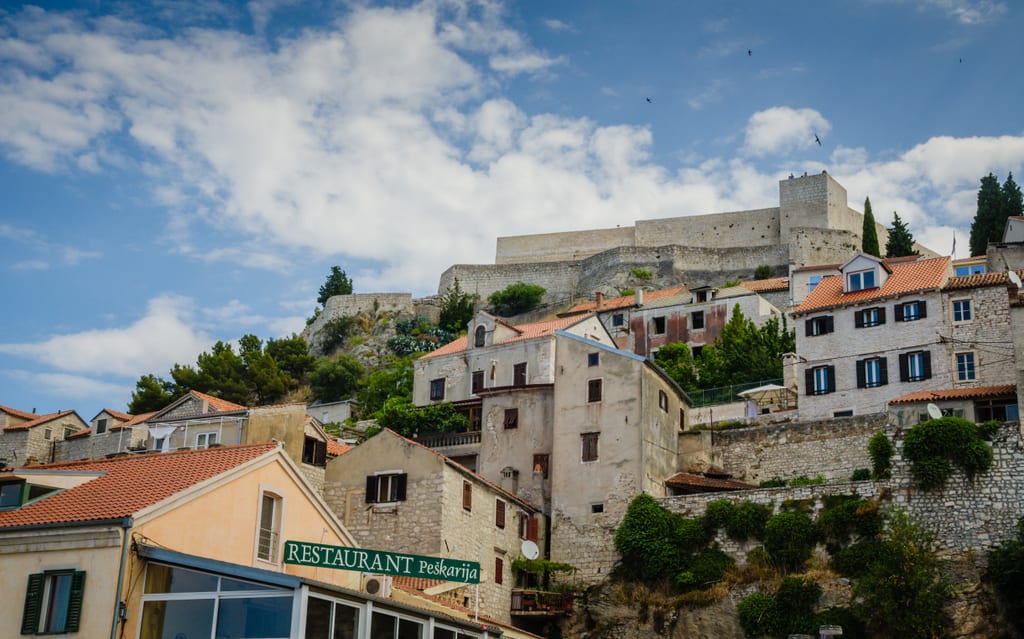 Visiting Šibenik
Krka has a very convenient location, just off the Dalmatian Coast. Plitvice, by contrast, is fairly isolated, and I remember how much I struggled to find a decent restaurant in the area (and I'm not talking fancy – I'm talking decent). You could technically do a day trip to Plitvice from Zadar, but it's much further away than Krka.
If you do go to Krka, and especially if you are road-tripping, take the time to check out the nearby city of Šibenik. I went in not expecting much, but this place was a surprisingly pleasant place to visit.
It's not nearly as touristed as Zadar or especially Split — nor quite as pretty or dramatic as either city — but it has a gorgeous old town built on a hill, a UNESCO World Heritage-listed cathedral, and a nice seaside. Prices are lower, too.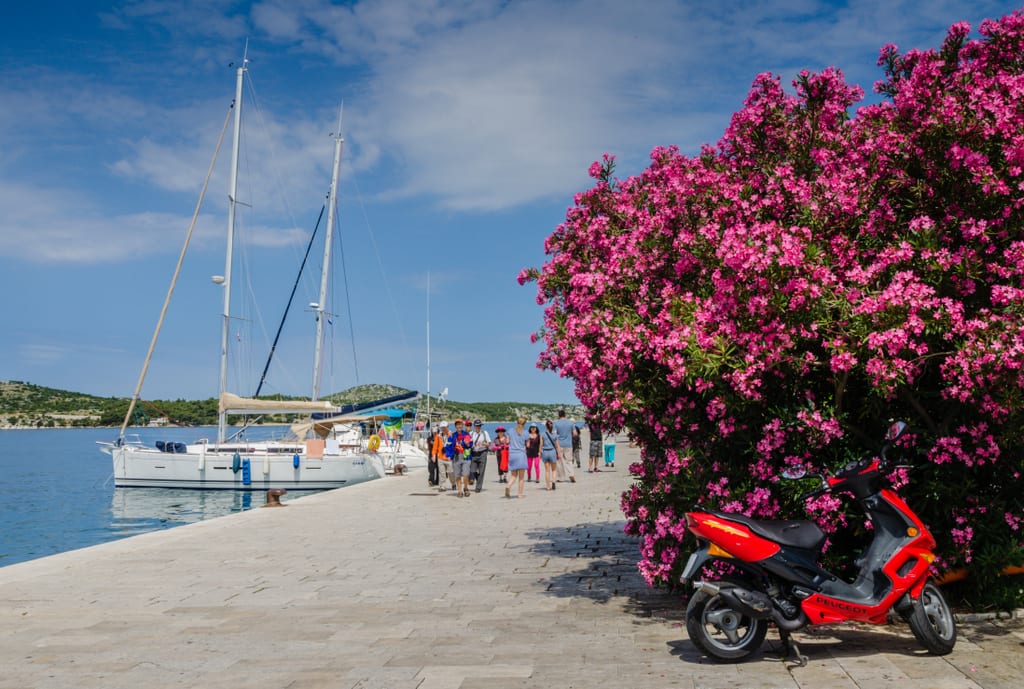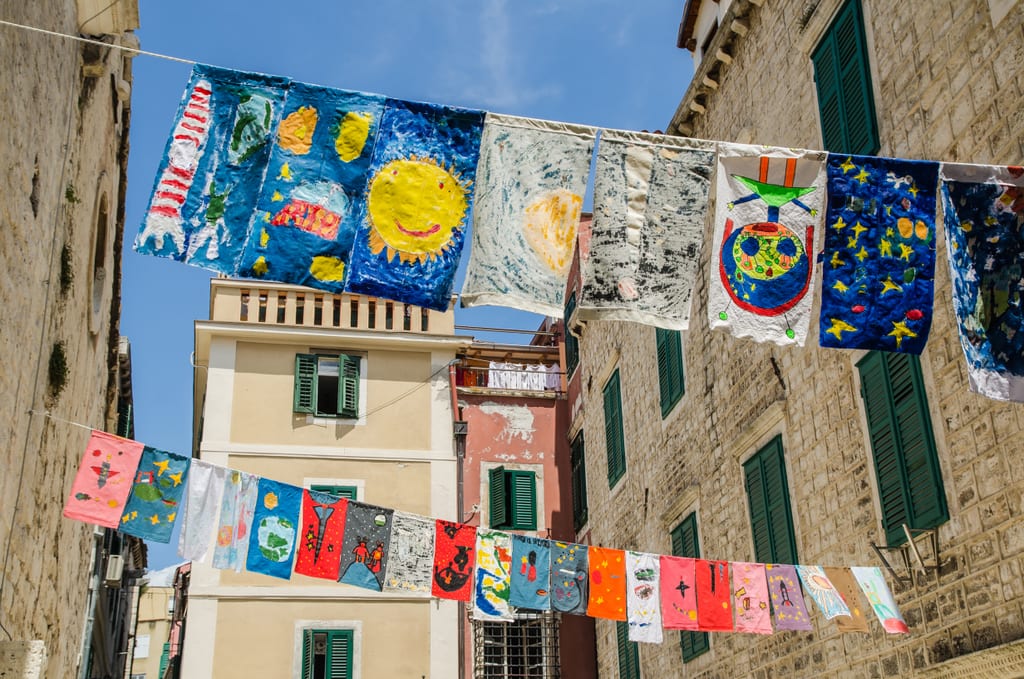 Šibenik is about a 20-minute drive from the town of Skradin, the gateway to Krka National Park.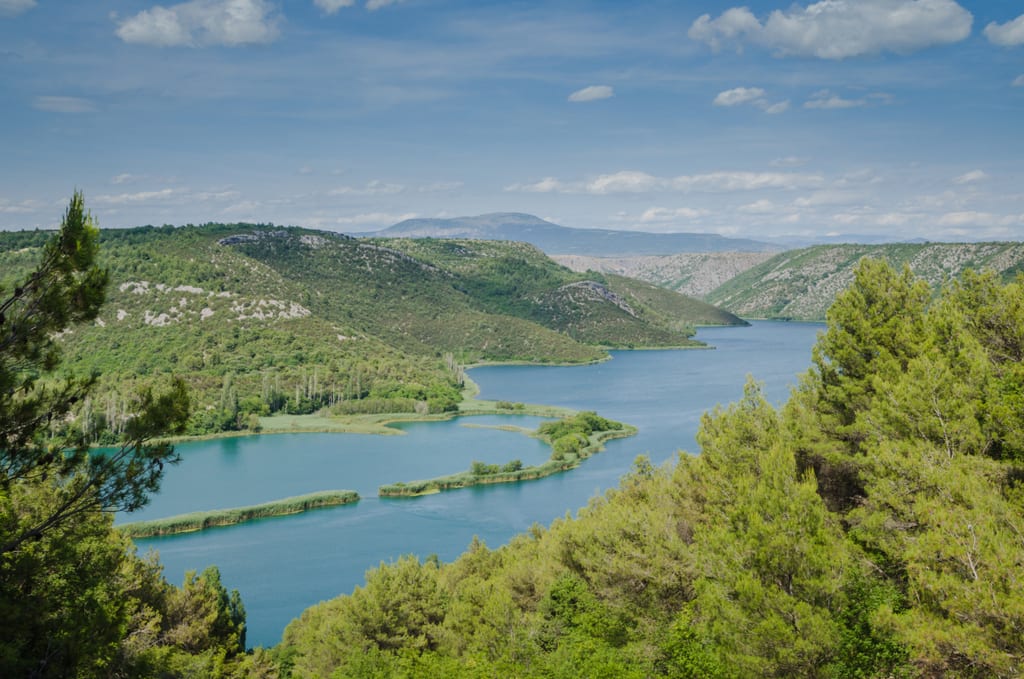 My Overall Recommendation
If you love beautiful waterfalls, you can't go wrong with either Krka or Plitvice, and it's not a waste of your time to go to both.
That said, if you're based on the Dalmatian Coast and apprehensive about making the long trip to Plitvice (or unable to spare a full day) and wondering whether it would be a mistake to go to Krka instead, don't worry — it's not a mistake. It's still a stunningly beautiful part of Croatia and you'll have a wonderful day.
---
Planning a Trip to Croatia:
Croatian Islands and the Dalmatian Coast:
Istria and the North:
---
Essential Info: Admission to Krka National Park ranges from 30-110 kuna ($5-20 USD) for adults and 20-80 kuna ($3.50-14) for students and children. Prices are the highest from June through September.

You can drive to Krka on your own, but if you don't have a vehicle, there are lots of tours available. This tour leaving from Zadar includes both Krka National Park and Šibenik.

Zadar is my favorite city in Croatia and I always recommend people use it as a base for exploring the region. Find the best deals on hotels in Zadar here. If you'd like to overnight in Šibenik, find the best deals on Šibenik hotels here.

Be sure to buy travel insurance before you travel to Croatia. Travel insurance could save your life or finances if you get sick or injured while traveling. I use and recommend World Nomads for trips to Croatia.
This campaign was created and sponsored by the Croatian National Tourist Board in partnership with iambassador. All opinions, as always, are my own.