Adventurous Kate contains affiliate links. If you make a purchase through these links, I will earn a commission at no extra cost to you. Thanks!
There are so many fun things to do in Hvar, Croatia! Hvar is one of the most popular islands to visit in Croatia, and for good reason. In fact, lots of travelers visit Hvar as their one and only Croatian island.
Hvar has long had a reputation is the party island. And yes, there's truth to that. The best nightlife in the Adriatic can be found here, especially in exclusive clubs like Carpe Diem Beach. Indeed, if you find a celebrity in Croatia, they will probably be hovering off the coast of Hvar on a yacht!
But Hvar is far more than parties and famous people. Hvar happens to be the sunniest island in Croatia, with 2800 hours of sunshine each year. Hvar is covered with pine forests and olive trees, and local vineyards make an incredible selection of Hvar wines.
And while the UNESCO World Heritage-listed Hvar Town is the big draw of the island, there are lots of more low-key towns to visit, from Vrboska to Velo Grablje. And in the month of June, lavender blooms on Hvar's hills.
In short, there's a lot more to Hvar than its reputation. I'd love to show you more of what makes Hvar one of the best places to visit in Croatia, the country that I love so much. Let's take a look at the best things to do in Hvar!
(Note: Hvar is the name of the island, as well as the name of the main town on the island. To avoid confusion, I will refer to the town as Hvar Town in this guide.)
This guide was published in March 2023.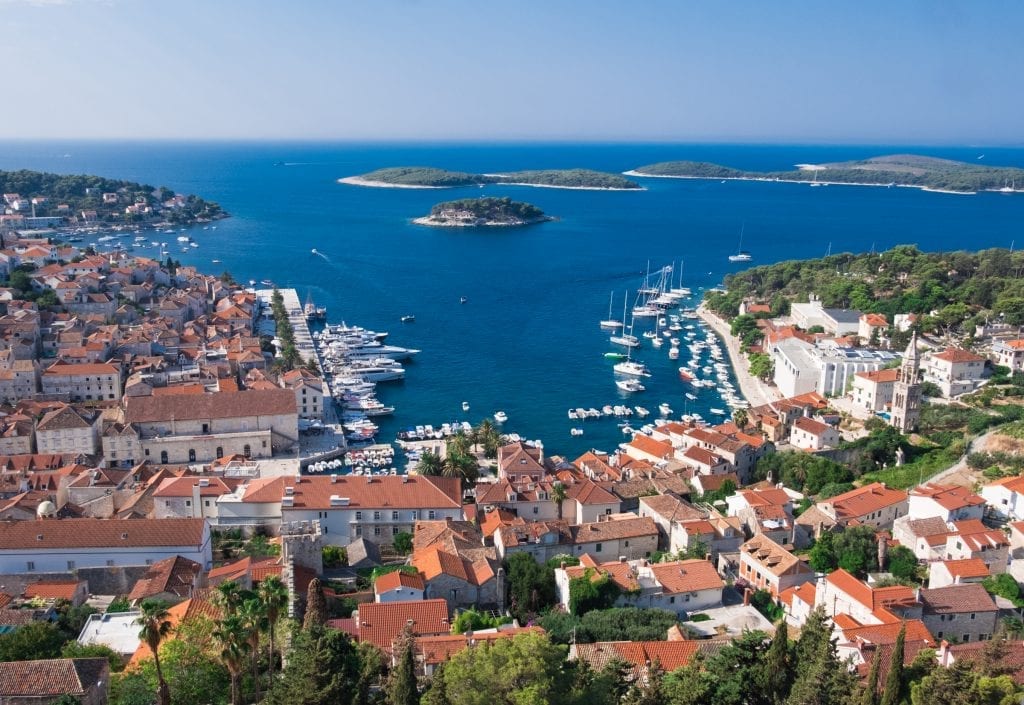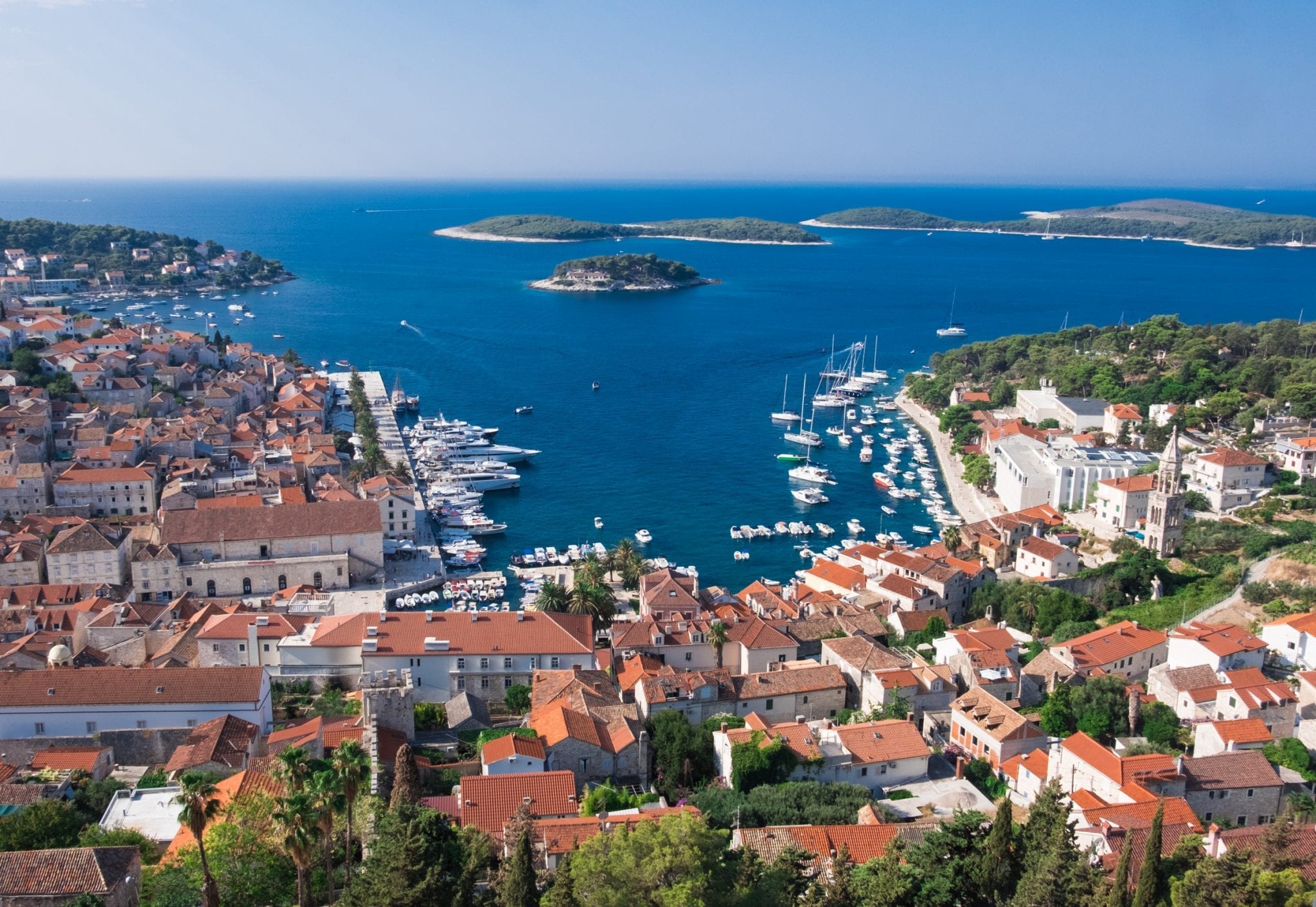 Best Things To Do in Hvar Croatia
How much time do you need in Hvar?
Most people only come to Hvar for a day or two, but I recommend visiting for three days or longer to actually get to know the island.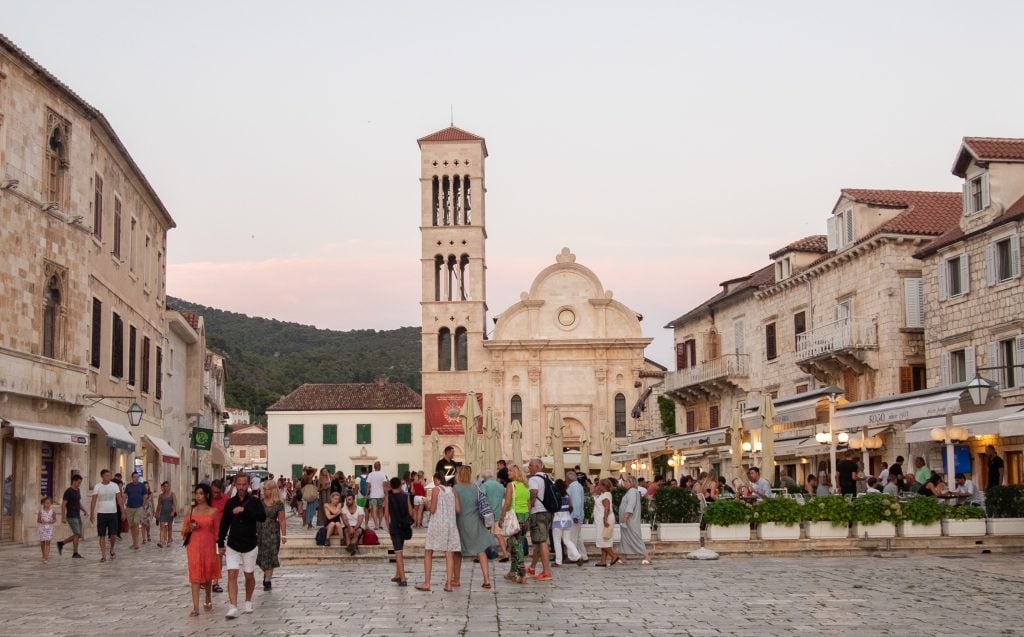 Explore Historic Old Town Hvar
Hvar Town has a rich past. This means that there are plenty of beautiful and fascinating sites to visit and explore. It's the perfect place for history enthusiasts.
The Cathedral of St. Stephen is a great place to start. This magnificent piece of renaissance Venetian architecture is a UNESCO World Heritage Site and dates back to the early 1600s.
It's also worth visiting the Franciscan Monastery and the Church of Our Lady of Mercy, which date back to the 15th century. The gothic exterior is stunning, but this location is also home to a museum full of ancient artifacts and artwork.
Another place that shouldn't be missed is the Hvar Arsenal and Theater. The building was constructed in the 14th century and would later be opened as a theater 200 years later. In fact, it was the first to be open to the public in all of Europe.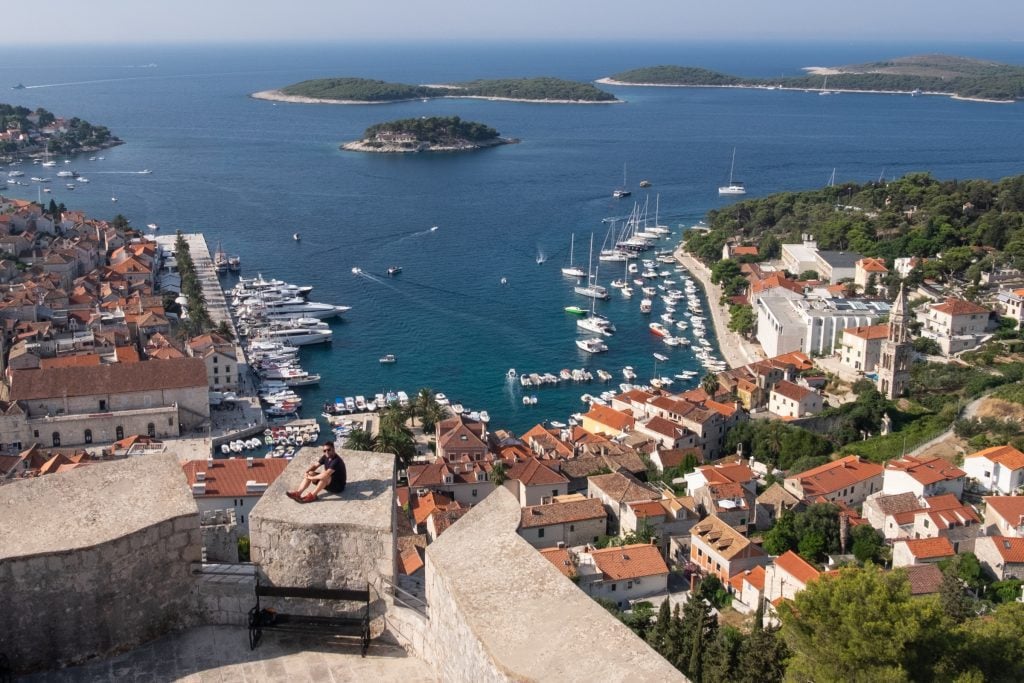 Check out the view from the Spanish Fortress
For an eagle-eye view of the area, you'll need to pay a visit to the Fortica. At the very top of this Spanish Fortress, you can glimpse all of Hvar as well as the Pakleni Islands. This might be your favorite photo you take in Croatia!
The ancient fortress sits high above Hvar town and has been built and rebuilt numerous times through the centuries. The site has roots that go back as far as 500 BC.
It's not a particularly large fortress, but the views alone make it well worth the trip.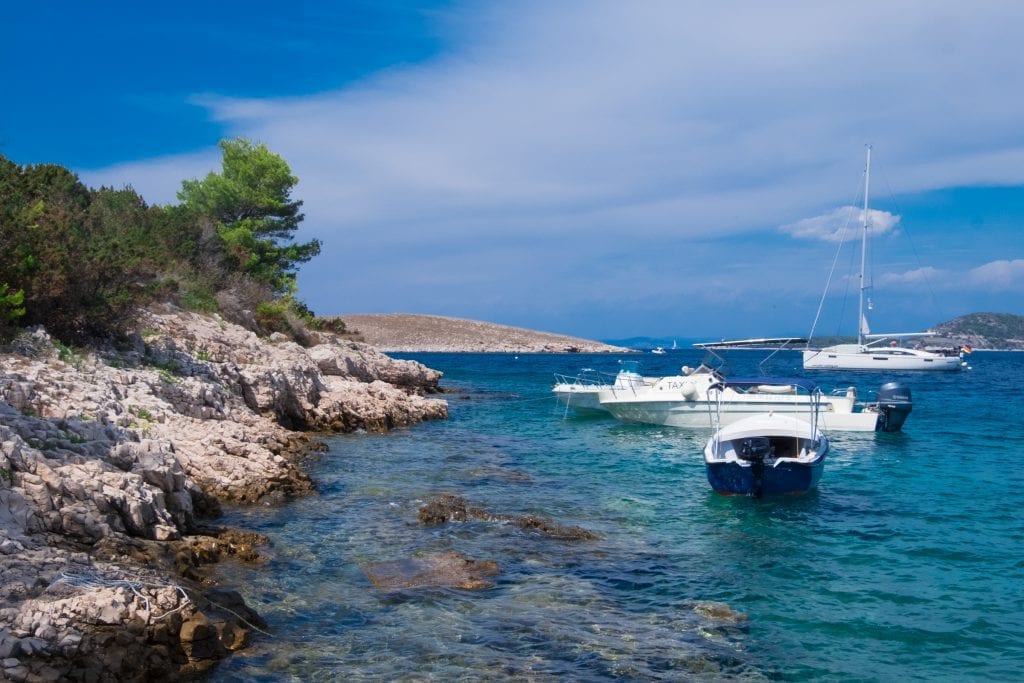 Sail Through the Pakleni Islands
As you arrive in Hvar Town, you'll notice a cluster of small islands in the distance. These are the Pakleni Islands, a small archipelago that are one of the best day trips from Hvar.
If you have experience driving boats, you can rent a boat and go off on your own. This can be done without a license — but I DO NOT RECOMMEND IT if you're new to boating! Charlie and I did this ourselves, and had a day full of disasters because we didn't know what we were doing.
Don't have boating experience? That's okay! Join a group tour and sail the Pakleni Islands on a yacht for a half day.
Alternatively, you can take a look at a private speedboat tour that can be rented for groups of 12 people or less or private yacht for up to 8 passengers.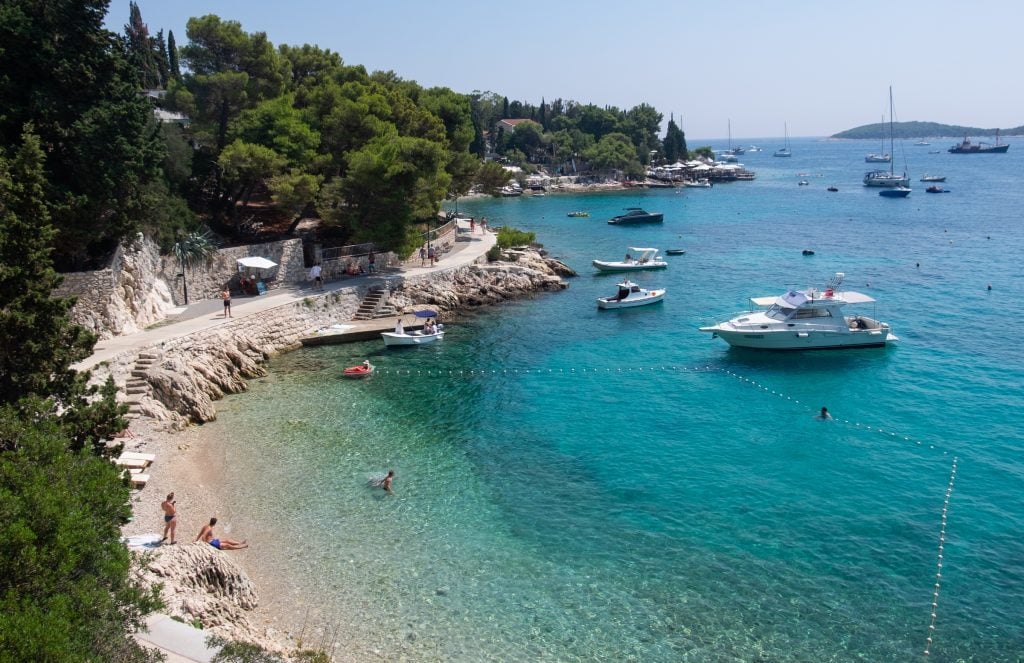 Relax on the Beaches
You can't visit the Adriatic without hitting up a few beaches! And Hvar has many worth visiting. (Don't forget your water shoes! They are beyond essential on rocky, pebbly Croatian beaches!)
Any tour of Hvar's best beaches should start with Dubovica Beach on the south side of the island, a good distance from the major towns. This pebble beach is framed by olive groves and pine trees and provides stunning views of the Adriatic sea.
If you're looking for a beach a little bit closer, check out Pokonji Dol Beach. This inlet is stunning and the ocean is several shades of aquamarine and teal.
And for something even closer to Hvar Town, Bonj Beach is also a great spot to visit. This stretch of shore is close to most of the major hotels, as well as many shops and restaurants, and makes a great spot for an impromptu dip.
Finally, for a more secluded experience, be sure to check out Malo Zaraće Beach. It might not quite be a hidden gem, but it's surrounded by lush evergreen trees and feels much quieter than some of the more popular villages.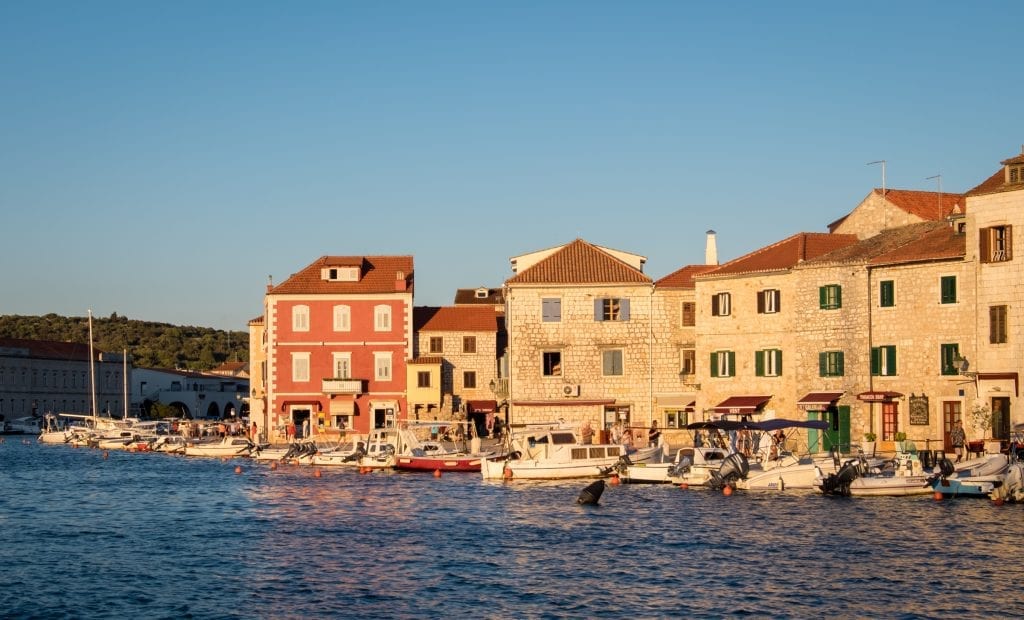 Visit Stari Grad
Many Hvar visitors don't see much beyond Hvar Town — but if you have time to explore, be sure to visit the town of Stari Grad, too. Stari Grad is the oldest town on Hvar island, far more chilled out than Hvar Town home to many sailors docking for the night.
There are lots of things to do in Stari Grad. Historic sites include St. Stephans Church, Tvrdalj – also known as Petar Hektorovic Fortress, the Dominican Monastery. You can also visit Roman ruins, vineyards, and farms as you trek the Field of Pharos. Plus, this area, another UNESCO World Heritage Site called Stari Grad Plain, is simply beautiful.
Stari Grad is also home to many great shops, bars, and restaurants. And bonus — prices are typically lower in Stari Grad than in Hvar Town.
Make sure you stroll down the Stari Grad Riva or Stone Lanes to explore many of these local hotspots while taking in the delightful architecture and scenery. Finally, you'll want to visit the White Cross on Glavica Hill. This is the highest point in the area and offers panoramic views of the island, the Adriatic, and more.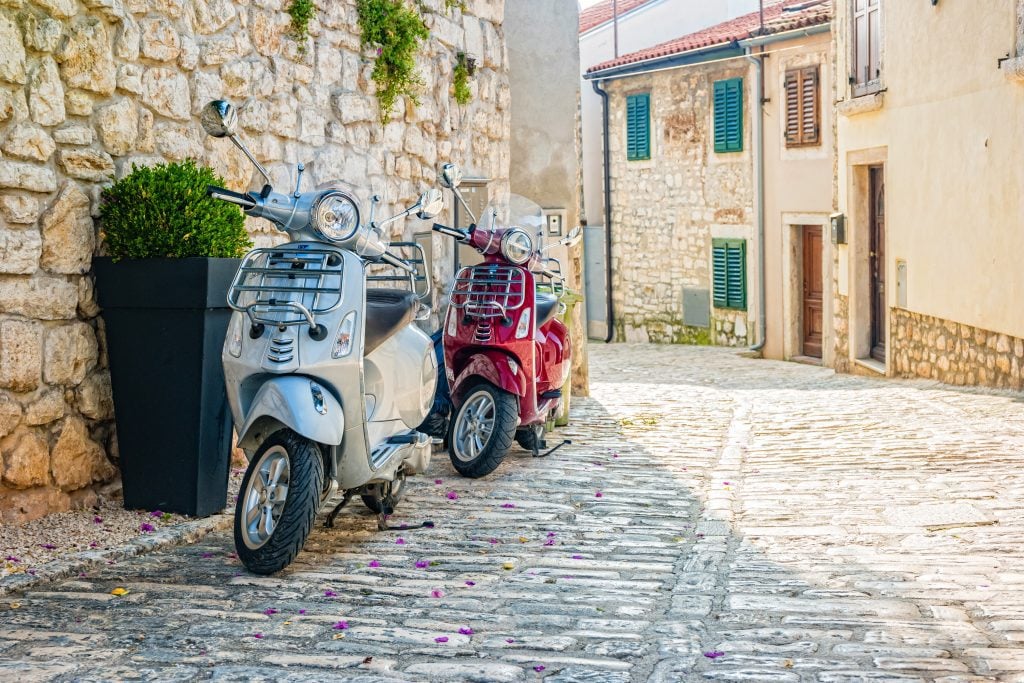 Explore on a Scooter
Ever dream of riding around the Mediterranean on a scooter? Hvar is a great place to make this dream come true! Hvar is a pretty big island, and if you don't have a car, a scooter will allow you to see a lot of spots independently.
(And if you're nervous about riding a scooter — it's nothing to be ashamed of, I've been riding scooters for more than a decade and still get nervous — Hvar is a very calm island with no traffic or big cities, and roads are in great condition.)
Book a scooter rental for one of your free days in Hvar. Most of the fun is just exploring wherever looks cool — but I highly recommend you check out the canal town of Vrboska and one of the further beaches, like Dubovica. The scooter people will give you a map with island attractions.
Each scooter rental can accommodate two people and you can rent the scooter for as little or as much time as you need, from a couple of hours to an entire day.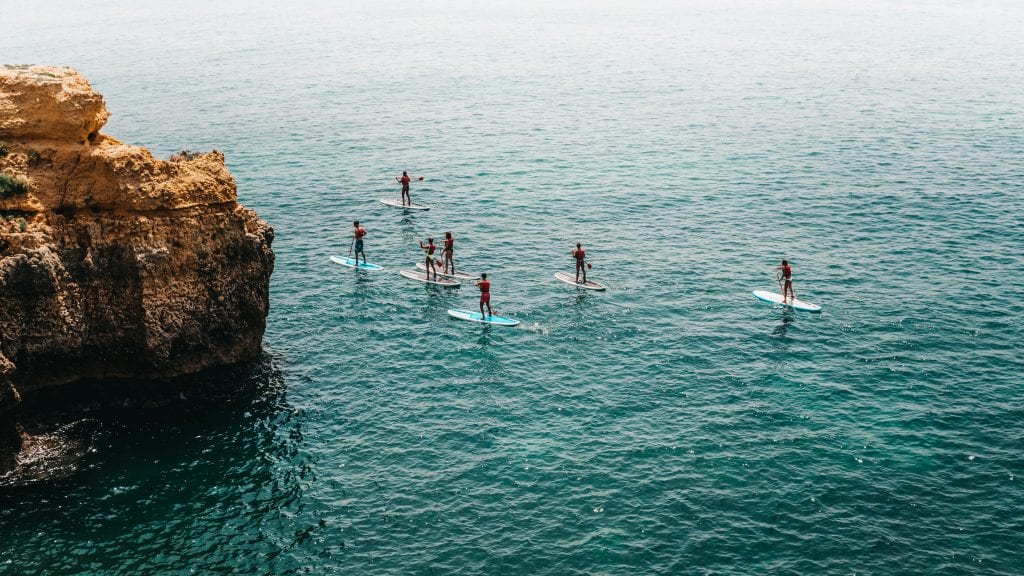 Go Kayaking or Paddleboarding
Croatia is one of my favorite places I've ever kayaked. The clear, neon waters of the Adriatic make it an absolute joy to explore from your own boat.
Private Half-Day Kayak Rentals are conveniently located on Bonj Beach in Hvar Town, a great launching point to exploring the surrounding waters. You can rent and explore as you please.
If you'd rather take a group tour, there are also small group excursions to the Pakleni Islands — though keep in mind this is a more athletic journey. It's about 30-45 minutes to cross the channel, then another 45 to reach the first beach. That's a LONG time if you're new to kayaking.
Those interested in stand-up paddleboarding (SUP) can simply rent a paddleboard and related gear if you're ready to take off and go adventuring on your own. Watch the waves when boats go by!
You can also take a Hvar SUP tour, a great choice for beginners. This experience will allow you to learn how to balance and paddle before your guide leads you to beautiful locations.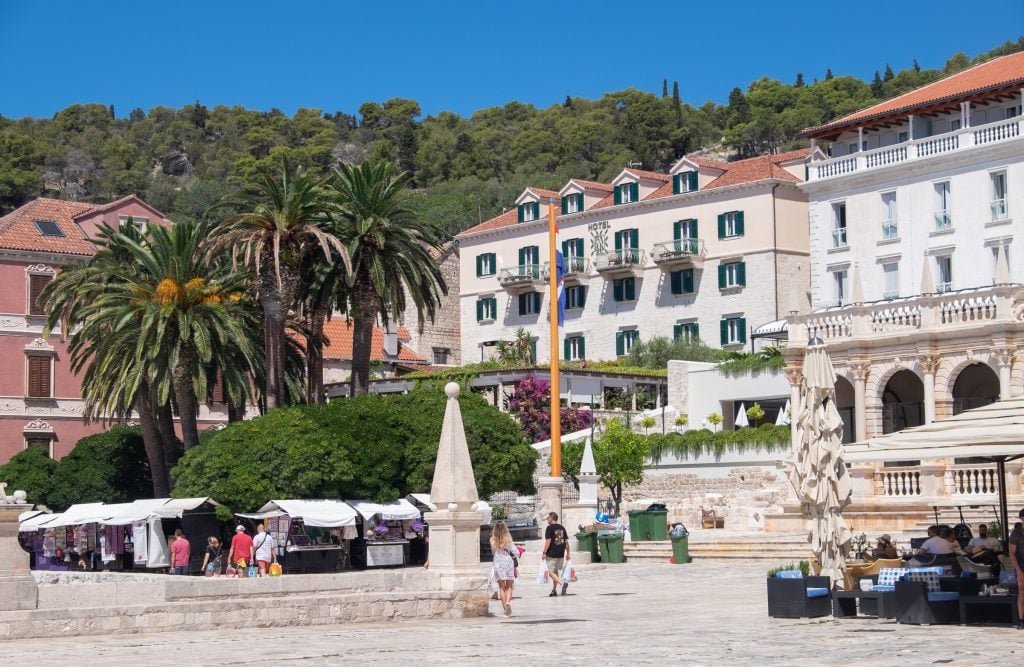 Take a Hvar Walking Tour
If you really want to connect with a place, you have to explore it on foot. Walking tours are a great activity when you first arrive in a new place, giving you the lay of the land and historical context from your expert tour guide.
If you're interested in the history and architecture of Croatia, the Jewels of Hvar tour is perfect. You'll be led to sights like the Spanish Fortress, the Hvar Public Theater, and the Arsenal and Theater. Along the way, you'll learn about Hvar's rich past and get to know the stories of the island.
Another option is the Venetian Hvar Walking Tour. This experience will focus on a niche part of Hvar's history during which the Venetian Kingdom ruled the island. If you're a fan of Renaissance art, this tour is tailor-made for you.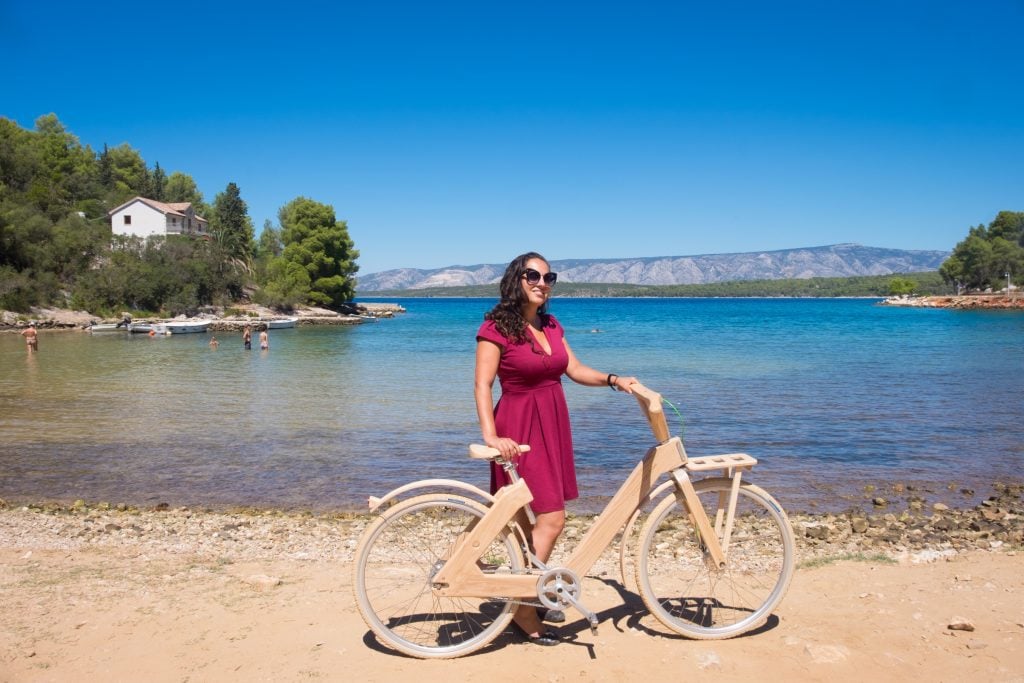 Explore the Island by Bike or Quad
Biking can be an excellent way to cover more ground in a new area. It's a great way to explore Hvar independently, but keep in mind that Hvar is a large island — you probably won't be able to cover the further reaches of the island like you could with a car or scooter.
If you're up for a tour, Cycle Hvar Tour is a great option. This experience will take you through the Stari Grad Plains, rustic countryside villages, and more. Along the way, your guide will fill you in on the local history and culture.
For those that love mountain biking adventures, the Pure Cycling tour is sure to be a hit. This is a guided mountain bike experience that will take you through rural villages and the scenic countryside. You'll also enjoy a traditional Croatian meal at a local restaurant.
If you're a thrill-seeker or are just looking for something more unique, you might enjoy a quad bike experience, as well. The Quad Squad Hvar Island tour is an awesome way to see the sights in a really fun way.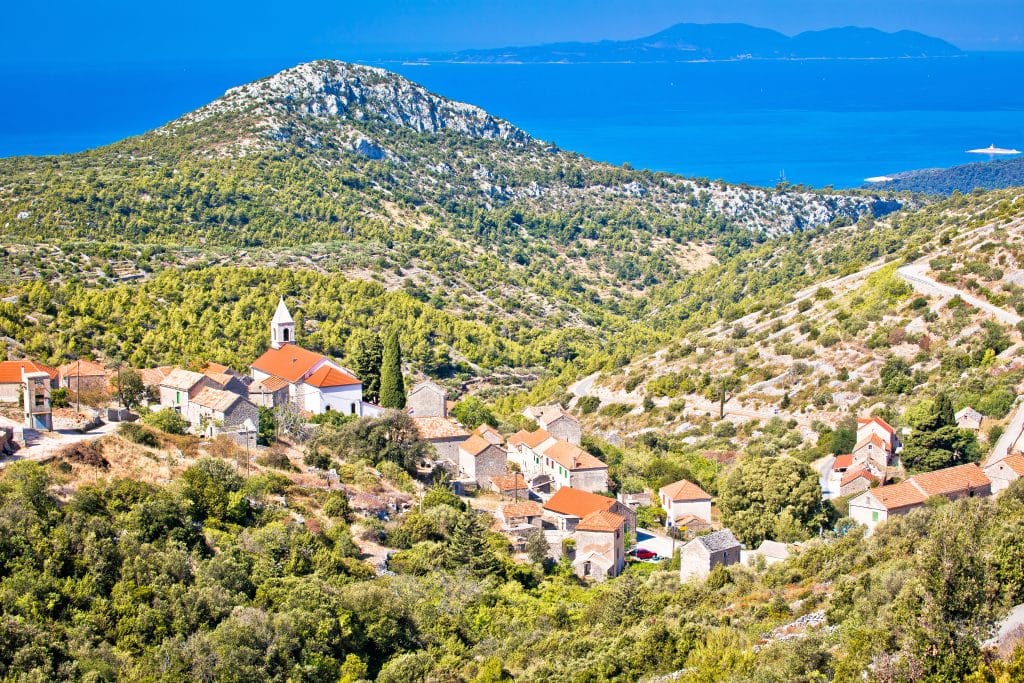 Visit Velo Grablje
On the way from Hvar Town to Stari Grad, you'll pass through a remarkably charming village. It can be easy to overlook Velo Grablje, since this tiny hamlet is only home to 5 residents. However, this little village is well worth visiting, despite its small size.
Velo Grablje is historically known for producing lavender, and it's a tradition that is still kept alive today. If you're interested in fragrance and flowers, you shouldn't miss the Lavender Festival that is hosted in June.
The small town of Velo Grablje should also be visited purely to enjoy the scenery. There are ancient homes and buildings dating back to the 14th century and tons of natural beauty. It's a picturesque spot on your day of exploring Hvar.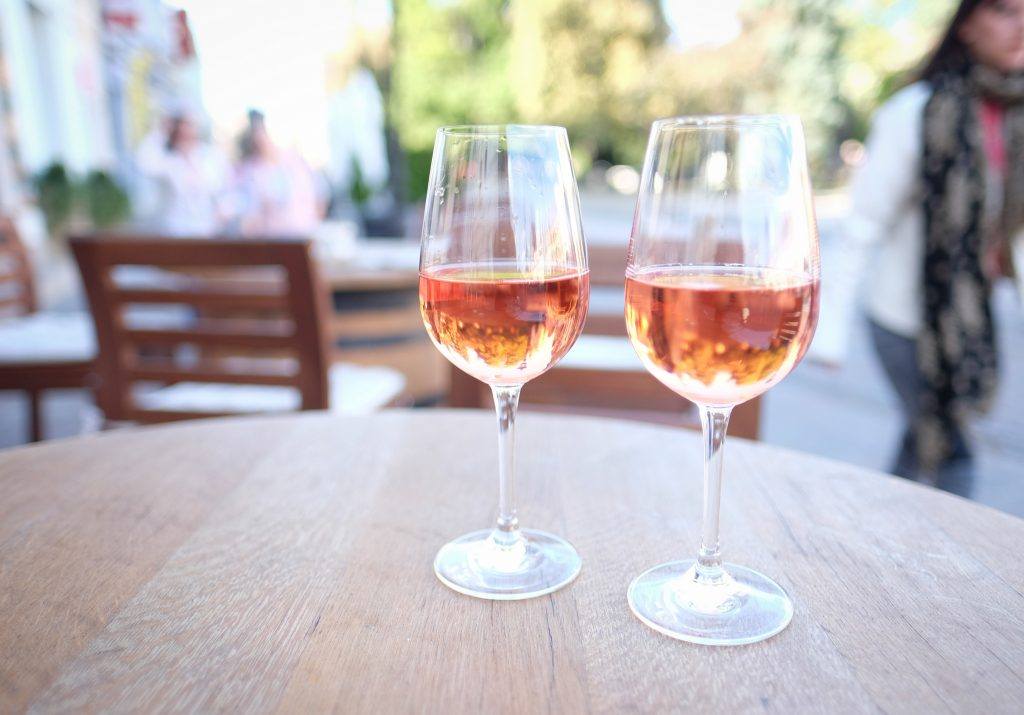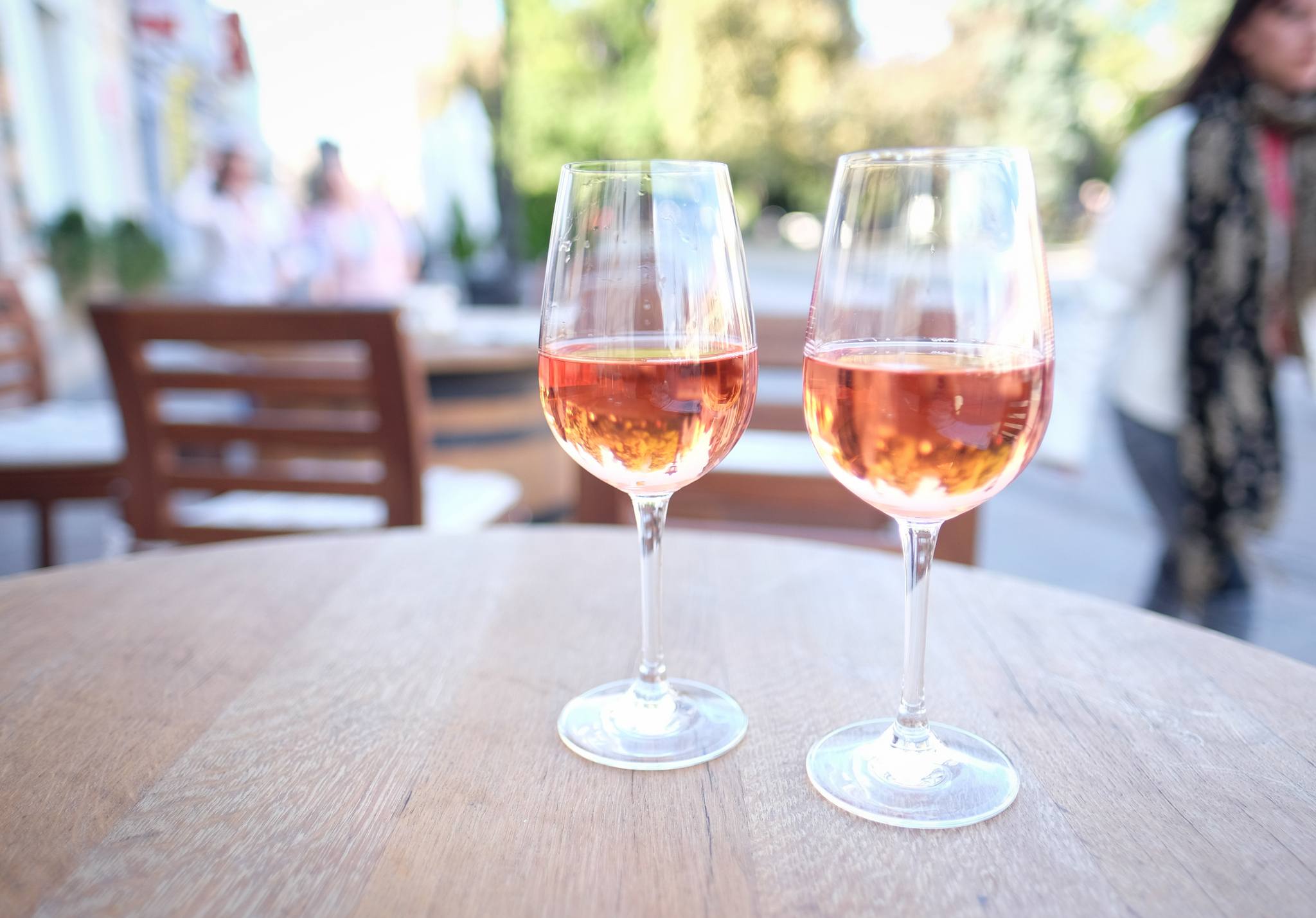 Go Wine Tasting
The Dalmatian Coast is a fantastic destination for wine tasting, and each island has its own special varieties. Hvar, in my opinion, gets too often overlooked as a wine destination in favor of Korčula or Istria. Hvar's locally grown white wines in particular are lovely.
The Twice the Wine tour is a great option if you are looking for a short excursion to spend half a day sampling wine and regional specialties.
Alternatively, if you're interested in the full experience, you can participate in the Hvar Small Group Wine Tour and Authentic Dalmatian Dinner. You'll spend eight hours at two vineyards and be served a full meal.
Those with a sweet tooth might also enjoy the Chocolate and Wine Tasting Tour! Of course wine should be paired with chocolate! Why doesn't everyone do this?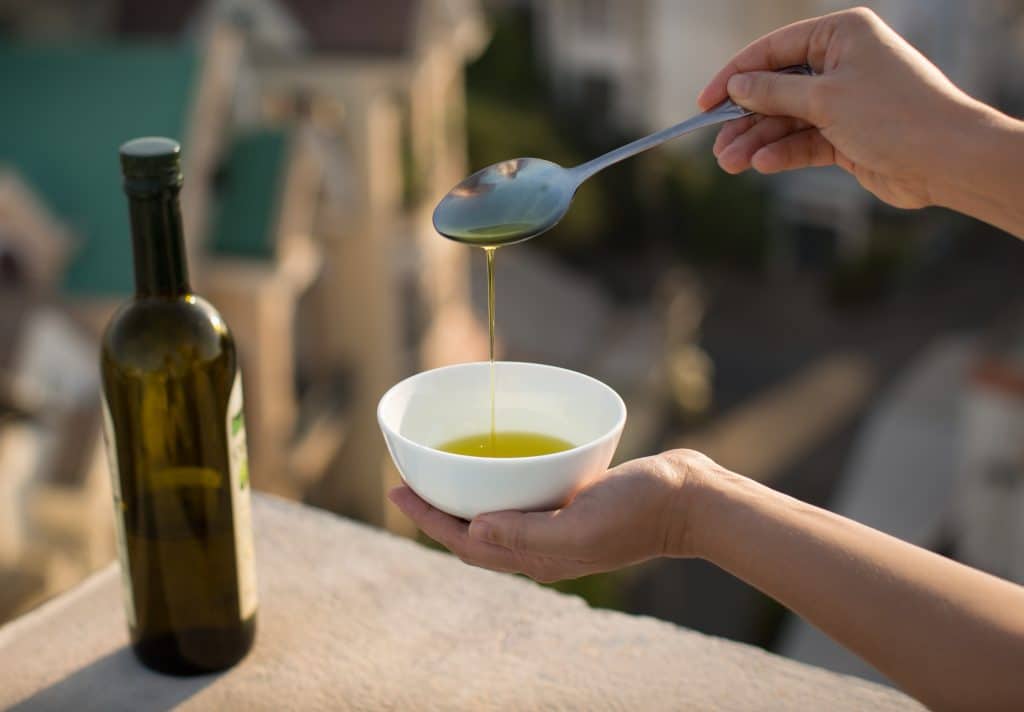 Go Olive Oil Tasting
If you're not a drinker but want to sample the local fare, olive oil tasting is one of the best things to do in Hvar. Olive oil production is a tradition in the Mediterranean, and if you're not from here, the differences in oils might surprise you.
The Hvar Island Tour and Olive Oil Tasting is a great way to explore the area and partake in local fare. In addition to trying some delightful olive oil, you will be led by a guide through scenic fields of lavender and different rustic villages.
If you're interested in the history of olive oil, you might enjoy a tour to an ancient olive tree (it's over 2500 years old!). This tour also has a beach stop with optional swimming or snorkeling.
Finally, if you're just looking for the ultimate foodie experience, the Traditional Flavors of Hvar tour shouldn't be missed! In addition to olive oil, you'll also be able to enjoy some local honey, chocolate, cheeses, and meats.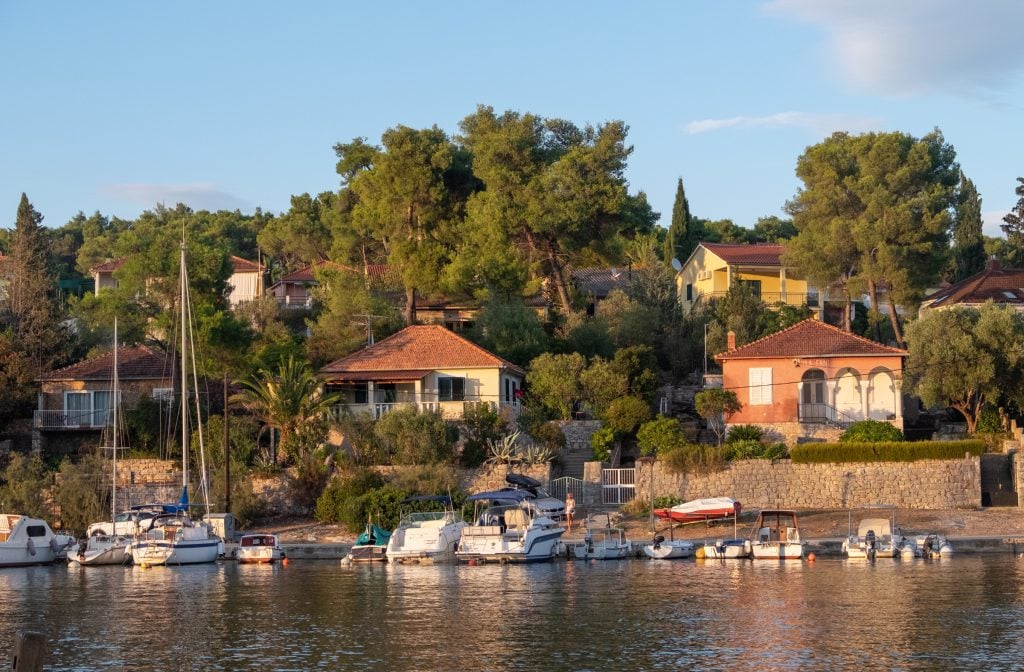 Discover the Hidden Gems of Hvar
If you'd like to dive a little deeper, the Hidden Gems tour provides a great overview of Hvar. On this trek, you'll be able to visit some of the top sights in the area, including Velo Grablje and the French Fortress. You'll also enjoy a traditional Dalmatian meal.
If nature is your passion, you shouldn't miss this lavender tour. If you visit during lavender season — June into early July — you'll get to see lavender fields. At other times, you'll get to explore more of the countryside — think quiet villages and scenic hiking trails. It's a nice, nature-focused foil to more urban Hvar town.
And finally, the Romantic Walking Tour shows you the amorous side of Hvar town. It's a unique tour that's perfect for honeymooners!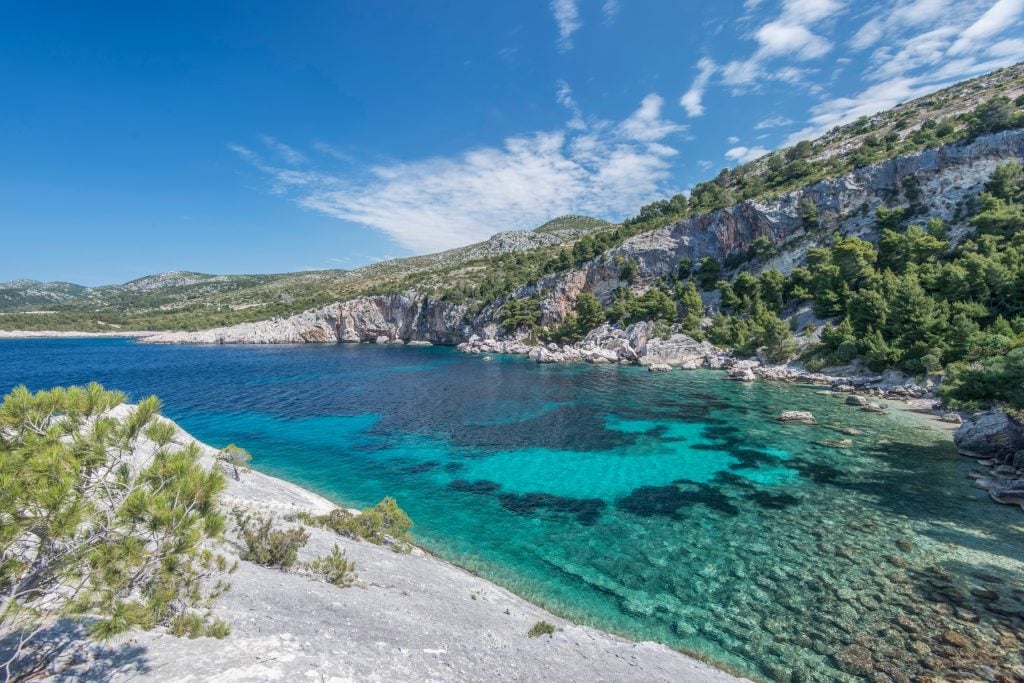 Walk the Coastal Trail to Milna
Not far from Hvar Town is the quaint little village of Milna. Here you'll find a market and several restaurants you can visit to enjoy some local cuisine. Like other areas on the island, Milna is full of history, warmth, and culture.
(Keep in mind that Milna is a popular town name in Croatia, and you'll find a Milna on several different islands!)
Milna's beaches are probably the best part of this little town. Just beyond the village is Mekicevica Bay, which contains two pebble beaches. In addition to being beautiful and sunny, this bay is also very secluded. It's the perfect spot to relax and enjoy the crashing waves in private!
To access Milna and the surrounding Mekicevica Bay, you can take the coastal trail. Starting in Hvar, it's just a 20-minute walk, with beautiful views along the way.
Hike to the Napoleon Fortress
If the Spanish Fortress isn't enough uphill hiking or a high enough view for you, continue on to the Napoleon Fortress, which is even higher. This fortress dates back to 1812, when French forces under the rule of Napoleon built it.
The best way to visit the Napoleon Fortress is to go on foot. Hiking the trail from Hvar Town takes approximately 30 minutes and will allow you to explore a lovely pine forest. Be sure to wear good hiking shoes — this isn't the place for flip-flops.
Once you're at the top of the hill that the fortress is perched on, you'll be able to enjoy some beautiful sightings of Hvar Town, the coastline, and the Pakleni Islands.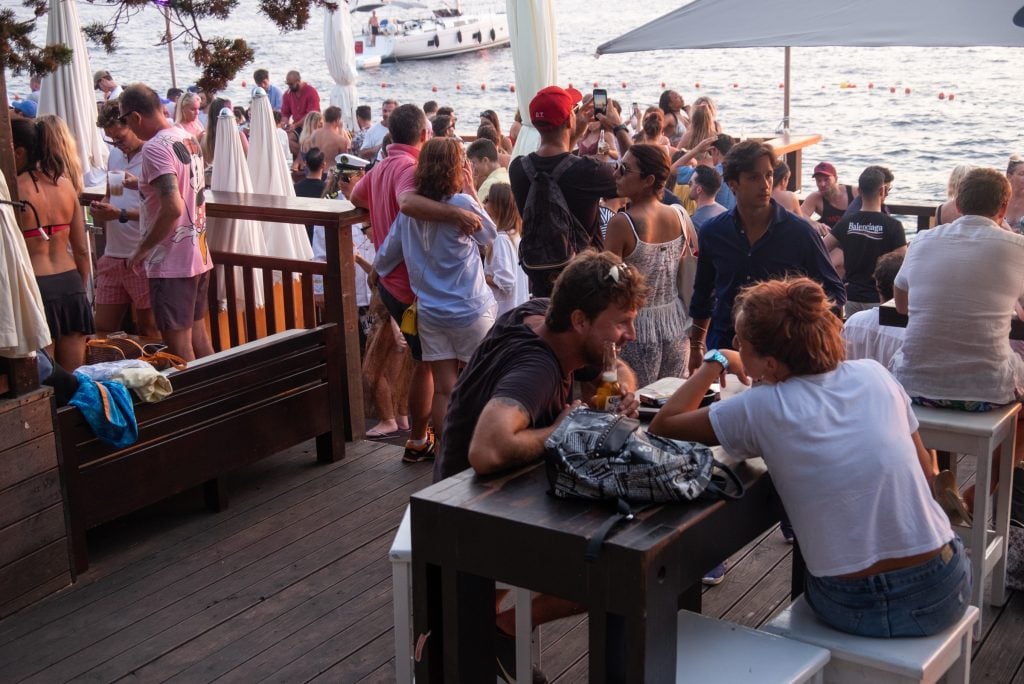 Enjoy Hvar's Legendary Nightlife
It's no secret that Hvar is the nightlife capital of Croatia. That's the one tidbit that most people know about Hvar! While you can find plenty of casual bars in Hvar Town, Stari Grad, Jelsa, and beyond, there are a few special places worth mentioning.
Carpe Diem, a beach club in the Pakleni Islands, is one of the most nightlife spots on the Adriatic, and welcomes a celebrity clientele. They also host many special events, such as fashion shows biweekly. You'll need to take a water taxi to get there.
Hula Hula Bar is a great spot if you're interested in day drinking by the beach.
If you'd rather enjoy a lavish setting with cabaret vibes, you can check out Pink Champagne for burlesque shows.
There's also Adriana Top Bar for a rooftop experience with the best views you can enjoy with a cocktail in hand.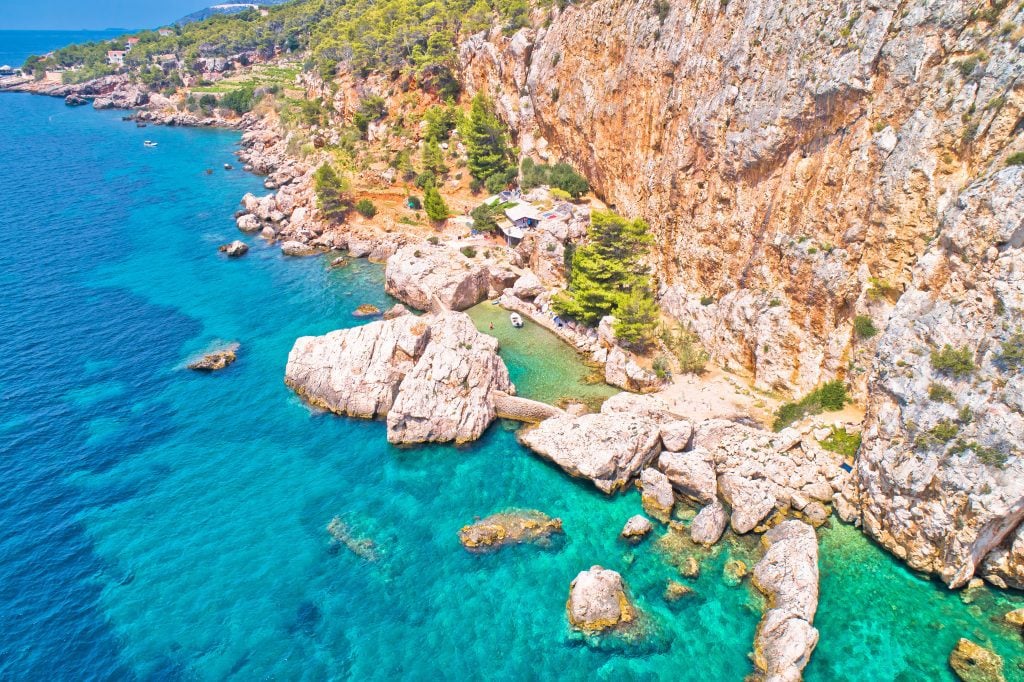 Visit Sveta Nedjelja
On the southern part of the island of Hvar, a cool place to visit Sveta Nedjelja. This is a small village of 130 people, but it's home to historic homes, lovely beaches, and stunning scenery.
Sveta Nedjelja is found underneath St. Nikola, the 626-meter peak that is the highest on the island. Along the rising hills surrounding the village, grapevines grow and sustain the local vineyards. There are also many olive orchards and lavender fields in the nearby area.
However, one of the best things about this town is the beautiful beaches that line its shore. Once you're here, you're off the beaten path in Hvar.
Try out a Unique Sport
Okay, okay, you want something unusual! That's great, because Hvar has a lot of them.
If you've ever wanted to feel like an ancient warrior, Battle Archery might be for you. The rules are similar to a cross between paintball and dodgeball, with all the fun of bows and arrows.
Alternatively, you might want to hit the Warrior Range. This activity will allow you to try all sorts of historical weapons, like axes, knives, blowguns, and more!
If you'd rather experiment with a form of a sport you're familiar with, there's always Bubble Football! (As in soccer, my fellow Americans.) You can shoot goals and run around a field while you and your friends are wearing zorb balls.
You can try Footpool, which is a fun take that combines soccer with billiards. You can also play paintball with your pals.
Finally, if you just can't choose, you may be interested in the Fun Olimpic experience. This tournament experience includes games of boccie, beach volleyball, and a giant boxing fight. There's also human table football, which is similar to foosball, except you ARE one of the plastic players!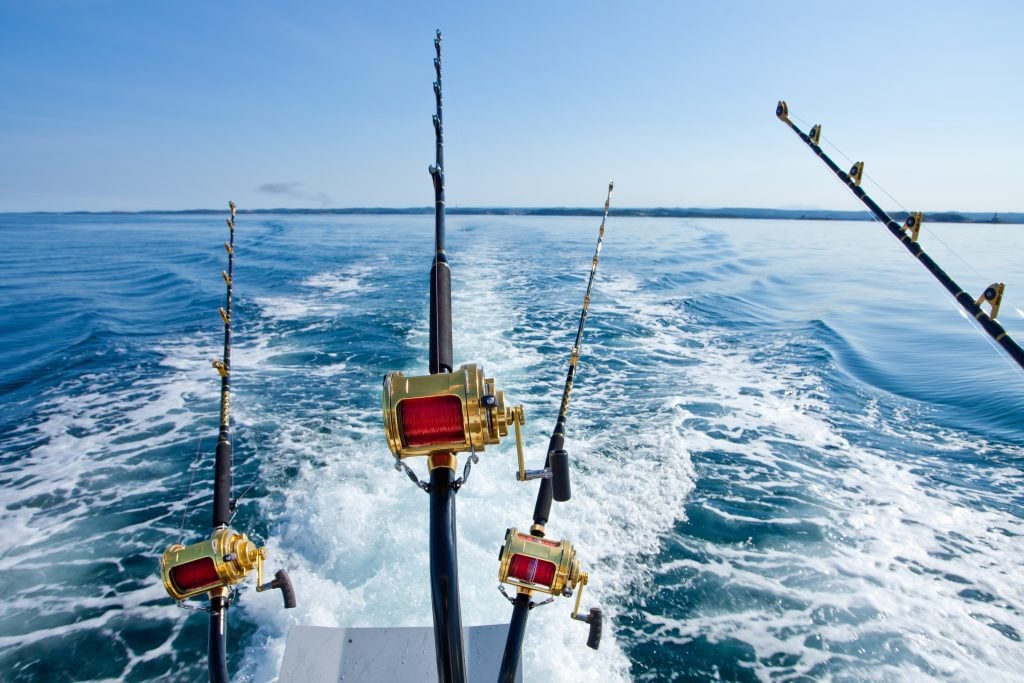 Go Deep Sea Fishing
If you're into fishing, you'll want to take a deep-sea fishing trip in Hvar. There are plenty of fish in the sea here.
This experience includes the boat trip and the resources that come with having a professional fisherman as your guide. You'll utilize various tactics to secure your catch, including hooks, nets, and traps. Permits, bait, equipment, as well as refreshments also come as part of the package.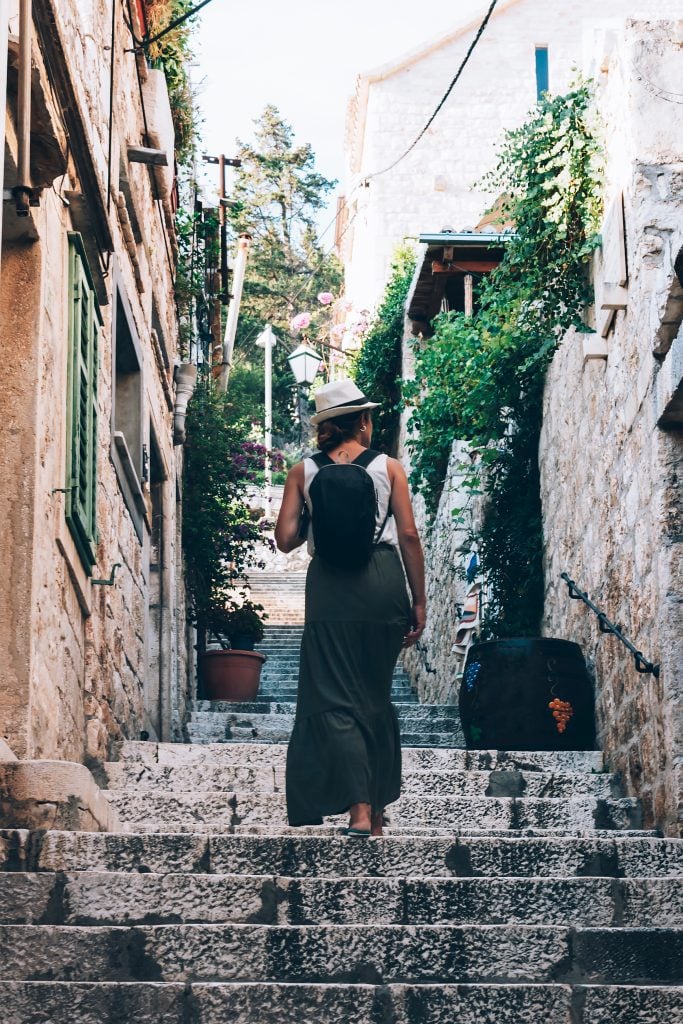 Have a Professional Photoshoot
I love doing professional photo shoots in different places I travel. These professional photos come out a million times better than anything you can get from asking a random passerby to take a shot.
Plus, it makes a perfect choice for holiday cards.
You can book this private photo shoot in Hvar and get photos on one of the most beautiful coastal destinations in Croatia. As always, you might not love every single photo, but you'll end up with several you'll treasure forever.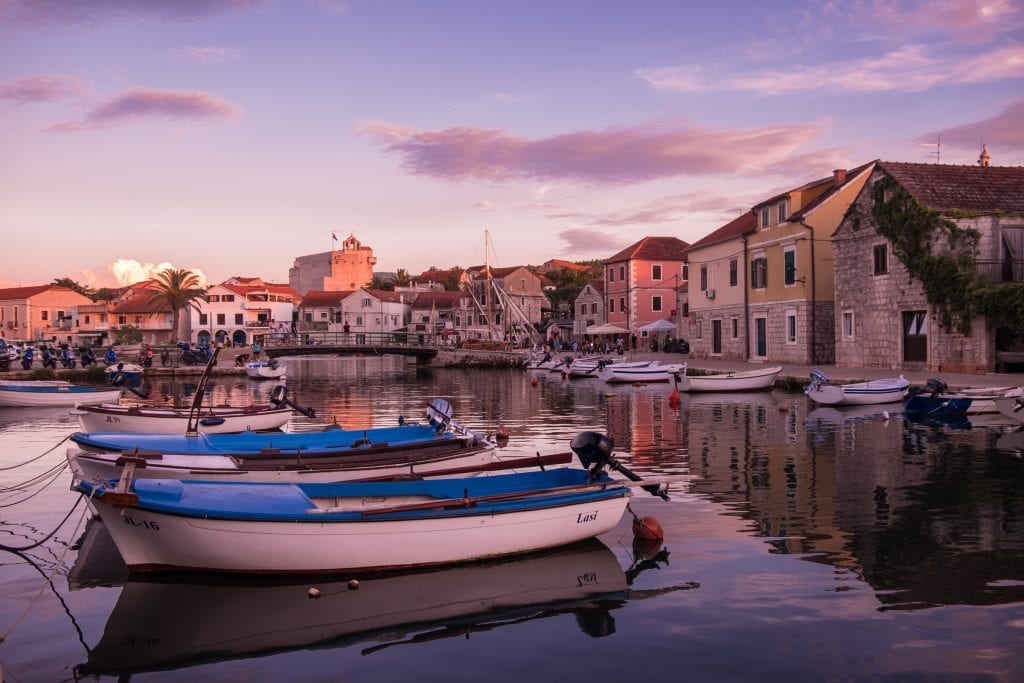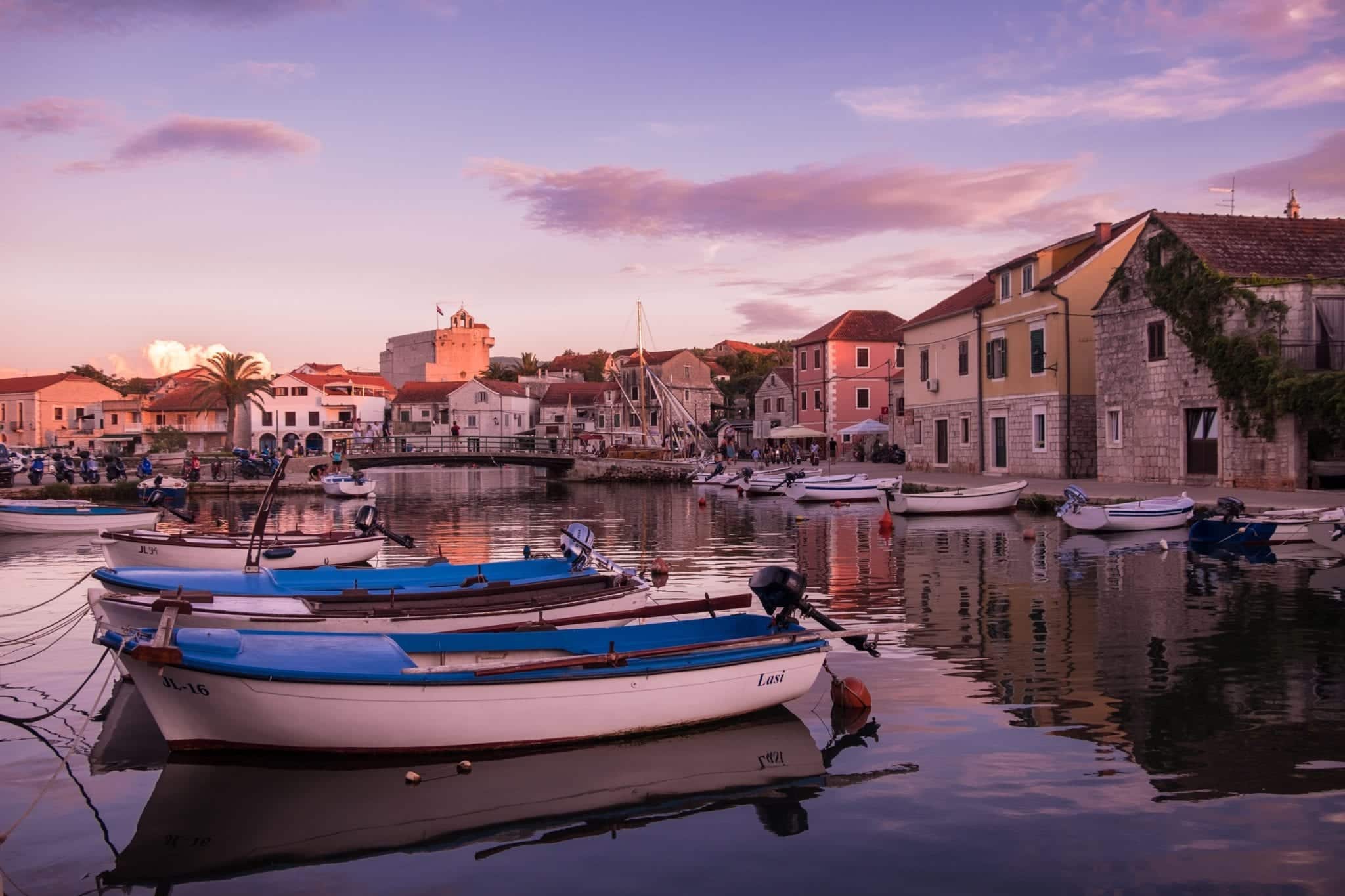 Visit Vrboska
One of my favorite towns in Hvar is Vrboska — and I feel like so few people know it exists! A canal winds through this town, making it feel like something out of Venice. Numerous bridges dot the waterway, making it all feel mysterious.
Vrboska is home to approximately 500 people and has a few attractions worth stopping in to see. There's a small museum dedicated to fishermen, and two churches, St. Mary and St. Lovre, which date back to the 16th and 15th centuries respectively. And there are many secluded coves surrounding the town.
I especially recommend visiting Vrboska at sunset for the best photos. There are also several restaurants in town where you can get dinner.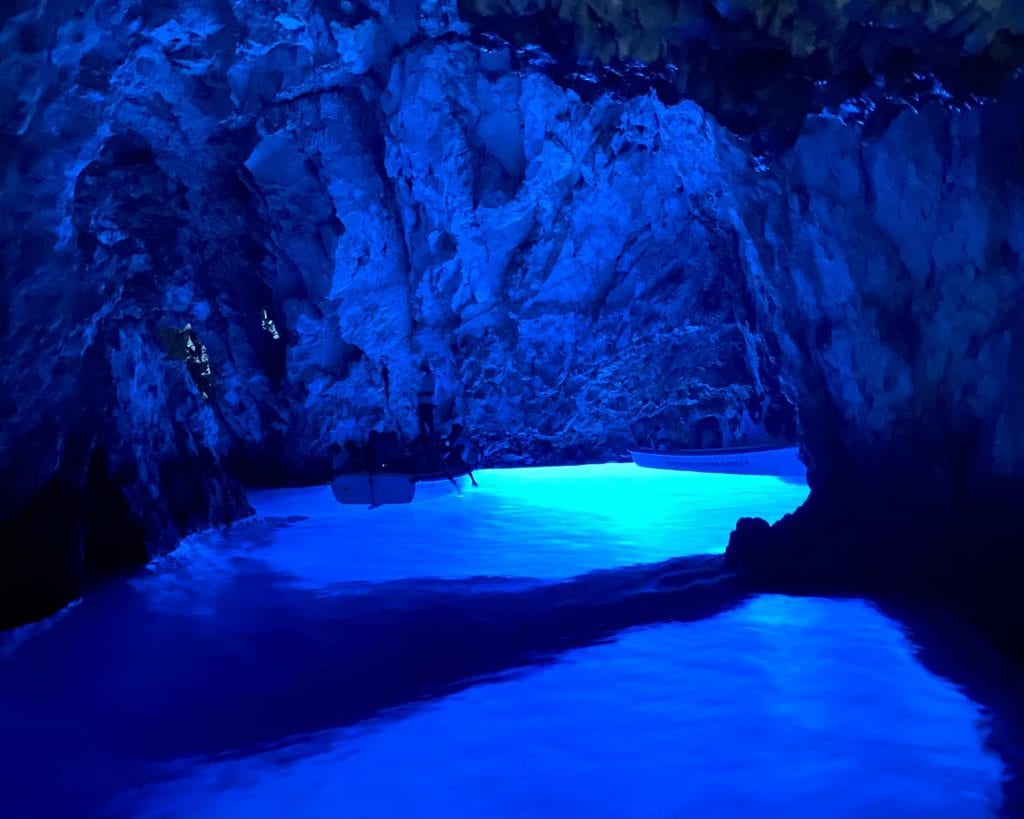 Visit Vis and the Blue Cave
While you're in the area, it's worth checking out another of my favorite Croatian islands, Vis. Vis is the furthest island from the mainland, but it's doable as a day trip from Hvar. Most famously, Vis is home to the Blue Cave, which fills with blue light around midday in the summer.
There are several speedboat tours available for hire. These will pick you up in Hvar and take you past the Pakleni Islands and on to Vis. Along the way, you will have plenty of time to enjoy various beaches and snorkel and swim through the ocean.
There are several tour options, like the Blue Cave & Vis Speedboat tour, accommodating as many as 12 people, and an Adventurous Blue and Green Caves Group Tour.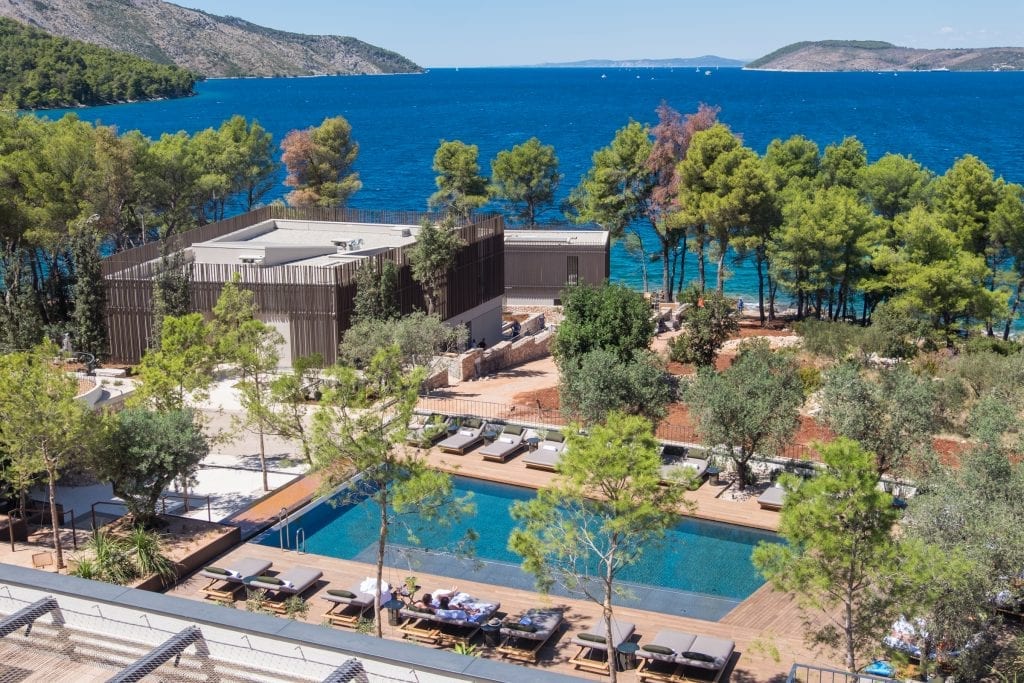 Where to Stay in Hvar Croatia
My all-time favorite Croatian hotel happens to be in Hvar. It's called Maslina Resort and it's located just outside Stari Grad, a stone's throw from where the car ferry drops you off.
This is a sustainable resort specializing in "mindful luxury." I adored the staff, the food, the rooms, and that luxurious pool, which you can enjoy while watching the ferries sail by. It's THE place to kick back and relax. And I achieved my dream of having a sink made of white Brač stone!
I have an interview with manager Zoltan about how they built it and opened during the early days of the pandemic, which you can read here.
But if not Maslina Resort, where? You've got lots of options. Three of the main towns to stay in are Hvar Town, Stari Grad, and Jelsa. I personally have stayed in all three of those towns.
Hvar Town is the most happening (and expensive) place to stay, but if you have a car, you won't want to stay in the heart of the carless Old Town. Stari Grad and especially Jelsa are cheaper, but you're further away from the action in Hvar Town. Keep in mind the buses don't run super-often.
Top-Rated Hotels in Hvar
It's also worth mentioning that Hvar, like many Croatian islands, primarily has apartments and rentals rather than hotels. However, you don't need to look for them on Airbnb (and its ridiculous fees) — most of them are listed on Booking.com too.
Find deals on places to stay in Hvar here.
How Much Time to Spend in Hvar
Many people planning a tour throughout Croatia only stop in Hvar for a night or two. You can certainly do that if you'd like, but know that most people who do that barely end up leaving Hvar Town and don't get to see much of the island.
Stay in Hvar for three days or longer will let you get to see more of the island — think sunset in Vrboska, driving a scooter around the island, Stari Grad Plein, a day trip to the Pakleni Islands.
That said, the Dalmatian islands are all about trade-offs. Do you visit many, or just one? You could visit Hvar in depth, or visit several islands more superficially.
Finally, it comes down to what you prefer as a traveler. Is Korčula or Vis more your style? You might prefer spending more time on either of those islands rather than Hvar.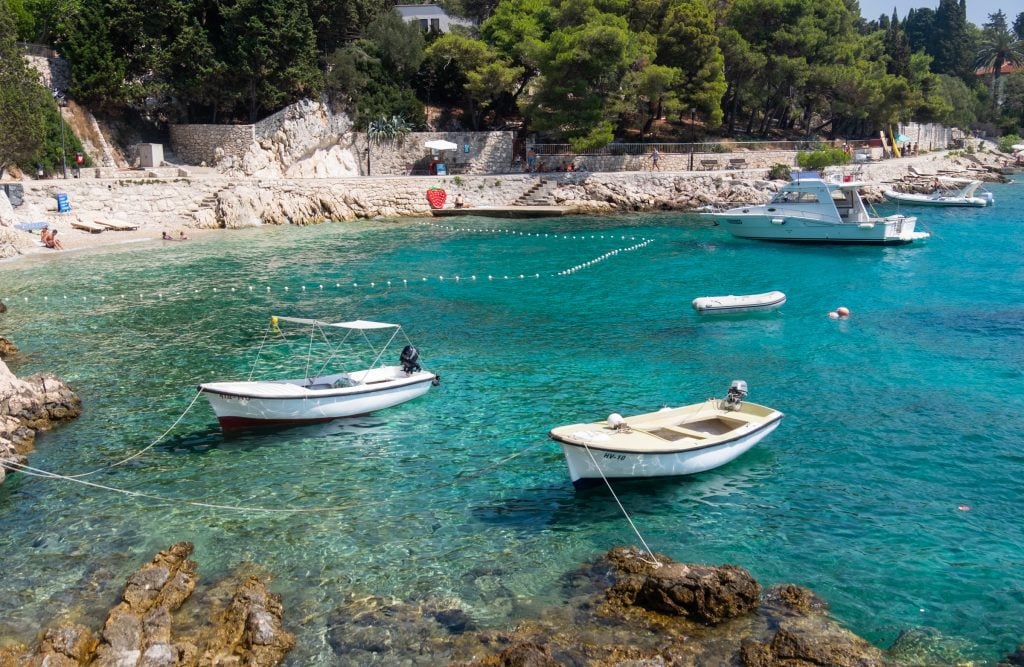 How to Get to Hvar
The closest and most convenient airport to fly into to visit Hvar is Split, Croatia. I recommend spending a day in Split, then taking a morning ferry to Hvar. You can see my Split travel guide here.
From there, it depends on whether you have a car or not. If you have a car, you'll take the car ferry from Split to to Stari Grad, Hvar. This journey takes about two hours. See the Split to Stari Grad ferry schedule here.
From Stari Grad, Hvar, can take car ferries to Vela Luka, Korčula; Sobra, Mljet; and eventually, Dubrovnik.
If you don't have a car, you could take either the car ferry or the passenger-only catamaran. The catamaran leaves directly from Hvar town and has ferries to Vis, among other destinations.
Additionally, there are ferries from the town of Jelsa on Hvar to Bol on Brač.
You can find all the ferry schedules here.
How to Get Around Hvar
If you don't have a car and want to explore Hvar, you have a few options. You can take the bus between towns like Hvar Town, Stari Grad, Jelsa, and Vrboska, which is easy and I've done before.
But public transportation doesn't run very often, even in high season, and it doesn't run to many parts of the island. Having a car really helps you get around.
Another option? Rent a scooter. I would highly recommend renting a scooter if you don't have a car in Hvar. It's just the best way to see the most of a deceptively large island.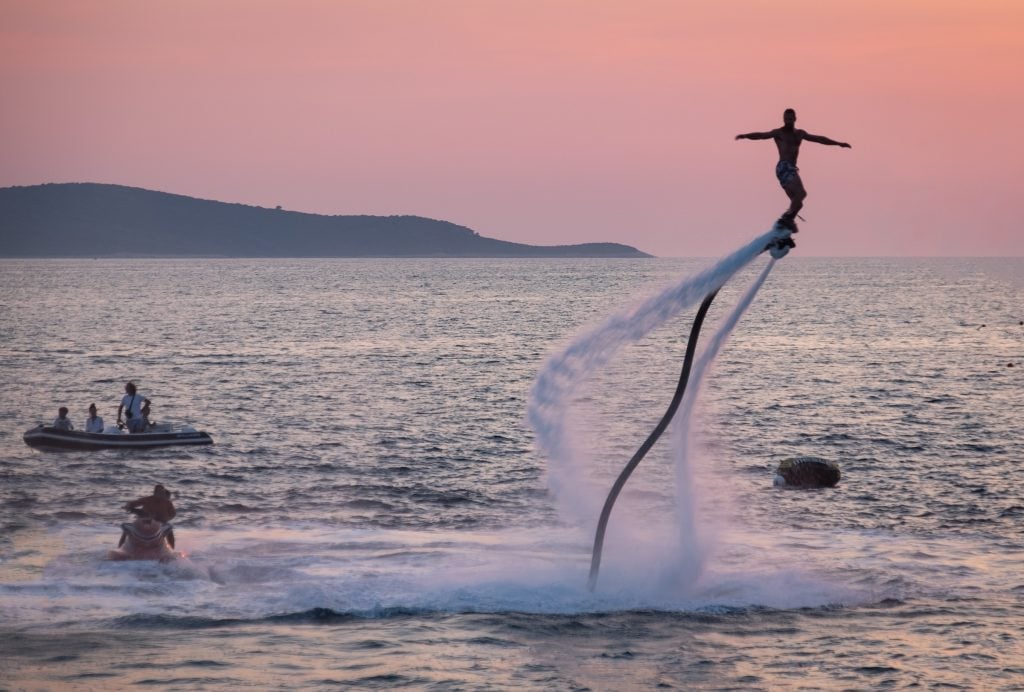 Best Time to Visit Hvar Croatia
Speaking personally, I think the best time to visit Hvar is September. This is the best of all worlds: you get to enjoy beautiful summer weather (including swimming and sunbathing!), but it's far less crowded than July or August, and kids are back in school.
June has many of the advantages of September, but the water tends to be much warmer at the end of the season. I'd happily swim in Hvar in early October as well.
If you're looking to party at the legendary clubs, the best time to visit Hvar is during July or August. This is when the summer parties are at their peak. It gets much quieter in May and even June and September.
If you're looking to experience Hvar's lavender fields, you should aim for June or early July.
The summer months (especially July and August) are peak season in Croatia's islands, including Hvar, and I recommend booking your accommodation as early as possible. Know that it will be most crowded and expensive at this time of year.
Like many Croatian islands, Hvar is very quiet during the off-season, and many businesses close their doors, from hotels to restaurants. I don't recommend visiting Hvar during the winter unless you're here to write your novel or something.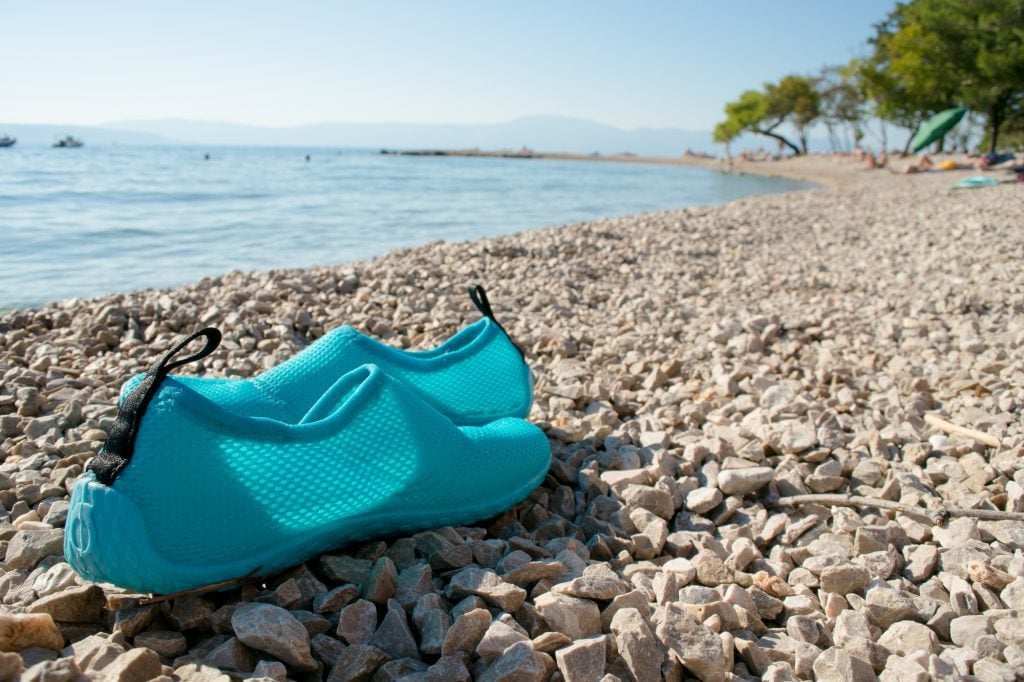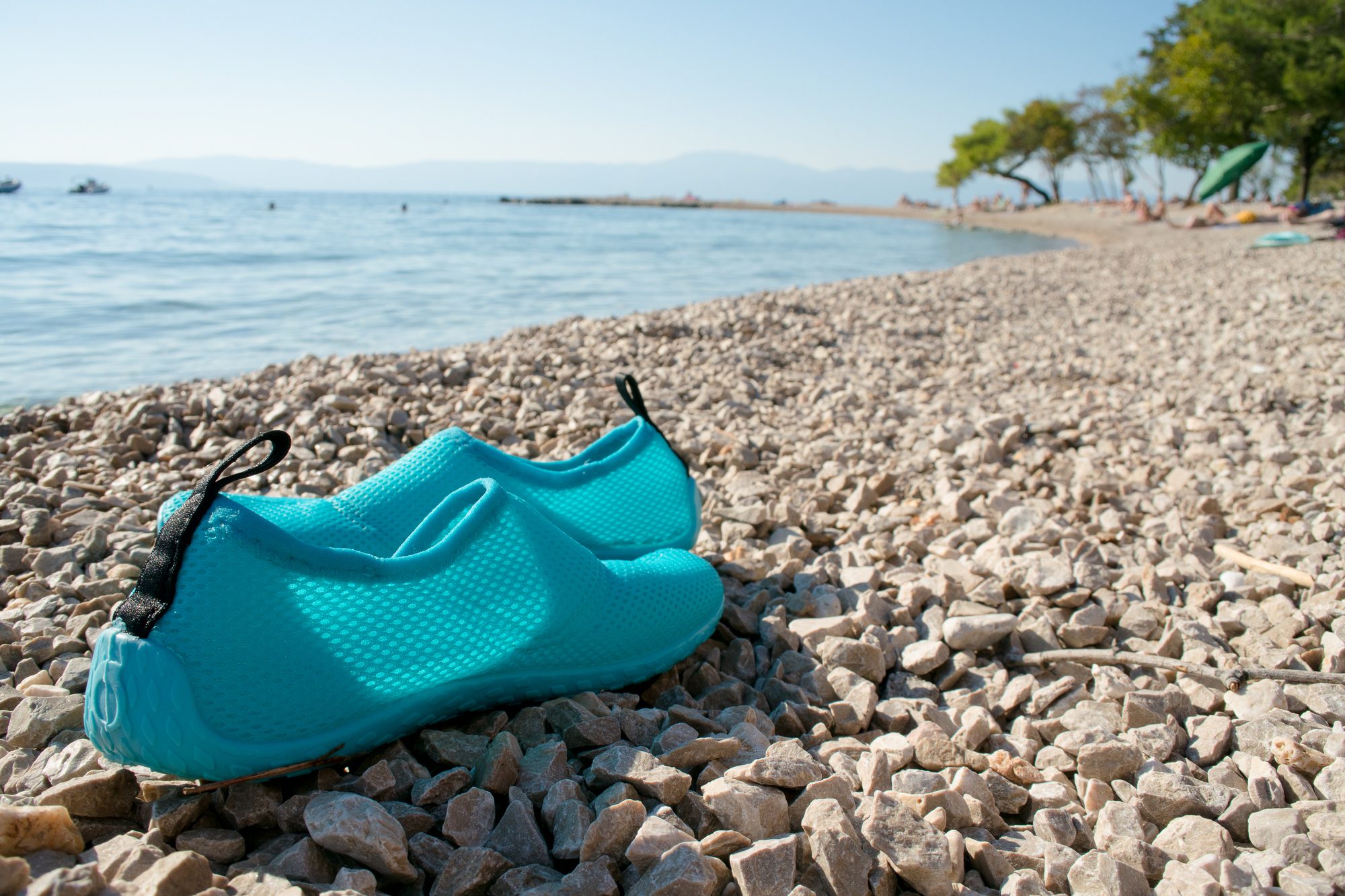 What to Pack for Hvar, Croatia
There isn't necessarily a packing list specifically designated for Hvar — but there are some items that work particularly well for Croatia.
Here are some items that you should consider bringing on your Croatia trip:
Water shoes — A necessity when walking on Croatia's rocky beaches. They will protect your feet from sharp rocks and help you stay upright.
Sports sandals — An easy, comfortable way to get around, especially for climbing rock slabs, and a better alternative to flip-flops.
Insulated water bottle — Saves you money but more importantly keeps you hydrated and does not add to plastic waste.
Reef safe sunscreen — Reef safe sunscreen is much better for the environment as a whole, whether there are coral reefs or not.
Wide-brimmed hat — Provides additional protection from the sun, especially great for boat trips.
Dry bag and/or waterproof phone bag — Protect your electronics when out on the water and keep them dry when swimming.
Portable safe — Keeps your valuables safe and only needs to lock to something sturdy in your room.
Speakeasy Travel Supply Scarf — The perfect hidden pocket that no pickpocketer will ever expect! Keep your money in the hidden pocket!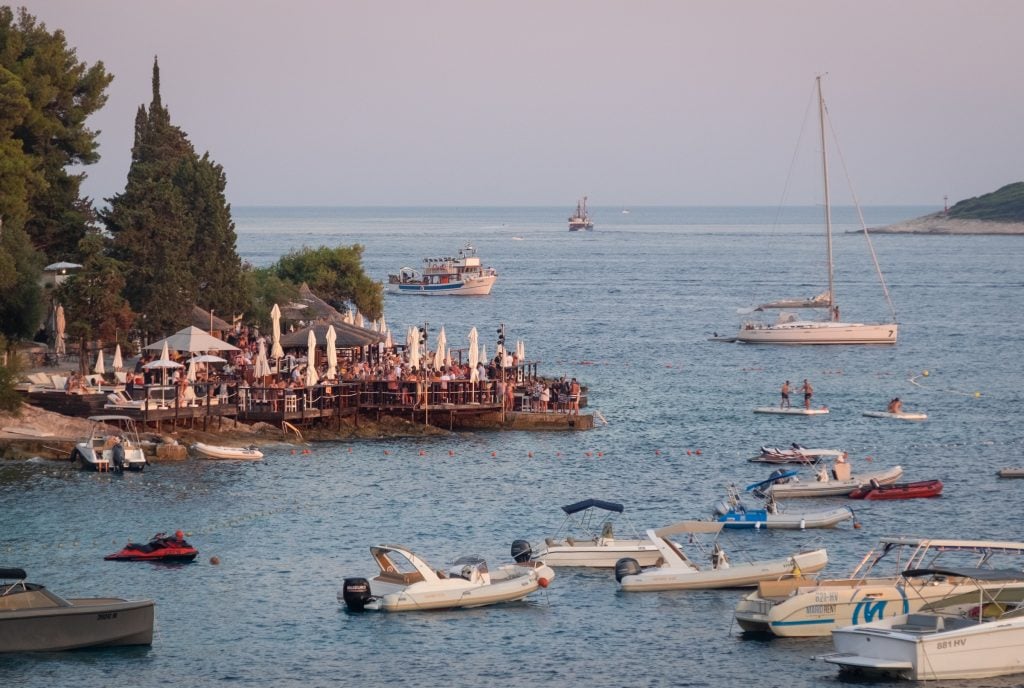 Travel Insurance for Croatia
A lot of people don't think it's necessary to get travel insurance for Croatia — after all, it's a safe country with decent healthcare. But you need it, even in Hvar. If you get sick or injured on your trip, if you get robbed, or even if you have to be flown home, travel insurance will protect you from financial ruin. I have used World Nomads for trips to Croatia.
I have thankfully never needed to call my travel insurance for help while in Croatia — but I do have a friend who had to visit the hospital after being stung by a wasp in Split, one who sprained her ankle after falling down the steps in Dubrovnik, and one who got her wallet stolen and needed to go to the police station.
While Croatia's hospital prices aren't anywhere near what the US would charge you, you could end up paying a lot of money for a serious medical issue. But travel insurance protects you and refunds you for your costs. It's the kind of thing you don't know you need until you need it. See if World Nomads is right for you here.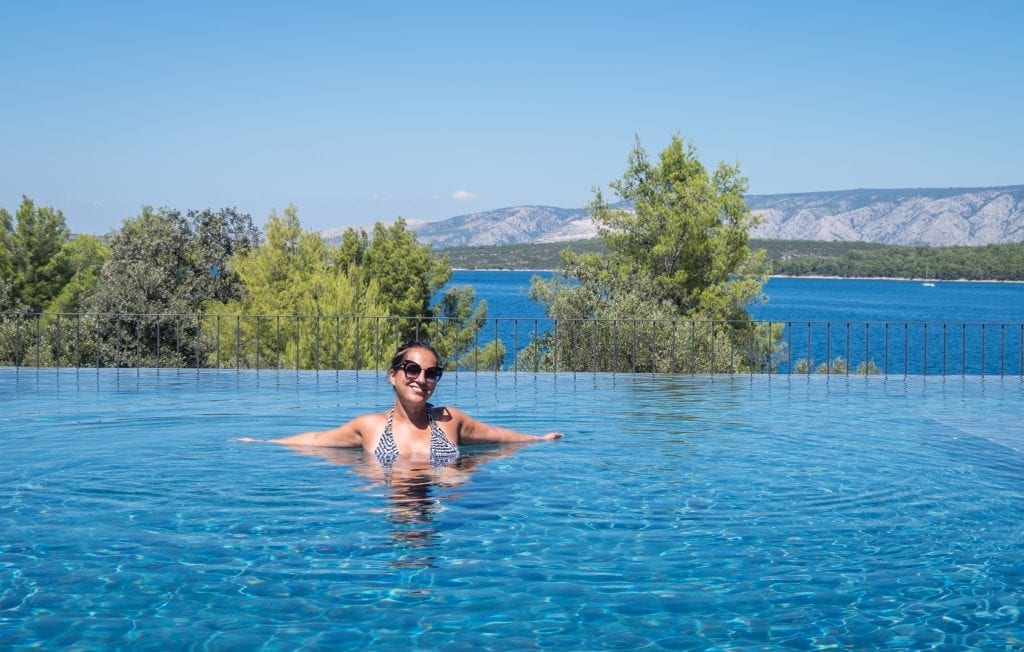 Is Hvar Worth It?
Hvar is so worth it! Hvar is far more than just its parties! It's the sunniest island in Croatia, home to excellent wine and stunning beaches and beautiful small towns.
If Hvar seems like your kind of Croatian Island, I highly recommend coming here for longer than you think. Hvar has a way of delighting you over and over.
I hope you have a fantastic time on your trip to Hvar!
Planning a Trip to Croatia:
Croatian Islands and the Dalmatian Coast:
Istria and the North: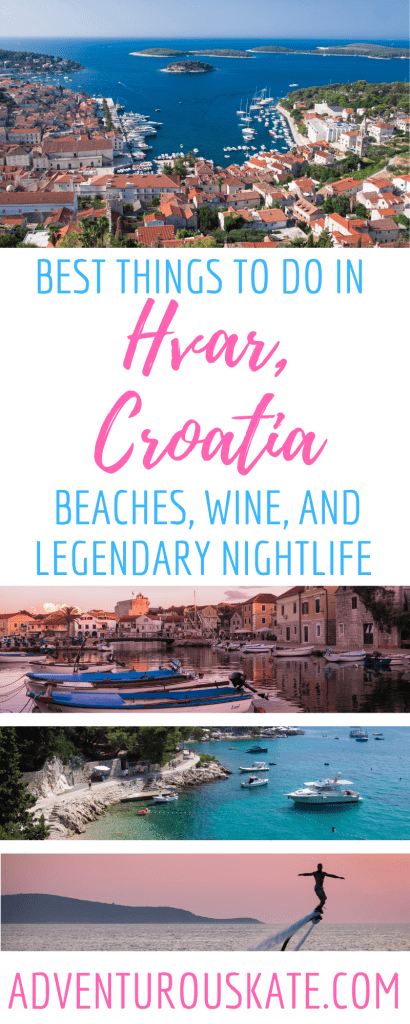 Have you been to Hvar? What was your favorite thing to do?