Adventurous Kate contains affiliate links. If you make a purchase through these links, I will earn a commission at no extra cost to you. Thanks!
The first time I traveled to Istria, Croatia, it was on a bit of a whim. I was desperate to finally visit the Balkans in general and Croatia in particular; when researching, I found out it was cheapest to fly into Pula. Well. If it was that much cheaper, why not?
I did book that flight to Pula, deciding to spend a few days exploring the surroundings. And I fell for Istria — hard. The Italian flavor, the hill towns that rose out of the green landscape, the way that roses seemed to burst out of the pavement. This place was so special. I can't believe I almost didn't visit it!
Istria hadn't been in my original Croatia plan — but it ended up being one of the highlights of my trip. So much that I returned to see more. I've been recommending it nonstop to my friends for years. On my last trip to Istria, I even met up with a reader!
The Dalmatian Coast may get most of the attention in Croatia — but you might be even more enchanted by the northwest heart-shaped peninsula.
Here's why you should travel to Istria.
Istria Map
Here is a map of Istria, with the most popular destinations highlighted. As you can see, it's well-connected within Croatia, and right on the border of Slovenia, and with easy access via ferry or driving to Italy.
The nice thing about Istria is that pretty much any two points are within a two-hour drive of each other. And most journeys are shorter than that. If you rent a car in Istria (and you should), literally everywhere is day-trippable!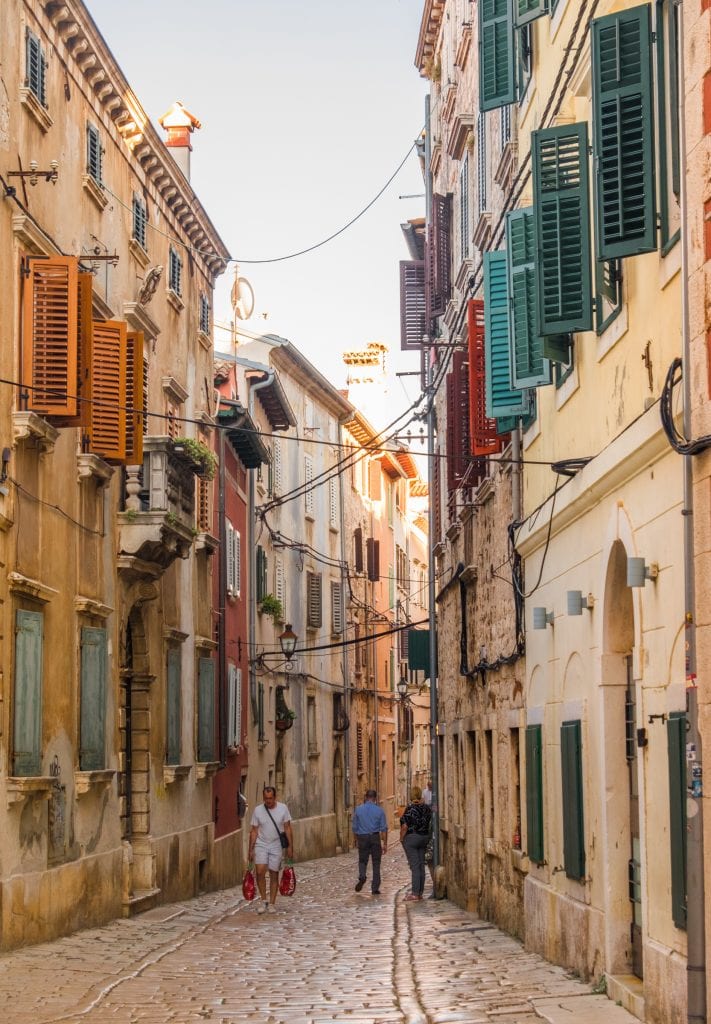 Italian Flavor in Croatia
As soon as you arrive in Istria, you'll be struck by how much Istria feels like Italy. The vineyards, the olive groves, seaside villages painted the colors of Liguria, hill towns that look straight out of Tuscany. And you'll notice that places here have Italian names as well as Croatian names — Rovinj is Rovigno, Bale is Valle, Grožnjan is Grisignana.
Look at that picture above. If someone asked you what country that was, you'd say Italy, wouldn't you? It's actually Rovinj!
Istria has a long history of being conquered and reconquered by different cultures: the Franks in 788, the Venetians in 1145, the Hapsburg Empire in 1348, Napoleon in 1797. Between World War I and World War II, Istria was part of Italy; following the war, it became part of Yugoslavia, before Croatia became independent in 1991.
As a result, Istria is a mélange of different cultures and has a very different feel from the Dalmatian Coast. Food is the center of life; locals paint their homes bright colors. And the Italian influence remains steady — from the many kinds of olive oil to the wild, animated conversations of locals.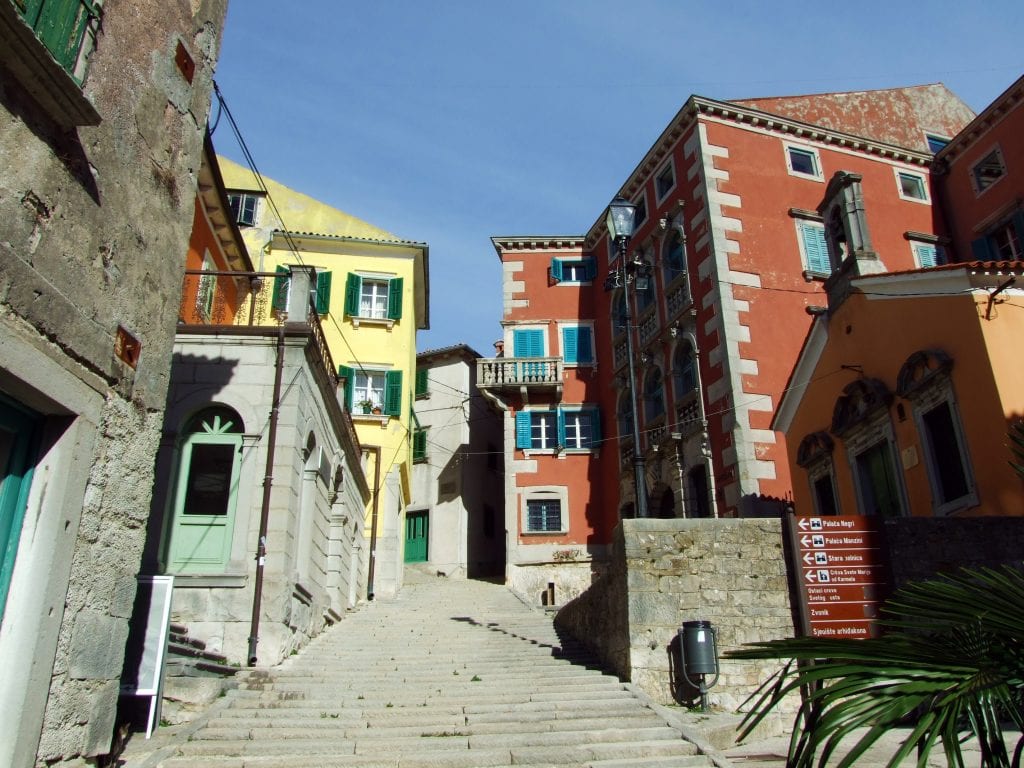 Picture-Perfect Small Towns
If you love charming small towns, Istria is the best place in Italy to explore them! Each town has its own character, and each town's residents will claim it's the best town in Istria!
A perfect day in Istria would be setting out early and visiting four or five towns over the course of a day, stopping in one for a leisurely lunch.
So which small towns are best to explore? I recommend you explore Motovun and Grožnjan at the absolute minimum. (They're also a 20-minute drive apart, so you can visit both in a single day.)
But there are plenty of other good ones: Vodnjan and Bale pair well together. Labin makes a nice getaway from Pula. Umag and Novigrad are beautiful coastal small towns. Plus, there's Hum — which claims to be the smallest town in the world.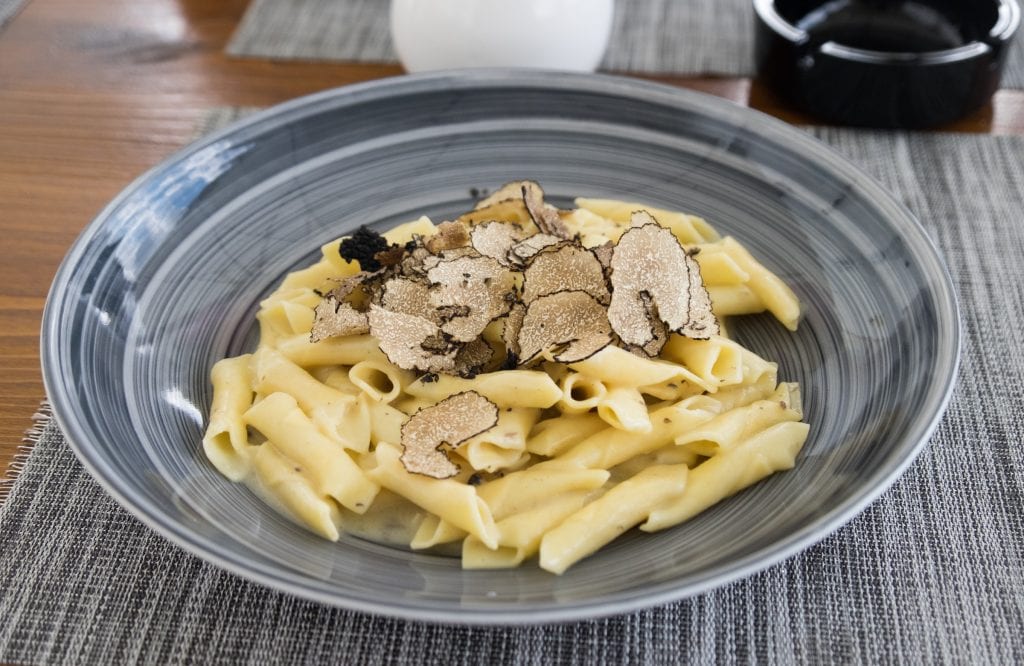 Truffles
Ah, truffles. One of the most expensive and luxurious foods on the planet. One of the most enchantingly recognizable tastes in the world.
Did I mention that Istria is rich in truffles? Truffle dishes are so common here that it's almost an embarrassment of riches.
One of my favorite Istria experiences is ordering traditional fuži pasta with truffles and a glass of white Malvasia wine at one of the restaurants on the edge of the hilltop of Motovun, overlooking the landscape. These truffles are shaved thin enough to be translucent but thick enough to make a satisfying chew.
In New York, a plate of pasta with that many shaved truffles could run you around $50. Here in Istria? Maybe $11 or so.
With prices like those, why not get them for every meal?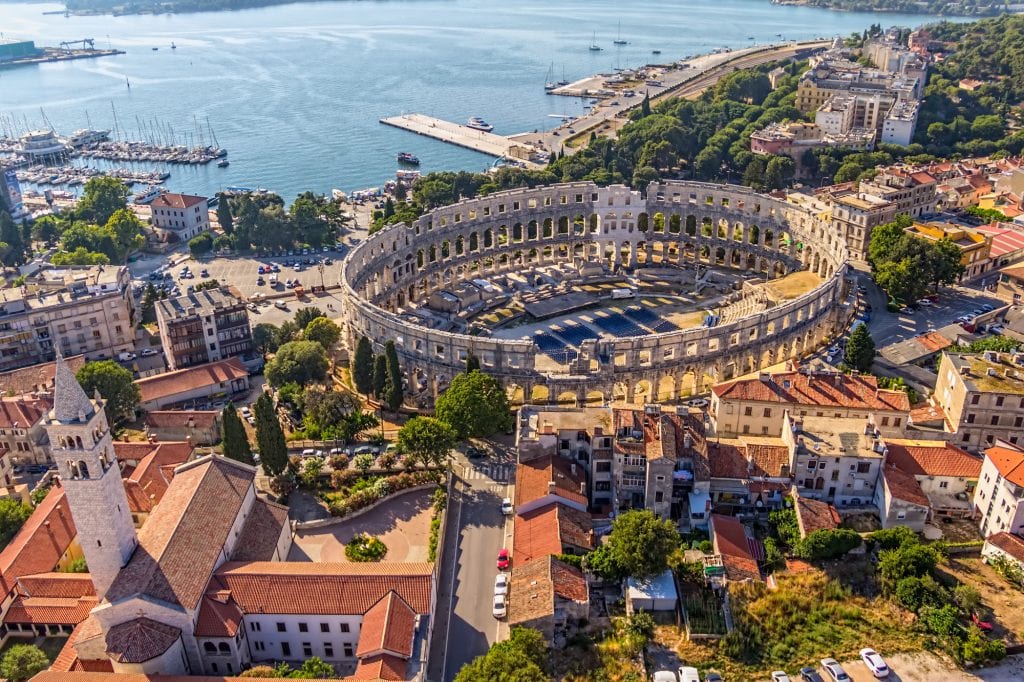 Pula's Arena
Pula is the largest city in Istria, home to the peninsula's airport. If you're a fan of ruins in the least, you'll need to stop in Pula to see its enormous Roman Arena!
Constructed between 27 BC and 67 AD, Pula's arena is one of the six largest Roman amphitheaters in the world. It's the only amphitheater to have all four side towers intact. It's well worth exploring as an ancient monument — but if you play your timing right, you might even get to see a concert here!
Pula isn't my first choice of where to stay in Istria — it's a decent city, but I think other towns have more to offer. But Pula is a nice place to spend an afternoon or evening. Check out the Arena; stroll through the old town; get some pizza at Jupiter Pizzeria.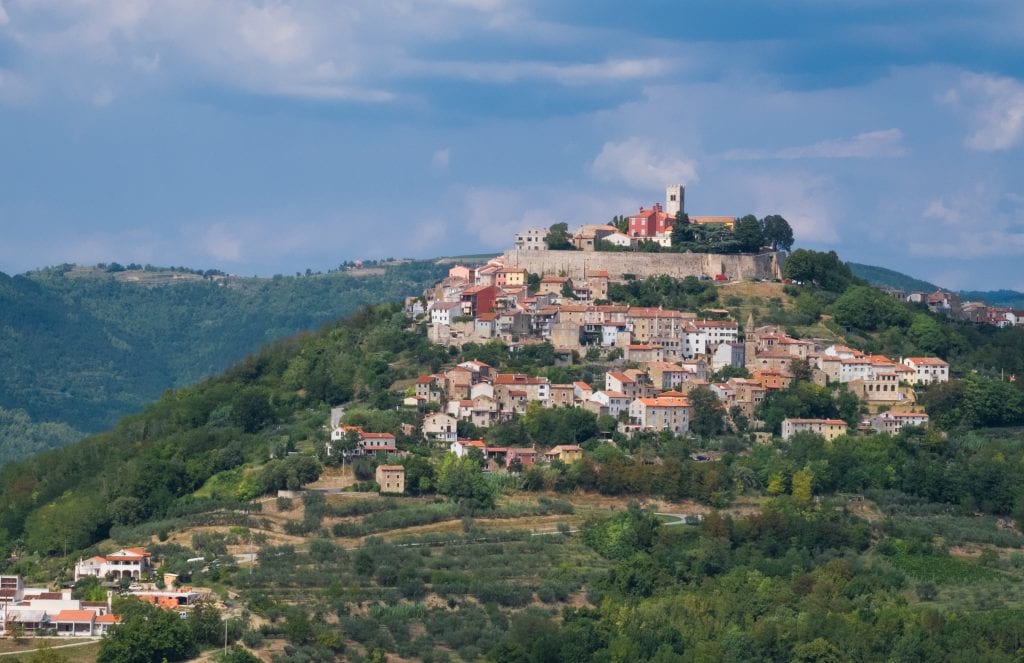 Motovun
Motovun will take your breath away the first time you see it. You turn a corner and there it is, bursting out of the earth, a city improbably built on top of a hill. How can a place like this exist today? How do people actually live here?!
It's a long, steep walk uphill to get to the top of Motovun. (If you have mobility difficulties, you may want to skip Motovun — there's no way around the steep, slippery cobblestones.) Once you get to the top, you're rewarded with views all over the countryside.
Definitely stop here for lunch overlooking the surrounding hills. Take a walk around the city walls, peering into corners. And if you're here in late July or early August, you might get to experience the Motovun Film Festival!
(Tip: this photo was taken at a fast food restaurant called Fast Food Vidik. Stop there for photos! It's the best view of the city.)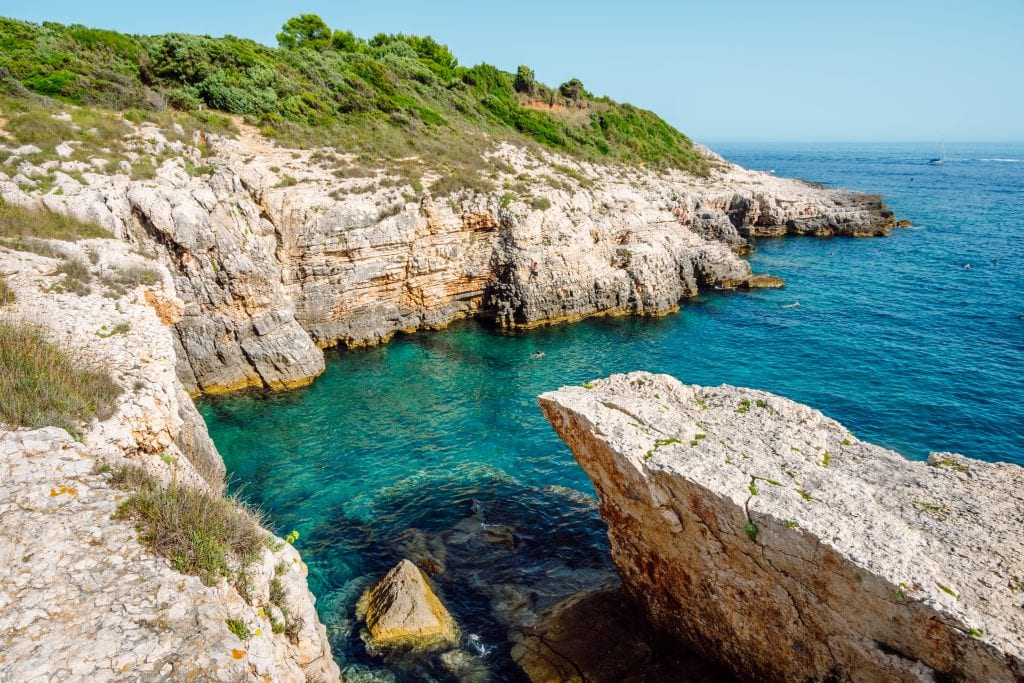 Istria Beaches
You don't come to Croatia for sandy beaches — and that's true for Istria as well. (Yes, there are some sandy beaches here and there, but the vast majority of Croatia's beaches are slabs of rock or pebble beaches.) But you end up with absolutely beautiful beaches and clear turquoise Adriatic water.
One of my favorite places to enjoy the beach in Istria is Cape Kamenjak, just south of the town of Premantura. This protected area, at the bottom tip of Istria's heart-shaped peninsula, is home to more than 30 km of beaches. You can swim, cliff dive, rent boats, or just drive around until you find your own perfect beach.
There are some nice beaches on the edges of Rovinj, Rabac, and Umag as well if you want easier access to town.
Keep in mind that Istria's summer isn't as long as Dalmatia's — if you're looking for hot days and swimming, I'd recommend visiting Istria from mid-June to mid-September, with the warmest water in September. More on that below.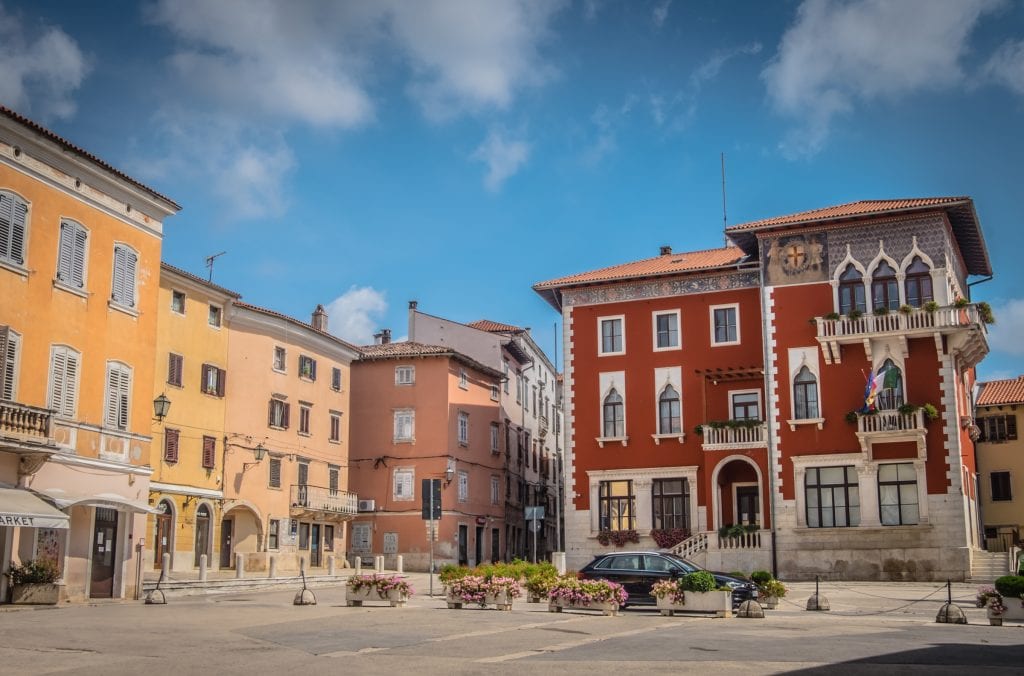 Vodnjan and its Mummies
Vodnjan is one of the coolest small towns in Istria, easily situated between Rovinj and Pula. Vodnjan is a pretty cool place to hang out, with dramatic colors and tons of street art. That bright red building is one of the symbols of the town.
But what puts Vodnjan over the edge? Mummies. Actual mummies.
The Church of St. Blaise is home to the mummified remains of six saints: St. Leon Bembo, St. John Olini, and St. Nicolosa Bursa, as well as parts of St. Sebastian, St. Mary of Egypt, and St. Barbara. You go into the back of the church and they light up, one by one, telling you their stories.
Photography is absolutely not allowed, but just standing there, experiencing them on your own, is a creepy experience. The church is also home to a collection of sacral art.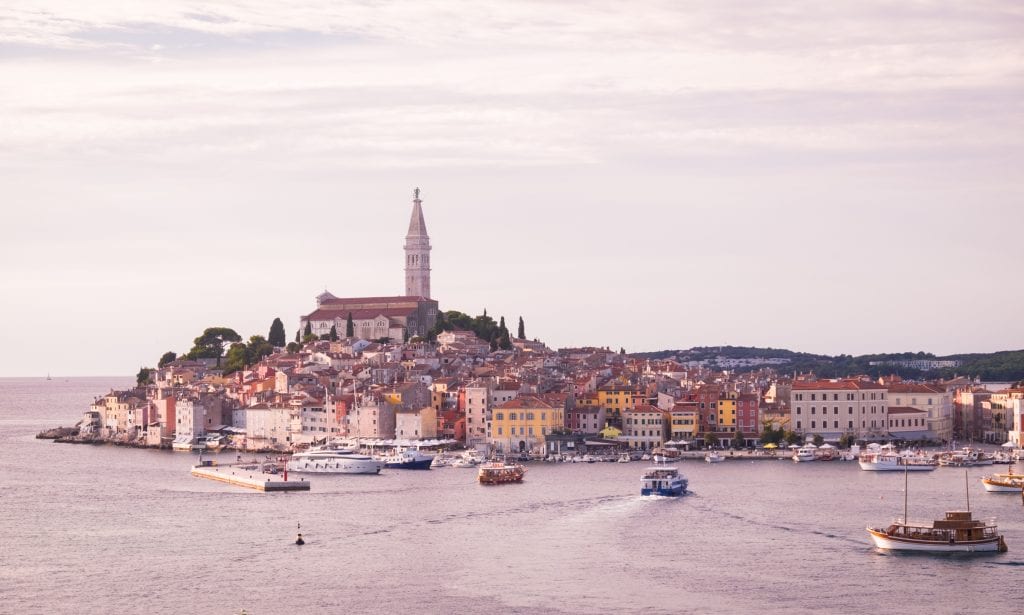 Rovinj
Rovinj is the showstopper of Istria, and one of the most popular spots in the country. Dubrovnik may be more famous overall, but I think Rovinj is the most beautiful city in Croatia!
Rovinj is a photographer's dream. It's worth exploring Rovinj's old city at different times of day, from different angles, and catching the sunset as well. One of the loveliest things to do in Rovinj is simply sit on the edge of the water with a drink, enjoying the scenery around you!
Rovinj also has some nice beaches, fun boat trips, and an interesting selection of shops. Honestly, I wouldn't plan a trip to Istria without spending at least one day in Rovinj!
More on Rovinj:
Visiting Rovinj, Croatia: A Travel Guide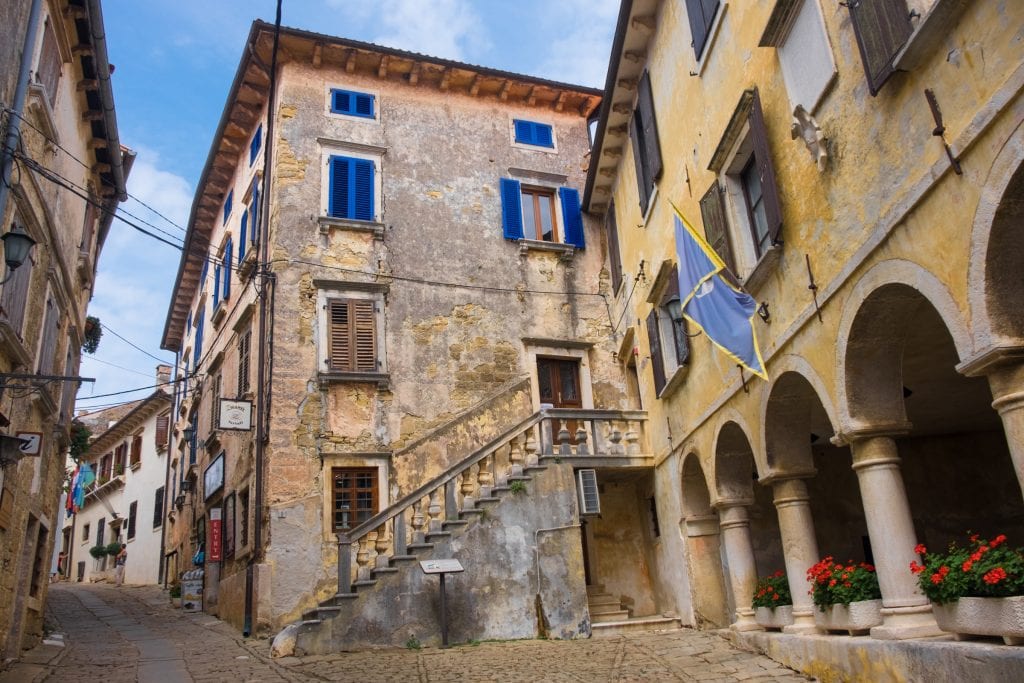 Grožnjan and its Art and Music
Grožnjan isn't just one of my favorite small towns in Istria — it's one of my favorite small towns in the WORLD! This city, perched on a hill in the middle of the countryside, feels like a fairy tale. From the moment you've arrived, it feels like you've stepped into a new world.
Grožnjan is filled with interesting shops and galleries, making it a nice place to pick up a piece of artwork. (I myself picked up some vintage-style Croatia postcards.)
But best of all, Grožnjan is home to a music school. When you're walking through the streets, you'll hear a pianist and a singer practicing together, then in the next place you'll hear a violinist tuning up, then you'll hear an oboist practicing a solo.
Is Grožnjan touristy? Indeed it is. But trust me, it's worth visiting.
This tiny town will always put me into a better mood.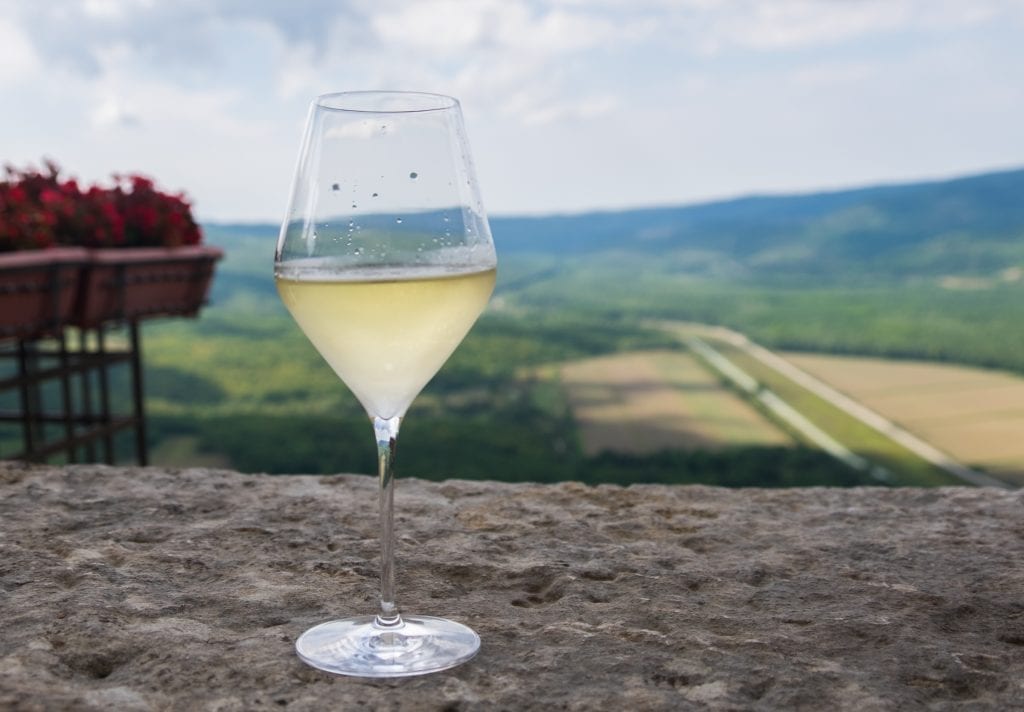 Istrian Wine
Yes indeed, Istria is a major wine region! Croatia is a very underrated wine country, in part because most of Croatia's wineries are small operations and don't do much international exportation.
Malvazija Istarska, or Malvasia, is Istria's signature varietal. A light white wine with citrusy notes, it pairs well with oysters and shellfish — though I personally think there's no better accompaniment than a plate of truffle pasta!
Teran is a full-bodied red varietal with berry notes that's starting to earn international recognition.
Driving around the countryside and stopping at wineries is a wonderful way to spend a day in Istria — though keep in mind that you need a designated driver!
The Rovinj Wine Festival takes place in September, with opportunities to sample lots of Istrian wines. And don't forget to say cheers in Croatian — Živjeli!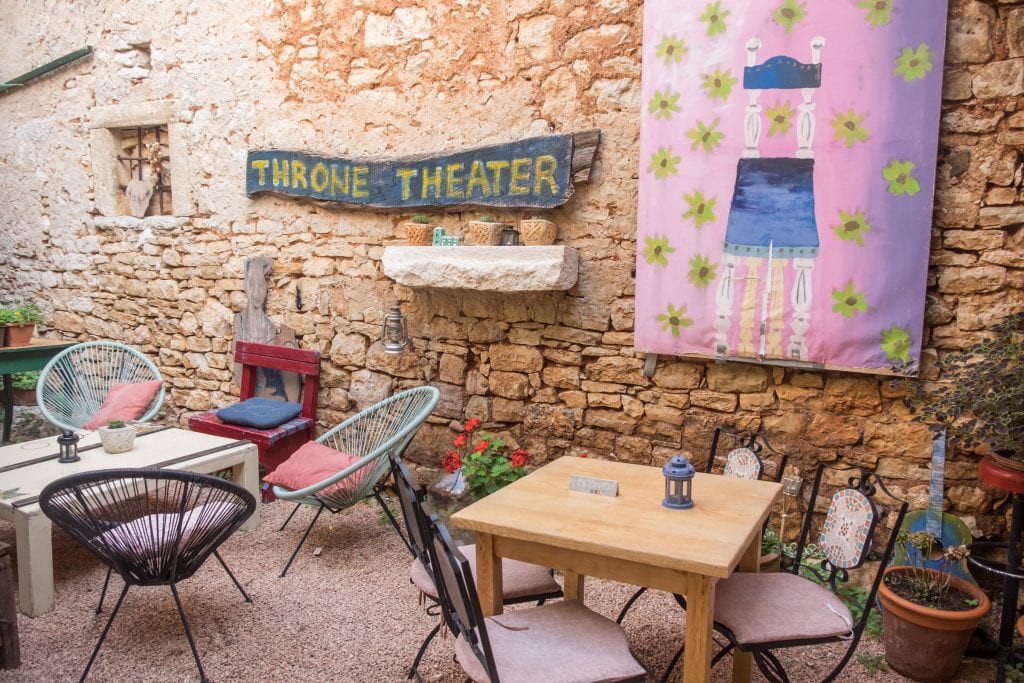 A Child-Free Jazz Cafe in Bale
Yeah, this might be a bit unusual to put on a list, but I think it's worth it! Back when I first visited Istria in 2012, Bale was the town on everyone's lips. Some big publications like Lonely Planet were rhapsodic about Bale. (Personally, I think Bale is nice, but Grožnjan, Vodnjan, and Motovun are nicer.)
Bale's coolest landmark is Kamene Price — an artsy cafe, performance space, and guesthouse. And when we stopped in for a coffee, we noticed a sign saying that they were a child-free establishment.
Don't get me wrong, Croatia is massively child-friendly. Which is great.
But sometimes it's nice to have places where you can sit and know that you can enjoy a coffee in peace without kids turning it into a war zone.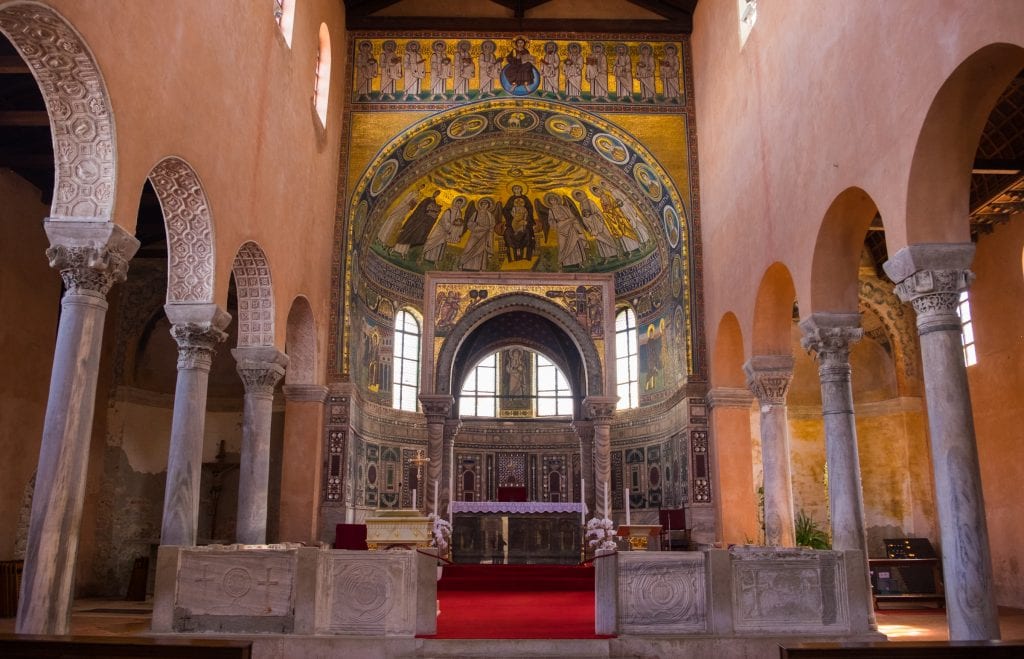 Euphrasian Basilica in Poreč
Istria is home to exactly one UNESCO World Heritage Site: the Episcopal Complex of the Euphrasian Basilica in the Historic Centre of Poreč. This religious complex is renowned for its classical and Byzantine elements, both of which you can see in the photo above.
While it's a nice place to visit for the historic value, seeing the chapel at the end is spell-binding. The incredible gold-painted Byzantine monuments; all the different patterns carved into the stone. It's one of the most marvelous places to see in Istria.
Poreč is just north of Rovinj on the coast — though you have to drive around the Lim Channel, so the drive takes 40 minutes. The town to me felt like a baby Rovinj. I hear it's one of the bigger party spots in Istria.
Poreč is definitely worth a quick visit, no matter where you're staying on your Istria vacation.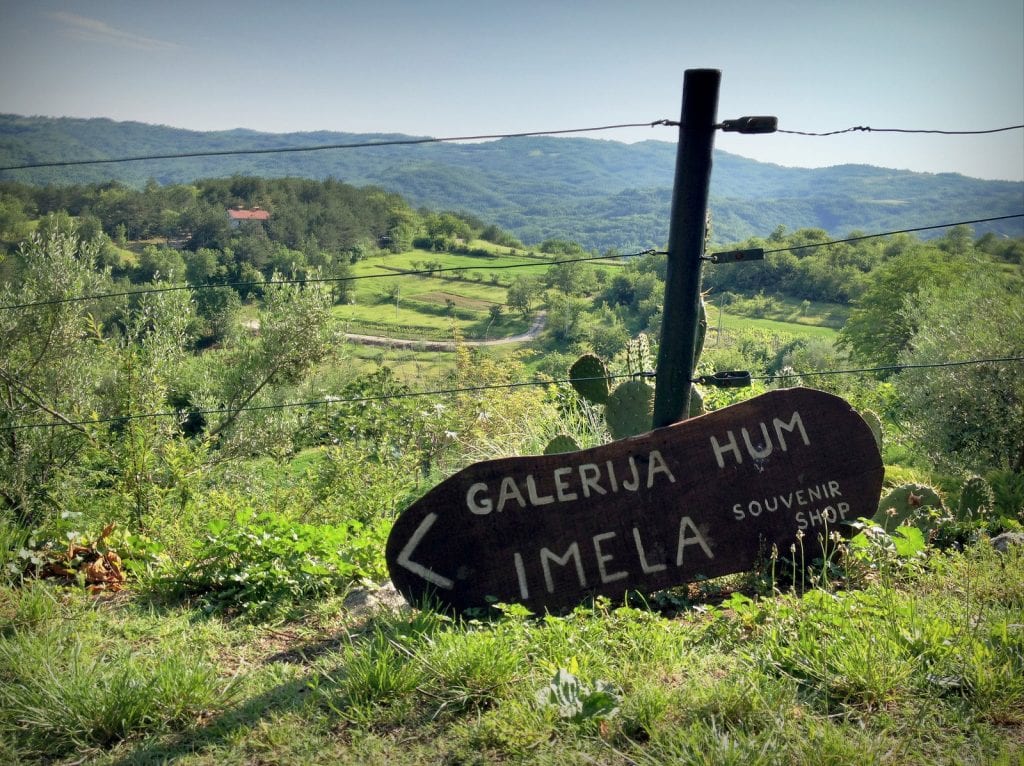 The Smallest Town in the World
The Istrian hamlet of Hum claims to be the smallest town in the world. Is it really? Probably not. But that's what they call themselves, and it's a delightful stop in the heart of Istria.
Hum is worth a wander when you're driving around and looking at hill towns in the greenest parts of Istria.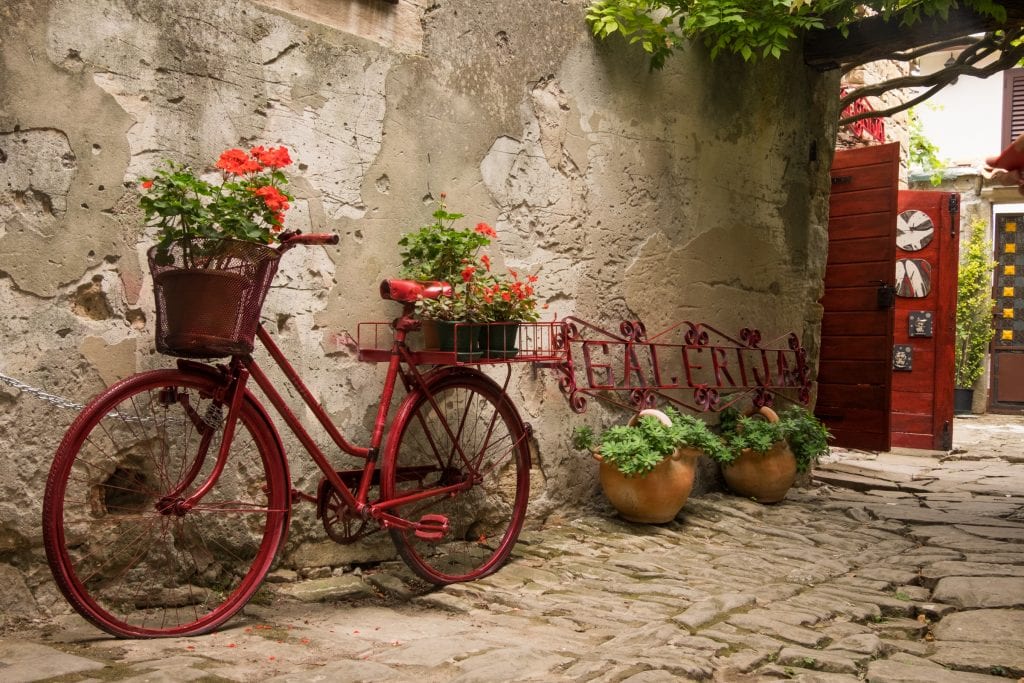 Affordable Prices
I always warn people that Croatia is more expensive than people think it is — mainly because people erroneously believe Croatia to be Eastern Europe. (Don't ever call Croatia Eastern Europe, by the way.) You won't pay Scandinavia prices — but prices in Croatia tend to be closer to Italy, Spain, or Greece.
That being said, Istria tends to be cheaper than many places on the Dalmatian Coast, especially popular spots like Dubrovnik and Hvar.
It's a good idea to compare similar types of destinations with each other: Rovinj is cheaper than Dubrovnik; Pula is cheaper than Split; Umag and Novigrad are cheaper than, say, Trogir. Getting an apartment near Premantura will be cheaper than near Makarska.
Istria isn't cheaper than everywhere in Italy, but it's definitely cheaper than Tuscany.
Food and wine in Istria tends to be cheaper than Dalmatia, too, especially when it comes to the famous truffles.
No matter which country you're visiting, small towns, inland destinations, and rural areas will run you less than cities, coastal areas, and popular tourist spots.
Finally, if you're looking to have a cheap trip to Istria, consider camping! Istria is a very popular destination for camping in Europe, and there are many excellent campgrounds.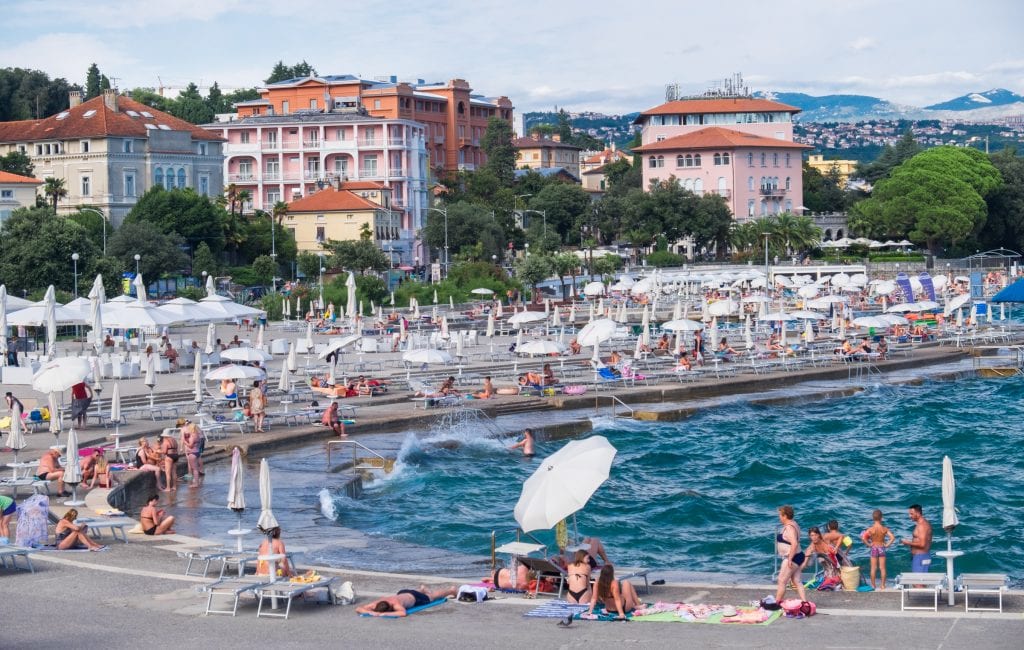 Easy Access to the Rest of Croatia
If you're looking to make Istria a portion of a longer Croatia trip, that's a great idea. In fact, that's what I've always done.
From Motovun, it's a three-hour drive to Zagreb, a 3.5-hour drive to the Plitvice Lakes, a four-hour drive to Zadar (one of my favorites!) and a five-hour drive to Split, from where you can get ferries to islands.
Whatever you do, I recommend stopping for a coffee in Opatija on the way out. Opatija is at the entrance to the Istrian peninsula but technically not part of Istria county. It is VERY popular with Austrian travelers, so much that it's called the "Austrian Riviera."
It's a peculiar place. There are large Hapsburg-style buildings, crenellated in pink and orange and yellow, almost like wedding cakes. Oh, and speaking of cakes, there are lots of them — because the Austrians know their way around coffee and cake. As for the beach, here there's just a slab of concrete pushed up against the bright blue water, topped with hundreds of beach chairs and umbrellas.
I would never choose to spend extended time in Opatija, but it's worth a coffee, a cake, and a stroll along the water.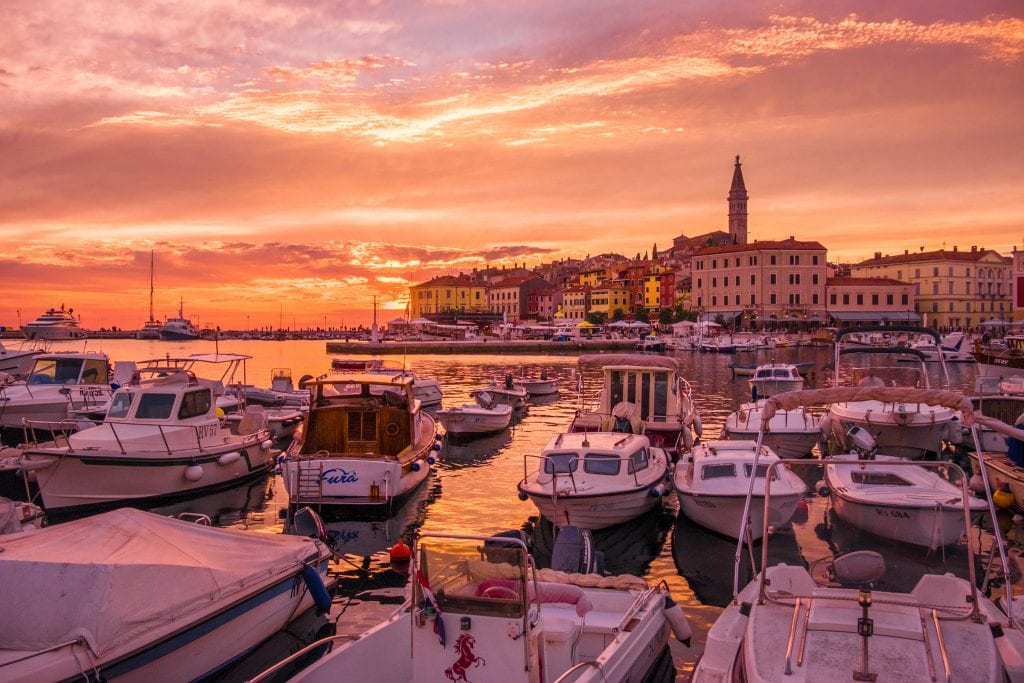 Best Places to Visit in Istria
There are so many wonderful places to visit in Istria — but unless you have a few weeks to spend here, you'll need to pare down the list. I think there are a few places that stand head and shoulders above the rest.
Spend one day in Motovun and Grožnjan. These are the two quintessential hill towns of Istria — two marvelous small towns in which you'll want to linger. If you've got more time, add in a visit to Buje, too.
Spend one day in Rovinj. I think Rovinj is the prettiest city in Croatia — yes, even more so than Dubrovnik — and you really need a full day to explore all that makes Rovinj magical.
Spend half a day or a full day beach-hopping in Kamenjak, followed by an evening in Pula. On the way back, stop in Pula to check out the Arena, stroll the old town and grab some dinner. If you're only spending a few hours in Kamenjak, add in quick visits to Bale and Vodnjan, next door to each other.
Those are the top destinations I'd prioritize. But if you have more time:
If you like seaside villages like Rovinj, check out Umag, Novigrad, Poreč, and Rabac.
If you like small towns like Grožnjan, Bale, and Vodnjan, check out Labin, Buje, Buzet, and Pazin.
If you like nature destinations like Kamenjak, be sure to check out the Brijuni Islands, visit the Lim Channel, and go exploring, looking for lesser-known beaches!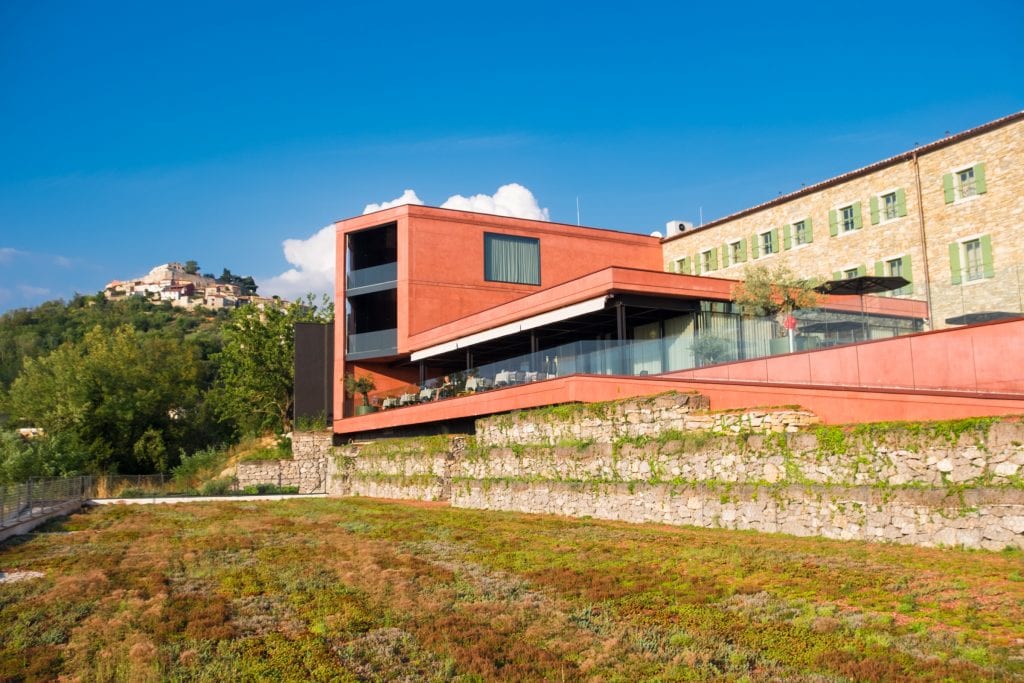 Where to Stay in Istria
ROXANICH, a family owned boutique wine hotel in Motovun, is my top recommendation for where to stay in Istria. This is the hotel that I love to enjoy on my travels — it's family-owned and very local; it's quirky, modern and daring; and it's small enough for you to feel special. (ROXANICH hosted me for three nights; all opinions are my own).
ROXANICH is located in Motovun, which gives you easy access all over Istria, but it's also located at the bottom of Motovun, not on the hill, so you don't need to spend 20 minutes climbing the hill to get there every day. There's ample space and plenty of parking, too.
Just take a look at this place!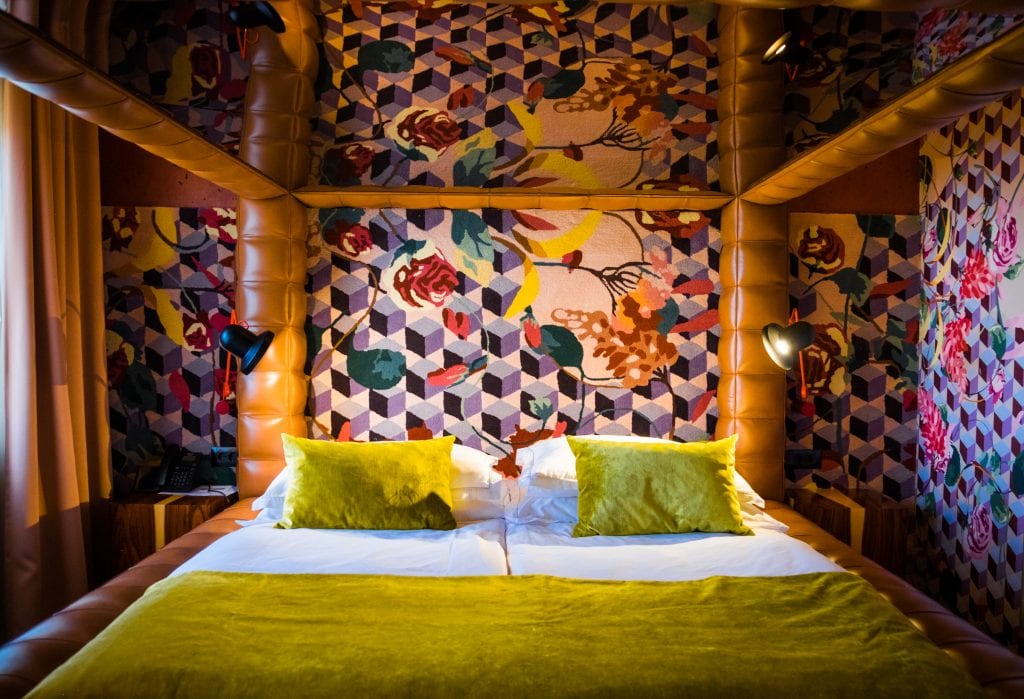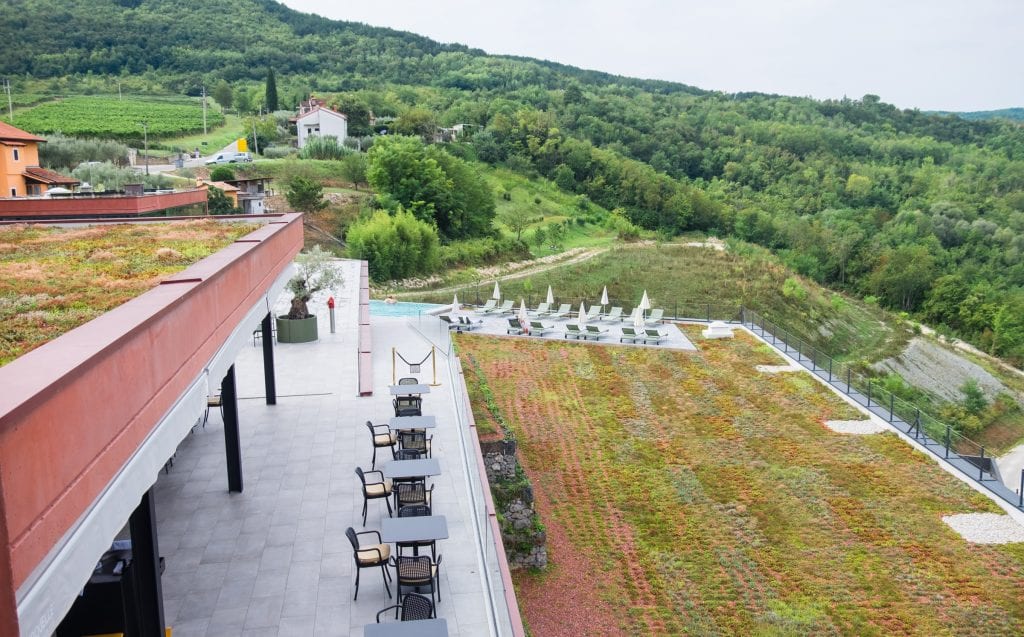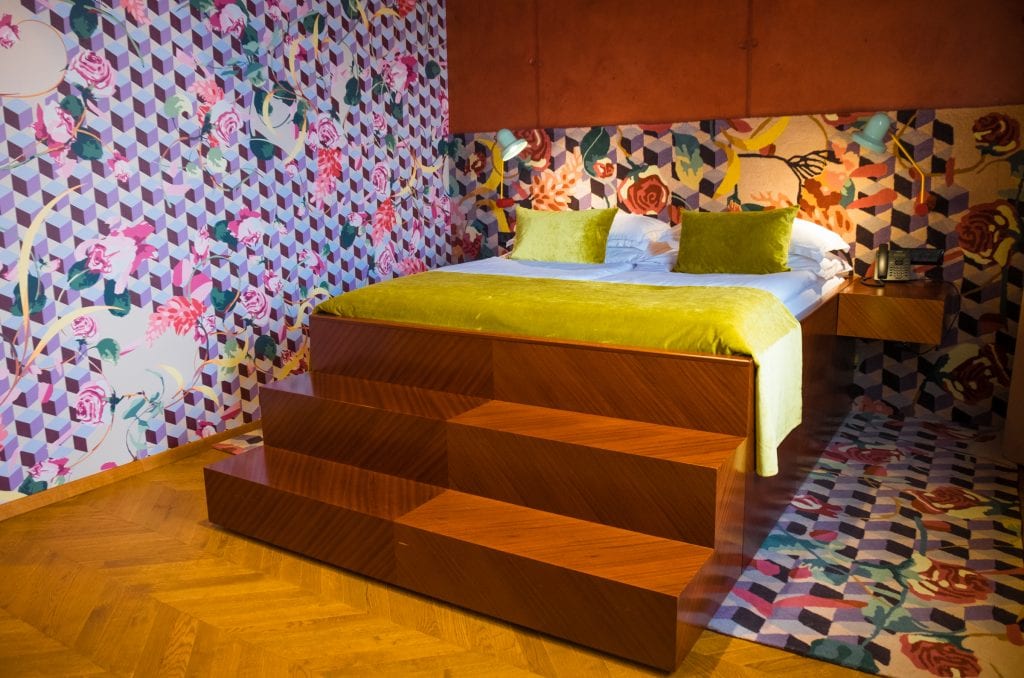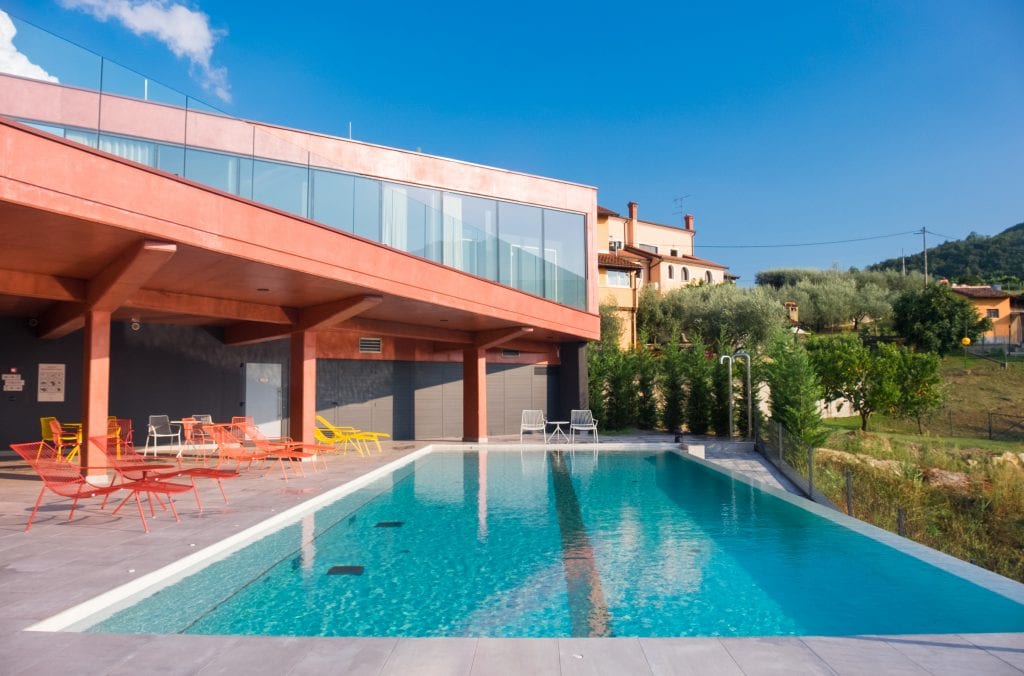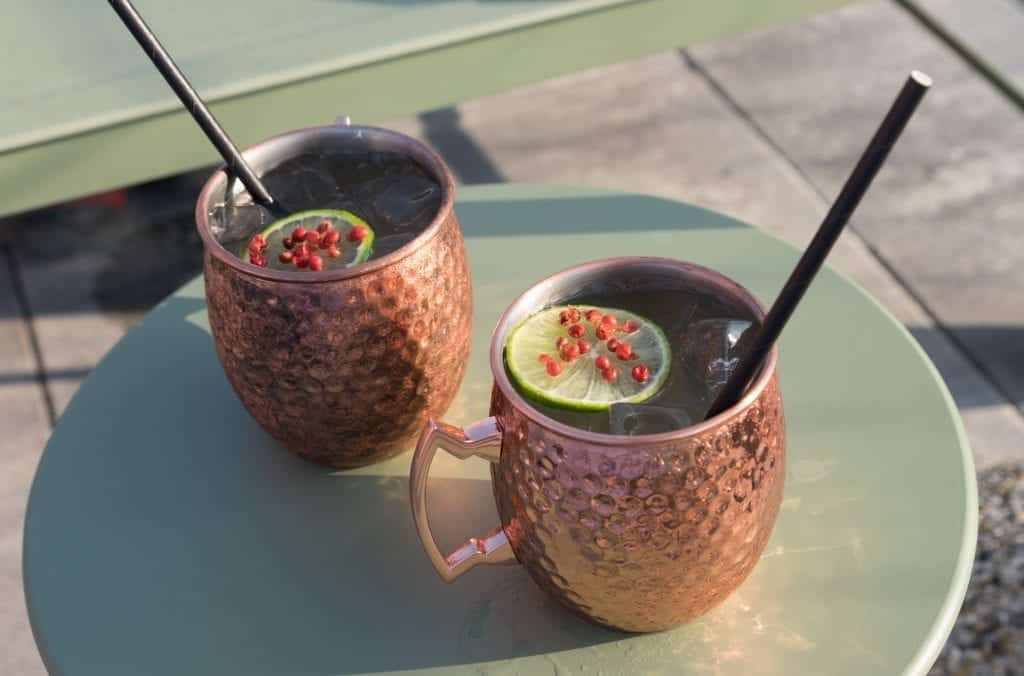 ROXANICH is a small property that feels like a resort — and there's plenty of space. The food is excellent, too, and you could easily spend a few days without going far from the property.
But what's interesting is what they do with wine.
Owner Mladen Rožanić is constantly trying out new innovations with his wine. Like most Istrian wineries, they have their own Malvasia, along with plenty of whites, reds, and rosés.
But they also blend their local grapes with grapes from different regions — like Dingač, my beloved red wine from Pelješac.
Combining your own grapes with grapes grown in another region? Many winemakers would consider that sacrilege. Not Mladen. It's all a wonderful experiment to him.
And it goes well beyond Istria. I couldn't believe my eyes when I saw their Georgian qvevri — underground wine containers made of clay that I never dreamed I'd see outside Georgia! There's niche, and then there's qvevri wine made in Istria.
Can you wine taste? Can you wine taste!! Oh yes. We did quite a bit of tasting of wine. Endlessly interesting.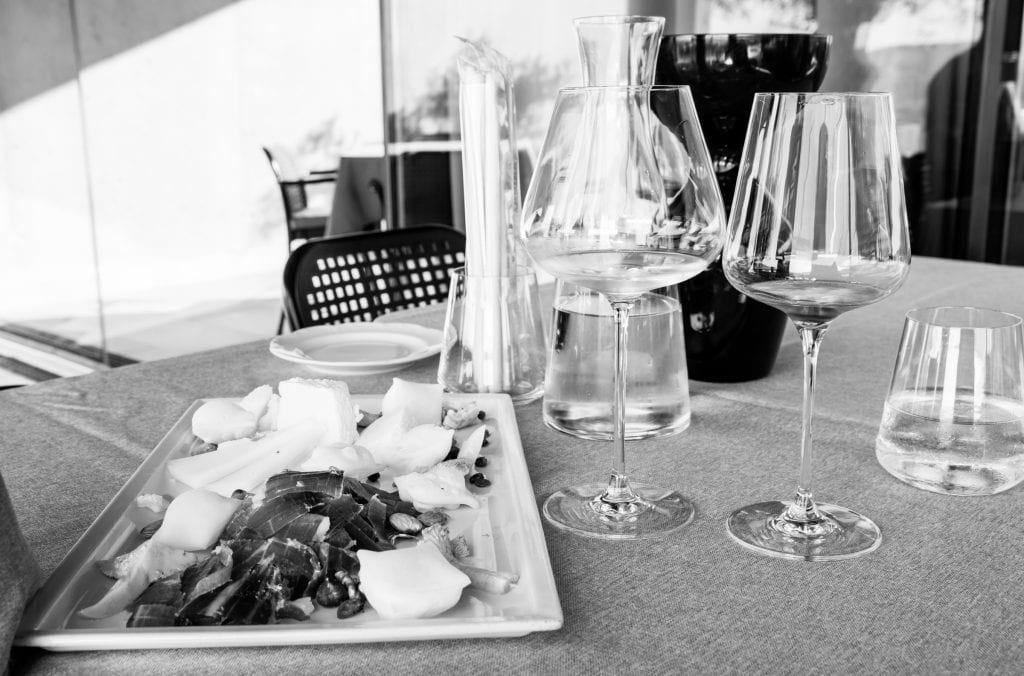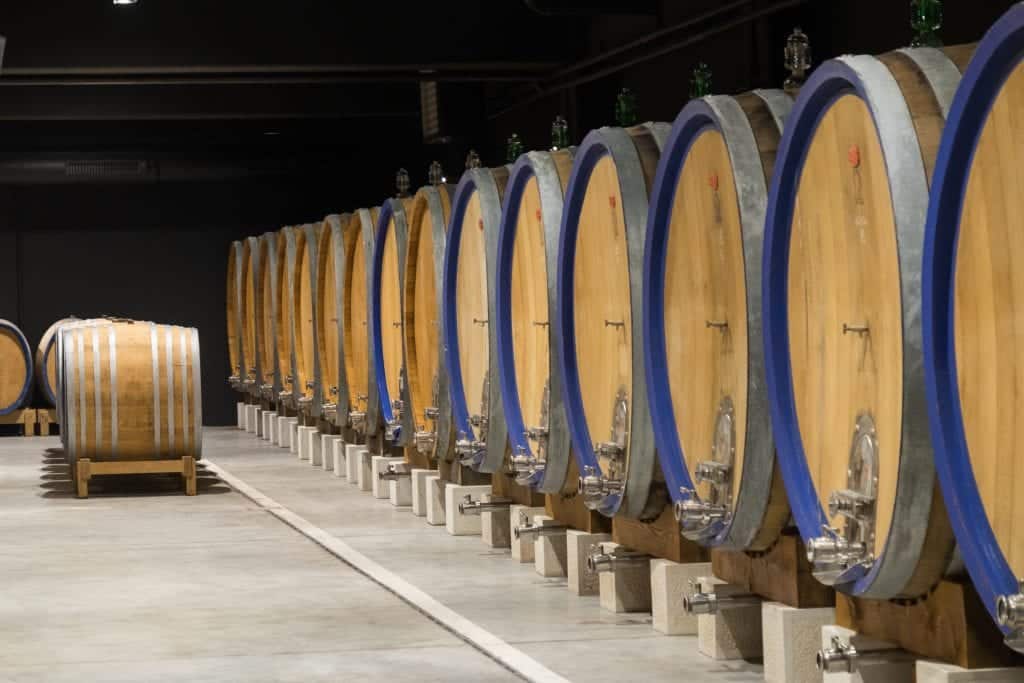 I really enjoyed staying at ROXANICH. After a long day of road-tripping around Istria, I loved coming back to have a dip in the pool and a cocktail, and at night, it was pleasant sitting under the stars and enjoying the latest wine recommended by the sommelier.
Rates at ROXANICH start at 77 Euros per night ($90 USD). I recommend staying three nights to get the most out of the hotel and its idyllic surroundings.
Beyond Motovun, if you have more than four days to spend in Istria, I suggest basing in two different places — perhaps pair somewhere inland with somewhere along the seaside.
Additionally, make sure you don't base somewhere too small. As much as I adore Grožnjan, it's tiny and it gets pretty dead at night. Plus I wouldn't be a fan of driving that narrow hilltop road in darkness!
Best Time to Visit Istria
Most travelers to Croatia come during the summer months — and that goes for Istria as well. This is when Istria gets the most visitors and prices are at their highest.
Summer is lovely, though it can get very hot in July and August. But you should keep in mind that while Istria has a Mediterranean climate and is perched on the Adriatic, it doesn't get as hot as Dalmatia in the south of Croatia. When your friends are sunning themselves in Hvar in May, you may be going around in a jacket or cardigan in Pula.
In Dubrovnik, you can go swimming in October; I doubt you'd want to do that in Istria.
For that reason, I recommend visiting Istria in the shoulder season: September would be my top recommended month. By this point it's still warm and lovely, but kids are back in school, which cuts down on the crowds. And if you stay into the fall, you'll get to enjoy the best of the harvest. Including plenty of new wines!
Read More: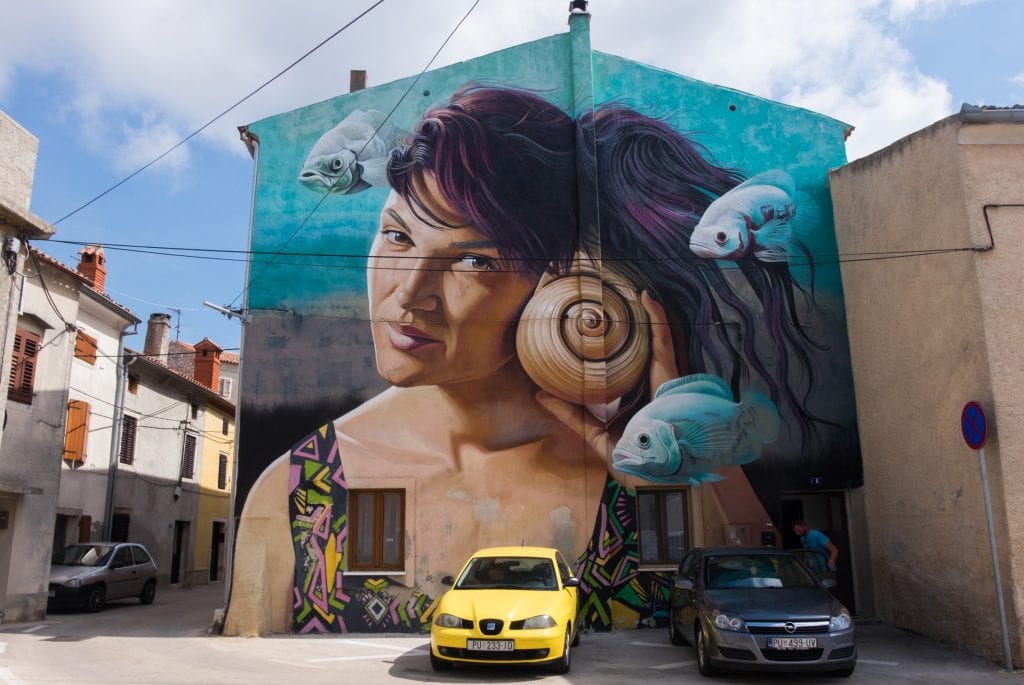 How to Get Around Istria
The best way to get around Istria is to drive — plain and simple. Like I said, I wouldn't get around Istria any other way!
Croatia is one of my favorite countries in Europe to explore by car. The roads are in excellent condition. The signage is clear and easy to navigate for English speakers. The drivers aren't nearly as aggressive as their neighbors (yep, I'm talking about you, Slovenia and Montenegro).
The only catch is that the tolls on the major highways can be quite pricey. For example, Zagreb to Pula, just over a three-hour drive, costs 139 kuna, or $12.68.
But if you're staying within Istria, those highways can easily be avoided, and it doesn't make a huge difference in driving time. Plus, those curvy smaller roads are way more fun to drive!
Remember that automatic cars are more expensive than manual cars (driving stick) in Croatia, and if you're driving into Slovenia or Italy, as many Istria visitors do, be sure to let the company know, as this could change your pricing and insurance coverage.
If you don't drive, there are ways to get around Istria by public transportation, primarily by bus, but this limits your ability to visit smaller, less-connected towns. If I were exploring Istria without a car, I would base myself in the largest, best-connected towns and use a combination of buses and taxis to get from place to place. Uber is not available in Istria.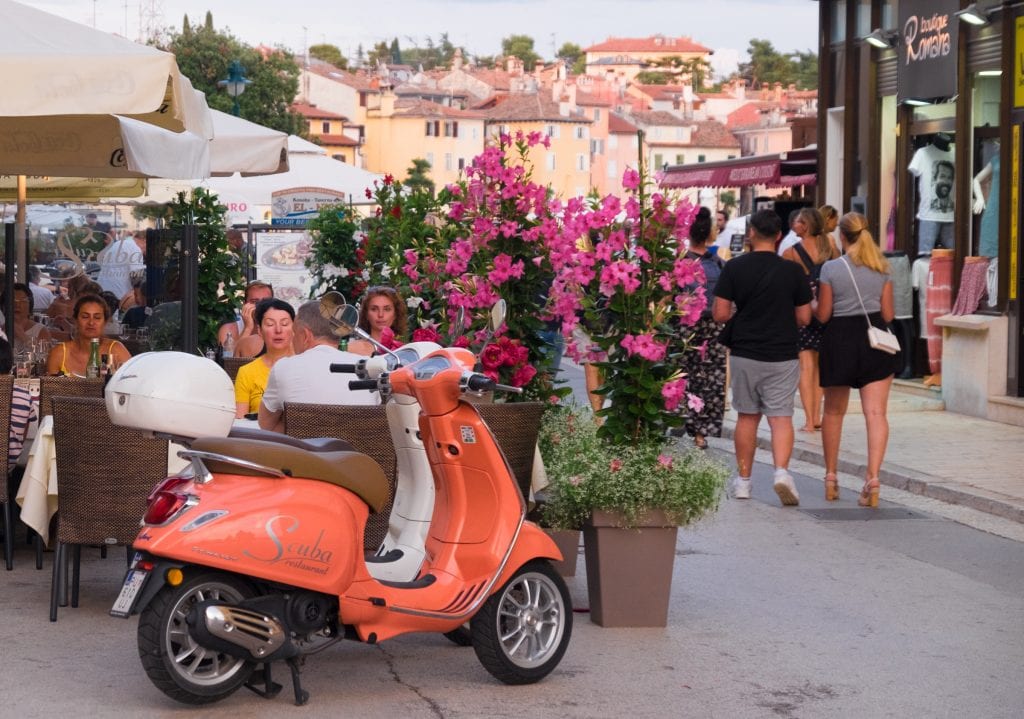 Istria is Waiting for You!
Istria is one of the best places in Croatia — and it feels like such a surprise. Istria has meant a lot to me over the years, and I know it will mean a lot to you, too.
Go enjoy your time in Istria — then come back and tell me about it!
Planning a Trip to Croatia:
Croatian Islands and the Dalmatian Coast:
Istria and the North: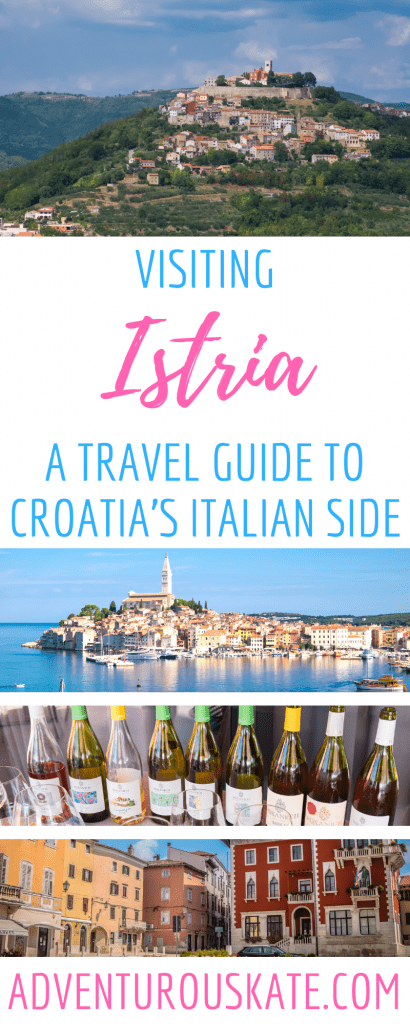 Have you been to Istria? Have any recommendations? Share away!