Adventurous Kate contains affiliate links. If you make a purchase through these links, I will earn a commission at no extra cost to you. Thanks!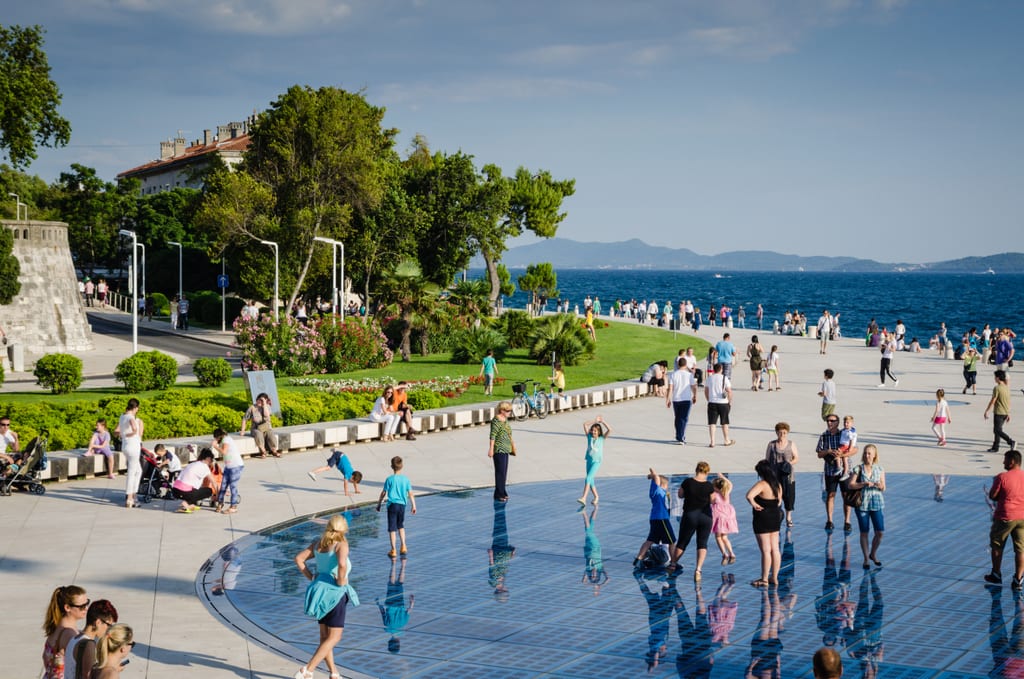 There's a place in Croatia that I love even more than the old city of Dubrovnik, the saltwater lakes of Mljet, the architecture of Korčula, the colors of Rovinj, the beaches of Pučišća, and the waterfalls at Krka.
My favorite place in Croatia is Zadar, a small city on the Dalmatian coast.
I first visited this city, the gateway to Dalmatia, two years ago. It was just a quick visit, en route from the Plitvice Lakes to Split, but I really enjoyed what I saw.
The second time around, I had traveled throughout the Balkans and had a much better sense of what was out there and what I liked. As I grew to love destinations like Kotor and Ohrid, and felt more lukewarm about places like Hvar and Split, I realized that I hadn't known how good I had it in Zadar.
On my second trip to Zadar, I couldn't help but fall in love.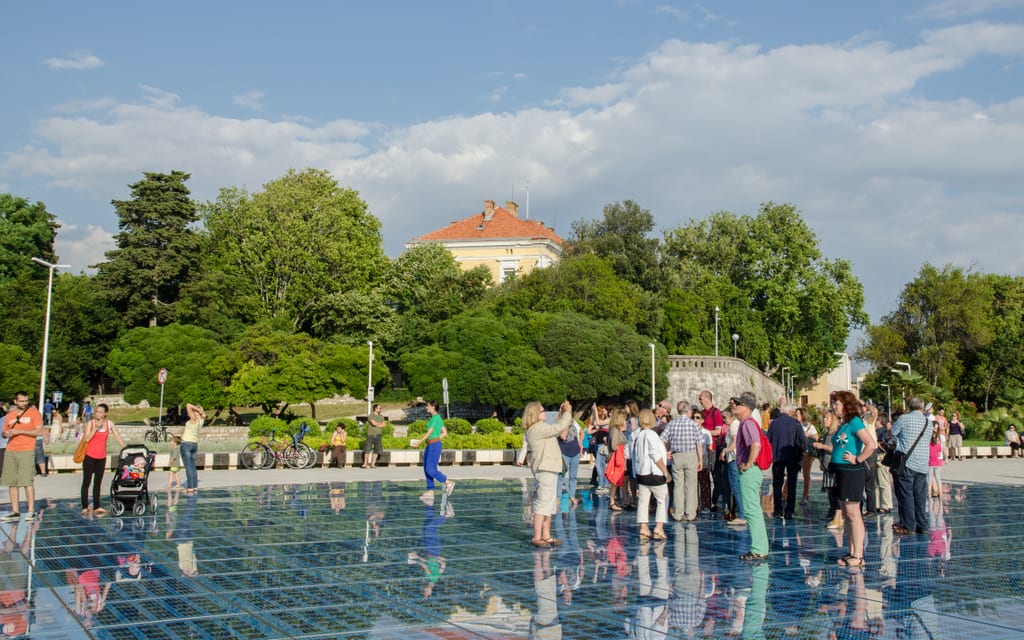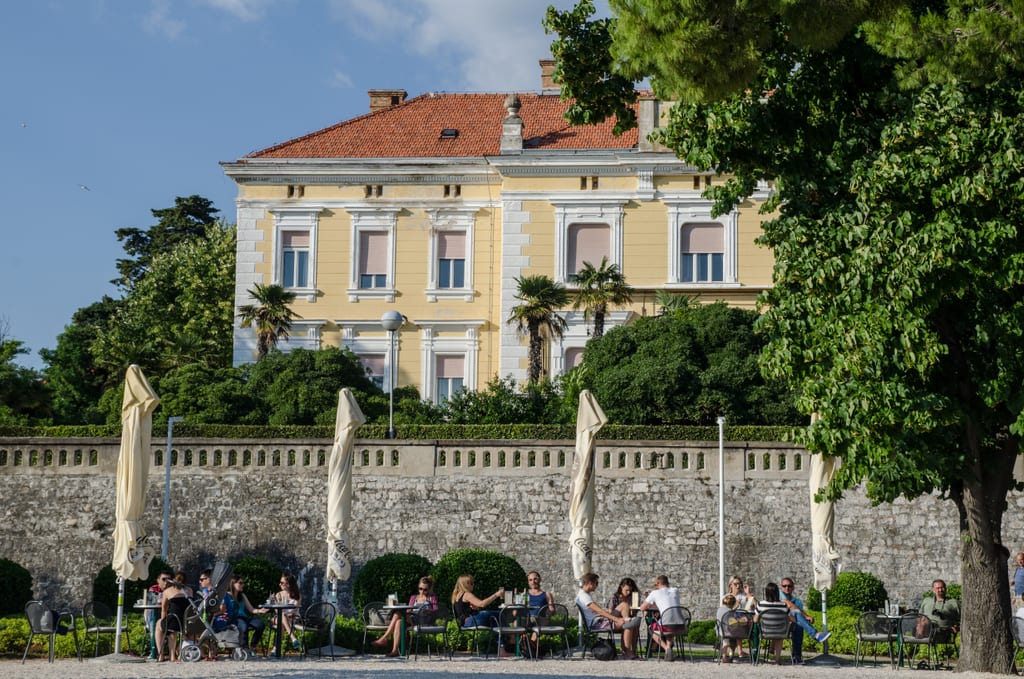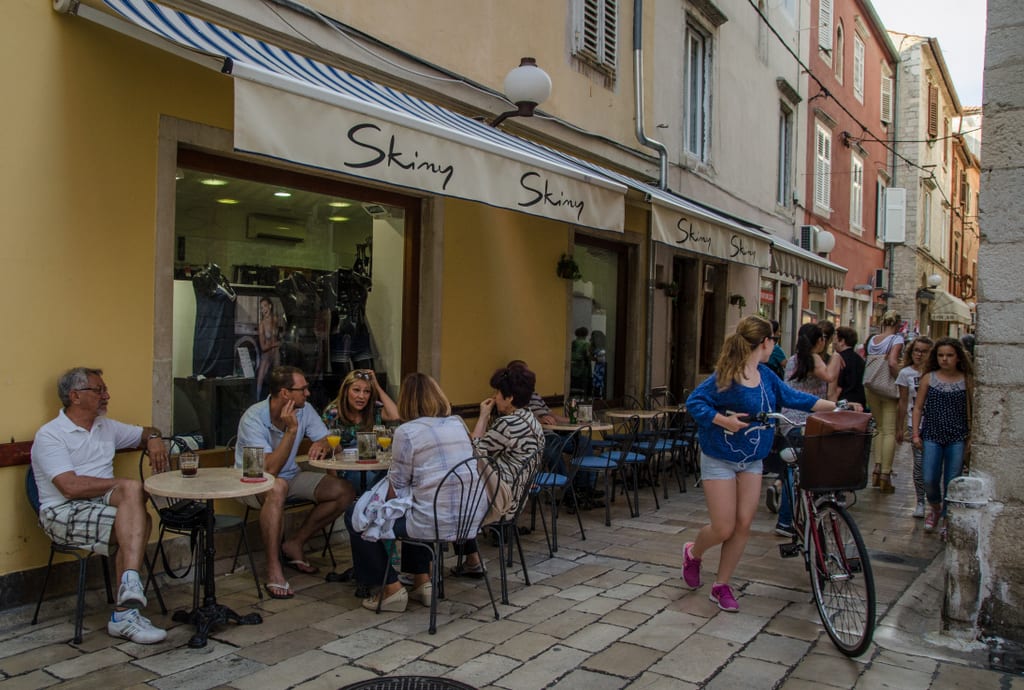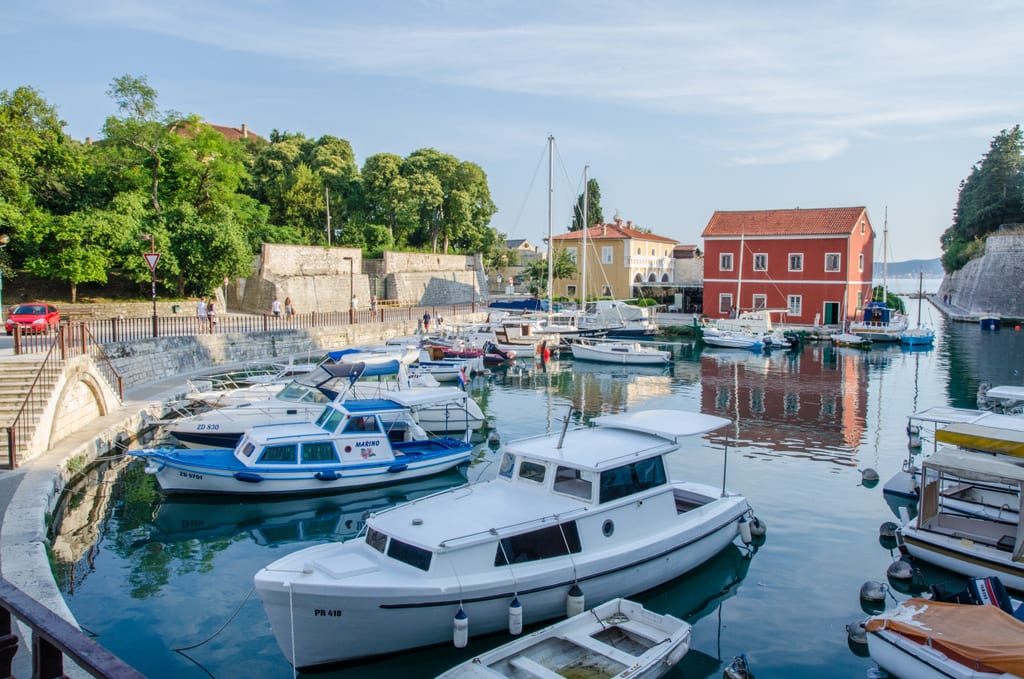 What is it about Zadar?
It's a beautiful city, to start. The colors are gentle pastels mixed in with some bolder shades. The streets are made of burnished marble, so smooth that you could almost ice skate across the cobblestones.
It's the perfect size. The old city is small and easily walkable, though the city of Zadar is one of the larger places in the region.
And it's low-key. I feel truly relaxed when walking around this town. I don't feel overwhelmed with different things to see and do — Zadar is a place for wandering. And wandering is my favorite thing to do, anywhere in the world.
But beyond that, Zadar has a certain je ne sais quoi that I find difficult to articulate. I hope my photos make it more clear to you.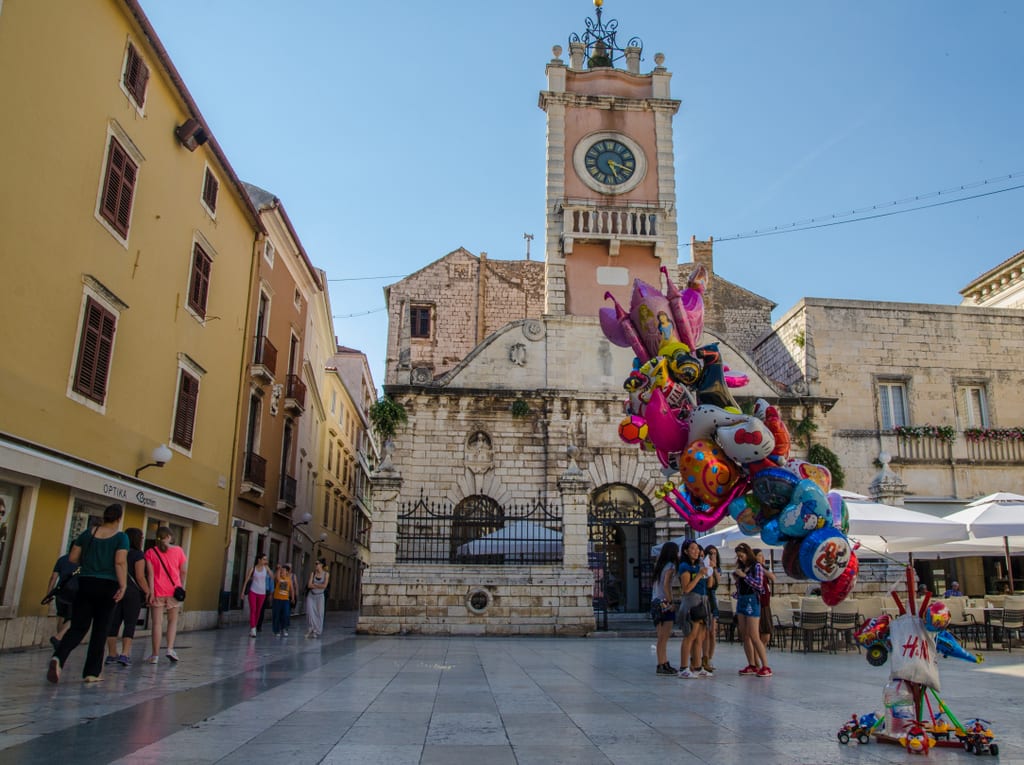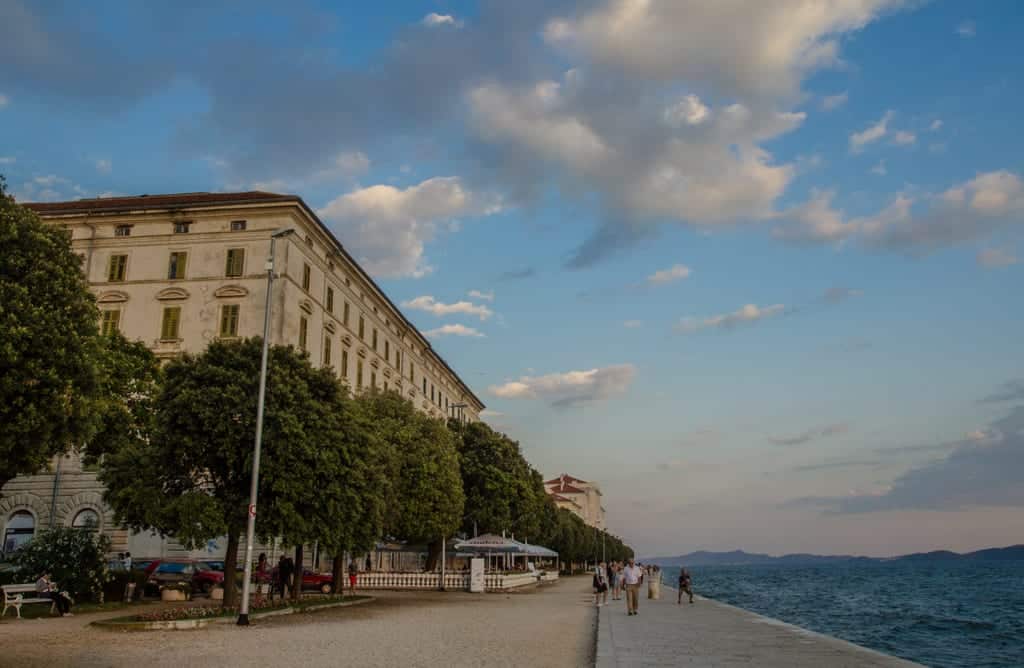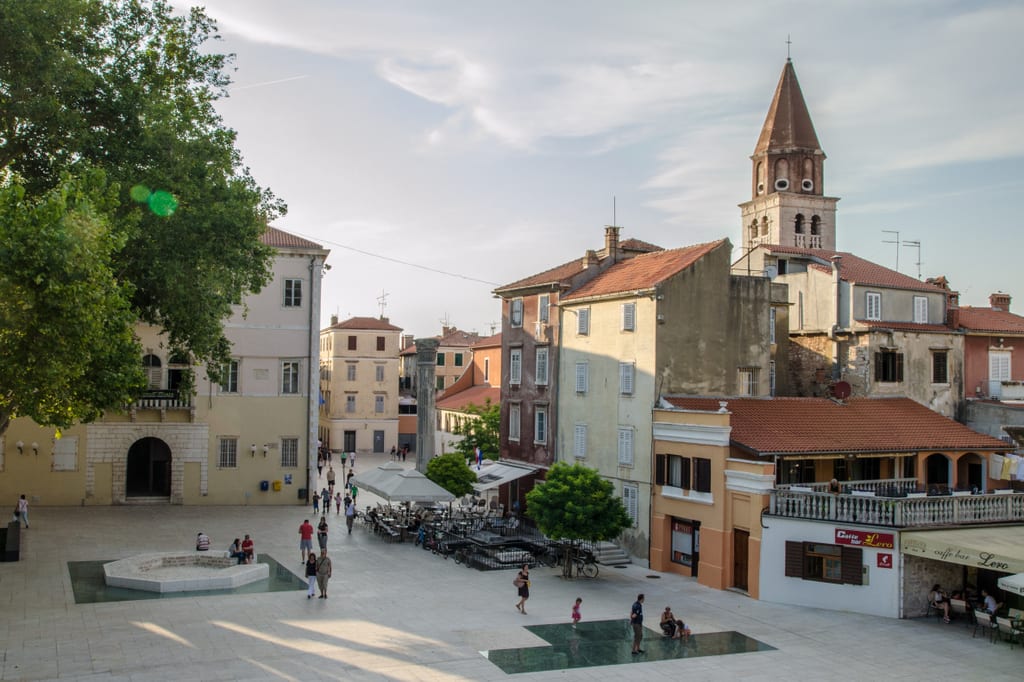 Also, I think Zadar hits the sweet spot in terms of tourism. While there are plenty of tourists here, it's nowhere on the level of Dubrovnik, where you need to fight and punch your way through the Old City during the day. Still, there are hotels, and apartments, and nice restaurants and bars. Zadar has its own (albeit tiny) airport, and it's super-easy to travel here overland from Zagreb or Split.
I think one thing that might keep tourists away is the fact that Zadar doesn't have a beach. It does have easy access to the island of Pag and other nearby beaches, though, especially if you have a car.
If you do make it to Zadar, here are a few things that I recommend you include in your itinerary:
Zadar has a wonderful waterfront, which culminates with the Sea Organ and Sun Salutation. The Sea Organ is a musical instrument powered by the waves — the higher the waves are, the louder and more intense the music is.
That blue disc is the Sun Salutation, a solar-powered light display that lights up at night.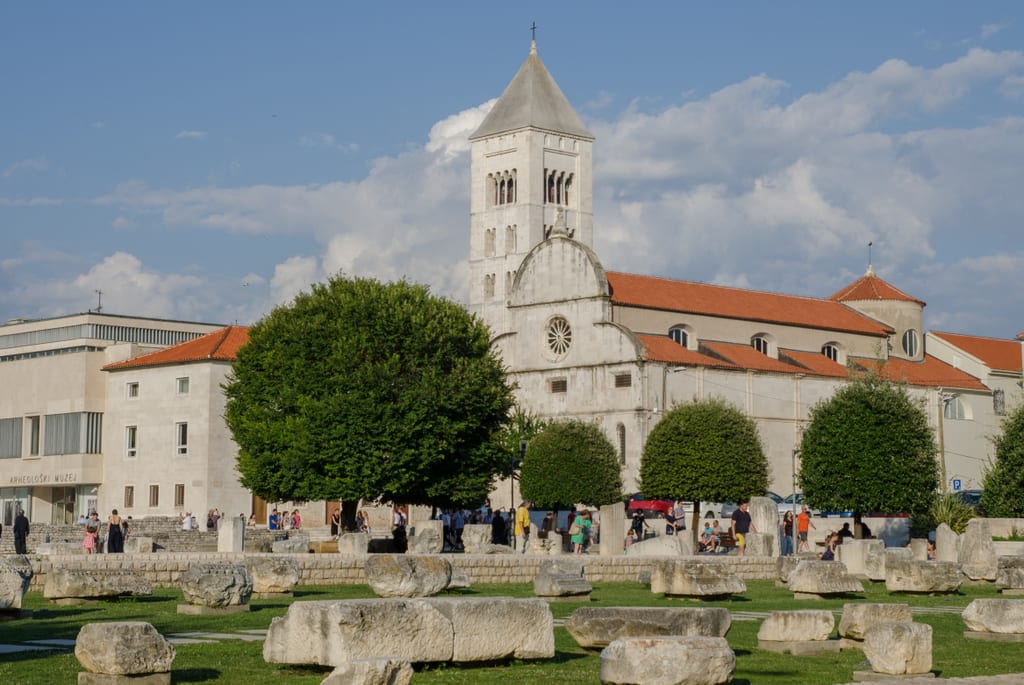 Zadar is home to Roman ruins and beautiful churches. Some UNESCO insiders think that Zadar will become Croatia's newest World Heritage Site. It's on the tentative list (as are many places in the country) but Zadar seems the most likely.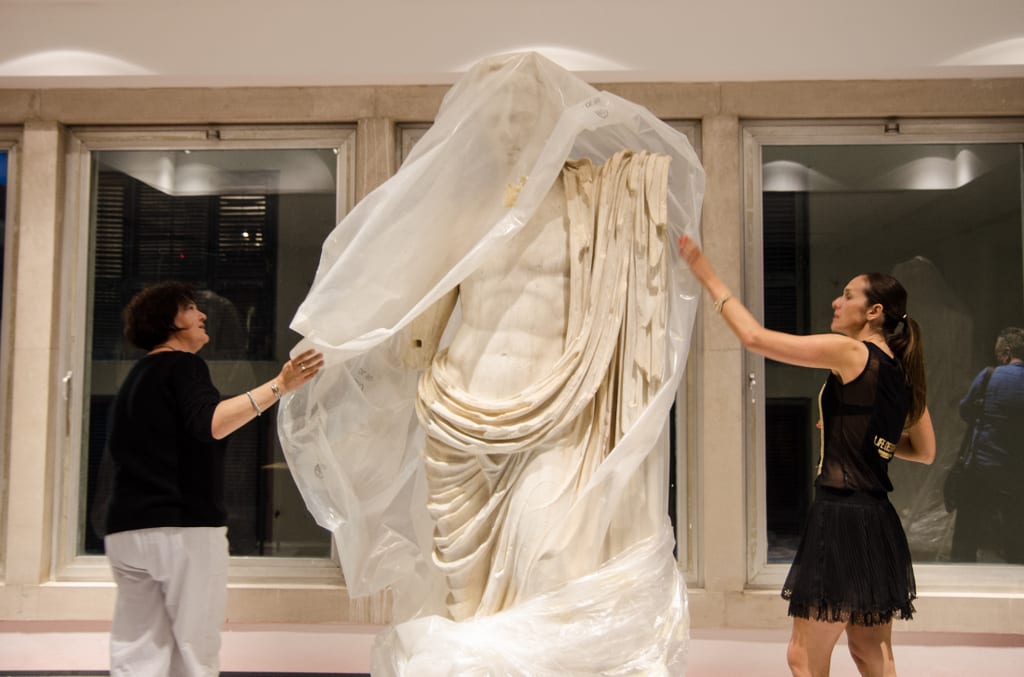 Zadar's Archaeological Museum is worth a visit as well and has incredible well preserved ruins. My recommendation? Go during the hottest part of the day. The AC is a blessing.
Watching the swimmers try to climb the pier on a windy day is definitely a form of entertainment.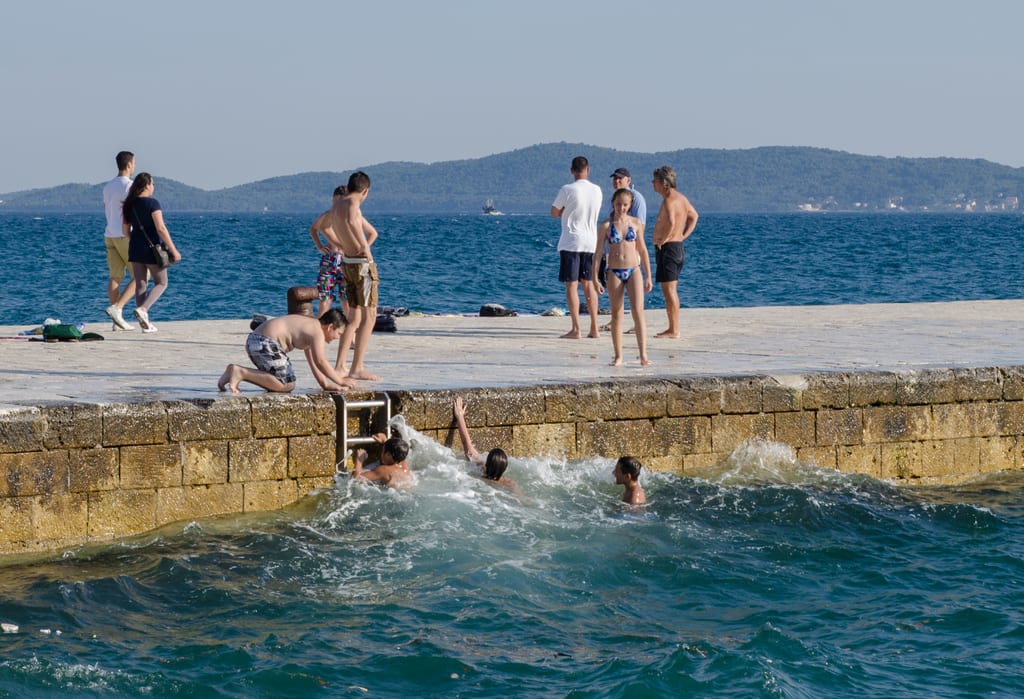 You can do it, boys!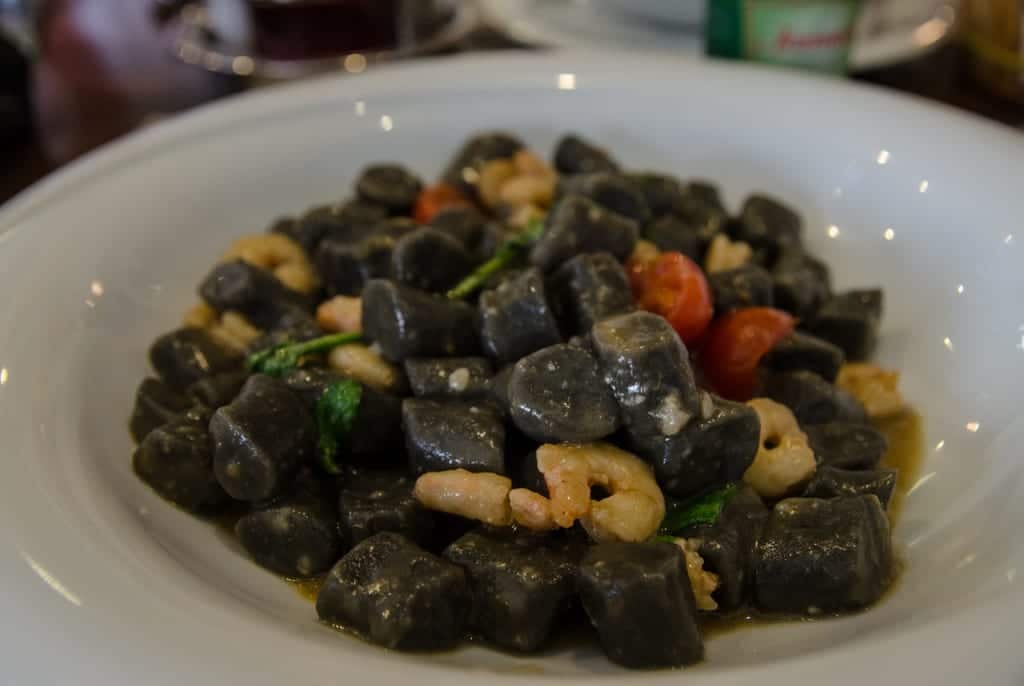 The food is great in Zadar, as it is throughout Croatia. I brought my friends back to the restaurant I went to and loved on my first visit: Restaurant Bruschetta. The food was just as delicious, beautifully plated and surprisingly well priced as it was two years ago!
Above is squid ink gnocchi. You see a lot of squid ink risotto in Croatia, but Bruschetta was the one place where I saw squid ink gnocchi.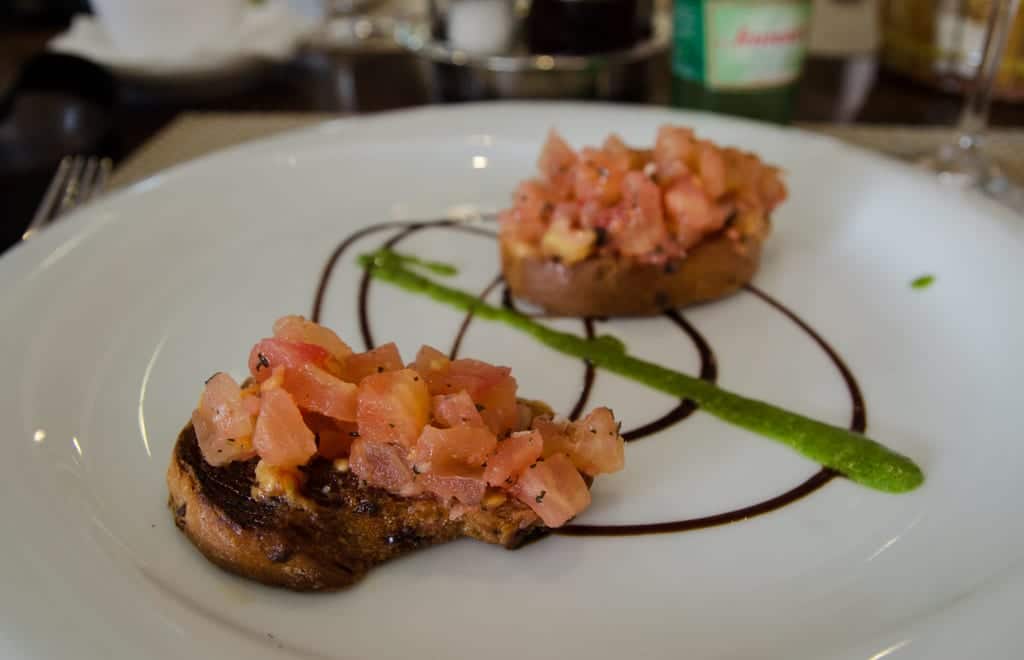 The restaurant's namesake dish is a perfect way to start a meal. Also try a local wine or two.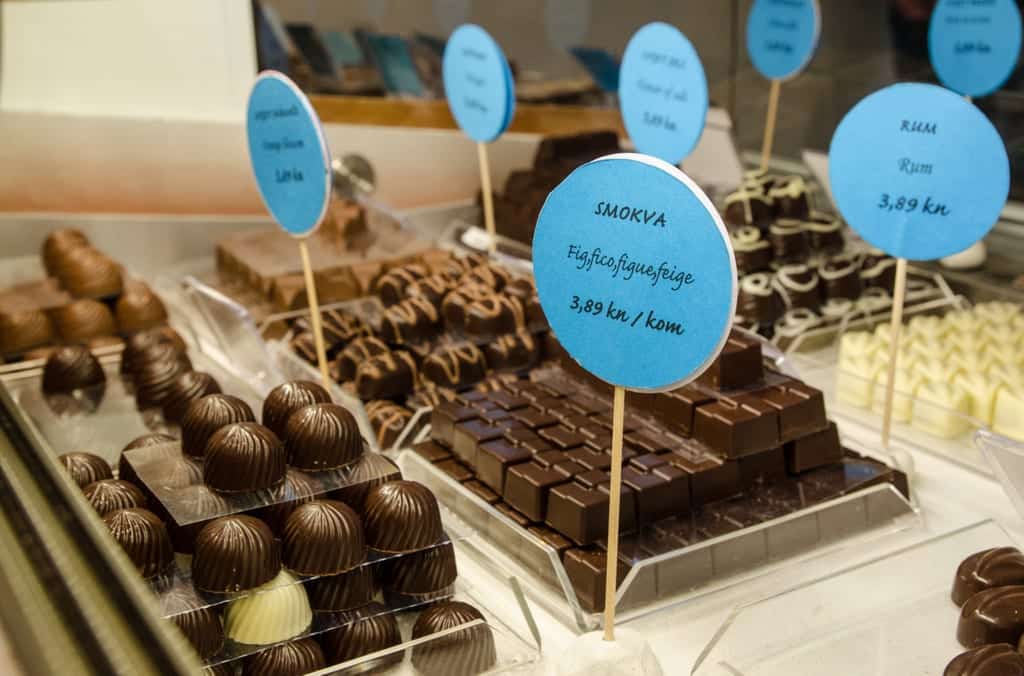 Don't miss a visit to Vitlov Chocolate, either. It's a Zadar institution with fantastic chocolates and a really kind and interesting owner. Most famous are their maraschino truffles.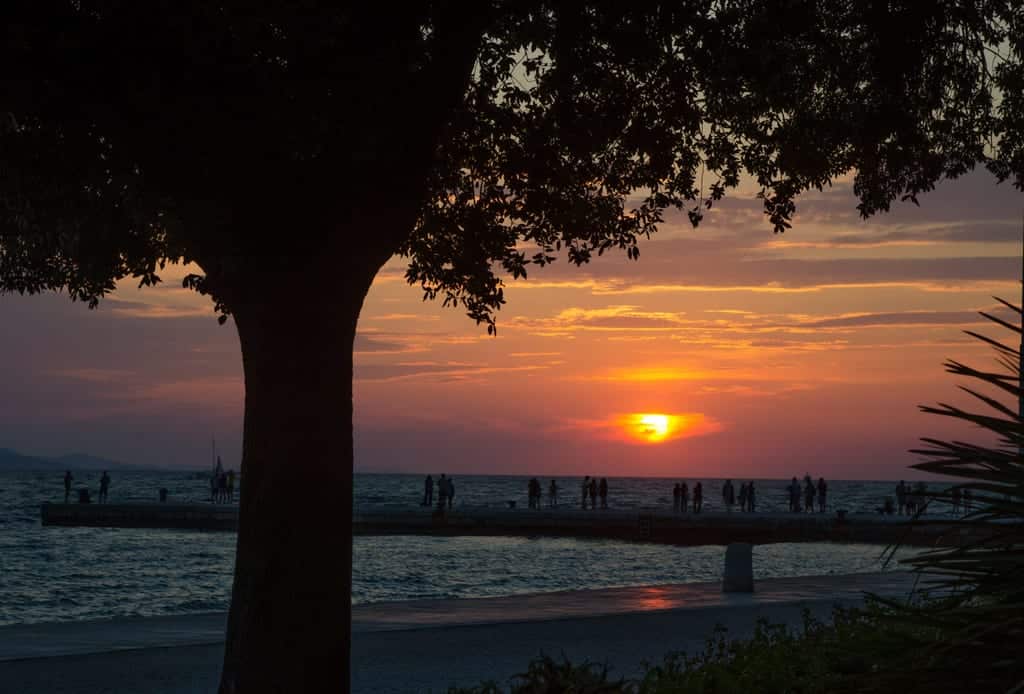 And then there are the sunsets.
Alfred Hitchcock once stated that Zadar was home to the world's best sunsets (or at least better sunsets than Key West). While I personally think that Boracay and Koh Lanta have the edge on sunsets overall, Zadar is definitely on my list of favorite sunset spots in Europe!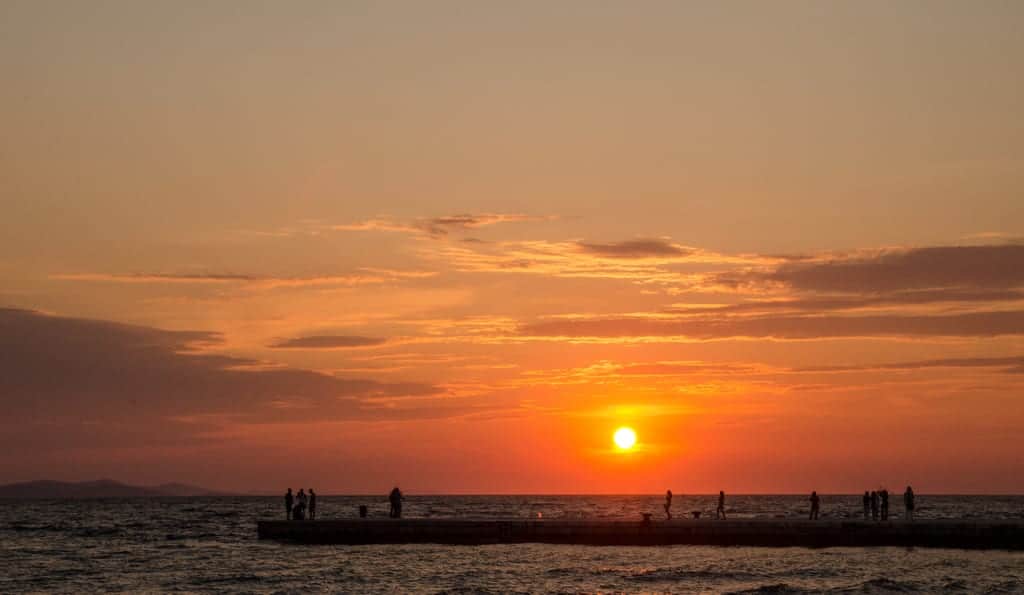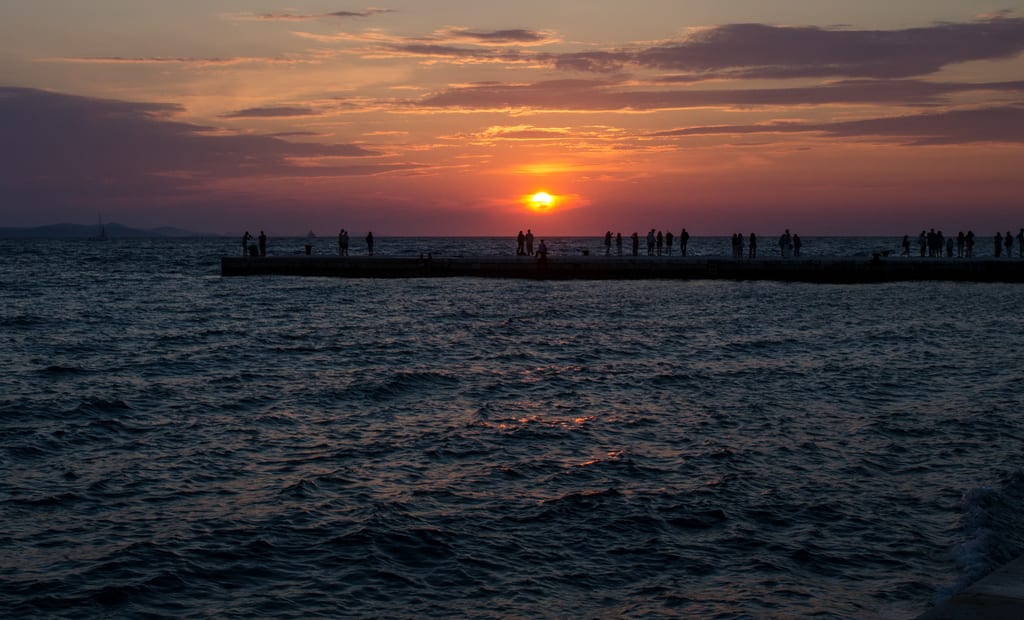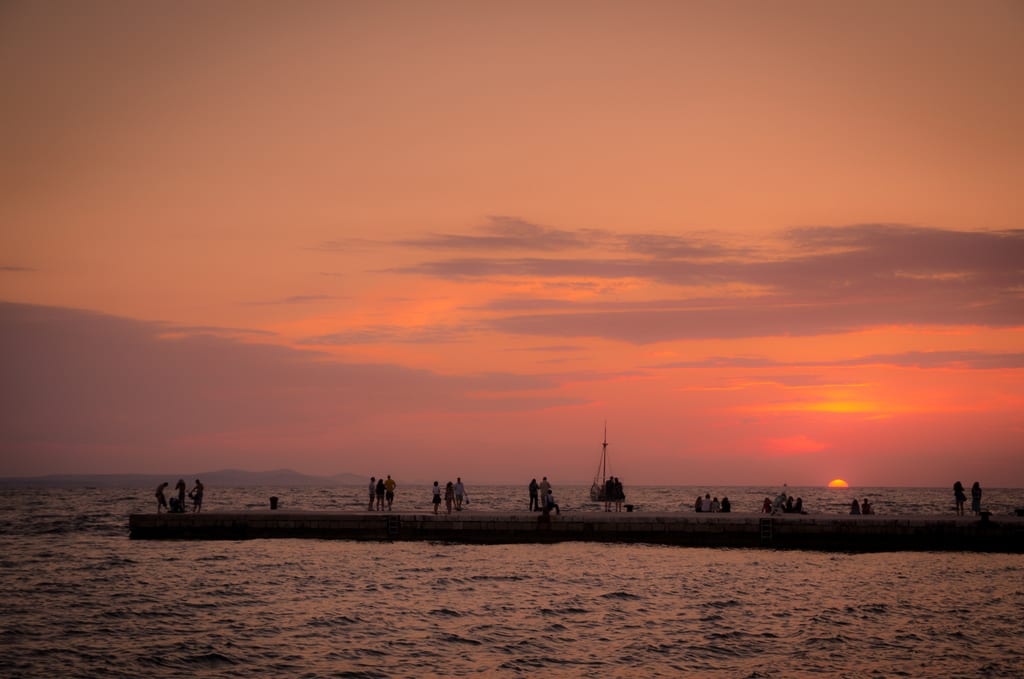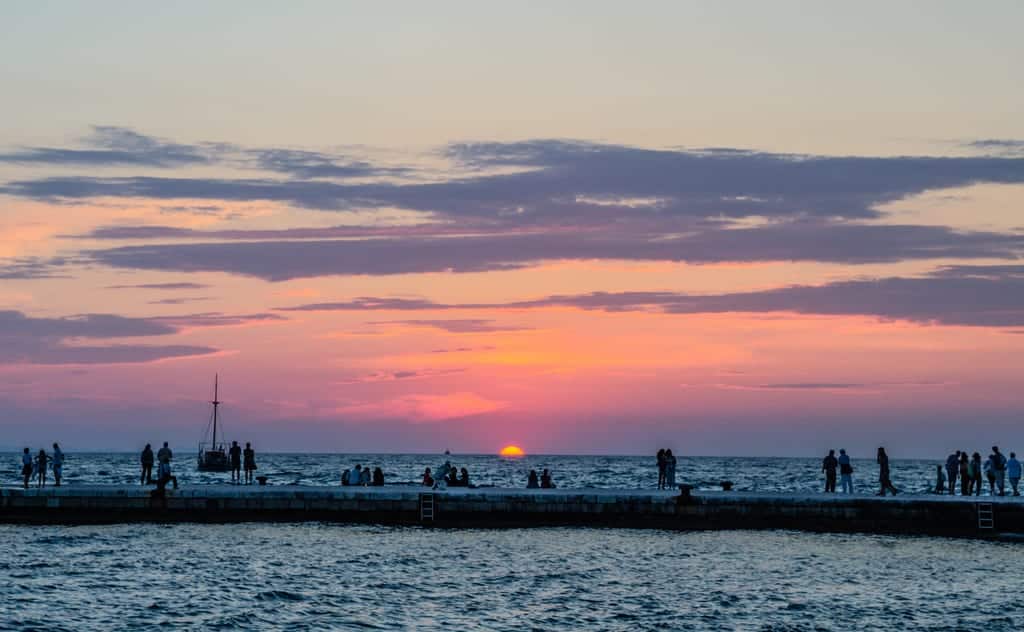 And then there's Zadar after dark.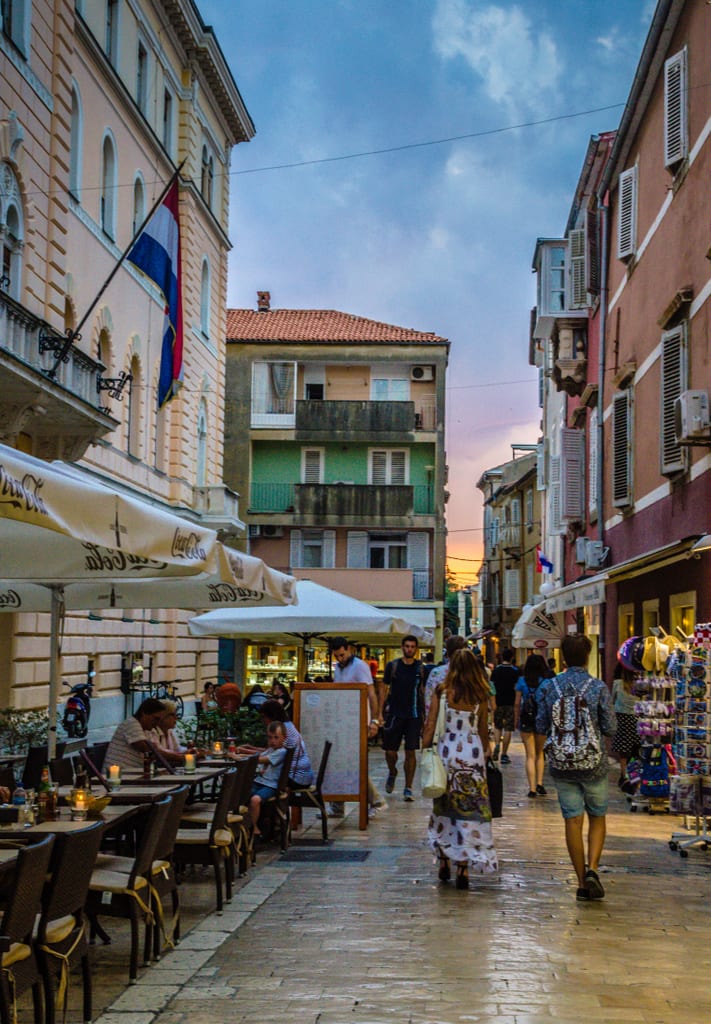 Zadar completely changes as the sun goes down. The colors are richer; the light is more beautiful. The city is much quieter. (I also felt very safe walking around the Old City at night.)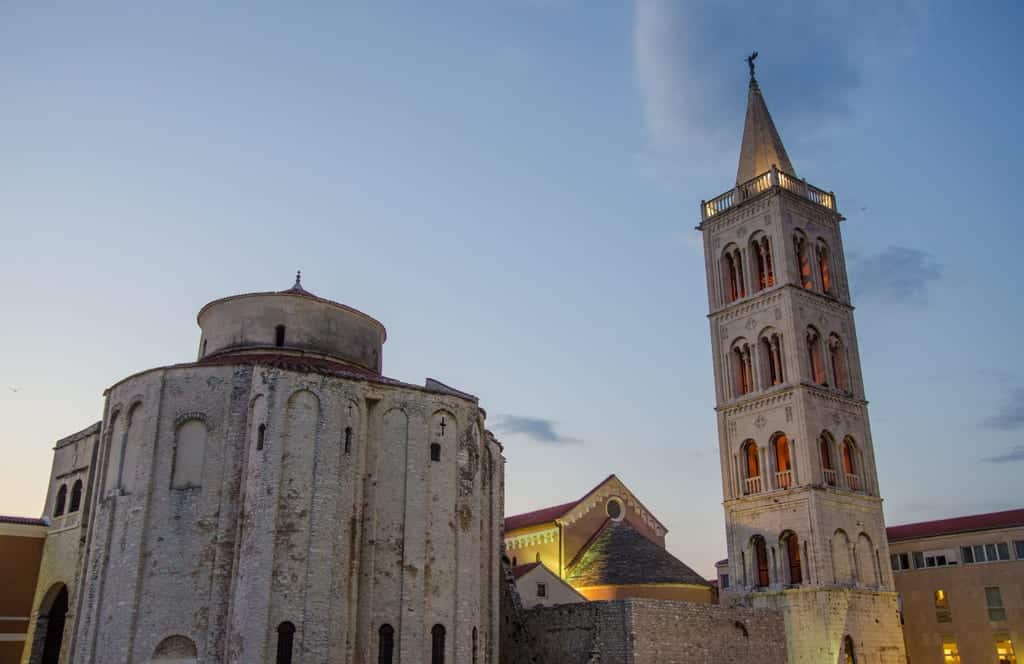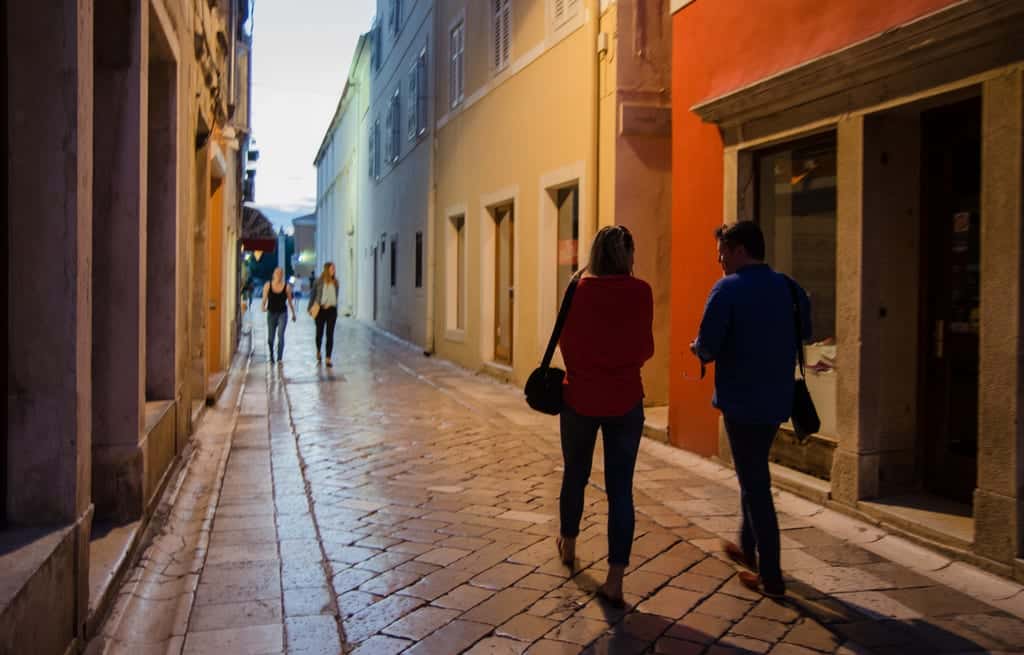 In the future, I'd love to come to Zadar for a month or so and rent an apartment in the old city. Walking those smooth marble streets, sitting in cafes every day, walking along the seafront, and doing day trips to places like Šibenik, Krka National Park, Pag island, Paklenica National Park, and even the Plitvice Lakes? Summery perfection.
As far a summer destinations go, you can't beat Croatia. And as far as Croatian destinations go, for me, there's no place like Zadar.
Planning a Trip to Croatia:
Croatian Islands and the Dalmatian Coast:
Istria and the North:
---
This campaign was created and sponsored by the Croatian National Tourist Board in partnership with iambassador. All opinions, as always, are my own.
Is Zadar your kind of destination?
Get email updates from Kate
Never miss a post. Unsubscribe anytime!