Adventurous Kate contains affiliate links. If you make a purchase through these links, I will earn a commission at no extra cost to you. Thanks!
Have you heard of Edgartown Massachusetts? Edgartown is a beautiful and historic town on Martha's Vineyard — perhaps the island's prettiest town of all. It was first settled in 1642 and was once a whaling port and a major center of the fishing industry.
Today, Edgartown is a popular tourist destination, known for its beautiful architecture, unique shops and art galleries, delicious restaurants, and stunning beaches. There are also plenty of outdoor activities to enjoy in and around Edgartown, from biking and hiking to fishing and sailing.
A stunning seaside village with a rich history and welcoming locals, the outdoor activities in Edgartown and the surrounding area make this a popular destination for all kinds of travelers. Whether you're looking for a family-friendly beach getaway or high end romantic escape, you'll find it in Edgartown.
And it served me well, too. While I stayed in Vineyard Haven, I loved my full day in Edgartown — especially the beaches and boutiques!
Keep in mind that the town limits of Edgartown spread well beyond the downtown area. South Beach, Chappaquiddick Island, and the Obamas' home are all technically part of Edgartown! This guide will focus primarily on downtown Edgartown, but also include the areas that fall within the town limits (though I hate to break it to you — you're not getting invited to the Obamas' house).
Here are some of the best things to do in beautiful Edgartown.
(Planning a trip to Martha's Vineyard? Be sure to check out my guide to the towns of Martha's Vineyard, as well as a profile on the town of Vineyard Haven!)
This post was published in October 2023.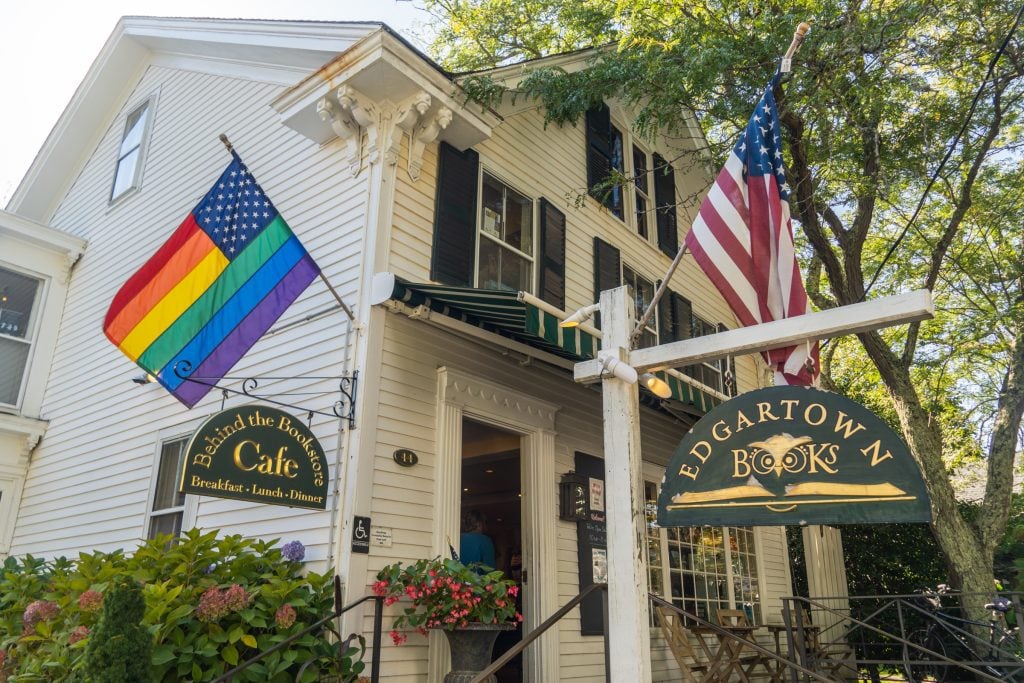 Best Things To Do in Edgartown, Massachusetts
Explore Edgartown on Foot
One of the best ways to experience Edgartown is to explore its charming downtown area on foot. Edgartown offers an interesting range of architectural styles dating from both its first whaling era and the time after whaling fell into decline.
Stroll along the tree-lined streets and you'll find Federal-style homes, Greek Revival mansions, and clapboard cottages. Many are listed on the National Register of Historic Places.
There are also many boutiques and art galleries to browse, so be sure to stop in and check out some of the local businesses. The Edgartown waterfront is also worth visiting. You can take a walk along the docks, watch the boats come and go, or enjoy a meal at one of the many restaurants.
Edgartown is one of the oldest towns on Martha's Vineyard and offers stunning historic streets, lined with all manner of mainstream shops and restaurants tucked into every nook and cranny. Edgartown's narrow streets are lined with boutiques offering everything from high-end clothing and jewelry, art, sunglasses, and swimwear from brands such as Lululemon, Vineyard Vines, Black Dog Shoe Co. and Charleston Shoe Co.
Food options in Edgartown range from high-end seafood and wine restaurants, to casual breakfast, lunch, and ice cream shops, and a new attraction that opened in 2023: Edgartown Farmers Market! This market offers gourmet foods, and meats, vegetables, and seafood produced locally. It is open during the warmer months.
After spending your day shopping and exploring, you can visit Memorial Wharf — where you can watch the teeny-tiny Chappy Ferry cross the channel — or stroll the docks for breathtaking views of Edgartown Harbor and beautiful homes lining its waters.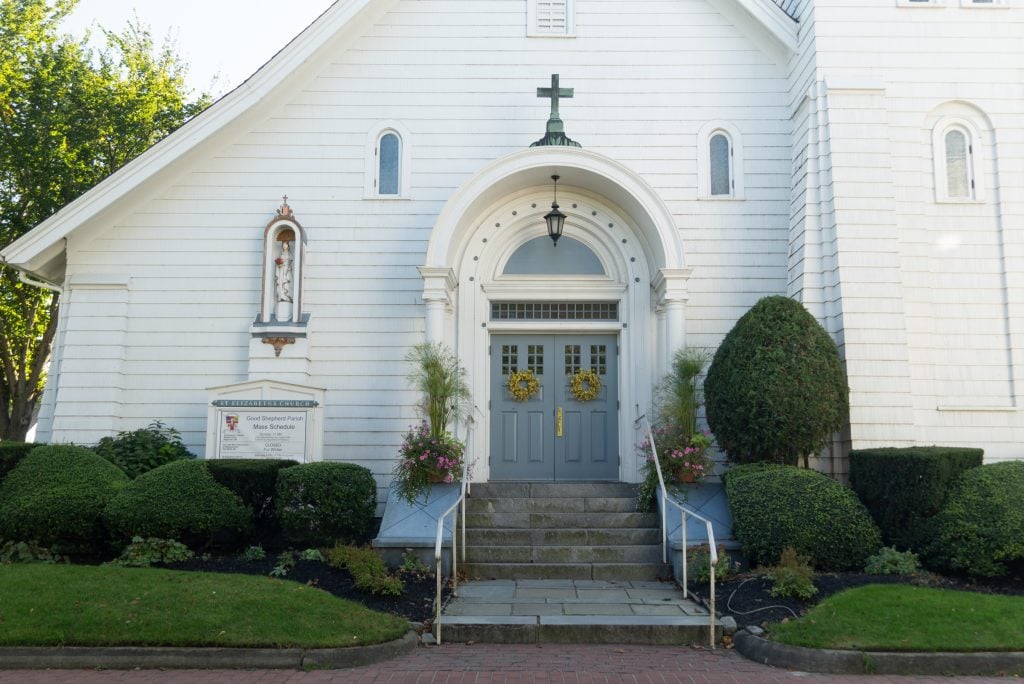 Take a Historic Edgartown Tour
If you're interested in learning more about Edgartown's history, take a walking tour with the Carnegie Heritage Center. These tours are led by knowledgeable guides who will share stories about the town's past. You'll visit historic landmarks such as the Old Whaling Church, the Vincent House, and the Vineyard Preservation Trust.
This 75-minute tour will have you wandering delightfully through Main Street and the harbor where you learn all about Edgartown's maritime history. Discover how the first European settlers and the Wampanoag people shaped the local heritage and traditions.
Tickets are $25 for adults and $10 for youth ages 6–17. Children under 6 are free.
Visit the Carnegie Heritage Center
The Carnegie Heritage Center is a museum dedicated to the history of Martha's Vineyard. The museum features exhibits on the island's Native American history, its whaling industry, and its role in the Underground Railroad.
You can also learn about the island's famous residents, such as President Ulysses S. Grant and author Nathaniel Hawthorne. Though we know they are not the ONLY famous residents of the island…
Admission is free, however, a 60-minute guided tour starts at $10. Donations are always welcome.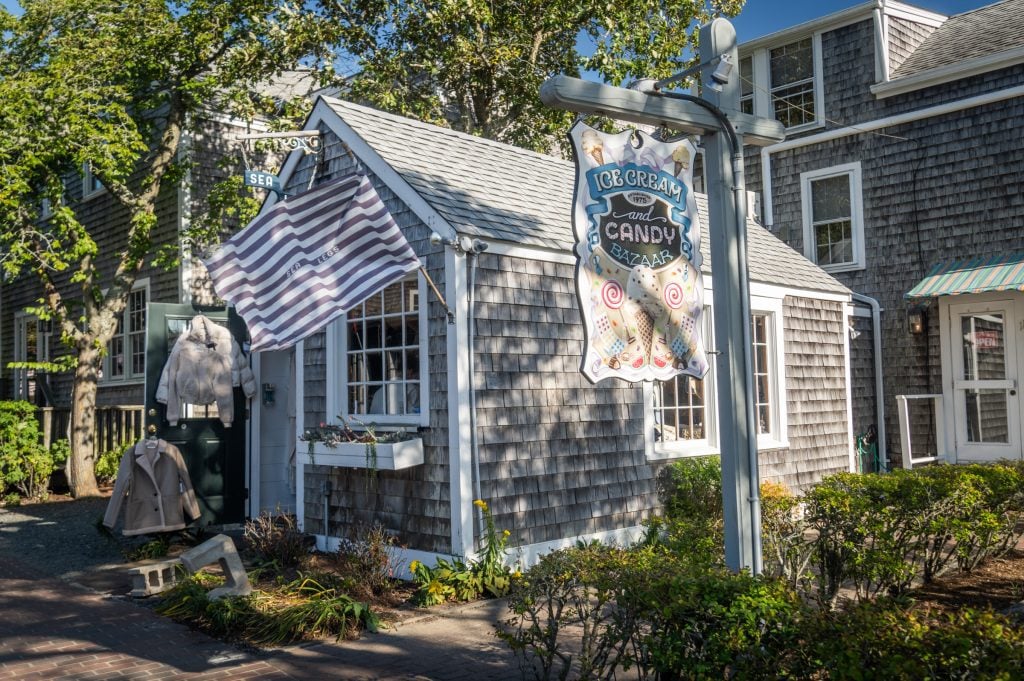 Visit The Vincent House
The Vincent House is a historic spot and encompasses the roots of early Edgartown. In fact, it is the oldest surviving house on Martha's Vineyard!
Built in 1672, it is significant for its architecture; typical of the early colonial period in New England. The Vincent family was prominent in the early history of the island and is a popular tourist attraction.
Admission is free. However, if you'd like a guided tour, the cost is $10. Donations are always welcome.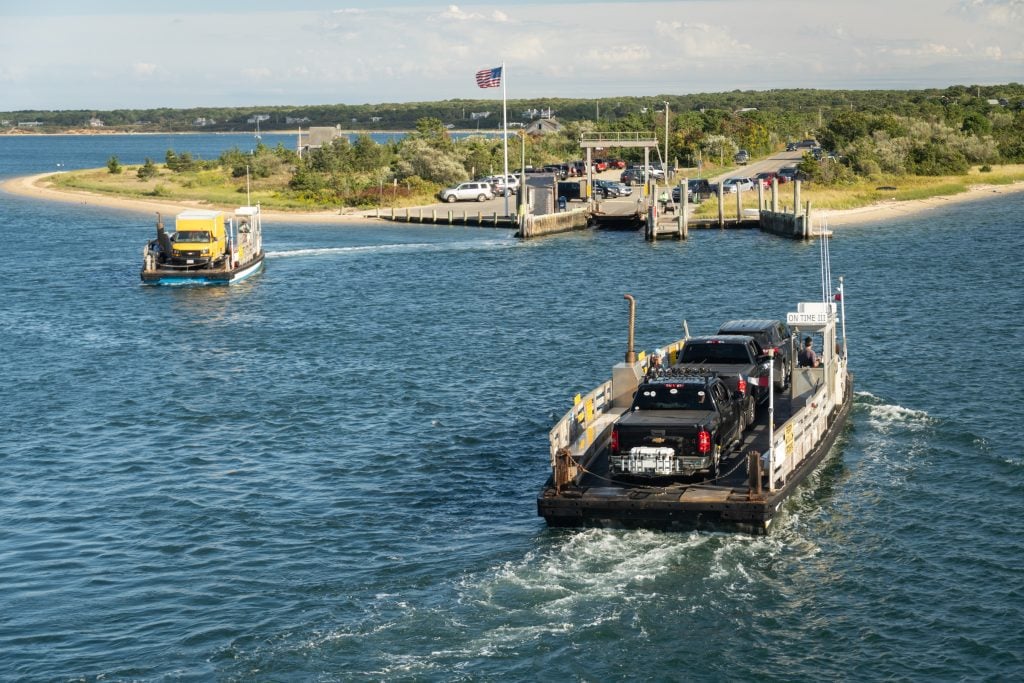 Visit Edgartown Fire Museum
The Edgartown Fire Museum is located in the town's historic firehouse. The museum features exhibits on the history of the Edgartown Fire Department, as well as a collection of antique fire engines and equipment.
If you have kids, this is an especially great place to bring them in Edgartown. Kids will love the chance to explore the firehouse and learn about the history of firefighting in Martha's Vineyard.
Admission is free, although donations are most welcome!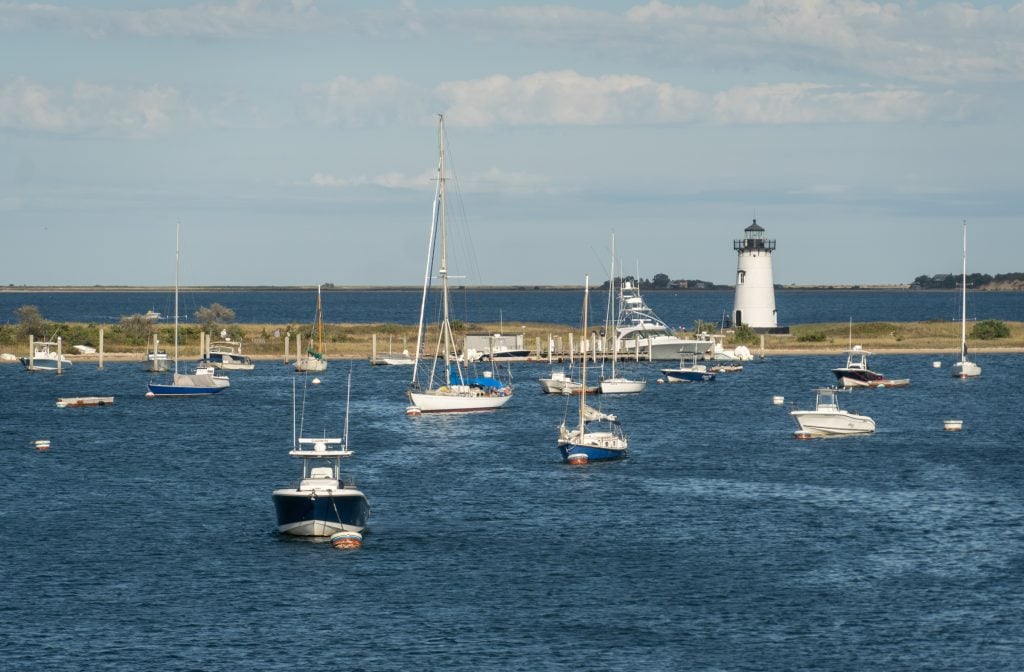 Edgartown Harbor Light
The Edgartown Harbor Light is a historic lighthouse located at the entrance to Edgartown Harbor. The lighthouse was built in 1828 and is still in operation today.
If you're interested in actually visiting a lighthouse in Martha's Vineyard, this is the one to prioritize.
The lighthouse is open to the public for tours, and you can even climb to the top for a panoramic view of Edgartown and the surrounding area. Admission is $18 for adults, $15 for seniors, and $5 for children ages 7 – 17. Children 6 and under are free.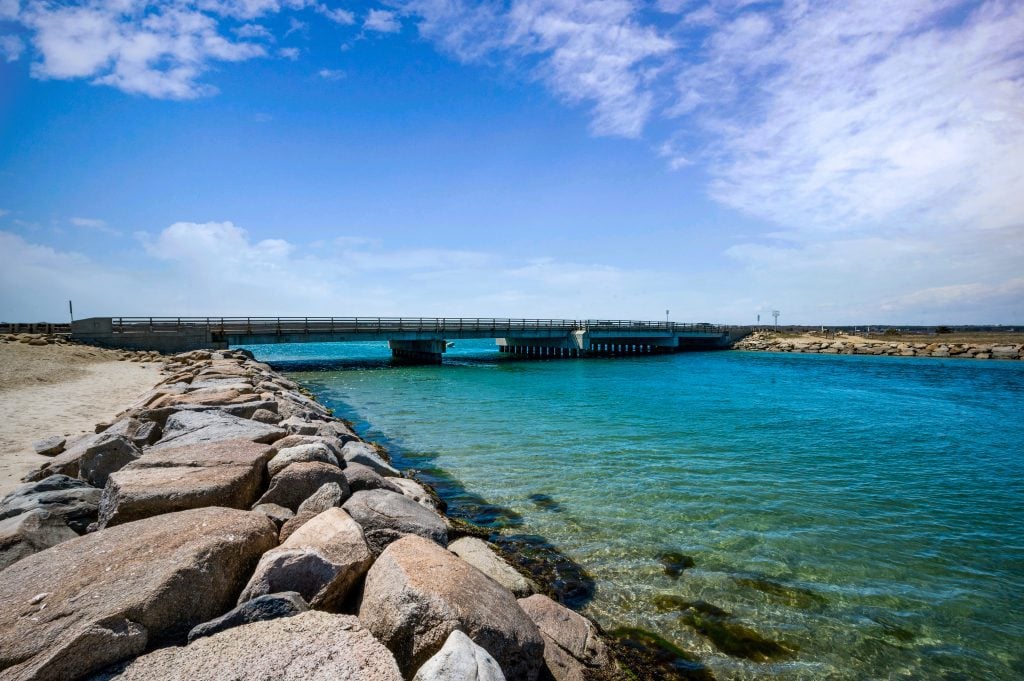 See the Jaws Bridge
Are you a Jaws fan? You've come to the right place. The 1975 film was shot in Martha's Vineyard, and you can visit many of the sites in the film today.
And yes, you can visit the American Legion Memorial Bridge (known as the Jaws Bridge on this island) — a two-lane drawbridge that connects the towns of Edgartown and Oak Bluffs.
You can drive or walk across the bridge and take in the beautiful views of the water.
Visit Bad Martha Brewery
You might not be able to find an actual vineyard on Martha's Vineyard (my husband is still puzzled by this more than a year after our trip), but you can definitely find a brewery!
The craft beer scene is alive and well in Edgartown, and Bad Martha Brewery is a local brewery that offers tours and tastings. It's best known for its creative beers, such as its Mischievous Mermaid IPA and Half Shell Oyster Stout.
You can sample the beers on the brewery's outdoor patio, which offers stunning views of the harbor.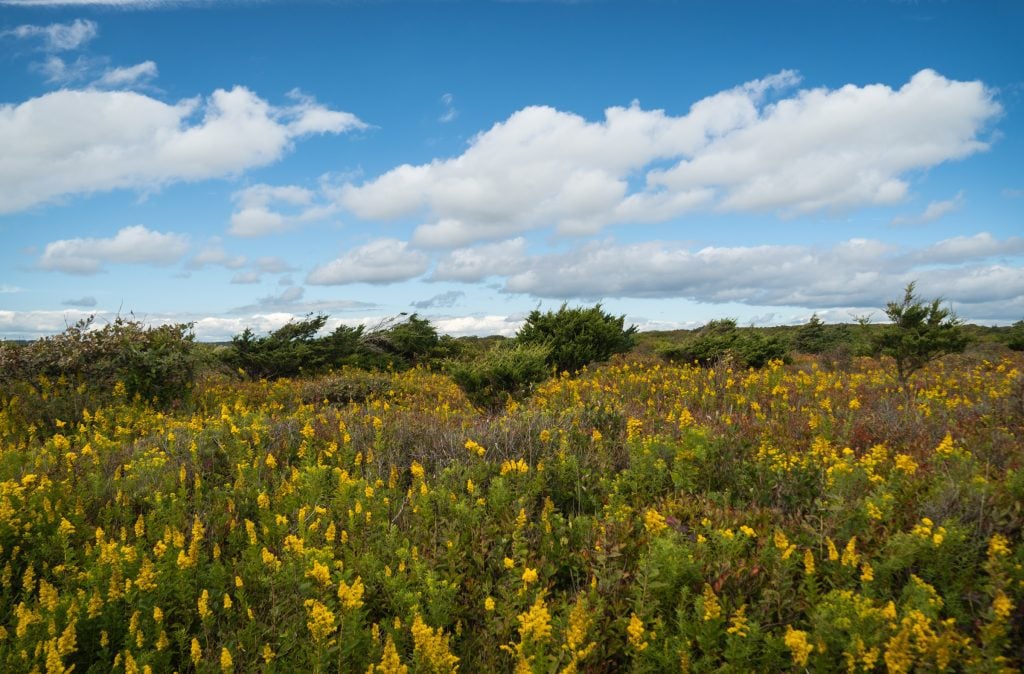 Visit Morning Glory Farm
Martha's Vineyard is known for its small farms that have produce for sale. Visiting these farms is one of the best ways to get to know locals (and enjoy hyper-local produce).
Morning Glory Farm is a historic working family farm that focuses on sustainability and offers tours and activities for visitors of all ages. You can take a hayride, visit the barnyard animals, or pick your own fruit and vegetables. They have a variety of flowers in season, as well.
Their popular farm stand is a popular stop where you can buy fresh produce, baked goods, and other local products. Visiting here is a must if you're renting a home on Martha's Vineyard and self-catering.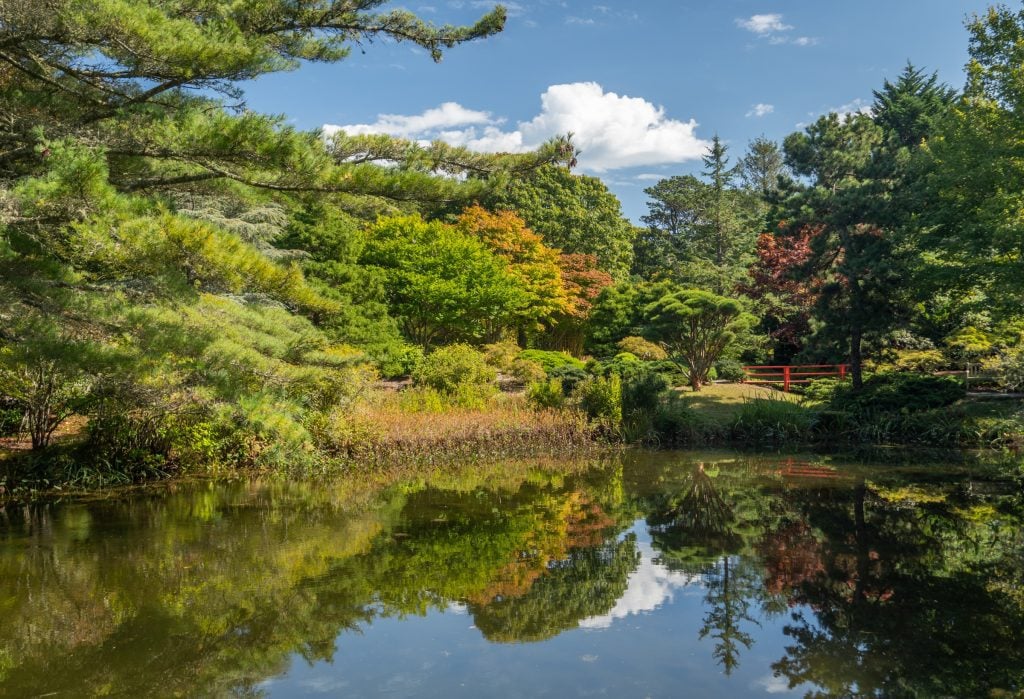 Spend a Day on Chappaquiddick Island
Chappaquiddick Island is a small island located just a short ferry ride off the coast of Edgartown, and is technically part of the town itself. The island is a great place to escape the "hustle and bustle" of the main island and enjoy some peace and quiet.
Chappaquiddick (known to locals as "Chappy," with the sweatshirts to match!) lies on the east end of Martha's Vineyard and is separated from Edgartown by a short channel. Offering peaceful beaches, hiking trails and more, it provides a peaceful sanctuary perfect for relaxation during peak tourist season on Martha's Vineyard.
Access is only possible via the Chappy Ferry: an enjoyable two-minute ferry ride that accommodates pedestrians, bikes, cars, and even motorbikes and trailers. Once across from Edgartown, all seems quiet on Chappy and all you can hear are waves lapping onto shore. Roundtrip fares are $5 for passengers, $7 for passengers with bikes, and $15 for passengers in cars. Visit their website for up-to-date schedules and information.
Your first task should be exploring its miles of beautiful sandy beaches. Unlike Vineyard Haven and Oak Bluffs, where crowds often congest these spots, Chappy allows for plenty of solitude. East Beach, also known as Leland Beach, offers swimming, fishing, and birdwatching. With amazing views of the Atlantic, it's the perfect spot to spend some quality relaxation time.
Explore the rugged trail network and pristine nature reserves on the island, such as Cape Poge Wildlife Refuge, home to a unique collection of hardy red cedars, salt marshes and an idyllic salt pond. Visit the historic lighthouse that was built in 1801 and is open to the public.
Wasque Point (pronounced WAY-squee) offers stunning ocean views, scenic hiking trails, and rolling dunes. Visitors can enjoy swimming, fishing, and clamming in the pristine waters, or simply relax on the beautiful sandy beach. The Wasque Point Lighthouse, built in 1878, is a popular spot for photography and birdwatching. You'll also find seals and horseshoe crabs aplenty!
Safety tip: don't swim anywhere near seals. Sharks feed on seals here on the Vineyard, and you can't be too careful.
Chappaquiddick Island is also home to the Mytoi Japanese Gardens. These tranquil gardens feature both exotic and native plant species around a peaceful pond, perfect for strolling through. A small interpretive center on site also provides insight into these delicate gardens.
I strongly recommend exploring Chappy by bike. If you're visiting during high season, it will be a LONG wait for the ferry and parking will be a pain; with a bike you can just hop on, go, and park anywhere.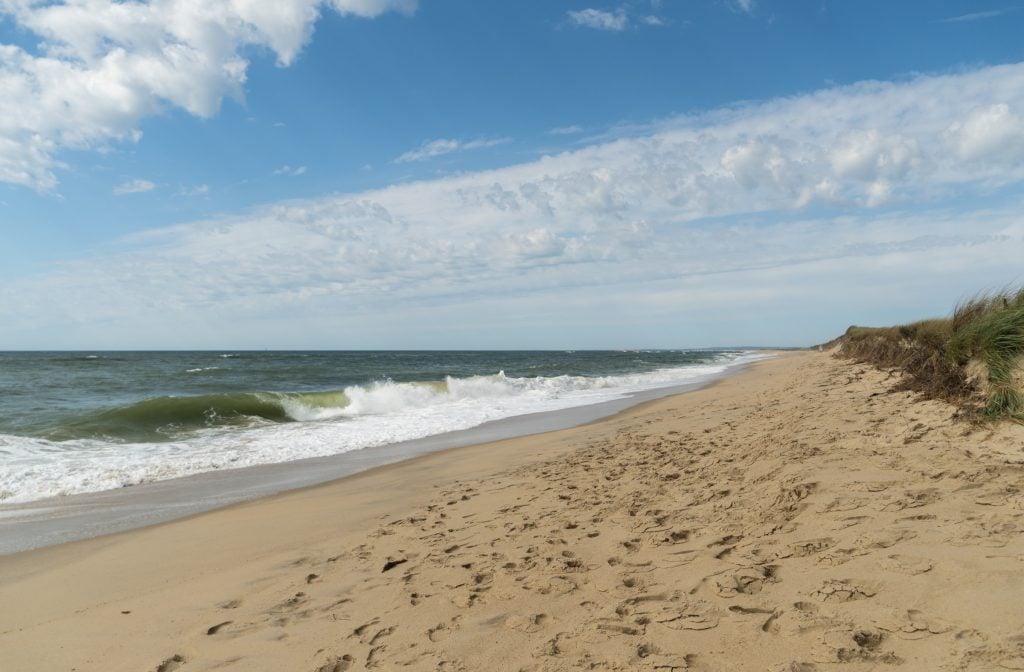 Visit South Beach
There are few places in Edgartown that can match the beauty of South Beach (also known as Katama Beach). Located on the southeast coast of Martha's Vineyard, visitors enjoy a pristine stretch of soft sand with clear blue water and gentle waves. You can swim, sunbathe, or build sandcastles on the beach.
South Beach is the favorite beach of many a Vineyard visitor, and it's easy to see why. That said, you should know that waves here can get intense when it's windy, and high tide doesn't leave a ton of room for laying out.
Amenities including a playground and picnic area can be found on South Beach. Lifeguards are on duty during the summer months, and there are also restrooms and showers available.
In addition to swimming and sunbathing, South Beach is also a great place for fishing. The beach is home to a variety of fish, including striped bass, bluefish, and fluke. There is a designated area for fishing on the eastern end of the beach.
Neighboring Norton Point Beach is another beautiful beach located just a short walk from South Beach. Norton Point Beach is known for its dramatic cliffs and stunning views of the Atlantic Ocean. The beach is also a popular spot for surfing and fishing.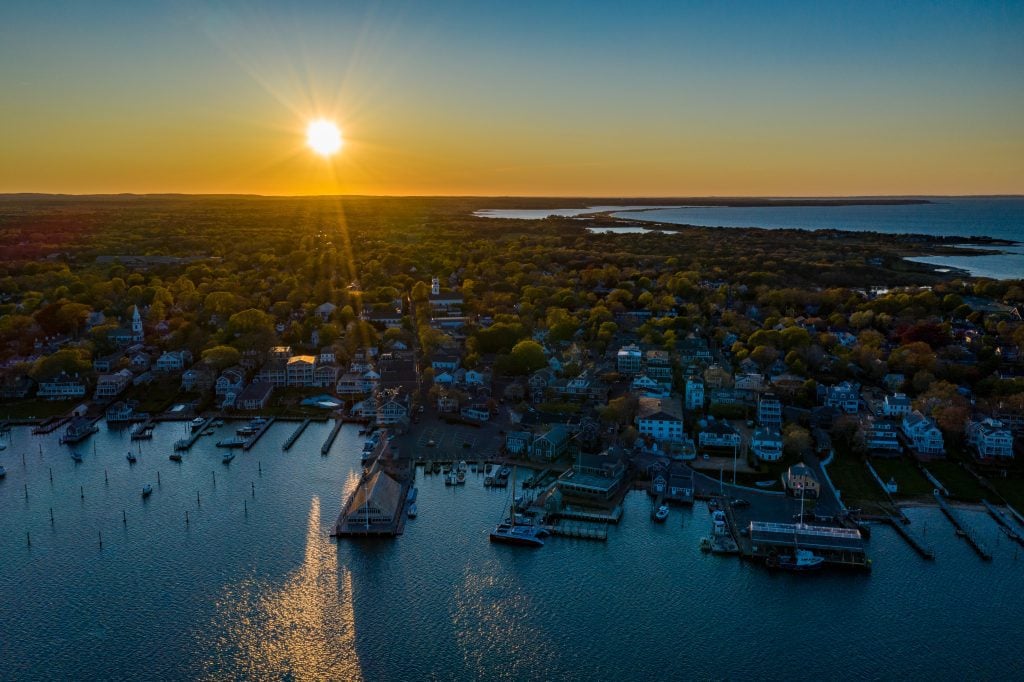 Go on a Sunset Sail
One of the best ways to end a day in Edgartown is with a sunset sail. You can enjoy the stunning views of the harbor and the town as the sun sinks below the horizon. Several companies in Edgartown, like Cat Boat Charters, offer sunset sails, so be sure to book your spot in advance.
Take a leisurely 2-hour private sail aboard the Tigress. The restored 30' wooden catboat was a former workboat, lovingly repurposed to bring all those who grace her deck a fantastic journey and an unforgettable experience.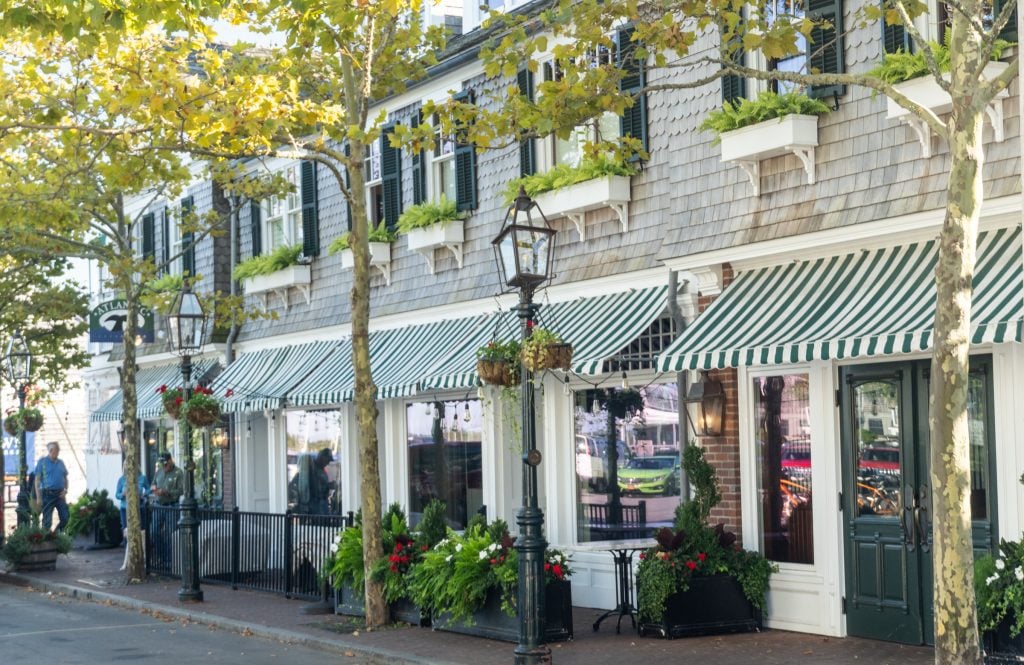 How to Get Around Martha's Vineyard from Edgartown
What's the best way of getting around Martha's Vineyard? If you're based in Edgartown, you can see most of the sights on foot — though having a bicycle will allow you to get much further and see more.
Bicycles can take you all over the island (though if you're heading to up-island destinations like Chilmark, Aquinnah, or West Tisbury, know that biking up and down those hills can be more of a challenge). And in my opinion, Chappaquiddick Island is best explored on bike. (You can skip the long line for the Chappy Ferry if you don't have a car!)
There are several places to rent bikes in Edgartown, including Edgartown Bicycles, Martha's Vineyard Bike Rentals, and Wheel Happy Bicycle Shop.
No bike? It's easy to get around the island on Martha's Vineyard's bus system, and plenty of people bring their cars over, too (though beware of parking difficulties in high season).
Most ferries to Martha's Vineyard arrive in Vineyard Haven or Oak Bluffs, including the Steamship Authority car ferries from Woods Hole and the Hy-Line Cruises passenger-only ferries from Hyannis. It's a short drive from either town, so don't fret about being dropped off in a different destination.
However, the Falmouth-Edgartown Ferry goes, as you might guess, from Falmouth right to Edgartown. This ferry only takes passengers, not cars.
You can also fly directly into Martha's Vineyard's airport from East Coast hubs like Boston and New York.
Best Time to Visit Edgartown, Massachusetts
Martha's Vineyard is a quintessential summertime destination. You come here for sun, seafood, and beach time, and July and August are the peak months of the year, with big crowds and high prices.
I recommend visiting slightly off peak season if you can. My own visit was in late September and it could not have been more PERFECT. It was warm but not hot — a mix between t-shirt weather and denim jacket weather — and the beaches were nearly completely deserted. I was flabbergasted how empty the island was.
Spring and fall are wonderful times to experience Vineyard culture off-season. Keep in mind that winter is very quiet. Many places close for the season. This is the time to get to know the true local experience on Martha's Vineyard!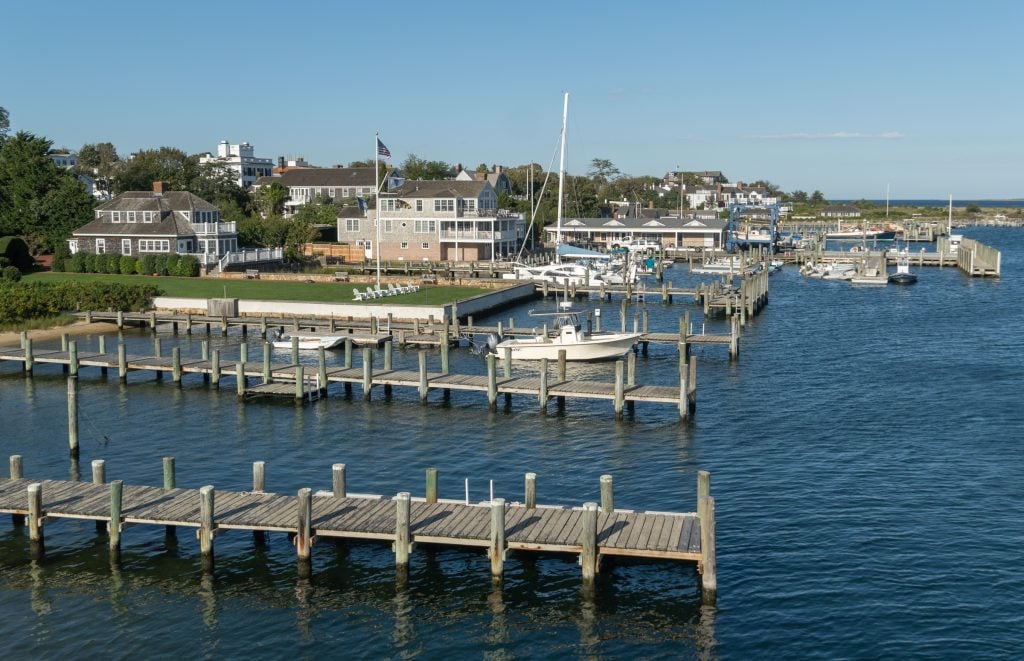 Is Edgartown Worth It?
Edgartown is a magnificent town and it's incredibly worth your time. Even if you're not spending your trip based in Edgartown, it's worth visiting for the day and taking in all it has to offer.
Edgartown is a lovely place, and I hope you enjoy your time on Martha's Vineyard!
More on Martha's Vineyard:
More on Cape Cod:
More on Massachusetts:
Have you been to Edgartown Massachusetts? Share away!