Adventurous Kate contains affiliate links. If you make a purchase through these links, I will earn a commission at no extra cost to you. Thanks!
There are so many excellent museums in Boston — it's one of my favorite things about the city. Honestly, if you're a big museum fan, Boston is one of the best places you could go!
Even so, most visitors to Boston tend to go to the big ones — the MFA, Museum of Science, and Isabella Stewart Gardner Museum — or the mainstays of the Freedom Trail rather than branching out into the cool, niche, more out-of-the-way museums. My suggestion? Take a look at the unusual ones on this list!
Whether you're a longtime Bostonian looking to explore your own city, a parent determined to give your kids an educational vacation, or a weekend visitor hoping to hit the best spots in three days, this guide will give you some ideas you didn't have already.
Here they are — the best Boston museums.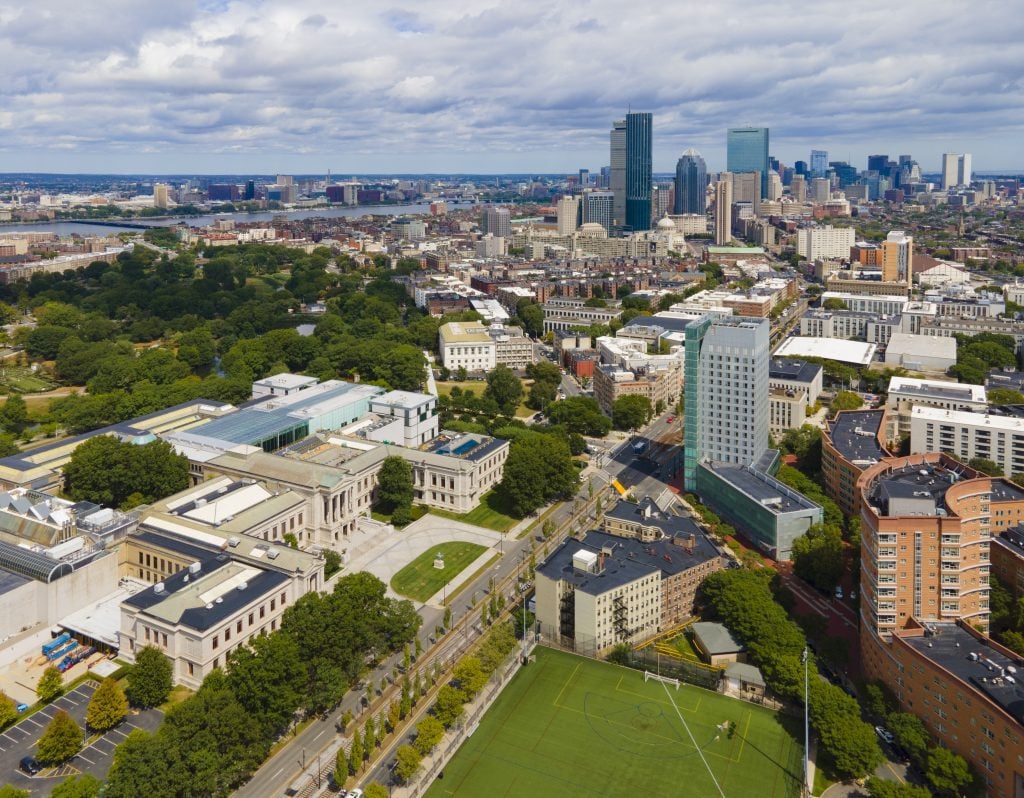 Boston Museums FAQ
Isabella Stewart Gardner Museum
The Isabella Stewart Gardner Museum is a memorable museum full of European, Asian, and American artworks. It's a great place to stroll slowly through paintings, tapestries, sculptures, and other decorative arts and immerse yourself in the history of the area through art.
Founded by the eccentric Isabella Stewart Gardner, the museum was made possible because her will stipulated that her art collection be permanently displayed "for the education and enjoyment of the public forever." She had a bohemian style and a thirst for travel, which makes the collection very unique. The courtyard is to die for.
But probably what this museum is best known for is the most famous heist in the history of Boston which occurred in 1990. Thirteen works of art with a combined value of $500 million were stolen in a brilliant display of thievery that remains unsolved even today.
Today, there are empty frames where the stolen art should be. I highly recommend learning about the heist before visiting; the "Last Seen" podcast is a good place to start.
Admission to the Isabella Stewart Gardner Museum is $20 for adults, $18 for seniors 65+, and $13 for students with valid ID.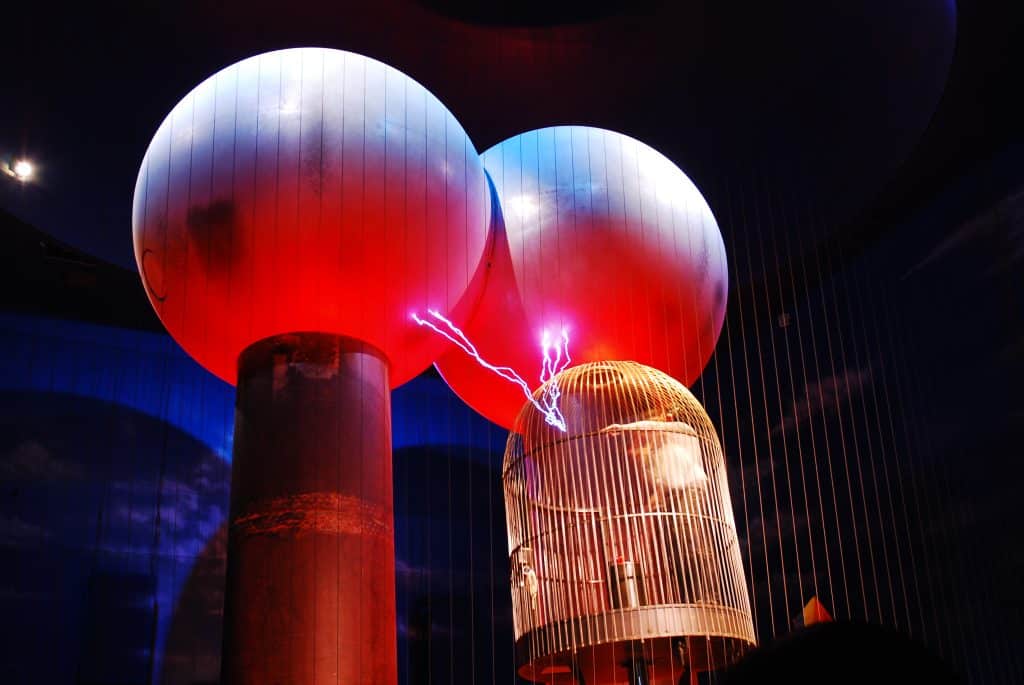 Museum of Science
As one of the world's largest science centers, Boston's Museum of Science is the perfect place for inquisitive kids and kids at heart! Located on the Charles River Basin, a variety of fun interactive displays span the museum's rotating and permanent exhibits.
The Hall of Human Life, Wicked Smart: Invented in the Hub, Live Animal Care Center, and New England Habitats are just some of the amazing exhibits you'll find here. In fact, there are over 500 interactive exhibits and a variety of live presentations throughout the day.
The MOS features the Omni Theater, New England's only domed IMAX theater, as well as a planetarium and a Theater of Electricity with one of the world's largest Van de Graaf generators, a boon for science nerds!
Speaking as an adult who went on many field trips here as a kid — the Museum of Science is one of the best things to do in Boston with kids. They will LOVE it.
Admission is $29 for adults, $25 for seniors, and $24 for children age 3-11 (under 3 get in for free). Become a member to get access to events and free admission throughout the year, including parking access.
Read More: 24 Fabulous Things to Do in Cambridge, Mass.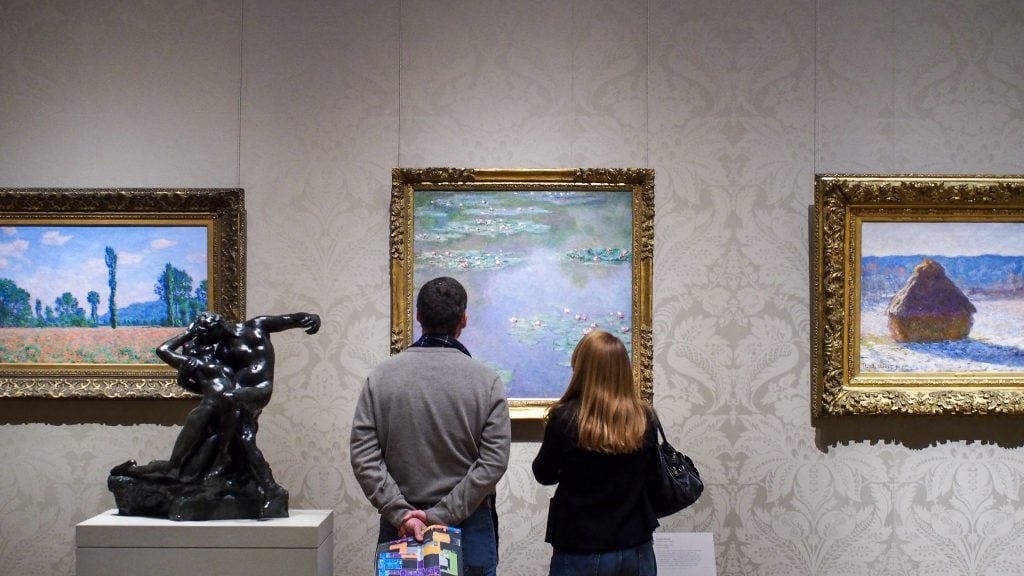 Museum of Fine Arts
The collection at the Museum of Fine Arts, locally known as the MFA, is vast with artifacts and artwork that would impress the most discerning of museum-goers. Not only does it house one of the best collections of Korean art outside the peninsula of Korea itself, but the museum is known for its rather magnificent Ancient Egypt collection.
For those who appreciate John Singer Sargent, there is also a comprehensive collection of his work. There is so much here that you could spend weeks viewing everything. But whatever you do, do not miss the Claude Monet gallery in the European wing. Reinstalled in 2016, it's one of the best caches of the Impressionist movement outside of France.
And who can forget the impressive Arts of Islamic Cultures Gallery which was developed in 2019 in collaboration with local Muslim groups.
General admission is $27 for adults, $10 for children 7-17, with children 6 and under free. There are add-ons for special rotating exhibits.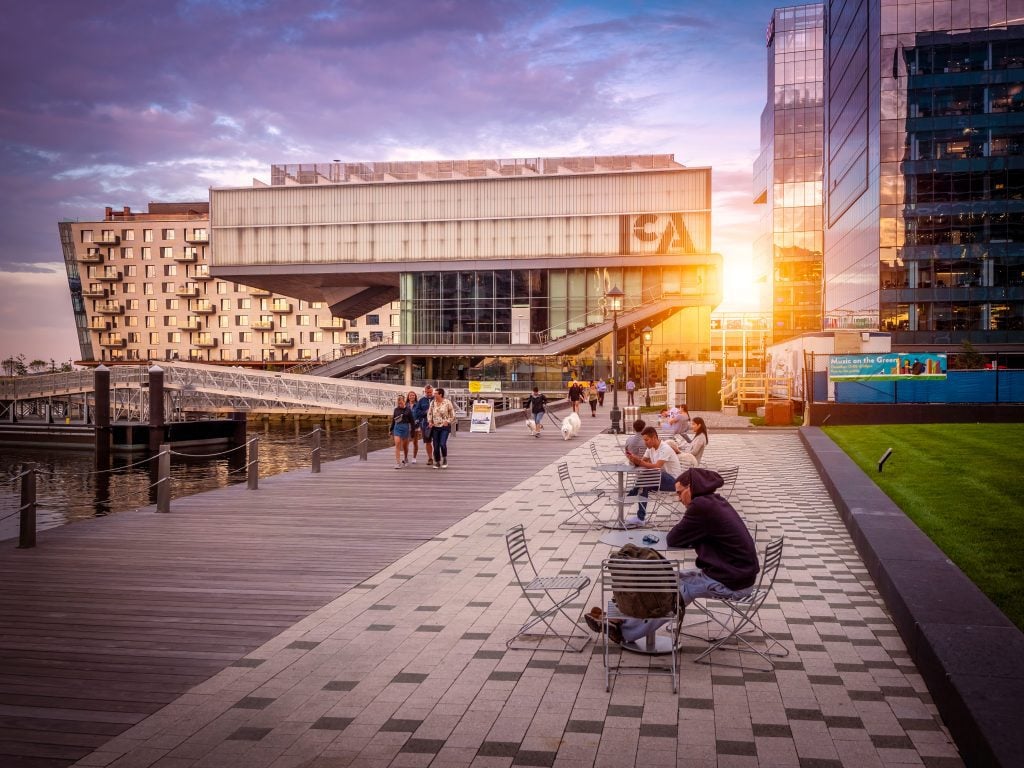 Institute of Contemporary Art
The Institute of Contemporary Art, known in Boston as the ICA, this darling of a museum had its permanent home built in 2006 on the edge of the harbor in the Seaport District. Located in a former factory in East Boston, the contemporary building designed by Diller Scofidio + Renfro mirrors industrial cranes loading container ships.
Once inside, you'll see artworks that are both contemporary and provocative, with an impressive program. The collection is anchored by such female artists as Doris Salcedo, Eva Hesse, and Louise Bourgeois, all of which were donated by philanthropist Barbara Lee.
From Memorial Day through Labor Day, a seasonal satellite space for large-scale work is part of the ICA watershed.
Admission is $15 for adults, $13 for seniors, and $10 for students. If you book ahead to get your tickets, there is a free shuttle that will take you to the museum from your hotel.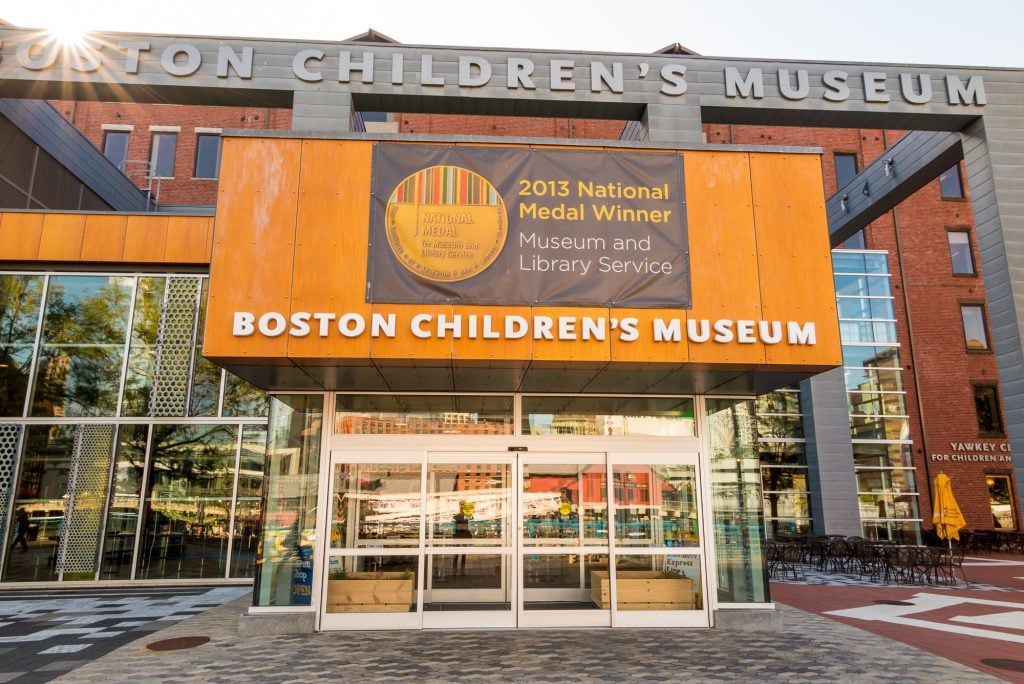 Boston Children's Museum
Set along the Fort Point channel in a former warehouse, the Boston Children's Museum has three sprawling floors of hands-on experiential learning areas for kids of all ages. It is one of the largest children's museums in the United States, and its permanent collection proves it.
Some 50,000 items range from national historic specimens, ancient artifacts, and rare dolls. Immersive, hands-on learning is the order of the day, and don't be surprised to walk into an "Explore-a-Saurus" section or bubble room that will bring out the kid in anyone.
There is also a second-floor PlaySpace for the youngest adventurers up to 3 years of age, and Martin's Park, a public playground located behind the museum.
Admission is $20 for kids and adults, with infants getting in free up until their first birthday. If you'd like to take your kids to PlaySpace, you will need to reserve your spot (included with admission price).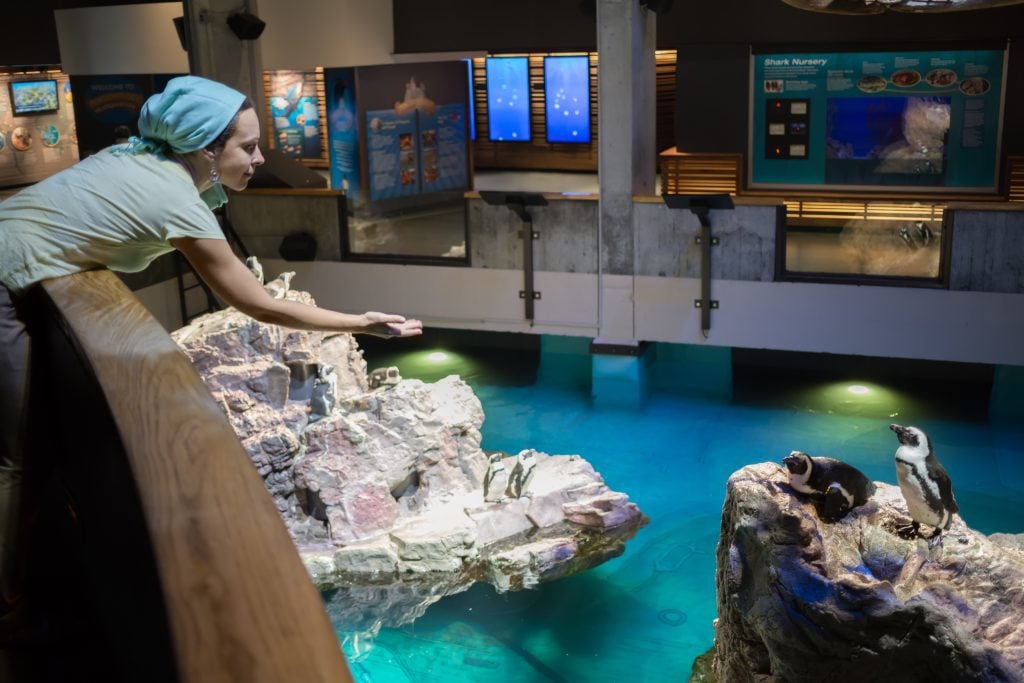 New England Aquarium
Situated on Boston's beautiful Central Wharf, the New England Aquarium has more than a dozen exhibits highlighting hundreds of aquatic species around the world. This popular Boston Waterfront attraction does an amazing job of recreating the natural habitats that range from reefs to tide pools to rocky shorelines.
The aquarium also offers whale watching excursions where visitors can view whales, dolphins, sea birds, and other exciting marine life. An IMAX theater features animals and their habitats, and other 3D movies.
Admission is $32 for adults, $30 for seniors 60+, $23 for kids age 3-11, and kids under three are free.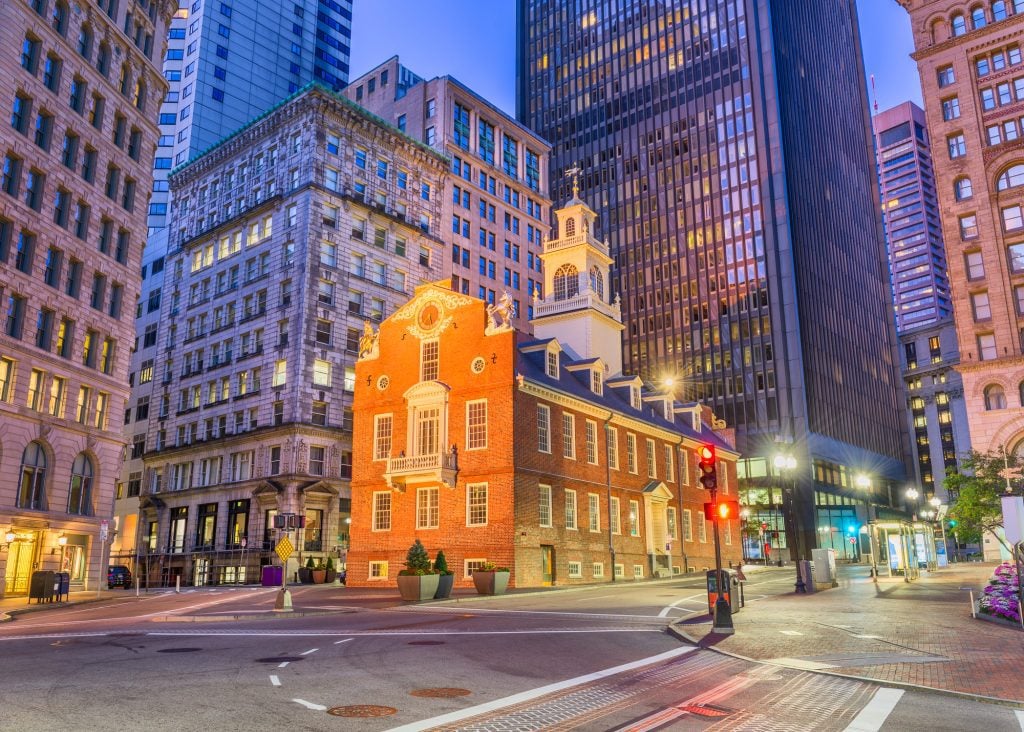 Old State House Museum
Built in 1713, the Old State House was the city's first townhouse and is the oldest surviving public building in Boston. Back in the day, it served as a meeting spot to exchange the news of the day and was considered to be the center of politics in the colonies.
The Declaration of Independence was read from its east side balcony, and just across the street is where the Boston Massacre took place. It is indeed one of the most important buildings in U.S. history, and located right on the Freedom Trail.
I also think it's one of the most photogenic spots in the city. I love the old building surrounded by skyscrapers, especially just after sunset when the lights come up.
Tickets for timed entry must be purchased in advance and are $16 for adults, $14 for seniors, $14 for students, and $8 for children 8-12.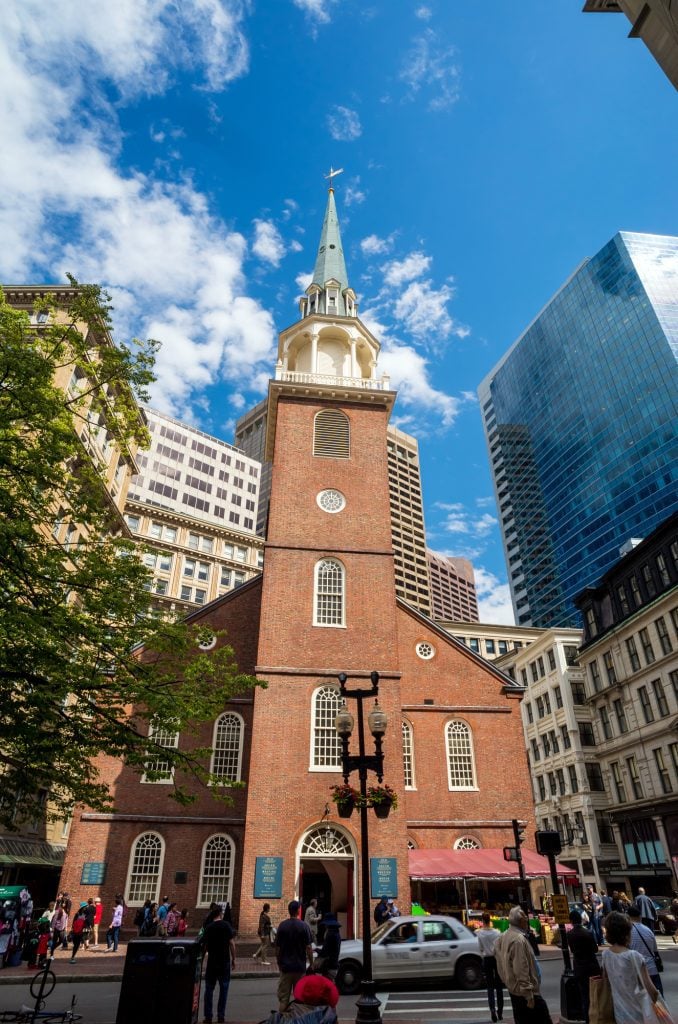 Old South Meeting House Museum
Since 1877 the Old South has served as a museum, historic site, educational institution, and a sanctuary for free speech. Today, it continues to be a catalyst for intellectual thought and sponsors public forums, concerts, debates, and theatrical presentations. And a stop on the Freedom Trail, of course!
The ongoing exhibit called "Voices of Protest" conveys the inspiring and sometimes controversial story of the Old South Meeting House as told through the women and men whose achievements have shaped history.
Admission is $15 for adults, $14 for seniors 65+, $14 for students, and $8 for children 12 and under.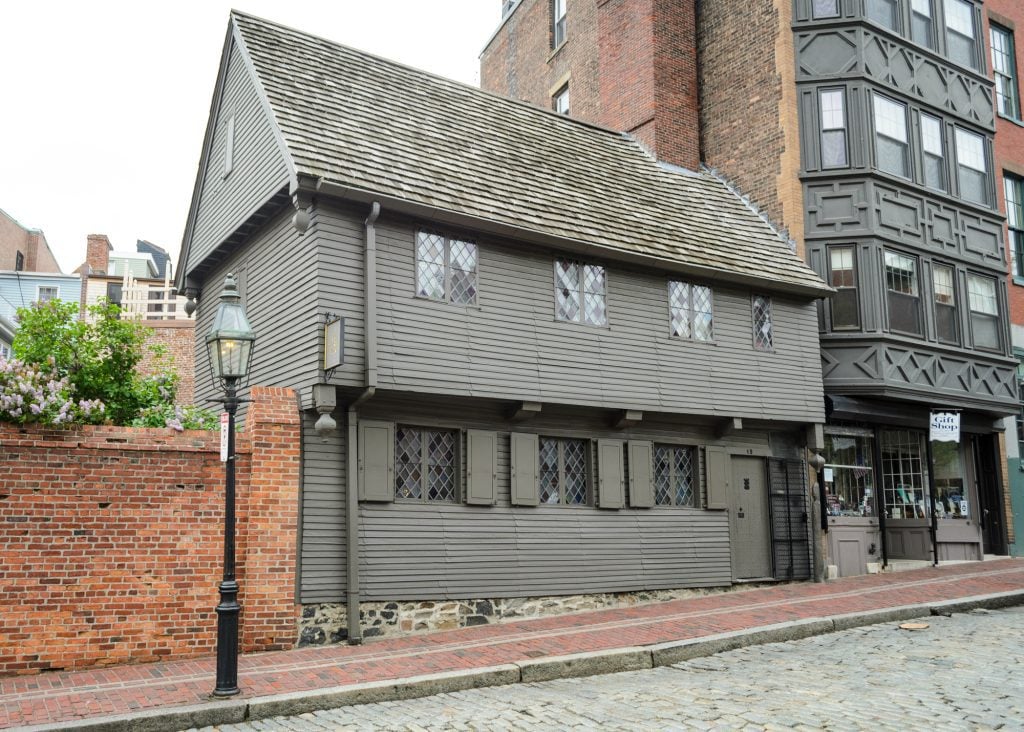 Paul Revere House
Though technically more a historic home than a museum, the Paul Revere House deserves a spot on my best museums in Boston list because the man was such a legend! The famous patriot, craftsman, and entrepreneur Paul Revere single-handedly changed the course of American history.
Tour his two-story, wood-frame Tudor-style home and learn about 18th-century family life, view artifacts related to Revere's many business ventures, and get the real story of his famous midnight ride as told in his own words!
(That is, if you didn't go to Elementary School in the Boston area and didn't have to memorize Paul Revere's Ride by Henry Wadsworth Longfellow to perform at assemblies.)
Admission is $6 for adults, $5.50 for seniors and students, and only $1 for children 5-17.
Boston Tea Party Ships
This one is a treat as it brings history into larger-than-life status with authentically-restored tea ships that mimic the fated tea thrown into Boston Harbor. Visitors will step back in time to the Boston Tea Party with a self-guided tour where you can relive the most important event leading up to the American Revolution.
But this is more than just a stroll through historic artifacts, it is an in-depth look at events as they actually happened. You will view one of the two remaining tea chests from the Boston Tea Party.
And you can even throw a fake box of tea into Boston Harbor! It's attached to a rope and they haul it up again, but it makes a great Instagram op! (I like to bring my British friends to this one.)
Admission is $31.95 for adults and $23.95 for kids 5-12, which includes a guided tour with costumed interpreters, touring the restored 18th century vessel, viewing the Robinson Tea Chest, and more.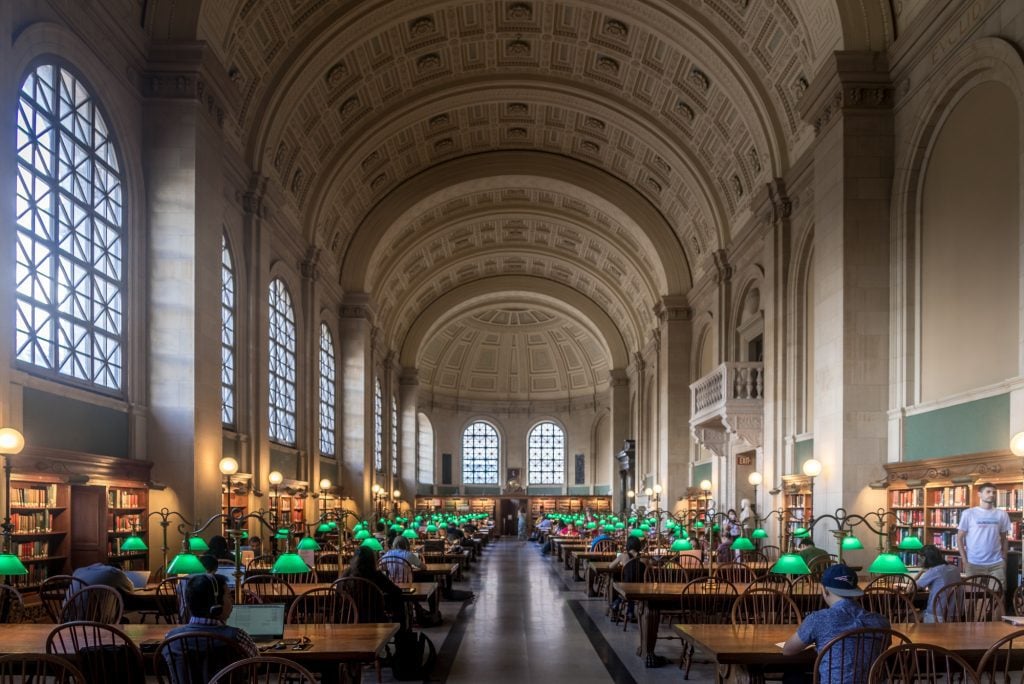 Boston Public Library
While this is not a museum per se, the Boston Public Library is going on my list because it feels like one. This is one of the best historic sites not related to the American Revolution, and has some pretty cool exhibitions. A pioneer of the public library service in America, it was the first public library to lend books to locals.
With 25 neighborhood branches, the central library consists of two landmark buildings located in Copley Square in Back Bay. Notable items include first edition folios by William Shakespeare, original music scores by Mozart, and the personal library of President John Adams.
Recently the BPL began to offer affordable mid-week weddings, so keep your eyes peeled for happy couples!
Anyone can visit the library and there is free admission, but if you want to view special collection materials and rare books, you will need to be a library card holder.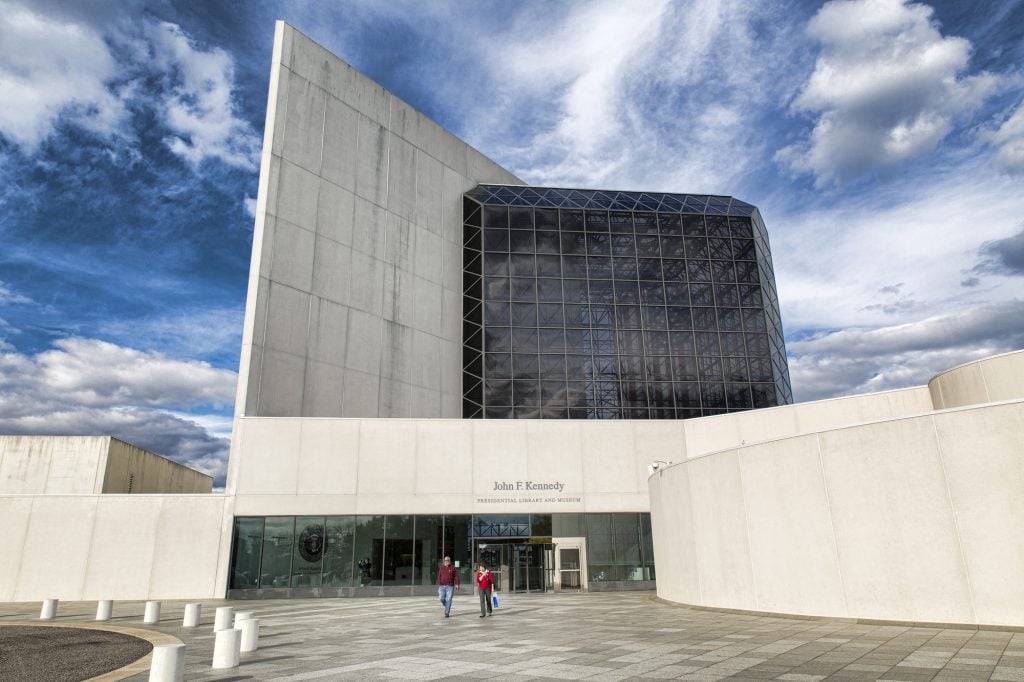 John F. Kennedy Presidential Library and Museum
Synonymous with the legacy of Boston, the Kennedy family is almost mythological in American history, and the John F. Kennedy Presidential Library and Museum is a wonderful deep dive into one of Boston's favorite sons.
Following the assassination of JFK, his wife Jacqueline Kennedy helped guide the vision of the library as it was evolved into a modern monument and memorial to the 35th American President. The curated galleries move through Kennedy's formative years to his time at the White House, and the exhibitions capture the eloquence of his speeches (and that unmistakeable accent).
Admission is $18 for adults (US veterans get $4 off adult price), $12 for seniors 62+ and college students, and $10 for kids 13-17 (12 and under are free).
Note: If you're interested in JFK's life and history, consider heading down the Cape to visit the many Kennedy sites in Hyannis. Read more in my guide to the towns of Cape Cod.
Commonwealth Museum
Located adjacent to the Edward M. Kennedy Institute on Columbus Point, history buffs will be overjoyed with the Commonwealth Museum. The story of Massachusetts is brought to life through its rich history and through the museum's interactive, state-of-the-art exhibits.
On display are artifacts dating back to 1630 when John Winthrop and the Pilgrims landed here from England. 'The Commonwealth' is often used as a euphemism for all of Massachusetts, so you may hear locals use the term quite a bit.
Admission to the museum is free to the public, making it a one of the rare free museums in Boston.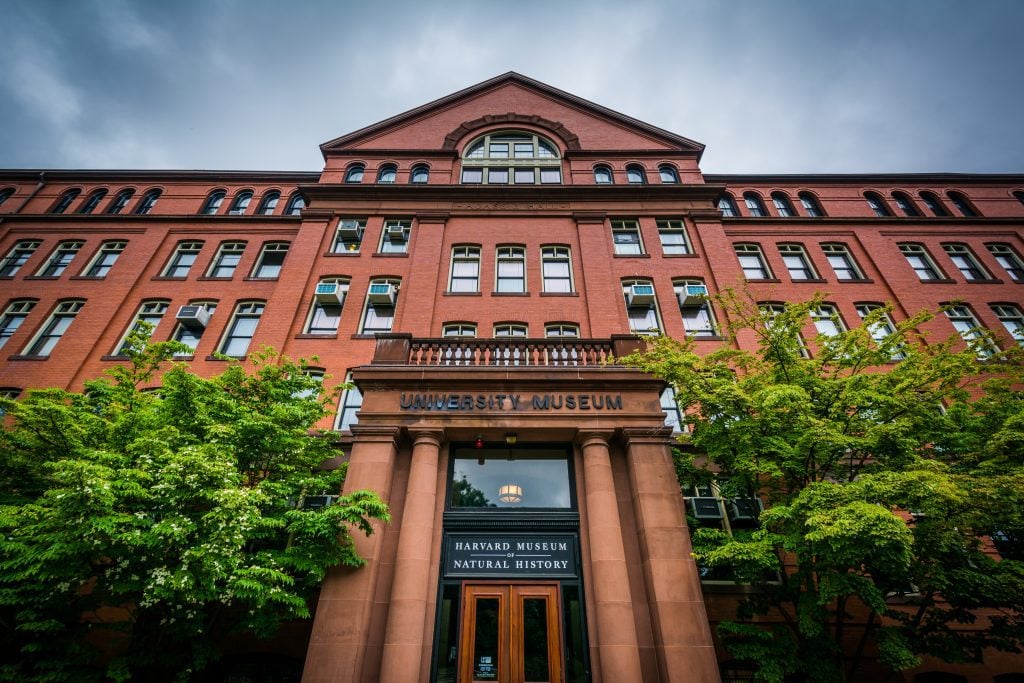 Harvard Museum of Natural History
The Harvard Museum of Natural History is encompassed by three research museums: the Museum of Comparative Zoology, the Mineralogical & Geological Museum, and the Harvard University Herbaria. Together, their mission is to enhance public understanding and appreciation for the natural world and our place in it.
This is the most-visited attraction at Harvard and features permanent galleries, historical collections, and temporary exhibitions. Browse through exotic natural wonders as you take an immersive journey around the world. From Cenozoic mammals, to climate change, evolution, and more, this is an amazing museum all around.
Admission is $15 for adults, $13 for seniors 65+, and $10 for kids 3-18 and students with valid ID.
Harvard Museum of Art
Step into the Harvard Museum of Art, or HMA, and you'll actually be visiting three museums at once. The Fogg Museum showcases Western art from the Middle Ages to today. The Busch-Reisinger Museum features art from northern and central Europe, while the Arthur M Sackler Museum features a fine collection of Asian, Islamic, and Indian art.
The bricked-facade museum surrounds a beautiful courtyard topped by a pyramidal glass ceiling made possible by its Italian architect Renzo Piano. It gives the entire museum a breadth and depth which epitomizes Harvard's footprint in the art world.
Admission is $20 for adults, $18 for seniors 65+, free to all students with ID (as well as Harvard students, who get to bring a guest for free), and free for children. Everyone gets in free on Sundays.
Peabody Museum of Archaeology and Ethnology
From large Mayan sculptures to towering totem poles to precious artifacts from the ancient past, the Peabody Museum encompasses six continents of world culture and is just a short walk from Harvard Square. See life-size casts of Maya monuments, along with rotating exhibitions that epitomize exotic cultures as well as colonial Harvard.
Founded in 1866, the Peabody is one of the oldest museums on the planet devoted to anthropology, housing one of the most comprehensive records of cultural history in the Western Hemisphere.
(Note: this is different from the Peabody Essex Museum in Salem, one of the most popular things to do in Salem.)
Admission is $15 for adults, $13 for seniors, and $10 for students with valid ID and kids 3-18. Admission is free for kids under 3 as well as Harvard students and Massachusetts residents with ID.
MIT Museum
Located across the river from Boston in Cambridge, the MIT Museum is where visitors can nerd out on the intellectual aspect of Massachusetts. The MIT Museum's galleries, exhibitions, workshops, demos, performances, and more invite you to participate in the ongoing adventure of innovation and research.
It features a vast collection of rotating and permanent STEM-based projects. Learn about MIT's contribution to science, technology, and other areas of academics in the modern world.
Though closed at the time of publication, the MIT Museum will be reopening in its new Kendall Square location in October 2022.
Admission prices will be available when the website is revamped.
Boston Fire Museum
The Boston Fire Museum is one of the niche museums in Boston and gives a true behind-the-scenes look into what a firefighter really does and the tools they use to do their job. They seek to preserve Boston's firefighting memorabilia, restore and maintain the public firehouse, and educate the public about fire safety.
Visitors get to view some pretty cool items such as a hand-drawn pumper used by firefighters in 1793. Engines, alarms, photos, and other artifacts are included in the museum's exhibits.
It's right around the corner from the Children's Museum in Fort Point, making these two an easy pairing for families. Don't miss Flour Bakery nearby! Their giant homemade Oreos are fantastic.
The Boston Fire Museum is a non-profit and admission is free. Their operating costs come from fundraising and donations.
The Sports Museum
In a city as sports-crazed as Boston, of course there's a museum devoted to the local teams! Located on the 5th and 6th floors of the TD Garden, the Sports Museum features exhibits nicely organized by sport; hockey, basketball, baseball, and football. Sports fans will get a kick out of concourse galleries also highlighting rugby, boxing, soccer, and artifacts from the Boston marathon.
The museum boasts life-size statues of Larry Bird, Bobby Orr, and Carl Yastrzemski, among others, as well as an old hockey penalty box, and much more.
Admission is $20 for adults, $15 for seniors, $10 for kids 7-18, and those under 6 get in free. Private VIP tours and field trips are also available.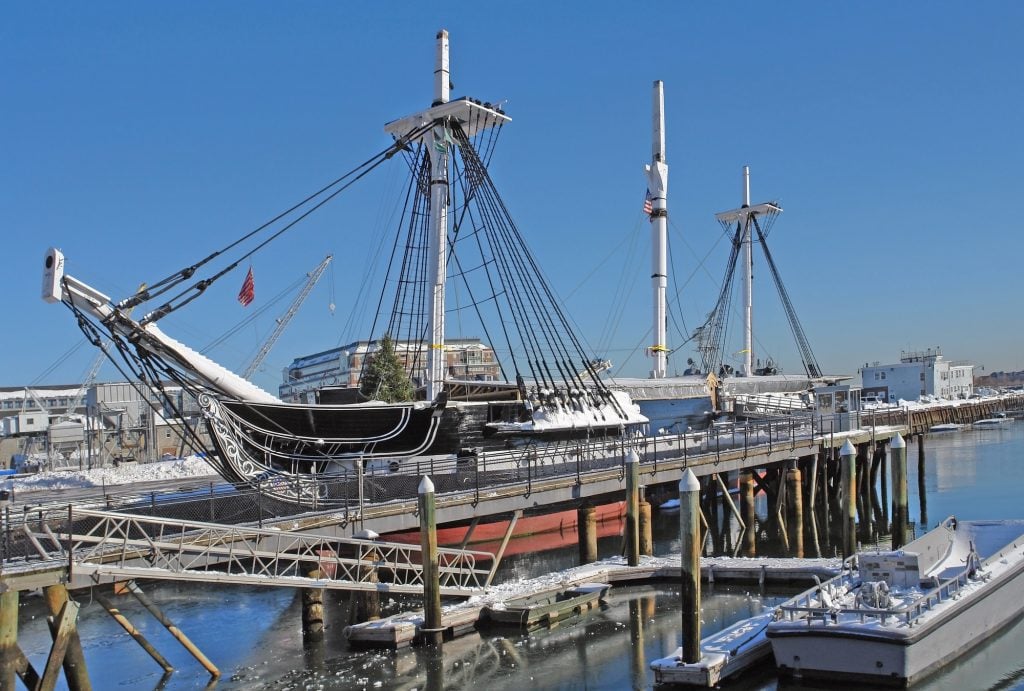 USS Constitution
The USS Constitution is the oldest commissioned ship in the US Navy, and naval officers and crew still serve aboard her today. What makes this attraction special is that it marks the end of the Freedom Trail at Charlestown Navy Yard. Here visitors can explore how the ship was built, sailed, and preserved.
Construction first began on the ship in October of 1797, when a then-young United States had to defend herself against the British Royal Navy. Today the story is told over and over by an impressive collection and interactive exhibits that the entire family can enjoy.
Admission is free, although there is a suggested admission of $10–15 for adults, and $5–10 for children.
Vilna Shul
Vilna Shul, a fantastic center for Jewish culture, is the last immigrant-era synagogue still in existence in the city of Boston. It has become a place for people to connect with Boston Jewish cultural, historical, and spiritual experiences.
By weaving together these aspects of Jewish life, the Vilna Shul inspires American Jewish pride and creates an approachable way for every walk of life to discuss Judaism. It operates as a cultural center, offering a variety of programming, including films, conversations, and monthly Shabbat services for all.
This important cultural center is another of the free museums in Boston, except for special events. They do accept donations.
Best of Boston:
Cape Cod & the Islands:
Western Massachusetts:
North Shore:
What's your favorite museum in Boston? Share away!