Adventurous Kate contains affiliate links. If you make a purchase through these links, I will earn a commission at no extra cost to you. Thanks!
When's the best time to visit Boston? This incredible city is wonderful to visit year-round, but some times of year are much better than others!
I grew up just outside Boston and lived in Boston for several years. I've eaten chowder outside on 98-degree days and walked through ankle-deep snow in stilettos. After seeing Boston at its best (October on a clear day!) and worst (Faneuil Hall at 2 AM before Uber existed!), I absolutely know the best time to visit this city!
You can go to Boston any time of year and have a great time. Because the winters get so cold, much of Boston is outfitted for spending time indoors. You've got plenty of museums, bookstores, restaurants, and indoor shopping areas.
Then again, some of the best experiences in Boston are quite seasonally dependent. Singing along to "Sweet Caroline" at a Red Sox game. Sailing down the Charles River. Walking the Freedom Trail. Cheering on the runners in the Boston Marathon. Riding the Swan Boats in the Public Garden.
And if you're really lucky, you'll be able to travel to Boston at its most magical time, when the trees explode into shades of red and orange and yellow.
Here you'll find it broken down into detail: the best time to go to Boston!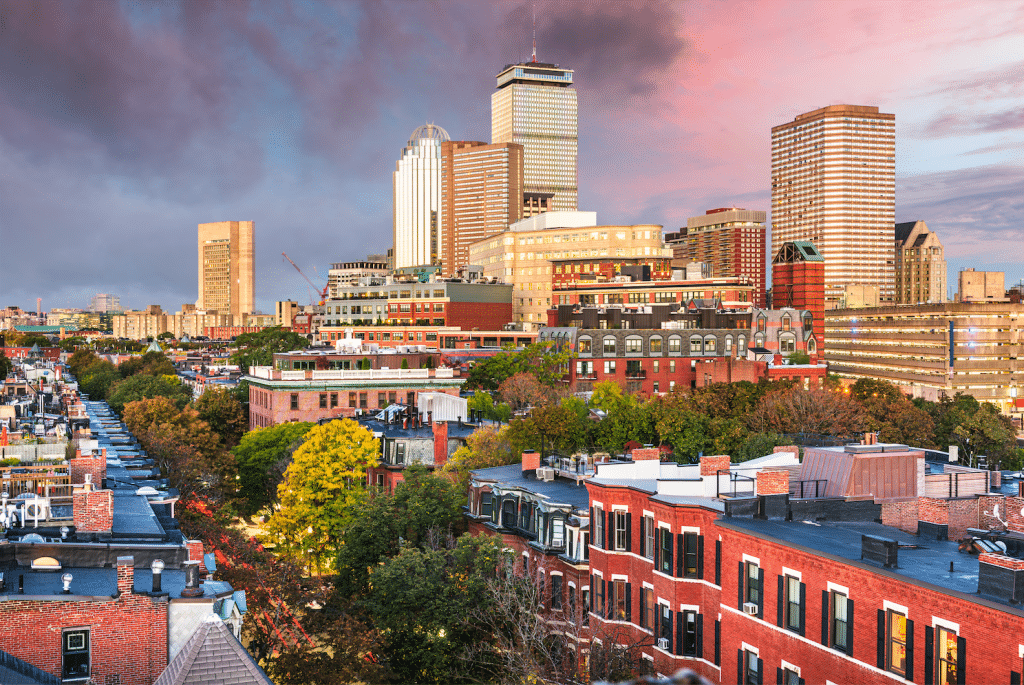 Best Time to Visit Boston
The best time to visit Boston is when the weather is warm but not hot, with minimal rainfall, and not during peak times. In my opinion, the best time to visit Boston is from late September through mid-October, with early October being the sweet spot.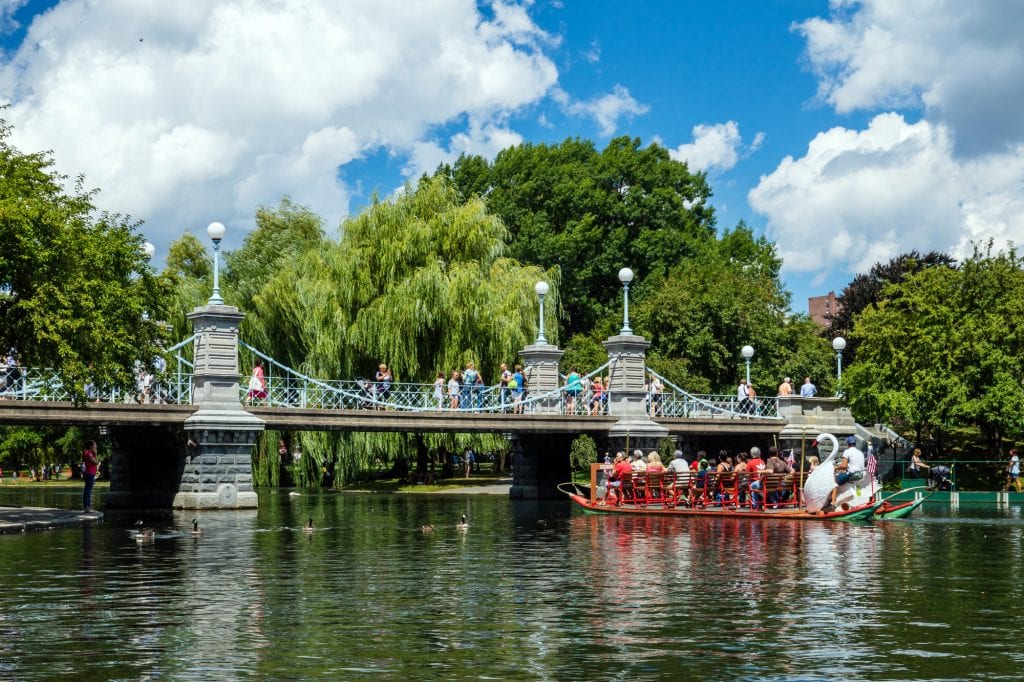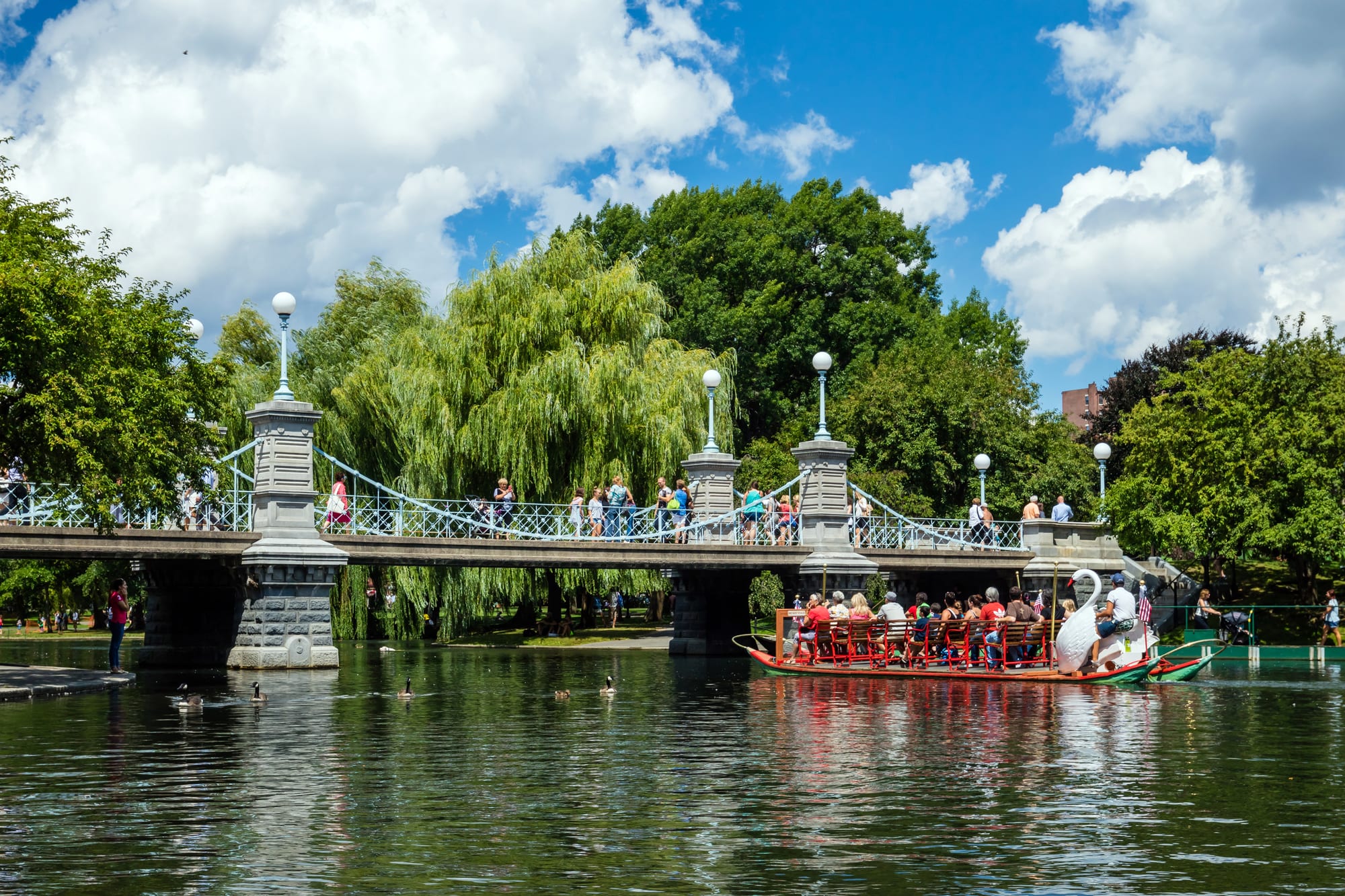 Boston Weather
Boston is a city with extreme weather. You get very cold winters, very hot summers, and high humidity throughout the year. Not only that, it can change on a dime! It's not unusual to have an unseasonably warm day sandwiched with two frigid, icy days.
Boston is known for its massive snowstorms, which are called nor'easters here in New England. Most nor'easters hit between January and March, though it's not unheard of to have snow as early as October or as late as April.
Summers in Boston can be extremely hot and very humid. If you've always lived somewhere with dry heat, like Southern California or Arizona, prepare to sweat through your clothes in Boston.
Even so, Boston's coastal location regulates the temperatures, keeping it cooler in the summer and warmer in the winter than destinations further inland in New England.
With the effects of climate change, Boston's weather has been warming year-round. It's not unheard of to have a 60 F / 16 C day in February, and July temperatures sometimes soar above 100 F / 38 C.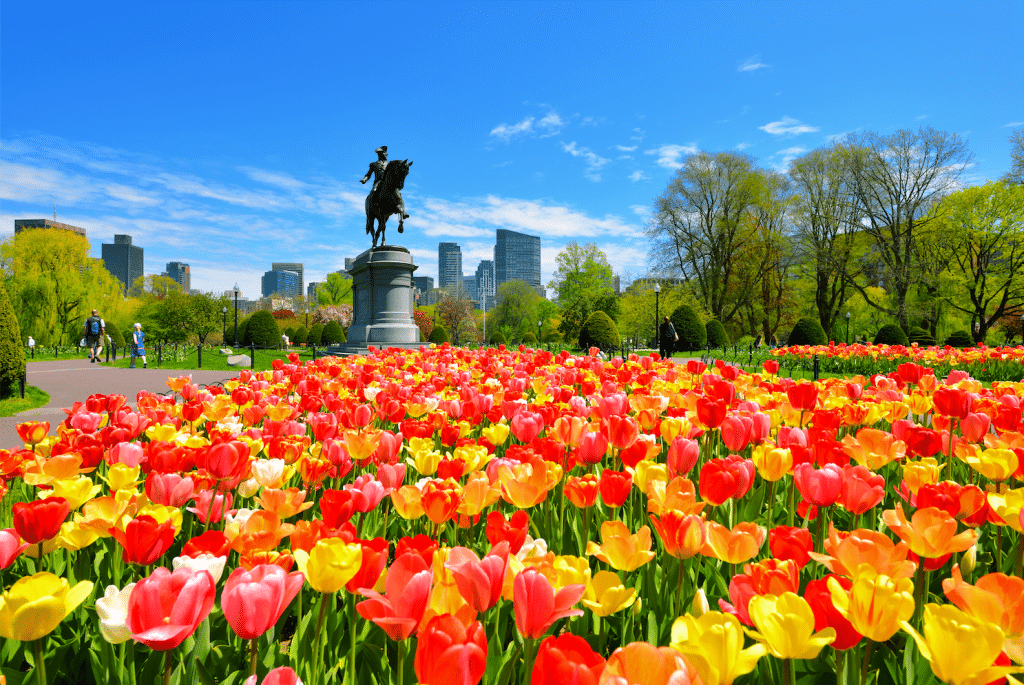 Boston in Spring
Spring in Boston is the shortest season of the year, and it's arguably the least reliable season of all. Heavy snowstorms drag on through late March and occasionally into April, and everyone is wearing their winter coats until mid-to-late April.
You'll see the first crocuses poke their heads through the ground in early April. Daffodils follow shortly after. By late April, the trees become full and lush, then burst with blooms.
Yes, there are cherry blossoms in Boston — and they tend to bloom briefly in mid-April.
Early May is one of the best times to see flowers in bloom throughout the city. The Public Garden is filled with gorgeous multicolored tulips, and magnolia blossoms dot the trees in Back Bay.
There are usually a few days in late April that feel like early summer, and everyone in Boston heads to the parks and beaches to soak it up. Then it usually turns chilly again.
It rains quite a bit in the spring, especially May. Even June needs to get through a few rainy weeks before turning into summer. If you visit Boston during the spring, be prepared for it to rain a lot!
Much of New England wryly welcomes "mud season" in the spring, a consequence of snowmelt. Mud season isn't as much of a thing in Boston because it's an urban environment, but there will be lots of muddy, sludgy areas in parks, especially in April.
Spring in Boston is less crowded than summer or fall, as long as you avoid weekends in late May and early June, which are filled with college graduations and lots of visitors.
Spring in Boston can be lovely — but most years in Boston, it feels like it goes directly from winter to summer with very little springtime in between.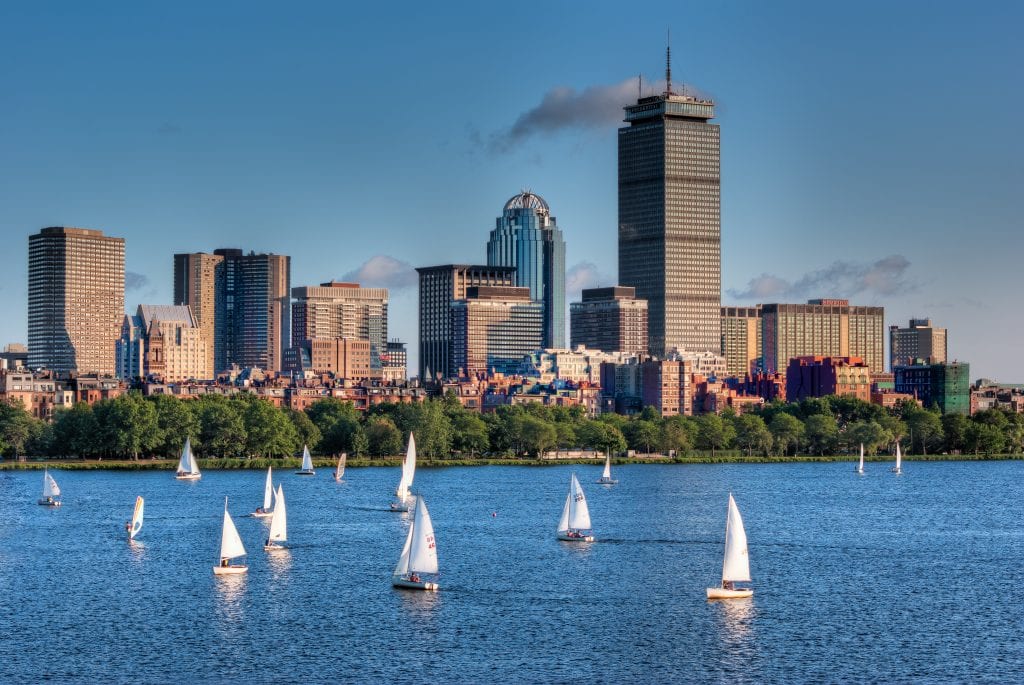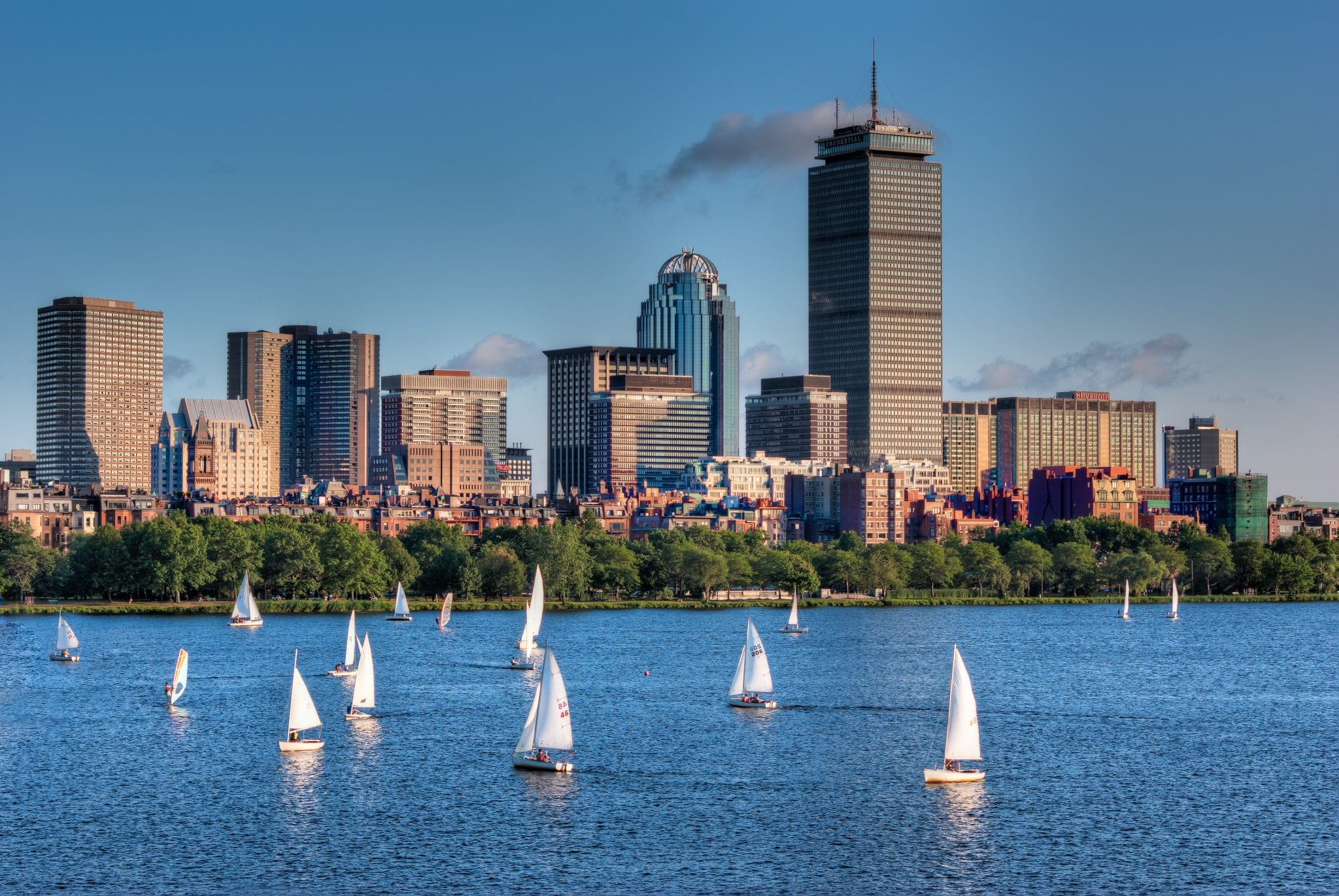 Boston in Summer
Summer is when Boston receives the most visitors — especially families, taking advantage of kids being out of school. And Boston becomes positively fantastic in the summer months!
Summer in Boston roughly lasts from late June through mid-September. During this time, expect high temperatures — you might even hit 100 F / 38 C — and high humidity. Despite being right on the coast, the air can be particularly thick and moist in Boston. Expect to sweat a lot, and you may want to plan downtime in air-conditioned areas each afternoon.
Summer is a great time to get out on the water in Boston — in a sailboat on the Charles River or on a larger ship in Boston Harbor! Beaches both within and just outside the city are filled with locals. Some of the best beaches in the Boston area, like Singing Beach in Manchester-by-the-Sea, are easily accessible by train.
Summer is also the best time to enjoy dining outdoors. Newbury Street in Back Bay is the place to see and be seen while dining on a patio — though Tremont Street in the South End is my personal favorite.
Summer also brings lots of free live concert events at the Hatch Shell — most famously, the Boston Pops Fourth of July Spectacular.
Summer is also the best time of year to catch a Red Sox game, though I urge you to grab a seat in the shade if you can. The shadeless seats are extremely hot in summer.
If you're planning a longer trip to the Boston area in the summer, consider extending your trip to see Cape Cod, the islands, and other coastal towns within a short reach of Boston. I'm from the North Shore so I always recommend towns like Newburyport, Rockport, and Portsmouth, New Hampshire.
Overall, if you love hot weather, free concerts, baseball games, and outdoor dining, summer is a wonderful time to visit Boston.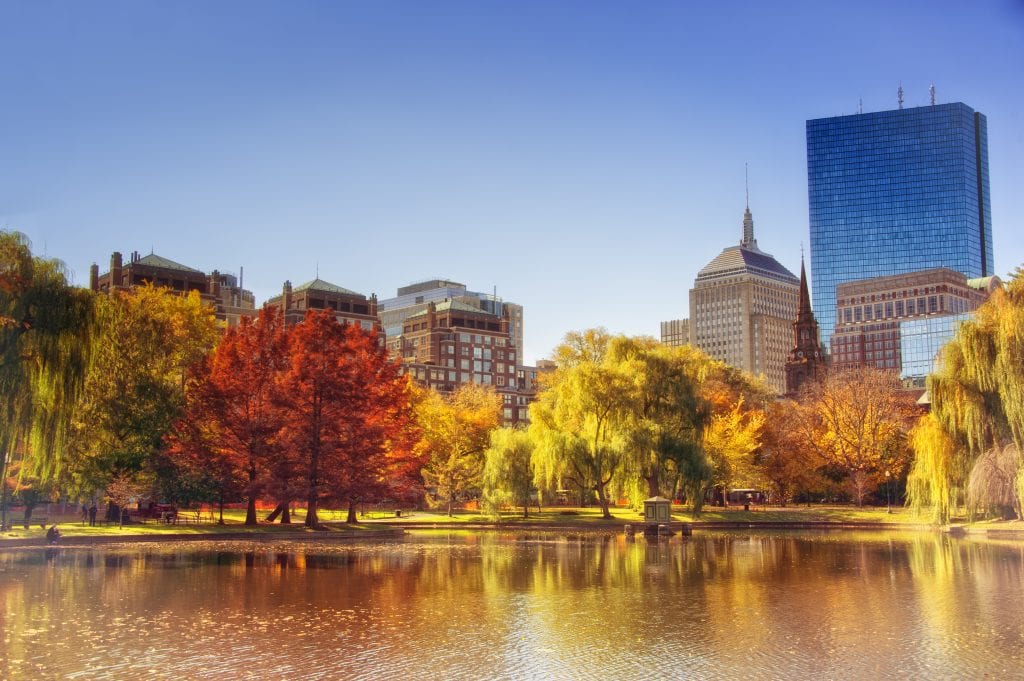 Boston in Fall
Fall in Boston is absolutely gorgeous — the best time of year to visit. It's no lie that the fall months are when the city is at its best.
Even so, a lot of travelers struggle with timing fall travel appropriately in Boston.
For starters, summer temperatures extend into mid-to-late September! Cool temperatures hit suddenly and hard, though because this is still New England, you may ping-pong back and forth with warm and cold days. Leaves start changing color in mid-to-late September.
October is my favorite month to visit Boston, and this is when you experience peak foliage! The peak dates can vary each year, but generally you see the best foliage in early-to-mid-October.
By November, peak foliage is over and the leaves have turned yellow, and will turn to brown soon after. November is when you start feeling colder temperatures and you'll probably need a heavier coat. People used to colder temperatures can usually get by with a leather jacket or light puffer jacket in November; if it's a cold year or you're from Texas, you'll need a heavier winter coat.
By December, the trees are bare and Christmas decorations are all over the city, making it a very nice time to visit Boston.
Does is snow in Boston in the fall? Occasionally. Most years we have one brief snowstorm in November or early December; occasionally there will be snow as early as October. Every now and then we'll have a white Christmas. But the big nor'easters, the storms that dump upwards of a foot of snow and cancel school, tend not to arrive until January.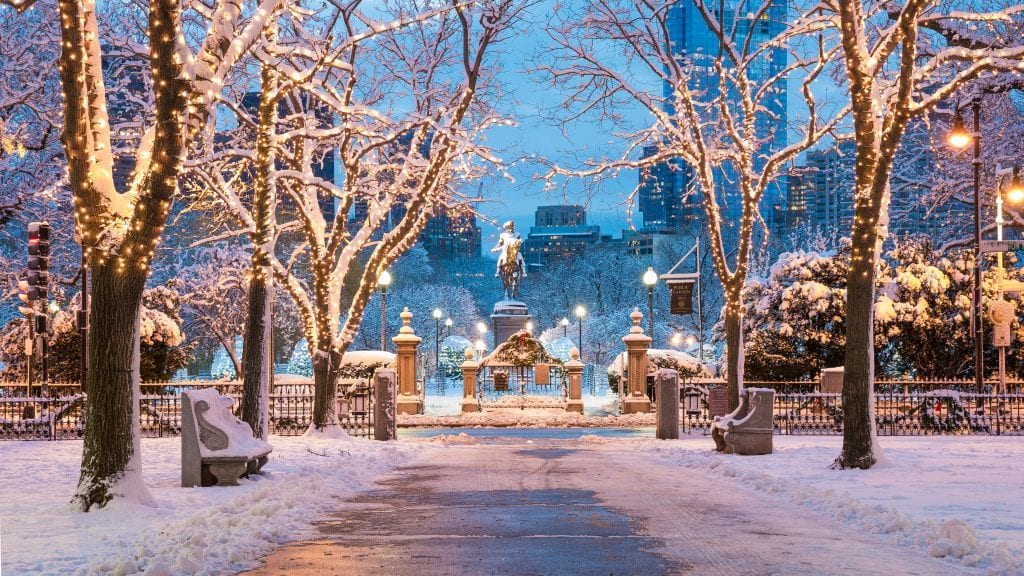 Boston in Winter
Winter in Boston is extremely cold, windy, and snowy. Boston tends to receive several snowstorms each year, most of them between January and March. It's not unusual to get snowfall as early as October or as late as April.
And while you see lots of beautiful winter wonderland photos like the one above, it's not long before the snow turns dirty and gross. You may step into what looks like solid snow but is actually a deep puddle.
Is it worth visiting Boston in winter? It depends.
If you're not used to very cold winters, I urge you not to visit Boston during the winter. If you do come, you may need to invest in winter clothing, like waterproof boots and a heavy winter coat, plus gloves, a scarf, and a hat. A leather jacket won't cut it here in winter.
As I always say, if you're from Minnesota or Michigan, you know what you're getting into when you visit Boston in winter. If you've lived your whole life in Texas or Florida, you'll have a hard time enjoying yourself. Even my British friends struggle with Boston winters.
Winter in Boston can be very difficult for people with mobility challenges, due to snow banks, uneven pathways of packed down snow, and people not shoveling their sidewalks. If you have mobility challenges, you may want to visit at a different time of year.
Beacon Hill, one of the oldest and prettiest neighborhoods in Boston, is exceptionally difficult to navigate on foot after a snowfall due to its steep cobblestoned streets. I recommend not booking accommodation in Beacon Hill during the winter months for this reason.
Finally, if you visit Boston in winter, you should have a contingency plan for what to do if a snowstorm hits and strands you for a few extra days. Travel insurance can be helpful here (I use and recommend World Nomads), but it's good to have a plan no matter what. Will your boss be infuriated if you miss an extra day of work? If so, you may want to avoid the winter months.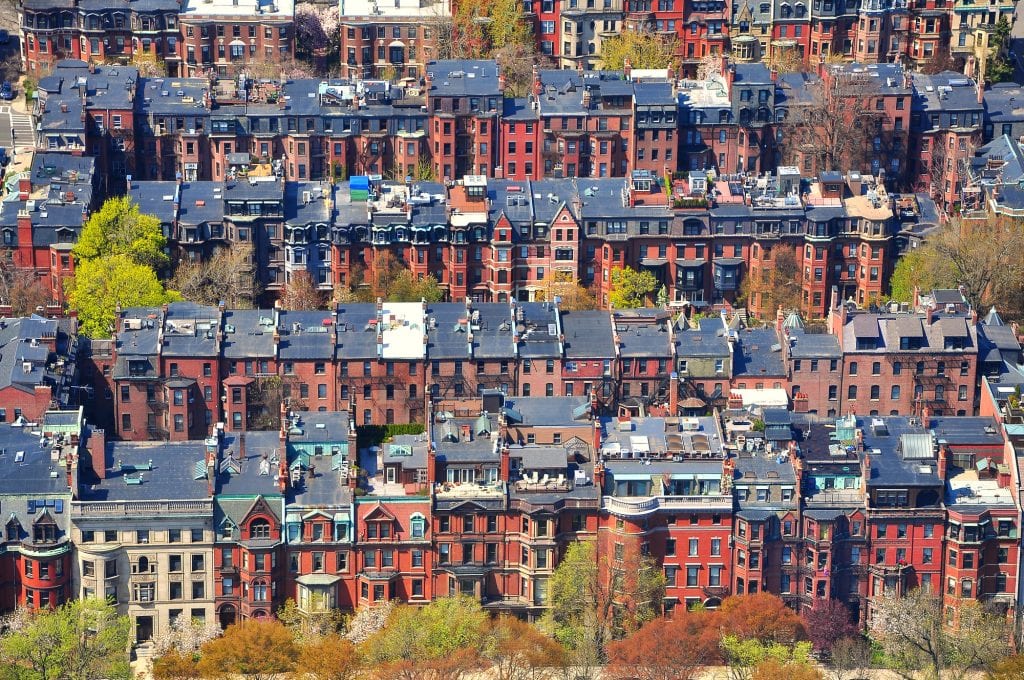 High Season and Low Season in Boston
High season in Boston is primarily during the summer months, from June through August. This is when Boston is at its most crowded and expensive. Boston is a very popular destination for families, so summer vacations and school holidays are when you see a lot of travelers.
Other peak periods for travel in Boston include the Boston Marathon in April, college drop-off and move-in dates around September 1, college graduation weekends in May and early June, and if the Red Sox are in the playoffs in October.
Shoulder season in April and May, excluding the weekend adjacent to Marathon Monday and graduation weekends in late May, and mid-September through early November.
Low season in Boston is during the winter months. This is when Boston receives the fewest tourists. Most hotels are still welcoming business travelers, but not so much on the weekends, so you may be able to find some good hotel deals on winter weekends.
I don't recommend winter travel in Boston to most people, but if you know what you're getting into and have a contingency plan for what to do if a snowstorm cancels your flight, go ahead and book it.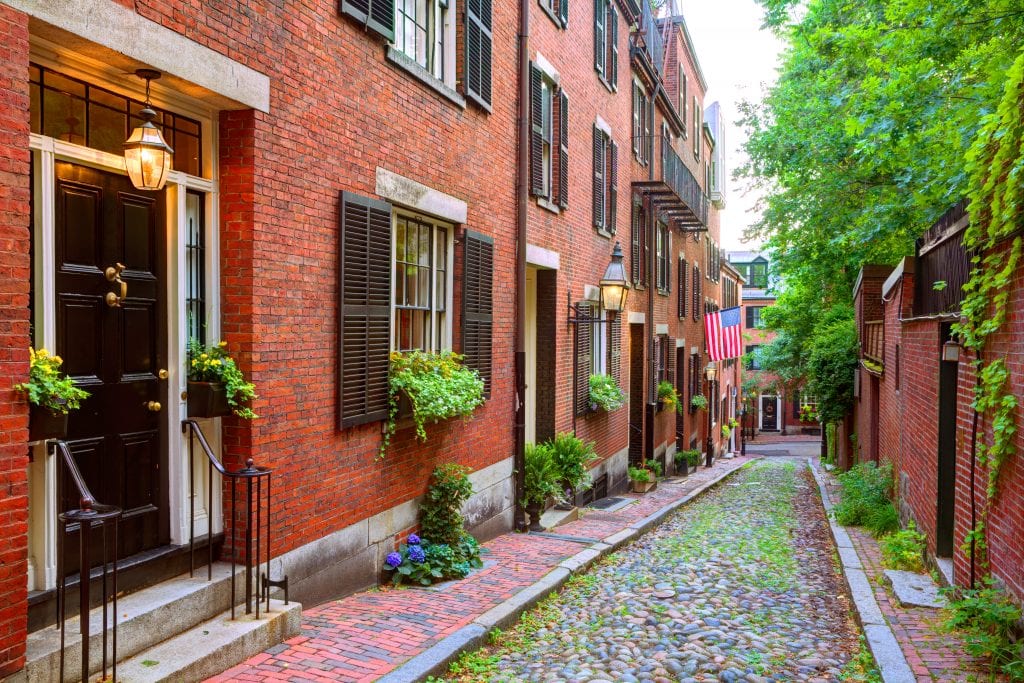 Best Month to Visit Boston
What's the best month to visit Boston? I personally think October is the best month to visit Boston. September is good, too, and so is late June. The summer months can be fun if you don't mind heat, humidity, and crowds.
Beyond that, here is information about weather and events in each month of the year:
January in Boston
January in Boston is one of the coldest months of the year. The first nor'easter or major snowstorm of the year tends to hit sometime in January, and there actually may be several snowstorms before the month is done.
Temperatures in January average from a low of 23 F / -5 C to a high of 37 F / 3 C.
First Night, a New Year's Eve celebration in Boston, continues into New Year's Day. Cultural events for people of all ages take place around the city, and buying a button gets you access to all of them.
February in Boston
February is another cold, snowy month in Boston. There will likely be at least one major snowstorm before the month is over, and sometimes several. In the past few years there have been random warm days in February — think springlike temperatures — before it goes back to winter.
Temperatures in February average from a low of 25 F / -4 C to a high of 40 F / 4 C.
Boston has a huge Chinese population, and Lunar New Year brings the Chinese New Year Parade in Chinatown, usually held on the second Sunday after Chinese New Year begins.
March in Boston
Spring may technically begin in March, but March in Boston is very much still the winter. Some of the biggest snowstorms of the year take place in March, and don't expect any relief from the snow until the end of the month.
Temperatures in March average from a low of 31 F / 0 C to a high of 46 F / 0 C.
Boston is the most Irish city in America and St. Patrick's Day is a big celebration here. On St. Patrick's Day it seems like every bar is full of drunken revelers, even Mexican restaurants! The parade takes place in the traditionally Irish neighborhood of South Boston, a.k.a. Southie, not necessarily on St. Patrick's Day but often the weekend after.
St. Patrick's Day in Boston can be fun, but it can be A LOT. Exercise caution, because a lot of people take this holiday as an excuse to drink far too much.
April in Boston
In Boston, it's April, not March, that goes in like a lion and out like a lamb. The month begins firmly ensconced in winter temperatures, but slowly it warms, trees bud, flowers start to bloom, and by the end of the month, temperatures are much warmer. There is also a lot of rain in April.
Temperatures in April average from a low of 42 F / 0 C to a high of 58 F / 14 C.
April brings the world-famous Boston Marathon, which is always one of the peak times to travel to Boston. Marathon Marathon takes place on Patriots' Day, a local holiday, which falls on the third Monday of April.
May in Boston
May is when Boston is in bloom. The leaves have grown, the flowers have burst, and the Public Garden puts on its best show of the year. Sunny May days are fantastic in Boston — but it also tends to rain a lot. Expect lots of overcast days, no matter what time of May you visit.
Temperatures in May average from a low of 52 F / 11 C to a high of 68 F / 20 C.
Boston Calling, an independent music festival, is one of the biggest concerts of the year and usually takes place on Memorial Day weekend.
June in Boston
June may be the official kickoff of summer, but you won't have consistently sunny and warm weather until closer to the end of the month. The rain persists in the beginning of the month, but don't worry, summer is coming!
Temperatures in June average from a low of 60 F / 16 C to a high of 76 F / 24 C.
The Jimmy Fund Scooper Bowl is a popular charity event raising money for cancer research in early June. A ticket includes all-you-can-eat ice cream!
Bunker Hill Day, a Massachusetts state holiday, takes place on June 17 and commemorates the Battle of Bunker Hill in the American Revolution. The closest Sunday brings a parade to Charlestown and is a fun event, especially if you're into history.
July in Boston
July is the hottest month of the year in Boston! Expect lots of heat and humidity in the month of July. It doesn't rain much, making it the perfect time for enjoying Boston's best outdoor activities.
Temperatures in July average from a low of 68 F / 20 C to a high of 84 F / 29 C.
Boston celebrates Independence Day in style with the Boston Pops Fireworks Spectacular. The Boston Pops perform with both famous singers and undiscovered local talents, and it all takes place at the Hatch Shell on the Esplanade. The show ends with fireworks. Here's a tip: there's a rehearsal on July 3, and many Bostonians prefer to attend that day!
August in Boston
August is another sizzling hot month in Boston with sky-high temperatures and lots of humidity. You start to feel the firsts whips of fall with slightly cooling temperatures at night.
Temperatures in August average from a low of 66 F / 19 C to a high of 82 F / 28 C.
August, like the rest of the summer months, is a great time to experience outdoor concerts and enjoy spending time outdoors. Public schools in Massachusetts usually begin the school year at the end of August.
September in Boston
In September, the atmosphere in Boston changes. Being such a college town, September feels like a switch is flipped. The tourists go home, the students move in, and the whole city takes on a new feel. The beginning of September feels warm and summery; as time passes, it becomes cooler and the leaves begin to turn.
Temperatures in September average from a low of 60 F / 15 C to a high of 82 F / 28 C.
September 1 and Labor Day are move-in days for college students. In addition to being a pricey time for accommodation, this is a time of year many Boston residents despise the most — a time when moving trucks block streets and get stuck under bridges. Once Labor Day is over, you're golden.
October in Boston
October is the best month to visit Boston. This is an absolutely beautiful time of year — in the beginning of the month, you have warm days and cool nights; toward the end, sweater weather takes over and you might even get some frigid days. The leaves burst into color in early October and darken throughout the month.
Temperatures in October average from a low of 49 F / 10 C to a high of 64 F / 18 C.
The Head of the Charles Regatta, the world's largest rowing event, takes place on the third weekend in October. It's a wonderful event to watch and photograph in the autumn colors.
Chowdafest, a celebration of clam chowder across the city, now takes place in early October. (A welcome change. It used to be in summer and I did not enjoy eating chowder in 90-degree heat!)
The city of Salem — yes, of the witch trials — goes crazy for Halloween all October long with Haunted Happenings, culminating in a huge street party on Halloween night. It's a 30-minute drive or train ride from Boston.
November in Boston
In the beginning of November, you might still get to enjoy some fall colors — more yellow than anything else, on the way to brown. Soon you'll be experiencing winter temperatures, and you might even get the first snowstorm of the year by Thanksgiving. If you're not used to a cold climate, November might be the coldest you've ever been, though it's only the beginning for Bostonians.
Temperatures in November average from a low of 38 F / 3 C to a high of 52 F / 11 C.
Plimouth Plantation, 45 minutes south of Boston, goes all out on celebrations to commemorate Thanksgiving. Plymouth can be a fun day trip, but be ready to be disappointed by how small Plymouth Rock is!
December in Boston
December is when temperatures drop further, but there's relatively low precipitation. Snowstorms are possible but uncommon; you're likelier to see a flurry or two. Be prepared for low temperatures and overcast days; the Christmas lights add cheer to what is a stark month weather-wise.
Temperatures average from a low of 30 F / -1 C to a high of 43 F / 6 C.
In December, Boston is all decked out for the holidays, and various tree lightings take place in early December, the biggest taking place on Boston Common. If you enjoy Christmas lights and decked out store window displays, this is a good time to visit Boston.
First Night is Boston's popular New Year's Eve celebration. A ticket gets you admission to interesting arts events all over Boston.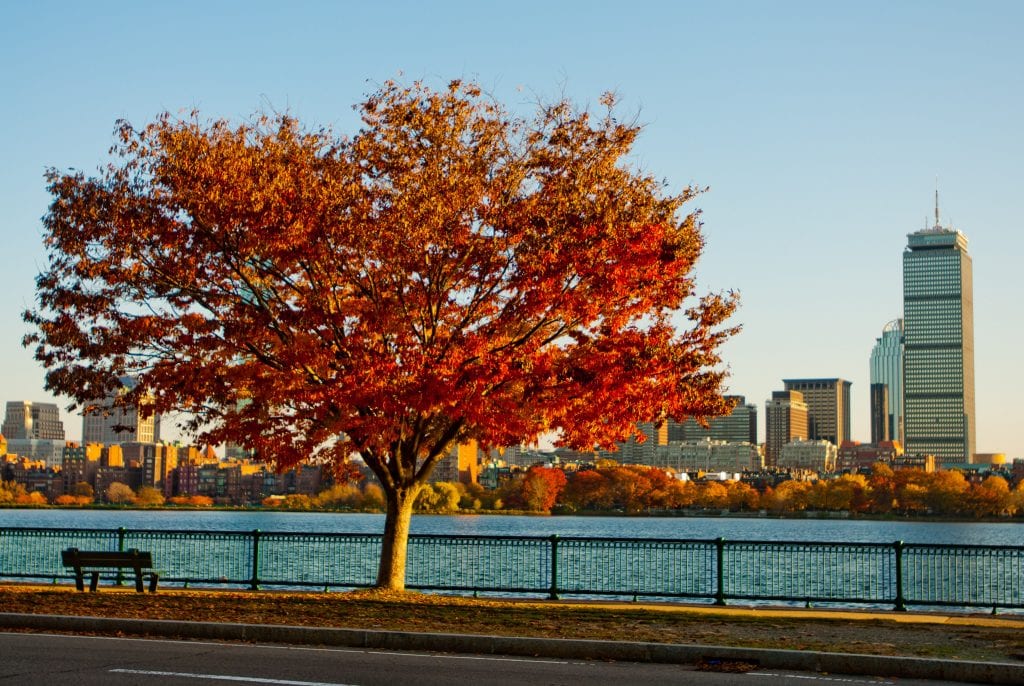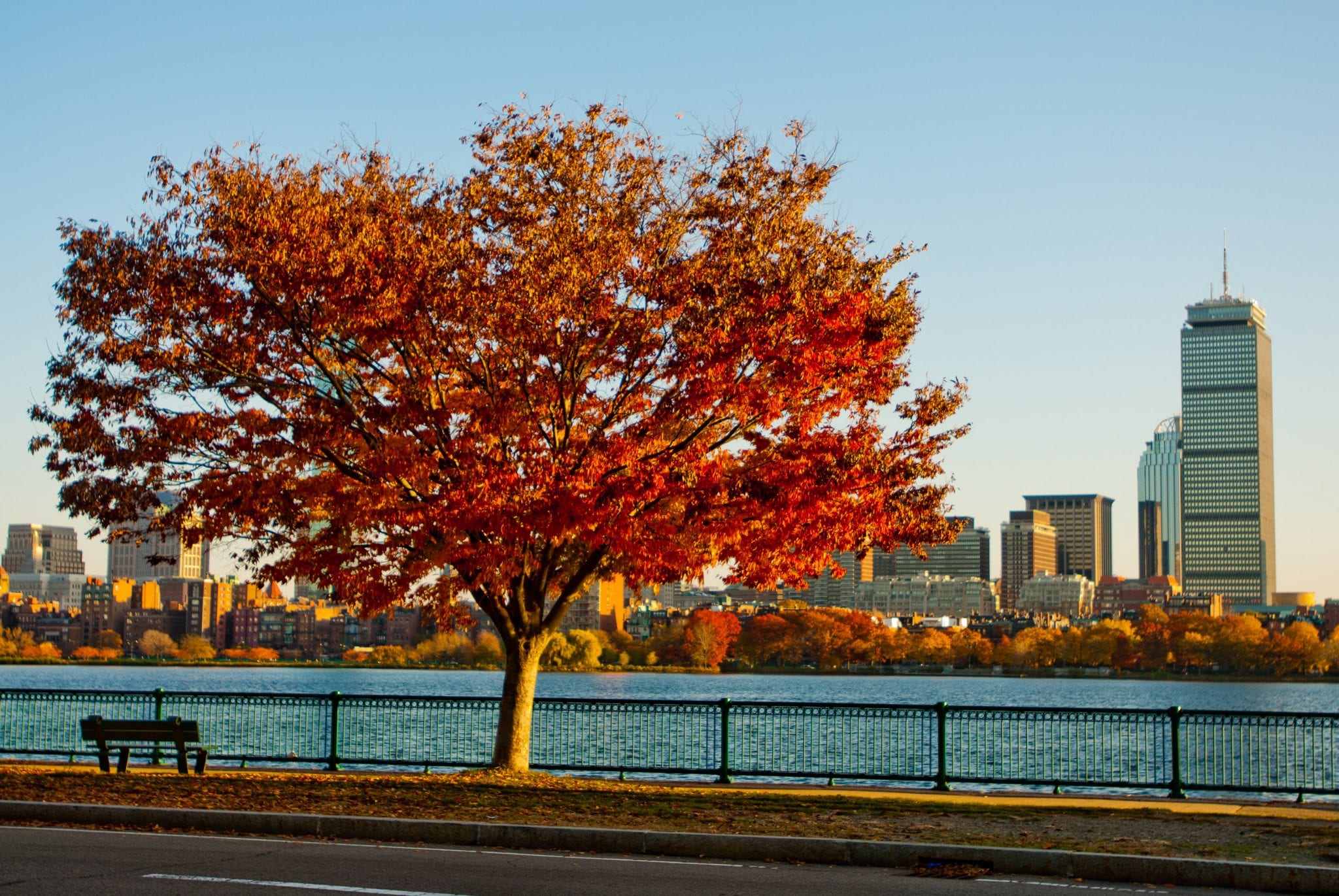 Best Time to See Fall Foliage in Boston
In Boston, peak fall foliage tends to hit in early-to-mid-October — though sometimes it can be the first week and sometimes the third week. This can sometimes vary a bit with global weather patterns, so consult an almanac for an up-to-date prediction.
However, if you're planning to explore more of New England on your trip, keep in mind that the further north you go, the earlier the leaves change. When the leaves are peaking in Boston, the leaves in northern Vermont are on their way to a dull brown.
If you're planning to road trip through Vermont, New Hampshire, or Maine and looking to hit peak foliage there, you may want to move your trip back a bit to late September. Again, an almanac will be very helpful to you here.
To see the best fall foliage in Boston, I recommend spending time in Boston's best parks: Boston Common and the Public Garden; the Esplanade, running between Back Bay and the Charles River; the Back Bay Fens, which pairs well with a Museum of Fine Arts visit; and the Arnold Arboretum, in Jamaica Plain. Mount Auburn Cemetery in Cambridge is definitely worth the trip in October.
You can get some nice old-timey Boston fall photos in Beacon Hill and around the Harvard campus in Cambridge.
Best Time for Visit Boston with Kids
What's the best time to visit Boston as a family? Boston is a great city to visit with kids of all ages! There are lots of fun yet educational activities (man, I went on a LOT of field trips in Boston as a kid), like the Museum of Science and New England Aquarium, as well as fun kid-oriented activities like the Swan Boats and Faneuil Hall Marketplace, and lots of parks, playgrounds, and places to run around.
If you're working with a regular school schedule, summer will probably be your best bet, and that's not a bad time to visit Boston at all. This is when Boston is firing on all cylinders for families! Just know that it will be crowded, as most places in the US will be.
If your kids' spring break is in March, don't expect spring weather in Boston — March is prime snowstorm season. If their spring break is in late April, you'll have a better chance of pleasant temperatures and no snow.
Another tip: if you're visiting Boston with kids, I recommend staying in or around the North End, as it gives you easy access to kid-friendly sites and Italian restaurants serving pizza and pasta.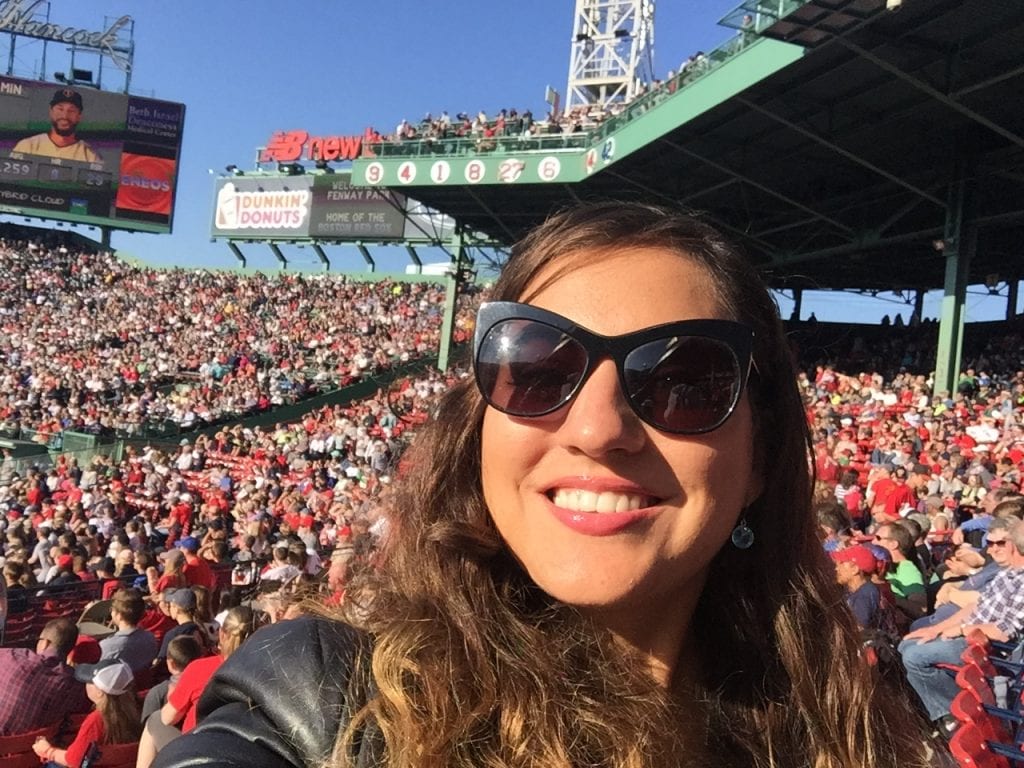 Best Time to Visit Boston for Sports Fans
Boston is a sports-crazy town, and if you're a sports fan in the least, I recommend seeing a Red Sox game at Fenway Park. It's the best cultural experience in Boston. To get the full experience, spend a few hours before and after in the Fenway/Kenmore neighborhood.
Opening Day takes place in April and the Red Sox will play into September, or October if they make the playoffs. Check MLB.com for the current schedule and to make sure they won't be away.
You can also enjoy games by the Boston Celtics (basketball), Boston Bruins (ice hockey), or New England Patriots (football), and they can be a lot of fun — though not QUITE on the cultural level of seeing the Red Sox play.
The Boston Celtics preseason begins in November and the regular season continues into April, with the finals in May. Check NBA.com for the current schedule and to make sure they won't be away.
The Boston Bruins preseason begins in September and the regular season continues into April, with the finals in May. Check NHL.com for the current schedule and to make sure they won't be away.
The New England Patriots play in Foxborough, 30 minutes from Boston by train. The NFL preseason begins in August and continues until January. Check NFL.com for the current schedule and to make sure they won't be away.
And don't forget the Boston Marathon, taking place on the third Monday in April! This is Boston's best sports tradition of all.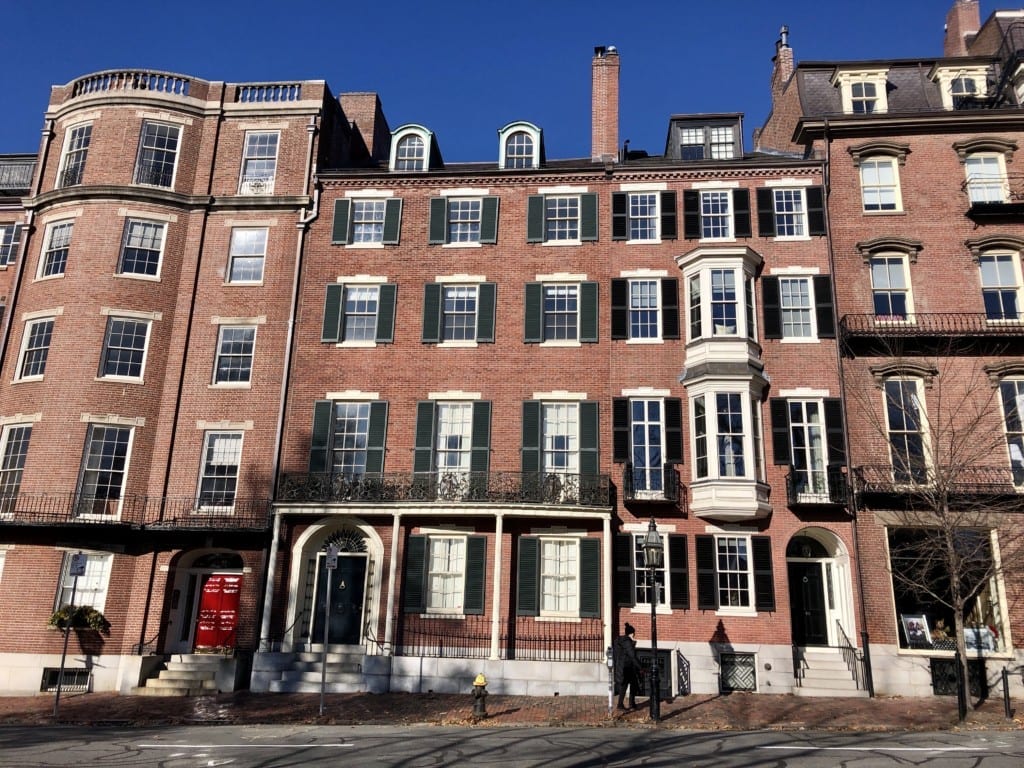 Cheapest Time to Visit Boston
Boston is one of the more expensive cities to visit in the United States, so I don't blame you for trying to save money where you can. But if you're looking for the cheapest time of year to visit Boston, you may want to consider visiting during January or February. Possibly March, St. Patrick's Day excluded.
Yes, it's a cold, dark, and snowy time to visit — but hotels tend to be cheap around this time of year, especially on weekends, and you have the benefit of enjoying museums and attractions without the crowds.
You should keep in mind that snow could derail your travel plans and ending up costing you extra days in your hotel and rebooked flights, effectively making your cheap trip more expensive. I would never book a trip to Boston without travel insurance. (I use and recommend World Nomads.)
Of course — I don't recommend visiting Boston in winter if you're not used to extreme winters, or if you have mobility difficulties.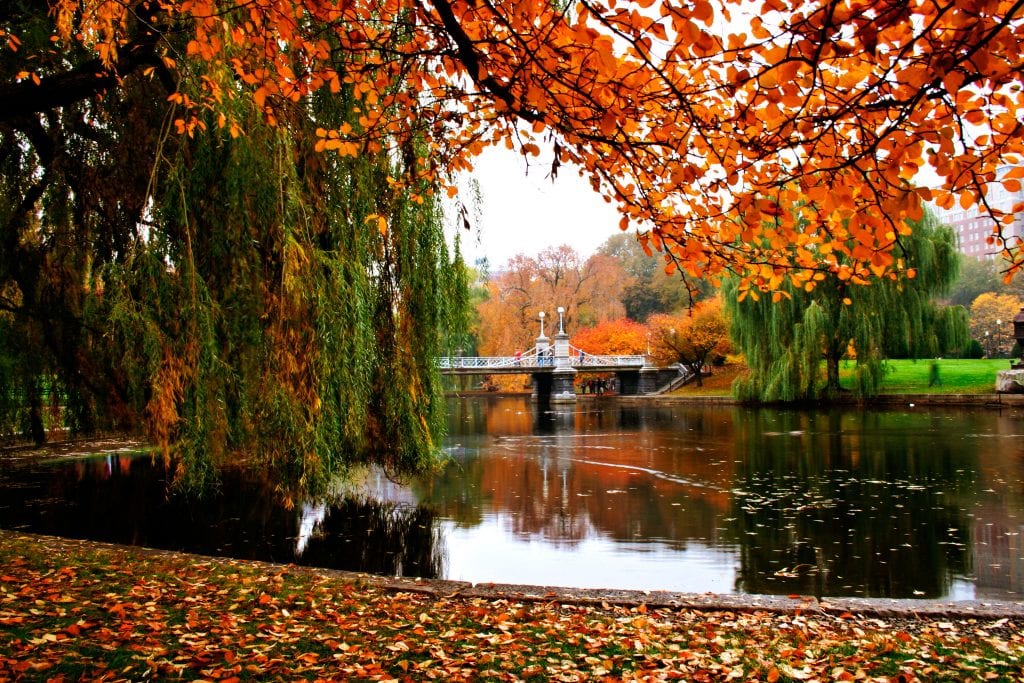 Overall Best Time to Go to Boston
If we were narrowing it down to the most specific time period possible, the best time to travel to Boston overall is in October: the first two weeks of October if you want to see good foliage, and the later two weeks in the month for darker foliage. That's a beautiful time for a trip!
Go enjoy your trip to Boston. It may be my hometown, but it's also one of my favorite cities, and I hope you enjoy it as much as I do!
Planning a trip? Let me help!
Where to Stay in Boston — Best Neighborhoods and Accommodation
40+ Things To Do In Boston At Night
Things to Do In: Cambridge, Salem, Provincetown, the Berkshires, Rockport
16 Towns of Cape Cod: What Is Best For You?
Which Of The 6 Martha's Vineyard Towns Is Best For You?
Top 10 Travel Safety Tips for Women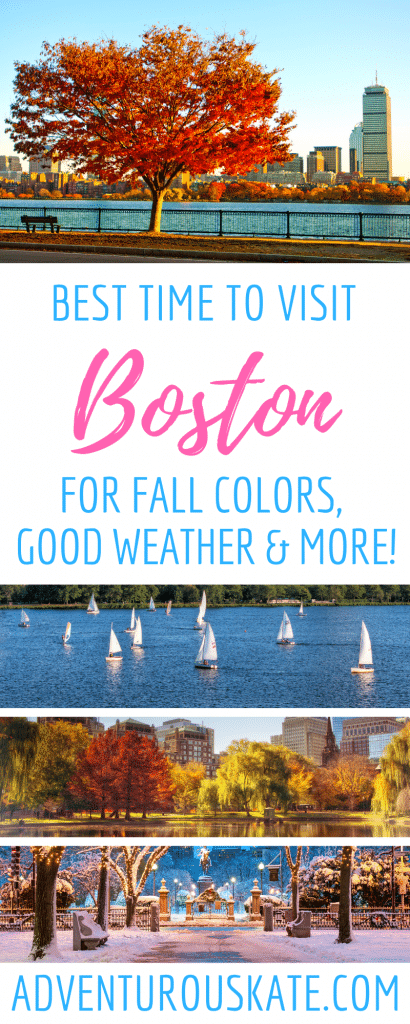 Have you been to Boston? What time of year did you visit? Share away!
Featured image via Shutterstock.