Adventurous Kate contains affiliate links. If you make a purchase through these links, I will earn a commission at no extra cost to you. Thanks!
Oak Bluffs is what comes to mind when most people think of Martha's Vineyard! This beautiful town is perhaps the most famous place in Martha's Vineyard, home to the world-famous Victorian architecture, a historic carousel, and beautiful beaches.
I absolutely loved Oak Bluffs and I think that if you want to be based in a town on your trip to Martha's Vineyard, Oak Bluffs is a fantastic choice.
Oak Bluffs is one of the three major towns in the more populated "down-island" part of Martha's Vineyard (the other two are Vineyard Haven and Edgartown). The town is known for its vibrant and welcoming atmosphere, stunning views, and welcoming residents.
The town has a rich history, dating back to the 1800s when it was a popular summer destination for Methodist camp meetings, and later for wealthy Black Americans.
Today, Oak Bluffs is arguably the most popular destination on Martha's Vineyard, thanks to the town's many unique qualities and its relaxed and friendly vibe. Visitors are often greeted with a smile and a wave. The town is also home to a diverse population, with people from all walks of life coming together to enjoy the island lifestyle.
Another thing that makes Oak Bluffs shine is several stunning beaches, such as Inkwell Beach and Joseph Sylvia State Beach. Then there are the colorful gingerbread cottages, which are a type of Victorian architecture that is unique to Martha's Vineyard.
The town is also home to the Flying Horses Carousel, which is a National Historic Landmark and is one of the oldest operating carousels in the United States.
Let's take a look at the best things to do in Oak Bluffs MA! You're going to love it here.
(Planning a trip to Martha's Vineyard? Be sure to check out my guide to the towns of Martha's Vineyard, as well as profiles on the towns of Edgartown and Vineyard Haven!)
This post was published in October 2023.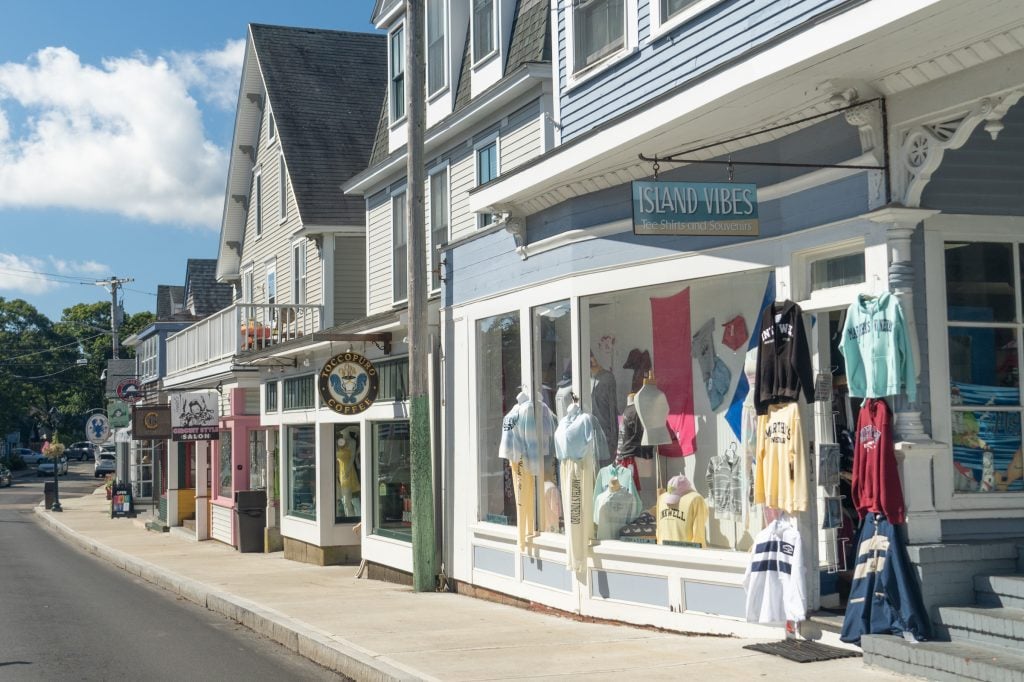 Things To Do in Oak Bluffs, Massachusetts
Explore Oak Bluffs on Foot or by Bike
Oak Bluffs is perfect for exploring on your own. I recommend starting your day with a walk down Circuit Avenue. This is the main street in Oak Bluffs, lined with shops, restaurants, and art galleries. You can easily spend a couple of full afternoons browsing the small businesses!
If you want to learn more about Oak Bluffs, how about trying an audio tour on your own? This audio tour gives visitors the background on the humble origins of Oak Bluffs and how it became the most popular destination on Martha's Vineyard. Along the way, you'll find out so much about the town's history, as well as the best places to eat and drink.
Martha's Vineyard is best explored on two wheels, so I recommend renting a bike here for the duration of your visit. There are a number of bike rentals around town, many conveniently located right by the ferry, including All Star Bike Rentals, Anderson's Bike Rentals, and Pedego Martha's Vineyard, just to name a few!
Most bike shops rent regular bikes, while Pedego also has eBikes — which I recommend renting if you plan to bike up-island as far away as Chilmark or Aquinnah. The motor will help you get over those big hills!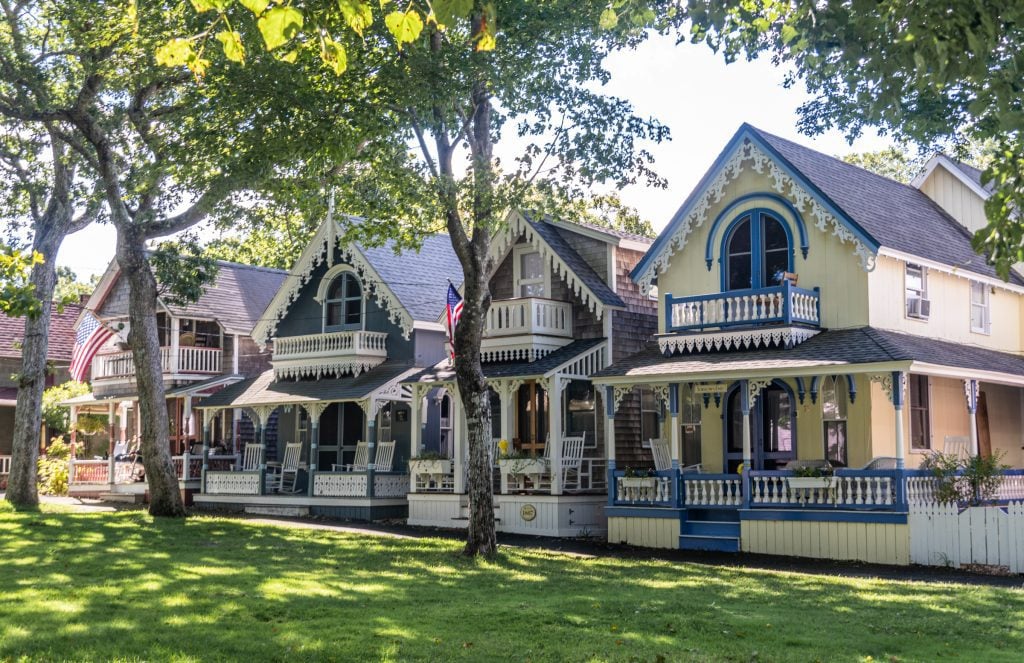 Visit the Famous Gingerbread Houses
The Gingerbread Houses, a world-famous collection of colorful Victorian architecture, are unique to Oak Bluffs. Originally, these houses were part of the Methodist campground founded in the 19th century. These architectural marvels are known for their intricate woodwork, bright colors, and eye-catching designs. They are a testament to the creativity and artistry of the people of Oak Bluffs and add a touch of whimsy to this already postcard-perfect town.
Today, the Gingerbread Houses are privately owned by individual owners — however, many of the homes are open to the public for tours during the summer months. Visitors can learn about the history of the homes and see how they are decorated inside.
I found it surprisingly difficult to get good photos of the Gingerbread Houses on a sunny day because they are surrounded by trees and there were so many patches of sunlight and shadow. You might get better photos on a cloudy day!
And of course, keep in mind that most of these houses are people's homes. Feel free to take photos, but keep a respectful distance and don't sit on their porches or poke your head in any windows.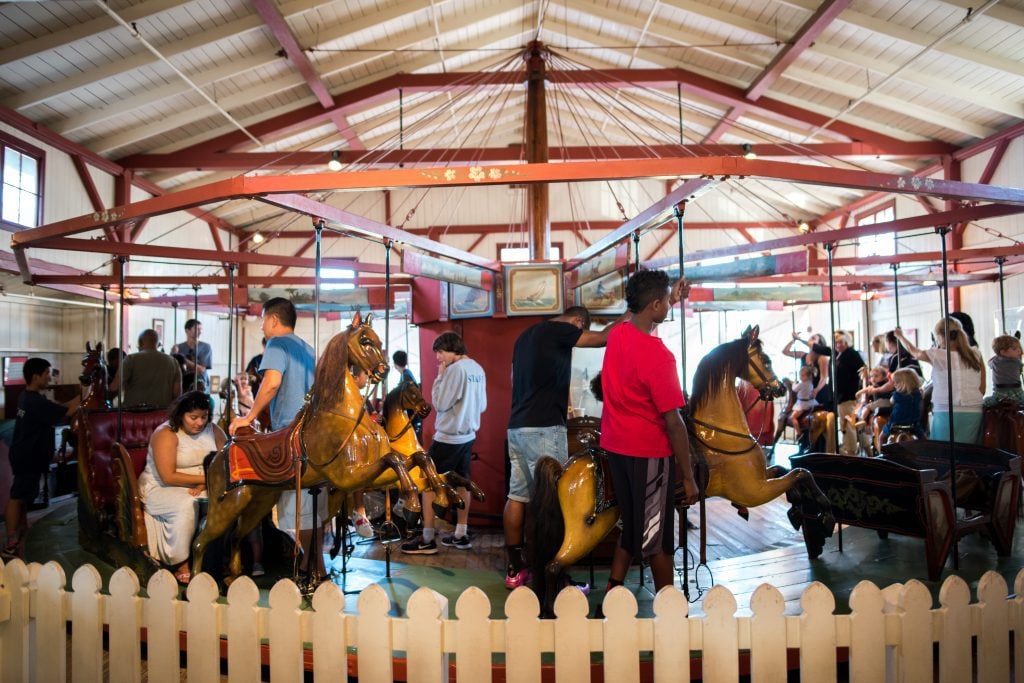 Flying Horses Carousel
Get back in touch with your inner child on one of the oldest operating carousels in the United States, right here in Oak Bluffs! Built in 1876, The Flying Horses Carousel is one of the few carousels in the country that still has its original horses, featuring 48 hand-carved wooden horses, each of them unique.
The carousel also has a Wurlitzer organ that plays music as the carousel rotates. It's a stunning piece of nostalgia that is on the Register of Historic Places.
Located in the heart of Oak Bluffs, the carousel is open from April to October, and tickets can be purchased at the ticket booth (though know that hours are shorter outside the peak summer months).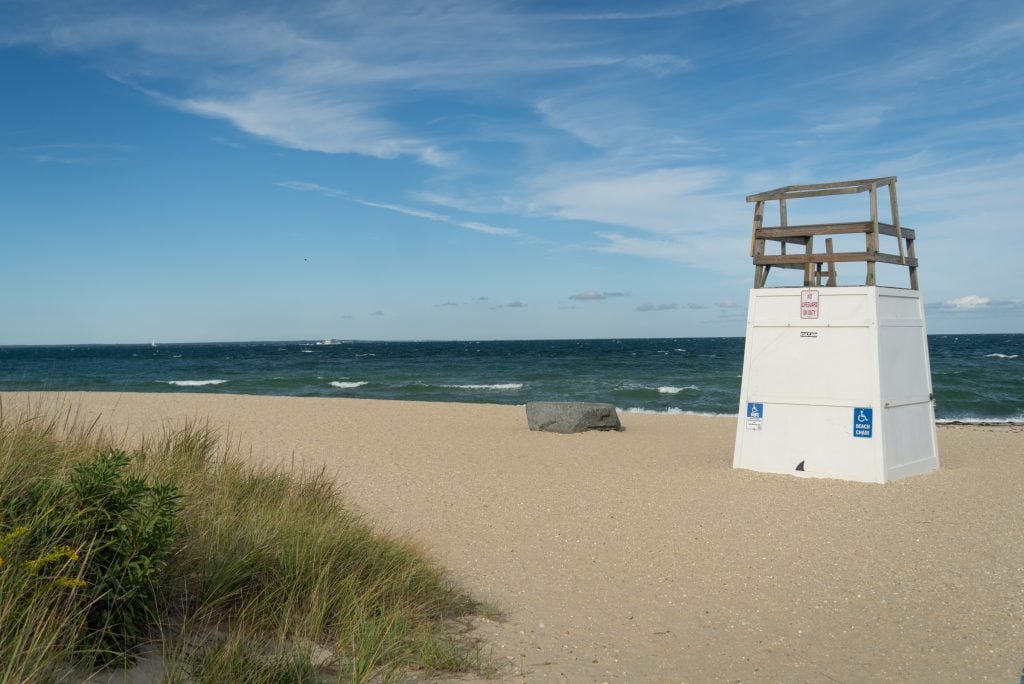 Visit Inkwell Beach and Joseph Sylvia State Beach
Martha's Vineyard is home to many great beaches, but you don't have to leave Oak Bluffs to find a nice stretch of sand. Oak Bluffs is home to several great beaches, including Inkwell Beach and Joseph Sylvia State Beach.
Inkwell Beach is one of the main beaches in town, close to the ferry and downtown Oak Bluffs. You'll find soft sand and distance views of Cape Cod here. Historically, Inkwell Beach was the beach for the Black community, and is part of the African-American Heritage Trail today.
Further down the road near the Jaws Bridge, Joseph Sylvia State Beach is a larger, more developed beach. The beach is named after Joseph Sylvia, a local fisherman who was lost at sea in 1927.
Joseph Sylvia State Beach offers a variety of amenities, including a bathhouse, a playground, and a picnic area. The beach is also a popular spot for swimming, sunbathing, and fishing.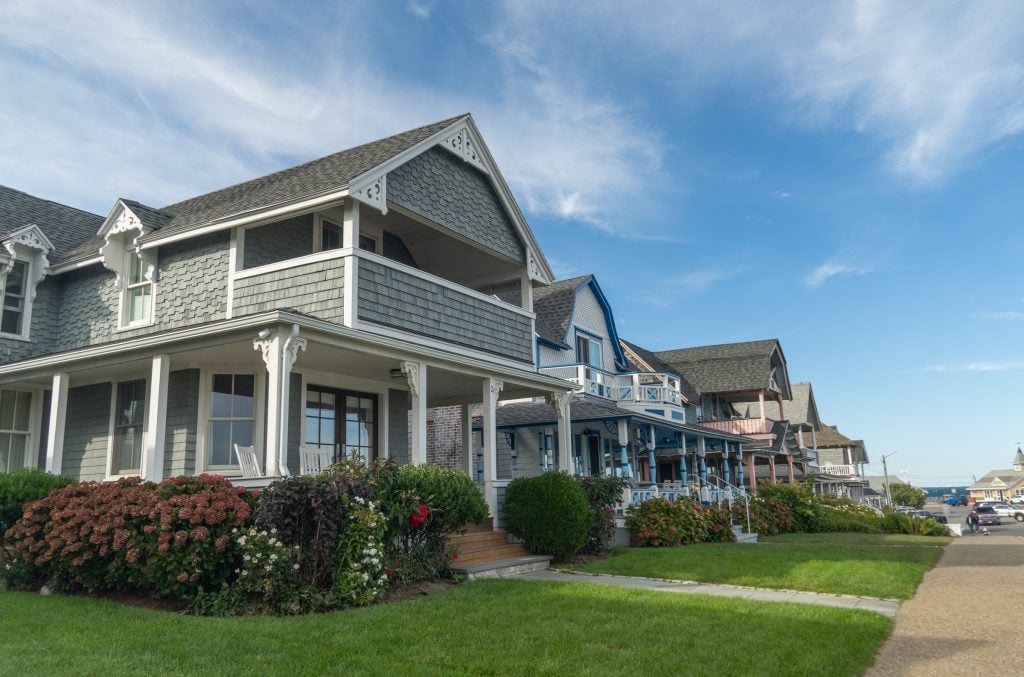 Explore Martha's Vineyard African-American Heritage Trail
Take a self-guided walking tour that explores the rich history and culture of Black life on the island. The African-American Heritage Trail features 15 sites, including churches, schools, and homes, and offers a glimpse into the lives of some of the most influential African-Americans who have called Martha's Vineyard home.
One of the highlights of the trail is the Shearer Cottage, a historic home that was once owned by a prominent Black family. The cottage is now a museum that tells the story of the Shearer family and their contributions to the island. Visitors can learn about the family's role in the abolitionist movement, their work as educators, and their love of the arts.
Another important stop on the trail is the Union Chapel, a historic church that was founded in 1880 by several Black summer residents. The chapel is a beautiful example of Gothic Revival architecture, and it has been a gathering place for the Black community on Martha's Vineyard for over a century. Today, the chapel hosts a variety of events, including concerts, lectures, and religious services.
Visit the Mariposa Museum
There is so much to see at the Mariposa Museum! With over 5,000 square feet of exhibit space, there is something for everyone. If you love art, make sure to stop by the rotating art gallery. If you like history, you will enjoy the exhibits about the history of Oak Bluffs and Martha's Vineyard. The museum also has exhibits about the history of the Wampanoag tribe. And if you have kids, they will love the hands-on exhibits.
The museum is dedicated to preserving the history and culture of Oak Bluffs and the surrounding area with a variety of exhibits, including a replica of a 19th-century cottage, a collection of Native American artifacts, and a display of the history of the Black community in Oak Bluffs.
In addition to the exhibits, the Mariposa Museum offers a variety of events and programs. There are lectures, concerts, and workshops, as well as a gift shop where you can buy souvenirs. Admission is $10 for adults and free for children under 5.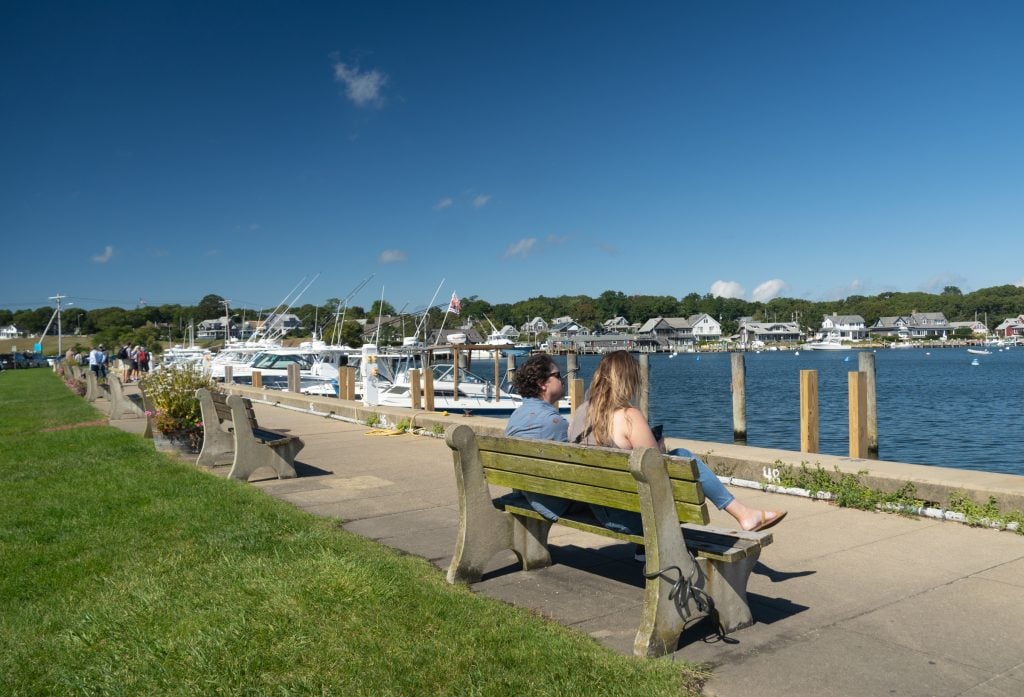 Go on a Scavenger Hunt
What better way to get to know Oak Bluffs in a very fun way than to take part in a scavenger hunt! You download the scavenger hunt to your phone and can explore on your own or with a travel partner at your own pace, solving clues about the Vineyard.
This interactive hunt will have you roaming different areas as you discover Oak Bluffs's rich culture, epic landmarks, and more, all while solving puzzles using your phone! Another great feature of this scavenger hunt is that you get to chat with the locals as you explore.
Wear comfortable shoes, make sure your phone is charged, and get ready to have some serious fun.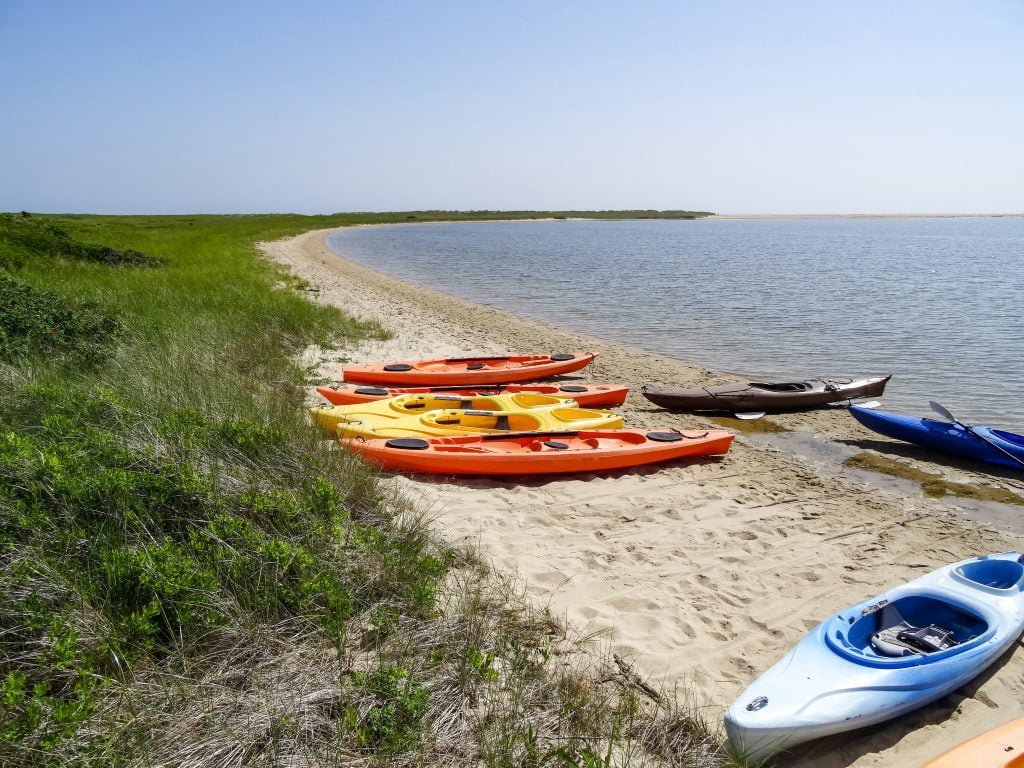 Go Paddleboarding or Kayaking at Sunrise
Oak Bluffs is a beautiful place to go paddleboarding or kayaking. The calm waters of the Oak Bluffs harbor are perfect for beginners, while the more experienced paddlers can explore the surrounding coves and inlets. You can explore on your own or with a guide.
Water sports are hugely popular on Martha's Vineyard, and Oak Bluffs is no exception. Paddleboarding is a fantastic way to watch the sun rise on the island. Imagine a peaceful journey with warm colors lighting up the early morning sky with gentle wind and glassy water surrounding you on your paddleboard or kayak.
Meet your guide just before sunrise, where you have the option to grab a coffee to get you going. Then paddle to a protected harbor where wildlife spotting and fish spawning are a regular occurrence. It will set the stage for an amazing morning and a relaxing rest of your day.
Prices for this experience start at USD $75 per person. This includes coffee and equipment, whether you choose to paddleboard or kayak.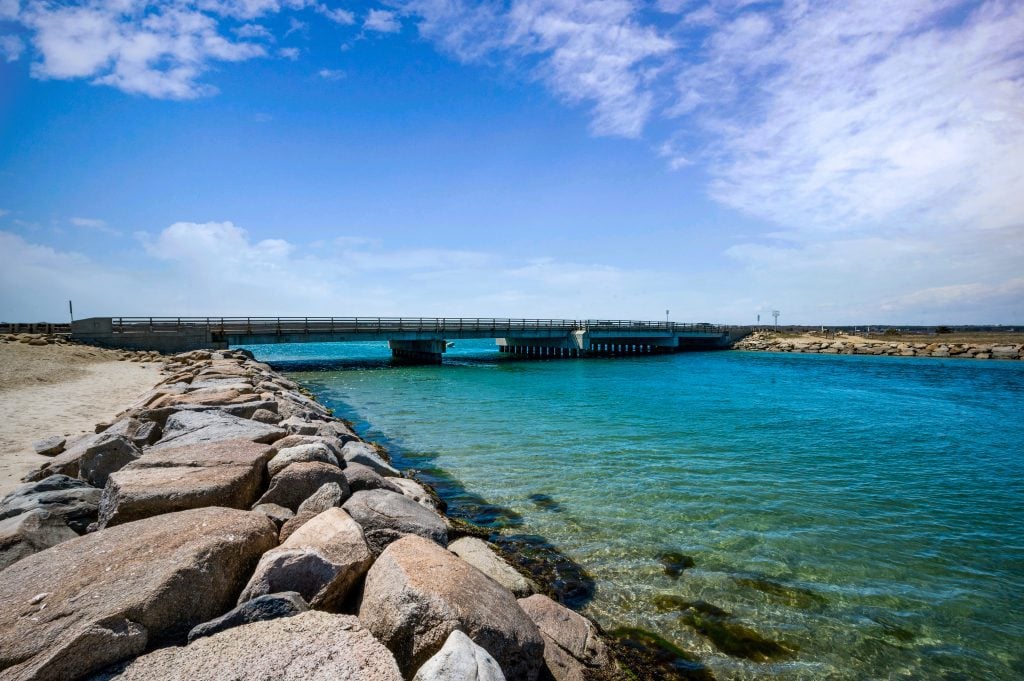 Jaws Bridge
Are you a Jaws fan? You've come to the right island. Jaws Bridge is a historic landmark that connects Oak Bluffs to the town of Edgartown. The bridge was built in 1932 and is lovingly named after the 1975 movie Jaws, which was filmed on Martha's Vineyard.
It is a popular tourist destination, as the area is known not only for the iconic movie but for its beautiful beaches and scenery. The bridge is also a popular spot for fishing and swimming, despite the fact that it has been known to be frequented by sharks.
As it is a drawbridge, you may run into stalled traffic when it is raised during peak summer hours to allow boat traffic to pass underneath. There are also pedestrian walkways on the bridge, which offer stunning views of the surrounding area.
Grab a Drink at Mocha Mott's
As a popular coffee shop located in Oak Bluffs, Mocha Mott's is known for its delicious coffee and baked goods – and just a great place to grab a quick bite or relax with friends. The shop is located in the heart of Oak Bluffs, just a short walk from the beach. The atmosphere at Mocha Mott's is inviting, where the walls are adorned with local artwork, and the staff is friendly.
You're bound to hear some good jazz or other modern music playing in the background. Whether you're looking for a place to study, work, or just hang out, Mocha Mott's is a great place to be.
In addition to its coffee and baked goods, Mocha Mott's is also known for its commitment to the community. The shop regularly sponsors events such as open mic nights and art shows, which are a great way to get to know year-round Vineyard residents.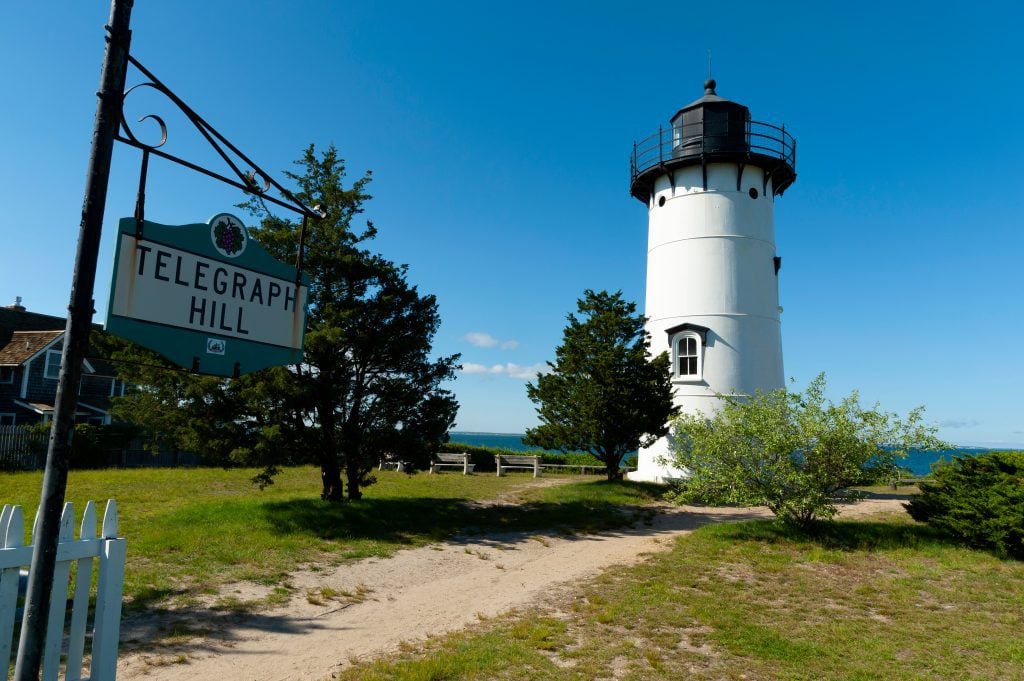 Take a Coastal Drive to the East Chop Lighthouse
Martha's Vineyard is home to a handful of lighthouses, and the East Chop Light is the main lighthouse of Oak Bluffs. The lighthouse is located at the northernmost point of Oak Bluffs, with views of Cape Cod in the distance.
The East Chop Lighthouse was built in 1838 and is one of the oldest lighthouses on Martha's Vineyard. Once you reach the lighthouse, you can park in the lot and take a short walk to the base of the tower.
The lighthouse is open to the public from Memorial Day to Columbus Day; be sure to check their website for updated hours. Admission is $5 for adults and children under 12 are free.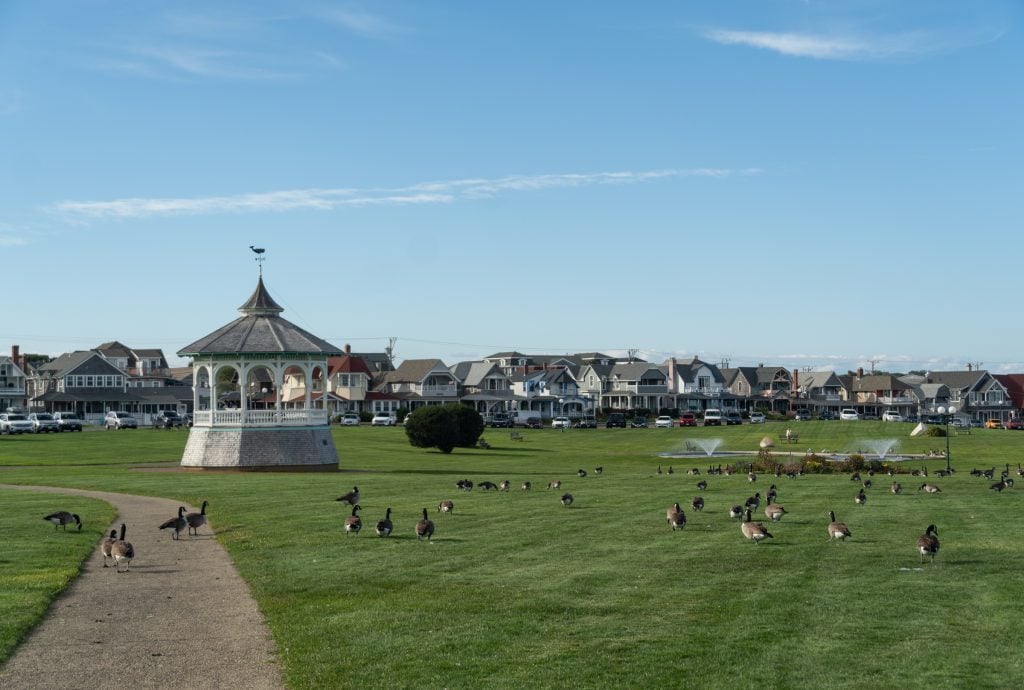 Chill Out at Ocean Park
Ocean Park is a public park in town that sits on a hill overlooking the Atlantic Ocean. It's surrounded by Victorian houses and home to a nice gazebo (along with a lot of Canadian geese). With seven acres of grassy space, it is a popular spot for both locals and tourists to relax and enjoy the outdoors.
While the geese can sometimes be a bit of an issue, this is a really lovely green space, and makes a nice spot for a picnic in Oak Bluffs. I also loved this park for photography options.
See a Martha's Vineyard Sharks Baseball Game
The Martha's Vineyard Sharks are a collegiate summer baseball team that plays in the Futures Collegiate Baseball League. They play home games at Vineyard Baseball Park, located on the Martha's Vineyard Regional High School campus, which is further inland in Oak Bluffs on the edge of the state forest.
The Sharks were founded in 2011 by a group of local businessmen who wanted to provide a summer baseball experience for college players. The team's first head coach was former Boston Red Sox pitcher Bob Stanley. The Sharks have been very successful since their inception, winning the FCBL championship in 2012, 2014, 2015, and 2017.
The Sharks are a popular team on Martha's Vineyard, and their games are often well-attended. It's also nice to go out to a game that is just FUN and doesn't cost an arm and a leg, like the Red Sox! Lots of kids on Martha's Vineyard grow up dreaming of playing for the Sharks one day.
Catch a Movie at Strand Theater
Oak Bluffs' historic movie theater, The Strand, was built in 1914 and has been a beloved part of the community ever since. The theater shows first-run movies, as well as classic films, concerts, and plays. The theater is also home to the Martha's Vineyard Film Festival.
The theater has a rich history. It was originally built as a vaudeville theater, and it hosted many famous performers in its early years. In the 1930s, the theater was converted into a movie theater, and it has been showing movies ever since. The theater was renovated in the 1990s, and it is now a state-of-the-art facility.
With a large screen and comfortable seating, the sound system is excellent, and the popcorn is fresh and delicious. Just know that if it happens to be a rainy day on the Vineyard, it can get very busy here!
Grab a Donut at Black Door Donuts
Black Door Donuts is a must-try for any visitor to Oak Bluffs. Located on Circuit Avenue, just a short walk from the ferry terminal, it's the perfect place to grab a sweet treat before a day of exploring the island. Black Door offers a unique spin on classic donuts with gourmet flavors made fresh every day.
The shop is known for its creative flavor combinations, such as Strawberry Hibiscus and Chocolate Sea Salt, and classic favorites like Boston Cream and Vanilla Bean. With new flavors introduced regularly, there's always something new to try.
Get ready to line up for your donuts, along with what feels like half of Oak Bluffs — but the line moves quickly.
Usually open until midnight, Black Door Donuts is the perfect spot for a late-night treat. The shop has a warm and inviting atmosphere and the menu is displayed on handwritten chalkboard. The staff is friendly and welcoming and will be more than happy to help you decide which unique donuts to try.
Eat Dinner at Lookout Tavern
This neighborhood tavern is nestled in the heart of historic downtown, overlooking the Atlantic Ocean, and just a short walk from the ferry terminal. It has a lively atmosphere with a large deck that offers stunning views of the water, and the interior is decorated in a classic New England style.
One of the things that makes Lookout Tavern stand out is its commitment to fresh, locally-sourced ingredients. From mouthwatering lobster rolls and crispy fried oysters to juicy burgers and steaks, there's something for everyone to enjoy. Don't forget to save room for dessert – the chocolate lava cake is a decadent treat! Overall, the food is excellent and the service is impeccable.
In addition to its delicious food, Lookout Tavern is known for its extensive beer list. With over 20 beers on tap and a carefully curated selection of local and regional craft brews, the knowledgeable staff is always happy to make recommendations and help you find the perfect beer to complement your meal.
Have an Ice Cream at Mad Martha's
Mad Martha's Ice Cream Shop is a beloved local institution, famous for its delicious ice cream and unique flavors. Founded in 1971, the shop has become a must-visit destination for tourists and locals alike.
The menu at Mad Martha's offers a wide variety of flavors to choose from, including classic favorites like chocolate, vanilla, and strawberry, as well as more unusual creations like Chappy Chocolate Chip and Menemsha Mint. In addition to ice cream, Mad Martha's also serves a variety of other sweet treats, including sundaes, milkshakes, and ice cream cakes.
The shop is located in a charming old building with a cozy, welcoming interior. The walls are adorned with colorful paintings and decorations, and the staff is always friendly and helpful.
Play a Round of Golf at Farm Neck Golf Club
Challenge yourself on one of the oldest and most prestigious golf courses on the island. This 9-hole public course offers stunning views of Nantucket Sound and the surrounding countryside. The course is challenging but fair, with wide fairways and large greens. The staff is friendly and welcoming, and the clubhouse offers a variety of amenities, including a pro shop, restaurant, and bar.
This historic course is a favorite among golfers of all skill levels. The course winds its way through rolling hills, mature trees, and coastal wetlands, providing a serene and picturesque setting for a round of golf. The fairways are well-manicured and the greens are fast and true.
What makes Farm Neck Golf Club truly special is its location and the stunning views it offers. Honestly, I'm not a golfer and can't speak to what makes golf great — but people who golf really love this course.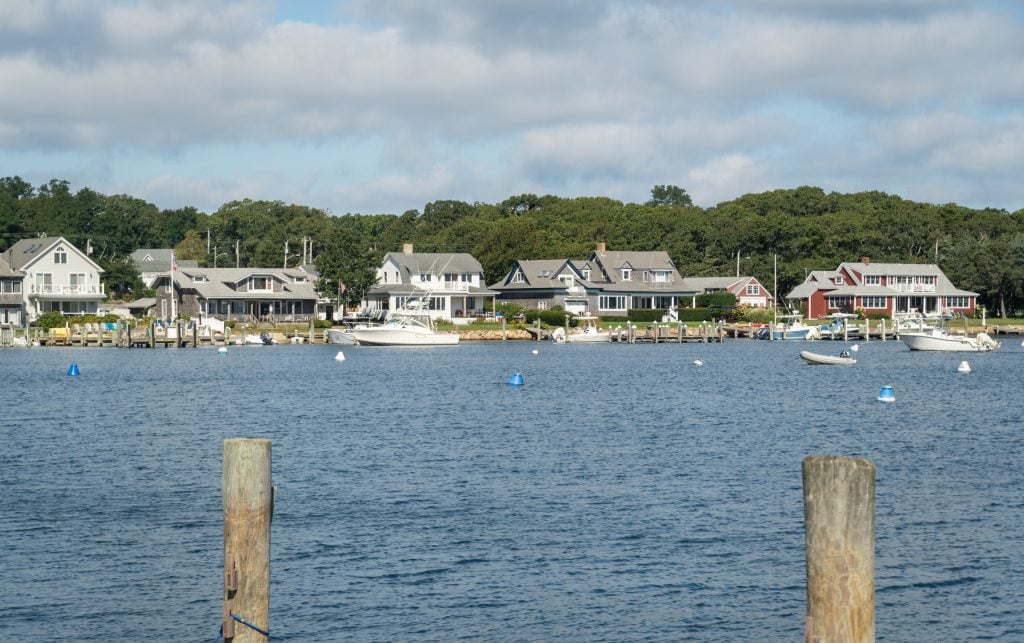 Best Time to Visit Oak Bluffs, Massachusetts
Martha's Vineyard is very much a summer destination — and that goes for Oak Bluffs as well as the rest of the island. In July and August, you'll have peak summer temperatures (and peak summer crowds). It's a beautiful and beach time to visit, but you might be waiting awhile to get into restaurants, and lines are long.
I recommend going a bit off-season if possible. In Massachusetts, early fall is nearly universally better (and dryer!) than late spring, and I would recommend going in September if you can.
I visited Martha's Vineyard in late September and it was beyond perfect. It wasn't quite warm enough to swim in the ocean, but it was warm and sunny during the day. Beaches were nearly deserted — I couldn't believe how much the island had emptied out. This is a big difference from Europe, where September is still one of the big vacation months.
Spring and fall can also be lovely times to visit Martha's Vineyard, though keep in mind that some businesses tend to close from late fall through early spring.
Winter is a very quiet time in Oak Bluffs, though there are plenty of locals who live here year-round. You should know that many of the gingerbread cottages in Oak Bluffs do not have an adequate heating system, which makes them very tough to live in during the winter months. You should ask the specific house owners for more information — or, better yet, stay in a hotel instead.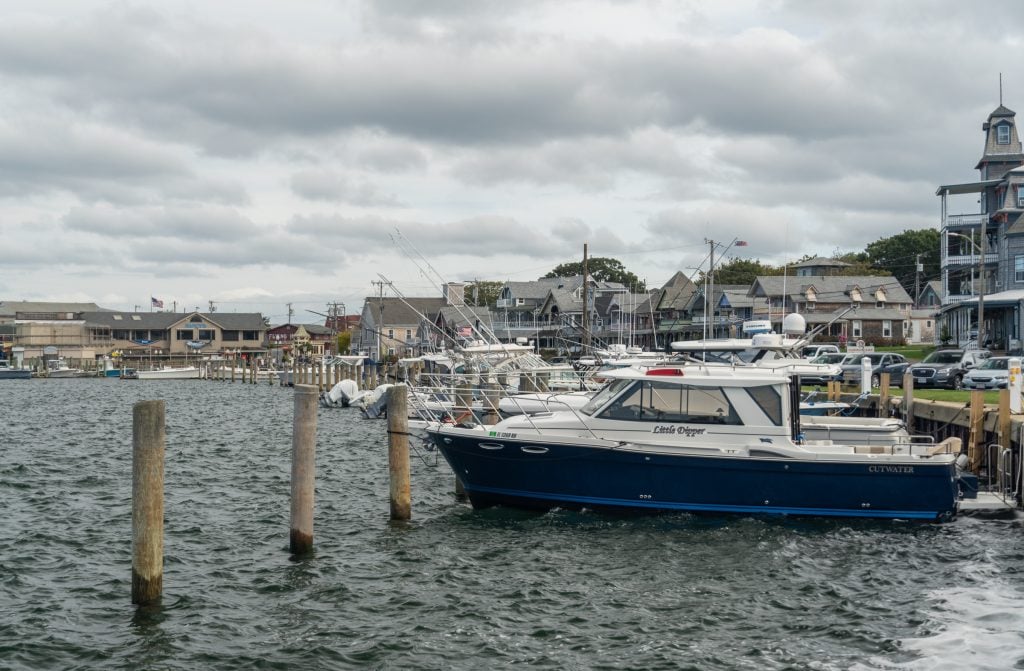 Getting Around Martha's Vineyard from Oak Bluffs
Martha's Vineyard is an easy place to get around, even if you didn't take your car over on the ferry! The town of Oak Bluffs is easy to get around on foot, and to get to other places on the island, there are plenty of bus routes that run on a regular basis.
But the best way to get around Martha's Vineyard is by bicycle. You can rent from several shops in town — All Star Bike Rentals, Anderson's Bike Rentals, and Pedego Martha's Vineyard are all good options. Pedego has eBikes, which are a great choice if you plan on biking up-island to Chilmark and Aquinnah, which is a further distance and hillier journey.
As for getting to Oak Bluffs, the main Steamship Authority ferries from Woods Hole on the mainland come either into Oak Bluffs or Vineyard Haven. (These towns are a 10-minute drive apart; it doesn't really matter which one you come into, or if your ferry gets rescheduled to a different departure hub, as mine did.)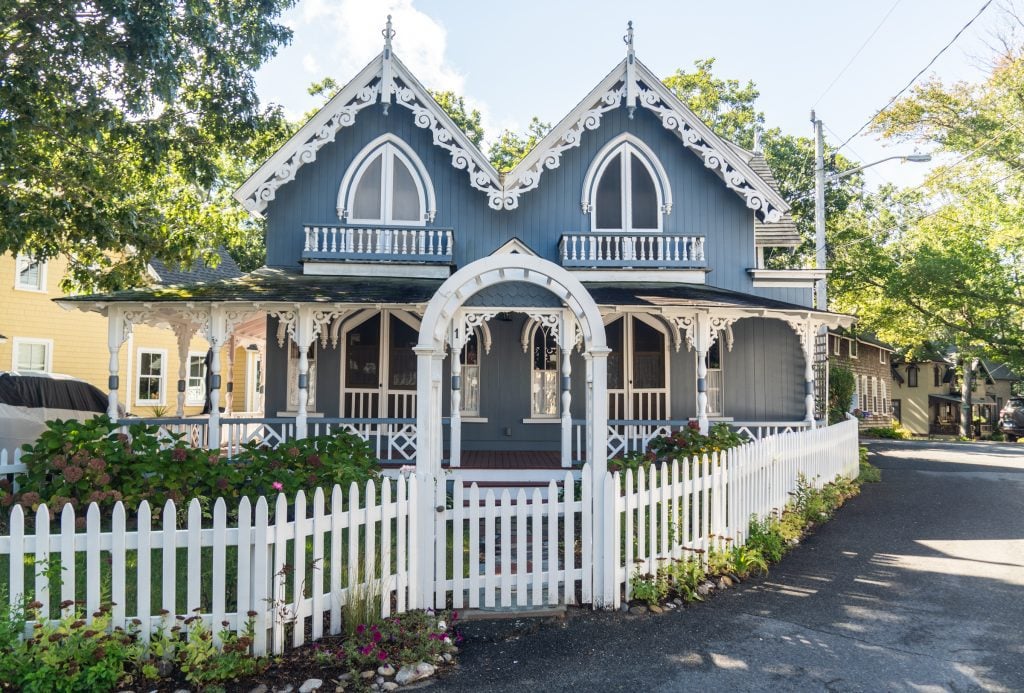 Is Oak Bluffs Worth It?
Oak Bluffs is absolutely delightful! You will love this town and take a million photos of it. I can see how Oak Bluffs easily gets under people's skin and brings them back to the Vineyard for years to come.
I hope you enjoy Oak Bluffs as much as I did!
More on Martha's Vineyard:
More on Cape Cod:
More on Massachusetts:
Have you been to Oak Bluffs MA? Share away!