Adventurous Kate contains affiliate links. If you make a purchase through these links, I will earn a commission at no extra cost to you. Thanks!
Chappaquiddick Island is a lovely little island off the coast of Martha's Vineyard. This small island is so different from the main island — it's a much quieter, much more chilled out part of the Vineyard. If you're looking for peace and solitude, you can't do better than here.
I loved my time on Chappaquiddick (also known as Chappy) — it's a wonderful place to spend an afternoon or a full day when visiting Martha's Vineyard. Just know that a trip here needs to be planned carefully, as there is exactly one store on the island and few other facilities! More on that below.
Chappaquiddick was originally settled by the Wampanoag people 12,000 years ago, like the surrounding Cape and Islands. The island is sometimes connected to Martha's Vineyard at Norton Point, most recently was in 2015, thanks to shifting land and erosion. Technically, Chappaquiddick is part of Edgartown, but it's completely different geographically and culturally.
Today, Chappaquiddick has a year-round population of around 179 people and, as you'd expect, a tight-knit local community. Locals talk about "going to the mainland" when they go to Edgartown and "going to America" when they go to mainland Massachusetts!
But first, the elephant in the room. There's one thing that everyone knows about Chappaquiddick Island — that Ted Kennedy drove off a bridge on this island in 1969; that his passenger, Mary Jo Kopechne, drowned; that he didn't report her death until the next day.
Unfortunately, the name Chappaquiddick has become synonymous with this incident (and it didn't help that the movie about it was simply called Chappaquiddick, either). But remember that this island deserves to be seen for more than just the actions of one person, just as your own hometown is.
Come to Chappaquiddick to enjoy a beautiful place unlike anywhere else in Massachusetts. You're going to love it here.
(Planning a trip to Martha's Vineyard? Be sure to check out my guide to the towns of Martha's Vineyard, as well as profiles on the towns of Edgartown, Oak Bluffs, and Vineyard Haven!)
This post was published in October 2023.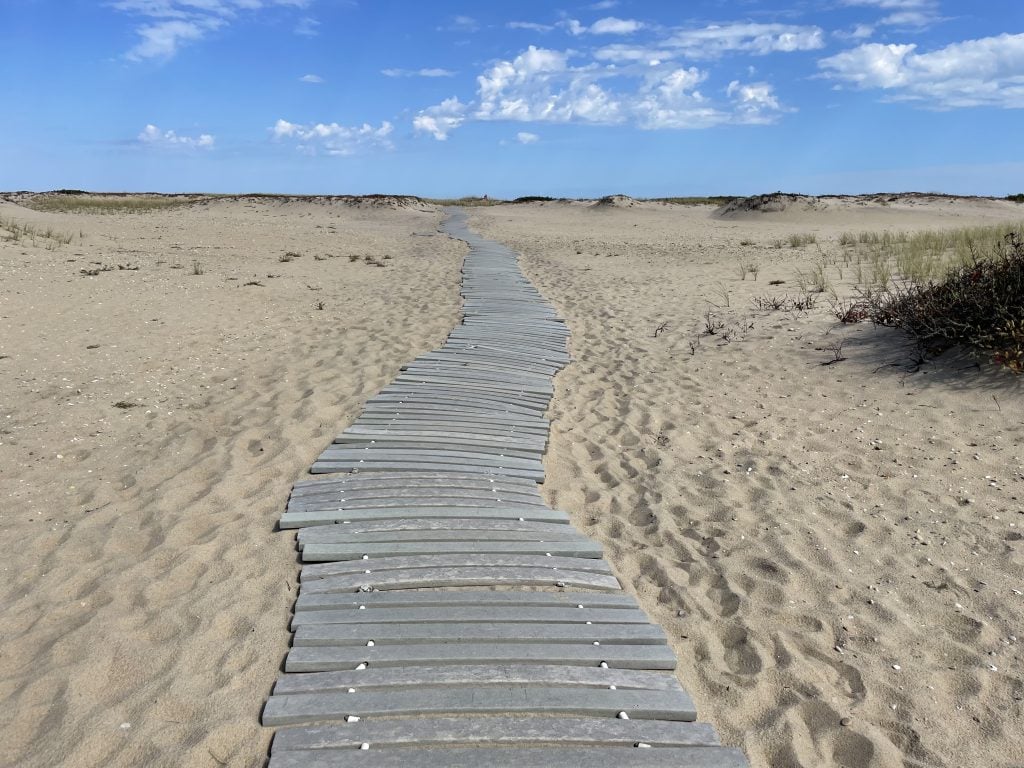 Planning a Visit to Chappaquiddick Island
Chappaquiddick Island feels like a place where time stands still. You might not notice until you pass the fire station that there's very little to see here — no shops, no downtown area, no hotels or restaurants or gas stations.
There is essentially one shop on the island — the general store — and it's only open during the summer season. Blackbird Cafe, with a brick and mortar restaurant in Edgartown, operates a food truck by the general store during high season.
For anything else, you'll need to do your grocery shopping on the "mainland." (I know, it's an island, but that's what Chappy locals call it!)
So if you're planning a trip to Chappaquiddick Island, you'll want to bring provisions. I hit up Katama General Store in Edgartown and grabbed a few sandwiches before hopping on the ferry, which was a smart and delicious decision.
There are a few public bathrooms on Chappaquiddick Island, including at Mytoi Japanese Garden, East Beach, and Wasque Point. Most of these are porta-potties, just so you know.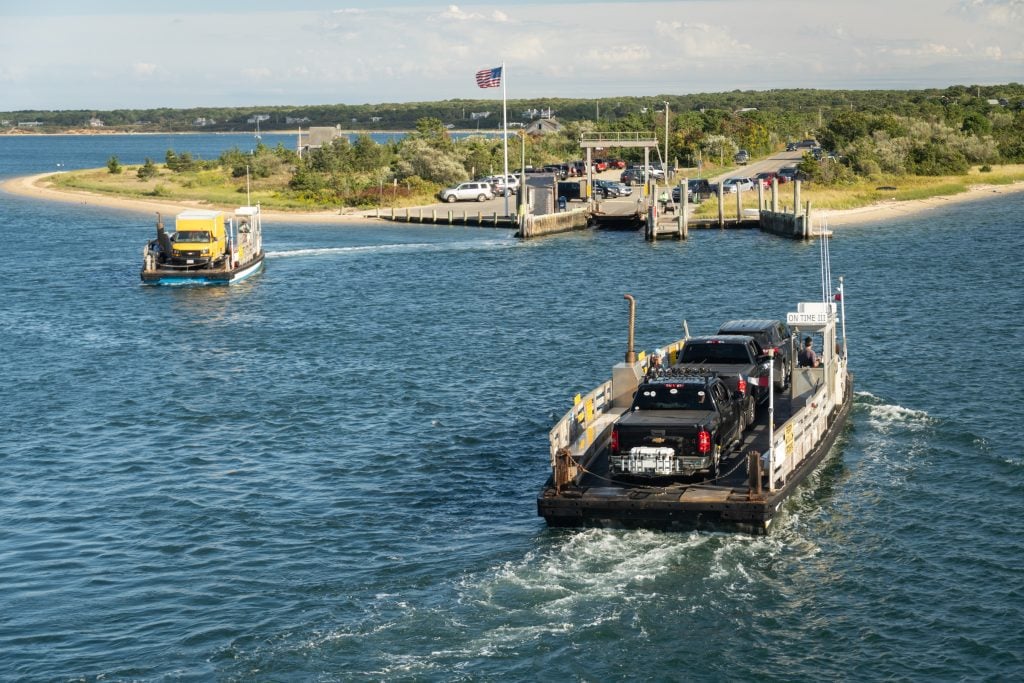 How to Get to Chappaquiddick Island
The only way to get to Chappaquiddick Island is by boat — there are no bridges here. While the island is tantalizingly close to Edgartown on the "mainland," if you don't have a boat of your own, you'll need to take the Chappy Ferry across Edgartown Harbor.
The Chappy Ferry, by the way, is hilarious. There are two tiny boats that fit about three cars on them at a time, along with foot passengers and bicycles. They're called "On Time II" and "On Time III," and the journey between Edgartown and Chappaquiddick takes about one minute.
I strongly recommend exploring Chappaquiddick Island by bicycle, for a few different reasons. First off, the island is pretty flat and perfectly sized for a day of biking. Second, you won't have to wait in the often-long car line for the Chappy Ferry; you can just walk on with your bike. And third, parking is limited on Chappaquiddick, especially by Wasque Point and Mytoi Japanese Garden.
My husband Charlie and I actually took our car to Chappaquiddick in late September, which is a surprisingly off-peak time of year for Martha's Vineyard. We were able to find parking everywhere. But I'm glad we didn't attempt that in the peak summer months of July and August.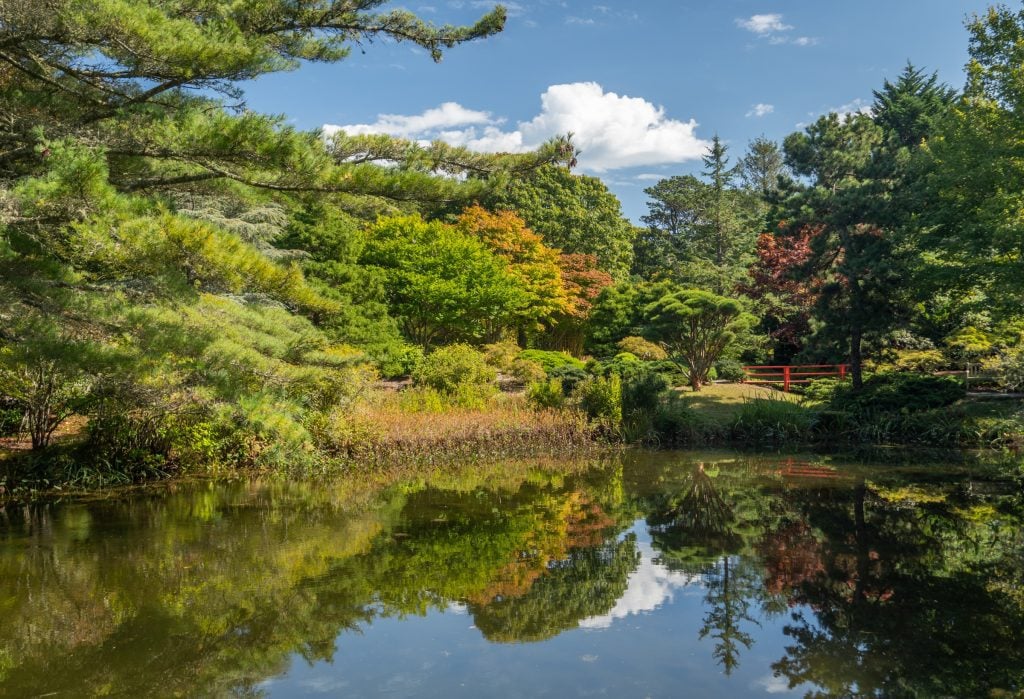 Things to Do on Chappaquiddick Island
Mytoi Japanese Garden
Mytoi Japanese Garden is a great first place to visit when you arrive on Chappaquiddick Island. After the ferry arrives, head down the road and bear left to stay on Chappaquiddick Road, and you'll eventually come to the gardens on your left.
Mytoi Japanese Garden was built between 1958 and 1966 by architect and local islander Hugh Jones, who drew inspiration from his time in Japan during his military service. The garden is a wonderfully tranquil place, filled with Japanese architectural features like arched wooden bridges, a rock garden, and plants like the burgundy Japanese maples that turn blood-red in the fall. Keep an eye out for the turtles on the pond!
70% of the garden was decimated after Hurricane Bob in 1991, but new designers with a love for Japanese gardens brought new life into Mytoi. It has been lovingly cared for over the years and is more beautiful than ever today.
Mytoi makes a nice stop when you want a few minutes of quiet, away from the beaches. It's surrounded by pine forest on all sides.
The garden is open daily, 9:00 AM-5:00 PM. Admission is $5 for nonmembers.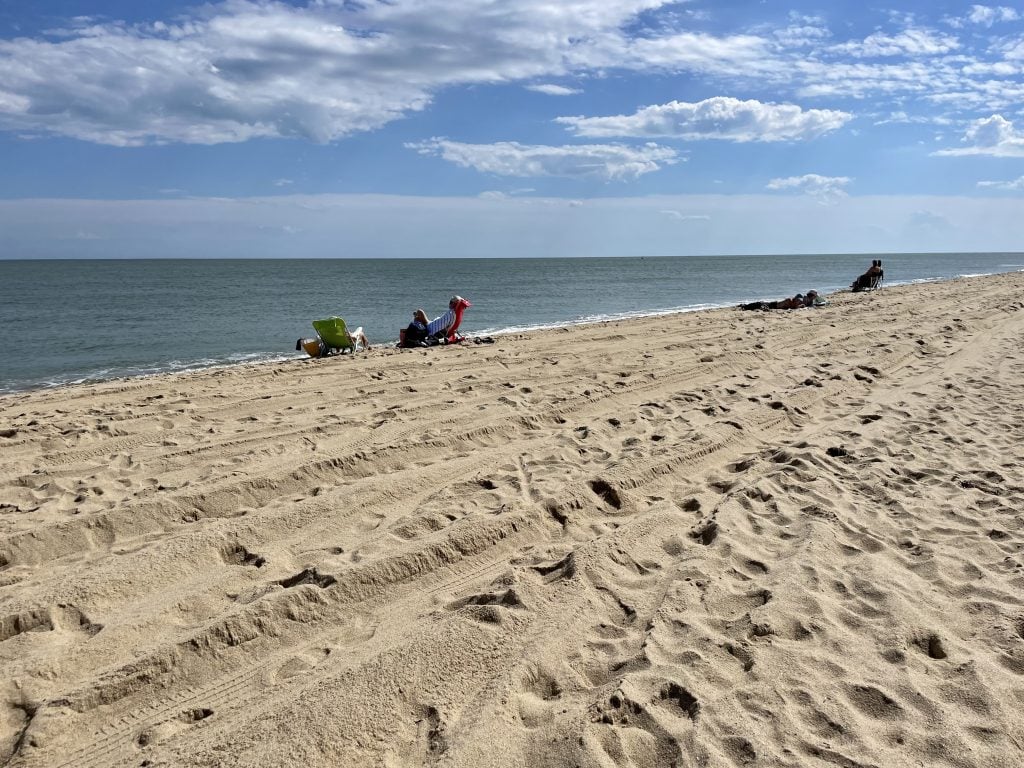 East Beach
Just past Mytoi, you'll find East Beach — one of the most easily accessible beaches on the island. Keep heading east and you'll reach the Dike Bridge and the beach beyond that. East Beach is also known as Leland Beach.
A nice thing about East Beach is that it's never too crowded here, the sand is nice and soft, and swimming is actually permitted here — unlike at Wasque Point. You can also enjoy distant views of Nantucket Island across Nantucket Sound.
Note that on this part of Chappaquiddick, you'll need sand tires and a permit for an overland sand vehicle (OSV) in order to drive on the beach. You can read about those here. Otherwise, park just before the bridge.
Alternatively, you can reach East Beach by heading north from Wasque Point.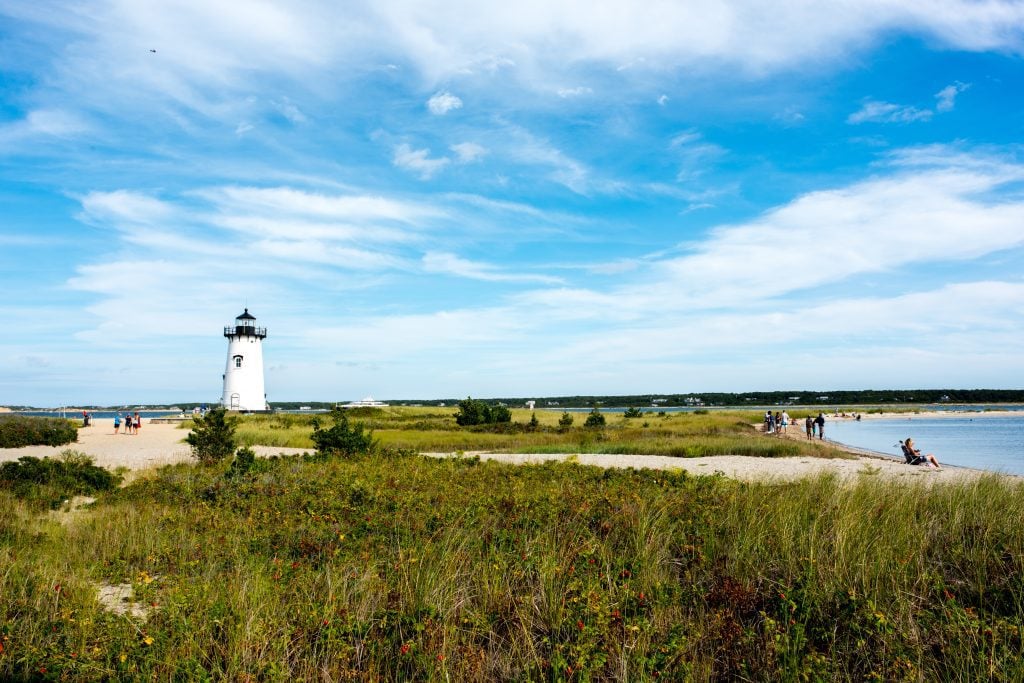 Cape Poge Wildlife Refuge
Looking at a map of Chappaquiddick Island, you'll see an arm reaching out on the northeast edge, reaching and curving back like a baby Cape Cod. This arm is the Cape Poge Wildlife Refuge, one of the most magnificent places to visit on the island.
The beach extends eight miles, from Wasque Point past the Cape Poge Lighthouse and "the Gut," a narrow inlet and popular fishing spot on Cape Poge. Thanks to currents rushing into Cape Poge Bay, this area is home to fantastic wildlife.
The waters in Cape Poge are home to striped bass and albacore tuna, while further down the Cape Poge Elbow you'll find lots of bird life, including piping plovers, oystercatchers, least terns, and plenty of seagulls.
Cape Poge Lighthouse has been moved and rebuilt several times since its construction in 1802 due to shifting land and water, and it was the first lighthouse to be moved by helicopter in 1985!
Like East Beach, you can access Cape Poge on foot (a long distance — make sure you're up for the journey!), or get a sand vehicle permit to explore on your own.
There is a third option, too: you can book tours of Cape Poge through The Trustees of Reservations. (Note that tours run from May 30 through October 15, and the Trustees do not include tour information online at other times of year.)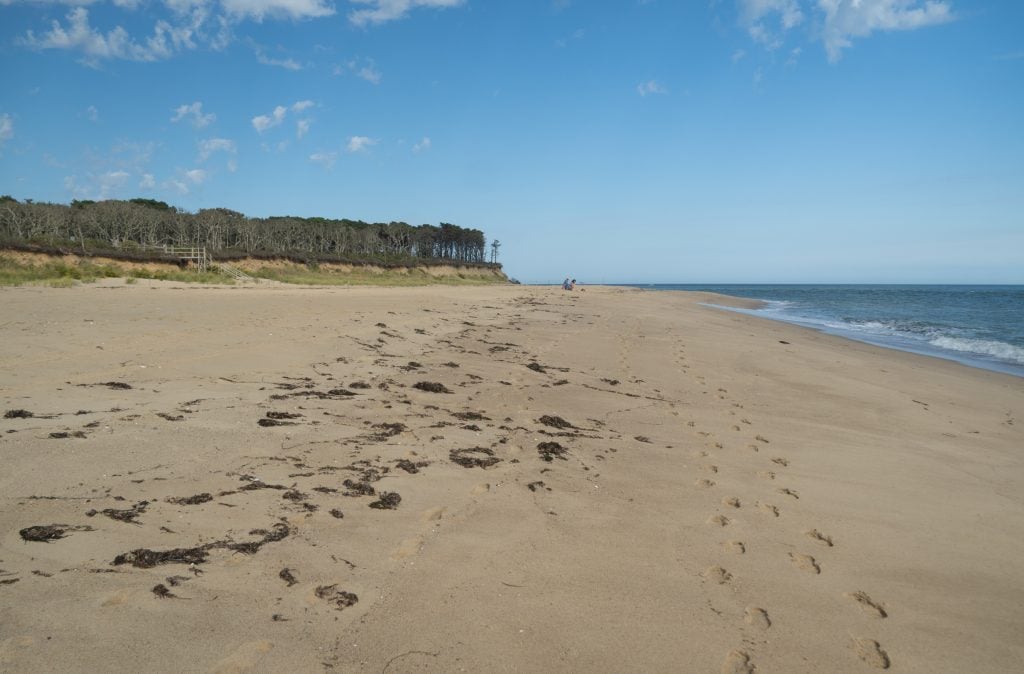 Wasque Point
On the southeast part of Chappaquiddick, you'll find Wasque Point (pronounced WAY-squee) — home to some of the most spectacular beaches in Massachusetts. No two visits to Wasque Point are ever the same, as this beach is constantly eroding and changing shape!
I enjoyed a picnic out at Wasque — it was a nice spot to eat with a view!
Poucha Pond (sometimes called Pocha Pond) is a freshwater pond on one side of Wasque Point that is home to marshes and the rich wildlife that draws avid birders. Keep your eyes peeled and you might be able to see a blue heron or egret. Sandpipers, piping plovers, and other small shore birds are drawn to this area as well.
Keep in mind that swimming is not permitted at Wasque Reservation, as currents are strong. Also keep in mind that this area is popular with seals and the sharks that like to hunt them.
Royal and Ancient Chappaquiddick Links
Believe it or not, an island this small has its own golf course! And don't worry, it's far more laid-back than other golf courses on the Cape and Islands. Royal and Ancient Chappaquiddick Links, also known as Royal Chappy, is a nine-hole golf course that dates back to the 19th century.
This course is simple. No golf carts — you'll have to walk. Just nine holes, whittled down from the few dozen holes of yesteryear. And, like most places on Chappaquiddick, it's all about the seclusion factor. You'll be surrounded by trees with views of the water in the distance.
You can buy a one-day guest pass that offers unlimited golf for $60 per person. Play the links over and over if you'd like! And if you call in advance, the team will pick you up in one of their quirky vehicles (sadly, their signature VW bus, an island legend, was retired in 2021).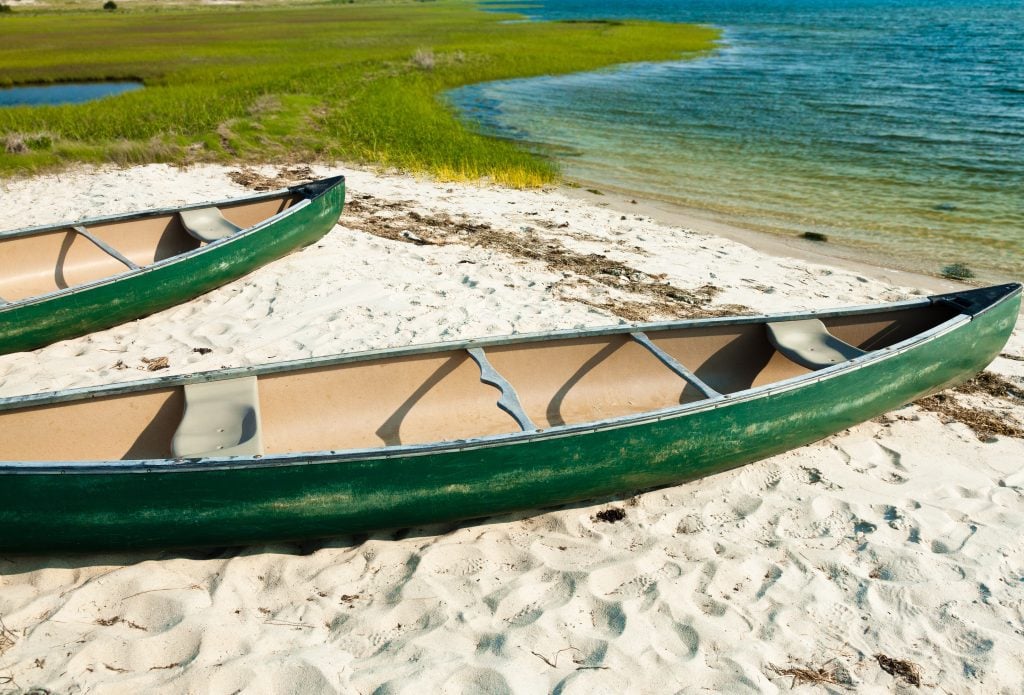 Where to Stay on Chappaquiddick Island
There are no hotels on Chappaquiddick — the only places to stay here are vacation rentals. And you can bet they are all self-catering rentals with kitchens, as there are no restaurants on the island!
Whatever you do, be sure to book early, as good properties tend to go far in advance, especially since many families tend to rent the same house for their vacation year after year.
Here are some of the top-rated properties available for rent:
Luxury property: Private Beach, Family Activities, Pet Friendly has it all — beachfront yet secluded on Cape Poge Bay, sleeps 14 in six bedrooms, an outdoor shower, kayaks, a canoe, a sunfish, and lots of windows for views from every room.
Mid-range find: Chappaquiddick Getaway with Stunning Ocean Views is a short walk from both Katama Bayn and Wasque Reservation, with three bedrooms and lots of windows and skylights.
Value for money: Chappaquiddick Cozy Two Bedroom is one of the lowest priced properties you'll find with great reviews. A charming place with small bedrooms and a nice secluded location.
Find more places to stay on Chappaquiddick Island here.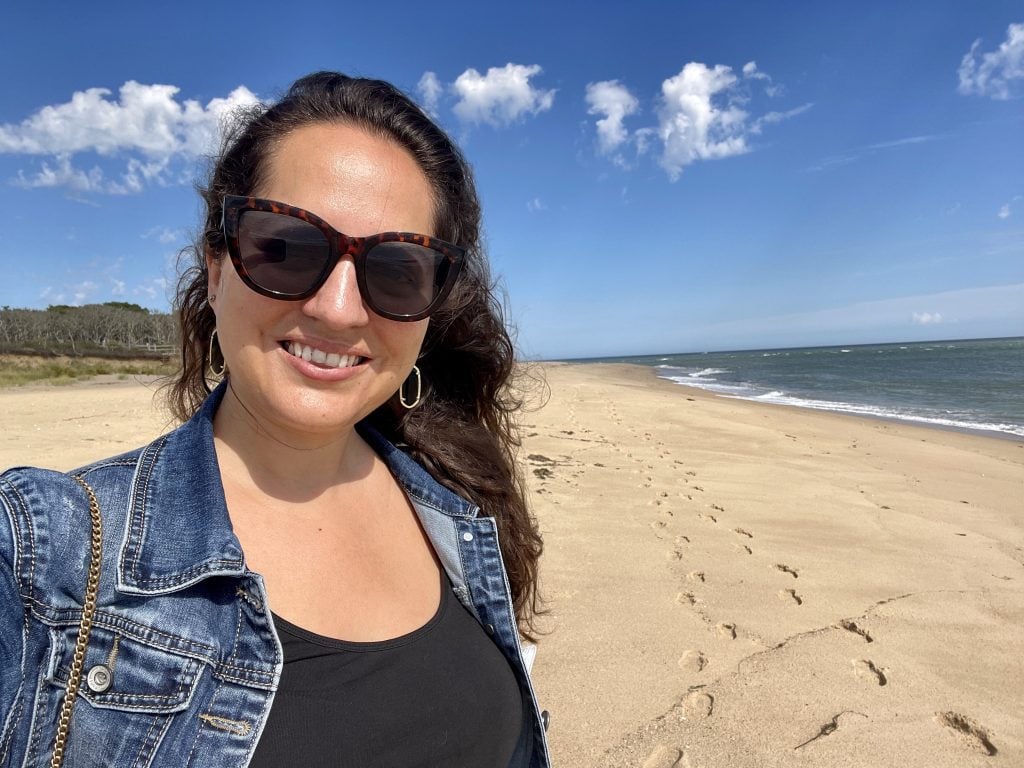 Is Chappaquidick Worth It?
Chappaquiddick Island is absolutely worth a visit! If you're planning a longer trip to Martha's Vineyard, it's worth spending at least an afternoon here, and if you love the isolation, you might enjoy even staying out here.
I hope you enjoy your time on Chappy and have a fabulous trip to Martha's Vineyard! This is one of the best islands in New England, and it has a way of pulling you back again and again.
More on Martha's Vineyard:
More on Cape Cod:
More on Massachusetts:
Have you been to Chappaquiddick Island? Share your tips!