Adventurous Kate contains affiliate links. If you make a purchase through these links, I will earn a commission at no extra cost to you. Thanks!
There are so many cool things to do in Palermo Italy! Palermo is the largest city in the autonomous region of Sicily, with a population of about 650,000. It sits in the sunshine, surrounded by beaches and nestled in by tall cliffs.
And what a city it is. Palermo is filled with loud and passionate people, gorgeous and unusual religious architecture, some questionable driving, and absolutely fantastic (and often unusual) food.
I recently spent a week in Palermo — much longer than most visitors spend here. And let me tell you, this time was very well spent! I would even say Palermo is one of the best places to visit in Sicily.
There are many misconceptions about Palermo — especially concerning safety. Despite the fact that travelers often associate Palermo with mafia dangers, Palermo is a safe city to visit, about as safe as any major European city. (You can read more on Palermo safety below.)
I also expected Palermo to be just as brash and loud as Naples — but it wasn't that way at all. Palermo actually felt fairly low-key as far as Italian cities go — not nearly as wild as Naples or Rome. Go figure!
Palermo is also extremely good value for money. I live in Prague, which has a reputation of a cheap city (though it's gotten much pricier in recent years). Palermo is significantly cheaper than Prague, especially when it comes to food and accommodation. Big arancine for a euro? That's lunch!
Palermo may not be as famous as Florence or Rome — but this underrated city is well worth a visit.
This post was published in February 2023.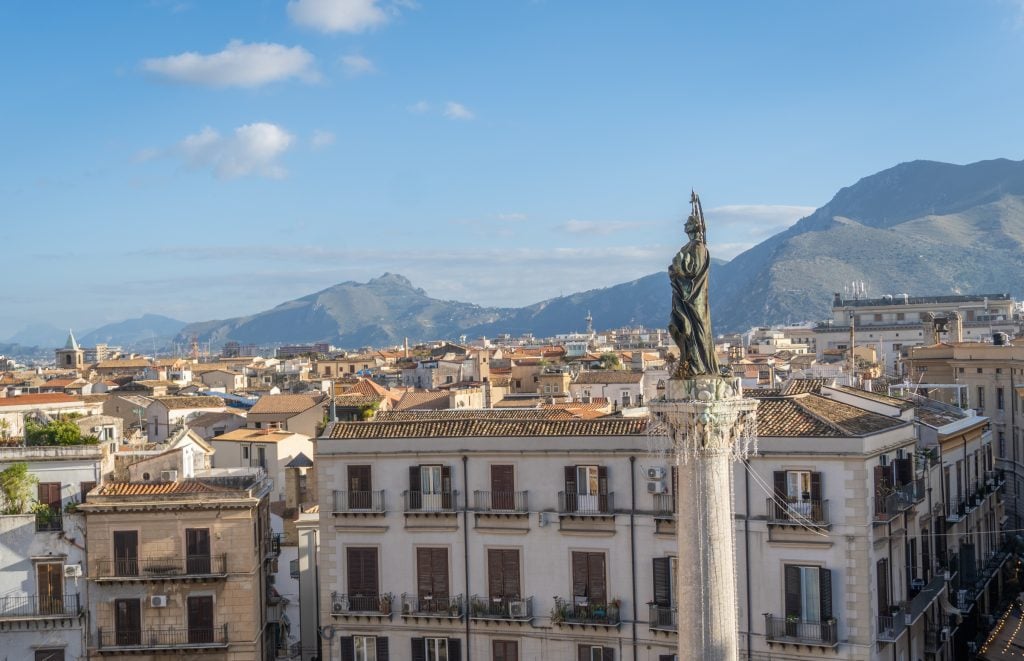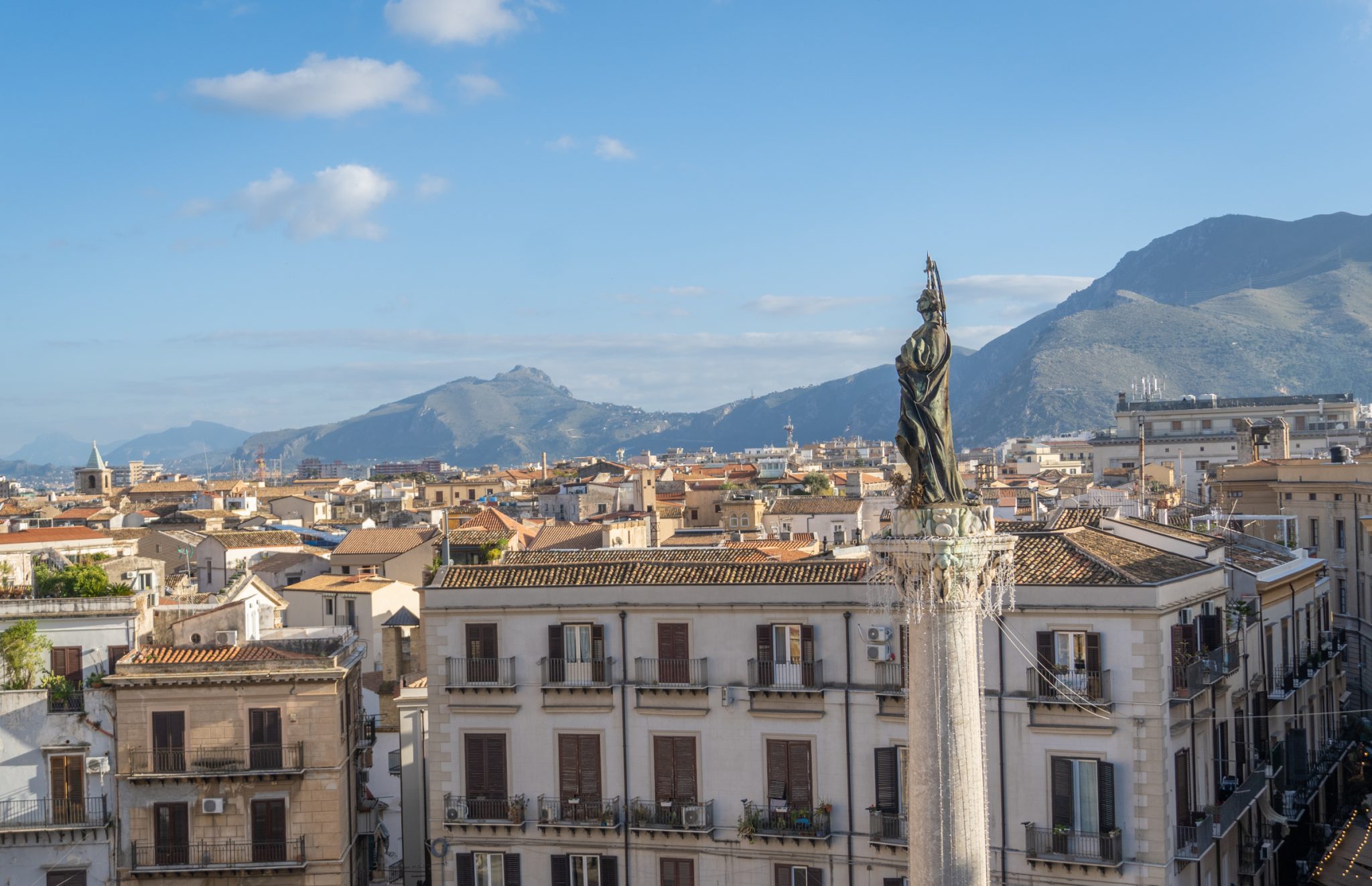 Things to Do in Palermo Italy
You'll notice on my list of things to do in Palermo has a lot of churches and a lot of food. Honestly, that's what Palermo does best!
The Arab-Norman architecture has earned UNESCO World Heritage Designation for a number of churches in the city — all worth visiting.
And the food! From hearty pastas and wild street foods to delectable pastries, Palermo is one of the most delicious cities I've ever visited.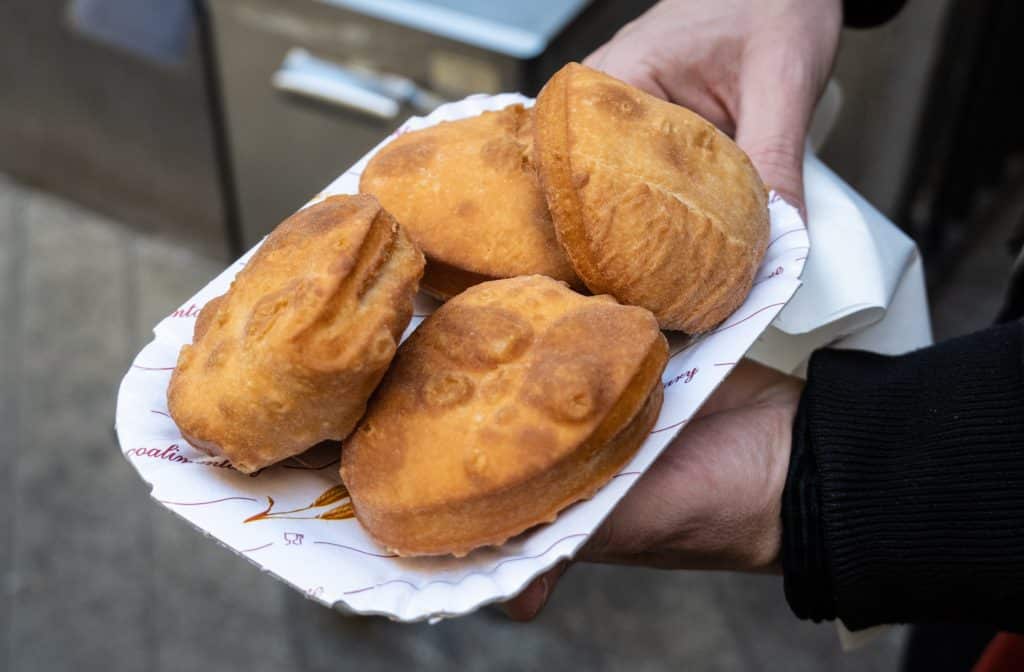 Go on a Palermo Street Food Tour with Streaty
If there's anything you should do on your FIRST day in Palermo, it's go on a food tour. While I recommend doing that everywhere, it's especially important to do so in Sicily and ESPECIALLY ESPECIALLY so in Palermo because there are so many unique foods here that you won't know to order!
Streaty is a Sicilian-owned company that offers a few different food tours in Palermo. On these tours you'll have a fun, friendly guide introducing you to some of the better-known Sicilian specialties (like cannoli and pasta con le sarde) and some more wild stuff (insalata musso and donkey mortadella!).
I went on the Classic Sicilian Food & Wine Tour and had SUCH a good time! This tour is generous with both the food and wine (OMG so much wine) and you visit a lot of cool restaurants and get to sit down, which doesn't always happen on a walking tour.
After this tour, you'll have several restaurants and spots you'll want to visit again!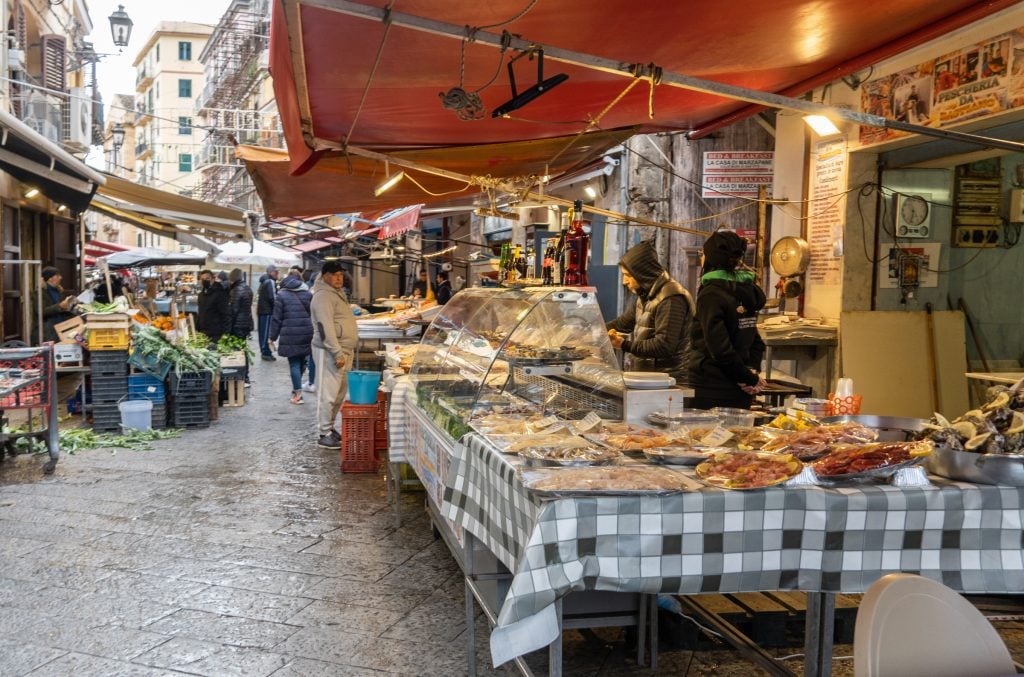 Palermo Markets
Visiting the street markets is a great way to get to know Italian cities on a local level — and that's especially true for Palermo. Palermo is very much a market city, and there are three worth visiting: Ballaro, Capo, and Vucciria, all located fairly close to each other.
If you only have time to visit one market, make it Ballaro. This is the largest market in Palermo and wandering around it feels SO Sicilian — vendors shouting to you to try their cheeses, meats, fresh juices, and various fried foods cooked on the spot, like arancine (not arancini — Western Sicily spells it differently than Eastern Sicily). It's wild and welcoming and a full sensory experience!
Capo is another good market, located close to Teatro Massimo. There are lots of great produce stalls here and quite a bit of street food options here, from sfincione pizza to freshly fried panelle chickpea fritters.
Vucciria has long been one of the top markets in Palermo, but these days the market stalls are dwindling and it's turning more into an aperitivo or nightlife destination. (More on that below.) It's still worth visiting, and you can find street vendors turning out only-in-Palermo eats like stigghiola, veal or lamb intestines wrapped around a spring onion and barbecued.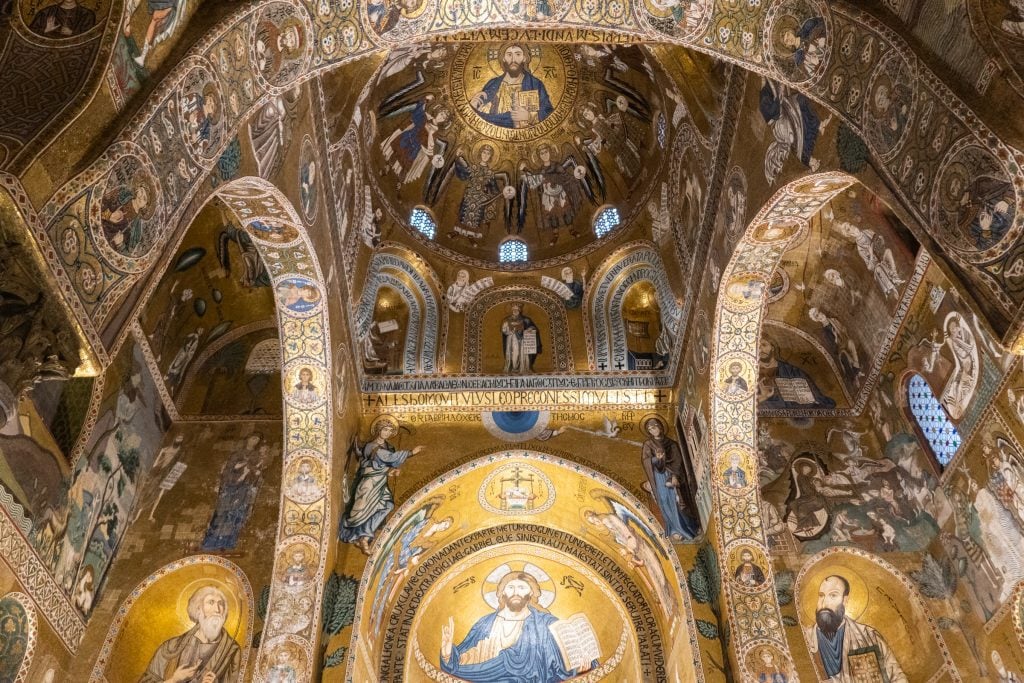 Palatine Chapel
As I write this piece, I'm aware that a city like Palermo can give you major church/UNESCO fatigue. But I visited the Palatine Chapel (Cappella Palatina) and it was so outstanding, it filled me with joy.
This chapel is located on the second floor of the Norman Palace (Palazzo dei Normanni, or Palazzo Reale/Royal Palace). The building seems nice, but nothing too exciting.
And then you get to the chapel. Prepare to be blown away. Gold rains down from every angle. Like the other UNESCO World Heritage Sites in Palermo, it's all about the blending of religions and cultures, and it feels more like a Byzantine religious monument with Islamic influences in the geometric tile patterns.
The mosaics here are particularly impressive, and I was surprised at how many of the patterns looked like classic American quilt patterns I associate with Americana. What a surprise to see them in Sicily.
Admission to visit the chapel, the palace, and the outdoor gardens is 11 EUR ($12 USD).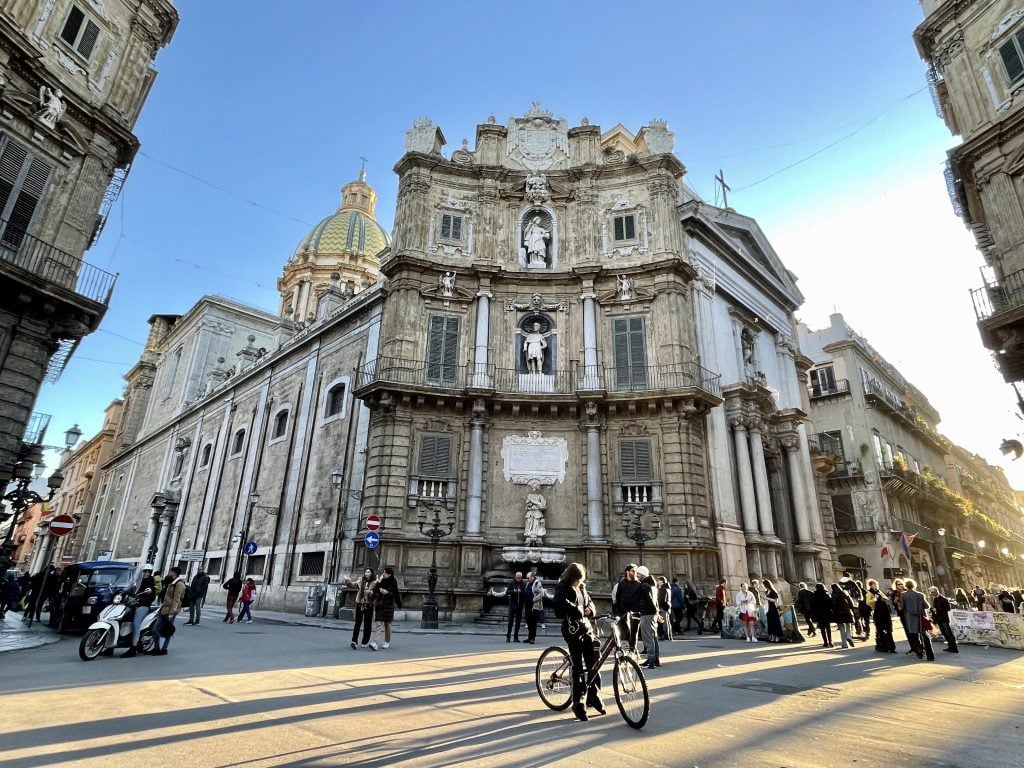 Take in the View from Quattro Canti
Palermo's most famous intersection, named after its four corners, is located at Corso Vittorio Emanuele and Via Maqueda. This area was built in the Baroque style between 1608 and 1620, at a time when Palermo was under Spanish rule.
Here the intricate four corners divide four traditional Palermo neighborhoods — La Loggia to the northeast, Kalsa to the southeast, Albergheria to the southwest, and Seralcadio/Capo to the northwest.
Additionally, each corner has artwork devoted to one of the Spanish Kings of Sicily, as well as its patron saint and fountain depicting one of the four seasons.
This intersection is a great spot for photography and capturing some truly Palermitan street scenes!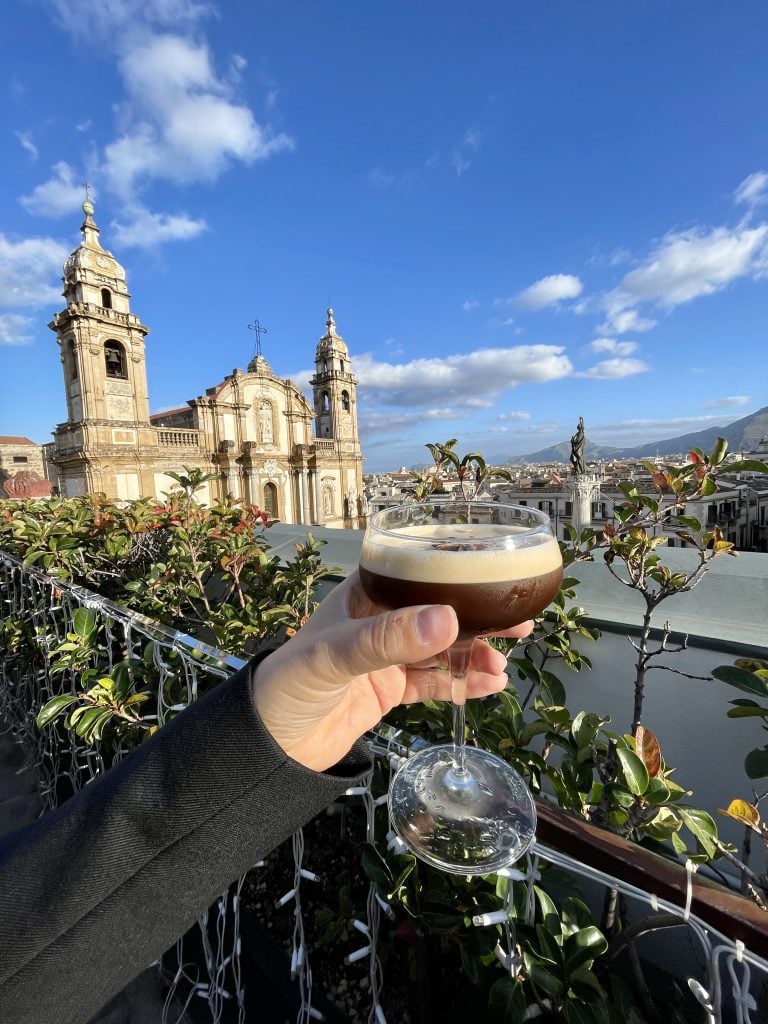 Have Cocktails on Top of La Rinascente
La Rinascente is an upscale department store in downtown Palermo, located right on Piazza San Domenico. It's worth a pop in to see what's for sale — I ended up buying a coat and got a 20% discount just for signing up for their email list — but the real attraction is the roof.
There is a rooftop restaurant with a wonderful view over the piazza below, and catches all the sunshine. We asked for coffee and they only serve coffee downstairs — so we asked for espresso martinis. What a perfect loophole!
I can't speak to the restaurant, but it makes a great place to go for a break from tourist attractions where you can enjoy a beautiful view.
And if you're looking for cocktail bars at night, there are lots in Palermo's city center. We particularly loved one called Terzo Tempo.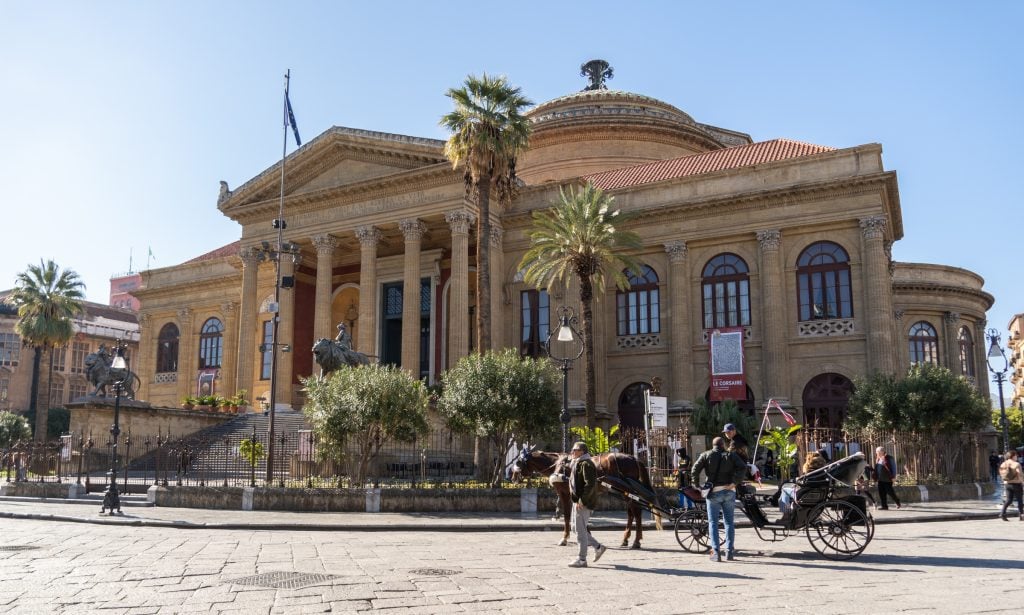 Teatro Massimo
Palermo's most famous theater, Teatro Massimo, is the largest opera house in Italy and a major landmark in pop culture. Have you seen The Godfather: Part III? A certain very famous and tragic scene was shot on the steps of the opera house. (No, I will not spoil a 30+ year-old film.)
It's an incredibly grand building, and a guided tour of the theater is one of the most popular things to do in Palermo. Would you rather see an opera? Wonderful. You can get opera tickets in Palermo for much less than what you'd pay in Florence or Milan.
(While a scene took place inside Teatro Massimo in HBO's The White Lotus, it was actually filmed in the theater in Catania. Don't expect it to look the same!)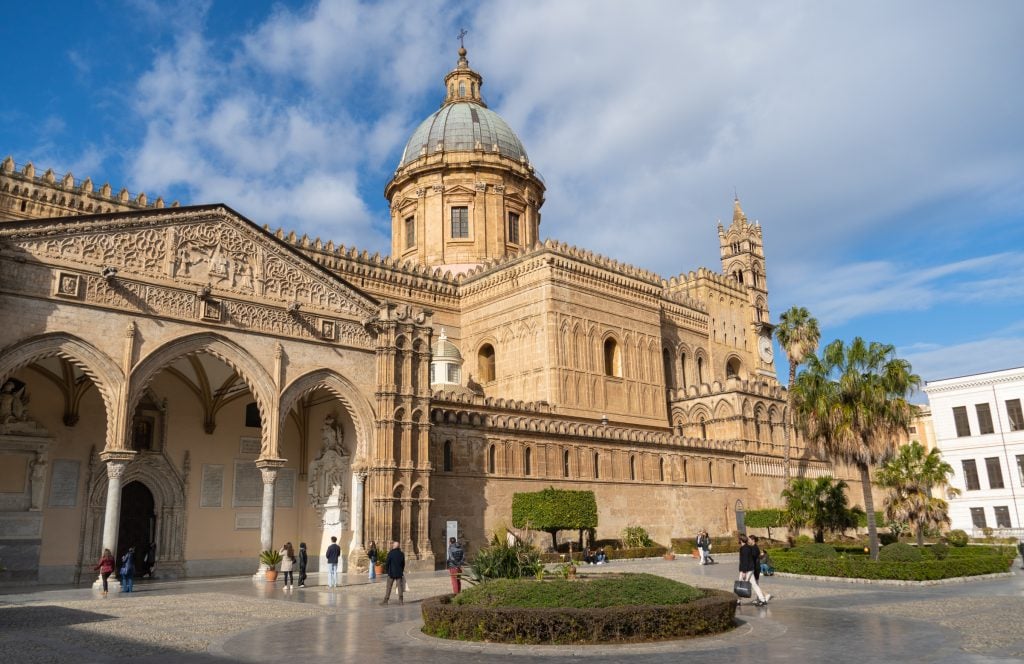 Visit the Palermo Cathedral
Every Italian city has its own Duomo, or central cathedral, and in many ways it often represents the city's personality. The Cattedrale di Palermo certainly does, with its wild mishmash of architectural styles, representing its centuries of being conquered and reconquered.
The cathedral, original constructed in the 12th century, is one of Palermo's many UNESCO World Heritage Sites described as Arab-Norman Palermo. In this cathedral you have influences from Muslim, Byzantine, Jewish, Latin, Lombard, and French cultures.
Interestingly, the cathedral of Palermo has a zodiac on its floor — rare in Italian cathedrals! And the spectacular architecture of the outside features everything from three-tiered porticoes to Baroque cupolas.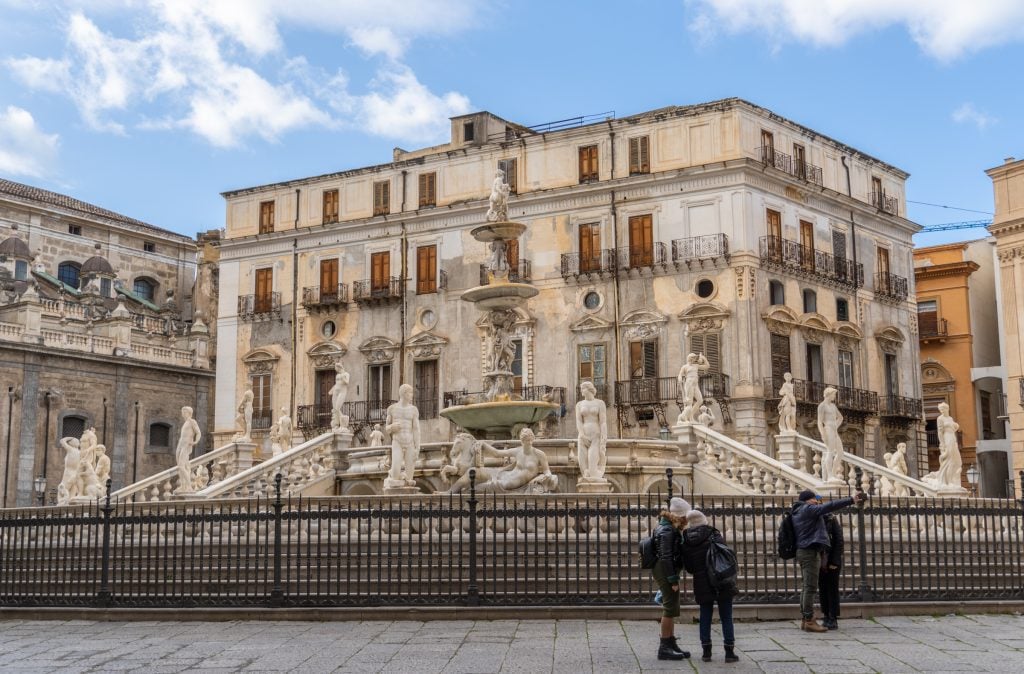 Fontana Pretoria
Close to Quattro Canti is the Fontana Pretoria, the most impressive fountain in a city of impressive fountains. This fountain was actually originally constructed in Florence and brought to Palermo's Piazza Pretoria in 1574 — a painstaking process that involved 644 pieces.
The fountain features the Twelve Olympians — the Greek gods who dwelled on Mount Olympus, including Zeus, Aphrodite, Apollo, Poseidon (who looks a ton like Florence's infamous Neptune, doesn't he?).
The square was once referred to as the Square of Shame (Piazza della Vergogna) due to the many nude bodies on the fountain.
Have Pastries in a Monastery
Palermo is brimming with fantastic bakeries and sweets shops. But you can't top the atmosphere of I Segreti del Chiostro, a bakery located within Santa Caterina d'Alessandria Monastery, located very close to Fontana Pretoria and Quattro Canti.
Walk in and head upstairs. It will likely be busy with a line, and you'll be given a number. (You might want to look up the translation of your number in Italian because they will be reading it out loud.) When they call your number, you place your order and they'll give you your pastries and a receipt to pay at the cash register.
This bakery is filled with delicious, sumptuous pastries. Intricately decorated cassata, giant cannoli the size of your forearm, and dozens more baked goods you've never heard of. They're all labeled with their name and ingredients in both Italian and English, a huge novelty in Sicily.
Once you've bought your pastry and perhaps an espresso or macchiato, head out to the courtyard to sit by the fountain and enjoy your afternoon treat. You can also tour the monastery if you'd like.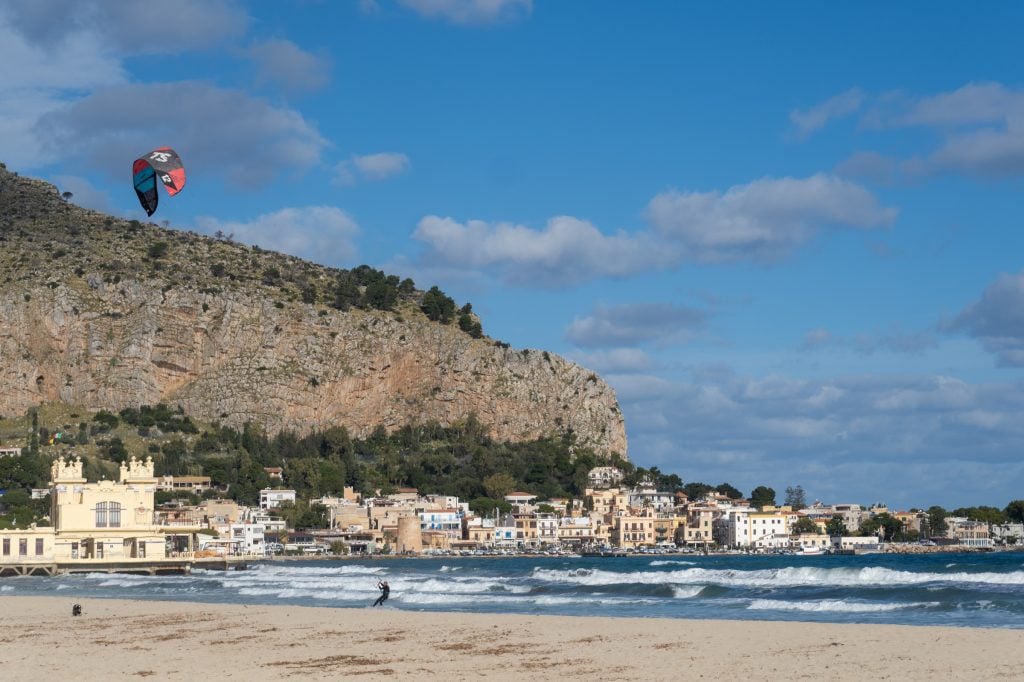 Visit Mondello Beach
Mondello Beach — Spiaggia Mondello — is a beautiful white sand beach with unbelievably clear water, located within Palermo's city limits. It's about a 35-minute ride from central Palermo on the 806 bus.
The water here is so turquoise in summer, you won't believe this is in the middle of a busy city! In between your swimming and sunbathing, grab a granita or fritto misto at one of the nearby restaurants, and take a walk around the neighborhood to enjoy the beautiful villas.
Palermitans love the beach, so expect Mondello to be super crowded in the summer months. That being said, Sicilians tend to visit the beach during "proper" summer — from mid-June through mid-September, even though it's still swimming weather well into October. Shoulder season beach visits can be great here.
In the winter months, it will be just you, the dog-walkers, and the kitesurfers.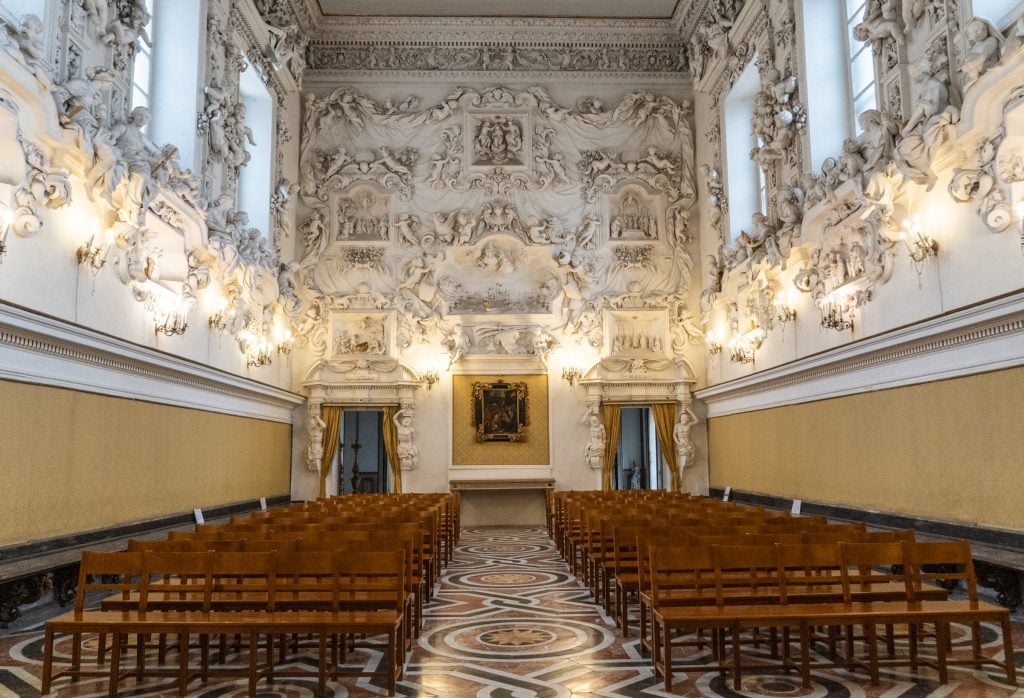 Oratorio del SS Rosario in Santa Cita
In addition to its many Baroque churches, Palermo is filled with small oratories that have their own works of art. One definitely worth checking out is Oratorio del SS Rosario, which is uniquely carved from white stucco.
Palermitan Giacomo Serpotta sculpted this room, and the results truly take your breath away. Angels and cherubs fly on high; the condemned and war-stricken suffer below. There are walls devoted to the Joyful Mysteries, Sorrowful Mysteries, and Glorious Mysteries.
This place was featured on the BBC's series Sicily Unpacked, but I don't often see it mentioned in Palermo travel guides. It's a shame; it's a really cool place that deserves more visits.
Another nearby oratorio worth visiting is Oratorio del SS Rosario in San Domenico, just down the street and behind the cathedral of San Domenico.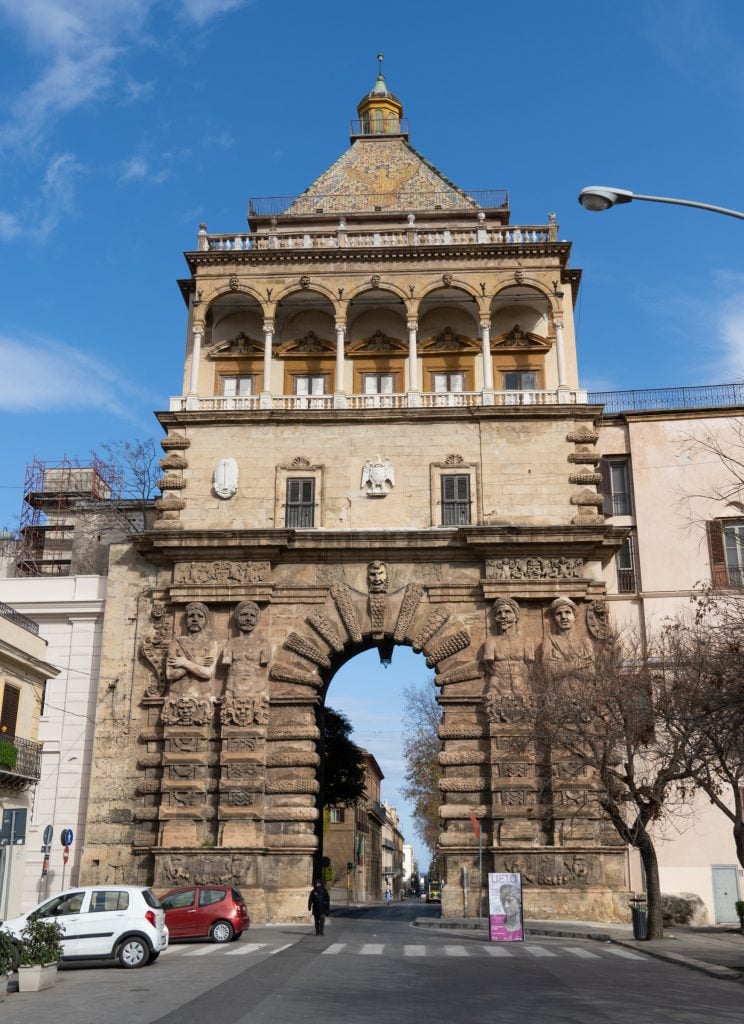 Porta Nuova
You'll see the Porta Nuova right around the corner from the Royal Palace, a short distance from the Duomo. This was the original city gate leading to Cassaro, the oldest street in Palermo, and was built in the 16th century.
You can't go up the gate, but it's a lovely spot to grab a quick photo when visiting the UNESCO-listed churches of Palermo.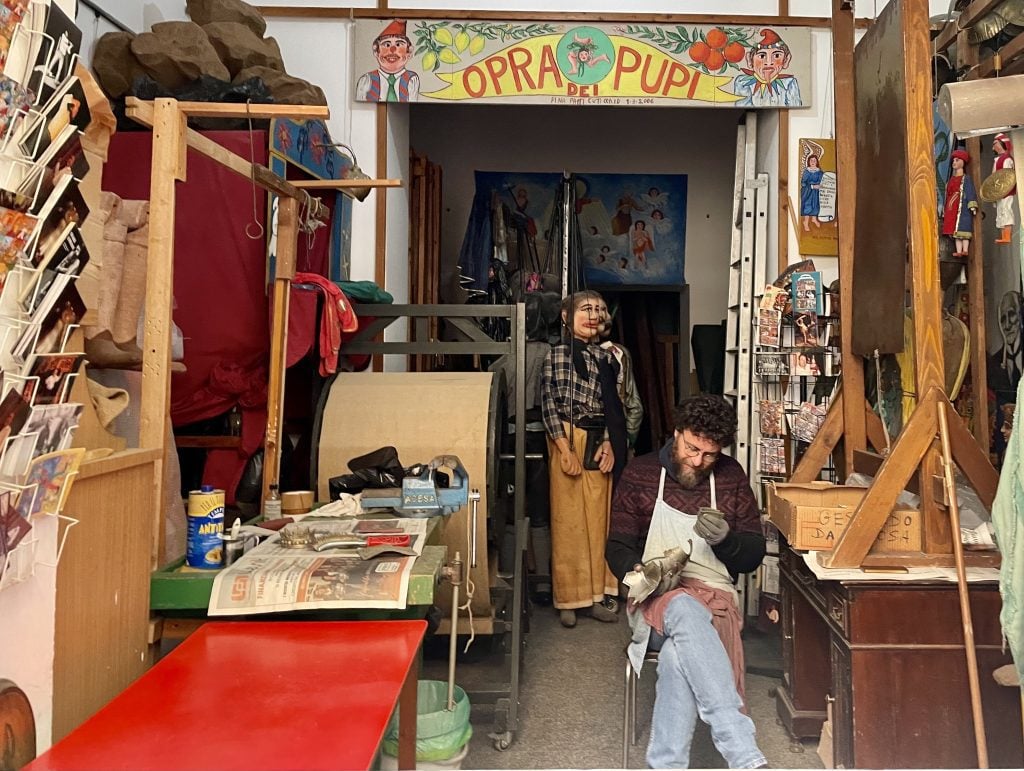 See a Sicilian Puppet Show
Puppet shows have long been a cultural tradition in Sicily in general and Palermo in particular. Palermo's Opera dei Pupi, a traditional puppet theater, was added to UNESCO's Intangible Cultural Heritage of Humanity list in 2001.
These puppet shows began in the late 19th century, depicting medieval chivalric romances and Renaissance poems. Today they're still happening, though the shows are often simplified for a more foreign audience.
Take a look at the Opera dei Pupi site to see what shows are on during your visit. And if you'd rather just get a quick glimpse of the puppets, take a stroll down Via Bara All'Olivella, close to Teatro Massimo, to see the puppet-makers in action.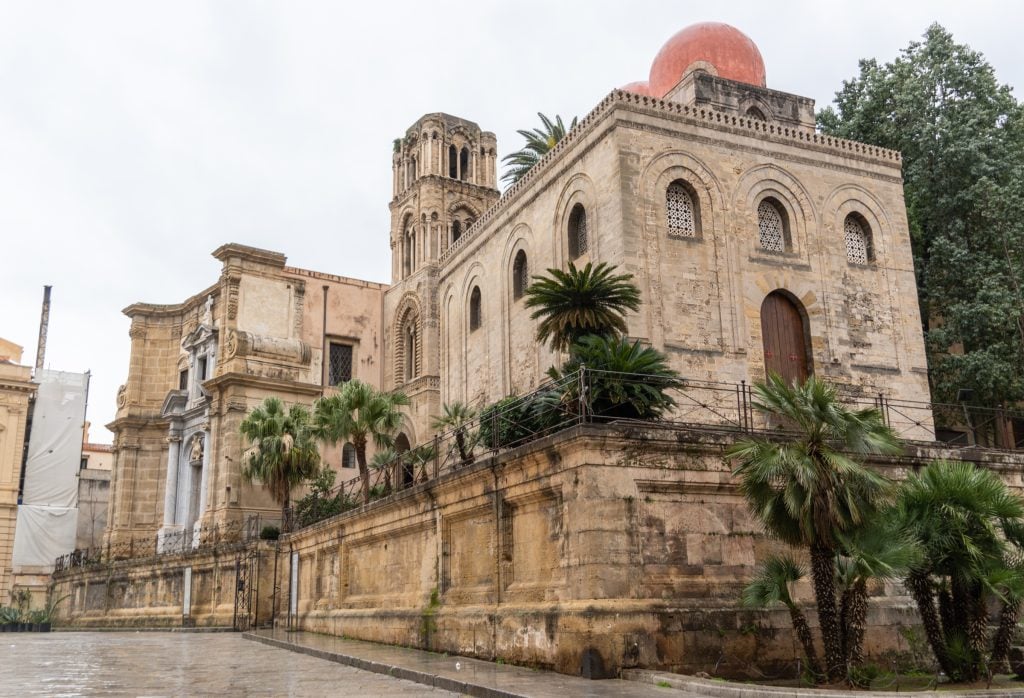 Visit San Cataldo and La Martorana
In Palermo's city center, you'll find two unique churches side by side: the Church of San Cataldo and La Martorana (also known as Santa Maria dell'Ammiraglio). Both are worth visiting.
La Martorana is another visual stunner with sensational Byzantine mosaics on the walls and an intricate Baroque marble altar.
San Cataldo is topped with red domes, a remnant of the Arab influence here. The inside feels more ancient by comparison — plain stone walls, though a mosaic on the floor.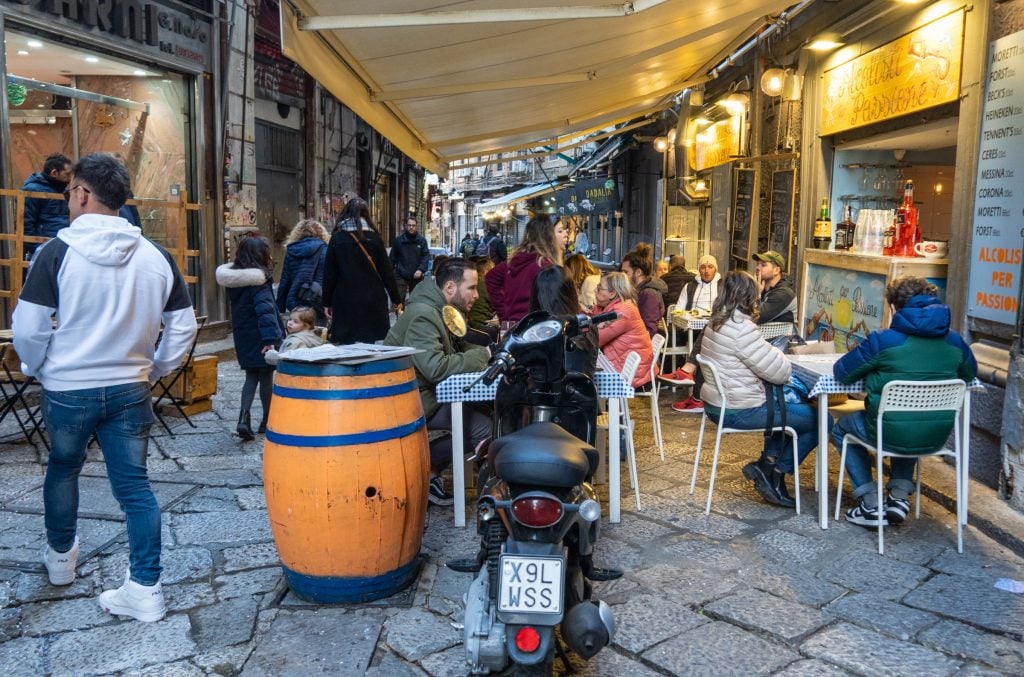 Enjoy Nightlife in La Vucciria
La Vucciria was once one of the most famous markets in Palermo, immortalized in the La Vucciria painting by Renata Guttuso. Over time, the market stalls have become fewer and fewer, but that's okay — the market has reinvented itself.
These days, La Vucciria has become more of a destination for nightlife. When aperitivo hour hits, head to Via Maccherronai, the narrow street connecting La Vucciria and Piazza San Domenico, and choose one of the establishments for some drinks and food.
Here you can grab a table outside, order a super-strong spritz, and order a plate or two of fried Sicilian specialties — pannele, crocche, maybe some fried or grilled squid. This isn't going to be your full dinner — but it's the perfect place to get your evening started in Palermo!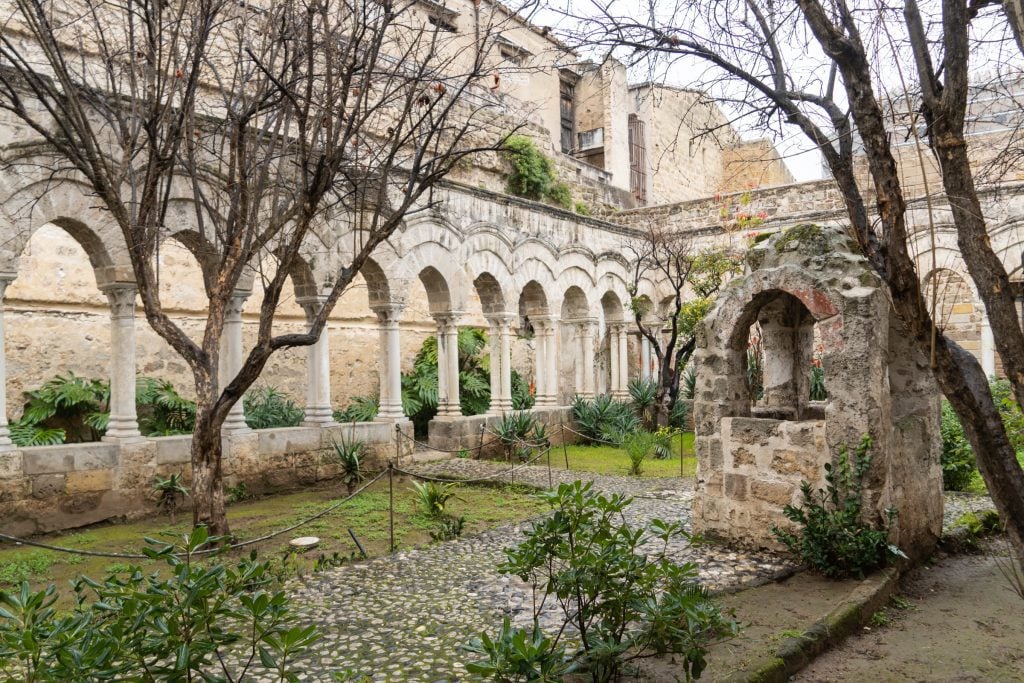 San Giovanni degli Eremiti
Another of the UNESCO World Heritage-listed Arab Norman Palermo sites is San Giovanni degli Eremiti (St. John of the Hermits), a wonderful spot to visit a stone's throw from the Norman Palace and Palatine Chapel. You'll notice the red domes topping this monastic church before you walk in.
This place feels like a secret garden in the middle of the city, from the moment you walk in and are surrounded by lush greenery. Head upstairs to see the chapel and the courtyard. There is also an Arab cistern on site.
The courtyard, in my opinion, is the highlight of this place, surrounded by columns and feeling as it it's stuck in time.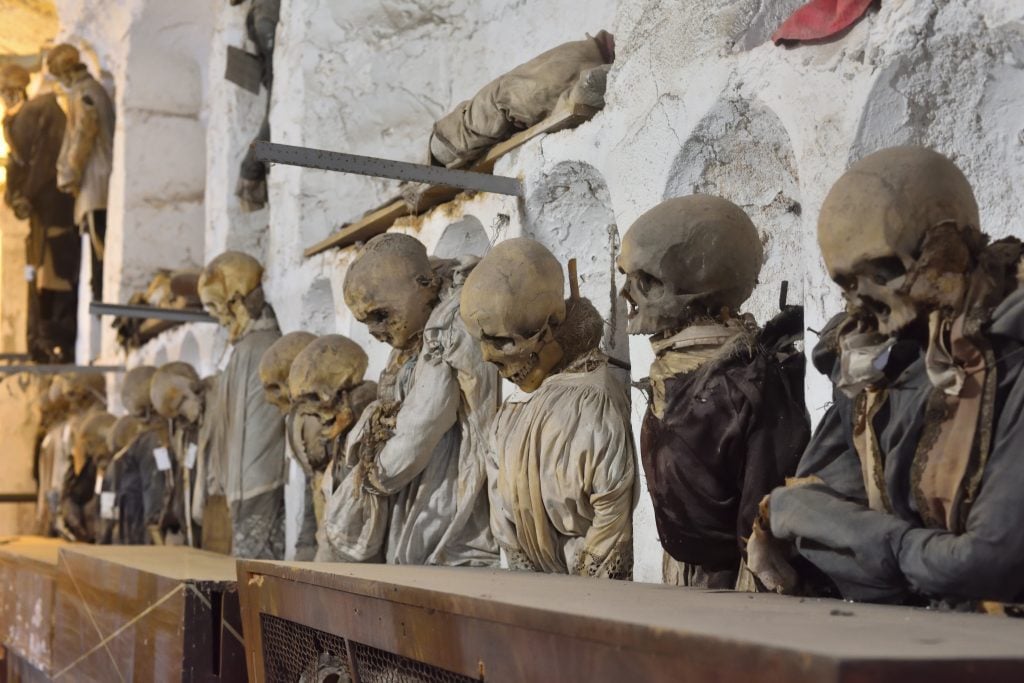 Visit the Capuchin Monastery Catacombs
You might have heard of Rome's catacombs, but how about Palermo's? The Capuchin Catacombs are home to more than 8,000 bodies and it's easily one of the most macabre things to do in Palermo.
You might think of catacombs as being a place for the poor, but this final resting place was actually something limited to Palermo's most privileged from the 16th to 19th centuries. The mummification process was groundbreaking at the time, and to this day you can see the human-ness of these bodies in their expressions.
Please know that there are mummified children on display in these catacombs. If seeing that would upset you, don't go. I chose not to go because I was devastated by the child mummies of Guanajuato, Mexico. Additionally, photos are not permitted here.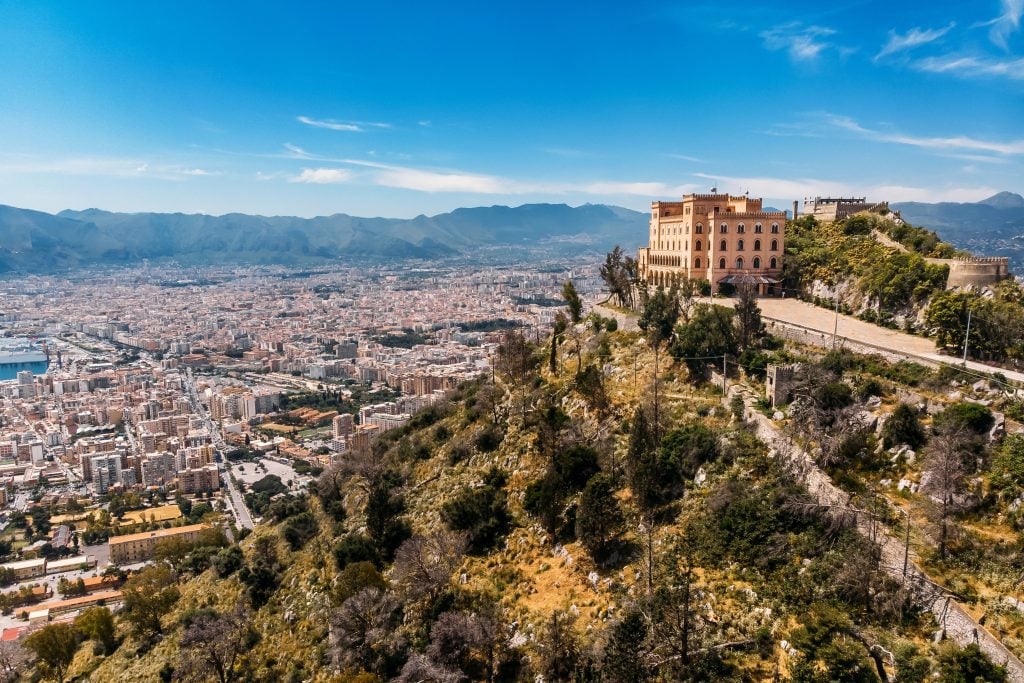 Monte Pellegrino
Looking for an easy escape into nature? Head to Monte Pellegrino. This mountain (really, more of a large hill) overlooks Mondello Beach and the Tyrrhenian Sea. It's covered with hiking trails and fantastic scenic overlooks. Not bad for still being within the city of Palermo!
On the mountain is Sanctuaria di Santa Rosalia, a church built directly into the rocky mountainside, complete with a cave-like chapel.
You can take the 812 bus from Politeama to the top of Monte Pellegrino, or book a bike tour with a local triathlete.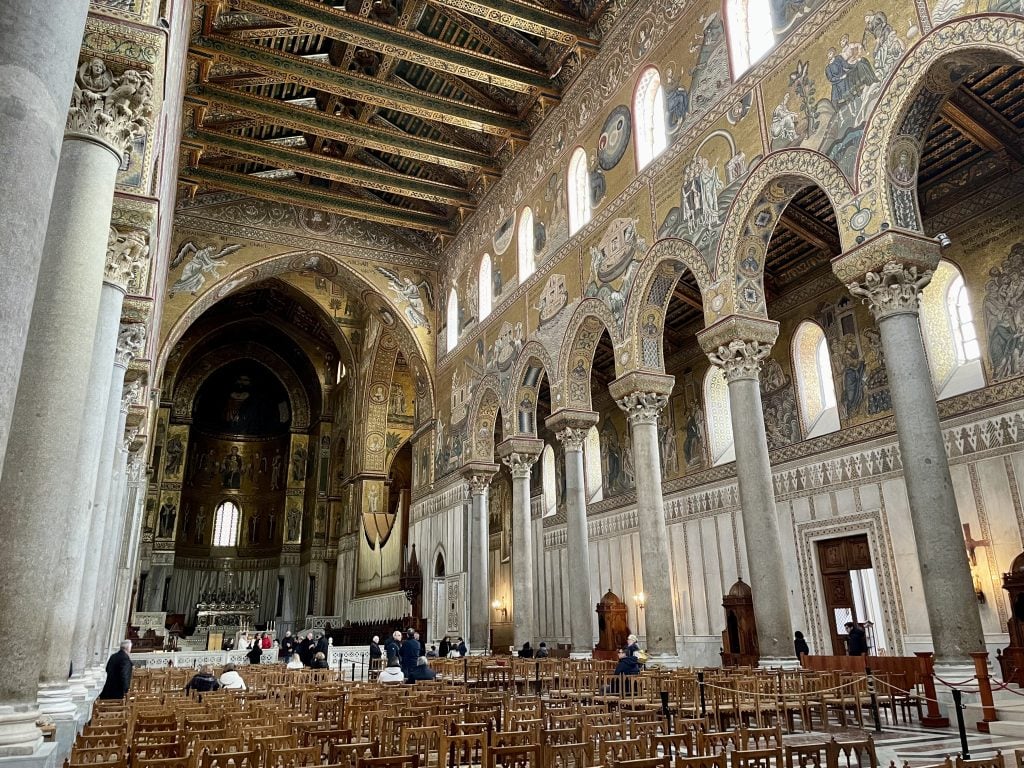 Visit Monreale and Its Cathedral
Monreale is a town located up in the hills south of Palermo. (You can expect it to be a few degrees cooler here, so it's a great place to visit on a hot day!)
The Cathedral of Monreale is a UNESCO World Heritage Site and is known for showcasing the convergence between Norman and Byzantine architecture. The ceiling and walls are studded with stunning mosaics with so much gold.
The golden interior evokes the Byzantine chapels of Central and Eastern Europe, while the cloister looks like something straight out of Andalusia or North Africa. That's Sicily for you!
To get to Monreale, take the 389P bus from Piazza Independienza. It's the last stop. Be sure to look at Google Maps closely — many "alternative" bus routes they offer include a "12 minute cycling" addition to the itinerary.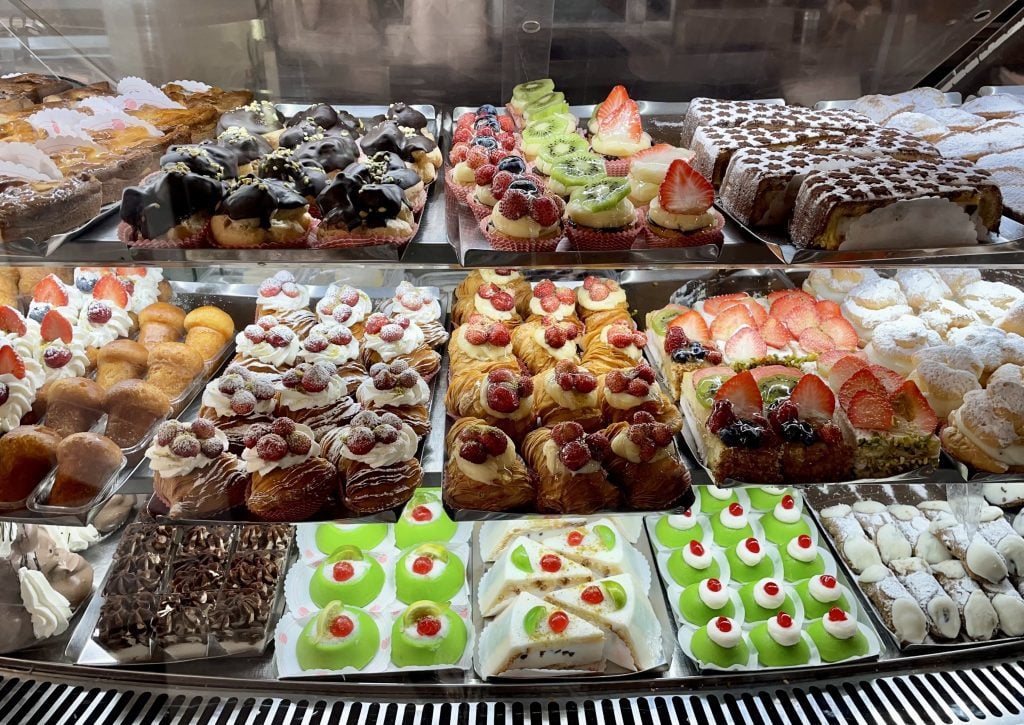 Eat All the Sicilian Pastries
I've been to all 20 regions of Italy, and I think that Sicily has the best pastries and desserts in the entire country. That's not a small claim.
Sure, you've heard of cannoli before (singular: cannolo), and you'll find them all over Sicily. Those gorgeous fried pastry shells filled with ricotta cream and chocolate chips, topped with candied fruit — they are fantastic! (And addicting.)
But don't stop at cannoli. Two other desserts you should try are cassata (a Sicilian cake with bright green marzipan wrapping around layers of sponge cake and cream) and torta setteveli (a seven-layer cake popular in Palermo that layers chocolate and hazelnuts and was featured as a technical challenge on The Great British Bake-Off).
Beyond that? Try anything that looks good! One night I ended up with a molten lemon cake that was nothing short of transcendent.
One nice thing is that many bakeries have mini pastries along with regular-sized ones — perfect for just having a little bit of something sweet, or trying lots of different goodies.
Two of the more high-end bakeries in Palermo that I especially enjoyed are Antico Caffe Biondo (they had the BEST cassata!) and Antico Caffe Spinnato.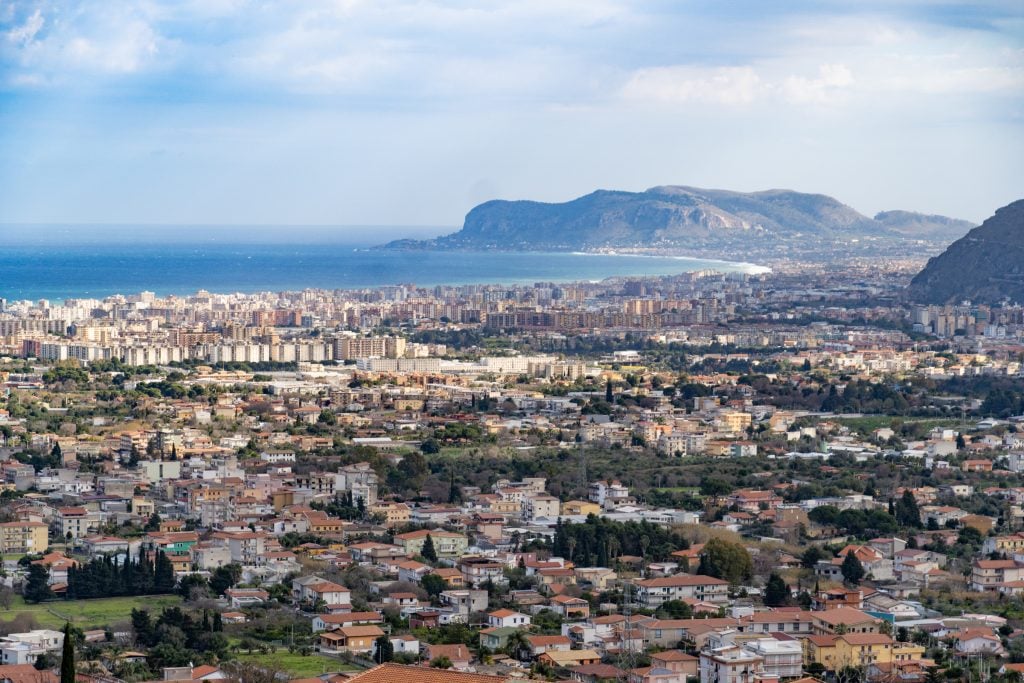 Day Trips from Palermo
My top advice is to be realistic about what you can see with a day trip from Palermo. No, you can't day trip to Catania or Siracusa or the Aeolian Islands; it's too far. Stick to the surrounding area — which is all Western Sicily. And stick to a 2.5-hour drive.
That being said, there are so many cool day trips from Palermo that you can make with a reasonable journey from the city, whether you want a beach resort, hill towns, Greek ruins, or a beautiful place to hike.
Here are some of the best places to visit on a day trip from Palermo.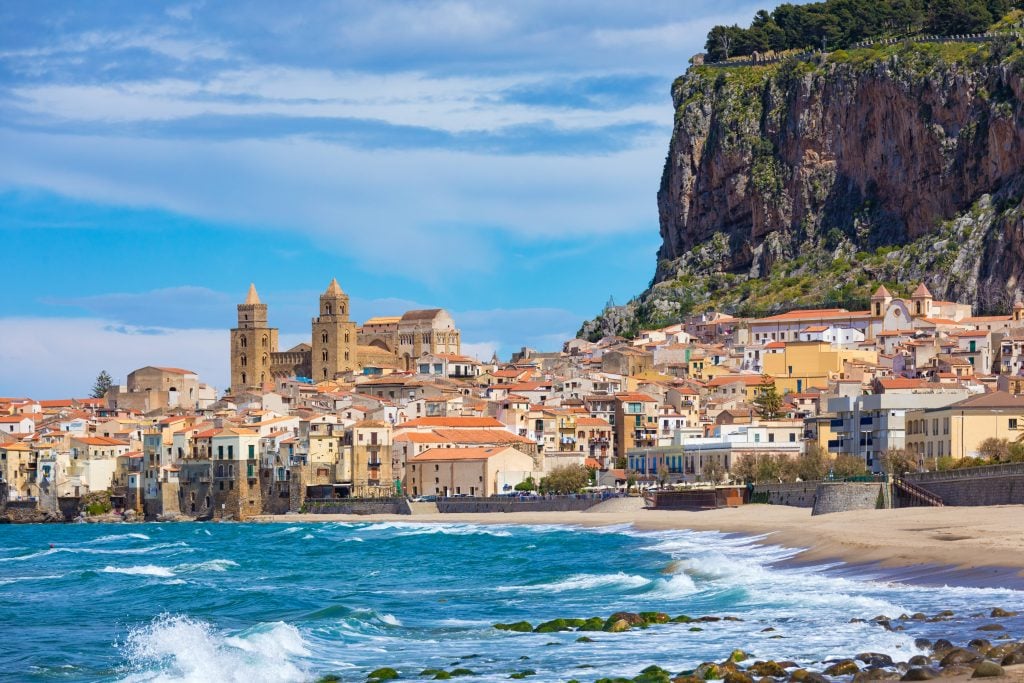 Cefalù
Cefalù is arguably the most famous seaside village in Sicily. And you may have seen it already — while The White Lotus's Sicilian resort was located in Taormina, all of the beach scenes were actually shot in Cefalù!
You can do a little here — lie on the beach and go for a swim — or do a bit more. The old town is an exceedingly photogenic place to wander; you can also hike up La Rocca for views over the landscape.
Cefalù, like most Sicilian resort towns, is hopping during high season and extremely quiet outside this time period. I personally wouldn't go to Cefalù earlier than May or later than October; too much is shut down.
Cefalù is a one-hour journey from Palermo by train, or you can join a tour from Palermo. Many Cefalù tours from Palermo also include Castelbuono, a beautiful hill town close by.
Erice
Think the only Italian hill towns are in Tuscany? Think again! Erice is a marvelous hill town and makes a perfect day trip from Palermo.
It's a long, switchbacky journey up to Erice, and once you're at the top near the castle, you'll be rewarded with stunning views over the countryside. The streets are steep and beautifully cobblestoned. It feels so different from the coastal parts of Sicily, and especially Palermo!
Keep an eye out for the very friendly cats of Erice, some of whom might join you for a walk through the town.
Erice is a 1 hour and 15 minute drive from Palermo, or you can take the cable car from Trapani (seasonal). You can also book a tour from Palermo, like this tour to Erice, Segesta, and the Salt Pans of Trapani, which covers a lot of cool spots in a single day.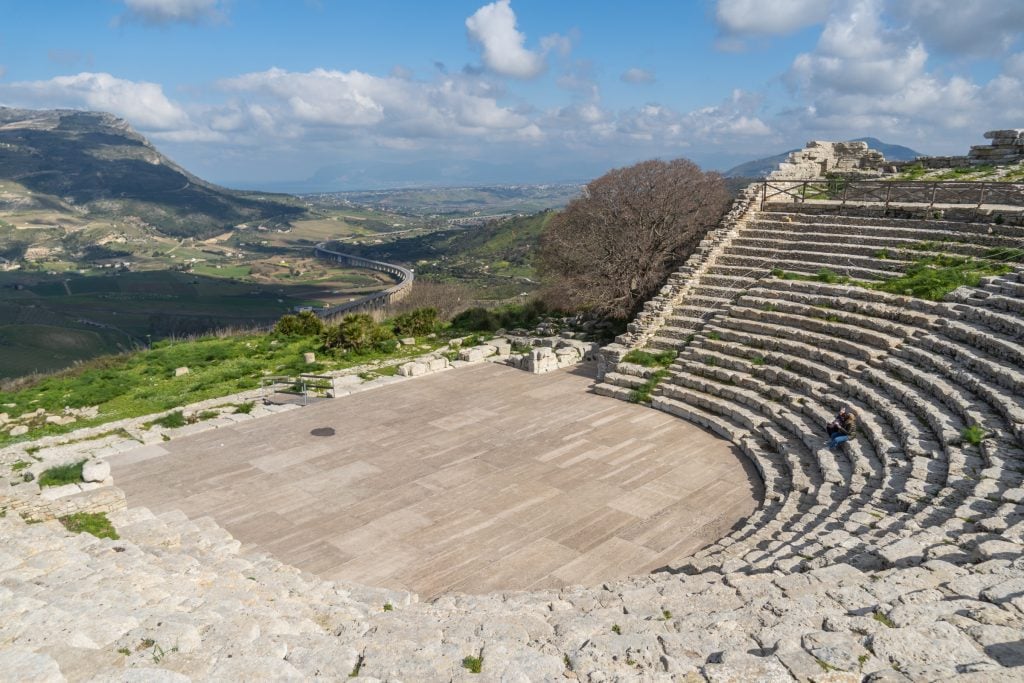 Segesta
If you're a fan of ruins, you'll want to visit the ancient city of Segesta while in Palermo. These Greek ruins are one of the most important sites in Sicily, and they're also beautifully preserved and fun to visit. I'm not a huge ruins person, but I loved Segesta.
There are two main sites here: a temple and a theater. The theater has spectacular views across the hilly Sicilian countryside, all the way to the Gulf of Castellamare.
The temple is easy to visit from the parking lot, but the theater is located a 1.3-km journey up a steep hill. They have a shuttle bus going up and down the hill. (I chose the walk before realizing it was entirely uphill. Still feeling it in my butt today!)
Segesta is in a remote location without public transportation access, so your best bet is to drive (45 minutes) or book a tour. You can book this tour to Erice, Segesta, and the Salt Pans of Trapani.
Keep in mind that the UNESCO-listed ruins of Agrigento are a two-hour drive away, so Segesta is much closer.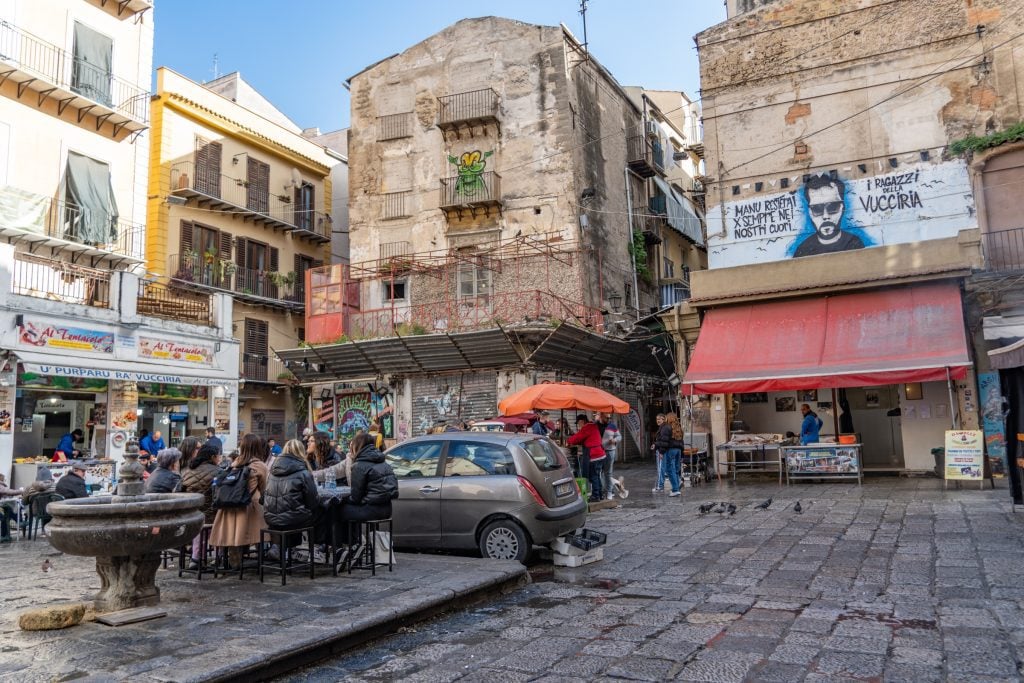 Is Palermo Safe?
You might be wondering whether Palermo is safe to visit. Unfortunately, people often assume that Palermo is an unsafe city, but this is SO far from the truth.
Palermo is just as safe to visit as any major city in Italy (and perhaps even safer than cities like Paris and Barcelona, where tourists are consistently targeted by pickpockets and scam artists).
Both Sicily and Palermo have a history with the mafia, which casts a long shadow (and the Godfather movies definitely don't help), but locals are never targeted by the mafia. And the mafia in general has far less influence here than it did 30 years ago.
Don't joke about the mafia when you're in Sicily. It's not funny here. Our Streaty food tour guide Angelo, who is the same age as me, told us about how traumatizing it was when two judges were murdered in Palermo in 1992. He was eight. Imagine if that happened in your own community when you were a child.
Keep in mind that things have changed in recent years — both in Sicily in general and Palermo specifically. In Anthony Bourdain's episode of Parts Unknown, he talks about AddioPizzo, an organization that supports Palermo restaurants that refuse to pay kickbacks to the mafia.
I asked locals about this, and they told me that the mafia almost never looks for kickbacks from Palermo restaurants anymore. The Parts Unknown episode aired in 2013. That's the difference a decade can make.
To learn more about this, you can take an Anti-Mafia Tour in Palermo.
In short, stay safe in Palermo the way you do in any other city. Keep an eye on your belongings. Only take out the amount of cash you need for the day. Don't get too drunk. If you're not comfortable walking at night, take an Uber.
Neighborhood-wise, I'd recommend being extra cautious around the train station at night. (Which is pretty much standard for any European city.) And as you can see further below, I recommend staying in the Politeama neighborhood.
Read More: Top 10 Travel Safety Tips for Women
How to Get to Palermo, Italy
If you're flying into Italy, Palermo Airport has nonstop flights from destinations all over Italy, as well as some in other European countries.
The best way to get from the airport into Palermo is to jump in one of the shared taxis, which cost eight EUR ($9 USD) per person. However, I don't recommend taking the shared taxi back — we had to drive all over the city picking other people up, and it would have been nerve-wracking if we had been late for a flight!
I recommend renting a car if you're exploring Sicily in depth, but if you don't have a car, train is best. Palermo is one hour from Cefalù and three hours from Catania or Messina. Buses go to other local destinations.
As for getting around Palermo, there is a network of buses that run around the city and Google Maps is good for figuring out the schedules. You must buy bus tickets at a Tabbachi (look for the big T on stores) — unfortunately, you can't buy transit tickets via an app just yet.
Uber is available in Palermo, and there are taxis as well.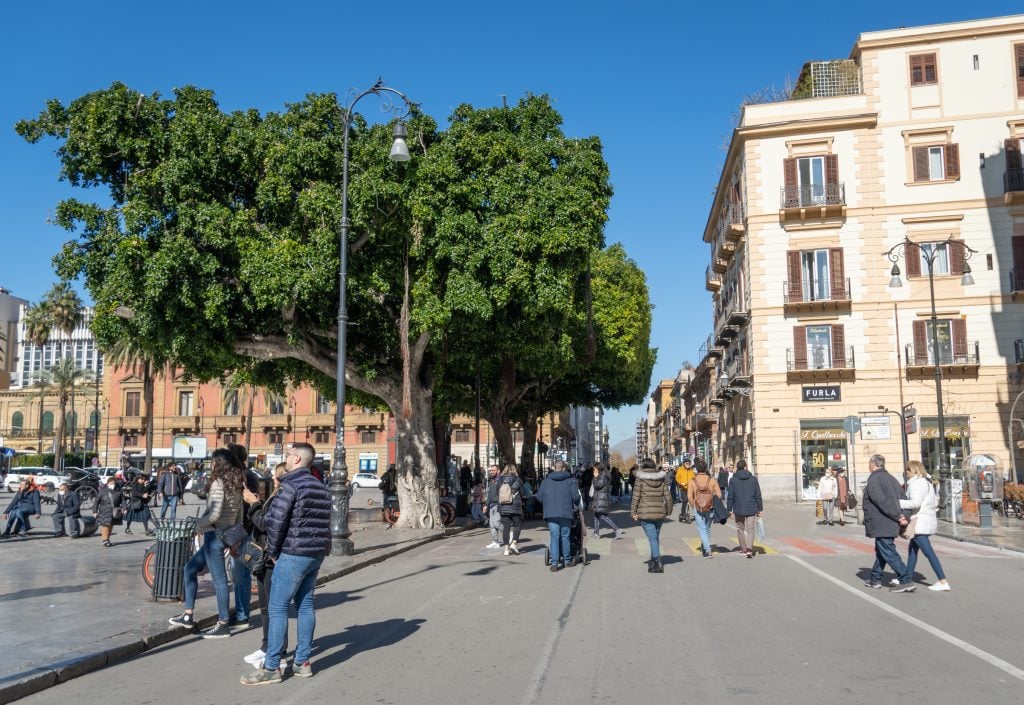 Best Time to Visit Palermo, Italy
Palermo is often advertised as a year-round destination, and I get it. Summers are sizzling and wild, while winters are sunny and mild. (Then again, my recent February visit was marred by a cold spell, a reminder that Sicilian buildings are poorly heated.)
So yes — you can visit Palermo year-round, but you might want to be prepared for a colder winter than you might expect. I wore a thick sweater every day!
The absolute best time to visit Palermo, and Sicily? Go for May or September. These months bring warm, summer-like heat without the crush of the summer crowds. Spring and fall in general are fabulous times to visit Sicily.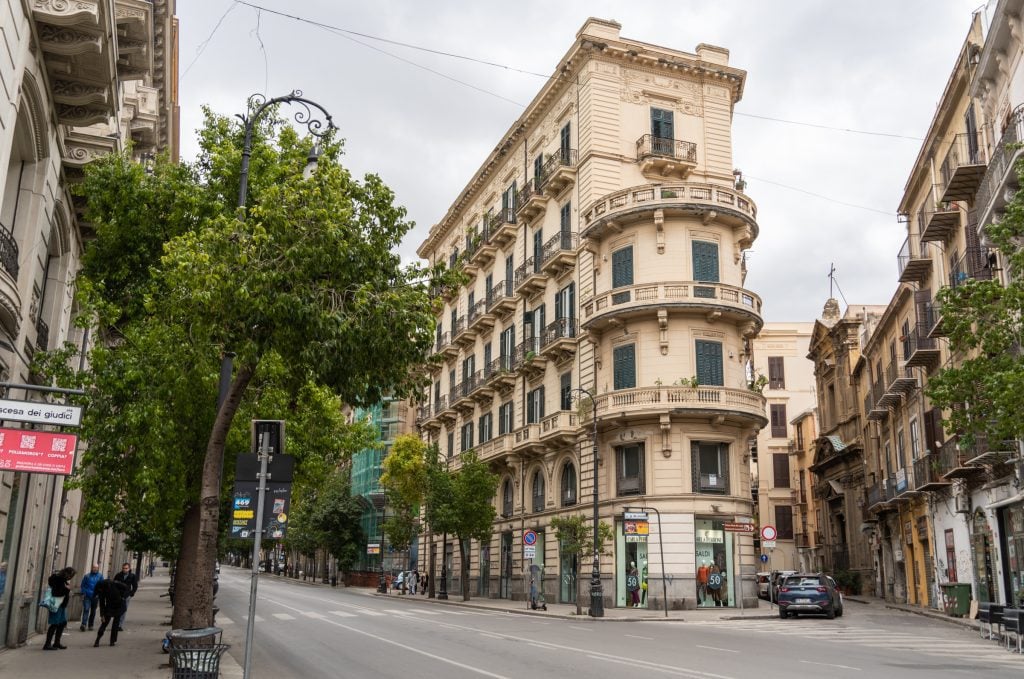 Where to Stay in Palermo, Italy
The best neighborhood to stay in Palermo is Politeama. This neighborhood is the arguably the best neighborhood in the city, with easy access to designer shops and nice restaurants — but it doesn't feel snobby at all. Quite the opposite, actually.
Palermo is a very affordable city, and splurging on the nicest neighborhood doesn't even feel like splurging.
The Politeama neighborhood is close to the action but not in the center of the action, which I really like. It's walkable to the city center and all the sights. And it's close to lots of bus routes.
I stayed in this one-bedroom Palermo apartment during my visit and really enjoyed it. A great space, a fabulous location, a low price. Stay there if you'd like!
Top-Rated Hotels in Palermo (all in Politeama)
Find deals on Palermo hotels here.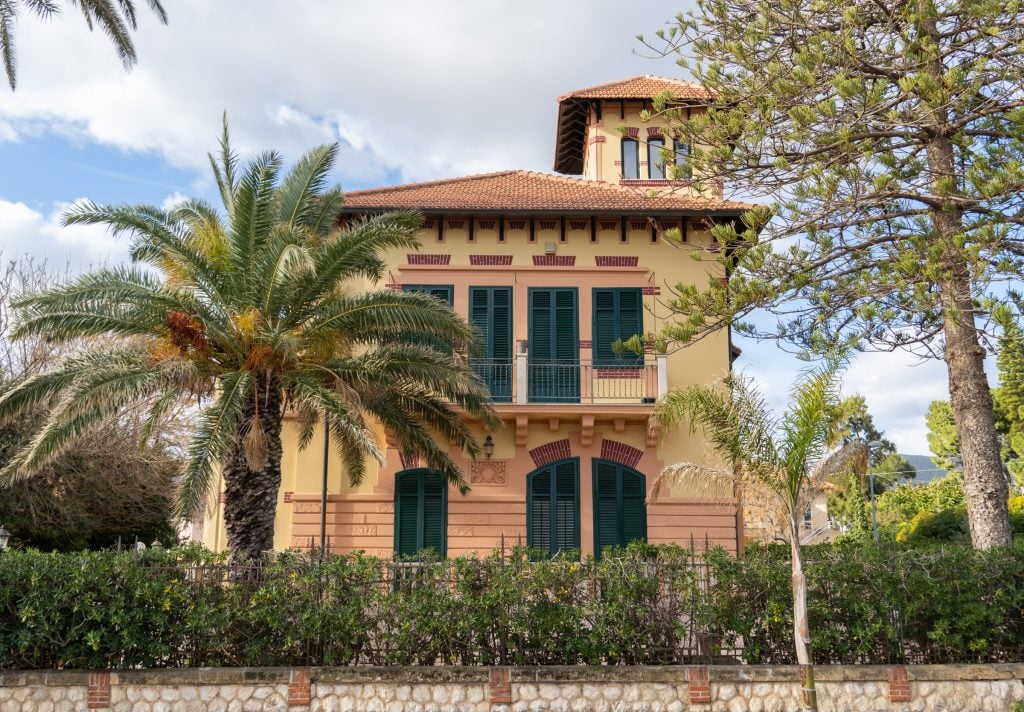 Travel Insurance for Italy
One last note — it's absolutely vital to have travel insurance before traveling to Palermo, or anywhere in Sicily. If you get sick or injured on your trip, if you get robbed, or even if you have to be flown home for more care, travel insurance will protect you from financial ruin. I have used World Nomads for trips to Italy.
Travel insurance will help you in your hour of need if you come down with appendicitis in Palermo, or trip and break an ankle while climbing into the Cappella Palatina, or if your flights get canceled, you can get accommodation and new flights paid for.
As always, be sure to read your policy carefully and make sure it's a fit for you. See what World Nomads covers here.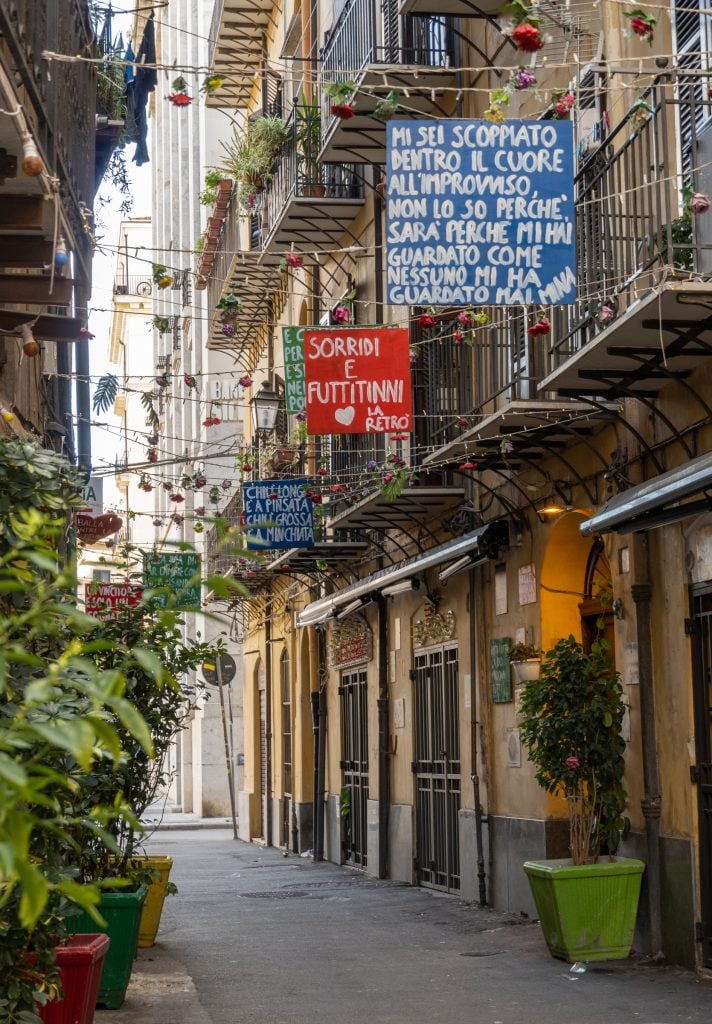 Is Palermo Worth It?
Hell yes, Palermo is absolutely worth it! In my opinion, Palermo doesn't get the attention it deserves. So many people visit for a day and consider Palermo checked off.
But this is a city that very much deserves your time. I know I'll be spending a lot more time in Palermo in my future!
More on Sicily:
Cool Places in Southern Italy:
Cool Places in Northern Italy:
Planning a Trip to Italy: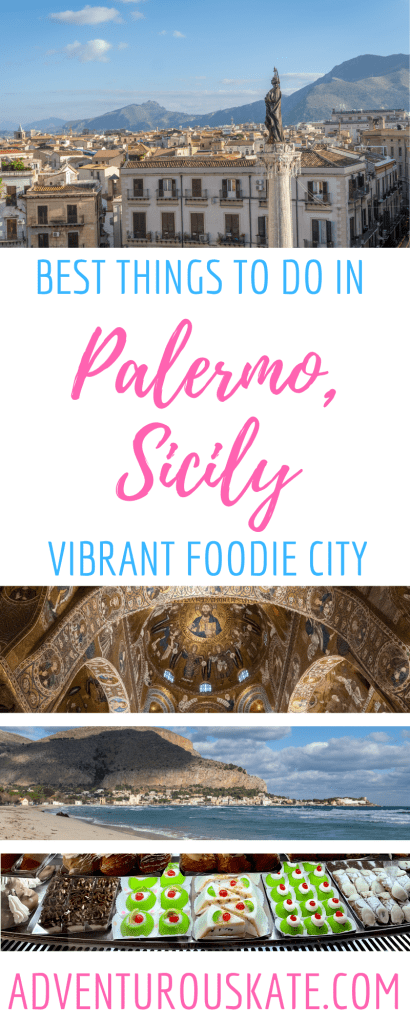 Have you been to Palermo? What do you recommend? Share away!