Adventurous Kate contains affiliate links. If you make a purchase through these links, I will earn a commission at no extra cost to you. Thanks!
Tropea Italy is one of the most spectacular seaside towns in the Mediterranean — yet it's almost undiscovered by tourists outside Europe. Italian tourists, however, have been in the loop for quite some time.
I recently visited Tropea for the first time, on a long weekend trip exploring the region of Calabria. People say that Tropea is the jewel of Calabria, the Pearl of the Tyrrhenian Sea, and I'm inclined to agree. It's far and away the most visually spectacular destination in the region!
Tropea is a pretty old city set atop gorgeous tall cliffs, overlooking expansive sandy beaches with clear turquoise water. This coastline is called the Coast of the Gods — la Costa degli Dei — and runs along the province of Vibo Valentia in Calabria.
While Tropea is phenomenally popular with Italian travelers, and decently popular with European travelers, it's very seldom visited by North Americans. Which is ironic considering that so many Italian Americans have roots in Calabria!
And if you have roots here, known that your people could have come from anywhere. Tropea has a long history of being inhabited and conquered by different civilizations: Greeks, Romans, Byzantines, Normans, Arabs, and more.
A lot of travelers think that the Amalfi Coast is a good spot for an Italian beach destination — but I strongly disagree with this. The Amalfi Coast is gorgeous, but the beaches are tiny, often with dark gray sand, and can't accommodate many people. If you want "beach time" in Amalfi, you're better off booking a hotel with a pool.
Instead, Tropea is a much better version of what an Amalfi Coast beach vacation is. You still get stunning scenery — an old town perched on top of dramatic cliffs. But here you also get large, sandy beaches with plenty of room to enjoy them. Best of all? It's significantly cheaper than the Amalfi Coast.
I arrived in Tropea after a road trip around Calabria's coast. And what a beauty she was.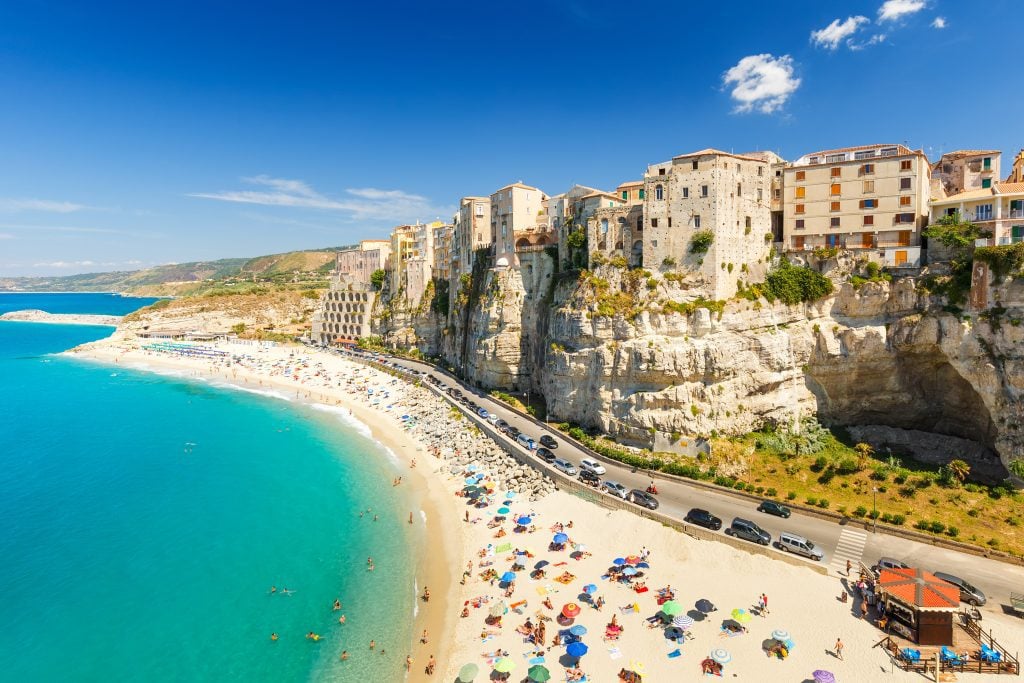 Planning a Trip to Tropea, Italy
Before you plan your trip to Tropea, Italy, there are some things you should know. Calabria is in the south of Italy, and it's historically a poorer and less developed region. While Calabria is a safe place to visit, roads aren't always in great condition, and public transportation can be limited.
As a result, Tropea is cheaper than many other seaside resorts in Italy, and it caters primarily to Italian travelers. Getting here can be a bit of a pain (see more in the How to Get to Tropea section).
Tropea is not the easiest place to navigate if you have mobility difficulties. Getting from the old town to the beach requires going down a LOT of stairs, and the old town is a ZTL, off-limits to non-resident cars. Elevators in hotels exist but are not common.
Tropea gets insanely busy during the summer months, especially August when many Italians head for the seaside — but thanks to its year-round balmy climate, it makes just as good a beach destination in May or October (see more in the Best Time to Visit Tropea section).
In 2021 Tropea was named the Borgo dei Borghi 2021, an award given to a top historic village in Italy, thanks to its combination of culture, gastronomy, seaside, architecture, and hospitality.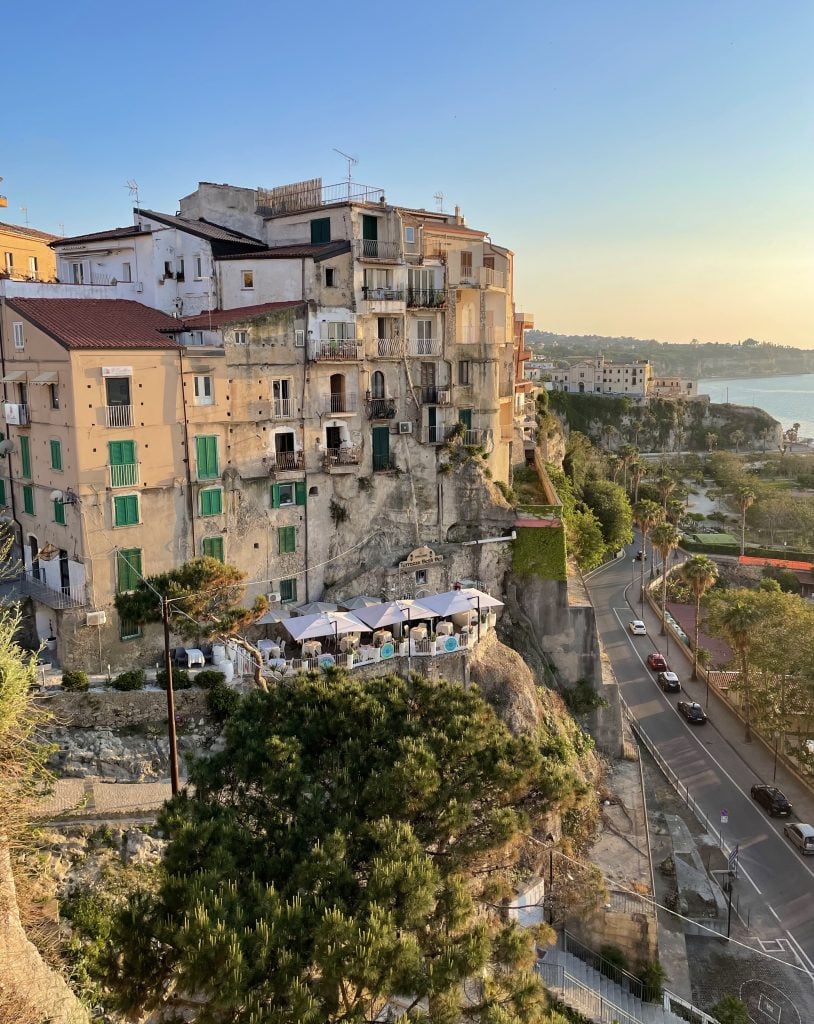 Things to Do in Tropea Italy
I'll be honest — It wasn't love at first sight for me in Tropea, despite its obvious stunning beauty. As I walked down the main drag, it felt like Italy's other beach resorts — stores selling swimwear, not-great bars with far-too-bright gelato, lots of cheap souvenirs made in China.
Then I got off the main street — and Tropea came to life. I loved wandering into the corners of the city and getting lost in its lovely maze. This was where we found friendly locals and fantastic restaurants hidden away from the masses. And it was even better at night.
My big advice for Tropea? Get away from the crowds. Explore the outer streets and see what you find. And don't forget the day trips to cool places like Capo Vaticano, Pizzo, and Reggio Calabria.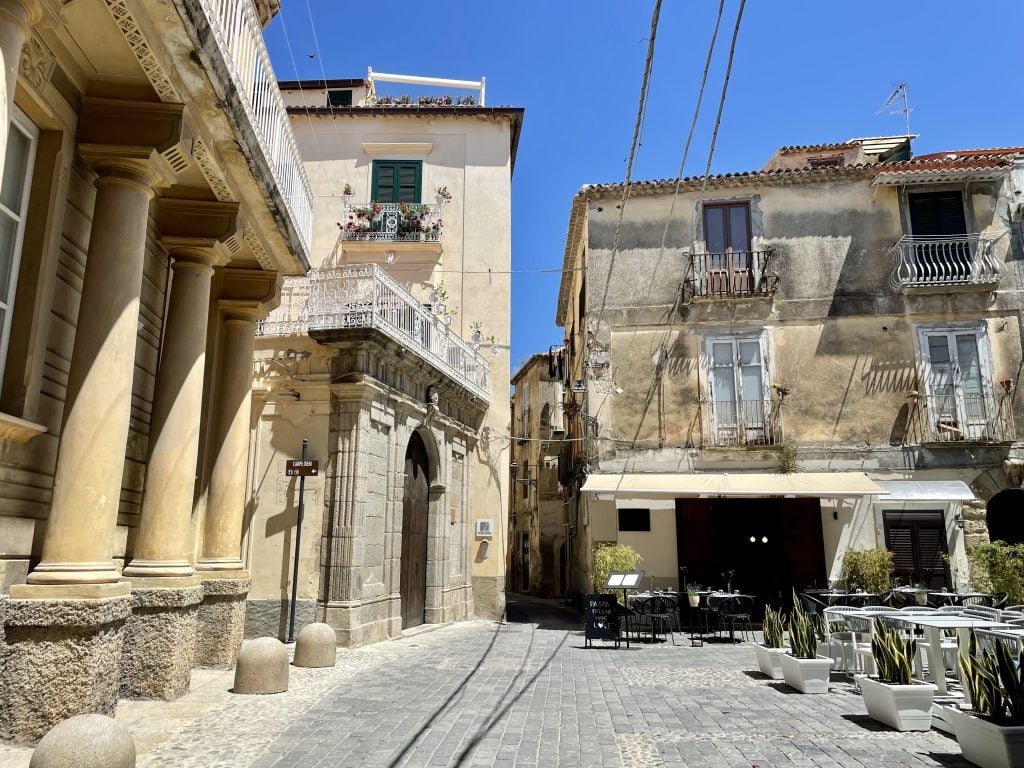 Explore the Old Town of Tropea
Tropea's old town is small enough to see on foot, and as a ZTL, almost entirely off-limits to traffic. This makes it a pleasant walking experience! As I said before, just explore on your own, but here are some places to keep in mind:
Piazza Ercole — This piazza is arguably the center of the old town, and is named after Hercules.
Cattedrale di Maria Santissima di Romania — This beautiful church was built by the Normans in the 12th century and is essentially Tropea's Duomo. It has a Diocesan Museum inside.
Corso Vittorio Emmanuele — If there's a Corso (or Via) Vittorio Emmanuele, it's likely the main street in town. In Tropea it's the place to see and be seen, or get a gelato.
Belvedere Piazza del Cannone — THE place to watch the sunset, with spectacular views of the town and the Aeolian Islands in the distance.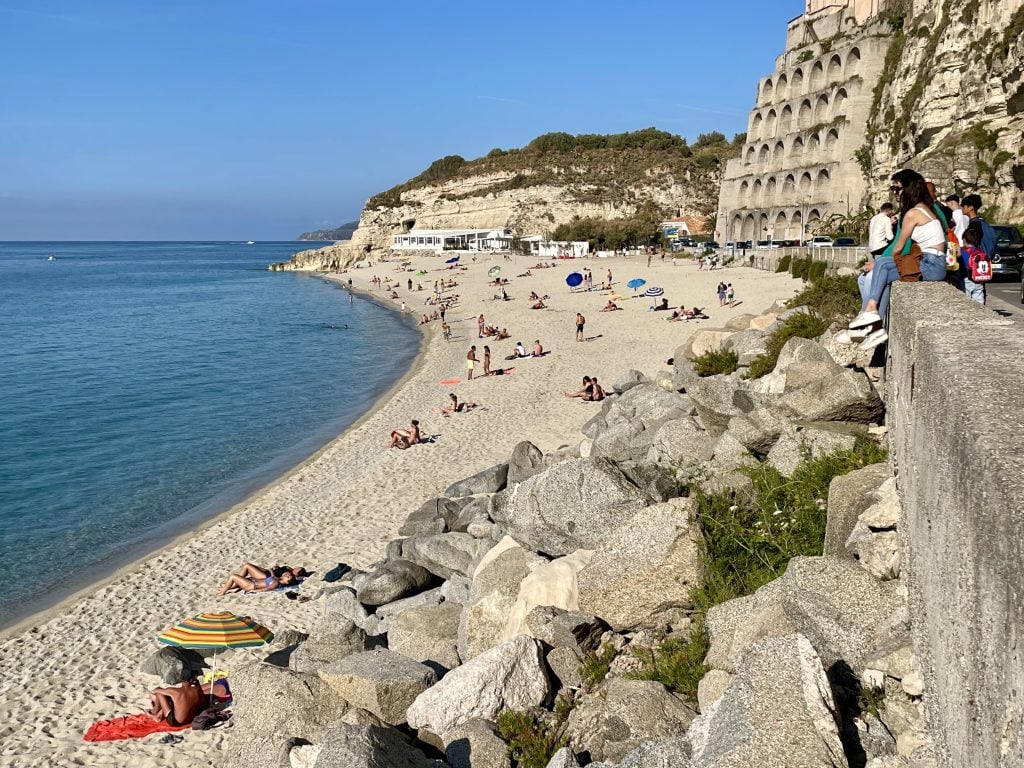 Chill Out on the Beaches
Tropea's beaches are excellent — some of the best I've seen in Italy. (And SO much better than what you get on the Amalfi Coast.) The beaches here are both long and wide; they have soft white sand; and there are a mix of private and public beaches. And they are easily accessible from Tropea's old town.
Yes, you can do the typical Italian thing of paying for a chair and having access to facilities — but there is a large area that is completely open to the public. And I liked this. It felt a lot more casual than other Italian beach towns.
Looking to see the best secret beaches in the Tropea area? This Airbnb Experience takes you to several different secluded Tropea beaches along the Coast of the Gods.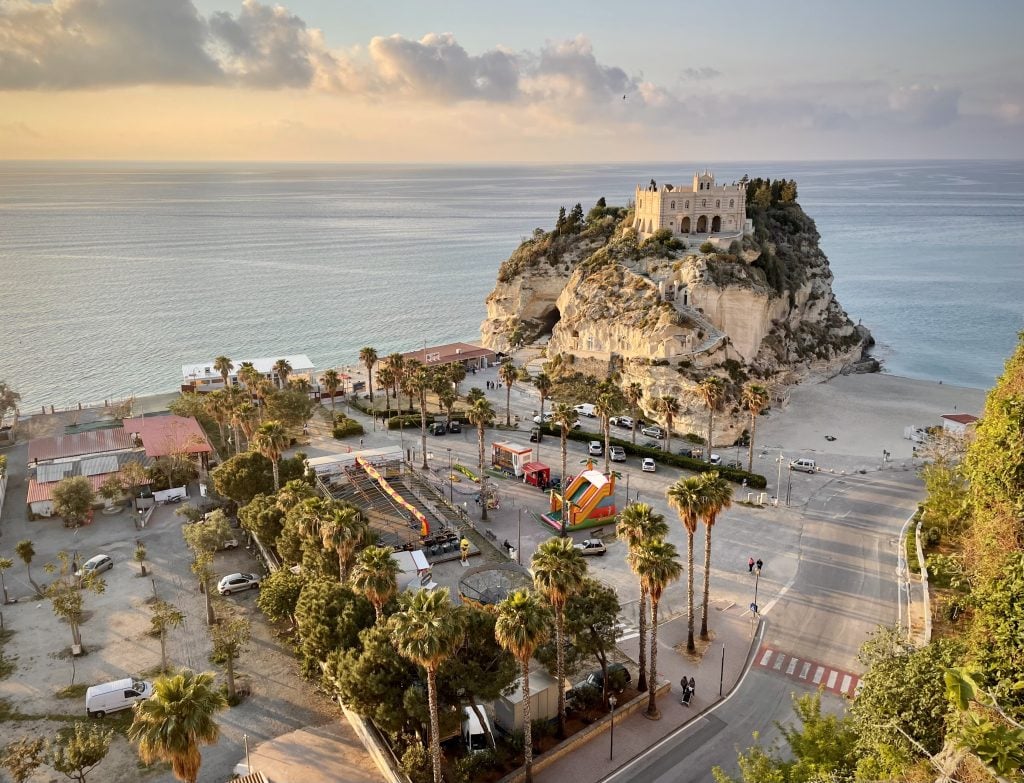 Visit the Sanctuary of Santa Maria dell'Isola di Tropea
You'll know the sanctuary when you see it — it's that little church atop a tall stone cliff perched in the sea. Known as the Santuario di Santa Maria dell'Isola di Tropea, this chapel is arguably the greatest symbol of Tropea (and one of the greatest symbols of Calabria).
In this part of Calabria, the Benedictine monks took over from the Basilian monks in the 11th century, and that's around when this church was built. During this time a wooden statue of the Virgin Mary washed up on shore. She was christened Santa Maria dell'Isola and pilgrims came from afar to be healed by her; the statue was in a cave until it disappeared.
This is one of the best vantage points in town — you'll get fantastic photos of Tropea's cliffs. I recommend going in the late afternoon for the best light.
The chapel is free to visit, but behind it is a garden which you can visit for a small fee. (Unfortunately, it's not uncommon for awful people to vandalize the garden, carving their names into the cacti. Please don't do this.) Know that there are 300 steps to the sanctuary. A small gift shop sells items like rosaries and prayer cards.
Dive into Calabrese Cuisine
Calabria is home to culinary delights that you won't find in other parts of Italy! Here the most famous ingredient is Calabrian chiles, which bring a delightful fire to all kinds of dishes from Calabria.
'Nduja is a famous culinary export — it's a thick paste made from pork and lots of chiles. 'Nduja is spread on bread or used as a topping for pizza. Other signature ingredients are caciocavallo and ricotta cheese, swordfish, tuna red pepper, and chickpeas. You'll notice a lot of Arab influence in this region.
But most famous is the Tropea red onion. These are far and away the signature food item of Tropea — almost-purple red onions with a unique sweetness, so good you could almost eat them raw. Tropea onions are incredibly expensive in other parts of the world, so be sure to get them here. They're great on a pizza with tuna and 'nduja!
Where are some good places to dine out in Tropea? On a recommendation from a local, we enjoyed Porta Vaticano, which has excellent pizza and Calabrese dishes. Another good spot was Marasusa Bistro di Mare, with high-end, beautifully plated seafood dishes.
If you're daring, you can try Tropea onion gelato at Gelati Tonino on Corso Vittorio Emanuele. (Don't expect it to be delicious.)
Calabria's local products make great souvenirs, but double-check that they're under 100 ml if you're carrying on your luggage.
Want an even more special experience? This Tropea food and wine tour takes you to several local producers in the surrounding Calabria countryside.
Would you rather do the cooking yourself? This Tropea cooking class has you learning how to make the region's signature pastas.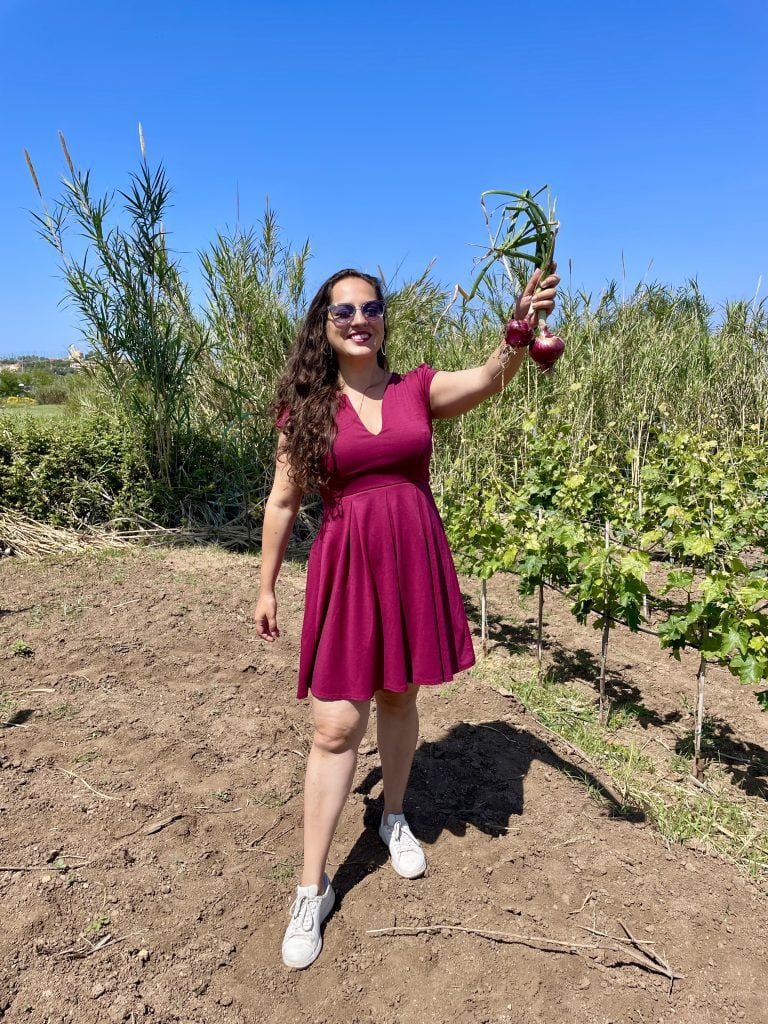 Join a Tropea Onion Experience
If you want to learn about Tropea onions, you will love this activity. This is the best thing I did in Tropea!
On this tour, you visit a farm just outside Tropea and siblings Federica and Marco teach you about how they grow the onions before letting you dig up an onion of your own. They then feed you a collection of local Calabrese delights, including a few glasses of wine.
Their Tropea onions are so good, one of the dishes was simply a chopped up Tropea onion that marinated in lemon juice, olive oil, and salt for a few minutes, then was ready to eat. It was a delicious, fresh salad. Could you imagine doing that with regular raw onions?! NO WAY!
Federica and Marco are lovely people and we enjoyed getting to know them and try all of their family's delicious product.
The farm is about a 35-minute walk from the old town, and there are not always sidewalks. Charlie and I didn't mind the walk, but if it's not your thing, drive or get a taxi.
You can learn more about the experience here.
Try a Tartufo
The tartufo is a delicious ice cream treat that originated the nearby town of Pizzo — but Tropea knows how to do them just as well! A typical tartufo de Pizzo has layers of chocolate ice cream and melted chocolate wrapped around a hazelnut center, resembling another kind of tarfufo — a black truffle.
On recommendation from a local, we tried a pistachio tartufo at Caffe del Corso, right on Piazza Ercole in Tropea. This was a pistachio bomb — layers and layers of pistachio dusted with pistachio nuts on top!
(Honestly, we liked this one much better than the two tartufi we had in Pizzo a few days later. Don't think you have to have the chocolate one in order for it to be legit! Get the flavor you love best.)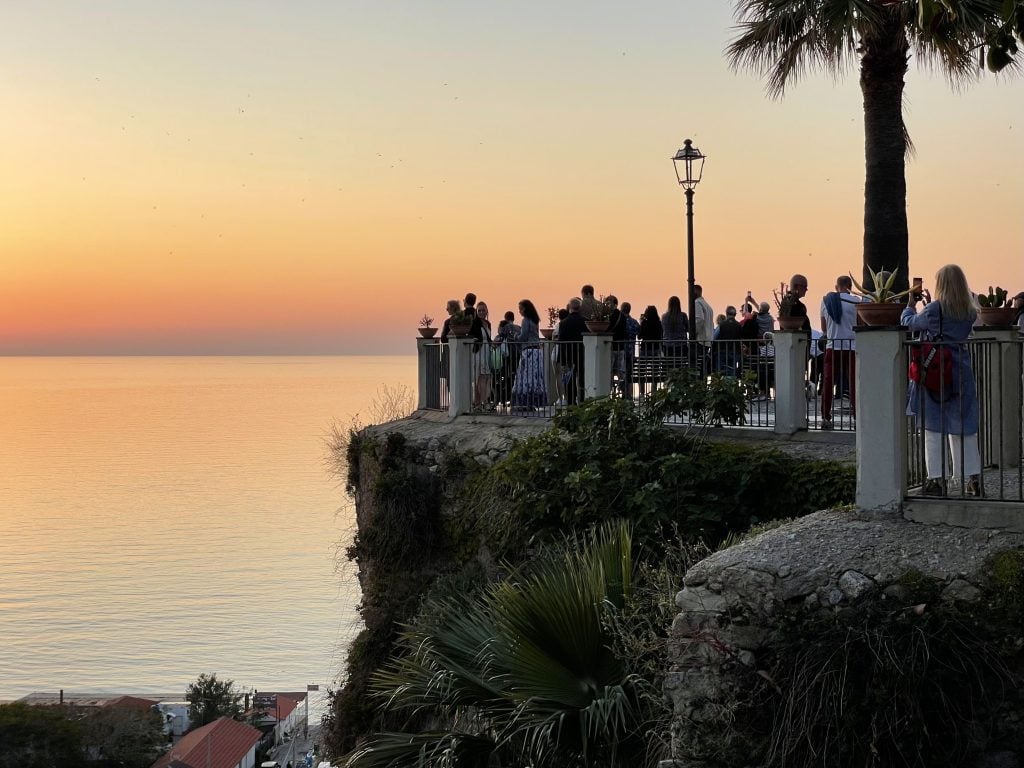 Enjoy a Sunset and Aperitivo
Sure, sunsets are everywhere, but sunsets in Tropea are especially glorious for three reasons: because the city sits looking westward over the sea, because the city is perched on cliffs high above sea level for even further views, and because in the distance you have the Aeolian Islands — including conical Stromboli and its active volcano, a plume of smoke in the air!
Belvedere Piazza del Cannone, edged with cannons, is a great place to watch the sunset.
As for aperitivo, you can get an Aperol Spritz any moment of the day — you're on vacation, baby! But the early evening brings aperitivo, when you can get a cocktail served with some light bites. Al Migliarese is one of the famous spots.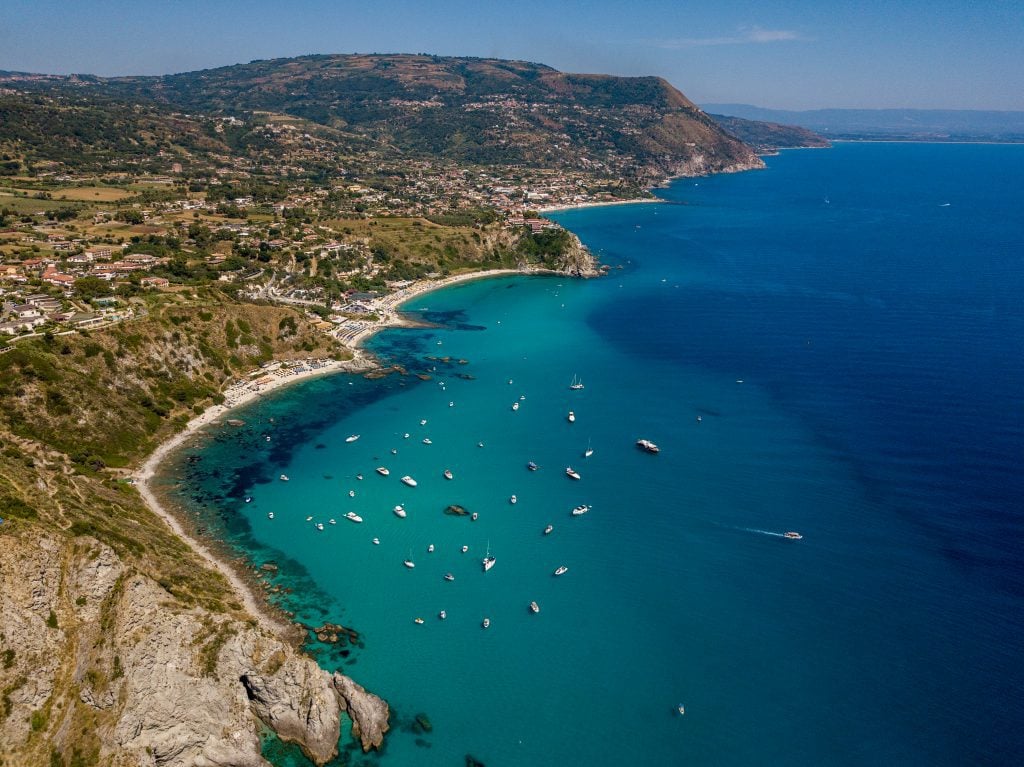 Capo Vaticano
Visiting Capo Vaticano is one of the most popular things to do in Tropea. This cliffside town south of Tropea is home to some of the most pristine beaches in all of Calabria.
How do you get to Capo Vaticano? Most people book boat tours, which often include extras like snorkeling or sometimes fishing. The most beautiful beaches are only accessible by boat.
Otherwise, you can drive to Capo Vaticano and visit the more easily accessible beaches on your own. Capo Vaticano is about a 20-minute drive from Tropea.
Would you like to go on a small sailboat tour? This sailing trip to Capo Vaticano on Airbnb Experiences also includes stops along the coast from Tropea, taking you to the most beautiful beaches of all!
Want some snorkeling action? This boat trip takes place on a rubber zodiac-style boat with shade, and includes the use of snorkeling equipment.
Want an aperitivo included? This boat trip is on a larger wooden boat and includes a glass of wine and snack, plus snorkeling time.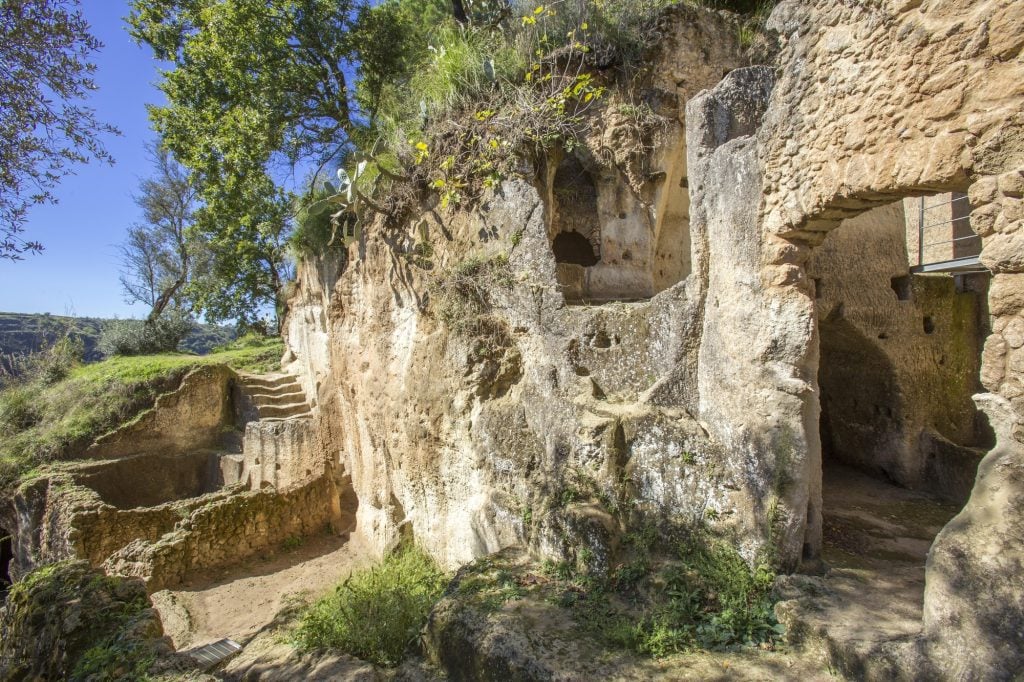 Visit the Zungri Caves
The Zungri Caves (I Grotti Zungri) are a complex of more than 100 grottos about a 15-minute drive from Tropea on Monte Poro. While the caves date back to prehistoric times, they were inhabited since between the 12th and 14th centuries.
During the Middle Ages, Benedictine Monks lived in this città di pietra, or stone city. No doubt they were a refuge from the harsh environment (Why do monks pick the most spectacular places to live? Skellig Michael, Ireland, comes to mind.)
Today you can visit the caves, which make fabulous Instagram backdrops, and enjoy views over the Mediterranean Sea.
This half-day tour takes you directly from Tropea to the Zungri Caves and includes a tasting of local produce.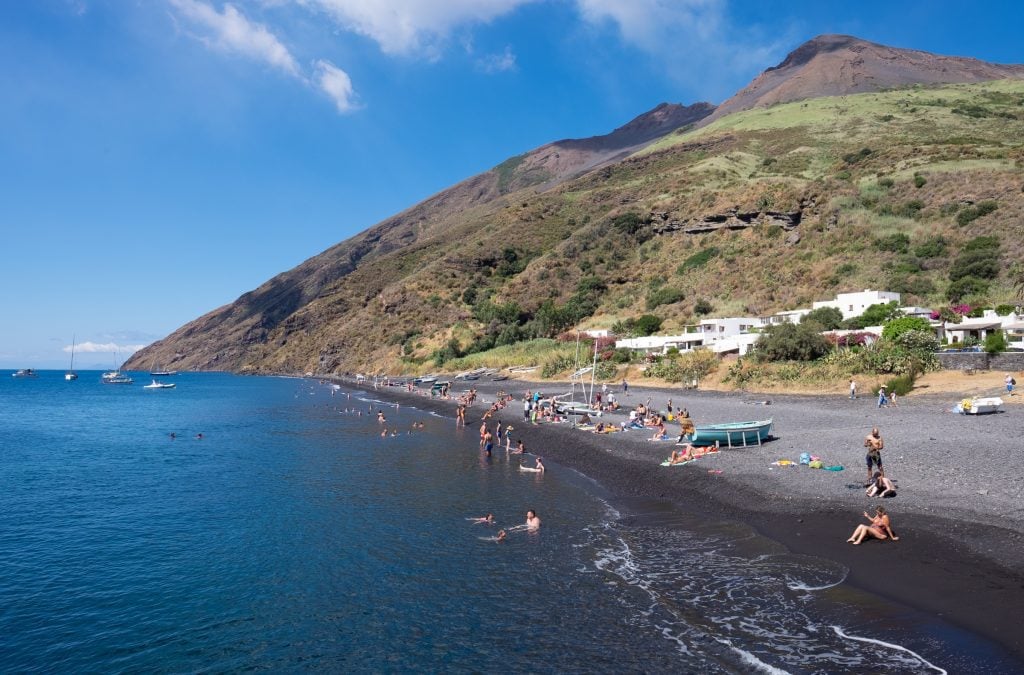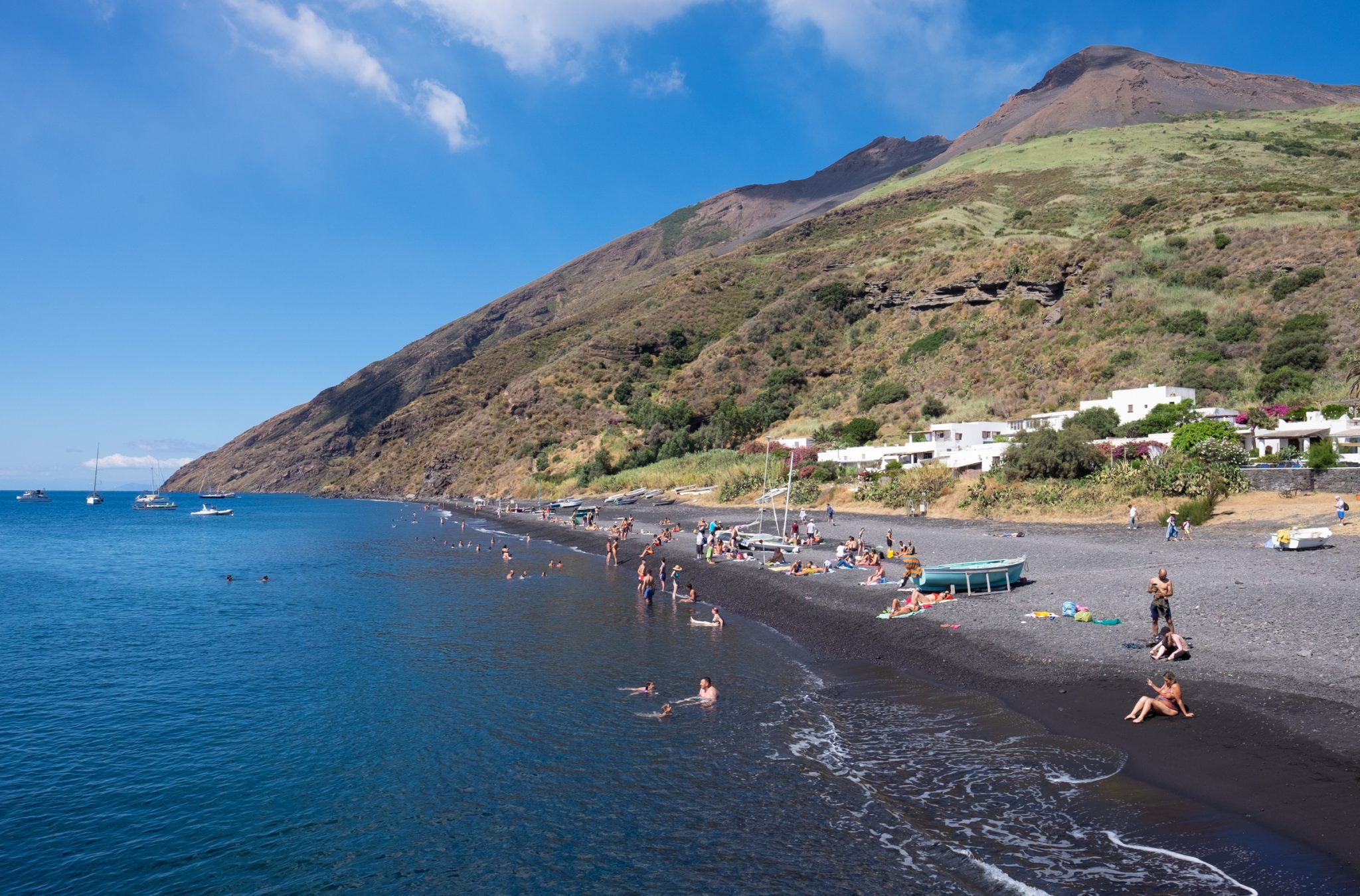 Visit the Aeolian Islands*
I have an asterisk on here because I'm not convinced this is a good use of your time. I love the Aeolian Islands — I visited for two weeks last summer and wrote a full detailed guide to the Aeolian Islands — but I visited the local tour operators, took a look at how the itineraries are structured, and didn't love them.
Most full-day Aeolian Islands tours from Tropea are around 12 hours long — but include six hours of transport. You spend 90 minutes on Stromboli (what can you even do on Stromboli in 90 minutes? The beach next to the port, maybe?), two hours on Lipari (to…shop?) and have another short visit to Vulcano (not long enough to climb the volcano and see the view).
I don't know about that. But if you're curious, you can learn about the three-island Aeolian Islands tour from Tropea here.
HOWEVER: Stromboli is the closest Aeolian Island to Tropea, and I think an only-Stromboli tour would be more worth it. I can't find an only-Stromboli tour anywhere, but there is a just-Stromboli-and-Panarea tour here, including evening viewing of Stromboli's lava, which I think is more reasonable.
How to get to the Aeolian Islands from Tropea: If the Aeolian Islands are your next destination after Tropea, there are a few companies that provide one-way tickets to the Aeolian Islands, including CST Tropea and Tripodi Navigazione.
If you're not able to find a direct ferry transfer, I recommend taking the train to Reggio Calabria, ferry to Messina, then ferry to any of the Aeolian Islands. You can view the Aeolian Islands ferry schedule here. (The train to Messina is complicated from Tropea; it's better to switch in Reggio. You can also switch to a train to Messina in Reggio, as the train literally goes on the ferry!)
There's no reason to bring your car to the Aeolian Islands.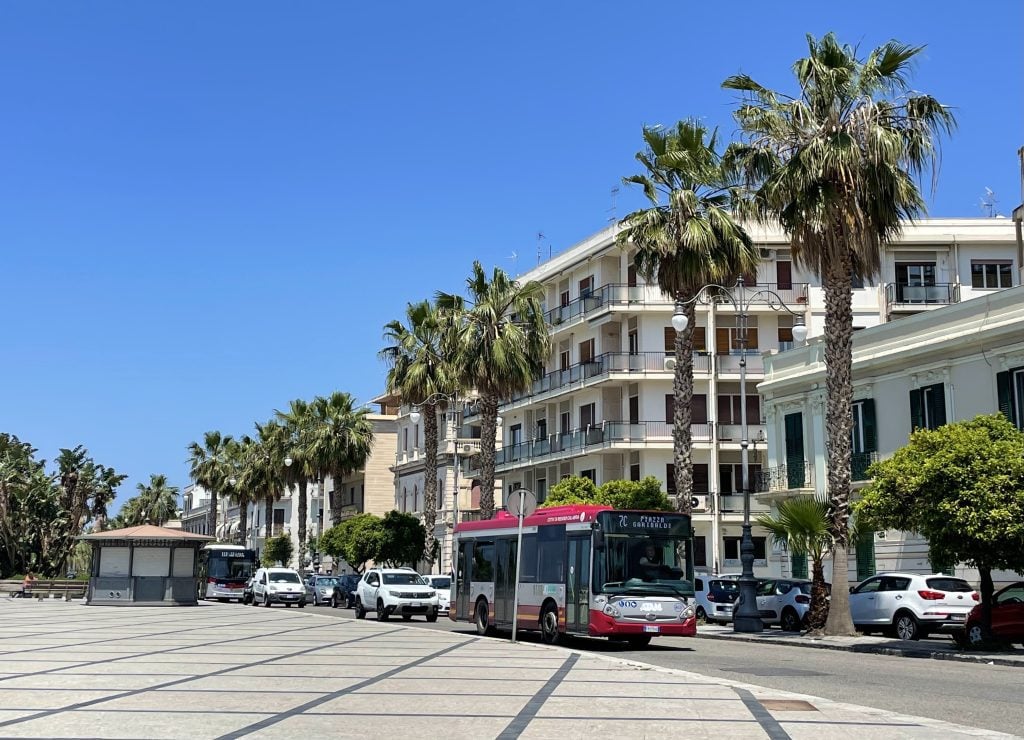 Visit Reggio Calabria
Reggio Calabria is the city at the tip of the boot. From here you can enjoy views of Sicily (even Mount Etna on a clear day!), eat "fusion food" of Sicilian arancini filled with Calabrian nduja, and take a stroll on the Lungomare, called "the most beautiful kilometer in Italy" by poet Gabriele D'Annunzio.
The highlight of Reggio Calabria is the Museo Archeologico Nazionale, an excellent archaeology museum. They are most famous for their superb bronzes. I'm not the biggest fan of antiquities, but really enjoyed my time here. The museum is 8 EUR ($8.40 USD) for adults, 2 EUR ($2 USD) for age 18-25, and free for EU citizens under 18.
After hitting up the museum, visit nearby Gelato Cesare, a 100-year-old gelato shop that serves for some of the best gelato in Calabria! I loved their pesto di pistacchio gelato, like a more intense pistachio, and they also have a salted caramel flavor named after the bronzes in the museum. You can also get gelato in brioche for a sinful treat.
How to get to Reggio Calabria from Tropea: Reggio Calabria is about a 90-minute drive or two-hour train ride from Tropea. Part of the drive is on narrow country roads.
Would you rather visit on a tour? You can book a Reggio Calabria and Scilla tour here.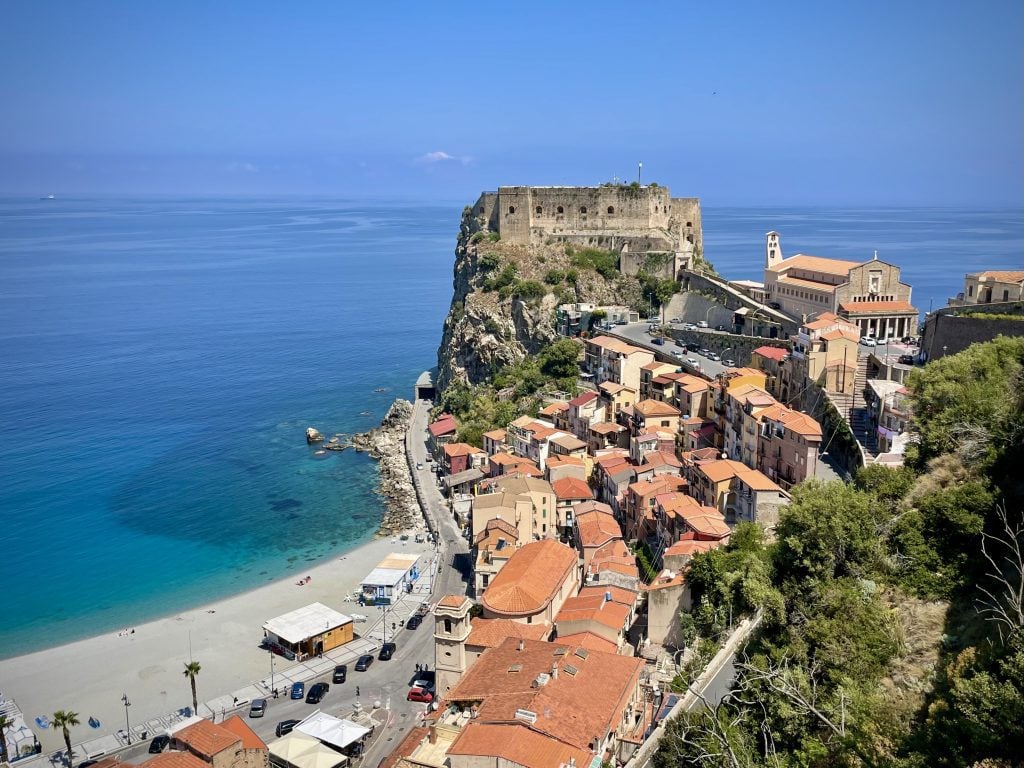 Visit Scilla
Scilla is a delightful coastal town in Calabria, right between Tropea and Reggio Calabria. At first glance, it looks a lot like Tropea — much of the village is built upon tall cliffs, there's a castle right on the edge of the sea, and it's surrounded by long, elegant sandy beaches.
Scilla is a lovely little place for a short visit. You can visit Castello Ruffo di Scilla (the aforementioned castle), take in the views from the piazza, or enjoy time on the trip.
Be sure to try one of Scilla's signature swordfish sandwiches — it's called a panino pesce spada. We enjoyed ours from Lido Antares, right on the beach, who had several different options on the menu.
How to get to Scilla from Tropea: Scilla is about a 75-minute drive or 75-minute train ride from Tropea. Part of the drive is on narrow country roads. This pairs well with a visit to Reggio Calabria since those two towns are close together.
Would you rather visit on a tour? You can book a Reggio Calabria and Scilla tour here.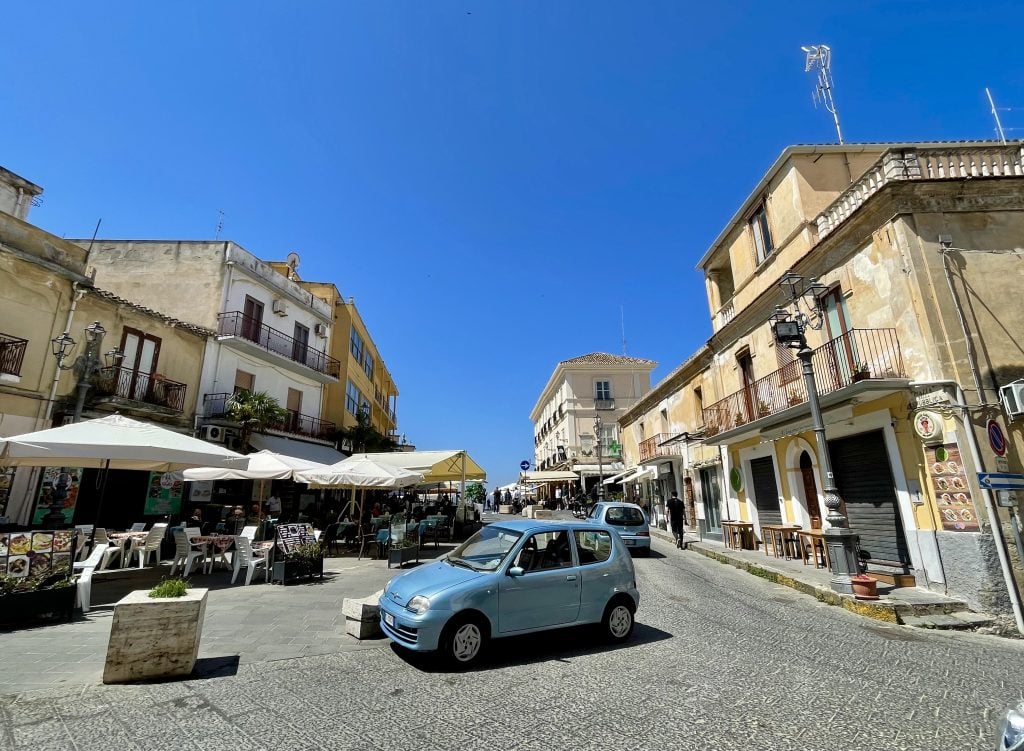 Visit Pizzo
What a lovely delight Pizzo was! I've wanted to visit Pizzo ever since seeing it on an episode of House Hunters International maybe a decade ago. Just 35 minutes up the coast from Tropea, it makes an easy day trip getaway.
Pizzo doesn't have the beaches Tropea has, but it's another lovely town built on cliffs perched above the sea. More than the other towns I visited in Calabria, Pizzo had an almost gentrified feeling to it — a few upscale boutiques and restaurants mixed in with the typical local spots. I wouldn't be surprised if it's in the process of becoming an expat hotspot.
Pizzo is also the home of the tartufo, a signature ice cream, and there are several ice cream specialists right on Piazza Repubblica. We had ours at Bar Gelateria Ercole, though Bar Belvedere across the street had a cooler-looking crowd.
How to get to Pizzo from Tropea: Pizzo is about a 35-minute drive or an hourlong train ride from Tropea. The drive is mostly along the coastal highway. The railway station is NOT near the old town, however, and you'll have quite a long uphill walk getting there.
Would you rather visit on a tour? You can book a half-day tour of Pizzo from Tropea here.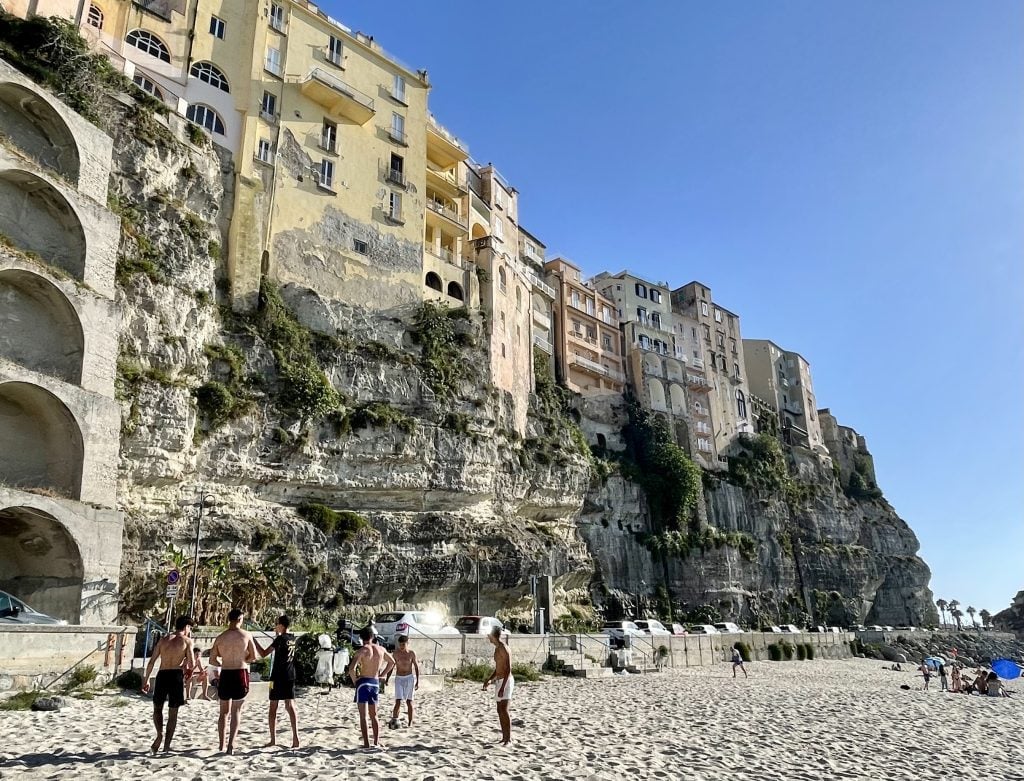 How to Get to Tropea Italy
Getting to Tropea depends on what you're doing for the rest of your trip, because it's not the most easily accessible place in Italy. If you're concentrating on Tropea and the surrounding area, Lamezia Terme is the nearest airport.
However, Lamezia Terme Airport doesn't have a ton of direct flights outside Italy; the day I left, the only flights were within Italy. (These may be reduced at the moment due to COVID.) Connections via Milan are probably the easiest if coming from outside Italy.
From Lamezia Terme airport, I recommend taking a taxi to Tropea (a one-hour drive) if you're not renting a car.
Another option is to fly into Catania, Sicily, if you're planning on exploring Eastern Sicily as well (which I recommend). While it's a 3.5-hour drive from Tropea, it's not so bad if you visit Tropea in the middle of your trip with time in Eastern Sicily on each side. Catania has better connections all over Europe, making it easier to fly direct from Prague, Amsterdam, Paris, etc.
There are trains out of Tropea that go as far as Lamezia Terme Station if you'd rather take public transportation from the airport. Trains take two hours rather than one hour by driving.
Finally, there's driving, which makes the most sense when exploring Calabria. Keep in mind that the city center of Tropea is a ZTL, or zona traffico limitato (as in you can't drive in it), but there are paid and free parking spots outside.
Read More: 17 Must-Know Tips for Driving in Italy
Best Time to Visit Tropea, Italy
One of the nicest things about Tropea is that it has such a long summer season. As a result, you can visit in May or October and enjoy clear days, summer temperatures, and beach time! (Keep in mind that while the average temperature is similar in May/October and June/September, the water is warmer later in the year.)
I visited in mid-May and plenty of people were swimming in the ocean and enjoying beach time — but it was nowhere near the crowds that dominate July and August. If I were returning to Tropea, I would absolutely aim for May or October, though early June or late September would be nice and less busy.
July and August are nuts — especially August, as Ferragosto brings Italians across the country to the seaside in August, many of them pouring into Tropea. This will be the busiest and most expensive time of year to visit.
August 15 is the Festa della Santa Maria dell'Isola Tropea, including a procession up the rocky cliff to the sanctuary. September 9 is the Festa della Madonna de Romania, the feast of Tropea's patron saint. On this day the Madonna of Romania is taken down from the Norman Cathedral and paraded through town. A festa is a fantastic cultural event to witness!
If you visit Tropea between November and April, know that it will be much quieter and rainier, and that's not always a good thing. A lot of businesses completely shut down during the winter months and you might have trouble finding places to stay and eat. Then again, there are people who live in Tropea year-round, unlike some small Italian coastal towns.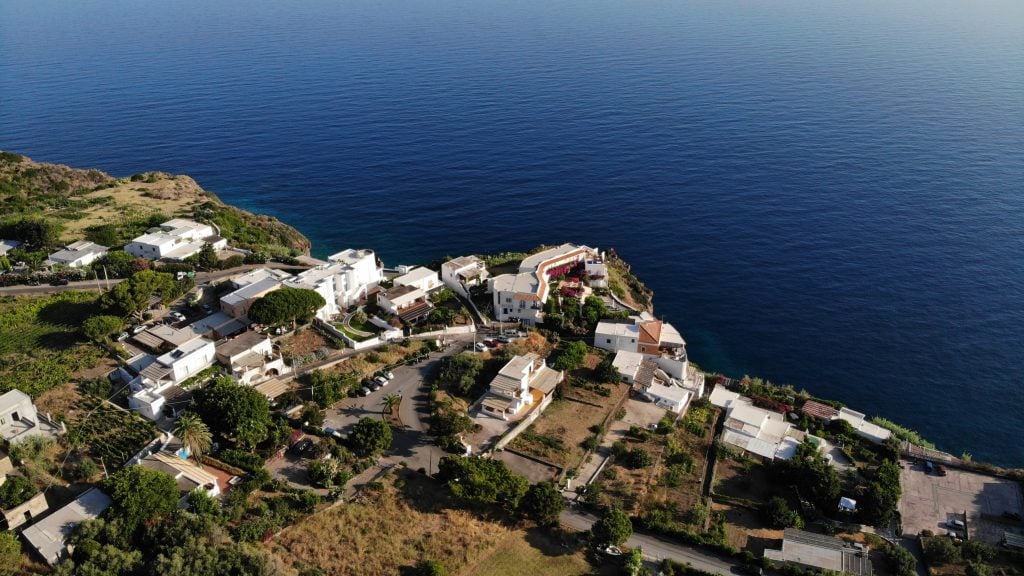 Where to Stay in Tropea, Italy
There are two main options of Tropea accommodation — there's either staying in accommodation within or close to the old town, or staying in a beach resort outside the old town. I highly recommend staying within the old town, as Tropea's beach resorts tend to be of a lower caliber than other beach destinations in the country.
Keep in mind that most of the old town is a ZTL — zona traffico limitato, or limited traffic zone, which means that you won't be able to drive within the city. There are paid and free parking spots outside the old town. Free spots are white and paid spots are blue. (See more about ZTLs in my guide to driving in Italy.)
Tropea is a place where you get much more value for money if you avoid the highest of high season (July and August).
The following hotels are all located within Tropea's old town:
Top-Rated Luxury Hotel in Tropea: Hotel Rocca Della Sena — This beachfront hotel is THE place to splurge in Tropea, from its well-decorated rooms to is pool, jacuzzi, along with a fabulous wine selection and scintillating sunset views.
Top-Rated Mid-Range Hotel in Tropea: Le Terrazze — This boutique hotel has a lovely roof terrace where you can enjoy breakfast in the mornings. Rooms are decently sized, clean, and private. I stayed here and thoroughly enjoyed this place.
Top-Rated Budget Hotel in Tropea: La Suite Tropea — This value-for-money hotel has simple rooms with balconies, just a little bit on the edge of town, with a shared lounge, and gets sky-high ratings.
Compare prices and find deals on hotels in Tropea here.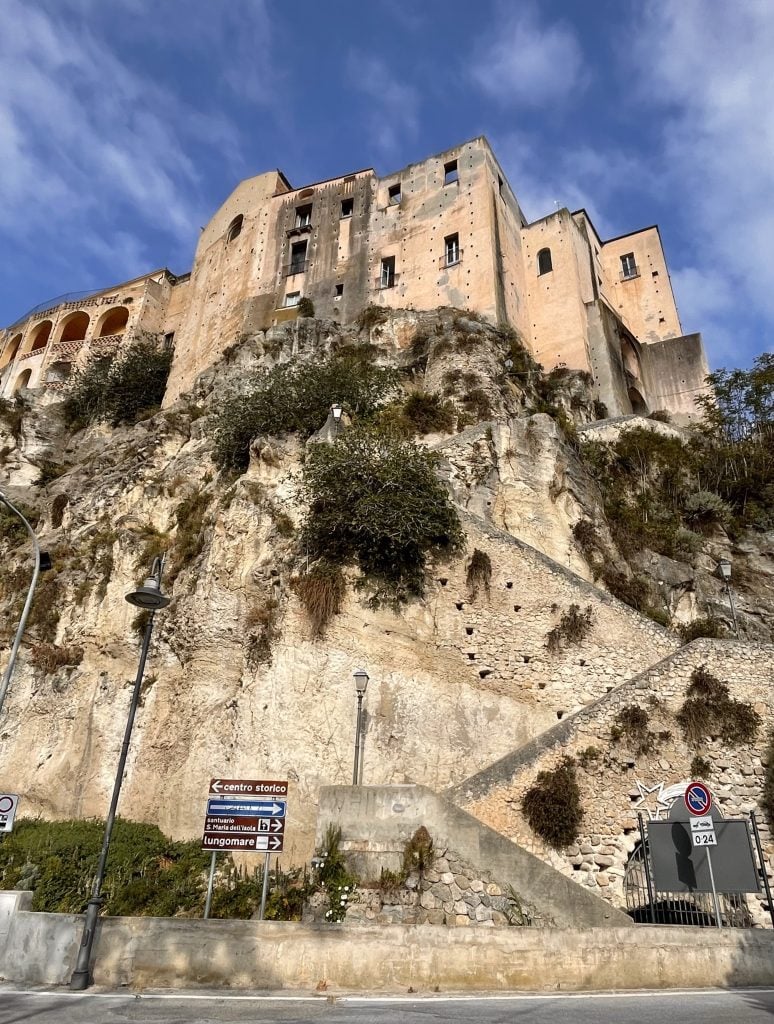 Travel Insurance for Italy
One last note — it's absolutely vital to have travel insurance before traveling to Tropea, or anywhere in Italy. If you get sick or injured on your trip, if you get robbed, or even if you have to be flown home for more care, travel insurance will protect you from financial ruin. I use and recommend World Nomads for trips to Italy.
Travel insurance will help you in your hour of need if you come down with appendicitis in Tropea, or trip and break an ankle while climbing down those stairs, and if your flights get canceled, you can get accommodation and new flights paid for.
As always, be sure to read your policy carefully and make sure it's a fit for you. See what World Nomads covers here.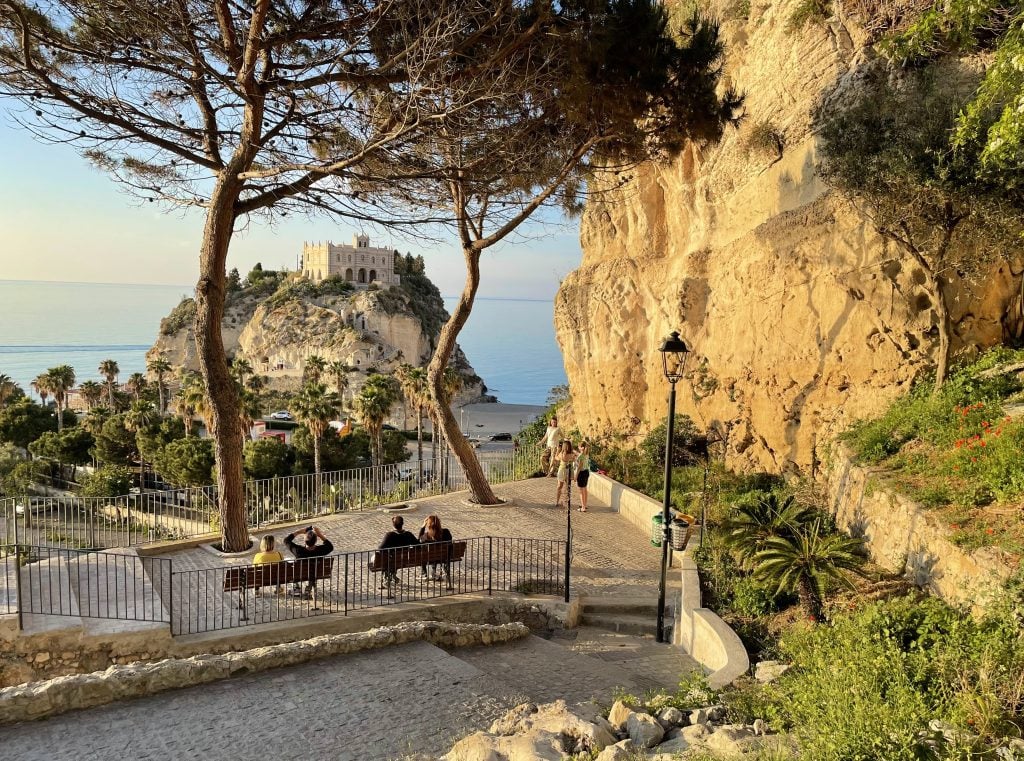 Is Tropea Worth Visiting?
Tropea is one of the most beautiful villages I've visited in Italy, and it's surprisingly good value for money. That, plus the fact that it introduced me to Calabria, my 19th of Italy's 20 regions, I feel like Tropea was a fabulous destination all around! I'm glad I visited.
And I want the same for you. Go to Tropea and enjoy every bit of this wonderful city. I know you're going to love it. And perhaps work Tropea into a longer trip through Southern Italy, whether you head north to Naples or south to Sicily.
Have the best time in Tropea!
Planning a Trip to Italy:
Cool Places in Southern Italy:
Cool Places in Sicily:
Cool Places in Northern Italy: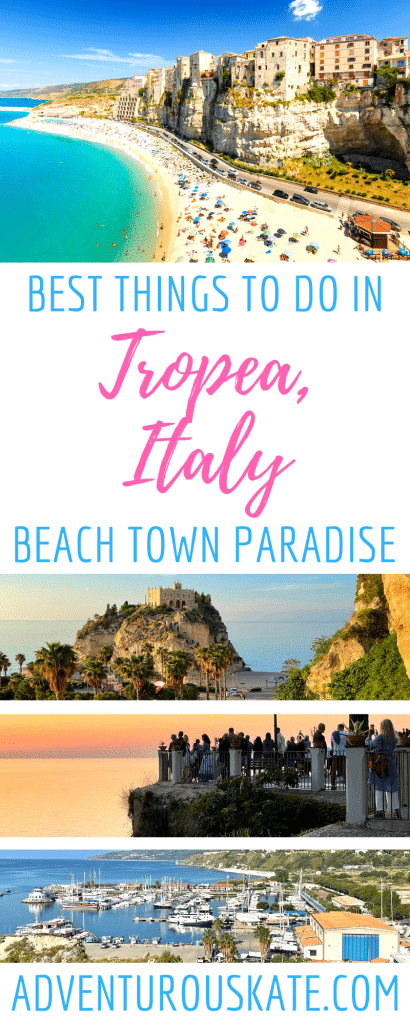 Have you been to Tropea, Italy? What would you suggest?