Adventurous Kate contains affiliate links. If you make a purchase through these links, I will earn a commission at no extra cost to you. Thanks!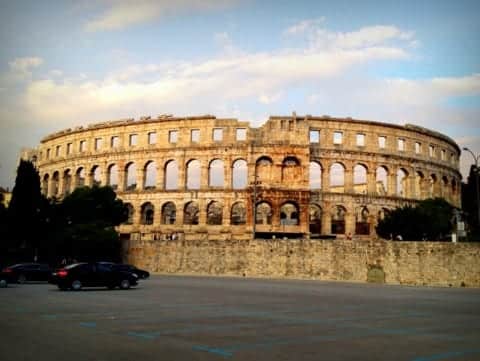 While all flights to Istria land in Pula, most people skip the city and head straight to the beach resorts. Not us. We chose to stay in Pula because we wanted to see as much of Istria as we could, and we thought that basing ourselves in the city made the most sense.
We also got to frolic in some Roman ruins, like the Pula Arena and the Forum.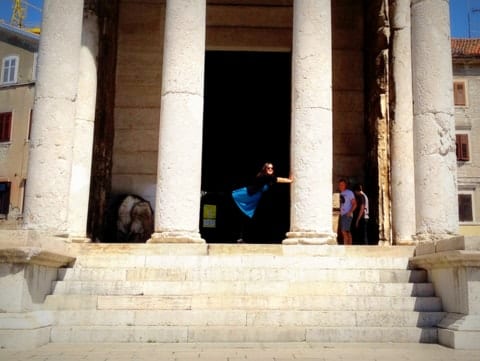 Pula is an easy distance from most points of interest in Istria:
The only thing is that driving in the city is somewhat challenging. Lots of roads were closed down for construction, including main thoroughfares, and every street seemed to be one way, getting you stuck in endless circles. Having Google Maps on an iPad saved us on many occasions.
And while the views of construction on Pula's waterfront may not be that great, cranes can look awfully nice during a sunset.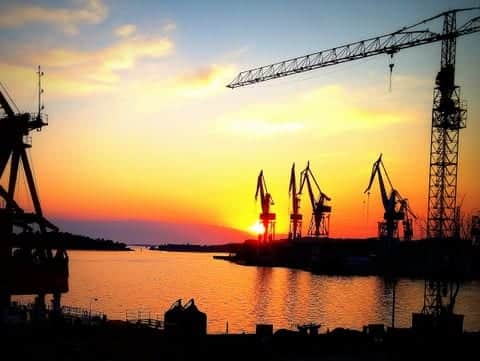 But my single most favorite thing about Pula is Jupiter Pizzeria.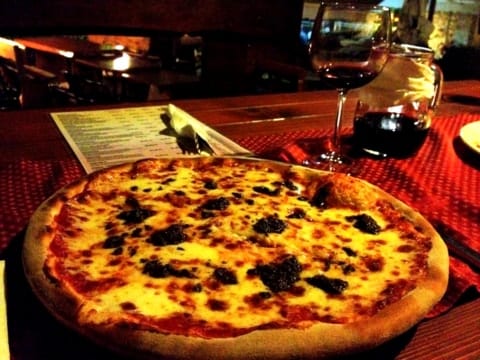 This is Jupiter's truffle pizza. A medium pizza costs 42 kuna (a mere $7) and it is AN ABSOLUTELY DELICIOUS MASS OF CHEESE AND TOMATOES AND BLACK TRUFFLES.
Put it this way: Dave hates truffles. And he loved this pizza.
If you go to Jupiter, make sure you order it with tomato sauce — I've had it served both with sauce and without. The menus vary.
We went back for a second round of Jupiter pizza. But I could have eaten there all four nights.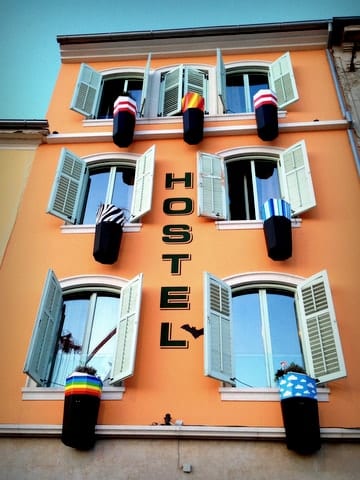 Where to Stay
Thanks to our partnership with HostelWorld, we were able to experience try out two very different properties in Pula.
Hostel Pipistrelo
Hostel Pipistrelo, where we stayed for the first three nights, is far from a traditional hostel — while there's a dorm of two adjoining rooms, each with a set of bunk beds, this hostel is about private rooms — decorated in the style of music, movies, poetry, and more.
If you stay in the music-themed room, Rod Stewart watches you while you sleep.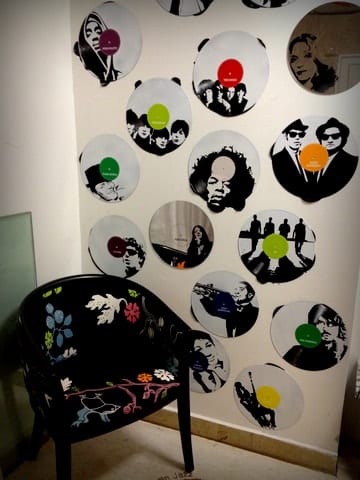 We were staying in a private room with shared bath. Even though the bathroom was shared, we didn't see the other people who were sharing it at all. It was like having our own bathroom. Like everything else in the hostel, it was very clean.
We were in the "chandelier" room that had a giant birds' nest-like chandelier above head, but the rest of the room was mercifully normal:
I was amazed that a property like this considered itself a hostel — it was much more like a budget hotel, but without the creepy feeling that characterizes so many budget hotels! Proof that there are some real finds on HostelWorld.
Hostel Pipistrelo Breakdown:
Location: Excellent — right on the Riva and right around the corner from the Forum.
Staff: Very nice people.
Social Atmosphere: Nonexistent. They were building a common room when we were there, however.
Internet: Only on lower floors, but decent.
Cost: $26.08 per person per night for a private double with shared bath.
Drawbacks: Nobody was around the hostel when we arrived, nor was there a phone number posted. We had to borrow a phone and dial the unlabeled random numbers on the window until somebody answered.
Most Hostel
At Most Hostel, where we spent our final night in Pula, it had the social but low-key hostel environment that I loved. It was warm, homey, and had personality — it was like the college dorm of that nice classmate of yours who invites you over to study. Not overstyled, but comfy and welcoming.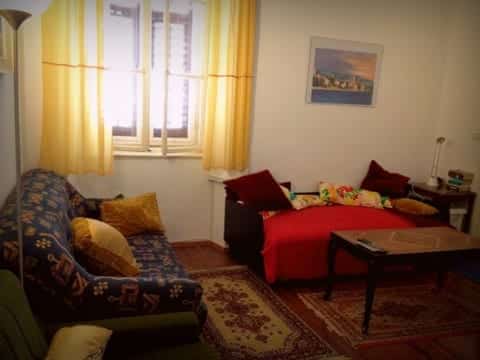 Unfortunately, we had a hard time at this hostel. We arrived at the address in the morning, intending to check in before driving to the beach at Kamenjak, but there was no sign for the hostel on the door or on the buzzers. After being let into the building by a resident, we didn't see signs on any doors, nor any phone numbers. It looked like they had moved.
Finally, we gave up and just went to the beach with our bags in the car.
After getting through over Skype to a phone number that they had emailed to me earlier, they told us that the night before, all of the signs had been torn down; also, family health problems had kept them away from the hostel. It all seemed to be a case of bad timing across the board. But we found our spot, finally.
Most Hostel doesn't have a web site, and I told them that they NEED to get one — even if it's just a free site on WordPress.com. If they hadn't emailed me their phone number as part of our partnership agreement, we would have had no way of contacting them, as hostel booking sites, quite understandably, don't allow phone numbers to be shown.
Despite the awful beginning, I want to make it clear that we had a really nice time at Most Hostel. It was the kind of friendly, welcoming, community-based hostel that I love. We went to check out their other hostel, Riva, and found an equally warm and welcoming environment with backpackers sitting around, laughing, cooking in the kitchen.
And the great surprise was that Skender, one of the owners, not only used to live in Boston — he used to live across the street from where I lived! We went to school next door to each other (him at Berklee College of Music, me at Boston Conservatory). He used to bartend at one of my favorite clubs (now called Umbria) and we both used to hit up the convenience store Symphony Mart for late night munchies. We probably stumbled over each other at least once. It's crazy how you can fly to Croatia and find such a close connection to you at home.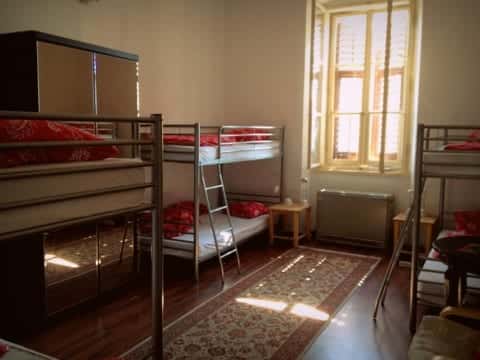 Most Hostel Breakdown:
The family owns two hostels in Pula: Hostel Most and Riva Hostel.
Location: On a quieter street in Pula, a five-minute walk from most of the central attractions. Riva Hostel is in the center of things.
Staff: Fantastic. I wanted to move in with this family.
Social Atmosphere: They definitely facilitate it, with cozy common rooms and lots of facilities. There were more people at Riva Hostel than Most Hostel.
Internet: They were currently replacing it, so it wasn't working. They sent us to Riva Hostel, where the internet was great.
Cost: $23.87 per night for one bed in a three-bed ensuite dorm.
Drawbacks: the situation I described. Also, there are no private rooms available at Most Hostel.
The overall takeaway: I enjoyed both of these hostels and would stay at each of them again. But they're for different kinds of stays. Go to Hostel Pipistrelo for a cheap private room (with style); go to Most Hostel (or Riva Hostel) for a night in the dorms and a fun and social atmosphere.
Planning a Trip to Croatia:
Croatian Islands and the Dalmatian Coast:
Istria and the North:
Many thanks to HostelWorld, Hostel Pipistrelo and Most Hostel for the complimentary stays. All opinions, as always, are my own.
Get email updates from Kate
Never miss a post. Unsubscribe anytime!