Adventurous Kate contains affiliate links. If you make a purchase through these links, I will earn a commission at no extra cost to you. Thanks!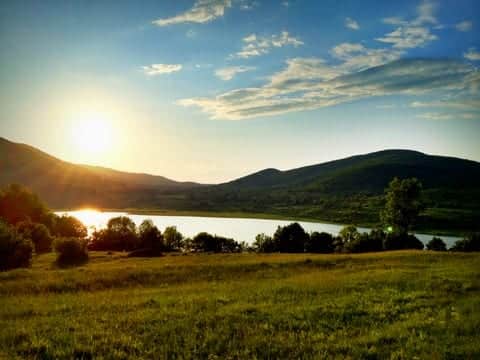 As we left lovely Istria behind, we discovered a new Croatia — a Croatia of endless green hills and valleys, a Croatia of perfect Alpine villages nestled against looming mountains. If Istria was Italian Croatia, this was Austrian Croatia.
The ride to the Plitivice Lakes from northeastern Istria's Hum, the "smallest town in the world," took a little over three hours, during which the landscape changed completely.
And there were beautiful things to photograph. There was an absolutely gorgeous church in one random town.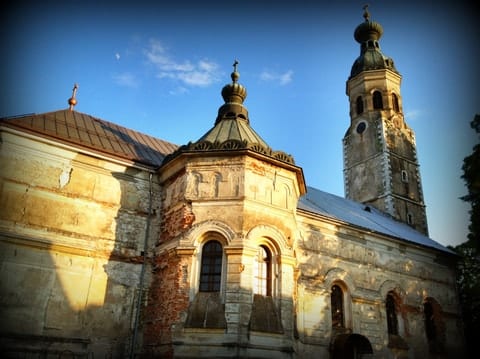 At another, a ragged football pitch.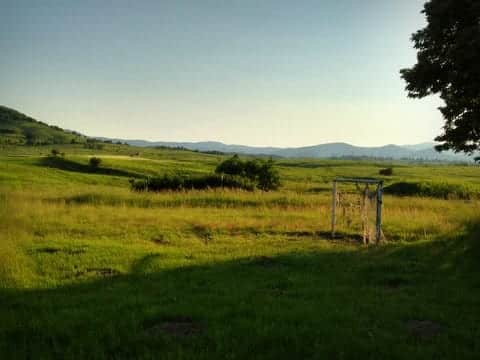 Coming into Plitivice, we drove for several minutes through solid forest, followed by cliffs. We even saw a deer.
And then we arrived at the lakes — and were immediately confused beyond belief.
"Jezera" is the Serbo-Croatian word for "Lakes." Nearly every street and every guesthouse was named "Jezera" or "Jezerce" or "Jezerka" or "Jezere." Imagine going to a touristy lake and having every street being called "Lake Street" or "Lakes Lane" or "Lake View Terrace," with the guesthouses all called "Lake Inn" or "Lakes Hotel" or "Lake Residence."
And just in case it wasn't confusing enough already, all of these guesthouses had identical signs! They each read "ROOMS – ZIMMER – CAMERE" in identical white and yellow letters in Bazooka font. It was bewildering.
To top it off, although Google Maps had found the address, it placed it on a totally different street.
Finally, after searching the area fruitlessly, Dave suggested we turn onto a random street…and we landed right at Villa Jezerka.
The owner, Božo, was waiting for us with a smile — and homemade spirits.
Villa Jezerka
Villa Jezerka was the one place where we stayed that ticked all the major boxes: private room, ensuite full bathroom, AND excellent in-room WiFi! And on top of everything, we had a porch attached to our room. Living large — on a hostel budget. I've said it before, but once again, this is proof that HostelWorld properties are a LOT more than just traditional hostels!
Being a standalone property, with the owners next door, it was by far the most private property we stayed at as well. When you stay in hostels, or even in guesthouses, you don't get that too often. It was refreshing.
On our final day, Božo invited us to breakfast. This usually costs an extra 5.50 EUR on top of the bill. Forget traditional continental breakfasts — we were brought eggs, yogurt, a variety of breads, meats and cheeses, juice, cereal — SO much food!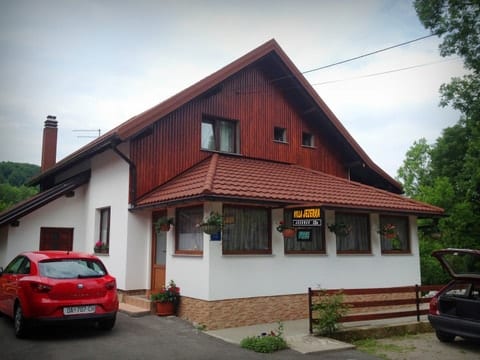 Villa Jezerka Breakdown:
Location: In the middle of guesthouse central — one kilometer from the lakes. BE WARNED: Google Maps puts the correct address on an incorrect location.
Staff: Božo was wonderful, as was his wife, and we spent a lot of time chatting with him about his life and Croatia's history.
Social Atmosphere: We were the only guests, but there is a common room.
Internet: Excellent in-room wifi.
Cost: $22.82 per person for two people in a double room with ensuite bathroom.
Drawbacks: None that I can think of. This was more or less a flawless stay.
Planning a Trip to Croatia:
Croatian Islands and the Dalmatian Coast:
Istria and the North:
Many thanks to HostelWorld and Villa Jezerka for the complimentary stay. All opinions, as always, are my own.
Get email updates from Kate
Never miss a post. Unsubscribe anytime!