Adventurous Kate contains affiliate links. If you make a purchase through these links, I will earn a commission at no extra cost to you. Thanks!
Croatia is world-renowned for its gorgeous coastline, islands, and beaches of Upper Dalmatia. Less famous? The urban gateways to these islands: the cities of Zadar and Split.
Dave and I decided to visit both cities in one day after driving down from the Plitivice Lakes. In turn, we discovered two mid-sized cities that we liked — a lot!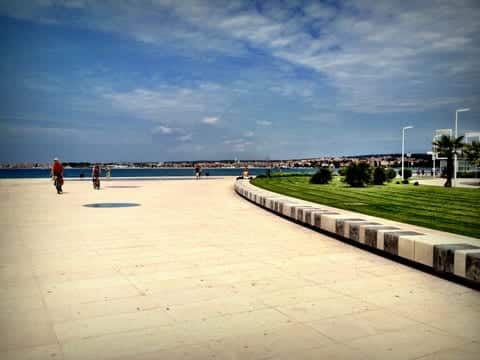 Zadar
Every publication I read about Zadar tossed out the same word: "underrated." Zadar doesn't receive nearly the tourist volume of Split, and as a result, it feels more like an Croatian seaside town.
Zadar's Old Town is compact, pastel-toned, and home to two interesting works of art: the Sea Organ and the Sun Salutation.
The Sea Organ is a massive instrument that creates music based on the speed and velocity of the waves rushing in, a melody alternately mournful and jubilant. Here's a video of it in action:
The Sun Salutation is a giant solar-powered panel that blasts out designs that evoke the solar system at night. Being there during the day, we didn't get to witness it in action, but here's a picture: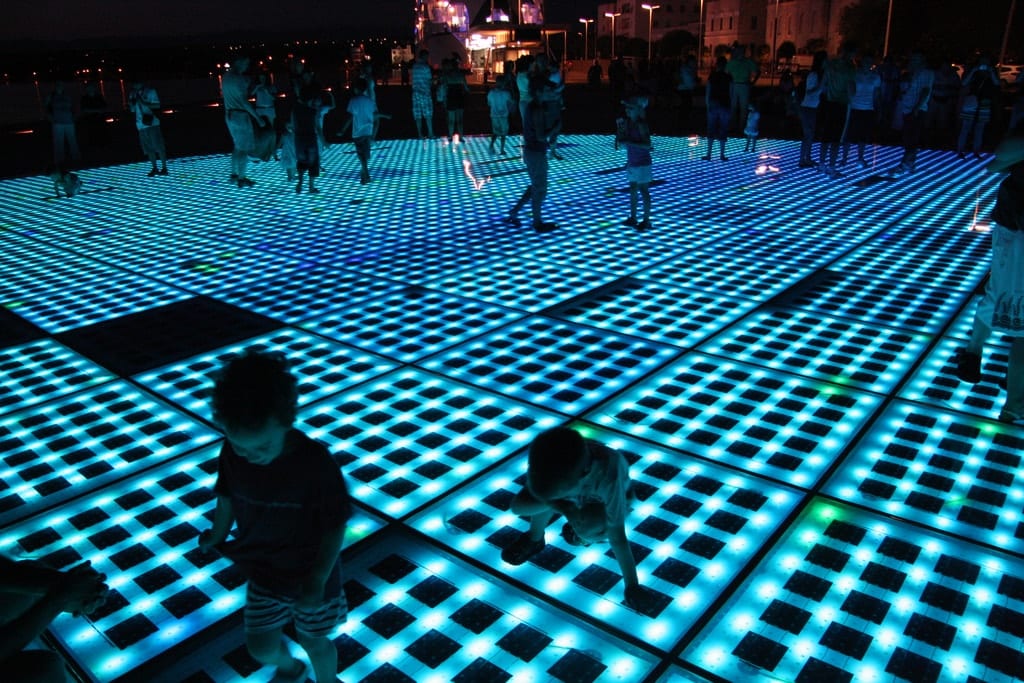 Image: Mark Heard
We also had one of the more memorable meals of our trip in Zadar at an Italian restaurant called Bruschetta. The dishes were delicious, moderately priced, and impeccably plated, like squid ink risotto, quite literally with a cherry on top: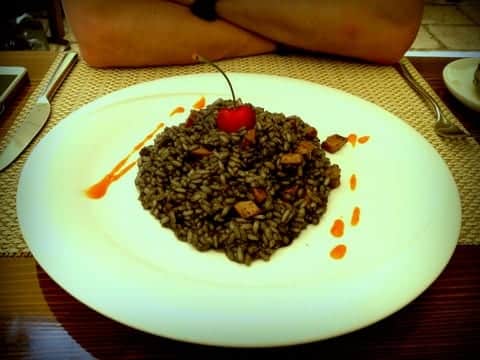 After lunch, we walked around to the edge of the Old Town and found more delights: a bell tower to climb, and a park filled with cafes and even one bar blasting hip-hop in the middle of the afternoon! It was the kind of place you'd expect to see in Vegas.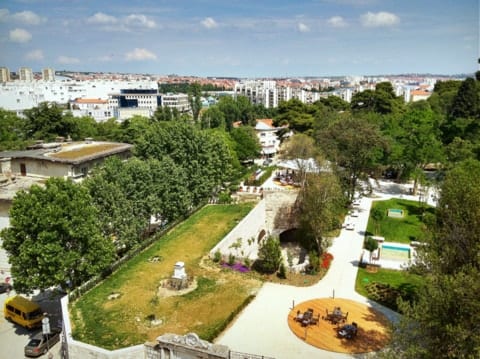 In short, Zadar was a nice discovery — a lovely little Dalmatian city perfect for a day trip and a stroll.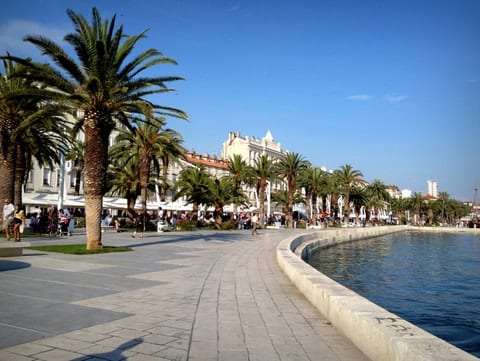 Split
Why, hello there, holidaymakers! I figured that most people were only staying in Split for a night or two, before or after cruising the islands, but Split is actually a holiday destination in itself. The Old City, defined by the harbor and Diocletian's Palace, is filled with kiosks selling cheap clothing, souvenir shops, money changing agencies, Irish pubs, and stores selling overpriced trinkets.
That's not to say Split isn't a nice place to visit — I enjoyed it immensely. Split is a very chill city for hanging out and relaxing — or partying hard, if that's your thing. Most interesting of all was Diocletian's Palace, an architectural marvel and the heart of the city.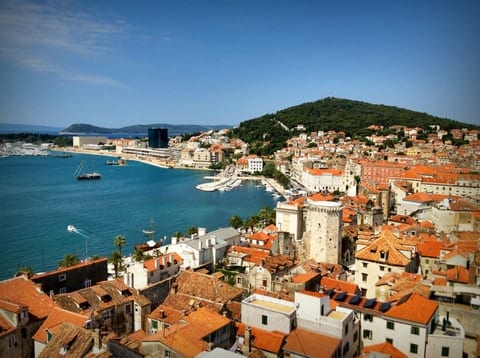 Somehow, in all of my obsessive guidebook and travel guide-reading, I must have skipped over Split. Had I not, I would have realized that Diocletian's Palace isn't a standalone building, but a walled neighborhood that now houses everything from boutique hotels to bookstores. It's a fascinating maze and a wonderful place to walk around, especially during the day when the shade protects you from the sun.
Diocletian's Palace is also home to hostels. Yes, I got to sleep in a palace!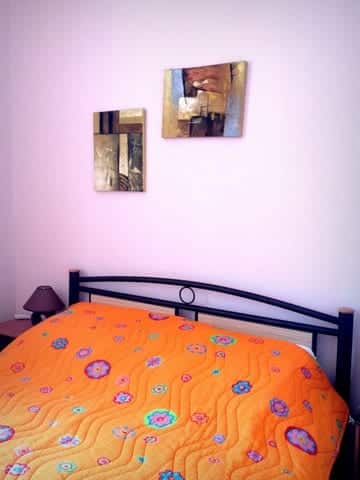 Where to Stay in Split: Old Town Hostel
When HostelWorld picked this hostel out for us, we were told that Old Town Hostel was one of the highest rated hostels on the site. Despite the lofty expectations, I wasn't disappointed — this was one of my absolute favorite places where we stayed in the Balkans!
The hostel is actually located inside Diocletian's Palace, making it in the best possible location in the city. Everything is at your fingertips, including the harbor, if you're heading out on a cruise (as so many people in Split are).
No other hostel can compete with the view from our window: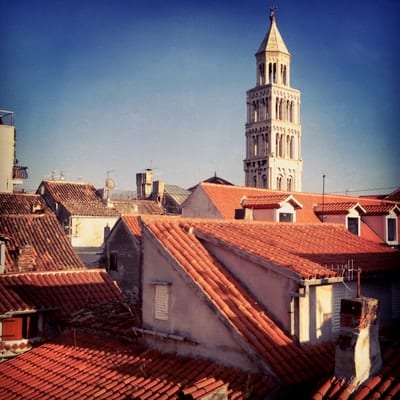 We found a very comfortable and purple-walled common room where several of the hostel guests were watching a Californication marathon, which of course caused me to drag Dave in, saying, "You need to see this!" (I got him into Breaking Bad; he got me into Game of Thrones; I've been lobbying for Californication to be next!)
It was an incredibly welcoming and comfortable stay from start to finish. It's a shame we only had one night here.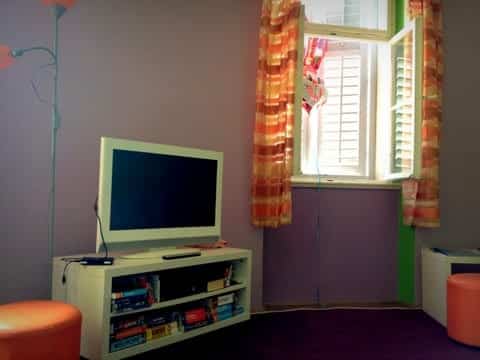 Old Town Hostel breakdown:
Location: Absolutely perfect! Right in the heart of Diocletian's Palace and steps from anything you might need.
Staff: The staff were very kind, welcoming, and friendly. I asked for a restaurant suggestion and the guy at reception grabbed a map for me and circled all of his favorite places!
Social Atmosphere: There were around half a dozen hostel guests watching the Californication marathon in the common room. We didn't spend much time in the hostel, but from what we saw, it looked very social.
Internet: Excellent in-room wifi.
Cost: $39.60 per person for two people in a double room with shared bathroom.
Drawbacks: The walls are very thin. Pack earplugs if you're a light sleeper.
Whether you're single or with a partner, and whether you're looking to stay in the dorms or in a private room, this is a fantastic hostel to choose in Split. It's a bit on the pricey side for the city, but I think the location alone makes it very much worth it. Everything else is just a bonus!
Planning a Trip to Croatia:
Croatian Islands and the Dalmatian Coast:
Istria and the North:
Many thanks to HostelWorld and Old Town Hostel for the complimentary stay. All opinions, as always, are my own.
Get email updates from Kate
Never miss a post. Unsubscribe anytime!