Adventurous Kate contains affiliate links. If you make a purchase through these links, I will earn a commission at no extra cost to you. Thanks!
Planning a trip to Croatia? Looking for Croatia travel tips? I wish I were joining you! It's hard to pick a favorite country when you travel as much as I do, but I can't lie — if I had to choose, it would probably be Croatia.
I first wanted to visit Croatia after seeing photos of its beautiful beaches, but after visiting for the first time in 2012, I fell in love. What I love about Croatia is that it combines outstanding natural beauty, like bright green saltwater lakes, cliffs reaching down into the sea, and islands surrounded by clear water, with outstanding human-made beauty, like bright white limestone towns, ancient fortresses, and pastel-painted seaside towns. Croatia is a feast for your eyes.
Croatia is a diverse destination and has something for everyone. If you're into history and want to visit all the UNESCO World Heritage Sites, you can do that. If you want to get off the beaten path and hike and climb mountains, you can do that. If you want to drive around visiting quirky little villages, you can do that. If you want to pick a resort and sit on the beach every day, you can do that. If you want to rent a sailboat and party every day for a week street, you can absolutely do that!
And while I wouldn't label Croatia as a cheap country, you can get a lot of value for money here, especially if you go off the beaten path to destinations more popular with Balkan travelers (like Makarska as opposed to Hvar).
But most of all, the message I want to share is that Croatia is such an easy place to travel. In fact, while I usually recommend English-speaking or Nordic countries for a first trip to Europe, I think Croatia would be a smart choice as well — and with much warmer weather, too!
I think every kind of traveler can fall in love with Croatia a little bit. Here are 100 travel tips for Croatia — and I hope they inspire you to plan a trip soon.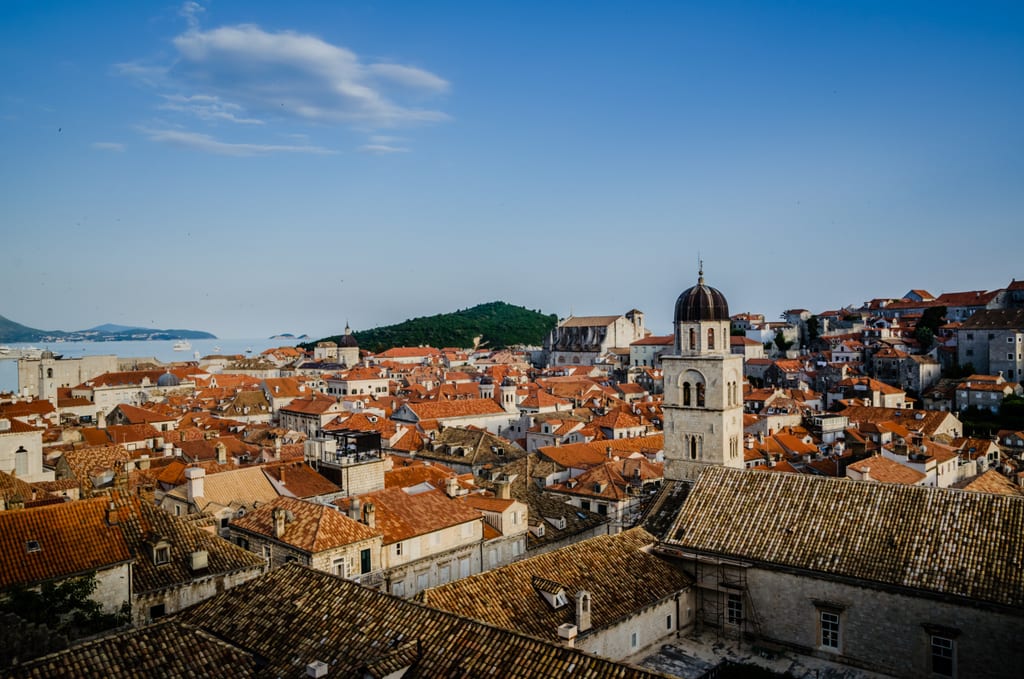 Table of Contents: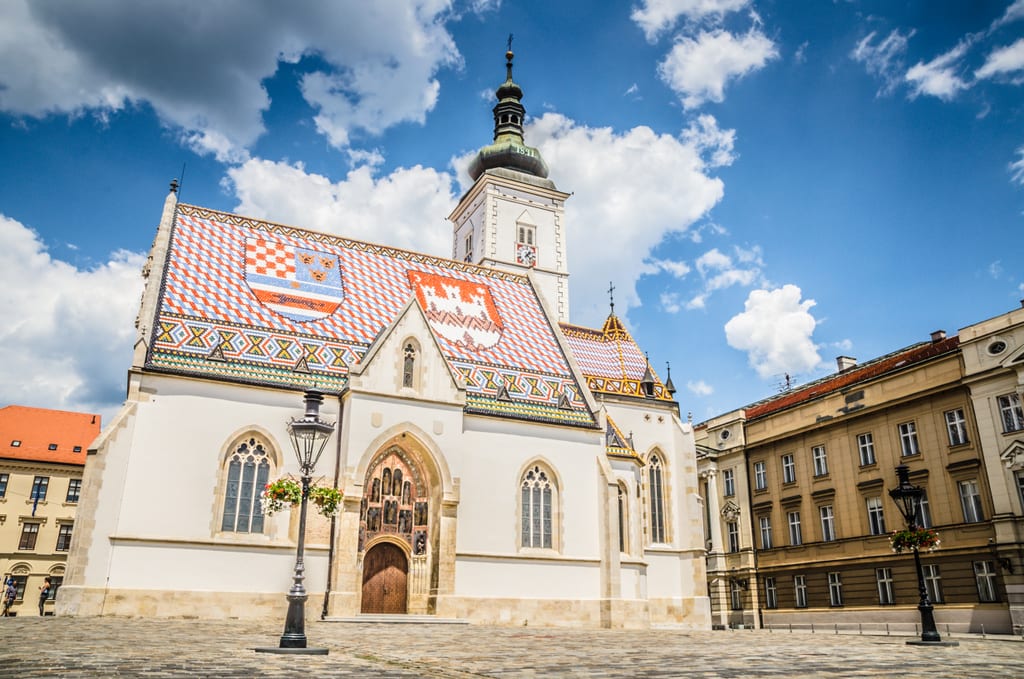 Visit the Museum of Broken Relationships. This surprisingly moving museum is filled with artifacts from relationships that have ended, accompanied by a story about the item written by owner. The stories are sad, sweet, funny, and moving. This is probably the most special attraction in all of Croatia and I can't recommend it highly enough.
Stroll through the Upper Town. The Upper Town is Zagreb's Old Town, and it's home to famous historic buildings like St. Mark's Church (pictured above), Lotrscak Tower, and Cathedral of the Assumption of the Blessed Virgin Mary, as well as the Dolac fruit and vegetable market. Explore on your own or take a walking tour.
Zagreb is home to some wonderful coffeeshops. Cogito is one of the best and they create their own blend from beans that they important from around the world. Many cafes in the city use their beans, including 42 and Co, which has cool industrial decor. If you love to read, Booksa is a bookstore with a cafe where they encourage you to read and sip. And Kino Europa Cafe is a quirky cafe that wears many hats — part coffeeshop, part cinema, and part grapperia (yes, a place that specializes in grappa).
Learn to cook Croatian food. Cooking lessons are a souvenir that you get to take home to your family and friends. Why not learn to cook a few Croatian dishes to share your trip with your loved ones? Some tours include a market visit, too.
Go on a gamified quest within the city. Secret Zagreb offers some quirky puzzle-oriented tours: a witch hunt, a sleeping dragon quest, a mountain quest, and a Christmas carol quest! Definitely a fun twist on a typical walking tour.
Go on a day trip or half day trip to Samobor. Just a short drive from Zagreb is this small town, known for its traditional crafts, delicious desserts, and a ruined castle that you can explore. Whatever you do, be sure to try a kremšnita — a cream cake layered with puff pastry.
Explore Zagreb's many parks and Lenuci's Horseshoe. Lenuci's Horseshoe is a collection of beautifully landscaped squares that form the shape of a U. It's a nice place to stroll from end to end.
If you want a real evening adventure, go on a night truffle hunt outside Zagreb. You hunt for truffles with dogs! Truffle hunting is always fun and fascinating, but night makes it even better.
The Christmas season is a fantastic time to visit Zagreb. Christmas markets are all over the city, selling crafts, hot mulled wine, and delicious pastries. And unlike countries like Germany, Zagreb's markets stay open longer — all the way until January 7th!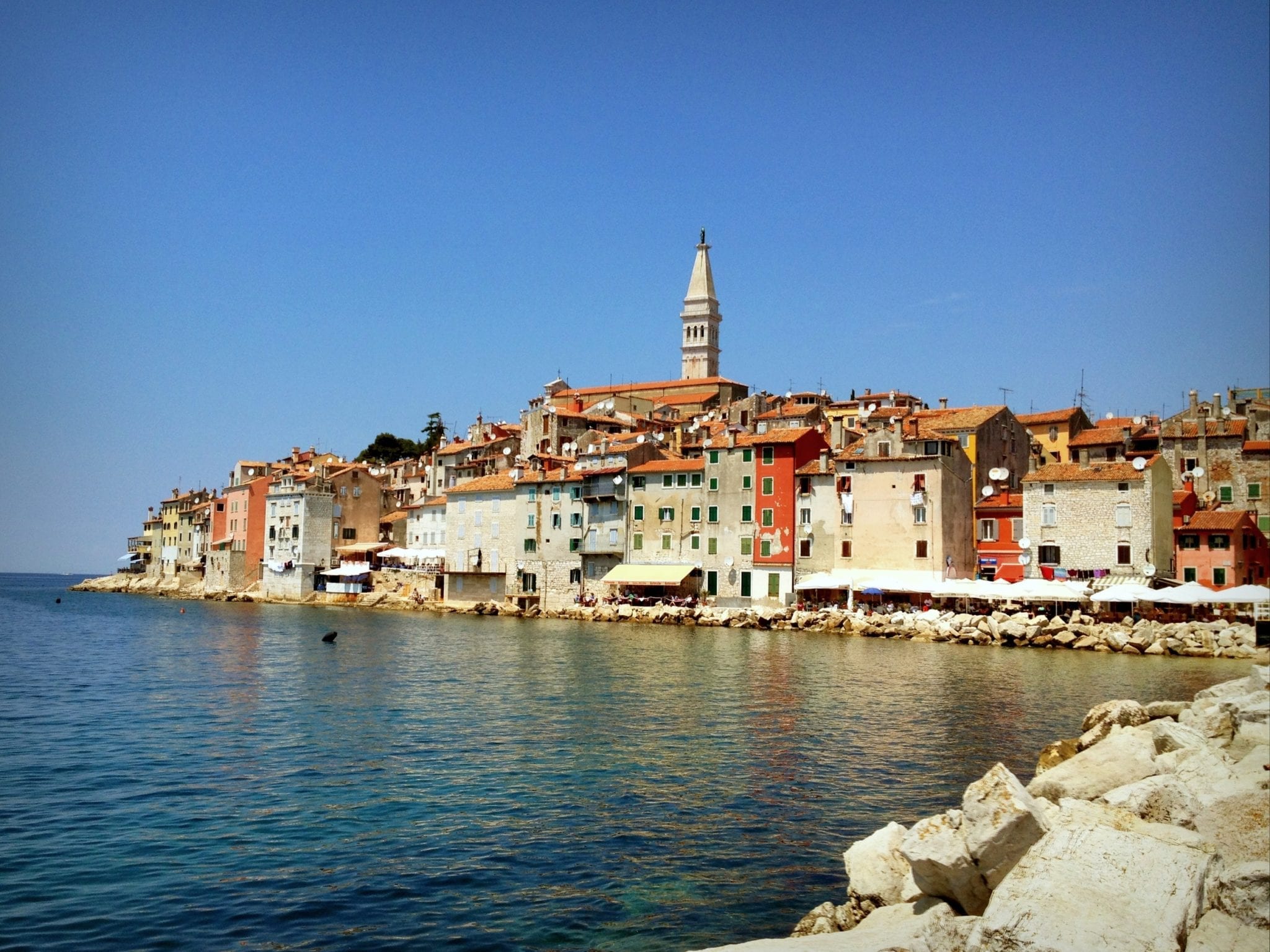 Istria Travel Tips
Istria is the most Italian part of Croatia. You'll think of Liguria when you see pastel seaside towns like Rovinj; you'll swear you're in southern Tuscany when you see hill towns like Motovun.
The true pleasure of Istria is visiting the villages that dot the countryside. For that reason, you're best off renting a car so you're not held to public transportation schedules. The food is similar to northern Italian cuisine and you'll be forever distracted by wineries and truffle shops.
Rovinj is one of the most lovely towns in Istria. You could argue that this is the most Italian town of all, painted bright colors and filled with cafes where locals sip espresso. This is the beauty, the historical town, and the one place you should absolutely visit while in Istria.
Don't knock Pula — it's more than just an airport. This Istrian city is home to Roman ruins, including an enormous amphitheater, photo galleries, and the excellent Jupiter Pizzeria. If you're planning to explore Istria by car, parking may be easier and cheaper in Pula than Rovinj.
Motovun is a hill town that looks like it's out of a Dr. Seuss book. Motovun is perched on top of a hill in an otherwise flat landscape. It looks magical. And it's full of paragliders and you can join them for a spin! What better place could there be to jump off with a parachute behind you? See more on paragliding here.
Kamenjak, located at the point of Istria's heart, is a top beach destination in Istria. This peninsula has a rugged coastline and tons of beaches, though most of them are rocky slabs. It looks completely undeveloped when you first see it, but be sure to hit up the Safari Bar for a beverage, a swing, and a climb up the treehouse!
Bale is a beautiful town to visit on the way to Rovinj. The winding streets here could be out of Umbria or Emilia-Romagna. One of the unique businesses is Kamene Priče, a bar and cafe that puts on unusual performances.
Groznjan is a tiny hill town with a twist — it has a summer music school! You'll hear students practicing all kinds of instruments if you visit in July or August. Even without the music, it's a beautiful town with lovely views. Hit up Kaya Energy Bar and Design for a coffee and a slice of cake.
The town of Labin is perched on a hill that swiftly lowers to the sea. It has a beautiful skyline, one of the best in Istria, and the buildings are painted a million different colors.
Hum, in Istria, claims to be the smallest town in the world. Many place in the world dispute that assertion, but it's a fun and kitschy place to stop for a coffee on the way out of Istria.
Istria is full of wineries, particularly in the western half of the region. I recommend Trapan in Šišan, near Pula; some others are Kozlović, Roxanich, and Rossi.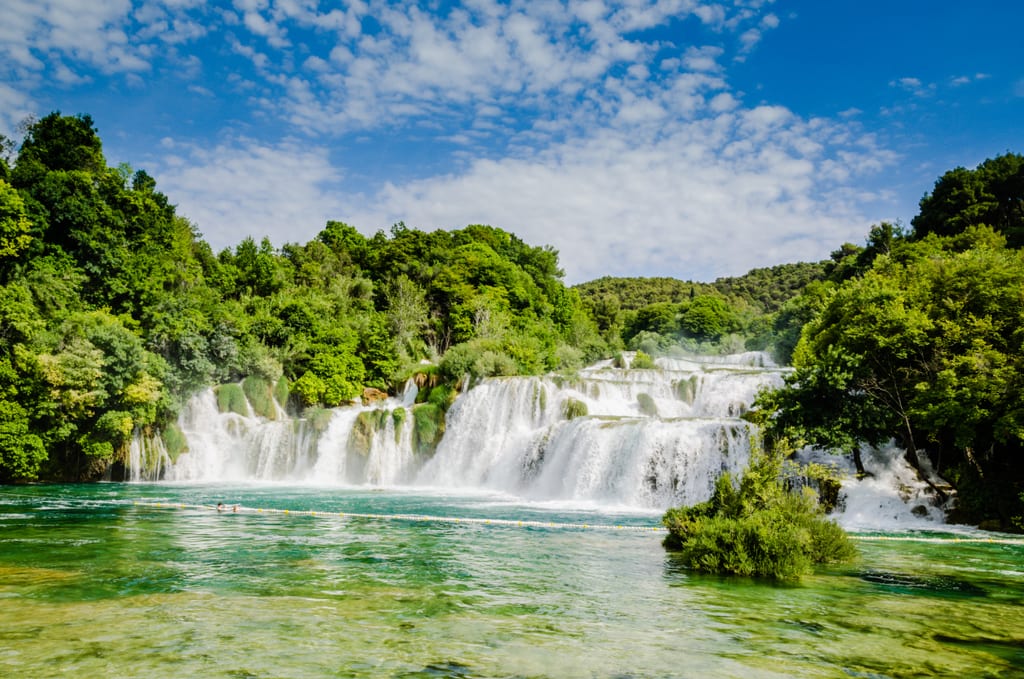 Croatian National Parks Travel Tips
If you're heading from Zagreb to Zadar (or vice versa), there's a bus that stops at the lakes. Otherwise, unless you have a car, you're best off joining a tour. You can do a day trip from Zagreb or from Zadar or from Split.
One full day is the perfect amount of time for the Plitvice Lakes (or for Krka National Park). You don't need any more time than that unless you're a serious photographer looking for particular shots. (And if you are, know that it will be difficult with the crowds.)
If you're looking to swim in front of waterfalls, Krka National Park is the place to do it! Unlike the Plitvice Lakes, where signs are warning you not to go in, you can go swimming in the lake at Krka. The only rule is to keep a bit of distance from the waterfalls.
---
---
Paklenica National Park is a fantastic destination for rock climbing and it's close to the Dalmatian coast. Even if you're not into climbing, there are some terrific hiking trails. It's a short drive from Zadar.
Slavonia, the northeast part of Croatia between Hungary, Serbia, and Bosnia, is the ultimate off-the-beaten-path destination. You can dive into the forests in Papuk, UNESCO's only geopark in Croatia, and if you're a bird-watcher, the wetlands of Kopački rit are rich in wildlife. Use the riverside city of Osijek for a base.
Dalmatian Coast Travel Tips
Sailing down the coast of Croatia is one of the best trips I've ever done. I recommend a weeklong sailing trip from Split to Dubrovnik.
Not up for a multi-day sailing trip? You can still enjoy sailing with a day trip from Zadar to the Kornati Islands or a day trip from Dubrovnik to the Elafiti Islands.
Most of Croatia's beaches are rocky, not sandy. This can take the form of pebbles or giant slabs. Be prepared — you may want to bring a padded beach mat/chair hybrid.
Croatia is one of the most naturalist-friendly countries in Europe. Many beaches in Croatia have a clothing-optional section; if not, topless sunbathing is accepted and common.
Zadar is a marvelous city and my personal favorite destination in Croatia. This seaside enclave has the perfect combination of natural beauty, culture, quirks, and delicious food. It definitely gets tourists but it's not a tourist takeover like Dubrovnik. Most special are the Sea Organ and Sun Salutation — two pieces of art the community can enjoy, one auditory, one visual. And Alfred Hitchcock once declared that Zadar had the world's best sunsets.
---
---
Know what Split is and isn't. Split is a beautiful city and attracts a lot of holidaymakers looking for sun — but it's not a beach town. The beaches are a considerable distance away. I think the perfect time to spend in Split is one or two days, unless you're using it as a base for day trips around the region.
Makarska is a cheaper beach destination that provides value for money. Makarska tends to be more popular with domestic and Balkan tourists; it's not heavily marketed otherwise. You'll find a lovely stretch of beach, some nice local restaurants, and accommodation for far less than what you'd pay on the islands.
Hvar is known as the party island, but that's not all it has to offer. Hvar's clubs heat up in late June, July, and August — there isn't much of a scene even in the shoulder season. You can also explore the pretty old town, go wine tasting, or hire a scooter and see as much of the island as possible. (Hvar is one of the larger islands in Dalmatia, so if you're going to rent a scooter somewhere, this is a good place.)
The island of Brač is home to one of Croatia's most famous beach. Zlatni Rat is often referred to as the best beach in Croatia. Unlike most Croatian beaches, it's made of soft sand! It sticks out into the ocean like a point and its unusual shape makes it popular with drone photographers.
Pučišća is an almost unbearably picturesque village on the island of Brač. All the buildings are made of blinding white limestone, surrounding a pale turquoise bay. Very few tourists make it here — enjoy that!
The tiny island of Vis is home to a blue grotto. When the sun is at the perfect intensity, the cave glows bright blue. Vis doesn't appear on a lot of tourist itineraries, so enjoy the peace and quiet!
Korčula island claims to be the birthplace of Marco Polo. Not all historians agree on that (though Korčula was once part of Venice), but the island has pretty beaches and a charming old town. Don't miss Massimo Cocktail Bar, where you climb a ladder into one of the towers of the city walls. Get there before sunset for a good seat.
The island of Mljet is home to bright green saltwater lakes. If you've never gone swimming in a saltwater lake before, this is a beautiful place to do it. And your photos will be amazing. If you're not visiting Mljet on a sailing trip, visit as a day trip from Dubrovnik.
When driving down the coast, you'll need to go through border control twice. There is a tiny sliver of Bosnia that touches the coastline — the town of Neum. Because of this, the southeasternmost part of Croatia, which includes Dubrovnik, is cut off from the mainland. Don't worry; tourists cross this border every day and your passport won't be stamped, just checked.
And if you want to party across Croatia's islands, the biggest party of all is The Yacht Week. Rent a sailboat with a group of likeminded people and sail from island to island and party to party. Despite its name, it takes place for several weeks from June through September.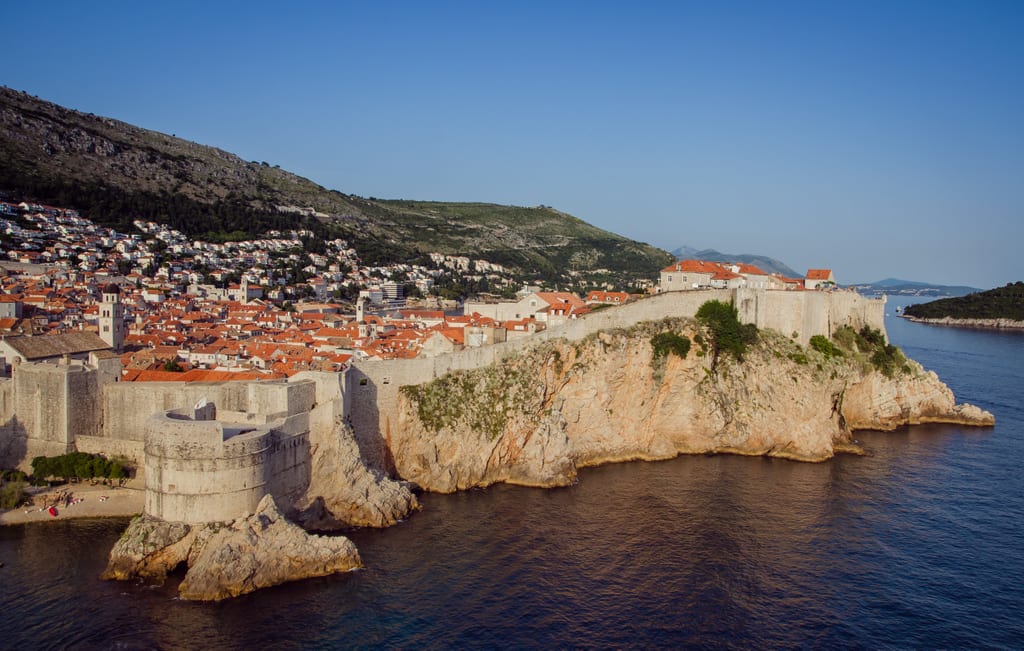 Dubrovnik Travel Tips
Many people find Dubrovnik's Old City to be overwhelmingly busy. Most Old City residents rent their homes out in summer, so it's almost entirely tourists. If you are visiting during the summer months, I recommend staying out of the Old City until sunset or so, when the cruise ship tourists leave and the streets empty out.
Walk the walls of the city. The views are outstanding and your photos will be fantastic, but this can be uncomfortably hot if you do it in the middle of the day. I recommend doing so as late as possible, for both heat and photography reasons, so double-check their closing time.
Go on a Game of Thrones tour. Dubrovnik has served as the filming location for King's Landing throughout the series, and going on a Game of Thrones tour will show you where scenes were filmed, complete with screenshots from the show for comparison.
Go on a kayaking tour. By now you know how beautiful Dubrovnik is. If you've seen the city from every angle, you need to see it from the water, too! You can even kayak to Lokrum Island.
Cafe Buža is a cafe with two locations built into the outer city walls, just steps from the water. You can order a coffee here and then go swimming! While these cafes aren't unknown, it feels like you've stumbled upon a secret.
---
---
The best ice cream in Dubrovnik is at Slastičarnica Dolce Vita. Be sure to try their signature bitter orange flavor — they recommend pairing it with chocolate.
One of the best places to take photos at golden hour is Lovrijenac, aka St. Lawrence's Fortress. The views of the walled city are astounding from this angle.
D'vino Wine Bar is a great place to spend an evening while trying Croatian wines. Affable owner Sasha will be happy to help you find the perfect local wine for you.
My personal favorite hotel in Dubrovnik is the Hotel Excelsior. It has perhaps the best location possible in Dubrovnik — technically outside the Old City but close enough for it to be a short walk. While it has its own pool and private beach (both with incredible views), City Beach is close by as well.
If you're on a budget in Dubrovnik, Fresh Sheets is a lovely hostel with both dorms and private rooms in the heart of the Old City. I think this is among the best value places to stay in the country.
I can't see why you'd ever want to leave Croatia, but just in case, Dubrovnik is close to two international destinations. It's possible to do a day trip to Mostar and Medugorje, Bosnia, or a full day exploring Kotor and its nearby towns in Montenegro.
If you'd like to be close to Dubrovnik but in a much more peaceful, resort-like environment, consider Cavtat. It's quieter, less of a zoo, and a much shorter journey from the airport.
Dubrovnik is a very safe place to visit. You do see the scars of war of the 1990s, especially when walking the rooftops, but there is zero war-related violence taking place in Dubrovnik today. It's on par with the safety of most touristy European cities.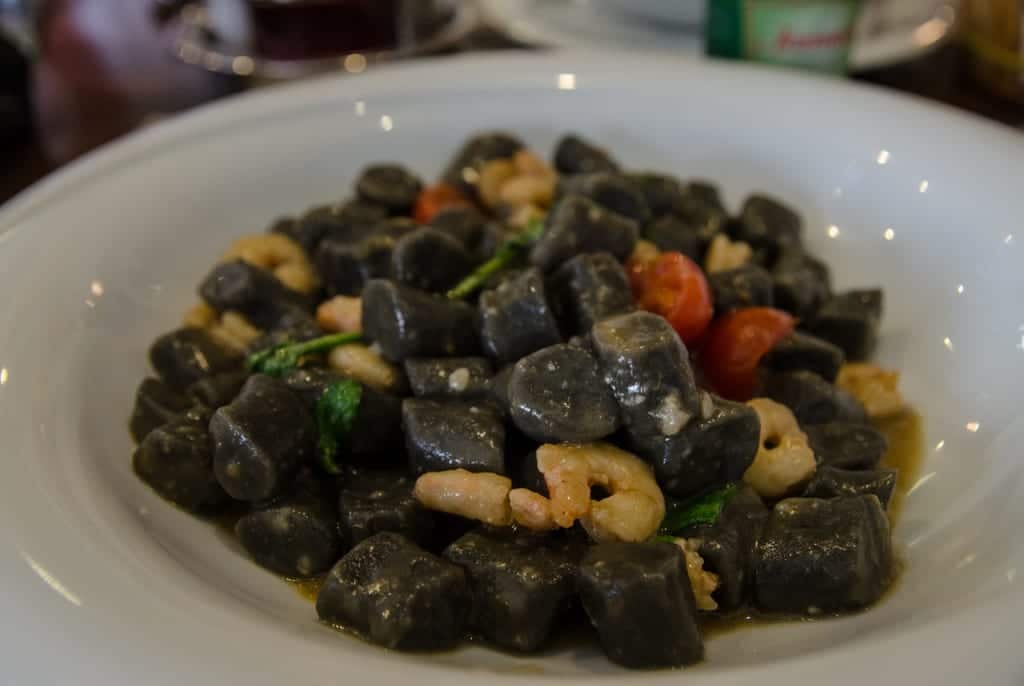 Croatia Food Tips
Croatia is one of the best places in the world to feast on truffles for cheap. Istria and in particular the Motovun region is rich in truffles and you can often get pasta topped with shaved truffles for around $10. For the ultimate Istrian dish, have the truffles over fuži pasta, a rolled shape similar to ziti that is popular in the region.
Lunch is the main meal in Croatia. If you're spending time with Croatians, don't be surprised if you have a big meal for lunch and grab something small and quick for dinner. It might take a little getting used to, but your body will grow to love it!
Pag cheese is a hard sheep's cheese native to the Dalmatian island of Pag, but you'll find it throughout the country. This is the perfect appetizer to any meal in Croatia.
Be sure to try Croatian pršut if you're a meat-eater. This cured ham has a very distinct salty and smoky flavor — far bolder than Italian prosciutto. And there are no preservatives or additives other than salt.
Squid ink risotto is a Croatian specialty. The ink turns the risotto black — and it will (temporarily) turn your teeth black! Don't forget to swish out with a bit of water when you're done.
Croatia, like all Balkan countries, has a fabulous cafe scene. Spend your days at outdoor cafes sipping coffee slowly over the course of several hours, then return to the same cafes for beer or wine once the sun starts to go down.
Croatia has an excellent wine scene, especially in Istria and Dalmatia, so be sure to sample local wine wherever you go. Most of the vineyards are small, so it's hard to find Croatian wine in countries like the US. If you find something you like, bring a few bottles home!
Hit up Jupiter Pizzeria in Pula for some of the best pizza around. I still dream of their black truffle pizza. Be sure to get it with tomato sauce.
Have dietary restrictions? There are lots of vegetarian dishes in Croatia; being a vegan is a bit more challenging, but HappyCow is a great resource for local restaurants. If you're trying to eat healthy or paleo, you can always get fresh seafood with roasted vegetables. And if you're a picky eater, you can find pizza everywhere.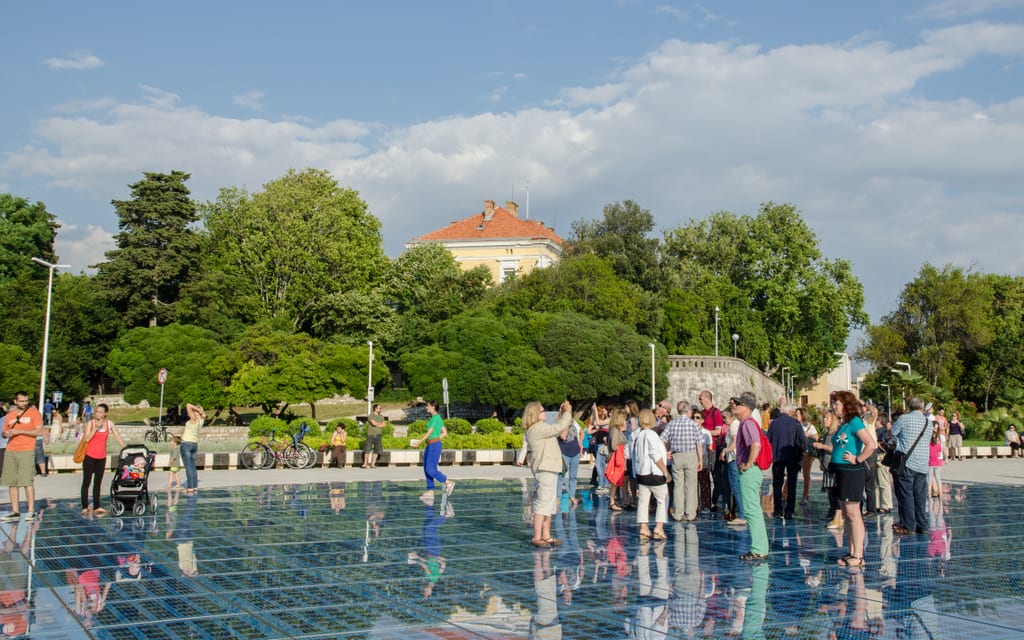 How to Get Around Croatia
Renting a car is the best way to see the country. Croatia's roads are in excellent condition, the drivers are much more chilled out than their Slovenian and Italian neighbors, and the country is small enough that you have enough time to explore small towns in between the bigger places.
If you'd like to get around Croatia by ferry, look up the Jadrolinija Ferries. These ferries go across Croatia, from the Dalmatian coast all the way north. They also have international ferries to Ancona and Bari in Italy.
You can see all Croatia ferry schedules here.
The trains in Croatia only cover part of the country. While the northern part of Croatia is well-connected both domestically and internationally — including Zagreb, Slavonia, and some of Istria — there isn't as much coverage in the south. There are no trains running past Split, which means if you're traveling to Dubrovnik overland, you'll need to get there by car, bus, or boat.
Consider renting a motorbike or scooter for part of your trip. I'd especially recommend this for exploring the islands, the Dalmatian coastline, and the villages of Istria. Be sure to have your license and wear a helmet.
If you're flying in from abroad, you have options besides Zagreb and Dubrovnik. Consider flying into Pula, Zadar or Split. Keep in mind that many routes to the Dalmatian coast are only active during the summer months.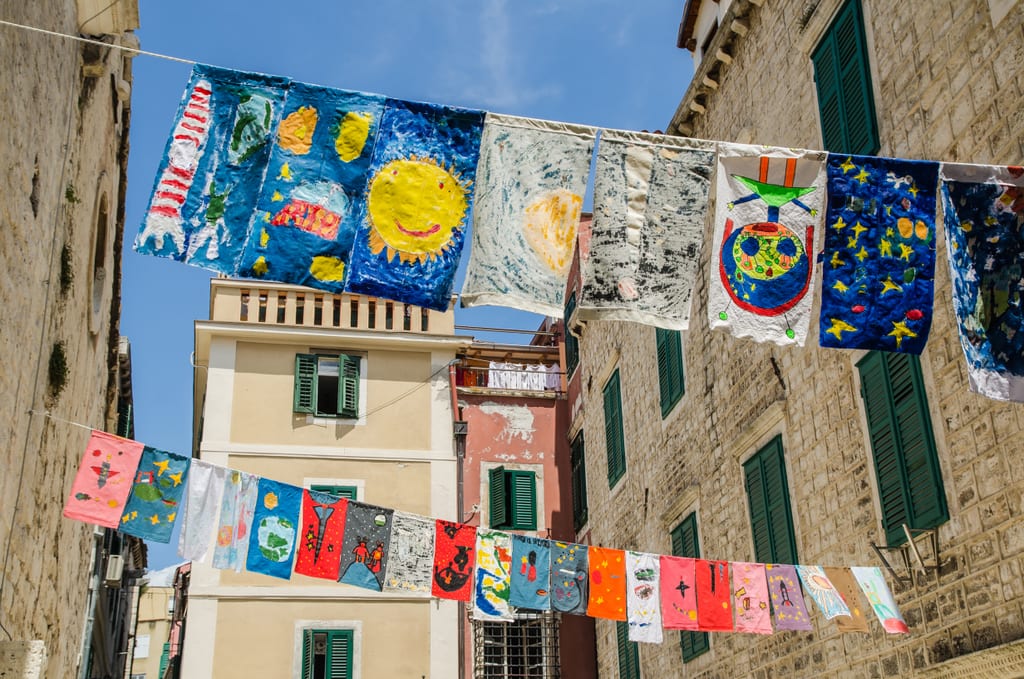 Croatia Festivals
Carnival is a major celebration in Croatia, though it doesn't get as much international press as other countries! The day before Lent, in February or March, is time for parades, costumes, and celebration. The biggest Carnival celebration in Croatia takes place in Rijeka.
Open Wine Cellar Day in Istria takes place on the last Sunday in May. You can drive around different independent wineries in Istria and sample their wines for free.
Ultra Music Festival is Croatia's biggest music festival. The lineup and locations change from year to year, but you can count on electronic music and a spectacular beachside location in the month of July.
Soundwave is a music festival in July that blends eclectic soul-stirring music with a location in a secluded cove in Tisno on the Dalmatian coast. Party and enjoy the music on the beach, on boats, and in the water. The music is a mix of soul, house, reggae, and more.
Zagreb's International Folklore Festival is a great way to dive into traditional Croatian culture. Taking place in July, there are performances in traditional costumes, concerts, workshops, and learning opportunities on Croatian food, music, and dance.
Istria is home to two major film festivals. The Pula Film Festival and Motovun Film Festival both take place in July.
Nights of Diocletian, in August, is a time when Split returns to its Roman roots. Expect to see gladiators roaming the town, performances taking place, and Diocletian himself making appearances. Join the locals — throw on a toga, grab some food, and dance to the music!
Outlook is another Croatian musical festival and one of Europe's largest sound system celebrations. It takes place in the Punta Christo fort in Pula in September.
If you love truffles, be sure to visit for Zigante Truffle Days! This festival takes place during the fall in Livade, near Motovun in Istria, and it features a truffle fair, cooking demonstrations, and lots of delicious truffle products to sample and enjoy, along with Istrian olive oil and other local specialties.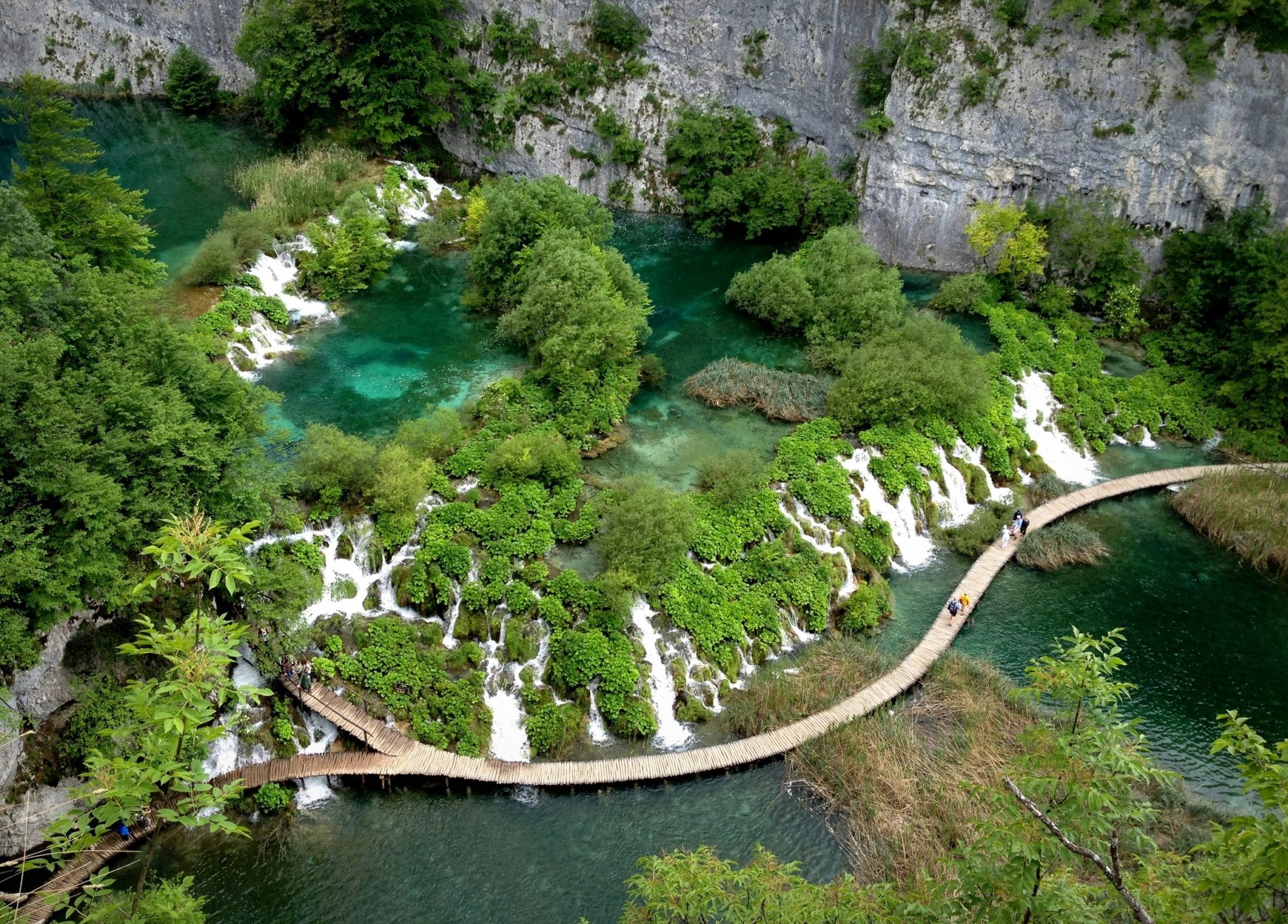 Croatia's UNESCO World Heritage Sites
The Historical Complex of Split with the Palace of Diocletian (1979) is a palace unlike most you've seen. The original palace was built in the 3rd and 4th centuries; today, the remains of the palace are considered the Old Town of Split. This is one of the few palaces where you can sleep overnight — because there are tons of hotels in it!
The Old City of Dubrovnik (1979, 1994) is the most visited UNESCO World Heritage Site in Croatia. Dubrovnik was a major sea power from the 13th Century onwards, and the fortified Old City is home to Gothic, Renaissance, and Baroque buildings.
Plitvice Lakes National Park (1979) is Croatia's most famous natural wonder. Thousands of years of water running over chalk has evolved the landscape into a series of lakes, caves, and waterfalls.
The Episcopal Complex of the Euphrasian Basilica in the Historic Centre of Poreč (1997) is among the earliest surviving monuments of early Christianity in Europe. The religious complexes date back to the 4th century.
The Historic City of Trogir (1997) is a small walled city with an orthogonal street plan with Romanesque churches set amongst Renaissance and Baroque buildings.
The Cathedral of St. James in Šibenik (2000) was constructed by three architects over three time periods and is recognized for its blend of architectural styles (Gothic and Renaissance) and artistic influence from the surrounding regions (Northern Italian, Dalmatian, Tuscan).
The Ancient and Primeval Beech Forests of the Carpathians and Other Regions of Europe (2007, 2011, 2017) cover 12 countries in Europe and demonstrate the adaptability of the beech tree and its ability to survive in different climates. In Croatia you'll find them in Paklenica National Park and Hajdučki i Rožanski kukovi.
Stari Grad Plain (2008), on the island of Hvar, is a cultural landscape that dates back to the 4th century, when it was inhabited by the Ancient Greeks. You can see the stone walls that divided agricultural land to this day. Stari Grad Plain is best seen while exploring Hvar by scooter.
The Stećci Medieval Tombstone Graveyards (2016) are shared between several countries in the former Yugoslavia. These limestone tombstones date back to the 12th-16th centuries and are categorized by their medieval carvings and iconography. The Croatian sites are at Velika and Mala Crljivica, Cista Velika, and St. Barbara, Dubravka, Konavle.
The Venetian Works of Defence between the 16th and 17th Centuries (2017) are Croatia's newest UNESCO World Heritage Site, shared with Italy and Montenegro. These are the fortifications that protected the Republic of Venice, which once included much of Croatia. The two sites in Croatia are the Defensive System of Zadar and the Fort of St. Nikola near Šibenik.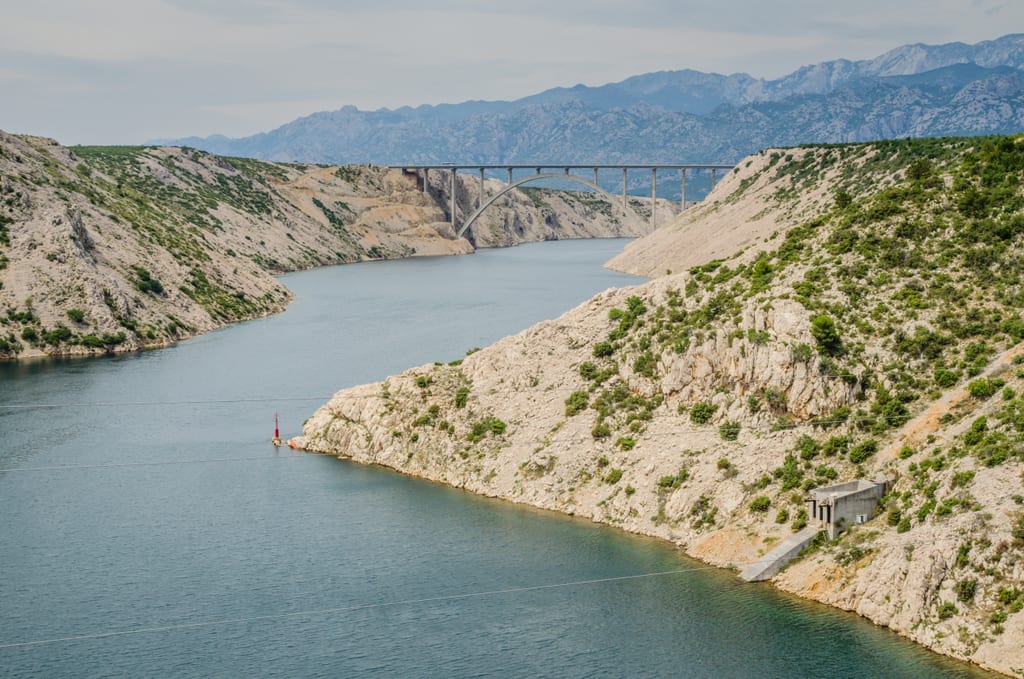 Planning a Trip to Croatia
I would argue that Croatia is easier to travel than France, Italy, or Spain. There's much better travel infrastructure, much less of a language barrier, and less of a cultural barrier as well. You don't have to deal with French aloofness, flirtatious Italian men or the Spanish siesta. Things just work here. It's like the Germany of the Adriatic.
English is spoken throughout Croatia, especially on the tourist trail. For the most part you won't have communication issues, but it's kind to use a few local words — zdravo means hello and hvala means thank you.
The best time to visit Croatia for beautiful weather and slightly less crowds is September. The weather will be beautiful and there will be far fewer tourists.
Book ahead in the summer months! Summer tends to fill up quickly, especially in Dubrovnik. You'll have a much better selection if you book months in advance.
Visiting in the off-season can be a gamble. Many businesses along the Dalmatian Coast and resort areas will be closed in the colder months; it may feel dead. But this is a great time to visit non-beachy areas. In particular, Zagreb is a wonderful destination year-round and if you're able to catch snow in the Plitvice Lakes, you'll be rewarded with incredible photos.
Bring comfortable but fashionable shoes — I have bad arches and live in comfy but cute shoes from The Walking Company. I strongly recommend black ABEO flats, which have fantastic arch support. You might also want to check out their walking sandals.
Croatia is an excellent destination for solo female travelers. While street harassment does exist here, it's far less than other countries in southeast Europe like Italy and Turkey. It's easy to meet other travelers on the backpacker trail.
Croatia is also a terrific destination for families. Croatians love children of all ages and popular destinations are set up for families to enjoy.
Don't forget to bring a digital guidebook! I recommend buying a PDF version of Lonely Planet Croatia and keeping it on your phone. It's environmentally friendly and saves you packing space.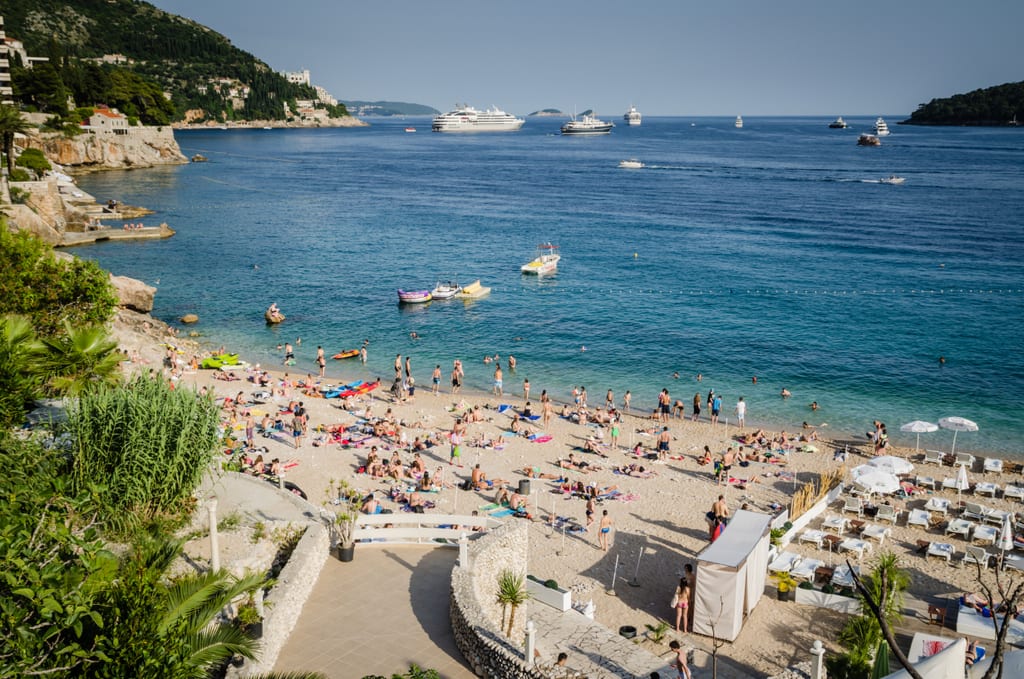 Safety and Security in Croatia
Croatia can get very hot in the summer and the sun can be strong — be cautious of the heat. Be sure to hydrate frequently, spend most of your time in the shade, and use broad spectrum sunscreen every day, not just when you go to the beach.
Pickpocketing is common throughout Europe's most popular tourist destinations. Don't put your wallet in your back pocket or other places where you can't keep an eye on it. Keep your belongings close to you.
Wear a crossbody purse that zips. This is the kind of handbag I recommend for keeping your belongings close and safe. Amazon has lots of affordable options. If you want to spend more, Rebecca Minkoff makes some of the best.
It's often difficult to figure out how to protect your belongings on the beach — this guide is full of tips.
Bring a portable safe — Leave your valuables locked in this and lock it to something sturdy in your room. I consider my portable safe the most important item I pack.
Don't visit Croatia without travel insurance. If you become ill or injured, travel insurance will allow you to get treatment and bring you home if you need to. I use and recommend World Nomads for trips to Croatia.
Planning a Trip to Croatia:
Croatian Islands and the Dalmatian Coast:
Istria and the North:
---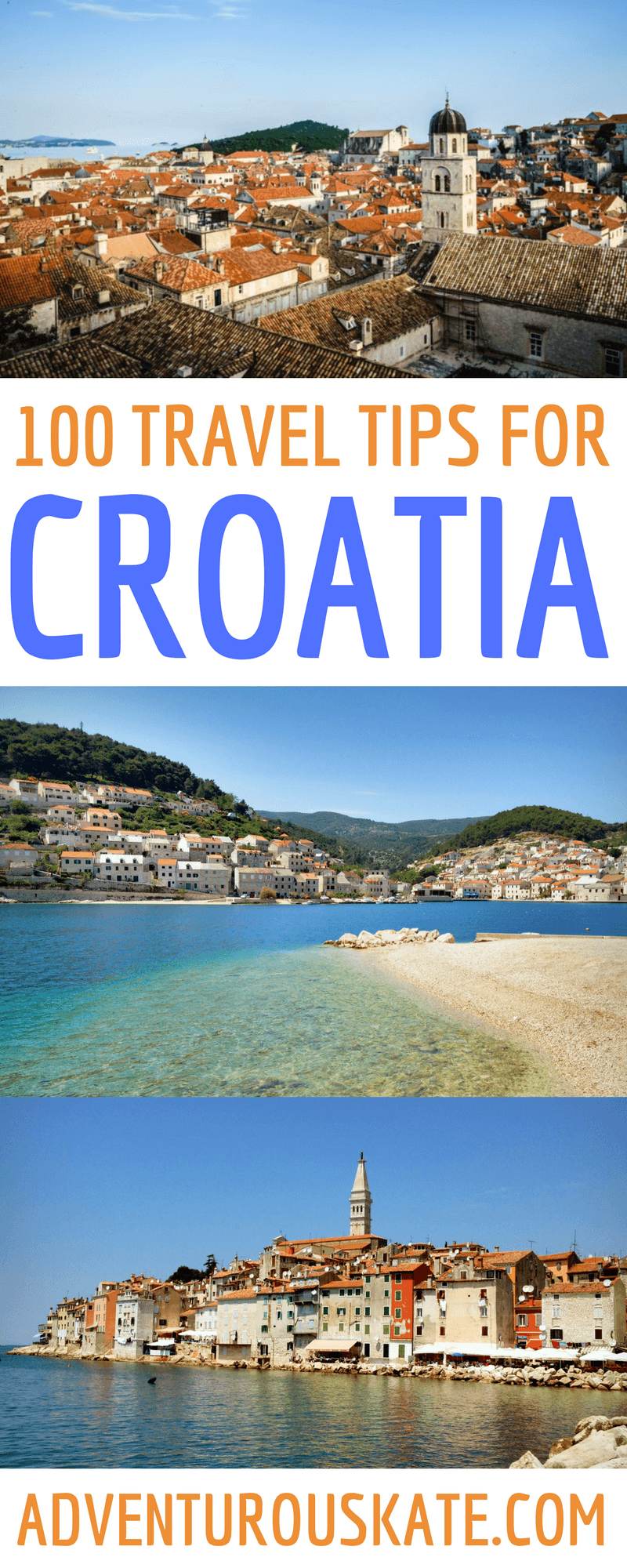 Have you been to Croatia? What tips would you add? Share away!
Get email updates from Kate
Never miss a post. Unsubscribe anytime!