Adventurous Kate contains affiliate links. If you make a purchase through these links, I will earn a commission at no extra cost to you. Thanks!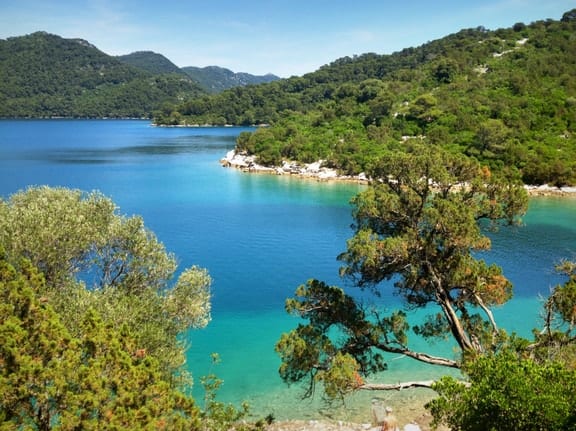 In Homer's The Odyssey, Odysseus spent ten years fighting in the Trojan War, then took the LONG way home — another ten years of sailing back to Ithaca and getting into many mishaps along the way.
Seven of those years were spent on the island of Ogygia in the arms of the nymph Calypso. As much as Odysseus wanted to get home to his wife, he couldn't resist the scintillating beauty of the nymph — nor that of the island, the most beautiful paradise he had ever seen.
Ogygia, as you would expect, isn't pictured on any maps today. But some people are pretty sure they know where it is — a beautiful and tranquil island called Mljet.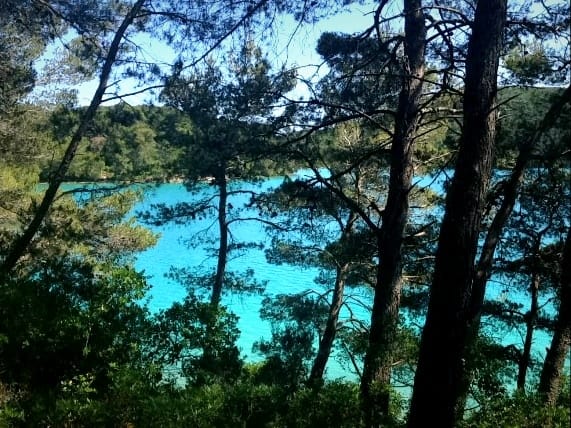 Mljet (pronounced mee-YET), one of the southernmost islands of the Dalmatian Coast, is an easy day trip from Dubrovnik (though I believe it's best seen on a multi-day Croatia cruise like my own).
Mljet is a sleepy island where you won't find much to do, but the natural beauty will knock you sideways. The piece de resistance is Mljet National Park, filled with cool, shimmering saltwater lakes in every shade of turquoise and teal you can imagine.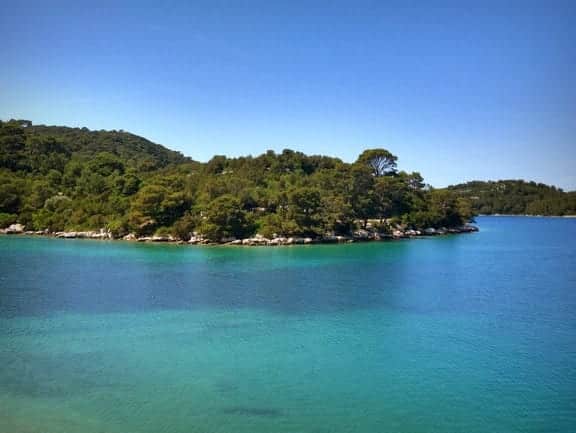 We didn't have long at Mljet. After our captain planned an abrupt and early departure, we realized that we only had about an hour to visit the national park — half of which would be spent on a ferry to and from the center of the park. Additionally, it would cost each of us 90 kuna ($15).
Expensive? Yes, especially for moderately priced Croatia. But we heard the park was truly spectacular, so we paid the fee and hopped on the ferry.
It was time to see Mljet at breakneck speed.
We jumped off the boat and sprinted up to the church, doing our quick and perfunctory photos of the local ruins.
Cultural obligations achieved, we ran down to the water's edge and jumped in!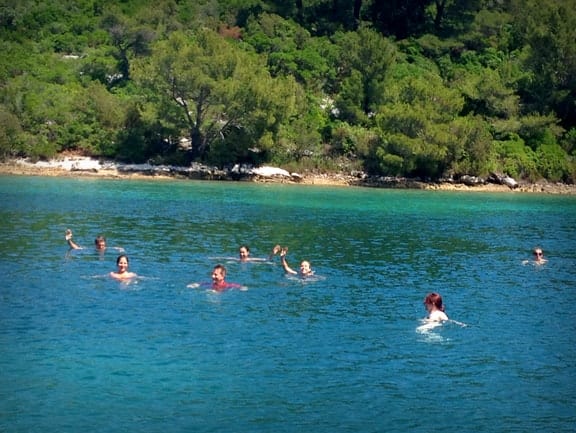 This water was SO nice — cool and velvety smooth! After experiencing a very chilly Adriatic Sea (we were there in early June, and it doesn't really warm up until late July), it was so nice to relax in a lake that didn't chill us to the bone.
High on adrenaline, we flung ourselves into the salty lake again and again, laughing our heads off. After our super-fast lake swim, we ran back to the ferry, making it back to the dock just in time to set sail to the mainland.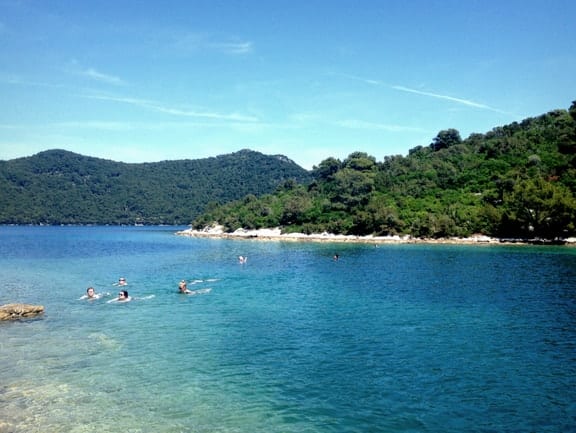 I loved Mljet — perhaps in part because we had so little time there. Everything was concentrated into thirty minutes of beauty, joy, and clear teal waters.
Any longer, and I would have been just like Odysseus — unable to resist the island's song, remaining in blissful captivity for the next seven years.
Planning a Trip to Croatia:
Croatian Islands and the Dalmatian Coast:
Istria and the North:
I visited Mljet as a guest of Busabout's Croatia One-Way Sail. All opinions, as always, are my own.
Get email updates from Kate
Never miss a post. Unsubscribe anytime!