Adventurous Kate contains affiliate links. If you make a purchase through these links, I will earn a commission at no extra cost to you. Thanks!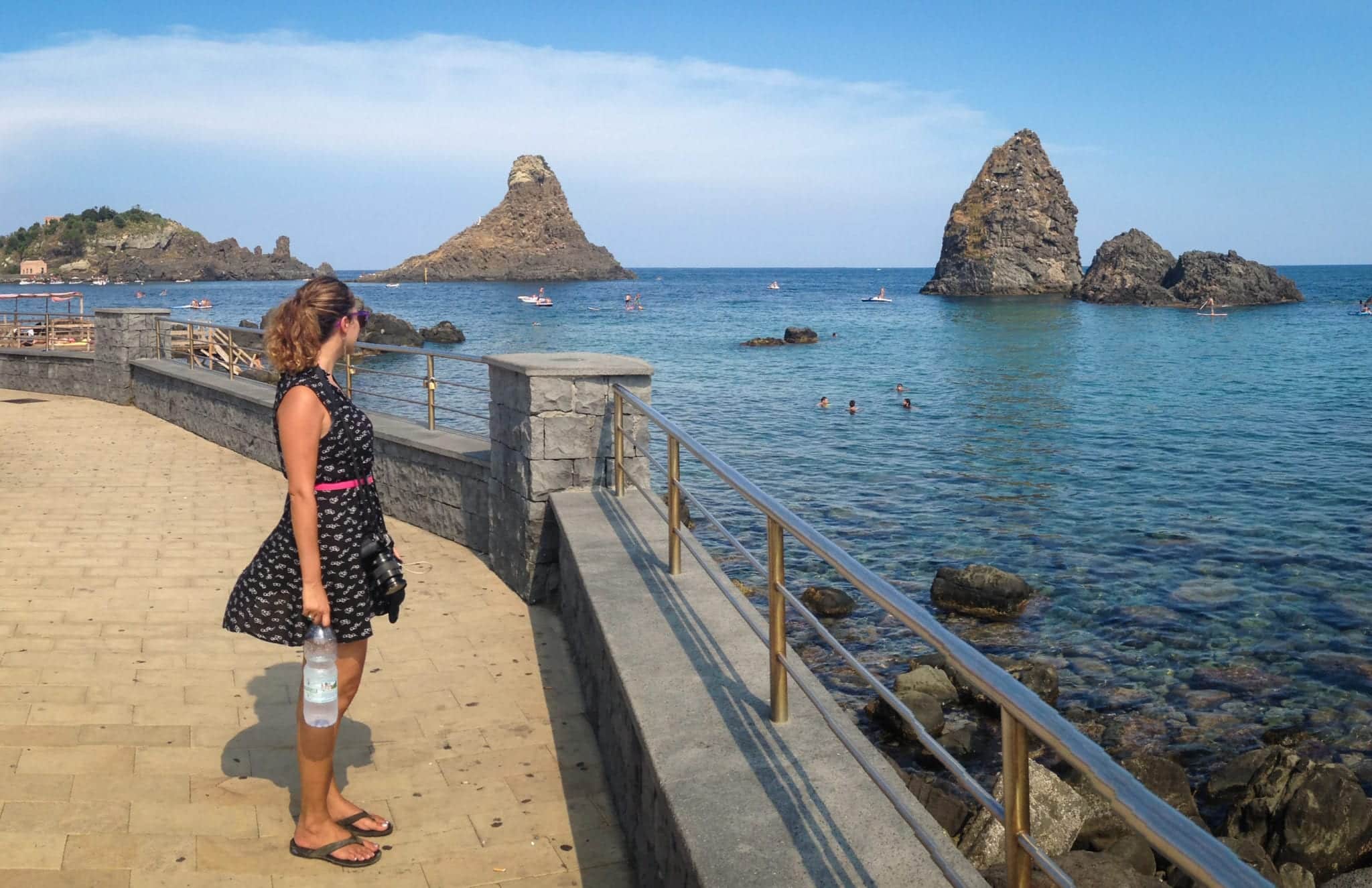 I love discovering a new place completely by chance. I had done a lot of research on Sicily beforehand, but one of my favorite places turned out to be a little seaside town I hadn't even heard of until the day my mom, my sister, and I visited.
It was our second morning in Sicily and we weren't feeling too energetic, but we wanted to get out and see somewhere.
"Why don't you go to Aci Trezza?" our agriturismo host Maria suggested.
Hmm. I hadn't heard of that. My mom and Maria started discussing the town as I absentmindedly scrolled through Snapchat, overhearing snippets of their speech every now and again.
A small town on the sea? Sure.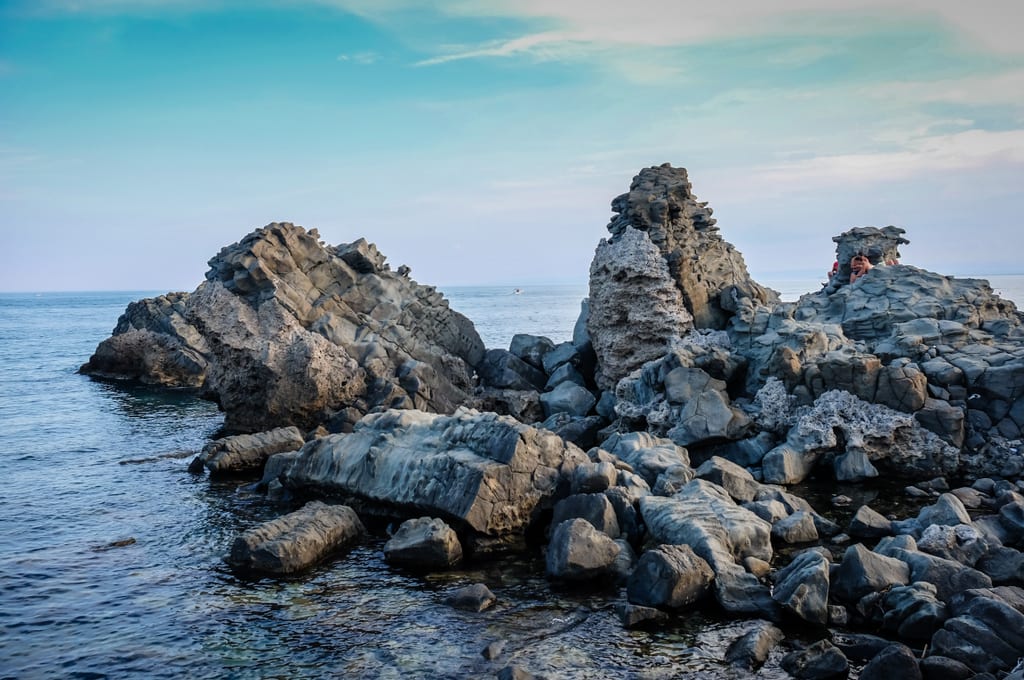 "What's that town, again?" I asked Maria's husband, Franz.
"Aci Trezza. It's close to Catania."
"Aci Trezza," I murmured as I pulled up driving directions on Google Maps. "Will it be tough to park?"
"Not during the day. More people come there at night to eat fish."
Hmmm. Could be good.
Without knowing anything beyond Maria and Franz's testimonial, we set off for that little seaside village — a village that I'd love to show you in photos.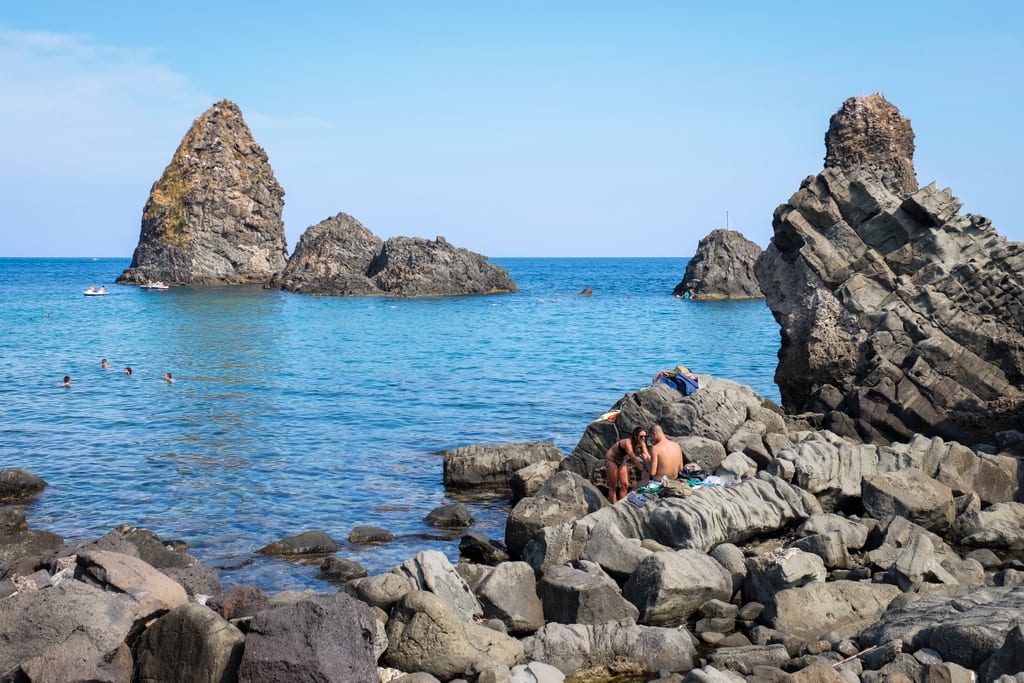 Aci Trezza is home to the Isole Ciclopi, or Cyclops' islands, rocks that rise out of the sea.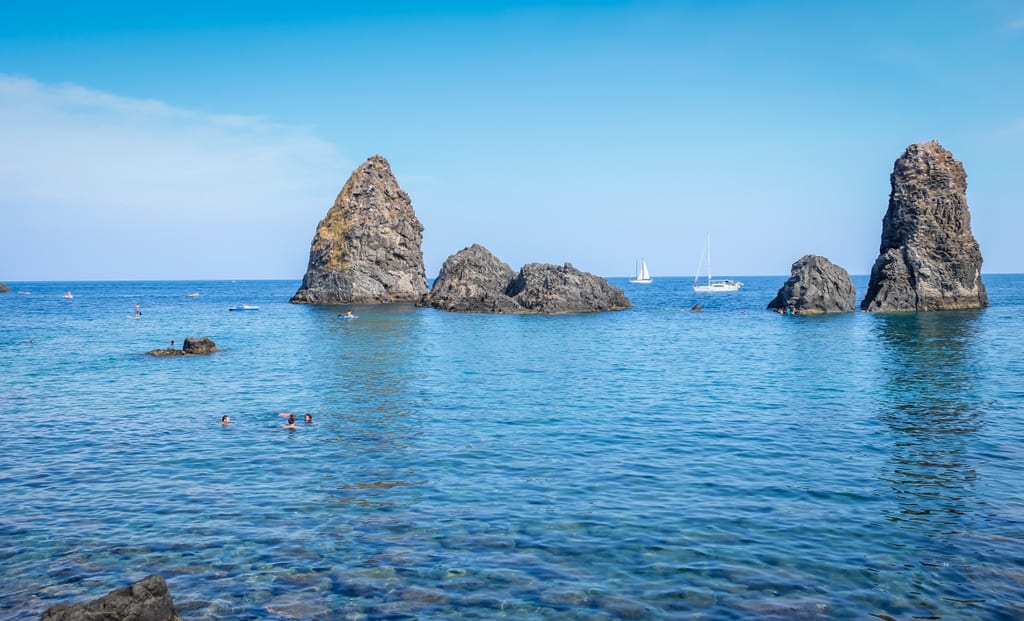 Like many islands in the Mediterranean, Sicily claims to be one of the destinations featured in The Odyssey. Namely, Cyclops is believed to have lived beneath Mount Etna and when he threw rocks at Odysseus, they landed in the sea here.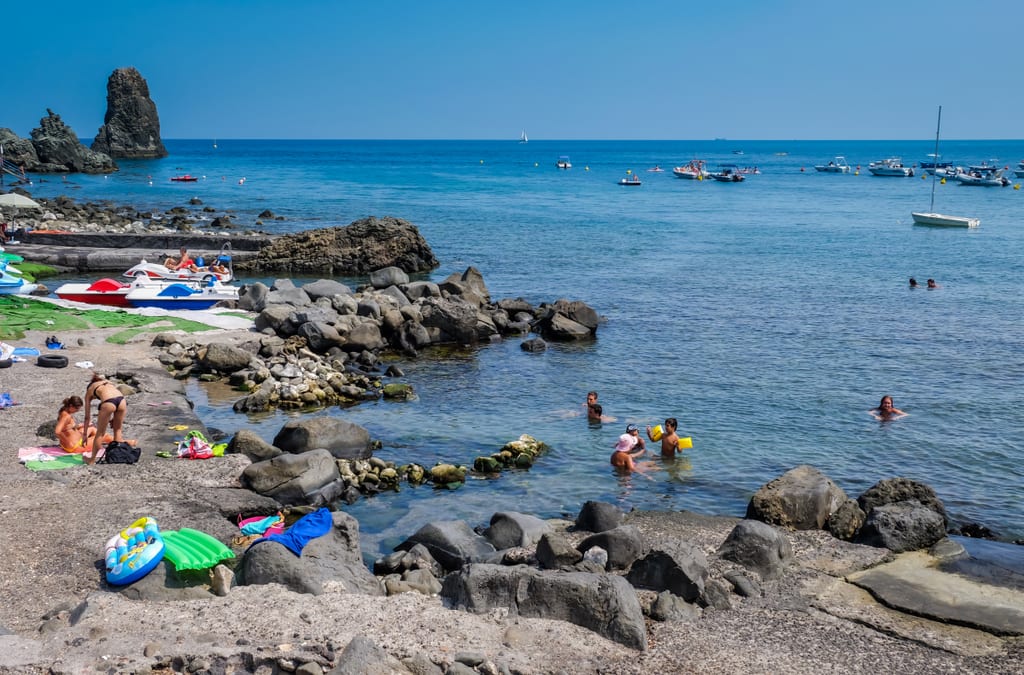 Aci Trezza isn't home to sandy beaches — instead, you'll find rocky areas for perching and sunbathing.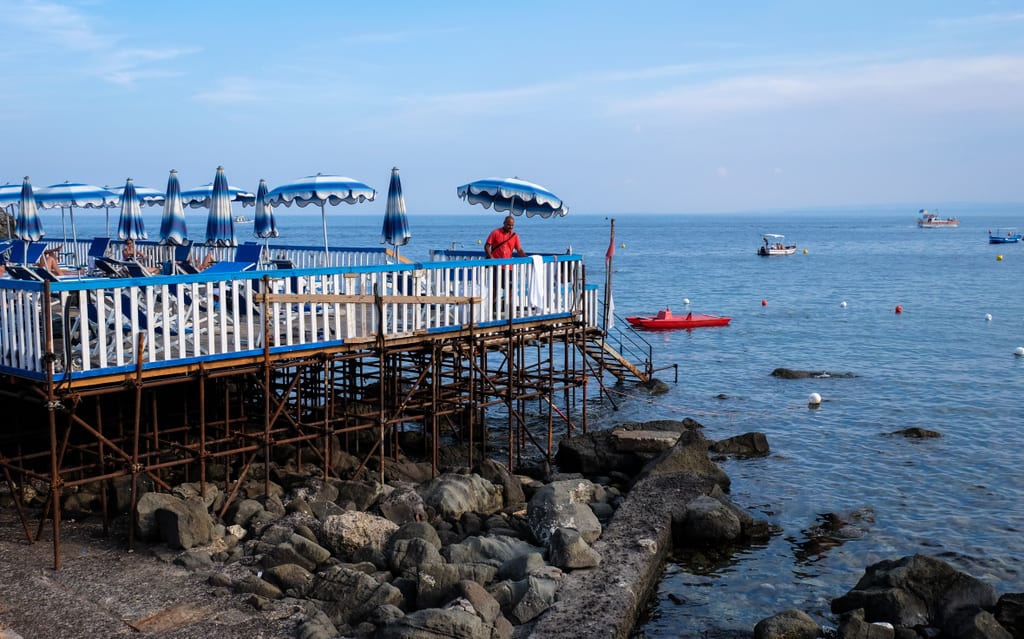 Better yet, go for a beach club built on a deck on stilts, where you can relax underneath an umbrella and walk down a staircase into the sea.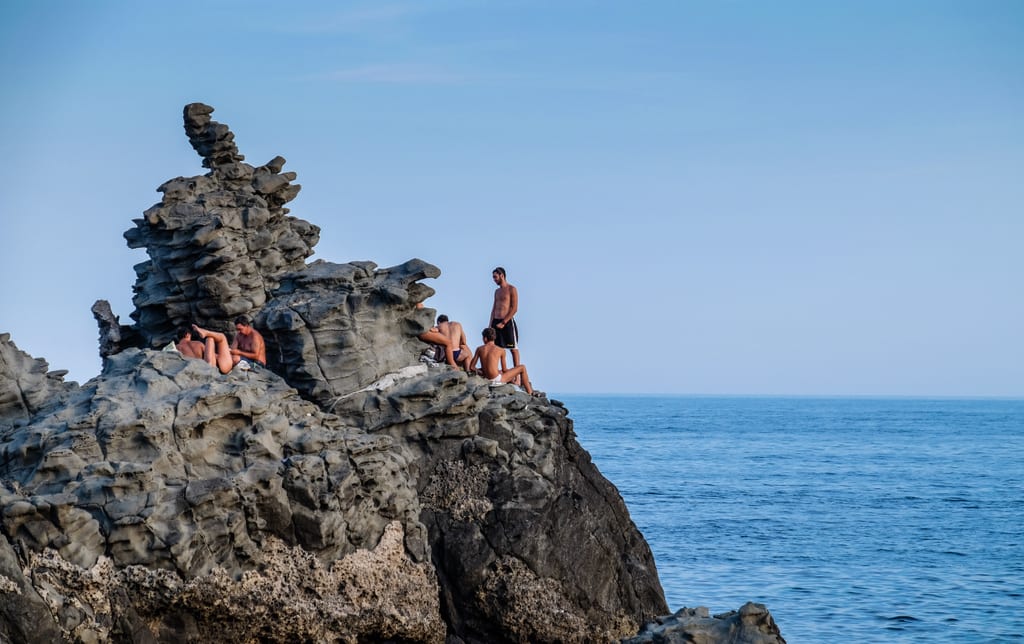 Of course, nothing beats this beach club, where you can feel like the king of the rocks!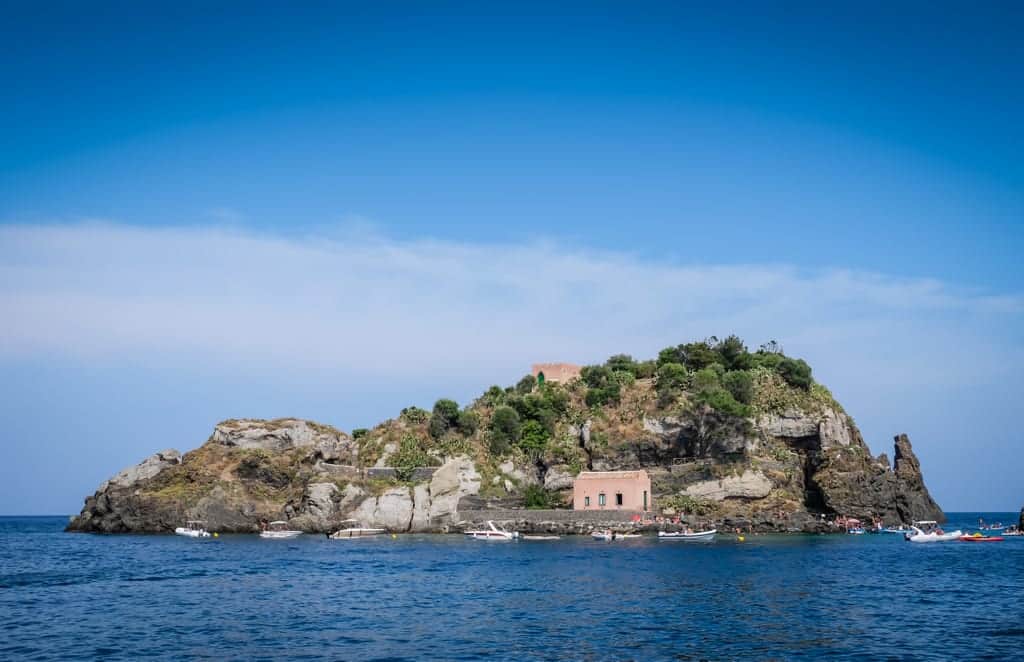 You can rent a boat or stand-up paddleboard and explore the islands, including this one, the largest island of all.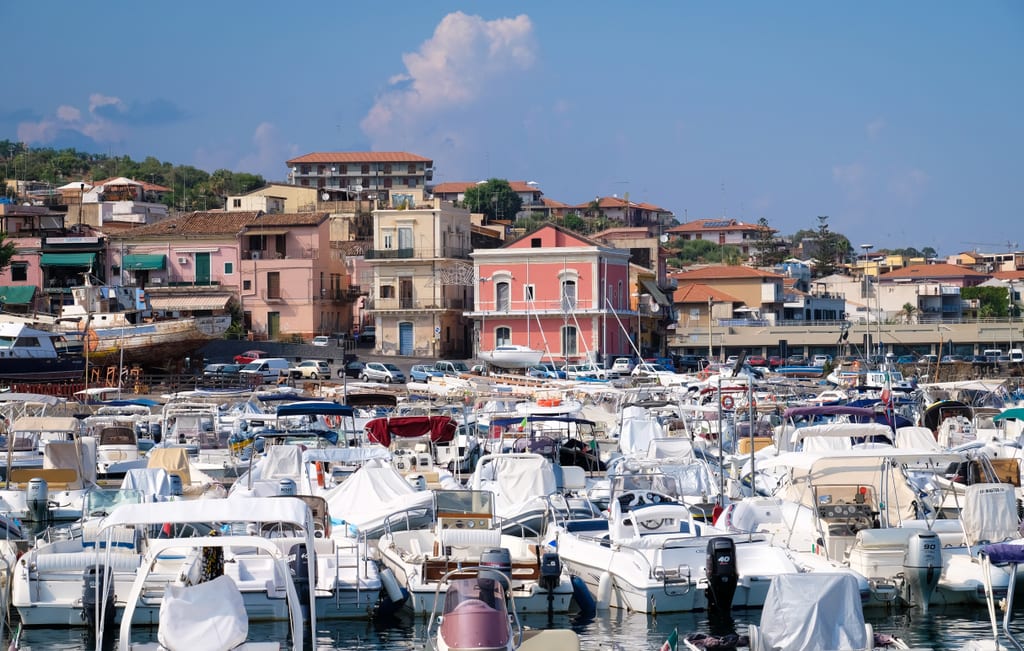 The marina? Pretty busy for such a low-key town.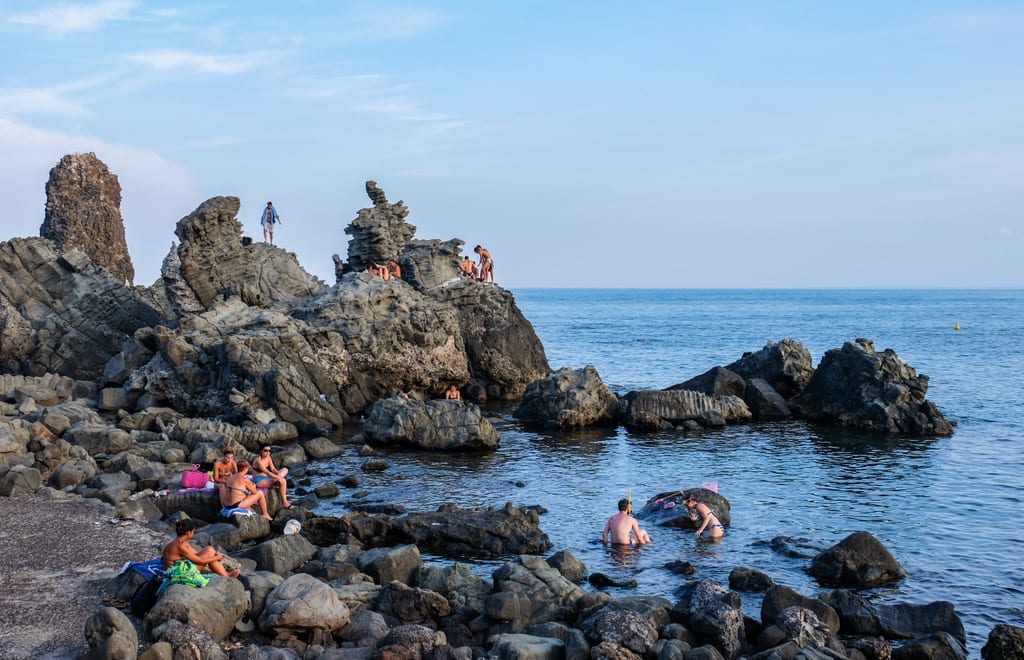 So did we do much in Aci Trezza? Nope! It was a glorious day of eating granita, crashing on chairs at the Ghenea Beach Club, and finishing the day with giant oysters and prosecco, the local 10 euro aperitivo.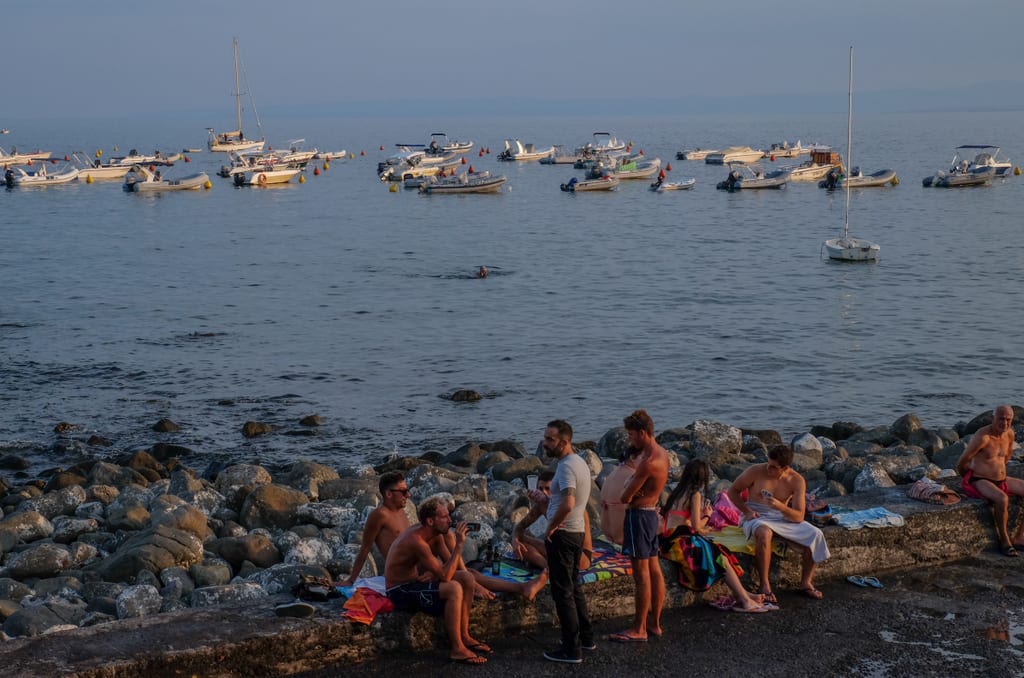 As the sun slowly set, boats in the bay slowly turning gold, I knew we had found something special — a respite from the constant craziness of a wild and unpredictable island.
It was rather short-lived. We took what looked like an easier route home and ended up in a goat stampede. Because it was still Sicily, after all.
Planning a Trip to Italy:
Cool Places in Southern Italy:
Cool Places in Sicily:
Cool Places in Northern Italy: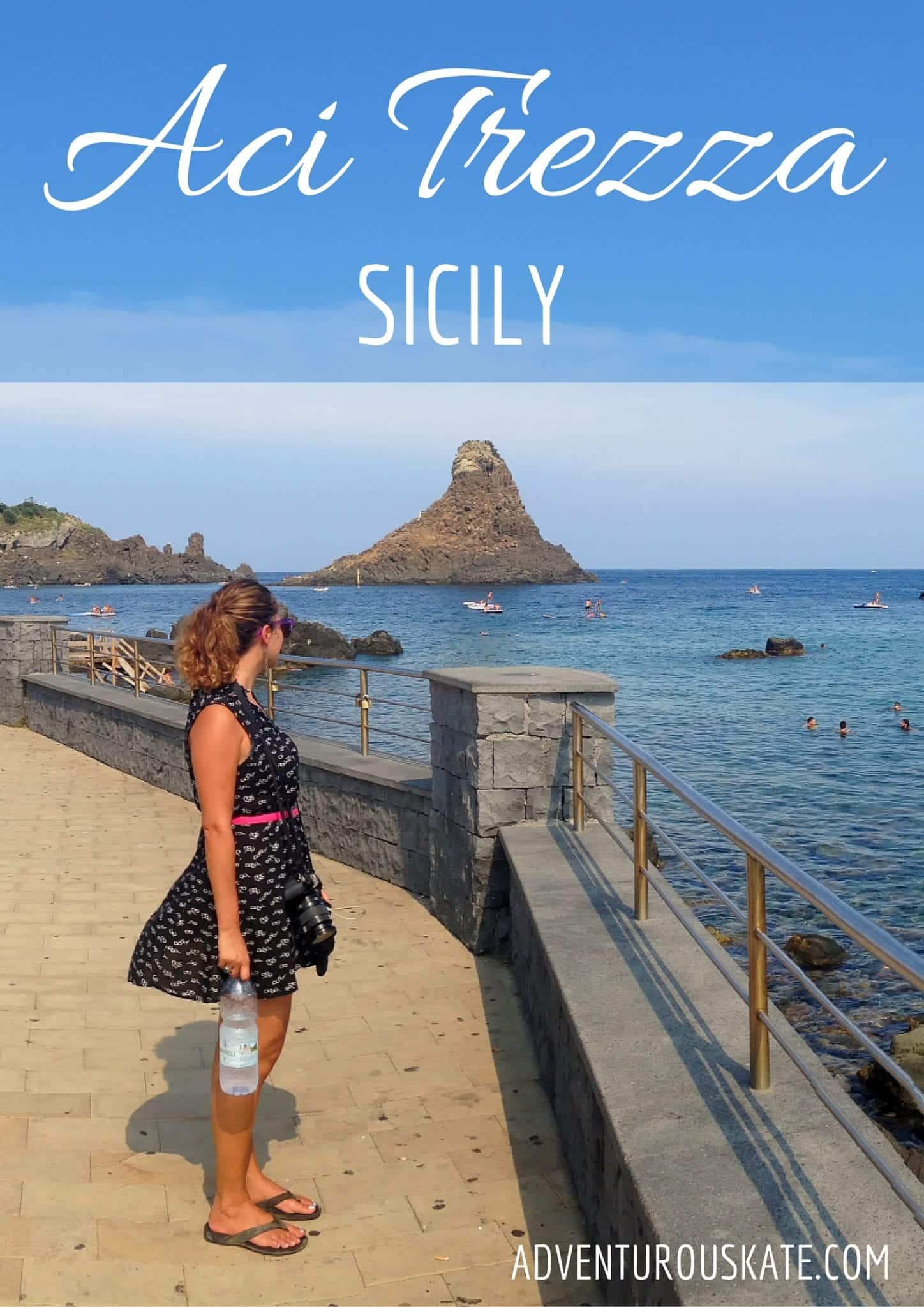 Essential Info: Aci Trezza is a few towns north of Catania. There is a cheap parking garage (follow the signs for parcheggio) on the main street that runs through town.

We spent our day at the Ghenea Beach Club. It cost just 5 euros ($6) per person and you get a chair, umbrella, table, and access to bathrooms and changing facilities.

We stayed in a two-bedroom suite at Agriturismo La Rocca della Rosa in Zafferana Etnea, which can also be booked on Airbnb here, for $115 per night plus Airbnb fees. This is a wonderful agriturismo with a pool, great food, and the kindest owners, Maria and Franz. You'll love it here. It's in a perfect location for exploring Mount Etna and northeast Sicily; the town of Zafferana is lovely, too (don't miss Blue Gel gelato!).

If hotels are more your thing, you can find the best prices on hotels in Zafferana Etnea here.

Make sure you purchase travel insurance before your trip. I use and recommend World Nomads.
Where's your favorite seaside town that nobody knows about?
Get email updates from Kate
Never miss a post. Unsubscribe anytime!