Adventurous Kate contains affiliate links. If you make a purchase through these links, I will earn a commission at no extra cost to you. Thanks!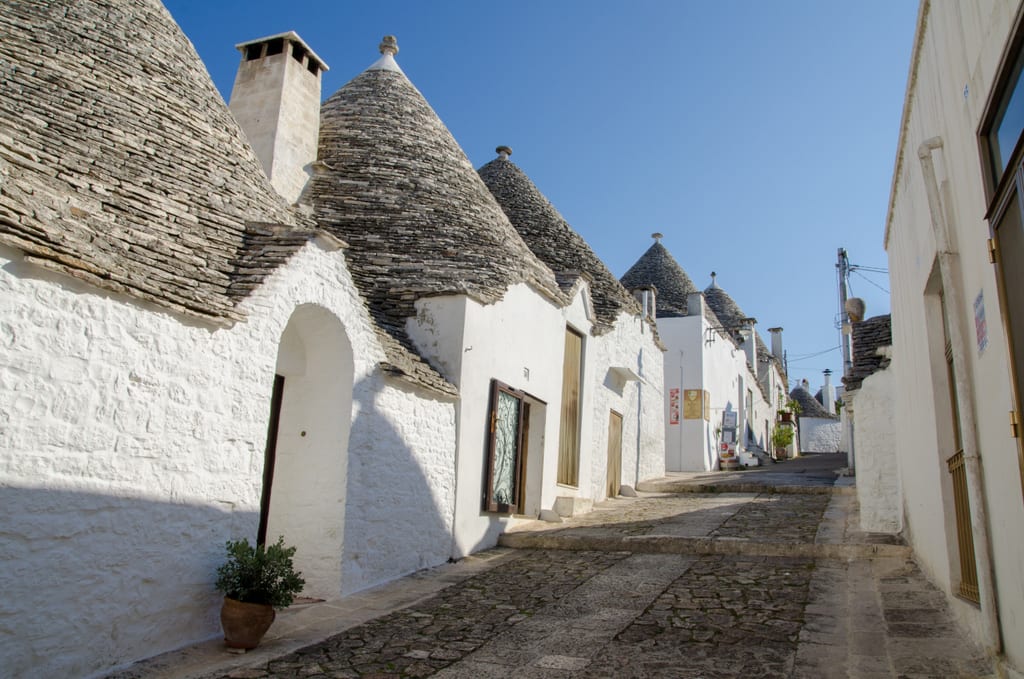 If you're new to this site, here's something you'll soon learn about me: I regularly take on way more than I should, bite off way more than I can chew, and end up stressing myself out for the sake of seeing as much as possible while traveling.
The latest example? My one-day road trip through Puglia, Italy.
After a few days at the Carpino Folk Festival, I had a free day with a rental car until I had to be at Bari Airport at about 6:15 PM.
I knew that I wanted to see both of Puglia's World Heritage Sites — Castel del Monte and the Trulli of Alberobello — and they didn't look like they were too far from each other.
I Google Mapped it out. Carpino to Castel del Monte, two hours. Castel del Monte to Alberobello, 90 minutes. Alberobello to Bari Airport, one hour. In short, it could be done, but it would be a tight squeeze, and I wouldn't have time to explore in depth.
Well, I did it. And I was so harried that day that I chose not to eat. I chose not to eat. In ITALY.
But it was so, so worth it. Castel del Monte was nice, but Alberobello was fantastic. It quickly became my favorite spot in Puglia.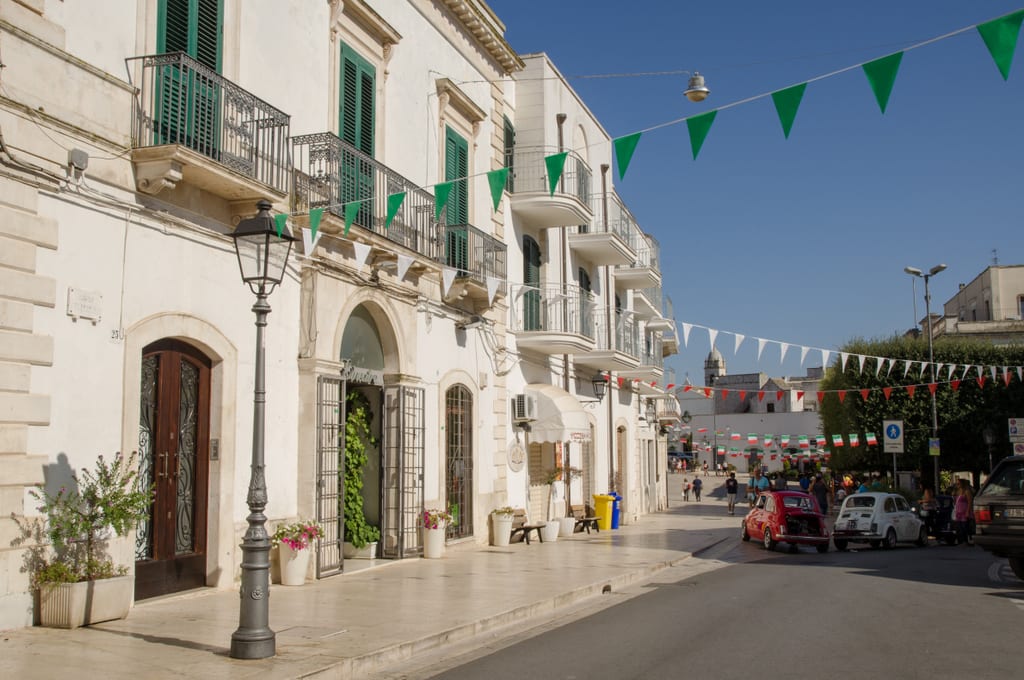 I got there in the afternoon with a little over an hour to explore the trulli — not remotely enough time, at a bad time of day for light, and the trulli were absolutely crawling with tourists. Photography conditions couldn't have been worse.
But even with those challenges, I tried to capture a bit of magic in this town. I hope you enjoy my photos.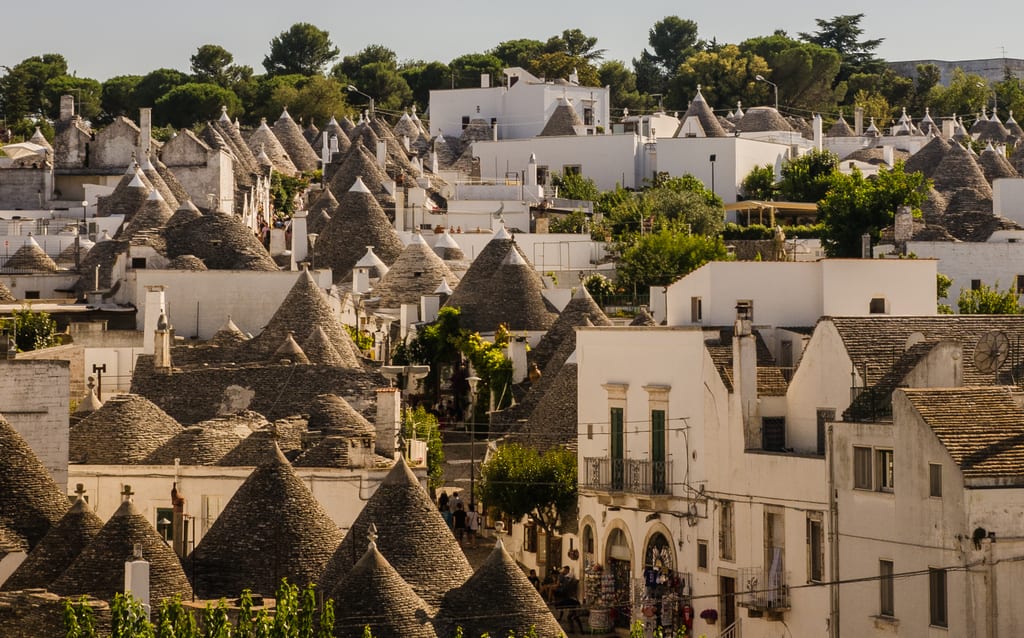 The trulli (singular version: trullo) are dry mortarless stone huts built with conical tops. You see them throughout the Itria Valley in Puglia, but the greatest concentration is in Alberobello. Here's the view from a lookout on the edge of the city center.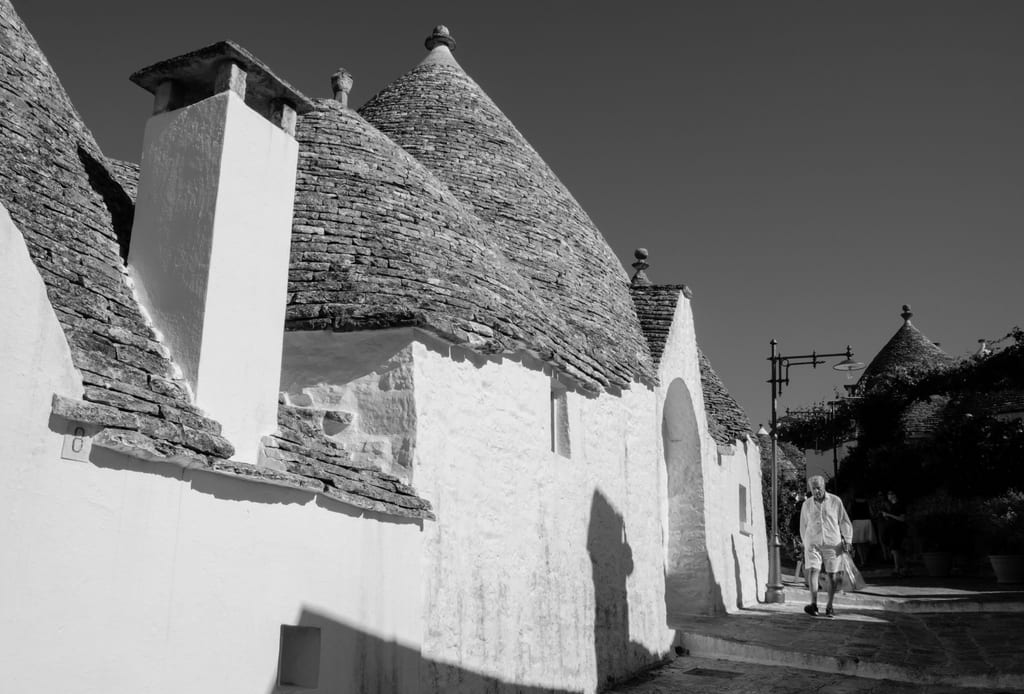 Alberobello's trulli became a UNESCO World Heritage Site in 1996. They were recognized for their mortarless construction, a building method that dates back to prehistoric times and is still in use today.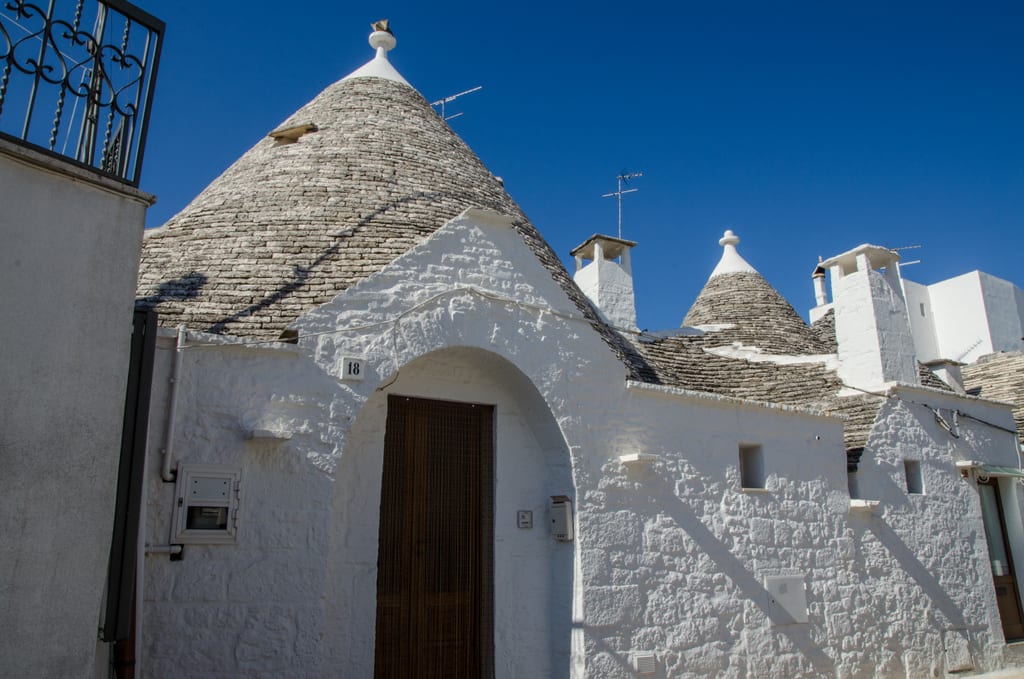 Could you imagine if you lived in a house like this?
Plenty of trulli have been converted into guesthouses, so you could try it for a night or two…
I love the contrast of the white walls and bright flowers.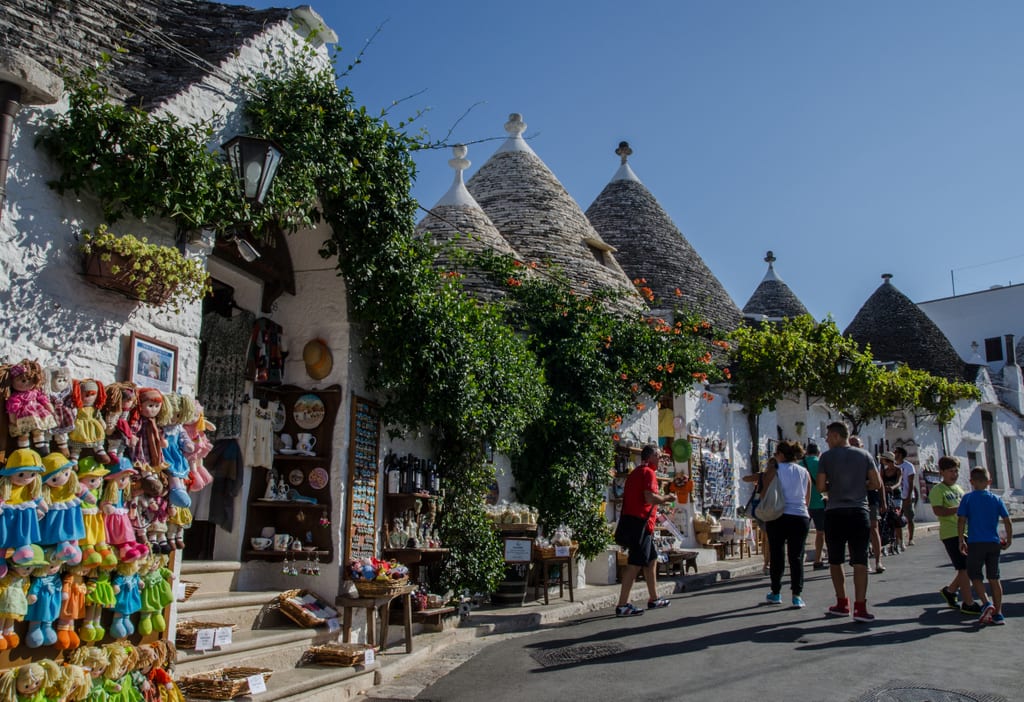 While the trulli are all over Alberobello, there is a hilly section of town absolutely filled with trulli. This region is extremely popular with tourists, and the buildings are filled with gift shops, guesthouses, and cafes.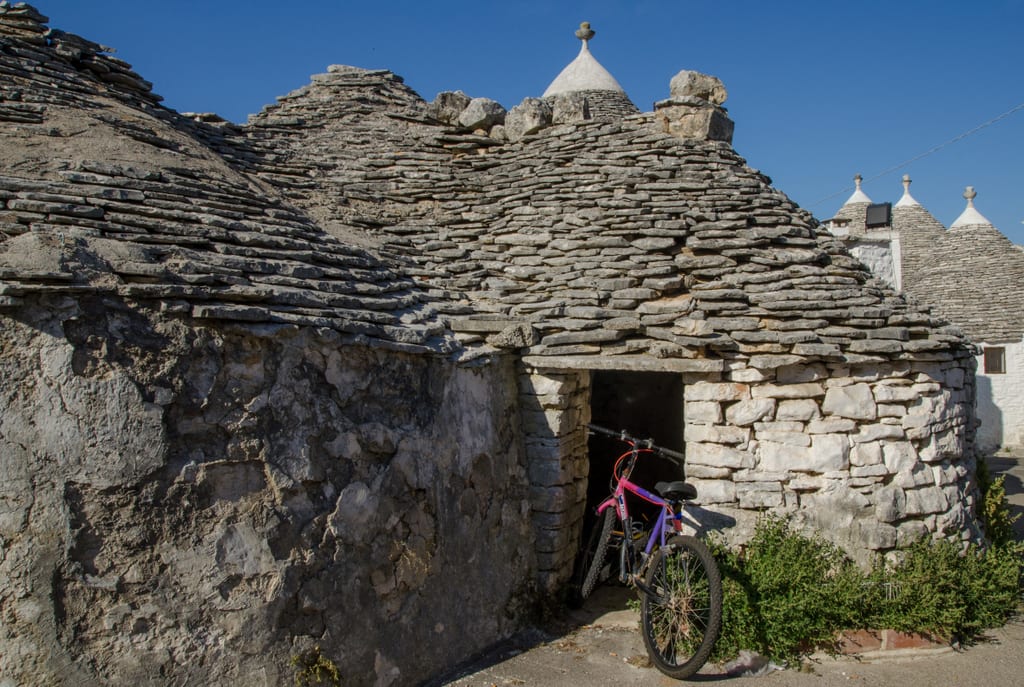 While most of the trulli are whitewashed, you'll occasionally find some in their natural form.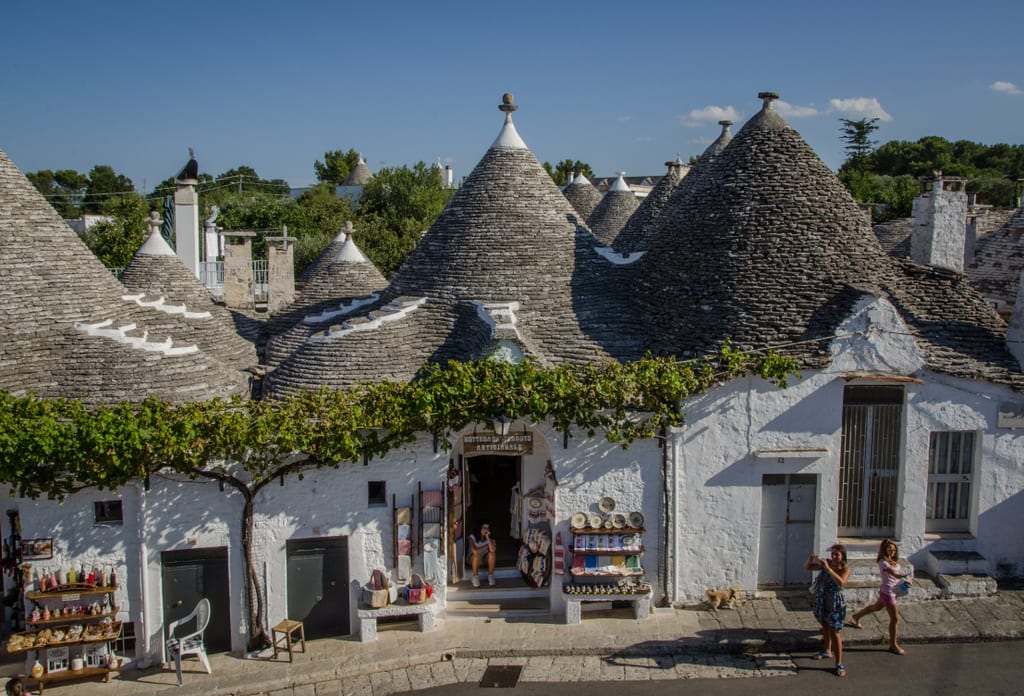 Throughout the town, you'll see signs for "Vista Panoramica" — panoramic view. So many of these buildings have rooftop decks that you can visit for free!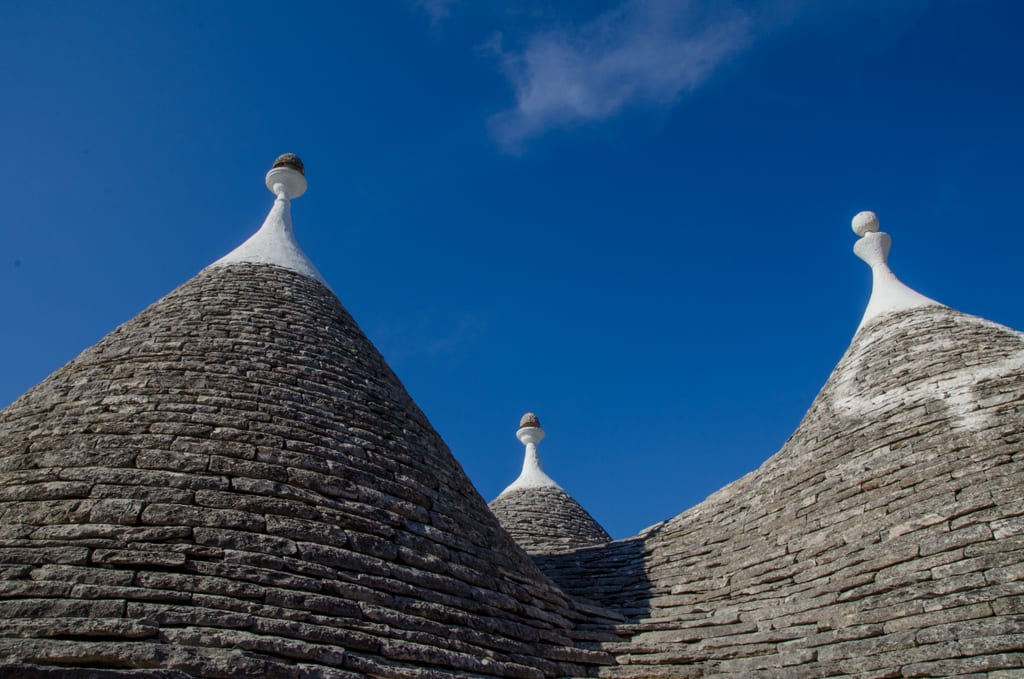 Then again, some of the best views are when you look up from below.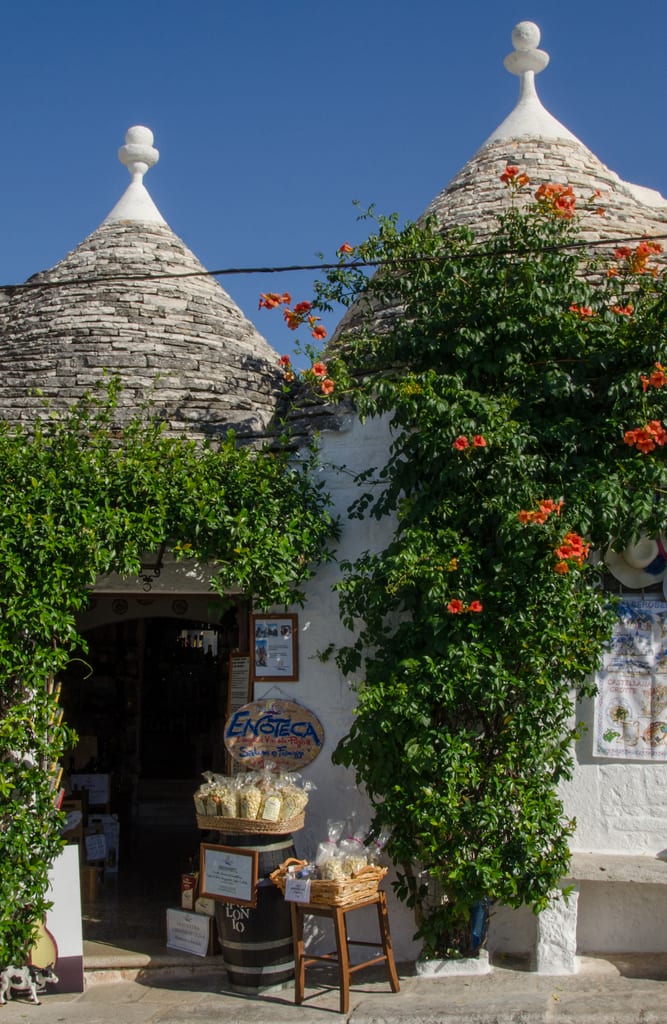 If you haven't bought souvenirs in Puglia yet, Alberobello will have plenty for you to choose from. I wish I had bought some orechiette pasta to take home.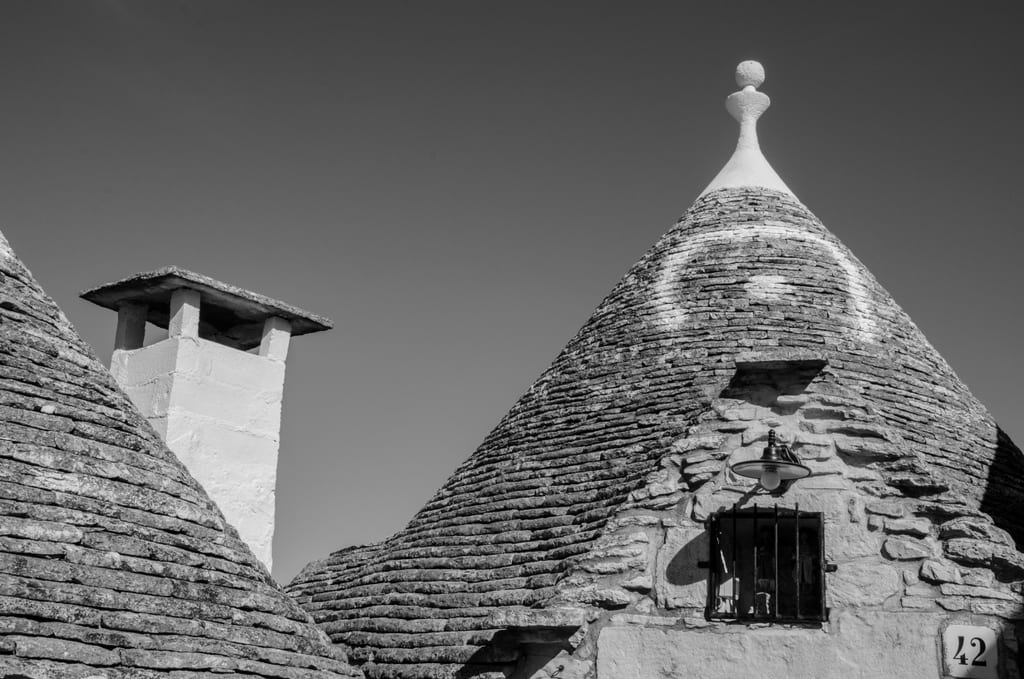 I love turning cloudless skies into black and white.
I stopped in a cafe for a frozen machiatto — it was like a coffee ice cream frappe, served from a slurpee machine. PERFECT on such a hot day, and just 1.80 euros ($2.40 USD)!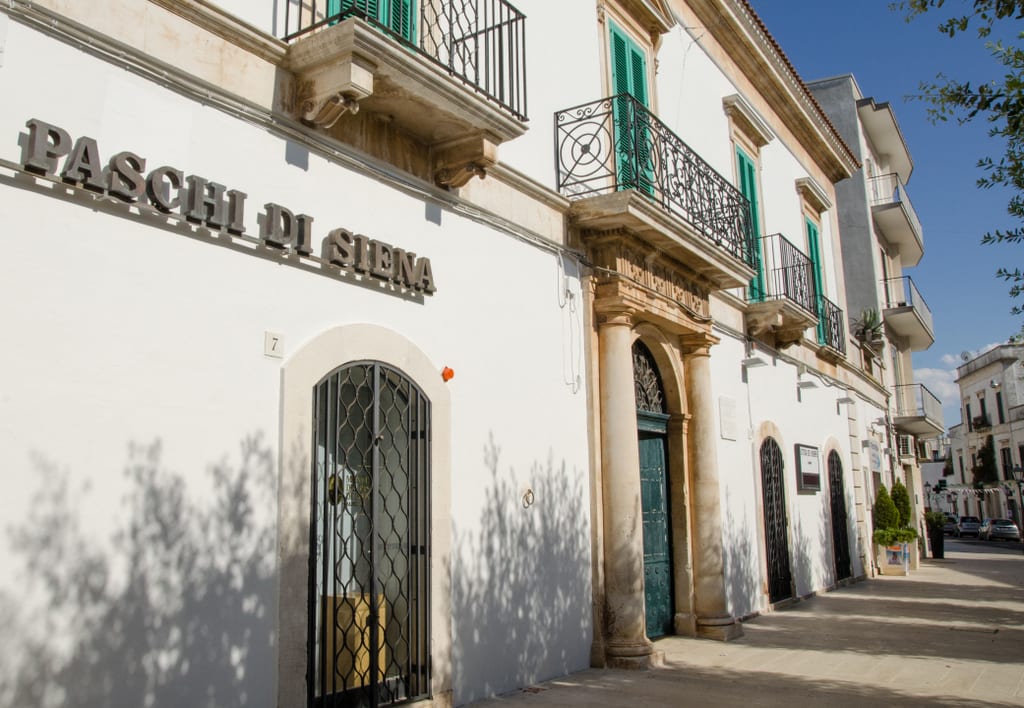 To my surprise, my favorite part of Alberobello was actually the city itself! Away from the hordes of tourists, Alberobello is a gorgeous white city with wrought-iron balconies, brightly painted doors and shutters, and a touch of ancient Roman architecture.
Even in the modern city center, you still have the occasional trullo peeking out.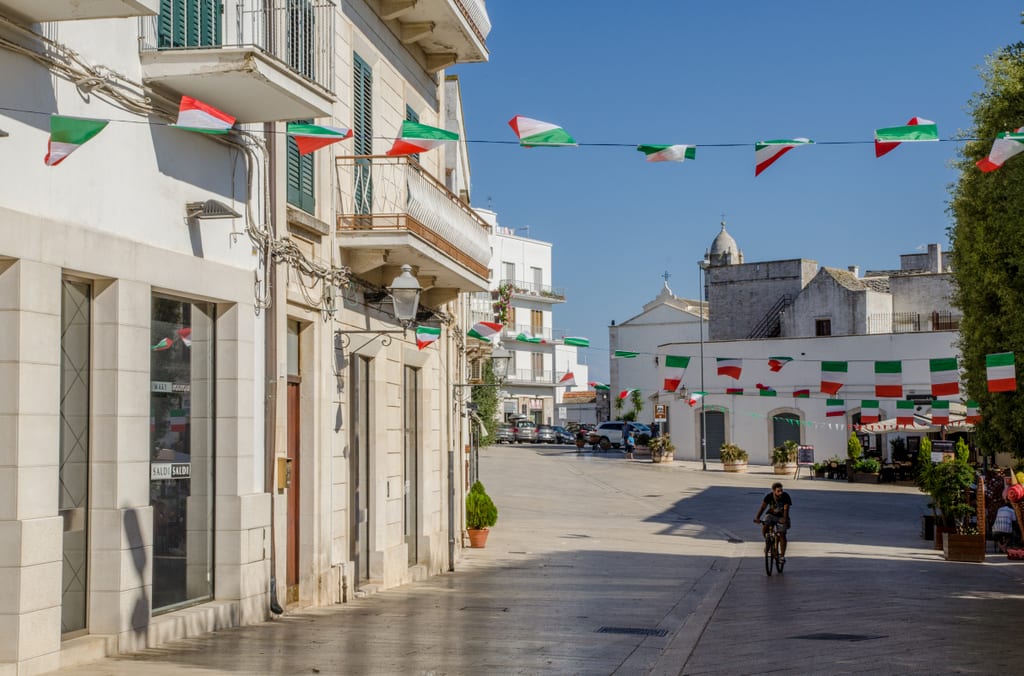 I would love to come back here for a few days to give Alberobello the time and attention it deserves. If you're in the area, I absolutely recommend stopping by. Just make sure you have at least a few hours!
Planning a Trip to Italy:
Cool Places in Southern Italy:
Cool Places in Sicily:
Cool Places in Northern Italy:
Get email updates from Kate
Never miss a post. Unsubscribe anytime!