Adventurous Kate contains affiliate links. If you make a purchase through these links, I will earn a commission at no extra cost to you. Thanks!
If you're looking for the best places to visit in Sicily, you've got a fantastic trip ahead of you. Sicily is like nowhere else on Earth. Sure, it's Italy, but like if you cranked the volume up — wild and passionate, bursting with music and laughter and lava.
The largest island in the Mediterranean, Sicily has so much to offer, whether you're looking for some of the finest beaches in Italy or some of the best preserved Greek ruins in Europe.
So. You know you want to visit Sicily. But where should you go? That's where I come in.
I've spent many trips traveling in Sicily and many years advising travelers. I'm even a Sicilian American who visited my great-grandfather's home village in Sicily. In this post, you'll find out some of the best destinations in Sicily to add to your itinerary.
And be sure to check out my other Sicily posts — including my guide to Sicilian food, the joys and challenges of visiting Sicily, guide to visiting Sicily in winter, posts on my favorite places like the Aeolian Islands and Palermo, and more. You can see all my Sicily posts here.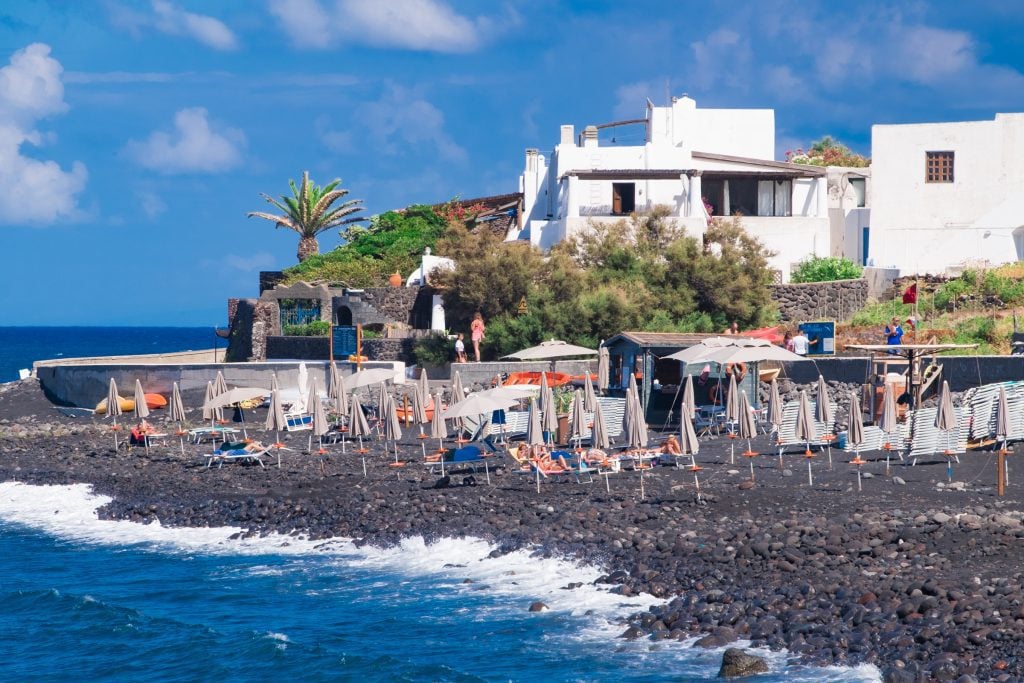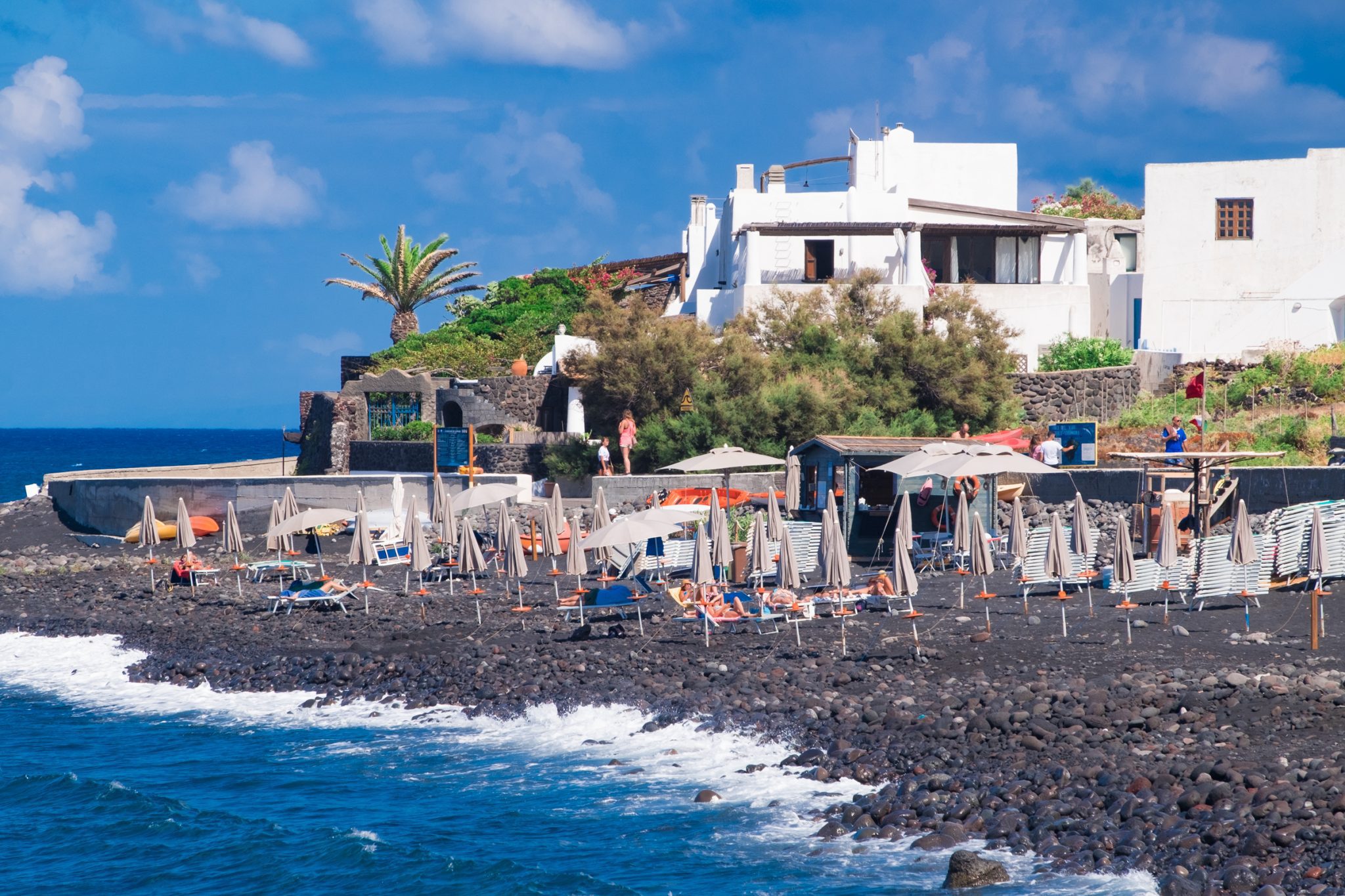 Best Places to Visit in Sicily
How many places should you visit in Sicily? Honestly, it depends on how much time you have. But no matter how much time you have, I recommend visiting lots of different kinds of destinations.
What does that mean? Mix in a city (Palermo or Catania or Siracusa, perhaps), a natural wonder (Mount Etna, Aeolian Islands, Pantelleria), a seaside/beach destination if visiting during the warmer months (San Vito Lo Capo, Cefalu, Aci Trezza), some ruins (Segesta, Agrigento, Siracusa), and a stunning smaller city (Ragusa, Taormina, Modica).
My biggest tip is to rent a car for your trip to Sicily. This is the best way to get around Sicily. With a car, you can head out for the morning and visit several different places before returning home for the night. You'll be able to see so much more than you would by public transportation. (Be sure to read my guide to driving in Italy before your trip.)
Okay, let's take a look at the best places to visit in Sicily!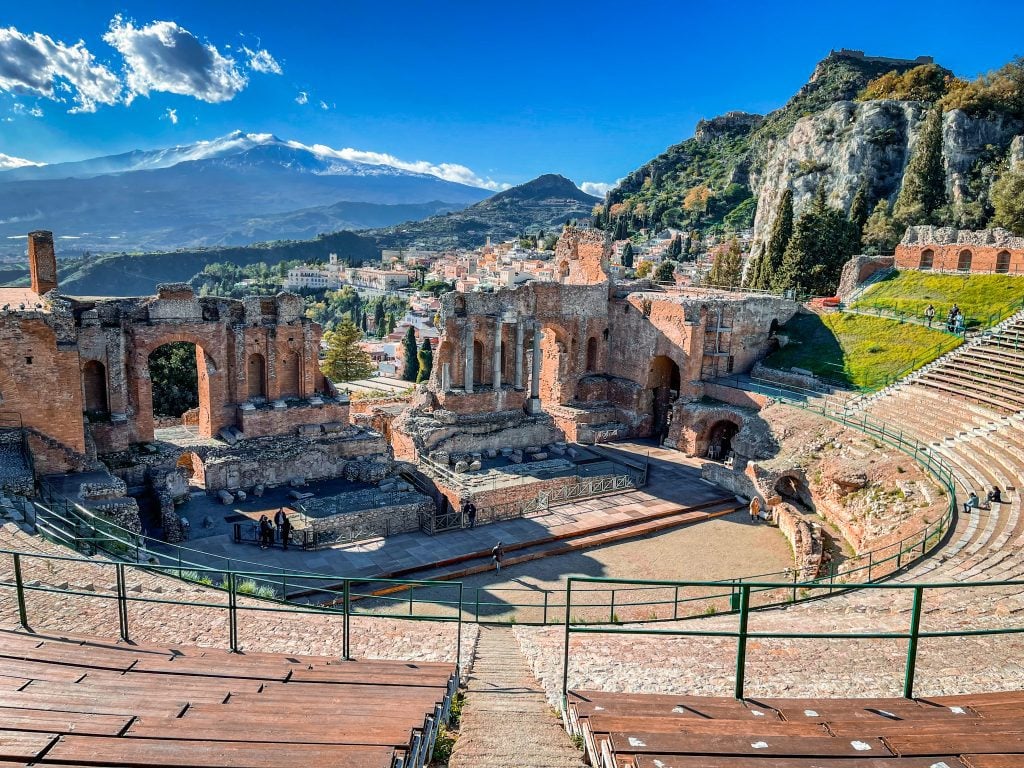 Taormina
Submitted by Jenifer of The Evolista
Taormina is a beautiful town and one of the best places to visit on the east coast of Sicily. Situated on a hill overlooking the Ionian Sea, it sits peacefully, at a safe distance from Mt Etna, one of Europe's most active volcanoes.
Start your visit with a walk through town on Corso Umberto. Browse cute shops and restaurants tucked into small alleys. Make sure to try the regional food specialties like arancini, which are stuffed rice balls that are deep-fried. Another must try is the granita from Bam Bar. A food and wine walking tour is a great way to sample the Sicilian food specialties.
A must-visit is the ancient Greek Theater, a UNESCO World Heritage Site, which dates back to the third century BCE and is still used today for concerts and an international film festival. You will also find many historic churches and palaces, including the Palazzo Corvaja and the Church of San Giuseppe.
While the views in Taormina are truly breathtaking, the beaches are also beautiful. You can walk down to the beach or take the Funivia cable car, an attraction all on its own. The most popular beach is Isola Bella, a small gem of an island that you can get to by walking over a sandbar, flanked on both sides by crystal clear, turquoise water.
Where to stay in Taormina: For one of the best hotels in Taormina, book a stay at the San Domenico Palace, where Season 2 of The White Lotus was filmed. This is arguably the best luxury hotel in Sicily, and the pool area is top notch with those to-die-for views.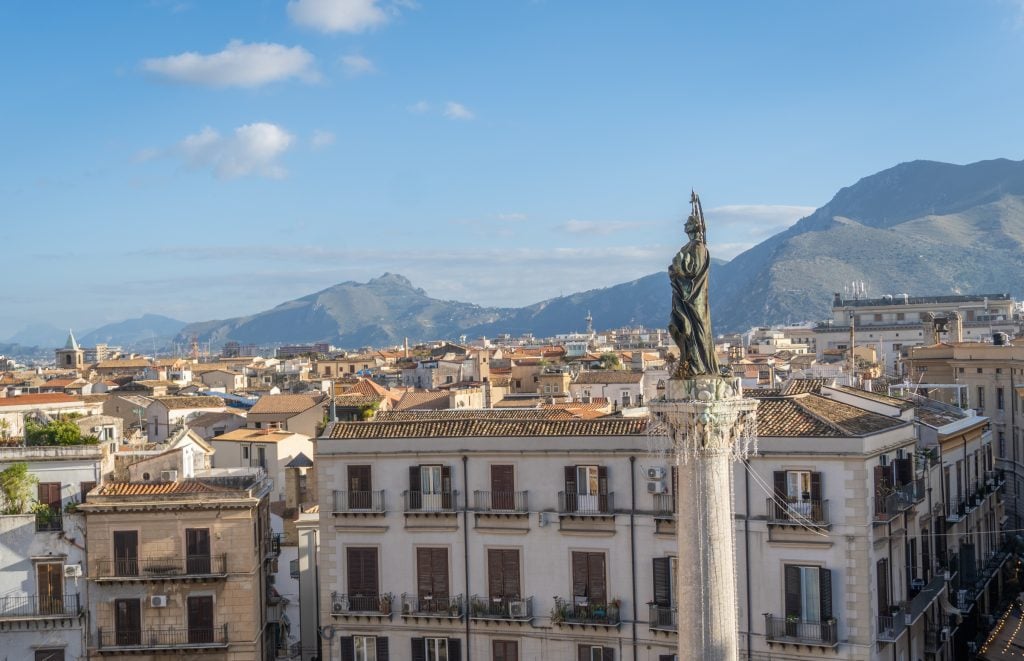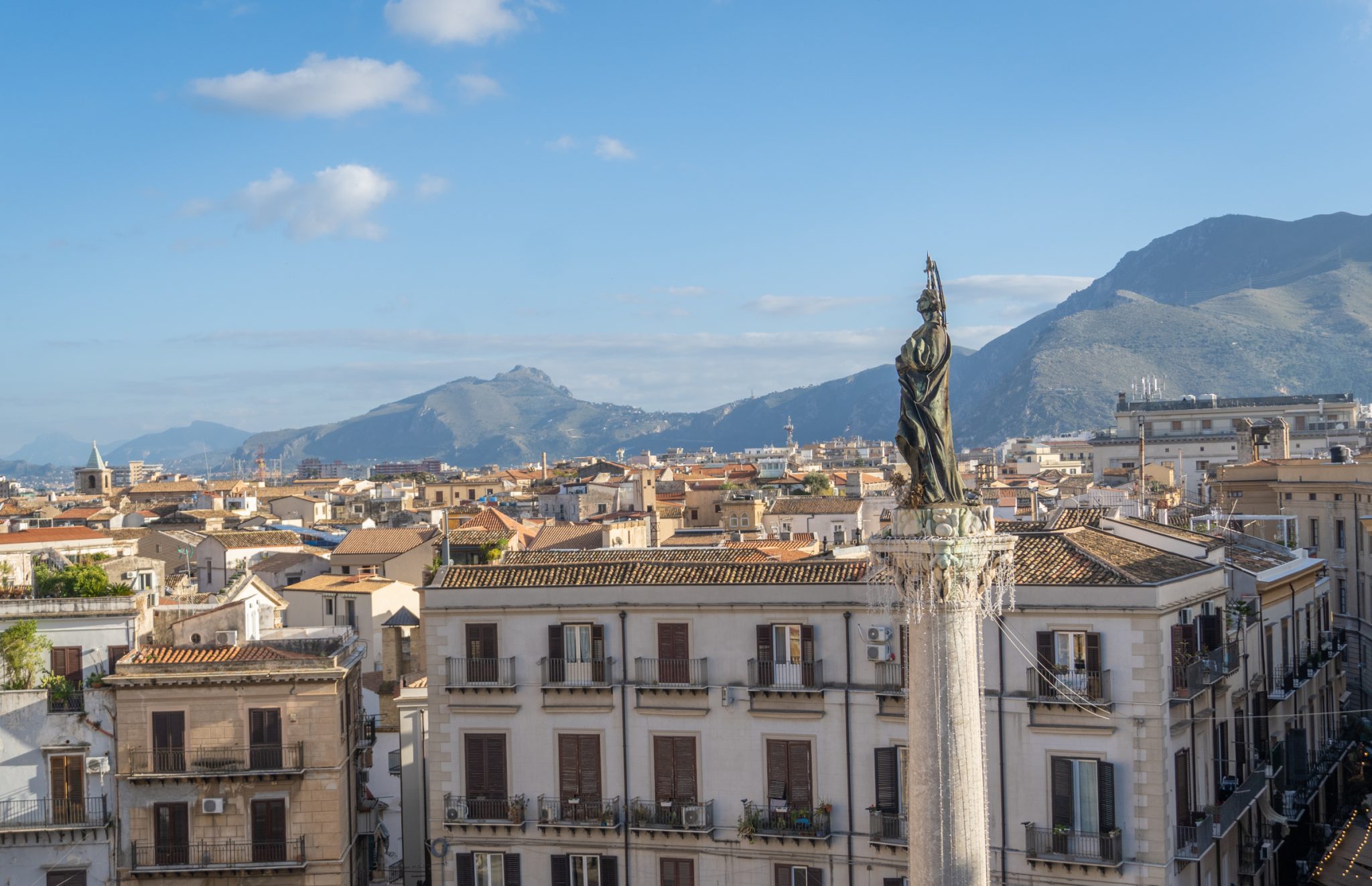 Palermo
Welcome to the sizzling capital of Sicily — and one of the liveliest, most vibrant cities in all of Italy. Palermo, the island's largest city, sits on the northwestern corner of Sicily and has served as the melting pot of the Mediterranean for thousands of years.
Palermo is defined by its unique blend of architecture with Arab-Norman inspiration, thanks to its far-flung cultural influences. These monuments, now a UNESCO World Heritage Site, are sprinkled all over the city. Don't miss the Piazza Duomo and the golden Palatine Chapel in particular.
Palermo's streets are also home to some of the best Sicilian food you'll ever find — including dishes you won't find anywhere else in the world. Don't miss pan panelle, a roll filled with fried chickpea fritters and sometimes potato croquettes, or sfincione, handheld pizza. If you're adventurous, pani câ meusa is a spleen sandwich (!), a local favorite street food.
Take yourself on a food tour in Palermo — Streaty's Sicilian food and wine tour was easily the highlight of my own visit — or a trip to Mondello Beach, a 25-minute bus ride from the city center.
Palermo makes an excellent base for further exploration in Sicily. You can easily do day trips from here to Cefalù, San Vito Lo Capo, Monreale, Erice, Segesta, and more.
Where to Stay in Palermo: The best area to stay in Palermo is the chic Politeama neighborhood, with lots of good restaurants and easy access to the rest of the city. Hotel Politeama is a nice mid-range hotel with gorgeous views.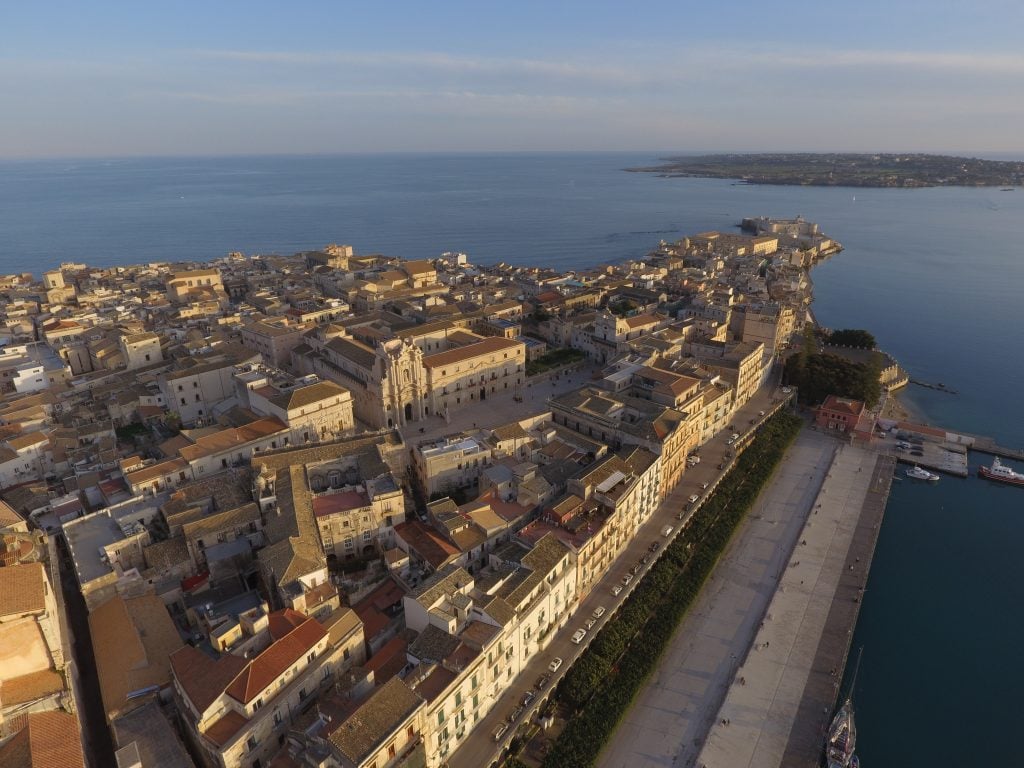 Siracusa
Siracusa is one of the absolute gems of Sicily, and in my opinion is a must-visit. Located an hour's drive south of Catania, Siracusa (also known as Syracuse) is home to ancient ruins and one of Sicily's most picturesque old towns.
For many Sicilians, Siracusa is synonymous with Ortigia — an island that is home to the old town. Ortigia is mostly car-free and looks the same way it has for centuries, with a lively harbor and a beautiful cathedral. If you're basing in Siracusa for any time of your trip, Ortigia Island is the place to be.
But the ruins are another major draw of Siracusa, located in the north of the city. Here at the UNESCO World Heritage-listed Néapolis Archaeological Park, you can visit a Roman amphitheater as well as a Greek theater, as well as the altar of Hieron II and the Ear of Dionysus. Be sure to bring sun protection, as this is a big open space.
Siracusa makes a great place to base while exploring southeastern Sicily, including the Val di Noto and its towns of Noto, Ragusa, and Modica.
Where to Stay in Siracusa: You should stay in Ortigia while in Siracusa, and Hotel Henry's House is one of the nicest places to stay in this beautiful part of town. The decor is elegant Sicilian, and you can't beat the location!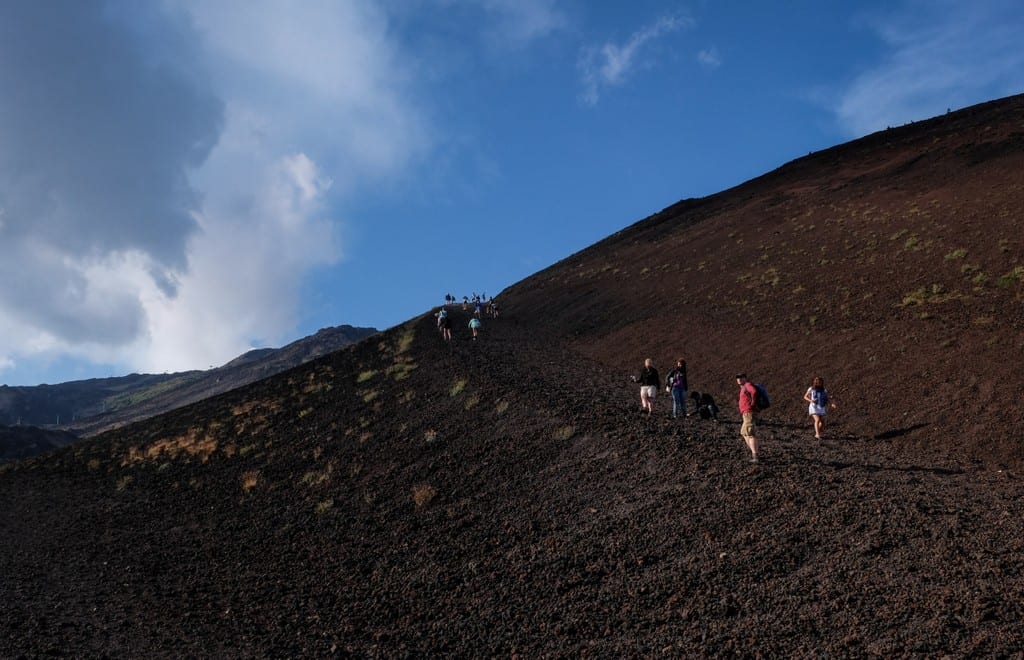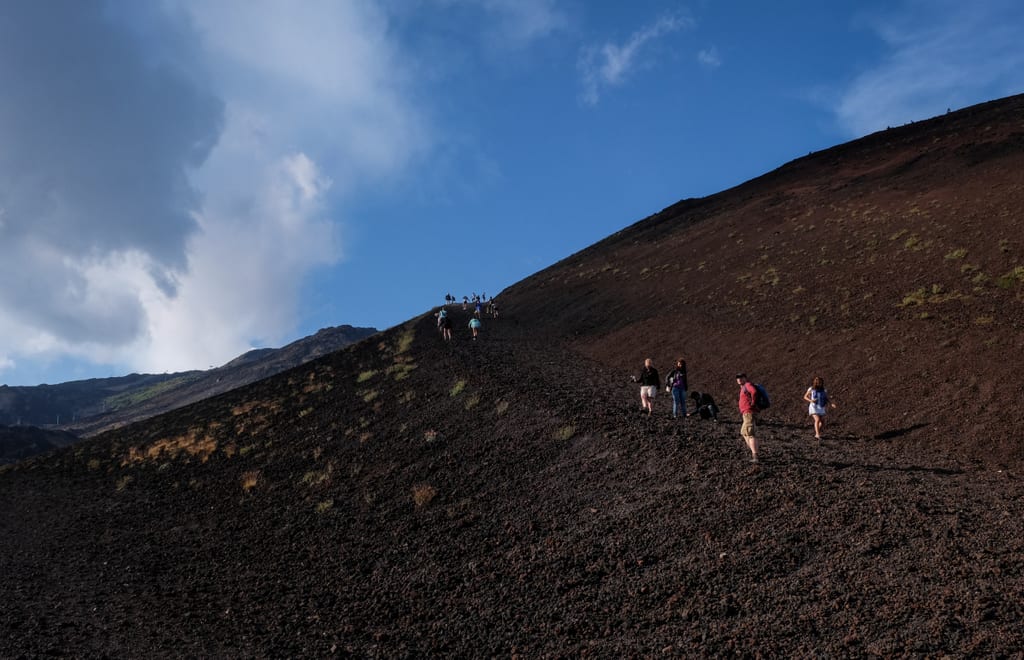 Mount Etna
Recommended by Tamar of World by Weekend
Mount Etna in Sicily is a must-visit for nature lovers and adventurers. With its smoking top and long history of eruptions, a trip to Mount Etna is an unforgettable experience to have in Sicily.
The highlight of visiting Mount Etna is taking a guided tour along the volcano's summit. To reach the summit, begin at Refugio Sapienza. From there you can hike or take the cable car up 2,800 meters to the Mountain Hut. If you don't wish to continue on foot, from the Mountain Hut you can take a jeep (or snowcat if you're visiting in winter) up another 1,000 meters.
After the 2,900-meter mark visitors must be accompanied by a guide. On the guided tour you'll hike along the rim of the volcano while your guide lectures on the history and geology. From the summit you'll enjoy stunning views of the valley, the Mediterranean, and, on a clear day, mainland Italy.
Where to stay near Mount Etna: The nearest accommodation to Mount Etna is Rifugio Sapienza, but there is little to see or do in the vicinity. Instead, stay in nearby Taormina. This charming seaside town has beautiful beaches, high-end shopping, and delicious restaurants. Stay at B&B Terraza Sul Mare, a family-run hotel with an attentive owner, delicious breakfasts, and stunning views of the sea.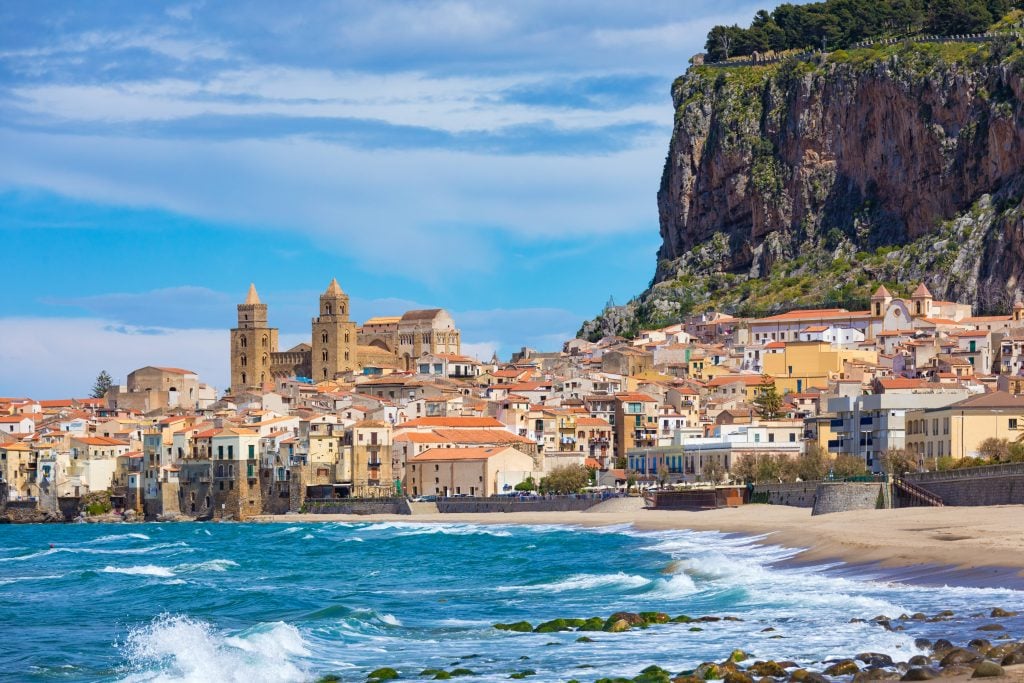 Cefalu
Submitted by Zoe from Together In Transit
If looking for a charming little location on Sicily's northern coast, find yourself inspired by Cefalu. Only one hour from Palermo, it's the ideal quieter Sicilian destination.
While exploring the quaint old town of Cefalù, take a stroll through the alleyways and cobblestoned side streets for those sweet Italian vibes. There are many restaurants to choose from, with a personal dinner suggestion to reserve a table at B.I.F. Braceria Italiana Fuorimondo. The old town area is also the place you can find the main cathedral and cloister, which is absolutely stunning. Enjoy your time here before strolling to the scenic viewpoint at the end of the pier.
A visit to Cefalù would not be complete without a visit to the castle. With just a short hike up from the town, the Castello di Cefalù is 270 meters above sea level. The view from the very top is beautiful on a clear day, where you can spot lots of locals enjoying the water below. Water activities and tours in Cefalu are popular, such as boat trips, scuba diving, and snorkeling.
Fun fact: the beach scenes from The White Lotus were actually filmed in Cefalù, not Taormina where the hotel is set.
Where to stay in Cefalù: Cefalù has many hotels and cute rentals to choose from. A personal highlight is to stay at the holiday home that you can find called A Window On The Sea. It is not located in the old town, however just a short five-minute drive from Cefalù. It has a private beach for a restful afternoon and direct views of the castle.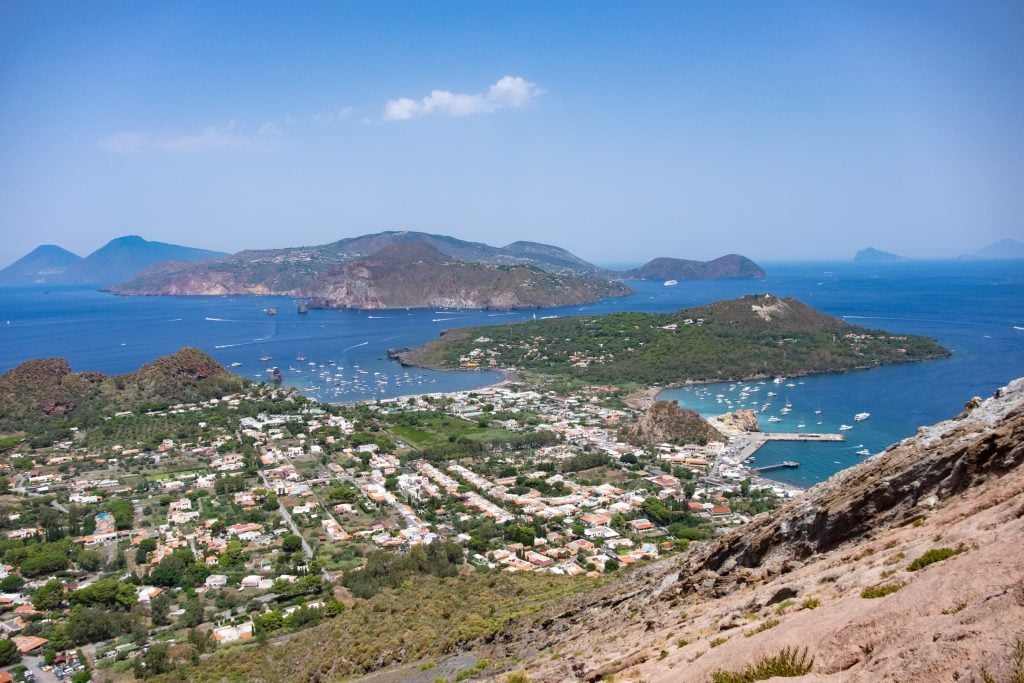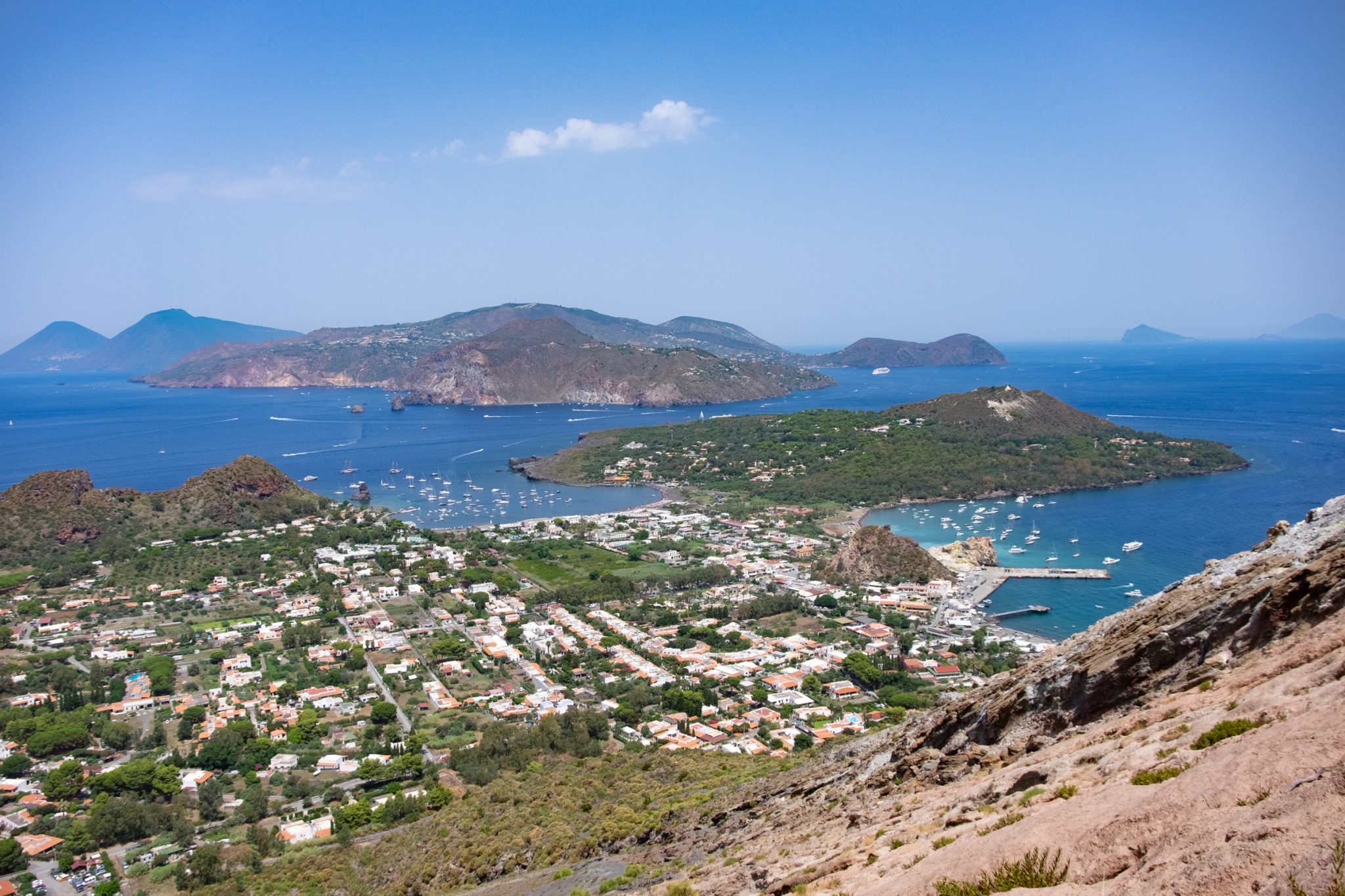 Aeolian Islands
My personal favorite summer getaway in Sicily is the Aeolian Islands — an archipelago of volcanic islands off the northeast coast of Sicily in the Tyrrhenian Sea. These islands are summer personified, with glorious beaches, volcanoes, vineyard, striking mountains, and beautiful views in every direction.
There are seven islands in the archipelago: Lipari, with the most shops and restaurants; Vulcano, with a smoldering crater and fantastic views; Salina, the best overall island with lots of great towns and food; Panarea, a getaway for the rich and famous; Stromboli, home to a wild active volcano and sparkling black sand beaches; and Alicudi and Filicudi, very quiet and remote islands.
If you have a week in the Aeolians, I recommend spending a few nights in Stromboli and the rest of your time based in Salina. You can take plenty of boat trips to the other islands, either by public ferries or on organized trips. Each island has something special to offer.
If you have a good level of fitness, climbing Stromboli's volcano is a must. You've never seen lava up close like this before! Not a hiker? Have dinner at Osservatorio Restaurant, halfway up the volcano with a view of the explosions as you enjoy your pizza.
Where to Stay in the Aeolian Islands: No matter how long you stay in the Aeolians, I highly recommend staying at Hotel Ravesi on the island of Salina. This gorgeous little boutique hotel is right on the cusp between mid-range and luxury and has a gorgeous infinity pool overlooking Panarea and Stromboli. The staff are lovely, they have electric motorbikes for rent, and their aperitivo is creative and delicious.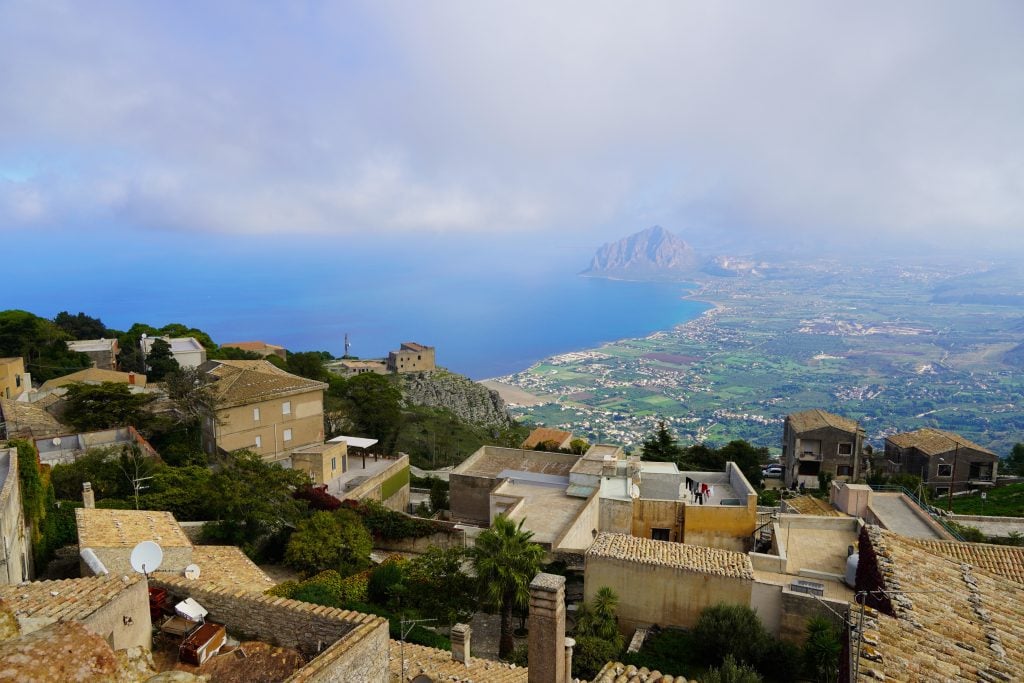 Erice
Submitted by Coni from Experiencing the Globe
Overlooking Trapani and the Egadi Islands, the medieval hilltop town of Erice is an unmissable destination in Western Sicily.
Its location was the logical place to defend the harbor, so Erice has been inhabited for millennia. What all its peoples have had in common is the town's dedication to a female divinity: Astarte for the Phoenicians, Aphrodite for the Greeks, and Venus for the Romans. Early in the morning, the hilltop is often covered by a magical fog that the locals associate with the mysteries of the goddess, and one of the main attractions in town is the Castello di Venere — the Temple of Venus.
The city is shaped like a triangle, surrounded by defensive town walls, which makes it easy to get lost in its alleyways without ever feeling truly lost. The Italians refer to it as "The City of a Hundred Churches" — and although it 'only' has 60 of them, you're guaranteed to stumble into one, no matter which way you go.
Another feature that makes Erice special is that it houses the prestigious Foundation and Centre for Scientific Culture Ettore Maiorana. A statement was signed here during the Cold War by thousands of scientists and high-level politicians (including Mikhail Gorbachev and Ronald Reagan) to secure a way of moving forward without the use of nuclear power. Today the town hosts varied scientific conferences.
After seeing all the sights, enjoy the relaxed Sicilian rhythm from any of the lovely pasticcerie, or pastry shops. Don't miss the classical almond biscuits (dolci ericini), the custard filled pastries (genovesi ericine), nor the beautifully decorated marzipan (frutta martorana).
Getting to Erice is easy. If you have your own wheels, you can drive the winding road up. If you're in for dramatic panoramic views down the valley, take the ten-minute cable car (funivia) from Trapani. If you're feeling adventurous, you can also hike up (or down) the hill –it's a gorgeous trek of about 10 km/6 miles with almost 800 m/2600 ft of elevation difference.
Where to stay in Erice: You can easily visit Erice as a day trip from Trapani or Palermo, but it's a popular tour, so it's worth staying over to enjoy the early mornings and evenings without any crowds. A very special accommodation is Il Carmine, a former monastery linked to the Carmelite order of monks.
Noto
Submitted by Veronika of Travel Geekery
Noto belongs to one of Sicily's prime examples of Baroque architecture, forming part of the UNESCO-inscribed Val di Noto region. The town was built from scratch in the 18th century after a devastating earthquake in 1693. The former Noto, now referred to as Noto Antica and located just a few kilometers away, was not rebuilt.
Everywhere you look in Noto, you'll be stunned by limestone structures and palaces, with an exceptionally high number of churches, especially along the Corso Vittorio Emanuele. And then there's the Noto Cathedral — Noto's top sight and an imposing structure on the central Piazza del Municipio.
For a truly remarkable experience, if you have a sweet tooth, head to Café Sicilia. The family-run café serves the best granita in town and has become world-famous thanks to a Netflix special. The almond granita is to die for, and there's a lot behind the scenes, too — the family helped to bring almond growing back to Sicily. You can also have all other kinds of sweets here, including delicious cannoli. 
Noto, of course, played a pivotal role on Season 2 of The White Lotus.
Where to stay in Noto: While Noto can be easily visited on a day trip from Catania, you should spend a night or two if you want to experience it without tourists. Noto is relatively small, so you'll have everything within walking distance no matter where you stay. For the most comfort, opt to stay near the Corso Vittorio Emanuele. Filinona B&B is a great choice.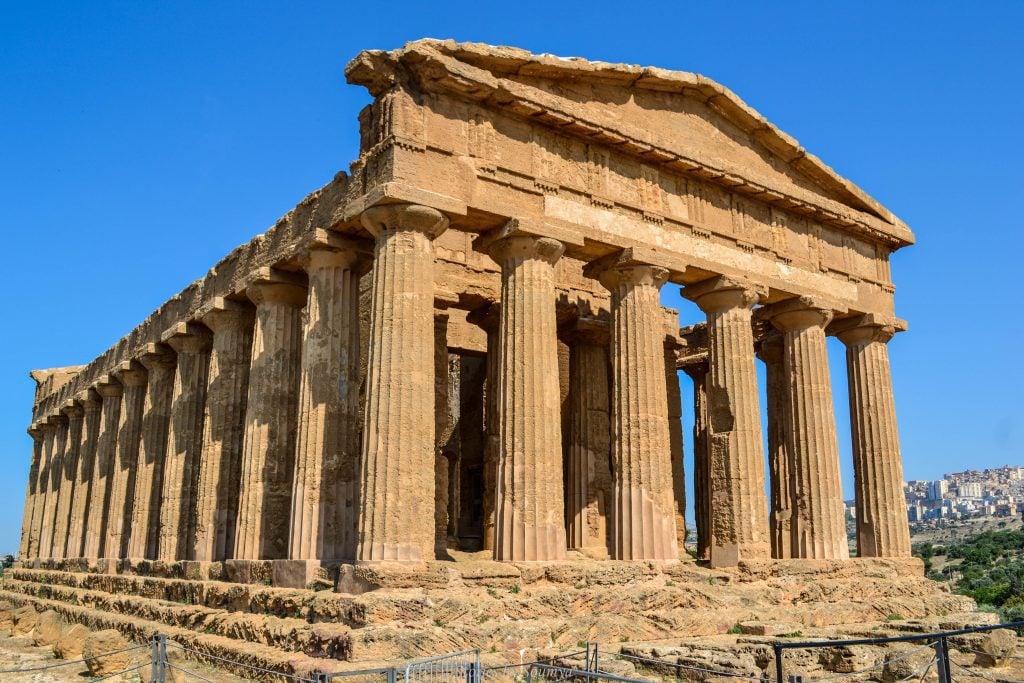 Agrigento
Submitted by Soumya of Stories by Soumya
One of the best places to visit in Sicily, the small town of Agrigento is home to some of Italy's most fascinating landmarks and ancient archeological sites.
Agrigento's history dates to the 6th century BCE when Greeks ruled the land, after which came the Romans and then the Turks. Visiting Agrigento is like peeling several layers of history and discovering the imprints of many civilizations that have thrived in this historic region.
Of the many wonderful things to do in Agrigento, visiting the UNESCO-listed Valley of the Temples is a highlight. Agrigento's Valley of Temples is a sprawling complex of well-preserved Greek temples that was once the ancient city of Akragas. The temples of Concordia, Heracles, and Dioscuri are imposing structures that tell numerous stories about the powerful Greek Empire.
Right next to the temples is an impressive archeological museum that displays the history of Sicily in 5000+ artifacts. The ancient garden of Kolymbetra, full of citrus trees and almond groves, is not very far away either.
Agrigento's Old Town is chock full of medieval villas and Gothic churches. A short drive will take you to the Stair of the Turks (Scala dei Turchi), a set of beautiful white cliffs by the sea where you can take a dip in the sea or enjoy a boat tour.
Where to stay in Agrigento: The best place to stay in Agrigento is the majestic Hotel Villa Athena, an 18th-century mansion that's located right next to the Valley of Temples and provides stunning views of the Greek ruins.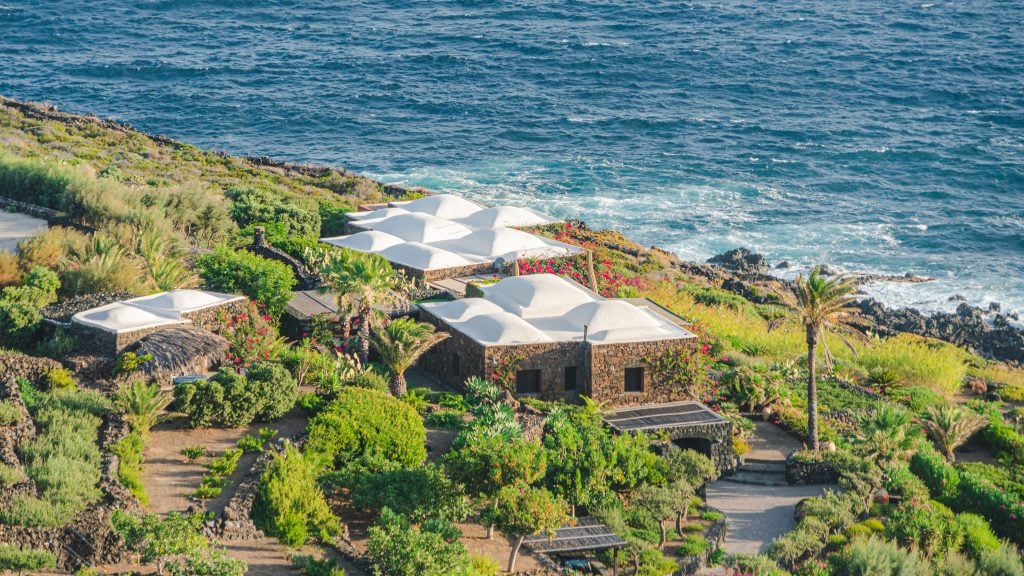 Pantelleria
Submitted by Imee Magbag from Guide To Day Trips
Pantelleria is a beautiful island located between Sicily and Tunisia. Pantelleria is of volcanic origin and has a rugged landscape with several volcanic peaks. Due to its volcanic nature, Pantelleria is known for its unique geothermal features, including hot springs and fumaroles.
The island attracts tourists looking for a peaceful and picturesque destination, with its rocky coastline, crystal-clear waters, and unique volcanic landscapes. Visitors can explore ancient ruins, enjoy thermal baths, indulge in local cuisine, and experience the laid-back charm of this off-the-beaten-path Mediterranean island.
There are so many things to do while you are in Pantelleria; you can explore the ancient ruins of Sesi by booking an Archaeological Tour; this is an important archaeological site featuring well-preserved prehistoric stone structures, including Byzantine tombs.
Another famous attraction and a must-see destination is Pantelleria, the Specchio di Venere, a small lake within a volcanic crater. The water here is to believed to have therapeutic properties, making it a sought-after destination for relaxation.
Where to stay in Pantelleria: If you are looking for a place to stay in Pantelleria, experience an overnight stay in Dammusi I Jardina, a traditional stone house; this unique and distinctive dwelling offers beautiful accommodations, with a Mediterranean garden perfect for relaxation.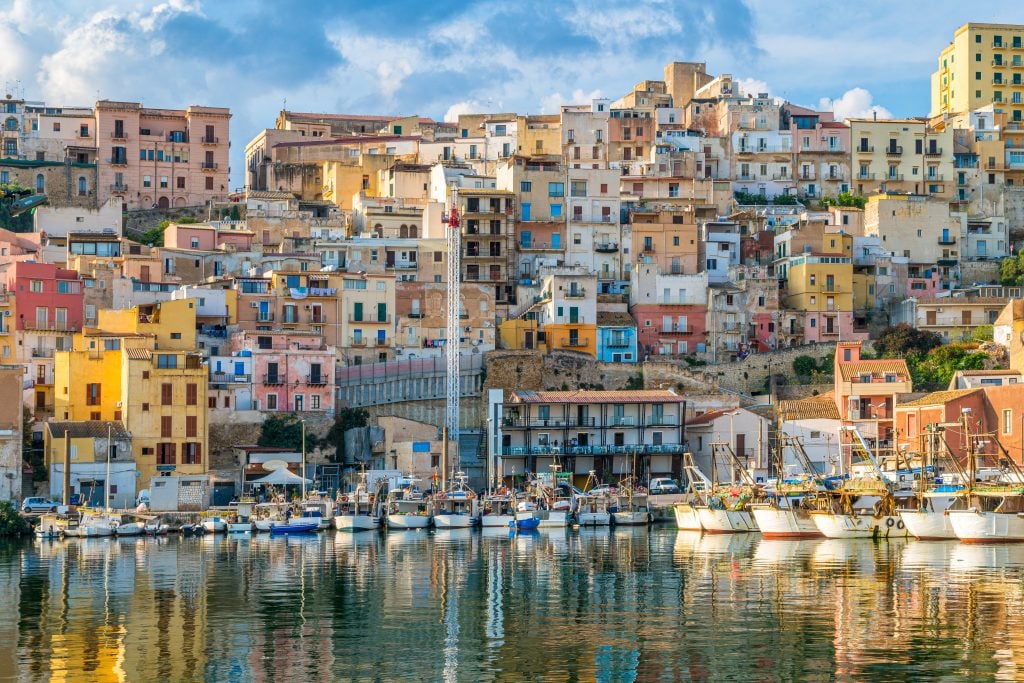 Sciacca
Submitted by Jackie Rezk of Jou Jou Travels
Sciacca is a charming town located on the southwestern coast of Sicily. This lesser-known town is a must-visit, especially if you love picturesque and colorful places.
One of the most special things about Sciacca is its thermal baths, which date back to ancient times. The healing waters of the Terme di Sciacca are said to alleviate various ailments. And of course, a visit wouldn't be right without going to the beach (you can try Lido Sovareto or San Giorgio) and admiring the crystal clear waters.
Sciacca also boasts great food and being located in Sicily, you can imagine why! So be sure to try local dishes such as "couscous di pesce" (fish couscous). This flavorful dish consists of steamed semolina grains served with a variety of fish, shellfish, and aromatic vegetables, all cooked in a fragrant tomato-based broth. The couscous reflects the historical Arab influence in Sicilian cuisine and can be tried at La Bottega Fusion Cuisine.
Where to stay in Sciacca: For accommodation, staying near the marina is highly recommended due to its proximity to the beach and the town center. One specific hotel that stands out is the Domus Maris Relais Boutique Hotel. Situated steps away from the Mediterranean Sea, this hotel offers a great location and comfortable rooms.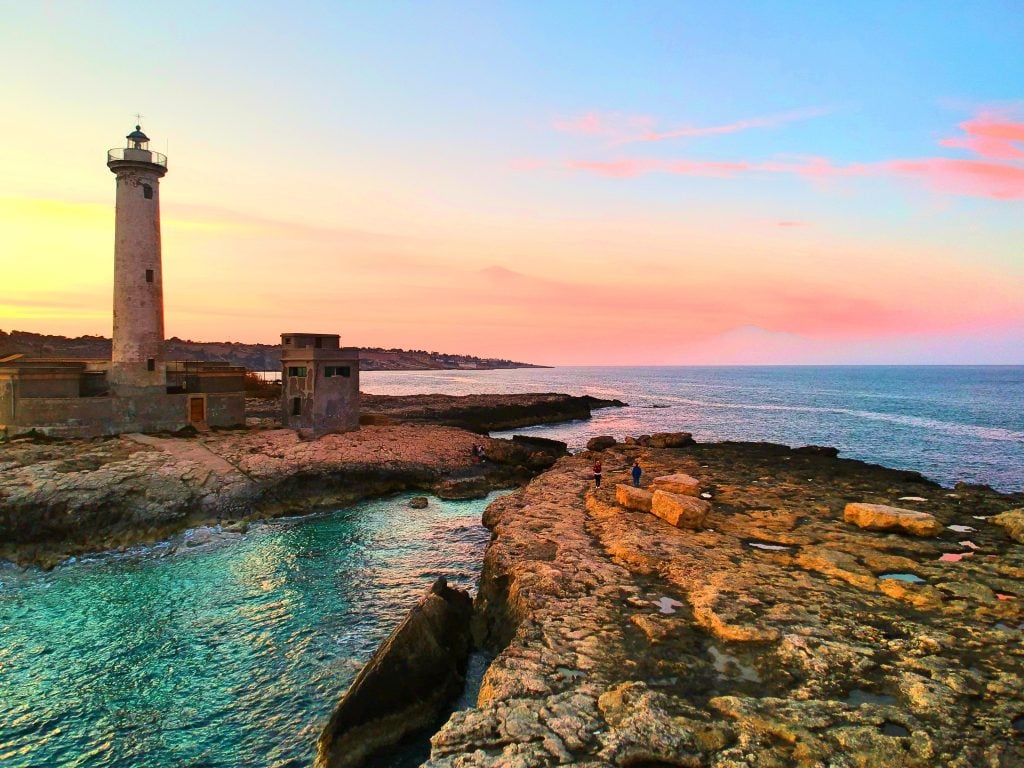 Augusta
Submitted by Steve of The Trip Goes On
Augusta is a small town nestled on the east coast of Sicily between Catania and Syracuse. It was one of the earliest Ancient Greek colonies on Sicily and later became a Roman settlement.
The town stretches across a small peninsula that culminates in a 2-km long island with a medieval fortress called Castle Svevo overlooking the crystal-clear waters of the Med.
Augusta is also one of Italy's major commercial ports with weekly ferries to Malta. I actually missed my ferry and ended up spending four days here waiting for the next one, and it was one of those strange twists of fate that I'm so glad that I did.
Each year there are a number of festivals held in the town including the Sagra dei Sapori Medievali, a medieval festival held in September where you can try dishes dating back to the dark ages.
The streets and squares are lined with cafes and restaurants serving traditional Sicilian dishes, and naturally, the seafood here is some of the best in Italy (I highly recommend the Locanda Scorfano Rosso seafood restaurant).
Where to stay in Augusta: There are some excellent B&Bs on the island. B&B Blu Mare is a nice guesthouse right next to the castle.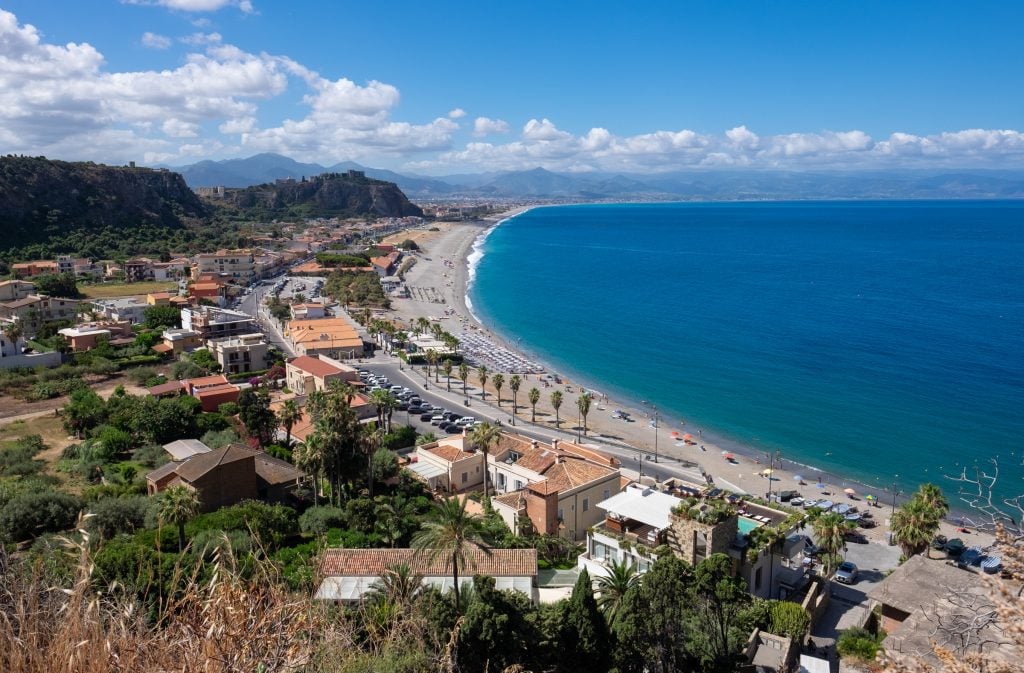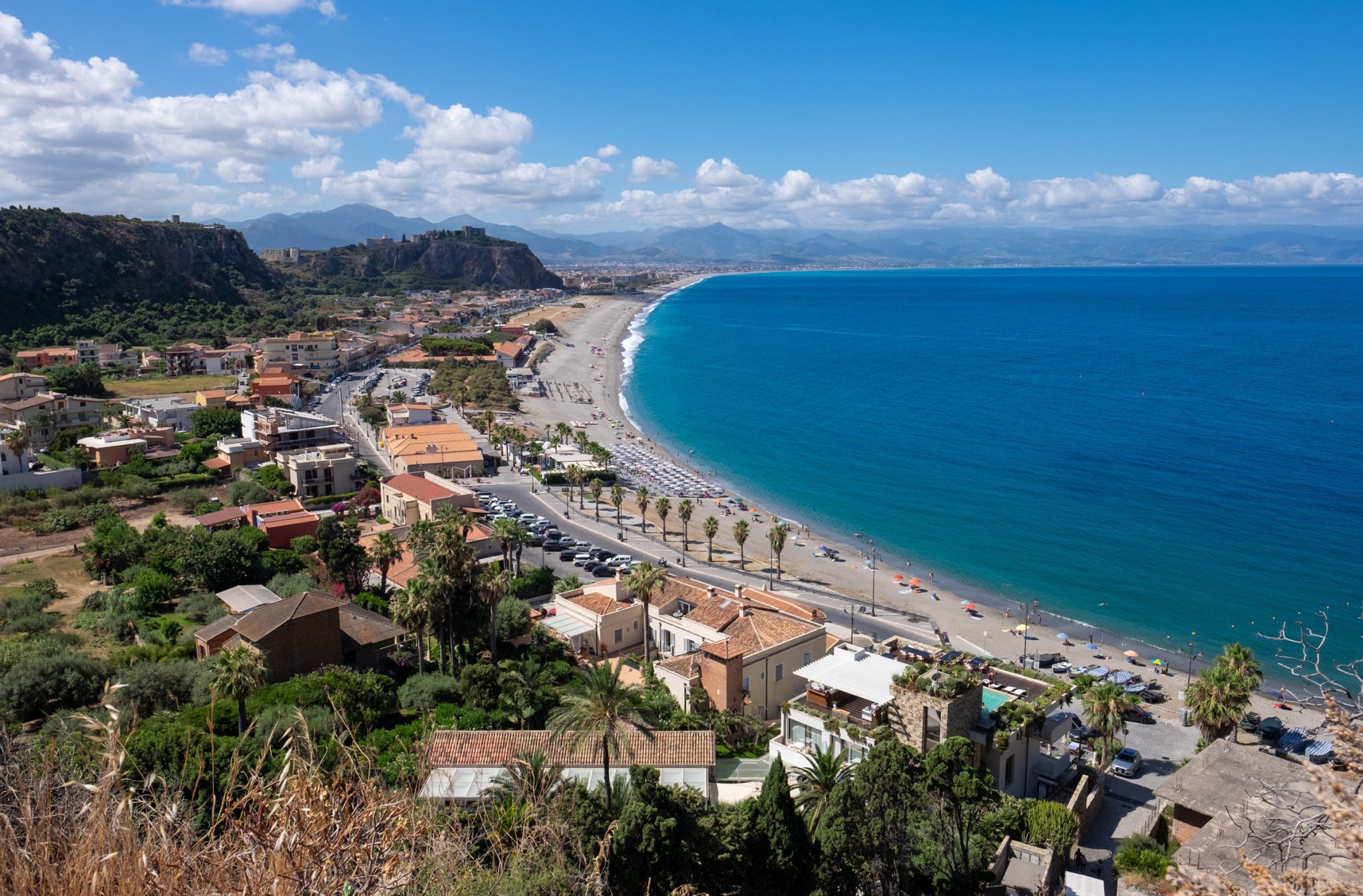 Milazzo
A lot of Sicily travelers see Milazzo for one thing alone: the ferries to the Aeolian Islands. But this seaside city is a lot more than that, and I was surprised at just how much I enjoyed Milazzo!
Milazzo is a narrow peninsula set on the sea, the geographic center rising steeply up from the coast. In this part of town, you can enjoy Castello di Milazzo, a ruined castle with spectacular views (and even a tuna production museum on site!). Beautiful villas spring up throughout this neighborhood.
The Tono neighborhood is home to a curved beach surrounding a neon blue bay. Here you can enjoy a number of beach clubs and seaside dining. Alternatively, head to Capo di Milazzo, the tip of the peninsula, to see the Piscina di Venere — Venus's pool, a beautiful place for a swim.
Just one thing — if you spend time in Milazzo, get yourself beyond the immediate port area. Like most port cities in Italy, this part of town pales in comparison to what you get when you head further away.
Where to stay in Milazzo: Ngonia Bay Boutique Hotel is one of my favorite hotels in Italy, and absolutely worth a special splurge for a few days. The grounds are beautiful — they reminded me of Southern California — with a pool in the ground and a second pool on the rooftop. The restaurant serves some of the best food I've had in Sicily (if there is a pasta with red Mazara shrimp, burrata, and pistachio pesto, GET IT).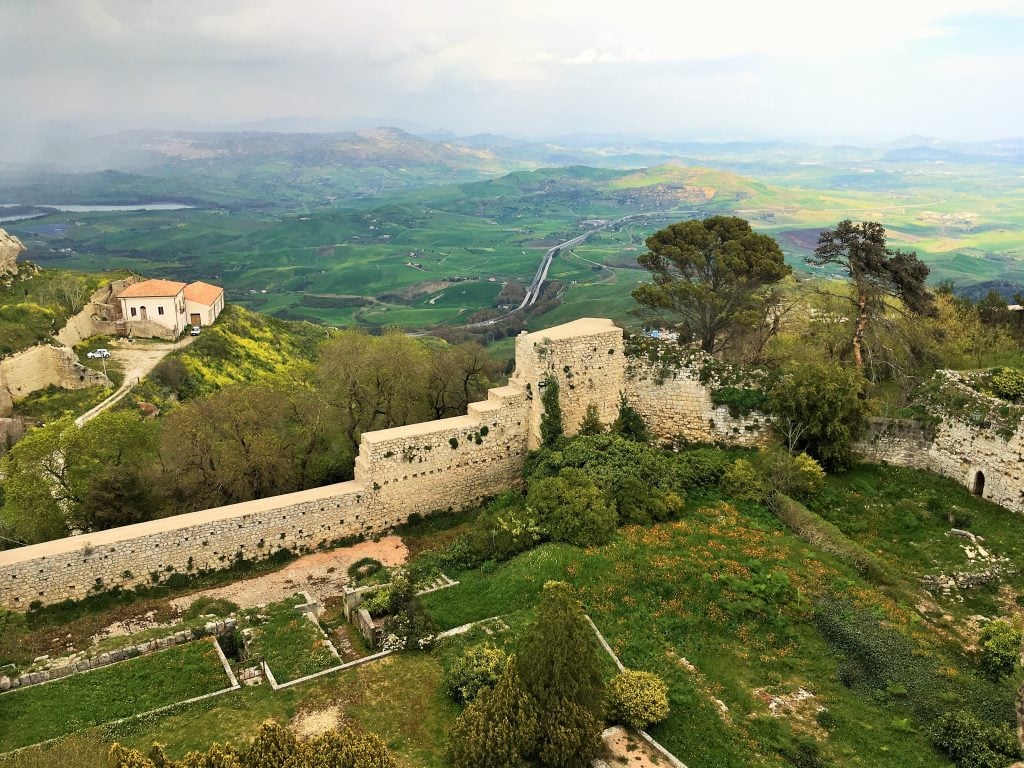 Enna
Submitted by Annabel of Smudged Postcard
Known as the "Belvedere of Sicily", the hilltop town of Enna has commanding views across central Italy. Enna is surrounded by farmland – a rich green landscape in springtime that gives way to golden fields as the heat of summer arrives.
The best place in Enna to admire the views is from the well-preserved 13th-century fortress Castello di Lombardia. It's free to enter and is usually fairly quiet so visitors can take in the impressive panorama in relative tranquility.
Elsewhere in Enna, highlights include the Gothic-Baroque cathedral with its impressive staircase. Easter is the best time of year to visit the city when atmospheric parades take place leading to the cathedral.
Enna is remote and hard to reach by public transport. It's 150 km from Palermo and 90 km from Catania, so hiring a car is recommended — there are plenty of interesting places to explore in the surrounding area too.
Where to stay in Enna: Although there are places to stay in Enna, there is nowhere interesting of note. However, just outside the town are some excellent agriturismo properties that enable visitors to get a true taste (literally) of rural Sicily. Baglio Pollicarini is a good option — it has an excellent restaurant, characterful accommodations, and a swimming pool. There are rooms sleeping up to four guests, which is ideal if you are visiting Sicily with kids.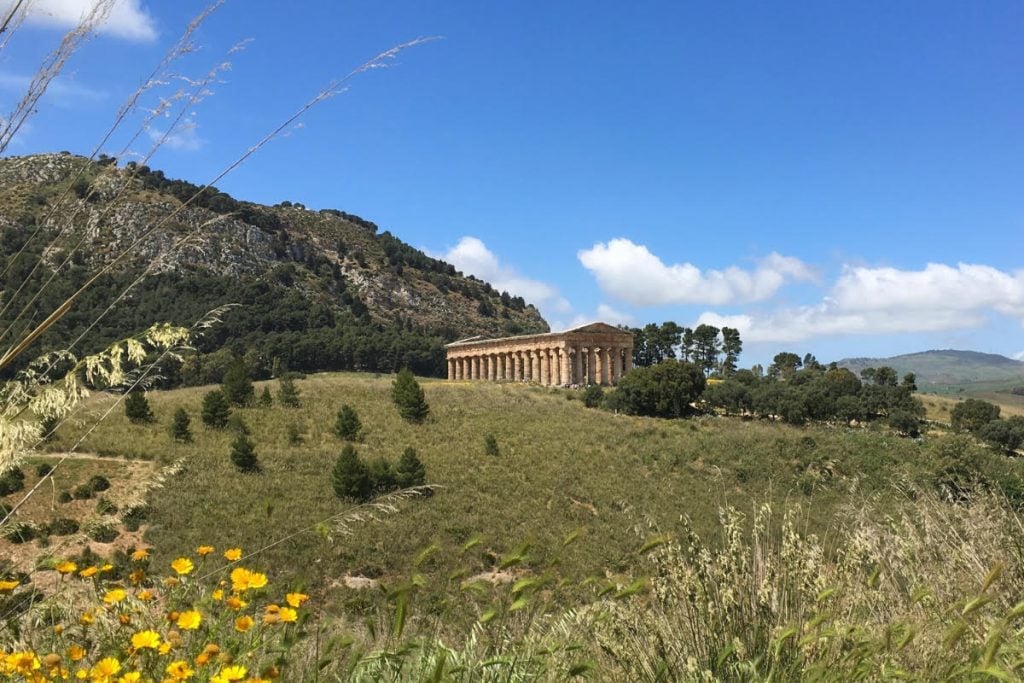 Segesta
Submitted by Izzy of The Gap Decaders
No trip to Sicily would be complete without the incredibly well-preserved ancient Greek Temple and Roman amphitheater at Segesta.
One of Italy's best-known landmarks, Segesta is set on a rural hill southwest of Palermo, with commanding views across the landscape. Surrounded by rolling hills which are covered by wildflowers in spring, Segesta is hauntingly beautiful.
Influential and important throughout ancient history, the original Elymian city of Segesta reached the peak of its wealth and power in the 5th century BCE, and was operated one of the largest mints on Sicily. During this period, Segesta also hosted an enormous market that attracted traders from all over Europe and was considered an endpoint of the historic Silk Road.
Towards the end of Segesta's reign, around 417 BCE, the Doric temple that still stands today was constructed (although never finished) at the foot of Mount Barbaro and represents the ancient city at the end of its power as Sicily was being drawn into international conflicts between the Greek powers of Athens, Sparta, and Carthage.
Between Palermo and Trapani, Segesta is easy to get to by car, or with a guided tour from Palermo, around an hour away. There's no reason to stay in accommodation close to Segesta; feel free to stay in Palermo, Trapani, or anywhere else in northwest Sicily.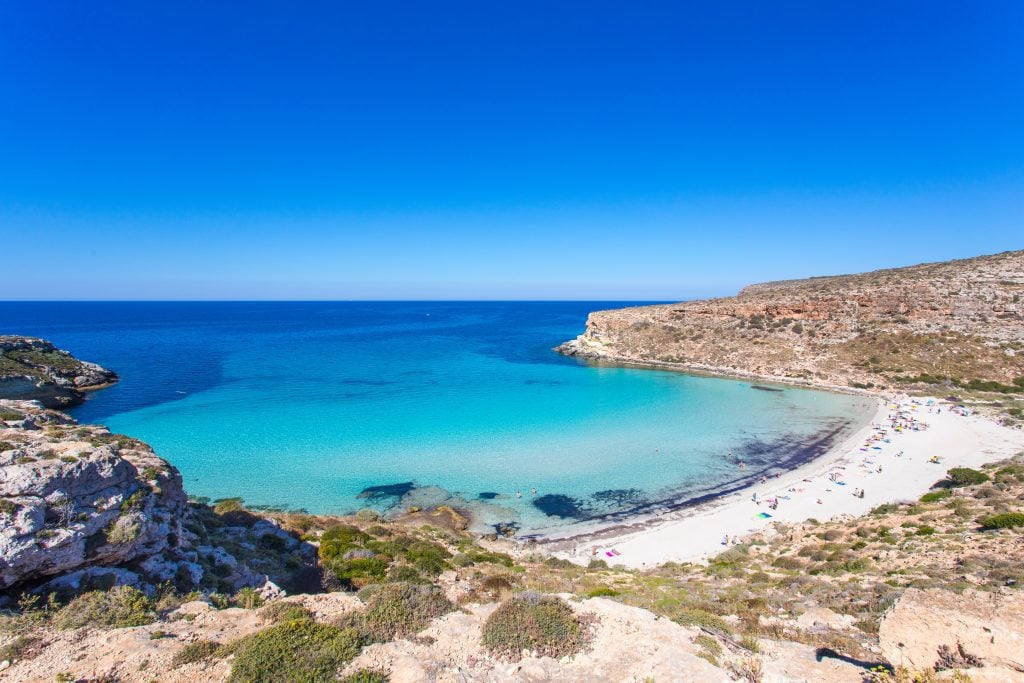 Lampedusa
Submitted by Iphi from Travel Choreography
Far off the white marble cliffs of the Scala dei Turchi and Southern Sicily, there is a tiny stretch of arid land called Lampedusa. The island has a unique feel to it — exotic yet approachable, beautiful but untamed. Most of all, it feels like it's in a world apart, and that's because it is. Located between Malta, Tunisia, and Sicily, it turns out Lampedusa is also one of the best places to visit in Sicily.
One of the best things to do on Lampedusa is visit Rabbit Beach, also known as Spiaggia dei Conigli. This beach was named the best in the world in 2013 because of its warm, crystal-clear waters filled with tiny fish. You can reach it by boat or take a 10-minute walk from the main road. Don't forget to bring water and a few snacks as there are no services available on the beach.
Like every Mediterranean paradise of its kind, the island thrives on tourism and fishing and is just waiting for you to join the party. With short direct flights from every big city in Italy, it is, fortunately, not too hard to reach.
Where to stay in Lampedusa: Staying in the main town of Lampedusa is the best option for most people. You can wander around the charming streets and try the local cuisine, where fish dishes dominate the menus. If you find a perfect Airbnb elsewhere, it's not a problem. Given the island's small size, you'll discover that everything is just a short scooter ride away.
If you're looking for total escapism, you might want to stay at Hotel i Dammusi. It's surrounded by nature, and you'll love the pleasant smell of wild cacti flowers and waking up to the sound of waves nearby. It's the perfect spot to relax and unwind.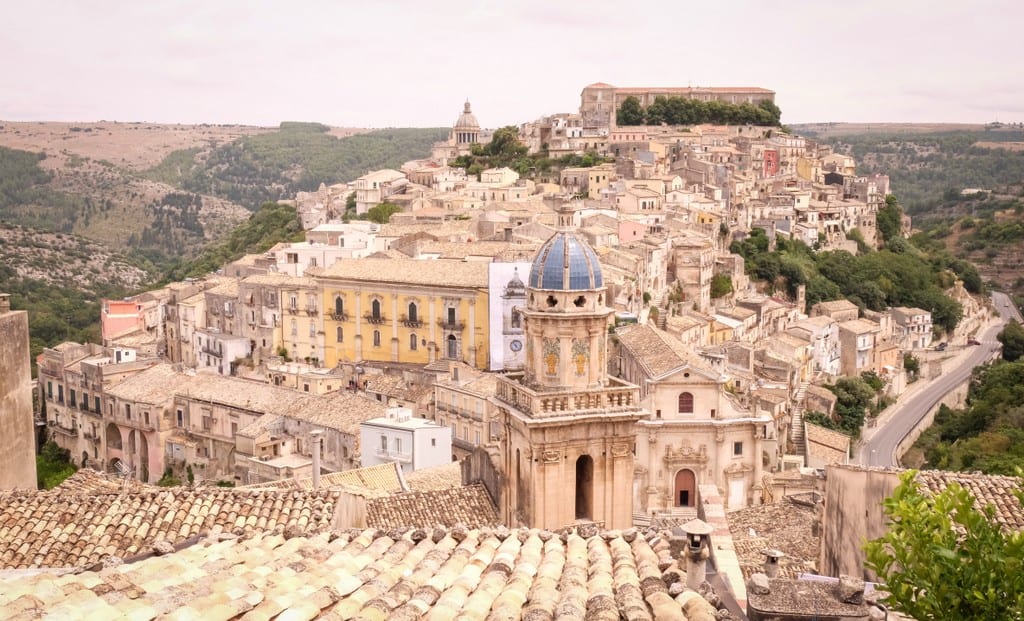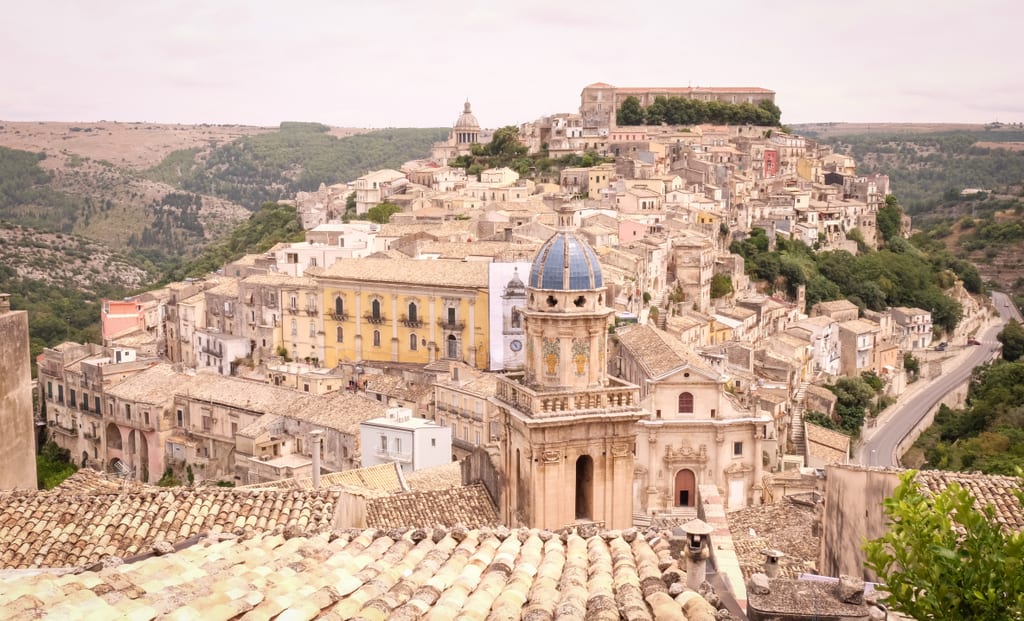 Ragusa
Submitted by Greta of Greta's Travels
If you're looking for the best places to visit in Sicily, you have to add Ragusa to your bucket list. Located in the southeast of Sicily in the Val di Noto, this hilltop town is characterized by its Baroque architecture and countryside views.
Ragusa Ibla, the historical town center, is home to the Duomo di San Giorgio. This Baroque church dates back to the 1700s and is home to grand paintings and colorful stained glass windows. Surrounding the Duomo di San Giorgio, you find picturesque cobbled streets, which meander through the historical town center and make you feel like you've stepped back in time.
Ragusa, as is most of Sicily, is one of the most popular destinations to visit in Italy in summer. It gets pretty hot in the Sicilian countryside, but Ragusa Ibla is only a 30-minute drive to Marina di Ragusa. That way you can combine discovering one of the most interesting Baroque cities in Sicily with spending some time lounging by the sea.
Where to stay in Ragusa: When choosing where to stay in Ragusa, make sure to pick somewhere inside Ragusa Ibla. That way you will be within walking distance of all the main attractions, and you'll be able to enjoy the magical atmosphere of these cute streets after dark, when most of the tourists leave.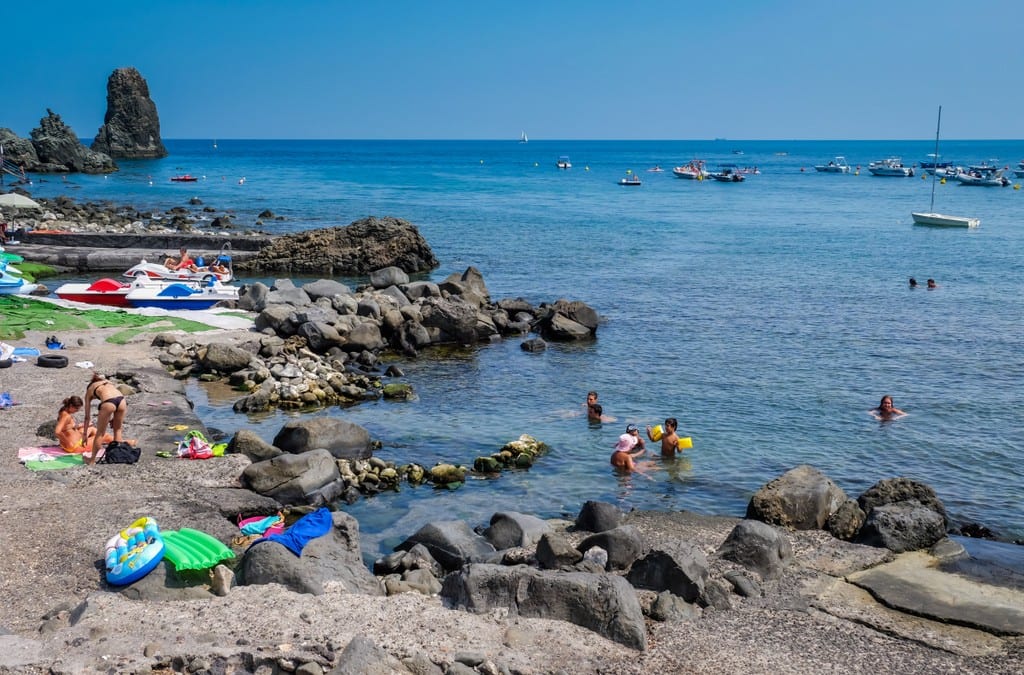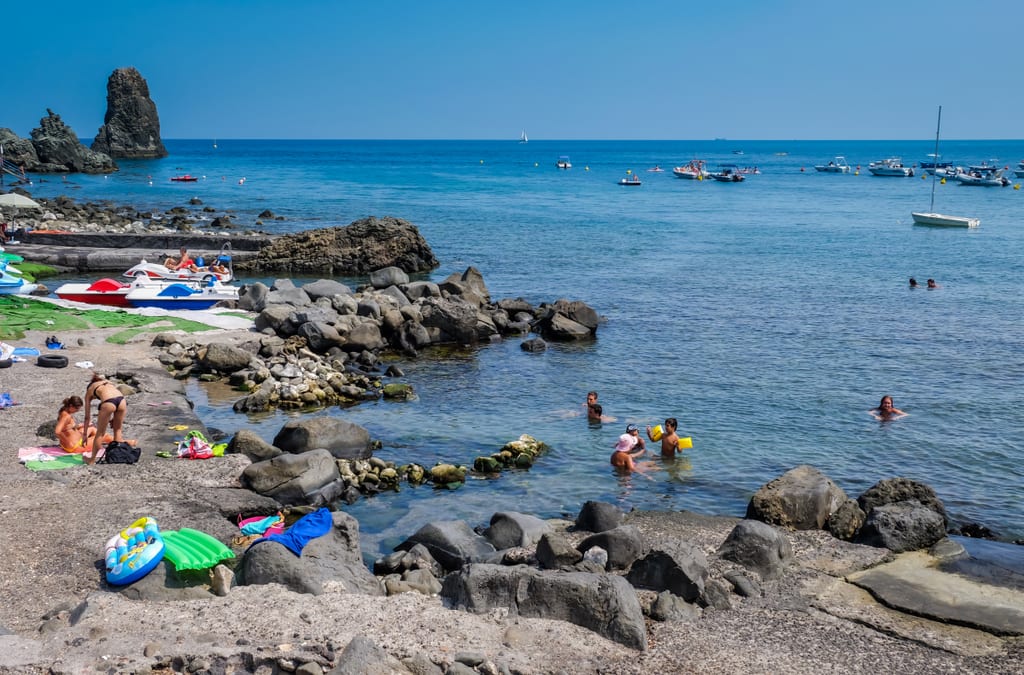 Aci Trezza
Sure, there are lots of places that international travelers like to go in Sicily — but where do the locals go? They go to fun beach getaways that are easily accessible to the big cities, but
One of those places is Aci Trezza — a seaside town in Eastern Sicily, just outside Catania near Aci Castello, home to a picturesque coastline with clear, bright blue water. Here you'll find the Faraglioni dei Ciclopi — the "stacks" or boulders of Cyclops, who flung them into the sea.
There's not a lot to do in Aci Trezza — but that's its appeal. Have a granita by the sea, take a boat trip around the islands, bask in the sunshine. While there aren't any traditional sandy beaches here, people either stretch out on the rocky coastline, or book a chair at one of the beach clubs on stilts above the water. It's the perfect place to take a break from your hectic trip.
If you're an early riser — or even if you're not — it's worth getting up for sunrise here. There's nothing like seeing the colors change over the faraglioni.
Where to stay in Aci Trezza: The Grand Hotel Faraglioni is one of the nicest properties in town, with a perfect seafront location overlooking the coastline.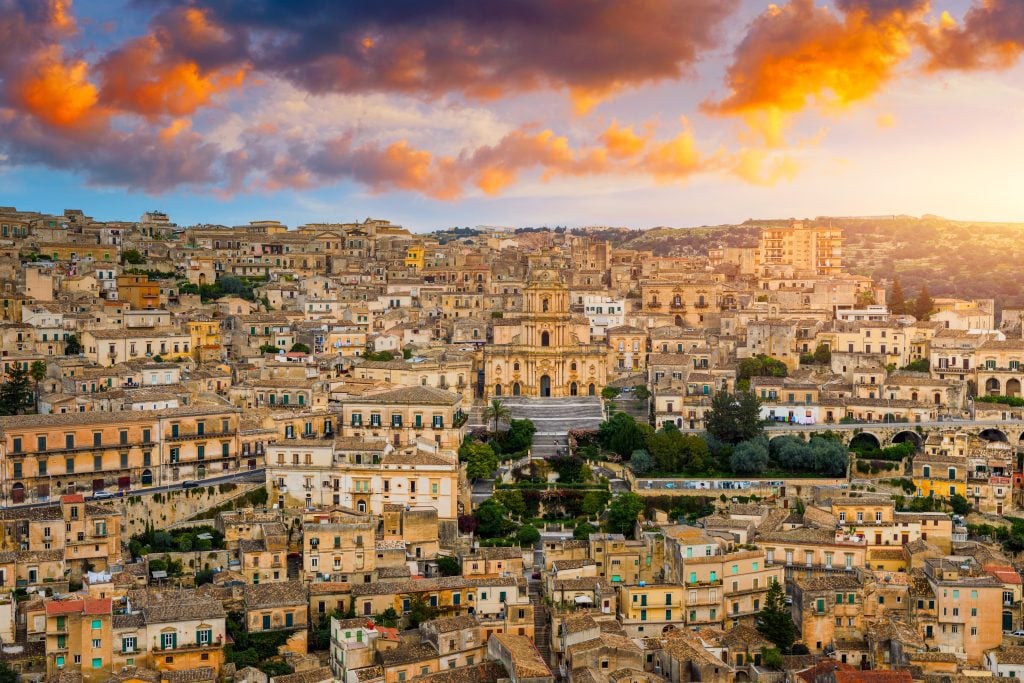 Modica
Submitted by Ossama of Awesome Traveler
Sicily is well known as one of the best European islands to visit. One of the best places to visit in Sicily is the town of Modica, one of the UNESCO-listed Baroque cities of the Val di Noto.
Modica is home to mesmerizing Baroque buildings with rich carvings and exotic balconies, including the Cathedral of San Pietro. The enormous stairway leading to the Cathedral is stunning, lined with the status of the 12 apostles. Once you enterthe church, you are great with staggering Statue of the Madonna of Trapani.
Be sure to spend time walking down Corso Umberto, Modica's Main Street, which is home to more architectural marvels like the Palace of Modica, the church of Saint Peter, Garibaldi Theater, and Grimaldi Palace.
Modica is also known for its signature chocolate, which you can find in shops all over the city. Modica's chocolate is processed at a low temperature, which gives it a grainy (and delicious!) texture. Modica is also home to a Chocolate Museum where you can sample all different kinds of this local delicacy. It also makes a nice souvenir to bring home from Sicily.
Where to stay in Modica: The Modica Boutique Hotel is a mid-range property close to many attractions, and features panoramic views of Modica, all the way to the distant sea.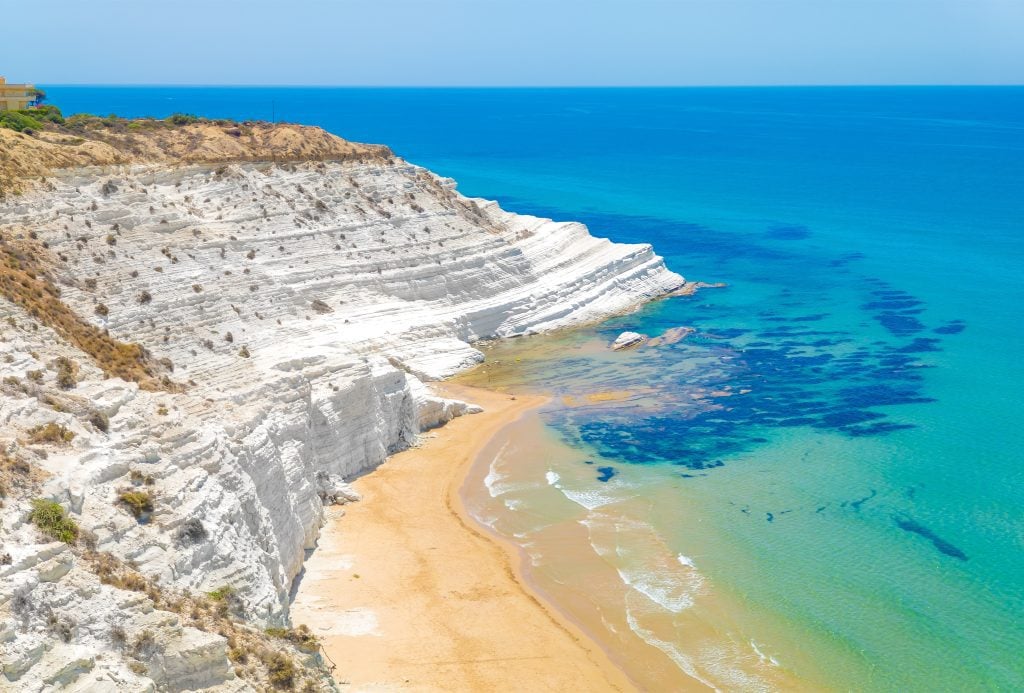 Scala dei Turchi
Submitted by Adriana of Wanderlicious
Scala dei Turchi is one of the most unique places in Europe and my favorite place to watch the sunset go down. The sunsets at Scala dei Turchi are just as beautiful as they look in the pictures.
Scala dei Turchi, known as the Turkish Stairs in English, is a strikingly white cliff with natural inbuilt steps that resemble a staircase. It's become a popular tourist destination because of the beautifully blue cerulean waters that are perfect for diving into during the day, and watching the sunset with its hundreds of pastel colors.
It is referred to as Scala dei Turchi due to the location's tumultuous history. The Ottoman Empire used this point as a lookout during their raids by pirates and warriors. But those days of turmoil are long gone, and now you'll find tourists bathing in the plentiful coves and shallow pools to relax in.
Make sure you bring a picnic, wine, drinks, or something to sustain yourself as there aren't always vendors down at the bottom where the beach is. It's also worth exploring the nearby towns of Agrigento and Porto Empedocle. A gelato tastes even sweeter with this view!
Where to stay in Scala dei Turchi: I can recommend the Scala dei Turchi Resort, a lovely 4-star hotel with a pool and loungers to relax on after a long day of exploring the local area.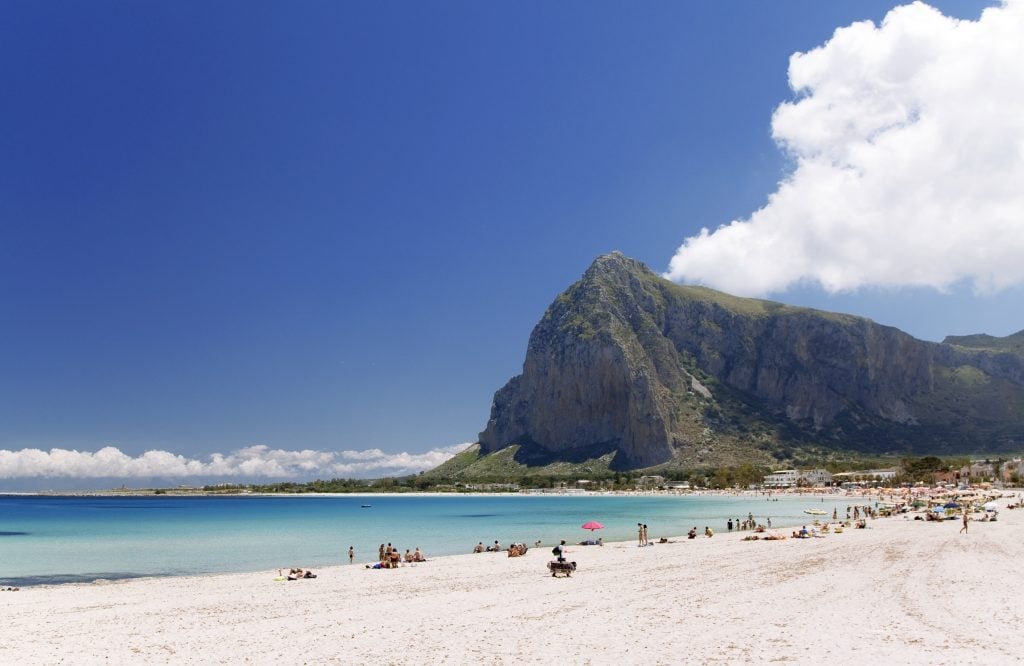 San Vito Lo Capo
Submitted by Jolene Ejmont of Wanderlust Storytellers
In northwest Sicily you'll find one of the island's most beloved beach towns: a little place called San Vito Lo Capo. 
San Vito Lo Capo is well known for its sheltered beach and clear waters making it a great spot for swimming and spending a relaxing day at the seaside. Mount Monaco makes a stunning background straight out of a screensaver. Although it's well-known for its beach, it has many other great things to do and places to see. 
San Vito Lo Capo feels more North African than many other parts of Sicily, and that extends to the cuisine. The town puts on one of Sicily's best food festivals each September — Cous Cous Fest! Cous Cous Fest celebrates all things couscous, which originated in North Africa before making it to Sicily.
Another great cultural experience is a visit to the San Vito Sanctuary in the middle of the town. Originally built as a fort and then later transformed into a church, it is now a small museum.
If you fancy a day trip or excursion, a boat trip is the perfect tour to book. Here you will cruise along the coastline visiting secluded coves and beaches, where you can go swimming or snorkeling.
For the more adventurous or active travelers, there is a rock cliff with more than 1000 climbing routes that rock climbers love. For an activity less daring you can hike along the coastline to Piana of Egitarso or Zingaro Nature Reserve and take in the gorgeous panoramic views along the way.
Where to stay in San Vito Lo Capo: While many travelers visit from nearby Trapani, an overnight stay in San Vito Lo Capo is well worth it. Hotel Biancolilla is situated in what is considered the best area of San Vito Lo Capo and is in the heart of everything.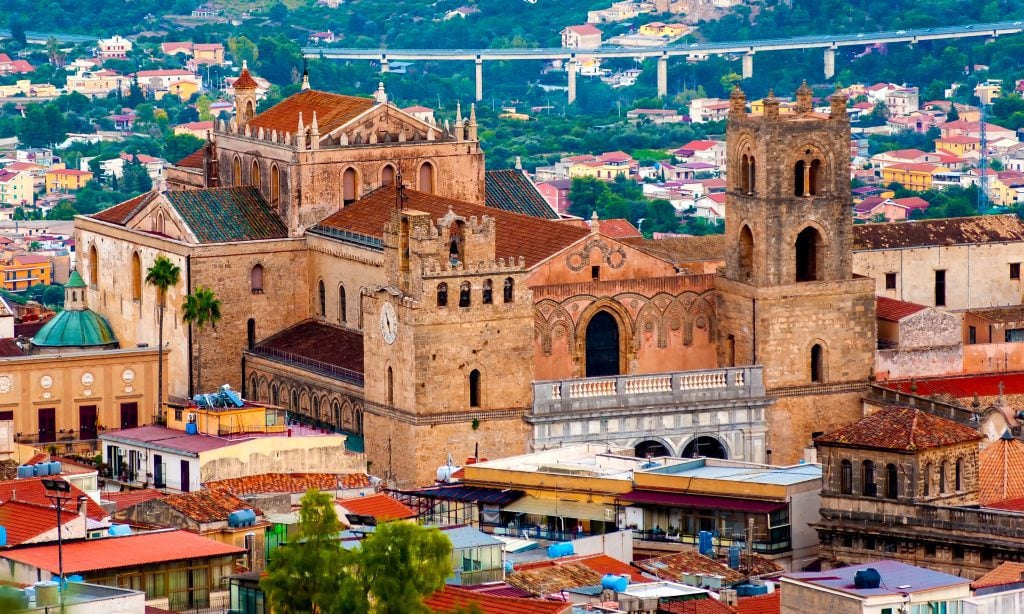 Monreale
Submitted by Džangir of Dr Jam Travels
Monreale is a small town in Sicily that makes for a great day trip from Palermo, as it is just a short drive or bus ride from the city center. This town is famous for the Cathedral of Santa Maria Nuova, commonly known as Monreale Cathedral, located on Piazza Vittorio Emanuele.
Built by William II in 1174 in a unique combination of Arab-Islamic, Byzantine, and Romanesque-Norman architecture, the cathedral is a UNESCO World Heritage site. The interior is covered in almost 70,000 square feet of mosaics, mainly biblical stories with the main figure of the Cristo Pantocratore (Christ Almighty).
Monreale is located in a hill above Palermo, with stunning views all the way down to the sea. This area is called the Conca d'Oro — the Gold Basin — and makes a great spot for photos. Once in town, you will wander around its narrow cobbled streets surrounded by beautiful old buildings and pastry shops.
Monreale is a 35-minute bus ride from Palermo, and buses leave every 30 minutes — it's so easy, you don't have to book a pricey trip to Monreale. You can also drive to Monreale if you have a car, though be prepared for Italian driving!
Where to stay in Monreale: While most travelers will prefer staying in Palermo with its extensive accommodation options, you can also stay over in Monreale for a quieter, more local atmosphere. You can find accommodation in great medieval renovated houses like Opera Boutique Rooms.
More on Sicily:
Cool Places in Southern Italy:
Cool Places in Northern Italy:
Planning a Trip to Italy: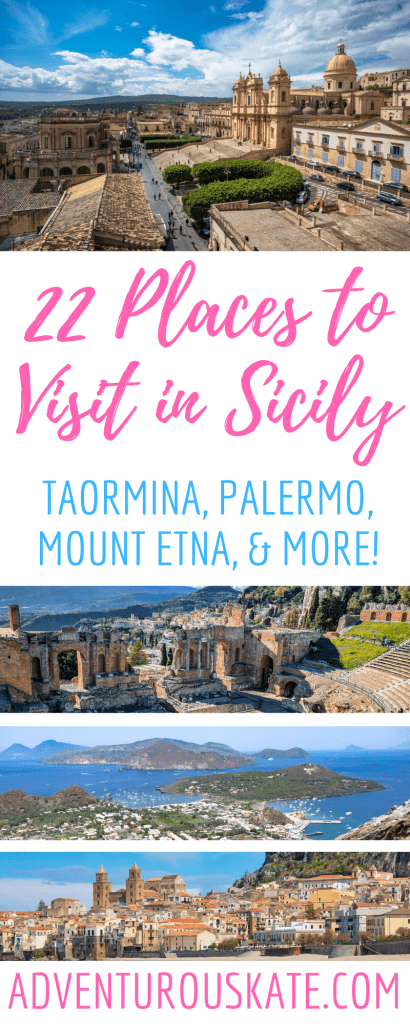 Have you been to Sicily? What's your favorite place to visit? Share away!