Adventurous Kate contains affiliate links. If you make a purchase through these links, I will earn a commission at no extra cost to you. Thanks!
Italy is my country.  I've spent a long time there, I studied abroad there, and I get a huge smile on my face each time I return, excited for the food and the wine and the beautiful people.
As a result, my readers are always asking me for Italy advice.  Most of the time, people want help with their itinerary, and I give them a variation of the Rome-Florence-Venice route with a day or two in the countryside.
I was wrong.
The best thing to do in Italy is get out to the countryside.
I know — most people visiting Italy for the first time want to see the Colosseum and the Sistine Chapel and the statue of David and the canals of Venice.  These are the Italian symbols that have been etched in our brains since childhood.
If that's your travel dream, by all means go for it!
But if you're open to seeing a different Italy, I suggest you consider exploring rural Italy, the Italy of hill towns and endless green fields.
I began thinking about this on my trip to Emilia-Romagna last year, but it was solidified after a few days in Umbria.  Umbria is far from an urban mecca — the largest city is Perugia, which isn't even that big — and we spent our days going from hill town to hill town and vineyard to vineyard, exploring close to the ground.
As much as I love the cities of Italy, visiting the country is a very, very different experience.
So, why Umbria?  It has all the charms of Tuscany, but far fewer tourists.
A lot of people travel to Tuscany thinking that they'll be the only foreigners, only to find themselves elbow to elbow with dozens of shuffling tour groups in San Gimignano or Cortona.  Tuscany is magical, but parts of it feel like Italian Disneyland these days.
Travel to Umbria and you'll experience all of the beauty, all of the charm, and all of the deliciousness of Tuscany — with fewer crowds and less price-gouging.  (There is, however, one exception: Assisi.  Assisi is very crowded and very tourism-driven, but it's definitely worth a half-day visit.)
So, where to go in Umbria?  We visited the towns of Bevagna, Torgiano, Montefalco, and Spello.  All four were lovely.  Bevagna was my absolute favorite, but Spello was the most photogenic.
These towns, along with Orvieto, which I visited a few years ago, are convenient to visit for first-time Italy visitors, with tourist attractions and plenty of English speakers.  And LOTS of delicious food, of course!
That's only a fraction of what there is to see.  Some of my blogger friends visited Gubbio, Narni, Perugia, Spoleto, and so many other towns…
While the museums are some of the big draws in Florence and Rome, there are great, quirky museums out in the Umbrian countryside as well.  I really enjoyed the Museo del Vino (Museum of Wine) in Torgiano.
I love small museums with a very tight and focused theme.  Plus, when something has been around for thousands of years in cultures all over the world, you can guarantee that it has an interesting history.  I loved seeing all the wine cups and bowls from different ages!
We happened to be in Umbria for the Feast of St. George, which takes place in April.  Among the festivities?  A bonfire and LOTS of porchetta (whole roasted pig stuffed with fennel).  It was the small-town aspect of the festival that really charmed me — before the meal, the mayor made a speech and the priest led everyone in prayer.  I loved that.
People poured wine into plastic cups and ate the sandwiches right on the table, without plates.  We sat at a long table jammed with locals, everyone enjoying that delicious porchetta.
Another advantage of traveling in the countryside?  It's SO much cheaper.  Our guide, Fabio, took us to a gelateria in his hometown where the gelato cost ONE EURO.  I have never paid one euro for gelato in Italy, anywhere!
With my twice-a-day gelato habit during my semester in Florence, I would have saved hundreds of euros by heading to Umbria instead!
And then, of course, there's agriturismo.  Agriturismo, or agritourism, is a very popular option for vacationing Italians, and it's just starting to catch on with international visitors.  In Umbria, we visited Agriturismo I Mondarli, run by three sisters.
How does it work?  You go stay at a farm or vineyard that doubles as a B&B.  They range from very basic to nearly luxurious, though most agriturismos are quite simple.  During the day, you can help out with the work if you'd like — picking grapes, working in the gardens, pressing olive oil — or you can do whatever else you'd like.
But it's mealtime that makes agriturismo special.  Imagine plate after plate of fresh food from the farm appearing in front of you — several kinds of cured meats, a giant mound of fresh ricotta, tons of vegetables picked from the dirt that day.  The sisters described their food as "simply country food" but believe me, even the simplest of Italian country food is better than food almost anywhere else!
I fully expect to see agriturismo grow exponentially all over the world in the next few years.  Keep an eye out for it!  For now, it's one of the experiences that I highly recommend in Umbria and anywhere in Italy.
So here is my new advice for visiting Italy: rent a car and drive into the countryside.  Visit every small town that catches your fancy.  Book a few days at an agriturismo.  Eat everything you set your eyes on.
It's not Rome, and it's not Venice, but it's a very different kind of Italian experience, and one that I enjoyed greatly.  If you're planning a trip to Italy for the first time, consider taking the Umbrian route instead!
Planning a Trip to Italy:
Cool Places in Southern Italy:
Cool Places in Sicily:
Cool Places in Northern Italy:
Many thanks to the Umbria Region Tourism Board and Travel Bloggers Unite for introducing me to this wonderful part of the world.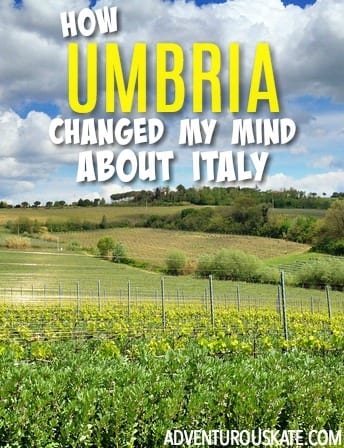 Get email updates from Kate
Never miss a post. Unsubscribe anytime!