Adventurous Kate contains affiliate links. If you make a purchase through these links, I will earn a commission at no extra cost to you. Thanks!
Imagine an island that represents the best of Italy — spectacular views, beautiful beaches, fantastic food, zero pretension whatsoever. Welcome to Ischia, Italy. This island in Campania, southern Italy, delivers on every level.
As an Italy travel expert, Ischia (EES-kee-ah) has been a place I've wanted to visit forever — and I finally got my chance when my husband Charlie and I decided to go for a four-day "mini-moon" after our Prague wedding, before our big honeymoon to South America later in the year.
And Ischia island could not have been more perfect! It was easy to get to — just a short ferry ride over from well-connected Naples. It was full of places to explore, from small villages to an actual castle to geothermal spas hiking trails up mountains. It was filled with tons of good food, including excellent Neapolitan pizza, fabulously fresh seafood, and agriturismi dishing up plate after plate of appetizers and stewed rabbit.
Looking back, I'm still blown away at just how much Ischia has to offer. Of all the islands in Italy that I've visited (around 15 or so by now), Ischia is probably in my top two, along with Salina in the Aeolian Islands.
At the same time, what I most appreciate about Ischia is that its visitors are primarily Italians (and, specifically, Neapolitans). This island doesn't cater to the yacht crowd with luxury boutiques, or whistle-stop tourists with cheap souvenirs. Instead, Ischia is filled with really nice mid-range clothing shops and fabulous restaurants — because Italians love to look good and eat well!
If you've read Elena Ferrante's Neapolitan Novels (My Brilliant Friend, anyone?), you might recall that while most of the book takes place in rough neighborhoods in Naples, some pivotal scenes take place on the island of Ischia. If you're as big of a fan of her writing as I am, you need to come here.
Ischia is a truly special place, one of my favorite places I've visited recently, and I'm excited to share it with all of you.
This post was published in October 2023.
Things To Do in Ischia, Italy
Ischia can be an island for lying on the beach and eating gelato — if that's what you want to do. But that would almost be a waste, because Ischia is so much more than that.
I recommend that you prioritize taking a boat trip around the island, exploring Castello Aragonese, spending a day at a thermal spa like Negombo, hiking Mount Epomeo (if you're the hiking type), and getting around the island on the public bus system.
Here are some of my favorite things to do in Ischia Italy.
Take A Boat Tour Around The Island
Ischia is best viewed from the water! Taking a boat trip here is an absolute must, and one of my personal favorite things to do in Ischia. You'll get to admire Ischia's volcanic geography from every angle and do some swimming and snorkeling.
If you'd like to do an organized tour, this boat tour around the island includes stops at gems like Maronti Beach, the pretty little town of Sant'Angelo, the Grotta Verde (green cave, which you can swim into and stand inside), and Baia di Sorgeto.
Want something more special? Charlie and I wanted to book a private tour — it was our mini-moon, after all — so we booked a full day tour with West Coast in Ischia. West Coast offers private boat trips at very reasonable prices — we paid 330 EUR ($350 USD) for a boat that could fit up to four passengers, along with a skipper (the wonderful Vito). And there was copious sparkling wine on board, too.
My favorite place we visited with West Coast was a secret geothermal spot along the coast, where the hot land and cold water combined to make a natural hot tub in the ocean!
So if you're up for a group experience, check out the boat tour, which includes lunch, some drinks, and snorkeling gear for a reasonable price, or book a private trip with West Coast for a more tailored experience.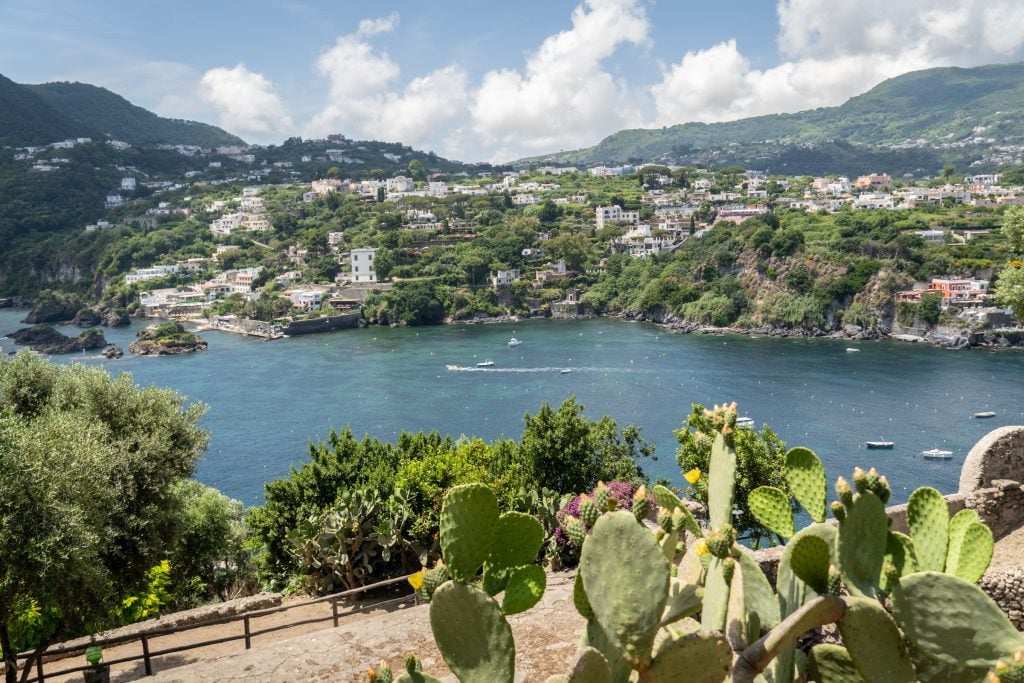 Visit The Castello Aragonese
If you've seen any one picture of Ischia, it was likely of the Castello Aragonese — a stone castle built on an enormous rock, connected to the mainland by a stone bridge. And if you think the photos of the castle are amazing from below, just wait until you get to the top!
The castle was built by Alfonso V of Aragon in the 15th century, but its history dates back to ancient times, when it was used as a refuge by the Greeks, Romans, Normans, and Angevins. It's an absolute must-do for anyone who loves history, culture, and views of perfect Italian islands.
The castle is open to tourists who can explore its various levels, from the dungeons and prisons to the gardens and churches. From the castle's terraces, you can also enjoy stunning views of the Bay of Naples and the Tyrrhenian Sea. The castle also hosts a small museum that displays archaeological finds, paintings, and sculptures from different periods of Ischia's history.
The entrance fee is 10 EUR ($11 USD) per person. Alternatively, you can book a two-hour guided tour of the castle, which will give you excellent historical context. To get to the castle, you can take a bus to the Ischia Ponte neighborhood; we enjoyed a pleasant 25-minute walk from Ischia Porto.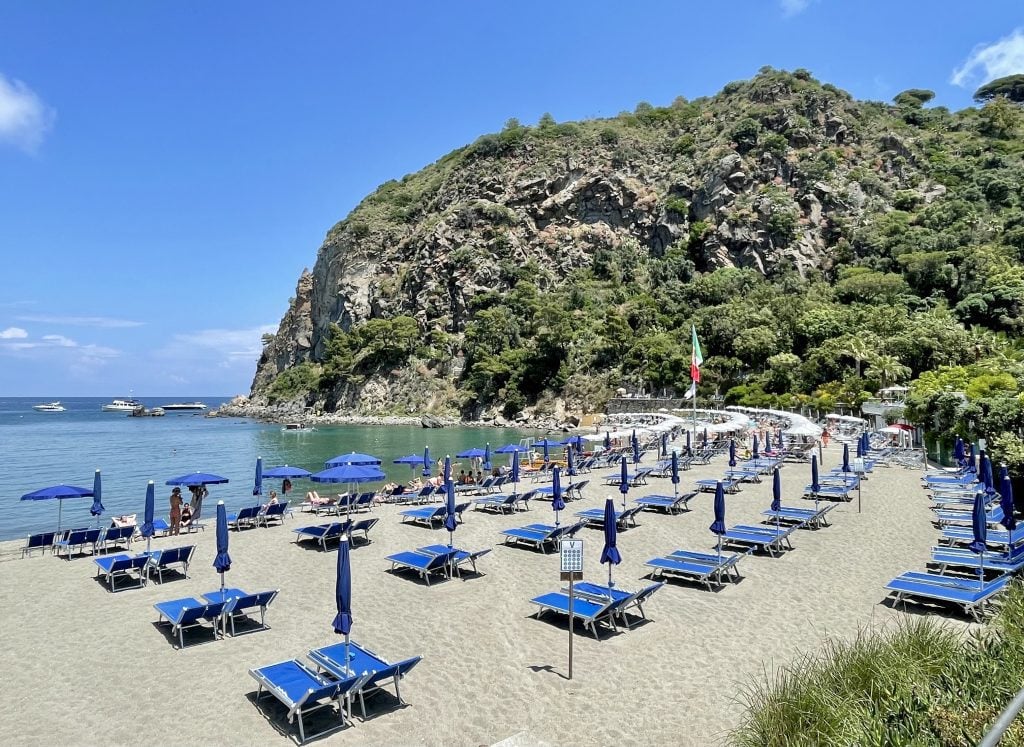 Enjoy Ischia's Beautiful Beaches
Ischia, Italy, the volcanic paradise in the Gulf of Naples, boasts some wonderful and beautiful beaches, perfect for getting away from it all. Ischia has a variety of beaches to offer, whether you crave sandy shores or rocky coves, secluded spots, or fun beach clubs.
Spiaggia di Cava Grada is charming gem with clear waters and soft sandy beaches, offering stunning views of the picturesque small town of Sant'Angelo.
Le Fumarole Beach is the place to go to experience the thrill of volcanic activity beneath your feet as steam and gas vents create a unique beach adventure.
Spiaggia di San Montano is a crescent-shaped beach with calm waters and fine sand, surrounded by lush hills. It's part of Negombo Thermal Park, one of my favorite spots on the island, which I'll get into further below.
Spiaggia dei Pescatori is a lively, long stretch in Ischia Porto, teeming with amenities and shallow waters — a very popular choice for families, and home to dozens of beachfront hotels.
Tour Ischia by Bus
Ischia is worth exploring from top to bottom — and one of the easiest ways to do so is to hop on a charming bus tour that covers the island's top attractions. A local guide will share tales of Ischia's exciting history, colorful culture, and natural beauty.
The bus tour takes you on a striking journey, stopping at magnificent spots like Sant'Angelo, Forio, Lacco Ameno, Casamicciola Terme, and Barano. You'll have ample free time to wander, snap photos, or pick up souvenirs. The tour includes pick-up and drop-off service from your hotel or port, which is especially nice.
Touring Ischia by bus is a fantastic way to uncover the island's highlights and diverse landscapes without the hassle of driving in Italy. The budget-friendly price is 15 EUR ($17 USD) per person, and you can choose between morning or afternoon departures. The tour is offered in several languages besides English and Italian.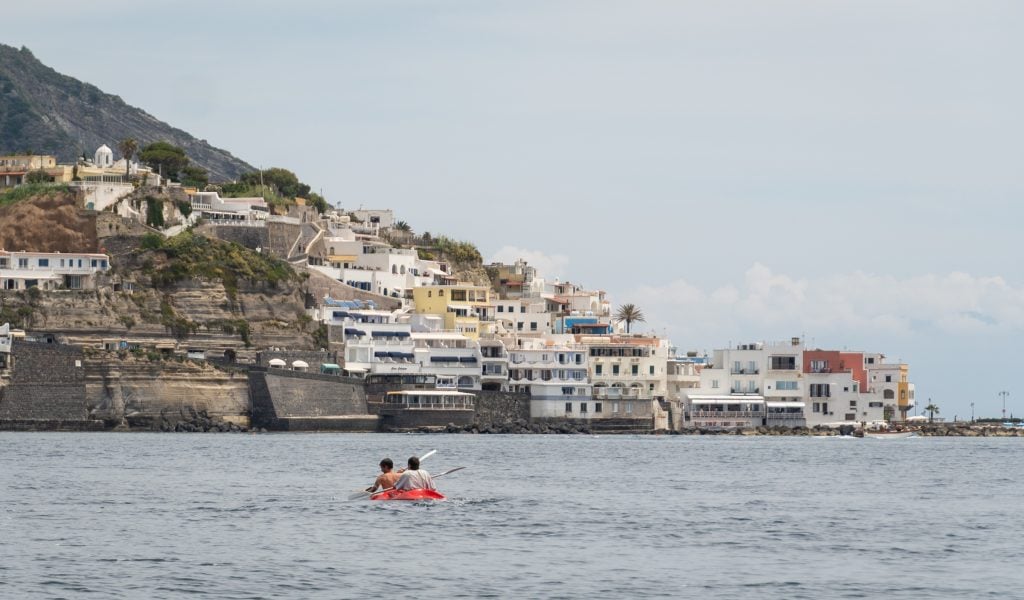 Go Kayaking
Want to get out on the water? Head out in a kayak! Kayaking on Ischia as one of the top things to do on the island. Explore the island's coastline at your own pace, finding hidden caves, natural pools, and marine wonders.
This three-hour tour takes in much of Ischia's southern coast, passing the Maronti Beach and Sant'Angelo. You'll discover stunning spots like Sgarrupata Bay, San Pancrazio Bay, and the enchanting Grotta Verde. And you're more than welcome to hop in for a dip!
This kayaking tour accommodates all skill levels and runs from April to October. Equipment and guide are included.
Learn To Make the Local Cuisine of Ischia Island
You might not be surprised to learn that Ischia has great food, but you'll probably be surprised by just how diverse the food offerings are on this island. Influenced by its volcanic soil, maritime tradition, and multicultural history, Ischia has more local specialties than you could try in a single trip.
From coniglio all'ischiatana (Ischia-style stewed rabbit) to spaghetti alle vongole (spaghetti with clams) and a wide variety of local wines, you will eat VERY well here.
What's even better than eating in Ischia? Learning how to make some local dishes yourself. (Bring the recipes home and your friends and family will love you forever.)
First up: learn the best way of crafting a true Neapolitan pizza from scratch using a traditional wood oven and the freshest ingredients in this pizza-making class with a local chef. You'll also learn how to make focaccia and calzone.
Another option is a market adventure guided by a local, exploring the best products and flavors of Ischia. Bargain with vendors and select gorgeous pieces of produce (never forget that the fancy tomatoes at Whole Foods in the US are actually Italy's rejects). Afterward, head to a local home, where you'll prepare a four-course meal with your host's guidance.
This local home dining experience is a great way to experience an intimate, authentic dinner at a local's home in Ischia. Be warmly welcomed and indulge in a three-course meal brimming with seasonal ingredients, accompanied by wine.
You can also dine with Lucia, a local chef and food lover from Ischia. She invites you to her home and garden, where she will teach you how to cook some of her favorite Ischitan recipes using fresh and local ingredients. Some of the dishes you can learn to make are spaghetti with clams, rabbit with herbs, eggplant parmigiana, and lemon cake.
Finally, you can also immerse yourself in Italian cuisine as you learn how to make two of its most beloved dishes — pasta and tiramisu — in the comfort of a local's home. You'll meet Cesarina, a certified ambassador of Italian culinary traditions. Enjoy an aperitivo, make fresh pasta with a sauce of your choice, and craft a delectable tiramisu with coffee and mascarpone.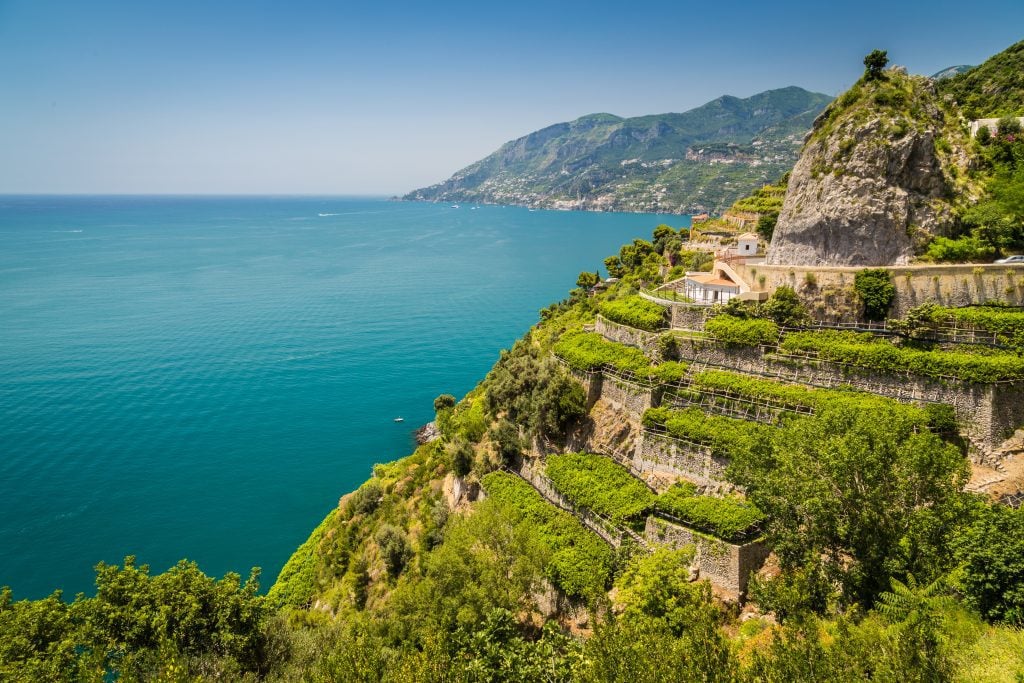 Learn About Wine & Spirits
What a surprise — Ischia makes terrific wine, too. The island's fertile soil, sun-kissed climate, and assorted grape varieties yield exceptional wines and liqueurs. Take advantage and sample regional specialties like Ischia Bianco, Ischia Rosso, or rucolino at the tiny bars and eateries that dot the island.
Additionally, Ischia offers several wine and spirits tours if you want to dive deeper into this exploration.
You can visit the first distillery in Ischia, established in 1888 by Vincenzo Pollio. It's a great place to discover the art of crafting famous liqueurs like rucolino (made with rocket leaves, or arugula, as we call it in the states), finocchietto (made with fennel seeds), and limoncello (made with lemons). You'll get to enjoy local snacks along with the booze.
You can also go on a Ischia vineyard and wine tasting tour to learn about Ischia's winemaking at a family-run winery nestled near Mount Epomeo in Serrara Fontana. Stroll through vineyards, the cellar, and a small museum. You'll sip four wines paired with a tagliere of salume, or local meats and cheeses, during this two-hour tour.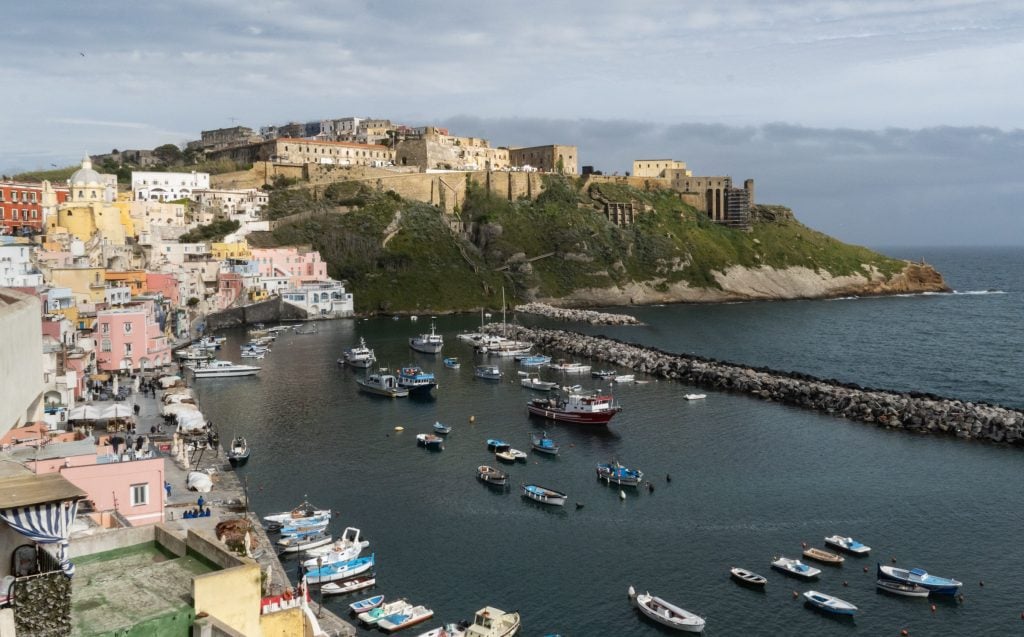 Visit Procida Island
One of the best things to do in Ischia is to take a day trip to the island of Procida, a colorful getaway in the Bay of Naples. You can explore Procida on your own by taking the ferry from Ischia — a quick 20-minute ride — or you can join one of the organized boat trips from Ischia with a guided tour.
What I love about Procida is that it's very compact — a fraction of the size of Ischia. You can walk from end to end of the island in a day, admiring the charming houses, many of them painted bubblegum-pink. Definitely don't miss the bright and colorful Marina Corricella, which you'll want to photograph from every angle!
There are several tours from Ischia to Procida, but here are a few of the highest rated options:
On this guided cruise, you'll go around Procida and stops at the most scenic spots, such as Marina Corricella, Terra Murata, and Chiaiolella. You can also enjoy some free time on the island to wander on your own, shop and eat.
This sailing experience lets you admire the beauty of Procida from the water with a professional skipper and a small group of guests. You can swim, snorkel, relax on board, and visit the island's main attractions.
Want to visit independently? There are several different ferries between Ischia and Procida, which take between 15 and 25 minutes. It's a good idea to book in advance if you're visiting during high season, between late June and early September.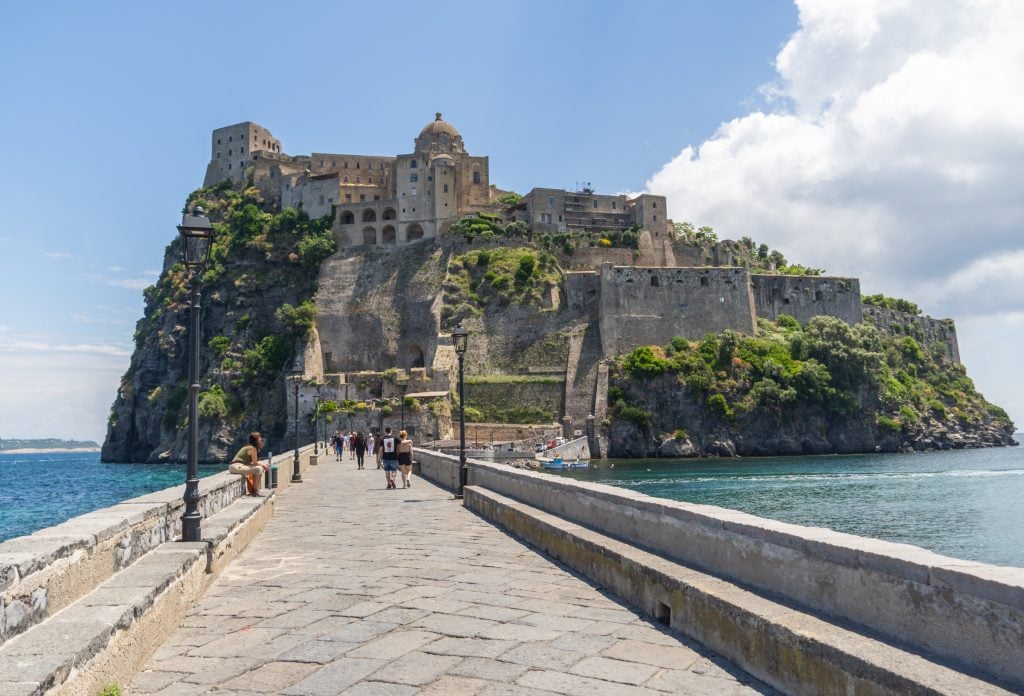 Go On A Photo Tour
Ischia is a fabulous place to photograph, and an even better place to get photos of yourself. There are several different options in different parts of the island — Forio, Sant'Angelo, and Ischia Ponte — where professional photographers in Ischia will get Instagram-worthy shots of you and your travel companions.
If you want to be close to the island's center, consider the Ischia Ponte photo tour — which includes shots from where scenes from HBO's version of My Brilliant Friend were filmed.
For a more small town feel, the Sant'Angelo 1-hour photo shoot will take you on an exciting journey through Ischia's prettiest village. You'll get beaches, town shots, and some of the island's best sunsets.
How about busy Forio, packed with endless Italian charm? The one-hour Saraceni Alley photo tour delivers postcard-worthy shots in a perfect urban setting — easily recognizable as Italy, but not a cliché like the Amalfi Coast.
Private photo shoots are one of my favorite ways to splurge on trips, and these tours cost just 40-80 EUR ($46-91) each. That's an incredible bargain for the memories you'll treasure forever.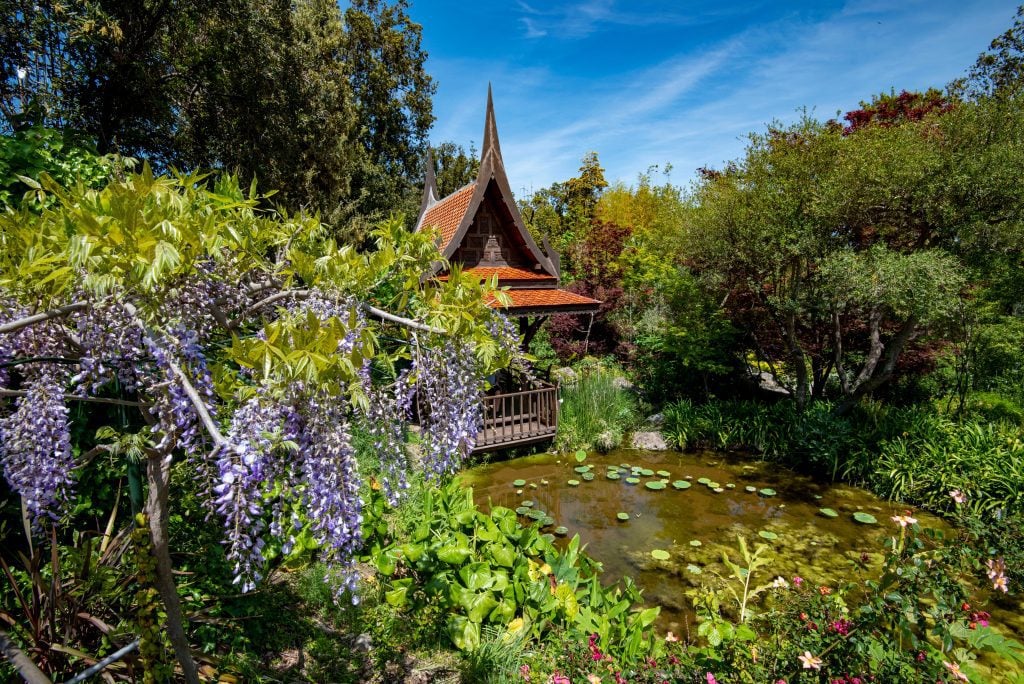 Wander Through Giardini La Mortella
One of the best natural sights in Ischia is Giardini la Mortella, a world-renowned botanical garden. This captivating garden boasts more than 3,000 plant species from around the globe. You'll be surrounded by exotic plants, rare trees, tropical palms, succulents, and water lilies.
Divided into the Valley Garden and the Hill Garden, each area exudes its own natural charm and atmosphere. Don't miss the chance to visit the museum, dedicated to the life and work of Sir William Walton, with the opportunity to listen to his music.
Admission is 12 EUR ($14 USD) for adults, 7 EUR ($8 USD) for children aged 6-11, and free for children under five and disabled visitors. And make a note as you plan your trip that from April 1 to November 5, the garden welcomes visitors on Tuesdays, Thursdays, Saturdays, and Sundays only.
Experience A Thermal Spa
One of my favorite things I did in Ischia was visit a geothermal spa. Ischia island is famous for its natural hot springs, which have been used since ancient times for their therapeutic and soothing properties. (It's just like Iceland — but tropical!)
Negombo, the spa I visited, is a tropical paradise located on the Bay of San Montano, where you can enjoy 14 thermal pools of different temperatures and fun features like warm waterfalls, surrounded by gardens on several levels. There is a really nice, calm beach here as well, with almost no waves. Spa treatments are available too; I recommend booking in advance. Negombo is open from spring through fall, and the entrance fee is 50 EUR ($53 USD) for a half day.
Giardini Poseidon is the largest geothermal spa in Ischia, with more than 20 pools overlooking the Bay of Citara. Right in Forio town, it's one of the easier spots to access, and the grounds are full of lush greenery and surrounded by tall cliffs. A number of health and spa treatments are available. High season admission is 42 EUR ($44) for a full day and 37 EUR ($39) for an afternoon.
Centro Termale O'Vagnitiello is a cozy, family-friendly spa located in the village of Casamicciola Terme, near the Port of Ischia. Here you can relax in 12 thermal pools, some of them indoor and some outdoor, with views of Mount Epomeo and the sea. You can also benefit from the steam room, the sauna, and the wellness center. Centro Termale O'Vagnitiello is open all year round, and the entrance fee is 25 EUR ($27 USD) for a full day.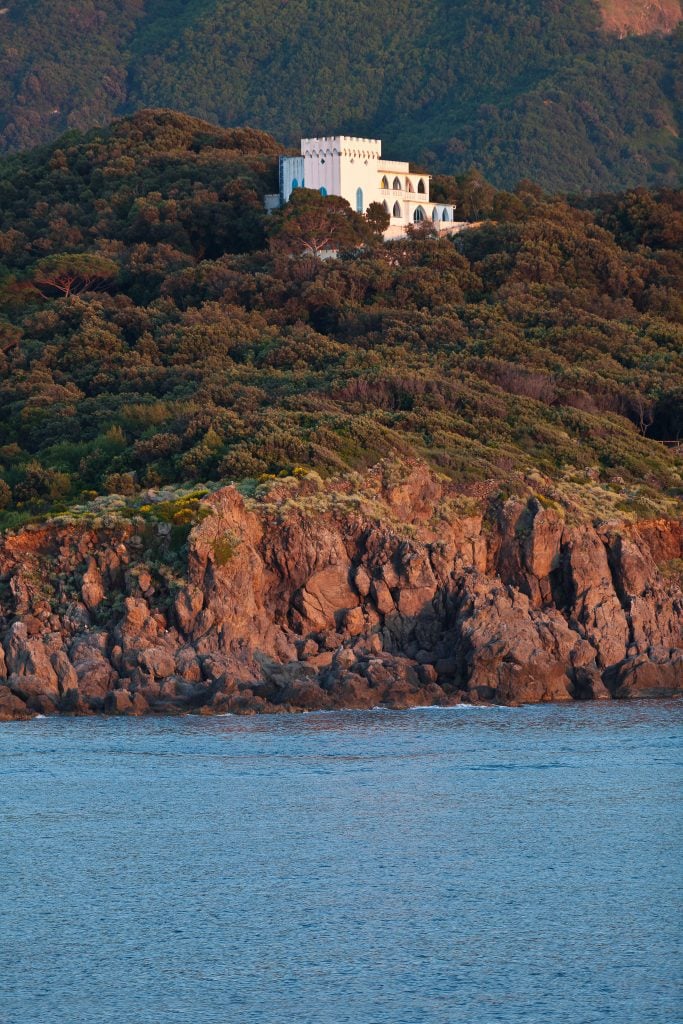 Hike Bosco Di Zaro
Experience adventure and nature in the stunning Bosco di Zaro, a volcanic forest park nestled in Ischia's northwest. This natural oasis is a great choice for hikers.
You can choose from several hiking trails for different abilities, but one of the best ones starts from Lacco Ameno and goes up to the hill of Zaro, where the sanctuary of Madonna di Zaro has been a revered place of worship and pilgrimage since the 16th century. Continue your journey to Belvedere di Zaro, offering panoramic vistas of the Bay of San Montano and the island of Procida.
With free year-round access, Bosco di Zaro is easily reachable from the town of Lacco Ameno. The aforementioned hike takes about two hours round-trip.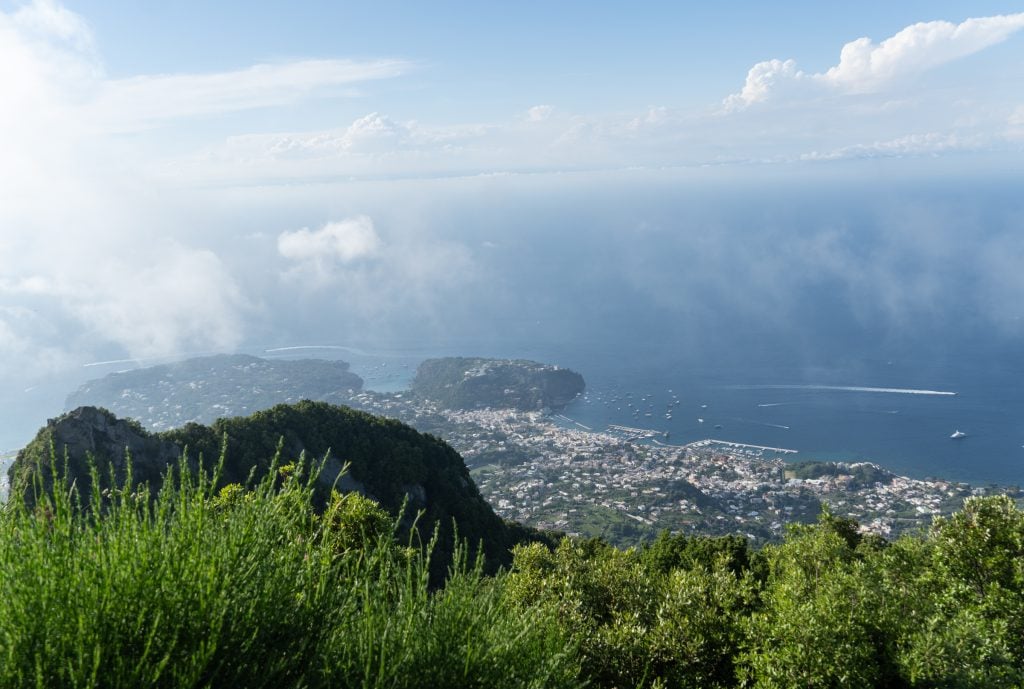 Hike Mount Epomeo
For a more challenging but rewarding hike, you can head to Mount Epomeo (Monte Epomeo), the highest peak on Ischia. If you want to enjoy Ischia to the fullest, there's nothing like seeing it from the top! I enjoyed this hike on one of my days in Ischia.
Mount Epomeo is a volcanic mass that was formed about 10,000 years ago and offers spectacular views of the island and the sea.
There are several trails that lead to the summit of Mount Epomeo, but one of the most popular ones starts from the village of Fontana. You can follow the signs to the sanctuary of San Nicola, a small church carved into the rock, and then continue along the path that zigzags up to the top.
The hike takes around two hours round-trip and I would classify it as a moderate hike with a few steep climbs but nothing too technical.
At the summit, you can enjoy the breathtaking panorama. Once you hit the cafe, you know you're almost there — so treat yourself to a lemonade! The people working there are so nice.
Once you're back at the bottom of the mountain in Fontana, grab a spritz for aperitivo at a bar, or head to Cantina U'Scilatur for dinner. Speaking of which…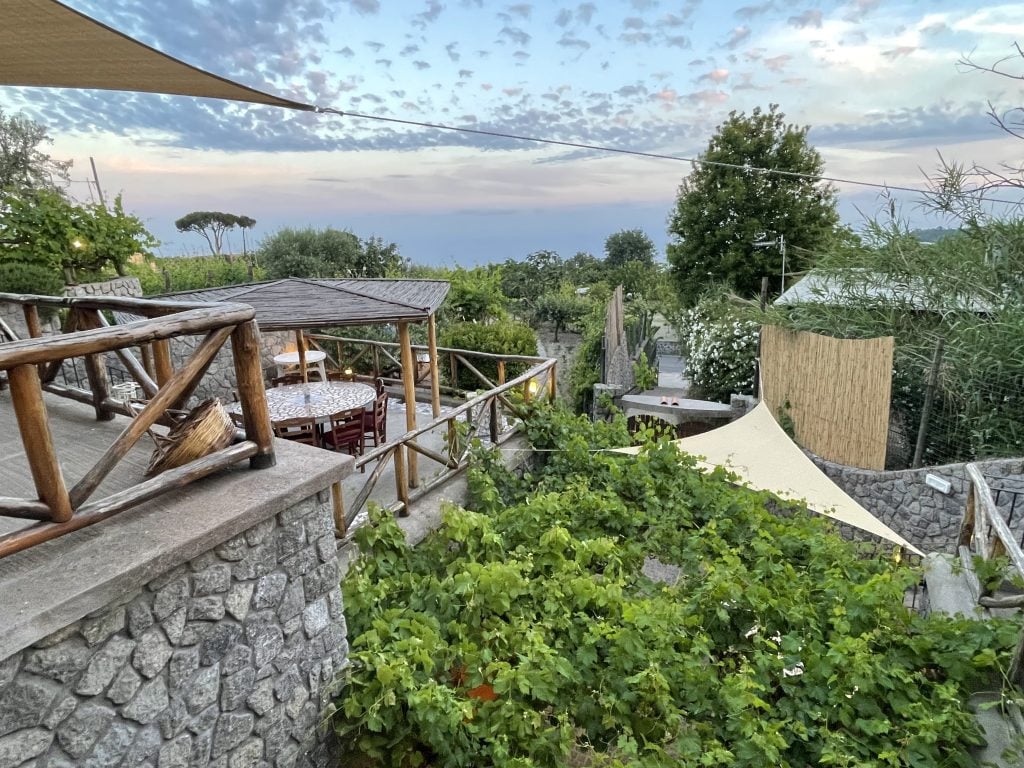 Visit An Agriturismo for Dinner
One of the most authentic and delicious ways to enjoy the local cuisine of an Italian region is to visit an agriturismo for dinner, and Ischia is no exception. Agriturismi are farmhouses that serve food or offer accommodation, and the food is as local as it gets.
Charlie and I visited Cantina U'Scilatur in Barano d'Ischia for a memorable dinner that included ridiculous numbers of appetizers, sumptuous pastas, and the Ischia specialty of stewed rabbit in a pot. This is a lovely, beautiful, upscale agriturismo, and amusingly, we were there while a birthday party for a one-year-old fancier than our wedding was in full swing!
Don't miss out on their local wines, and a proper meal always ends with Amaro, a fine digestivo.
This was the perfect spot to visit after climbing Mount Epomeo in the late afternoon, just before sunset. It's a bit far from the popular parts of Ischia like Porto and Forio, so you might want to plan your visit carefully. Luckily, the bus stop is practically next door to the agriturismo!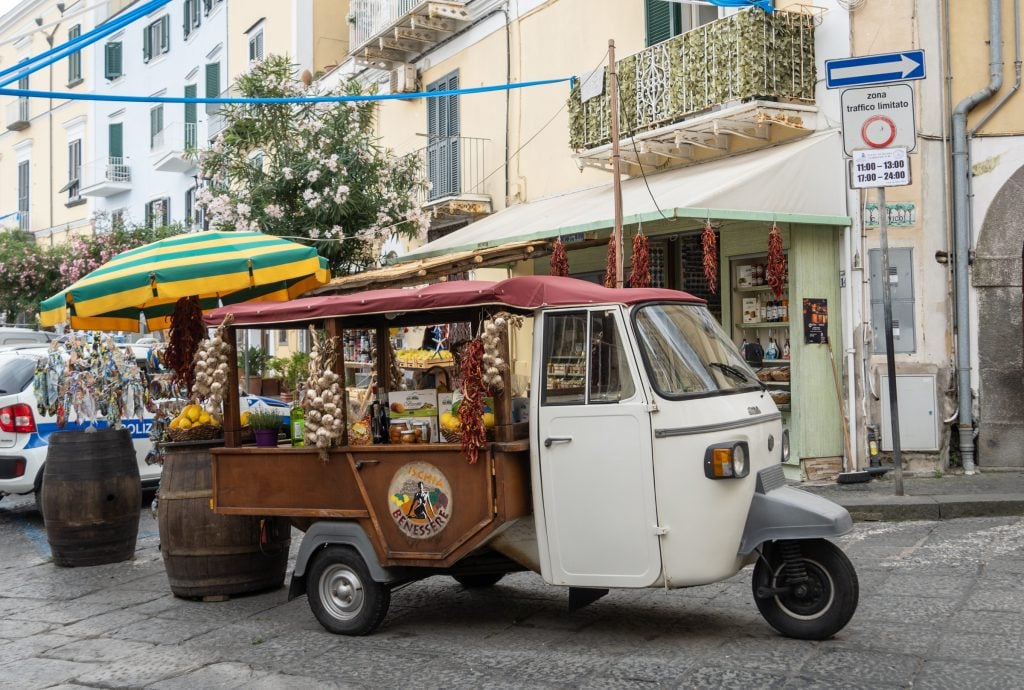 Wander Through Ischia Porto
Ischia Porto is the beating heart of the island of Ischia, and it's worth taking time to explore its streets. Here you can find lots of shops, restaurants, bars, and clubs. You can also admire the historic Michelangelo Tower or Guevara Tower, a former fortress and prison that overlooks the sea!
Ischia Porto is also a great place to enjoy the island's beaches, which are sandy and clear despite being close to the port. You can relax at the Spiaggia degli Inglesi, a popular beach with sunbeds and umbrellas for rent. Or you can try some water sports or jet boat rentals at the port's right bank, also known as la Rive Droite.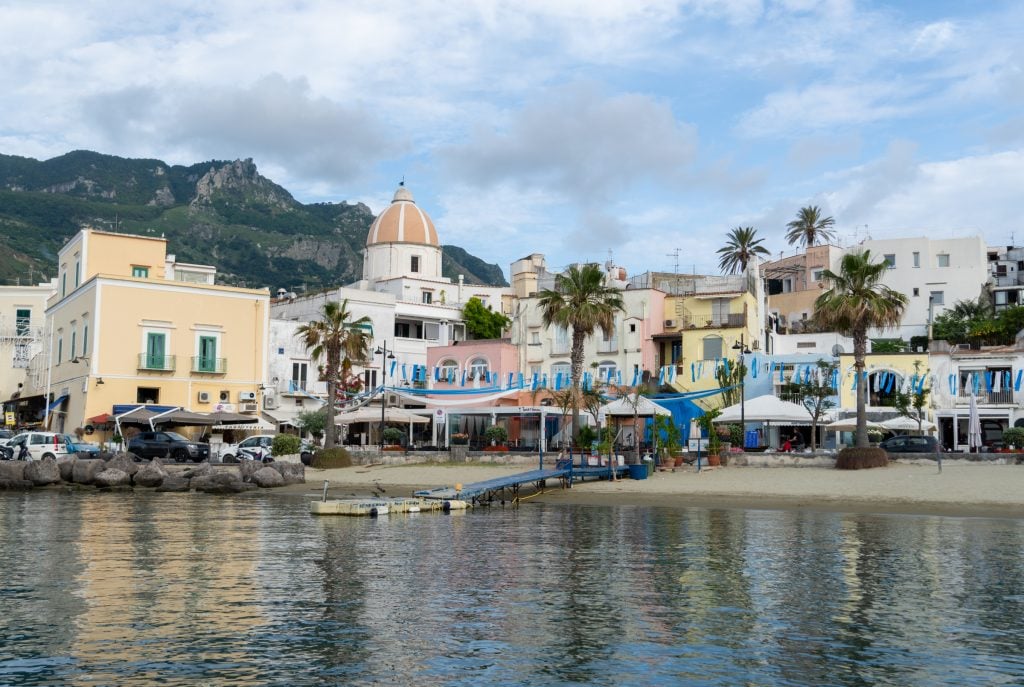 Discover Forio's Charms
The town of Forio has something for everyone: stunning beaches, historic buildings, thermal parks, and art galleries. You will love exploring this town and its surroundings. It's popularly known among the locals for its sunsets over the sea, which you can admire from the Chiesa del Soccorso, which is a white church on a cliff capturing the best views.
Forio is also rich in history and culture, where you can visit some historic churches, palaces, and art galleries that showcase Forio's heritage.
As for me? I loved Forio for its aperitivi — getting a cocktail and a plate of free snacks in the early evening, just before dinnertime. (One place actually gave us a water fun to fend off hungry pigeons.)
There are also some great places to eat in this town, like Pizzeria Da Ciccio. More on that below.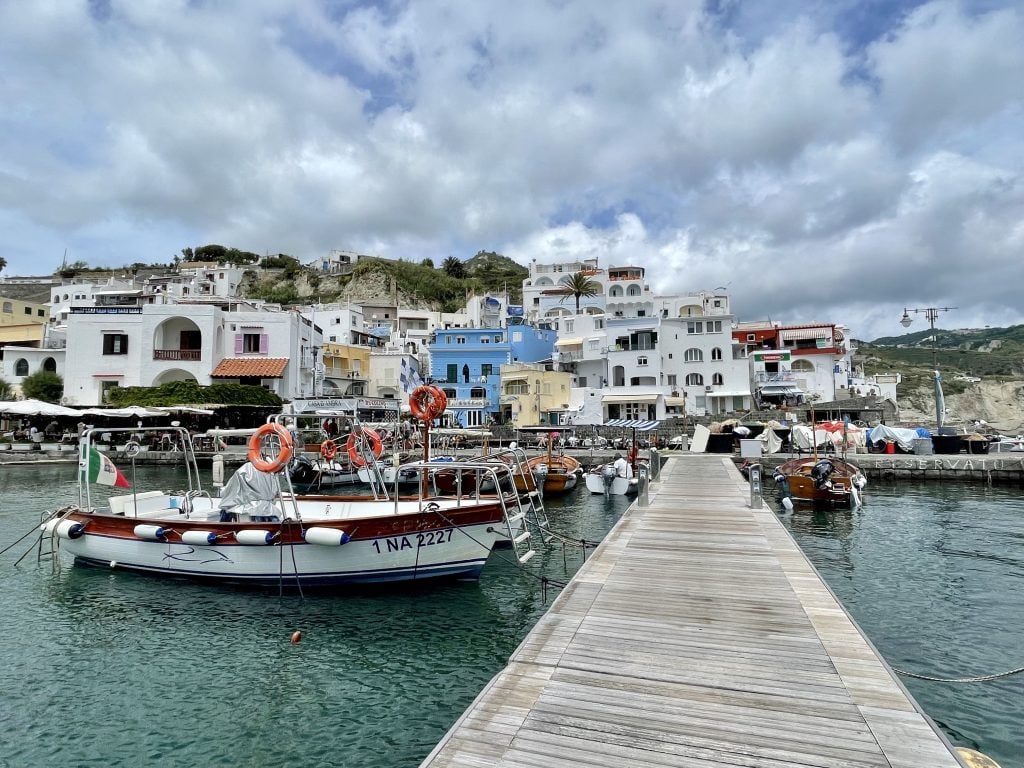 Visit Sant'Angelo
You might visit the town of Sant'Angelo as part of a photo tour or boat tour — but if you don't do either of those things, you should make time to visit on your own. Sant'Angelo doesn't have a ton of things to do — it's just a really nice, really beautiful place where you can enjoy the atmosphere.
Sant'Angelo offers a few small but very nice beaches, like Le Fumarole Beach, where you'll witness volcanic activity through steam jets rising from the sand. And if you'd like, there are a few smaller geothermal spas within walking distance — Romantica Thermal Park, Tropical Thermal Park, and Aphrodite Thermal Gardens.
I enjoyed the single-serving ice cream cakes at Bar Ridenta — just when I thought the desserts here couldn't get any better, here was a whole variety of frozen cakes! Stay for dinner and you'll get to enjoy sunset with your plate of pasta or freshly caught fish.
Visit Ischia's Museums
You probably didn't come to a gorgeous island to visit museums, but Ischia has some nice ones. And they make great activities for rare rainy days! Three museums stand out:
First, explore the Santa Restituta Museum in Lacco Ameno, where excavations dating back to the islands' Greek colonization in the 8th century BC come to life. Discover pottery, coins, jewelry, statues, and remnants of an early Christian basilica and Roman thermal bath.
Next, head to Ischia Ponte's Museo del Mare (Museum of the Sea), housed in a former prison tower that once defended the island against pirates. Dive into Ischia's maritime heritage through ship models, fishing tools, naval uniforms, and historical documents while relishing stunning sea views from the tower's windows.
Finally, the Museo Diocesano (Diocesan Museum) awaits in Ischia Ponte, adjacent to the Cathedral of Santa Maria Assunta. Unveil religious art and objects from islands, churches, and convents, featuring paintings, sculptures, vestments, silverware, and relics from various periods and styles.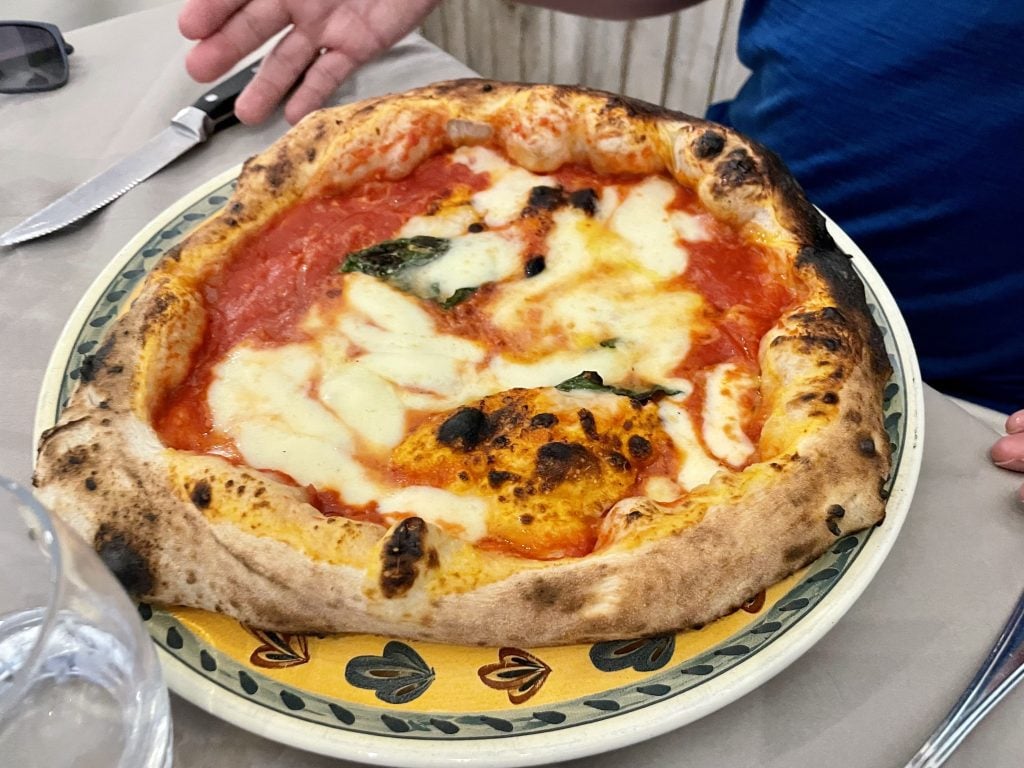 Ischia Restaurants
One of the best things about visiting Italy is eating all of the food! And Ischia has SO many good restaurants. There are dozens of fantastic restaurants on the island, but here are a few that I personally recommend:
Pizzeria da Ciccio in the town of Forio serves outstanding Neapolitan pizza (pictured above) — just as good as some of the best pizzas I've had in Naples. They have a second location in Ischia Ponte, very close to the castle.
Restaurant Auras in the town of Ischia Ponte was a fantastic surprise — delicious food with a view of the castle! Every dish was delicious; our favorite was the fried "eggplant balls" wrapped around smoked mozzarella.
Crù in the town of Ischia Porto is a great choice for seafood lovers in general, and raw seafood lovers in particular. They have a trio of three crudo that is worth trying.
And as mentioned above, Cantina U'Scilatur in the town of Barano d'Ischia is an agriturismo that serves the best traditional Ischian food I could have asked for, including stewed rabbit, rabbit pasta, and a truly insane volume of appetizers.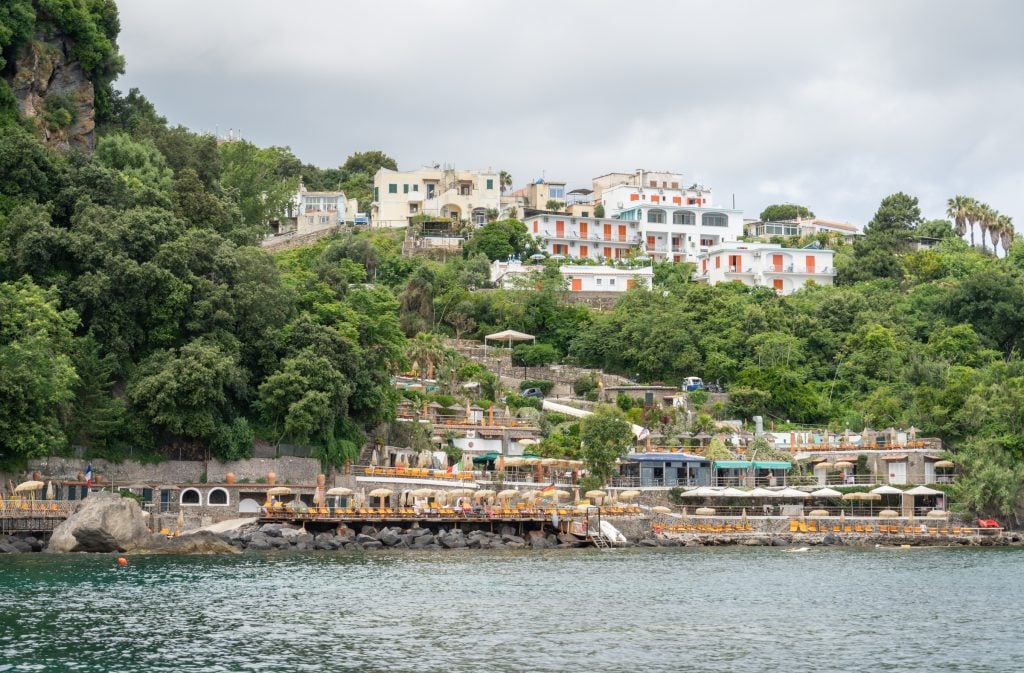 Where to Stay in Ischia, Italy
Where's the best place to stay in Ischia? There are many different neighborhoods around the island, each of them providing a different feel.
Overall, if you had to choose one neighborhood in Ischia, I would recommend Ischia Porto, running eastward to Ischia Ponte and the Castello Aragonese. It's far more than the place where the boats come in — this is also home to some of the best dining and shopping on the island, and there's a really nice stretch of sand with beachfront hotels.
You can walk down to the castle, hop onto a boat tour at the port, or jump on a bus that will take you to a different part of the island. Everything runs through Ischia Porto, and that's convenient.
Top-Rated Hotels in Ischia, Italy
The following top-rated hotels are all located in Ischia Porto:
How to Get to Ischia, Italy
Ischia is a very easy place to get to, thanks to its proximity to Naples. In fact, it's probably one of the easiest Italian islands to get to, period!
Naples is well-connected with flights all over Europe (and a few places in the US these days). From Naples, there are tons of continuous ferries to Ischia: car ferries and passenger-only ferries (hydrofoils). Which ferry is best? It depends.
Car ferries take longer (90 minutes) and don't necessarily have seats for all ticket holders; you may need to stand. But they tend to be a much steadier journey and better for people with motion sickness.
Passenger-only ferries take less time (about one hour) and have enough seats for all ticket holders. But boat rides in the Bay of Naples can often induce a bit of queasiness. I've unfortunately seen a few people throwing up on hydrofoils to Capri and Procida in the past; I've also had some perfectly placid journeys. If you are prone to motion sickness, you may prefer the car ferry.
You can see ferry options from Naples to Ischia and buy tickets here. I recommend buying your tickets as soon as possible if you're visiting during the summer months.
All ferries drop you off at Ischia Porto. There are also ferries to Ischia from Sorrento and the islands of Procida and Capri.
How to Get Around Ischia
Do you need a car in Ischia? I wouldn't recommend it. It's so easy to get around by bus (or taxi if you wish), and parking is a nightmare in developed areas. If you want to bring your car, absolutely make sure that parking is included with your accommodation. Call your accommodation to double-check.
There is a bus system running around Ischia, which is an easy and cheap way to get around the island. A single ride ticket is 1.60 EUR ($1.70 USD), which you buy in advance from a tabbachi (a shop with a big T sign). You can find schedules there, too, and your accommodation can help you find the right buses.
There is no Uber or any ride-sharing app in Ischia, but there are taxis. Being on an island, Ischia taxis will charge you a lot more than you'd pay in, say, Naples.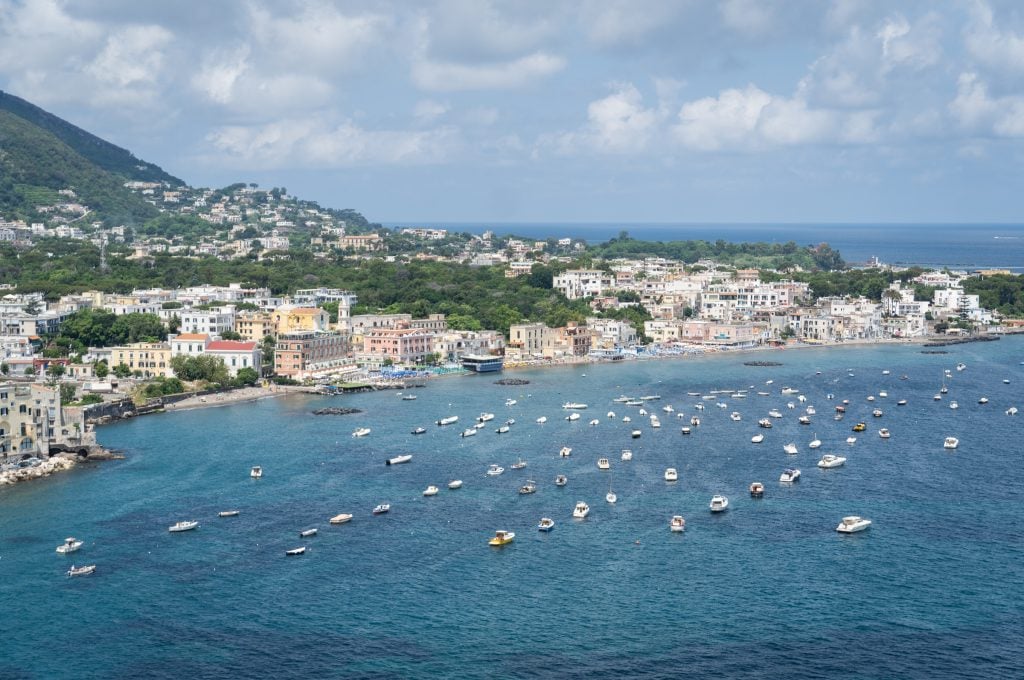 Best Time to Visit Ischia, Italy
Ischia is very much a summer destination — it's all about lying on the beach, swimming in the sea, and eating as much gelato as humanly possible. That said, like most of Italy, the months of July and August are incredibly busy and expensive time to visit.
I visited in early June and it was perfect — it was summery, warm enough to swim in the water, and it didn't feel crowded at all. Early June is a FABULOUS time to experience summer in Italy (especially southern Italy) without the crowds. Late September and early October would also be great options for visiting Ischia.
July and August are extremely busy times to visit Ischia. You should expect high prices for accommodation, crowds everywhere, and you should book tours and ferries as early as you can, because they can and do sell out. Even so, summer is a fabulous time of year to be on Ischia.
If you want to visit Ischia in the shoulder season — April, May, mid-to-late October and November — temperatures will be more mild, it will be less crowded, and you can enjoy a very pleasant place to be without doing all of the summer activities.
Ischia is a place where people live year-round (it has a population of about 20,000), so it never empties out completely here. While many tourism-based businesses will shut down during the winter months, there will still be a few places to stay and plenty of restaurants open — particularly if you stick to the cities.
That said, if it were up to me, I would choose early June or late September as the best time to visit Ischia.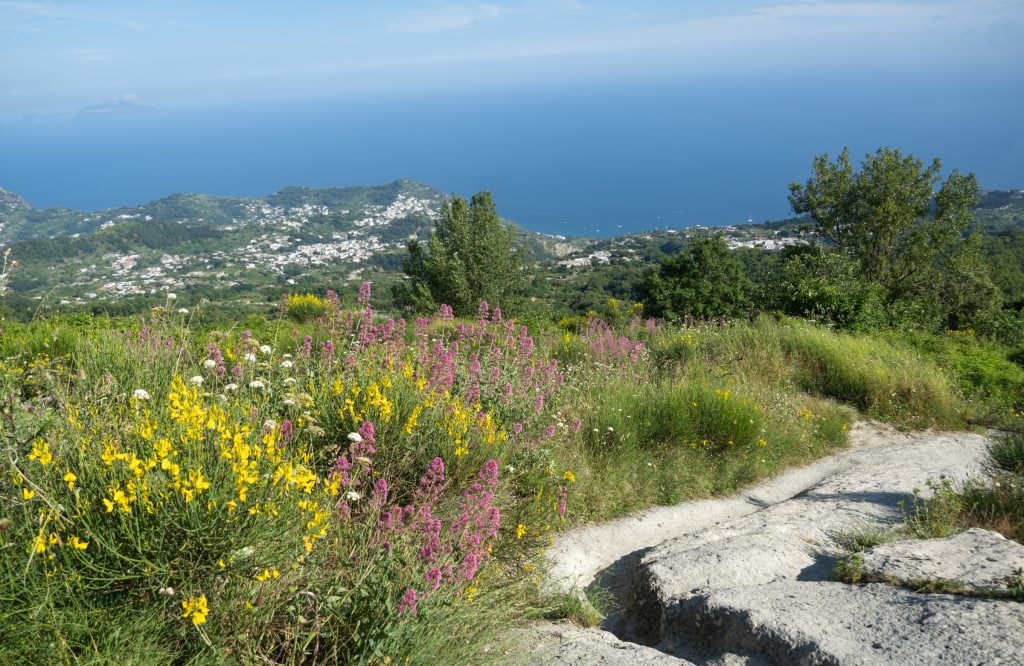 How Much Time To Spend in Ischia
Ischia is not just a lie-on-the-beach destination (I hope you realize that by now, this deep into the post!). It's a surprisingly large island with lots of interesting things to do.
To make the most of your time on Ischia, I highly recommend spending at least three full days. One day can be devoted to your boat trip; a second day can be for exploring the castle and perhaps a hike or the botanical gardens; a third day can give you time at a thermal spa and spending time exploring the towns.
If you only have time for a brief visit — say, only a day visit — I recommend that you spend your time in Ischia Porto heading down to the Castello Aragonese in Ischia Ponte.
Want to book an organized day trip to Ischia? You can! I recommend booking this day trip to Ischia from Naples or this day trip to Ischia and Procida from Sorrento. Both of these trips are well-organized and give you time to explore on your own as well as some gorgeous sails around the island and swim stops!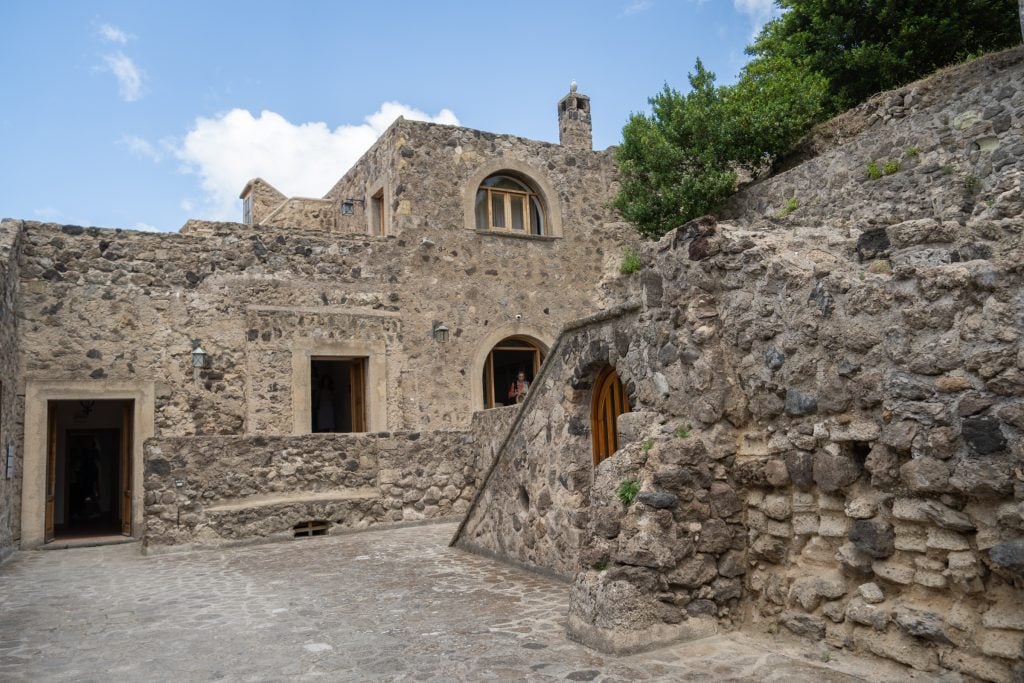 Travel Insurance for Ischia
And as we wrap up this post — it's absolutely essential to have travel insurance before traveling to Ischia, or anywhere in Italy. If you get sick or injured on your trip, if you get robbed, or even if you have to be flown home for more care, travel insurance will protect you from financial ruin. World Nomads is a company I have used for trips to Italy.
Travel insurance will help you in your hour of need if you come down with acute illness during your time in Ischia, or trip and break a bone when climbing the castle, or if your flights get canceled, you can get accommodation and new flights paid for.
As always, be sure to read your policy carefully and make sure it's a fit for you. See what World Nomads covers here.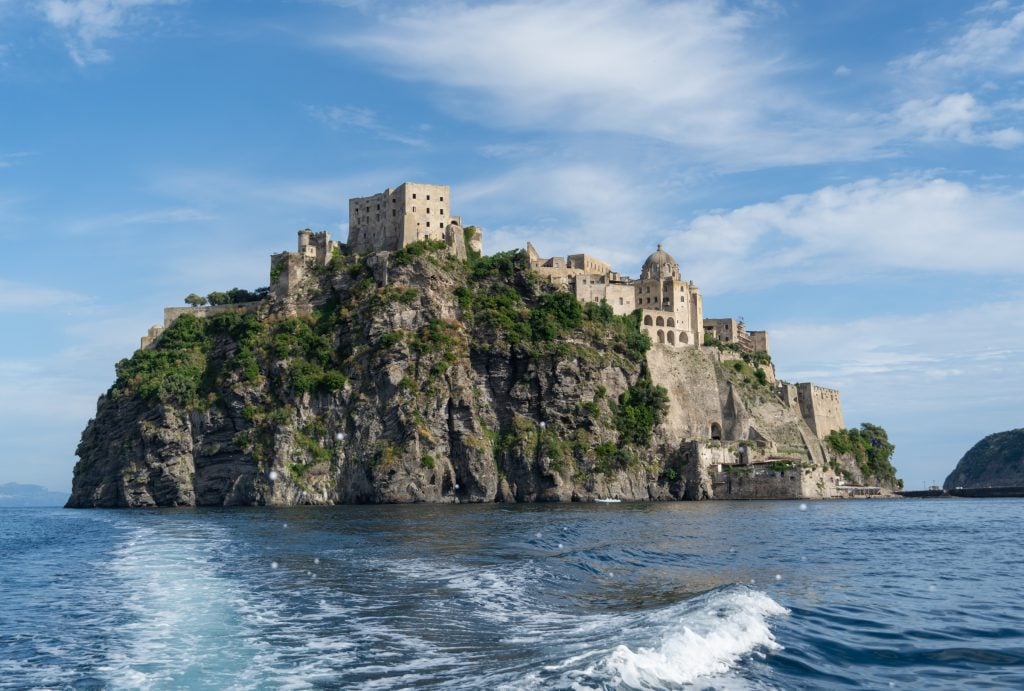 Is Ischia Worth It?
Ischia is one of my new favorite places in Italy — and I am so in love with it. Yes, Ischia is very much worth it, and I think it's even more worth it than several of Italy's more popular coastal destinations, from Capri to Cinque Terre.
I hope you have as good a time in Ischia as I did. I think you're really going to love it here.
Planning a Trip to Italy:
Cool Places in Southern Italy:
Cool Places in Northern Italy:
Have you been to Ischia Italy? What was your favorite thing you did? Share away!