Adventurous Kate contains affiliate links. If you make a purchase through these links, I will earn a commission at no extra cost to you. Thanks!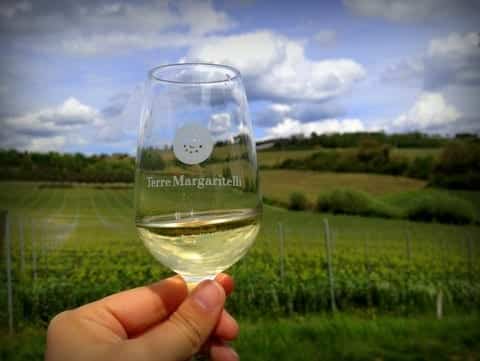 I've done a lot of the quintessential experiences in Italy — gawked at the Sistine Chapel in Rome, hiked the cliffs of Capri, ate myself into a coma in Emilia-Romagna's trattorias, lazed on a gondola in Venice. But there was one quintessential Italian activity I've never done. That activity?
Going to a winery and having a long, leisurely feast outside with a big group of friends, laughing and talking, plate after plate of food arriving, bottle after bottle of wine flowing, beautiful vineyards surrounding the table from every angle.
It sounds like heaven, doesn't it?
Well, in Umbria, it came pretty close.
As part of the post-TBU Food, Wine, and Handicrafts tour, we spent an afternoon at Cantina Terre Margaritelli in the town of Cannara.
Right away, we were welcomed by Federico and Jennifer and shown to our table, overlooking the vineyards and the typically dramatic Umbrian skies.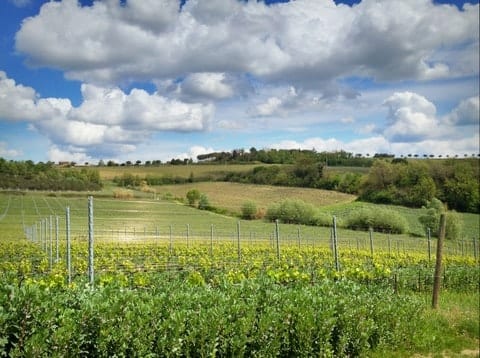 It was a bit on the late side for lunch and I think all of us were hungry to begin with — but with a glance at the menu, we went from hungry to ravenous, practically having to wipe up the drool from our mouths!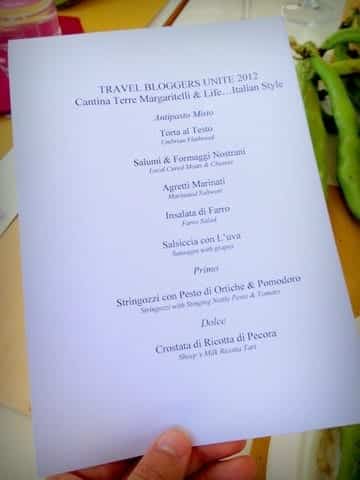 So what did we eat that day?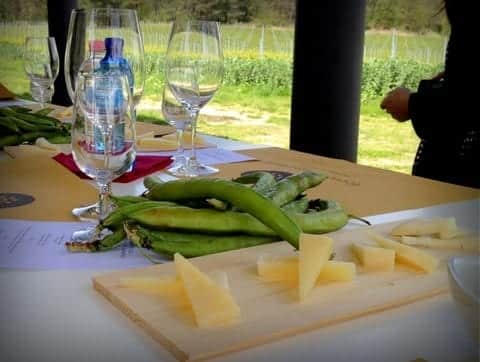 This was the first place where we started our meal with fava beans and pecorino cheese. Diving in, I quickly found these to be a surprisingly complimentary combination. Most of the Umbrians simply smiled as we raved about the beans and cheese — soon enough, we learned that fava beans and pecorino are the usual beginning to a meal in Umbria.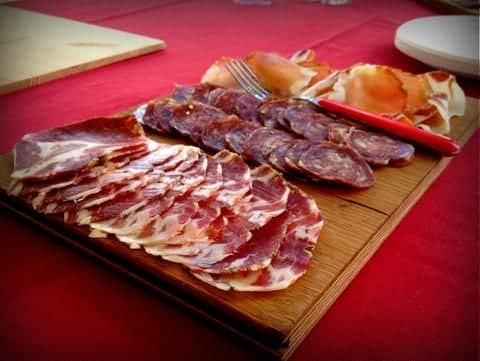 In Umbria and many other parts of Italy, most meals also start with salume — a variety of local cured meats — and we were delighted by the offering here. As I always say, the fastest way to my heart is with cured meats and red wine!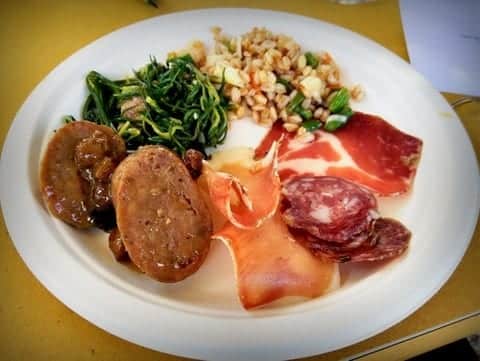 So much amazing goodness followed — sausages cooked with beans and grapes, marinated saltwort, and an irresistible farro salad that I need to learn how to duplicate.
Done with the food? No way. This was just the beginning.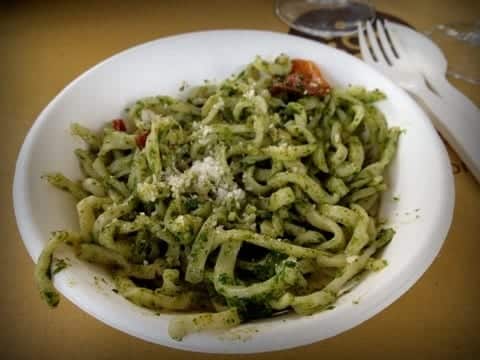 Stringozzi pasta with stinging nettles and tomatoes! I had no idea that stinging nettles were edible, let alone delicious. This sauce was bright, green, and fresh, not unlike pesto.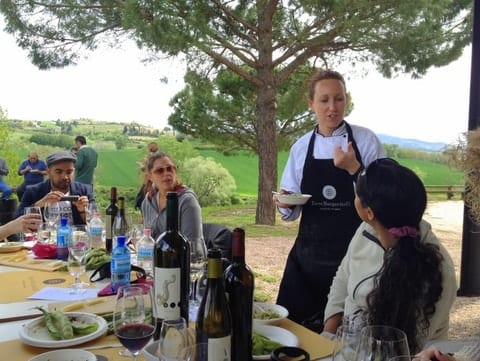 Our chef, Jennifer, has an interesting backstory — as you would expect for an American living in the Italian countryside. After years of working as a chef in the United States, she relocated to Italy, learned everything about Umbrian cuisine, opened a restaurant, and married Federico. Cue the awwwws from every girl in our group.
Today, Jennifer hosts cooking classes! When I come back to Umbria, I'd love to take one of her Life…Italian Style personalized cooking classes. Her food was SO good.
Soon enough, it was time for our dessert. Behold, the single best dish I ate in Umbria: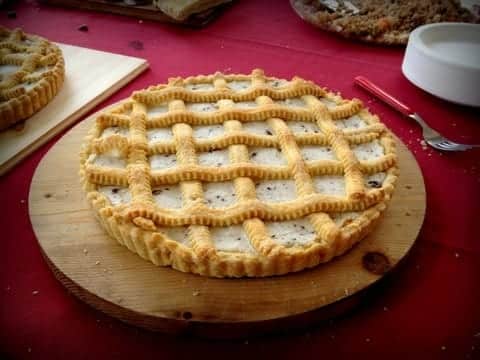 Ricotta crostata — think of it as ricotta pie, only SO MUCH NICER. The crust, so light and flaky; the sheep's milk ricotta, the perfect smooth texture; the layer of orange jam on the bottom; and the bits of Perugine chocolate interspersed throughout. So good, I nearly cried.
And if you try to steal it from me, I WILL GET ANGRY.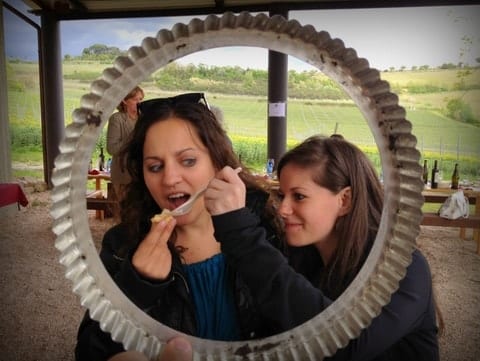 Our bellies full to bursting, Federico took us on a tour of the winery itself.
As much as I don't know about wine, I can tell you that every bottle they brought to us was fabulous. Most impressive of all was the grechetto, a white varietal that you should try if you find yourself in Umbria in the future.
After Federico's tour, we came back to the table to see that all the bottles of wine we had consumed at lunch had been arranged beautifully, just waiting for every single one of us to take photos of it.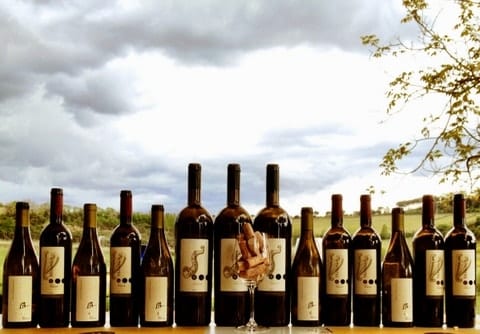 This is what lunch with travel bloggers looks like.
When I think of this afternoon, I think about friendship, and leisure, and good food and wine — things that the Italians seems to prioritize more than we do. Sitting out in the Umbrian countryside, I toasted to life.
Planning a Trip to Italy:
Cool Places in Southern Italy:
Cool Places in Sicily:
Cool Places in Northern Italy:
Many thanks to Cantina Terre Margaritelli and Life…Italian Style for the fabulous meal, as well as Regione Umbria Tourism and Travel Bloggers Unite for introducing me to this beautiful part of Italy.
Get email updates from Kate
Never miss a post. Unsubscribe anytime!