Adventurous Kate contains affiliate links. If you make a purchase through these links, I will earn a commission at no extra cost to you. Thanks!
This April, I got to spend a wonderful week in the beautiful region of Umbria, Italy. This spring's Travel Bloggers Unite conference was held in partnership with the Umbria Region Tourism Board in the town of Assisi.
I absolutely love Italy. Italy probably ties for my favorite country along with Thailand, and I've spent so much time there, always happy to return and eat everything in sight.
I've been to Umbria before — two visits to Assisi, one visit to Orvieto — but I had never experienced it on this level. In typical TBU fashion, I was blown away by Umbria — its beauty, its people, and above all, its food and wine!
You'll be hearing much more about Umbria in the coming weeks. For now, here is a taste of what the beautiful Umbrian countryside has to offer:
We were welcomed to the conference with a traditional Umbrian flag-throwing ceremony by men in tights!
I had never heard of the town of Bevagna before, but it was one of my favorite stops. It's a beautiful little town where you can learn all about traditional handicrafts. And, of course, you can see traditional Italian street life, pictured above.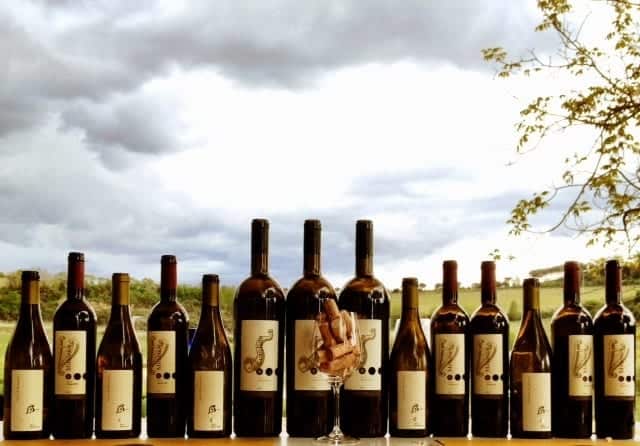 How much wine can a group of travel bloggers polish off at lunch? You're looking at it. I loved the winery of Terre Margaritelli, where we had an absolutely delicious meal underneath a typically dramatic Umbrian sky.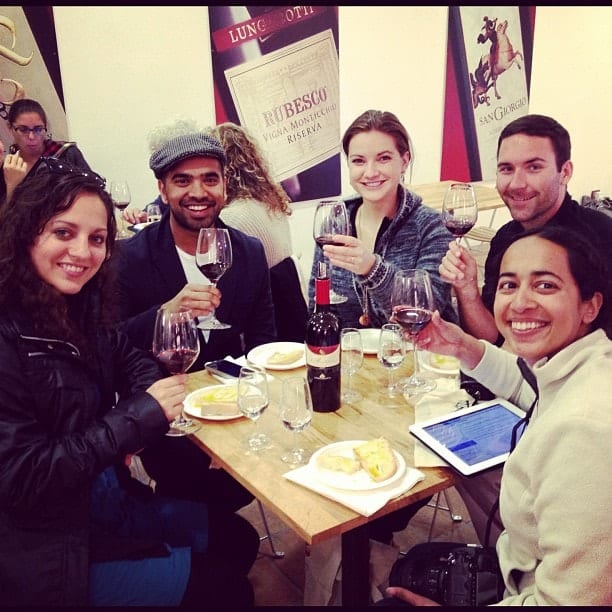 More wine? Absolutely. Here we are at our second winery of the day, Lungarotti Winery outside the town of Torgiano. That's me with Kash the Budget Traveller, Meg and Tony of LandingStanding, and Akila of The Road Forks.
An evening shot of Azienda Agraria Sorelle Zappelli Cardarelli — a farm owned by three sisters and their lovely mother, who prepared us a "simple country meal" that was more like plate after plate of amazing rustic dishes.
More vino? Of course! Our third winery: Arnaldo Caprai. At this one, we got to sample some 25-year-old wine that knocked our socks off. Seriously…I'm not super-knowledgeable about wine, but just seeing the thickness of the residue it left on the glass impressed me!

This is Umbria in a nutshell. We had dramatic skies like this almost every day of our trip — it would go from lightly raining to bright sunshine several times throughout the day. GREAT for photos!
And finally, some traditional Umbrian lace from a few centuries ago. So beautiful and intricate — we didn't dream of touching something this delicate!
This is only the beginning of an enchanting tour through Umbria. I can't wait to share the rest with you!
Planning a Trip to Italy:
Cool Places in Southern Italy:
Cool Places in Sicily:
Cool Places in Northern Italy:
Many thanks to the Umbria Region Tourism Board and Travel Bloggers Unite for introducing me to this wonderful part of the world.
Get email updates from Kate
Never miss a post. Unsubscribe anytime!