Adventurous Kate contains affiliate links. If you make a purchase through these links, I will earn a commission at no extra cost to you. Thanks!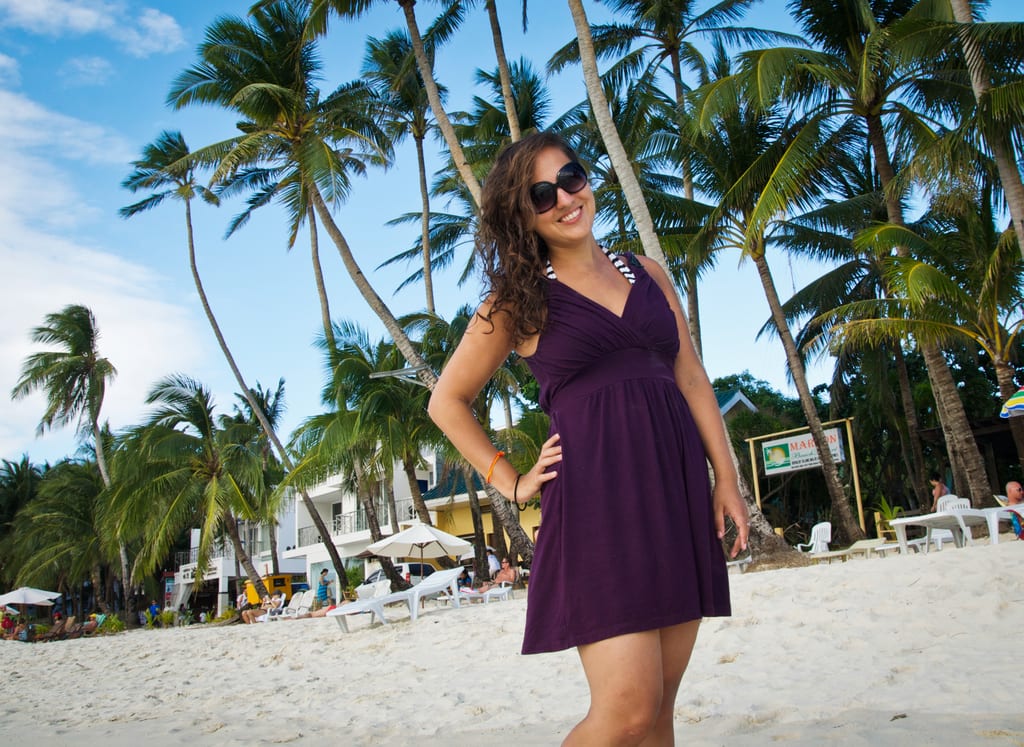 As of today, I've been a full-time traveler for five years! A huge milestone and one for which I am deeply grateful.
Five years ago today, I hopped on a plane from New York to Bangkok, excited and a little bit terrified. Within 24 hours, I went from eating at The Spotted Pig near one of my favorite TV stars (Will Arnett) to chowing down on crickets on the streets of Bangkok.
I thought I would travel in Southeast Asia for seven months, then go home for a bit and maybe get a job teaching in Korea. Not at all! When I got back, my blog was making almost enough money for me to continue traveling, so I ramped up the advertising and never went back to traditional work.
My travels in the past five years have taken me to 57 countries. (I visited an additional six countries prior to 2010.) I've danced with Vikings and had water fights with children. I've eaten kudu and kangaroo and sipped snake blood. I've appeared at the White House and worked with the U.S. State Department.
It's been wonderful and exactly what I've wanted. And I thought this would be a great occasion to go through the best adventures of the last five years for those of you who joined me on my journey later on.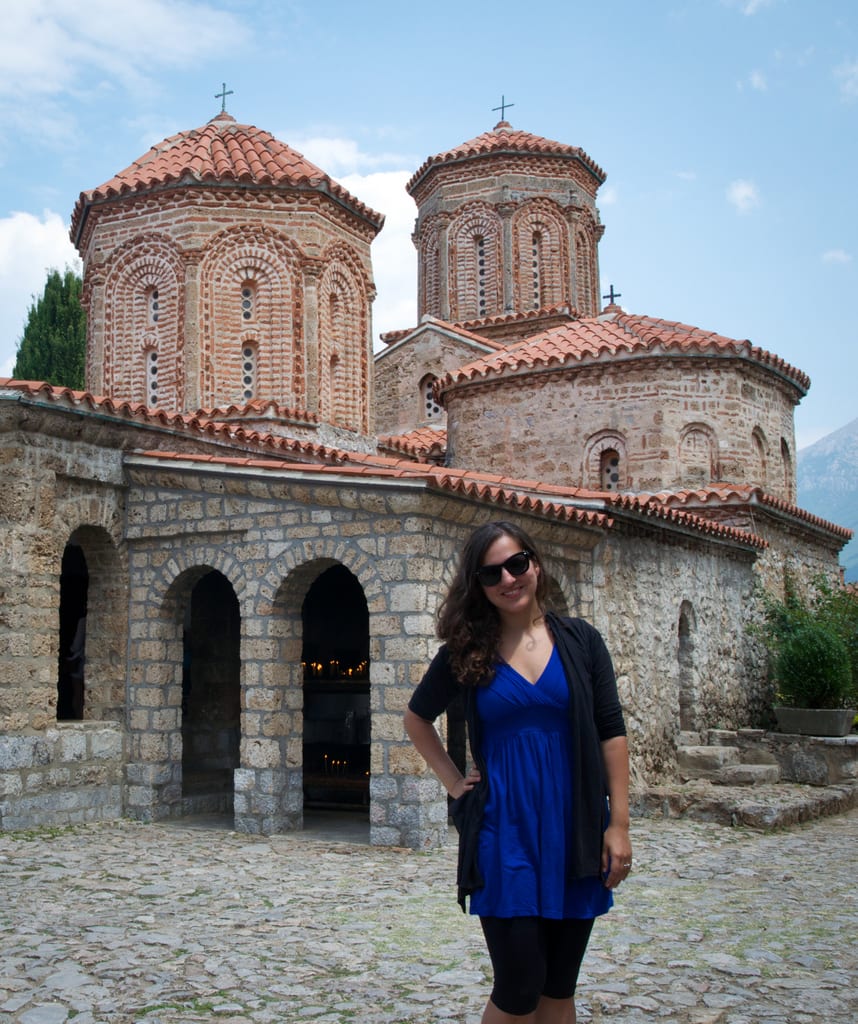 There are some things you will notice as you go through all of these photos at once.
The good: in five years, my photography went from fairly horrible to pretty fucking fabulous. Considering that I look back at photos from even six months ago and wince, I'm glad that I keep moving forward.
The bad: in five years, I went from the skinniest I've ever been as an adult to yo-yo-ing weight-wise all over the place. Not good, a major challenge not made easier by this lifestyle, and something I'm continuing to work on. That, and you see the creases under my eyes grow deeper and deeper.
The intriguing: I've always had far more adventures when single than when in relationships. Does that mean that I've always chosen the wrong partners or that I become a more reserved person when in a relationship (or in those particular relationships)? It's probably a mix.
Either way, I came across this Elizabeth Gilbert quote today and I thought it was worth sharing:
​What advice would you give to your twenty-something self?​​

Beware of romantic entanglement and how much it's going to take you off the path of becoming the person you need to be. I wince when I look back at all the time and energy that I gave of myself to boys and men in those years, and I just wish that I could have everyone of those hours back for my health. I say that knowing that I needed those experiences too, to become the person that I became. I just see it as such a waste of my life and there's so much I could've been doing. I was doing a lot anyway, but God, I wish I could've just said, "I'm going to learn French!" instead of sitting on the couch watching Robocop for the eighth time with this dude.​
And with that, I present you with the most comprehensive collection of my adventures around the world in the past five years. I hope you enjoy them!
YEAR ONE: THAILAND TO ITALY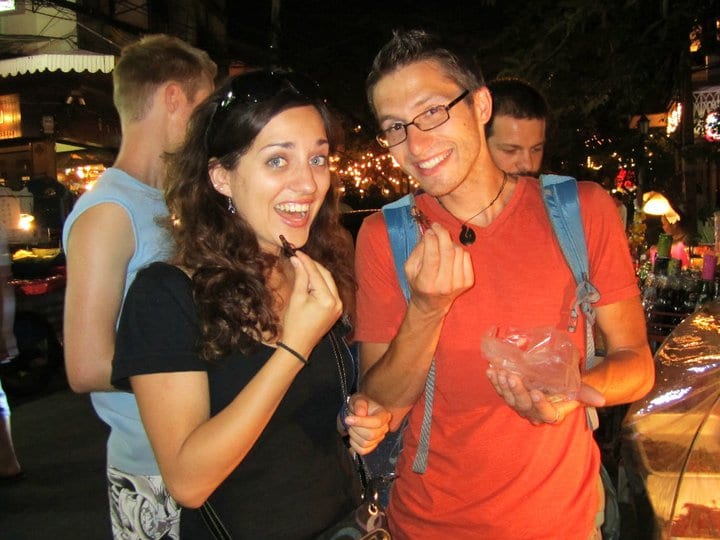 My first day on the road five years ago! Eating insects in Bangkok with Matt.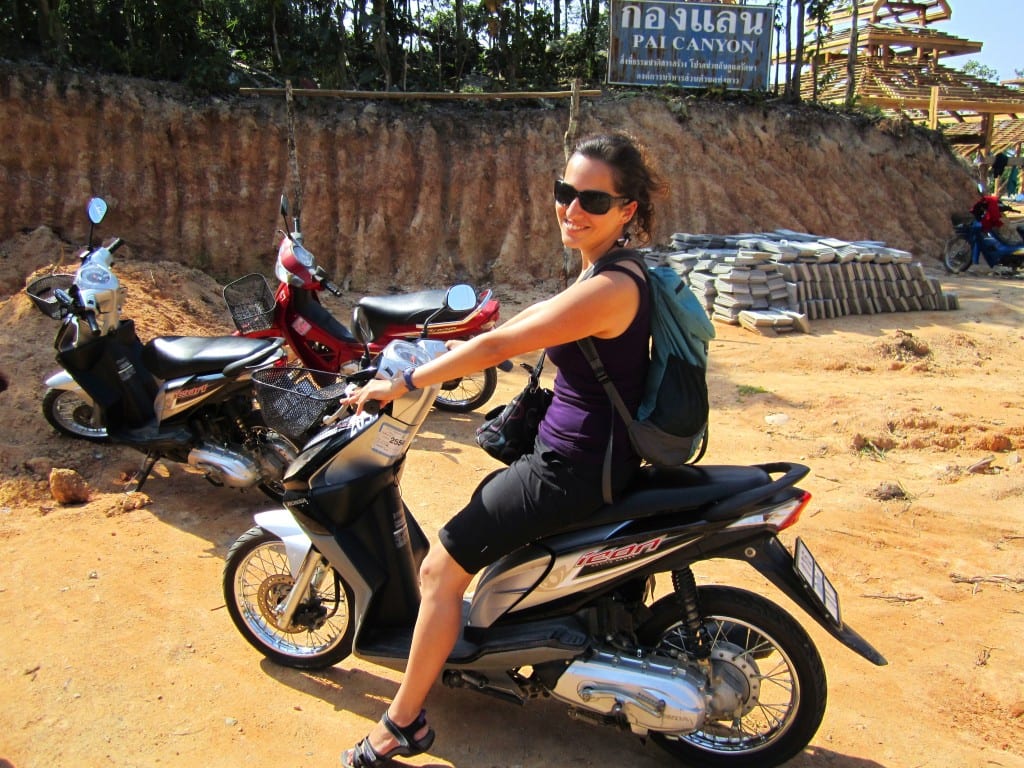 Despite my fear of motorcycles, I learned how to ride a motorbike in Pai, Thailand. Couldn't have picked a better place to learn!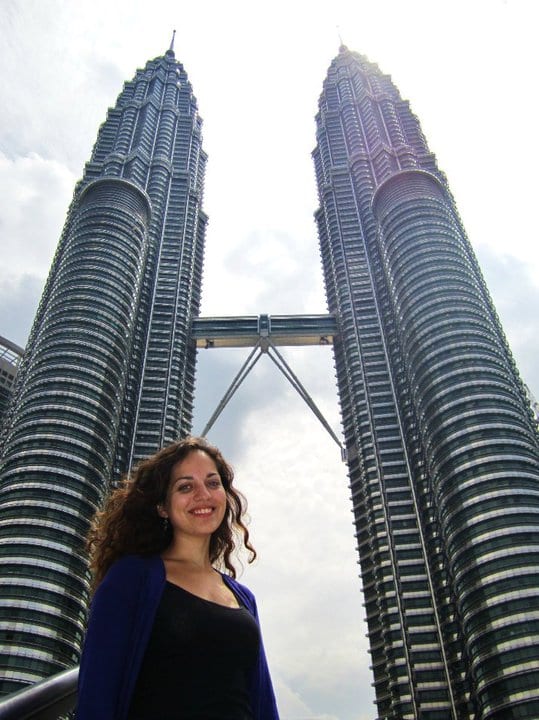 Seeing those Petronas Towers for myself in Kuala Lumpur.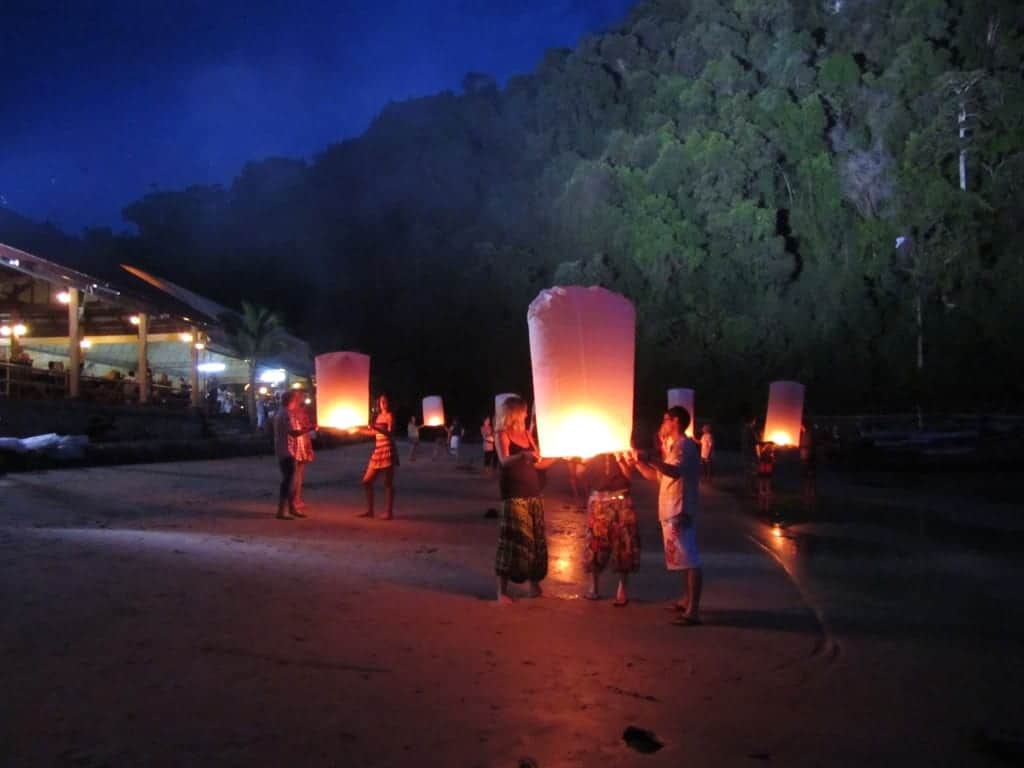 My brief career as a German movie star took place on the beach in Ao Nang! Twelve hours of filming netted me around $50. Not bad for a backpacker. Still need to see the final product!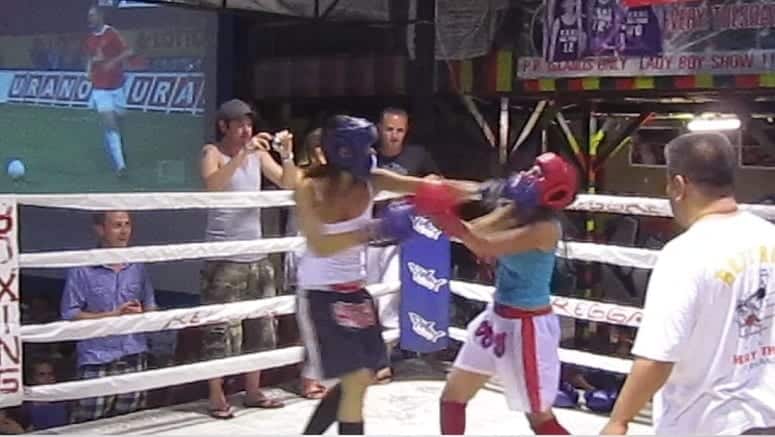 My biggest mistake — getting into a boxing ring in Koh Phi Phi, Thailand, getting beaten to a pulp, and having a bloody eyeball for three weeks. Stupid, stupid, stupid. Don't do this.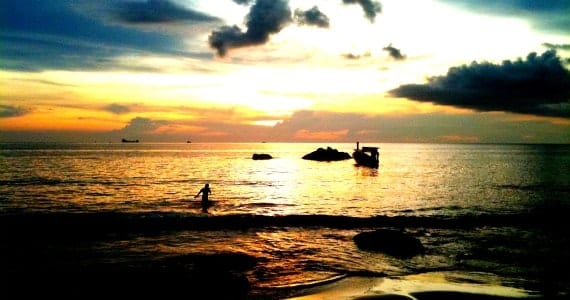 And then there was Koh Lanta. The first destination that I fell madly, unequivocally in love with, and a place that I hold close to my heart to this day. I'm heading back for my third visit next month!
And then there was the Thai holiday of Loy Krathong! I celebrated in Koh Lanta, cutting my hair and fingernails and setting it off on a krathong, or floating lantern, to bring me good luck.
(You can see my bloody eye from the boxing fight. I was posing for photos like this, trying to hide the blood, for three weeks.)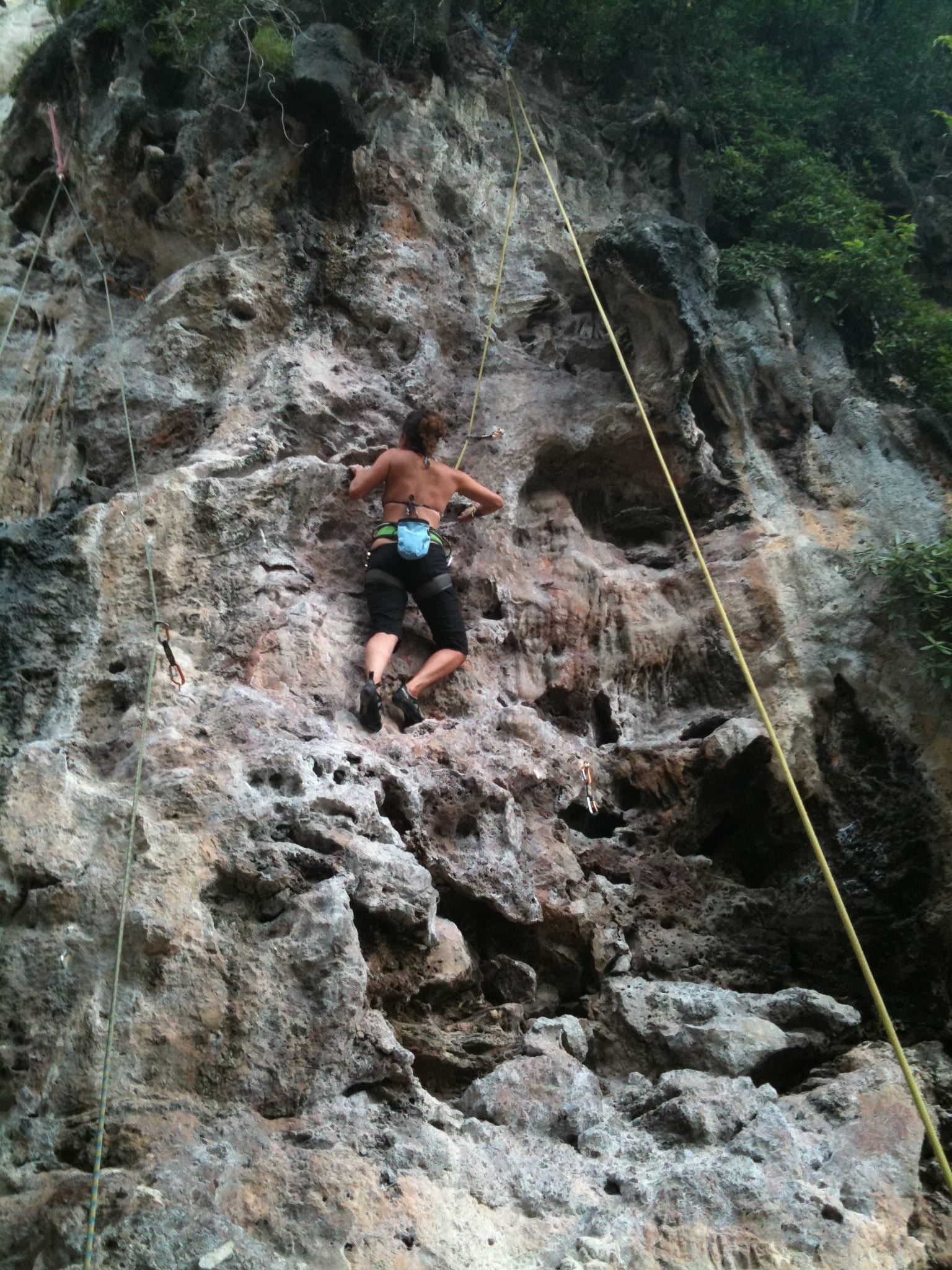 I learned to rock climb in Railay, Thailand. The verdict? Not my thing. But that's okay.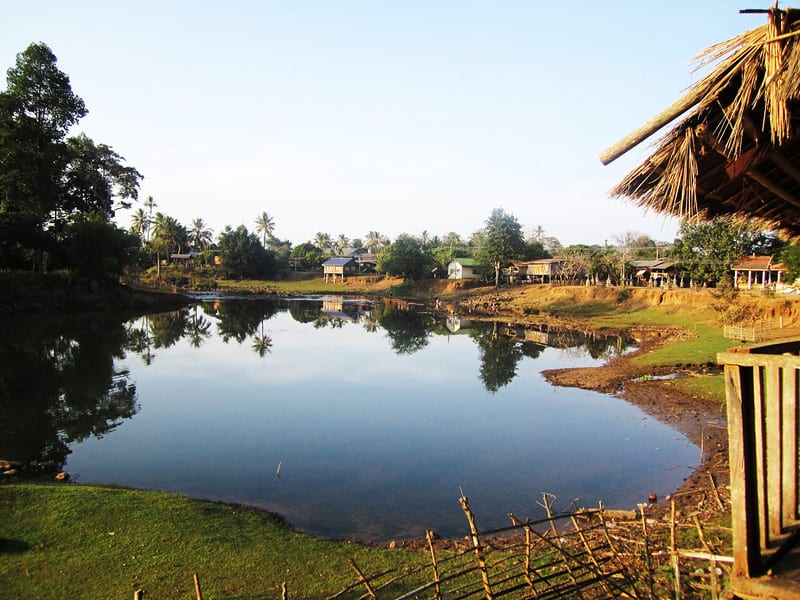 One of the big offbeat adventures in my earlier days was motorbiking solo from Pakse to Tat Lo on the remote Bolaven Plateau in southern Laos. I was the only solo female on a motorbike I saw during the whole trip.
I may have lost my map and broke my motorbike, but I survived!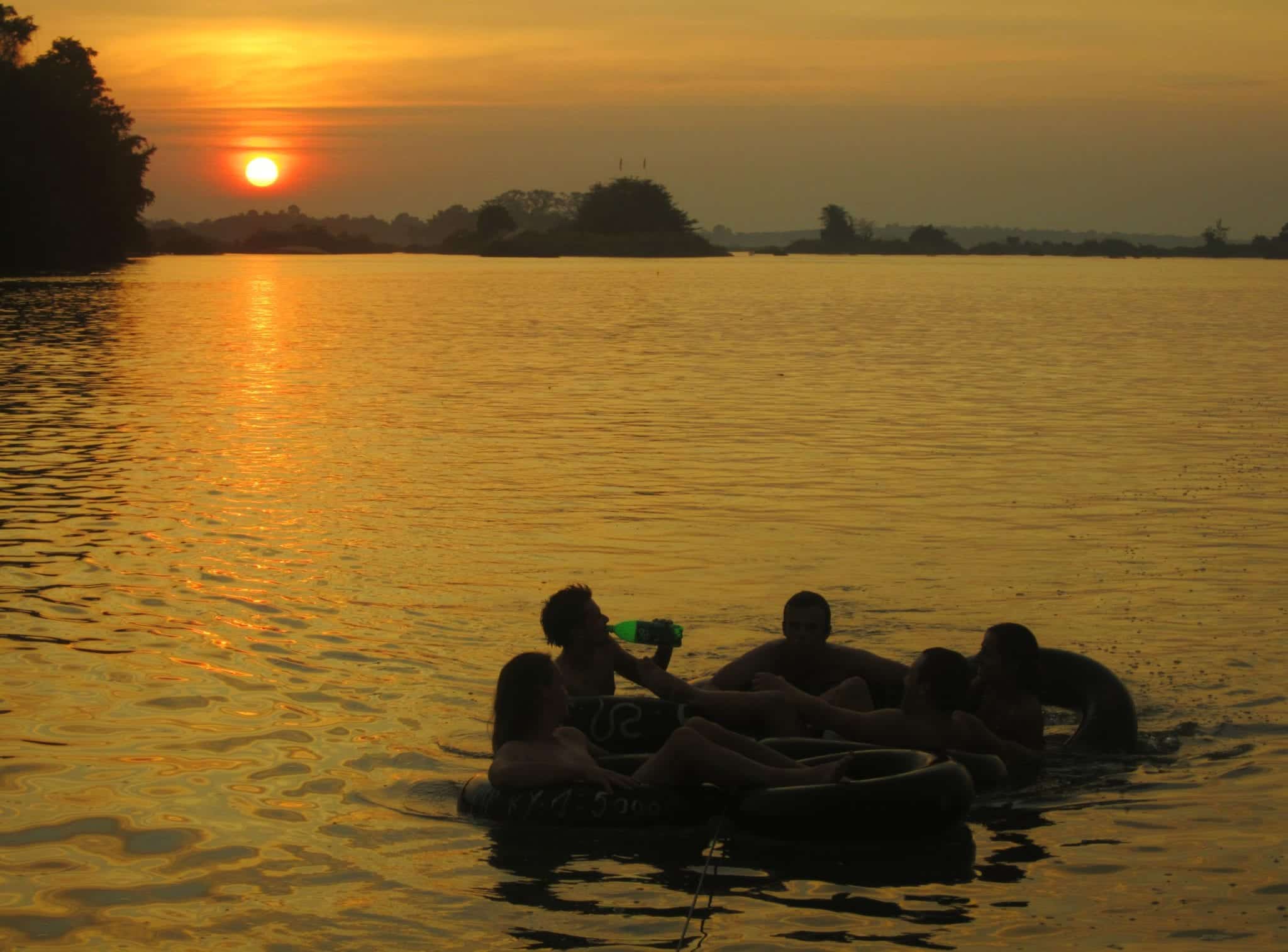 Tubing down the Mekong in Laos's 4,000 Islands (Si Phan Don), close to the Cambodian border. We had a fish barbecue, drank quite a bit of Lao Lao (firewater), and then tubed behind the boat as the sun set behind us.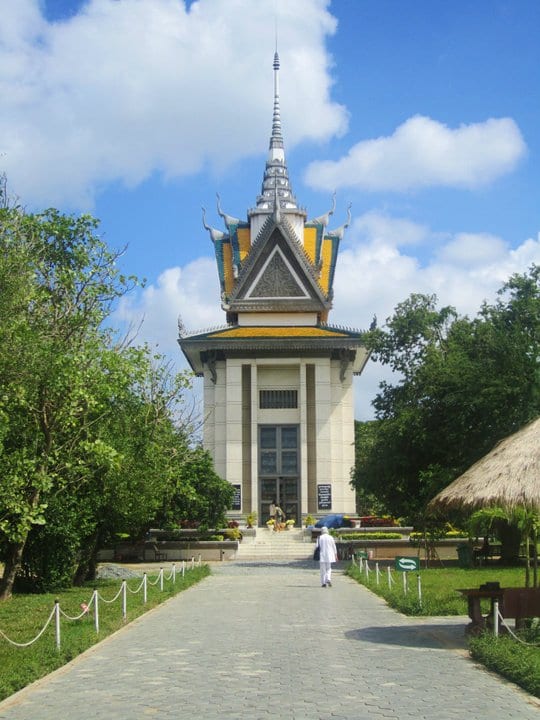 The Killing Fields were my first exposure to Cambodia's painful recent past. Absolutely devastating, and something that you must do in order to understand Cambodia today.
Another solo motorbike ride took me from Kampot to Kep in Cambodia. That resulting plate of crab was SO good that I forgot how dusty it was and how awful the roads were and did it again three years later.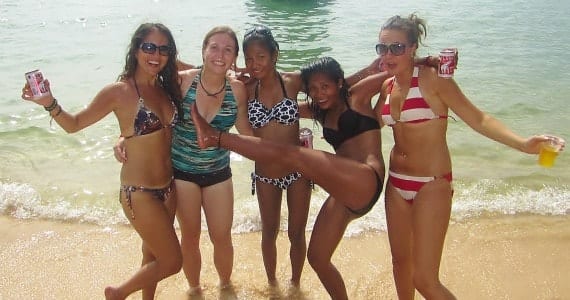 And then there was SNOOKAY! I had the craziest time of my life in Sihanoukville, Cambodia, including a Christmas booze cruise to remember. Christmas on the beach!
I went back a few months later, but I wouldn't return again. Things have shifted there.
And then there was Cambodia's most iconic site Angkor Wat. And the scrambling up and over lots of temples at Angkor.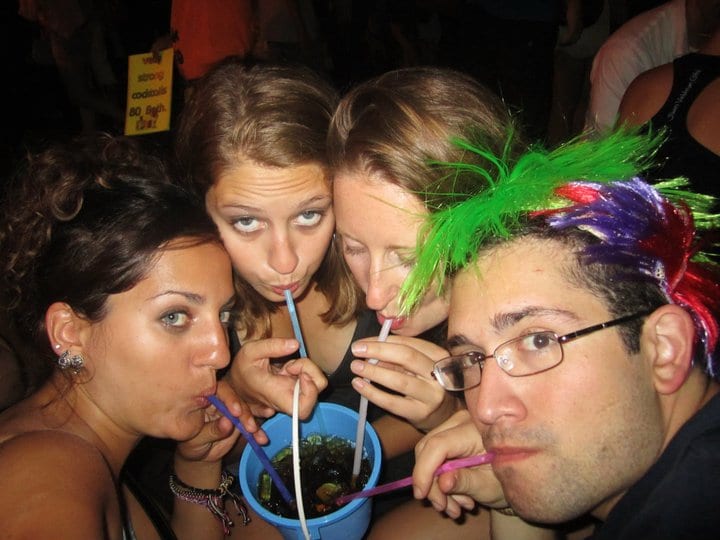 There was New Year's Eve in Bangkok, which became the first of many occasions when I pulled together a group of life friends, travel friends, blogger friends (including Steph and Mike), and real friends. Now I do that all the time!
I had gone to my first Bangkok ping pong show alone — YIKES. Super crazy. Insane. Expensive. Scary. Odd.
It wasn't my last show.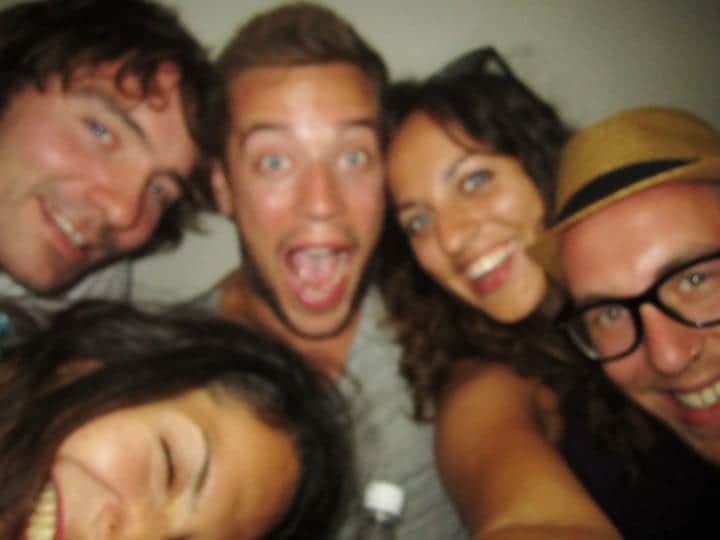 The overnight party train from Bangkok to Vientiane ended with me and four of my best friends from my travels all crammed into a tiny upper bunk with a bottle of Sangsom!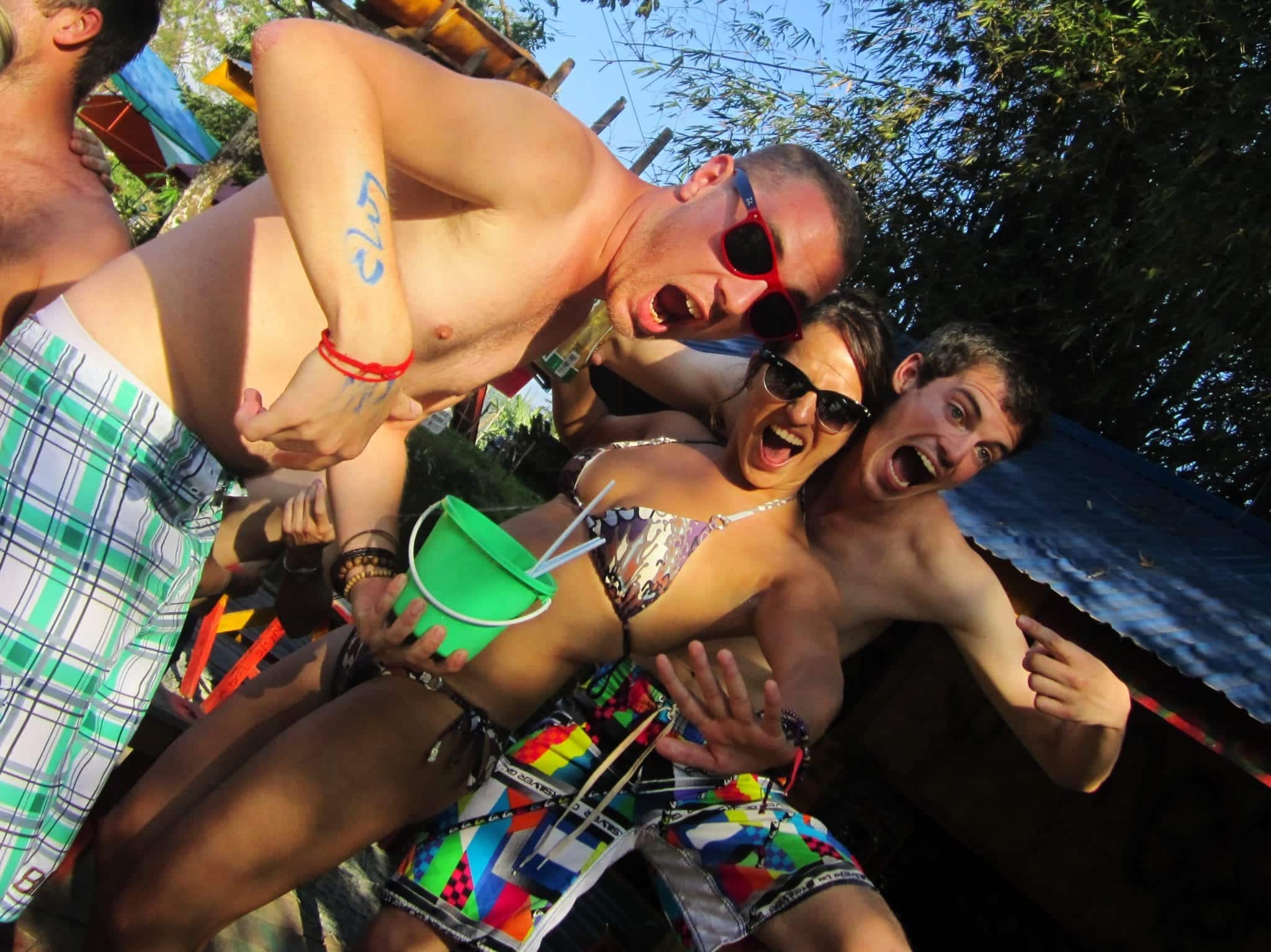 Tubing in Vang Vieng, Laos. The parties. The dancing. Ba ba Americano. I've seen nothing like it before or since.
Tubing was complicated — it led to a lot of deaths, and it devastated the local community while simultaneously allowing the locals to make a lot of money off its infamy. Either way, I'm glad I got to experience it in 2011 before it ended shortly after.
And there was that time that I almost didn't get into Vietnam because my visa was dated 1900! I had to bribe my way in and almost got left behind.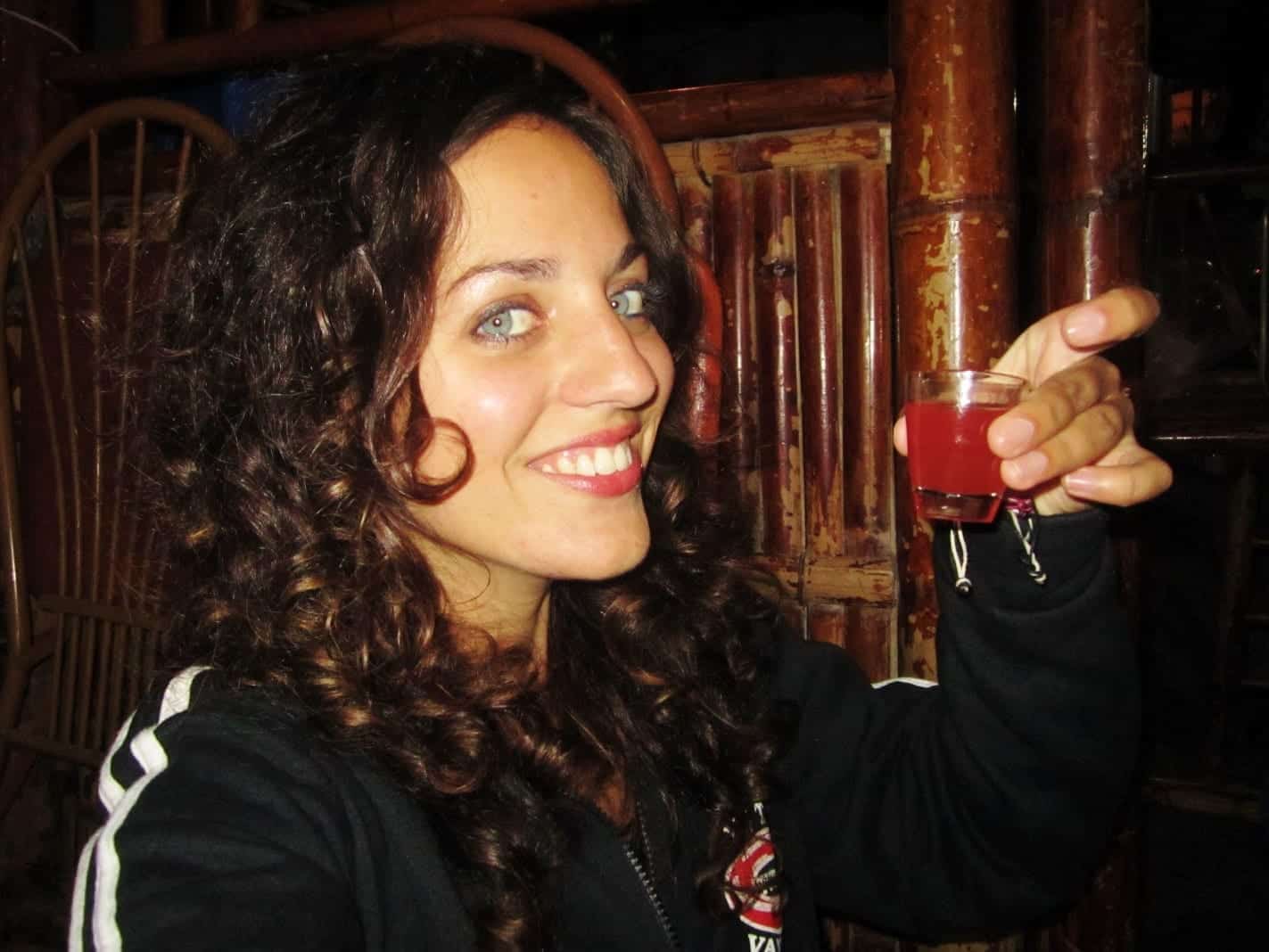 And then there was the time I went to the snake restaurant and ate snake bones, drank snake blood and bile, and made out with a dude who looked like Justin Bieber…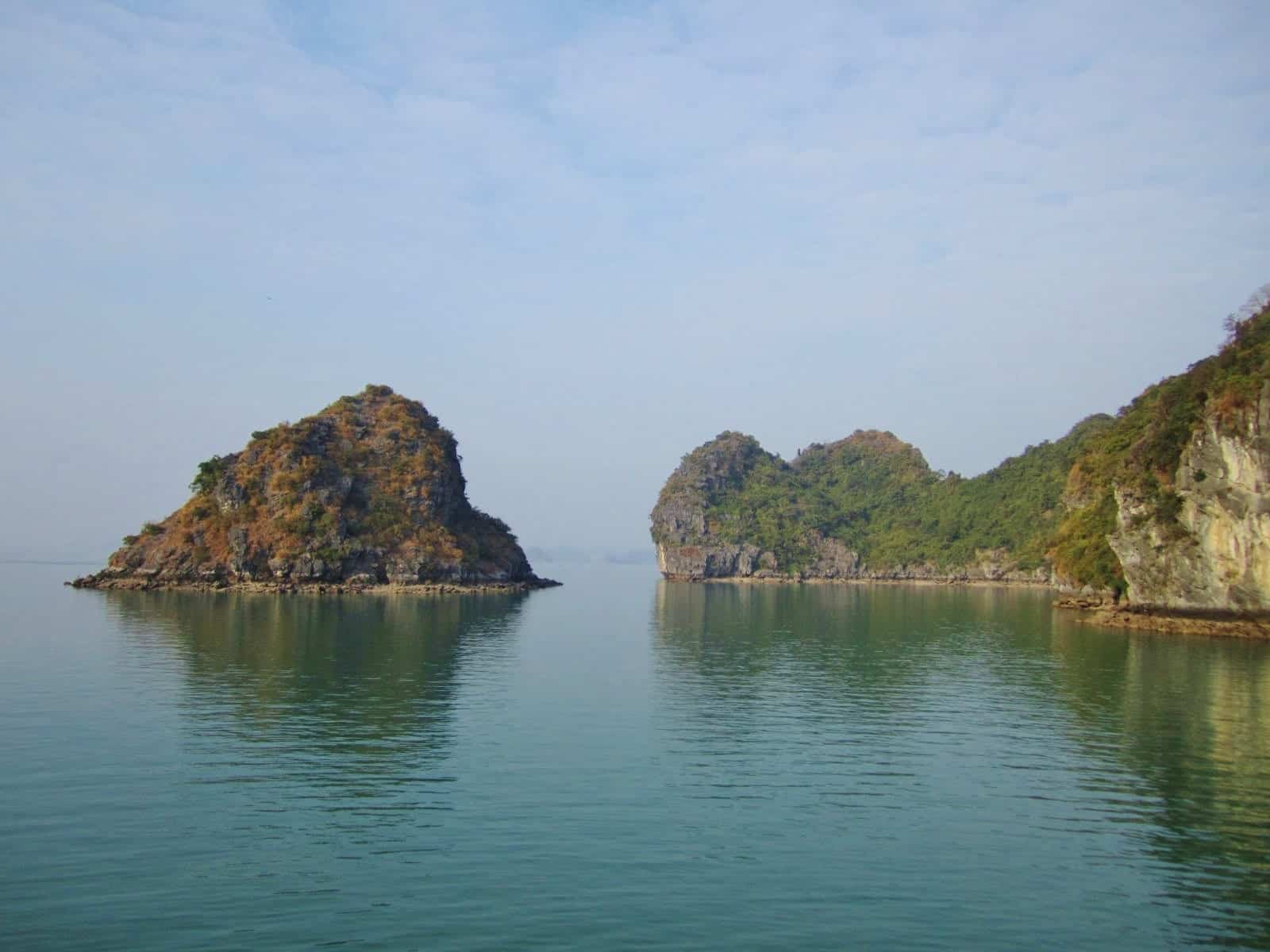 Sailing through Halong Bay. It was chilly and the weather wasn't the best, but what a beautiful and magical spot. And also the home of the craziest booze cruise of my life and the place where I first met the guy who became my boyfriend for a year and a half — though at the time I was oblivious and thought it was weird that he kept coming over to talk to me!
Being in Hoi An for Tet, the Vietnamese New Year, brought forth celebrations and one of the best fireworks shows I've ever seen. As well as a collection of new custom Vietnamese clothing!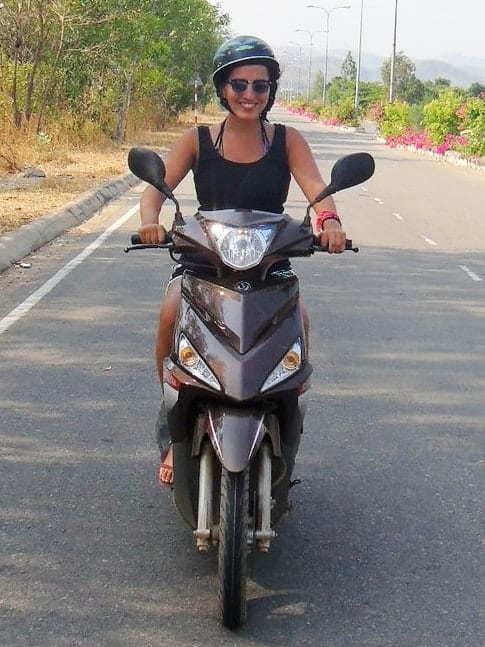 I will NEVER forget my day of motorbiking around Mui Ne, Vietnam, when my friends and I raced the sunset, got stuck in rush hour traffic, drove like maniacs in the world's craziest driving country, and still survived!
Back in Phnom Penh, my friend Ste finagled an invitation for us to a party in the countryside. Dinner in a local home, carnival games with beer for prizes, and a rusty, falling-apart "merry go round of death" where all the kids wanted to ride with me, taking my hand and yelling, "My friend! My friend!"
Going to Thailand and living on the beach in a $6 a night bungalow. That's the dream for many, but there aren't many places where you can do it for that cheap anymore. Except for Koh Chang, that is.
It wasn't quite ON the beach, and the bathroom was a shared outdoor squat toilet, but I loved it.
Singapore was all about the hawker food. And the henna.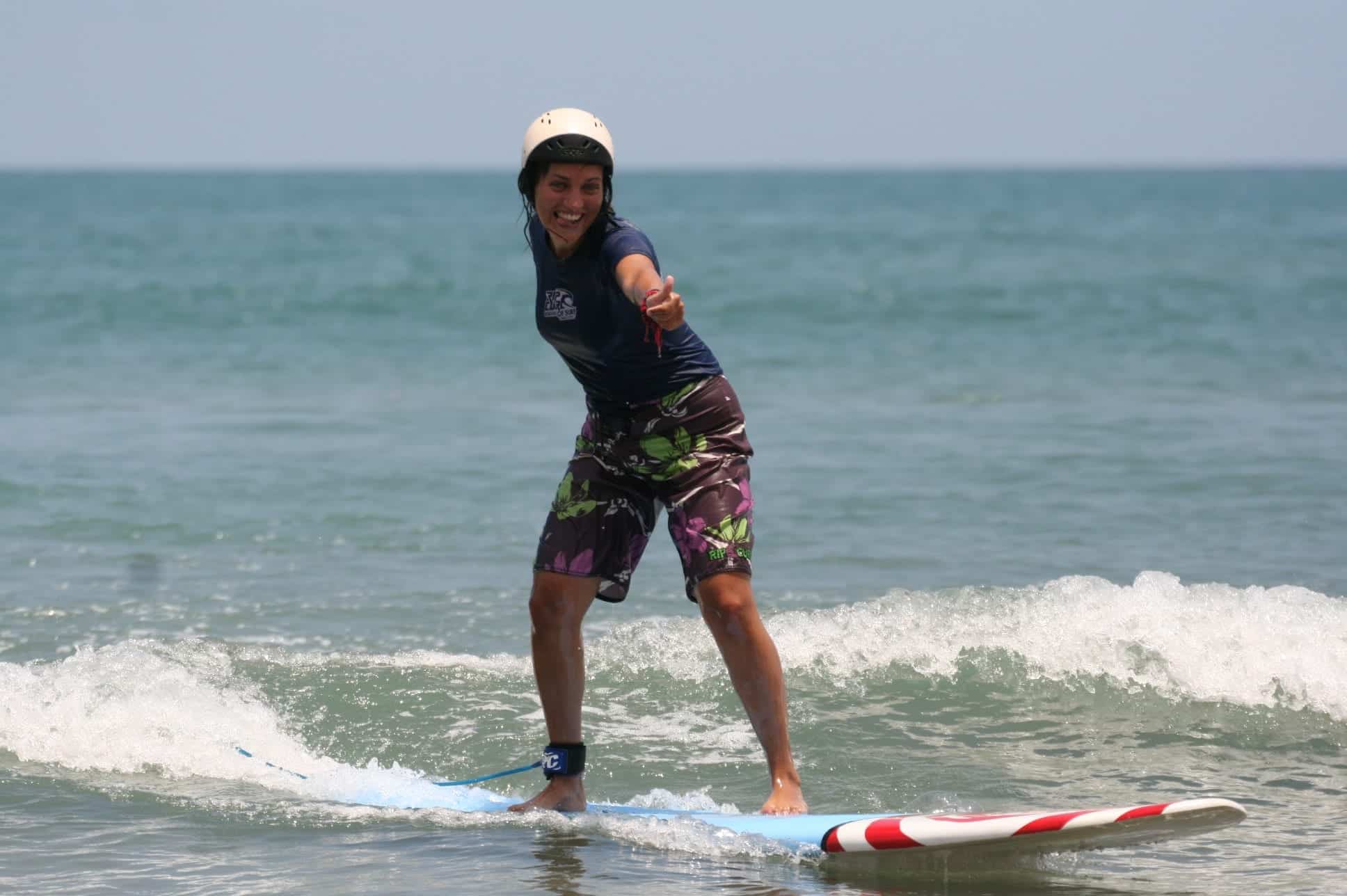 I learned to surf in Bali! I've taken several lessons and I seem to get worse every time, so this was the pinnacle of my surfing career! (And yes, I know. They forced me to wear the helmet.)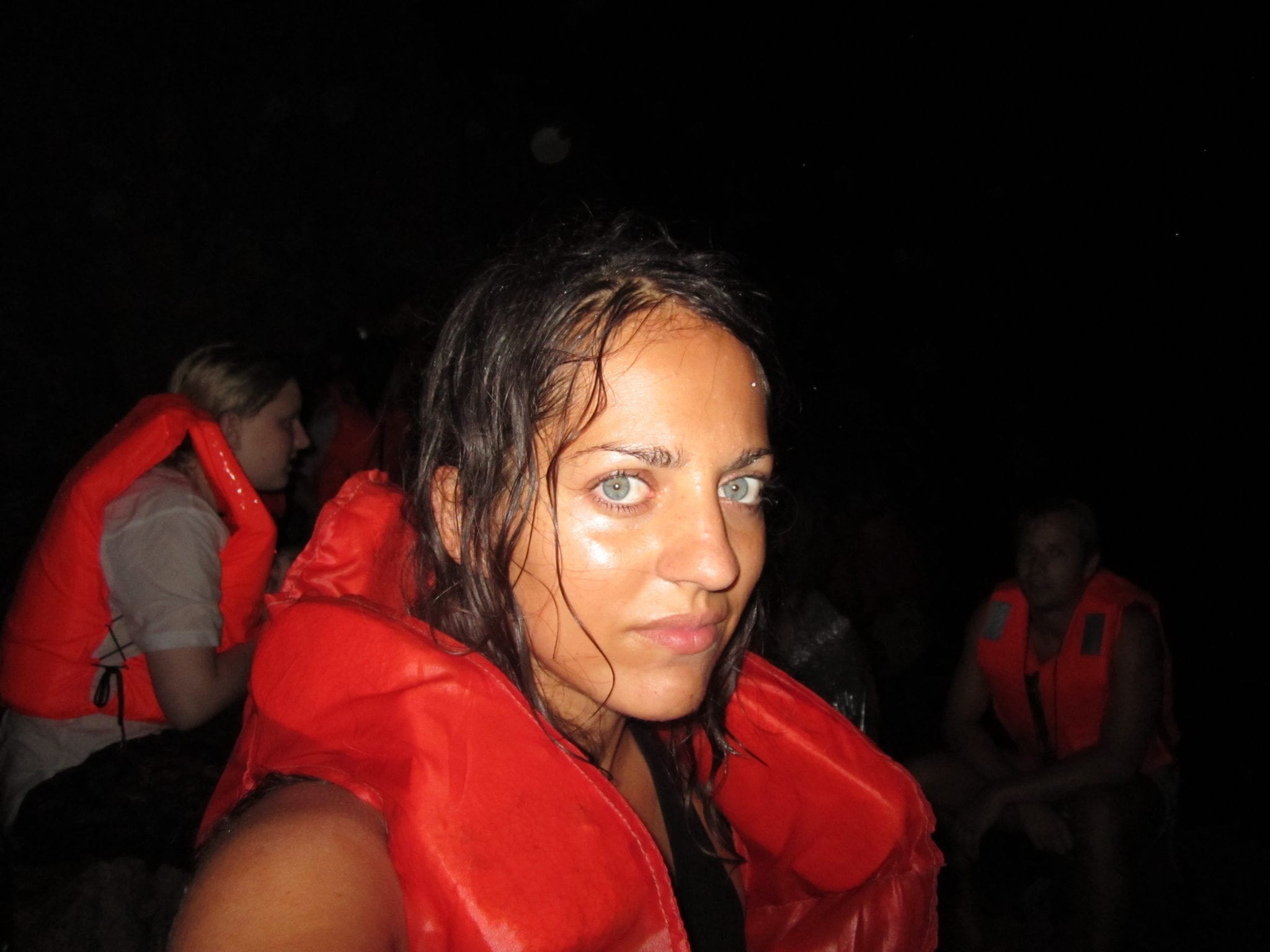 And we definitely can't forget that time I was shipwrecked in Indonesia! A horrific night and definitely the worst experience of my travels, but to be frank, it did more for my blog than any other experience I've had.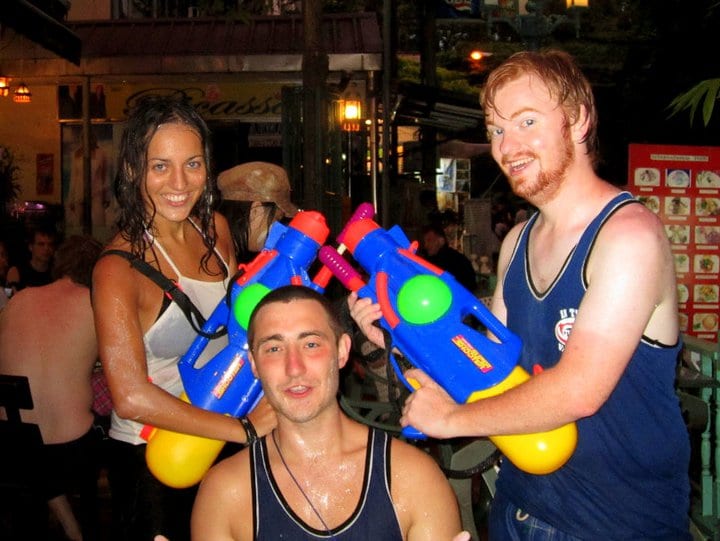 I landed back in Bangkok just in time for Songkran — a three-day water fight celebrating the New Year! One of the best festivals ever. NO ONE IS SAFE.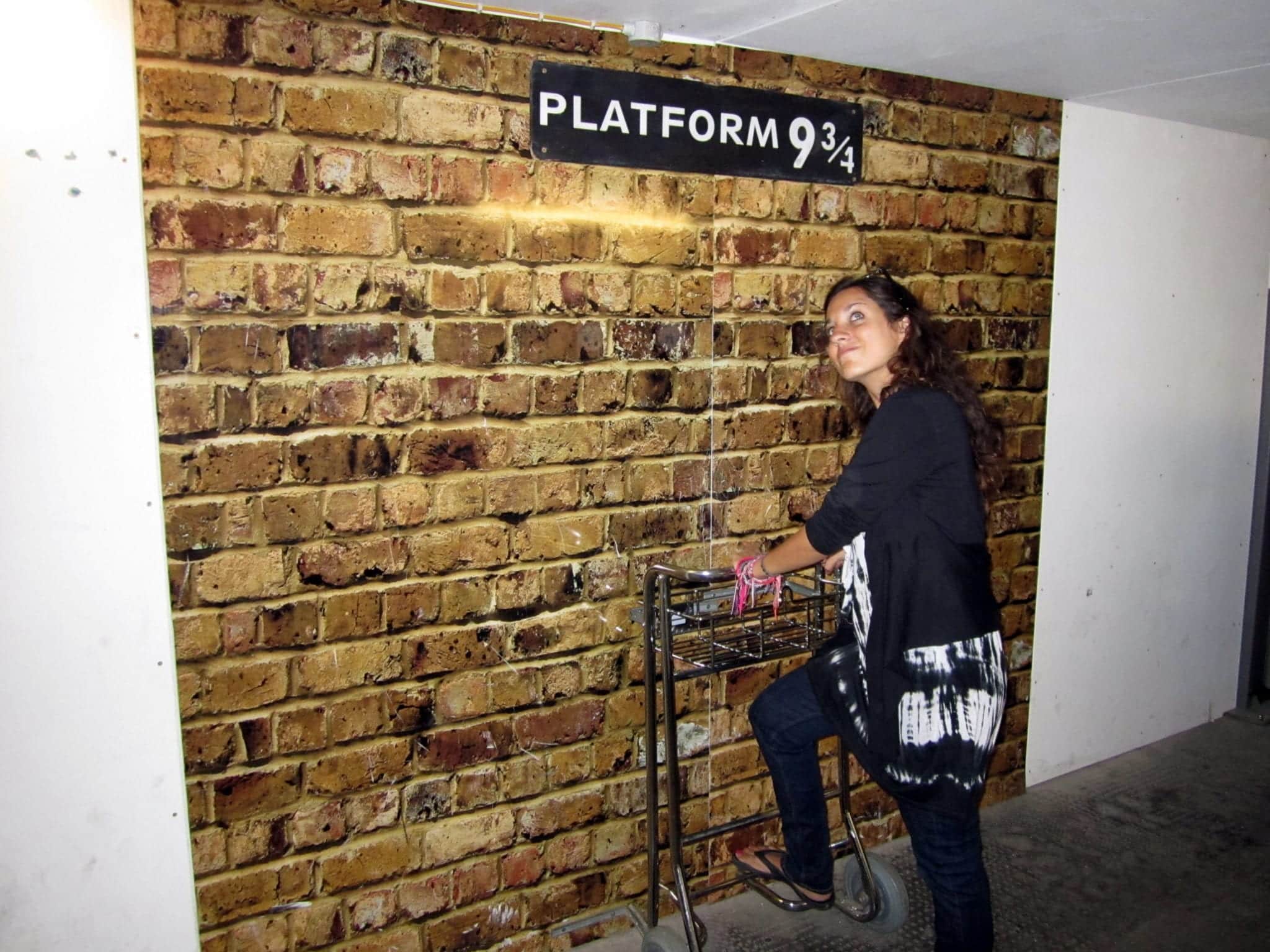 Love Harry Potter? Make a visit to Platform 9 3/4 at King's Cross Station in London!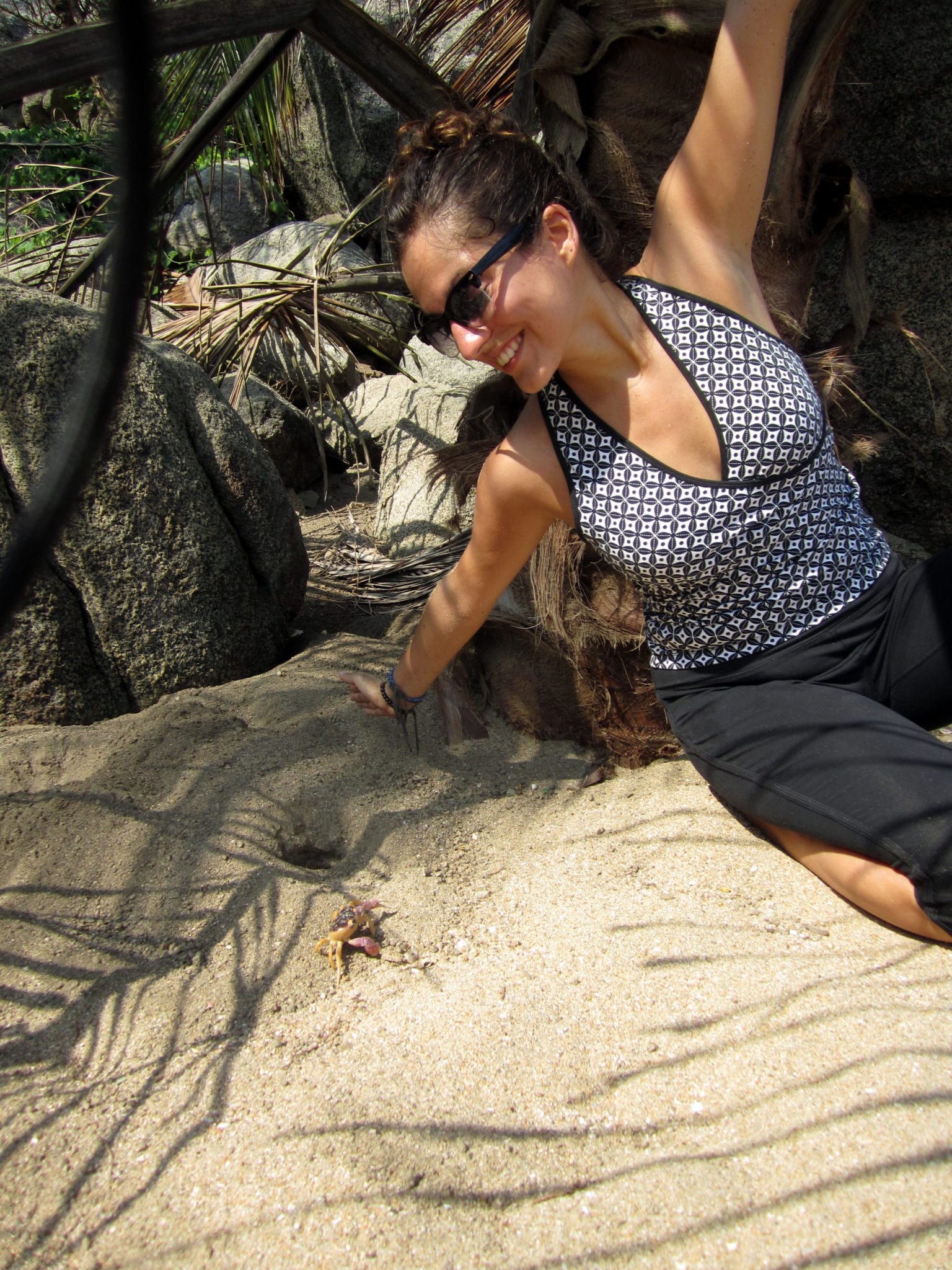 Next up, I pushed myself at a fitness retreat in Sayulita, Mexico, and proved that you don't have to be super in shape to get a lot out of a week of fitness.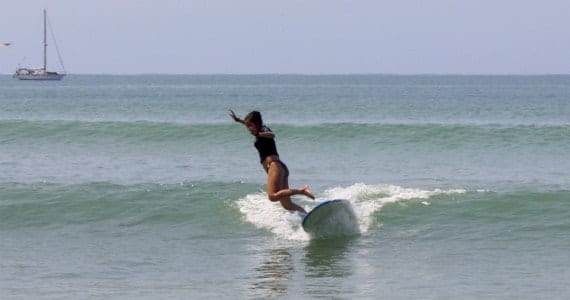 I surfed again! This time in Sayulita, Mexico, with no helmet and no board shorts!!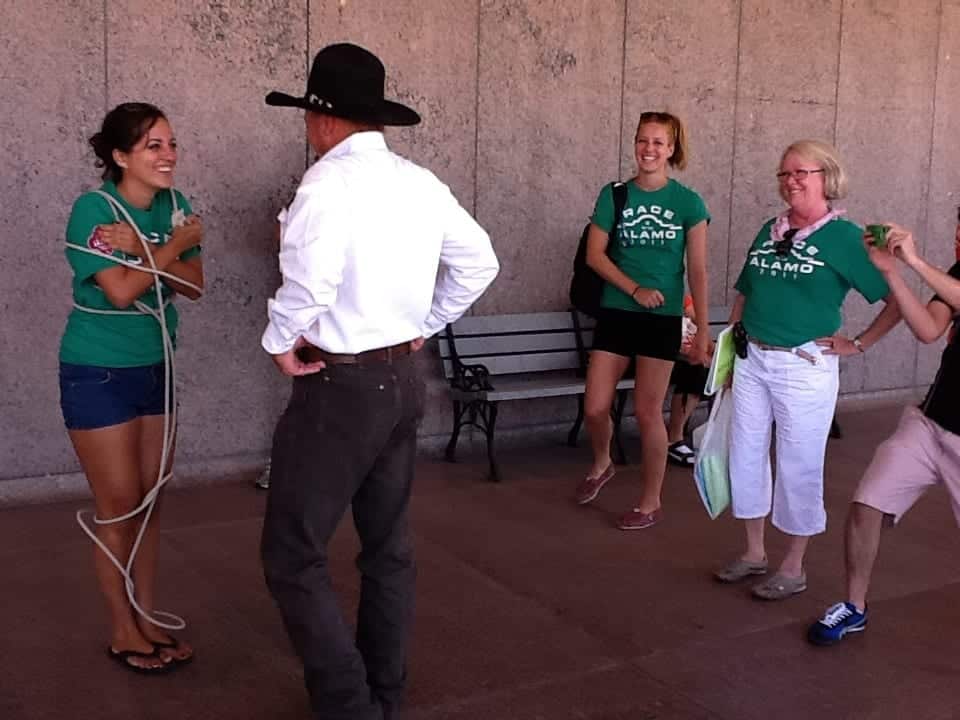 My sister and I teamed up for an Amazing Race-like event called Race to the Alamo in San Antonio and I got lassoed by a cowboy. Strange and awesome.
The prize for winning that day's event was a great — a ride over San Antonio in a helicopter!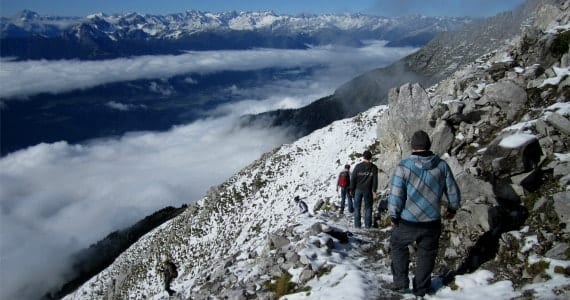 After that summer, I returned to Europe, which became my base for a few years. This hike through the Tirolean Alps, near Innsbruck in Austria, was way beyond my fitness level and I couldn't walk for days afterward. Probably the most physically taxing thing I've ever done. That view, though!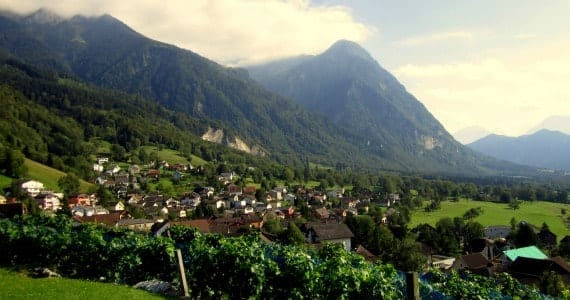 I called Liechtenstein "The Strange and Beautiful" — and this tiny country certainly was! Nothing like sipping wine in the prince's private vineyards.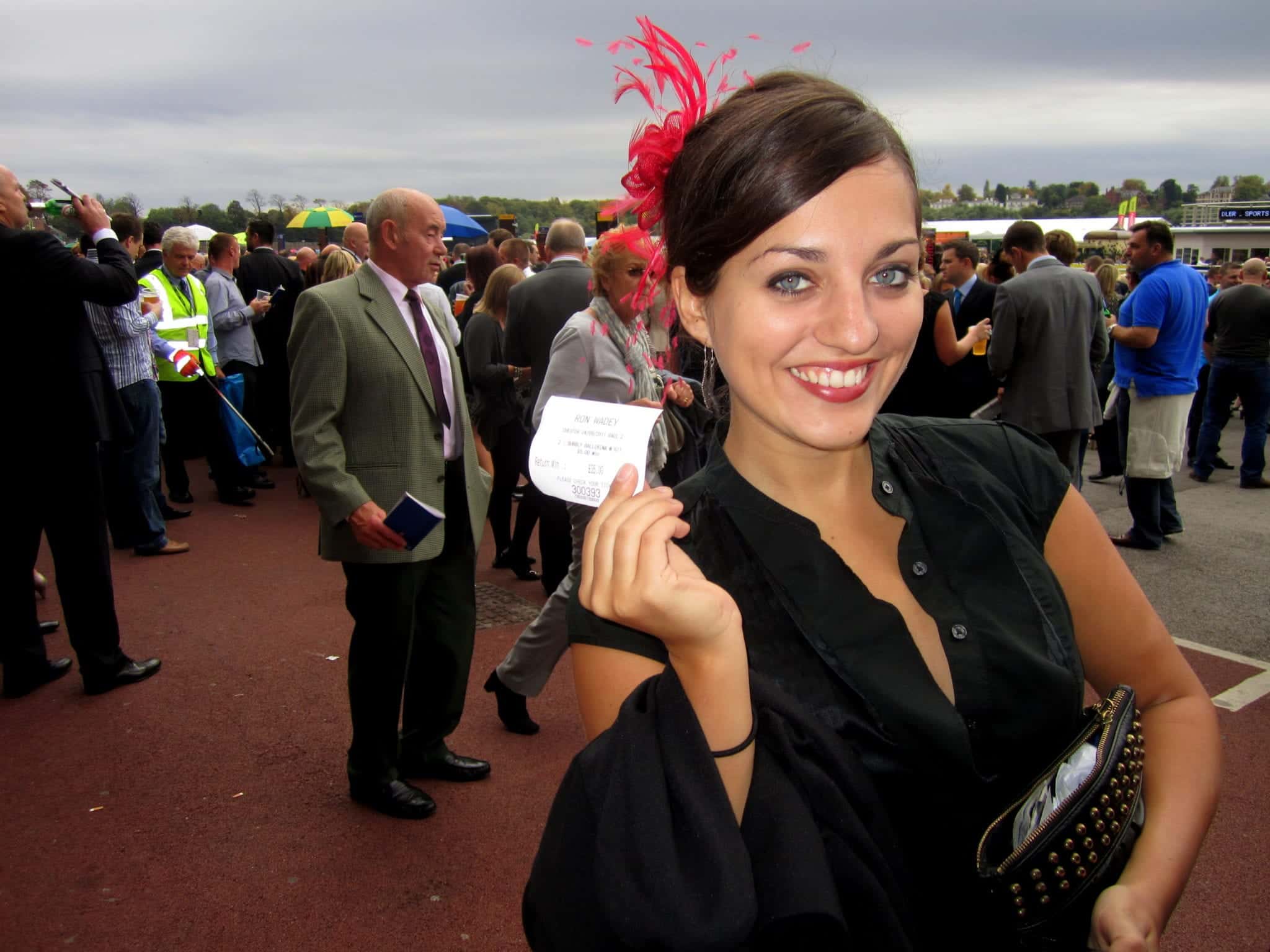 At the Chester Races in Chester, England, I dressed up, wore my fascinator, bet on the horses, and won big! (Exactly once. Then lost the rest of the day.)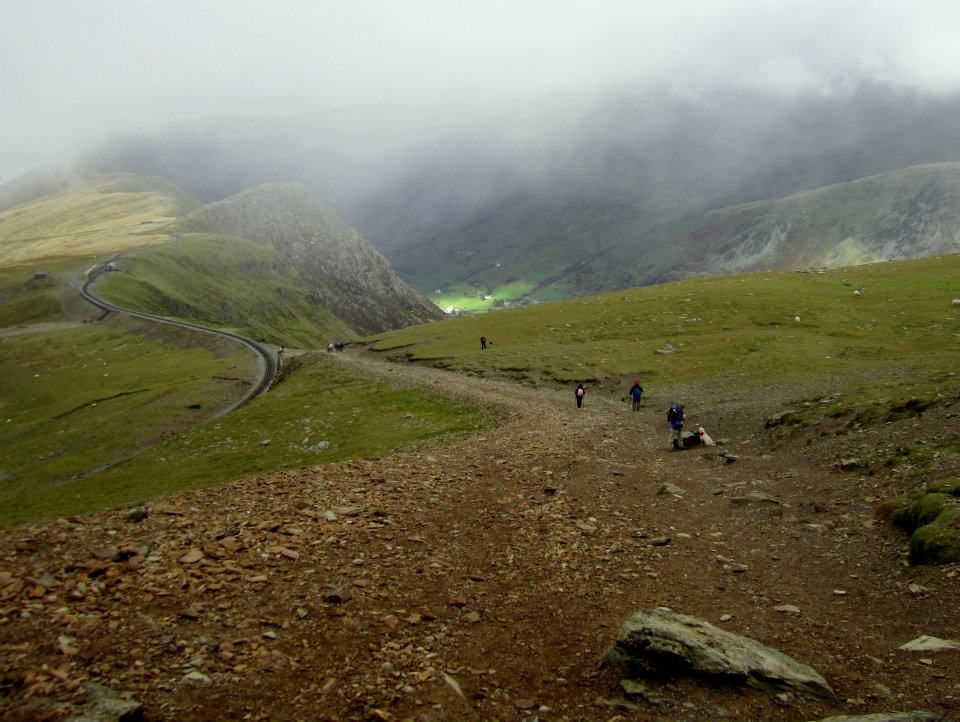 Climbing Mount Snowdon, Wales' highest peak, was another major physical achievement for me.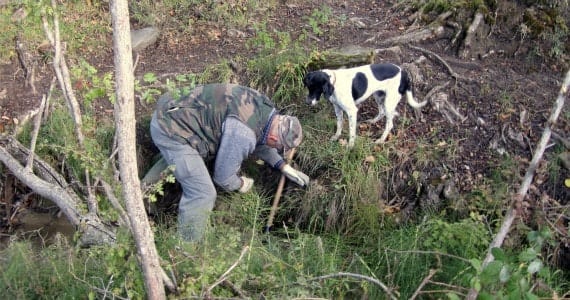 Hunting for truffles with dogs in the hills of Romagna, Italy. A fun way to gather one of the world's most glorious foods!
YEAR TWO: JORDAN TO SWEDEN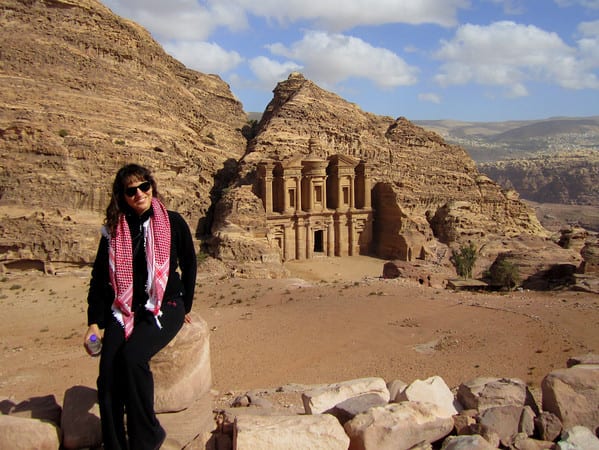 Petra, Jordan, is probably the coolest ancient site I've ever seen. And that climb to the view of the monastery is rewarding!
Waking up at sunrise for a camel ride across the desert in Wadi Rum, Jordan. Incredible.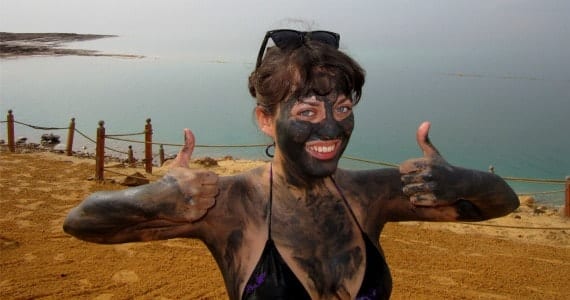 Getting muddy and floating in the Dead Sea? Absolutely! And then I cut my foot in the Dead Sea (SO SALTY, SO PAINFUL) and tracked blood all over the resort while being followed by a staffer with a mop.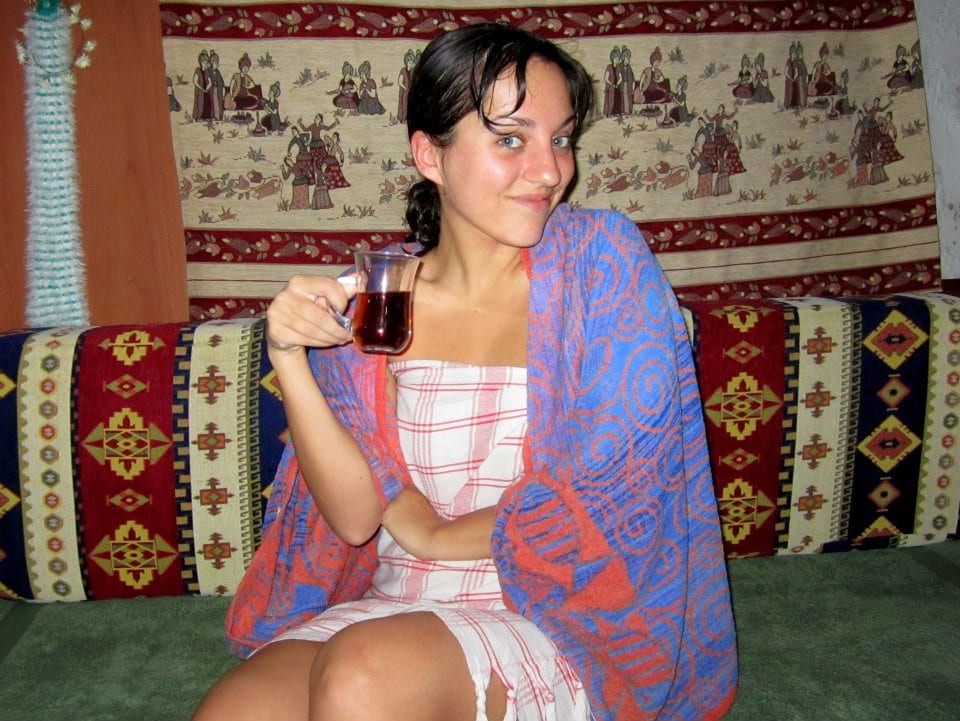 Up next was my first-ever hammam experience, in Istanbul. In short, getting totally naked and taking a rogue boob to the face during a massage. 10/10, would do again.
Hot air ballooning in Cappadocia, Turkey, is the ultimate cliche — and so totally worth it.
To this day, I say that Up Helly Aa, the Viking Fire Festival in Shetland, is the best thing I have ever done on my travels. It's like nothing else.
And visiting the Alhambra in Granada, Spain, is probably my favorite architecture experience in the world. As was watching the sunset from Plaza San Nicolas while listening to flamenco.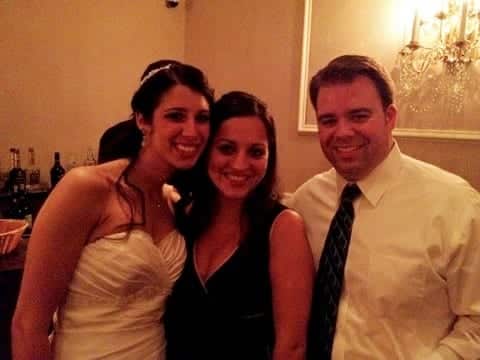 Then there was the time my friend Kevin and I crashed a wedding in Pennsylvania! We did not know this bride!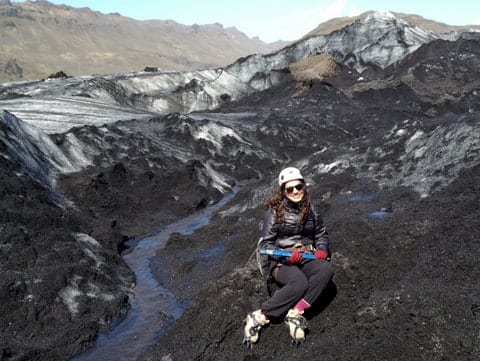 Iceland is chock full of adventure opportunities, and I started my five-day stopover with glacier hiking in the south.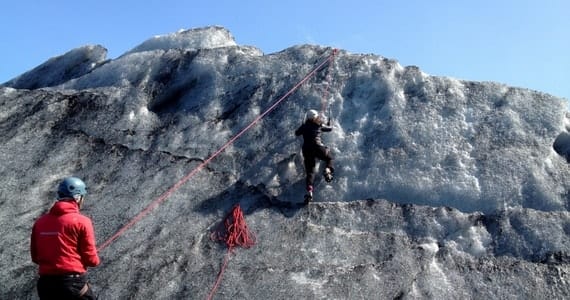 Don't forget the ice climbing! Surprisingly, I loved it far more than rock climbing.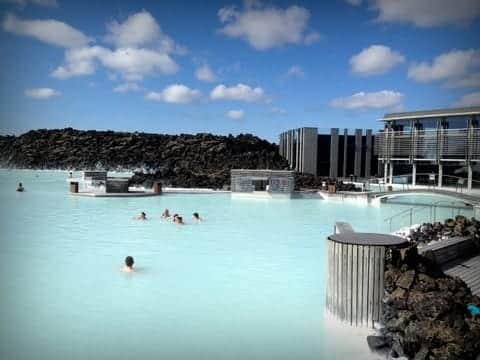 And the Blue Lagoon on a gloriously sunny day, of course.
Would you ever snorkel in near-freezing water? Thanks to a dry suit, I snorkeled the cold geological fissure between the European and American continents in Silfra, Iceland.
Horseback riding with the furry and unique horses of Iceland.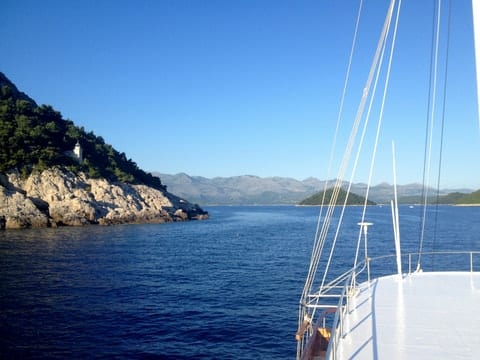 Sailing the islands off Croatia, from Split to Dubrovnik, was an incredibly fun week! This trip to Croatia ignited my love for the Balkans, my favorite region in the world and a place I return to every summer.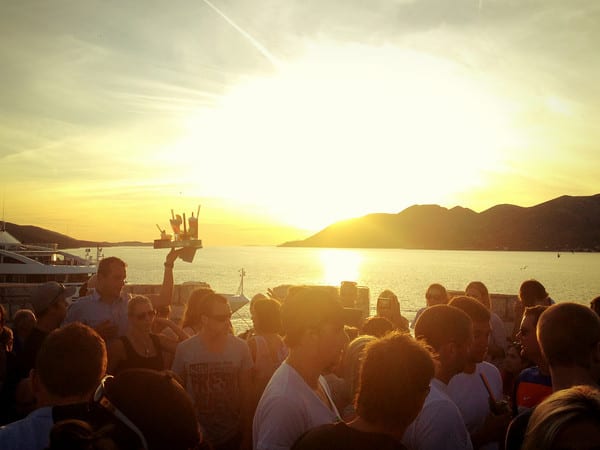 When sailing through Croatia in the summer, sometimes you've got to do crazy party things — like have sunset cocktails on top of a decrepit tower of the city walls in the Old City of Korčula.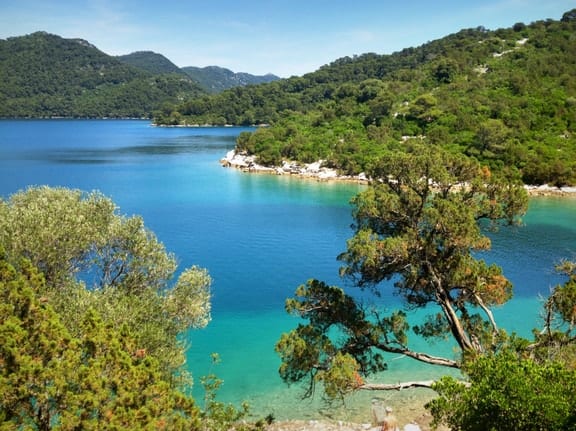 Swimming in the saltwater lakes of Mljet, Croatia. With only 15 minutes to enjoy the national park, was it worth it? HELL YES. We ran in like maniacs, splashed around, and ran back to get our ferry.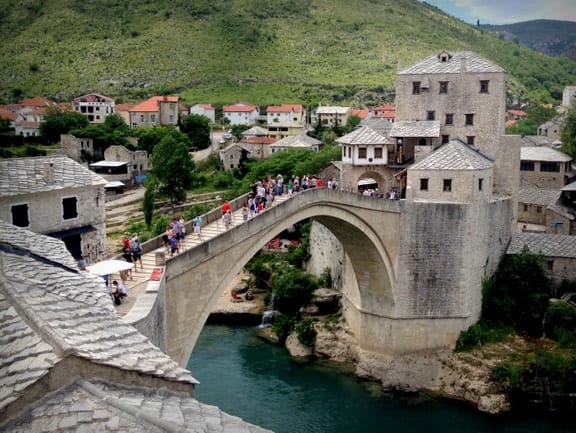 You really can't understand the Balkans until you confront their devastating history firsthand — like here in Mostar, Bosnia.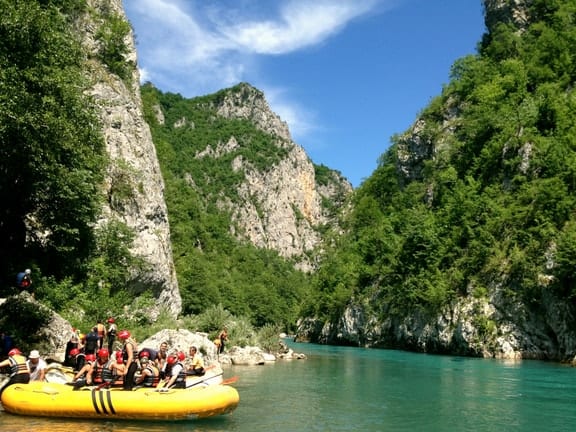 Whitewater rafting is super fun on its own — but there is nowhere so beautiful to do it as Tara Canyon, Montenegro. I was agape the whole time!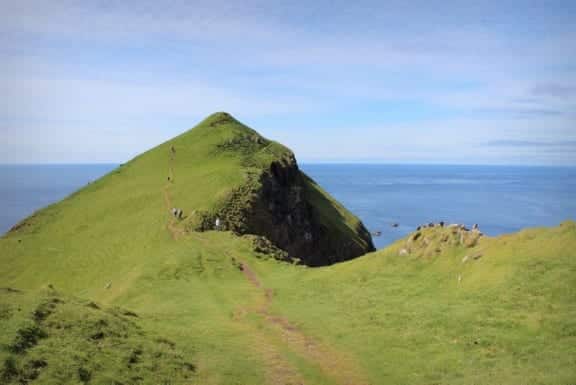 The Faroe Islands are definitely the most off-the-beaten-path place I've ever visited — and definitely among the most beautiful. I loved it there and want to go back.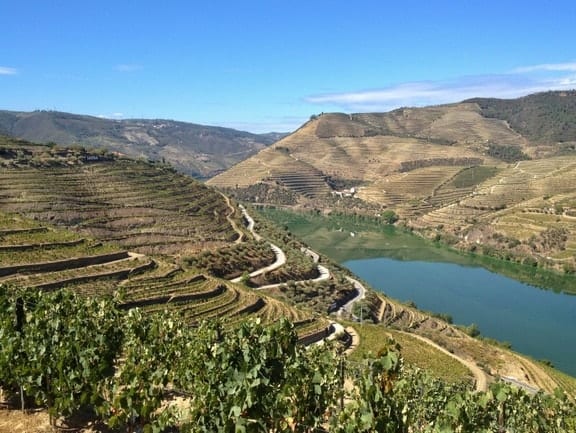 The Douro Valley of Portugal is super underrated and super delicious — and I spent the entire time there drinking my body weight in port, which it turns out I love!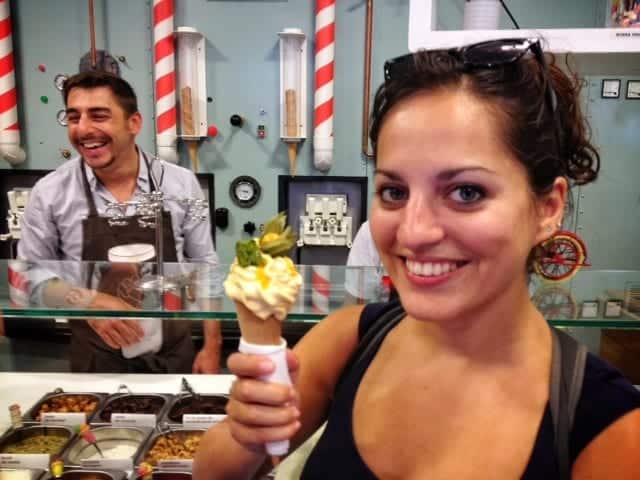 Being served ice cream by the chef from the #1 restaurant in the world. Literally. That's Jodi Roca, pastry chef at El Cellar de Can Roca in Costa Brava, Spain. And sometimes he pops in to serve customers at his gelato shop, Rocambolesc!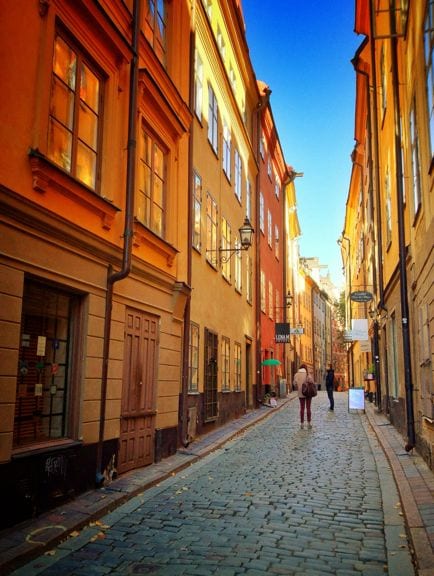 In Stockholm, I started a new tradition — sending my friends' babies their first postcard. It's a keepsake for the babies and I guarantee it makes their moms cry some happy tears!
YEAR THREE: SOUTH AFRICA TO AUSTRALIA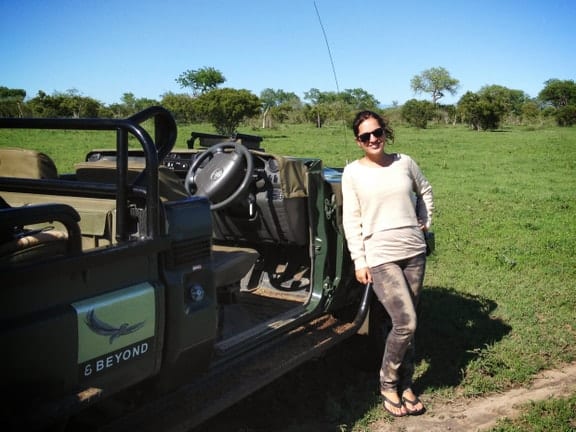 And then there was South Africa. A country with which I fell madly in love and hold close to my heart to this day. Nothing in the world will blow you away like a safari! I feel so privileged to have seen endangered rhinos, and all the more compelled to work to save these beautiful animals.
The Blue Train — across South Africa on one of the world's most luxurious trains. Just wild. And we spent the night drinking cognac and smoking Cuban cigars like we were in a rap video!
And then our train was attacked by rock-throwing protestors the next morning…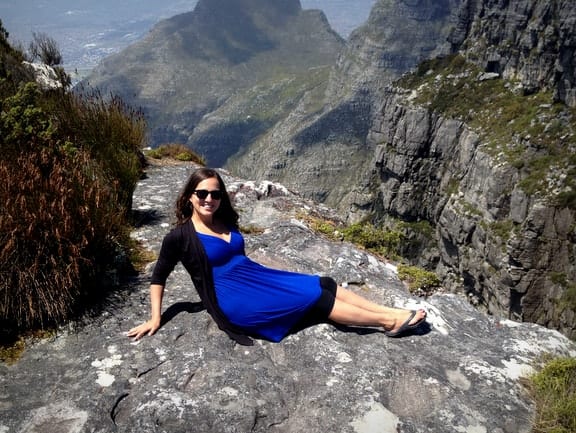 On top of Table Mountain in Cape Town. What a view of one of the most beautifully set cities in the world.
The Fête des Lumieres in Lyon, France, was an underrated (albeit cold!) festival with some of the best lighting special effects I've ever seen.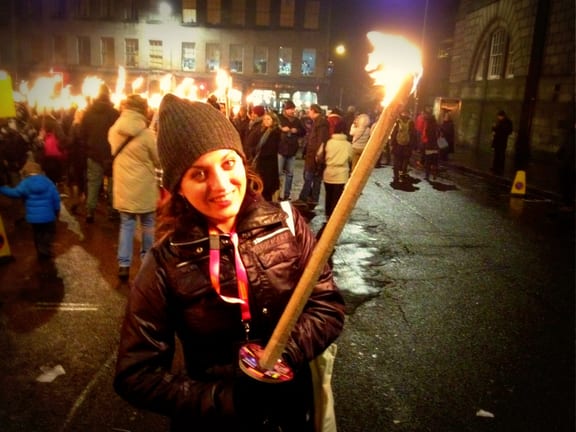 New Year's Eve was in Edinburgh that year, which meant bringing in the new year with a peaceful torchlight procession.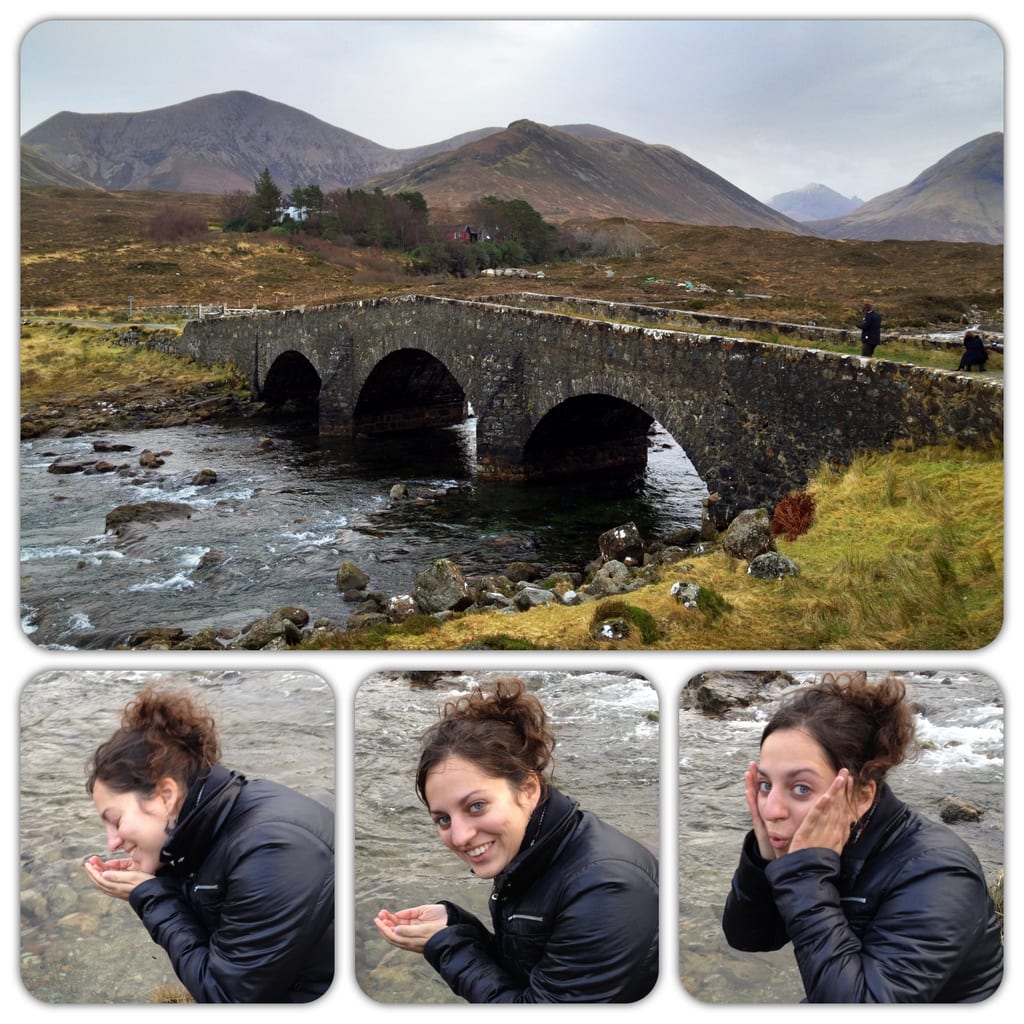 I bought myself a few more years of good skin in Sligachan on the Isle of Skye in Scotland, where soaking your face in the waters brings eternal youth!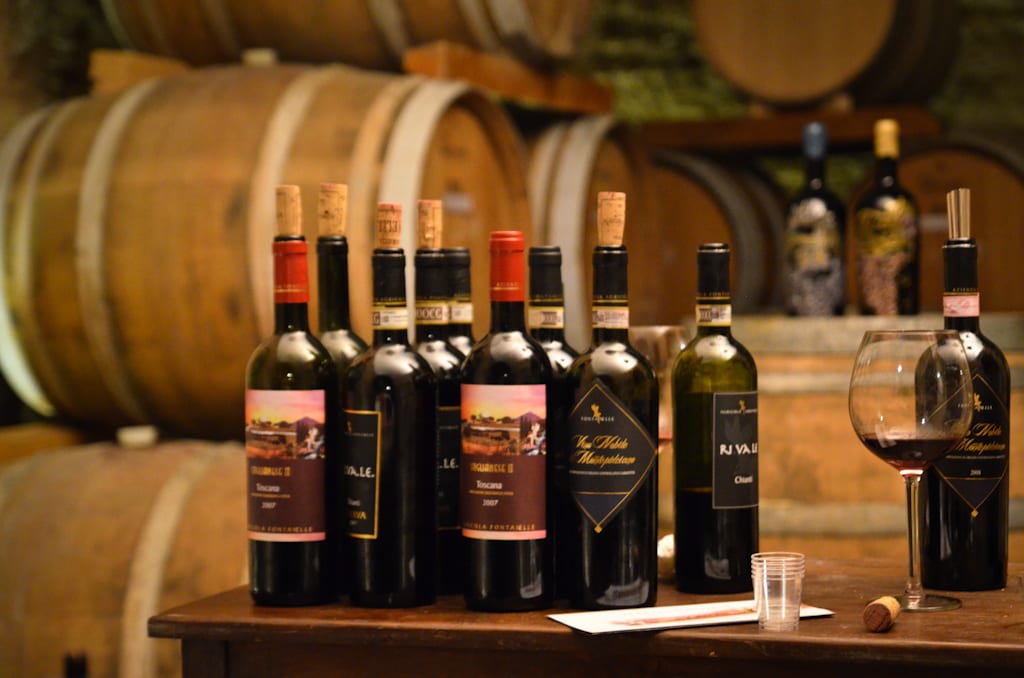 I've done a lot of wine tasting, but the best ever was in Chianciano Terme, Tuscany. So many wines, so many brilliant cured meats (my introduction to finocchionna!), all in a wine cellar that was more of a closet.
Road tripping from Cape Town to East London in South Africa — the best, most fun, most adventurous, and most visually stunning road trip I've ever done.
Horseback riding at sunset in Swellendam, South Africa.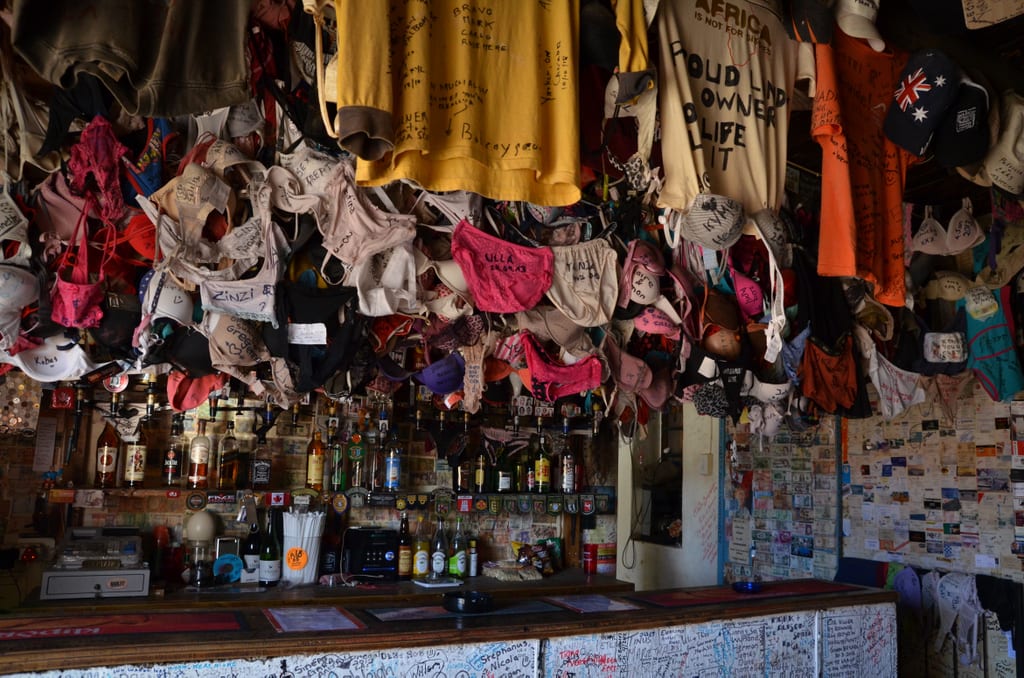 Hanging out at Ronnie's Sex Shop in South Africa, the coolest rest stop in the world, filled with lots of underwear.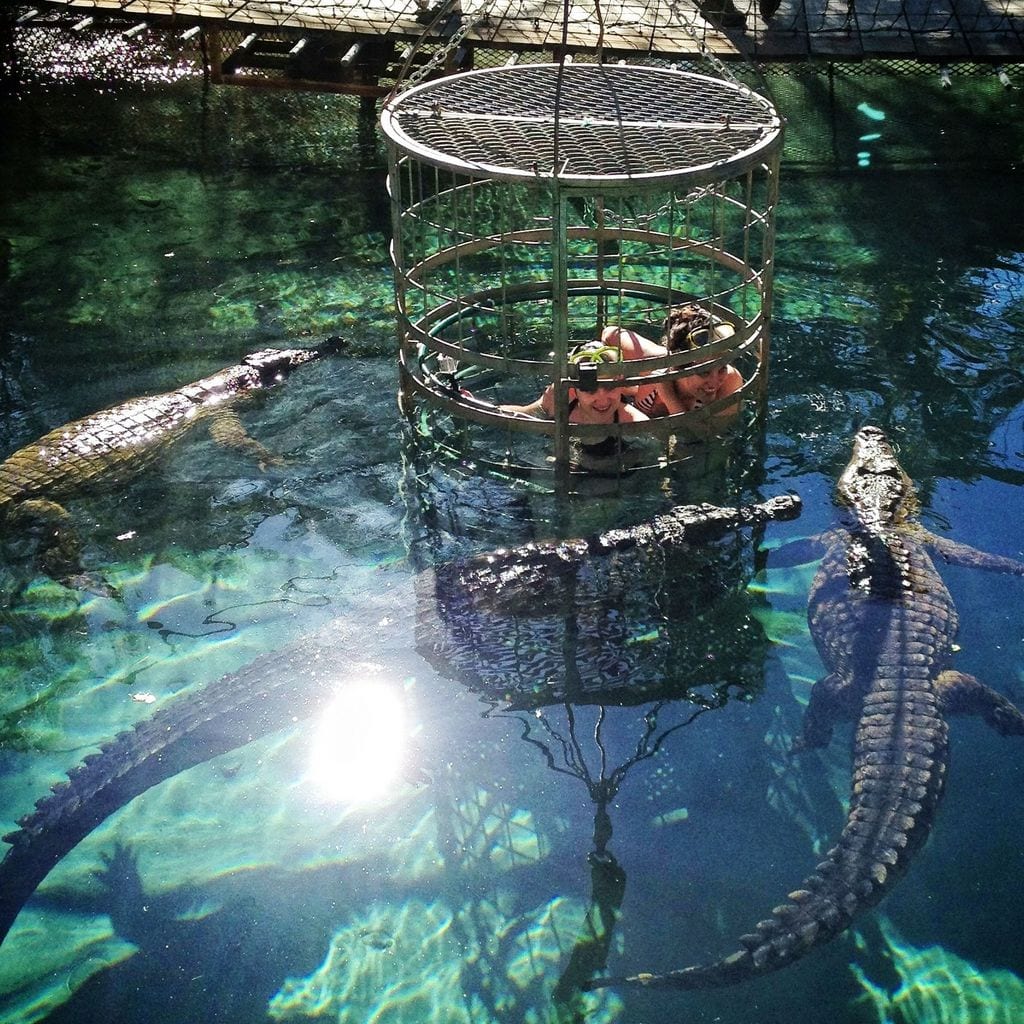 Crocodile cage diving in South Africa! Screaming with Nadine as the crocs lazily swam around us.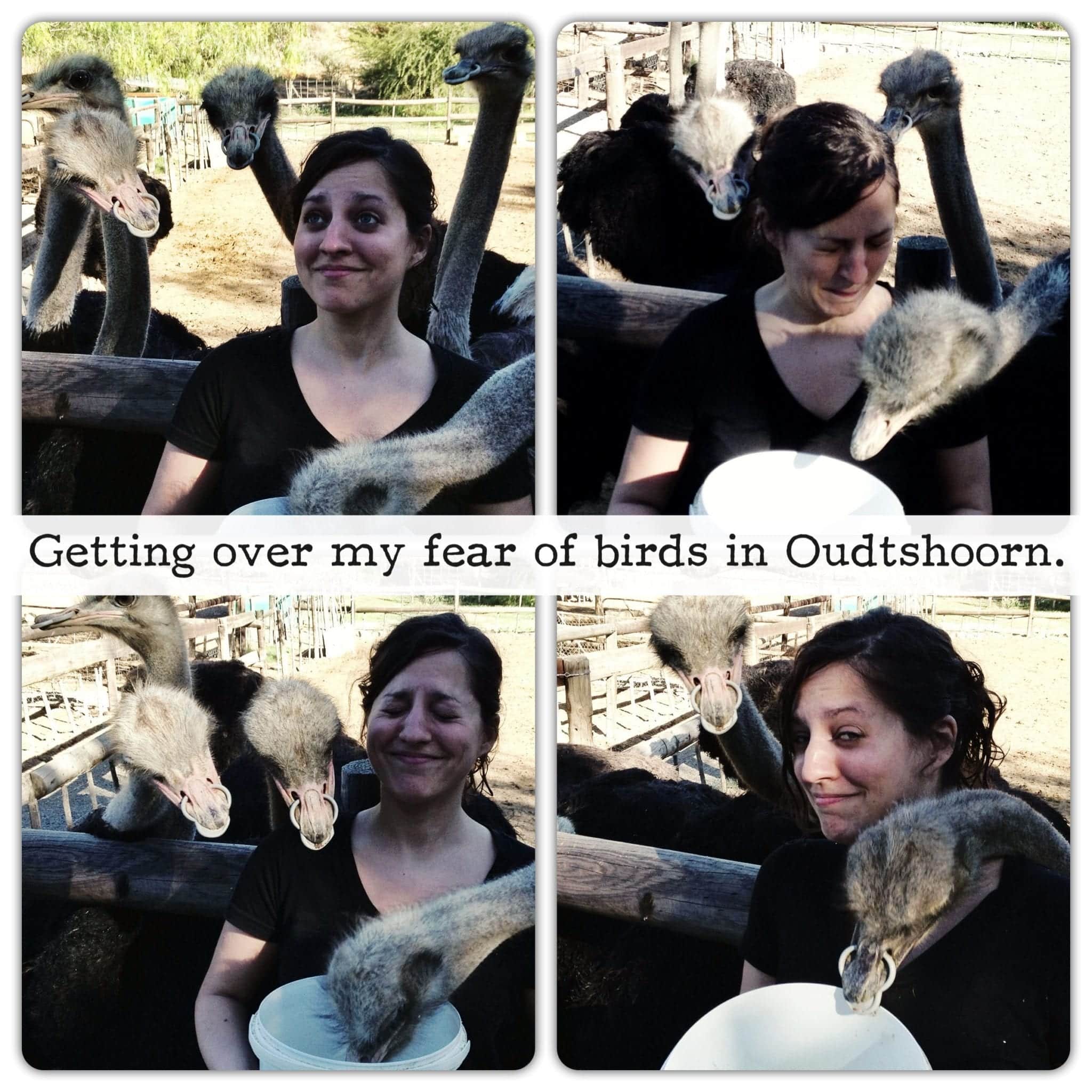 And then there was attempting to get over my fear of birds by letting ostriches surround me and peck at a bucket of feed. Yes, it was terrifying. 10/10, would never do again.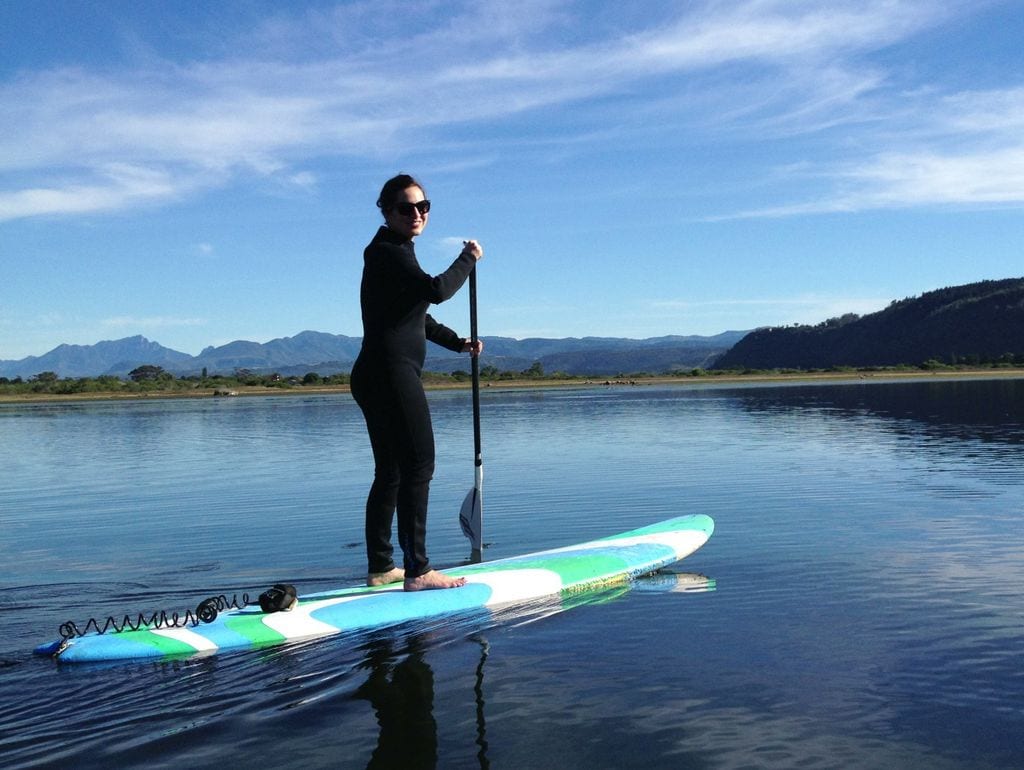 My first-ever SUP (stand-up paddleboarding) session on the lagoon in Sedgefield, South Africa! Wetsuit unnecessary.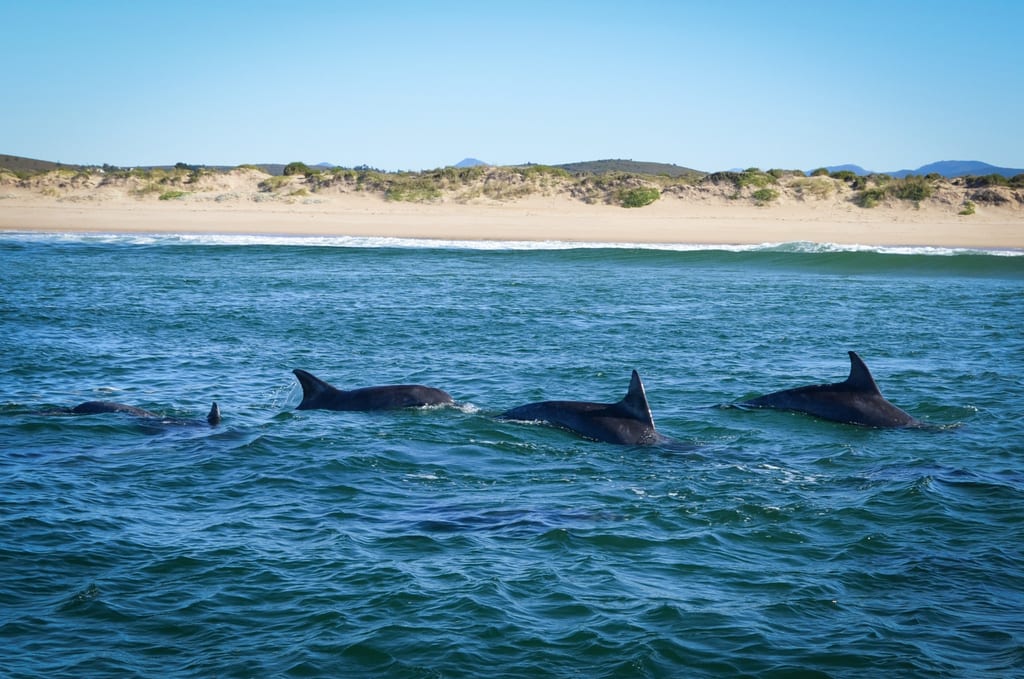 Seeing dolphins in the wild for the first time ever was so moving! Seen on a safari in Plettenberg Bay, South Africa.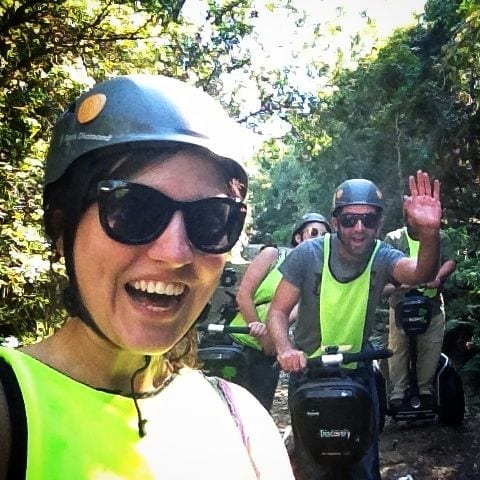 Forget city sidewalks — go on a Segway trip through the Tsitsikamma Forest in South Africa!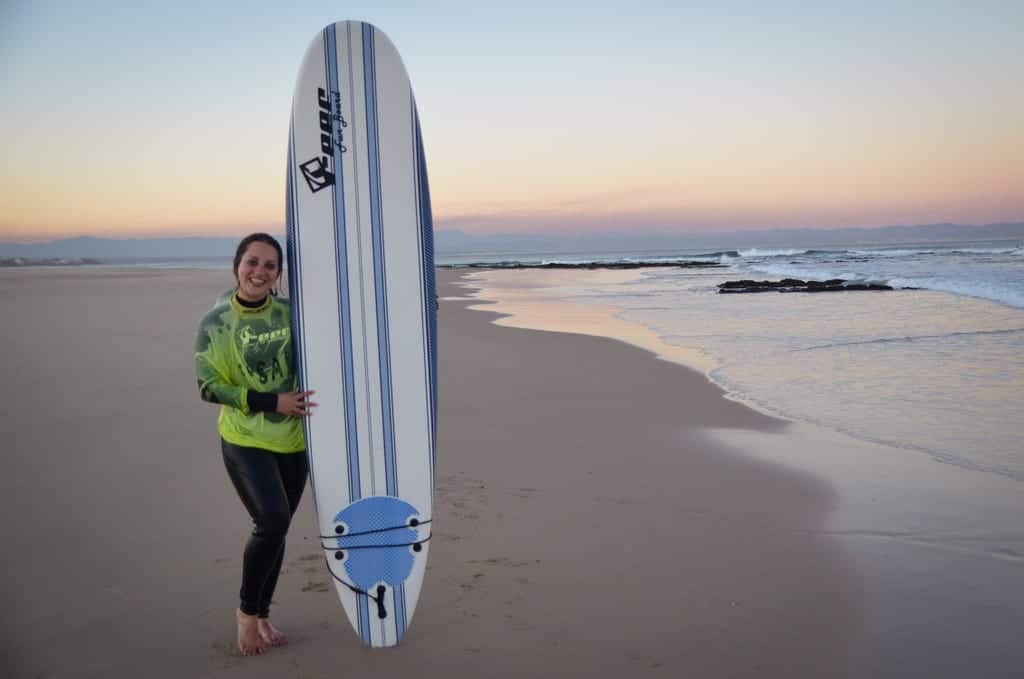 While I keep getting worse in each surfing lesson, at least I got to experience sunset surfing in Jeffreys Bay, South Africa.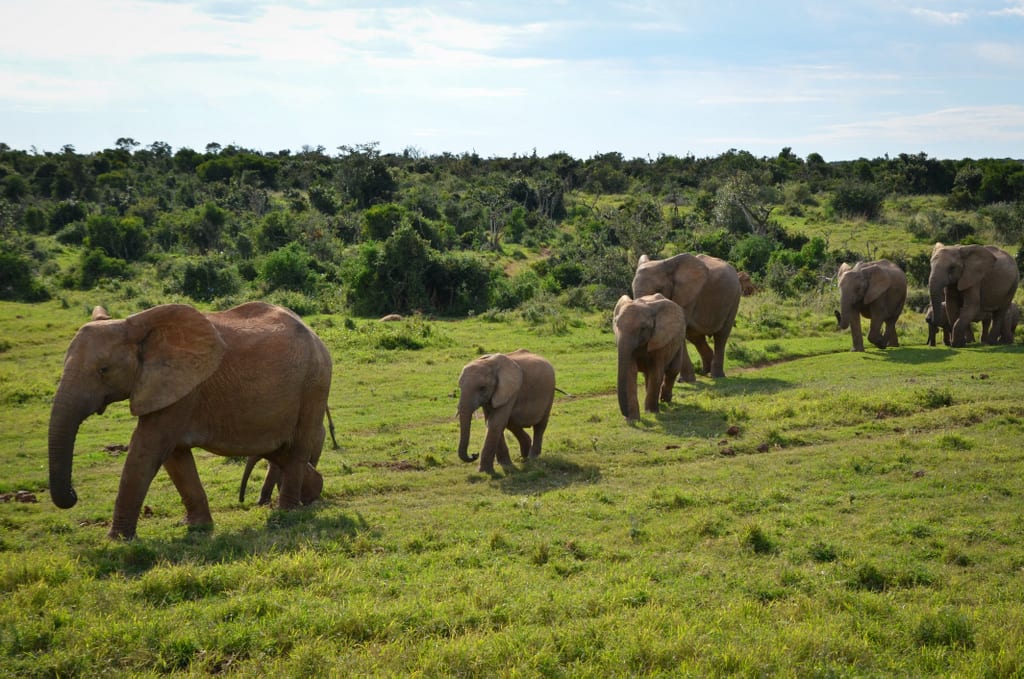 Seeing more elephants than I'd ever seen — even more than in Kruger National Park! — in Addo Elephant Park, South Africa.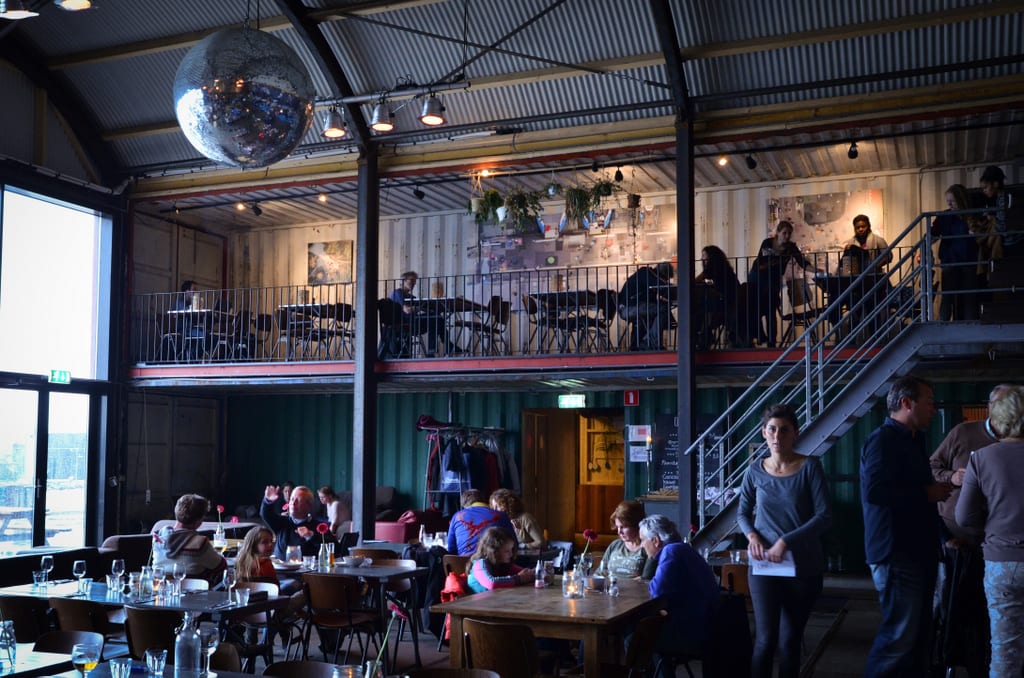 Sometimes you'll walk into a shipping container in Amsterdam and find THIS inside. A place called Pllek, and their food is fabulous. You'd never guess this was inside.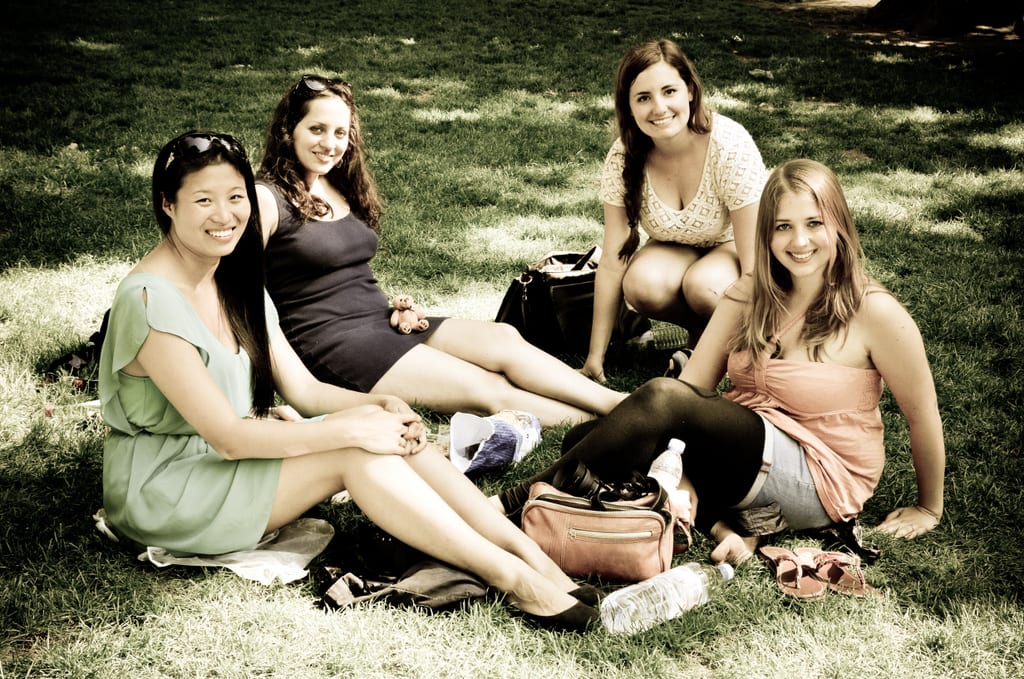 There's nothing more quintessentially Parisian than a picnic in front of the Eiffel Tower with Edna, Ashley, and Julika!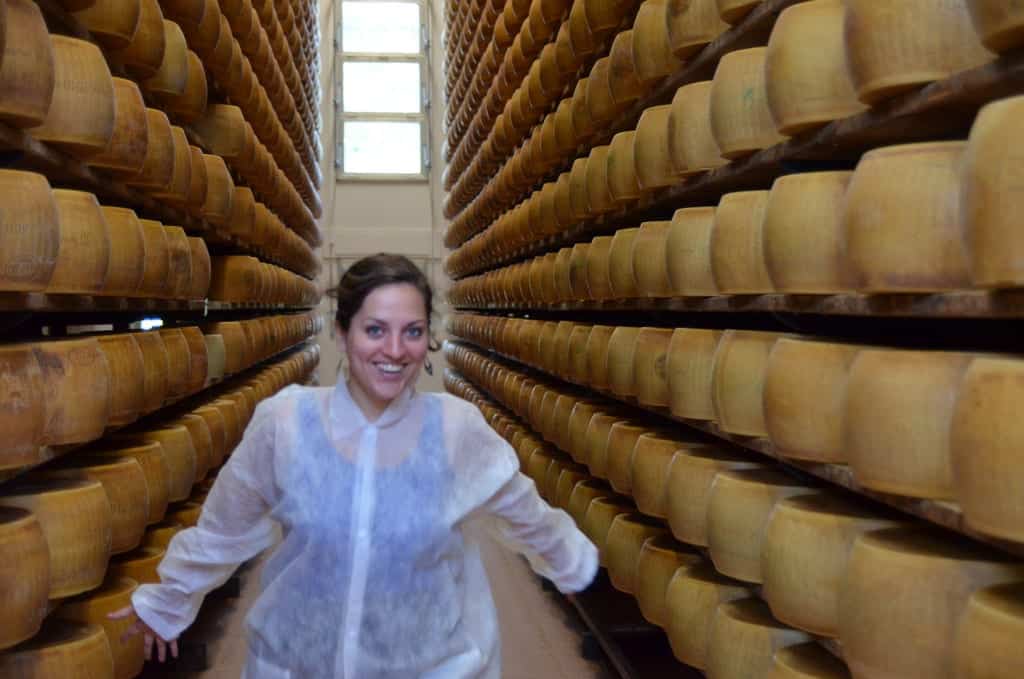 One of the happiest moments of my life — running through a parmigiano reggiano cheese factory in Parma, Italy!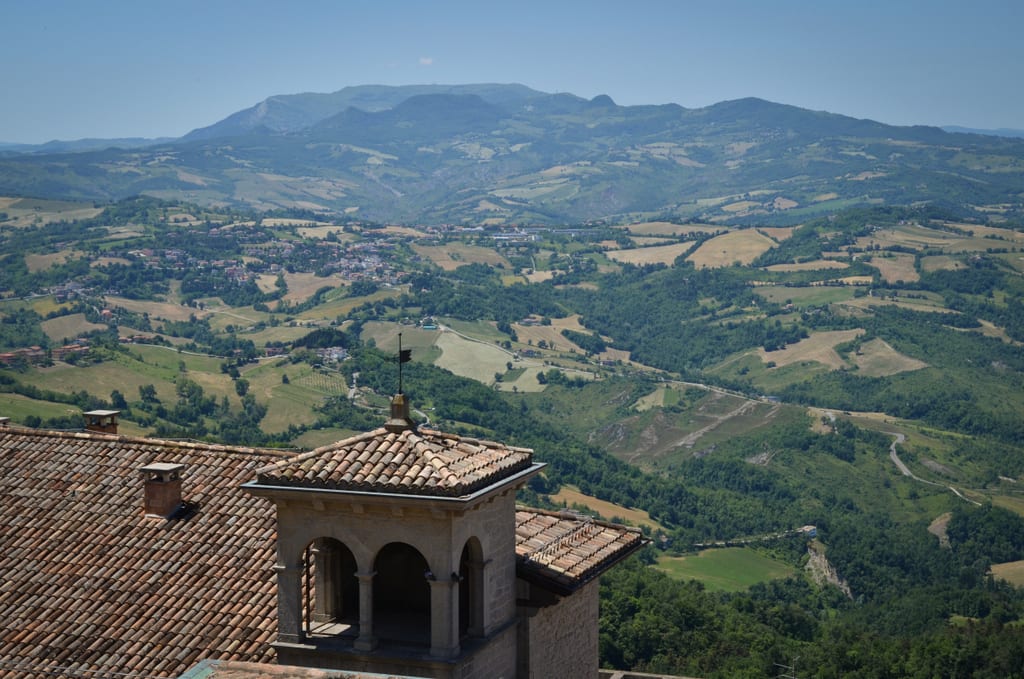 I love visiting micro-nations. One of my favorites? Mountainous San Marino. And I loved getting to meet their national football team's keeper!
I've been on many beautiful train rides, but I don't think anything can top the Lucerne-Interlaken line in Switzerland. It looks like you're riding through a toy world!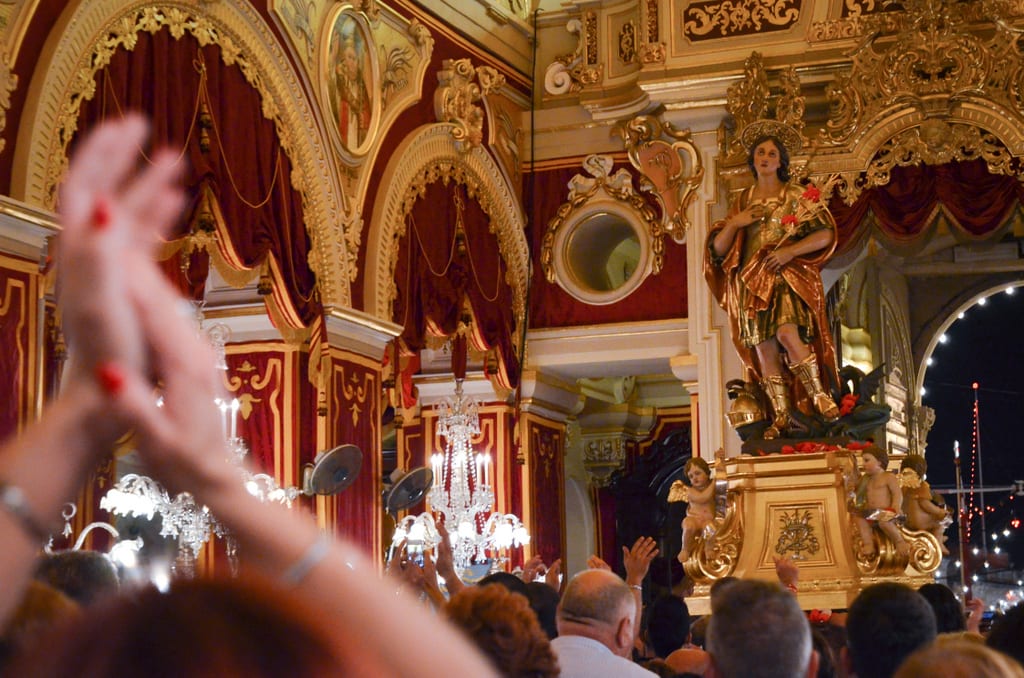 Celebrating the Festa of St. George in Qormi, Malta, watching an entire town come together in quintessential Maltese piety and opulence.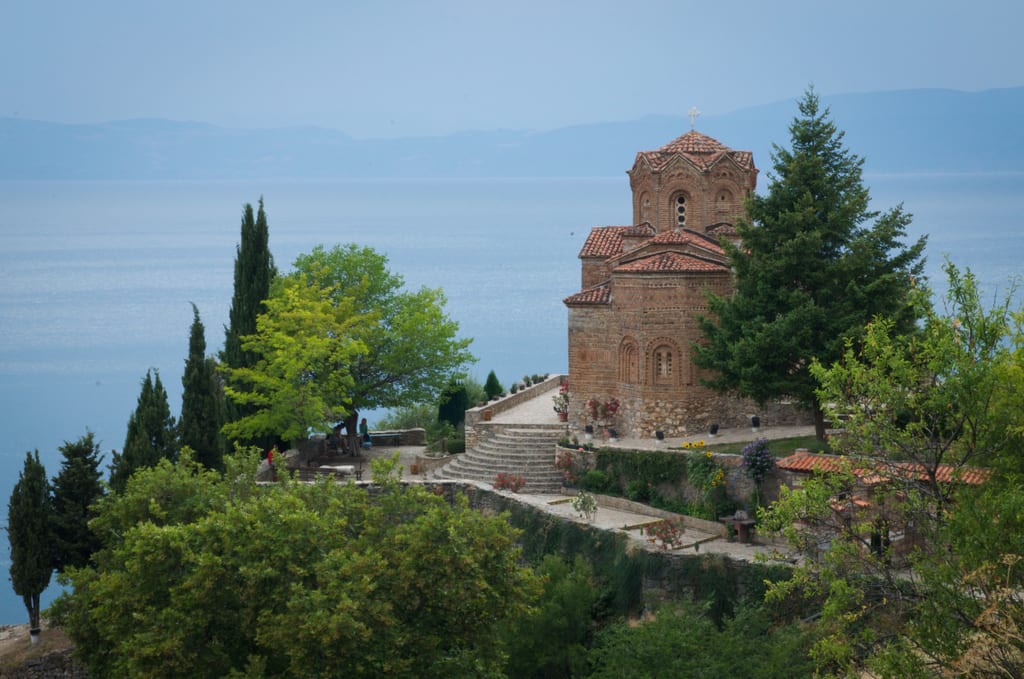 Lake Ohrid in Macedonia was one of the most lovely places I visited. I've never seen the sky and water meld into each other so seamlessly.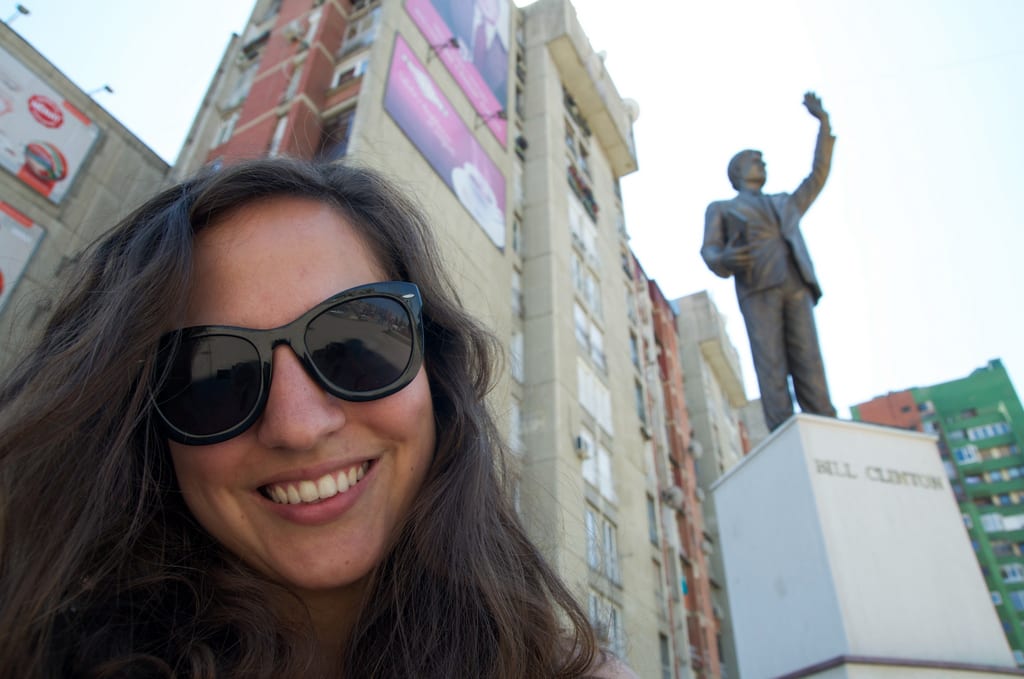 Visiting Kosovo was incredibly moving as an American, and I was welcomed with open arms (and asked for my phone number!) by virtually every person with whom I conversed. And, of course, there's posing with Bill in the capital of Prishtina.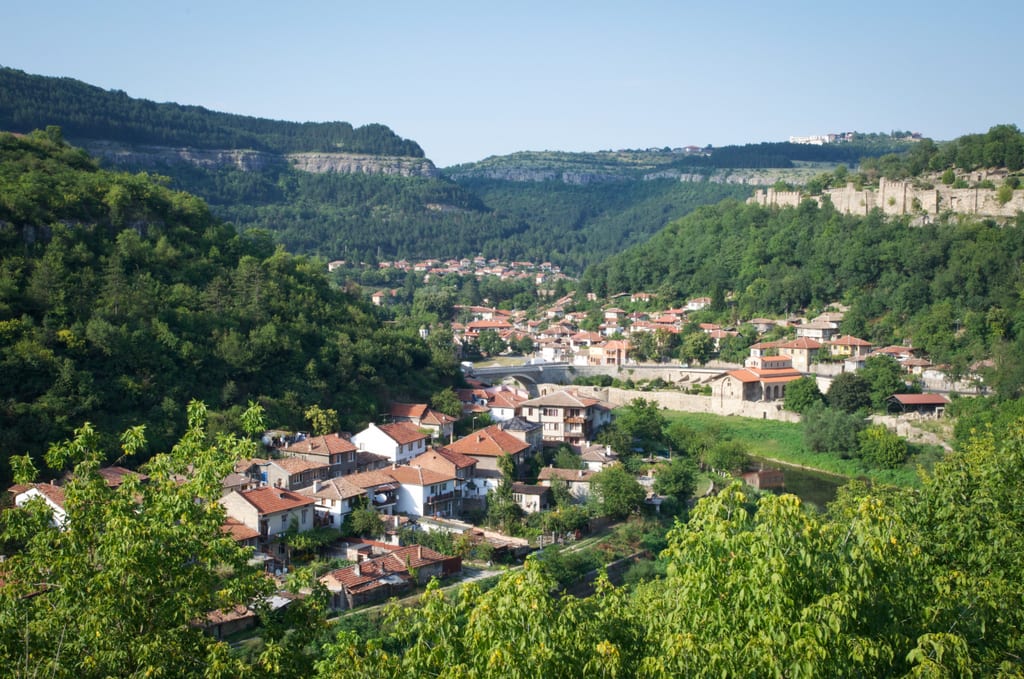 In Veliko Tarnovo, Bulgaria, I was at one of the lowest points of my travel life — and survived the worst train of my life, which was overheated and falling apart.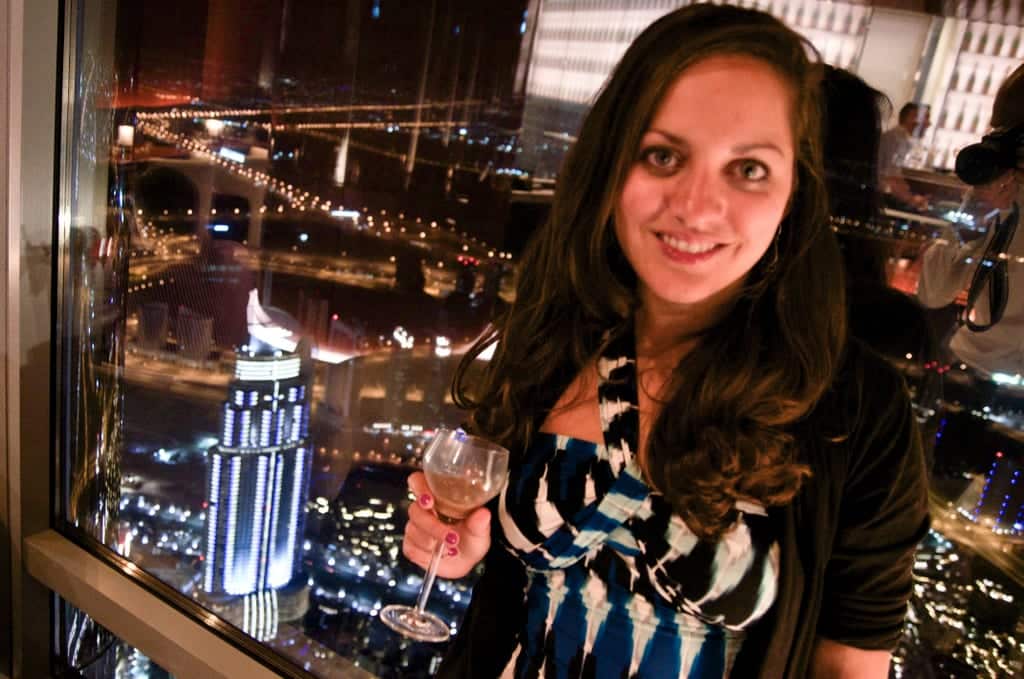 In Dubai on your 29th birthday? Celebrate with camel milk cocktails on top of the tallest building in the world!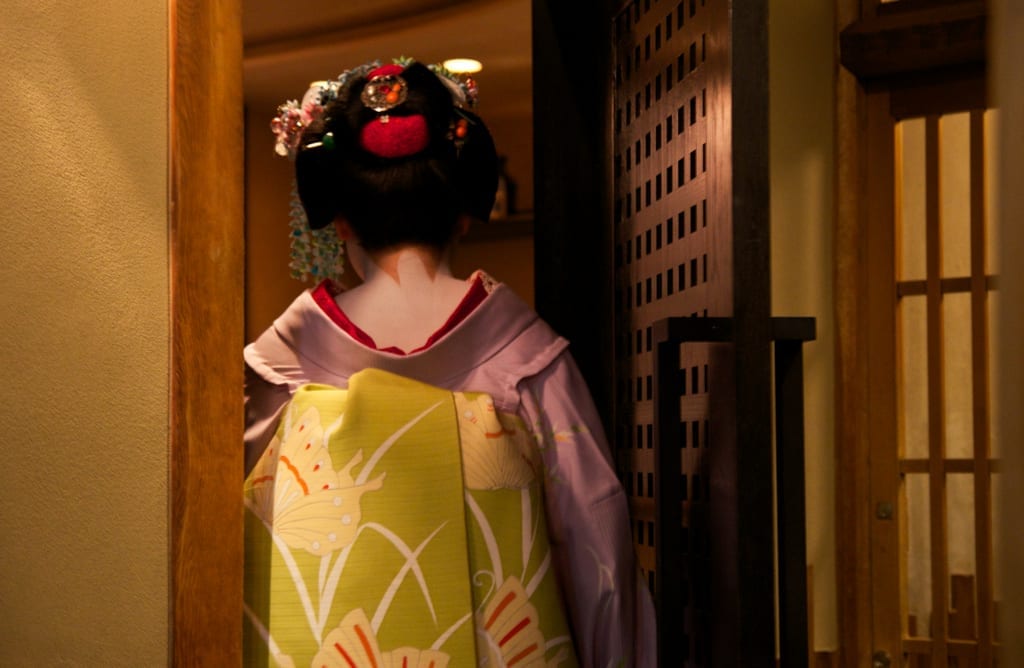 "Geisha hunting" is a sport in Kyoto, where tourists keep an eye out for the elusive female entertainers. I was so lucky to catch a brief glimpse of one — and this photo — in the Gion neighborhood.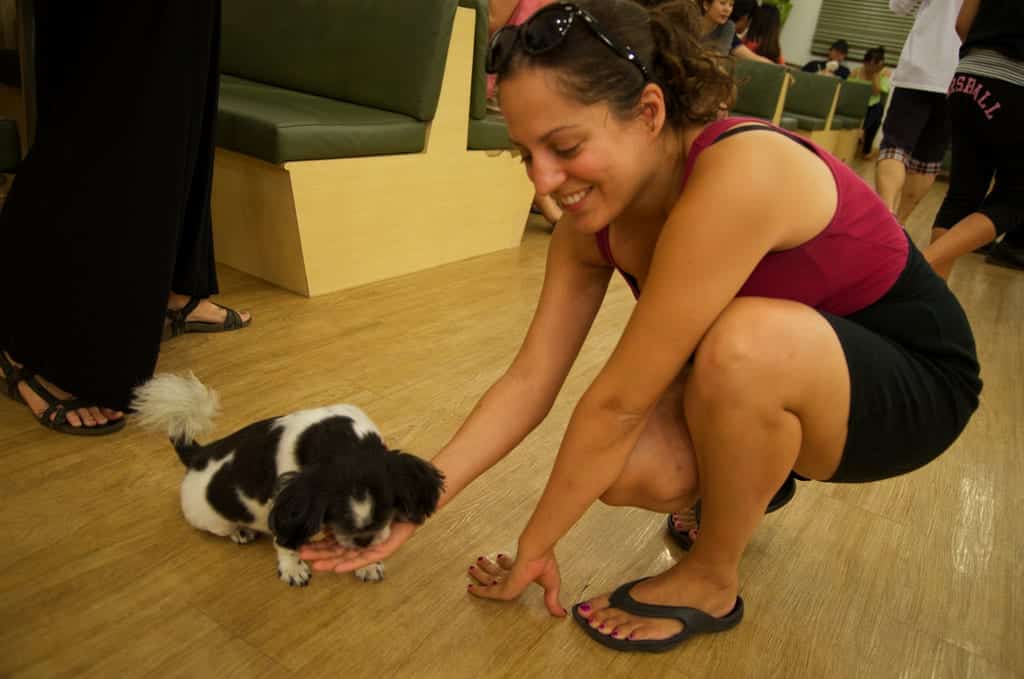 South Korea is famous for its puppy and kitten cafes, and in Seoul, I had this adorable little dog stick to me all afternoon long.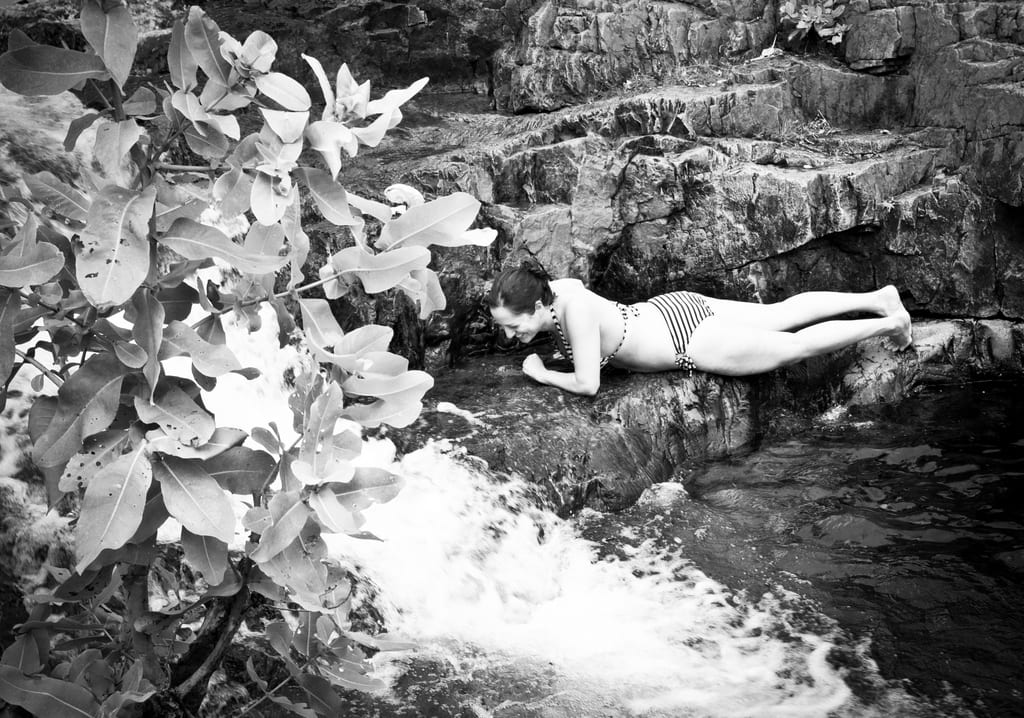 Swimming in (crocodile-free!) rockholes in the Northern Territory was probably my favorite experience in all of Australia. This one was in Litchfield National Park.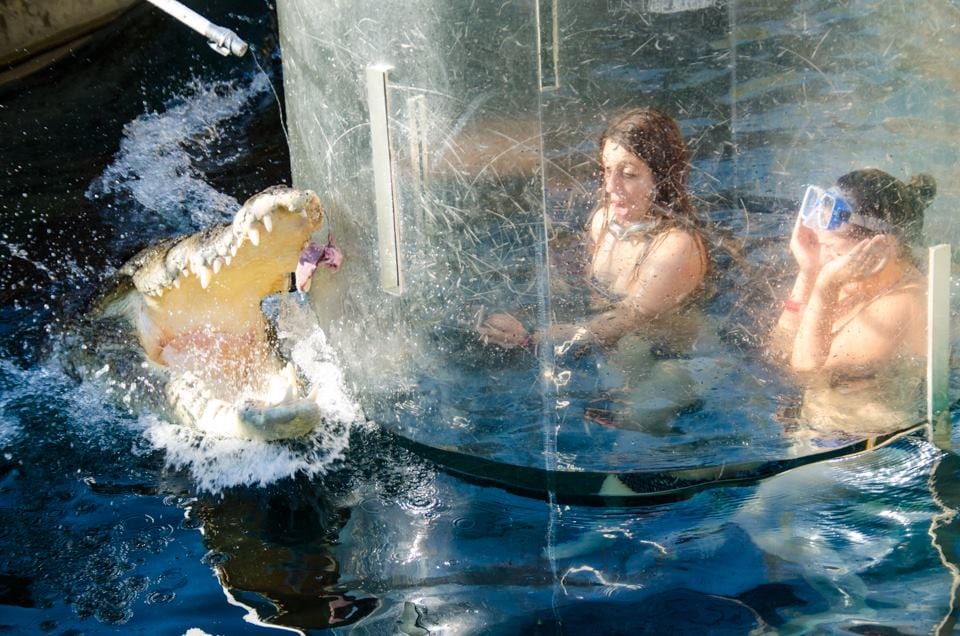 Crocodile cage diving, round two! My experience at Crocosaurus Cove in Darwin, Australia, which included teasing a testy croc with food, was far scarier than my South African experience.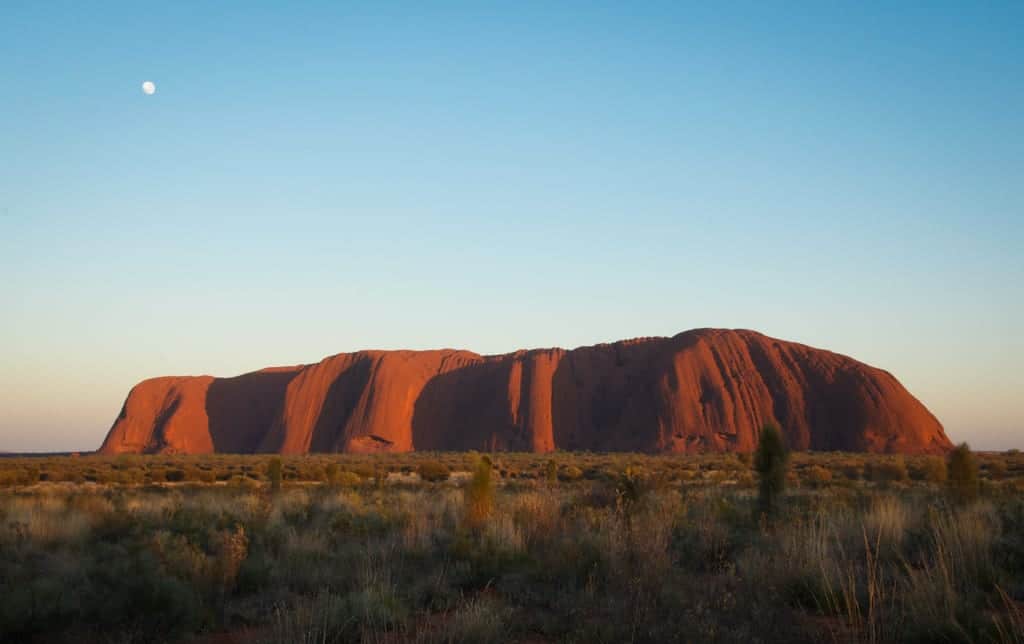 Witnessing the sunset at Uluru, glass of champagne in hand. And witnessing the sunrise, coffee in hand.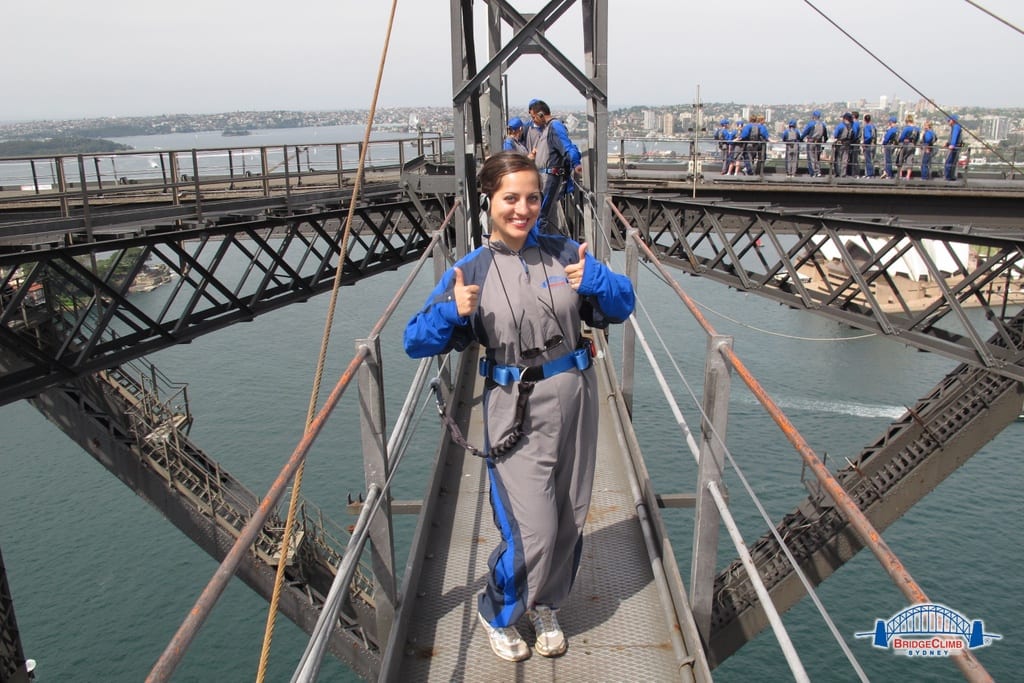 Climbing the Sydney Harbour Bridge. It looks like a terrifying experience, but trust me — it wasn't scary at all! Just exhilarating.
YEAR FOUR: THAILAND TO NORWAY
Getting stuck in the mud on a rainy day in Kampot, Cambodia. Turns out that when it rains here, the whole city floods — but that doesn't stop people from biking through the knee-deep water!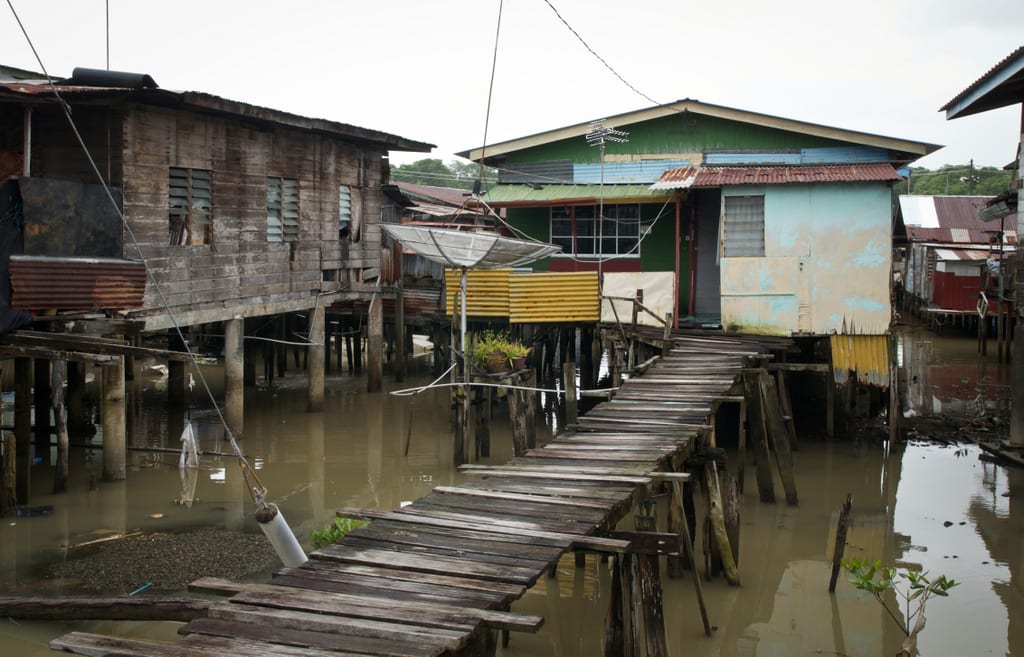 Brunei is a country that left me perplexed and uneasy, but I'll never forget the day I spent visiting a school in a water village.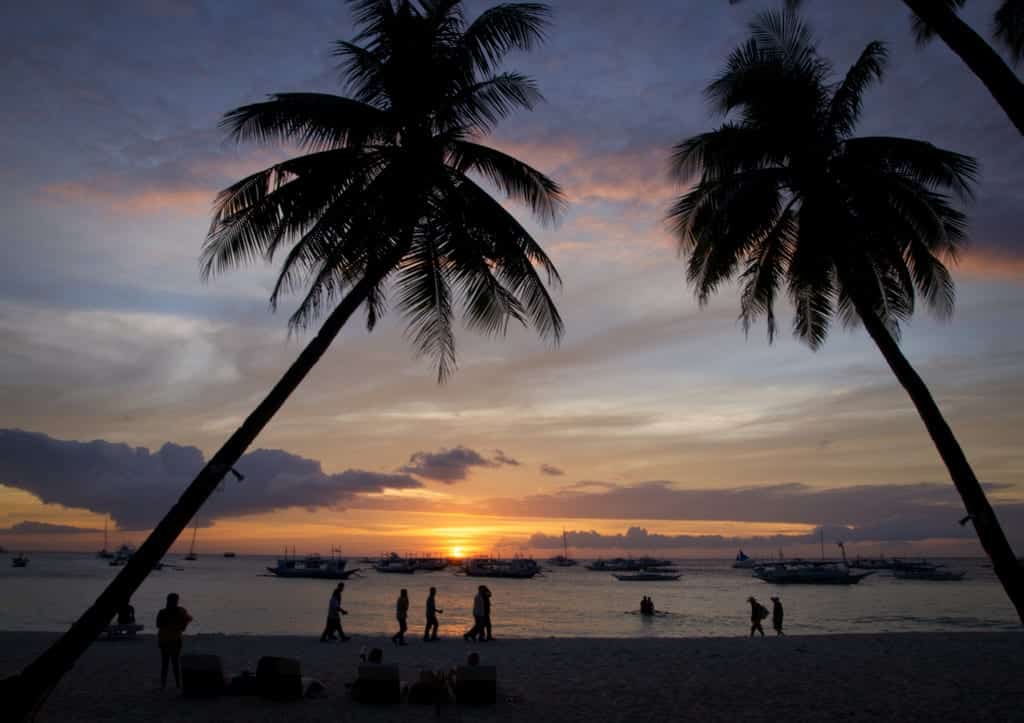 The best sunset I've ever seen was in Boracay in the Philippines.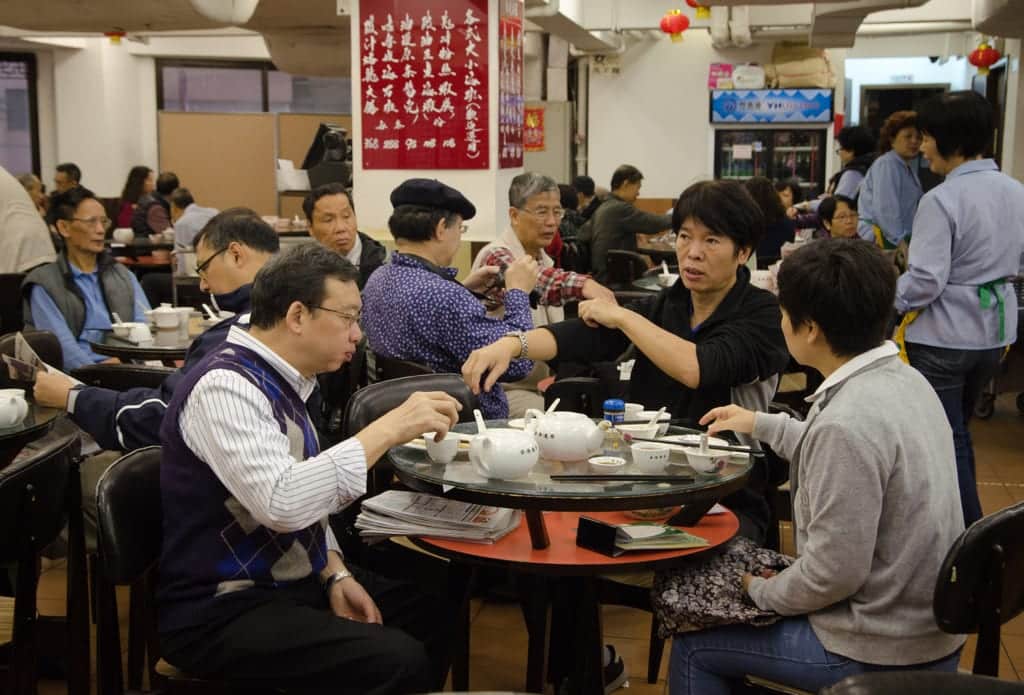 Hong Kong was riveting, but nothing could top doing dim sum in a very traditional place, feeling like I'd stumbled in on a huge secret. Except maybe the night I ate a whole fried pigeon with my hands.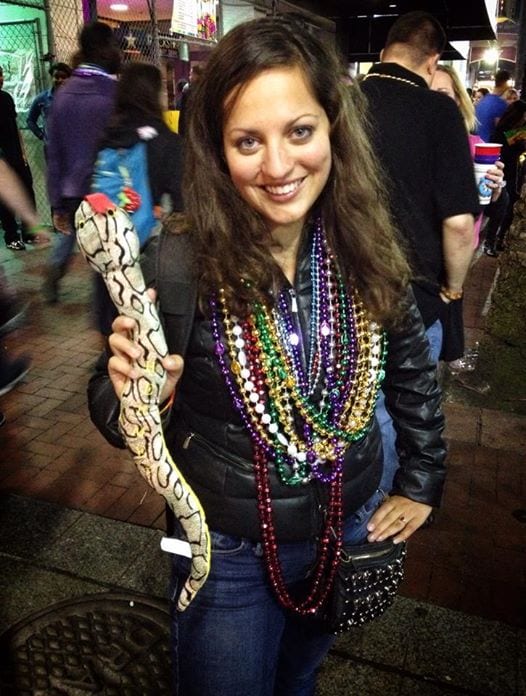 Mardi Gras in New Orleans was astonishing — the parades! The costumes! The music! The camaraderie! The good times rolled, and I grabbed as much of them as I could.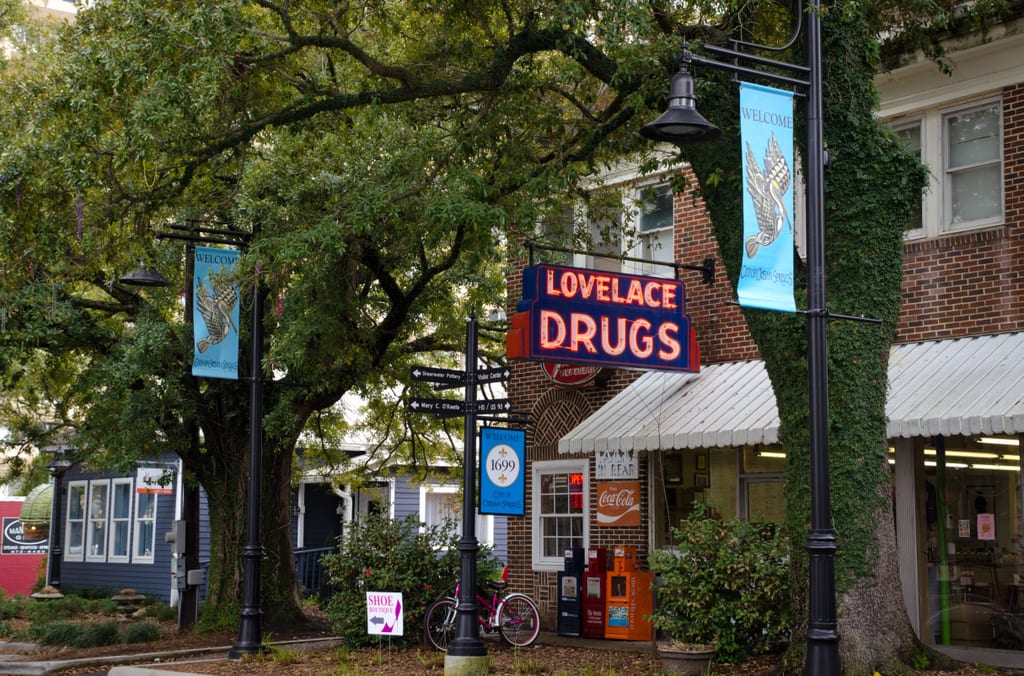 Road tripping through the American South was one of the best experiences I've ever had in my own country. I especially loved the food, the white beaches of Florida, and stopping in small towns where the culture was so different from my New England upbringing.
I usually shy away from scary activities, but in Savannah I went on the Dead of Night Tour, a late-night adults-only ghost tour, and scared myself shitless. One of the best tours I have ever done.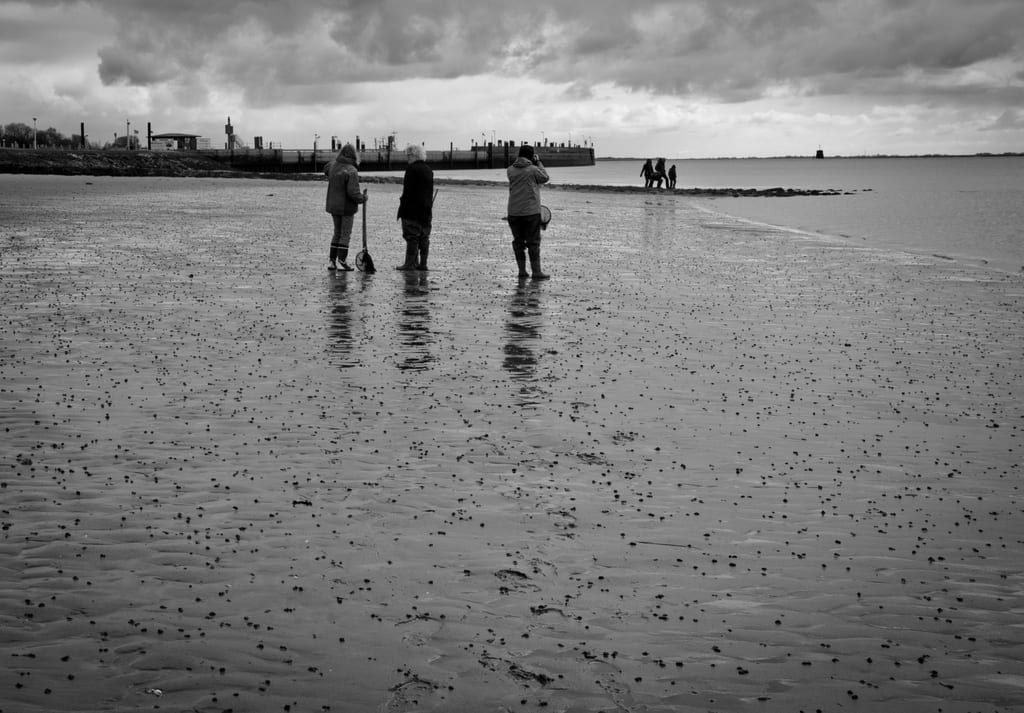 Wading into the Wadden Sea in Wilhelmshaven, Germany, carrying a net and wearing tall rubber boots, was the kind of thing I'd ordinarily hate — but I loved getting muddy and exploring the wildlife on the shoreline!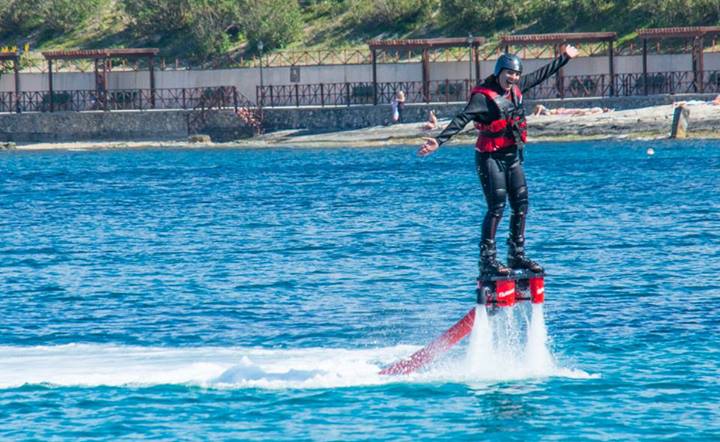 Flyboarding! I got to fly like Iron Man in Malta. Super fun — you've got to do this!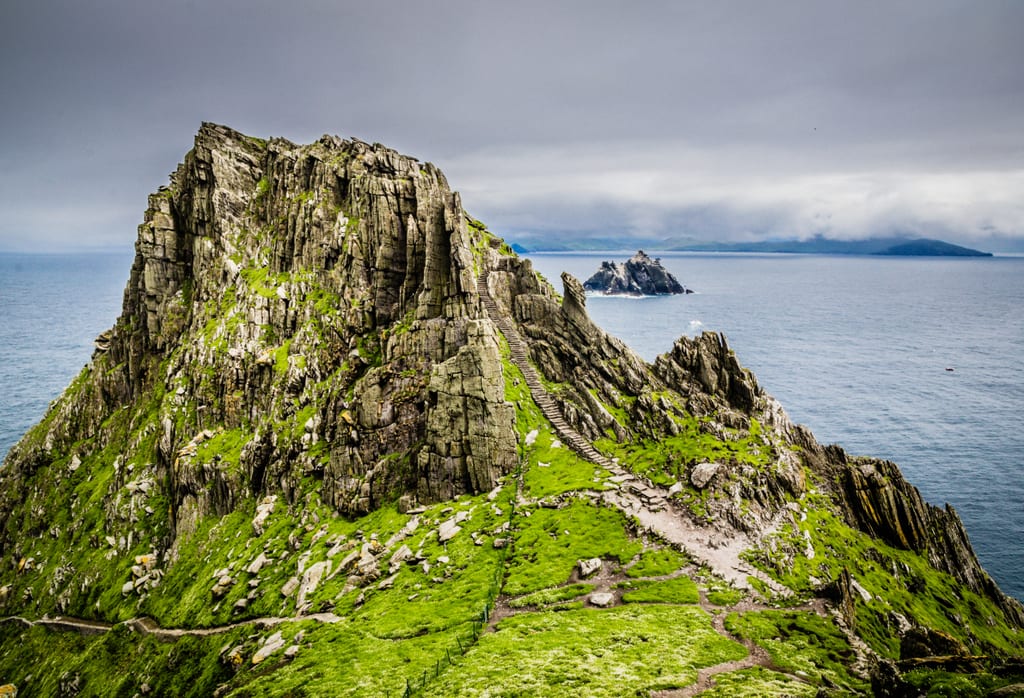 Climbing to the top of Skellig Michael, off the southwest coast of Ireland, home to ancient beehive-shaped stone huts built by monks, and a very difficult place to land a boat even to this day. I can't believe this island isn't more famous.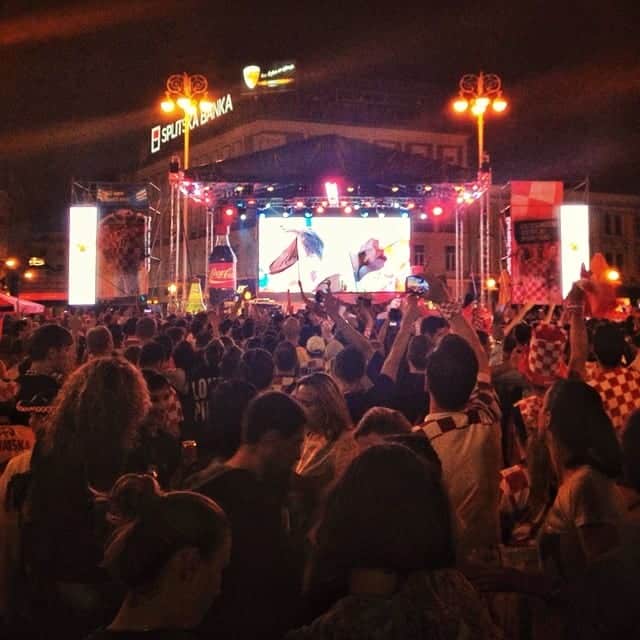 Watching Croatia win a World Cup match against Cameroon in downtown Zagreb, to much chaos and celebration. Major sports events are electrifying, but nothing tops the atmosphere of the World Cup!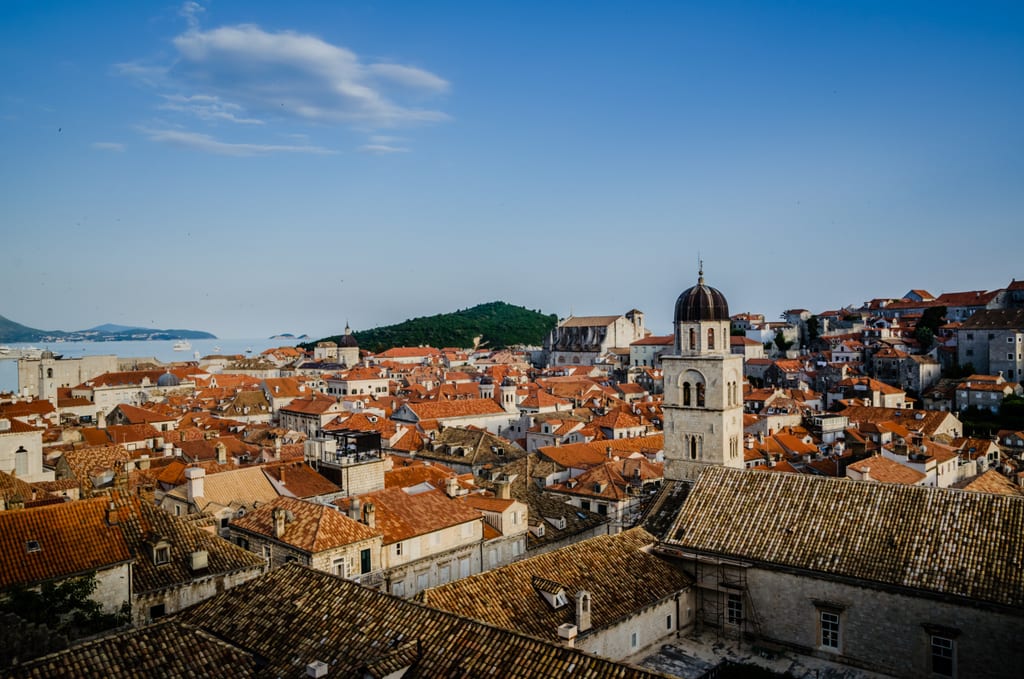 Walking the walls of Dubrovnik. It was the second time I had done so, but let's just say that these photos are far and away better than my first round!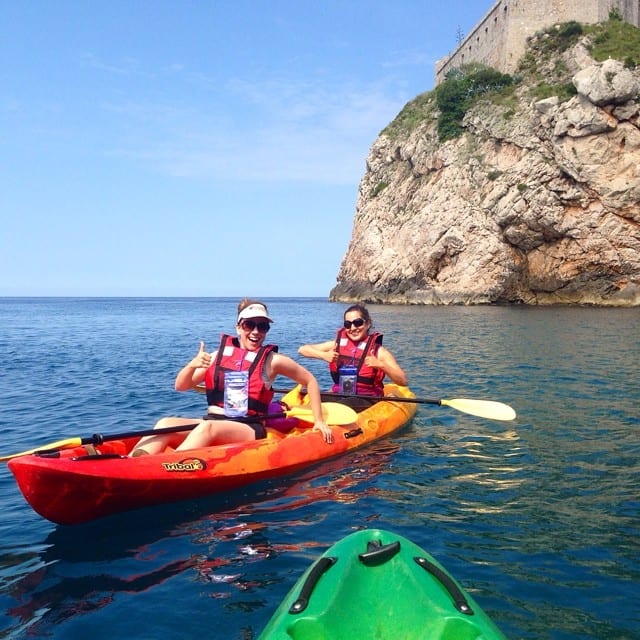 Kayaking around the Old City of Dubrovnik with Rachelle. What I love about the Balkans is how both the natural and manmade beauty comes together so beautifully. Seeing Dubrovnik from the water was another example of how this city was built in the perfect setting.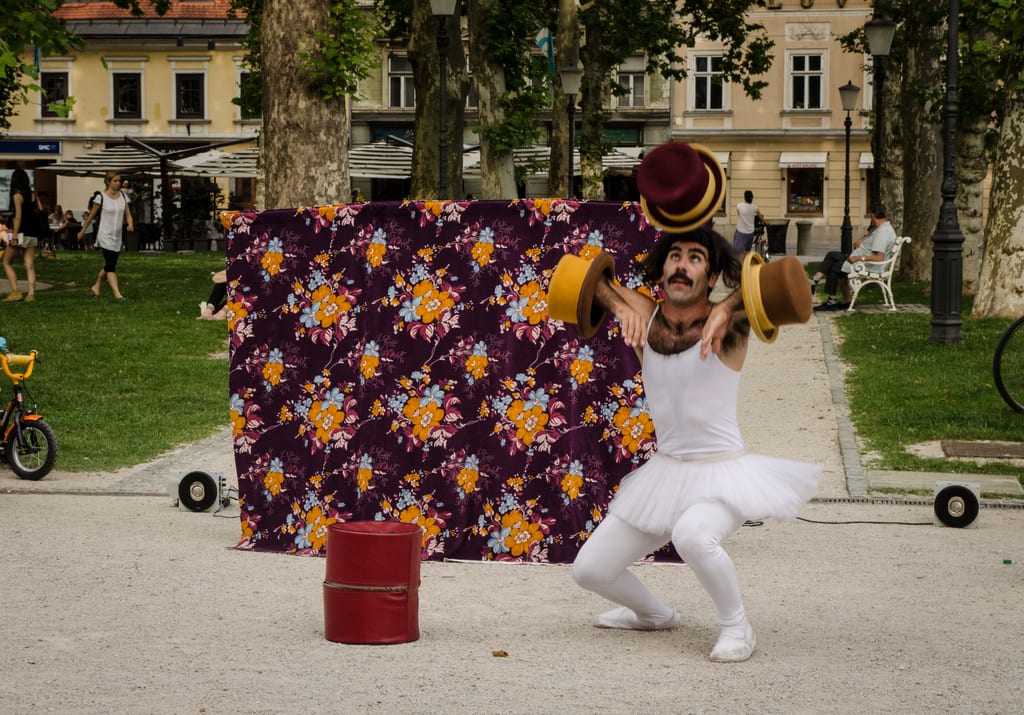 Experiencing Ana Desetnica Festival in Ljubljana, Slovenia, possibly the most charming and lovely street theater festival in the world (and it couldn't be set in a better city).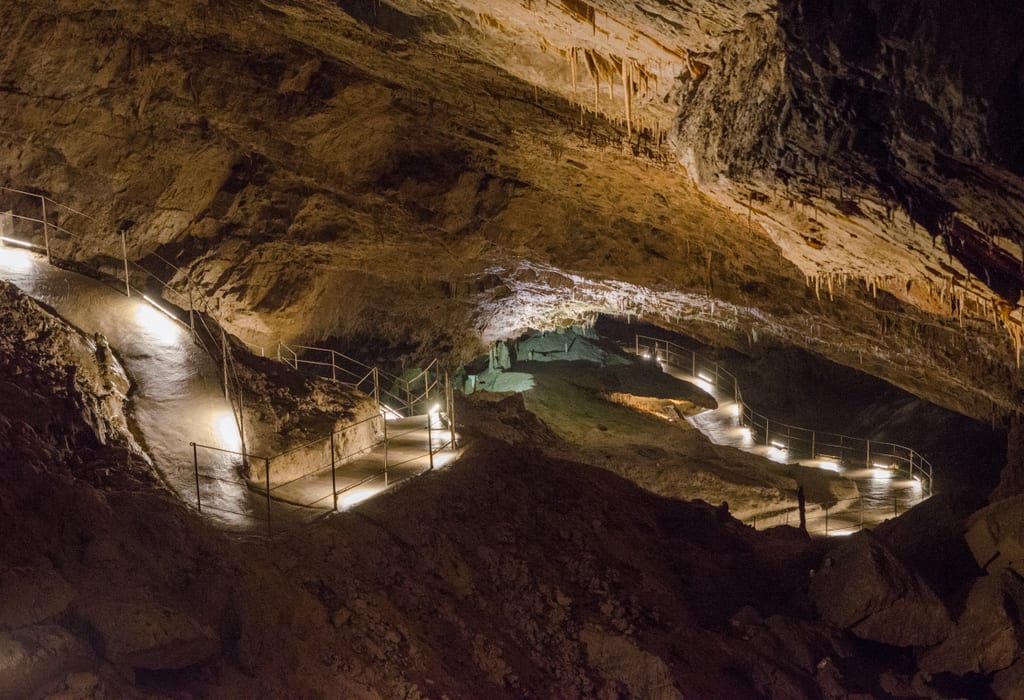 Getting a private tour of the Skocjan Caves in Slovenia. My friend Peter and I got to explore those gargantuan caves on our own, and it felt like being in The Magic School Bus Goes to the Center of the Earth.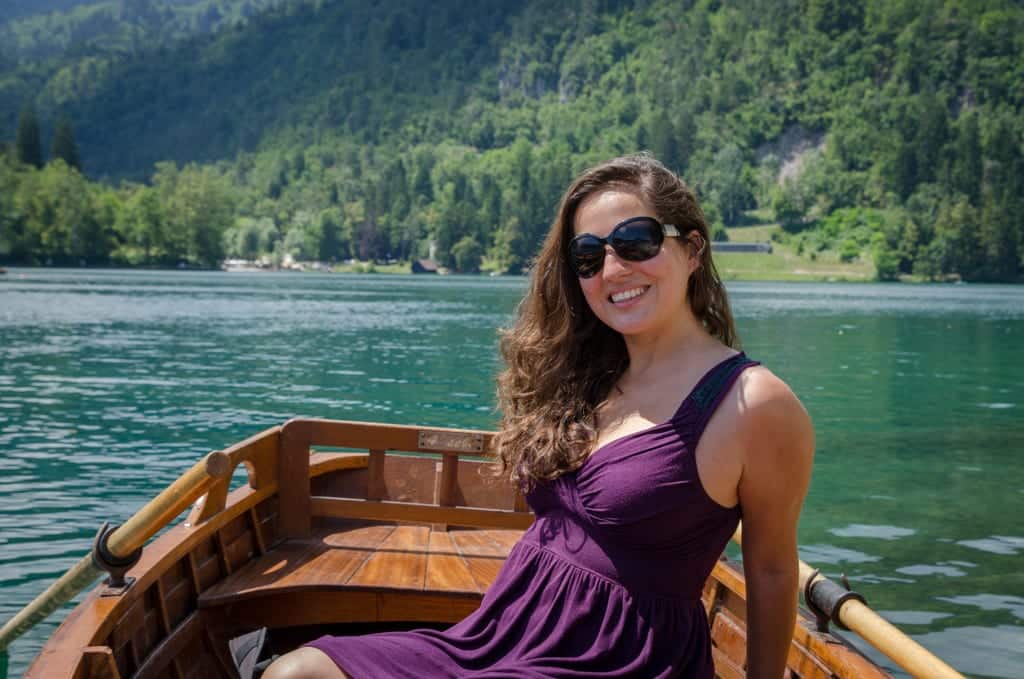 And then there was beautiful Lake Bled — and rowing across it while Peter swam next to my boat, to the great delight of Chinese tourists who took about 100 photos of us.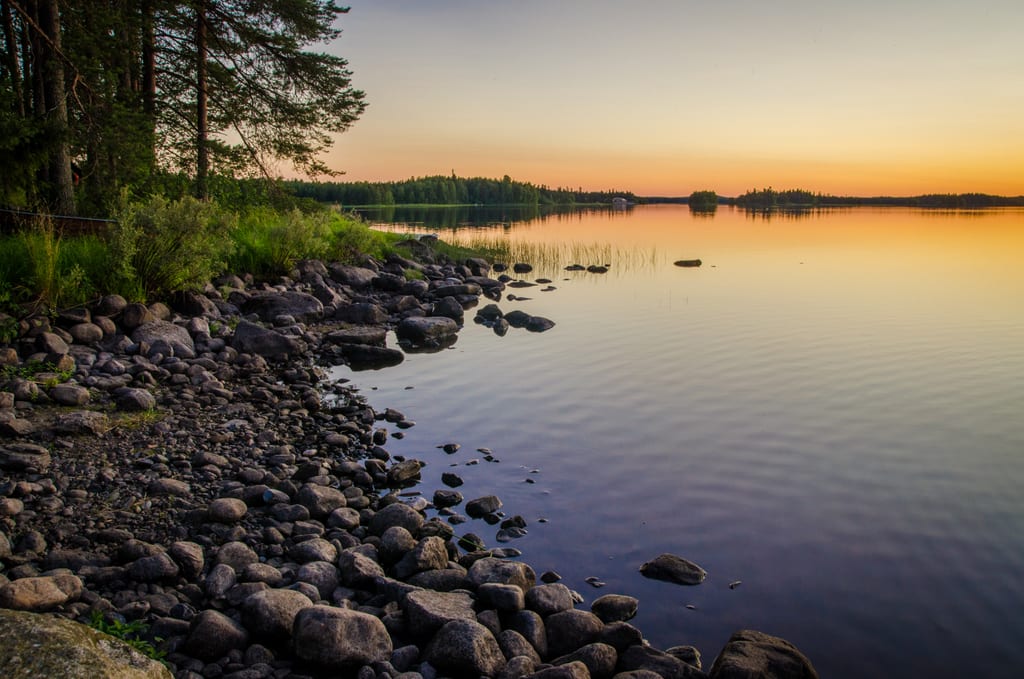 Getting naked beneath the midnight sun in Kuhmo, Finland. One minute I was in a sauna with a group of female musicians from around the world, and the next we were skinny-dipping in a warm lake as the sky turned from pink to ashy blue. I've never felt so wild and so at peace simultaneously.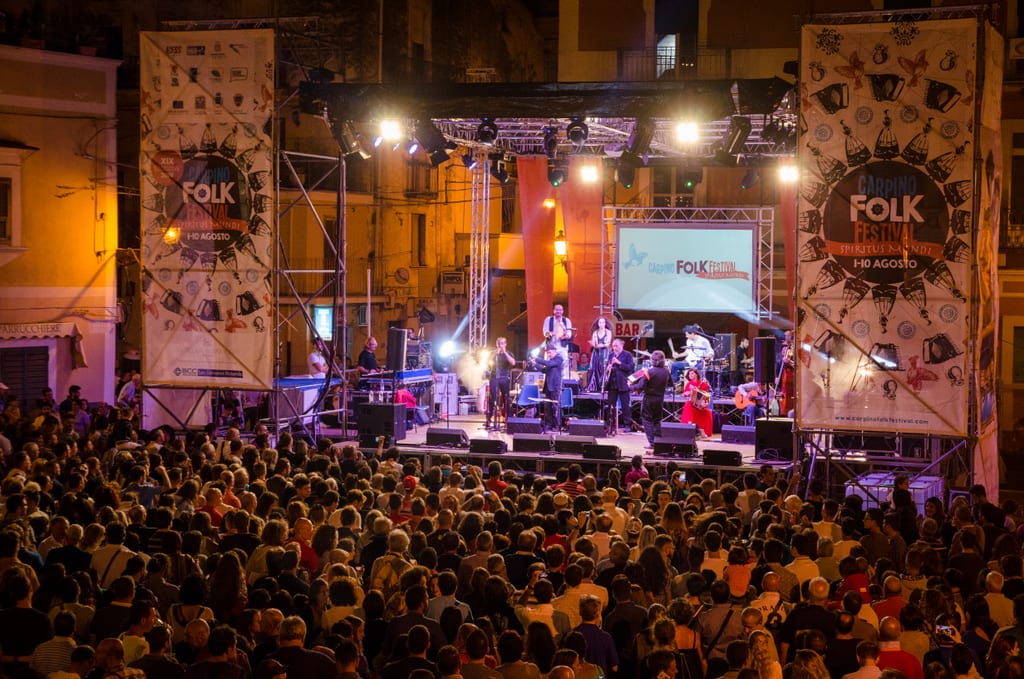 Going local at Carpino Folk Festival in Puglia, Italy with traditional music and concerts. This is a very local and traditional festival and I'm almost certain that Abi and I were the only people there who didn't come from the immediate region.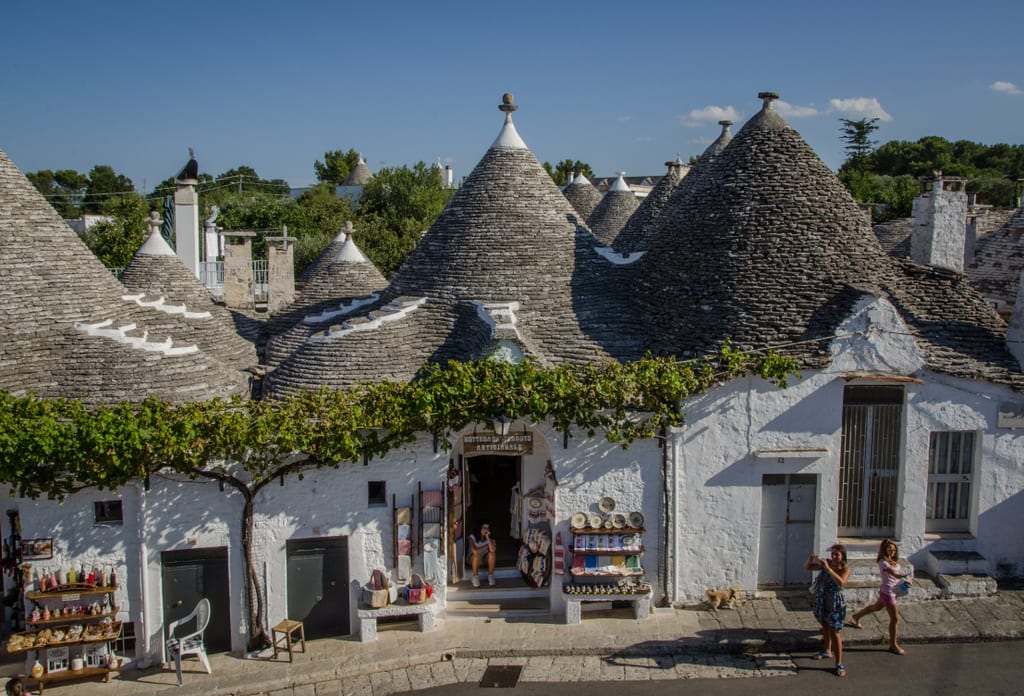 After the festival, an impromptu Puglia road trip led me here: Alberobello, home of the white trulli homes.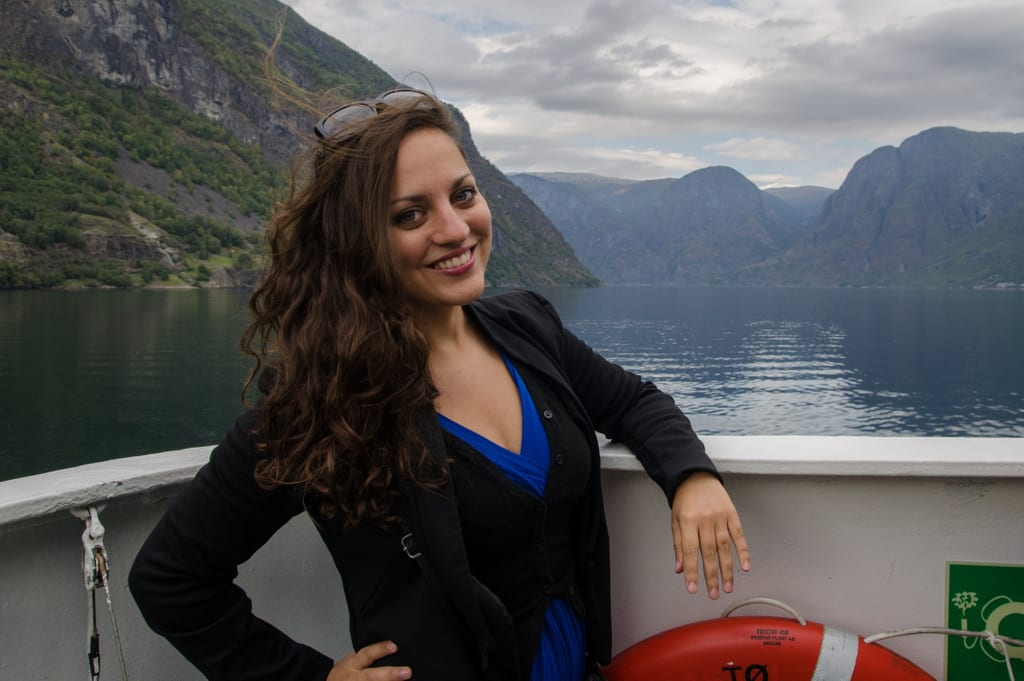 Cruising through fjords in southwest Norway. The scenery was unforgettable and this has since become my new default photo!
YEAR FIVE: SRI LANKA TO SPAIN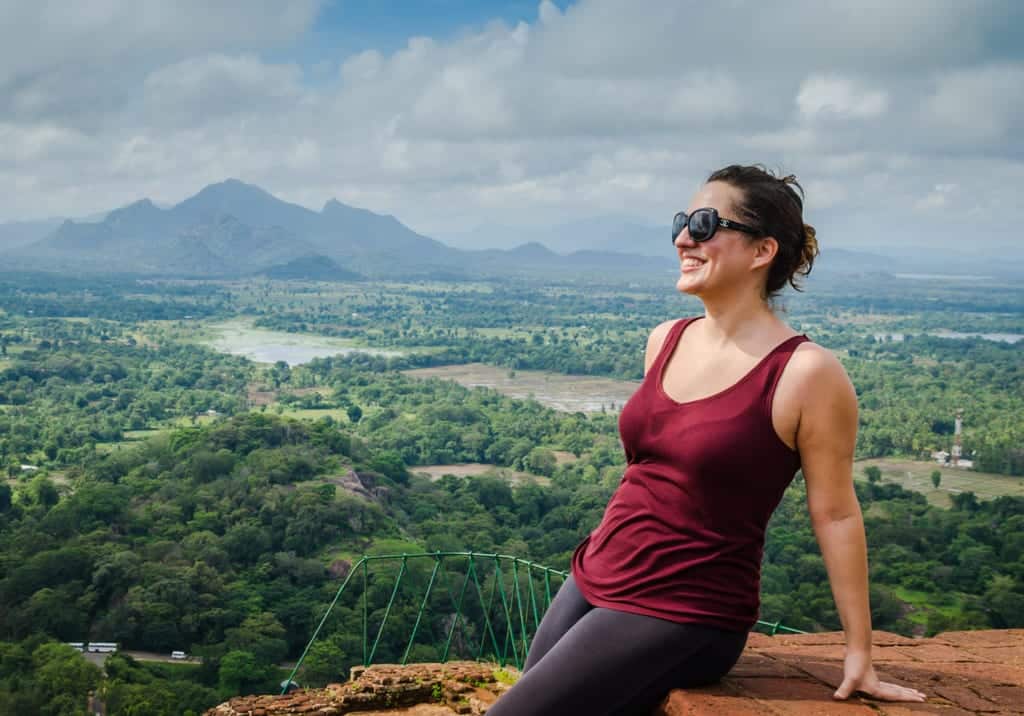 Climbing to the top of Sigiriya, Sri Lanka. Getting to the top of this giant rock and seeing the landscape made me feel like I was truly one with Sri Lanka.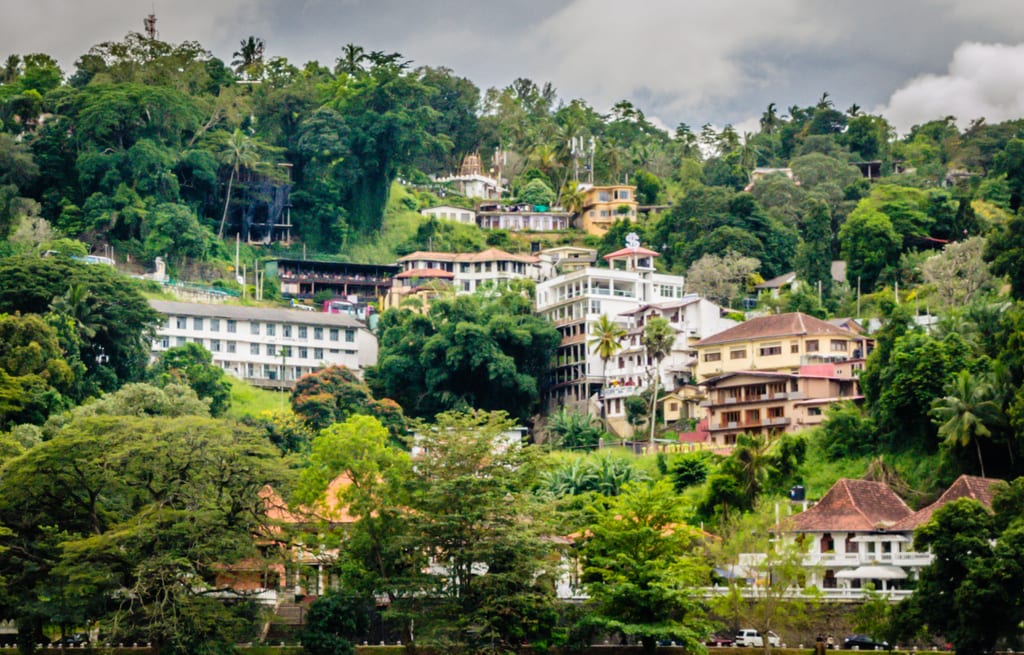 Visiting my 100th UNESCO World Heritage Site: Kandy, Sri Lanka! (Since then, a few newly named sites I visited prior to 2014 knocked Kandy to #102.)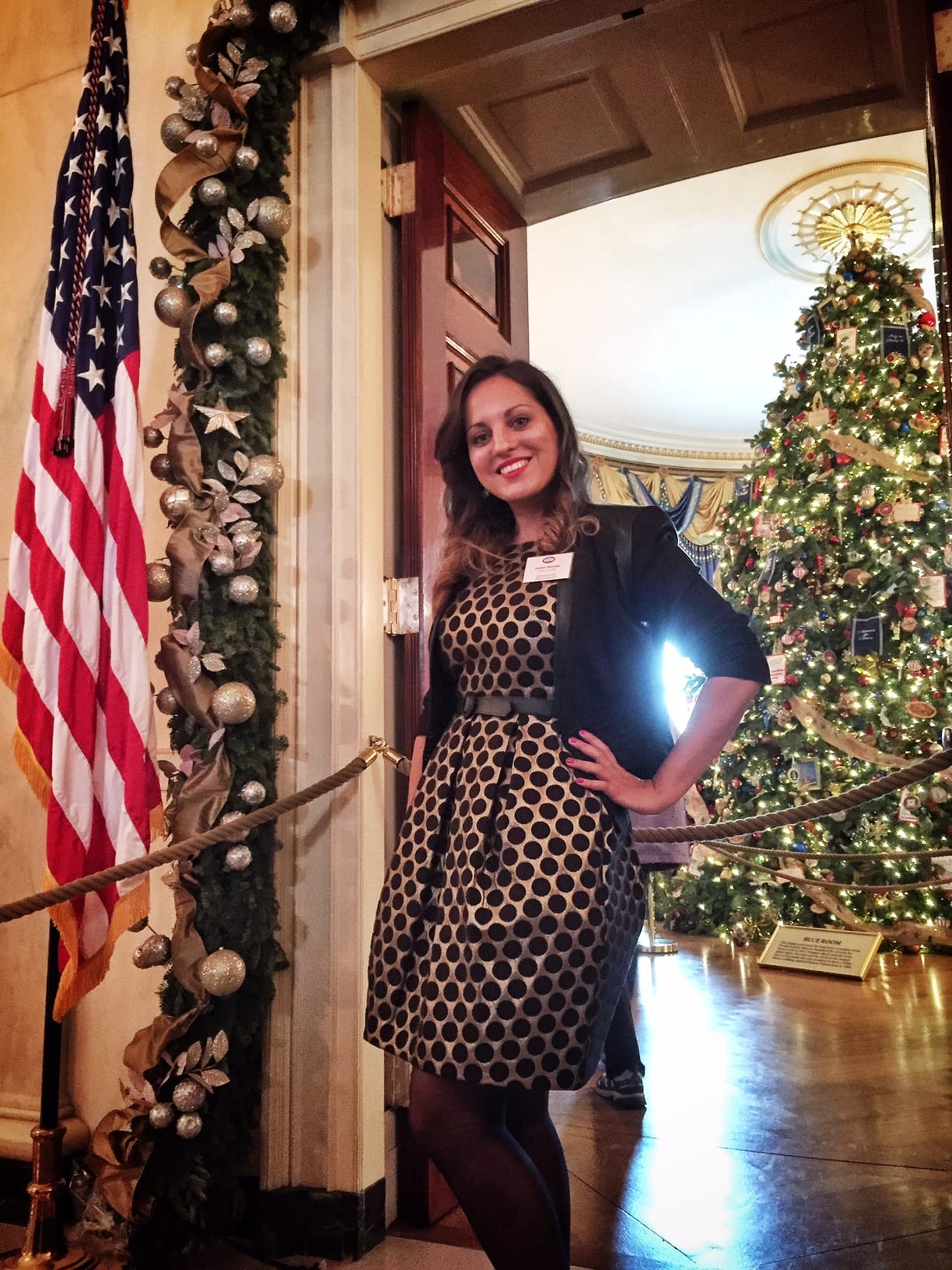 Getting invited to the White House! The White House had their first-ever Travel Blogger Summit and invited me to come. It was a huge honor to be part of it and brainstorm how to get more Americans to study abroad.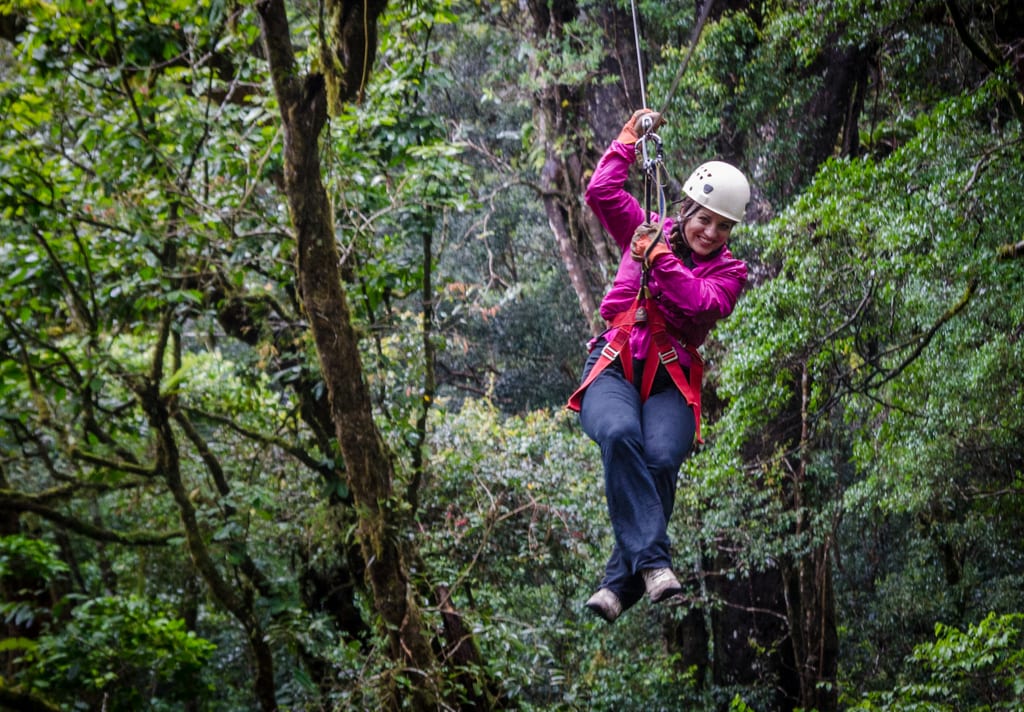 Time to hit up a new region: Central America. Ziplining through the Monteverde Cloud Forest in Costa Rica was gorgeous. I even went through a rainbow!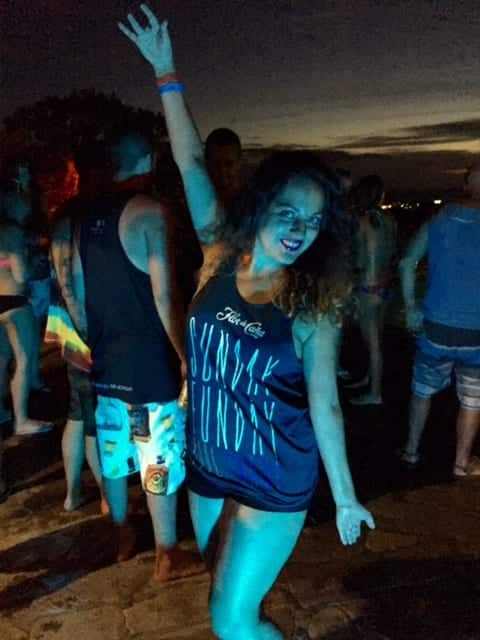 Surviving (and thriving!) at Sunday Funday in San Juan del Sur, Nicaragua. This is the most legendary all-day weekly party in Central America and I rocked every minute of it. And by that, I mean I was home by 10:30 PM. #thisis30
All the adventure in Ometepe, Nicaragua. Kayaking, chicken buses, brilliant sunsets, and hanging out in a swimming pool on an isthmus on an island in a lake on another isthmus.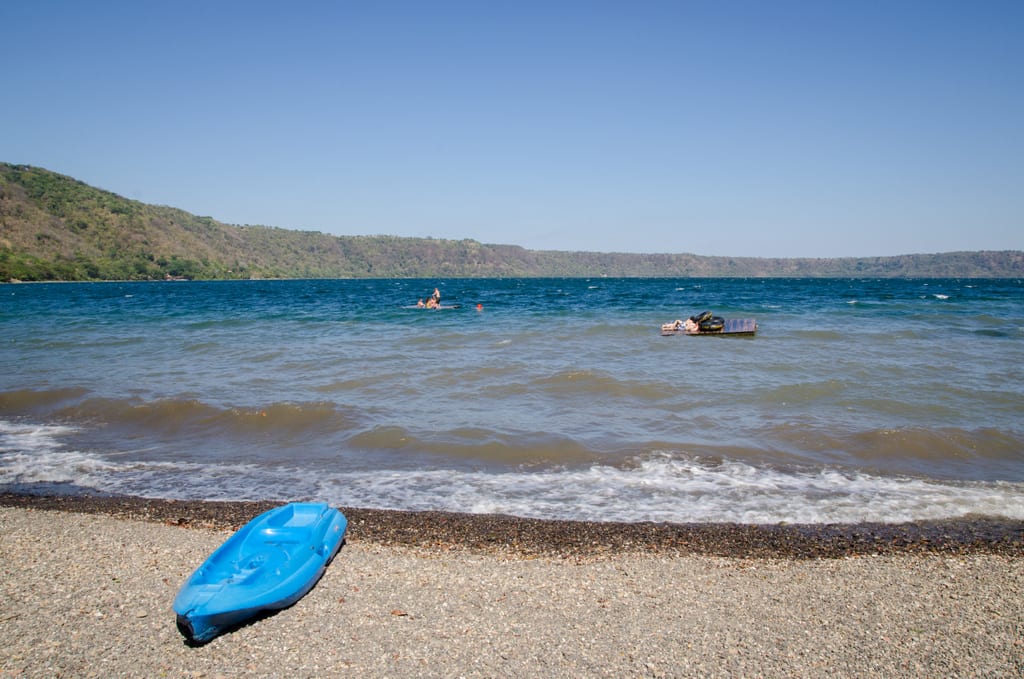 Spending a windy Valentine's Day swimming in the volcanic waters of Laguna de Apoyo, Nicaragua. A day of pure joy.
Discovering an undiscovered corner of the Caribbean: Little Corn Island, Nicaragua. And it's not going to stay undiscovered for long!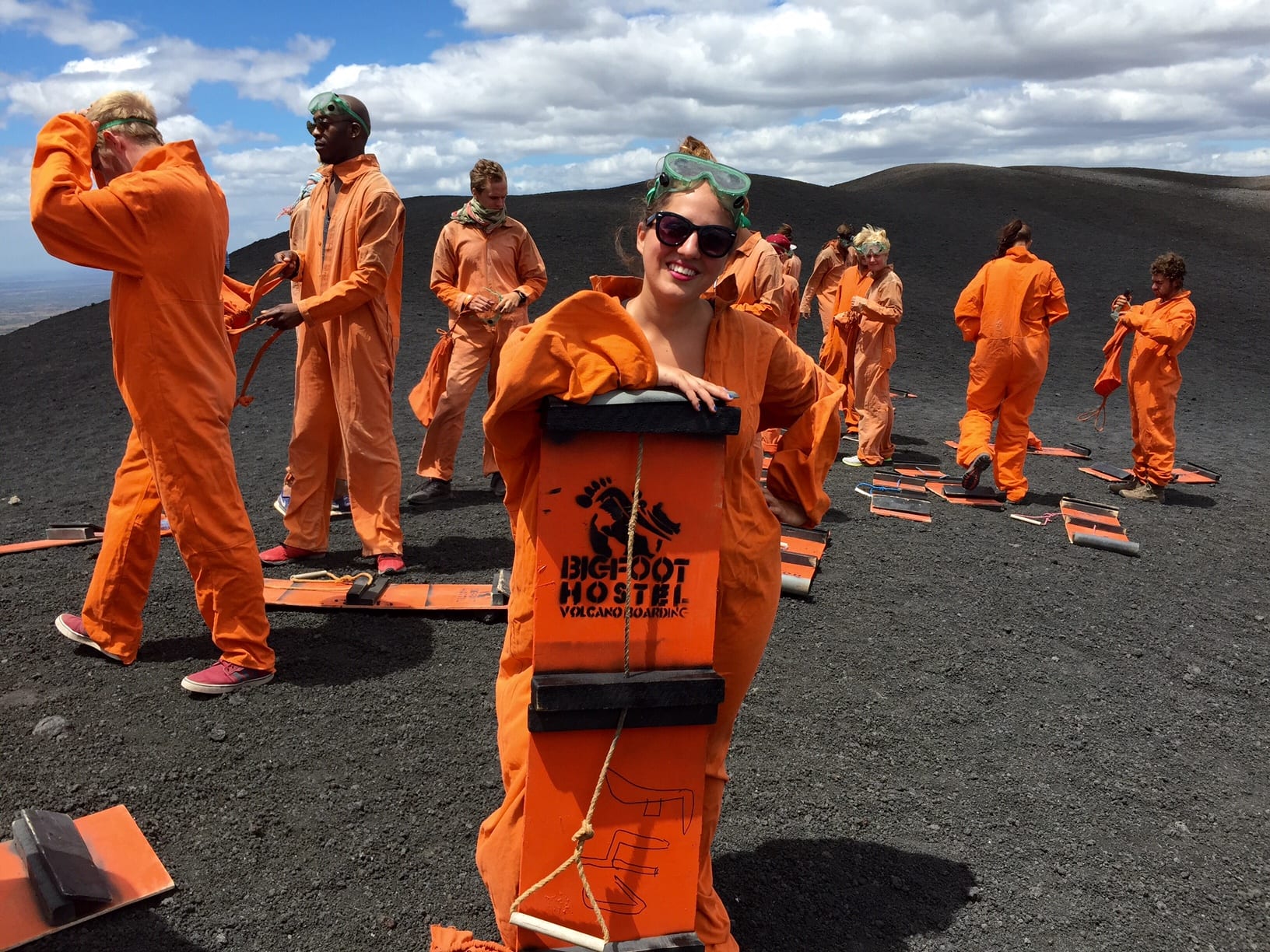 Volcano boarding — quite unsuccessfully — on Cerro Negro, outside León, Nicaragua. I wouldn't do it again, but hey, at least I have the photos in that way-too-big prison jumpsuit.
Running my first tour with Leif in El Salvador and Guatemala. And the most Guatemalan mode of transportation: standing in the back of a pickup truck!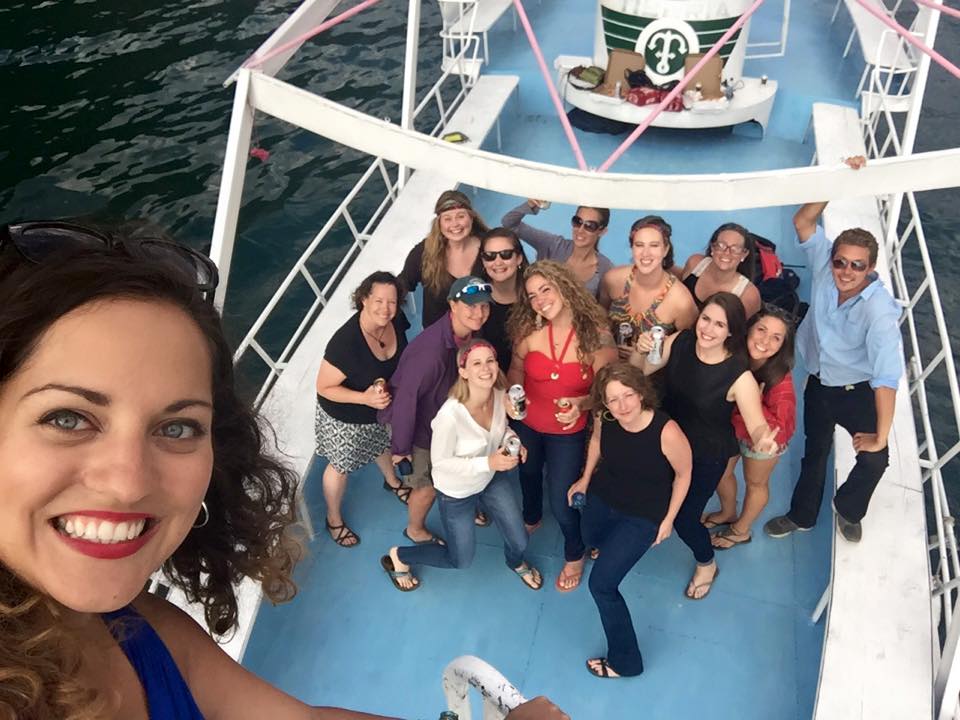 Not to mention having a pizza booze cruise on Lake Atitlan, Guatemala.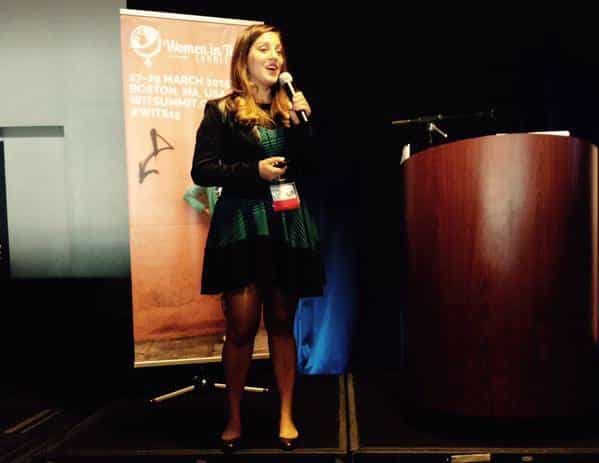 In between tours, I gave the keynote at the Women in Travel Summit in Boston, talking about how to fix gender inequality in the travel blogging industry.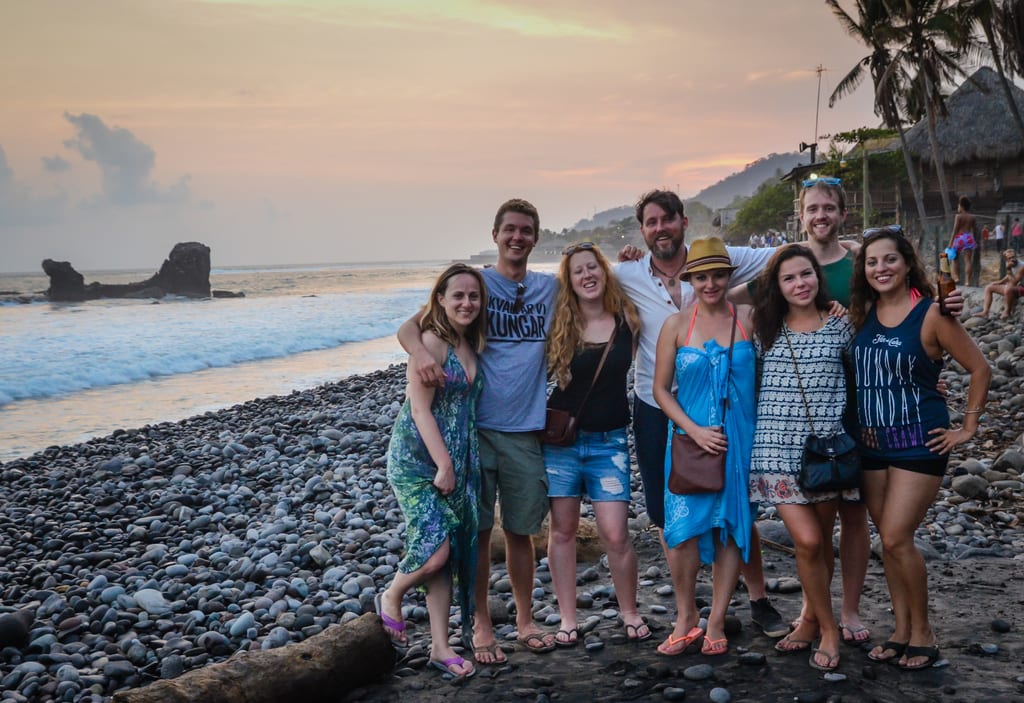 Running my second tour with Leif. Catching every sunset (and a few waves) in El Tunco, El Salvador.
And our kayaking pub crawl took place through the rain in Lake Atitlan!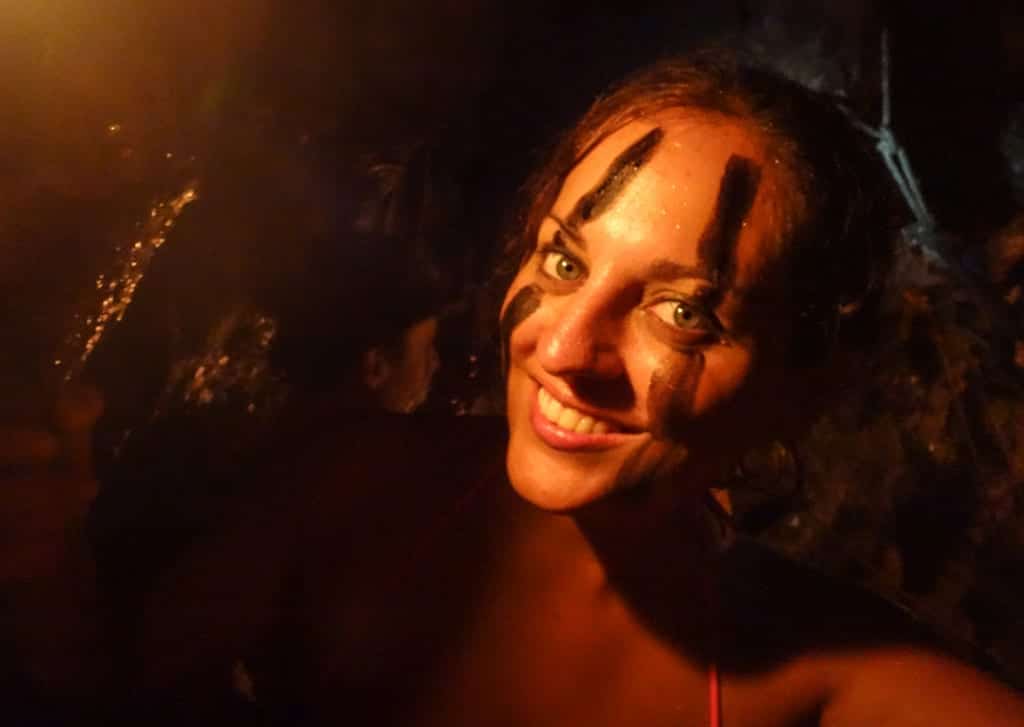 Swimming in the pools at Semuc Champey, Guatemala, was a lot of fun, but even better was swimming through the nearby caves while decked out in war paint and holding candles for light!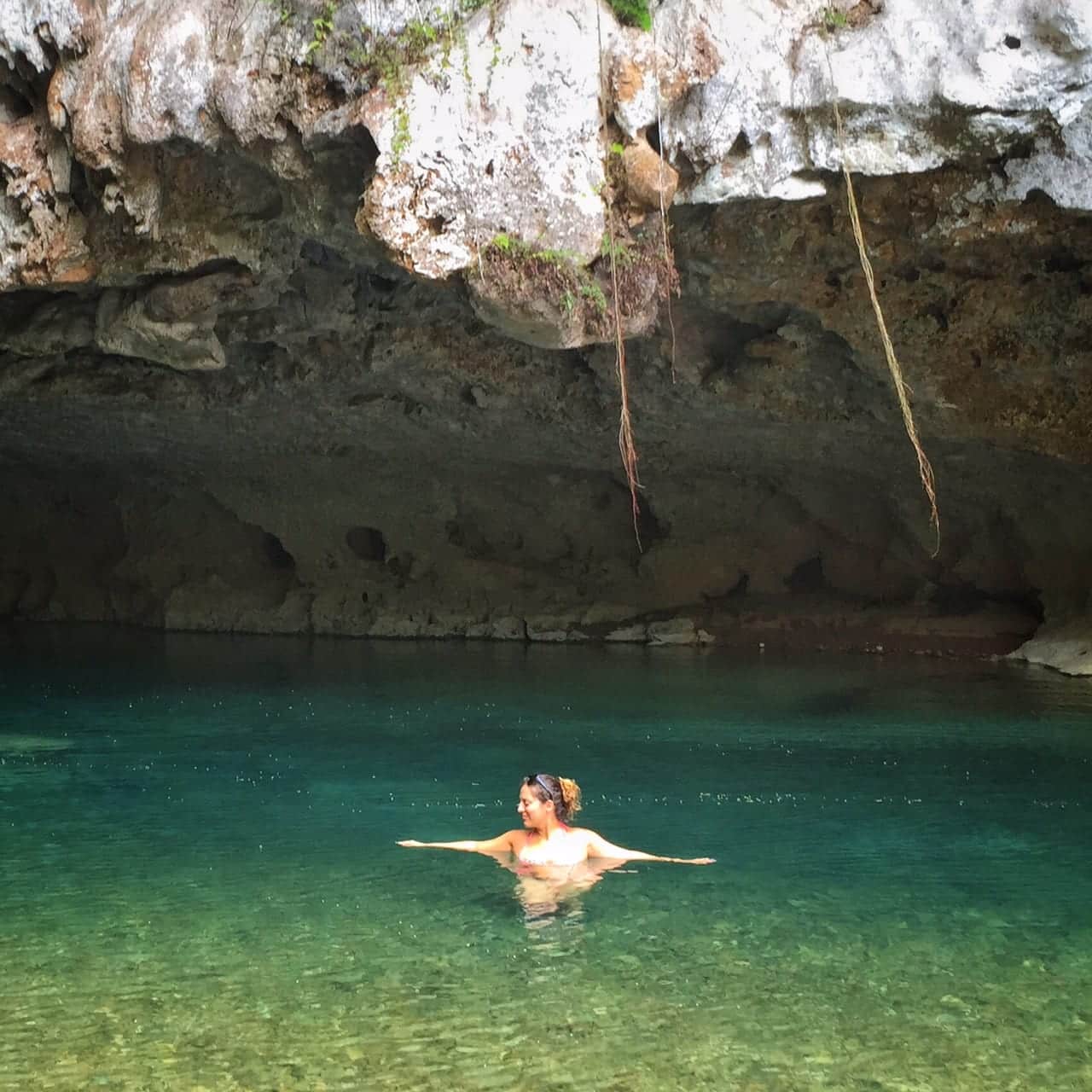 Seeing bones of human sacrifices in Belize. The ATM caves are one of the spookiest, most interesting, and most unique places I've ever seen, and I can't believe people are allowed to actually go in and see the untouched skeletons! (Nope, not naked there. It's the lighting.)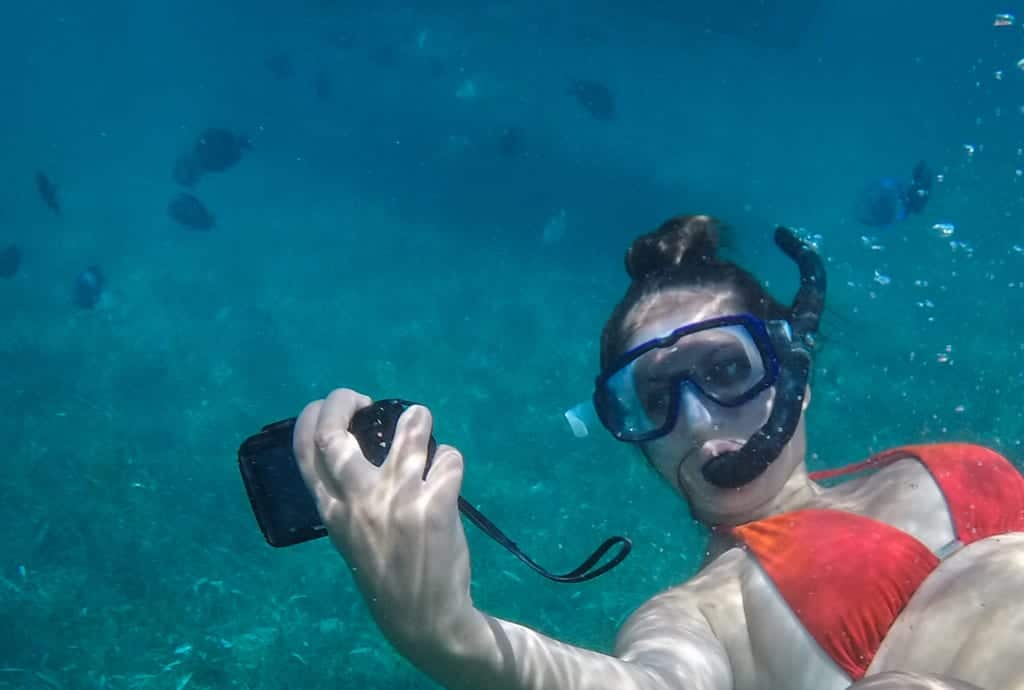 With a lifelong fear of feeling fish touch me while I swim, swimming with sharks was the last thing my family expected me to do. But I did it in Belize! And yes, it was frightening. But not as frightening as the tuna that swam near the sharks.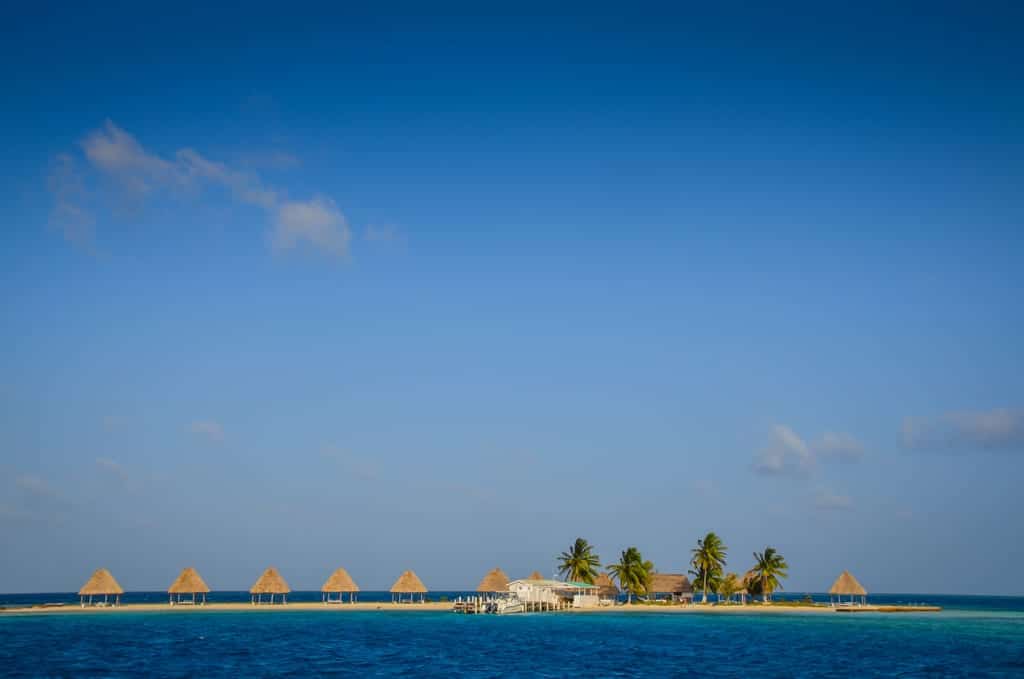 Spending three days sailing on a catamaran through the Belize Barrier Reef was pure bliss. Snorkeling, tanning, dancing, partying, camping on uninhabited islands, and making a wild array of new friends. I want to go back!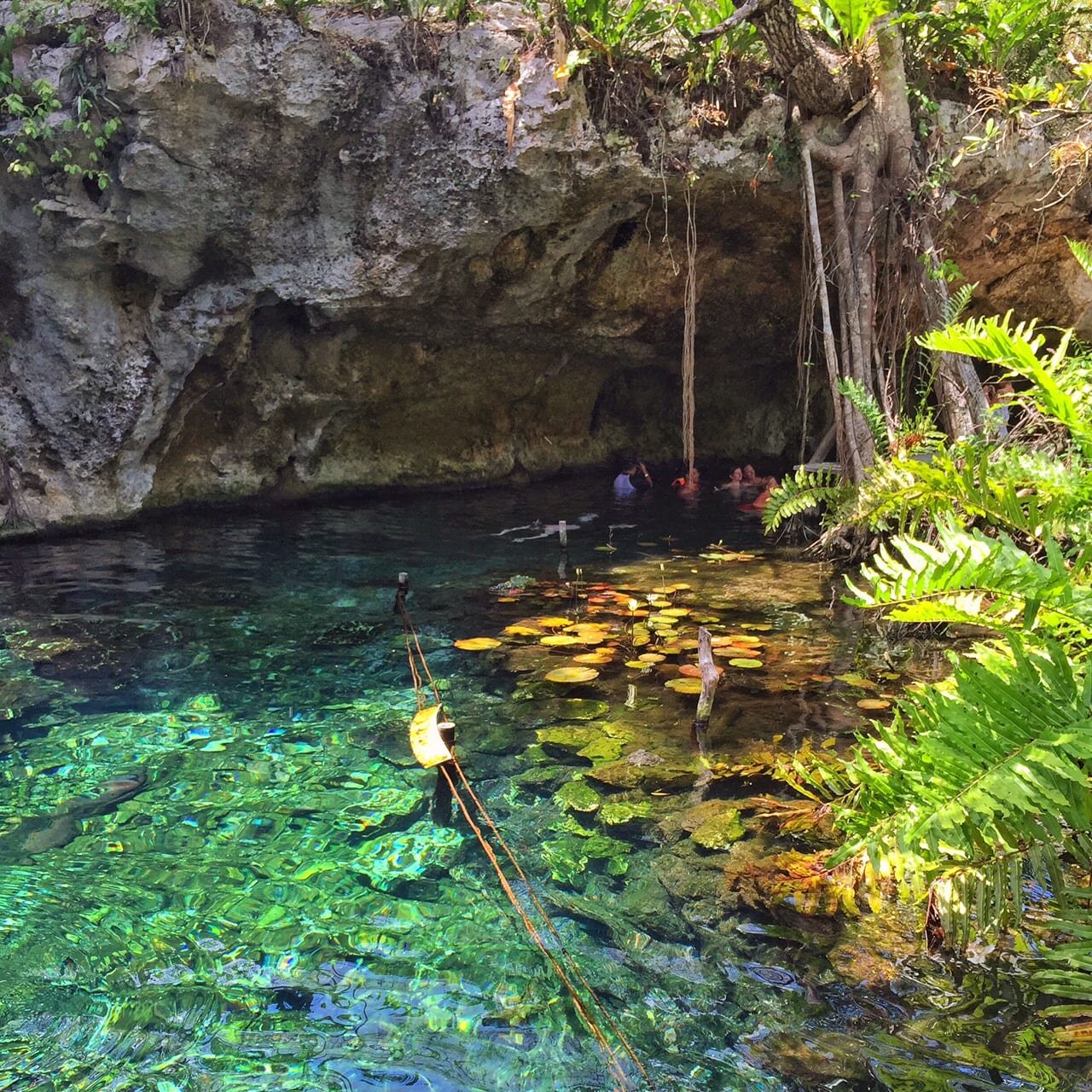 On my fourth trip to Mexico, I finally swam in a cenote! Spooky in the best way, and chilling out with swimming turtles was super-fun.
Went to Milwaukee to lead a Bloghouse; won more than $100 in the casino!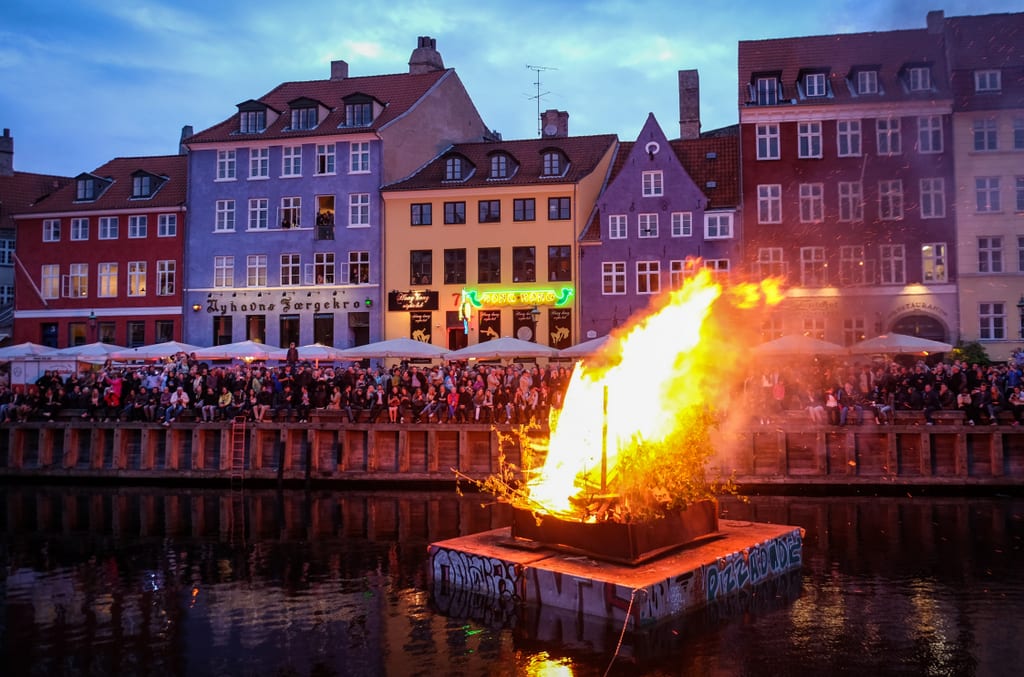 Watching a modern and pragmatic Scandinavian city — Copenhagen — do an about-face and light a bonfire to scare witches away. Sankt Hans was not the typical Danish holiday I expected!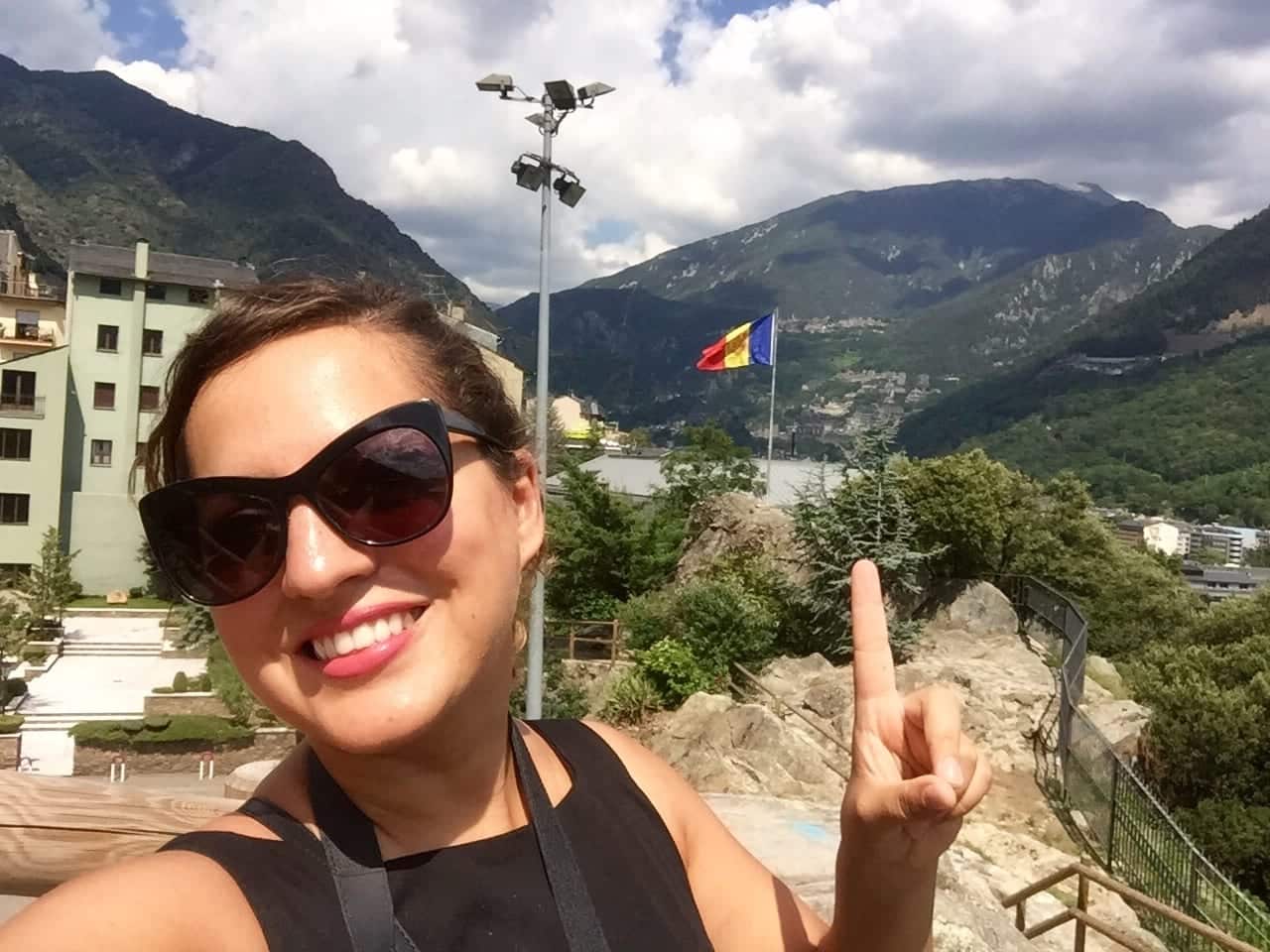 Visiting the random little country of Andorra and discovering that, well, it wasn't really for me.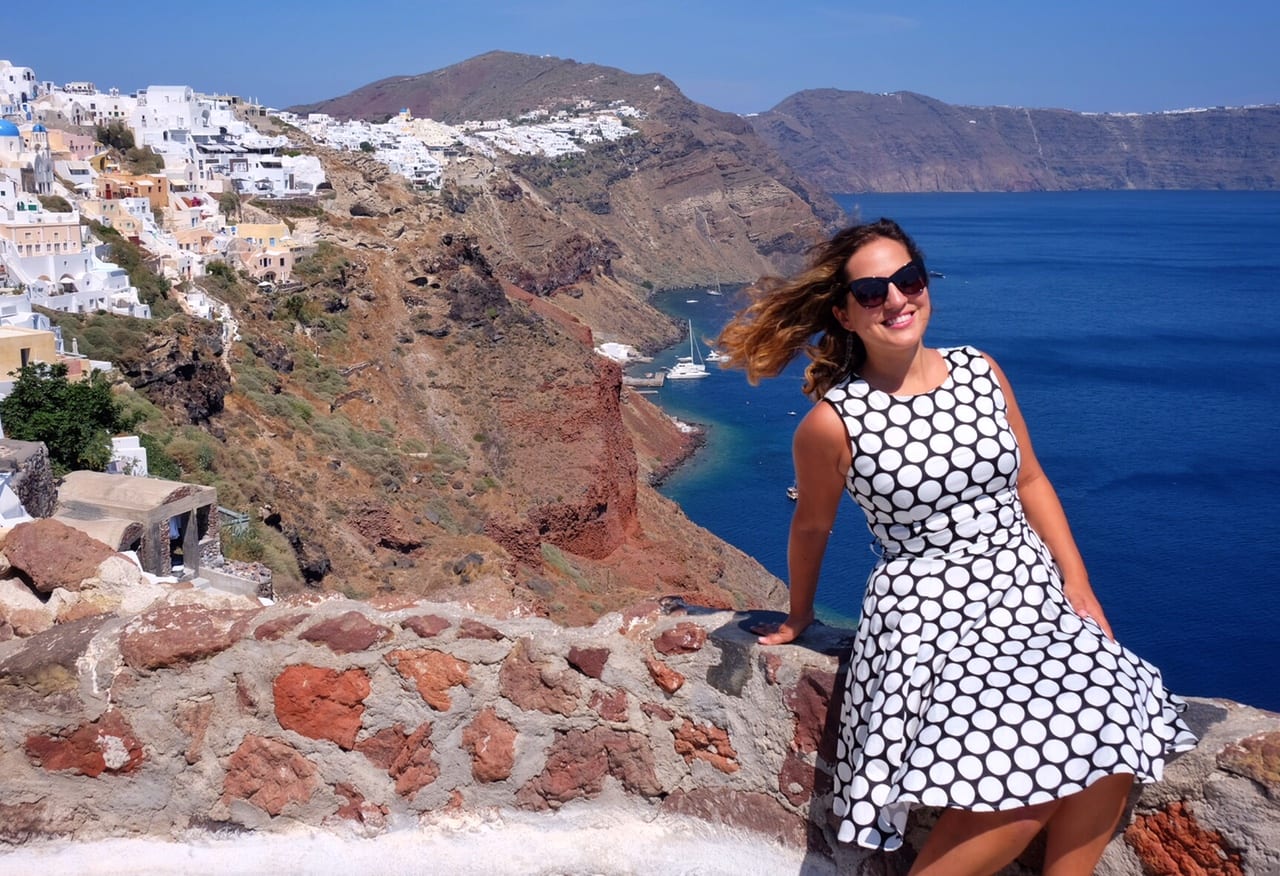 Finally making it to Santorini! Walking through the white villages, photographing the brilliant sunsets, and having the whole island seeing my underwear after I ill-advisedly wore a flouncy dress on a windy day.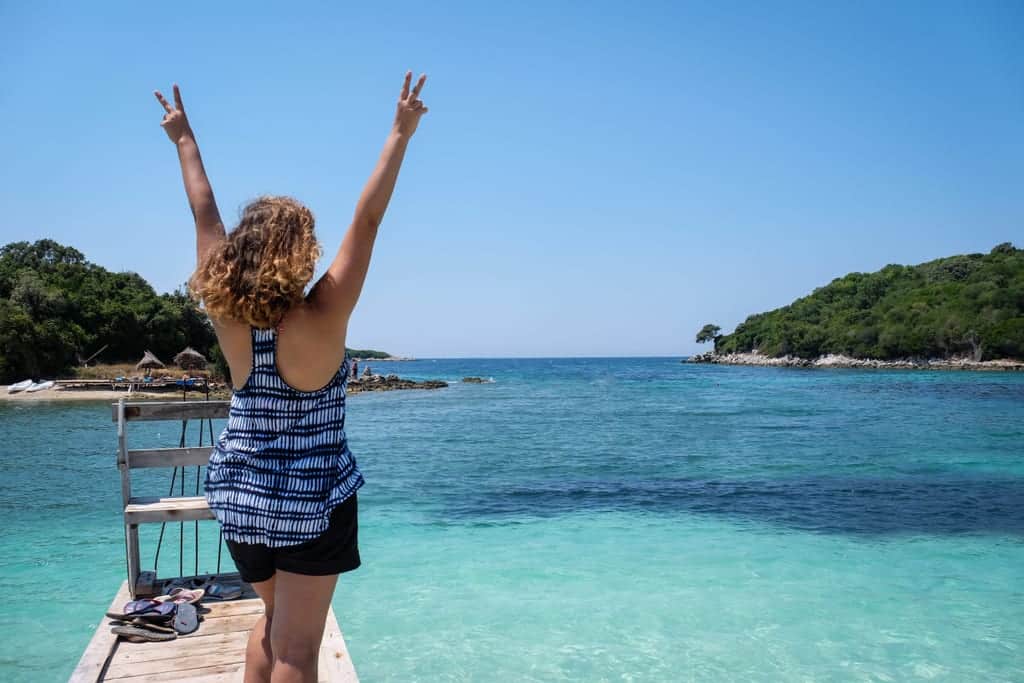 Getting way off the beaten path again in Ksamil, Albania. Discovering some of the best beaches I've ever seen in Europe — and nobody knows about them.
The other end of the Albanian spectrum — climbing to the top of the decrepit pyramid in downtown Tirana. A very weird place.
At age 30, I went to my first-ever music festival, Sea Dance in Budva, Montenegro! I had an absolute blast with my buds Jeremy and Ryan and had one of the best nights of my life there (if not the best).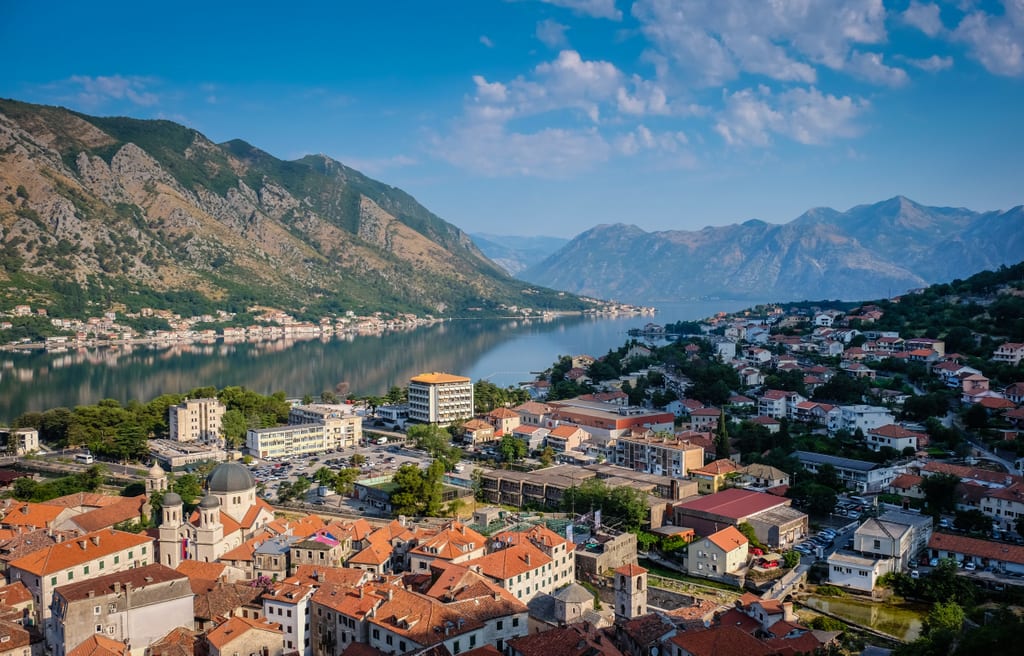 In Kotor, I spent five days living in a haunted apartment. Seriously. It wasn't advertised that way, but after my experience, I have no doubt that there was a presence in the room where I slept, and it made itself known on a frequent basis.
I've been saving that story for the right time! I'll be writing about it soon.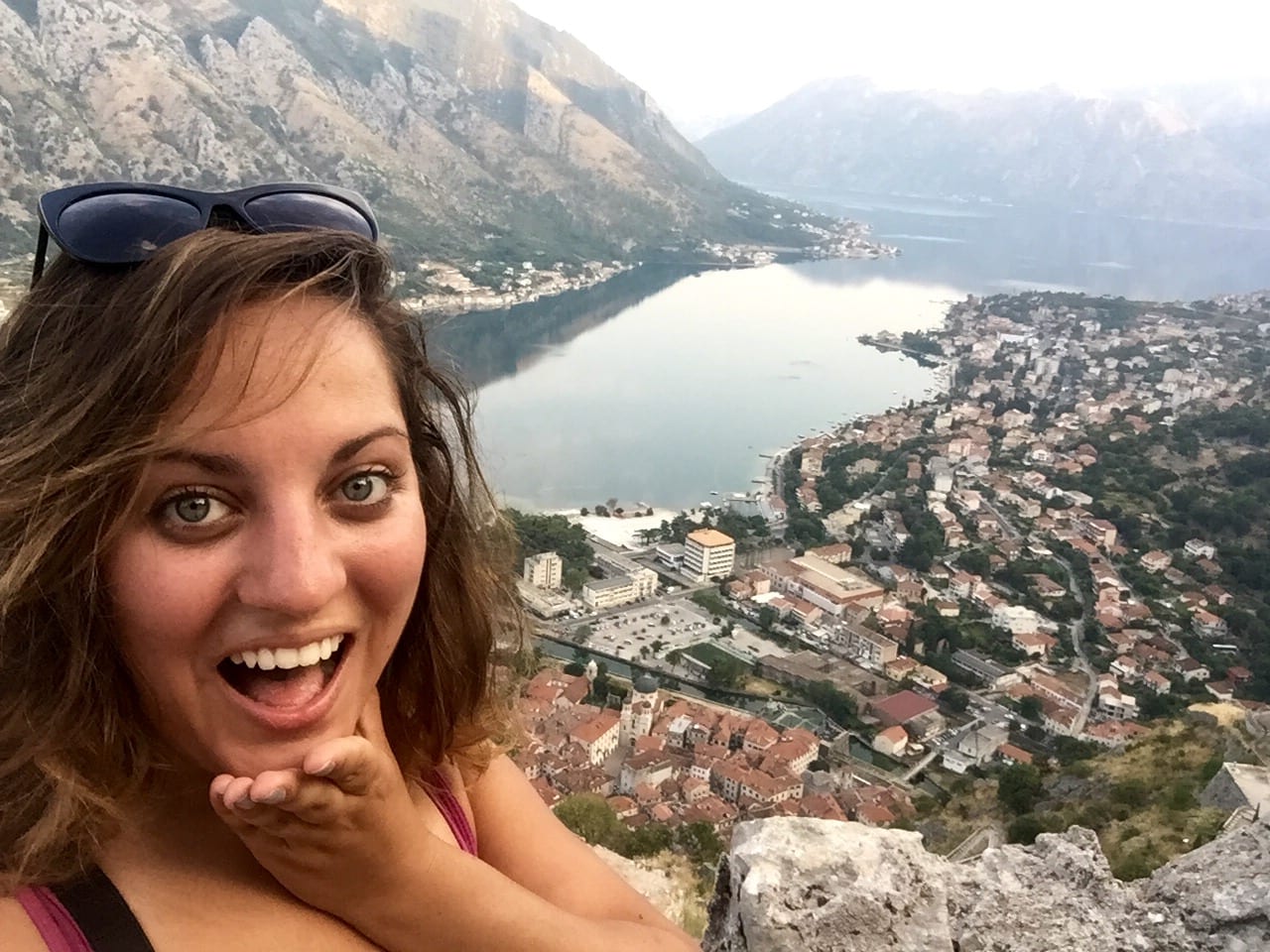 Also in Kotor, I climbed to the top of the fortress — for the second time! Definitely the best early morning workout you can have!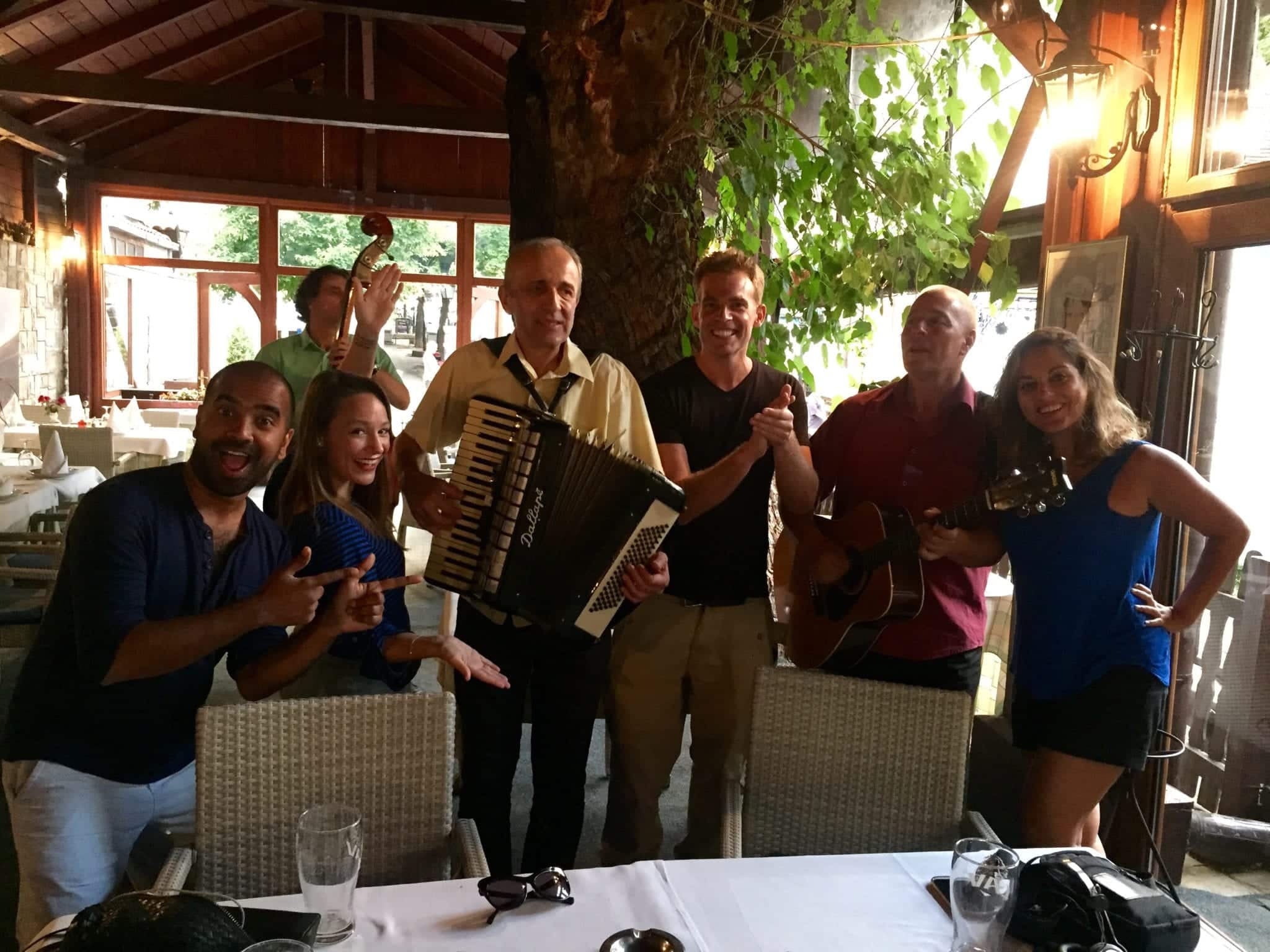 Belgrade was wild and wonderfully weird — it seemed like wherever I went, guys would appear with guitars and accordions and they would start playing music for us! Almost like a mariachi band that follows you around and narrates your life.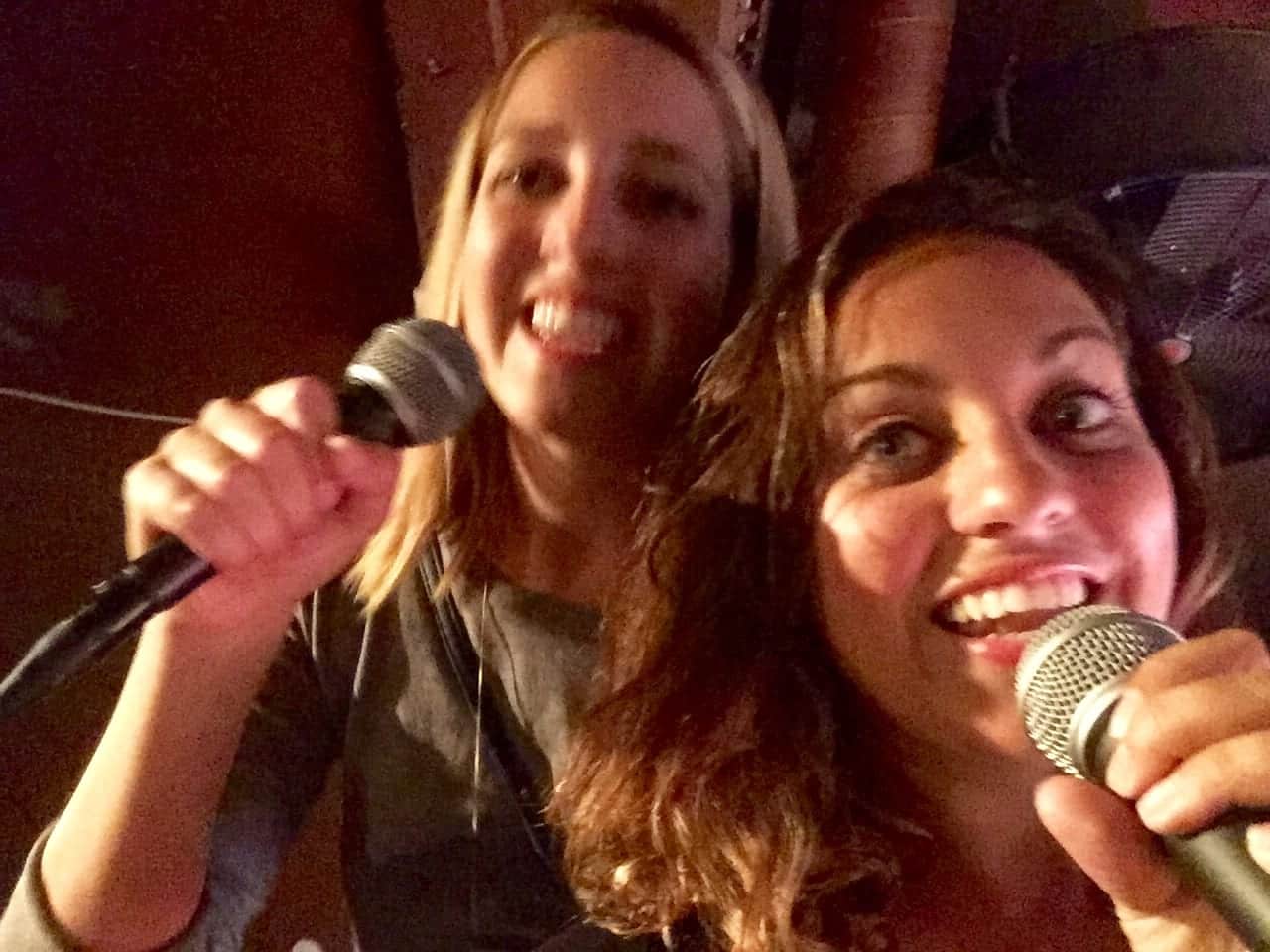 In Riga, we brought our very American selves to very non-American karaoke and gave a few performances for the ages!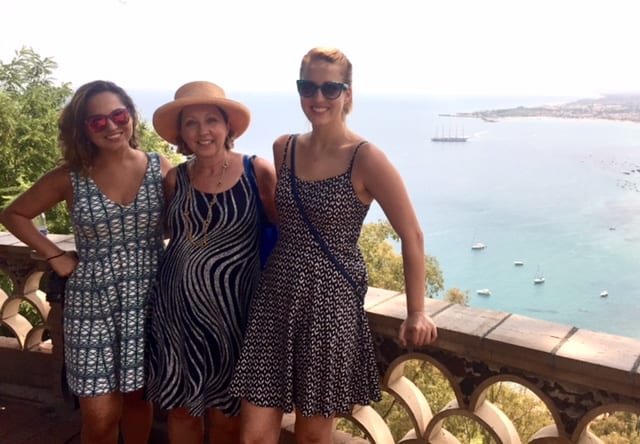 In Sicily, my mom, sister and I were the first family relatives to return to my great-grandfather's village, Castanea delle Furie, after he left as an 11-year-old in 1899. After seeing Castanea in person, we feel like we understand him a bit more — he was trapped in a tiny, isolated town and had nowhere else to go. So he most likely ran away.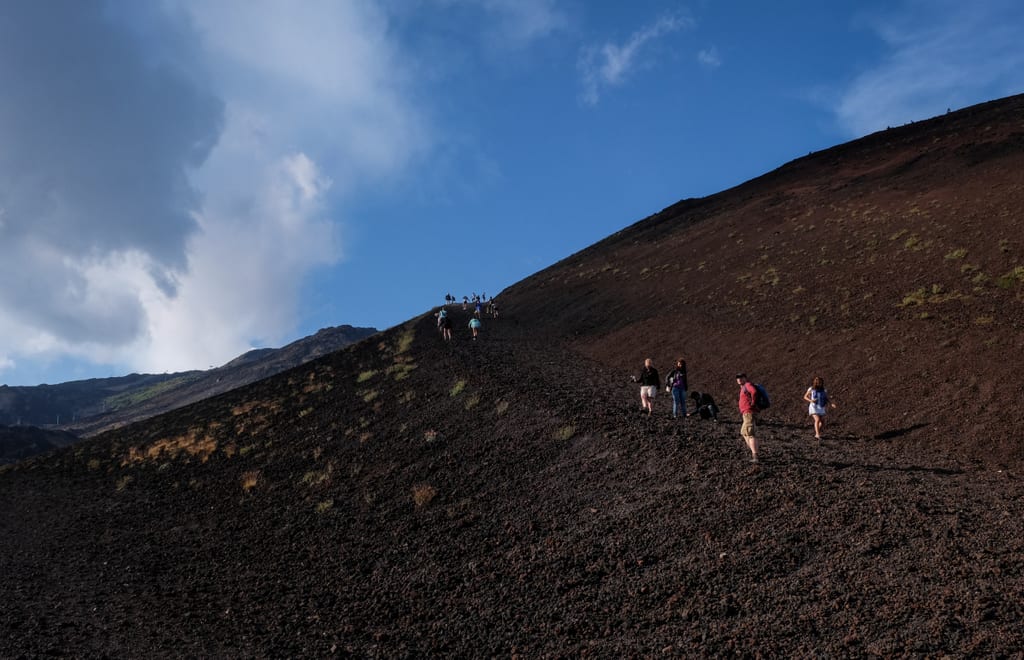 Ever hiked a volcano while drinking wine made from grapes endemic to the volcano? Mount Etna in Sicily has you covered.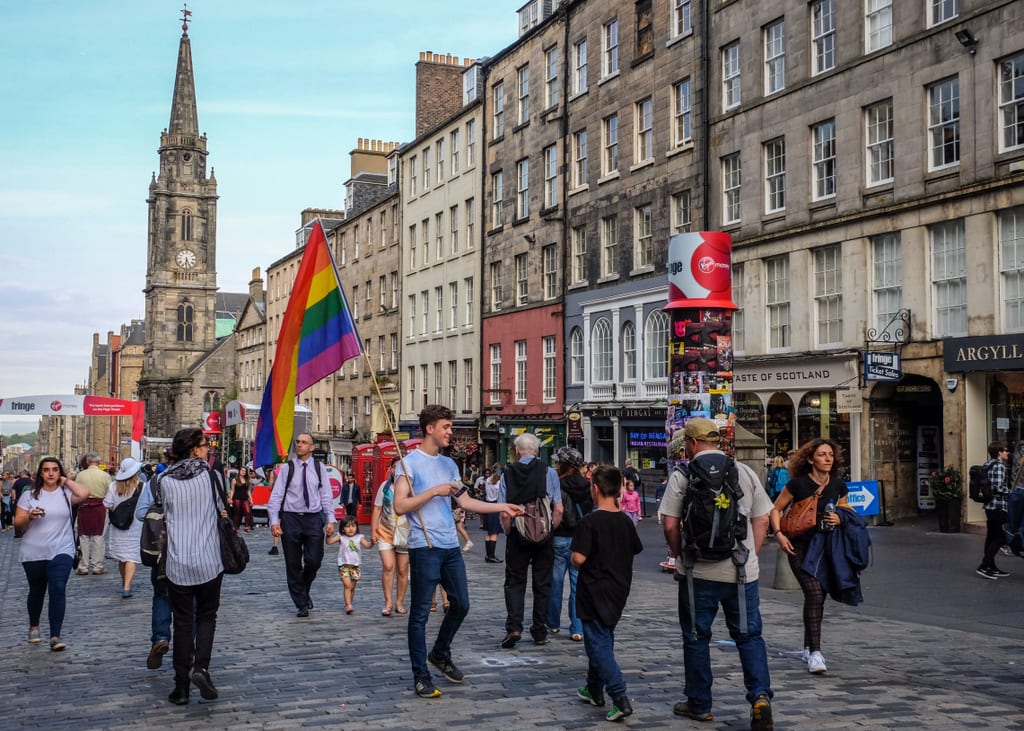 Even after many trips to my beloved Edinburgh, I fell in love with it again after the Edinburgh Fringe Festival! Such a fun festival with so many cheap (and often weird) performances and unlimited ways to spend your time.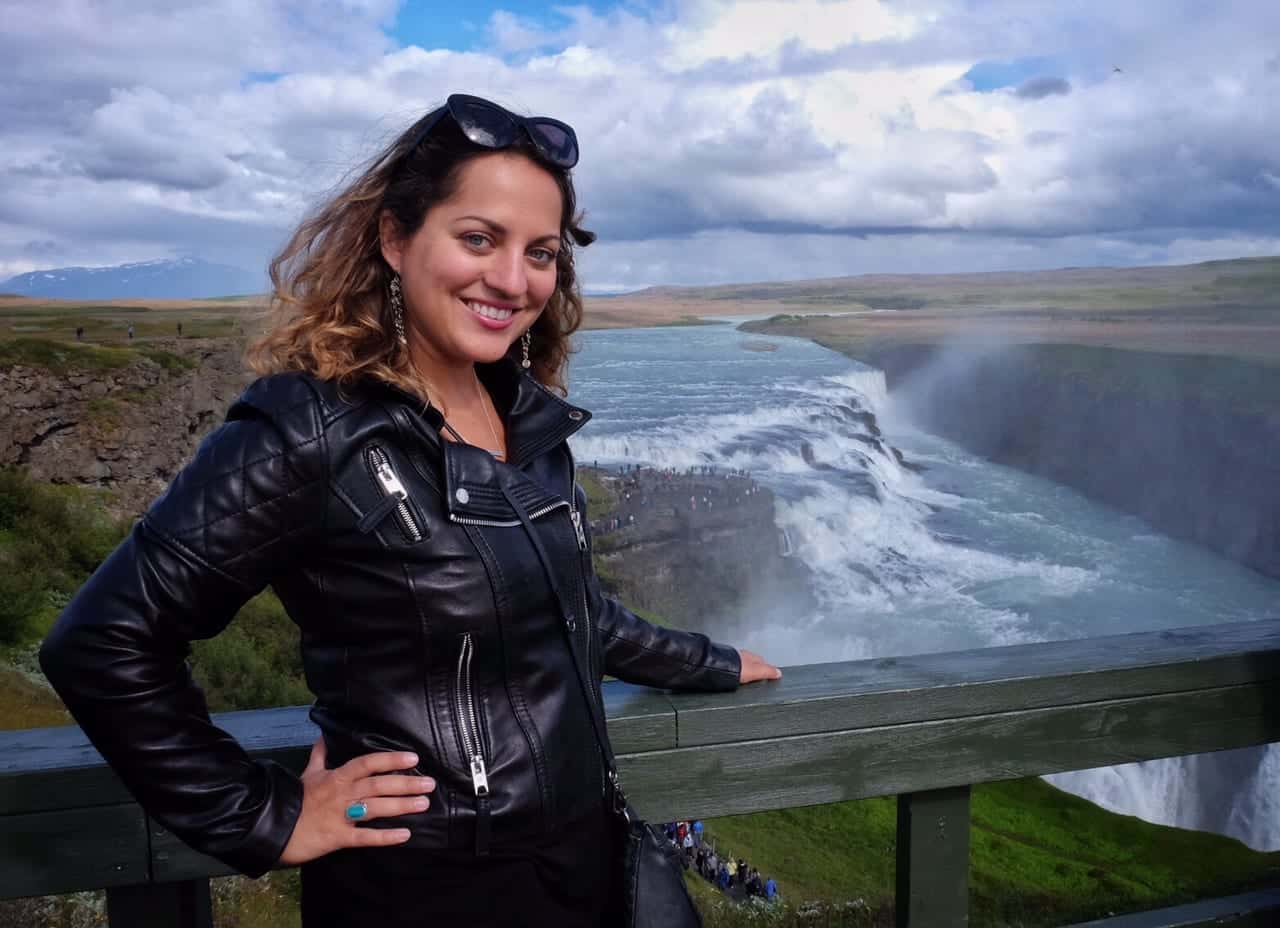 Second time in Iceland? Let's go see some waterfalls. Like Gulfoss.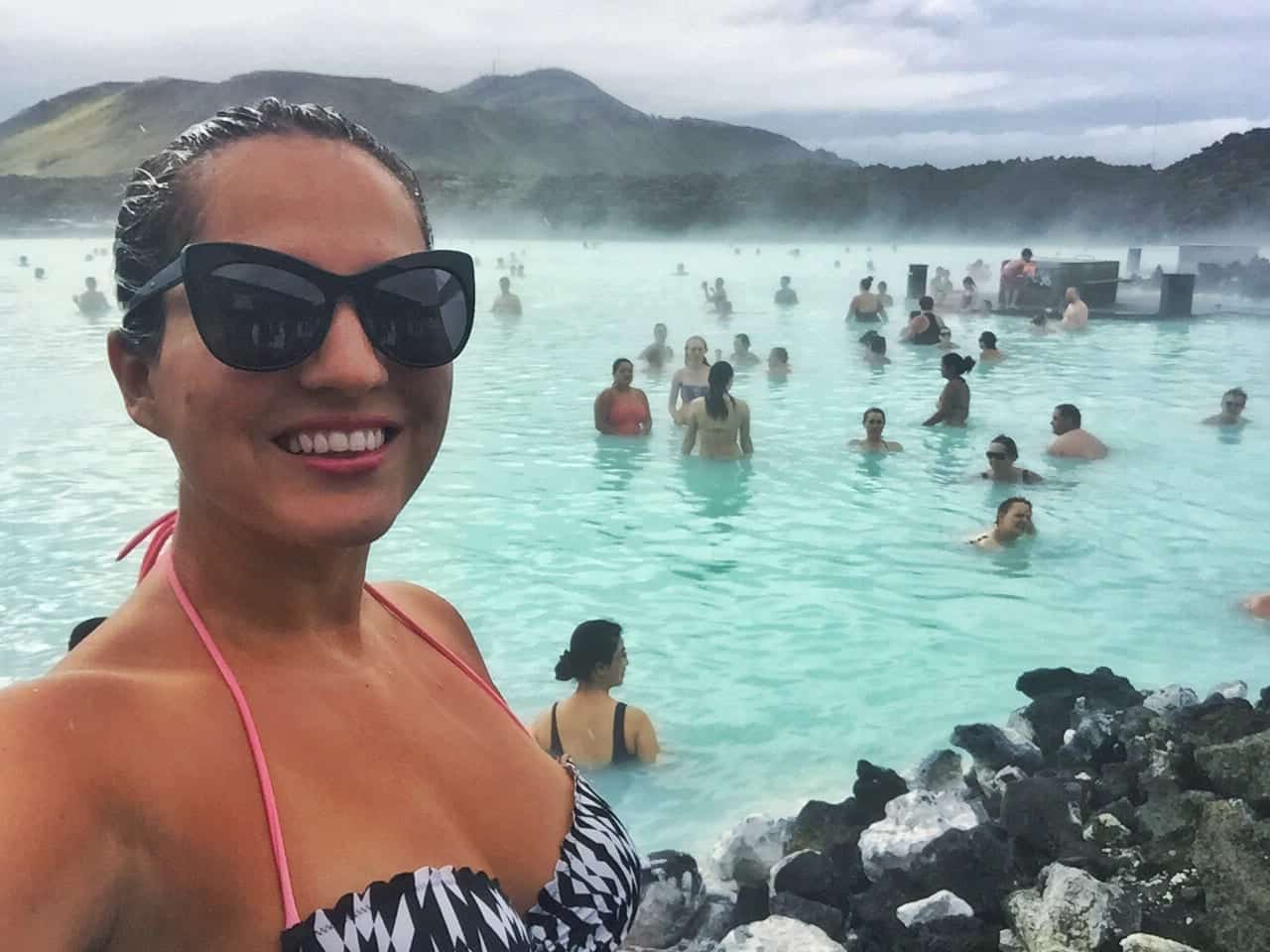 Swimming in the rain? Steam fogging up the lens? Lifeguards in winter coats? Must be the Blue Lagoon in August!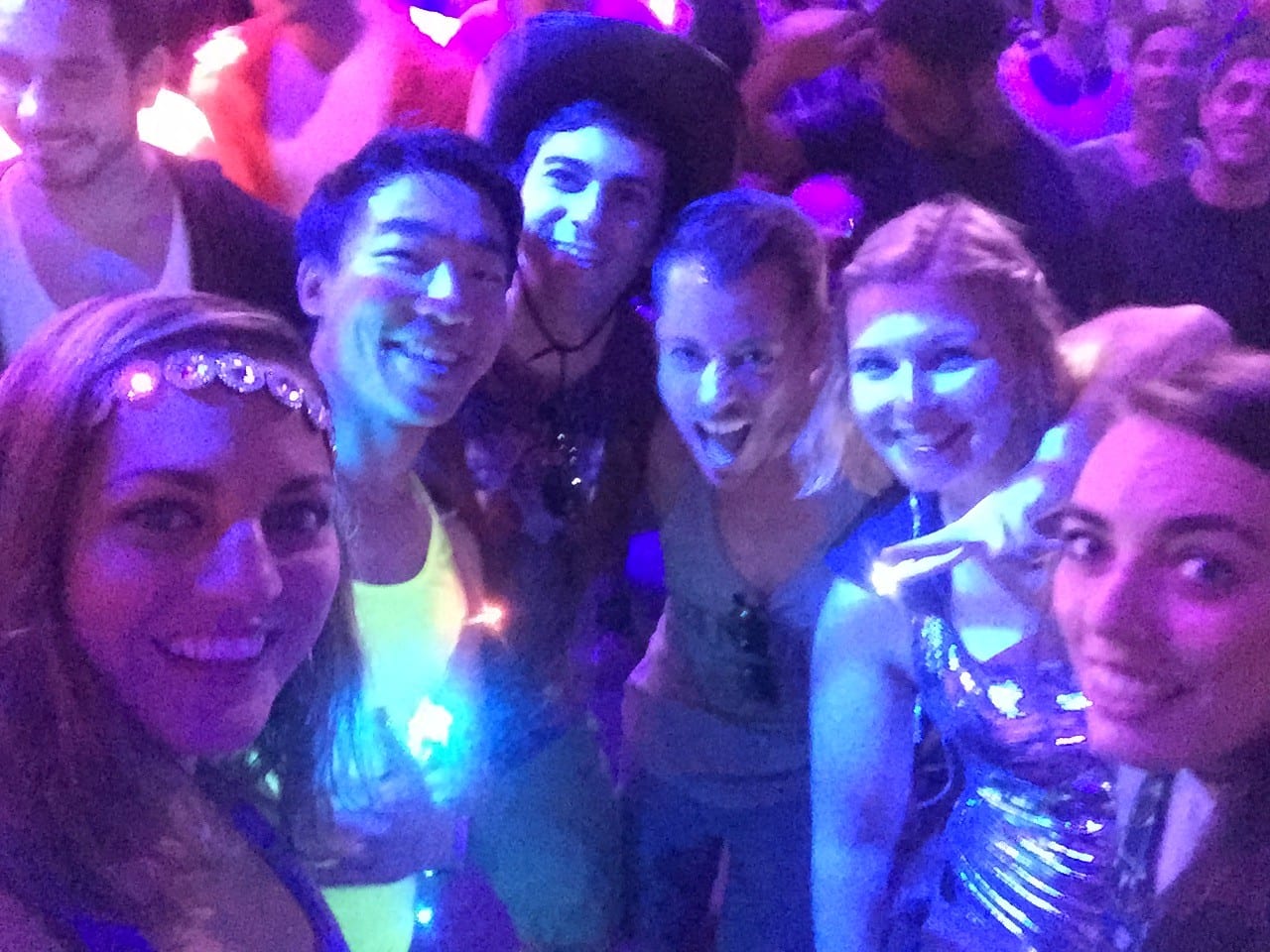 Back home in New York, decked out and dancing at 7:00 AM. It's a Daybreaker party and I know there are many more in my future!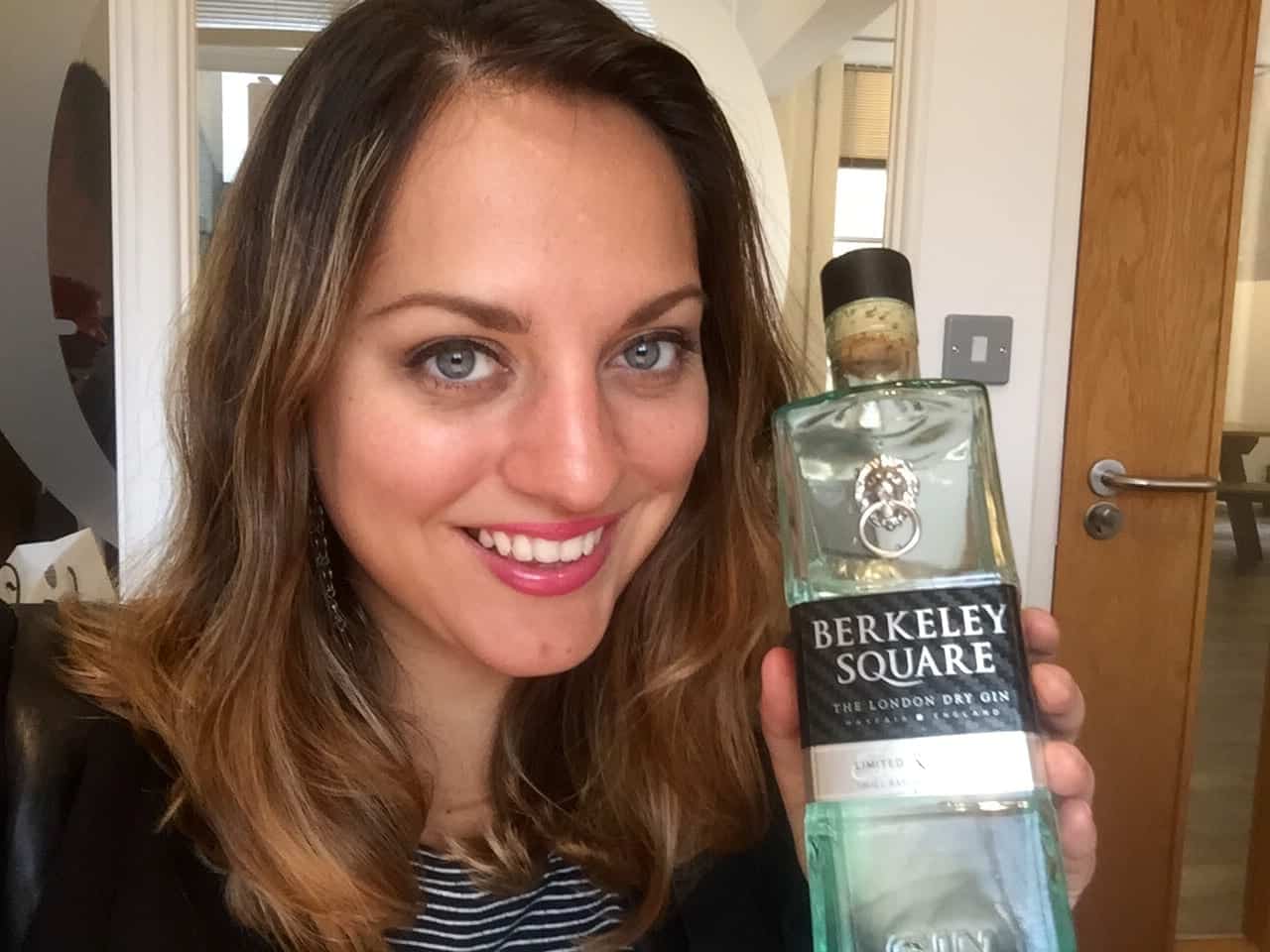 And there was the time I became a gin specialist in the UK.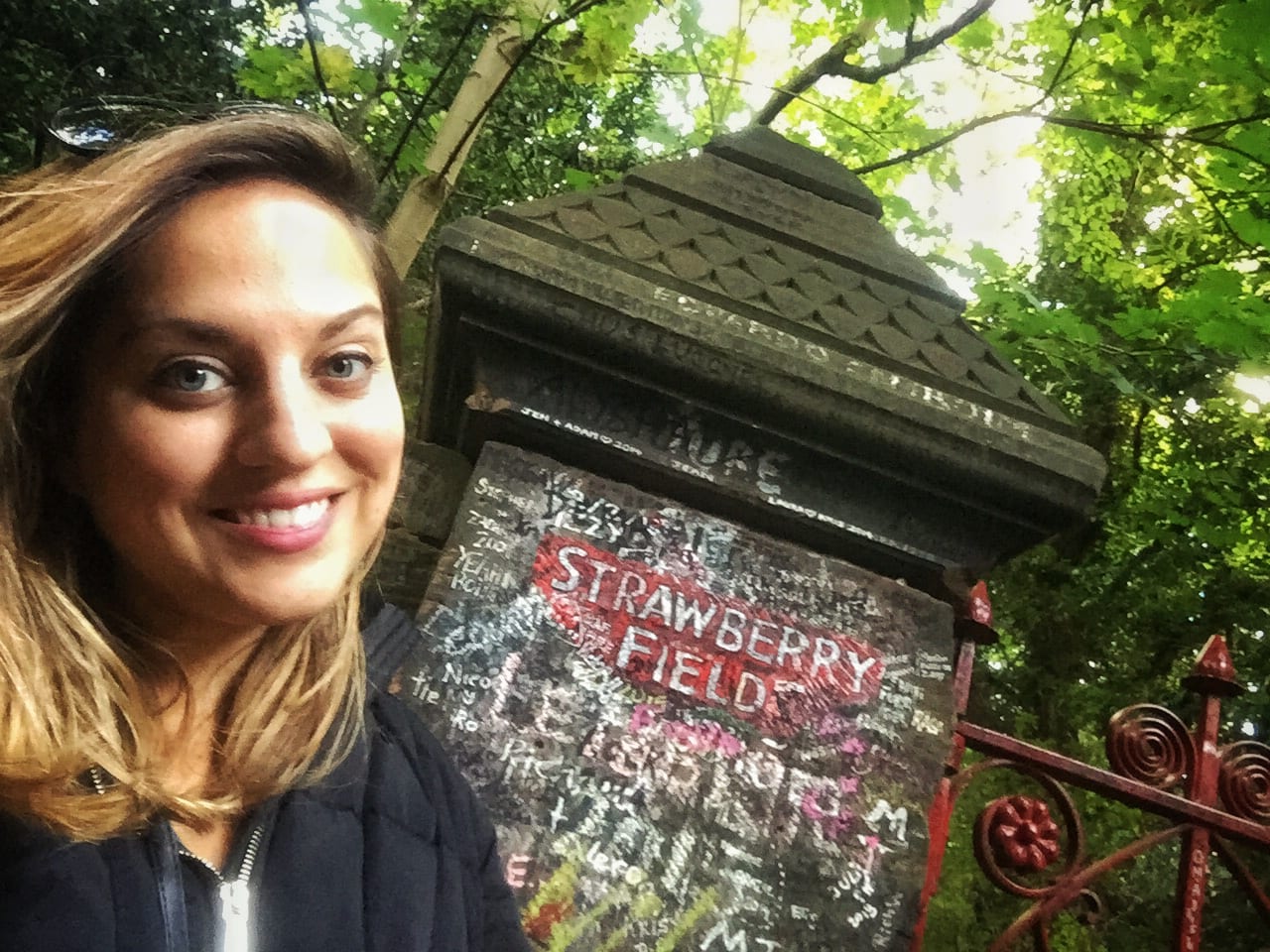 The time I indulged my inner Beatles fan in Liverpool…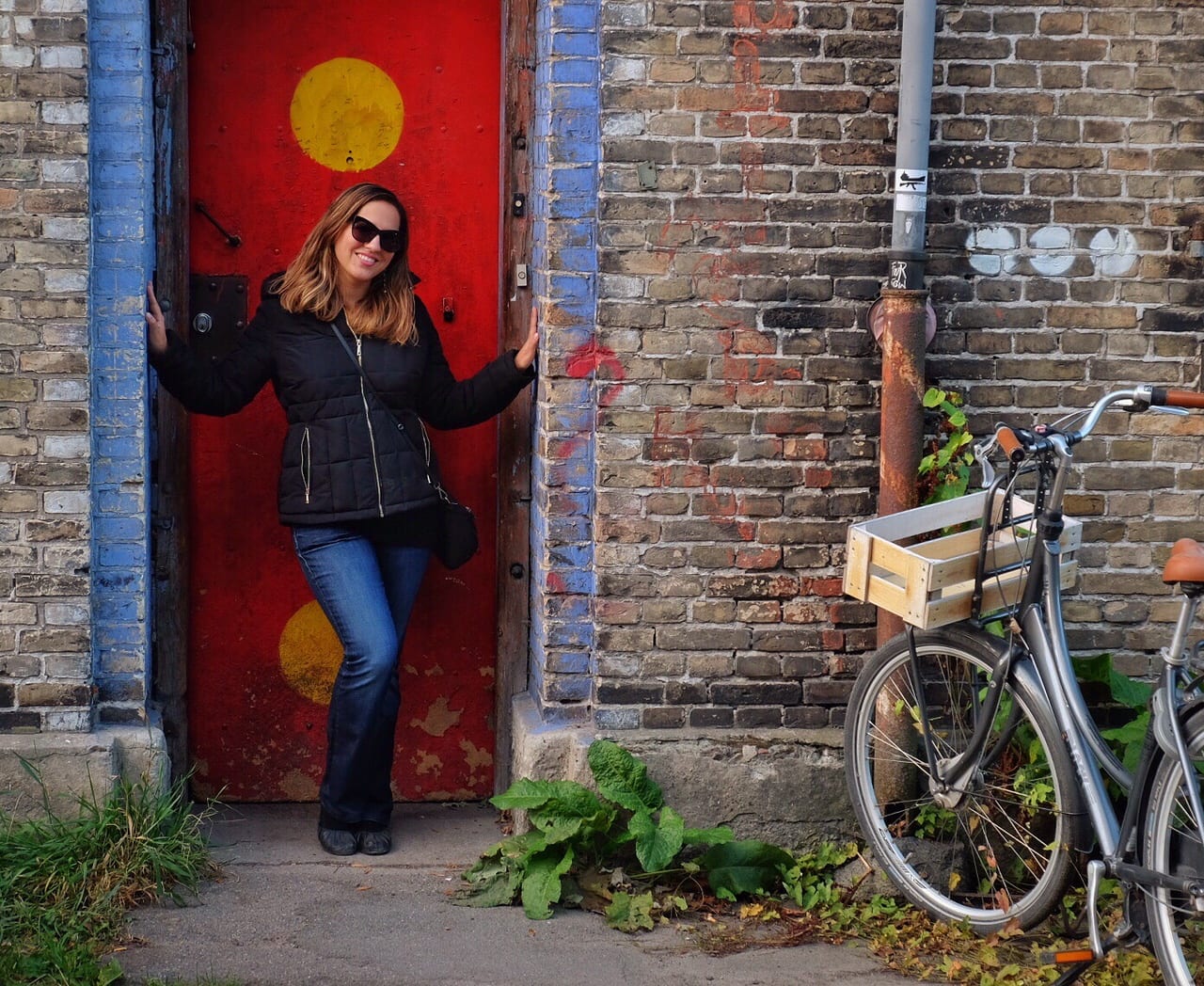 And the time when I hung out in the lawless land of Christiania, Copenhagen.
So where am I today as I write this?
I'm in Mallorca, chilling in a villa and enjoying lots of cava with Cailin, Vicky, and Candice! Because of all the rewards I've had from this travel lifestyle, friendship is the greatest reward of all. I love that I have so many friends I can meet in random places around the world.
What's coming up in the next five years?
Quite a bit! Obviously I don't have much planned out, but I'd love to go to Antarctica and New Zealand, see islands in the South Pacific and the Indian Ocean, walk the Camino de Santiago, finally learn to dive, and live in New York City, of course. My 64th country, I can tell you almost certainly, will be Myanmar later this fall.
But after five years, I'm ready to slow down, so to speak. That's not to invalidate the past five years — far from it! Change is good and while being a vagabond has been the best thing for me and my life, I'm now ready to build more connections at home and reduce my travels in favor of trying new and cool things in my business. It's been fun and it's time for something new.
What's your favorite adventure from the past five years of YOUR life?
Get email updates from Kate
Never miss a post. Unsubscribe anytime!